So after a daytrip up in the north of Skye to see the fairy flag, we were back to Glen Brittle for more Cuillin fun.
We discussed the route the night before, and dad had said he had never been into Corrie Greadaidh before. Looked like we would have no probs finding a route up to the ridge on the map, but we wouldn't really know if it was feasible until we got there. We could always head for An Dorus if it didn't pan out.
So we drove down to the youth hostel in Glen Brittle and squeezed the van onto the already busy verges for 9AM. Car thermometer said 22 degrees already – going to be a sweatfest!
So up the path we go, an easy angled affair following a bonny gorge with nice waterfalls.
At one point the river is easy angled over slabs (with some fossilised worm holes for the observant) which make for an easier time than the eroded path.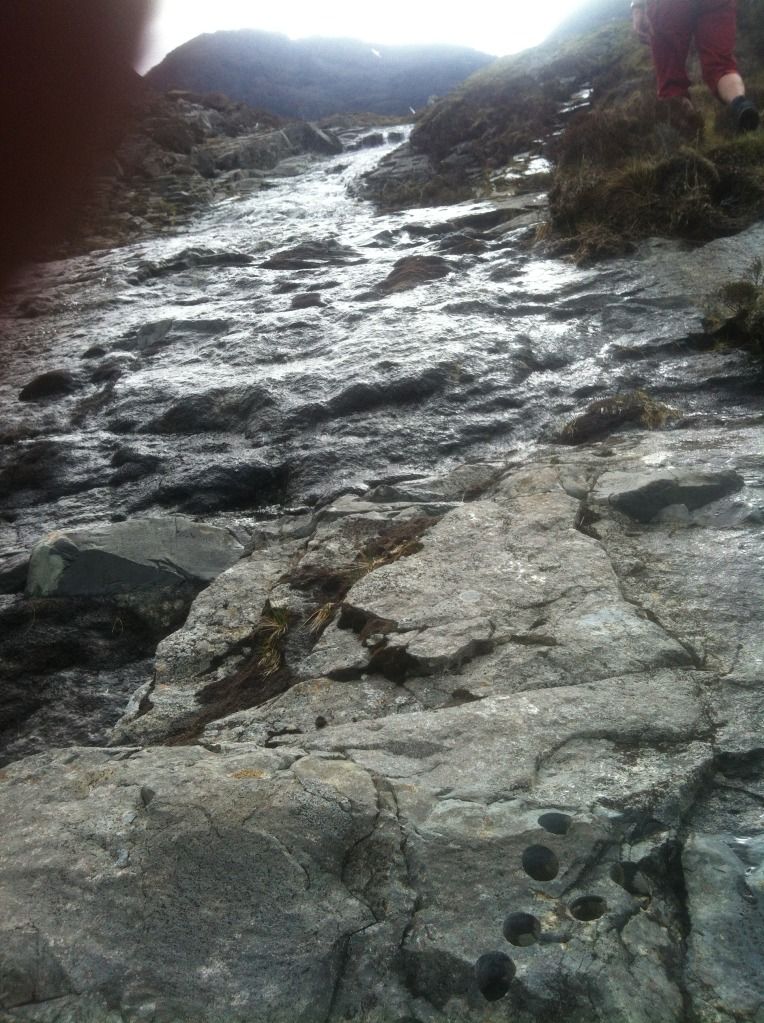 We still had to stop frequently to cool down. Difficult conditions for us Carroll's – we just wilt away to nothing in the heat..
The path goes past the mouth of Corrie Greadaidh, and onward to the bealach they call the door (An Dorus). We found a grassy rake to take us up into the corrie proper where we could see the lie of the land ahead and plan a route. It certainly looked more challenging than the map had led us to believe, but didn't look tortuous.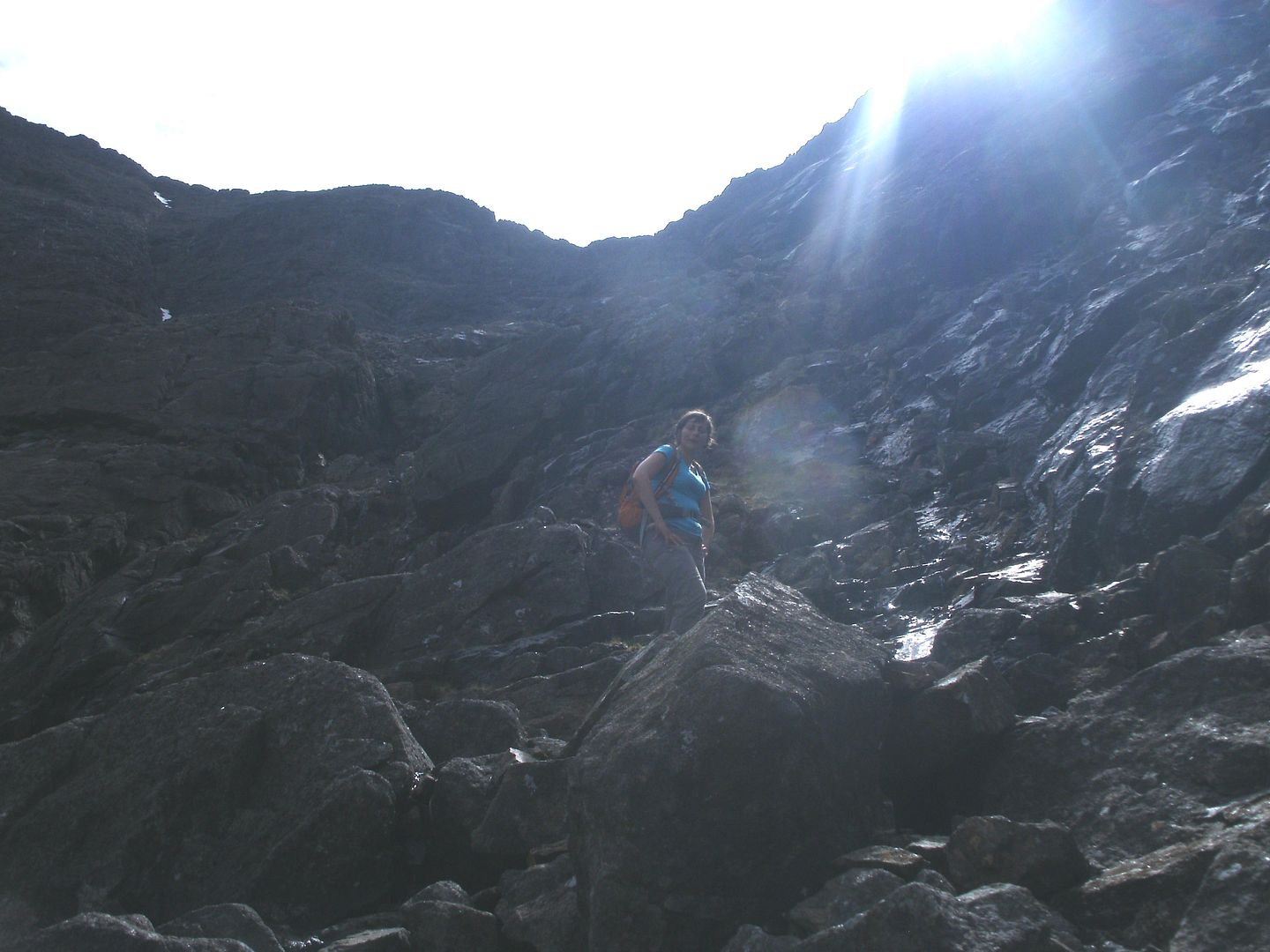 We passed a few bivvy spots, and scrambled up the right hand side below a waterfall up to a grassy ledge, that was a little more scrambly and a little less grassy than it had looked from afar. It was good to escape the crowds and find some Cuillin for ourselves.
Once up above the waterfall, the next bit looked tricky. A couple of young Czech lads turned up in the corrie.. They were looking for Banadaich, and had been up to the door on their travels – quite a long way off course!
They had a look at my 12.5k map and took some advice from dad about how to get there and they were off again. Fit guys!
So we were left looking at the cliff face for an easy way up.. We chose a difficult initial climb to get to easier ground above. Hands still somewhat worn from my previous Cuillin exploits, it was sore progress. The rocks were starting to heat up and radiated it straight back at us.. I wilted further.
So hot progress up a scrambly boulderfield buttress for a few hundred metres before a grassy ledge took us contouring round to the main ridge. We found ourselves just above the Sgurr Thormaid / Sgurr a Greadaidh bealach that we had been aiming for.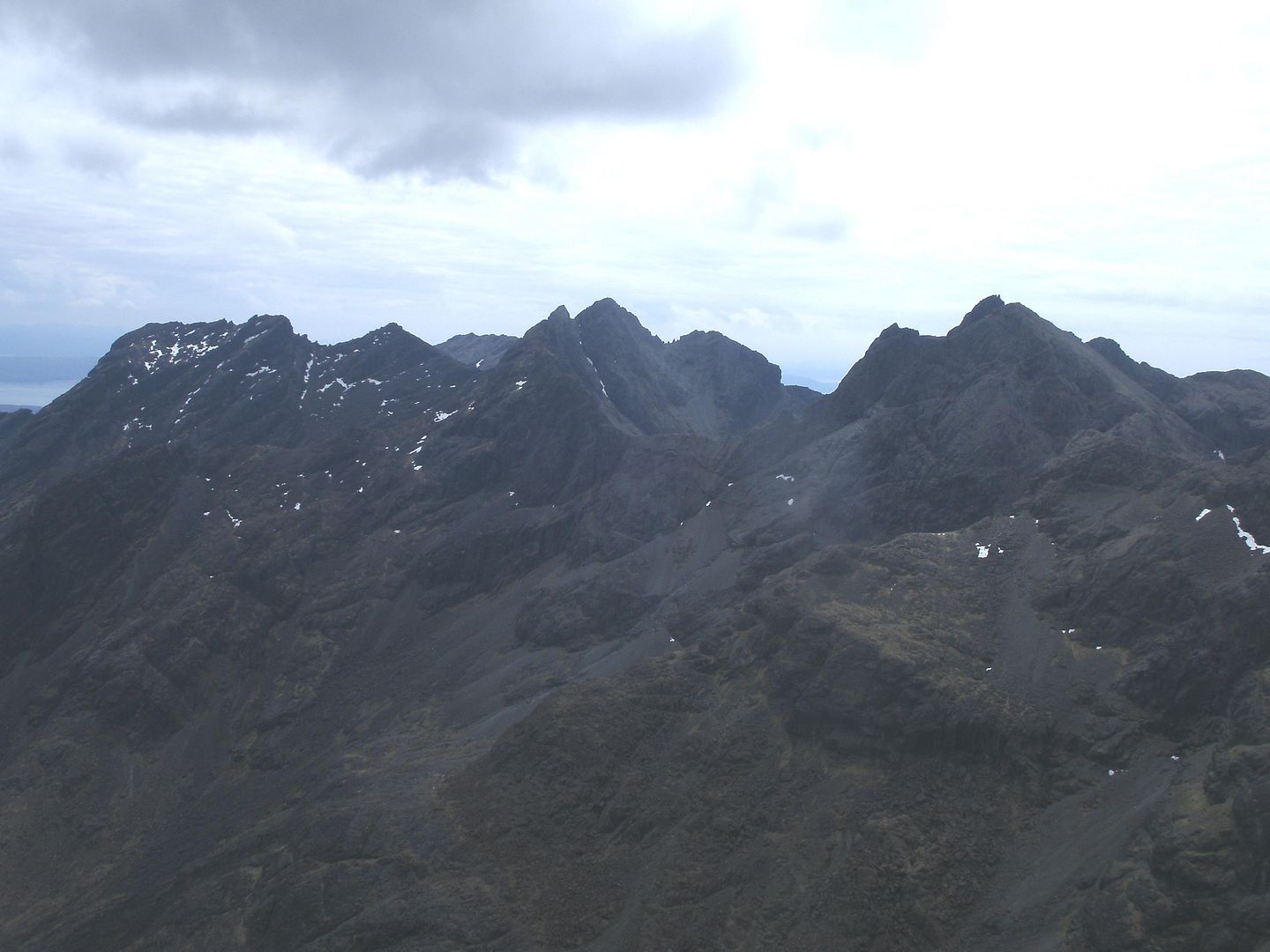 The ridge hadn't looked too bad from below, but it was tricky coming along. There was a maze of paths, most of them useless for progress along the ridge, so we stuck to scrambling over the pinnacles.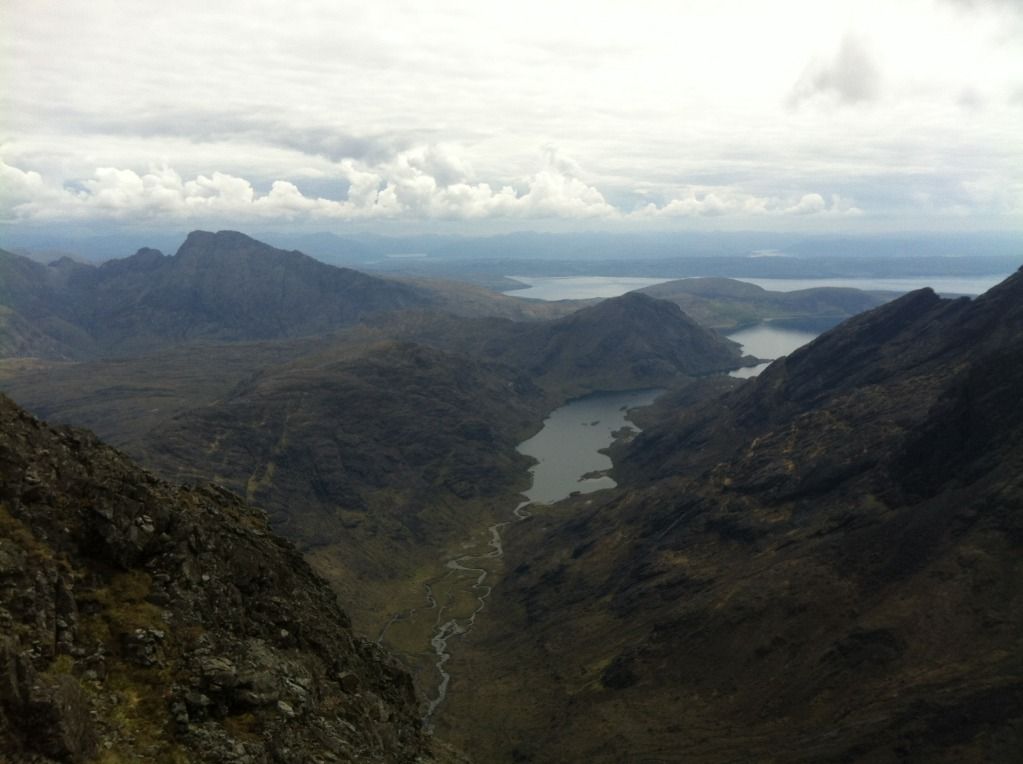 It was very busy up there and I noticed we were the only pair not to be roped up.. Hmm I didn't know if I should be worried or not.. I didn't really feel unsafe or anything. I was fine going up or down, or edging along ledges.. But standing right on the narrow slanty ridge with only your boot rubber keeping you there induces just a wee bit panic for me..
Dad said I had an eye for a good route, which pleased me greatly.. My confidence had grown a zillionfold over the 2 days I had now spent up here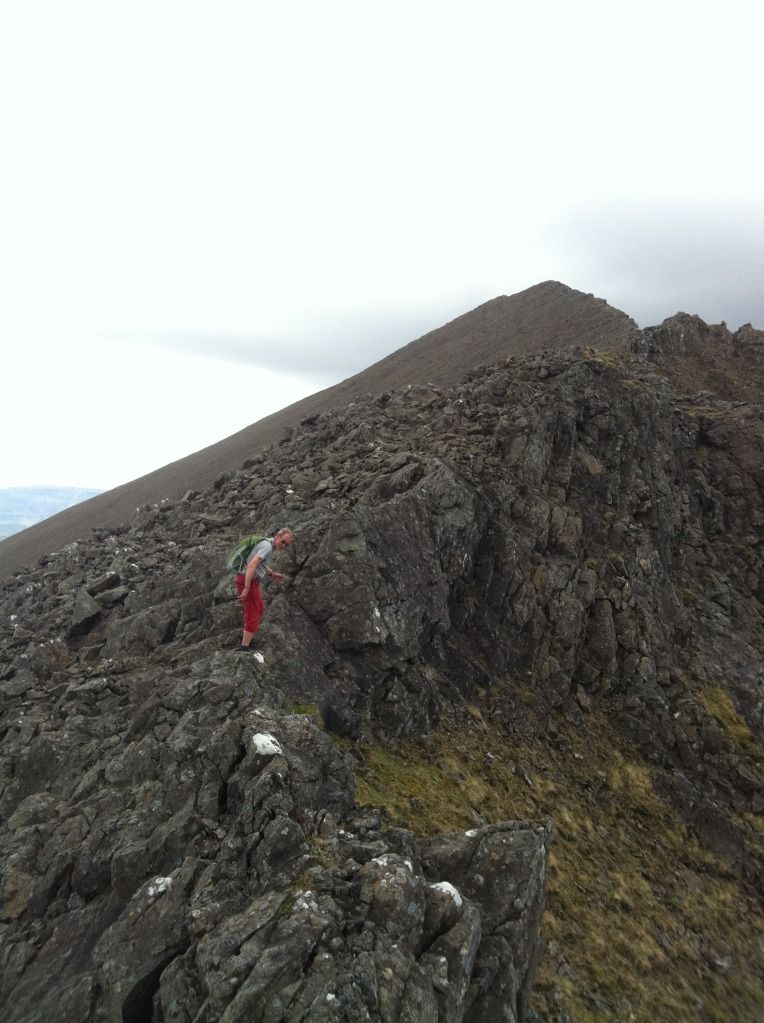 We reached the first top on Greadaidh.. Just 200 yards to go!
Well that 200 yards took over half an hour! But we made it.
We ate lunch, a couple of seagulls circling looking for a crust, but they were left disappointed. The midges were bad too.. You wouldn't think there would be so many there, but it seems the season has begun.
So onward along the ridge we went, the going getting easier for a while along a good path round the wart and crossing some slabs, with only a few obstacles in our way.
The final descents to the door were rather more tricky. I found what I thought was a good way down, Dad wasn't so convinced, but managed and directed me down. It was wonderfully cool in An Dorus. I rubbed myself with some of the snow that remains there - felt so good.
Not enough space and time to hang around, we scrambled up toward Sgurr a Mhadaidh. I pointed the path out to dad, but he just shrugged his shoulders and carried on scurrying up the nose.. I followed for fear of getting left behind,
but it wasn't too tricky and it really wasn't far to the summit.
We stopped for a snack, midges bothering us again, the rock radiating an unbearable heat, so not long before we made our way back to An Dorus.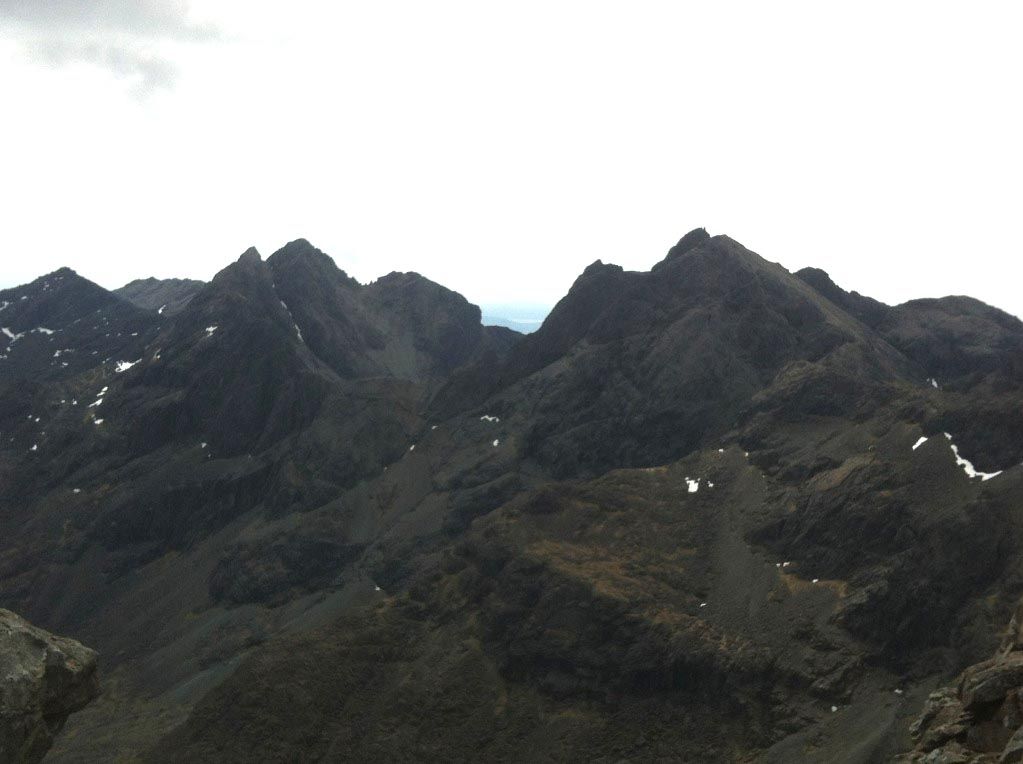 A short easy scramble down had us back on a slippery scree path again. Dad got annoyed with it and took to the boulderfield – just as the path improved.
He wanted to go and do Sgurr Thuilm – not a munro, and probably a somewhat neglected Cuillin top. We had looked at coming straight down the ridge from Mhadaidh, but we had seen the scary cliff from afar and knew it was a no go without an abseil. So a wee bit down the path, we headed right, traversing round over boulderfields, arriving at the ridge below the scary crags.
The ridge wasn't too rocky – no scrambling required. Dad likened it to something you would find in Kintail, and I think that was an accurate assessment. An easy ascent took us to the summit to get eaten by midges once again. What a fabulous viewpoint though, just brilliant!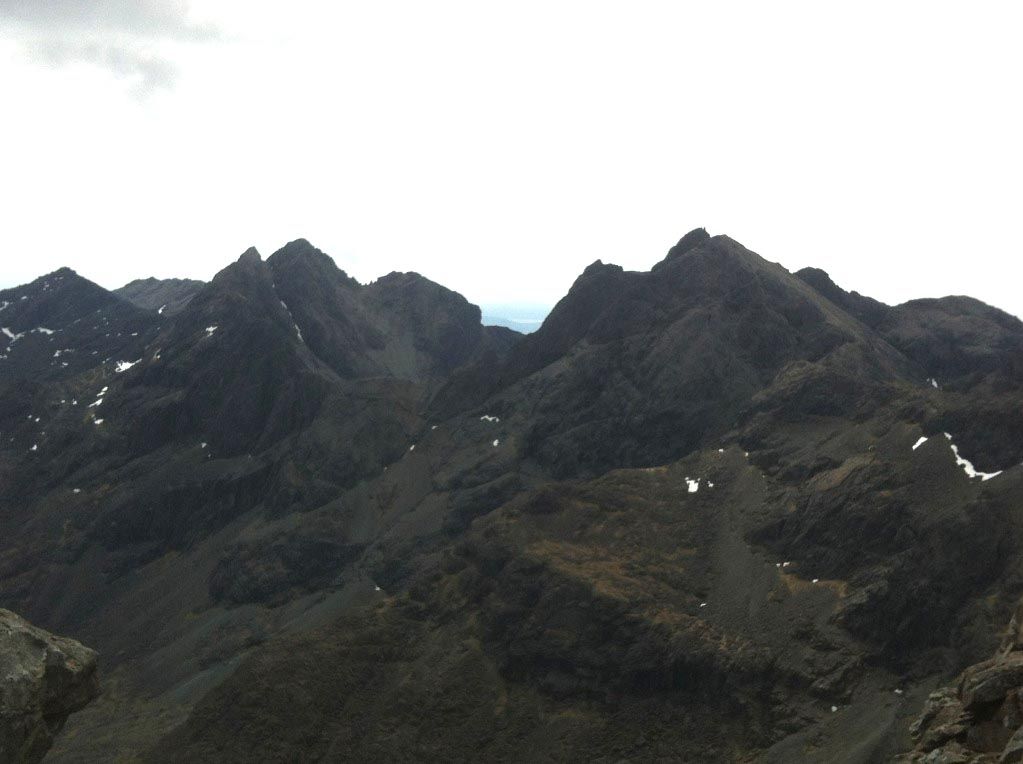 We headed past the 2nd top and along the ridge a way, high above the fairy pools. There was a network of paths below I was trying to memorise for future visits. All too soon it was time to head down,
the ground surprisingly spingy underfoot. We managed by chance to avoid the crags, gathering more scree in our boots as we made for the path below.
It seemed a long way back to the youth hostel, the path was affy hard on the feet, and the sun was scorching.. The river looked oh so tempting..
So when we finally got back to the van, we got a couple of surprisingly cool cans of lager out and paddled for a bit.. it felt amazing to cool down! A bitty later though, I was down at the campsite for a shower when I had a dizziness attack – Heatstroke – on all fours retching.
Oh well, it was worth it for having such a cracking day. Don't think I'll ever forget this one. Soooo good.