Where is everybody?
Posted:
Mon Jun 17, 2013 11:25 pm
So this weekend, I was going over to do the Grey Corries, but then on Friday at the very last minute I decided to head for Torridon Instead.
I arrived at the campsite, to find literally clouds of midges outside the car..
Hmm, I was still in my work skirt and the midge repellent was in the boot
I got the tent up and between citronella candles and chain smoking, I managed to keep enough of them at bay to cook my tea. The rain started and was heavy, but in the morning it was dry and windy so I got to eat my breakfast in peace.
After a bit of faff finding the right car park, I was off at 8AM. The tops were somewhat misty, but there was the odd ray of sunshine breaking through.. far better than the weather reports had made out.
A mile or so down the road was where the walk started proper, and the climb began. It might not of been that sunny, but it was still hot and humid, which made for seemingly slow progress.
The path was good up to the Corrie, where it deteriorated into an eroded mess for the steep section up to the ridge through the mists.. Wouldn't want to come down that way – nasty!
I made the main ridge, marked by a cairn.. Looked like the mists were starting to thin out.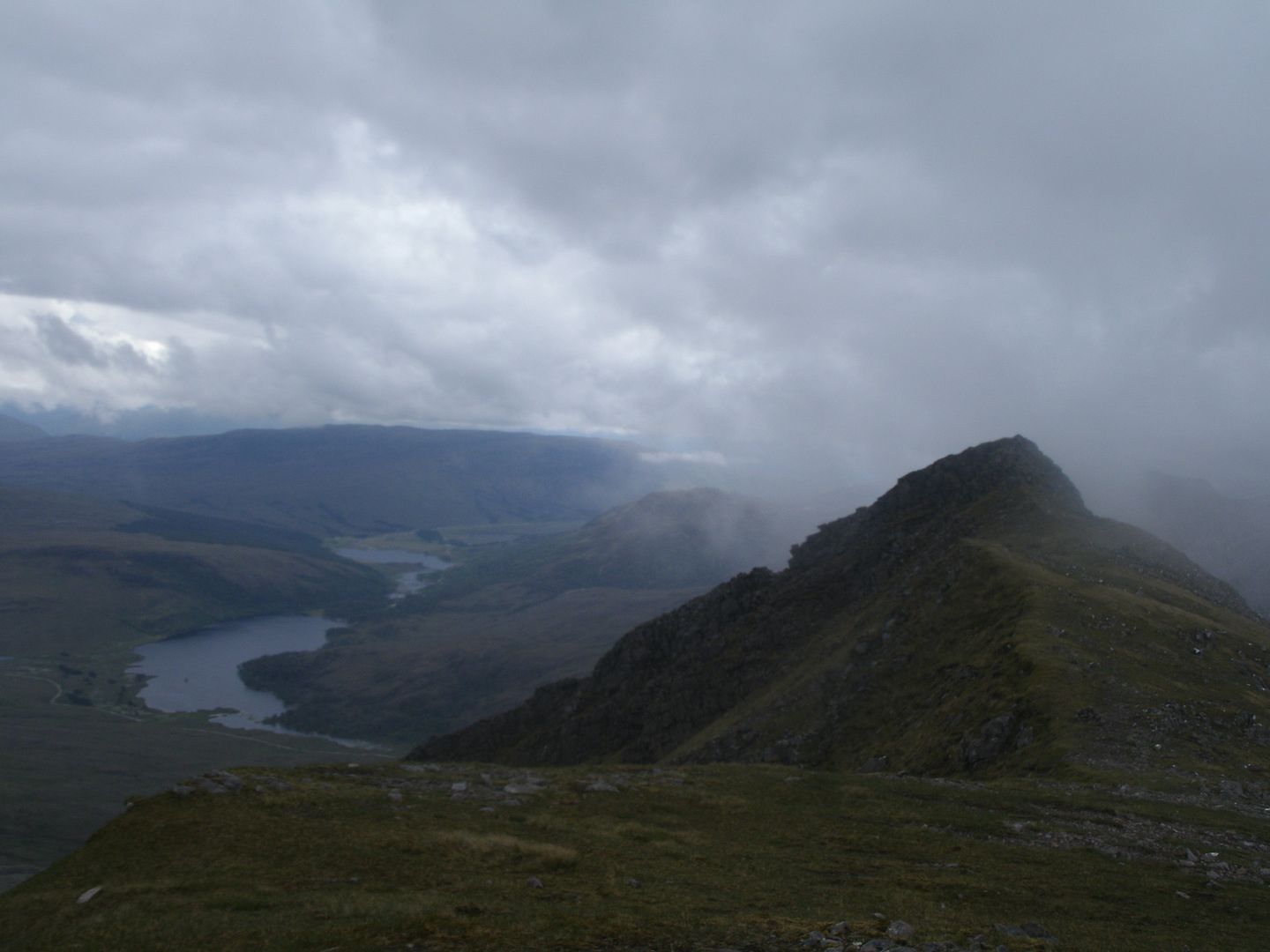 Still a bit of a climb through some rocky ground up to the trig - path was like a motorway though – no chance of getting lost today I see.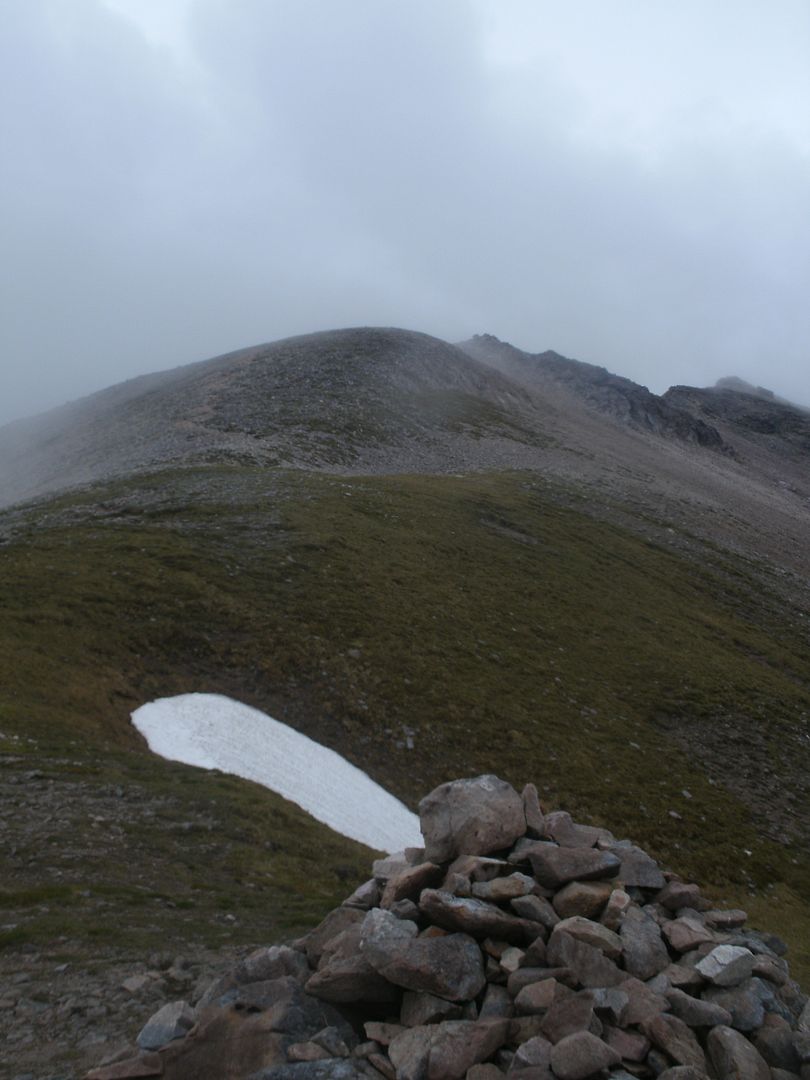 It was a surprisingly short distance to Spidean Coire Nan Clach from the trig..

A wee path bypasses one little craggy bit and there is just a wee bit of scrambling, which is probably easy avoided if you're fearty. Then I was at the summit.
Felt a bit too easy! The mists were still clinging on, so didn't seem worth hanging about.. I was only just back at the trig when it cleared though – Darn!
Well I could now see the ridge ahead and it looked decidedly short. The descent down to the coll was rocky, but interesting rather than tricky. I was wondering where everyone else was. Surely I couldn't have one of the Torridon giants all to myself on a Saturday in June?
I visually scoured the ridge for signs of anyone else, but no – I really was alone up here.
I stopped for a wee while in the coll, thinking I'd better slow down or I would be back by lunchtime.
I decided to take a wee diversion to Coinneach Mor to stand on top of the Triple Buttress – not far out of my way.
I found them not very prominent from above, but sitting by the cairn, Sail Mhor looked amazing..
so I decided to do it in a rash moment, and I was off.
The descent was a bit steep and rocky, but I still managed a wee jog, even up most of the other side and I arrived at the summit hot with lungs bursting.
I realised after 30 seconds of sitting that I was losing heat fast and I was affy thirsty.. Shouldn't of left my stuff over on Coinneach Mor silly girl! What views of the buttresses and the corrie from there too! Unfortunately my camera wasn't in its usual pocket either
Still not a soul on the ridge, where is everybody?
So I retraced my steps, at a somewhat slower pace to find my camera sitting on the cairn next to my pack. I drank and drank until my belly gurgled when I moved.
Still only midday there was nothing for it but to tackle Ruadh Stac Mor. The ridge at this end was mostly fine and grassy, I passed a cairn and was back on the well worn path, heading down to the next bealach.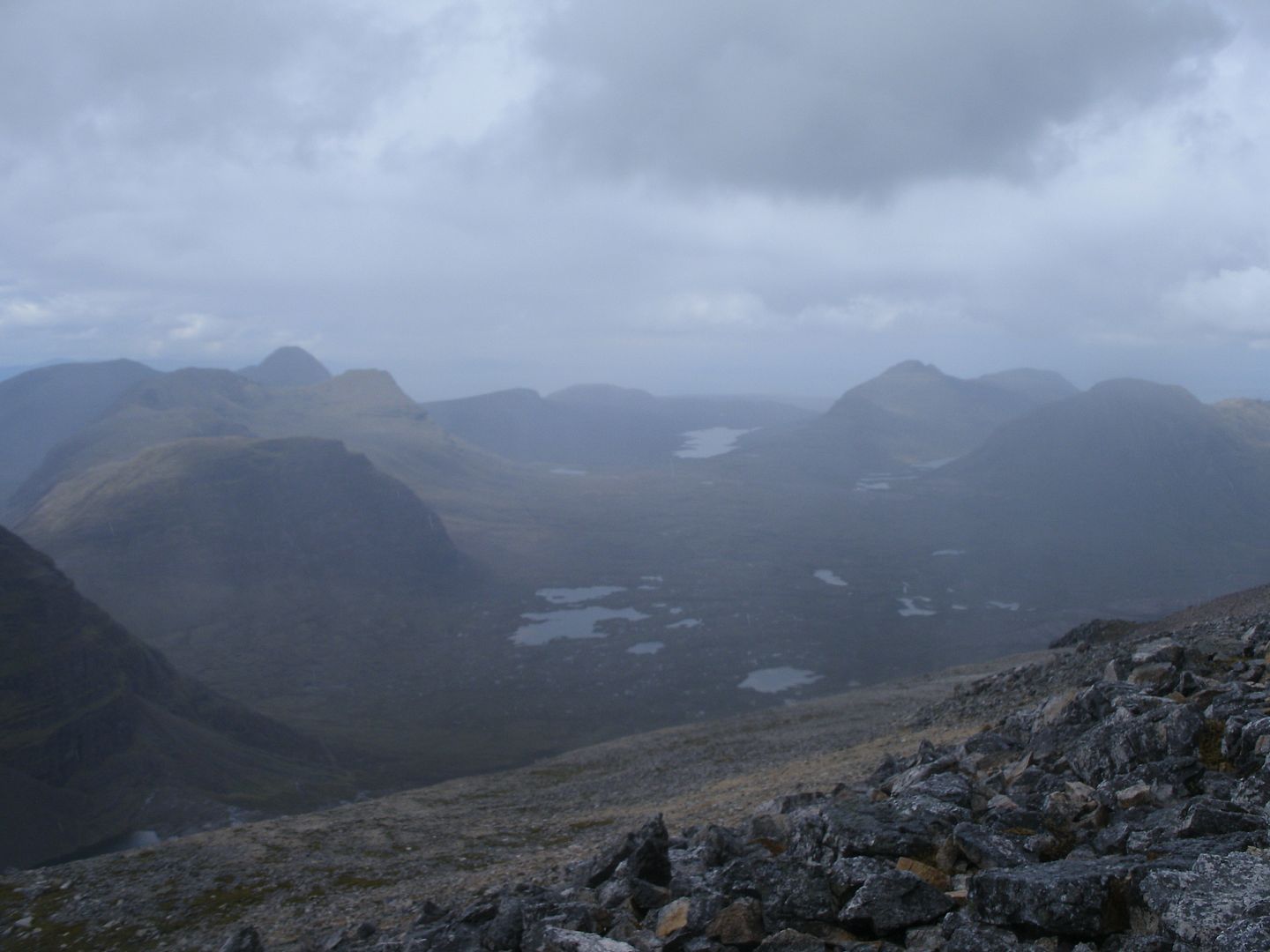 A short rocky section had me back on grass with the summit in sight. The views to the north were great, the pinnacles of an teallach drawing my eye, but behind me I could see some weather brewing..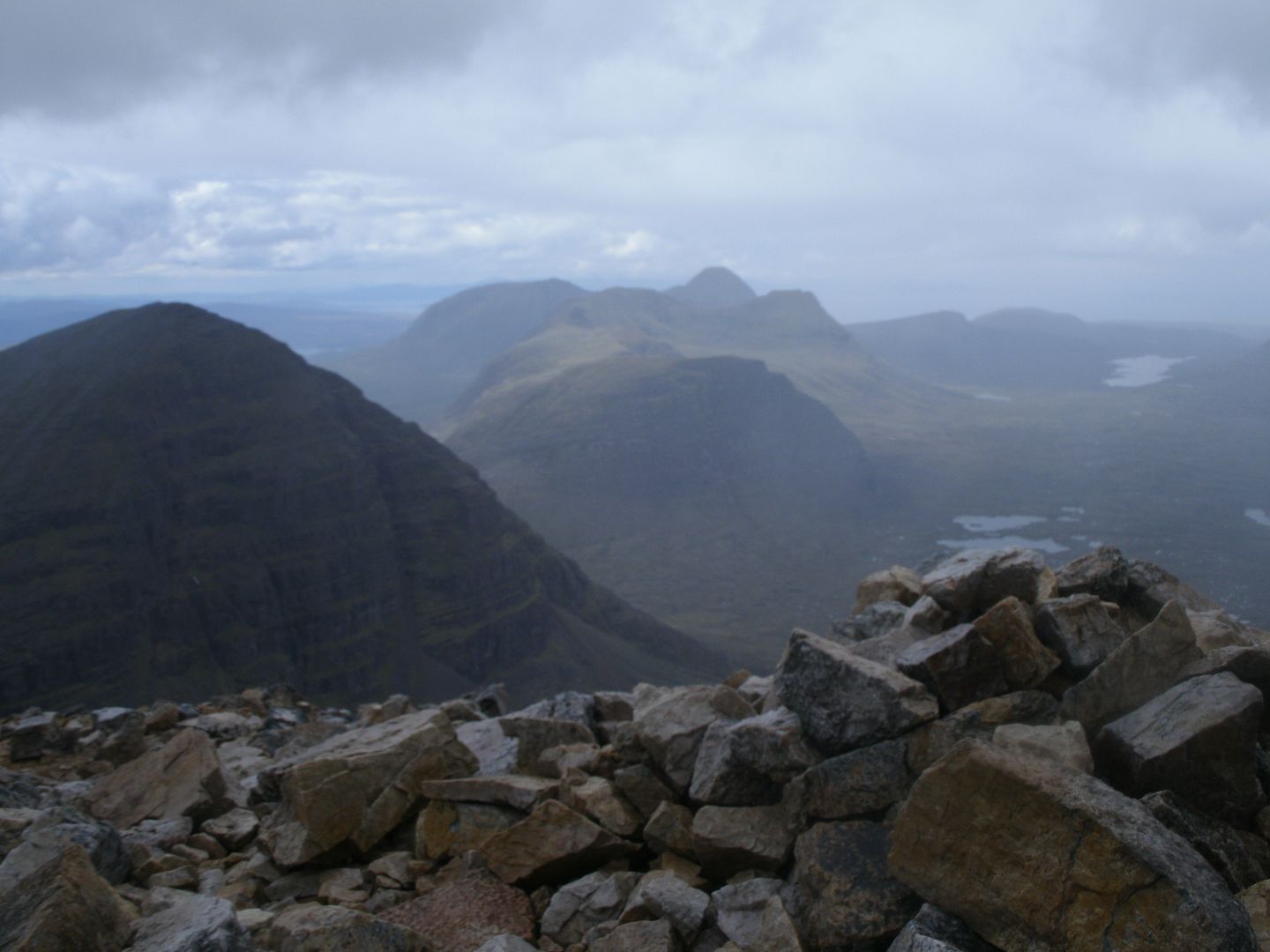 On with the waterproofs just in time. By the time I was back at the bealach looking down the scree path, the rain was off again, just a shower.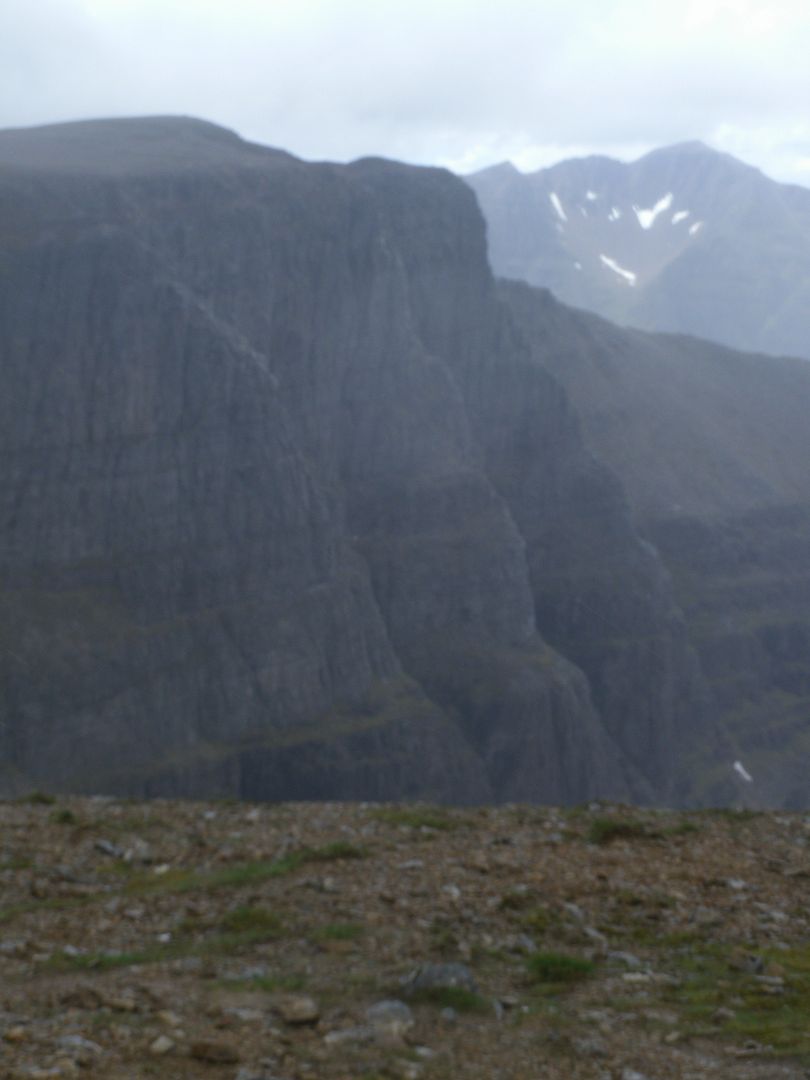 A head popped into view – there was someone else doing this hill today after all!
I waited for them to make their ascent and chatted a while. They had set off later waiting for the wind to drop. Seemed odd to me with only 25mph gusts and rain forecast for later..
I made my descent, not nearly as bad as it looked, with steps and scrambling to the right of the chute.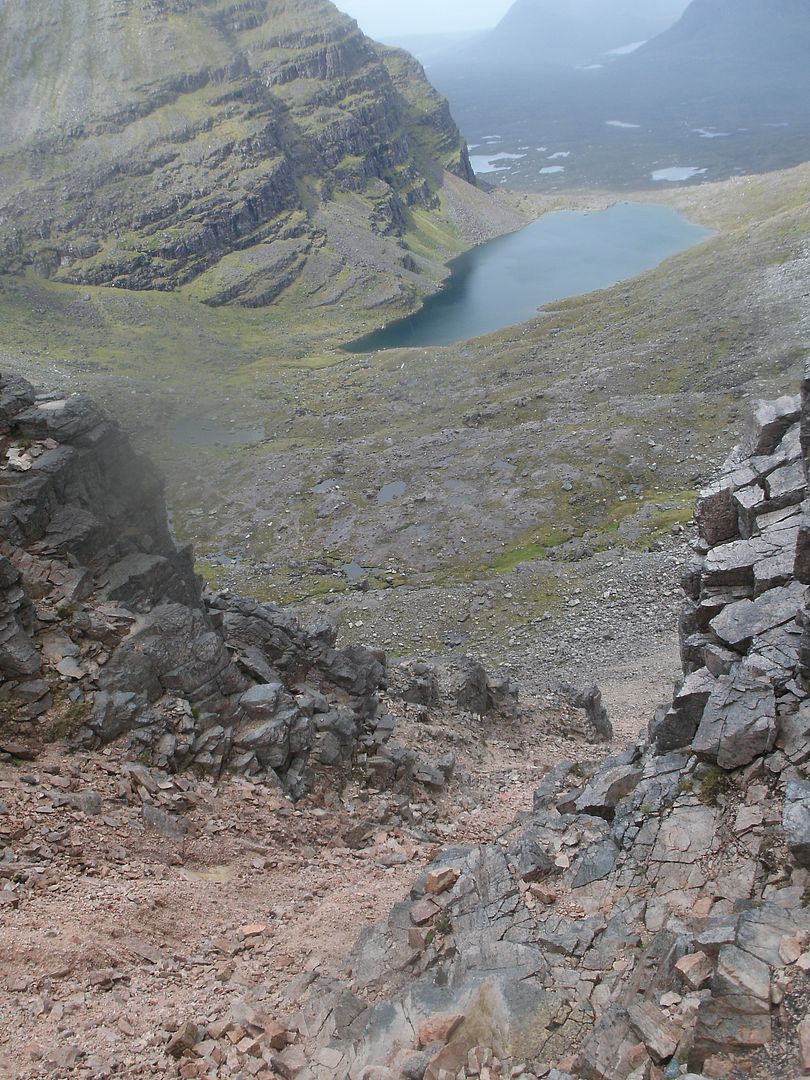 I ended up a bit too far right though, and had to go over a rather wet and slippery boulderfield to get back to the path.
The path disappeared at certain points, but is well marked with cairns. I made it to the lochan, left or right? The left would have been quicker, but he right had a big path and I was in no rush – still only 1.30. I stopped and ate my piece by the lochan, the walkers coming up thick and fast now. It really was a most bonny place, and if it had been quieter, I would of stripped off for a dip in the loch.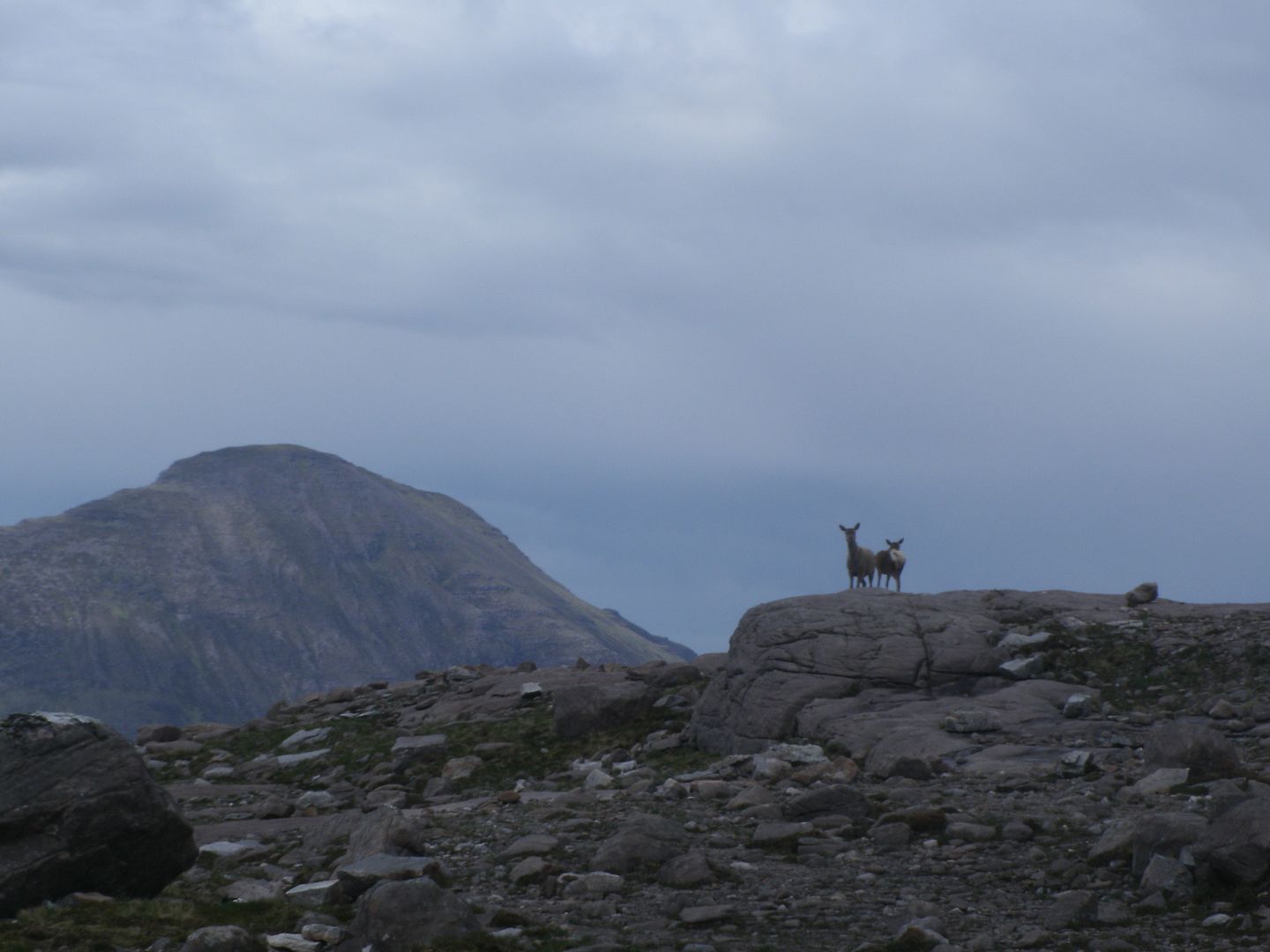 Humidity had made the day far too sticky! Eventually I left and took the well made path down from the corrie, marvelling at the bonny waterfall.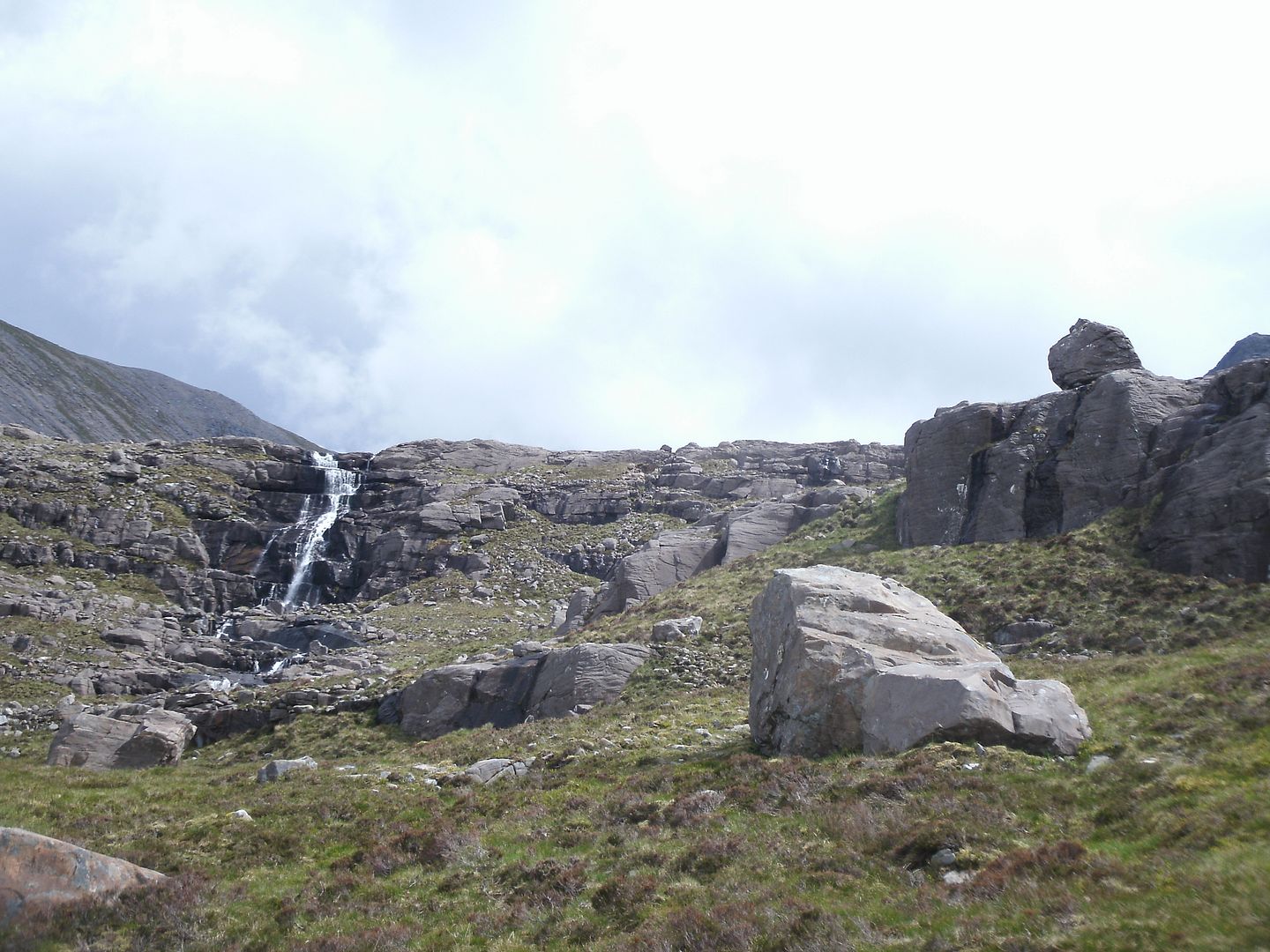 An easy walk back followed, with some bonny views.

Those paths are fair sore on the feet though, and I was hobbling a bit by the time I got back to the car at 3PM. A surprisingly short day as it turned out, despite the silly Sail Mhor side trip.
Oh well, plenty time to banter with the strangers in the campsite, and drink some girly fruity cider..