I awoke at Torridon campsite on Sunday morning, the rain that had been battering the tent all night, was lighter but still going. I was feeling a bit bleary after a few tinnies the night before.
The fly sheet was black with suicidal midges that had drowned in the condensation, but even though it was still, there weren't too many about.
Already up a bit later than intended I did my faff and got the tent packed up. The second I stepped out of the tent, the weather seemed to clear up a great deal. It looked like another hot and humid day was on the cards.
I set off along the road, the alpine bends catching me by surprise, but Sunny made it to the car park in one piece. A cloud of midges had me away from the car very quickly indeed at about 8.30. I went over to the bridge to view the gorge – absolutely beautiful..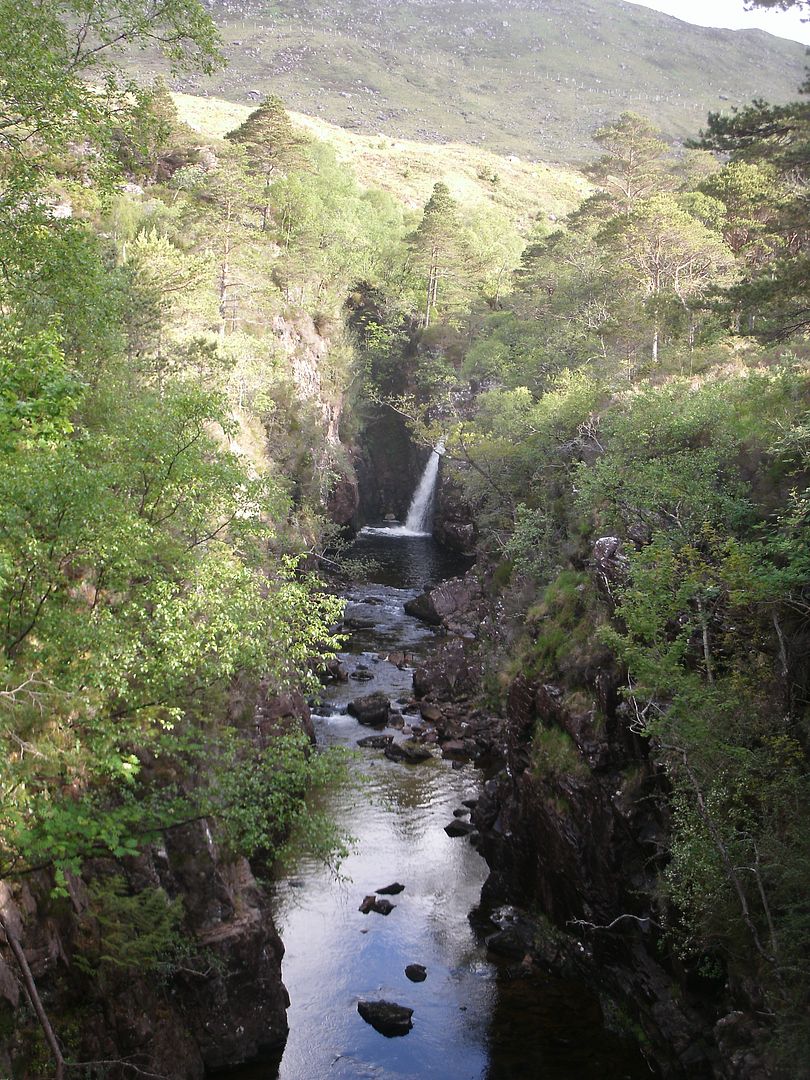 Then found the path to the west side of the burn, which is a little hidden and after a short section at an easy angle, goes over a style in the deer fence and steeply up.

The path people had definitely been, and there were big stone steps all the way up. Good for erosion, bad for my thighs, which ached already!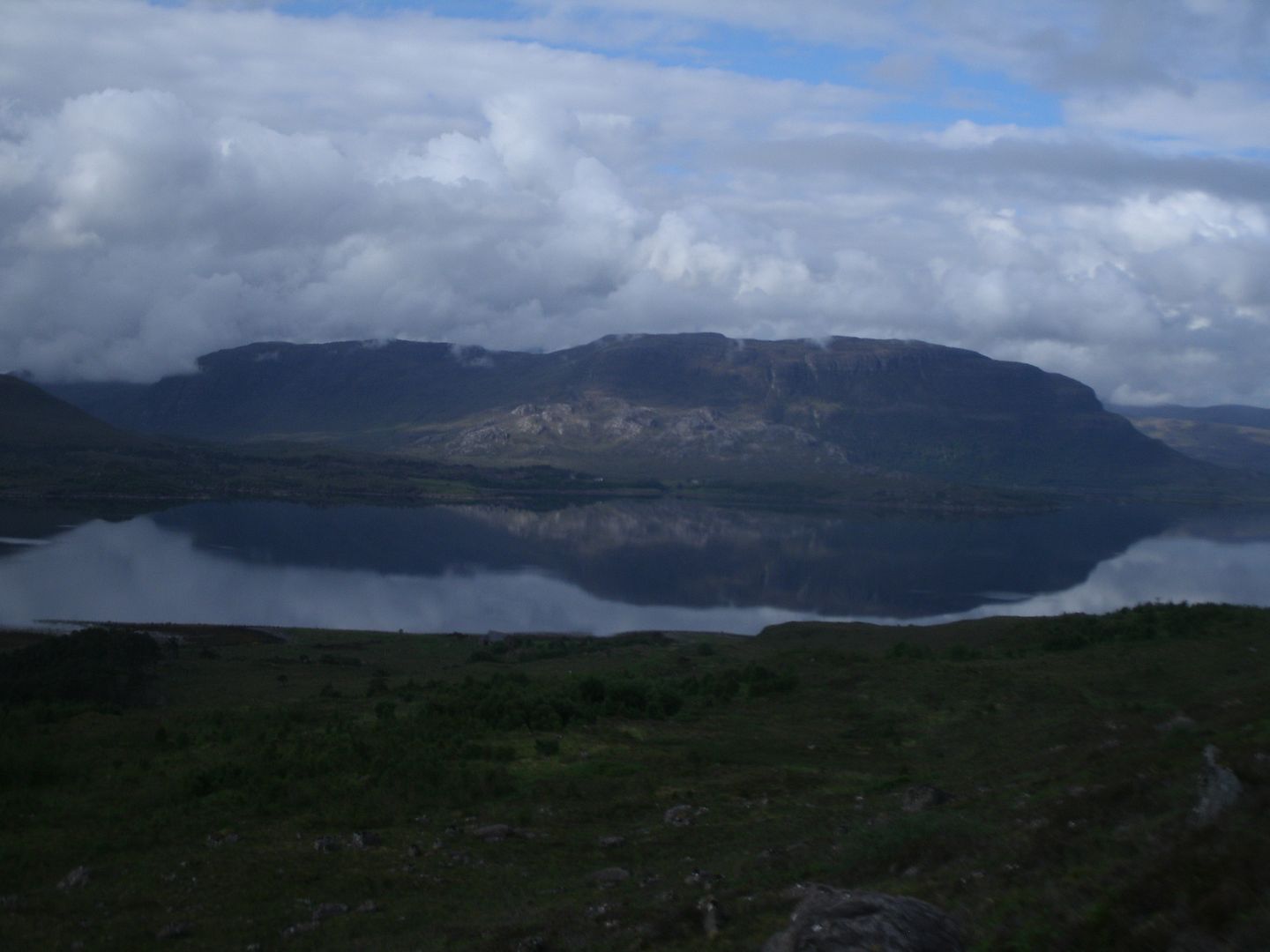 There were a couple ahead I kept on almost catching up with, so every time I did I stopped for a rest and let them get ahead again. It was really hot, and I was literally dripping with not a waft of breeze to be had, so I took on as much water as I could from a wee burn I crossed, and hoped it would last the day. The tops were still in mist,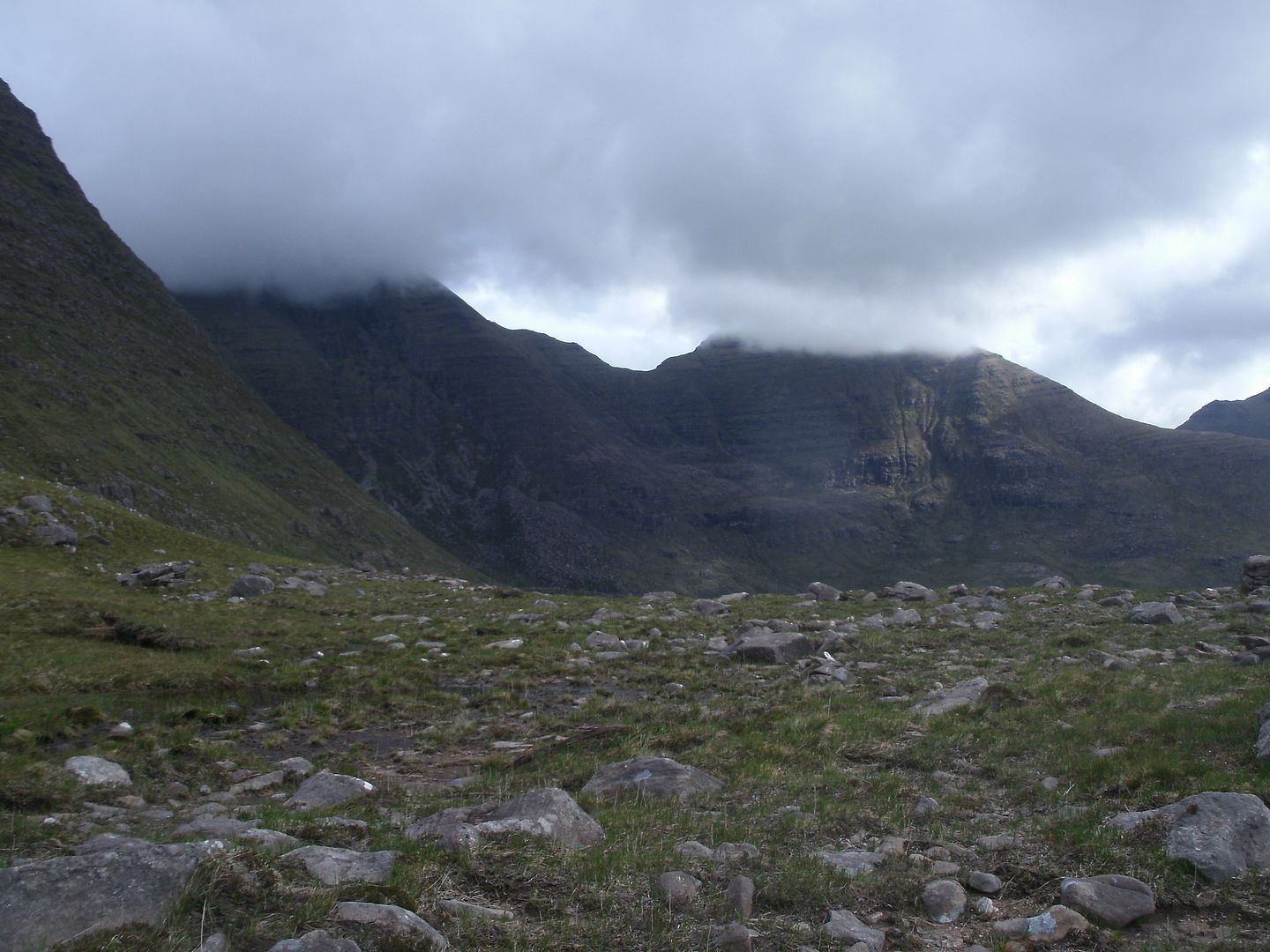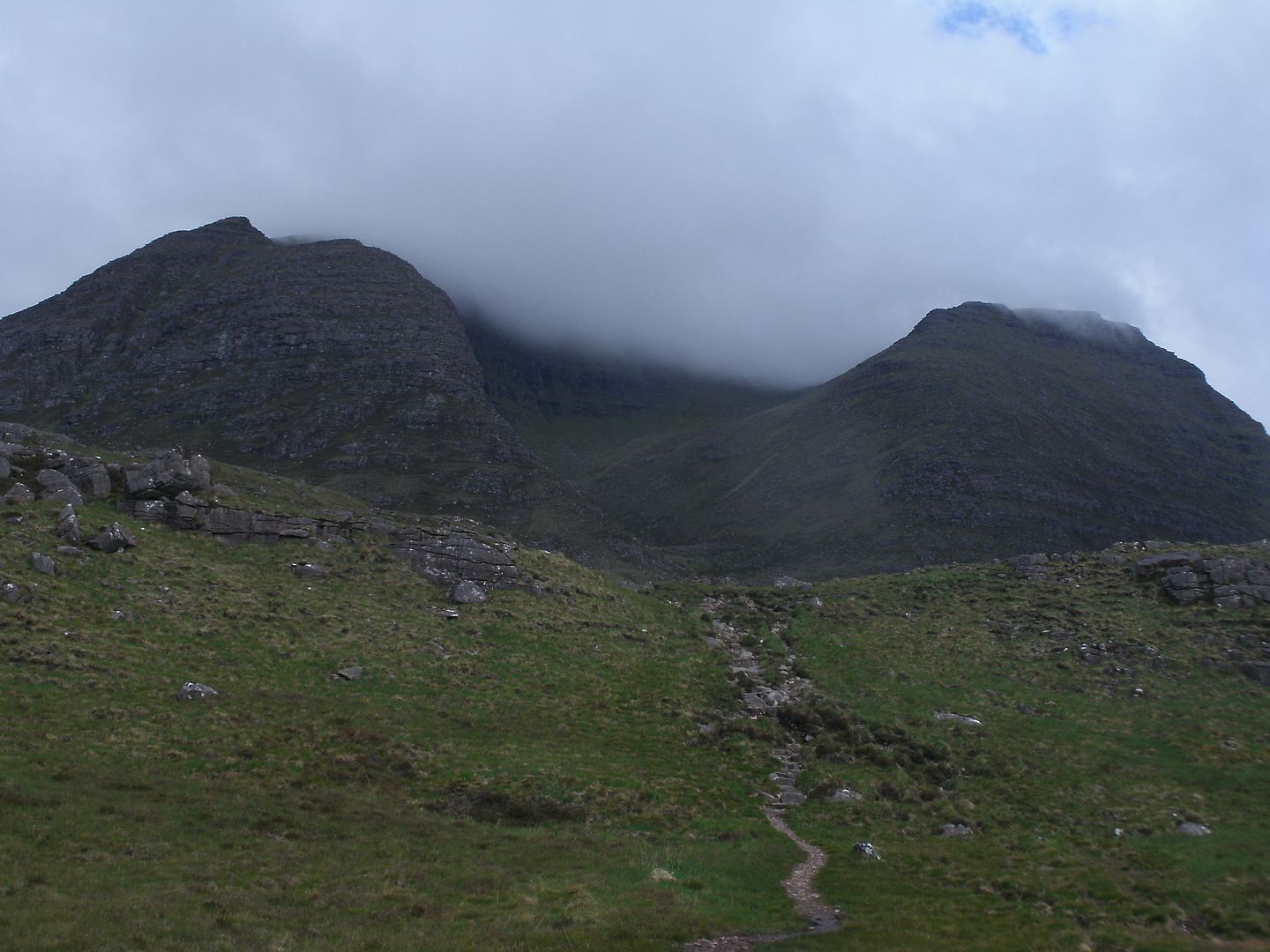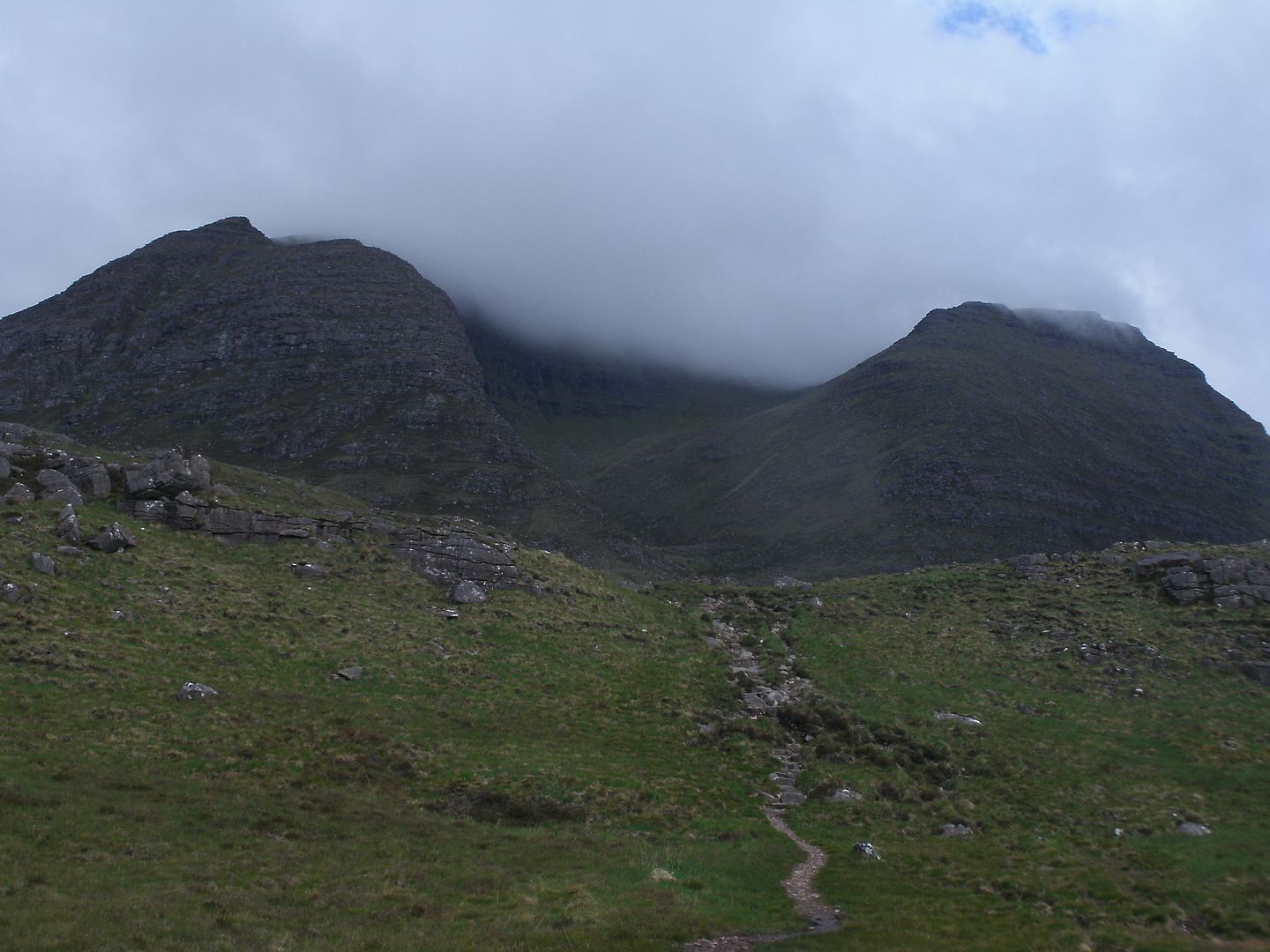 but as I came round into the corrie, it lifted and I caught my first glimpses of the horns at the other end.. Oh the anticipation!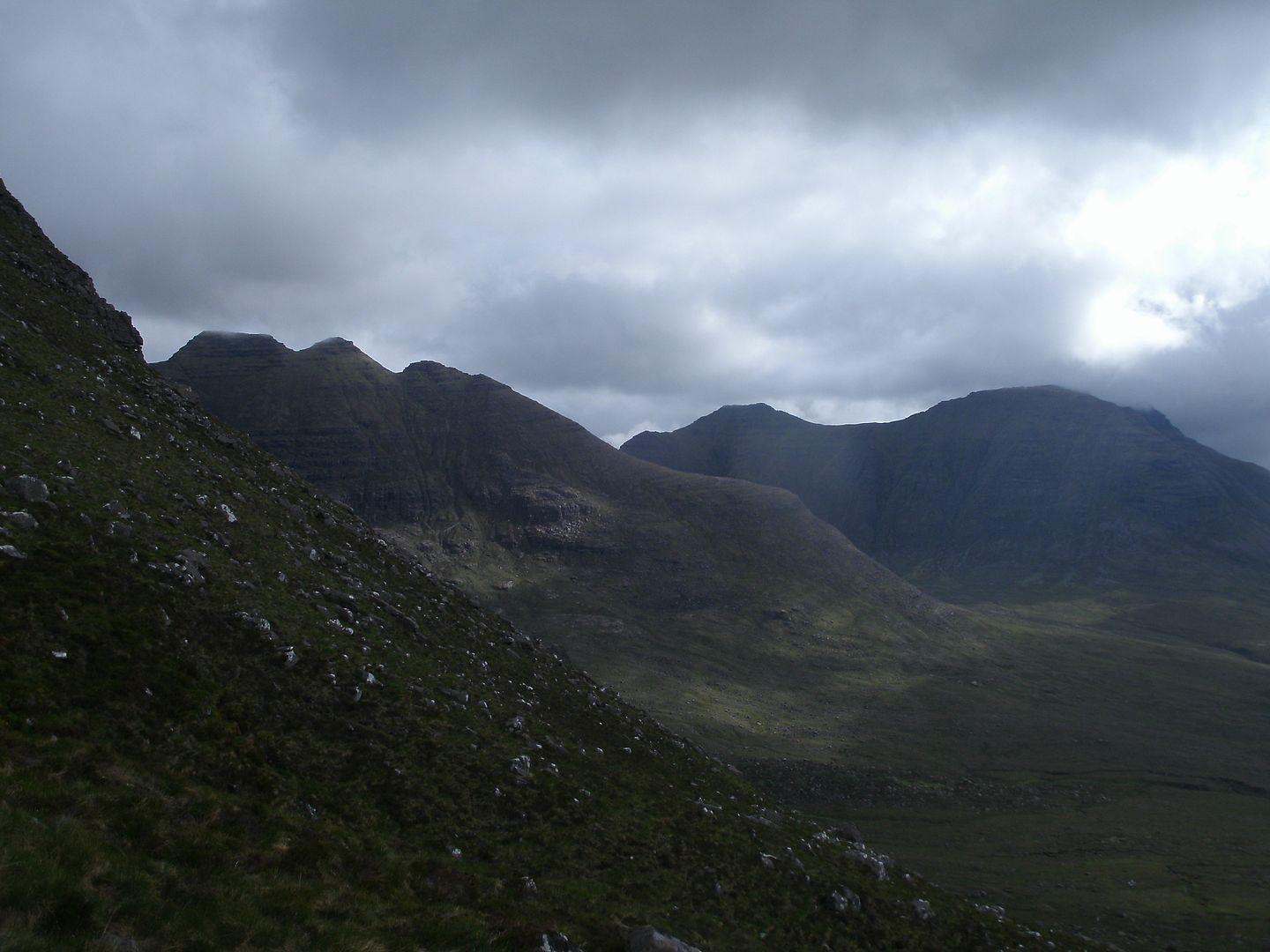 A hot trudge from the corrie – Path peoples steps further down, but eroded terribly near the top, saw me just a couple of hundred metres from the first munro of the day.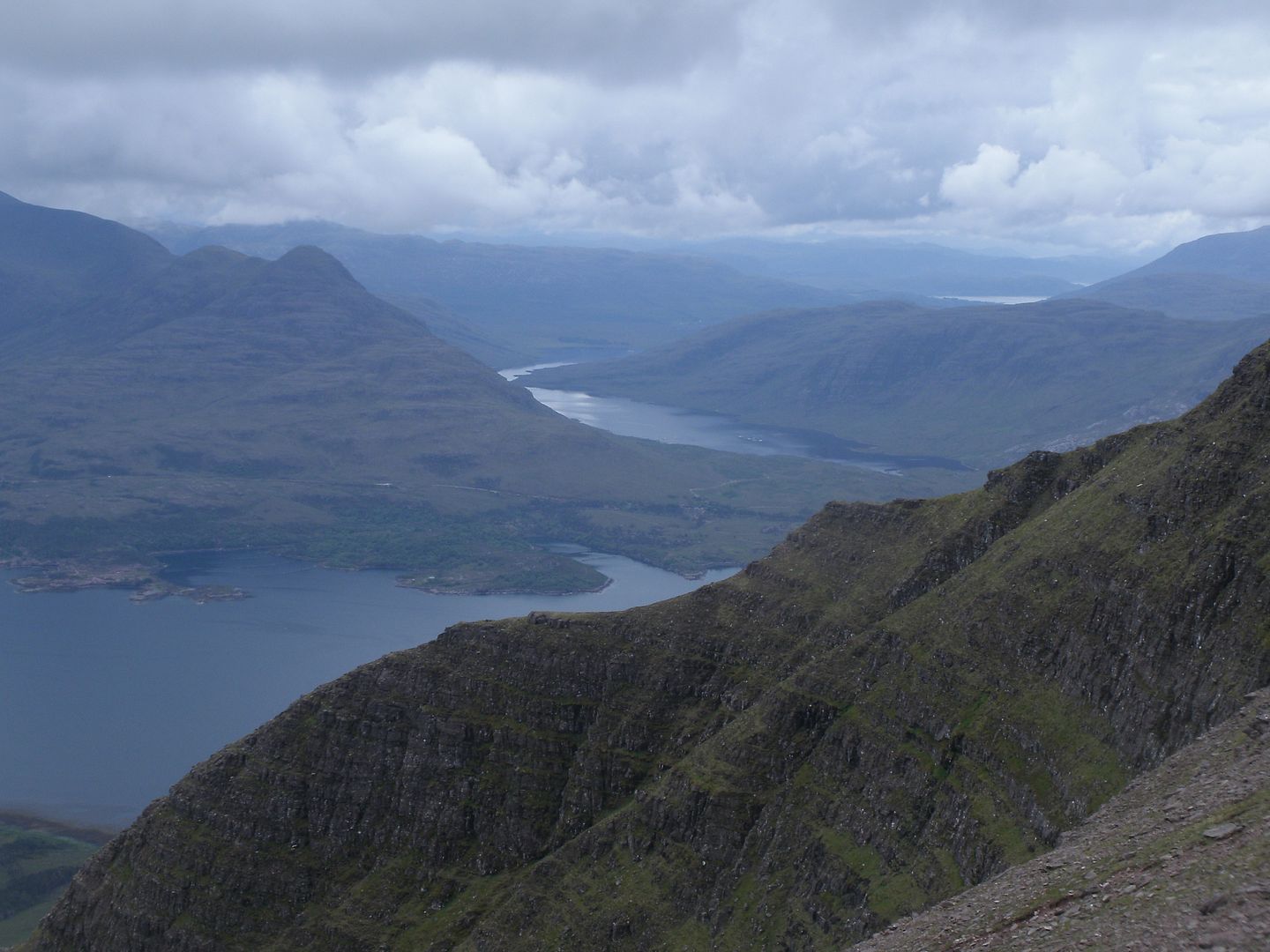 It was almost a surprise that it was so close! I caught up with the couple – a father and son team who were just doing this munro and heading back down. The views were totally astounding, not just of Alligin, but out to the isles, and over Fisherfield and over toward Gairloch. To the south looked a lot cloudier, but the Strathcarron hills were in view through the haze.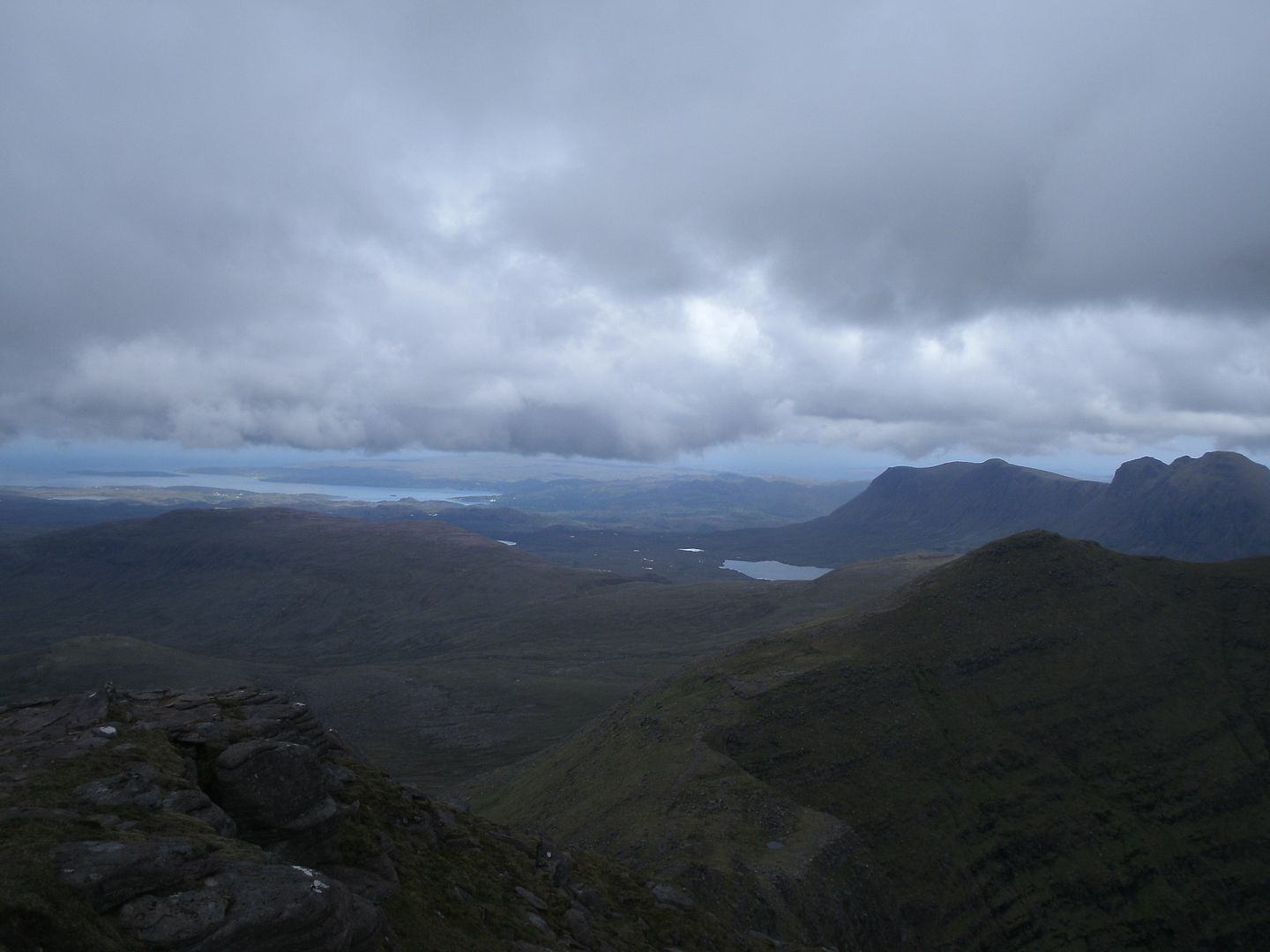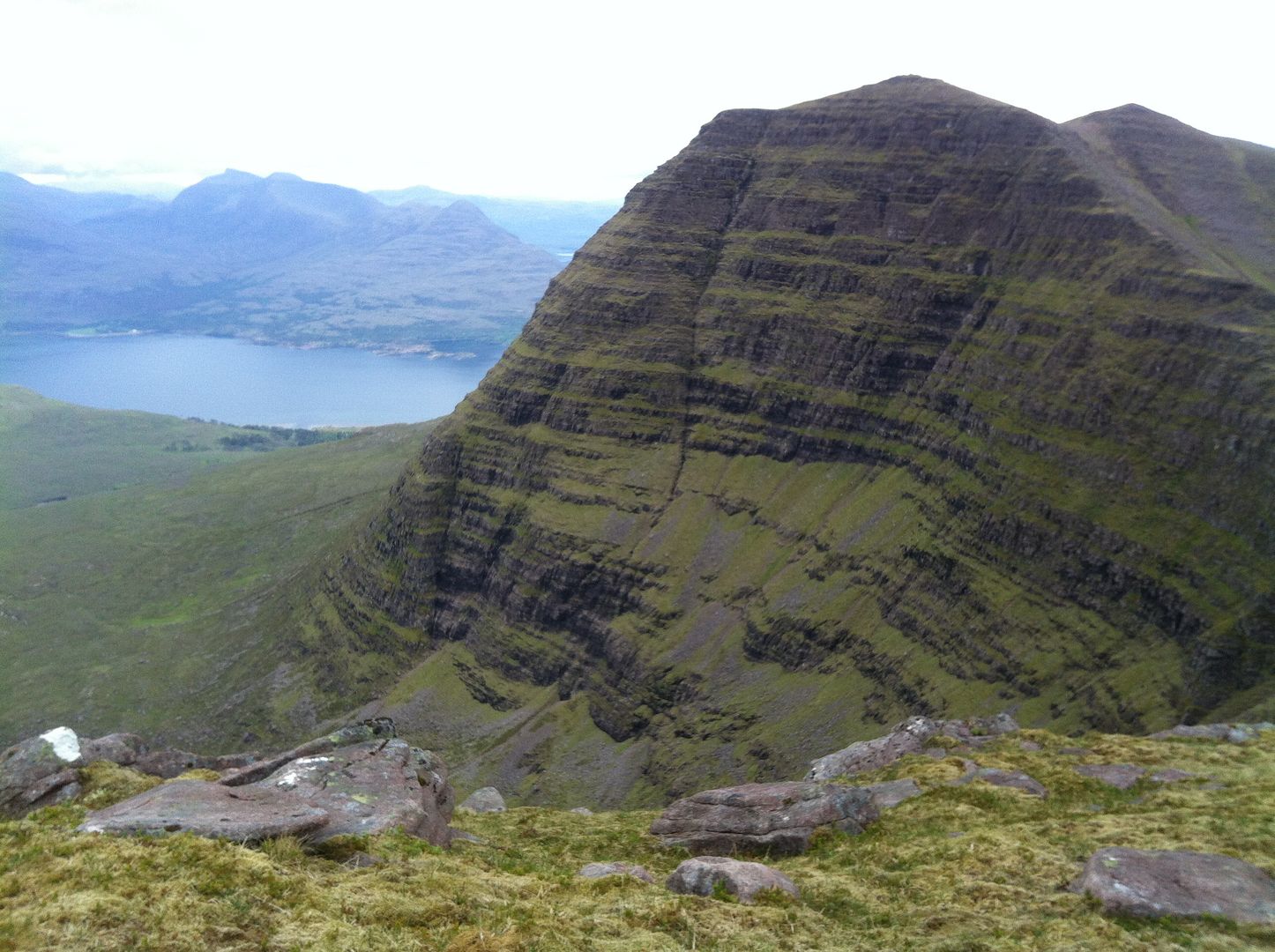 So onward, downward, was very steep. A maze of paths to choose from, all of them fairly grim going, and a lot of care was needed.
This was only for a short while, and the going got easier again down toward the bealach where a boulder field was crossed before the ascent up to a minor top.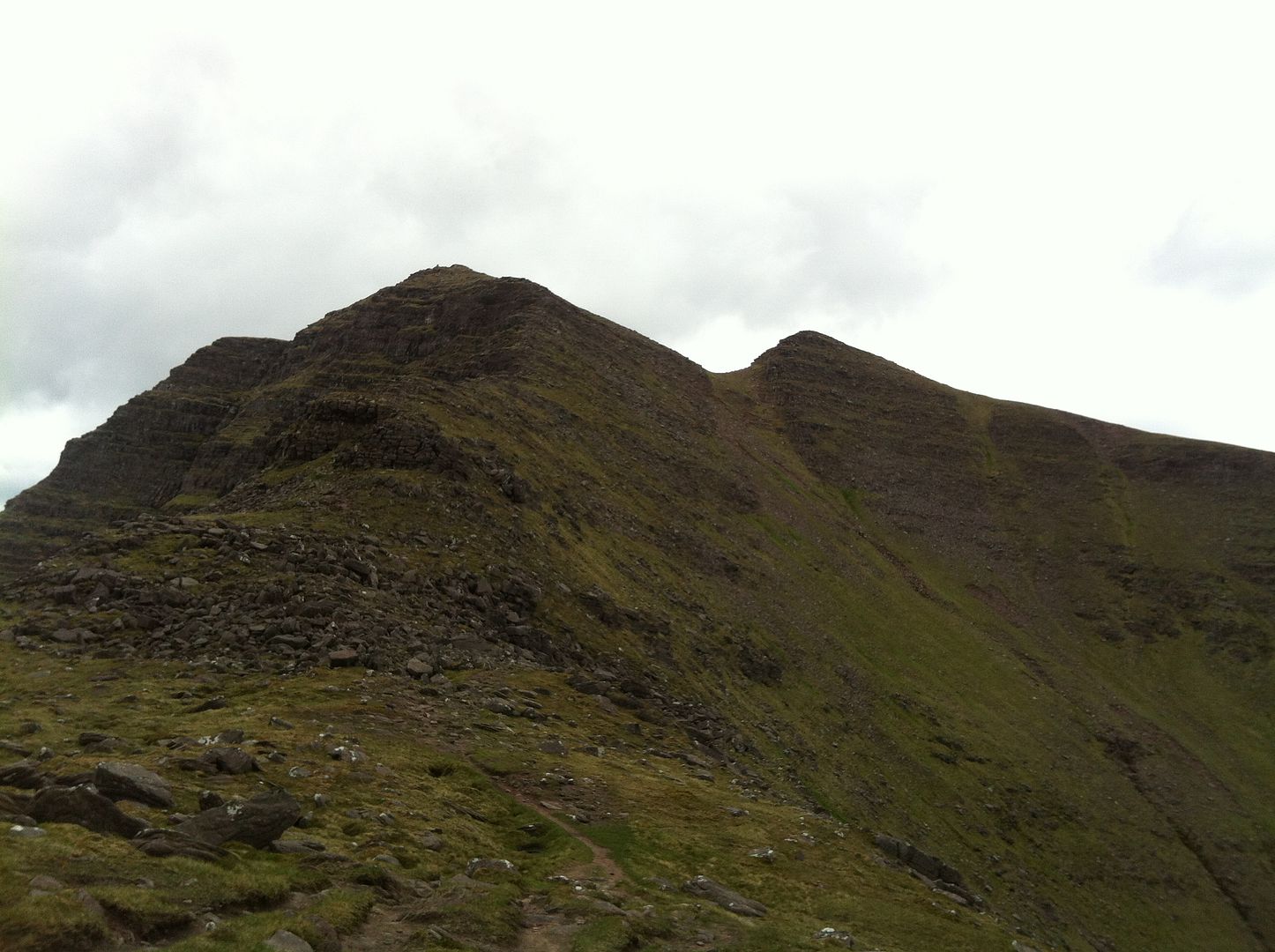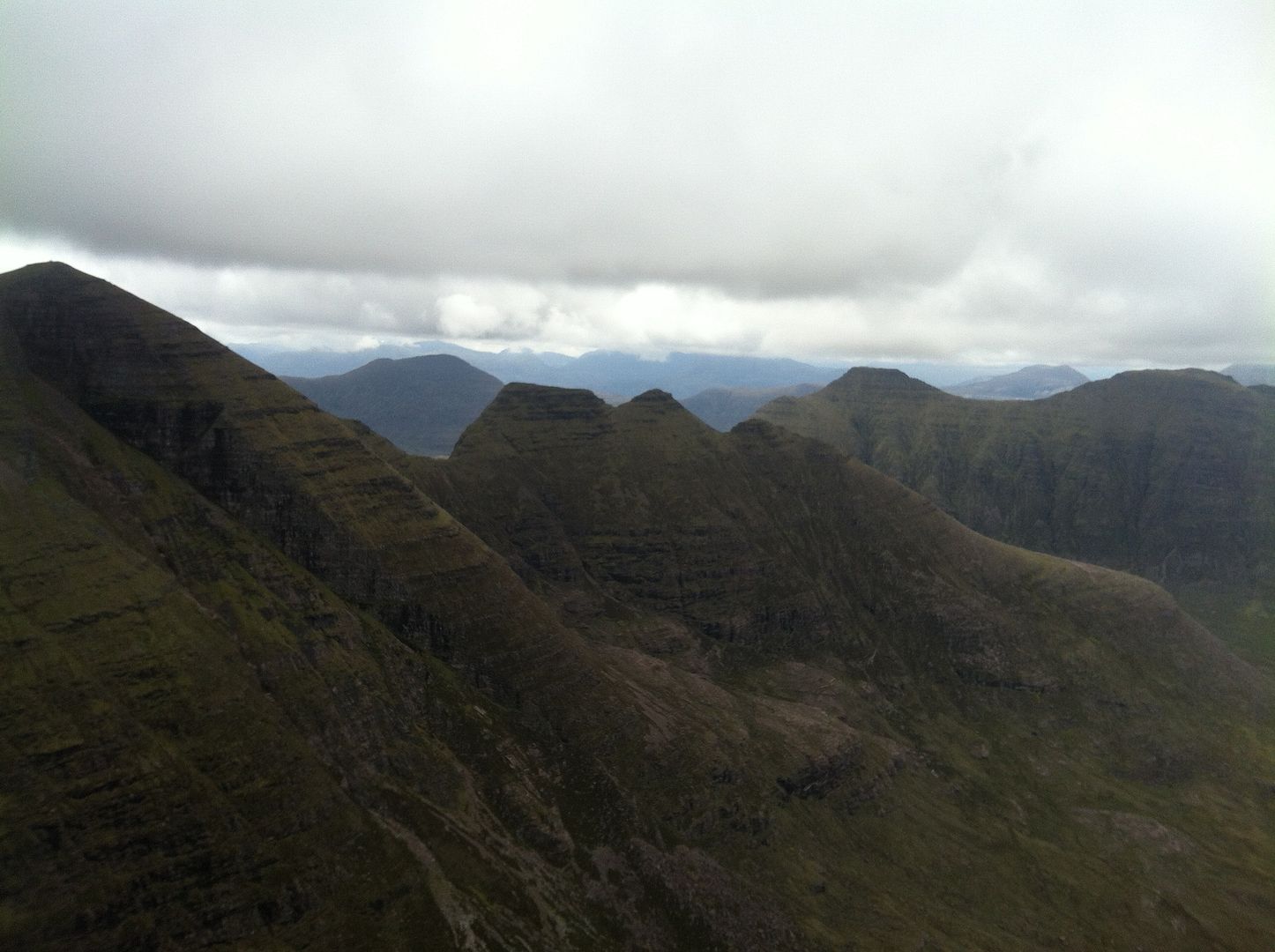 I stopped a while, wanting the day and the views to last forever, but was on the steep climb up to Sgurr Mor before too long.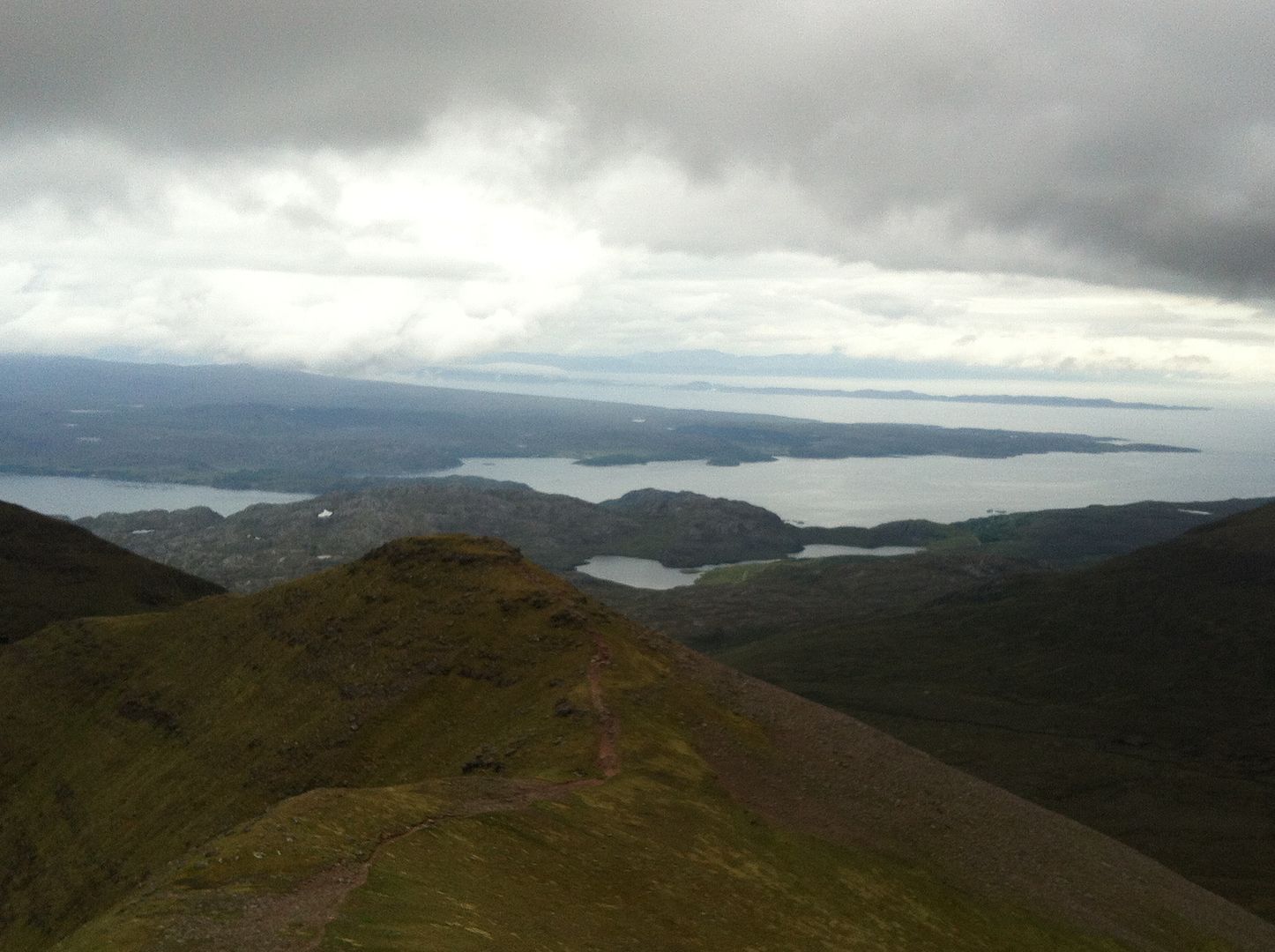 Again there were big thigh killing steps, but also a network of heavily eroded paths to choose from. I passed the big gully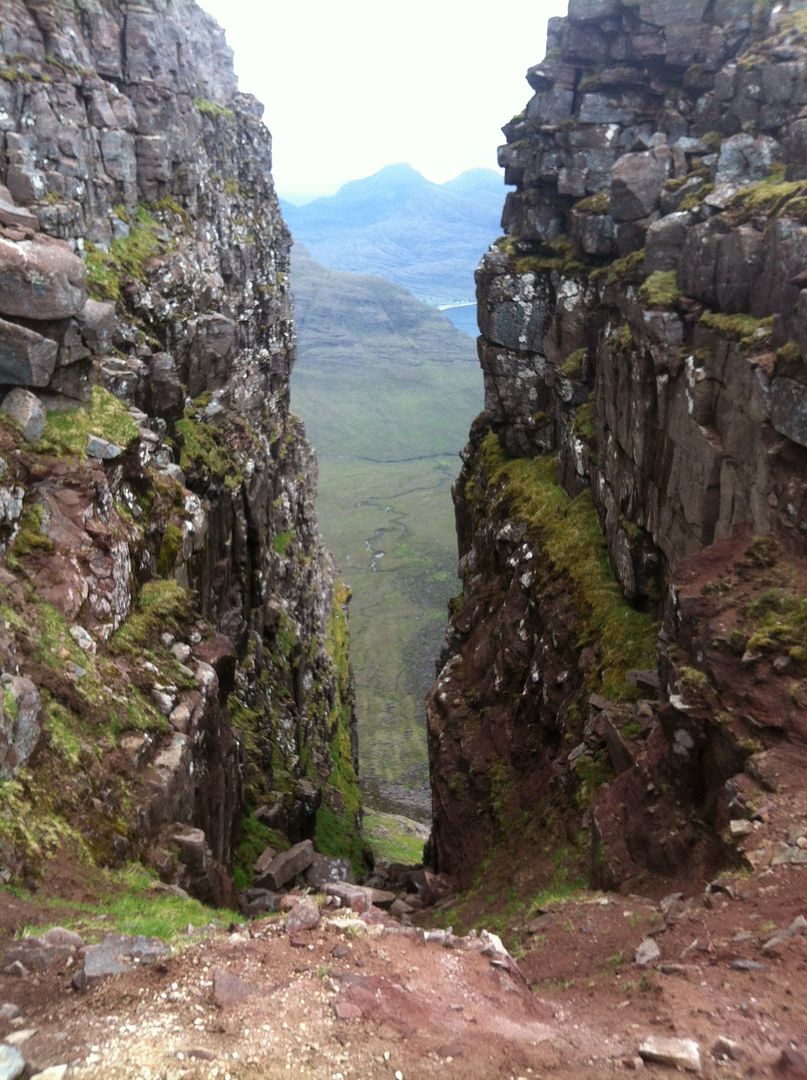 and was up on the summit before too long, the horns below looking magnificent.
Again I wondered about where everyone else was – I hadn't met or seen anyone since the last summit.
As I made my descent toward the horns though, I started to see folk going over, and soon I was meeting folk every hundred yards or so. Hmm I guess most folk do this walk the other way then!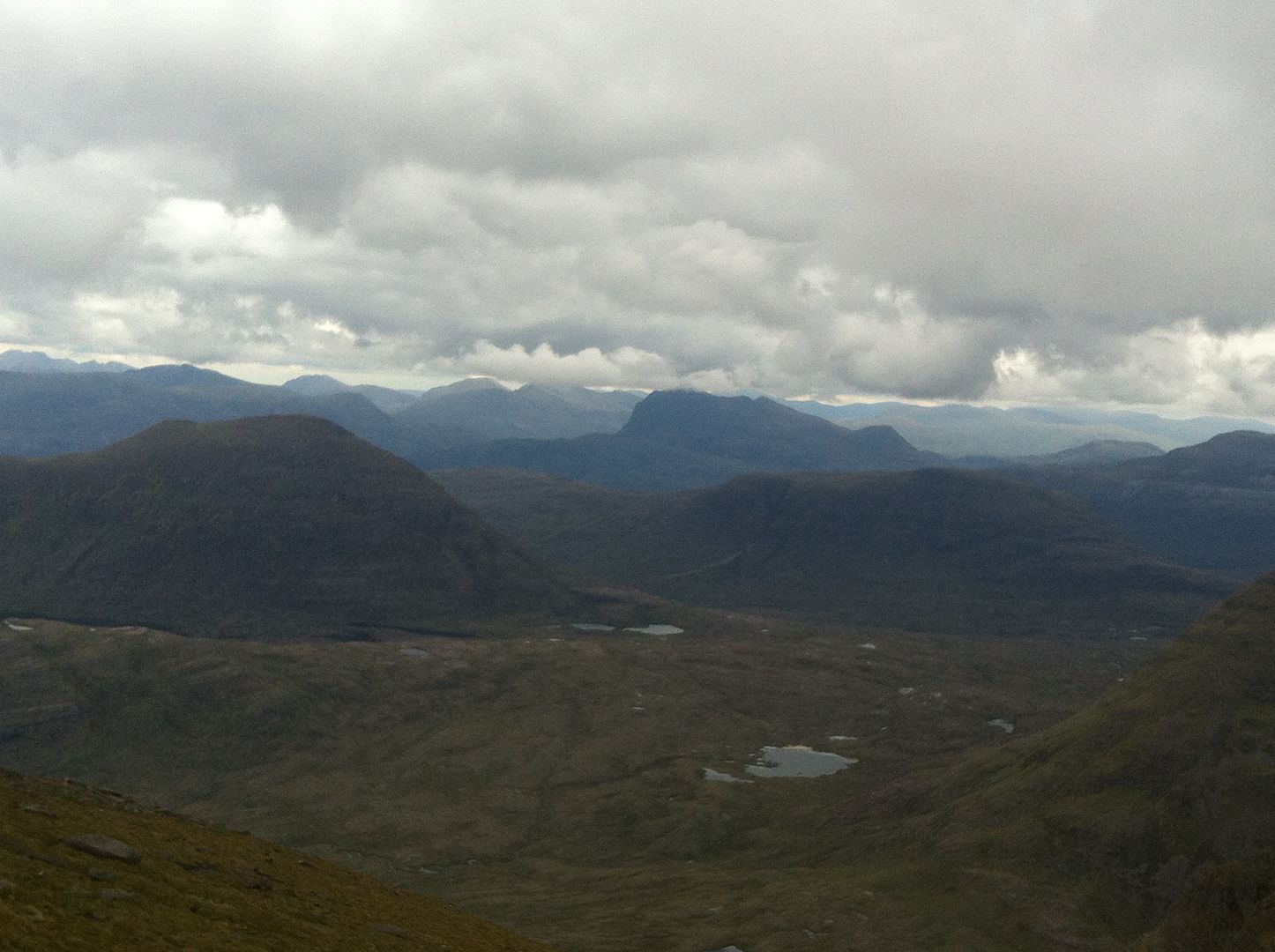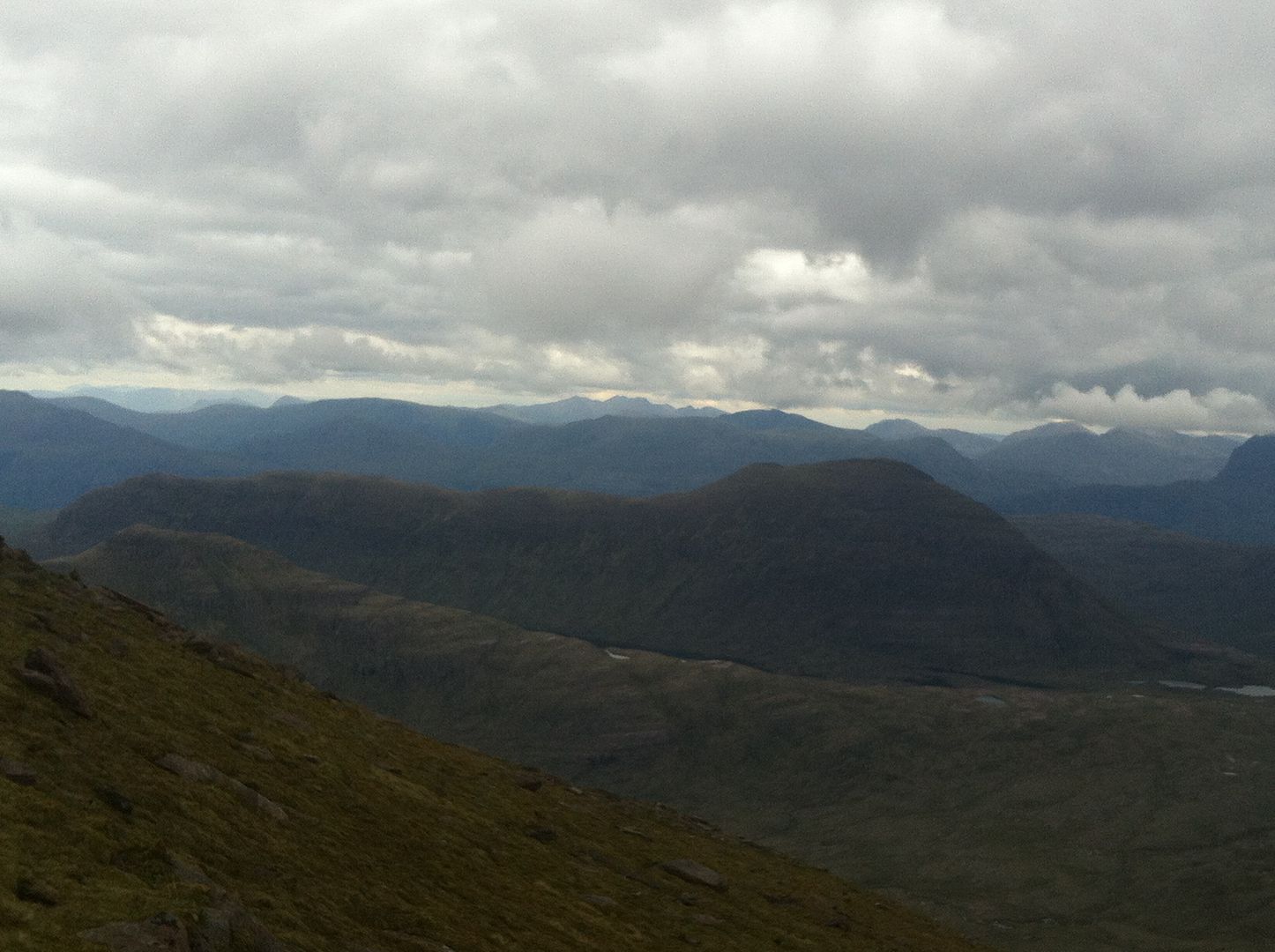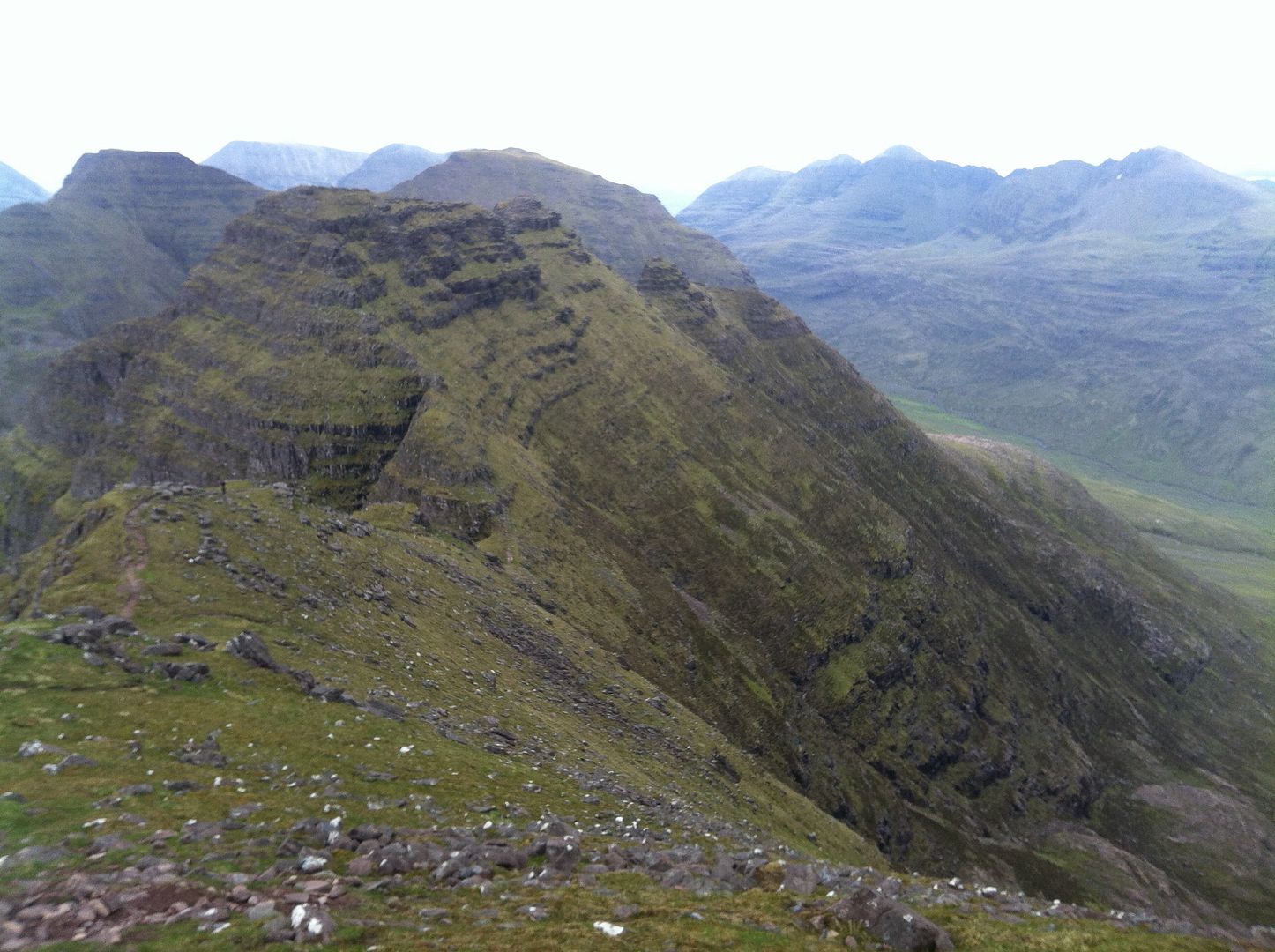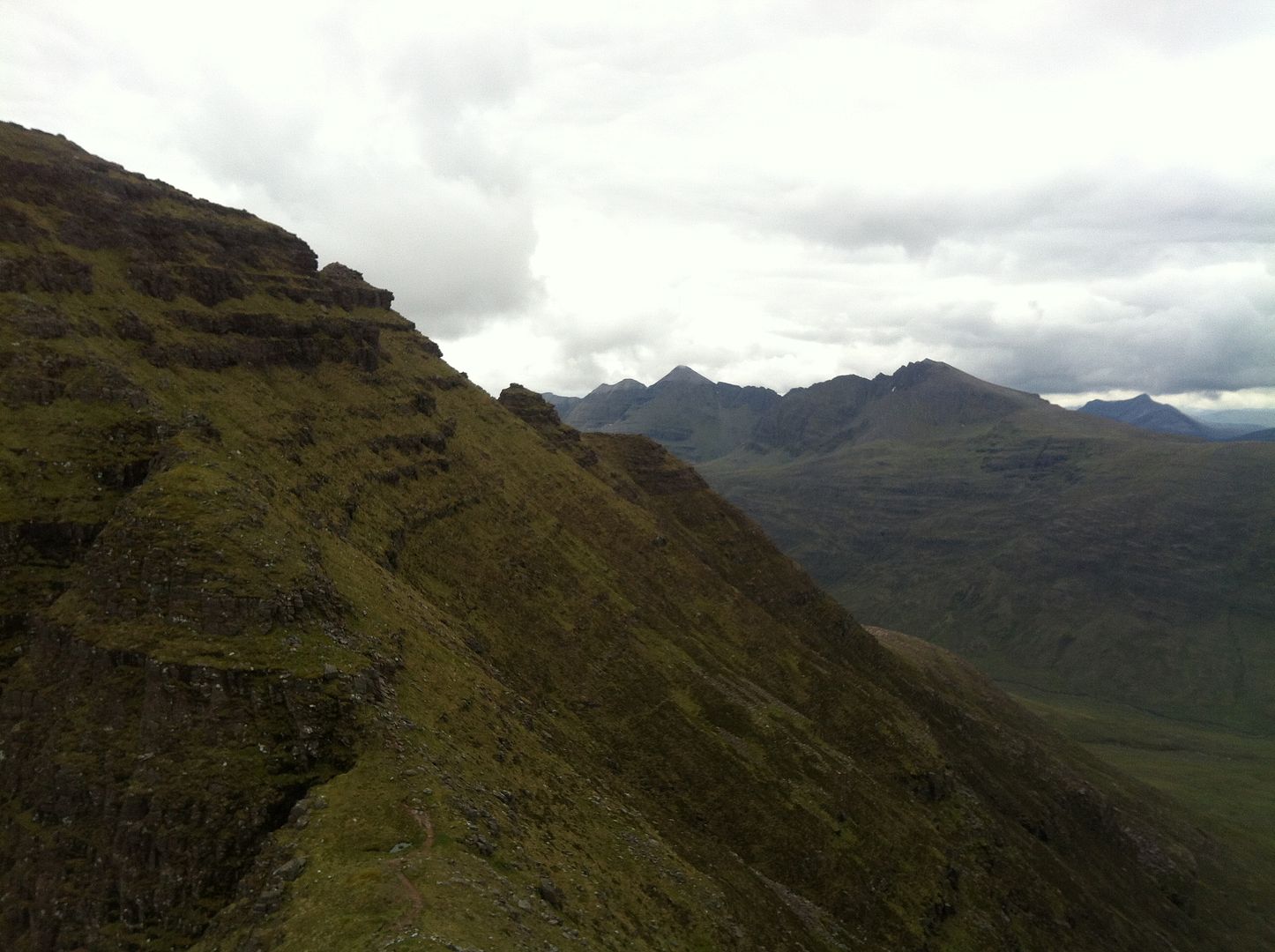 A careful, steep descent, had me surprised at how big a climb it was up to the first horn. Hot work, but only a couple of big steps to scramble over – easy peasy.
The scramble down was a little more tricky though. Second horn, only had one tricky move and I was on a wee boulder field and at the summit. I suddenly had an attack of hunger so stopped for my piece. Looking out over Fisherfield, with An Teallach looking spectacular again.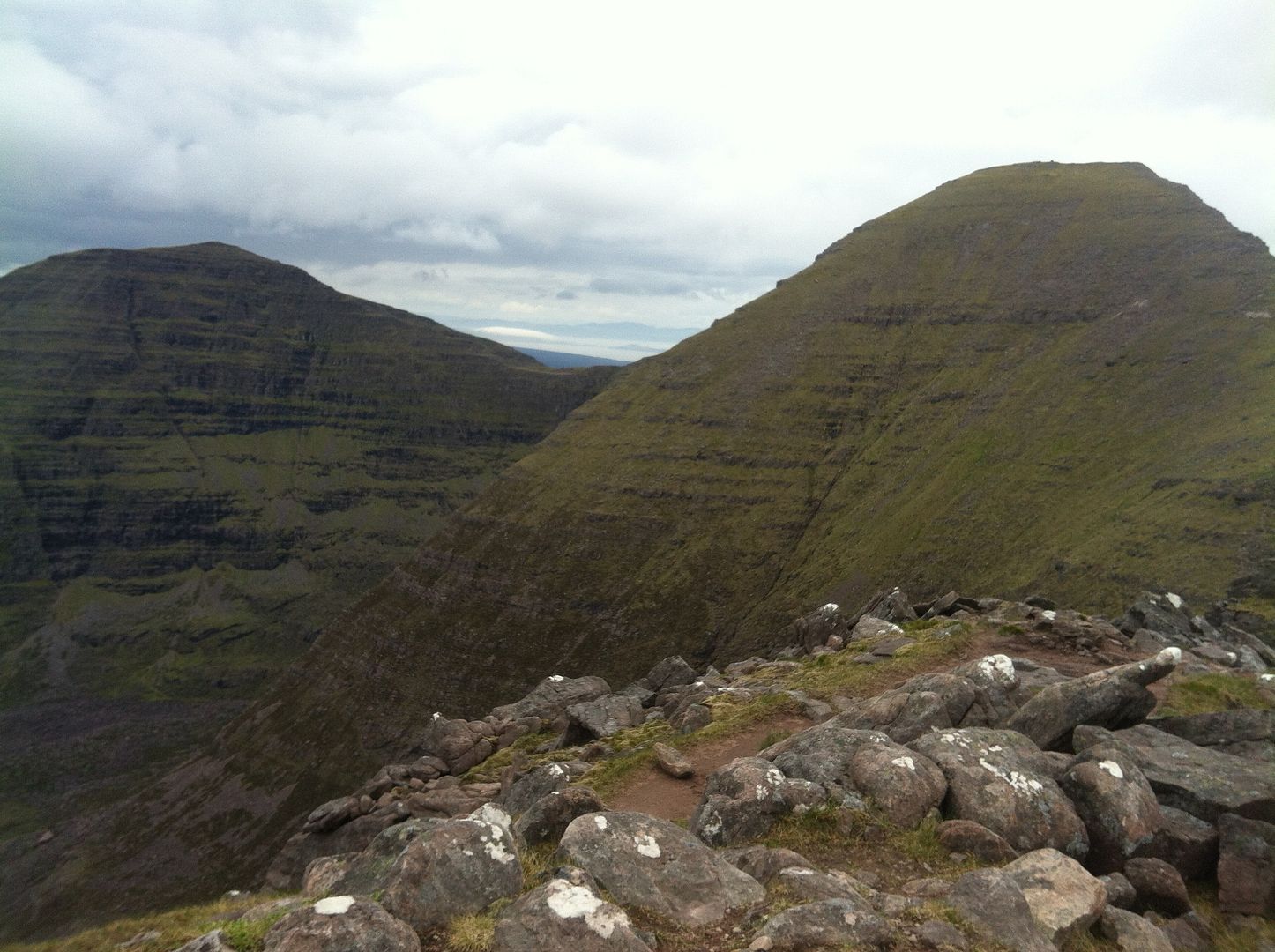 I realised I had a phone signal, so decided to text dad – The horns are one of his favourites, and it was fathers day after all. Little did I know that Dad was on one of his bike rides, and at that exact moment was looking up at the horns from the other side of Loch Torridon.. What are the chances!
Midges' starting to bother me now my smoke was finished, it was time to move on. A trickier descent brought me to the third horn. There was a path round to the right, but I climbed up the nose, to find myself on a ledge. I went round a bit, found another wee rake up to another ledge.. A tricky manoeuvre took me up to the top, where I found there was an easy path if I had gone round a bit!
Oh well, it was fun anyway. Disappointed to reach the final horn, I started my descent on the good path.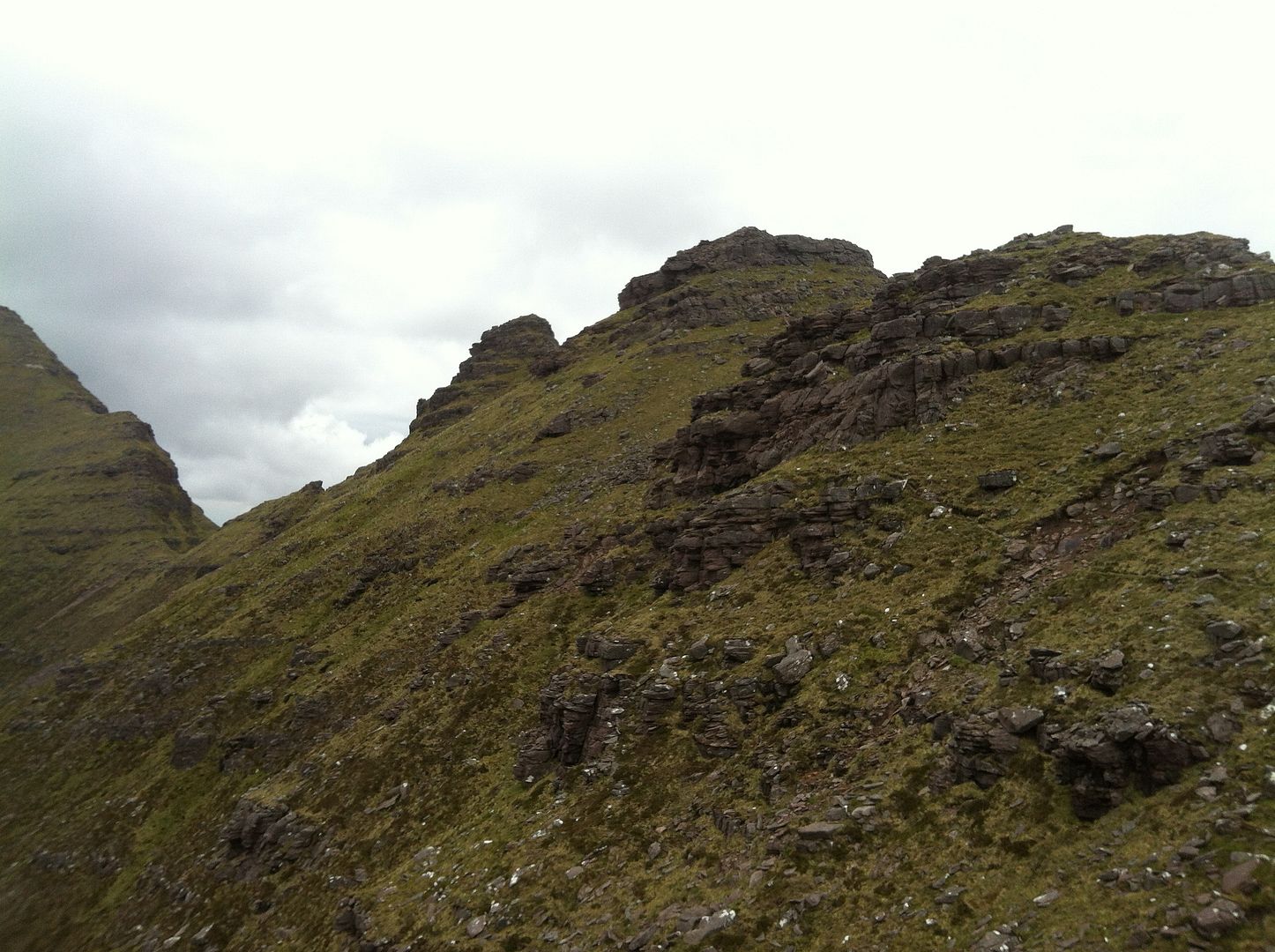 I had heard you have to stick to the path because of cliffs further down, so I did exactly that.
So descending down, away in a dwam, I was suddenly in a raucous, with baby ptarmigan cheeping and scattering. I realised that the mother was flying straight for me,
and managed to turn my head just in time. PECK she went, pulling out skin and a big clump of hair..
Well my flight instinct kicked in and I ran back up the hillside, with mother ptarmigan in hot pursuit – would have been highly amusing to watch I imagine.
I tried to turn and face her a couple of times, each time she attacked straight away,
so a burst of speed from me put a bit of space between us and I turned, shook my poles at her and growled.. Then the chaser became the chased and eventually she got the message.
I took a wide route to the very edge of the ridge, being followed and watched for a way until I was at a satisfactory distance. I checked my head wounds – blood! Oh I've never heard of a ptarmigan attack before, and I hope to never be a victim again!
So back on the path, I reached a flatter section before the really steep stuff below. I met an English couple, doing their first munro – warned them of the avian perils above.
So down the extremely steep path I went. Big natural steps in the hillside, seemingly designed for Fin M'Coul, took their toll on the legs. Knees and thighs ached. It was so steep that I got down quickly into the glen.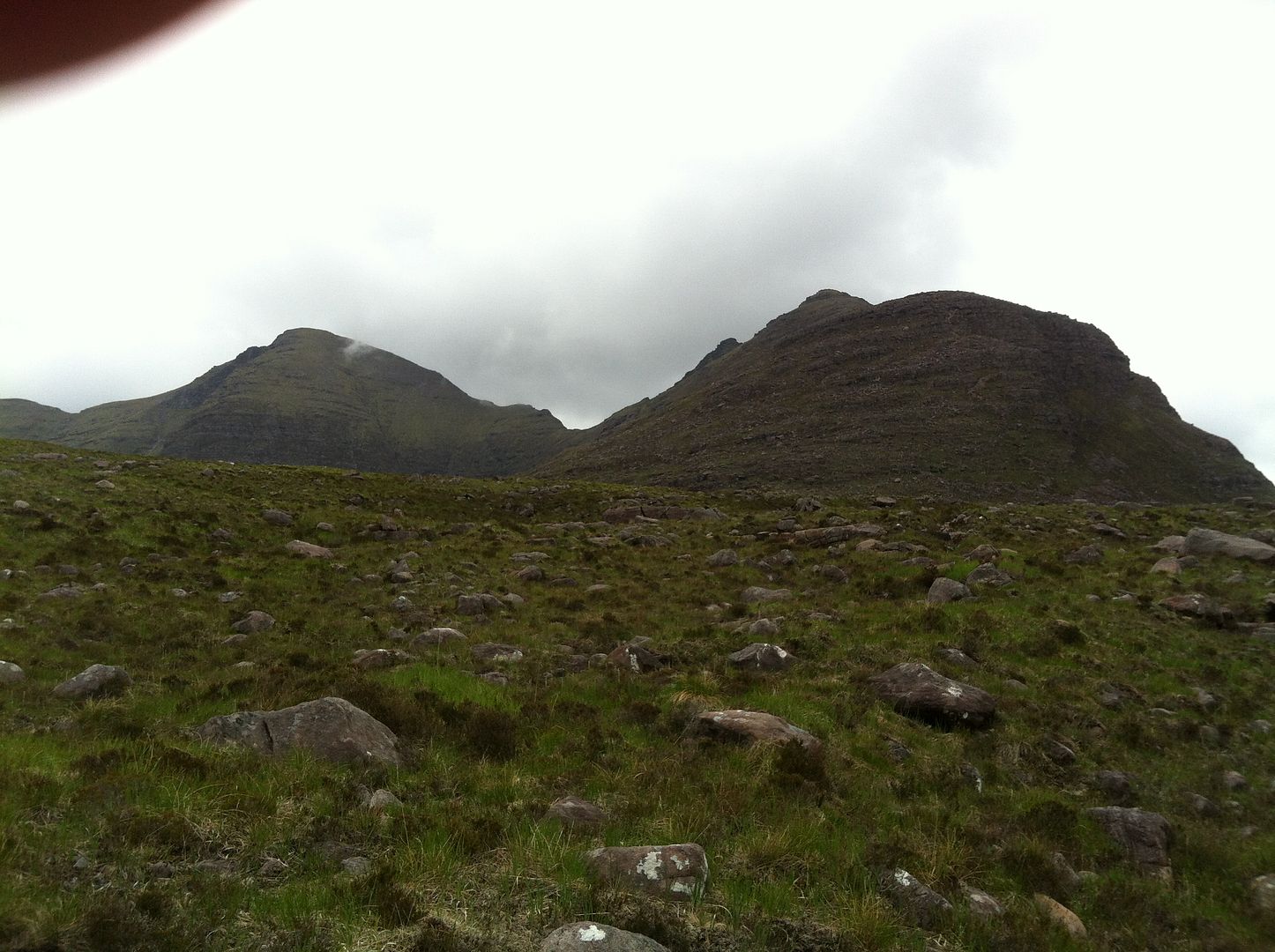 The path winds its way over to the burn and I was loving the bonny waterfalls.
Further down after a couple of bridges, the river turns into a gorge. Disturbed a cuckoo to take this shot – I could count the cuckoo's I've seen on one hand, so a lovely sight.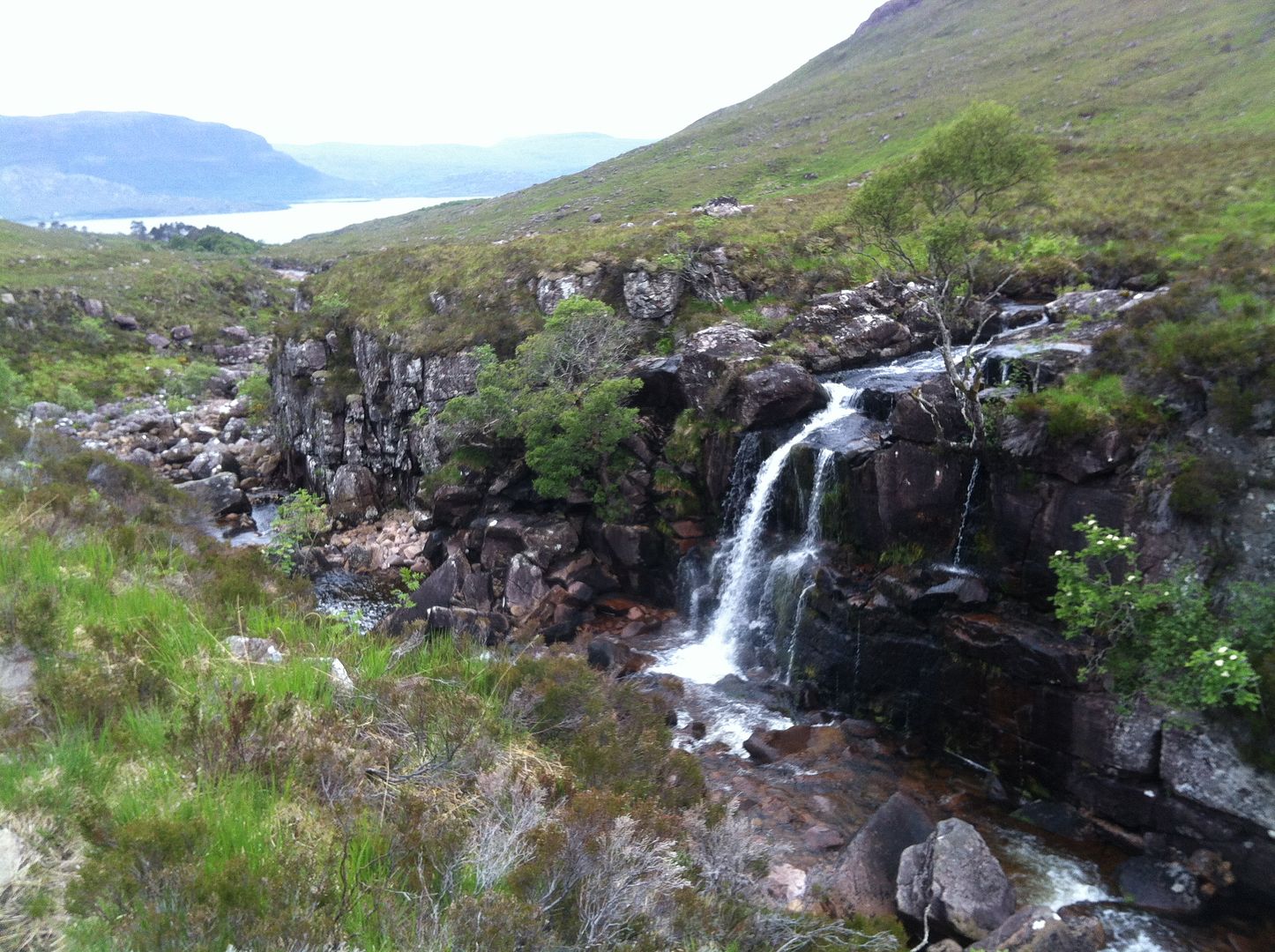 The path further down goes through woodland, where a huge waterfall can be heard. A wee explore brought me out to a naturally carved seat above the falls where I sat a while and listened to the roaring.
To my surprise it was only a couple of hundred metres back to the car. What a good day!