Another early start saw me leaving Perth on my way to the Loch Earn start point at 05.15. As I made my way along the single lane road on the South side of the loch I began to seriously doubt whether there would be a parking spot left, even at this ungodly hour. I have been in many a crowded campsite but the sheer number of tents and cars occupying the various lay-bys and patches of shoreline resembled some crazy fusion of a city centre car park and a refugee camp. My fears were unjustified, parked up at the spot described in the WH route and we were on our way by 06.10.
The East gate start point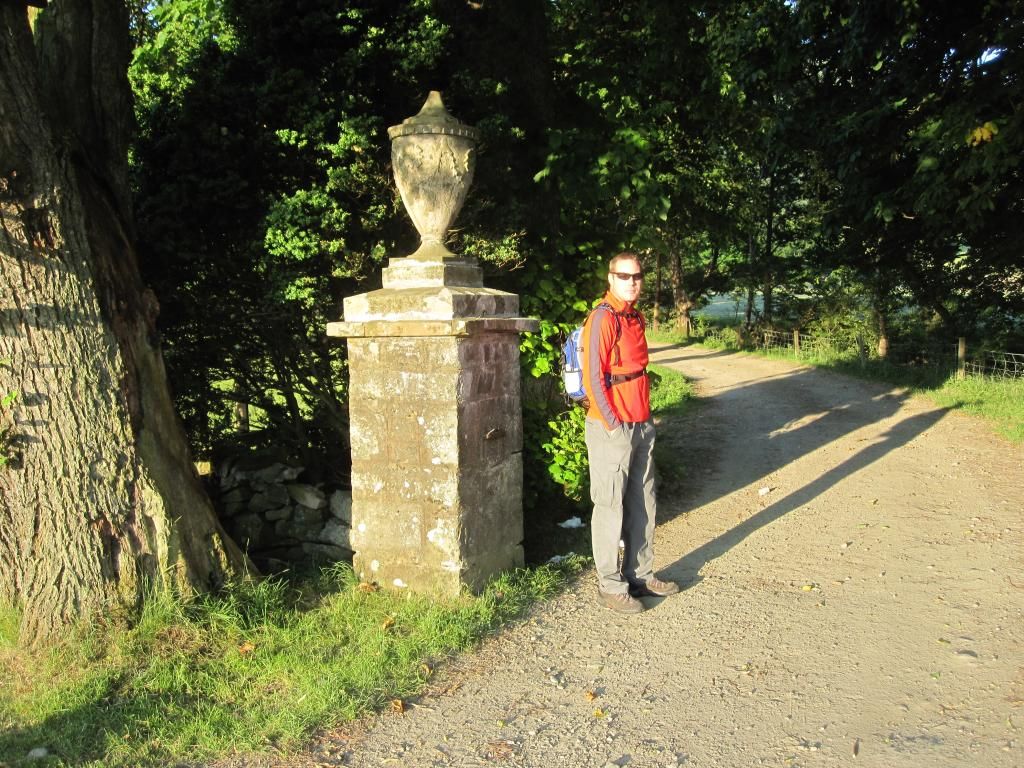 The initial path is very good and 'directional aids' have been provided by the landowners, no doubt sick of unwitting ramblers ending up in their garden/farmyard/kitchen etc. I would describe the first mile or so as a gentle climb, although you do gain height reasonably quickly giving great views back over Loch Earn.
The view looking back over Loch Earn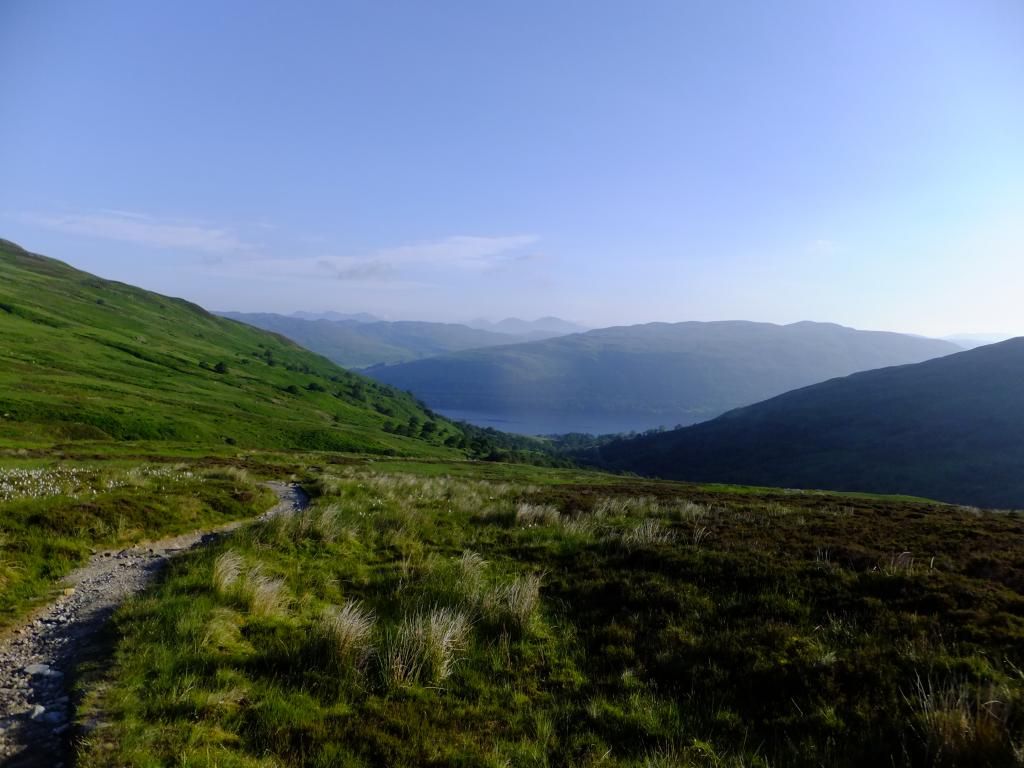 First sight of Vorlich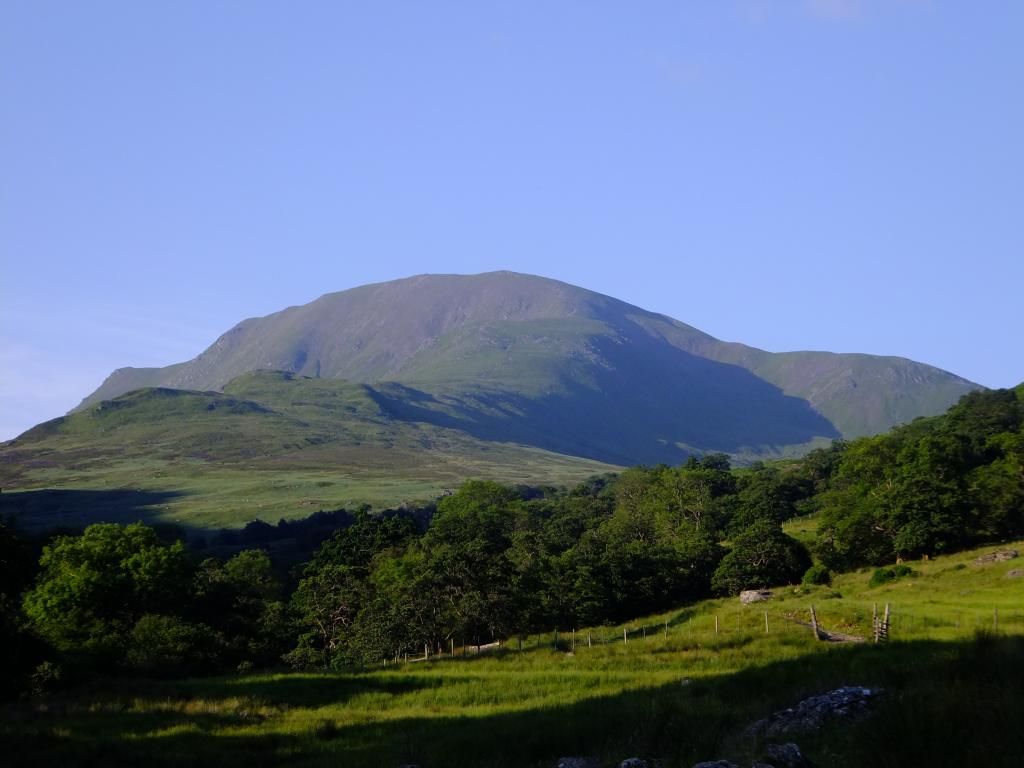 The heat even at this time of the morning was considerable and saw my fluid rations diminishing quickly, never mind I'll fill them from a stream near the top I thought……which might have been a plan had we not experienced drought conditions these last few weeks (3 days without rain in Scotland can be considered a drought) unfortunately, there were no streams. Not to worry, I'm writing this report so I obviously didn't shrivel up and spontaneously com-bust as a result.
You are able to have a good look at the hill all the way up from the start, which I like, and found that after 90 mins or so we had about 200m of ascent left….200m of steep ascent, or it certainly felt steep in the rising sun. As you climb you find yourself egged on by the sunlight glinting off the top of the trig point. Stopping for a breather every 10 mins resulted in excellent views back down the path on which you had traveled, the Loch and to the Munros further North.
It is steeper than it looks....or it certainly felt like it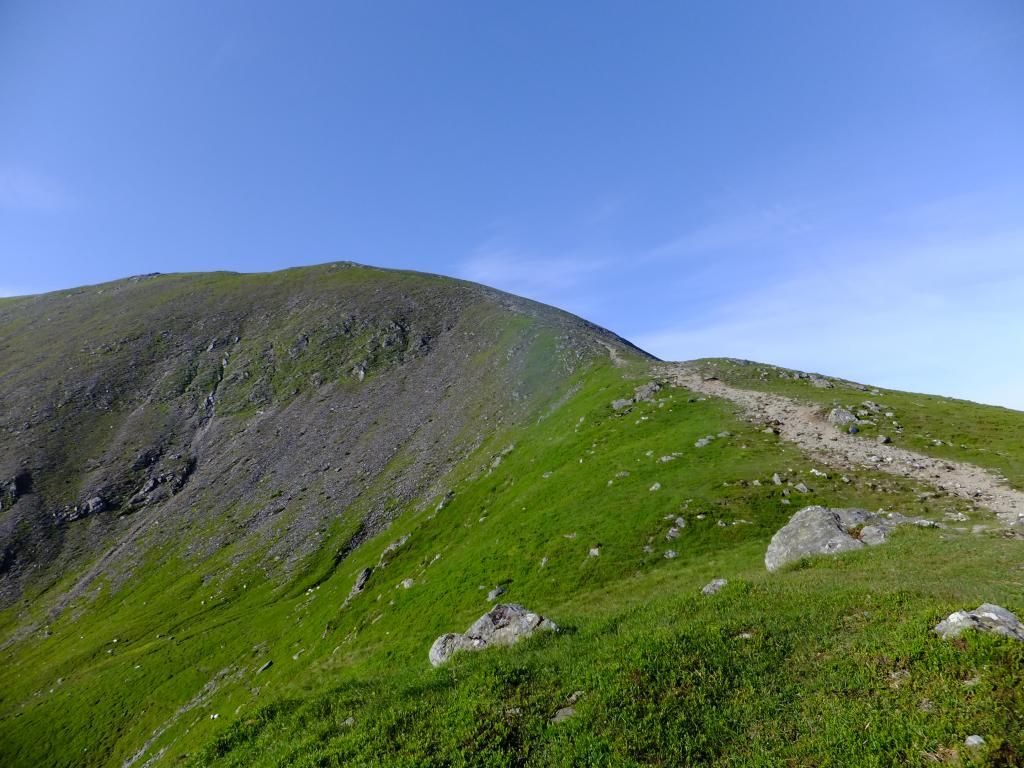 Are we there yet ? Are we there yet ? Are we...........
The Vorlich trig point, Stuc A 'Chroin in the background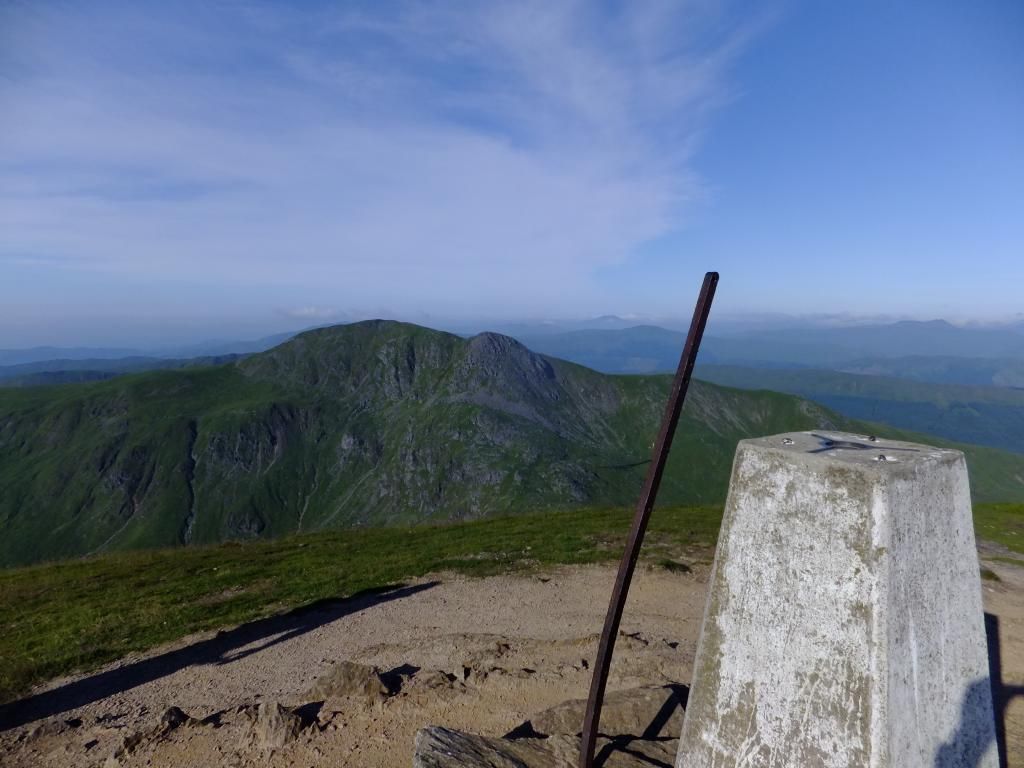 We posed for a couple of pics before making our way along the ridge to the summit cairn. The views are fantastic, all 360 degrees of them. The sun was now more friend than foe as we settled down for a bite to eat and to absorb the stunning scenery.
Looking down the glen towards Stirling
The ridge path back towards the trig
It soon became apparent that we kept focussing on one viewpoint in particular, the prow on route to Stuc A' Chroin, I've nothing to compare it against but it looked bloody intimidating to me. Neither of us had scrambled anything more hazardous than an egg and now found ourselves torn between being a couple of fearty bums, experiencing twinges of excitement at the prospect and acknowledgement that many men, women, children and dogs (some with teeny weeny little legs) had successfully completed it before us. It has to be said that the over-riding emotion was of the white flag waving variety !!
Looking over to Stuc A'Chroin
However, the decision was taken to 'man up' and began our descent of Vorlich. With each step towards the prow I told myself it wouldn't be as steep as it looked…..arriving at it's foot it was grassier than it looked but still bloody steep. The walk over was fine, the boggy areas which would normally exist had all but dried up and I was glad I had chosen to go with my trail shoes rather than my big leather boots.
It was at this point that my companion realised he had left his irreplaceable sunglasses some 500 yards back during a drink stop. Their sentimental value must have been considerable as he divulged that they cost a princely 7 quid out of Sports Direct
As he returned for his shades I began the scramble, easily reaching the large grassy area about a third of the way up. Here I rested as I waited to be reunited with my now bespectacled mate.
The prow
From the foot of the scramble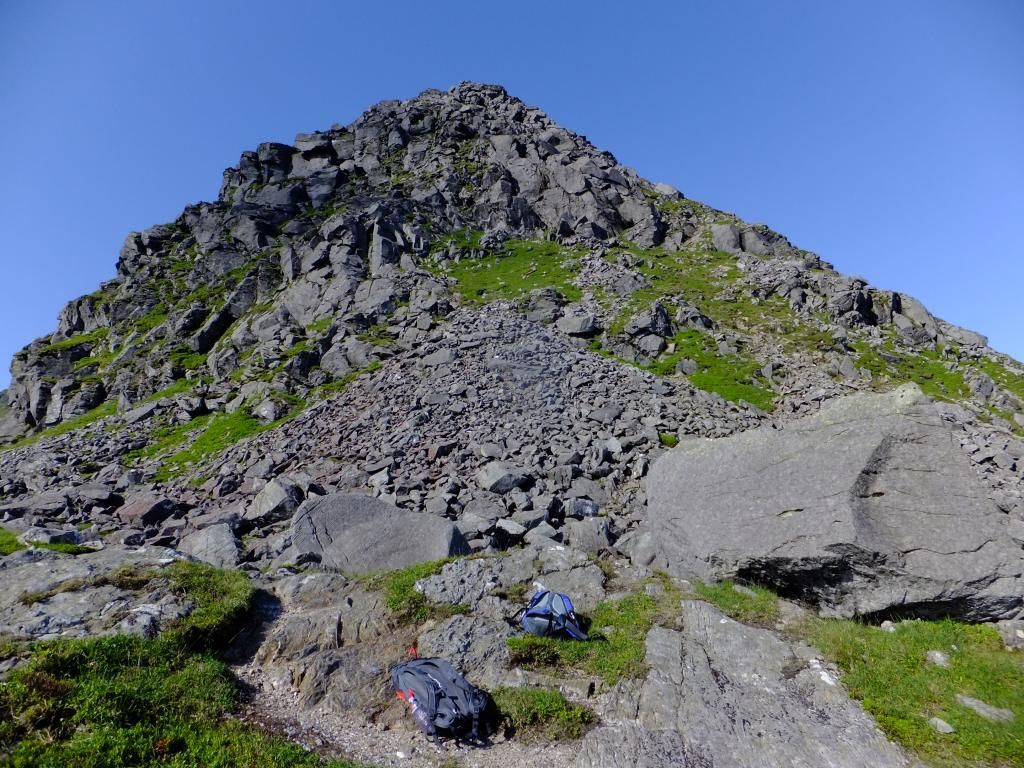 I'm there...so I'm told. Being red/green colour blind there is little hope of me seeing myself
Hurry up son !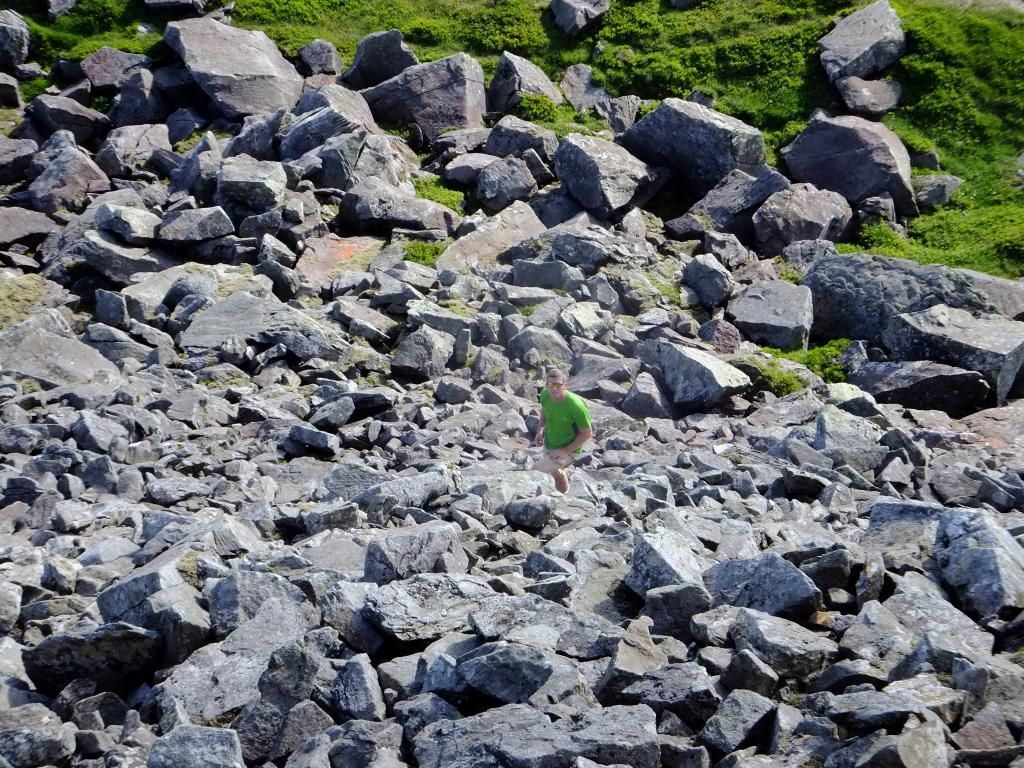 He soon arrived and quickly accepted that scrambling was not for him and made the sensible decision to return from whence he had came and make his ascent up the scree bypass route, rather than find himself in a position whereby he didn't want to go up or down. I carried on up the prow and found it relatively easy, it was hands on, and there is a path of sorts that others have alluded to in their reports. It was actually these horizontal 'pathed' sections that I didn't like as you felt far more likely to accidentally disappear over the side as you walked here than you did when on all fours dragging yourself upwards. Quite quickly I reached the cairn at the top of the prow, not before I had my own moment of doubt when I realised I wasn't going to get up the way I had come due to an overhanging rock and so had to make my way back down and around a bit to find an obstacle free route to the top.
Again, I was rewarded with amazing views especially back over to Vorlich and down the Glen towards Stirling and the Ochils. It was here I had the most relaxing 20 mins or so whilst I sat down and watched the effort required for my mate to ascend the scree path in the full sun. It may be a bypass route but it still looked bloody hard work, which he confirmed as we reunited for the 1/2km walk to the summit of Stuc A' Chroin. More cracking views, couldn't really be anything else given the weather we had.
Back over to Vorlich from the cairn atop the scramble
At the memorial to Donald Stuart, founder of the Falkirk Mountaineering club
Down the glen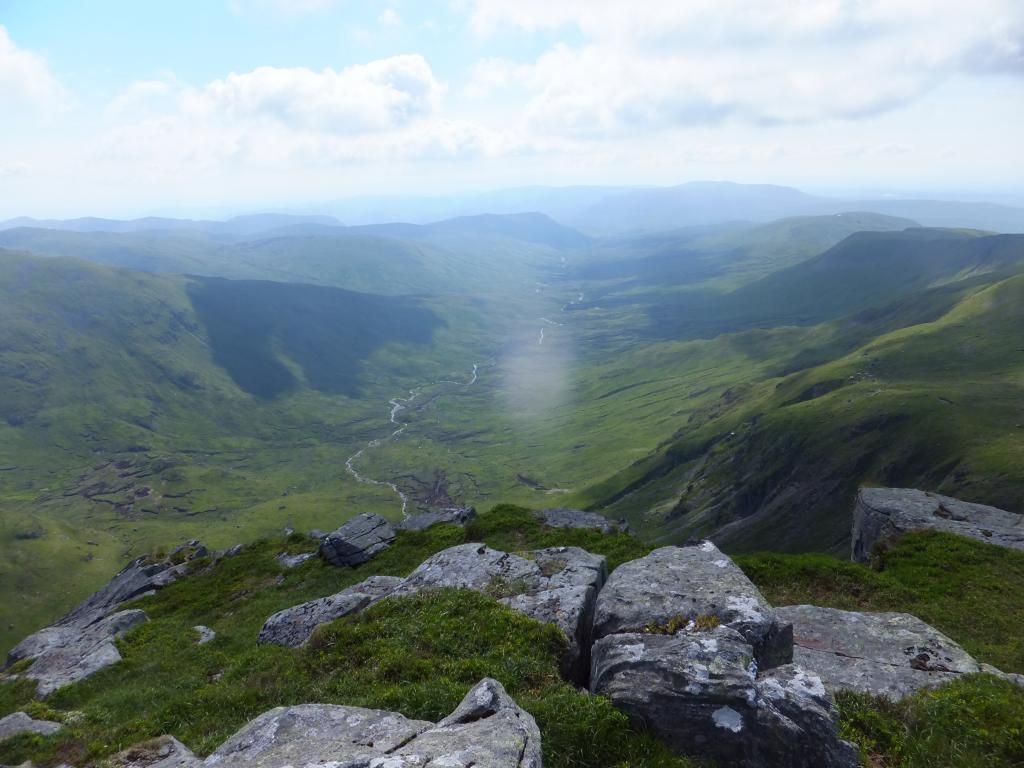 Summit cairn on Stuc looking back over to Vorlich
Trying one of those dramatic 'on the edge' pics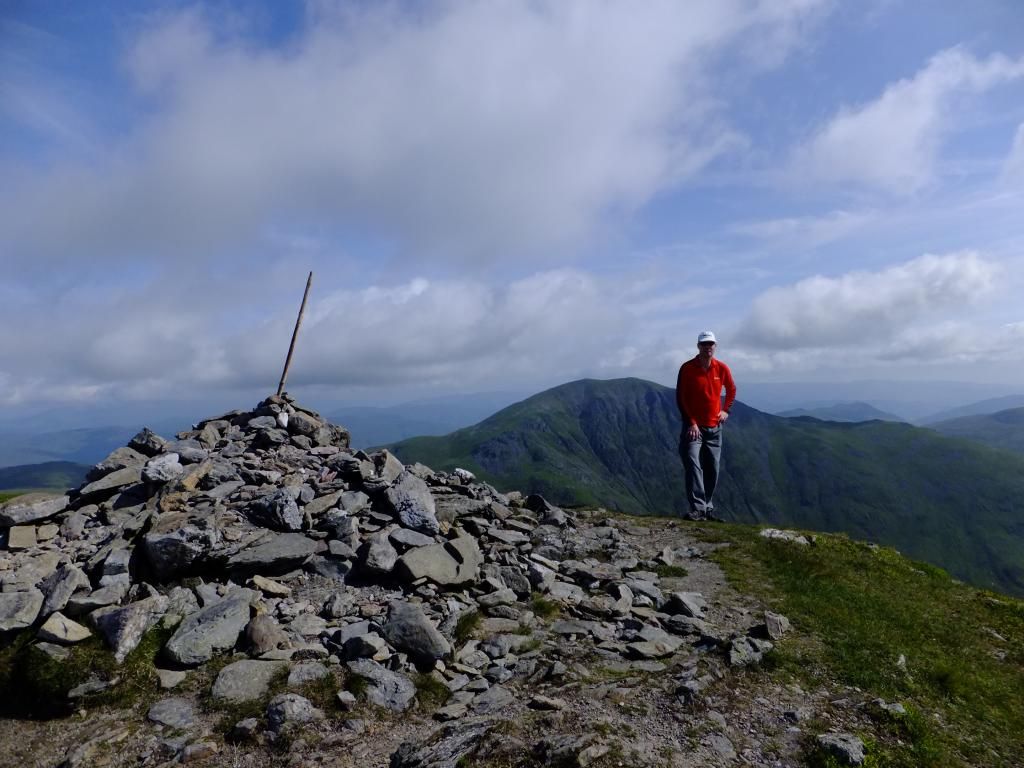 Looking South over Lochan A'Chroin
Looking back up to the prow on the descent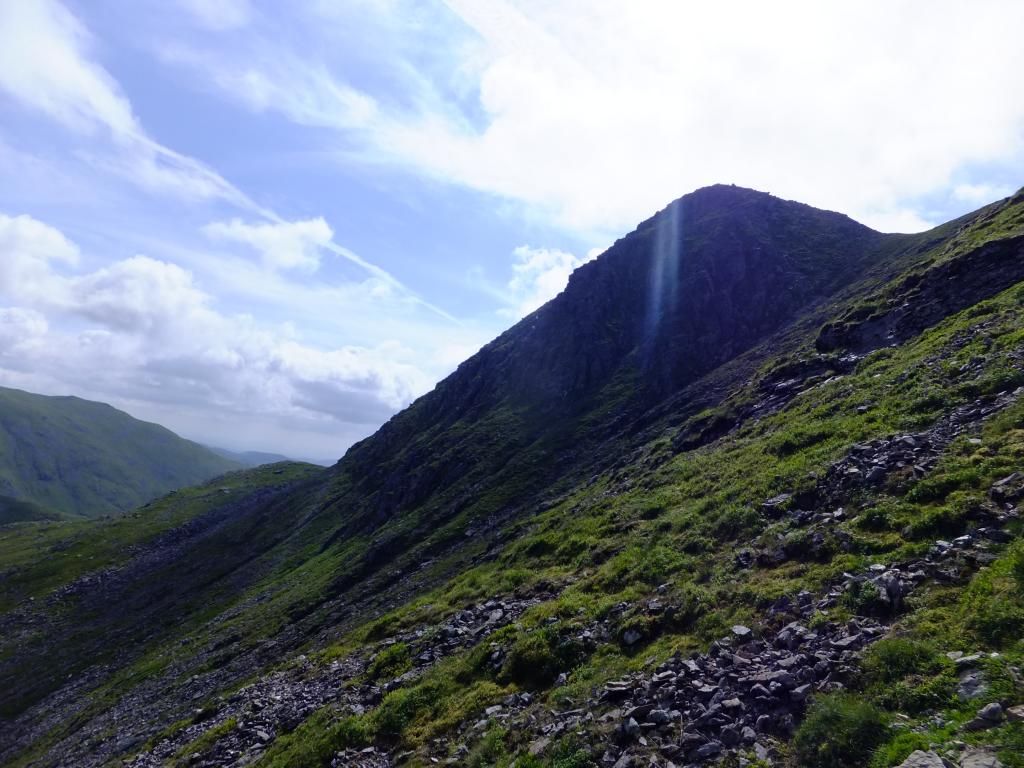 We didn't hang around long as the water was long gone and it was getting really quite hot. The descent route was fairly easy going mainly due to the fact that the normally boggy areas were pretty dry. It wasn't long before we re-joined the outward path and made our descent passing, as you'd expect, a large number of fellow baggers on their way up. Some I had to say looked particularly lightly loaded in the water carrying department ! It was uncomfortably hot coming down at this time, god only knows what it was like going up !! We made it back to the car just over 6 hours after we'd set out to complete another fantastic day out in the hills.