So this weekend, Dougie and I had tagged a couple of holidays on, to go on an epic.. but we chickened out of that some time ago..
With holidays booked, we decided to do some other hills. We met up on the Laggan road, late on Thursday night, for a car camp. We had intended a couple of the fersit ones for Friday, but were up too late, and the weather was too hot anyways.. So we decided to go for the Aonachs at the last minute.. Mostly because I was excited that we would get to go on the gondolas
Dougie hadn't bagged them yet. I had been up them before from the CMD bealach, with a knee injury from a fall down the a*se end of Nevis, in slushy snow and clag.. Aye, wasn't one of my best days on the hill
So we arrived at lunchtime, and up we went on the gondolas..
Slightly disappointing compared the the chair lift round in Glen Coe, but saved on effort
It was a real hot day, even with some clag about on the tops, so a slow plod took us along the track.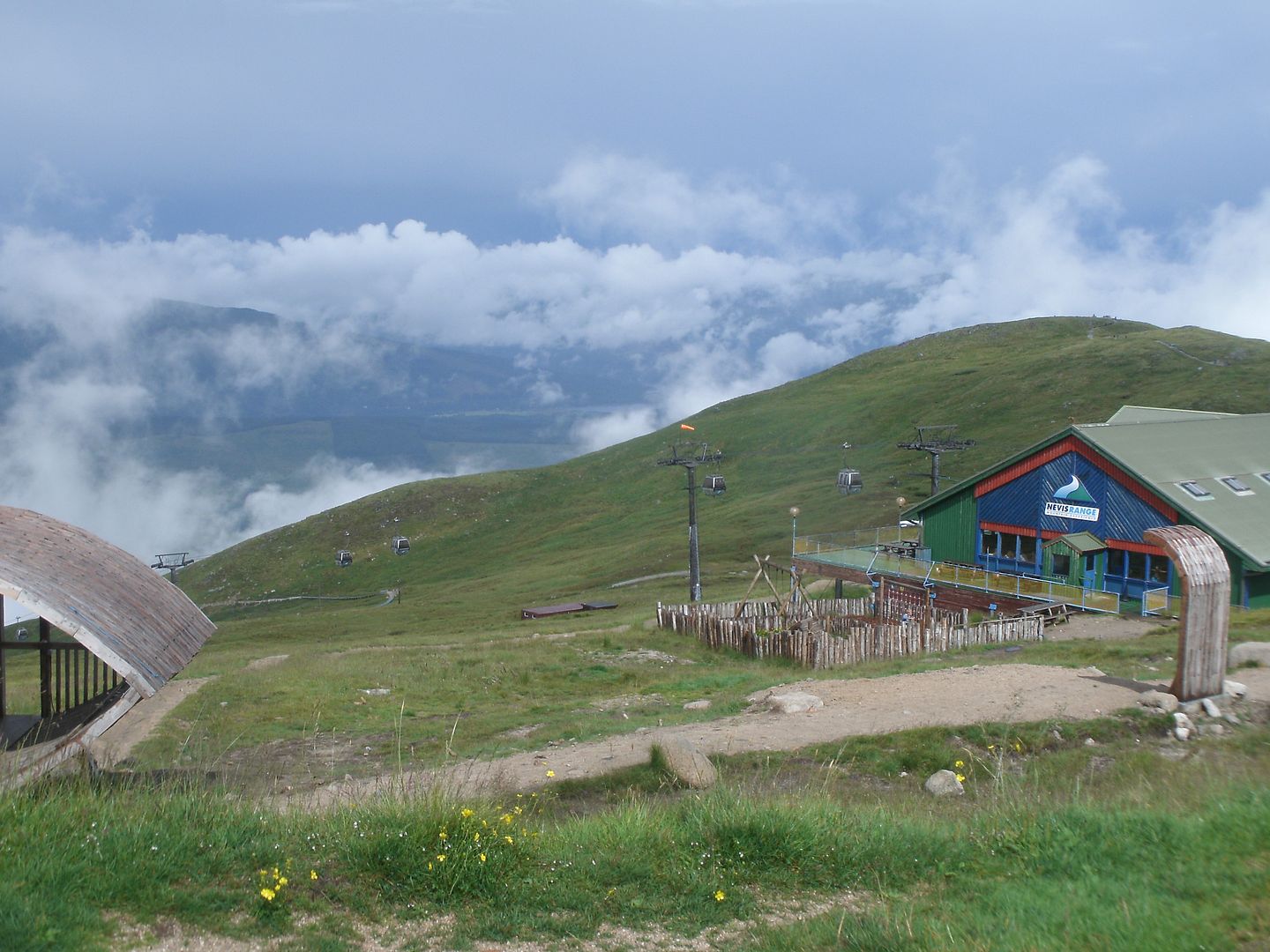 Common sense would say that walking over to the far side of the ridge would be the best option, but we chose to follow a burn up instead. If we hadn't had the recent heatwave, it would have been a bad plan, because it was pretty boggy, but we gradually gained height, taking frequent stops to try and stem the flow of sweat.. Oooh hot work.
Halfway up, we came across a wee ski hut where we stopped for some snackage, and watched workers higher up, mending the ski fencing. The hut would make a decent bothy – leccy, lighting and heating!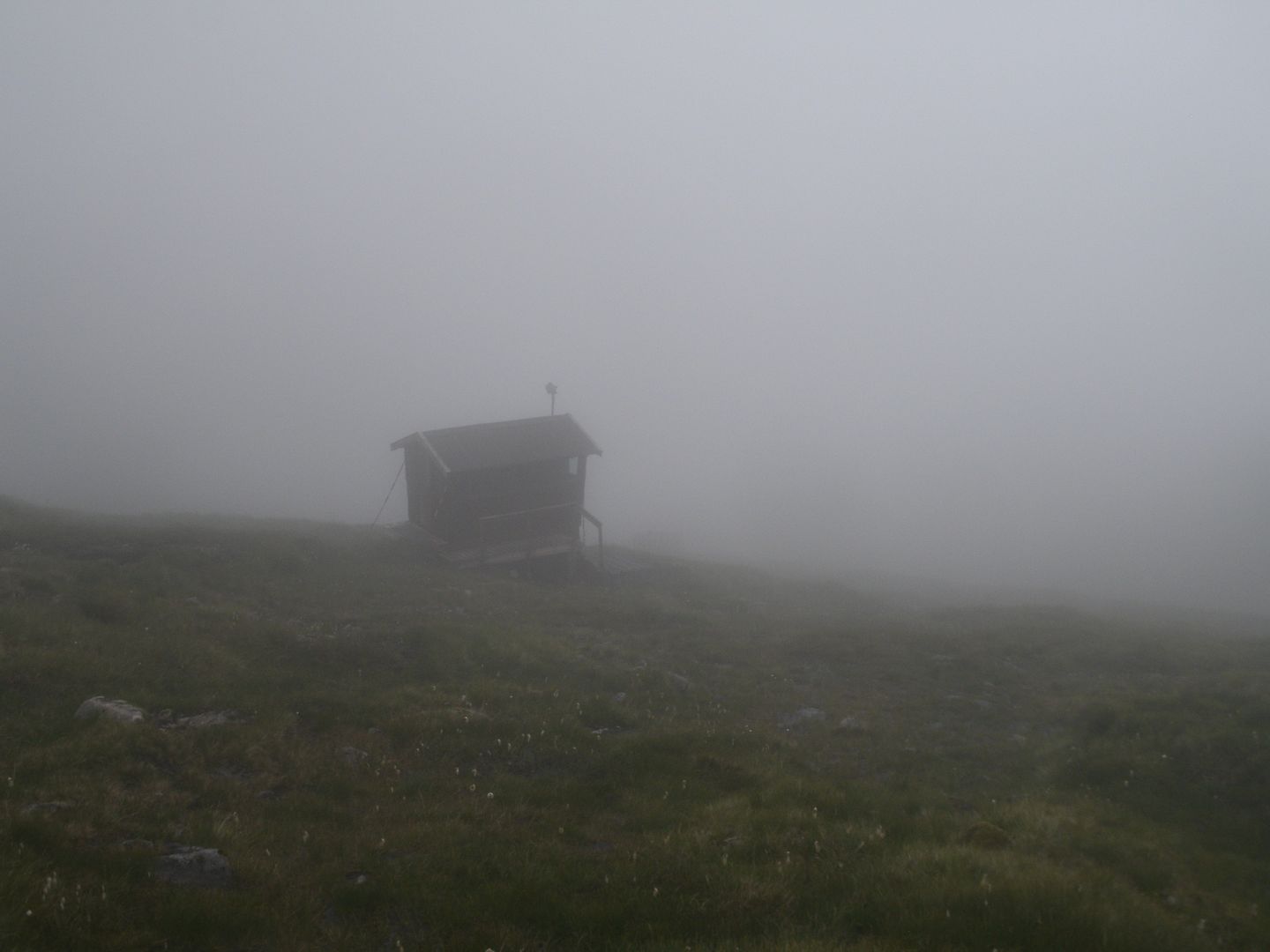 I was a steep boggy pull from there up to the ridge..
During which time, the heavens opened and we were pummelled by heavy raindrops for 20 minutes – at least a little bit cooler than the baking heat!
Once on the ridge, it was an easy walk to the Summit.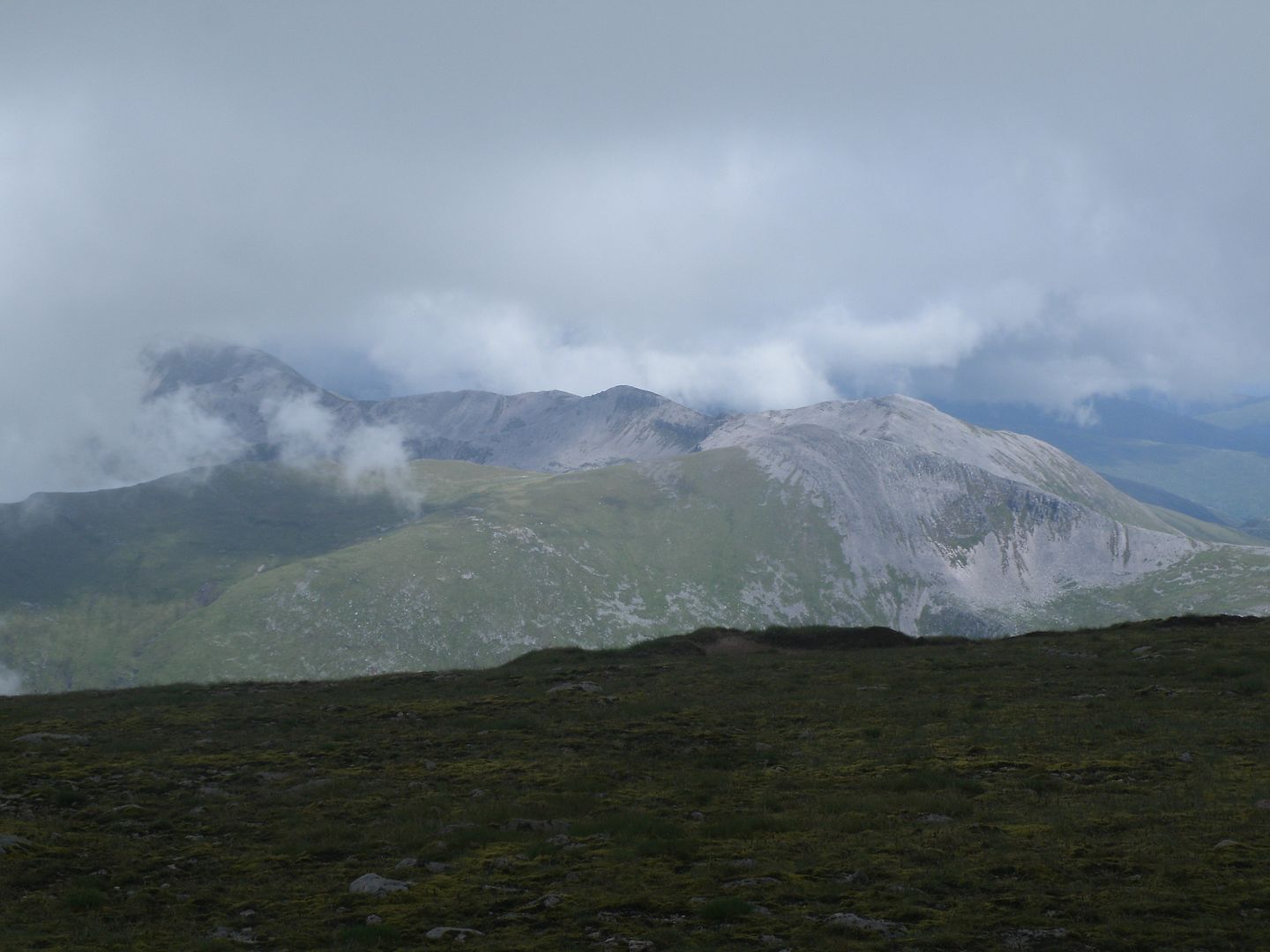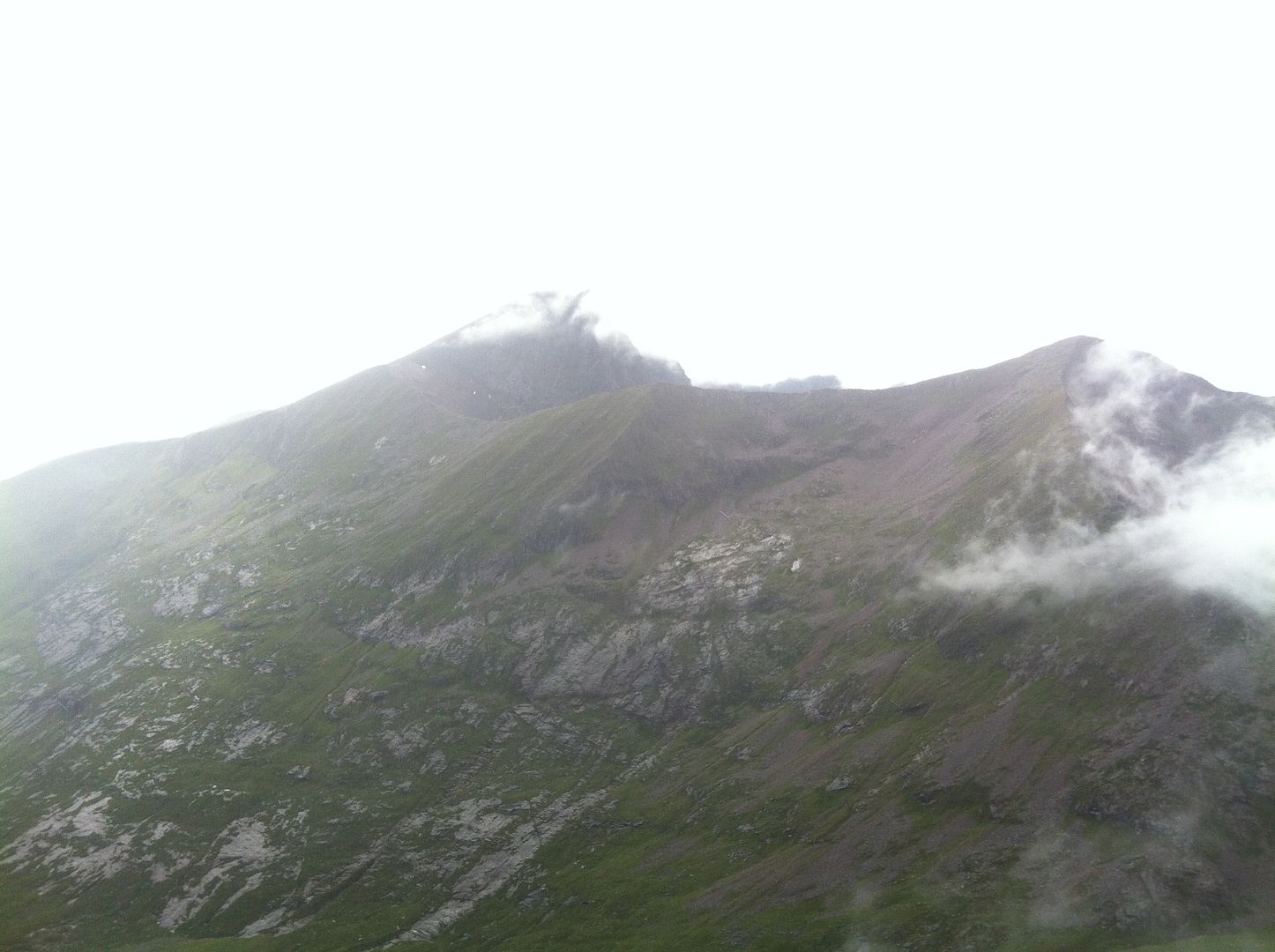 The descent from there was gentle, and the pull up the other side, not nearly as long or tortuous as I remembered.. Just goes to show what difference the conditions make. We were soon on Aonach Beag, sat for a while, enjoying the scenery, before heading back the way we came.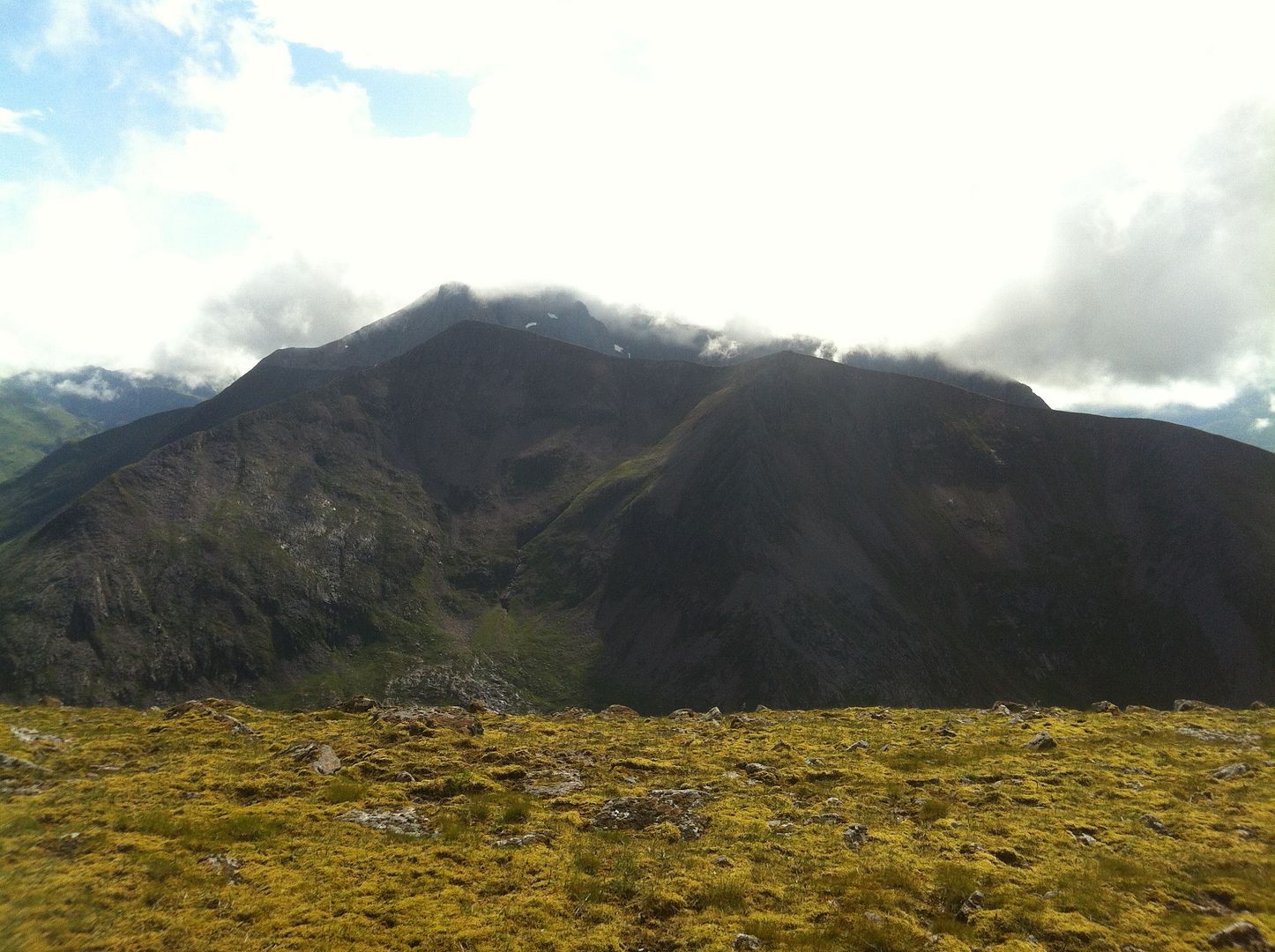 Another shower hit when we were going up Aonach Mor, but it was a lot lighter than the pelting we had received earlier. This time, we took the more usual ridge path back down.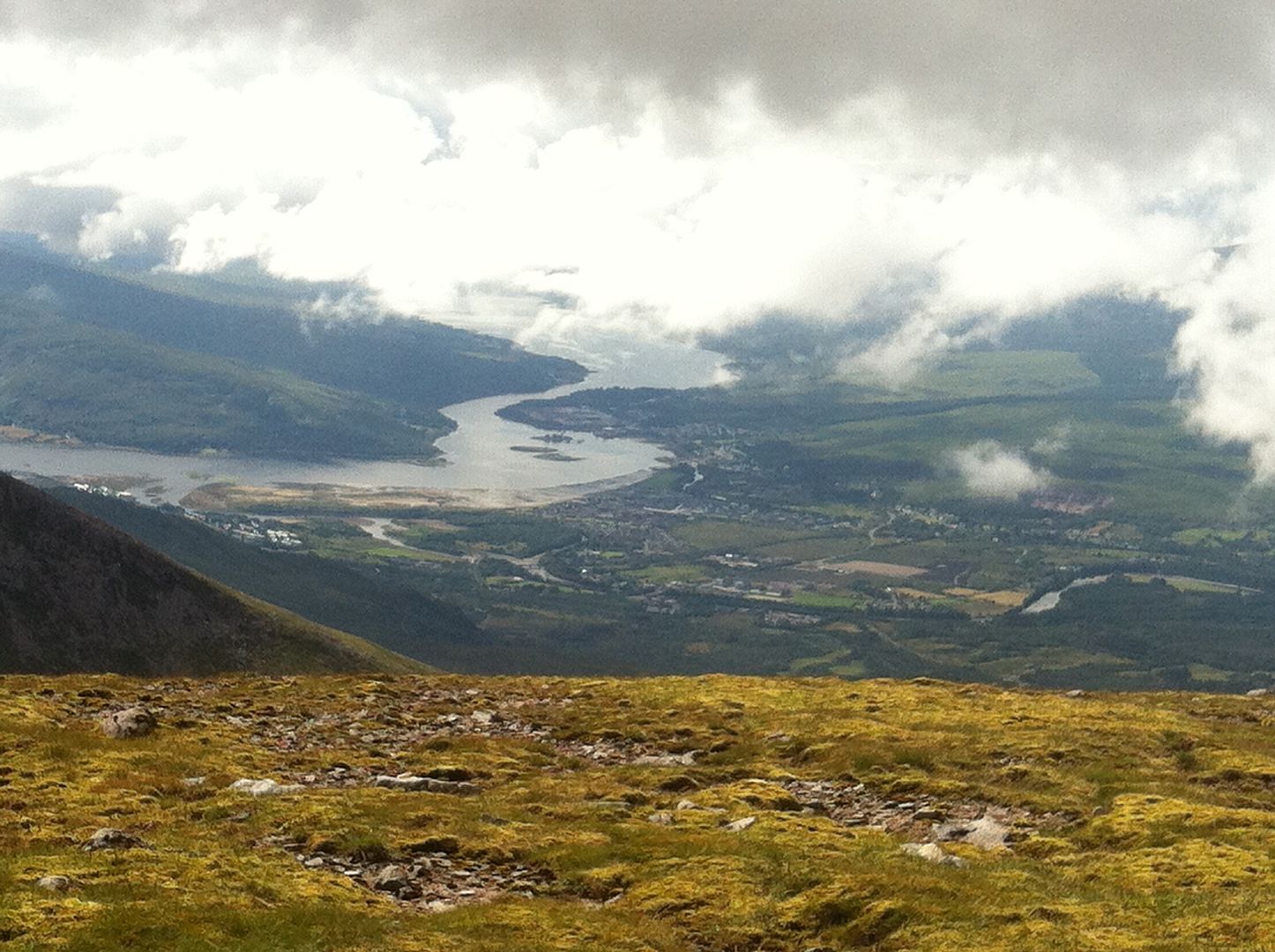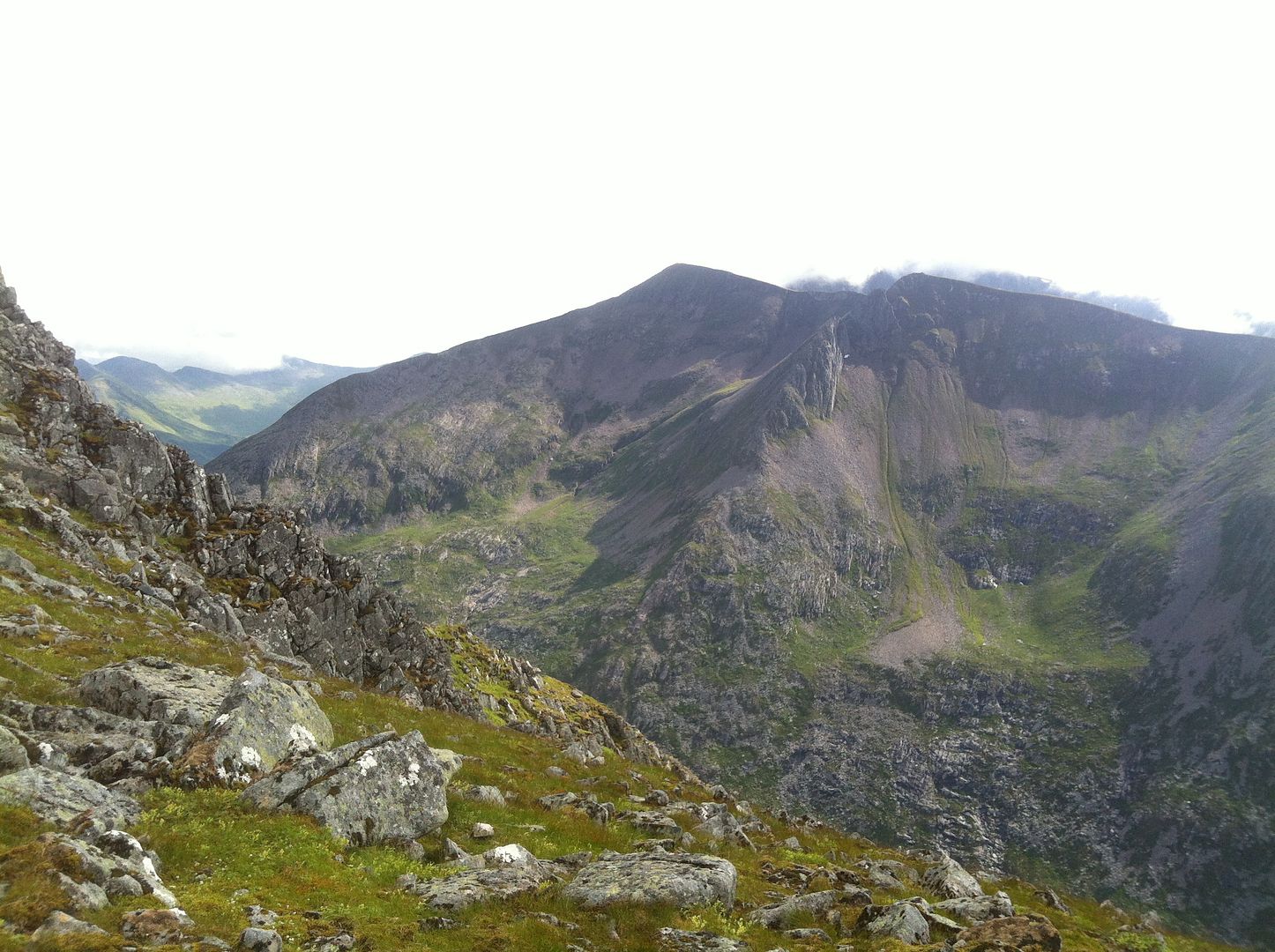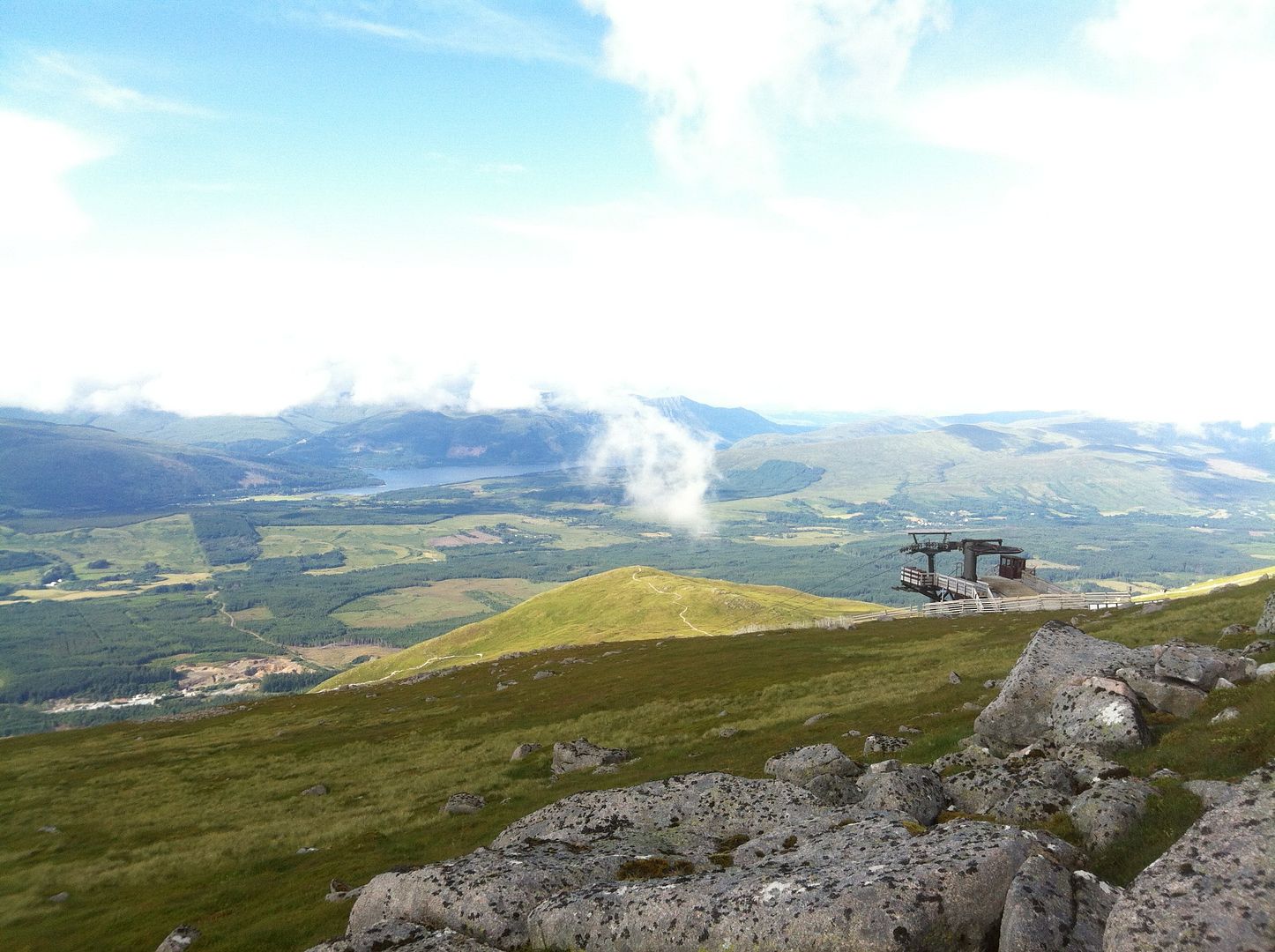 It was a horrible path, so took us a while to descend, but made it back and down the gondolas by teatime. Only 6.5 miles and 880M ascent, but a fine afternoons legstretch..
We glamped it up, at an actual, proper campsite on Friday night in Invergarry
hot showers and hairdryers? I must be going soft
Saturday, we were in no rush to get going. There was a faff with positioning cars in the correct places, then we were on the big dipper Loch Arkaig road, getting nearer and nearer to Glen Dessarry.
It was another scorching day – I wasn't looking forward to getting my big pack on, but it had to be done
so we set off down the track, bumping into Kevsbald a couple of hundred yards from the car park. Nice to see a friendly face
We wandered down the track, just round the corner into Glen Dessarry, Dougie full of stories about his last excursion round these parts. It was really hot though, and the pace slowed to snail-like
Past the lodge and up onto the path above the treeline, just melting!
The trouble being, that every time we stopped, the midges caught up with us. The trees, with their shade seemingly taunting us, just out of reach beyond the deer fence.
Bonny scenery, but very hard work for a fairly flat boggy wander up a glen!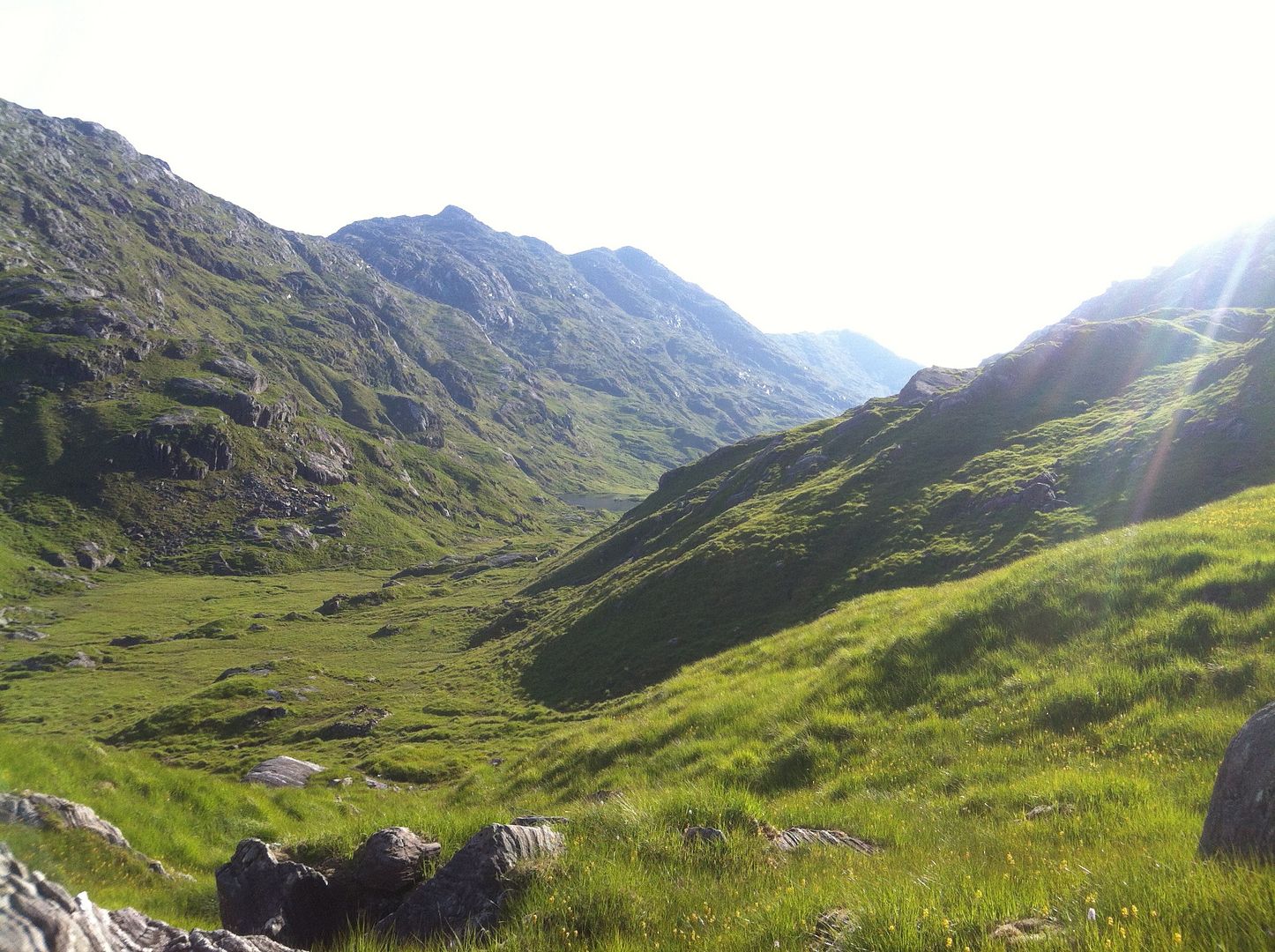 Eventually we got up to the fork and started the climb, by this time, it was late enough for the sun to be a bit lower and there were a couple of pockets of shade on the steep path up to the shoulder of Sgurr na Ciche.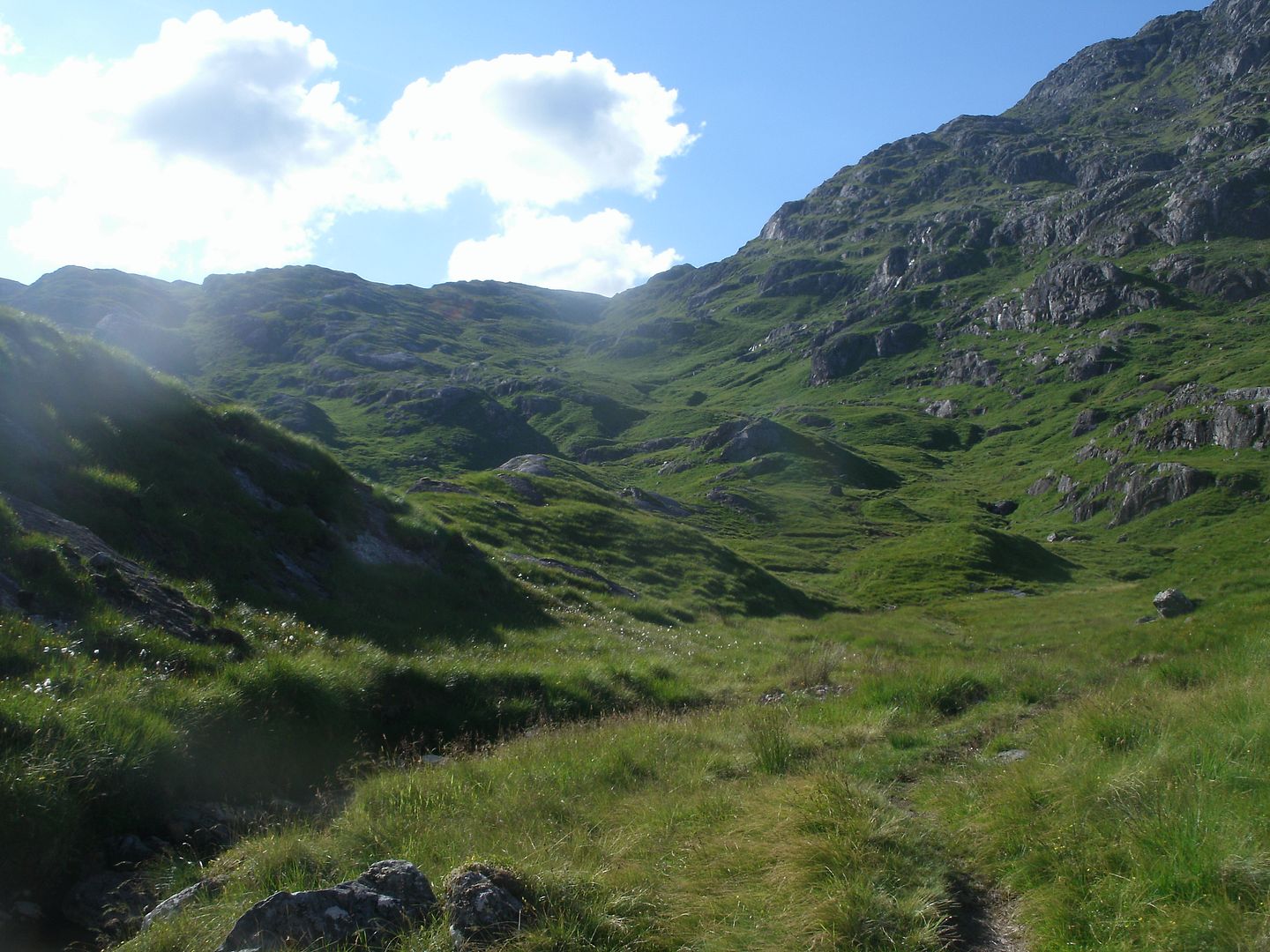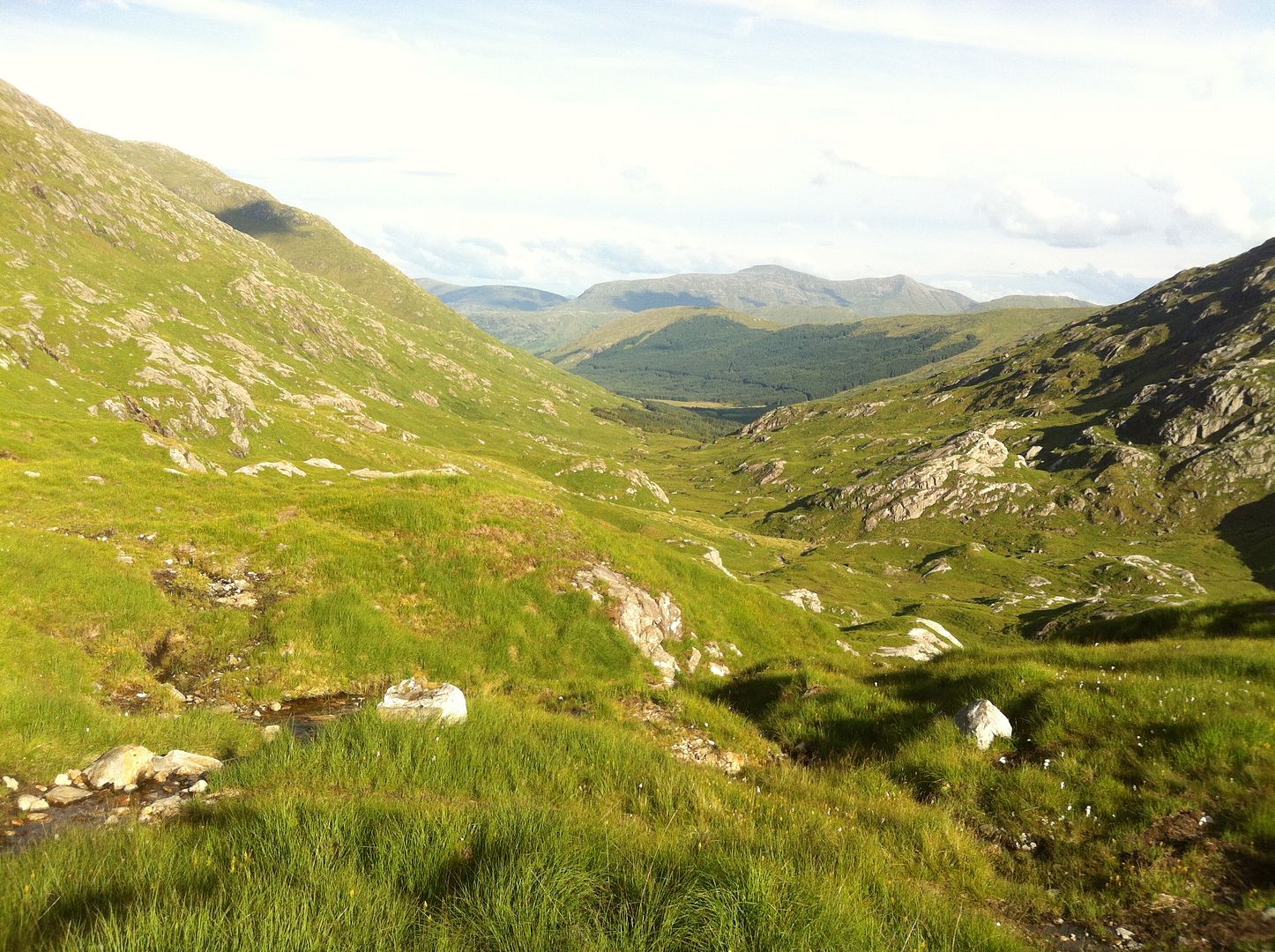 Still a complete sweat fest! We arrived at our campspot, just below the rocky gorge that takes you up to the ridge. 5 hours for a fairly flat 7.5 mile walk – nae good going!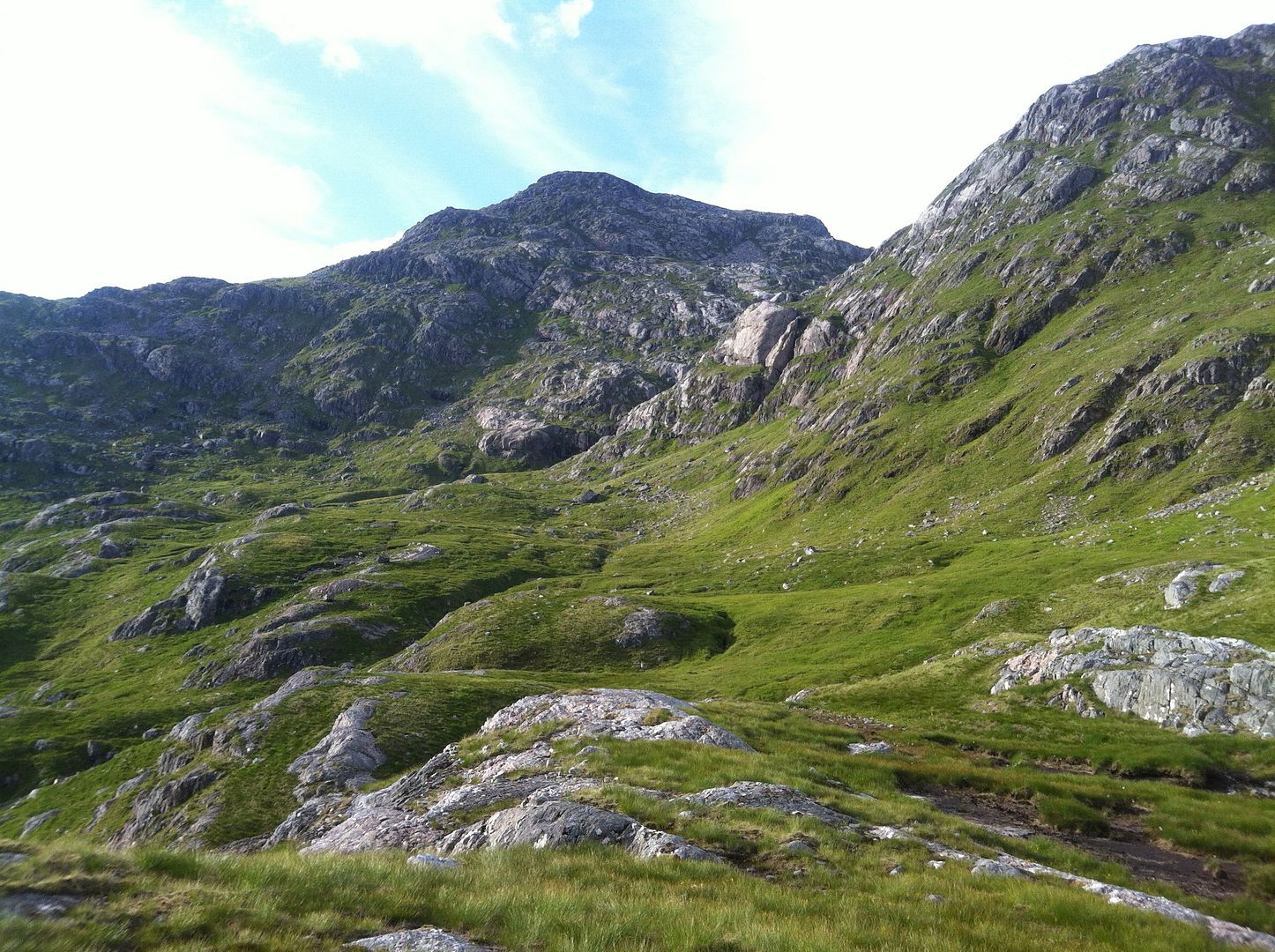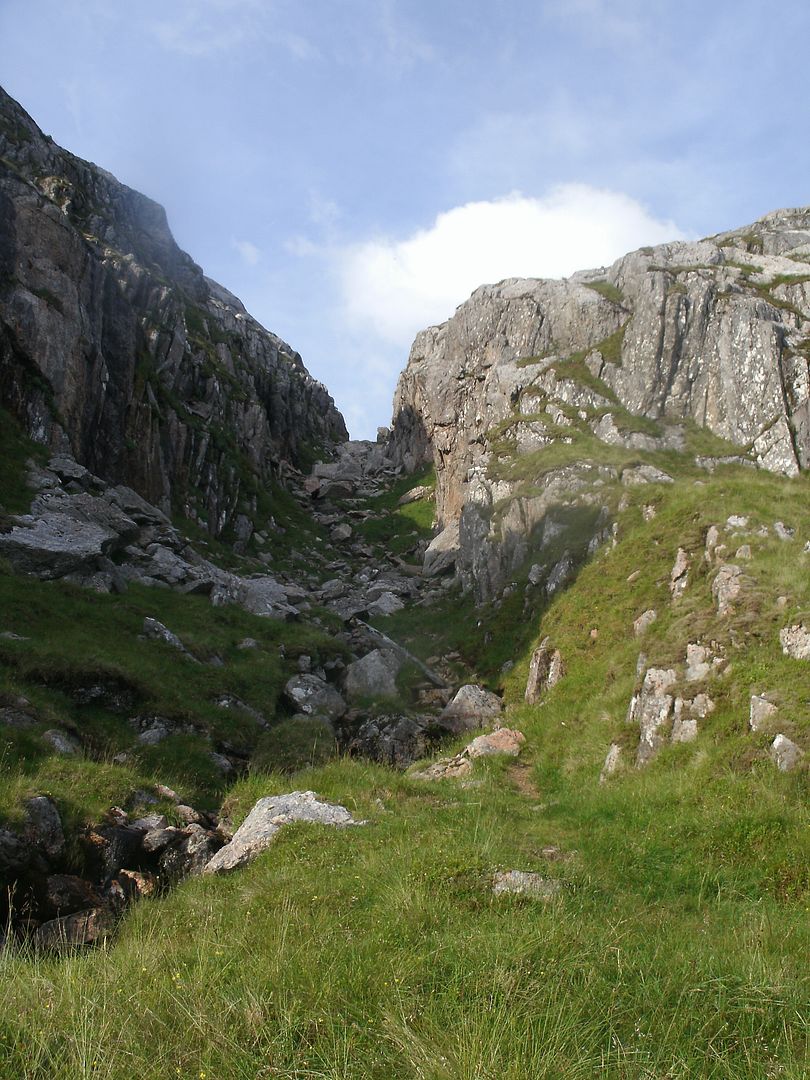 We filled up our water, and I dunked my head and clothing in the stream in an attempt to cool off.. Felt so good to be cool! We decided the best camp spot was a couple of hundred yards back and had a rocky flat table/seat right outside, so we sat watching the changing views and had our tea.. Just bliss.

We were awoken in the middle of night by the pitter patter of rain on the tent – I ran outside to rescue the gear left out there.. I woke up a while later to hear that the pitter patter had turned into a deafening roar! Oh I hoped it would end before morning..
We awoke to find although the rain wasn't off, it had reduced down to drizzle,
so we set off up the rocky gorge. The going was difficult and slippy with the big packs, and we must of crossed the stream a dozen times, back and forth.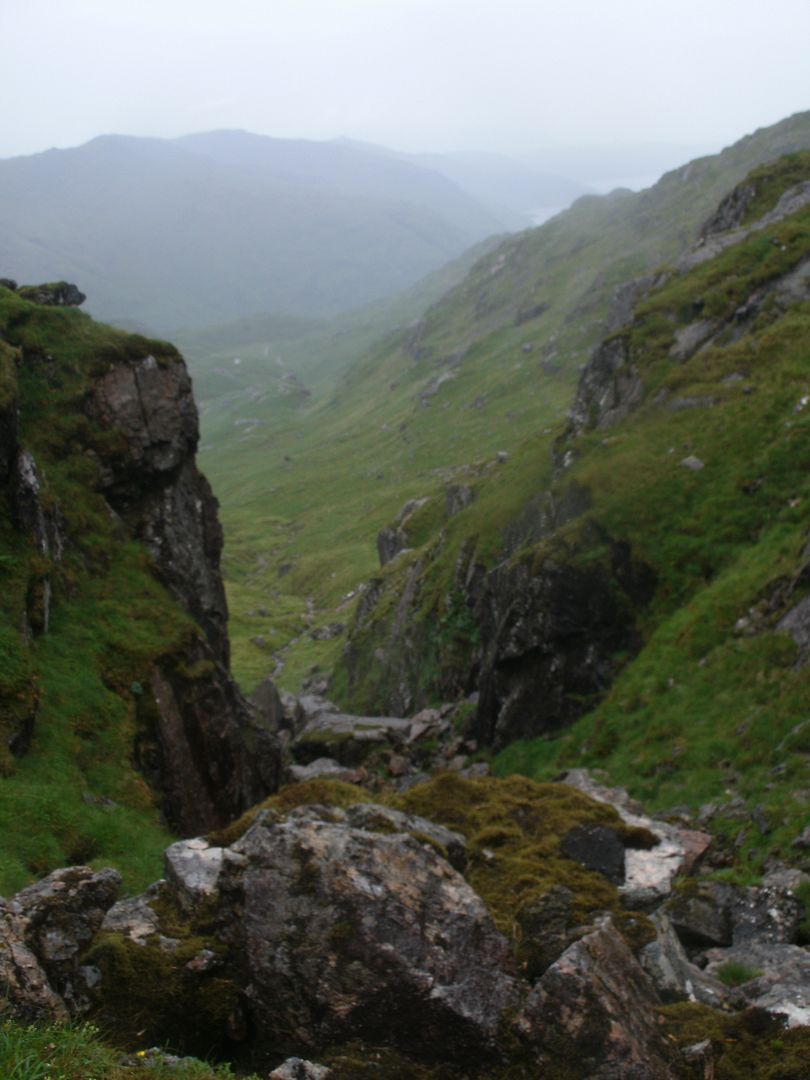 Soon up at the bealach, things turned proper dreichit. We dumped the packs for our ascent of Sgurr na Ciche, glad we could do that because the path is very steep and slippery up by the boulderfield. Dougie didn't actually come to the very top, after he saw the clag rolling in as he had climbed it before.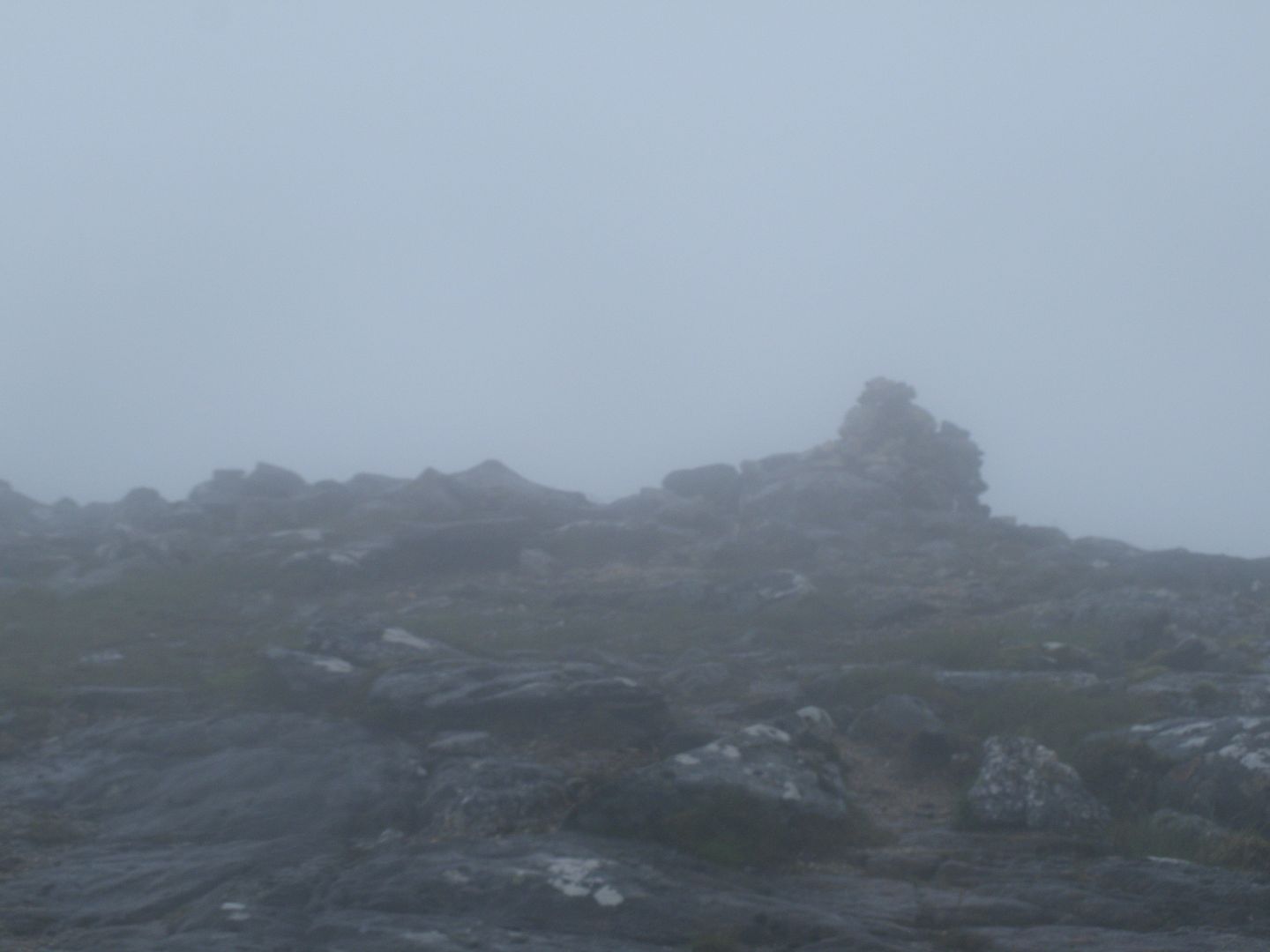 I reached the Summit, went over to the broken trig, and like someone was watching over me the clouds parted long enough for me to see Loch Nevis and Knoydart spread out before me. Breathtaking is all I can say! Just got a few seconds before the clag curtain shut again, but I was happy with that, even if I didn't have time to get the camera out.
So I retraced my steps, rain in the face now,
I found Dougie where I had left him at the top of the boulderfield and we carefully picked our way back down to the bealach.
So next was Garbh Chioch Mhor. The path follows the wall very closely, which I commented to Dougie was silly because there was probably an easier route without the scrambly bits. He reminded me that the path was probably originally worn out by the wall builders!
So up we went in the pishin rain, the clag beginning to clear, until when we made the summit, we were actually starting to get some views
There then came a really fun bit of the ridge, no trickiness or anything, but you definitely had to watch where you were putting your feet all the time!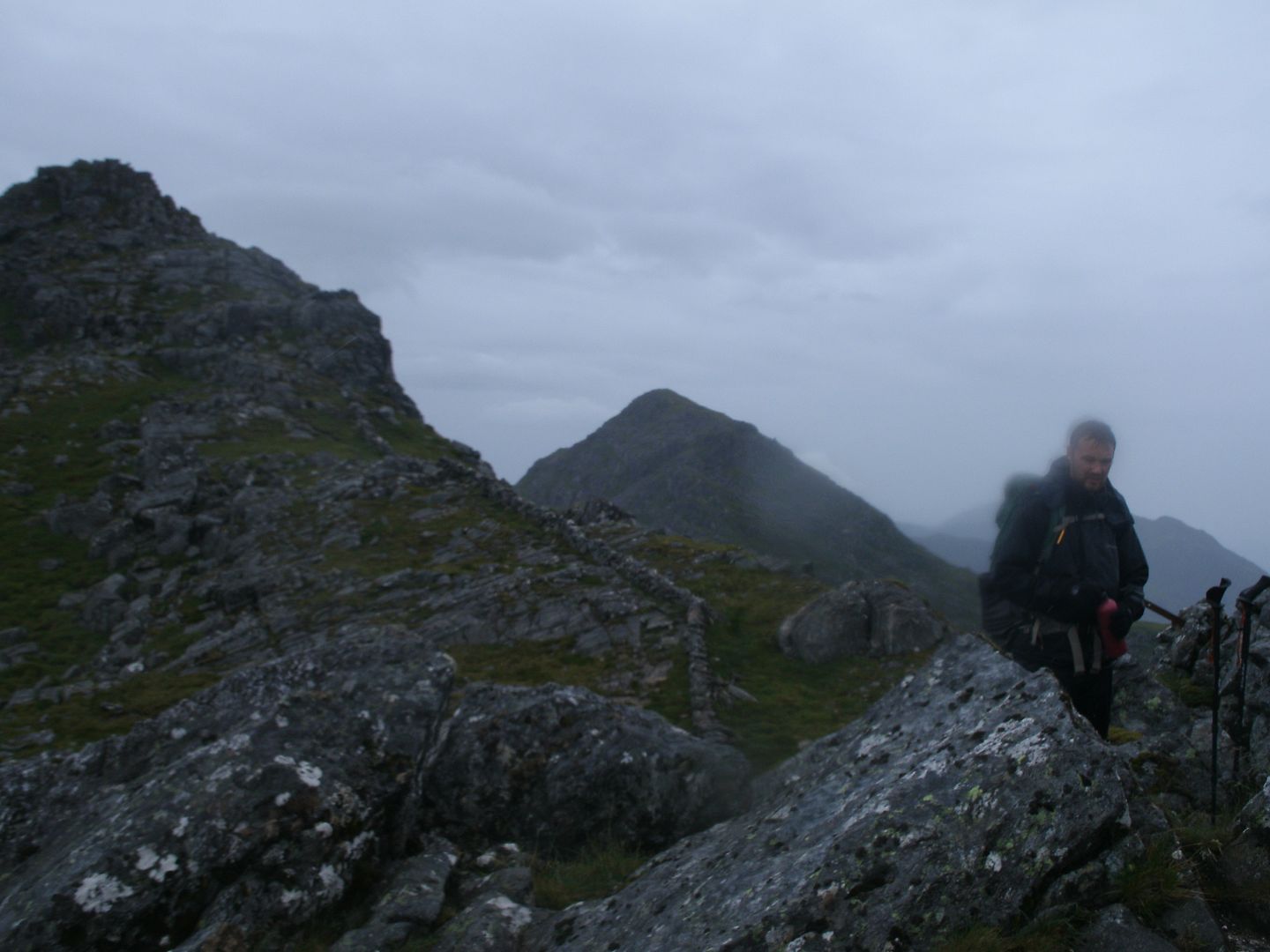 We seemed to be doing as much uphill as down as well.. Quite lumpy! Took us a while, but we made it to the bealach for a stop, in brightening conditions. The clouds lingering on the hills looked spectacular, and it was actually cool enough to walk properly for the first time in a couple of months. I was in 7th heaven..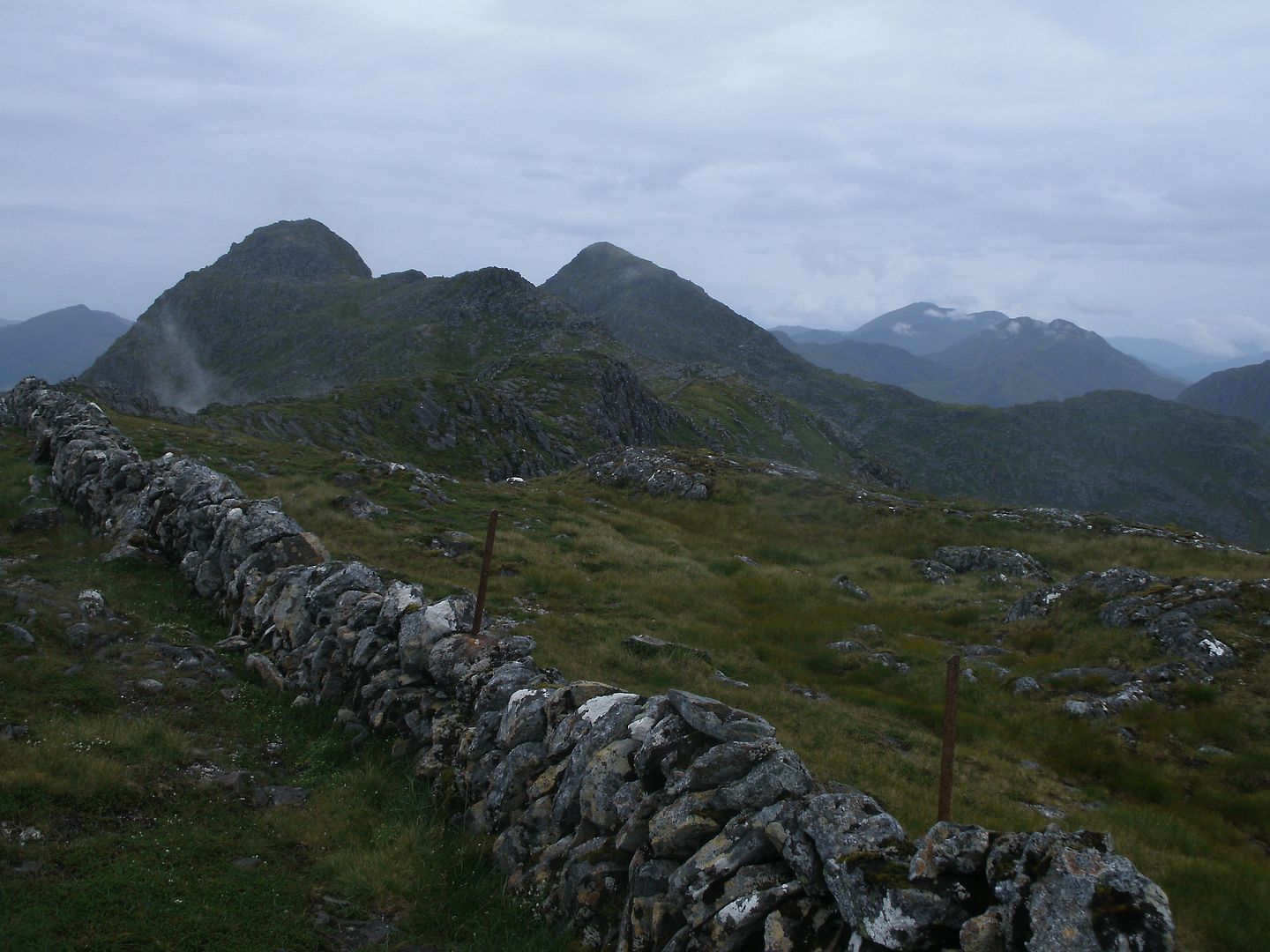 So upward to Sgurr nan Coireachan, just a slog really – we were beginning to tire a bit, and we had only been going about 4 hours
Made it to the Summit and had another Breather.
We met a couple of people on the way down. Its quite a hairy ascent with a few scrambly bits and with the packs pretty heavy trying to knock us off balance, we found it pretty tough, but it's a high bealach there, and it wasn't too much of a climb of An Eag.

The pace was definitely slowing, the descent a killer, with knees creaking, and tricky ground underfoot. Dougie I think thought we would be camping at this bealach, but I knew we had to get further to make it over Gairich the following day, and I geed him on. We were really starting to tire now, and the long, easy ascent of Sgurr Beag seemed to take ages.. The descent was even worse - tired enough to start tripping over a bit too frequently. At least the rain was off and the sun was threatening an appearance. That's all we need, blazing sunshine to tire us further I thought. Its quite a significant lump on the ridge, I think the bealach is only a few metres too high for Sgurr Beag to be a corbet. Do corbet tops exist?
The coll beyond was a good camp spot, but was a bit too sheltered, and midge infested, so I managed to convince Dougie that we had to walk over Sgurr Mor to catch the breeze at the bealach after. He wasn't happy about it, but we trudged on, the views now spectacular, taking some of the pain out of my aching tootsies.

We had met the Victorian built, hand dug path that zig-zagged up the hillside in a very pleasant manner – thank goodness for some easy going, and some daydream time where we didn't have to concentrate on every step.
Half way up though, Dougie said he couldn't go any further, and as luck would have it, we were on a flat piece of ground, with a spring nearby, so we decided this would be perfect. I wanted to get as far as we could, and I guess this was it
Just an amazing campspot anyways..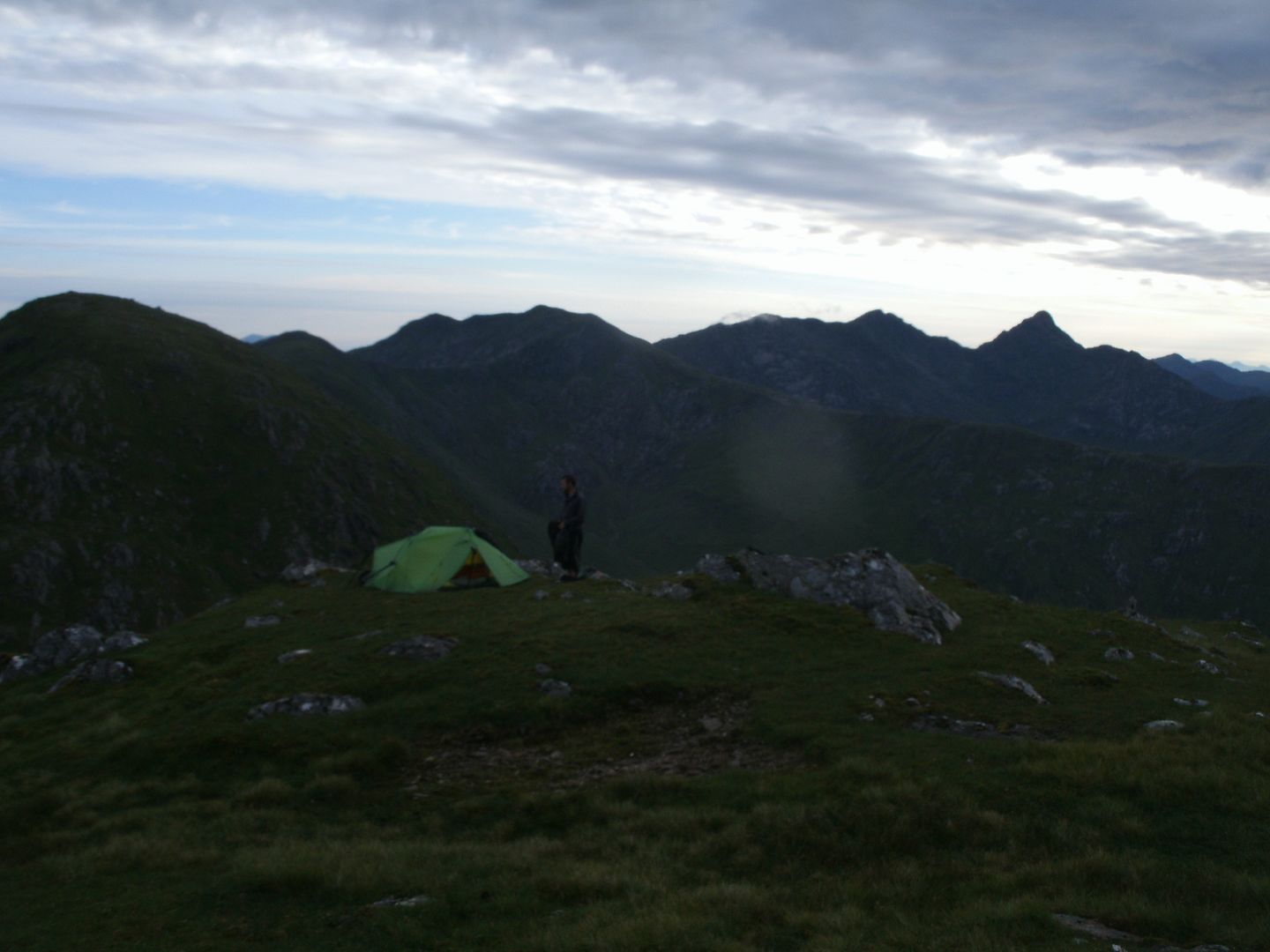 We awoke the next morning to thick clag. I think I pushed Dougie a bitty too far the day before, as he really wasn't too well
So it was a late start at 10AM - Not ideal. Camped at 870m though, it wasn't far to the summit, although no views in the clag.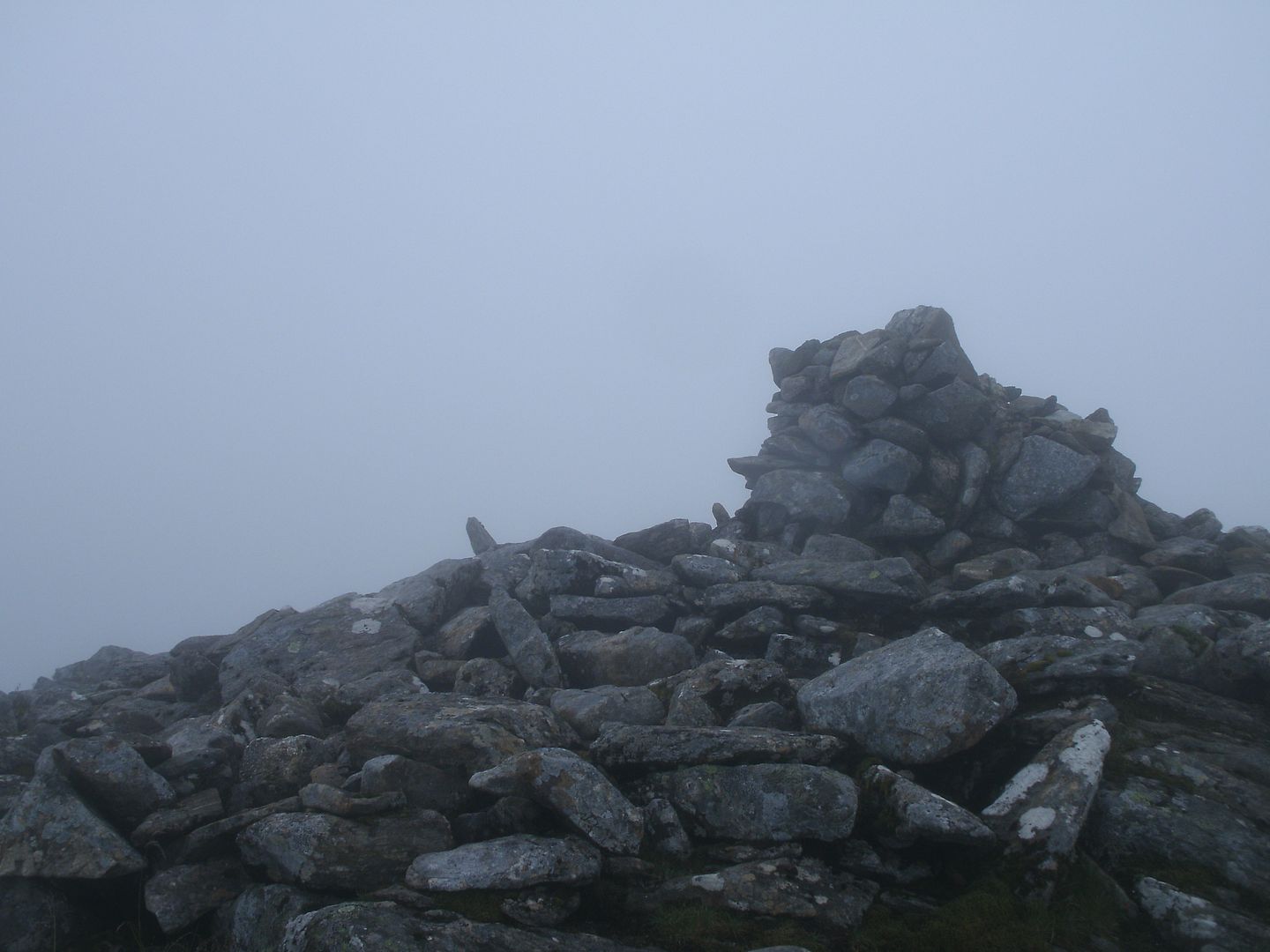 A long easy descent – I was glad we hadn't made it over the previous night, because there was no water there.
A quick stop in the bealach, watching the cloud cover clear, saw us on the long easy ascent of Sgurr Fhuarain.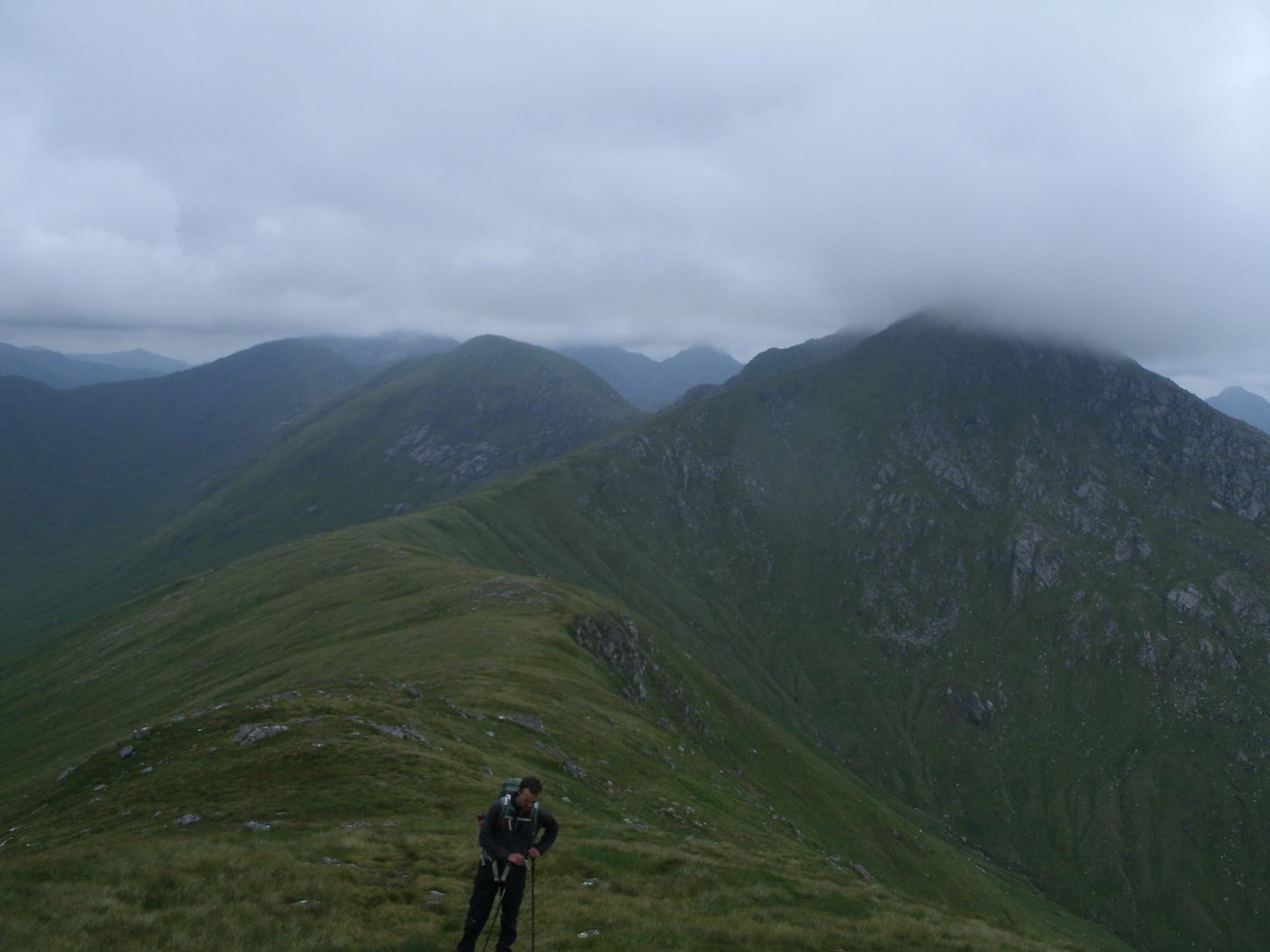 Dougie was really struggling – he could hardly eat, but there was no easy way back to either car, so just had to keep going..
We struggled up to the Corbet, relief at reaching the top almost overwhelming.
We sat a while and considered the best way down to the glen between it, and Gairich. We chose to go right, we should of gone left I think
There were some really steep bits, although there were ledges that eased the going that may of been a path long overgrown. We saw a path going accross the glen to our left, but it looked like it took a long rounded route, so we decided just to head for the main path at the end of the ridge. We reached the wee bridge over the burn and met an estate worker who we chatted to for a while about the awful cleg situation, and the weather - apparently it was supposed to be raining according to the weather forecast
It had brightened up considerably, and the chances seemed remote, but just moments later, it started raining
Just a light shower though, so we sat and ate and talked about our options.. Dougie, although feeling a bit better, wanted to take the low path, I wanted to go over Gairich, as we haven't completed a trip for ages.. We eventually spun a pointy stone to decide.. We were going up the hill
So just a short walk to the start of the fine old path, the shower was still going, but the sun had also made an appearance and was beating down on us. Luckily the path takes wide zig-zags and requires minimal effort. Quite a few of these beauties about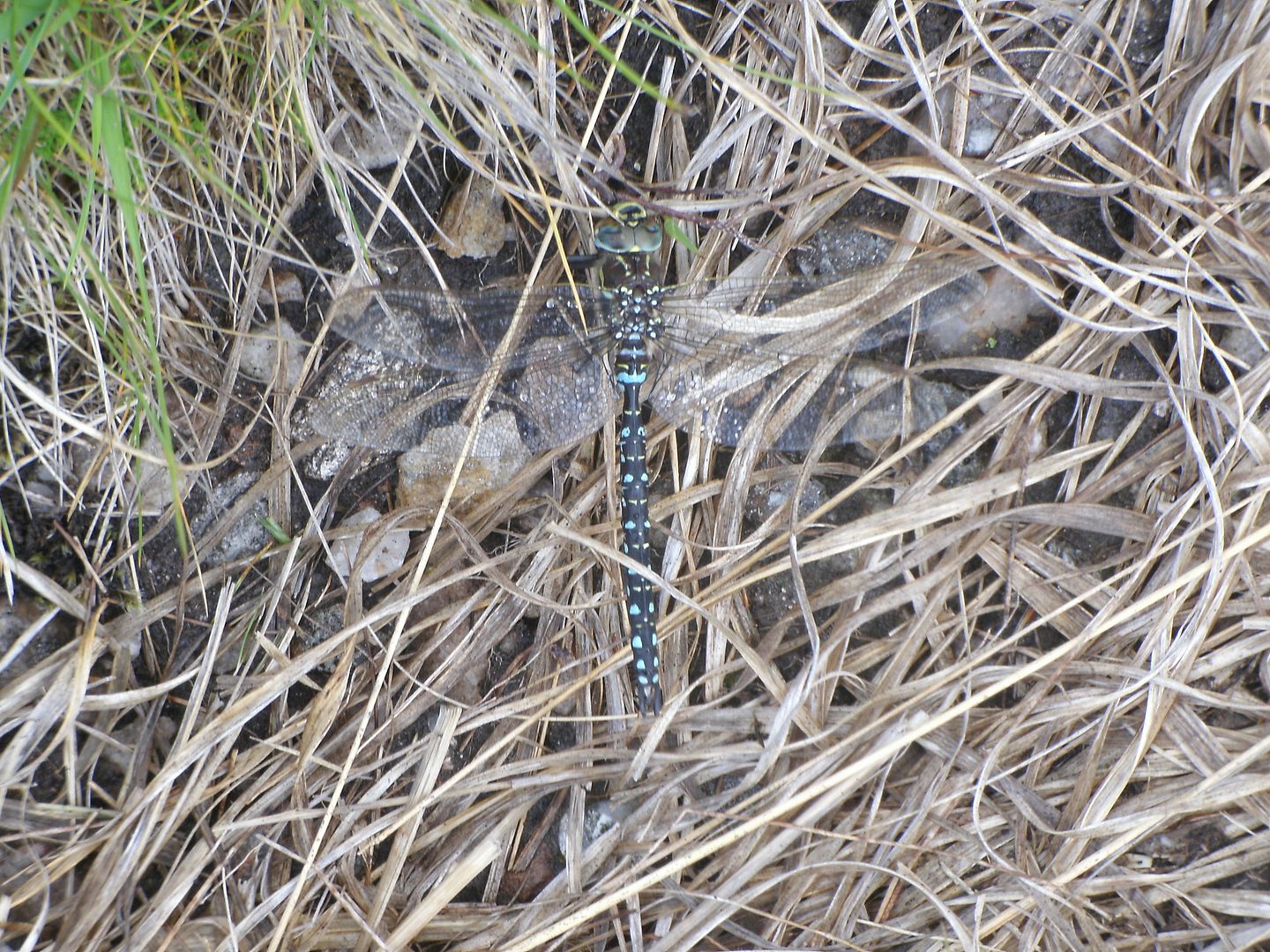 We were soon up to the plateau, where we stopped for a rest.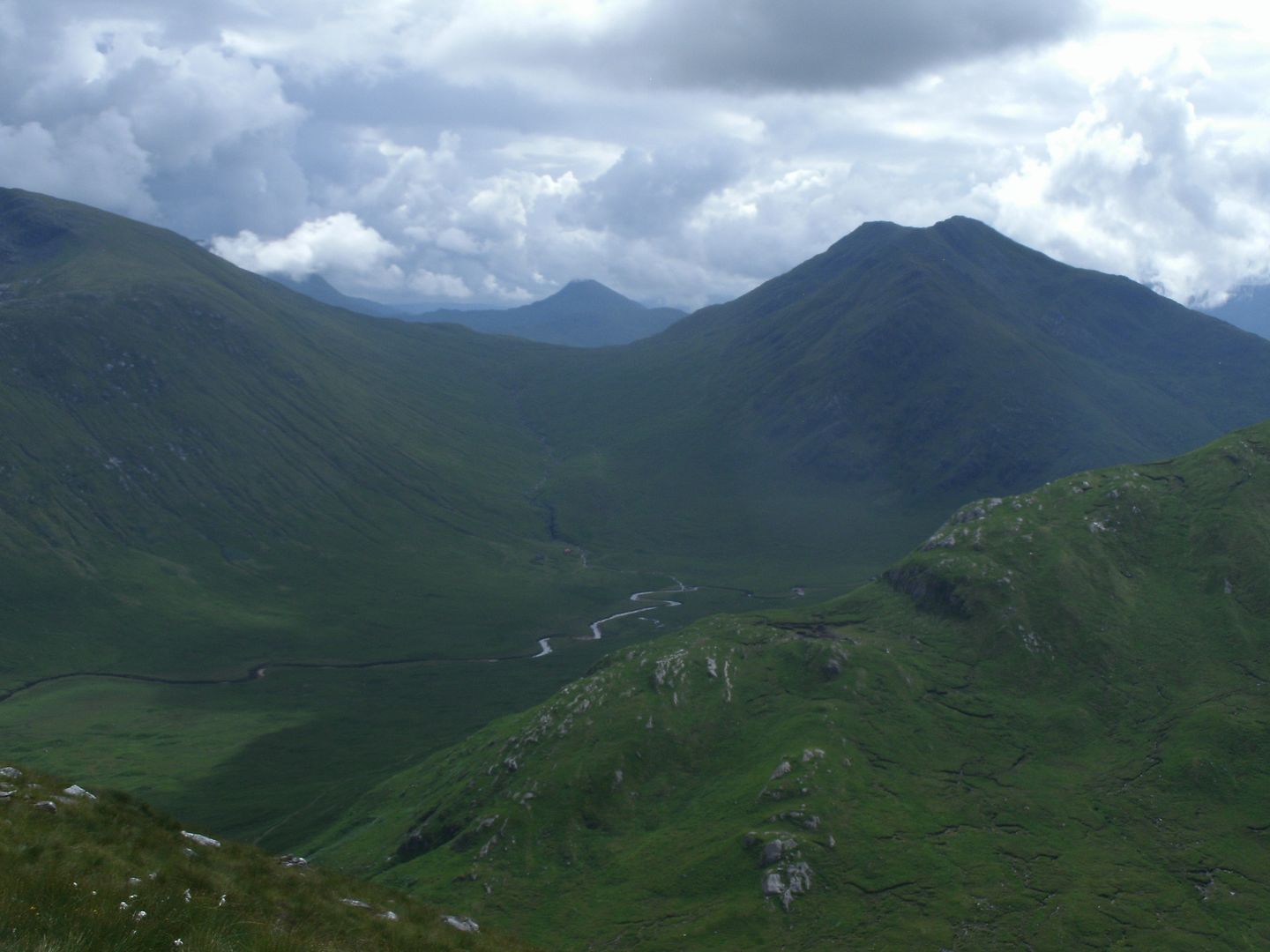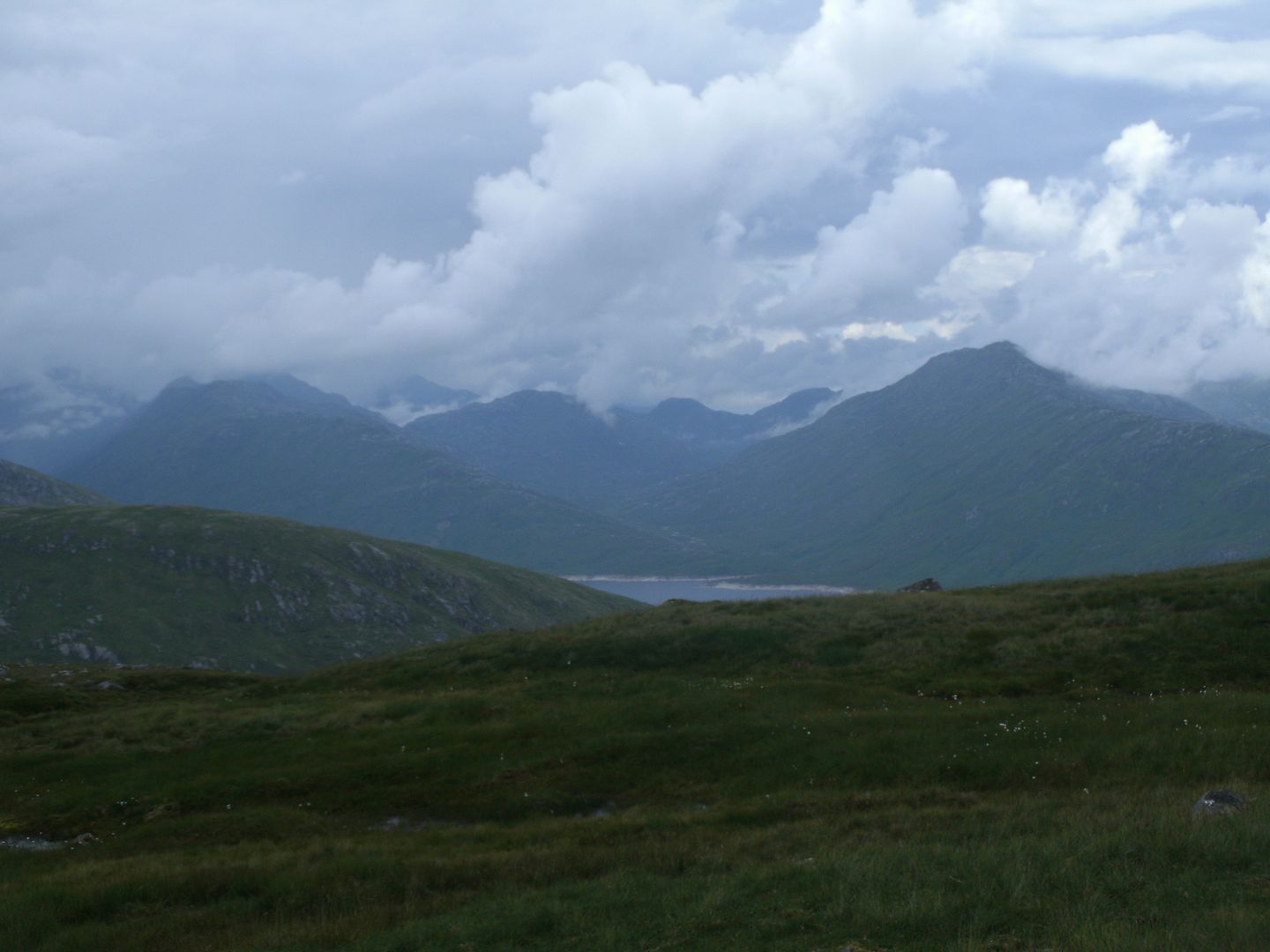 There wasn't much of a path going up the summit ridge, I spose less people go up this way. We could see a huge bank of cloud heading our way, which made we want to get to the top quickly while there was still views to be had, but there were so many false summits, it was demoralising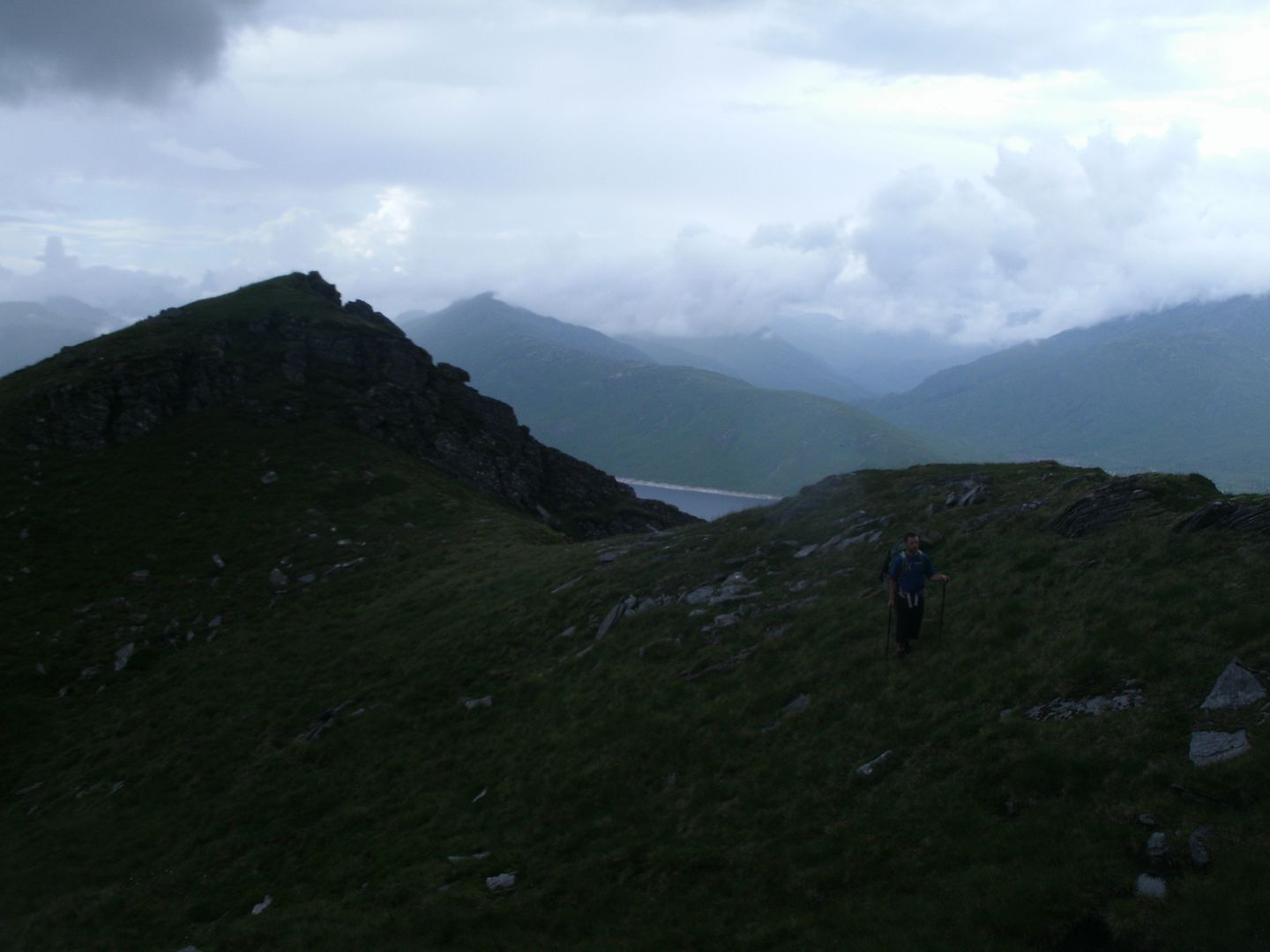 We didn't make it before the dreichit weather - canny win them all.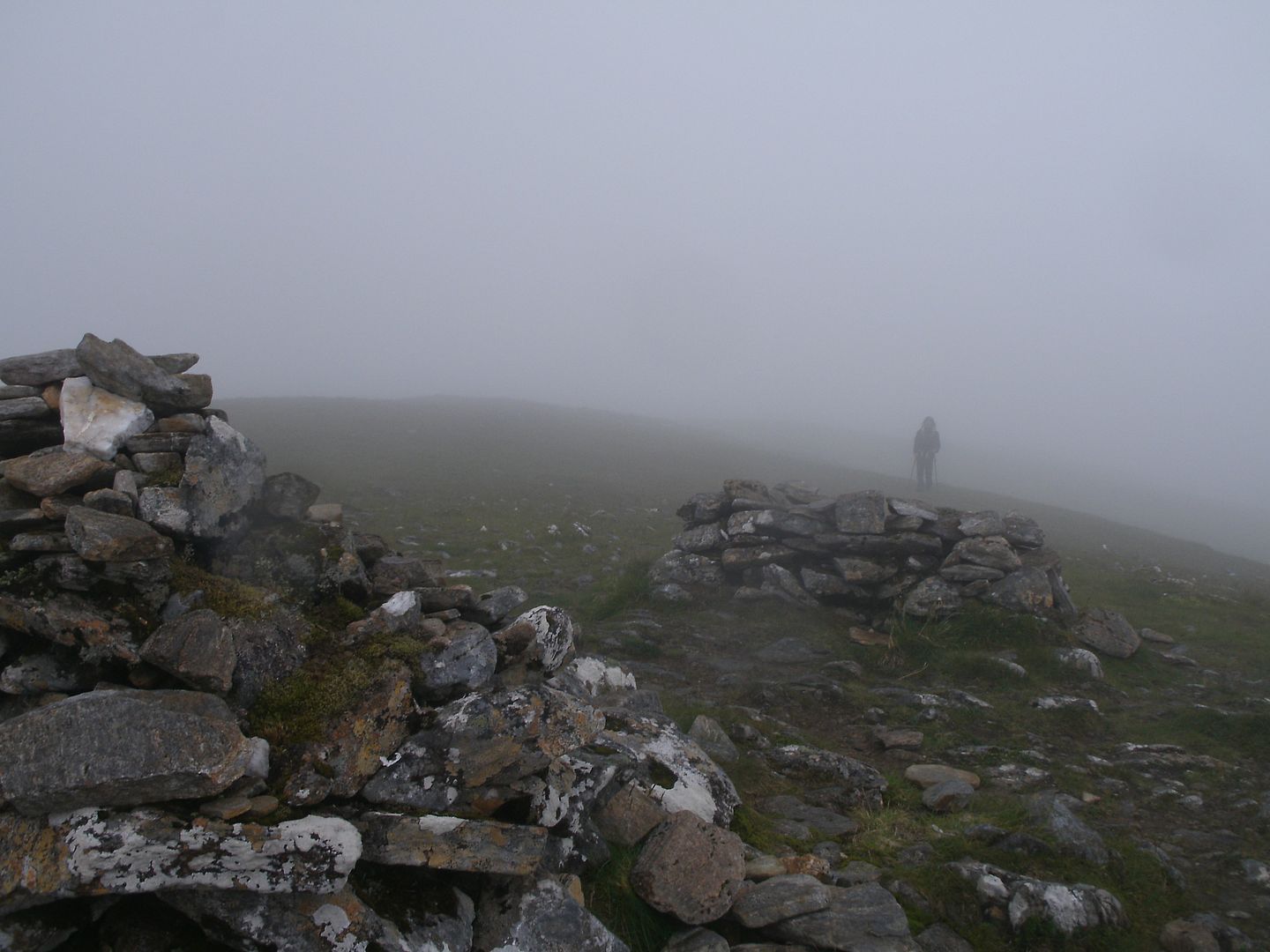 Felt good to be on the final summit. Unfortunately, the clag wasn't thick enough to hide the distance to the dam - looked soooo far with achey feet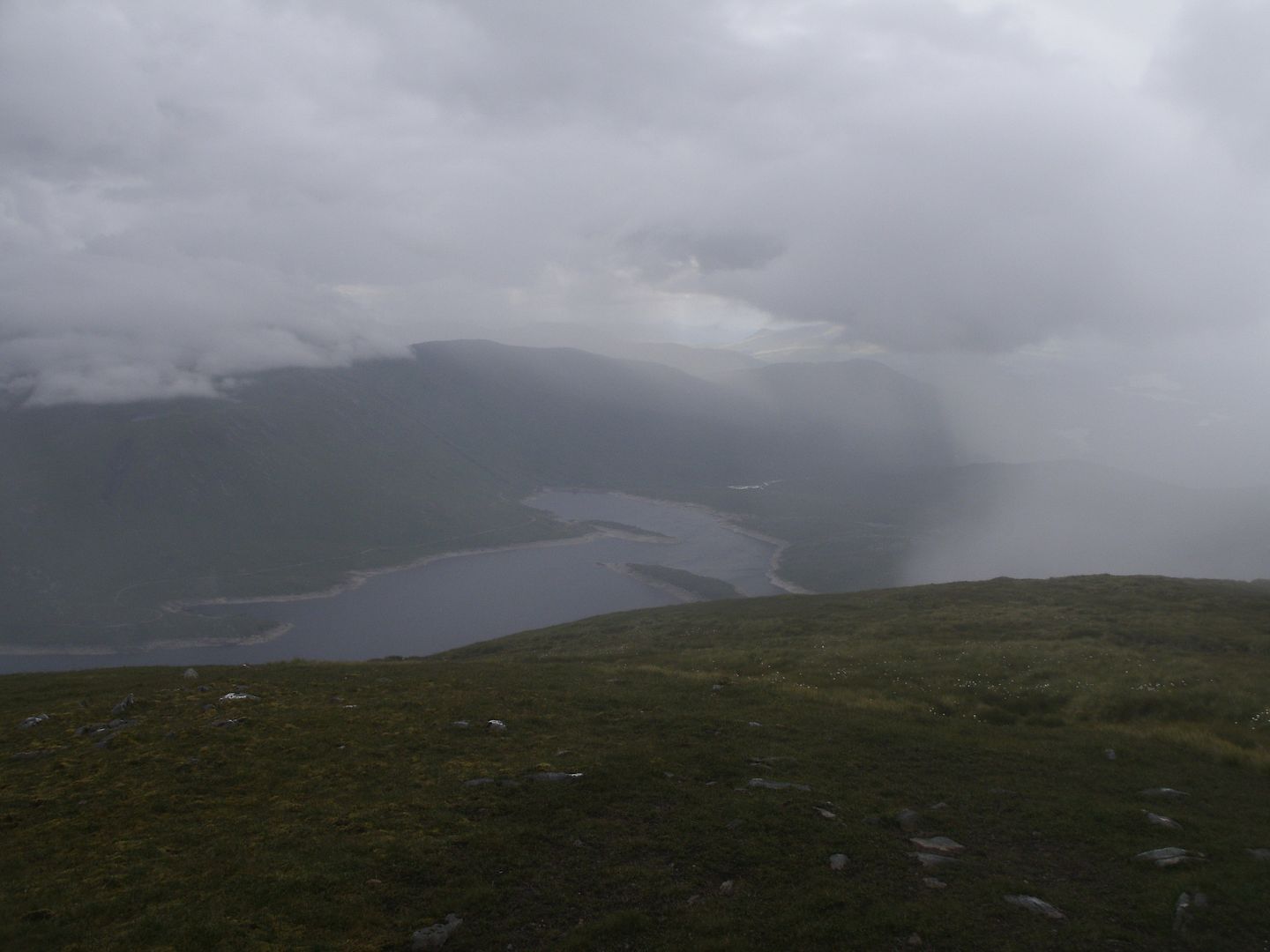 Nothing for it but to get going, so with the rain on heavy, we descended the well worn path down the very steep ground. It soon leveled off, and then followed one of the wettest, boggiest walk out ever. We needed to eat, but there wasnt even a bit of ground, puddle free enough to rest the rucksack down to get anything out to eat, let alone somewhere to sit.. So we staggered on, finding a rocky outcrop a bit further on. We laughed heartily at our situation. Just nasty
made it down into a glen, and started up over the shoulder to the dam. The insects were insane, midges driving us crazy, we skelped clegs off each other, occasionally breaking into a jog when they all got a bit much, despite our fatigue.
We passed a bonny lochan, and then we saw the dam!
now pretty close, we headed straight for it, not caring about the bog with already waterlogged footwear. Ahh good to be back.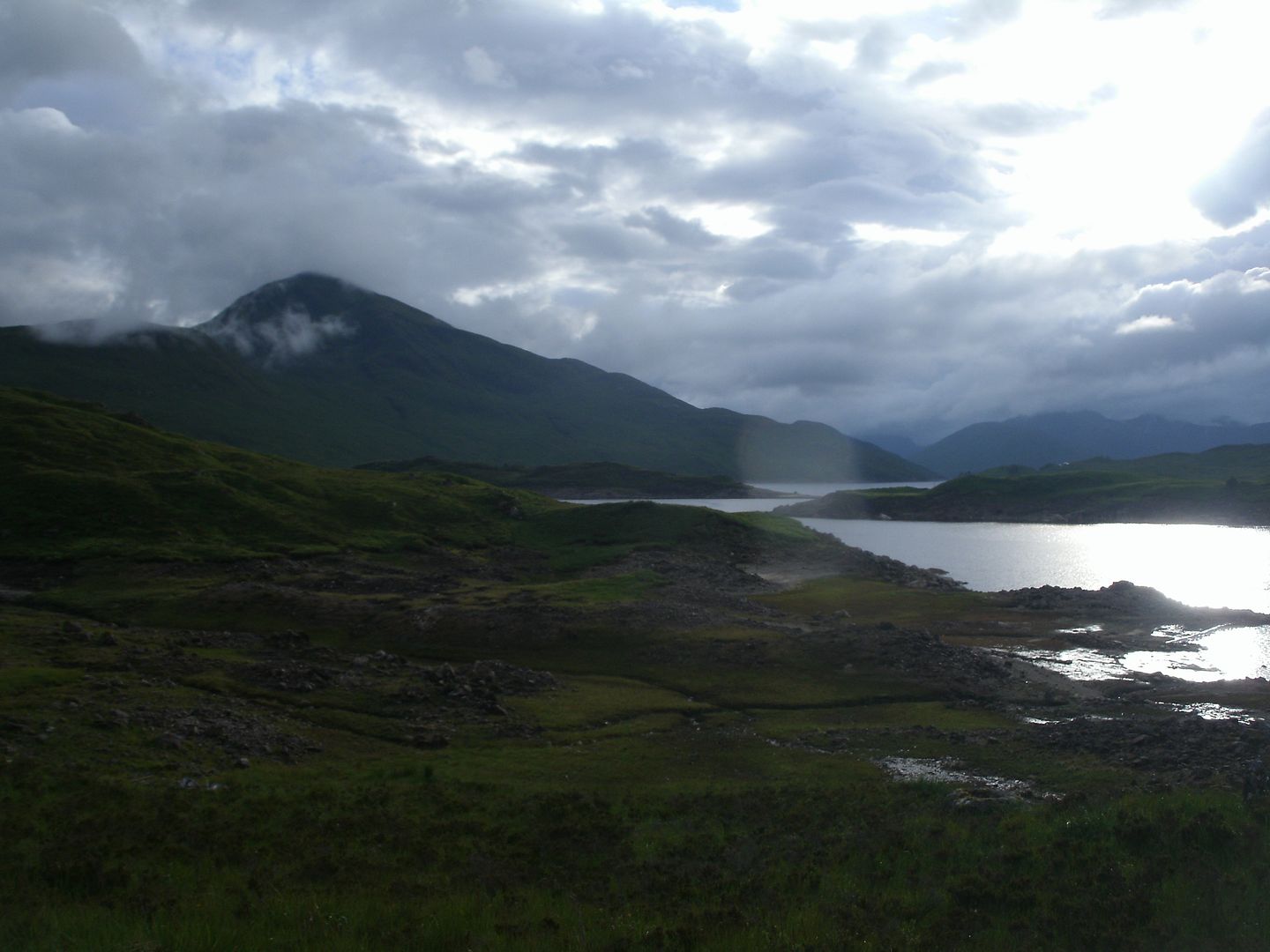 It was 8PM, and we still had to go get Sunny from Loch Arkaig, and she took a couple of dozen tries before she would start
so it was 2.30AM by the time I got back to Aberdeen.. Way too late for a school night, paid for it yesterday
Been meaning to do this trip for ages, and absolutely loved it - magical hills these - apart from the Gairich bog from hell that is!