This weekend, we had pretty much decided that we were doing the Ben Lui 4.. But the weather looked so darn misty and wet over there, we changed our plans, and opted for a Cairngorm trip we had been putting off for a while.
We met up in Braemar at about 8 on Friday night, and headed to Linn of Dee. Without much faff, we were on the track out to White Bridge. The heather is in full bloom just now and it was lovely!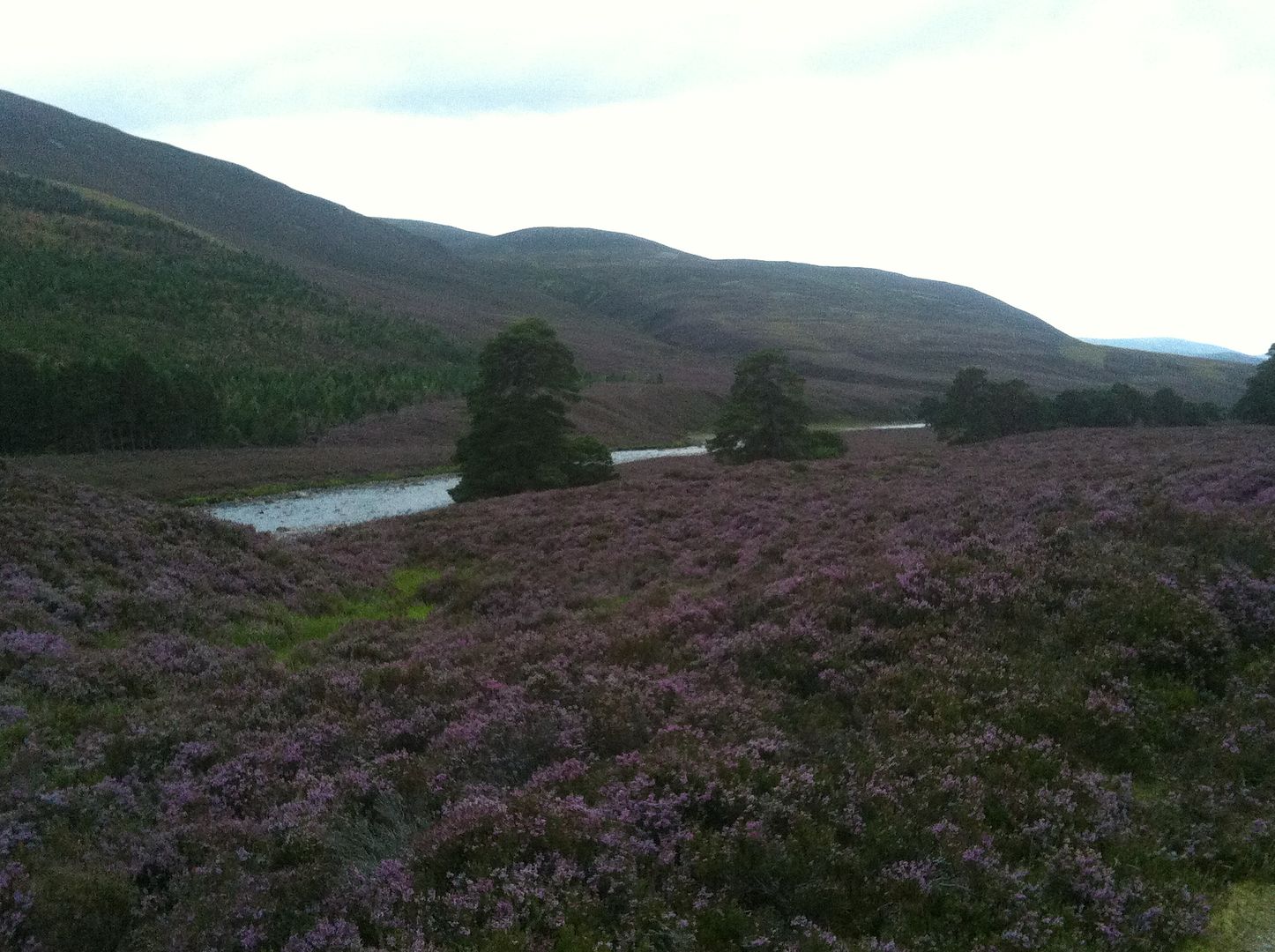 Down the glen, past the plantation, and over the flood plane – maybe an hours walk in the dimming light, to the fine camping ground on the south side of the bridge. Quite a busy place, there were cyclists and walkers passing until after midnight!
We had both arrived sleep deprived, so we were rather late up on Saturday morning. I'd forgotten how much hardier the Cairngorm midge is compared to its west coast cousin, even in the stiff breeze, there were still plenty about to harass me as I got the tea and porridge sorted. We set off at I think about 11. My watch is broken, and I'm usually the timekeeper, so the whole weekend, we weren't really sure what time it was!
We walked a couple of miles along the south side of the Dee,
before the baggers path heads up the Allt Larnaigh. The path was far more prominent, and far less boggy than previous times I have been up that way. Although there is still a section of path missing between the glen and the ridge.. We slogged through the deep heather and gained the higher path. From there it is an easy walk over slabs and wind shortened foliage up to Carn Cloich Mhuillin. In my opinion, a far finer peak than Ben Bhrotain. My Dad told me that this former munro was earmarked by Hugh Munro himself to be his last, but he never did make it there..
So a special place indeed for baggers, despite not being on any list.
We hunkered down in the rocks near the summit for first lunch. It was a bonny day, but there was a chill wind blowing.
So onward, down a short rocky descent, and across the flat coll on the prominent path which peters out fairly quickly.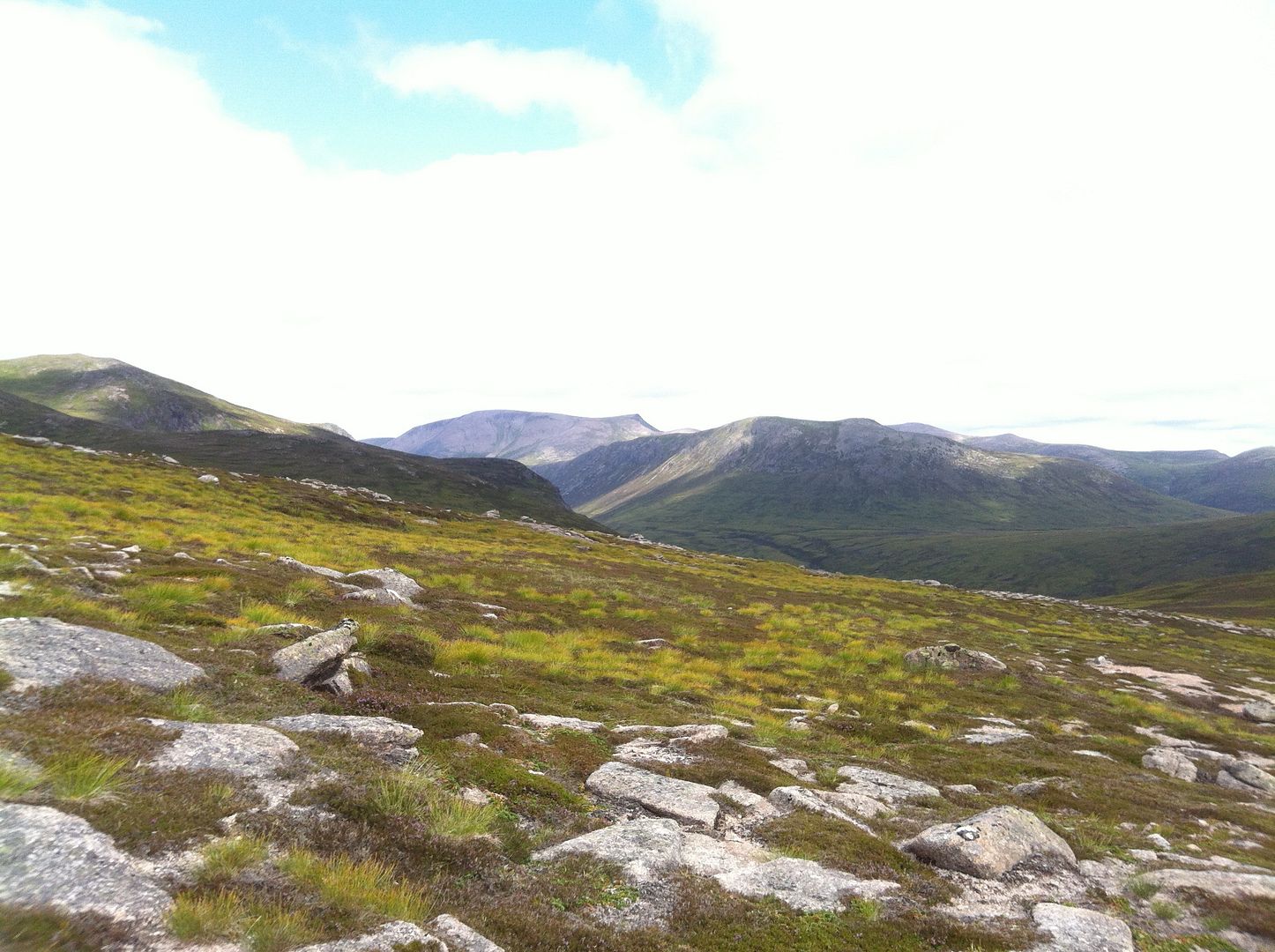 We decided to head left for an easier gradient, and up easy slopes to the rounded summit, with cairn, shelter and trig. It was busy up there.. Loads of folk going about!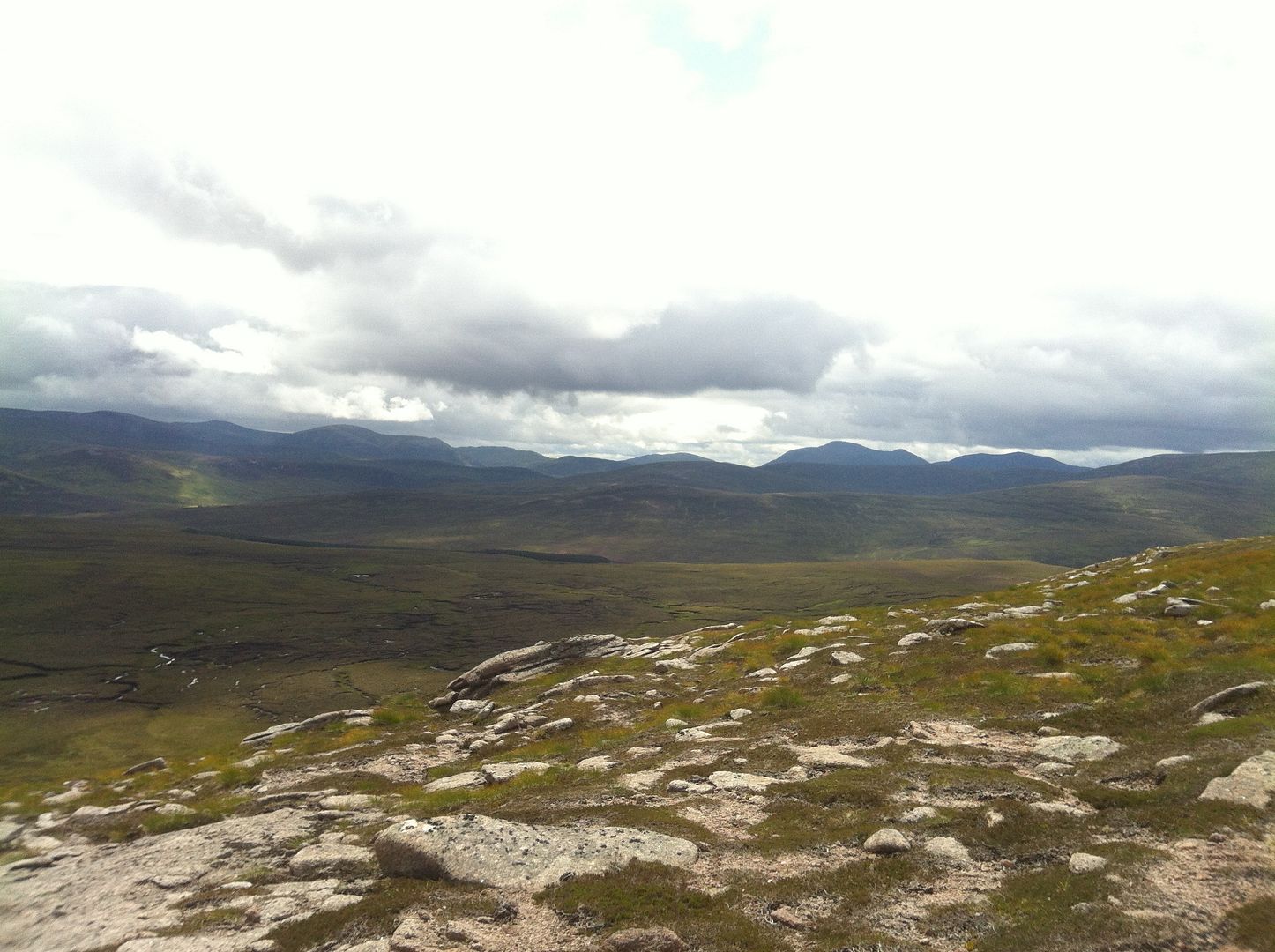 We didn't stop, just headed on, picking our way down the boulder field, saying hi to any folks we passed.
Near the Bealach, we bumped into Di and Rocket Ron who had come up from Glen Feshie. Nice to see friendly faces
We lay on the grass, on the lea side of the bealach for second lunch, before the short, steep pull up to the Monadh Mor plateau. I remember walking in circles in the fog up here once, but no such difficulties today, as we could see the crowd at the summit from miles away. We stopped a while at the summit for some mountain chats with some strangers and enjoyed the views.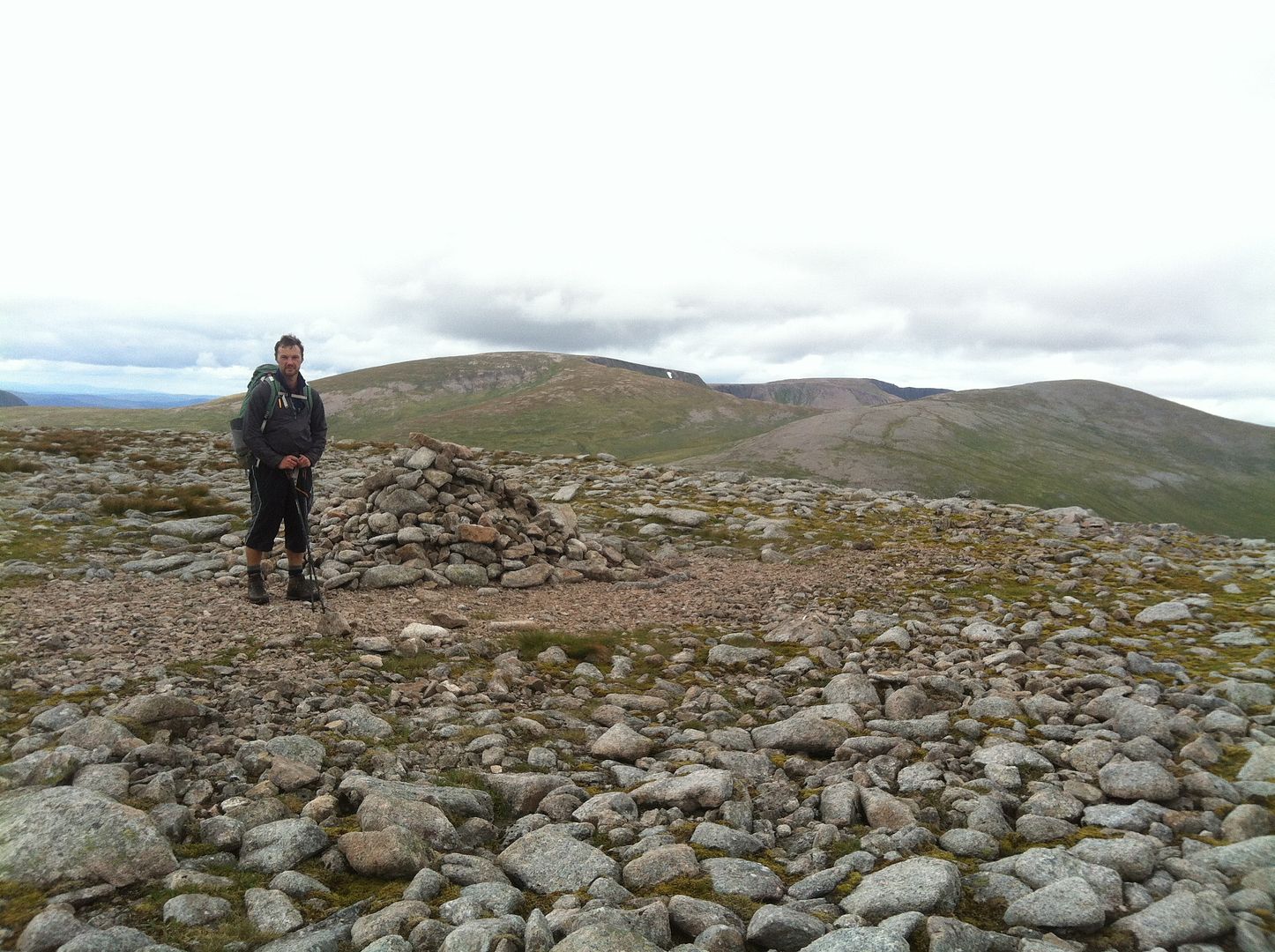 From there, it's a long bouldery descent down to the bealach. I've never really enjoyed bouldery descents since my epic fall down the back side of Nevis, so I was perhaps a bit slower than I could have been.
No rush as we seemed to be making good progress.. Not that either of us had a clue what time it was..
It was a long pull up to the other ridge, we skirted round heading for a bealach. The clag was fairly rolling in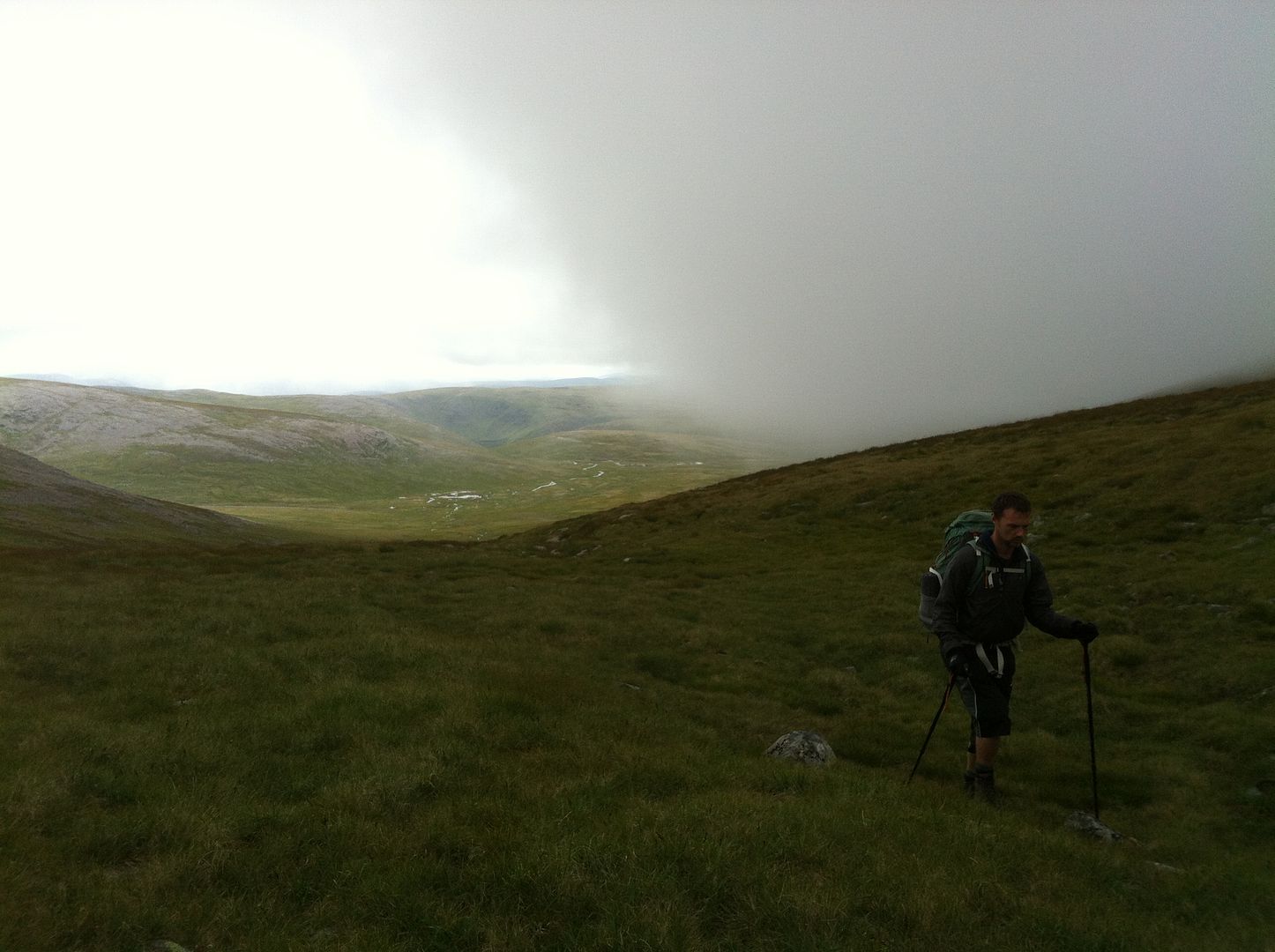 Dougie chose a lower route to me, and this resulted in no stops or food, and we arrived at the ridge somewhat tired.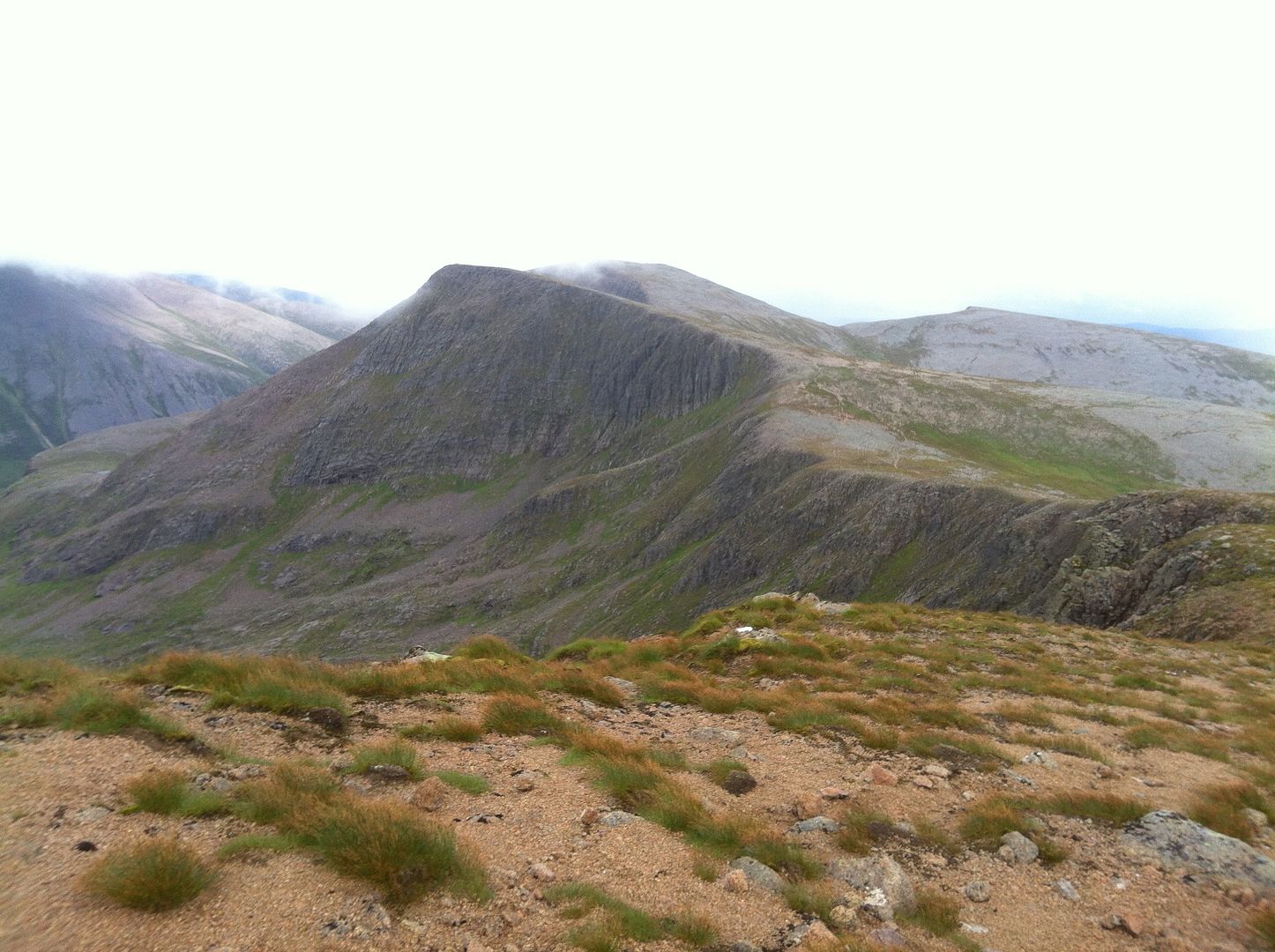 A look at the map showed us that it was just a mile or so to our planned camp spot up at the Wells of Dee. It was busy up here too, with many groups of walkers seen along the ridge.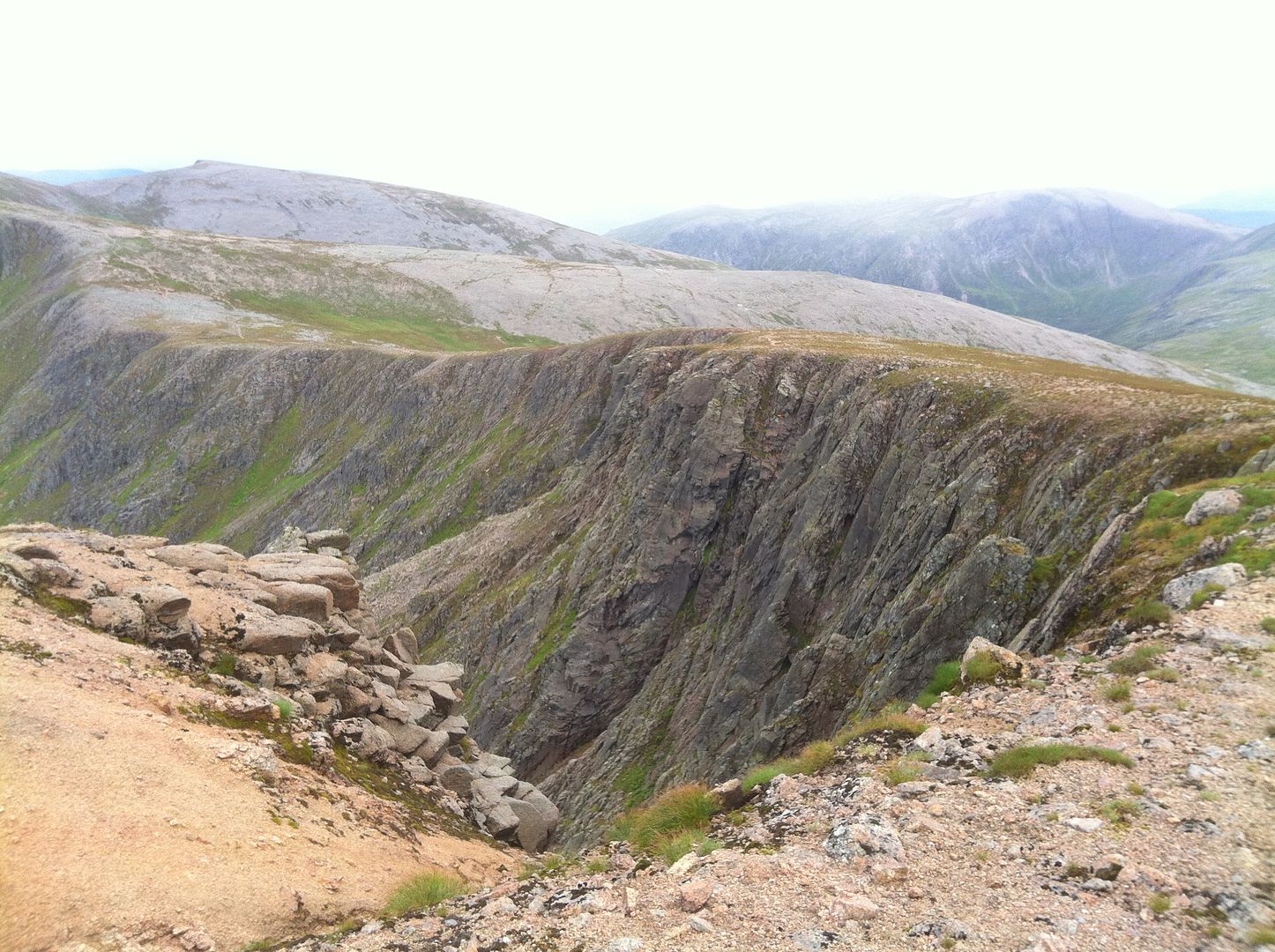 An easy, but windswept wander took us along the path, to the big plateau. The sky was getting darker and it looked like the clag was coming.
In our tiredness, we kind of skipped the Wells, and ended up picking a nice camp spot a bit further downstream. It's a harsh landscape up there, with just a few patches of grass clinging on to gravel with short weak roots.. It struck me that maybe this is the highest I have ever camped – it would be hard to find many suitable camp spots higher in the UK anyways!
We got the tent up and were inside just as the rain hit. We had a cup-a-soup and waited for it to clear up a bit, before a wander without packs up toward Braeriach. I saw a weird animal out of the corner of my eye, the like of which I had never seen before. I thought it was a donkey at first, but the head wasn't right.. Then it dawned on me – it was a reindeer! We weren't that far from the reindeer centre so made sense. It seemed unconcerned by our presence so we approached it, and found a wee calf, that can't have been more than days old. It had the most piercing blue eyes.. Awww soooo cute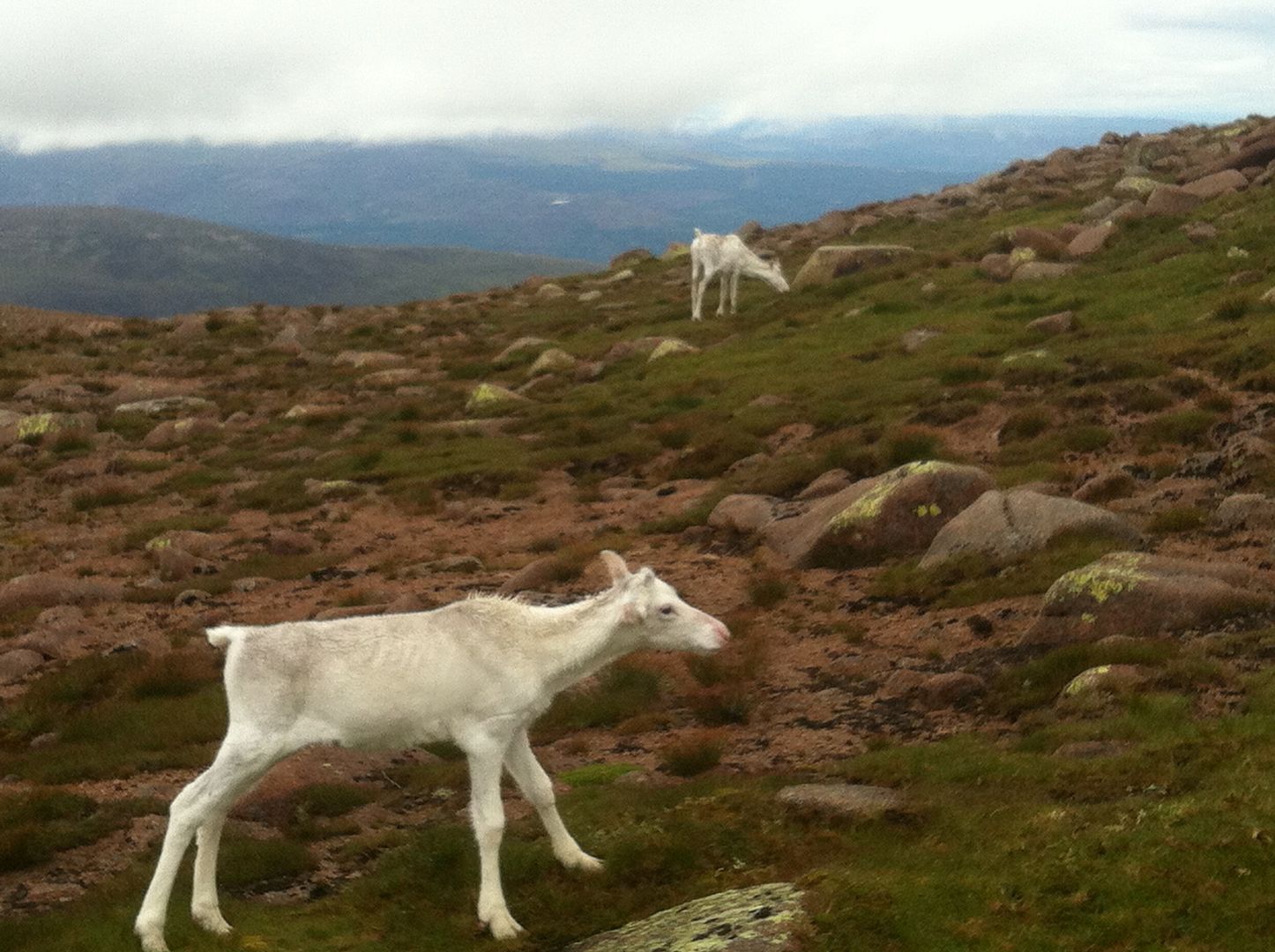 Not much of a climb saw us at the lofty summit.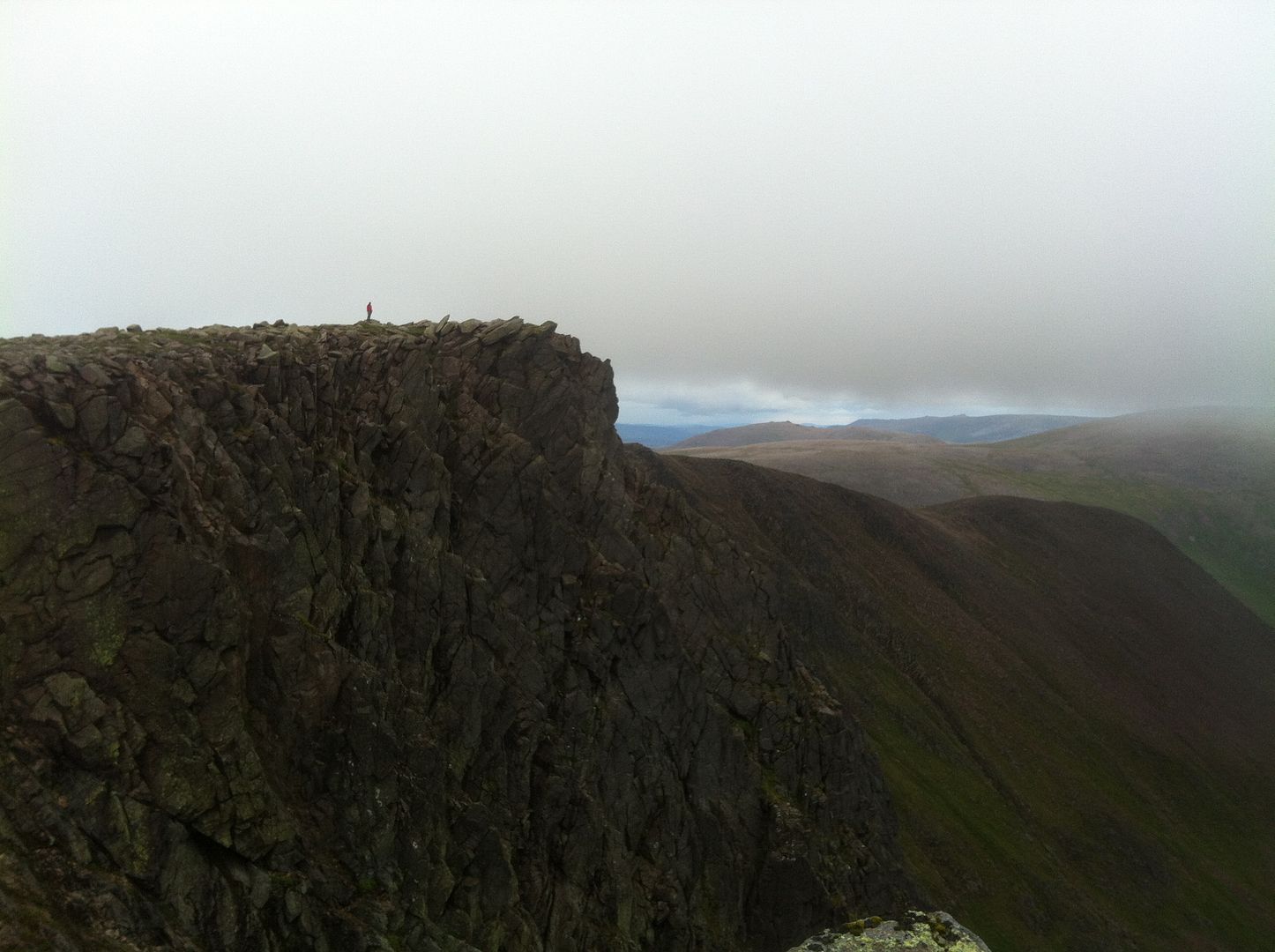 The clag was back by then, so no point hanging about – we were hungry and needed our dinner! So we returned back to the tent for a fun but chilly evening, having the novelty of watching reindeer graze nearby in the mists.
I was awoken in the morning by high winds and rain pelting down – oh I thought the weather might deteriorate and it had.. There were a few heavy showers, but by the time we left in the morning, the worst seemed to be over - high, chill winds and persistent drizzle was the theme.
We went up to the Wells for a look, but not much coming out just now, then retraced our steps back along the ridge toward Sgor an Lochan Uaine, managing to get a few fleeting views in the bealach below the clag.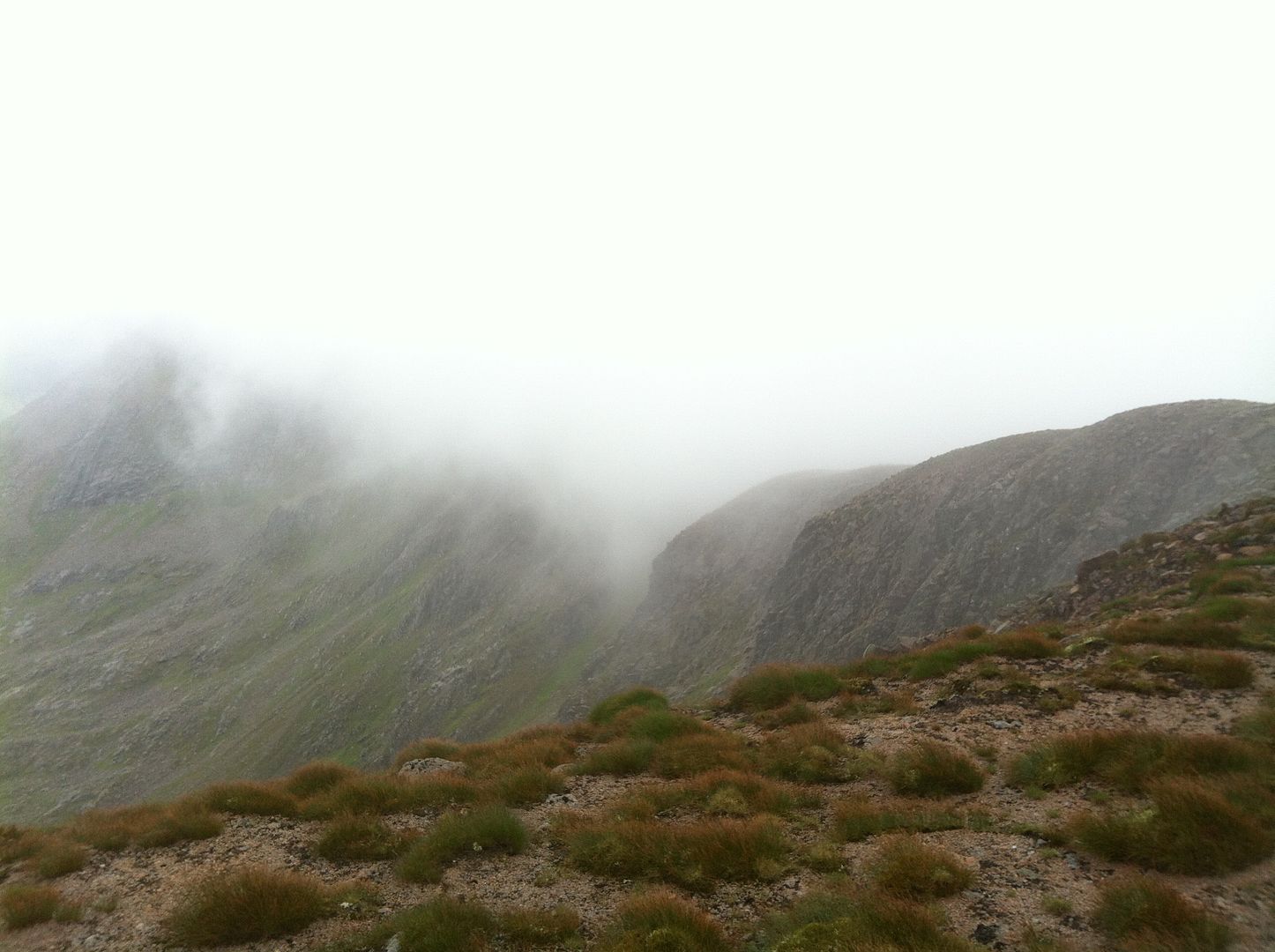 We started the ascent, the going still fairly easy underfoot, and the angle of the ascent gentle. We were soon at the summit, albeit in thick mist.
We hunkered down in some nearby rocks for a break, and were visited by a lovely wee snow bunting.. Right friendly little birdies so they are.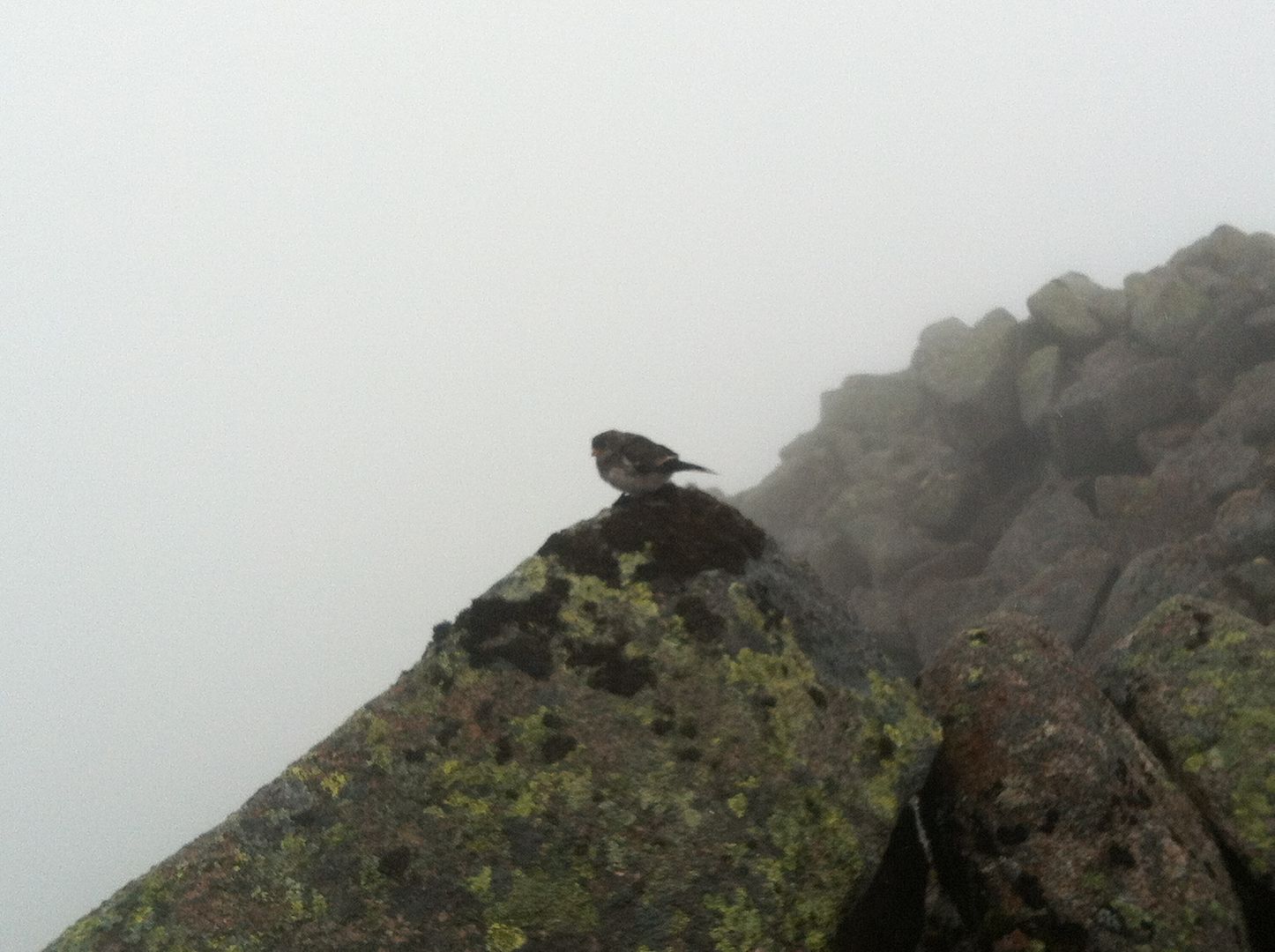 A couple of groups of walkers came and left, so must have been there a while.. It was a bummer to leave our wee shelter and go back into the wind.. So cold!
An easy descent took us back down below the clag for a while
and as we climbed up Cairn Toul, it showed signs of clearing and we got some views.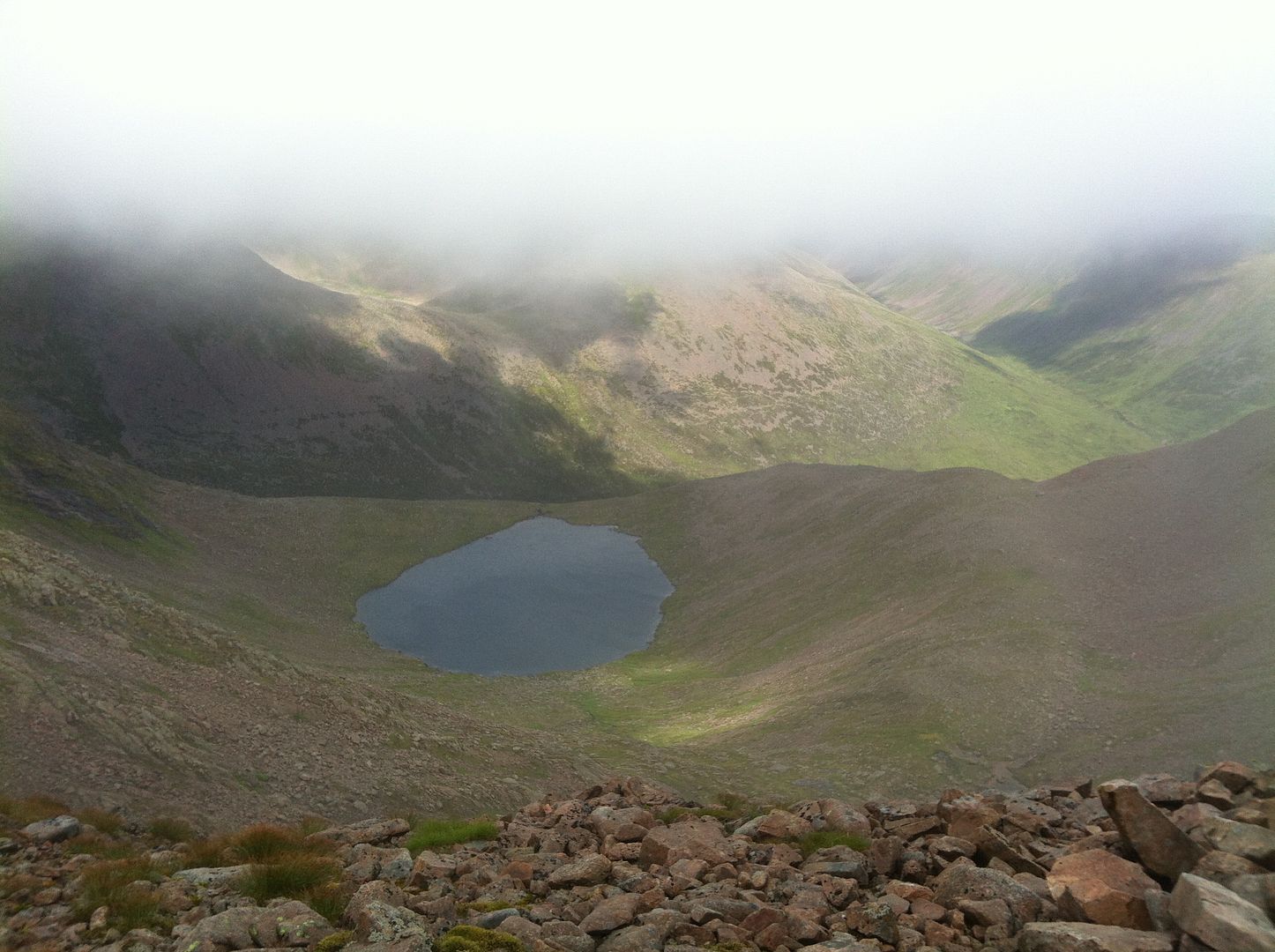 The going was becoming slow, as we had hit the steep boulder fields that take a little more concentration on where you're putting your feet.
By the time we reached the Summit, it was clagged over again, but there was a fine shelter there, so we stopped, and yet again a snow bunting came and hopped about in front of us to make up for the lack of views. This one was a bit more camera shy however..
We wandered along to the other summit cairn, before taking to the boulder fields again.. Felt like a long descent, with more than a few hairy moments..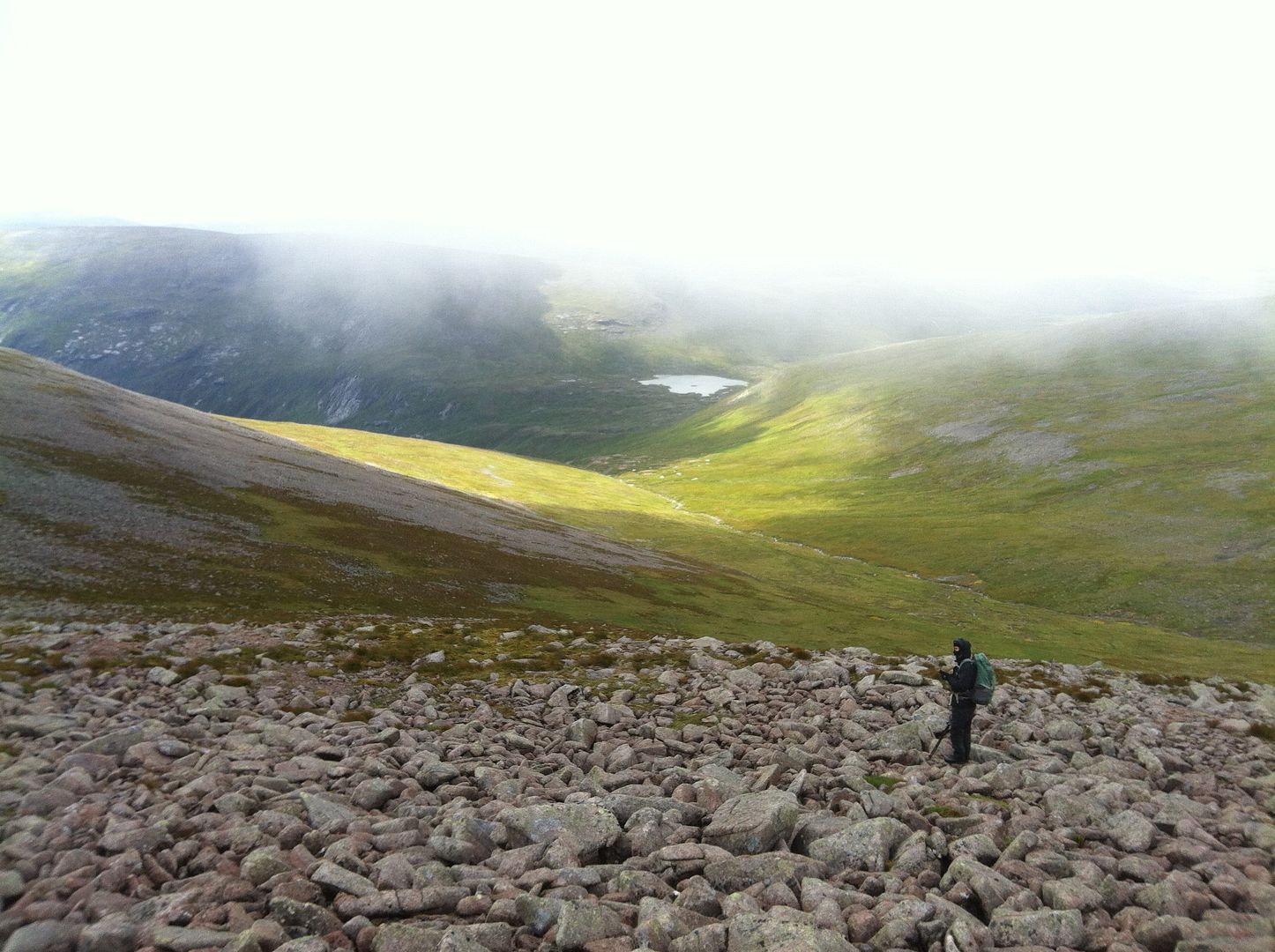 While we descended, it cleared up though, and suddenly we were looking at views from Fyfe to Creag Mheagaidh. Just lovely..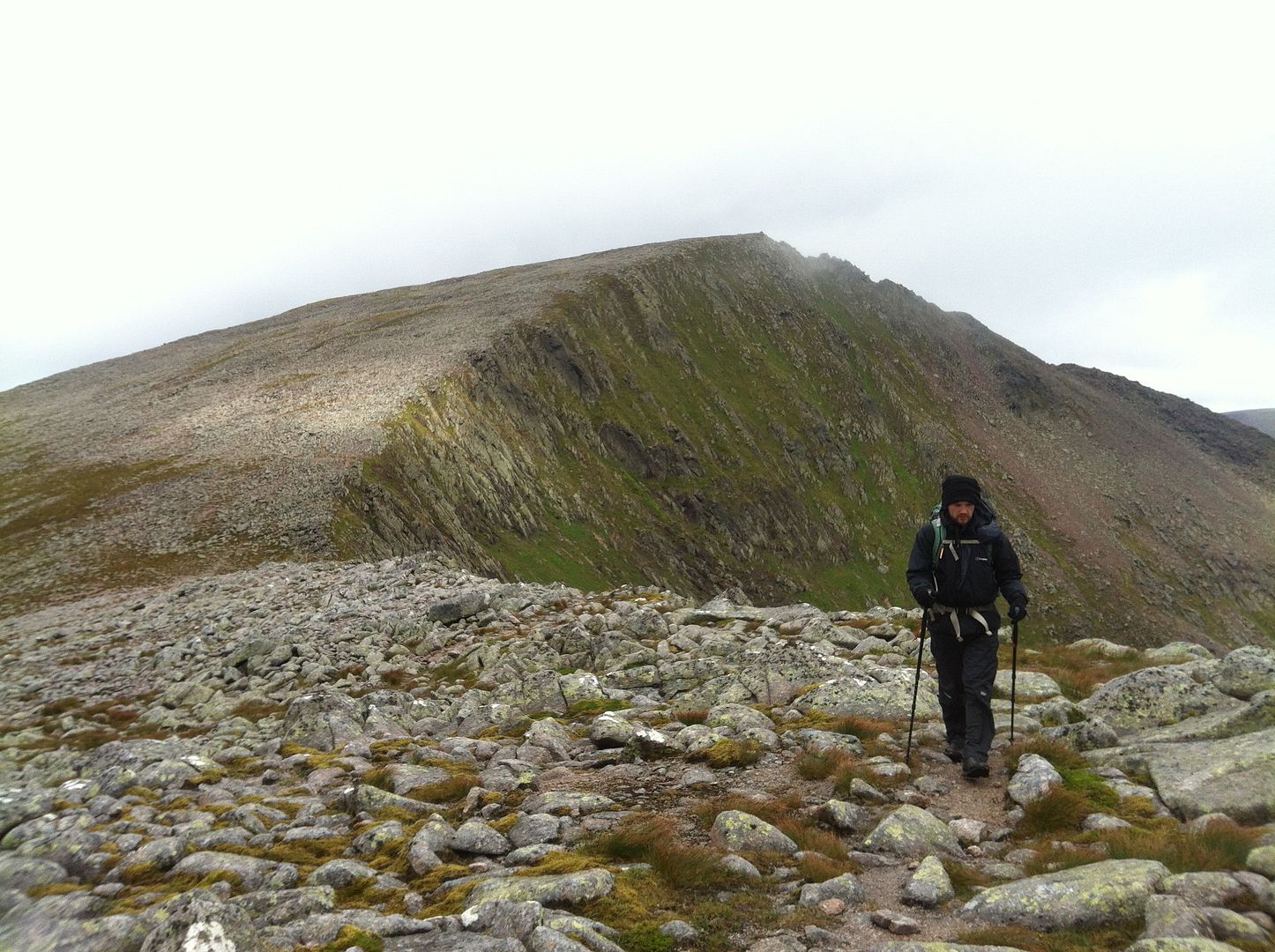 An easy climb up to a lump on the ridge, gave us some lovely views to the surrounds.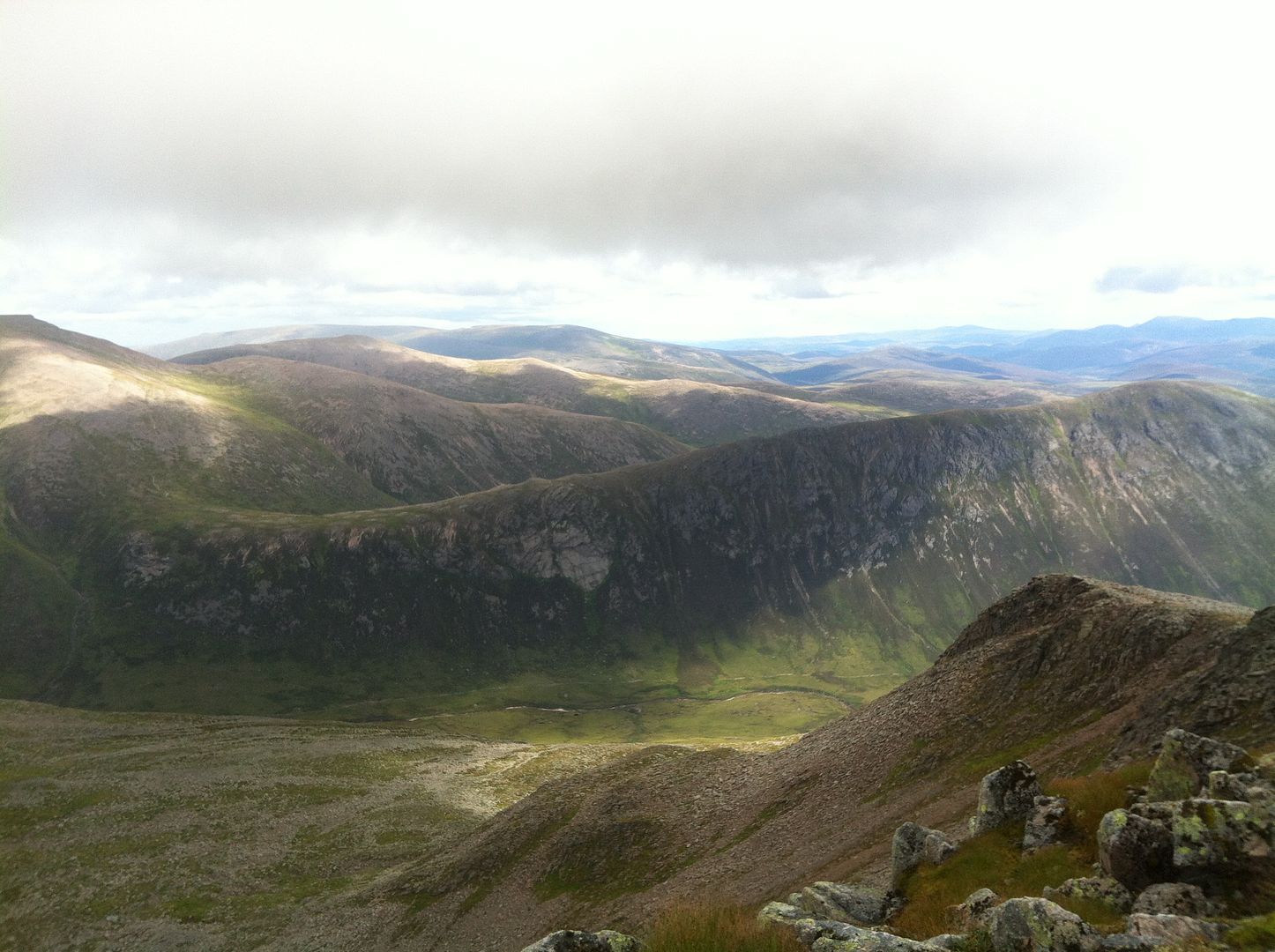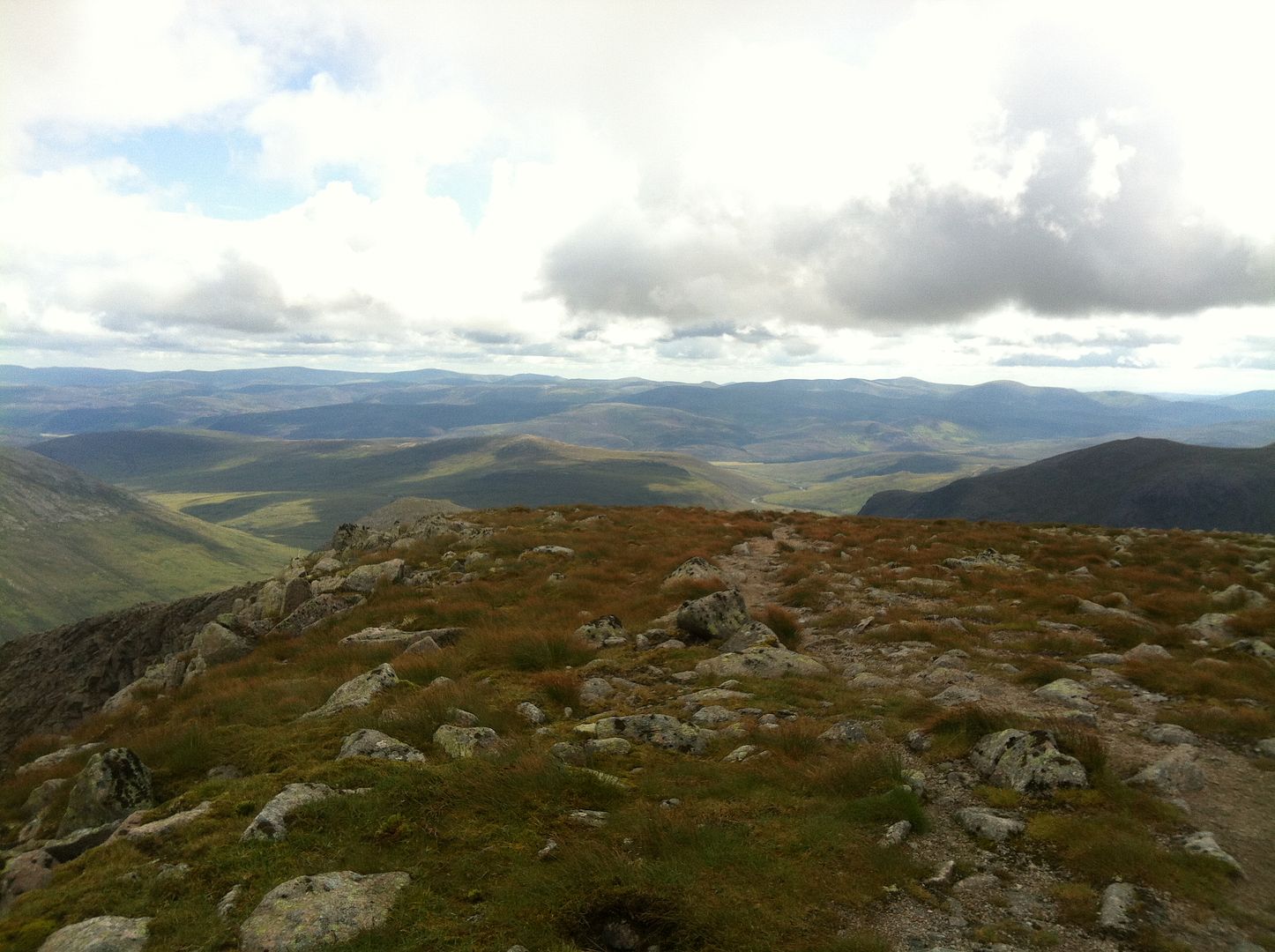 We descended past the worst of the boulder field and stopped for a rest out of the still strong, chilly wind.. The devils Point looked rather small descending down toward it, I can see why it wasn't a munro for such a long time – tiny compared to the hills round about.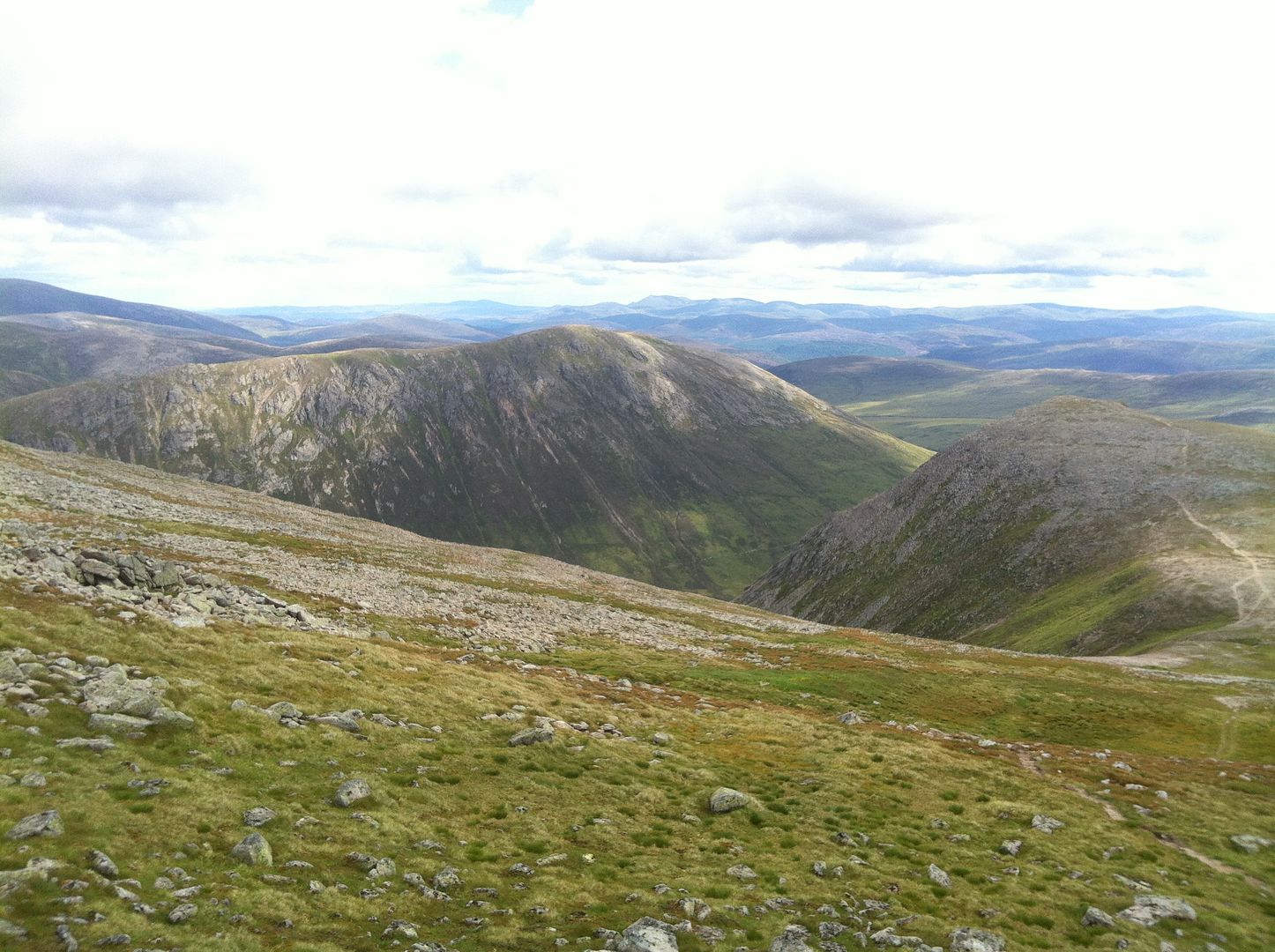 It was good to get the heavy packs off at the bealach to make the short climb to the summit with no weight.. The views from the Summit are amazing, and we could see our entire route spread out before us.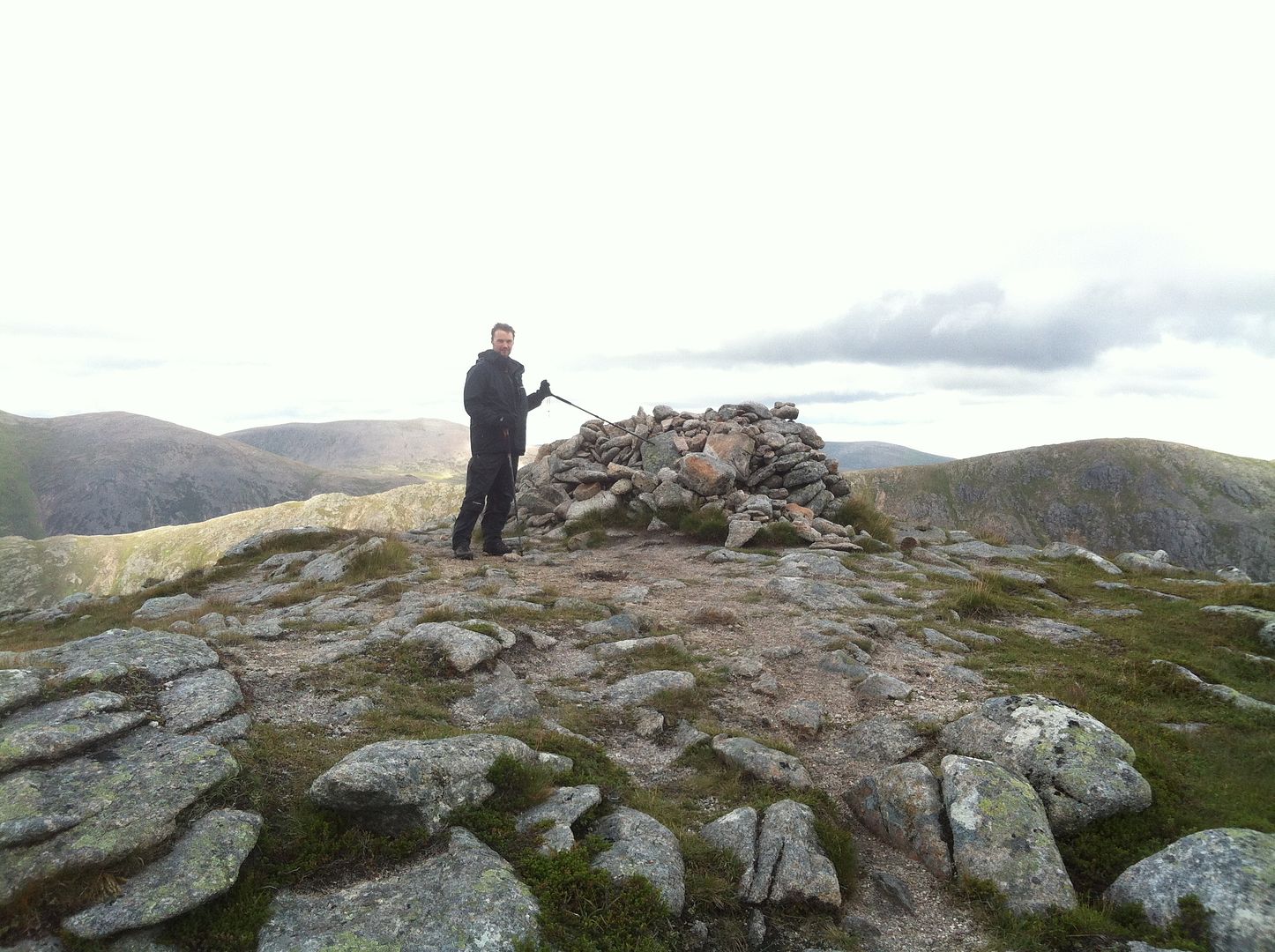 I was trying not to think of the long walk out and how sore my feet were going to be by the time we got back to Linn of Dee..
So we retraced our steps, picked up our rucksacks and took the steep path down to Corrour. The waterfalls, usually so bonny, only had a wee trickle coming down, so were nothing to look at disappointingly..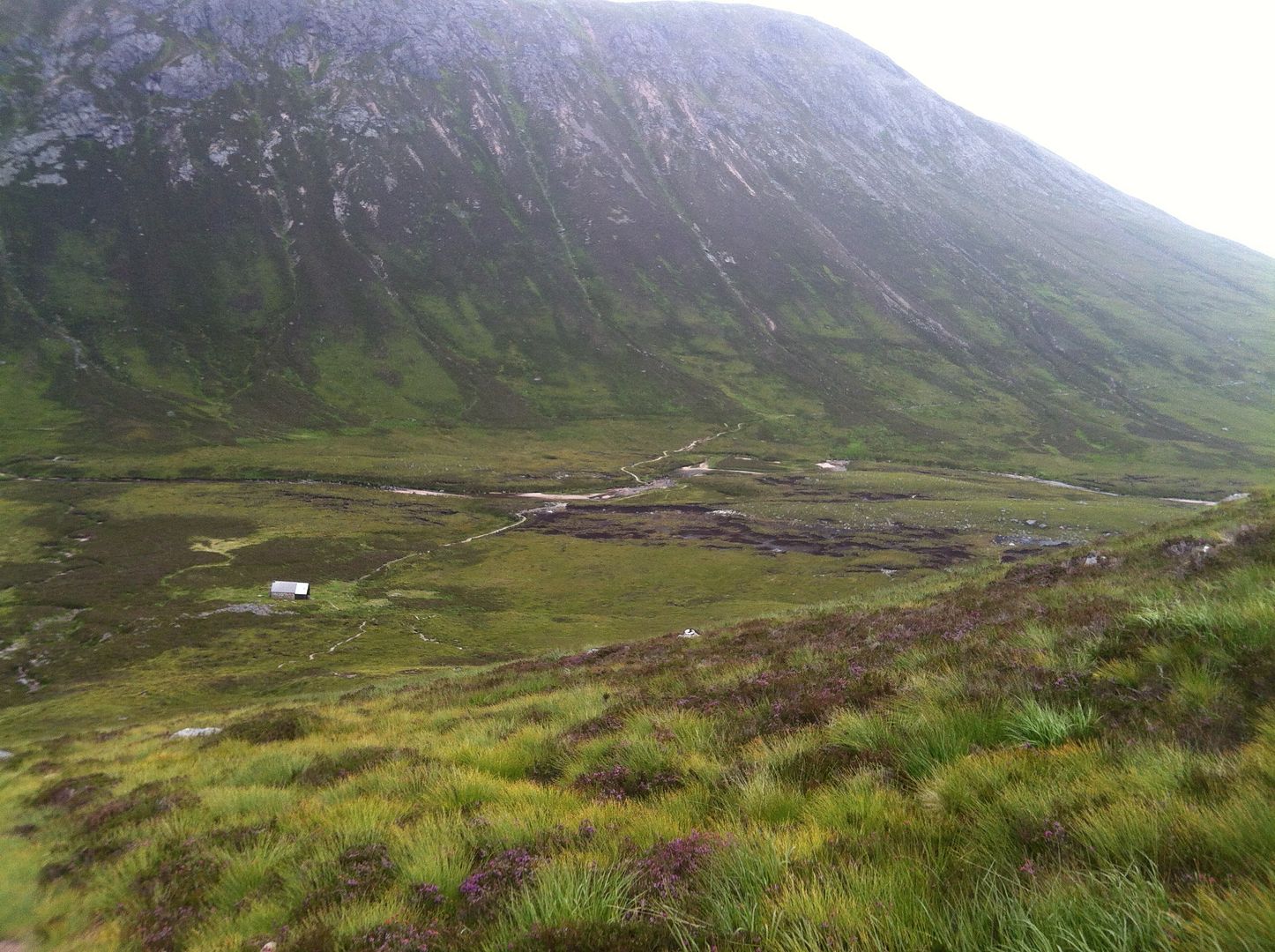 We stopped in the bothy for a while – rude not to! Before heading along the path to Derry Lodge.
My feet were sore before we were even up at the Bealach, and the path seemed never ending after the Luibeg crossing.
I have been that way many times and it has always felt like just a short distance but not today. I was very grateful for the soft, peaty ground crossing toward the bridge at Derry Lodge, the rain now back on, we just wanted back to the car!
We stopped again at Bob Scott's, just for some food and a seat, but things were very busy in there for a Sunday night.. One chap kindly gave up his chair so we could get a rest – Thanks if it was you
Sharing a chair isn't the most comfy thing in the world though
By the time we left, apparently it was 7PM – later than we had thought. I'm sure you are all well acquainted with the foot killing walk out from Derry Lodge, so I won't bore you with the details.. A trial of endurance!
Loved this trip – best weather I've had in the Cairngorms so far.. Braeriach was my final munro east of the A9, but I'm sure I'll be back to the area many times