So what can I say about this weekend? I was so excited when I left work on Friday.. The 5 hour drive over to Skye seemed to pass in a flash, and I was soon seeing friendly faces in the bunkhouse..
I made the mistake of having a few tinnies before my dinner – so was rather tipsy even when Dougie arrived at 11.. By the time we were chucked out of the pub, and I had had a gin and a couple of drams of Charlie's skull splitting 60% amber nectar, I was unconscious enough not to be woken by the shenanigans that followed later. This in turn, led me to wonder what the hell was with all the jokes about Asda workers
Such is life..
Saturday was a wee bit stormy, so after spending the morning recovering from the 'bug' that frequently befalls WH members on these meets
we decided to take ourselves off to Talisker Distillery for a hair of the dog.. Unfortunately all the tours were fully booked, and upon returning to the car after a mooch in the visitor centre, found we had a flat battery
RAC have a rather slower response time out in Skye, so caught some more zeds while we waited.. Oh what a fun way to spend the afternoon
The evening went a lot better – Dougie won £140 on the bandit, and our team won the quiz, but best of all, the banter was flowing and I think a braw night was had by all
Sunday morning came, and most folk seemed to be heading to Kintail..
So we felt a bit controversial actually doing a Skye hill on the Skye meet.
We had decided to attempt Bruach na Frithe by the SW ridge, as there is a wee grade 2 scramble up that way.
We left as late as we could get away with, as the strong winds were supposed to be easing later. We drove Sunny round and got the last space at the Fairy Pools, as the walk in looked a little shorter that way, and would give us an option for a through route if we fancied later.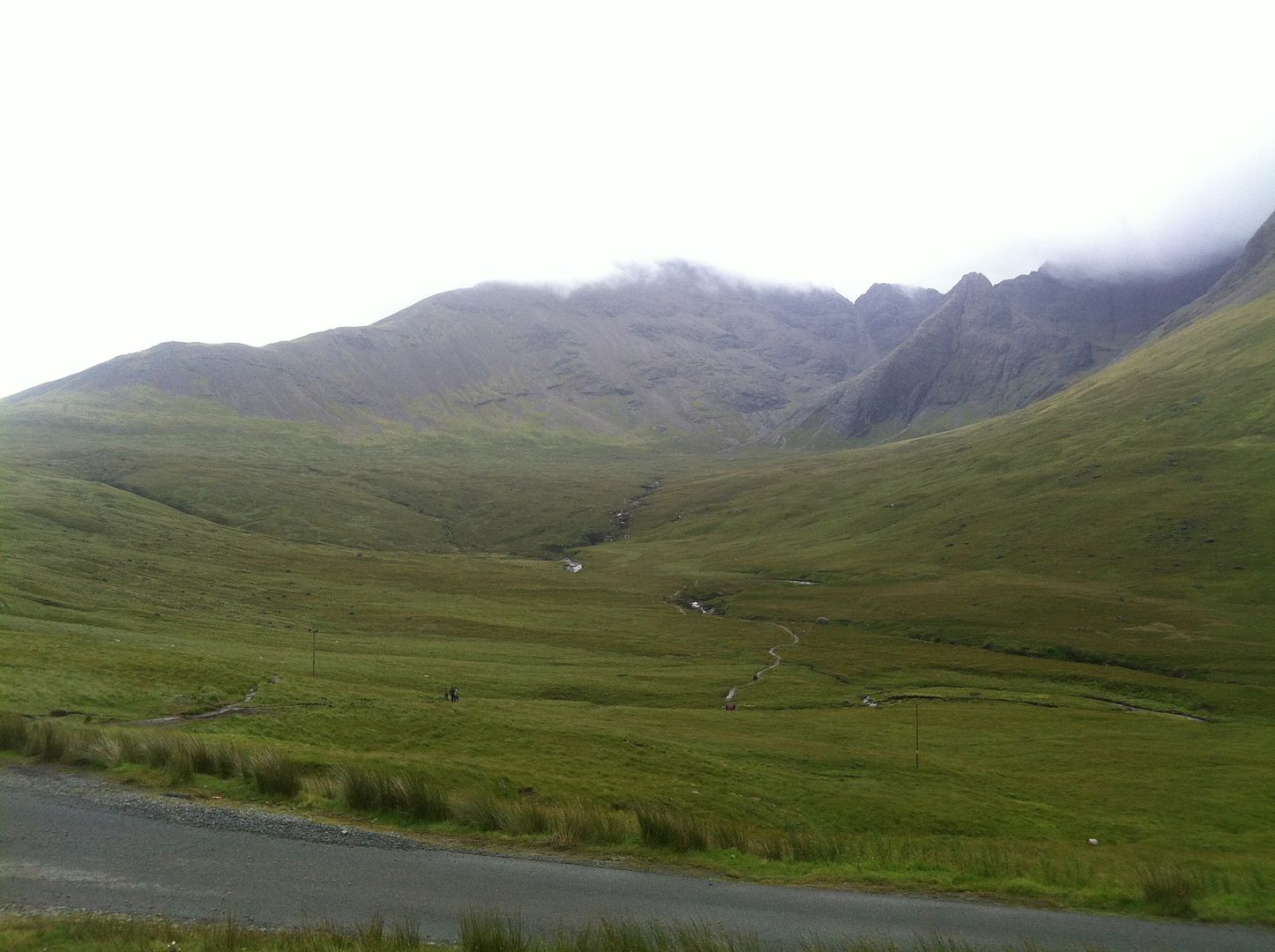 We set off, leaving the fairy pools path , and all the hubbub behind very quickly.. There was a large burn I struggled across – Oh to be able to jump like Dougie can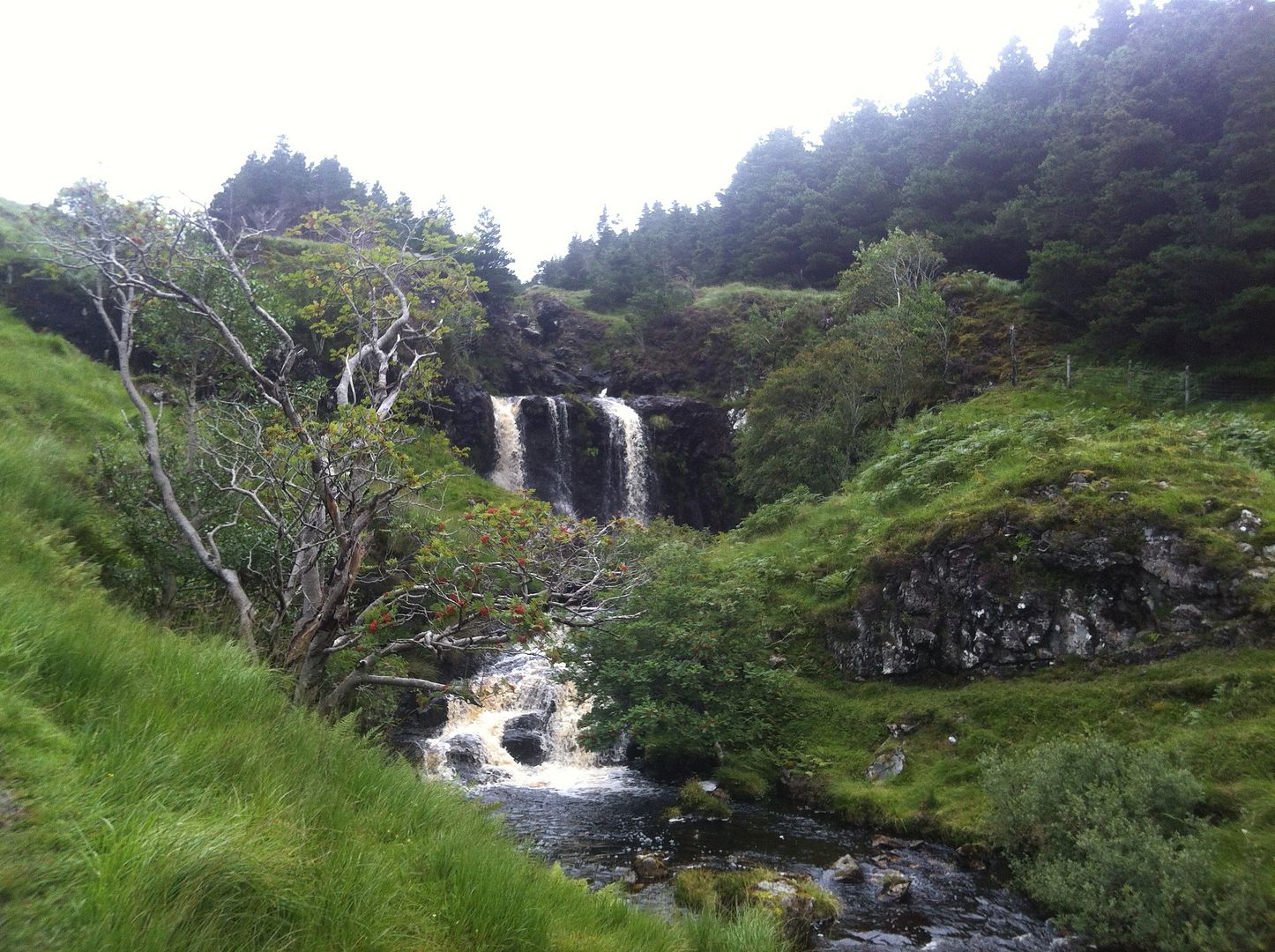 It's a fairly decent path all the way up to the Bealach, with a couple of showers and a brisk wind cooling our efforts along the way.
We left the main path by the bealach lochan, and found a path that cut left up the hillside, onto the ridge. The bottom parts of said ridge are grassy and lumpy, but we soon found a well worn path to the left of the crest, which eased the going.
It was really windy though, and getting worse as we ascended. There were some amazing views, so we stopped, snacked and talked about how even if we were soon to be blown off the hill, the effort would have been worth it just for the bonniness of the walk thus far..
The easy angled grassy ridge turned into a very steep scree slope
well it wouldn't be Skye without a dose of scree! It was difficult to keep our balance in the strong winds, and when we reached the top of the scree, the ridge narrowed dramatically, and the buffeting became scary.
We were soon at the foot of the scramble, but we knew it would be stupidity to attempt it, so we regretfully took to the bypass path round to the right.
There was still a wee bit of scrambling, and still interesting underfoot, so our mood brightened as we went along.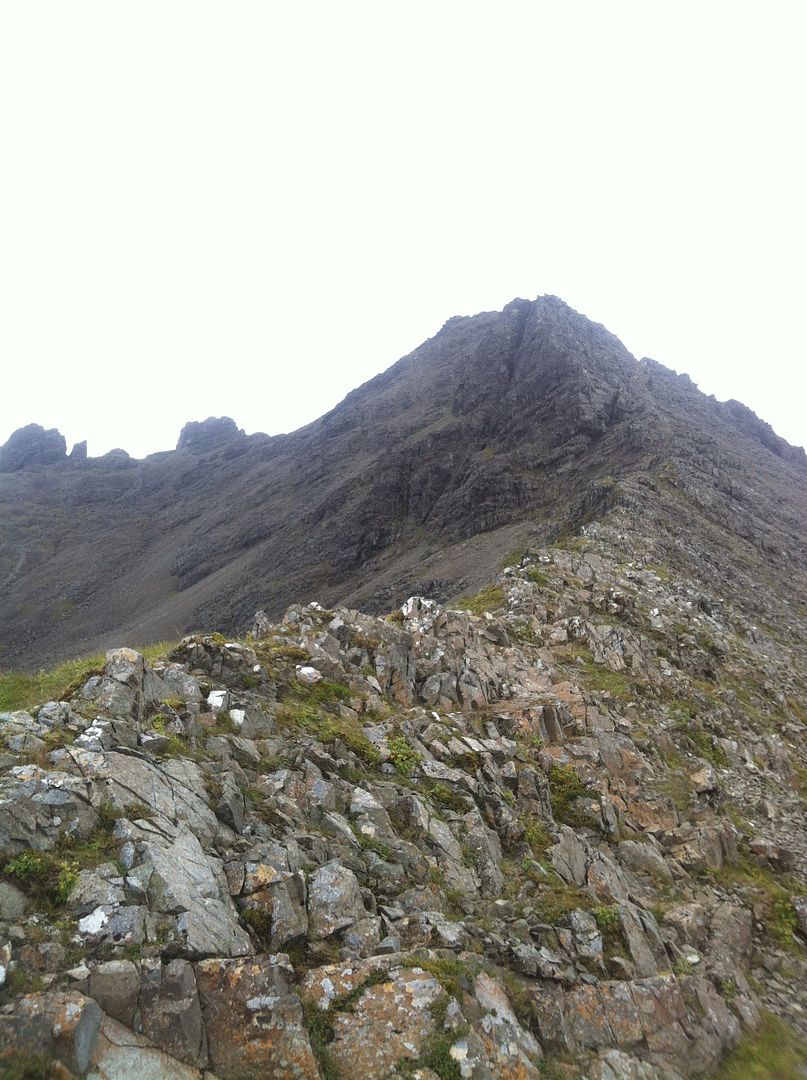 Then we saw the huge bank of clag out to sea, coming our way
Time to don the waterproofs..
It hit, and all visibility went. We struggled on a way, but it was difficult, so we found a sheltered spot in a gully, behind a huge flake of basalt, ate our sandwiches and waited. It was sheltered and warm there.. shame the rocks couldn't of been comfier
Then all of a sudden, it cleared and we could see the patchwork of islands out to sea – a spectacular moment!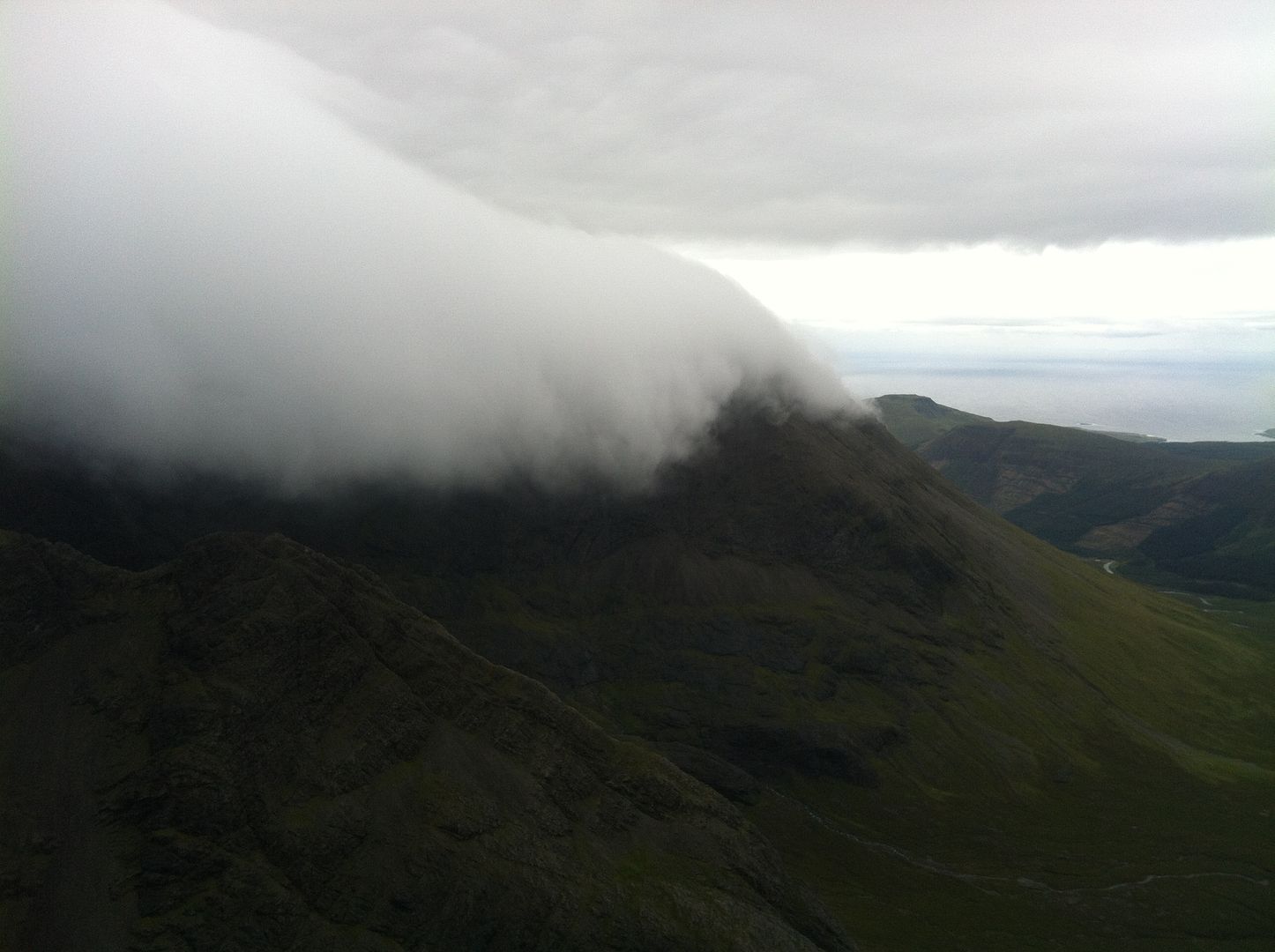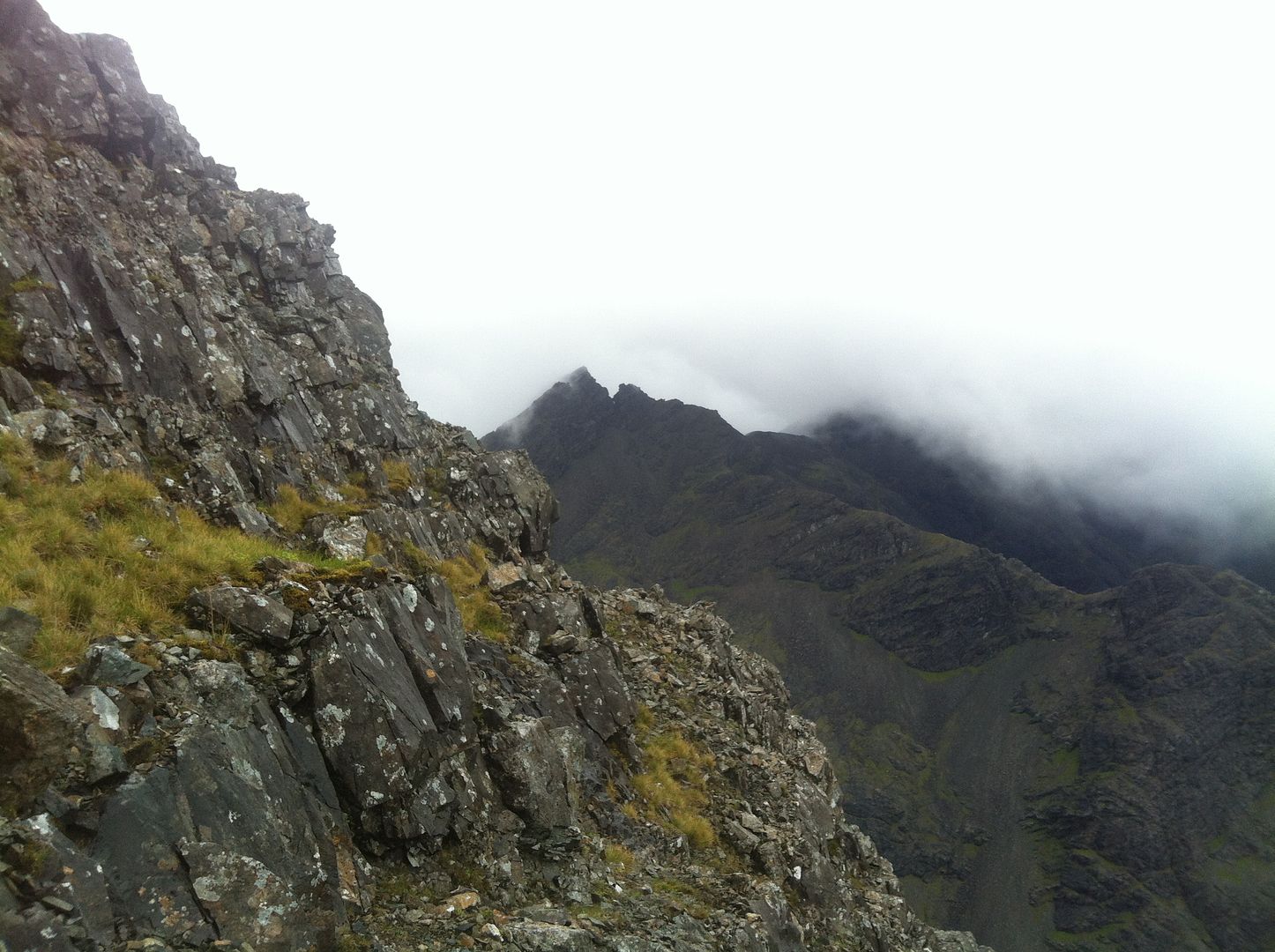 So onwards and upwards, over slabs and loose rock to the Summit, where we hid behind the cairn from the wind and drank in those views.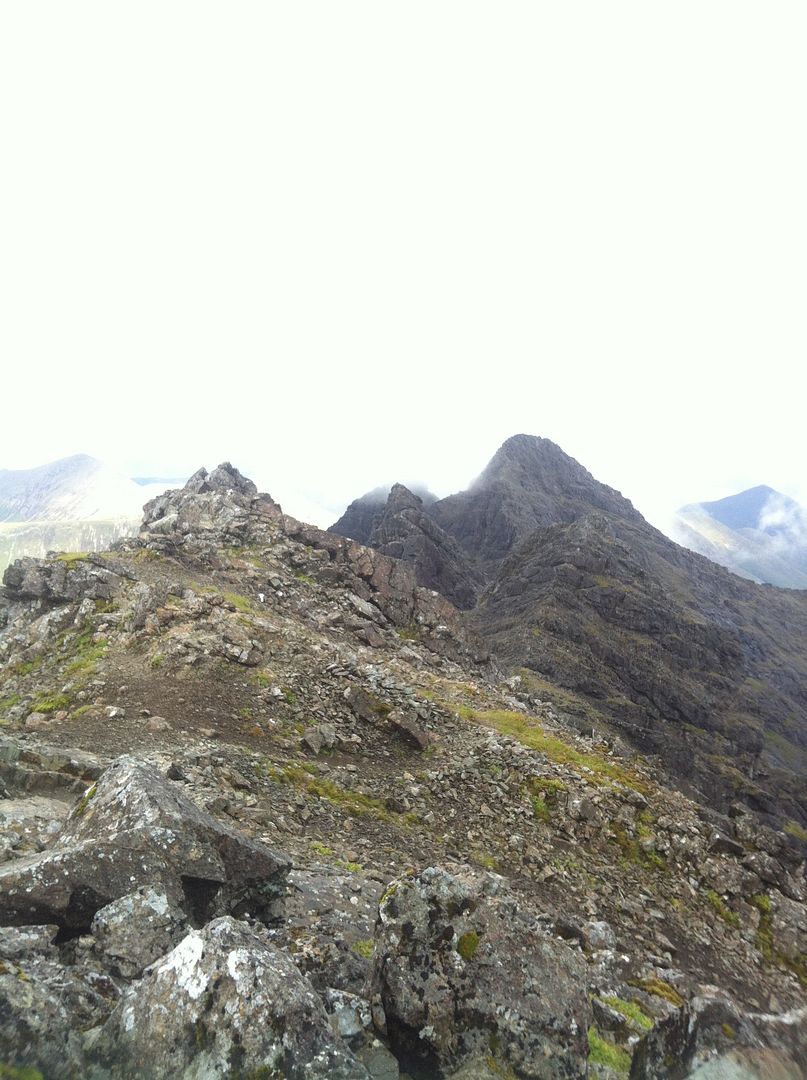 Bla Bheinn was looking particularly fine and it was clear enough to make out people at the summit.. Felt good to get a hill bagged, I really wasn't sure I would see a hilltop this weekend but we had proved ourselves wrong.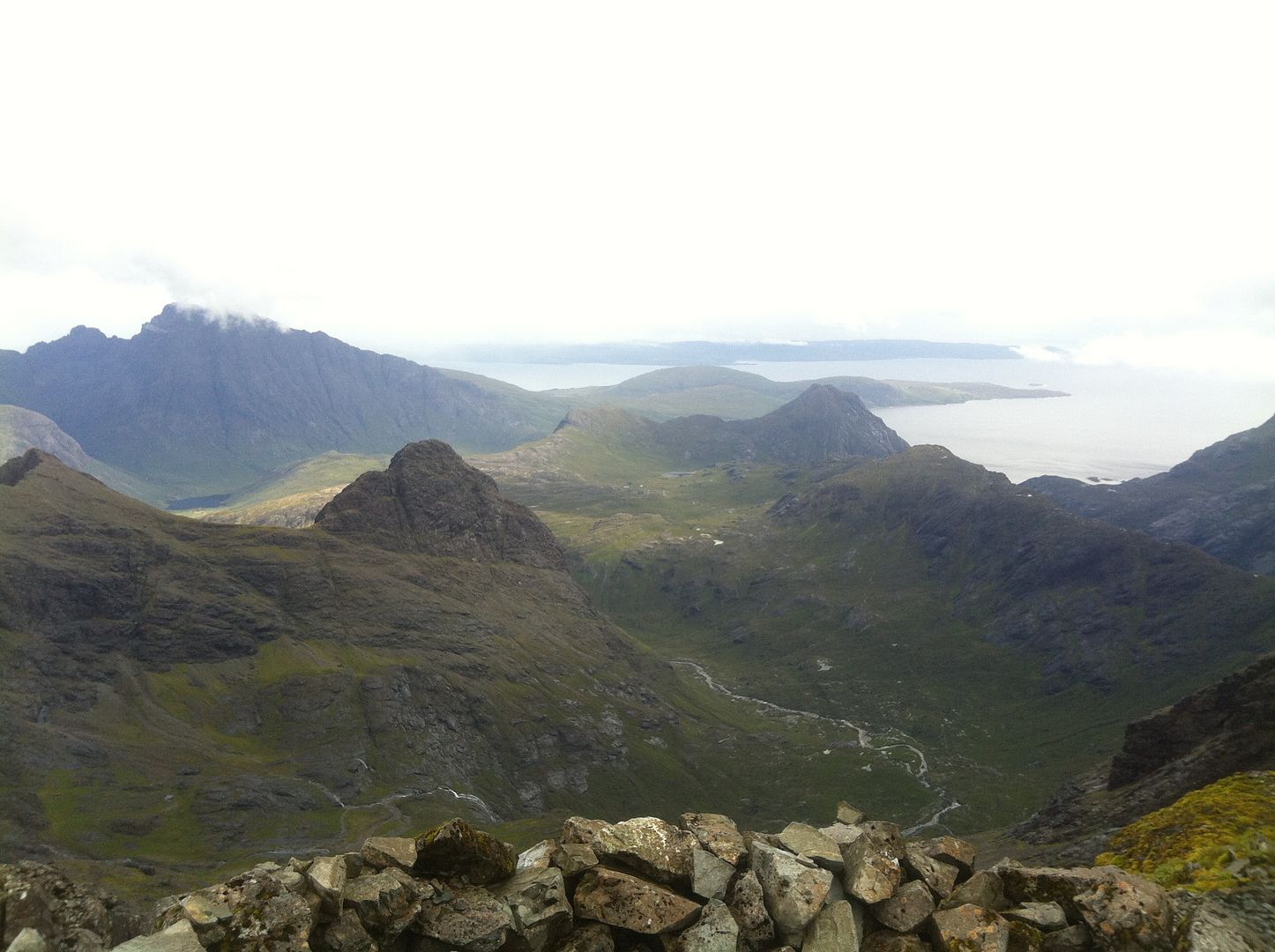 So it was just lunchtime, and we had talked about maybe checking out Bastier as well,
so we thought we would go for a look and se what transpired.
It was a short easy wander to Bealach nan Lice, bypassing a minor top, we then found ourselves just a stone throw from the tooth – Impressive bit of rock!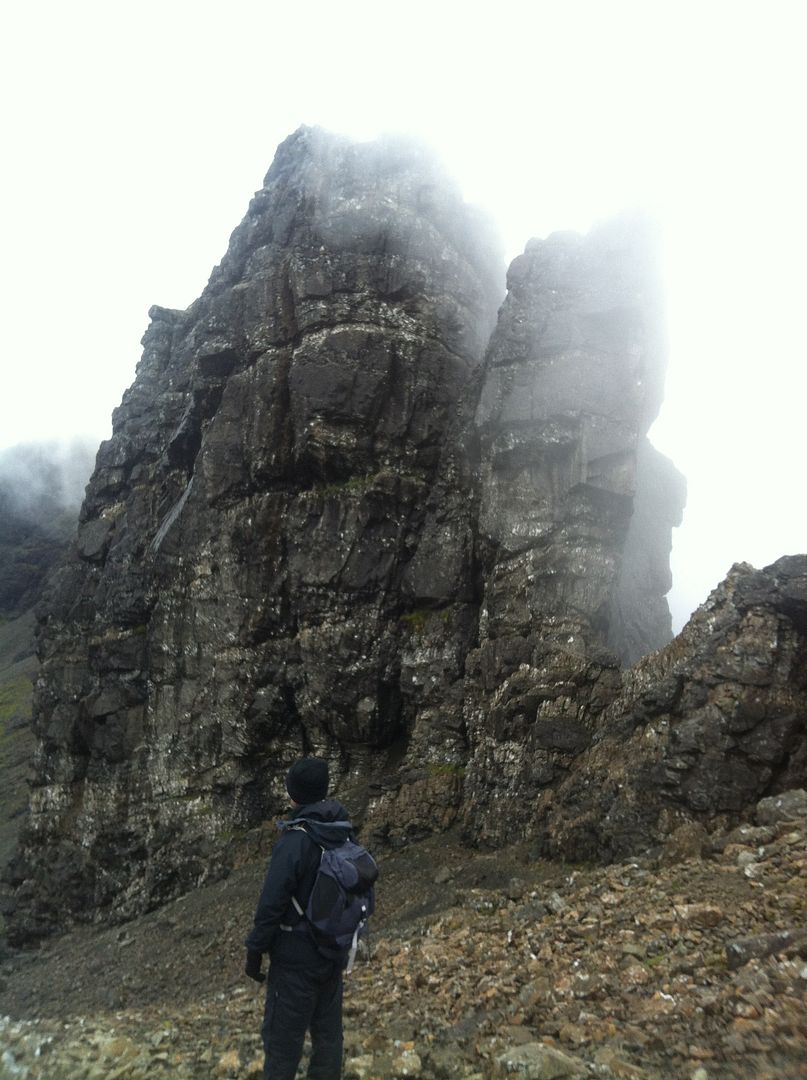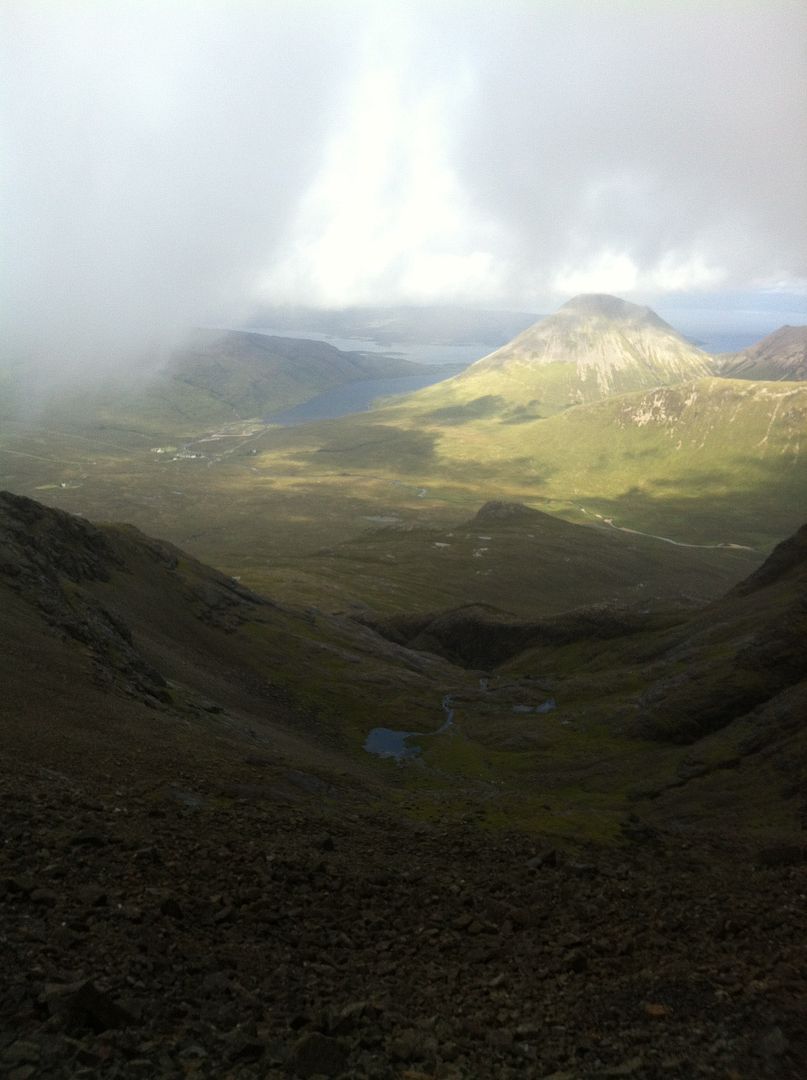 No hope of scrambling over, we took the steep gritty path round the bottom.. It was inevitably really slippy and it took us a while, taking baby steps we edged ourselves down. Am Bastier was overhanging above, dripping on us incessantly.
Seemed to be a big drop in height before we could haul ourselves up the scree path the other side up to bealach a Bhastier where we ate some more, read about the scramble ahead in our book, and rested.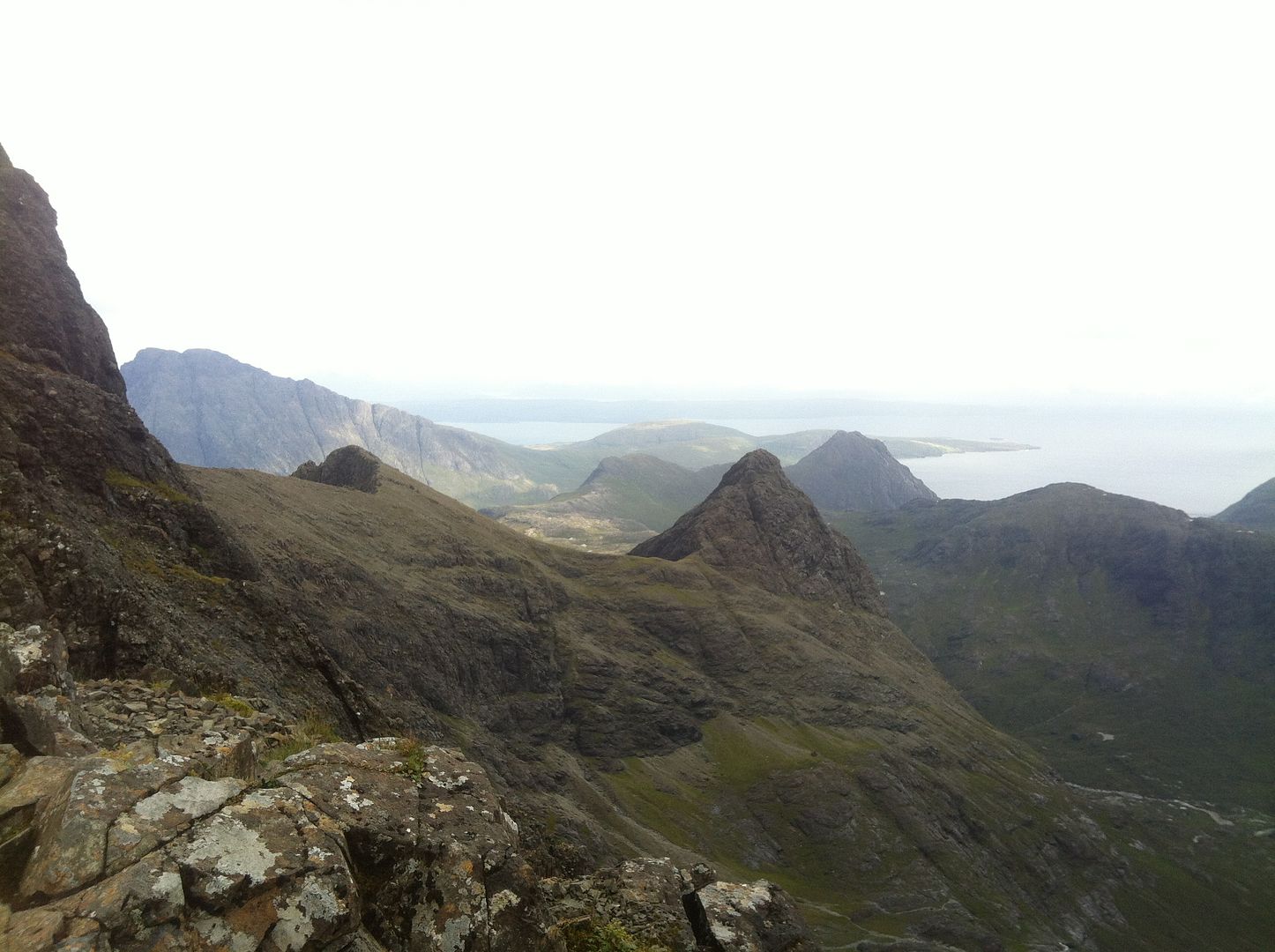 The wind had dropped, but we were unsure if it really had, or if we were just in a sheltered spot.. Seemed silly to turn back now without even trying, so we set off, the going easy initially.
We had no troubles following the route in the book for a while, but then I got confused about which orangey brown slab it was talking about, and we got a bit lost
We had kept on the sheltered side of the crest – we weren't particularly keen on trying the bad step, as the rocks weren't only wet and slippery, but also flaking away under our hands and feet
After a very slow edge across a steep wet basalt slab, we found ourselves at the top of a wall.. I could see a way down, but it looked rather airy to say the least..
Dougie went off to find another way himself, but I thought I would give it a go, so swung myself over the edge..
My legs were very shaky, but I managed down in one piece, and took to the slippery slabs beyond, heading for the crest on the other side of the Bad Step..
I reached a reasonable stone for sitting on, after only a couple of terrifying slips.. I waited nervously for Dougie to appear, and he did thankfully..
We regained our composure, trying not to think about how we were getting back, and set off for the summit with wobbly legs almost back to normal. There was just a short distance, and some very much easier scrambling and we were there..
It was apparent that the wind really had dropped a bit, although mists seemed to be returning. Dougie didn't want to stop so it was then time for the descent – always the worst bit for me..
We returned to the bad step easy enough, but Dougie said he couldn't manage the wall, so we dropped height a bit, looking for the route he had taken up.. Unfortunately things look different facing the other way, so there was much faff, eventually going up some criss crossing ledges.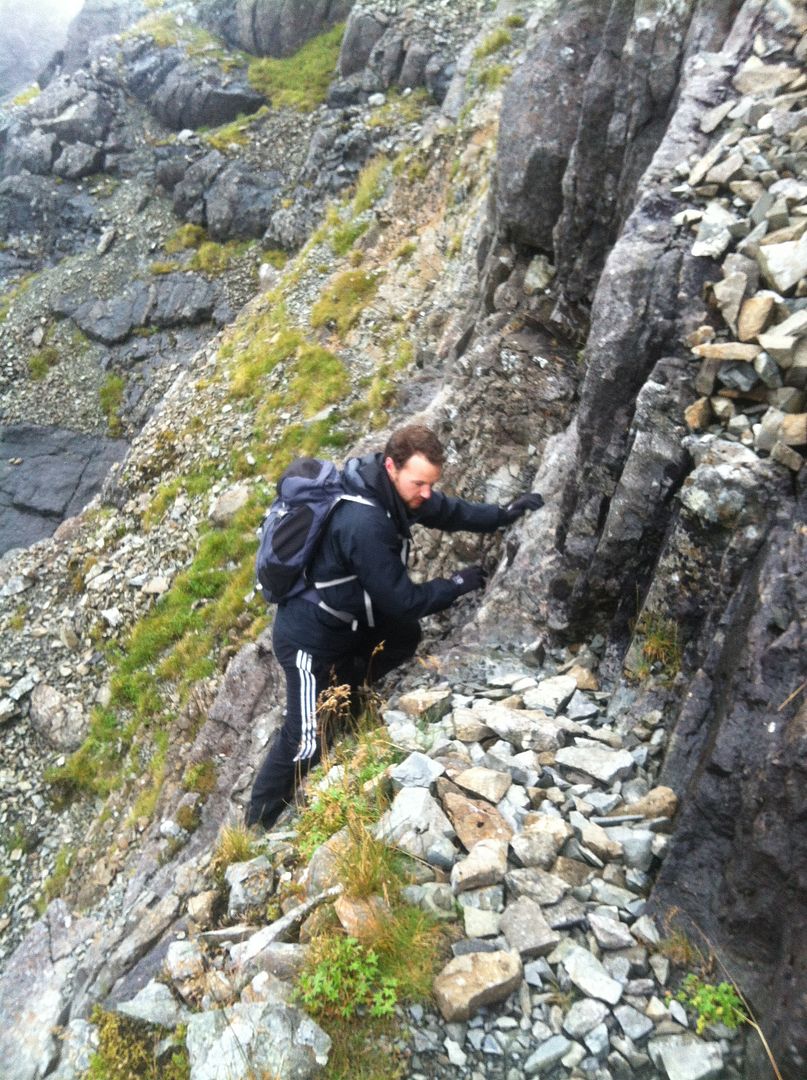 Dougie had lost all confidence – I don't think his new boots are that good for climbing and the rock there is soooo crumbly
he took a bit of persuading to continue, even saying he was going to drop down into Lota Corrie and come back up to the bealach at one point!
We reached another wall, this time a bit easier… I followed it downward, looking for an easy route back to the path, only to find trickier ground, so had to retrace steps. I saw a wee gully, and went for a look to see if I could scramble up, and I managed, but Dougie struggled, went to look for a different route, but then was forced to give it another go and managed.. Yaay!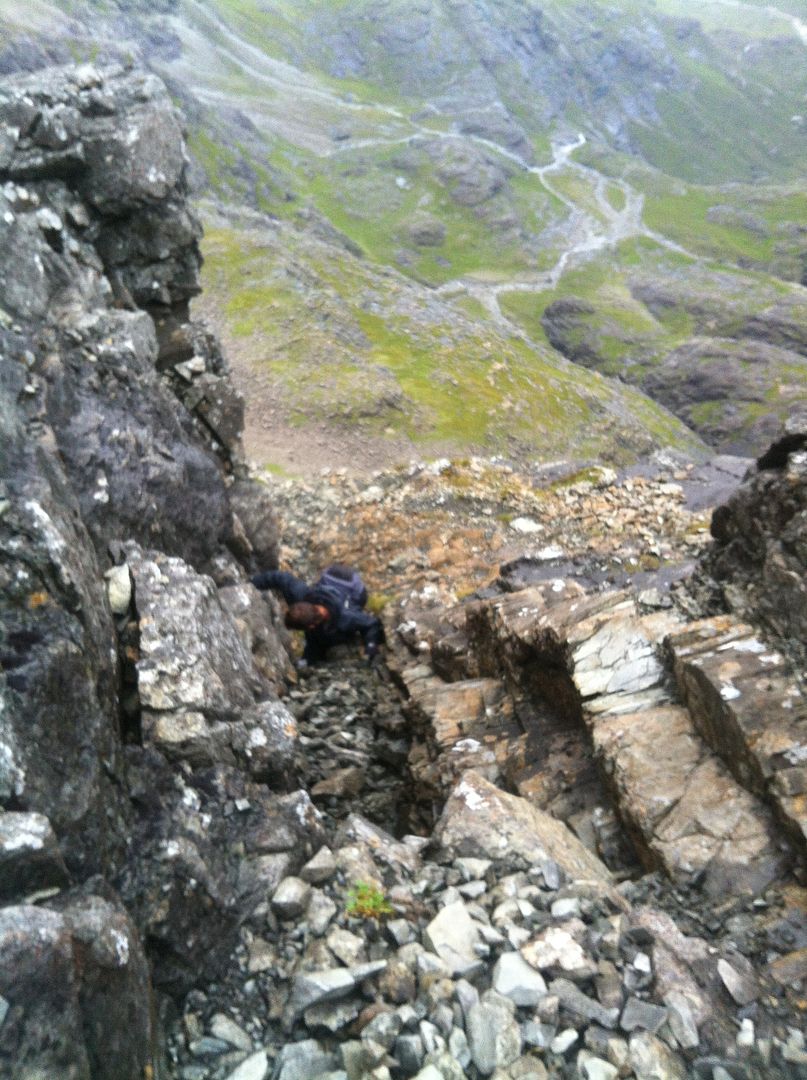 Back on the path, it was an easy saunter back down to Bealach a Bhastier – Phew!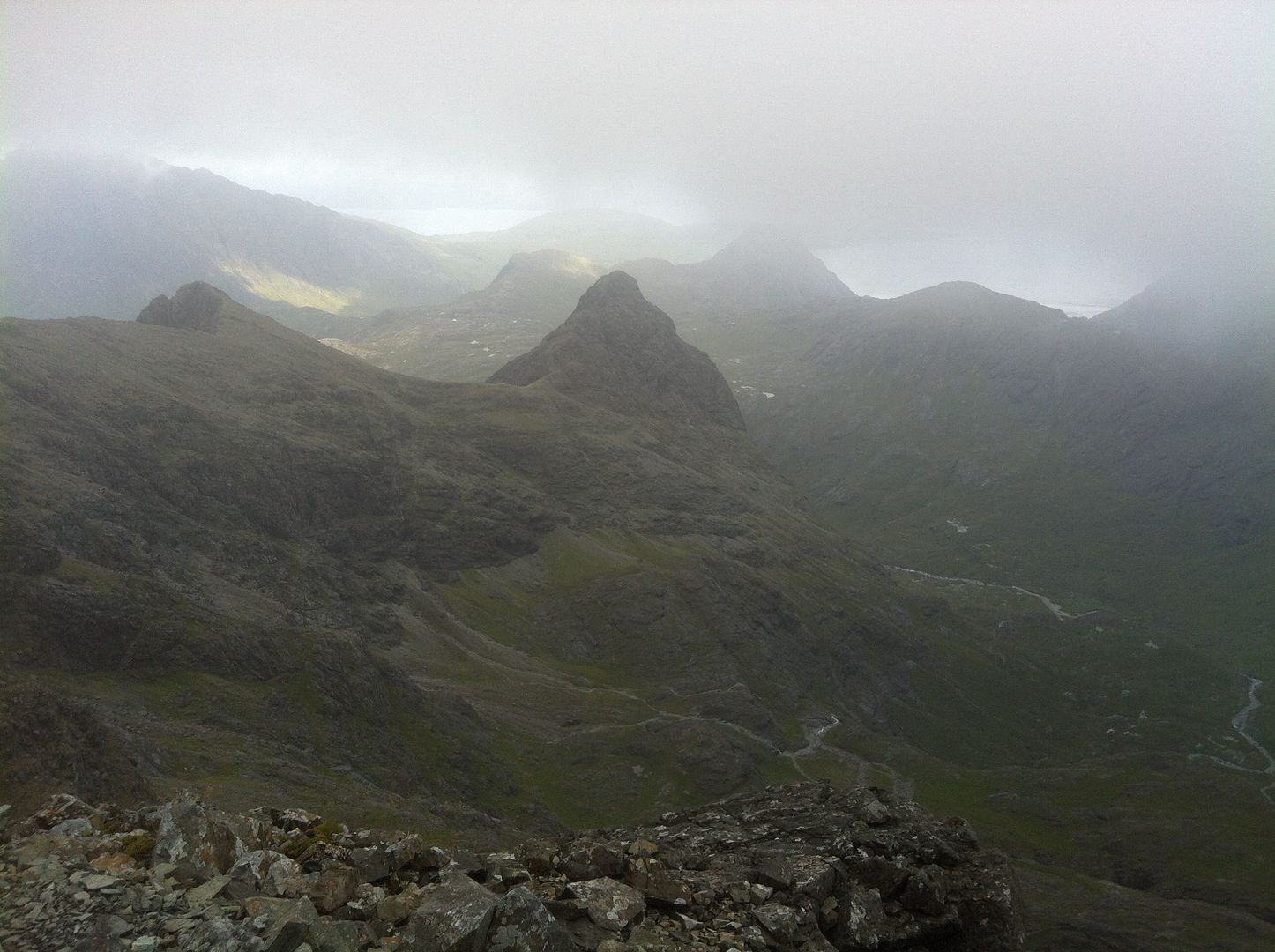 A bit of debate about the best way back – Sligachan was definitely closer, so we ratraced our steps down the scree path, this time taking it almost all the way down to the corrie floor. We contoured over rough ground, up to the end of pinnacle ridge, having a couple of wee walls to scramble over to get there.
The series of falls which eventually got lost in a huge gorge below was lovely, as we descended a very slabby, gentle ridge with an improving path. Sligachan looked temptingly close, but wasn't getting any closer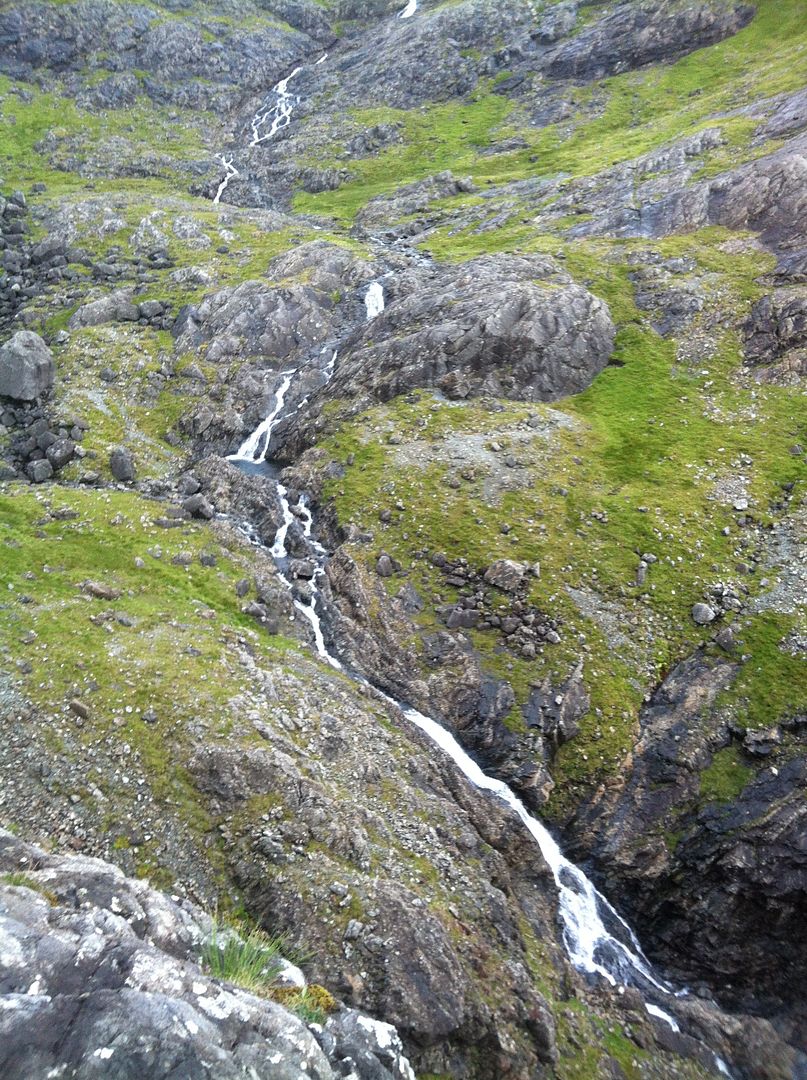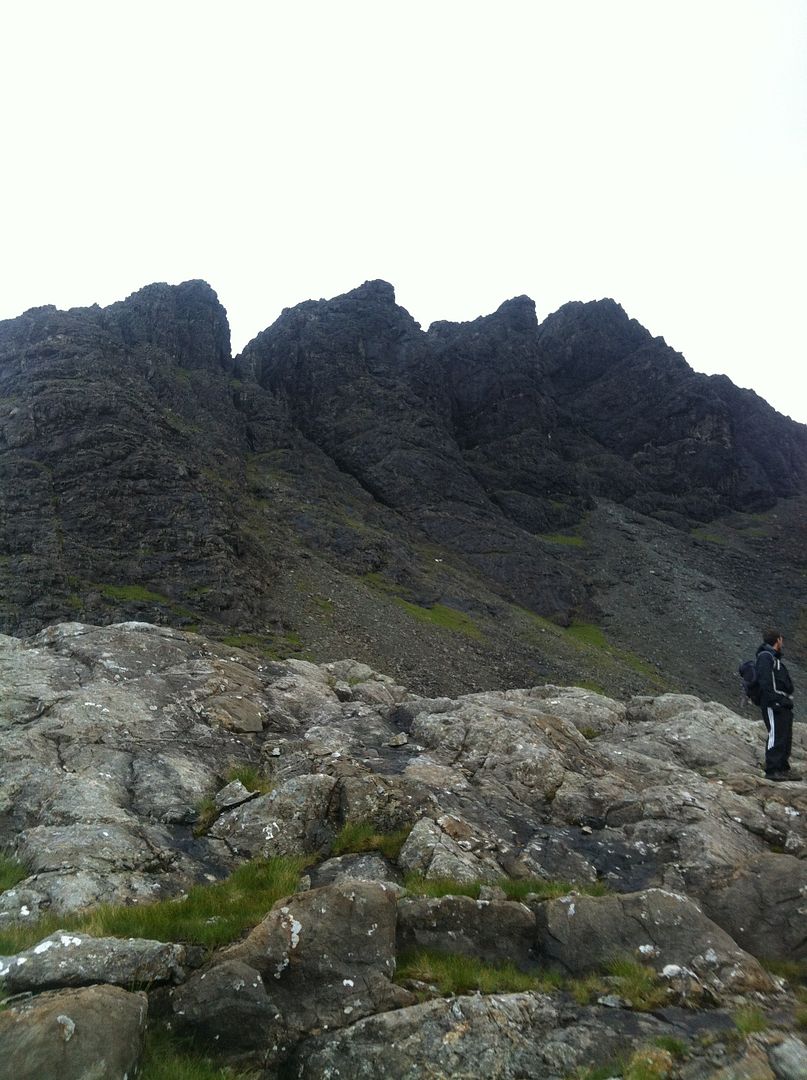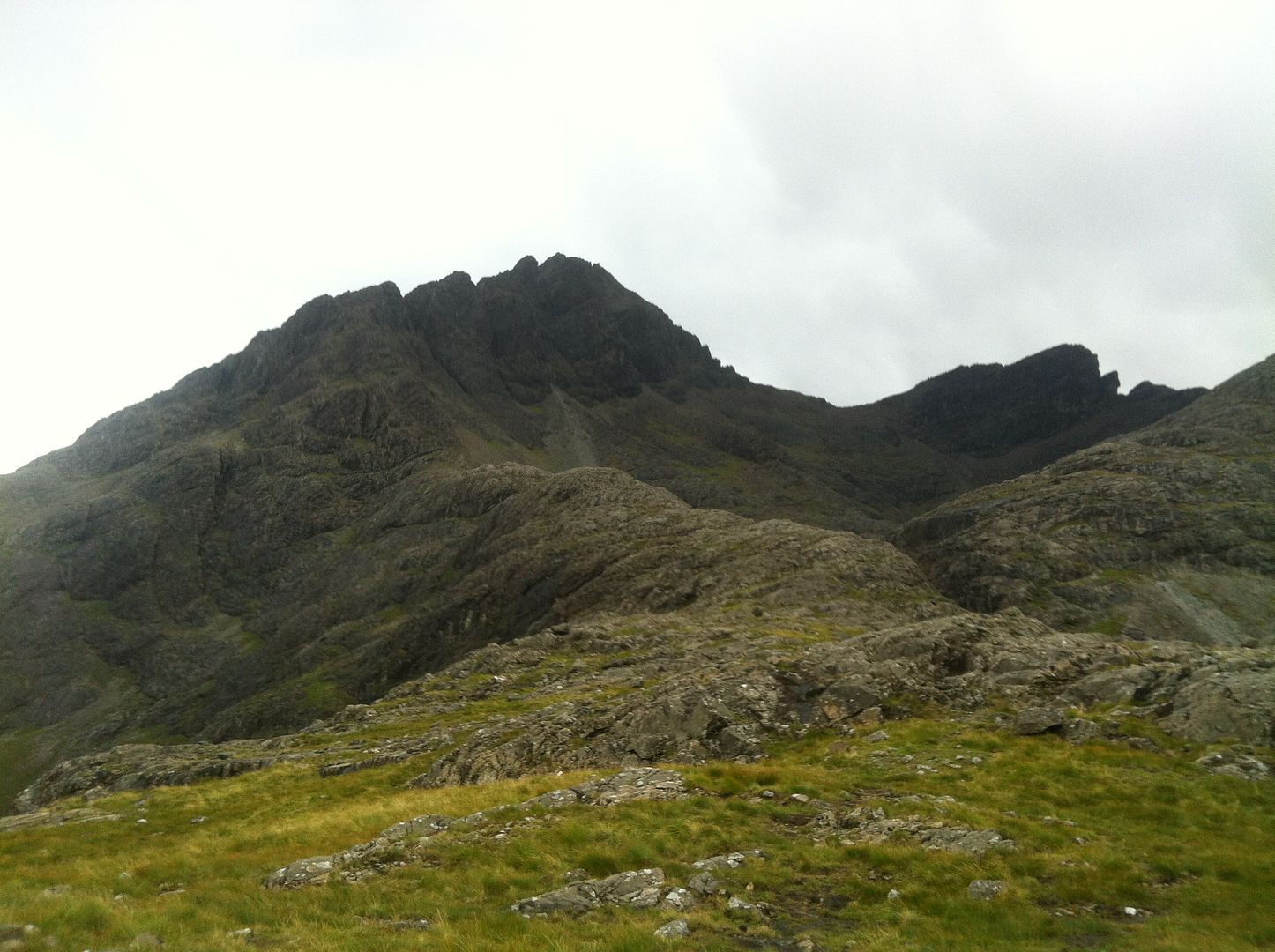 We finally joined hthe main path up Gillean.. Dougie said it was an hour from there which didn't lift my spirits any! Still nice views.. And nice waterfalls lower down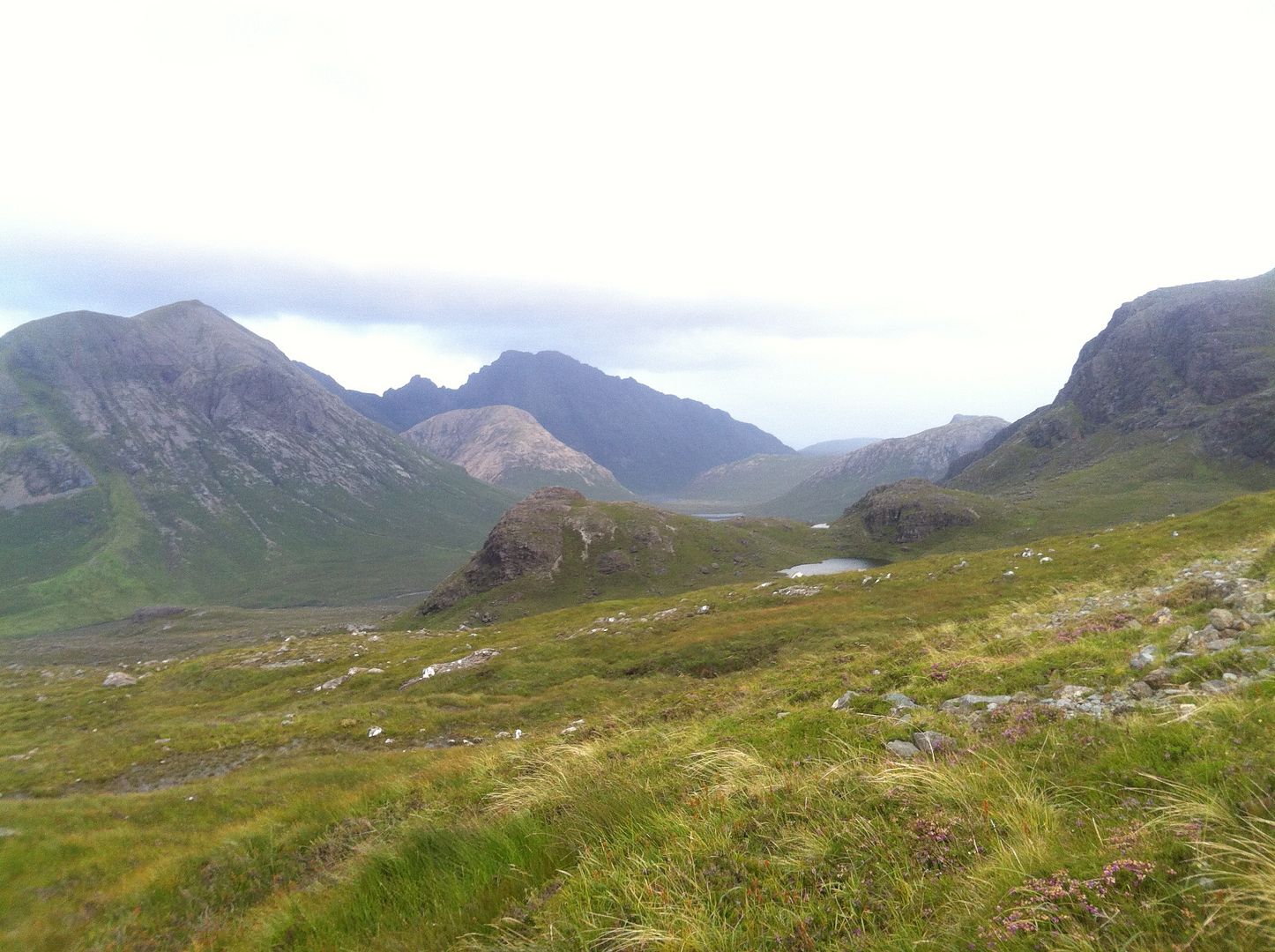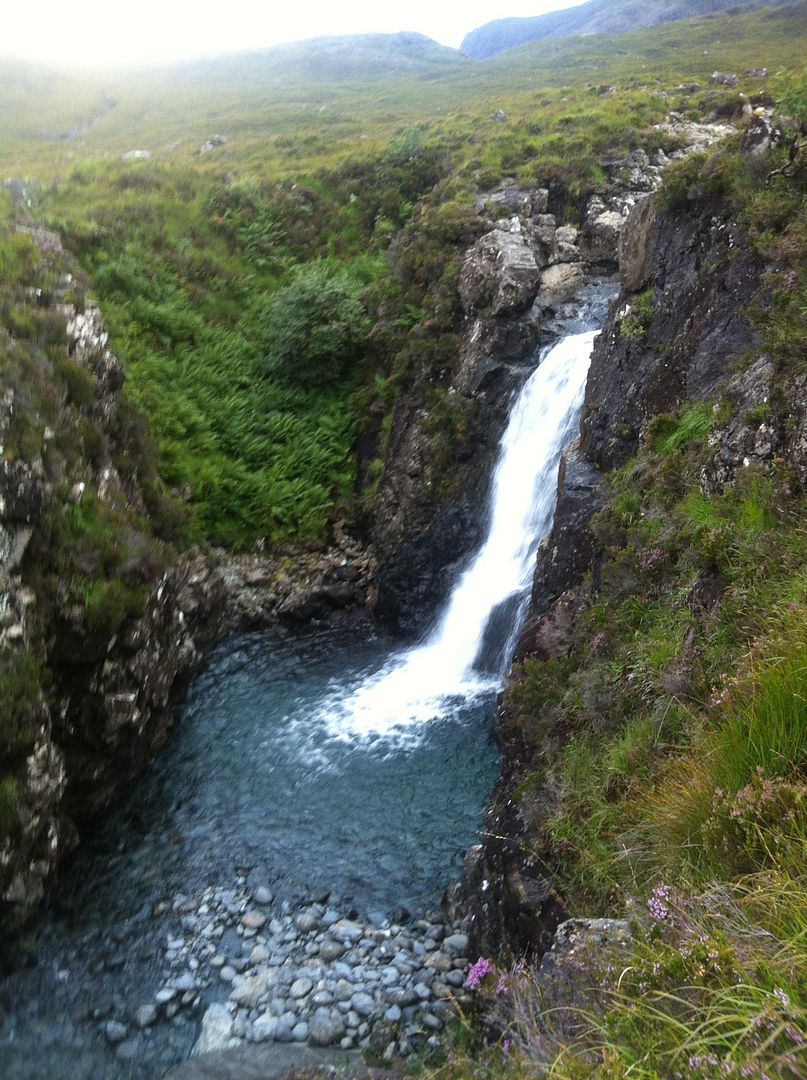 Footsore and weary, we finally got to the hotel in plenty time to get dinner, and didn't get camped up at Glen Brittle until 10
Weather was pants again Monday - clag held on to the tops all day, so other adventures were had at lower levels elsewhere before home.. What a memorable weekend.. Thanks ahbody for putting up with me for another meet