So for a while I have had my eye on the Lui 4.. Such lovely looking hills, I don't know why it's taken me so long to get round to them really..
I have always ummed and ahhed about whether to do them as a long day trip, or a backpacking trip.. Oh decisions!
So this weekend, Dougie and I were both suffering a bit of stress in our 'normal' lives, so a nice relaxing wander making a weekend of it, seemed like the thing to do..
We met in Lochearnhead after work on Friday, ditched his car, and went onwards to Dalrigh in Sunny. By the time we got there, the sun was setting, so a quick faff at the car and on the track up the glen.
Sorry I only have half a track.. Forgot spare batteries, so imaginations required!
The dimming light, and the odd bit of drizzle, didn't make for as nice a walk as it could have been, but we weren't planning going too far. We passed the farm, and the turn off up to the mine, and started looking for a camp spot.. We found a good one, but we hadn't even got the tent out of the bag before we were attacked en masse by midges
Hmm too sheltered there..
So we went up onto higher ground in the hope of catching a little of the feeble breeze. We managed to get the tent up, and make a cup of tea before what little breeze there was dropped, and we were left marooned within the inner tent..
There was no hope of cooking dinner, as the clouds were just too bad. Even opening the door a couple of inches to chuck my cup into the porch resulted in a swarm finding their way in..
So the rest of the night was spent killing the wee sh**es and thinking about how hungry we were.. Not the best start to any trip..
The morning came, and midge levels were tolerable, so I cooked us our dinner for breakfast.. Felt a bit odd having pasta at that time of day, but we were both pretty hungry and managed a fair amount.
Weather had got all misty, a bummer as I had really hoped for a better day to do Lui. I have seen it from so many places, I presumed the views would be awesome, so I was really hoping it might clear, then it did a bit.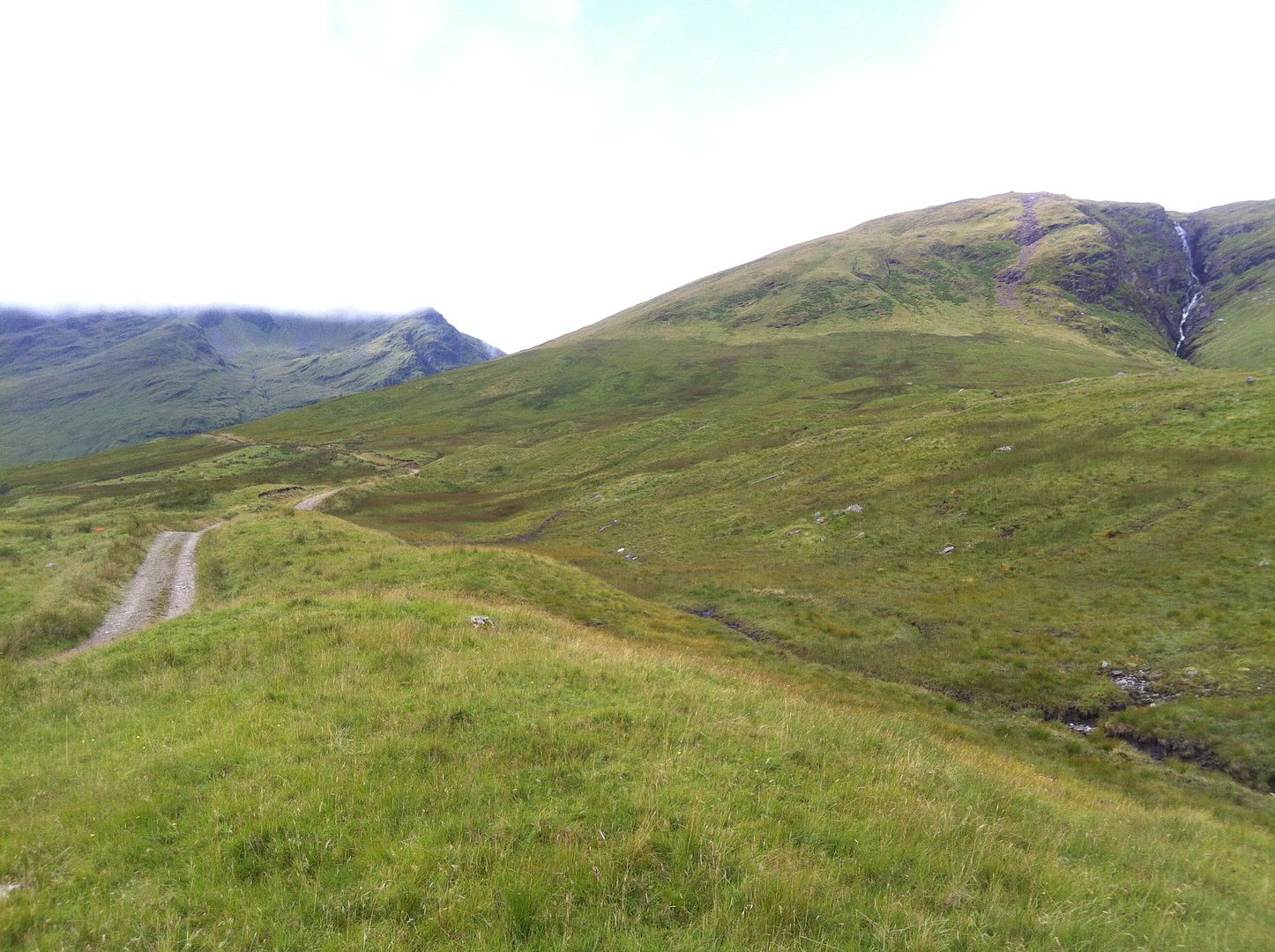 We packed up at about 11, lots of walkers already passed and on their way to do the 4 in a day trip, we had the luxury of no pressure whatsoever as we ambled up to the end of the track, and started our ascent up the burn side path.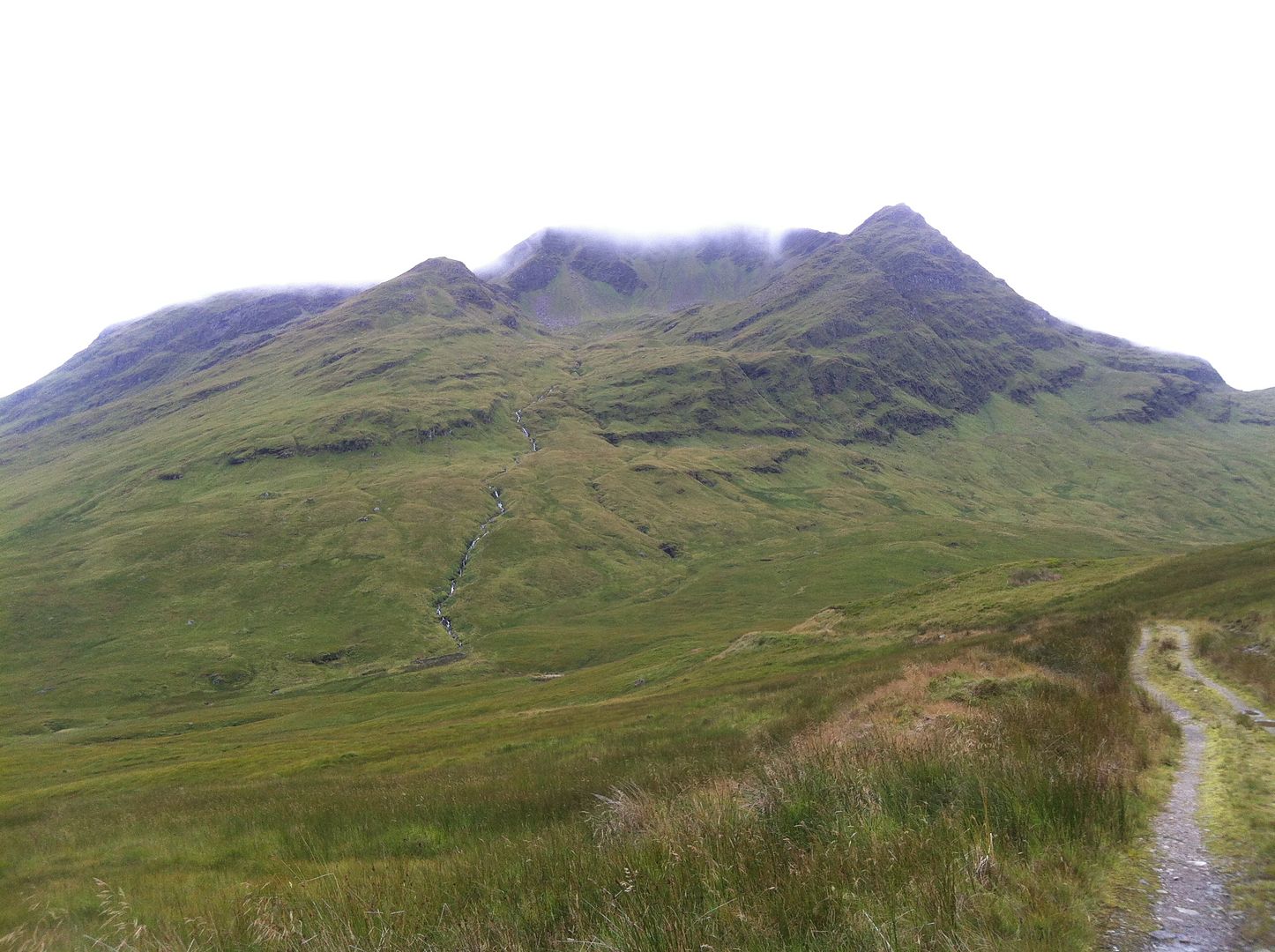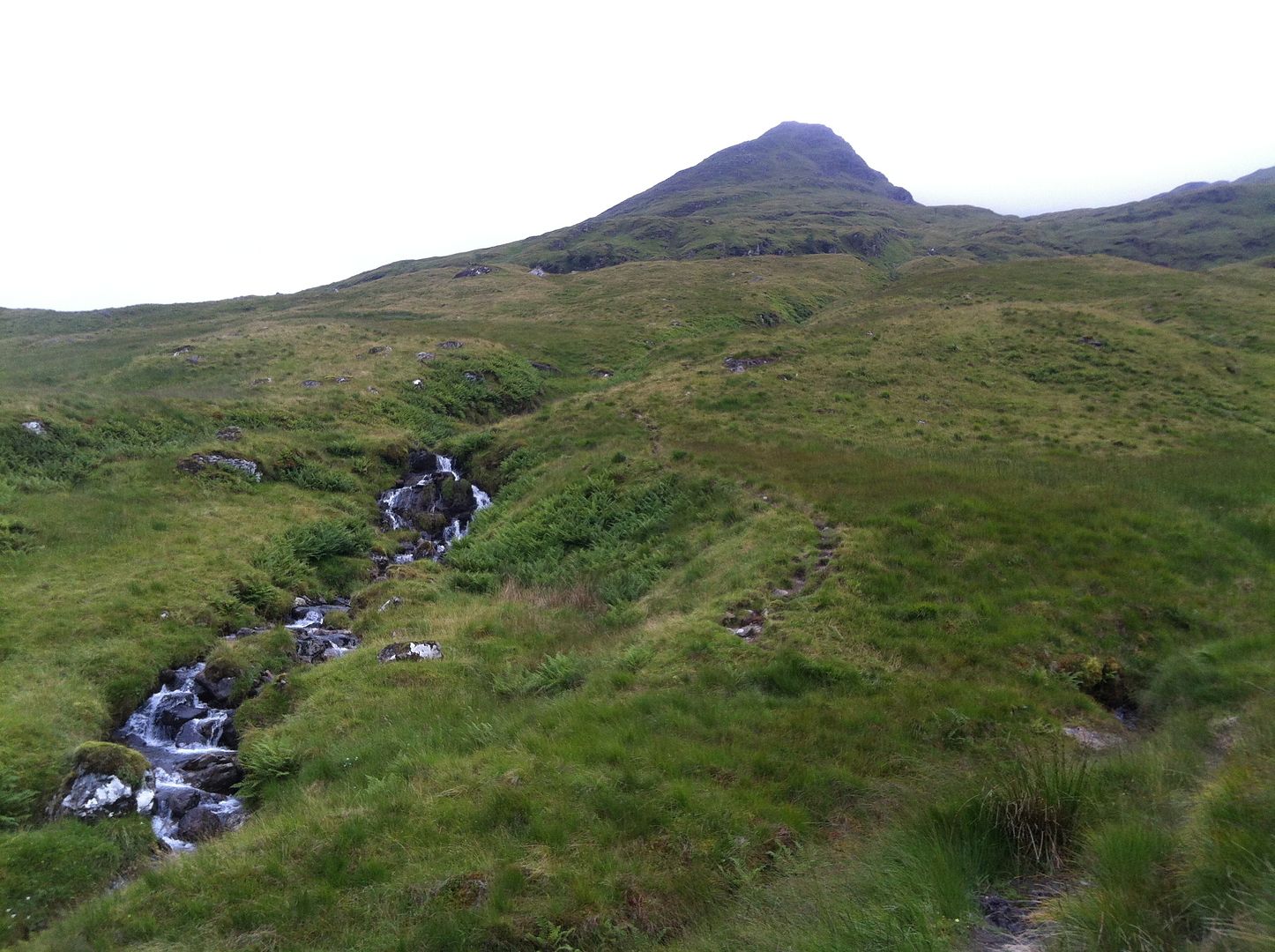 The clag was clearing a bit, but the humidity was a problem, and it was a long steep pull up to the corrie.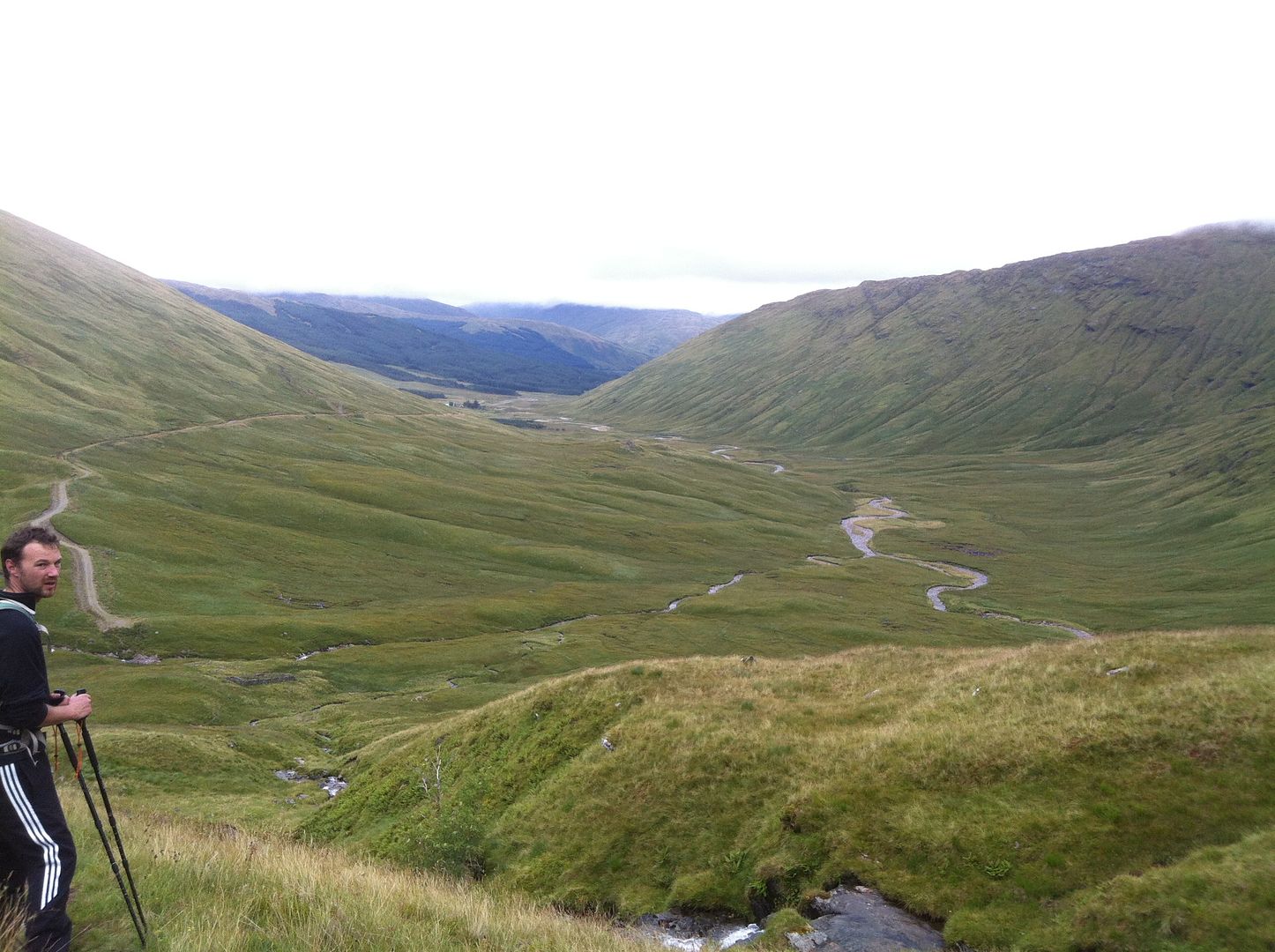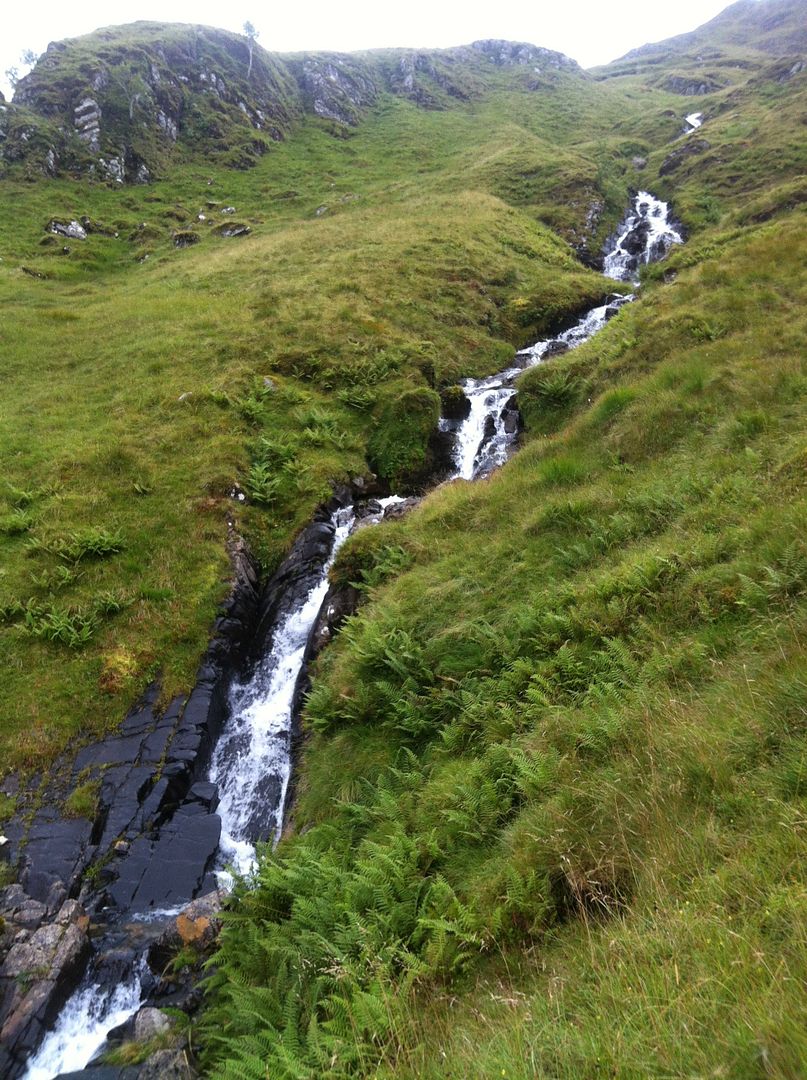 Plenty of stops! I hoped for a bit of easing of the camber in the corrie, but no, more relentless uphill in the clammy heat.. :rolleyes: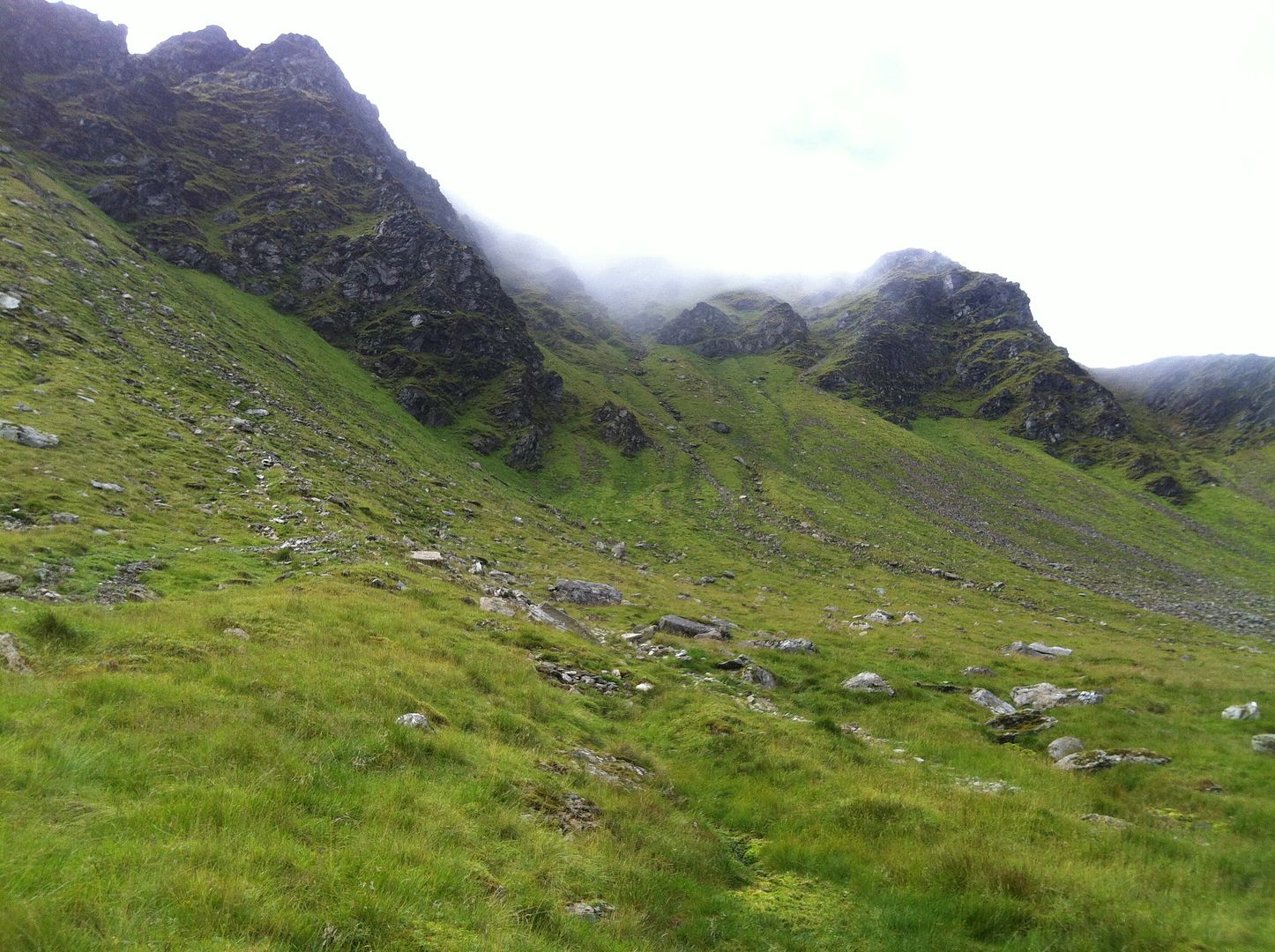 We must have got onto the wrong path because we ended up at the wrong side of the corrie,
so we traversed round. We could see the path to our right going up to the ridge, but getting to it would mean descent and re-ascent, so we just ploughed on up a gully. Well I say ploughed.. It was very, very slow.. 10 plods then stop to drip and cool off a bit, and so on. Must have taken ages! :rolleyes: It wasn't fun underfoot either, near vertical loose, mossy rocks
It took so long, that we missed our chance at a clear summit - the clag left and came back by the time we got to the ridge. Once up there though, there was only a short walk over delightful ground, up to the top.. I was almost fooled by the false summit in the clag but fortunately Dougie had been up here before.
A bit of 'discussion' in the clag was had about which direction our next target was, then we were off, retracing our steps a short distance and taking the path down toward Beinn a Chleibh. Very steep and loose at the top, it wasn't much fun until the angle eased, and it became grassier once again underfoot.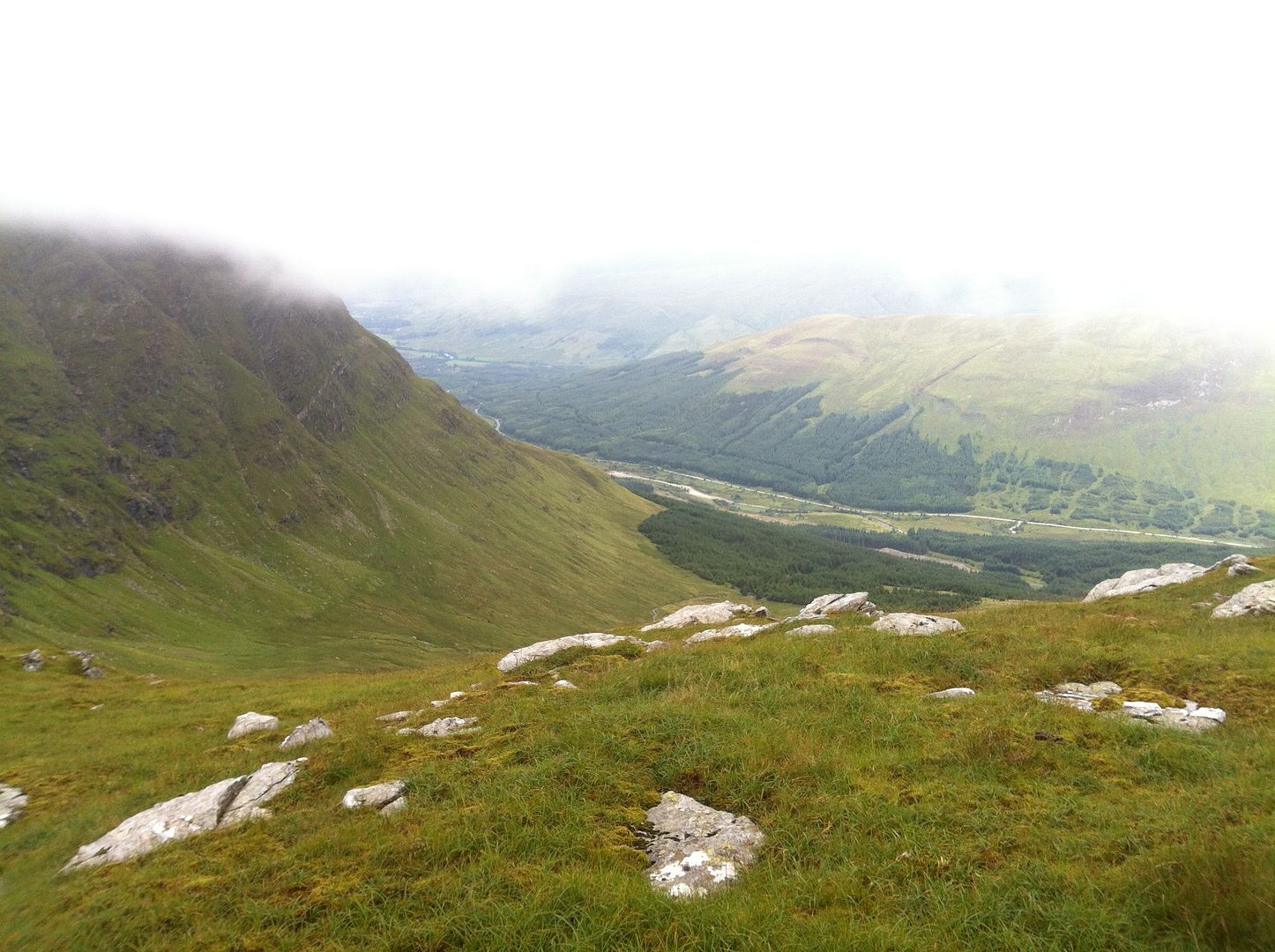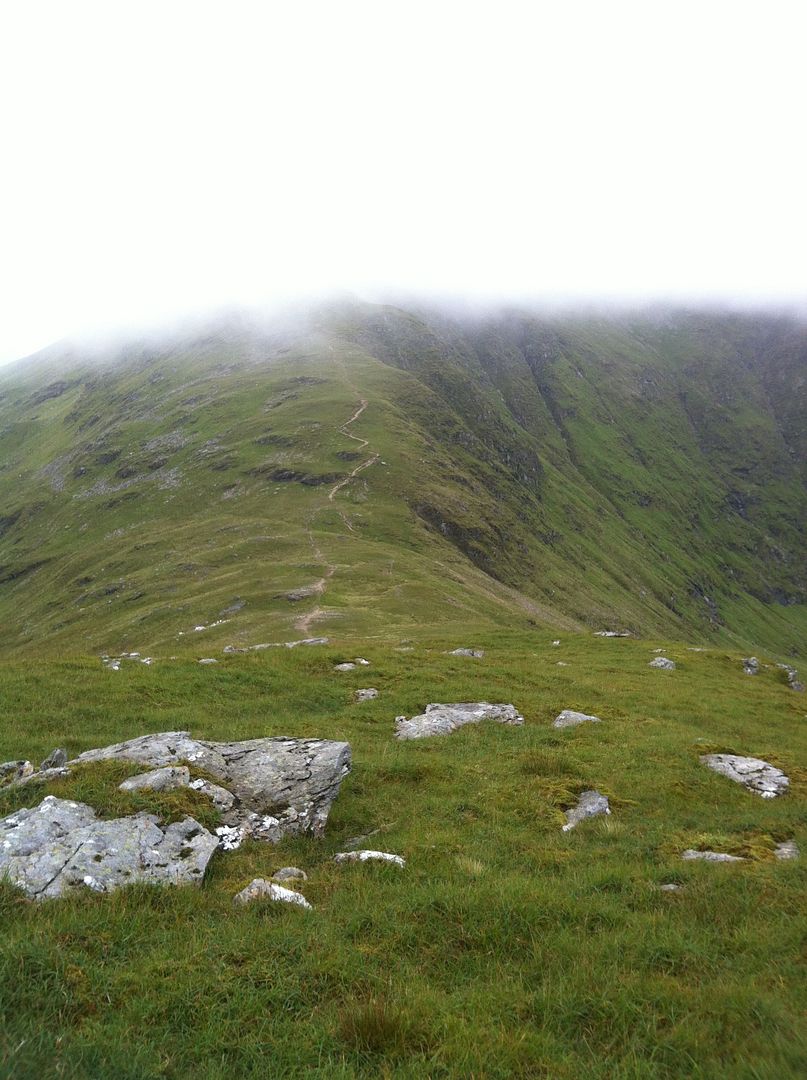 Near the bealach, we came out of the clag, to find a not bad day underneath. We left our heavy loads, and skipped up to the top of the hill without much effort at all..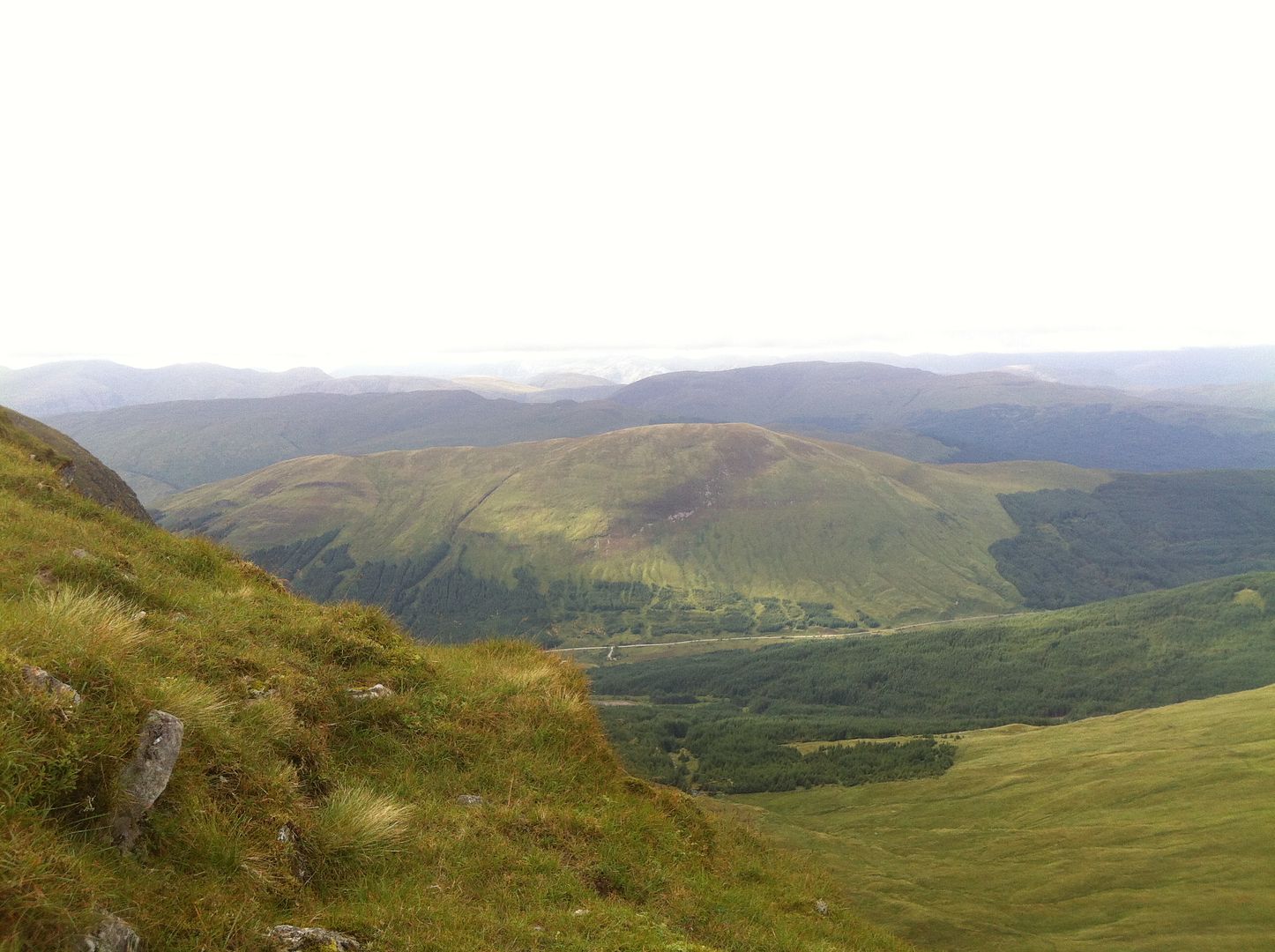 We were soon back at our packs, we both thought they were heavy this trip for some reason. Not sure we are as fit as a few weeks ago, or maybe we have a bug lingering, but glad we had a short route this weekend!
Then came the long traverse around Ben Lui. Dougie said it wasn't as bad as it looked, and he was right, although I may have been influenced by the fact that the cloud finally cleared, the views opened up and the sun started shining. The temperature went up, but the humidity went down. So refreshing!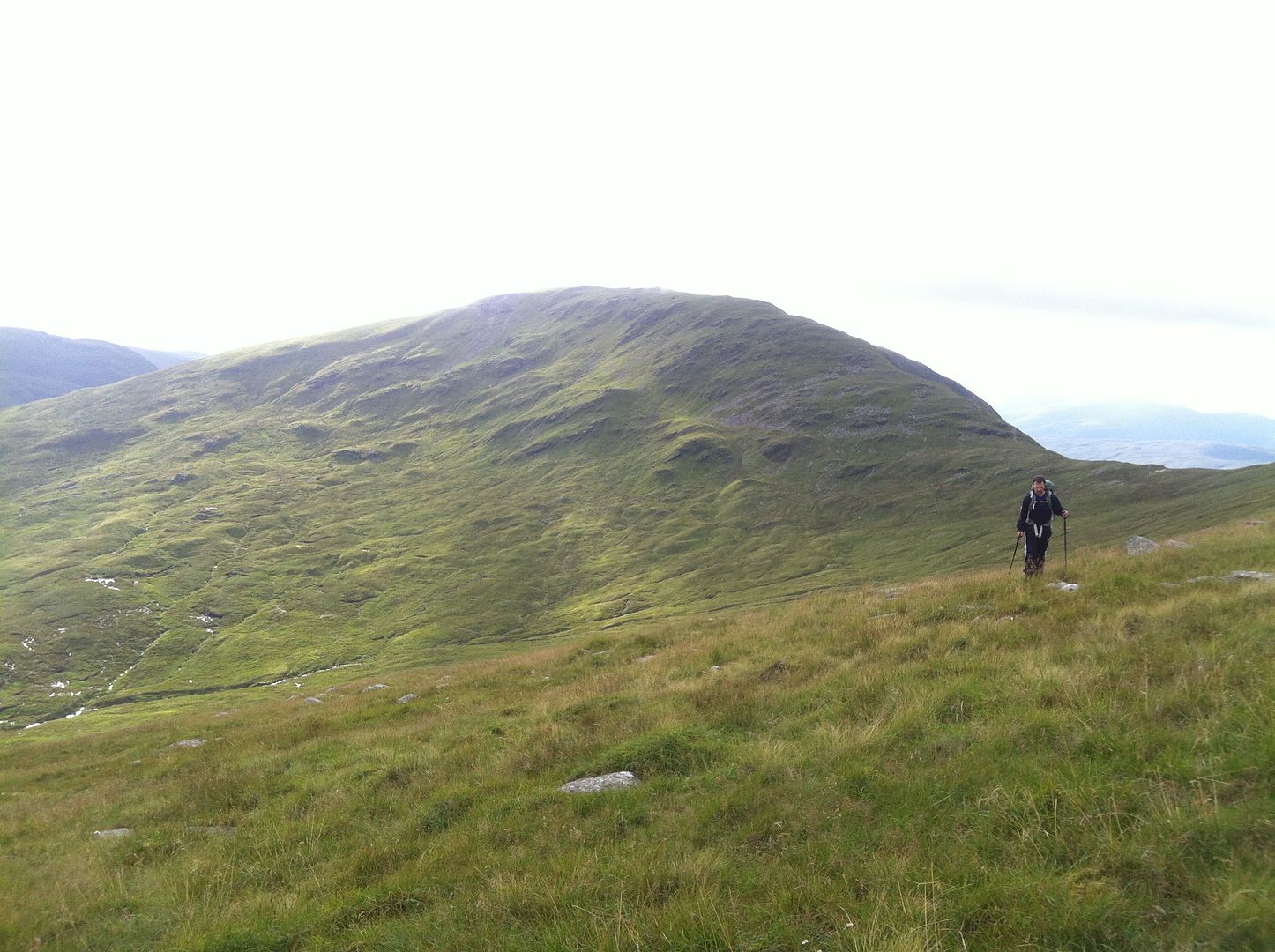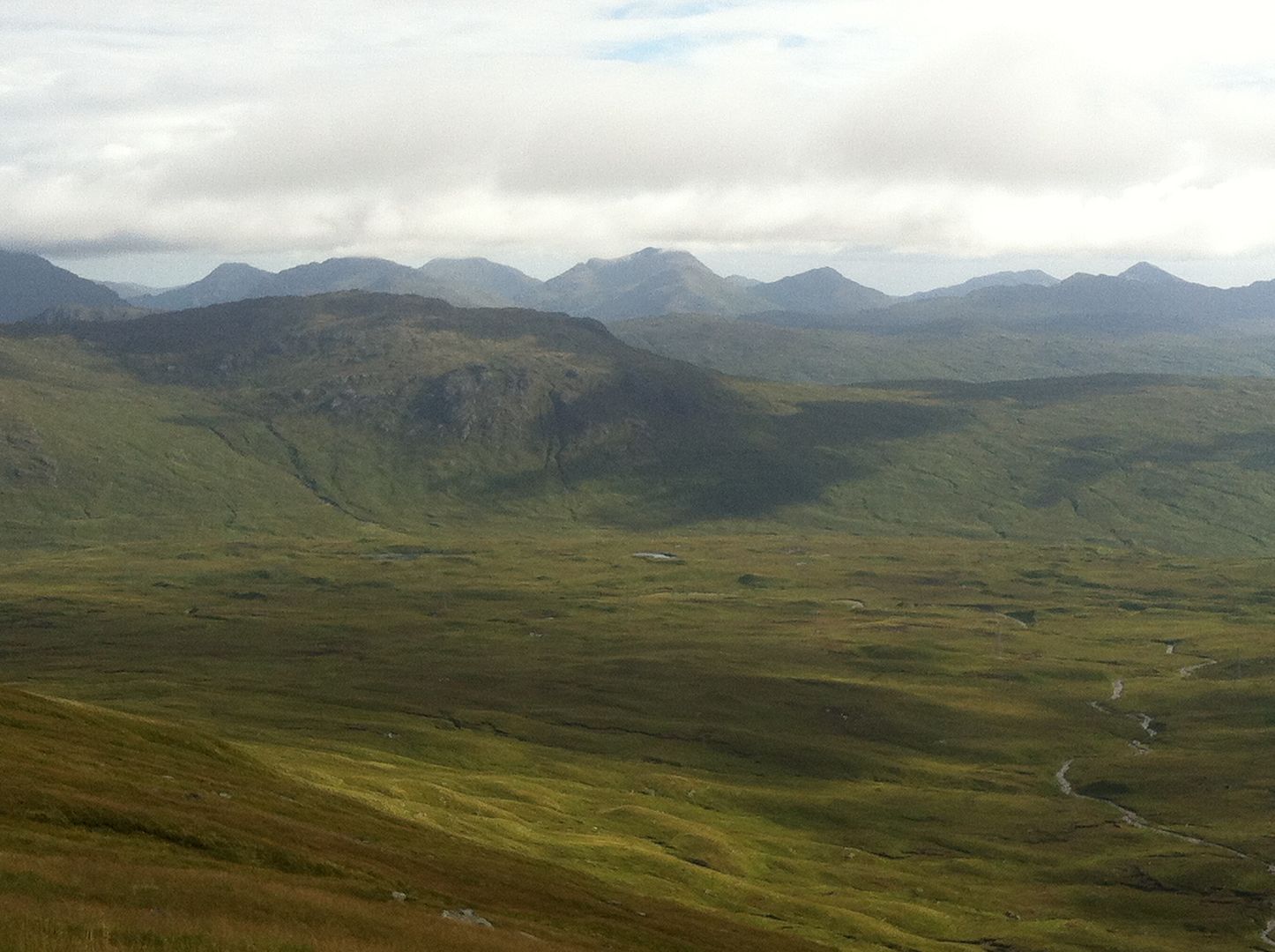 We reached the bealach beneath Ben Oss – a spot we had been contemplating setting up camp – but that plan was scuppered, when we were swarmed with midges again the moment we stopped.
I could see the lack of R&R time due to the midge situation, was starting to get to Dougie.
We needed to get higher to see if we could catch a breeze.. So up Ben Oss we tromped, feet tired from all that traversing round Lui..
We found a spot up on the shoulder. I don't think there was much of a breeze anywhere, but we were perfectly positioned to catch it should one spring up. They did swarm a little when we were pitching up, but thankfully they seemed to be few and far between after a while. We had a fine evening – beautiful spot with amazing views, and a beautiful sunset.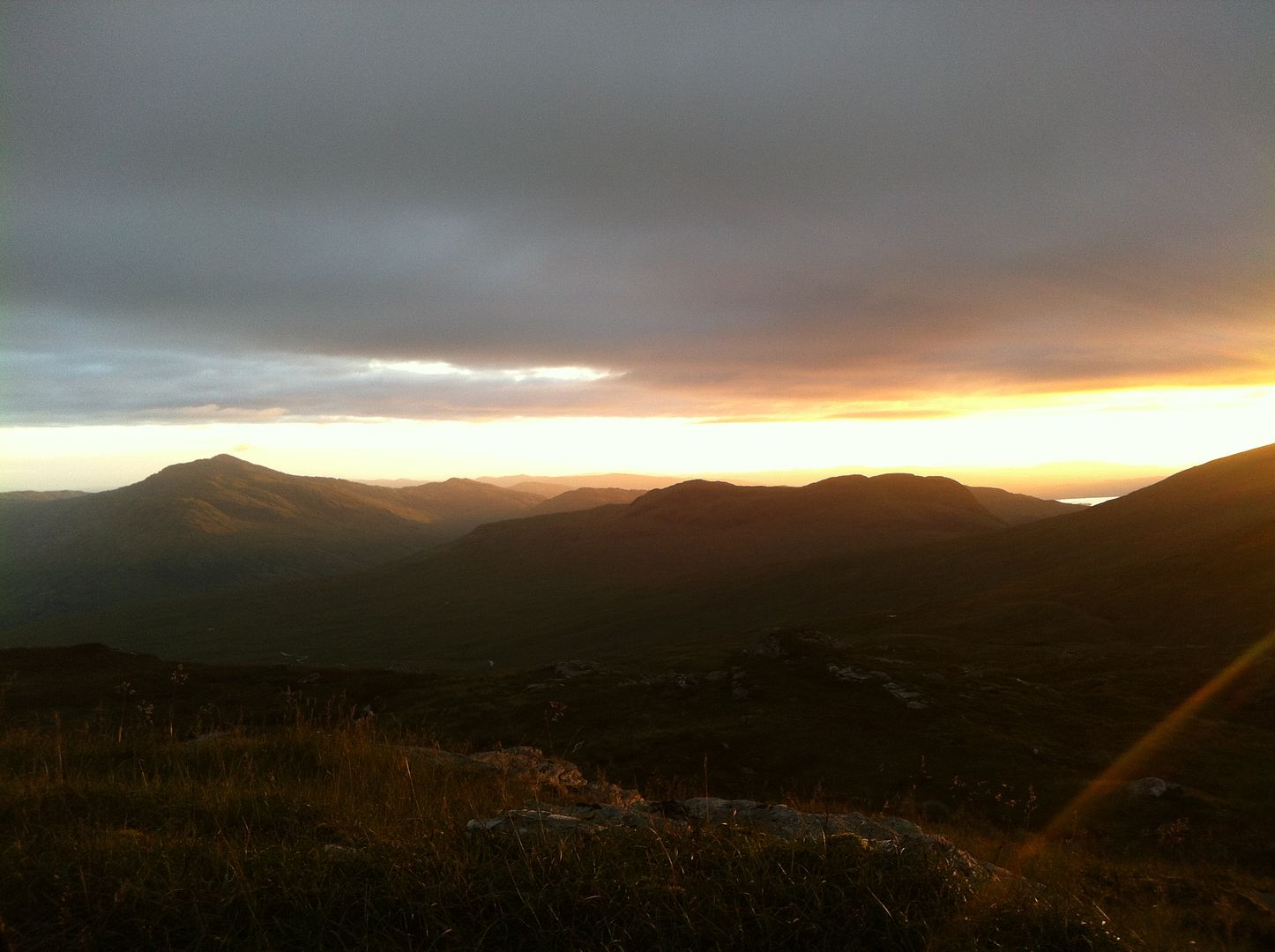 I awoke late, but the second I did, I knew without having to stick my head out that it was a beautiful day. The views from the tent were amazing, with an inversion further west over Loch Awe.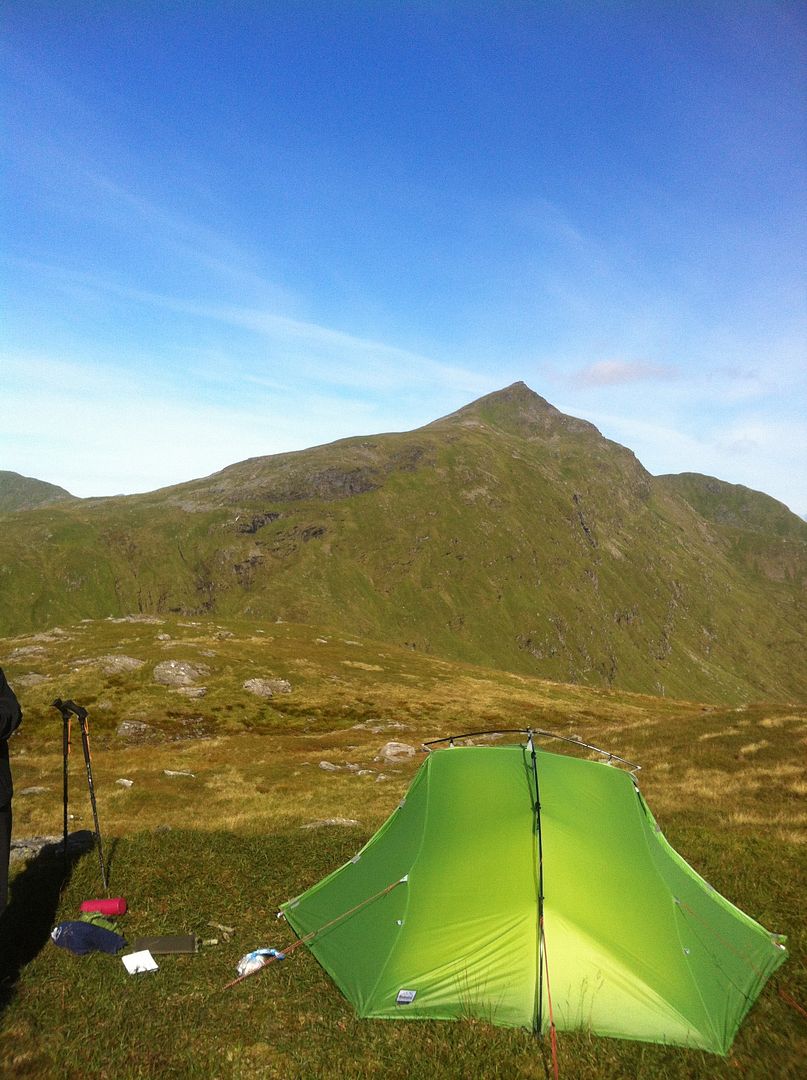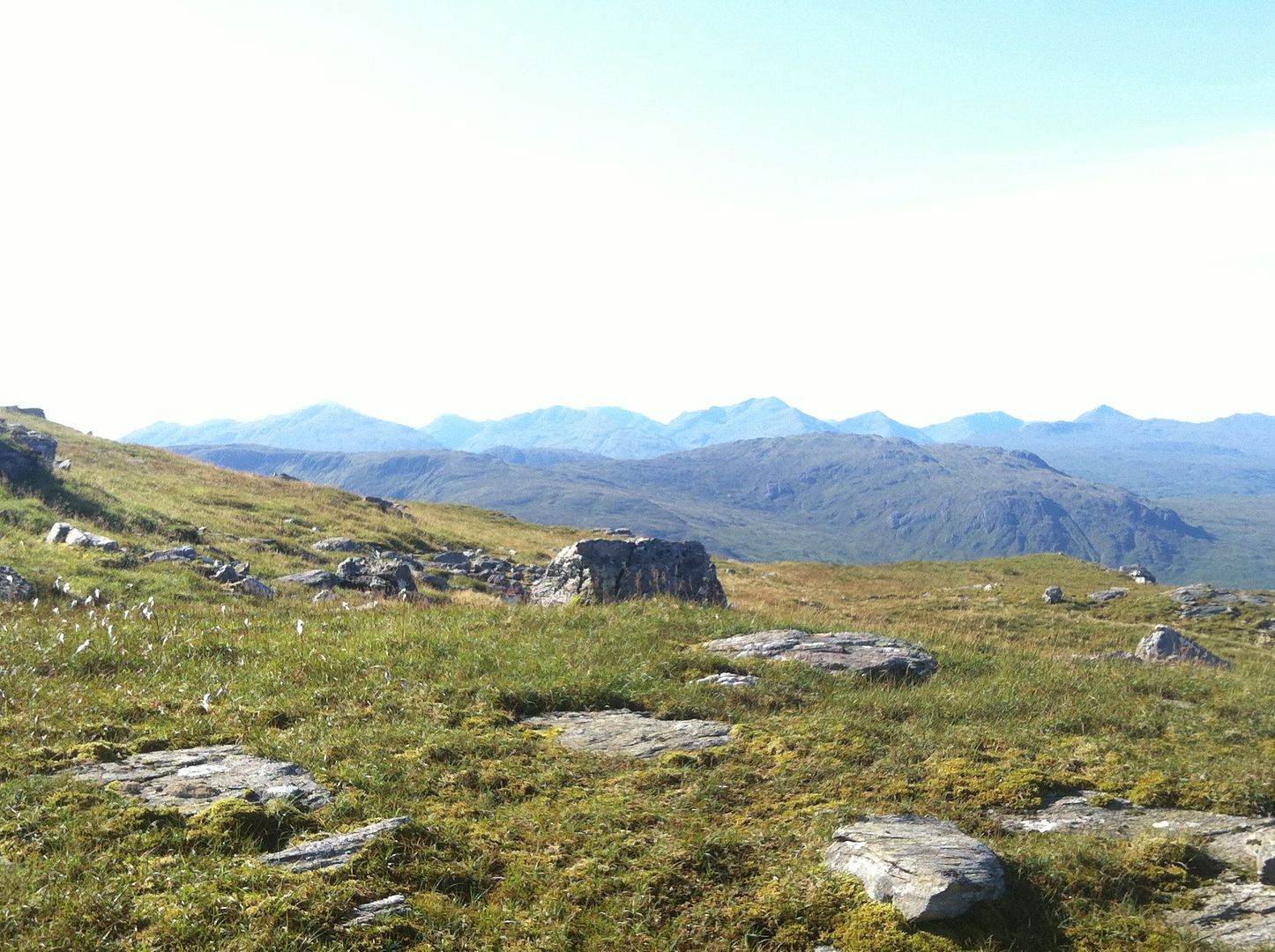 I was unfortunately attacked unawares in the sleeping bag – I have no idea what took a chunk of my elbow, but the burning hot needle sensation right through to the bone, stayed for hours
An examination of the bag revealed two possible culprits – a spider or an ant.. Never felt anything like that pain
Another relaxed morning, even up here a couple of day walkers were passed before we were packed and ready to go. Apparently the bright green tent had caused them confusion from afar
It wasn't that far to the summit, but plenty of boulder fields and the hot sunshine made for a stately pace.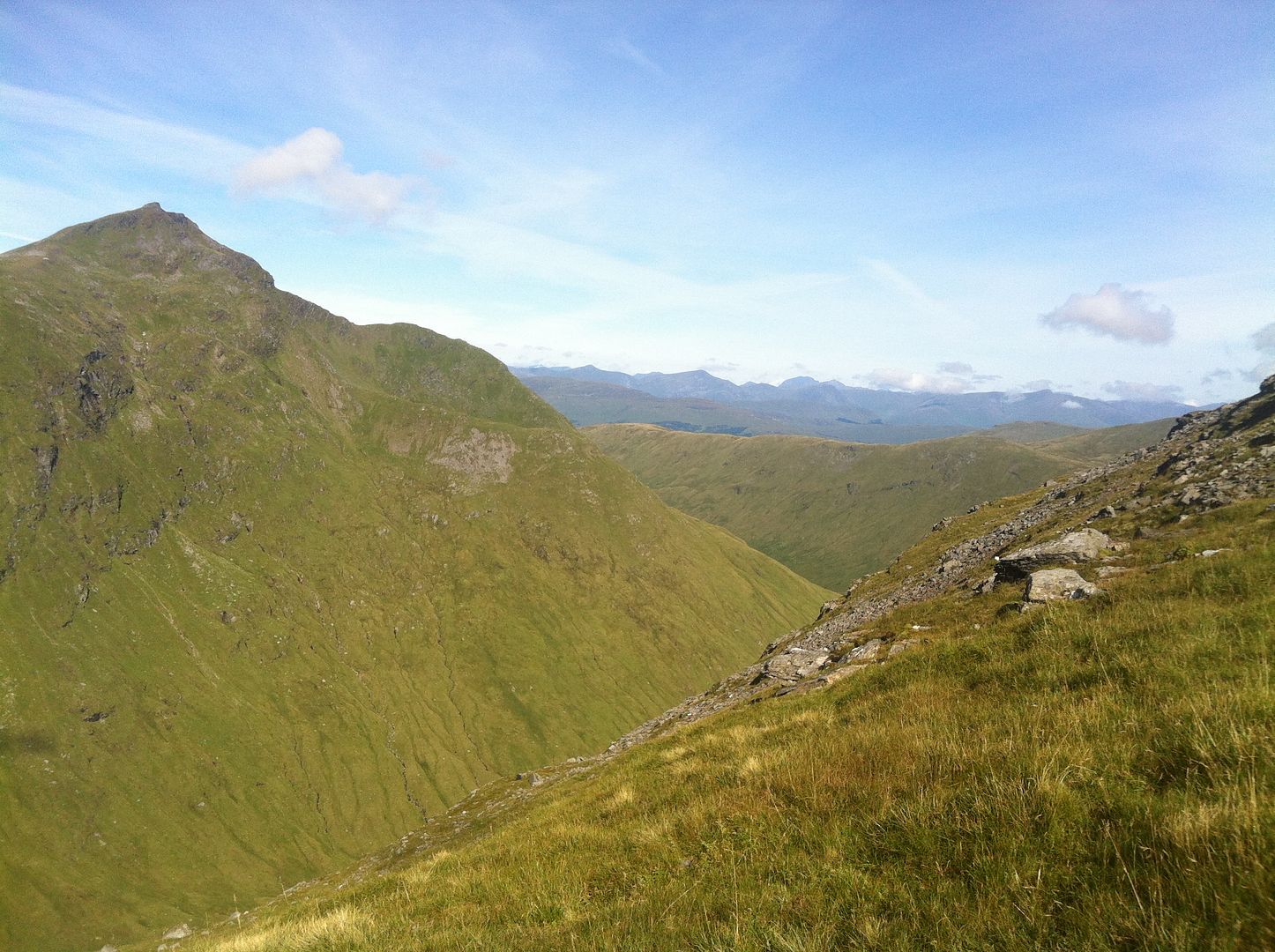 There is quite a big plateau at the top, where we stopped for 2nd breakfast to soak up the views. Way better weather than we had been expecting.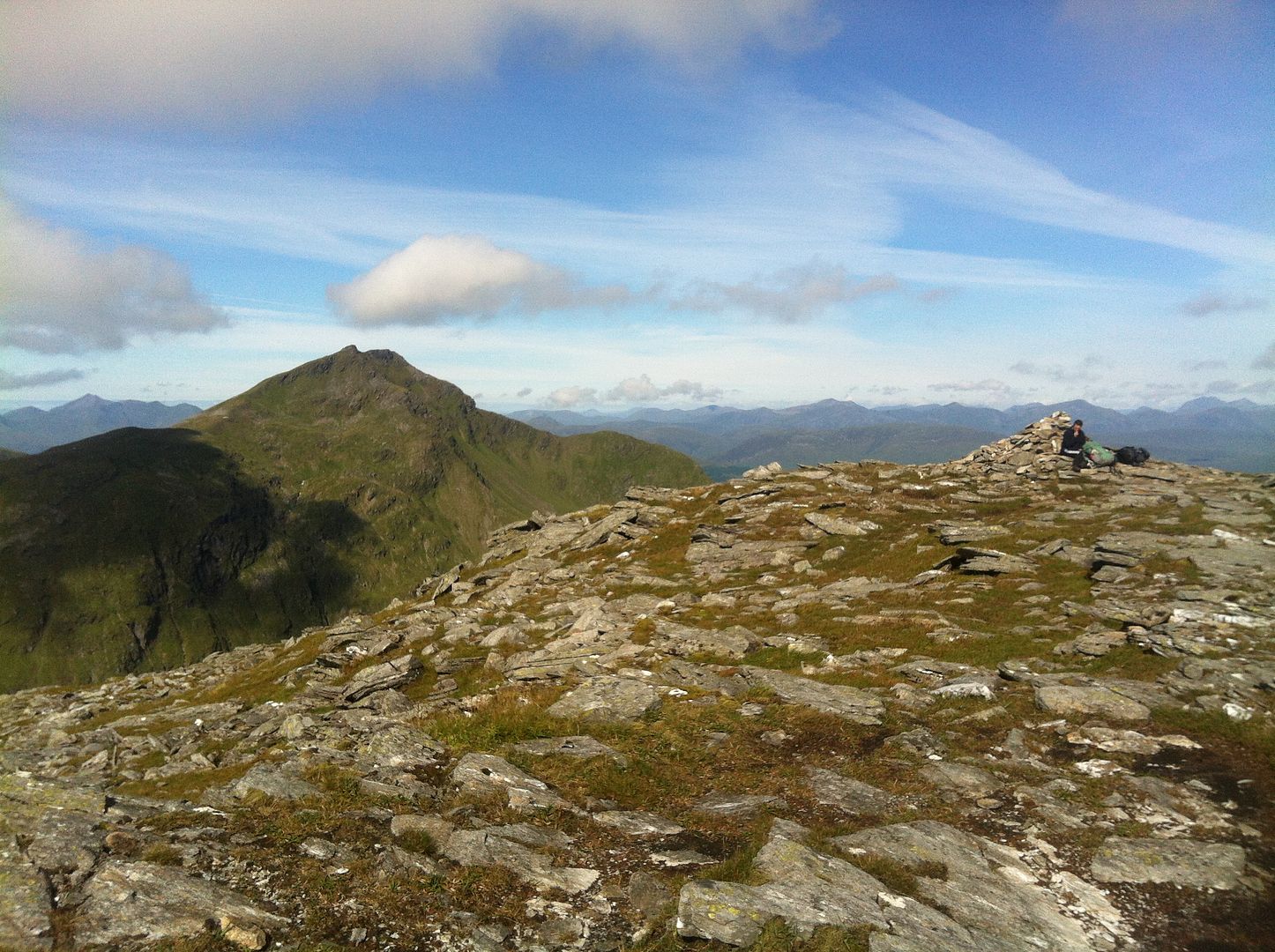 We made our descent downward, the going fairly steep, and my elbow still stinging like hell. There was a lump on the ridge – can't have been more than 50m of ascent, but by this time it was scorchio, and I struggled.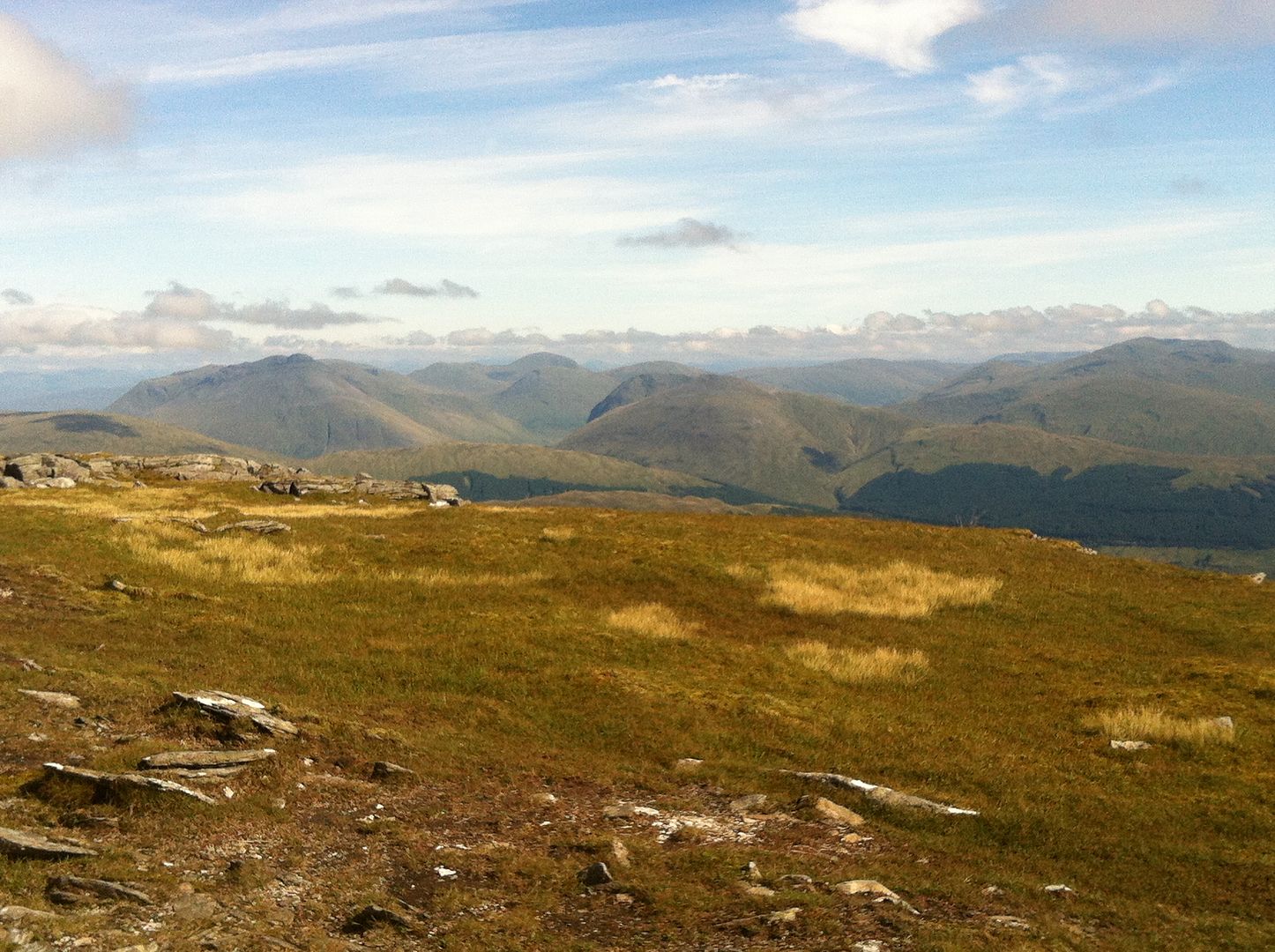 More downhill, steep and rocky in places took us down to the bealach. I'd got over all the tricky ground, and was ambling over some flat, even grass, when I went over my ankle..
It went crunch and I was reduced to rolling, clutching and yelling. I was a bit embarrassed as there were a couple of walkers coming up behind us, who must of thought I was a right ninny
If nothing else it was an excuse to lie in the cool damp moss to cool down for 10 minutes and at least the elbow was beginning to feel better.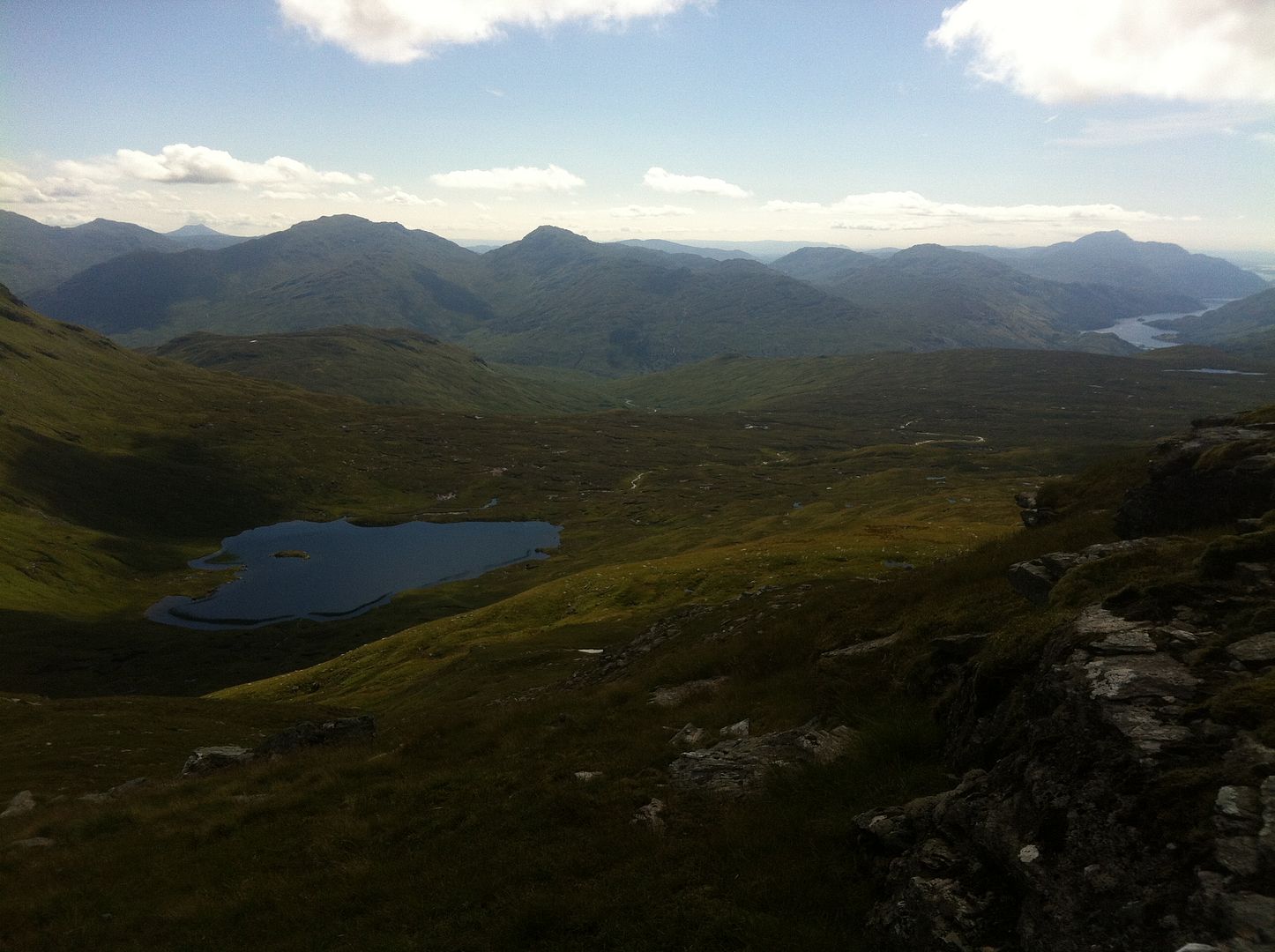 We crossed the coll, and dumped our packs down next to the cairn that signified the way down.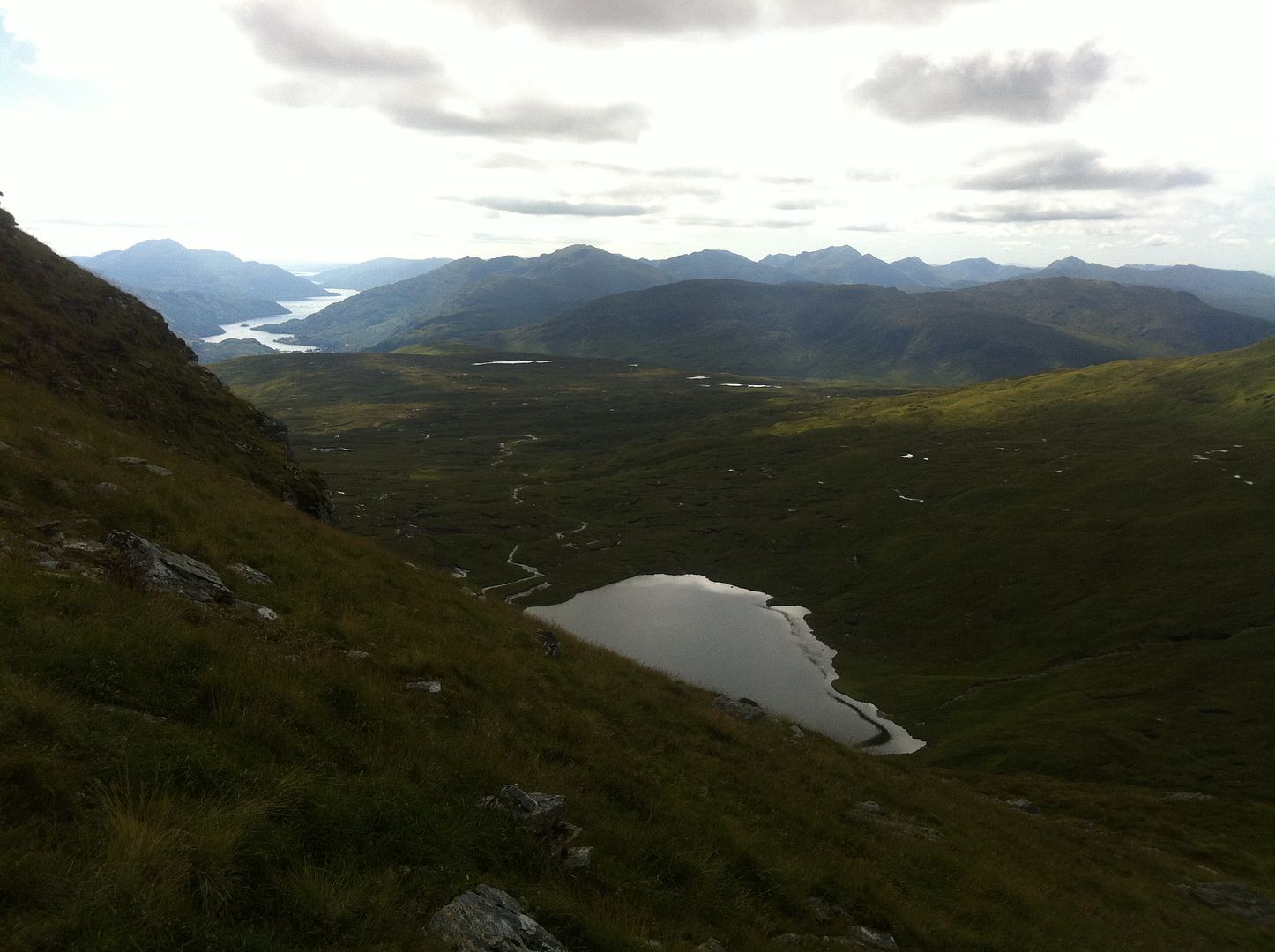 An easy stroll took us to the Beinn Dubhchraig summit, where we sat for a good while soaking in the views.
It got very busy though and we reluctantly gave up our seats and returned to our packs for the descent.
Still only lunchtime, there was plenty time to get back to the car. There was no real path initially down the steep grass, or maybe there was and we didn't find it until lower down.
My twisted ankle really ached at this point, but just had to grit my teeth and get over it.. Deep breaths!
The path wasn't quite as boggy as its reputation would have had me believe, but I was quite distracted by the series of waterfalls that was a constant wonder on the right hand side.. So bonny!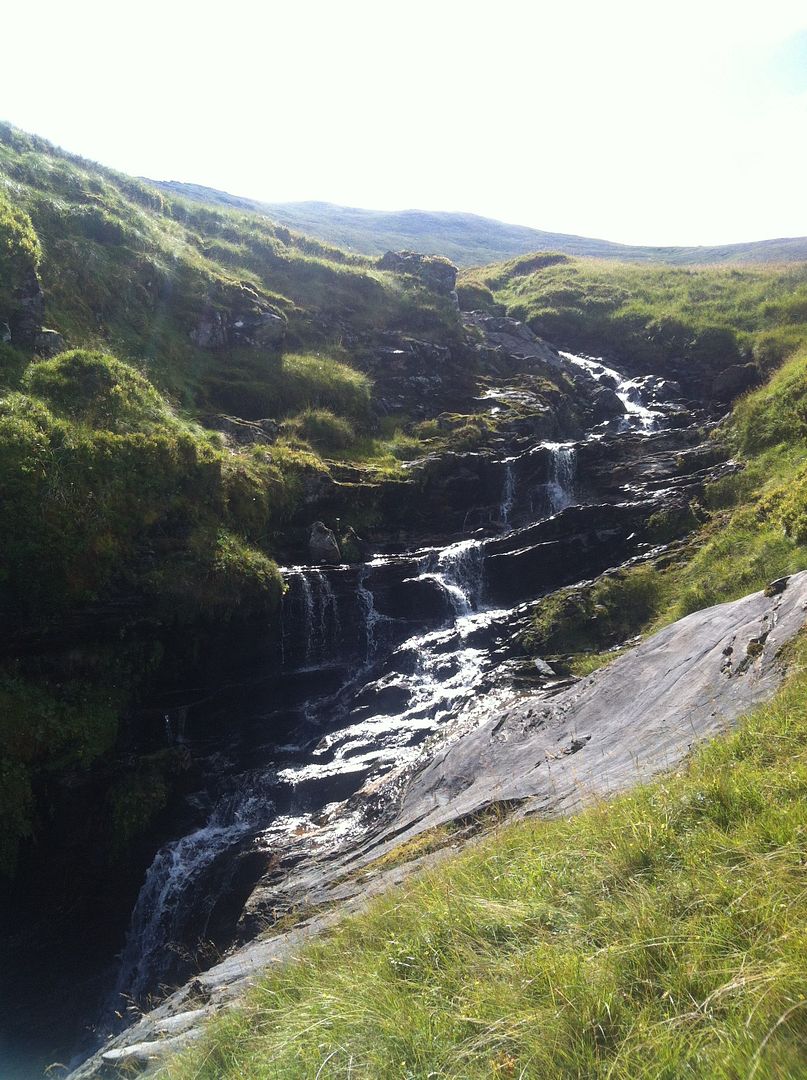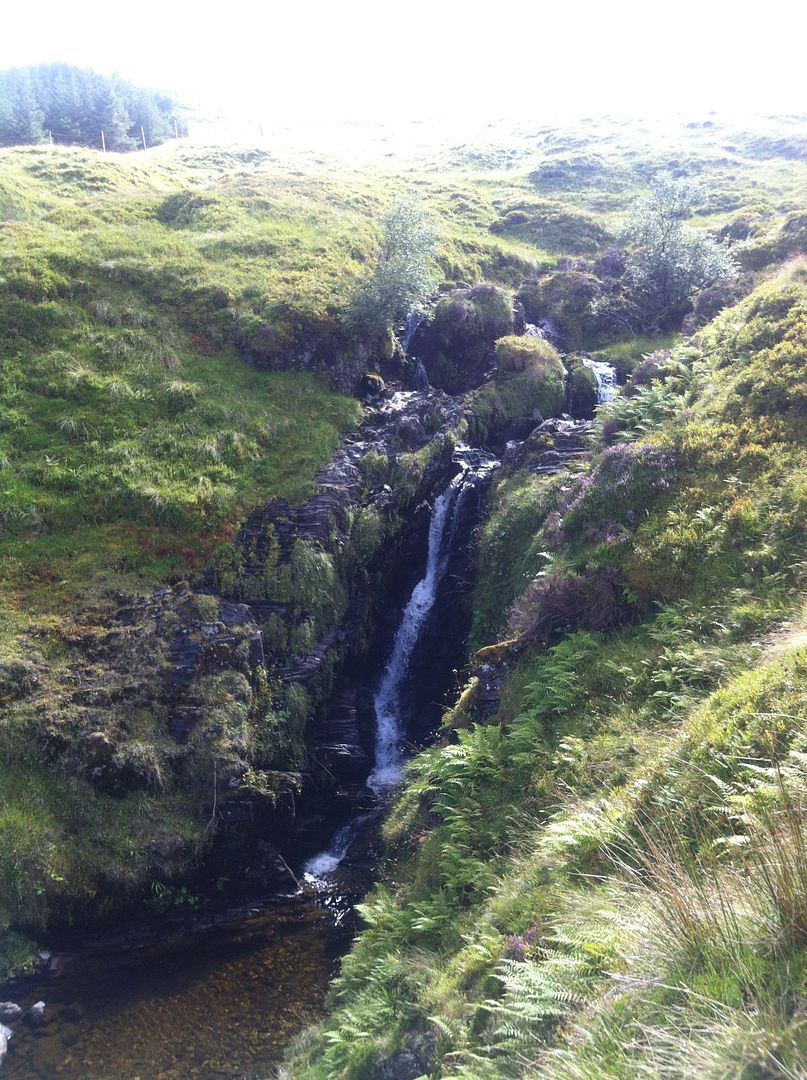 Felt like a long way to the forest, but that was probably due to it being blueberry season again… Some bushes are just too fruity to pass by!
So with hands, lips and teeth stained purple, we entered the most gorgeous pine woodland, rather grateful for the dappled shade. The going got even muddier underfoot, the bracken and undergrowth either side of the path making it hard to avoid.
We eventually reached the bridge – well it had been a bridge the last time Dougie had been this way, but all that remains were a couple of bits of old train tracks.
Luckily the river was low enough to cross with dry feet easily.. Just a hundred yards to the track across a bog, but en route I managed to slip and face plant into thick mud
Dougie managed to help me up without so much as a smirk
which is something I wouldn't have been able to do – I was literally covered in peat!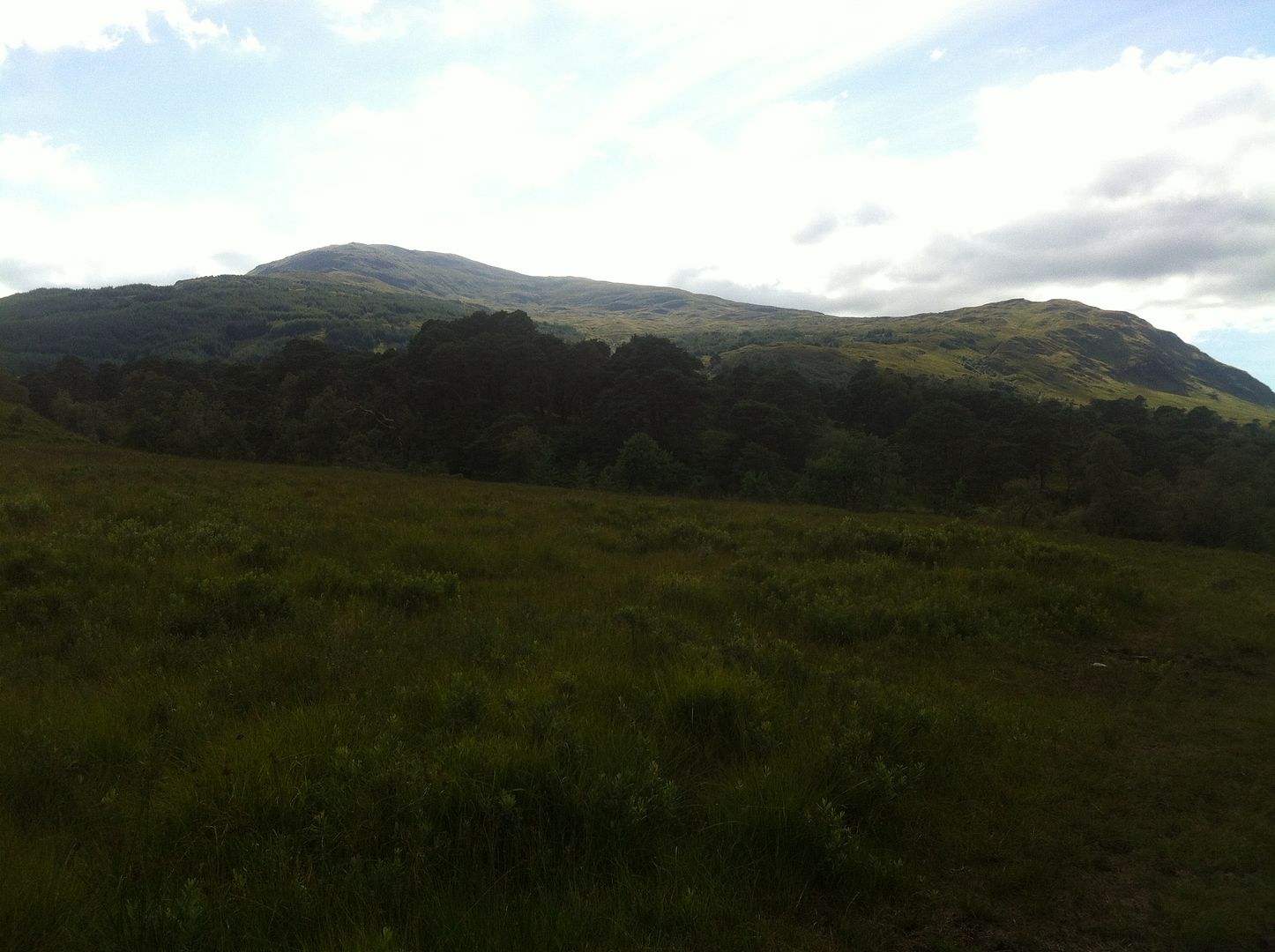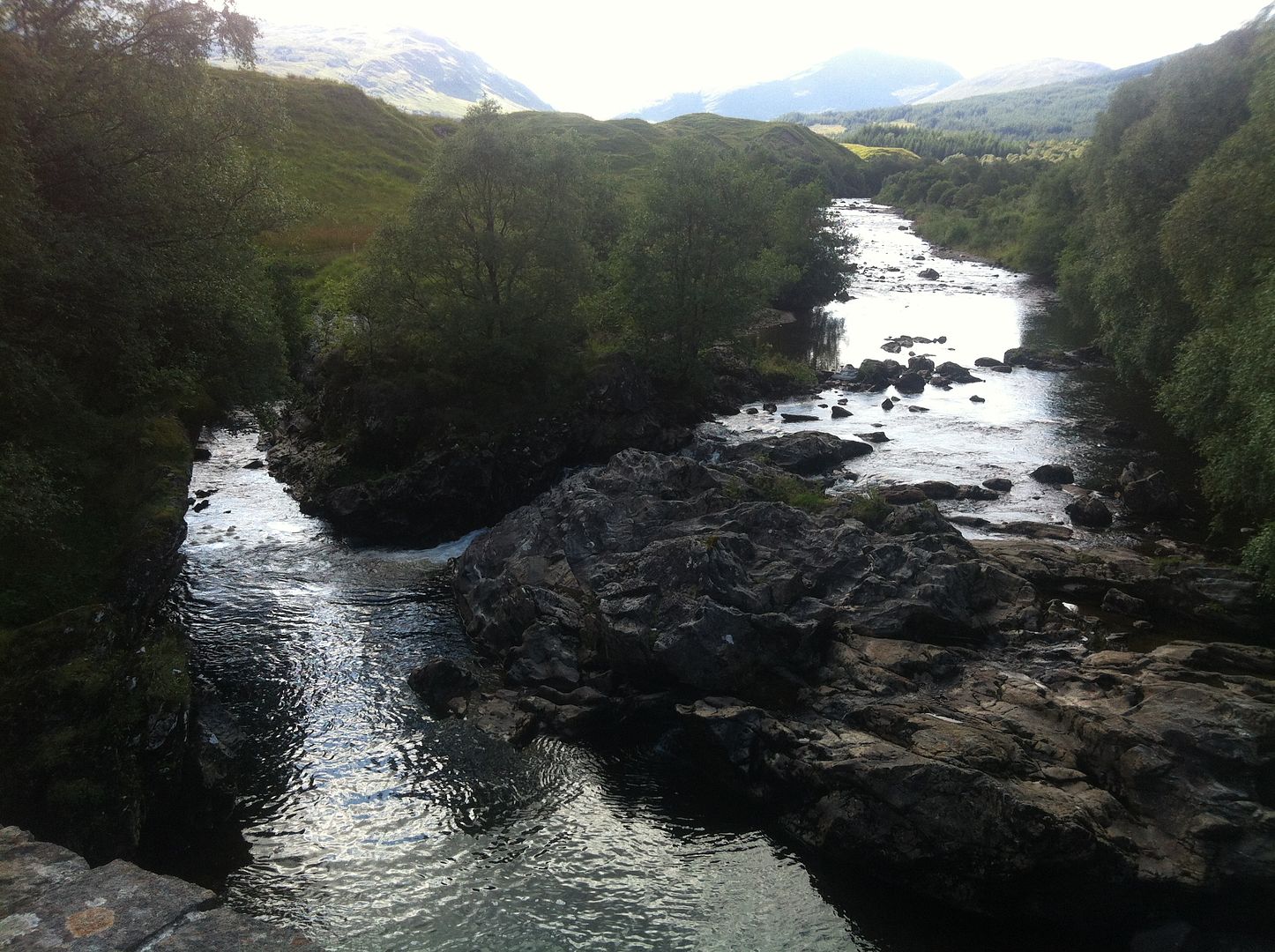 Oh well, not far back to the car anyway.. Got a few looks from other shoppers in Perth Tesco right enough, but I couldn't of given a monkeys. Must remember to take spare clothing with me for these weekends away
All in all, quite a good trip – Lovely hills these, and if it wasn't for the midges, clag, miscellaneous insect bite, sprained ankle, or impromptu bog dive, it would have been perfect