So this weekend, we had thought we might have a stab at finishing off the Etive ridge, after our unfortunate, weather inspired retreat earlier in the year..
We arrived at our usual spot in Glen Etive on Friday night, to find extra streams that hadn't been there previously – could see a fair bit of rain had fallen earlier that day!
Despite persistent drizzle, the pitch spot was still firm when we got down there, and the midges really are getting fewer and farther between, so happy days!
I had limited success with my ploy to get Dougie out of his bed early on Saturday for the long day ahead, but we did get going, and it looked like the clouds were clearing and some of the blue stuff was visible in ever sizeable pockets.
Down the track and round the boggy path round the houses..
Wasn't as bad as I remembered it, but still nae nice to start the day with muddy feet.. We were soon at the bridge with the sign saying Kinlochetive bothy is closed.. Surely the sign would be better at the carpark, or is it just me?
The path beyond was boggy and when we started climbing up to the shoulder of Starav, pretty badly eroded too..
We almost took the wrong path up the glen and ended up taking a steep route uphill to regain the ridge..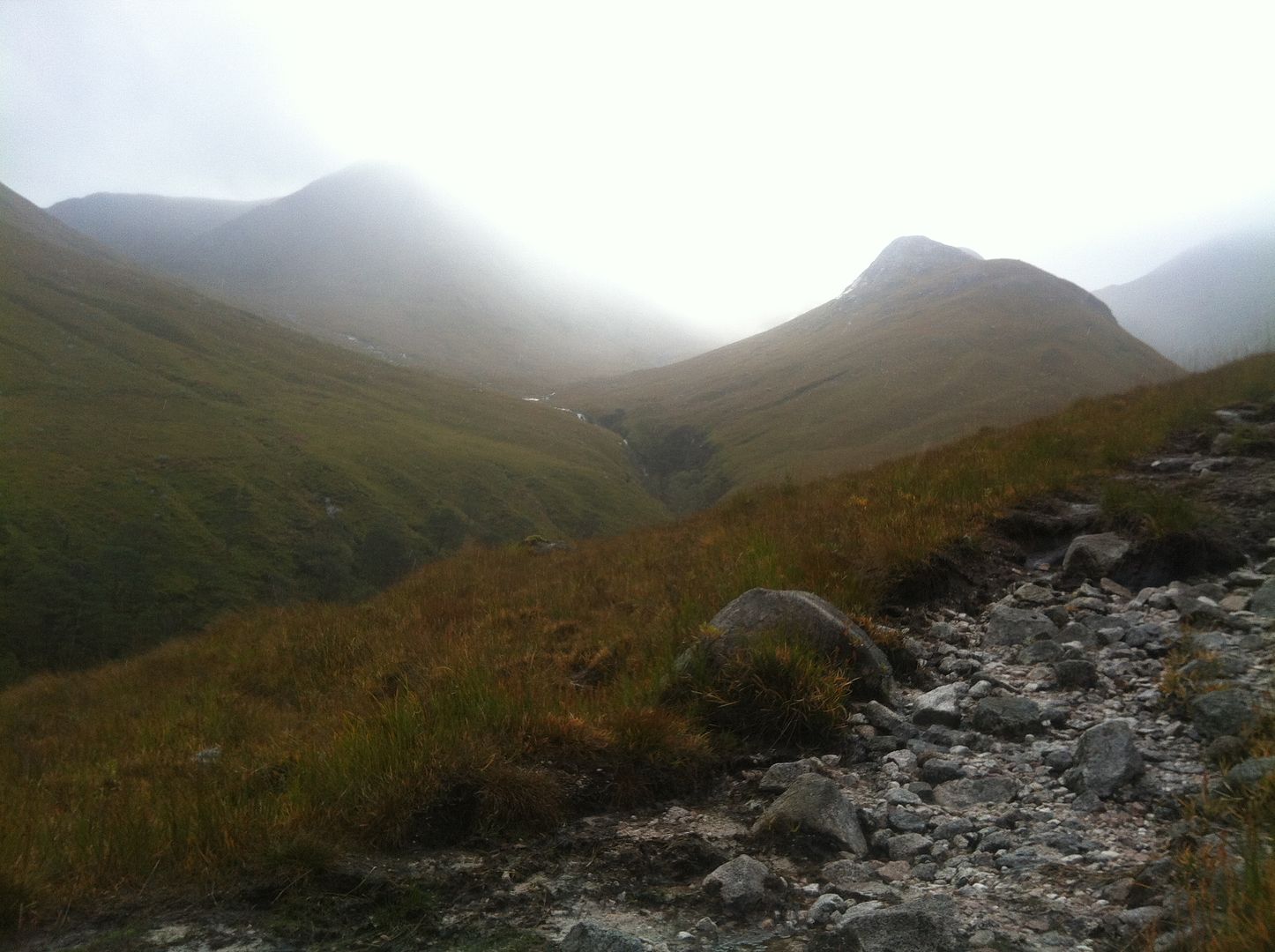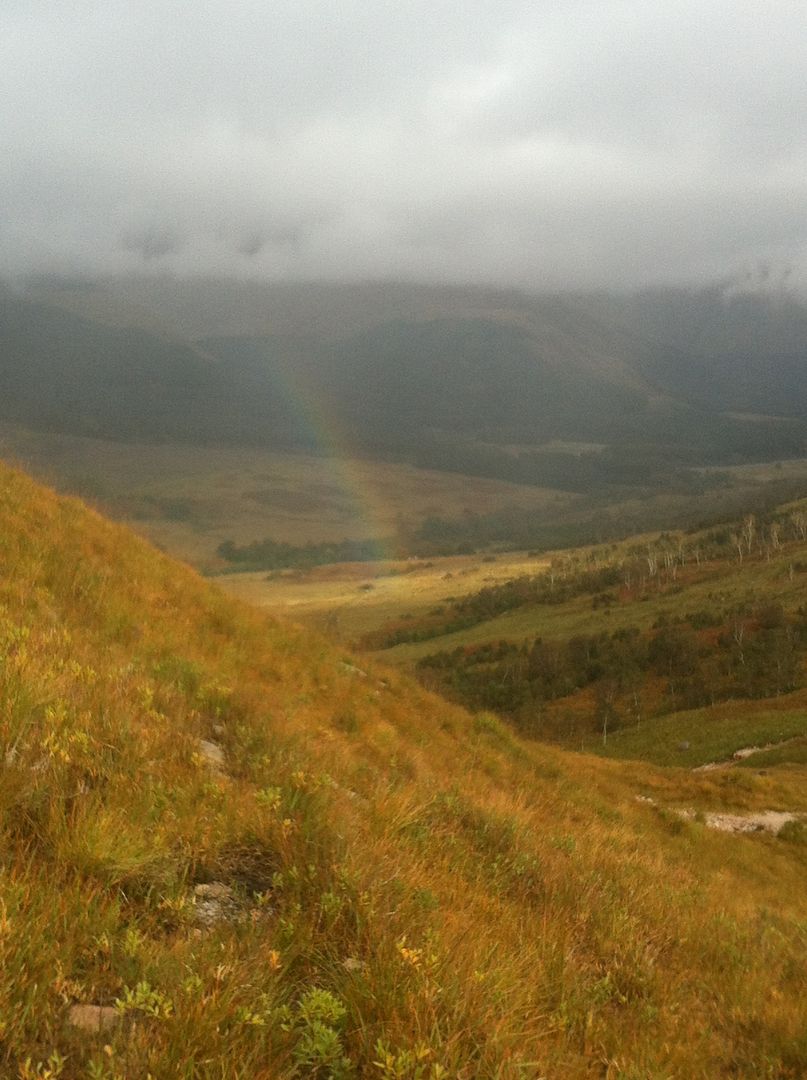 The sky had darkened and the return of the drizzle came, light at first, but increasing in intensity.
Couple this with the fact that Dougie didn't seem to be able to get himself going and you have one mighty slow trudge!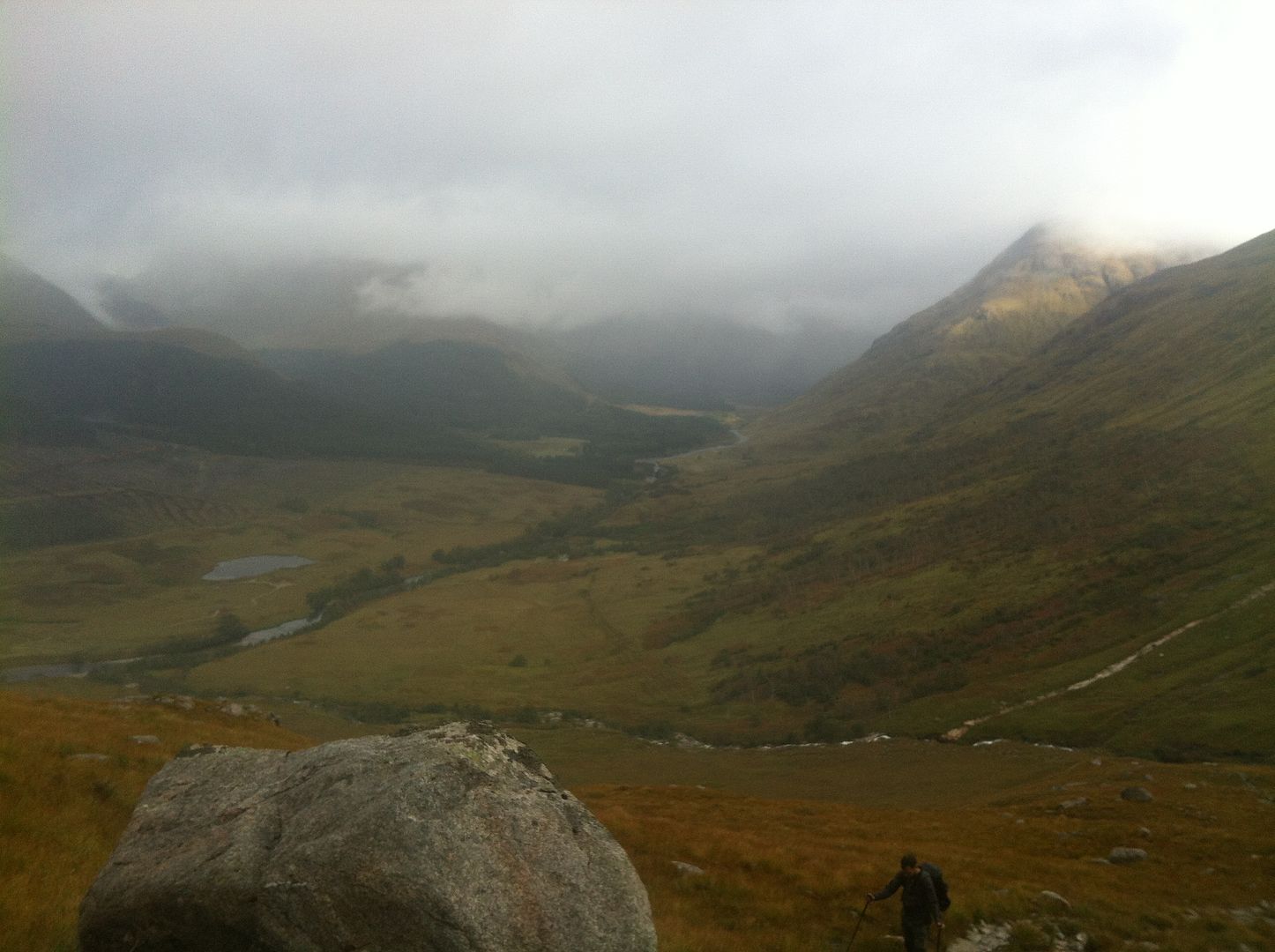 That ascent seemed to go on forever, and the drizzle was the kind that finds its way into every gap in your clothing, and we got pretty well soaked through.
We talked about going to the summit and straight back the same way it was so dreichit and horrible.
After an endless trudge up an eroded path, we were finally up in the claggy boulderfields, which although a bit steeper, I actually find the going easier on that kind of ground. Dougie had got his mojo back too, so we seemed to get up the last couple of hundred metres of ascent quite quickly.
We got up to the plateau at the lip of the corrie, absent mindedly tapping a cairn and the remains of a trig as we passed and found the summit further on for a photo.
We were being too regularly buffeted by an icy wind to stop for more than a few seconds. We had decided that we would maybe go on further to the bealach and get the path down the glen from there as it would be more sheltered.
The path down from there was steep, and bypassed a couple of sections that would have been such a fun scramble, but we were somewhat cold and wet and such fun was far from our minds.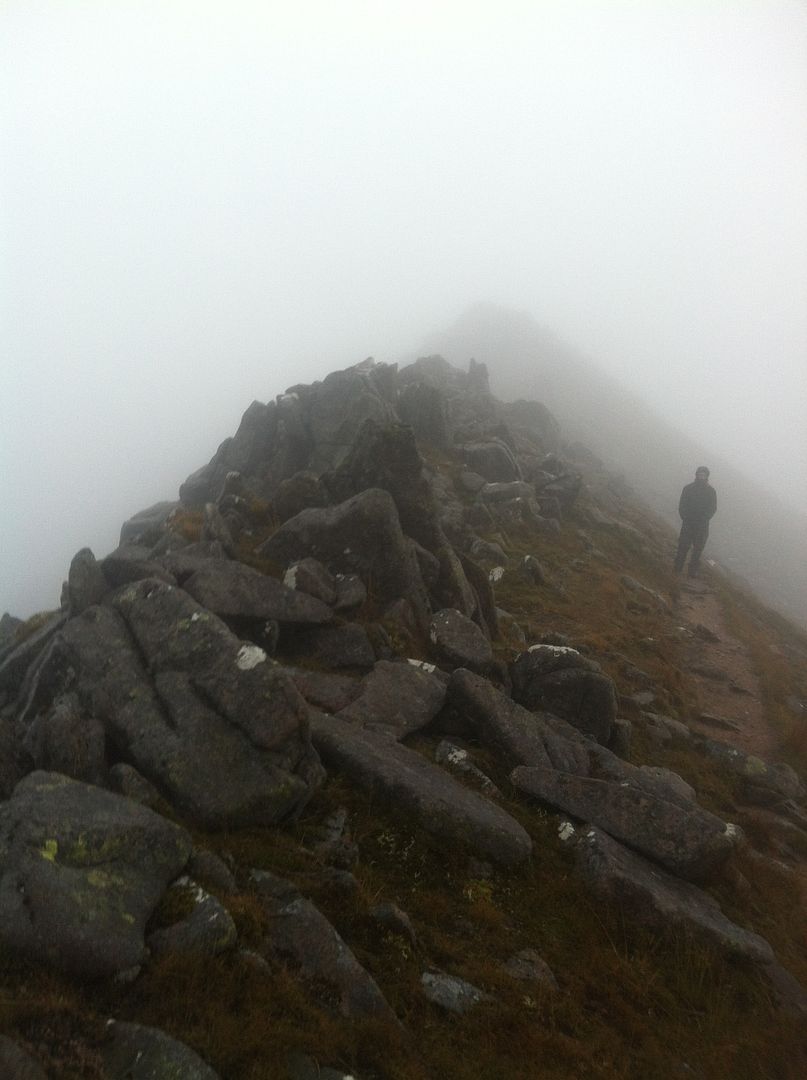 We blindly followed the path off the ridge, expecting it to traverse round to the ridge further on, but it just kind of petered out..
At least the rain was easing a little.. We traversed round the boulder field back to the right ridge. I quite enjoyed all that boulder hopping, but Dougie slipped and got his leg trapped which looked a little bit sore.
Once down a bit, I saw a wee sheltered nook in the rocks that looked ideal for lunch. It wasn't as sheltered as it looked though and still not dried out, we got awful cold in the 10 minutes it took to cram our lunch. We had all our winter gear on, but somehow it just wasn't enough.. We also worked out that the first top on Starav had been the one..
Good job we are in the habit of touching every cairn we pass then
With the rain off , and still feeling fresh legged, I suggested doing one of the other hills before making our descent – well ascent is definitely one way of warming up!
Dougie wasn't up for going out to Beinn nan Aighenan, it was all clagged up anyways, but Glas Bheinn Mhor was clear, so we headed towards it, my numb sore toes easing eventually. I took lots of photos now it was clearing, but couldn't understand why my camera seemed to be capturing imaginary clag, only to find a bit later that there was a thin veil of condensation over the lens
What a doofus!
It looked like a fair distance but seemed like an easy tromp up over the minor top and out to the Summit.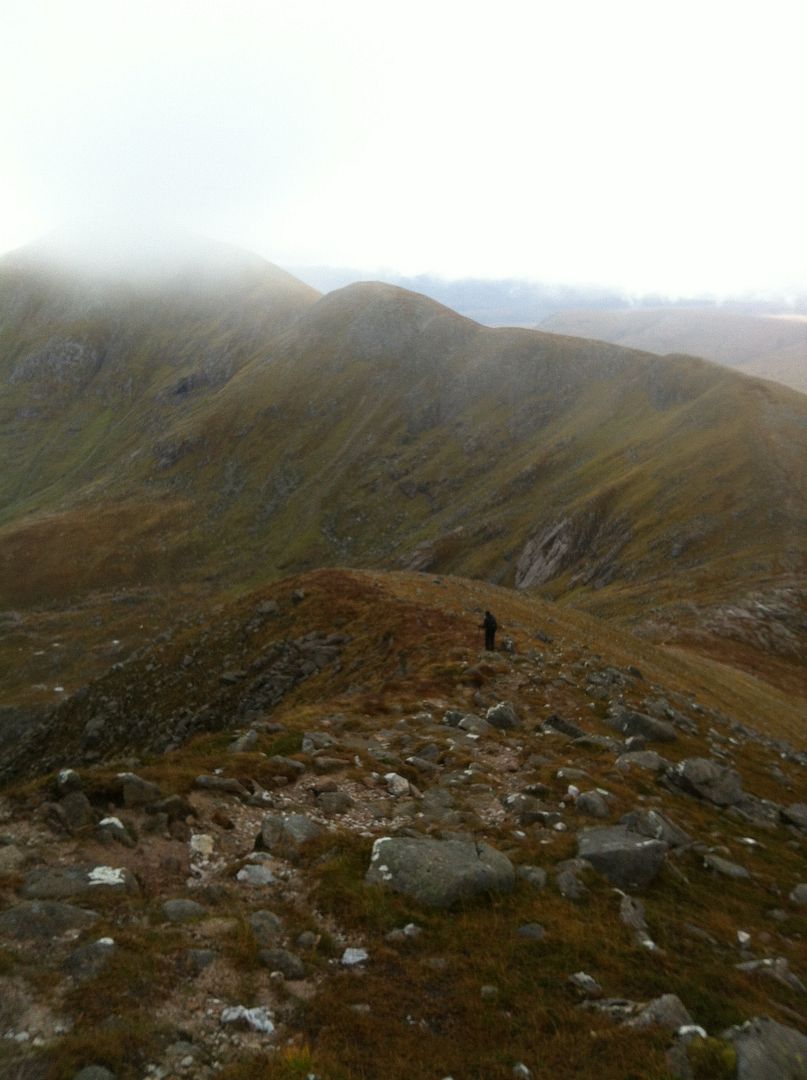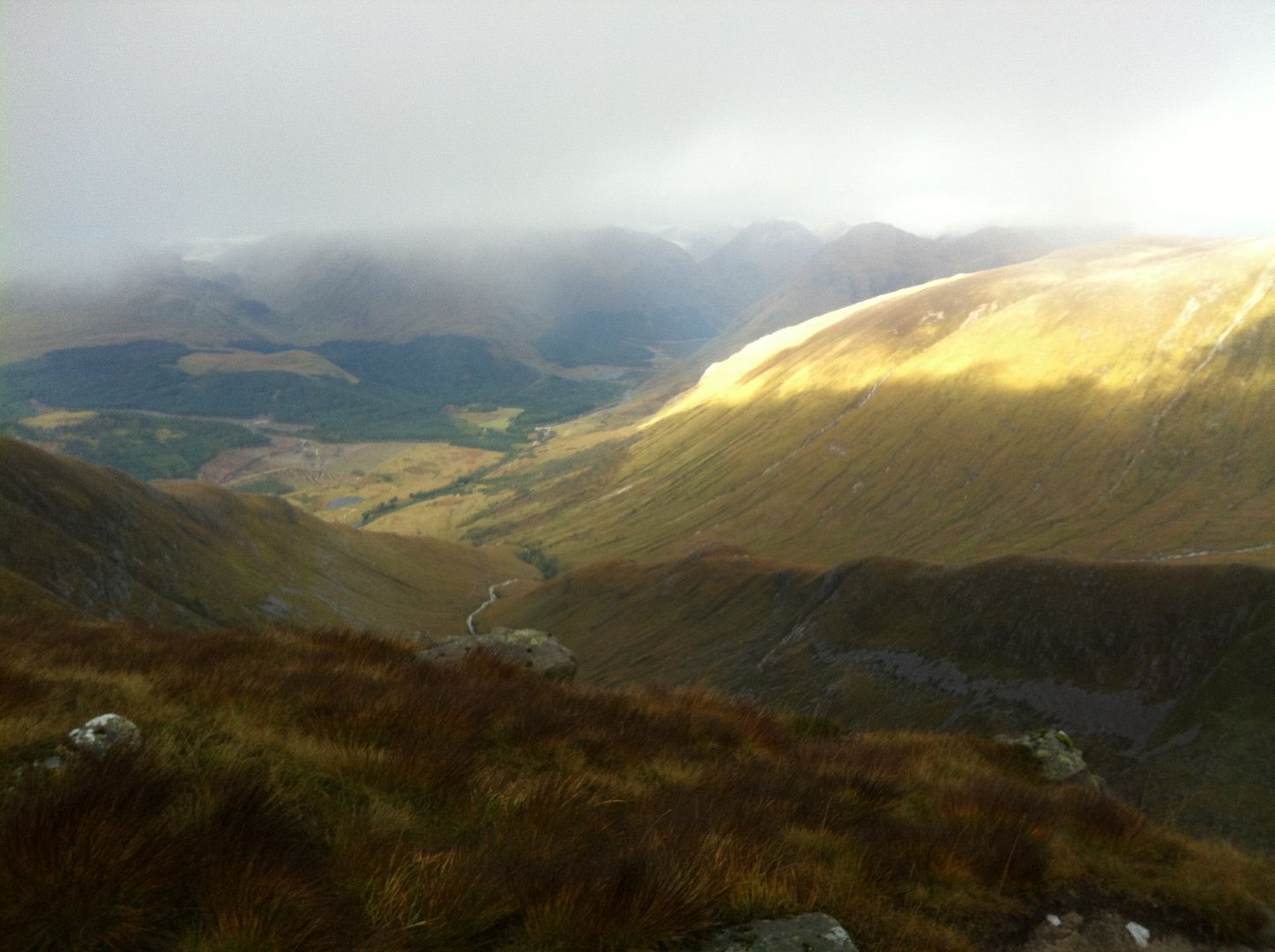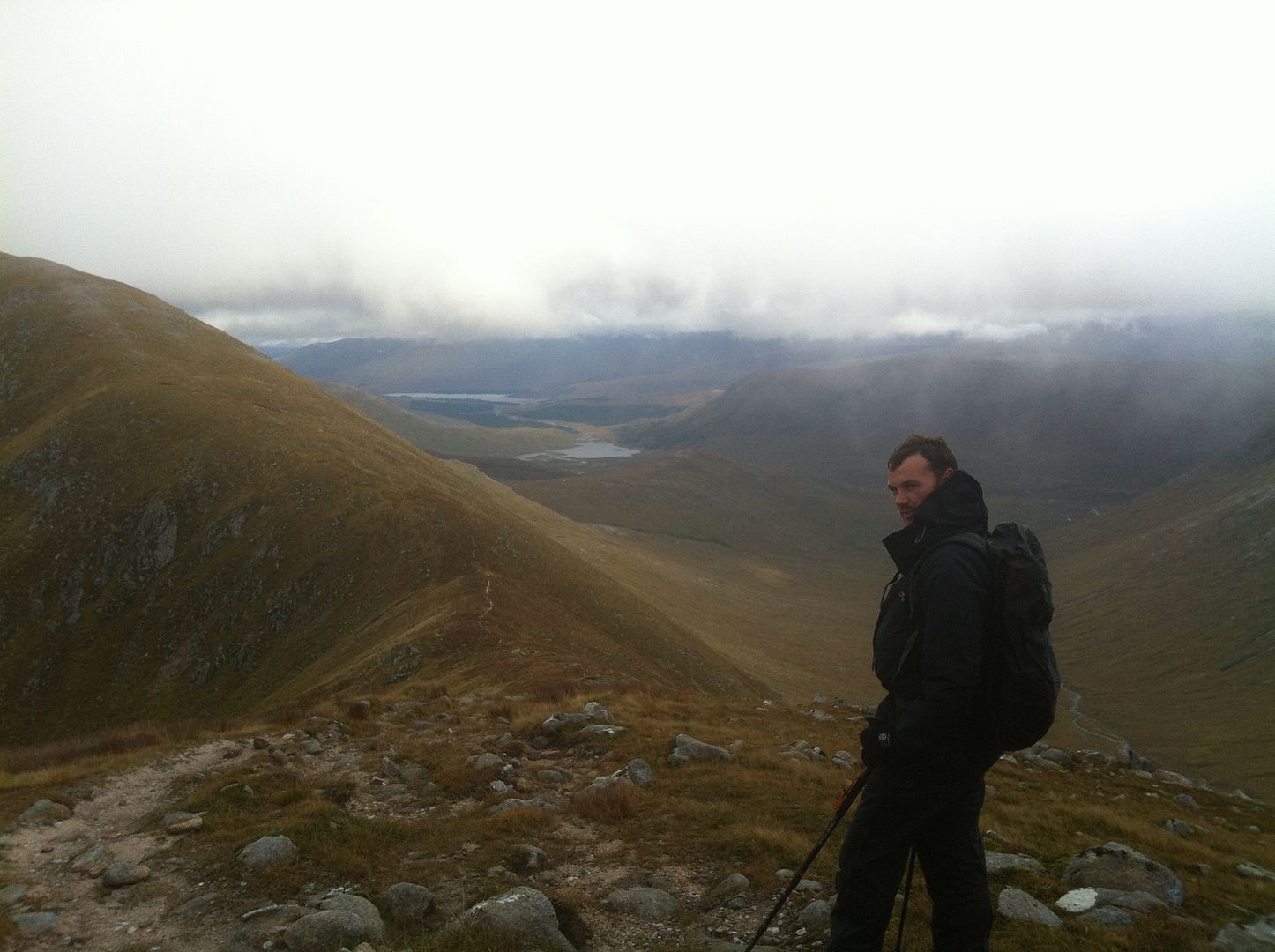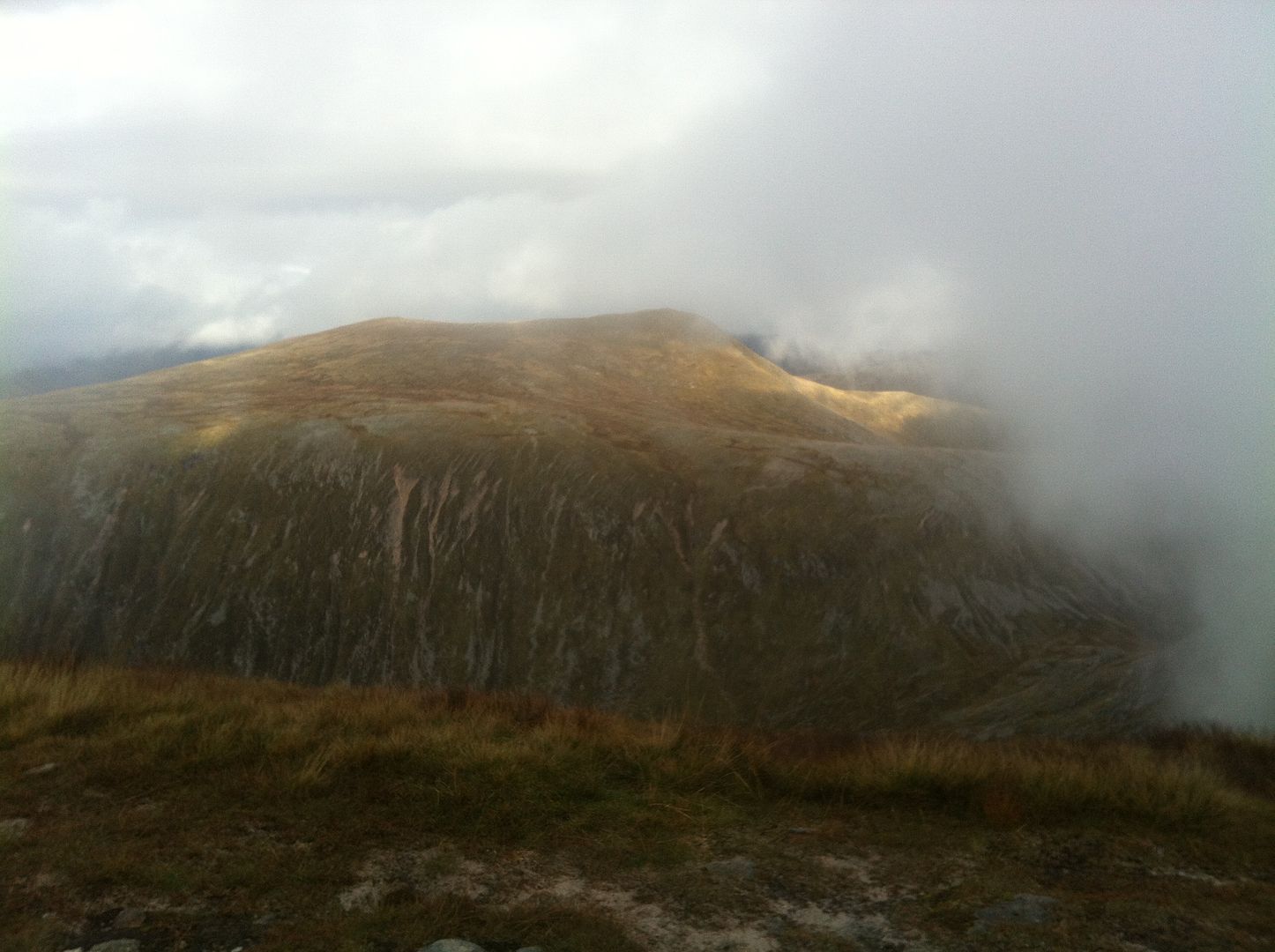 Clag was coming and going as it was still quite blustery, but managed to get some good views. Time was getting on though, so we descended toward the same bealach we had made our hasty retreat from, just a few months ago. Quite a nice section of rocky ridge further down near the coll.
The path down the glen was beautiful further up, such bonny streams falling over broken rocks and huge slabs,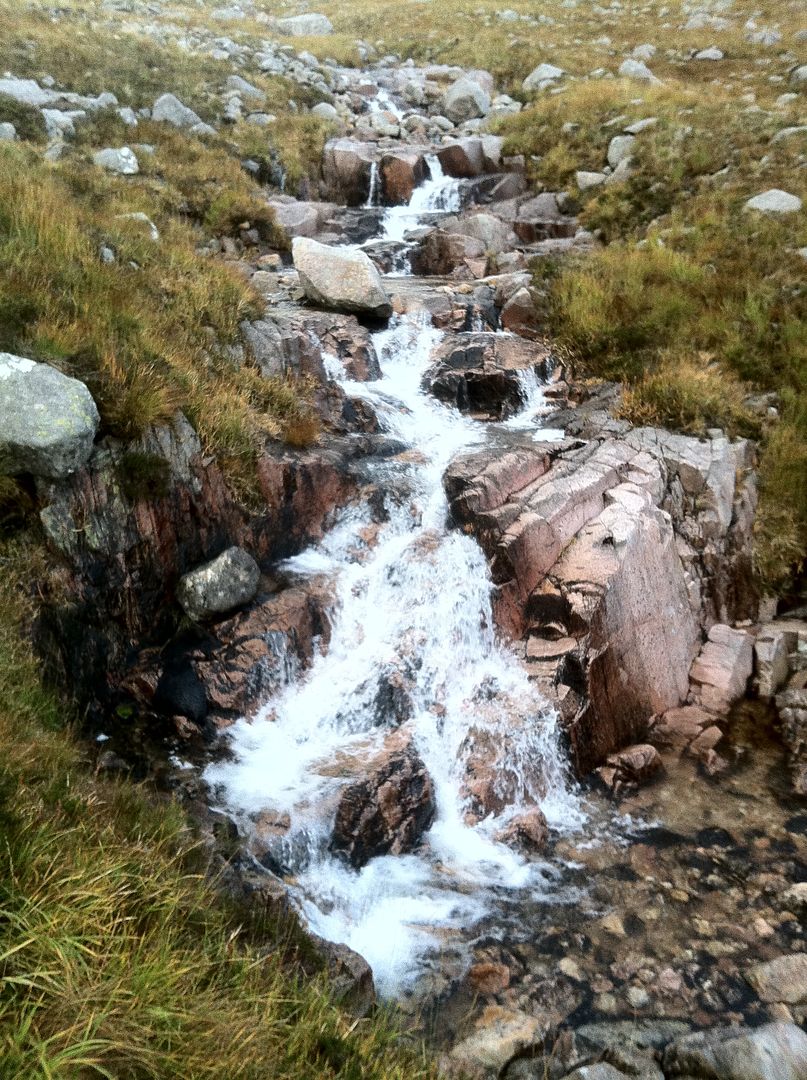 but this deteriorated into a boggy quagmire that required eyes down constantly.. We got to a branch in the path – do we take the short but less well formed path across back to the house? Or follow the river round? The answer was neither.. we ended up in a muddy rut, falling over repatedly in the thigh deep grass.
Light was fading fast but we knew it wasn't far back to the car. A good legstretch, but not the best day we have ever had on the hill.. They can't all be gems I guess..
Overnight, the rain and wind were crazy enough that we both woke up at 3, I made crumble and custard and we tried to stem the leaks and talked about at what stage we would bail to the car - stormy, stormy night!
It did ease, but in the morning Dougie woke up with a migraine that ended up putting an early halt to the weekends walking. What a mediocre weekend.. If you have managed to stay awake long enough to read this far, you deserve a medal