So this weekend, was meet weekend – bloomin too exciting for words
Left work, and made the journey down to Lochearnhead where I ditched Sunny and transferred my stuff to Dougie's car, only forgetting a few essentials..
We arrived in Kinlochleven at about 8 – only one tent in the campsite, which we later found out was Nigel's. The ground was rather soggy, but we found a firm patch up at the far end, albeit rocky enough to destroy a couple of rather nice titanium pegs..
It had started to rain the moment we arrived too, so it was a damp, dark endeavour to get our shelter pitched.. After the brief faff getting our beds made, we were soon up at the bunkhouse to see who else was about.
We were hit first by the heat – steamy in there! And then by the crowds – must be the biggest meet ever!
The common room was packed, we chatted, went to the pub, chatted some more, went back to the bunkhouse – not sure what we did there as memories are hazy..
Saturday morning came, and it was a bit dreichit and cold.
Even at 8AM, when I first stuck my head out, there were groups of walkers all ready and heading off – Keen!
After some discussion, we formulated the plan that we really needed a bacon roll..
So I went on an expedition to the co-op. It was still raining after we were fed, and Dougie was suffering ever so slightly.. So we went back to the tent for a snooze.
We eventually left for a walk at about 2.30.. Hmm light may be a problem..
We headed over the bridge.
And into the woods by the church. There were signs for grey mare's tail and we thought we might as well swing by for a look.
The last 100 metres or so up to the waterfall is a lot of fun.. Wooden planks provide a route round the bottom of a gorge, up to a wire bridge, and then a wee via ferrata section leads up to a wee gravelly area below the falls.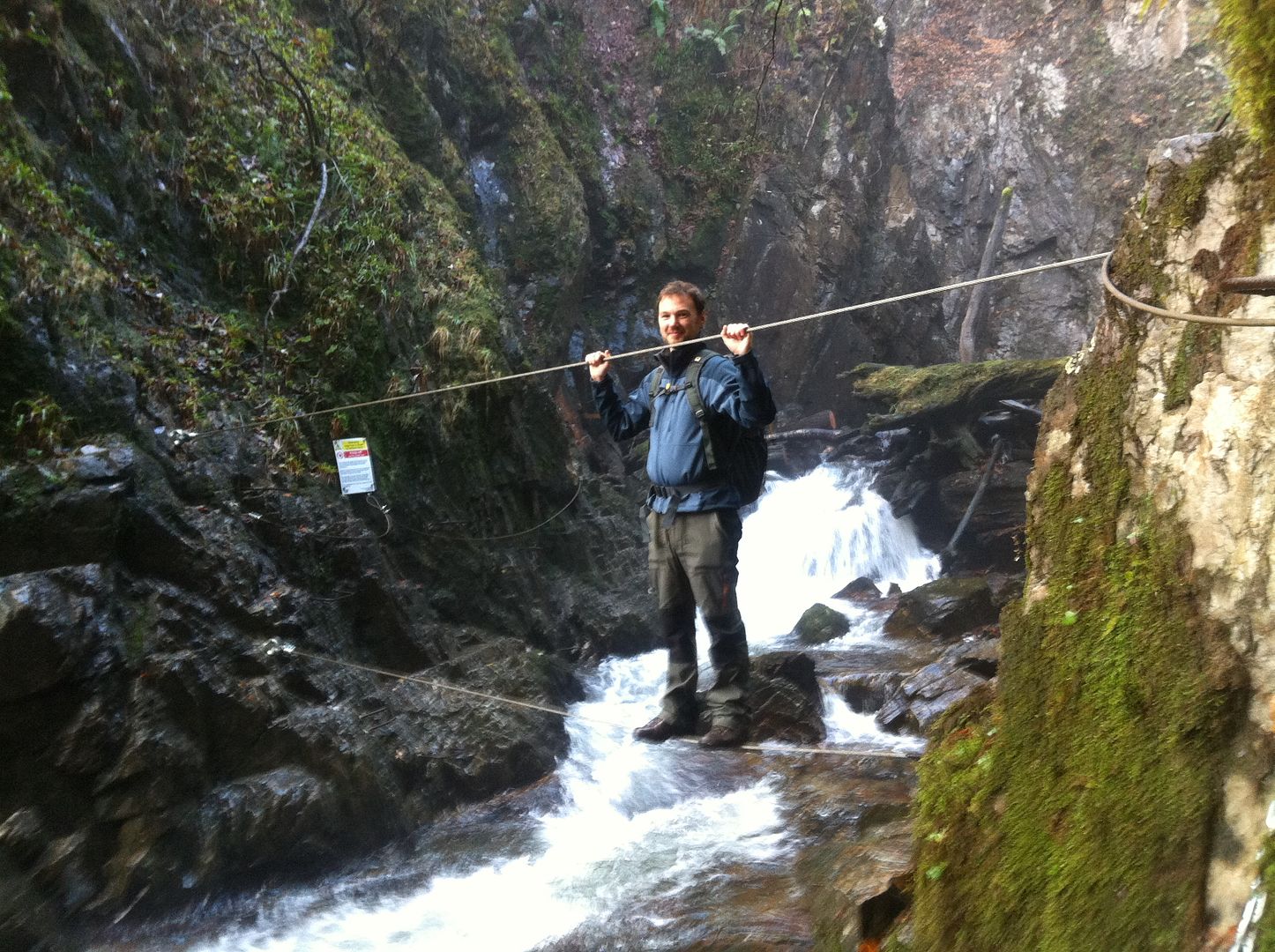 The spray was immense, but what bonny falls
The via farrata continued, spiralling up the cliffs, but there is a very discouraging sign there, basically saying you aren't allowed to go any further, and the first section was missing, so you couldn't get up there easily
We retraced our steps over the assault course, and took the path uphill.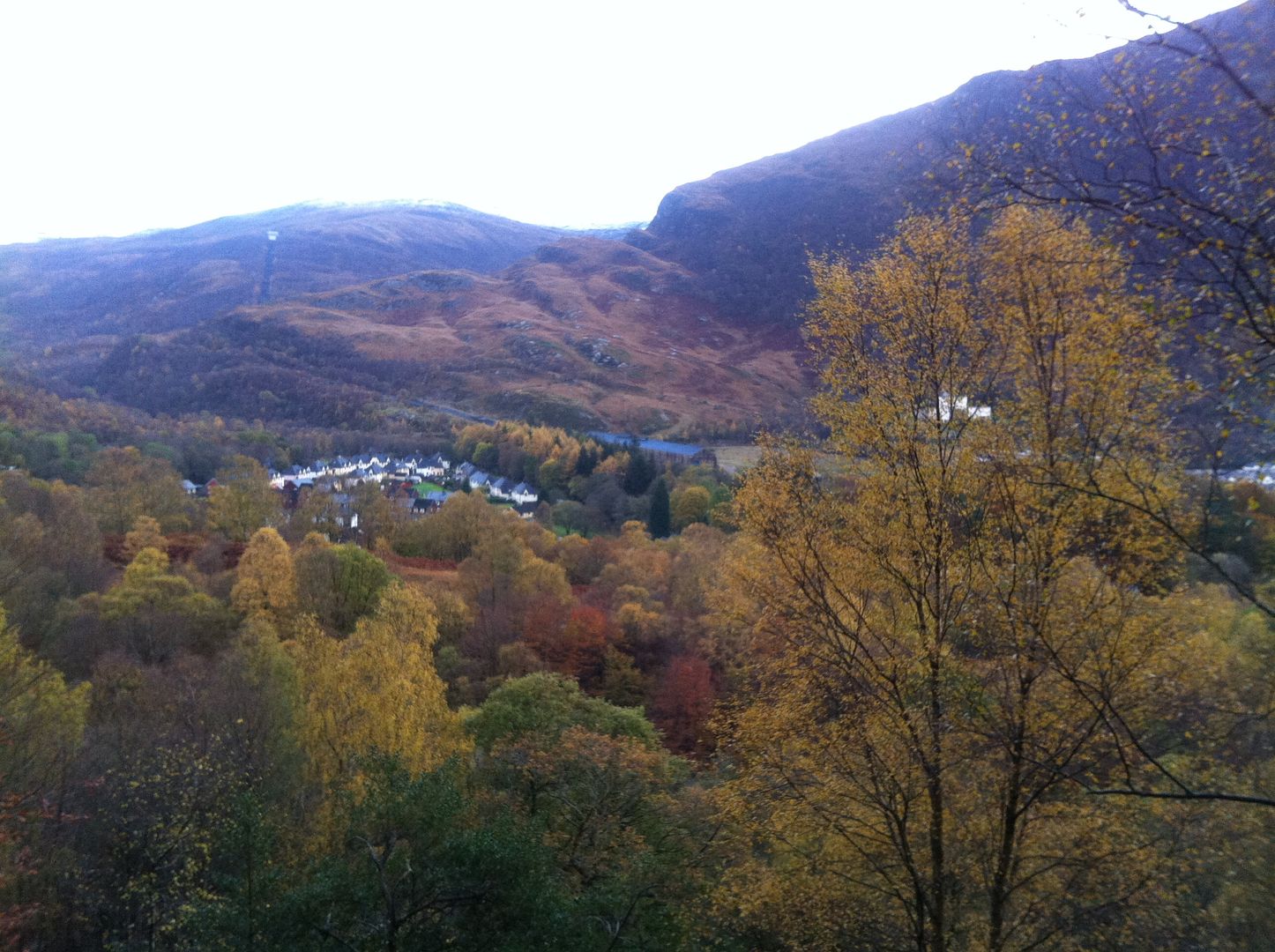 Above the tree line, the classic Loch Leven views opened up and we ate our picnic by a wee stream.
By the time we got going again, it really did feel like it would be getting dark before long,
so we chose a short circuit on the map, and upped the pace. Luckily we managed down alright – It's quite a rocky and steep path, and we only had one head torch, but it only really got too dark a few hundred yards from the streetlights, so happy days
Saturday night passed far too quickly..
Thanks to the quizmasters for providing the entertainment.
Nothing like an ambiguous question to get the drinkers riled.
Sunday came, and the tent was stiff with ice!
Took a lot of will power to get ourselves out of our sleeping bags, but we were still up at what I thought was a reasonable time. We were still the last out though – the bunkhouse was deserted.
I wasn't surprised, the tops were snowy and the skies were blue as far as the eye could see – just perfect!
Dougie and I had discussed a corbet nearby, but the route looked just too long, so we decided to do a scramble we had been talking about for a while up Beinn a Chrulaiste.
Glen Coe was looking even more spectacular than usual on our way through – Aonach Eagach was looking so fine, she almost got another beating.. But that would have been
,so we kept focussed on the already decided objective..
As usual parking at Altnafeadh was problematic.
We noticed a few familiar cars in the car park, and a huge group of walkers up on the shoulder. Maybe we would see some of the gang today after all
We set off along the west highland way, quickly getting too hot in the sunshine.
The route we had in mind is called Pink Rib and is directly above the Buachaille climbers car park. It is remarkably easy to find, being very prominent on the hillside.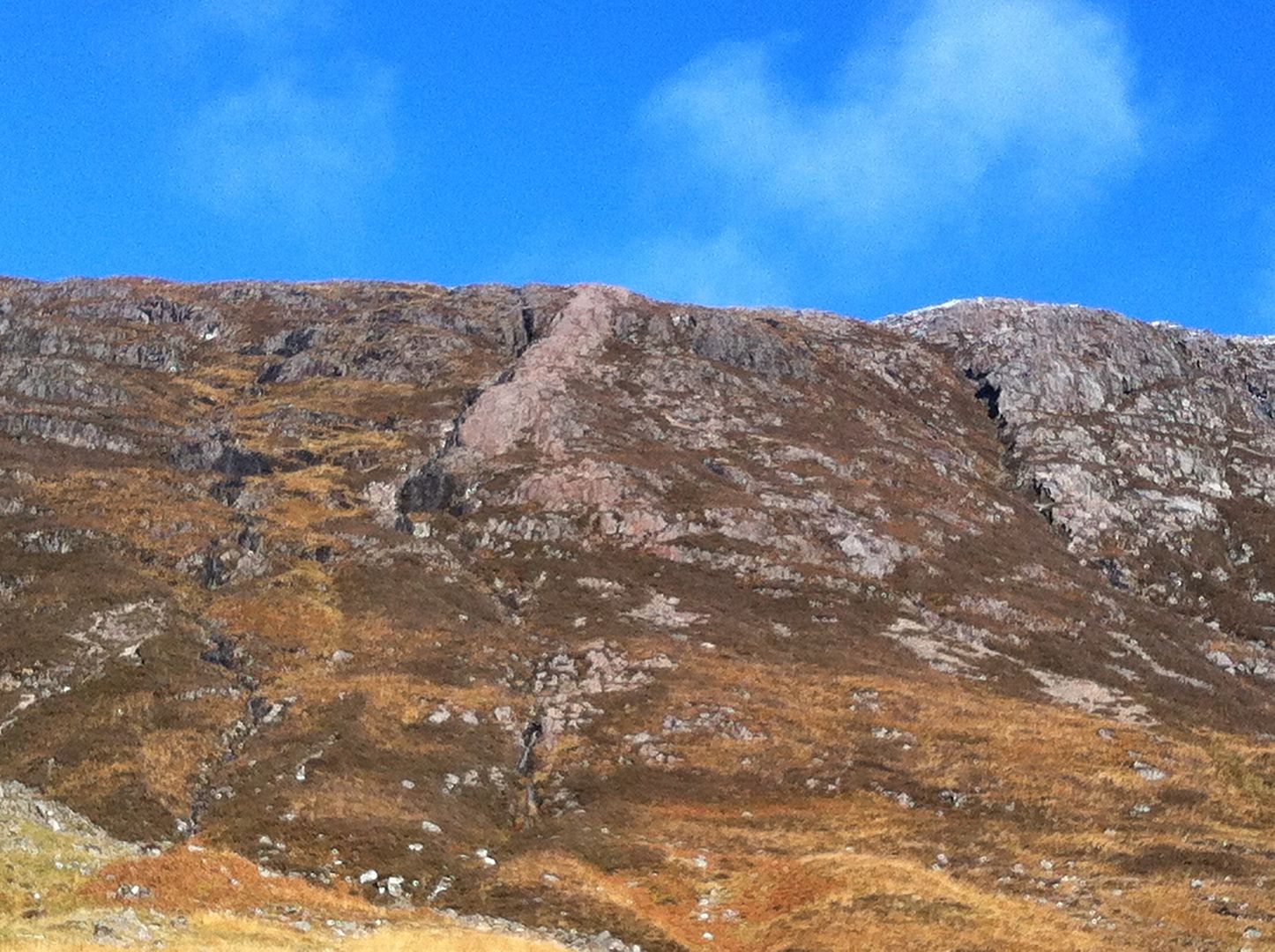 We left the WHW, and climbed up alongside a dry river bed. From here the going got significantly steeper. There was the faintest trace of a path – we certainly weren't the first to come this way, yet still it was steep enough to be 'heather scrambling' terrain – Knackered and hot in no time at all..
There was an interesting bird soaring and hovering above, and it looked like a hen harrier to me, although I didn't know you got them in Glen Coe, so maybe it was something else.. Was a really magnificant sight against the azure skies though
We stopped to re-fuel below the first outcrop of rock , the views over to the Buachaille stunning and distracting.. The breeze was chilly so it was soon time to start the climb..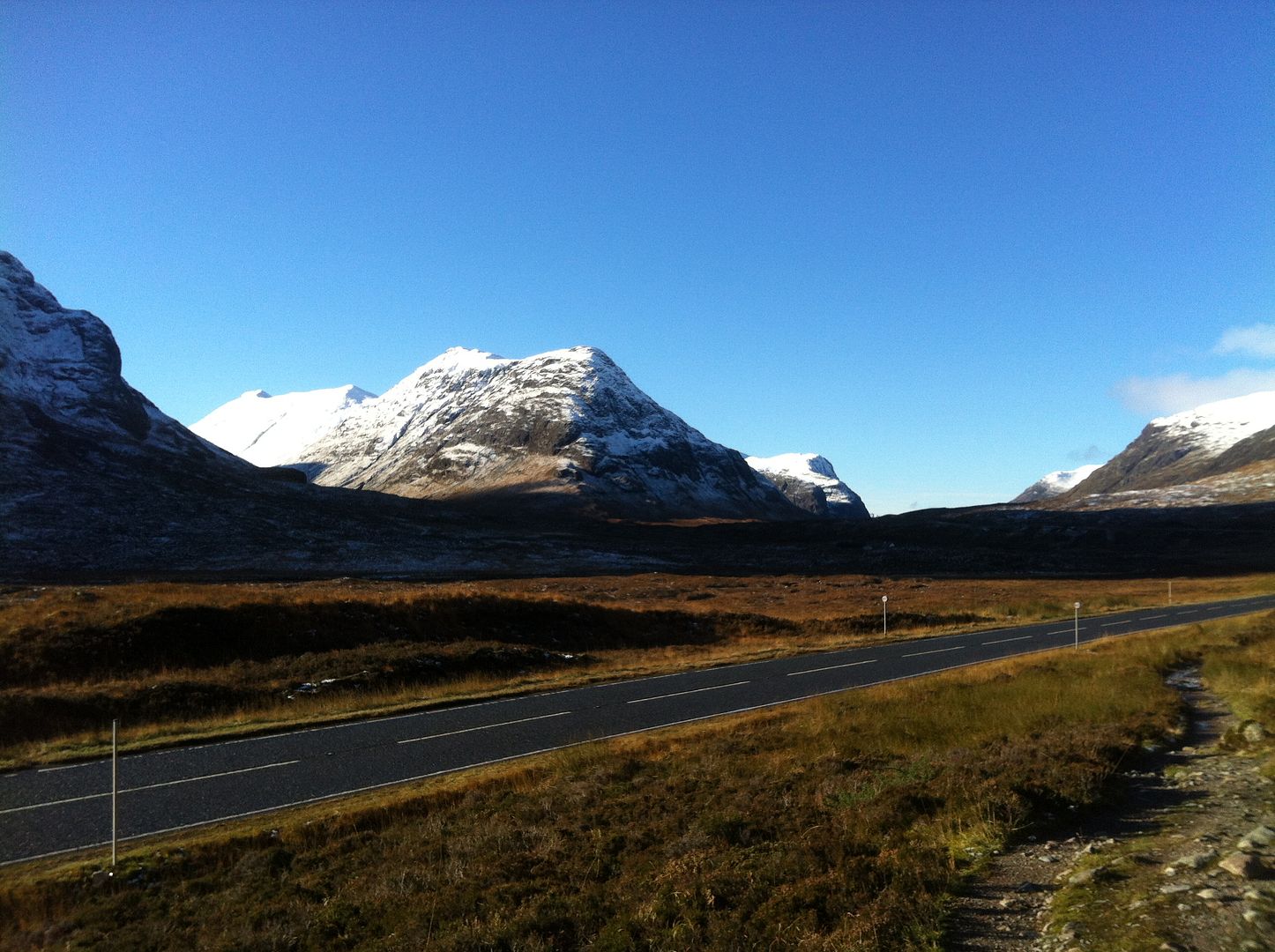 This first section, was the hardest, I managed to traverse round into a corner, with no way up.. Dougie scrambled past me, but I still couldn't see a way up, back or sideward – what a good start! Managed to edge myself out of it eventually, obviously in a very graceful fashion.
There were a couple of these 10 foot rocky steps, intermingled with heather, before we were up to the bottom of the rib proper.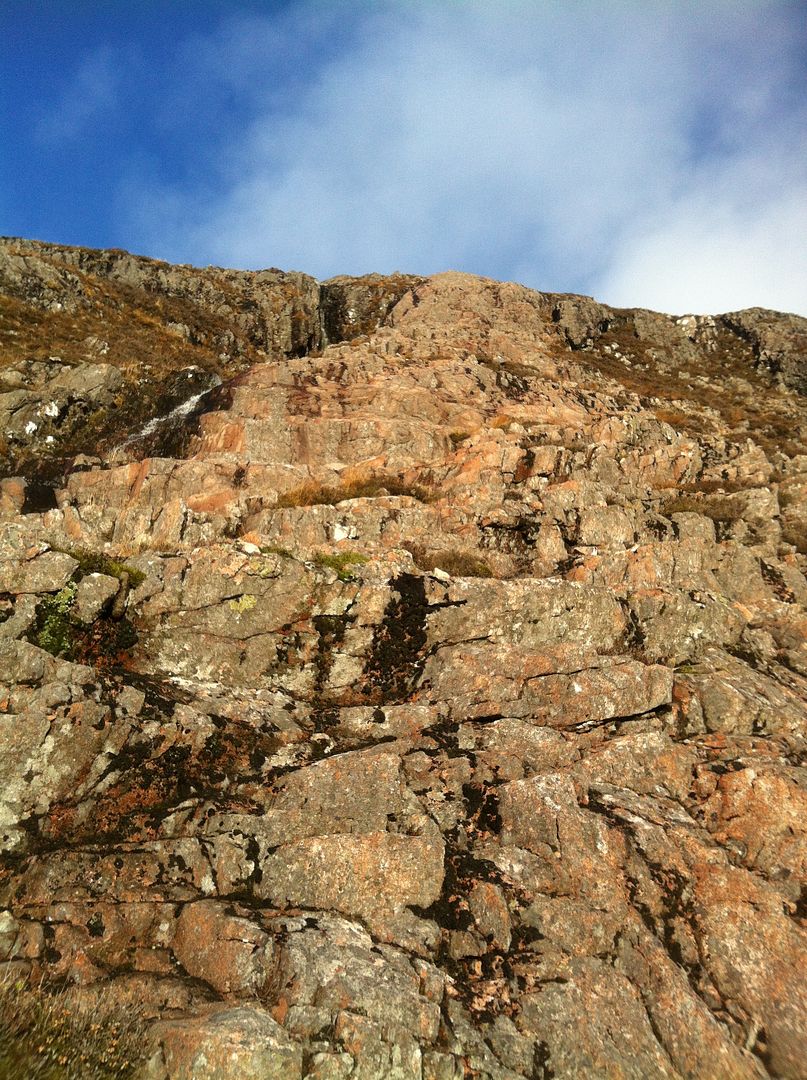 It starts off at a shallow angle – no hands required, but the camber soon steepens and big firm holds take you over the first lip..
Again the angle eased, and we could put our hands back in our pockets, but a couple of big steps were easier with a hand on the rock. The stream alongside to our left was stunning, so we kept over to that side mostly as we made our ascent.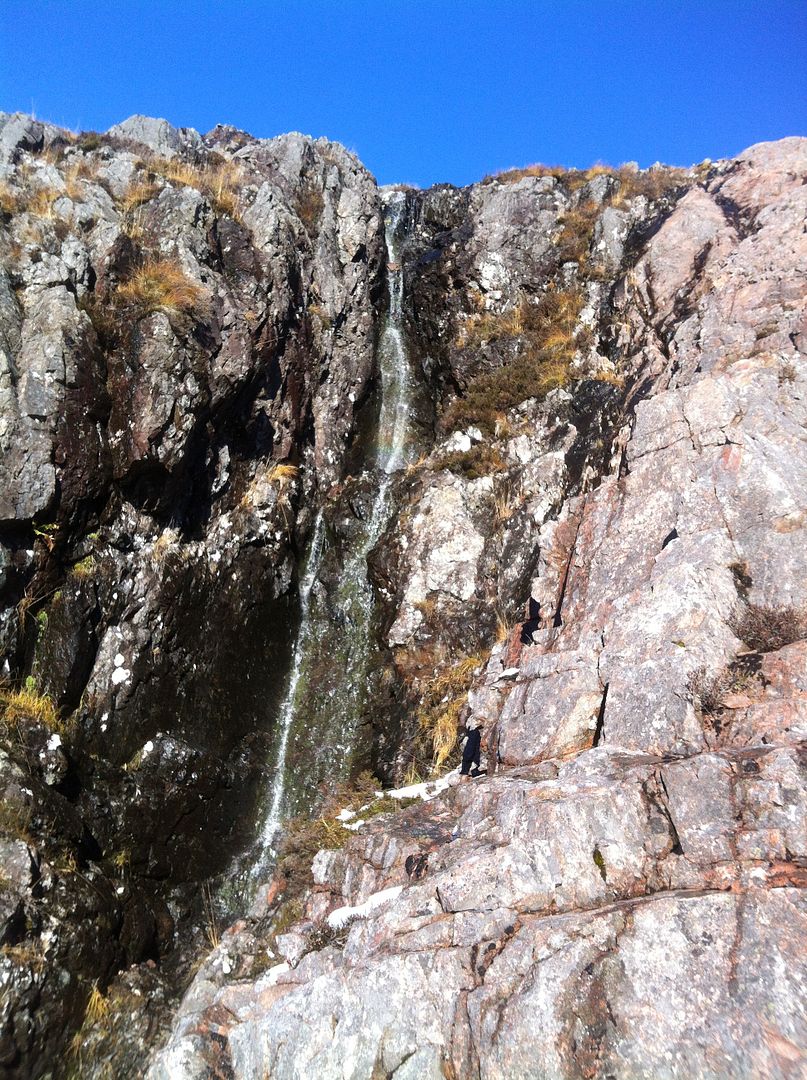 The terrain steepened again, giving a really good section of scrambling, it looked like the top of the rock wasn't far away though,
so we slowed the pace. It was the kind of thing you would want to go on for hours, but as is so often the case with these things, time flies too fast when you are having that much fun.
There were a couple more rocky outcrops, but we were soon on snowy ground, trudging up toward the summit.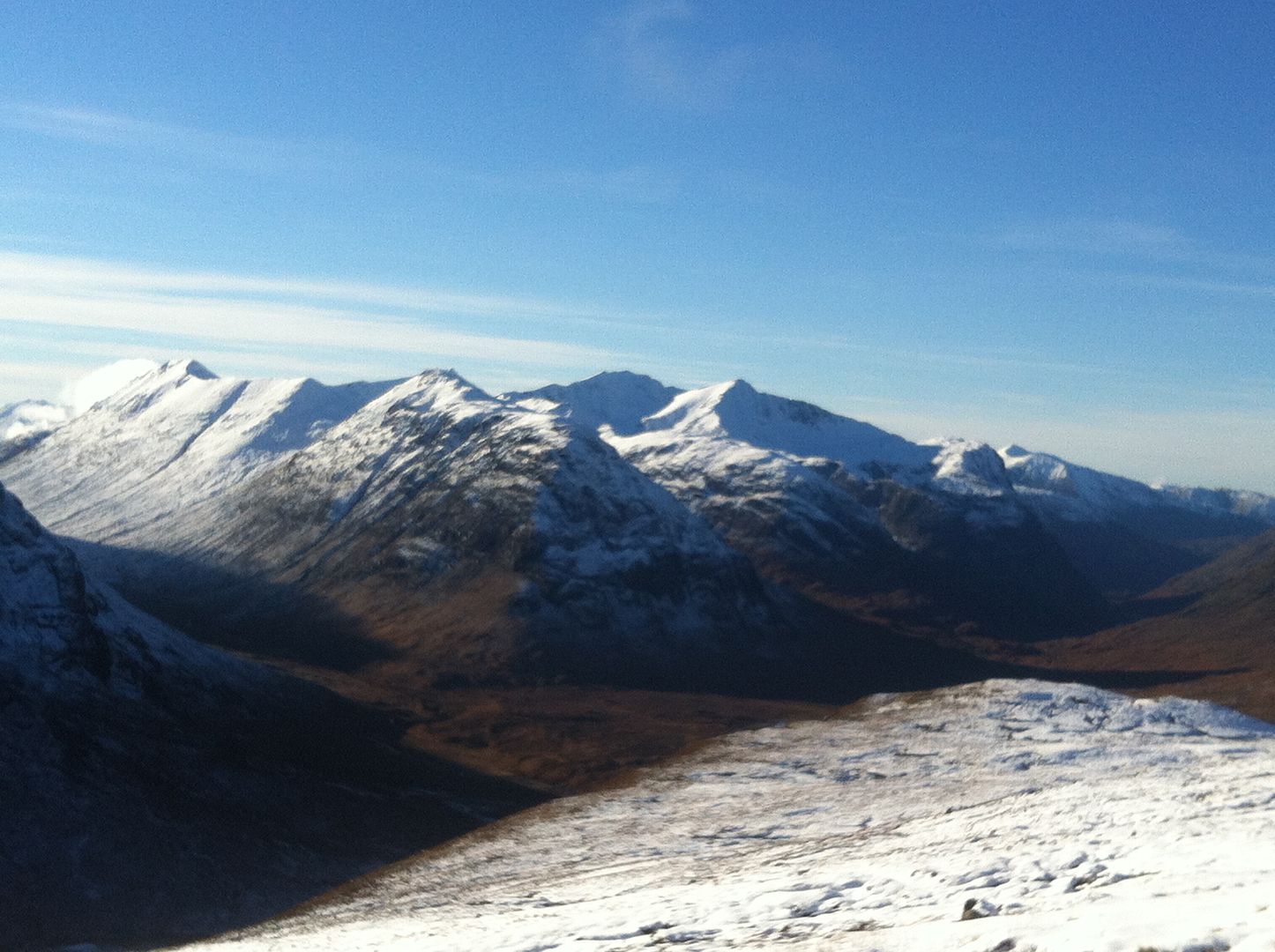 Before long the snow was fairly deep and it became a slog. I sent Dougie out in front to break trail, heading for the main path that we knew would be so much easier.
When we made it to the ridge, we found the troop of walkhighlanders, just descending from the summit, all babbling about how bonny the views were up top..
We carried on up, the going far easier on the ready broken path, and sure enough, the views were amazing at the top Very little effort for great rewards.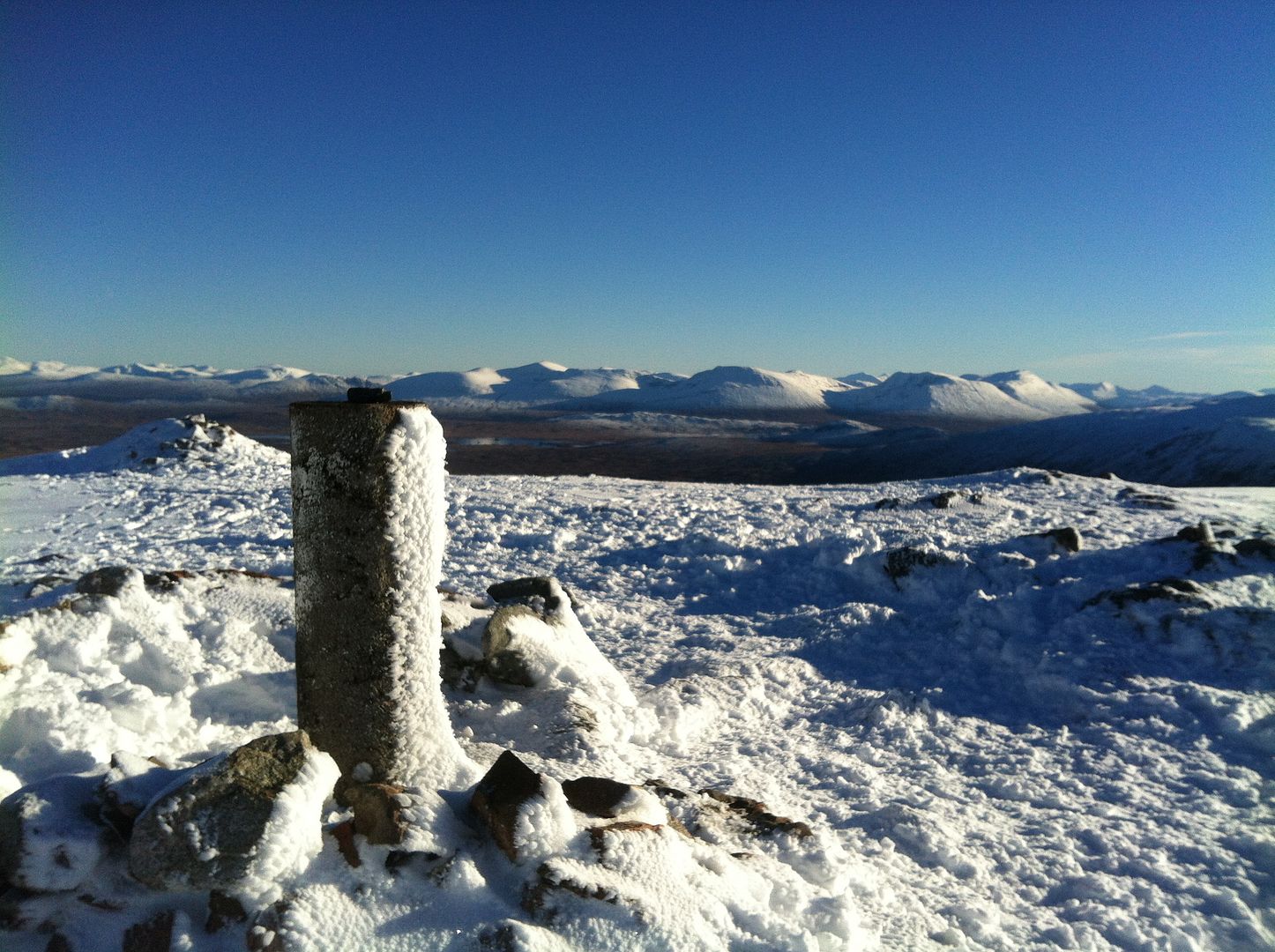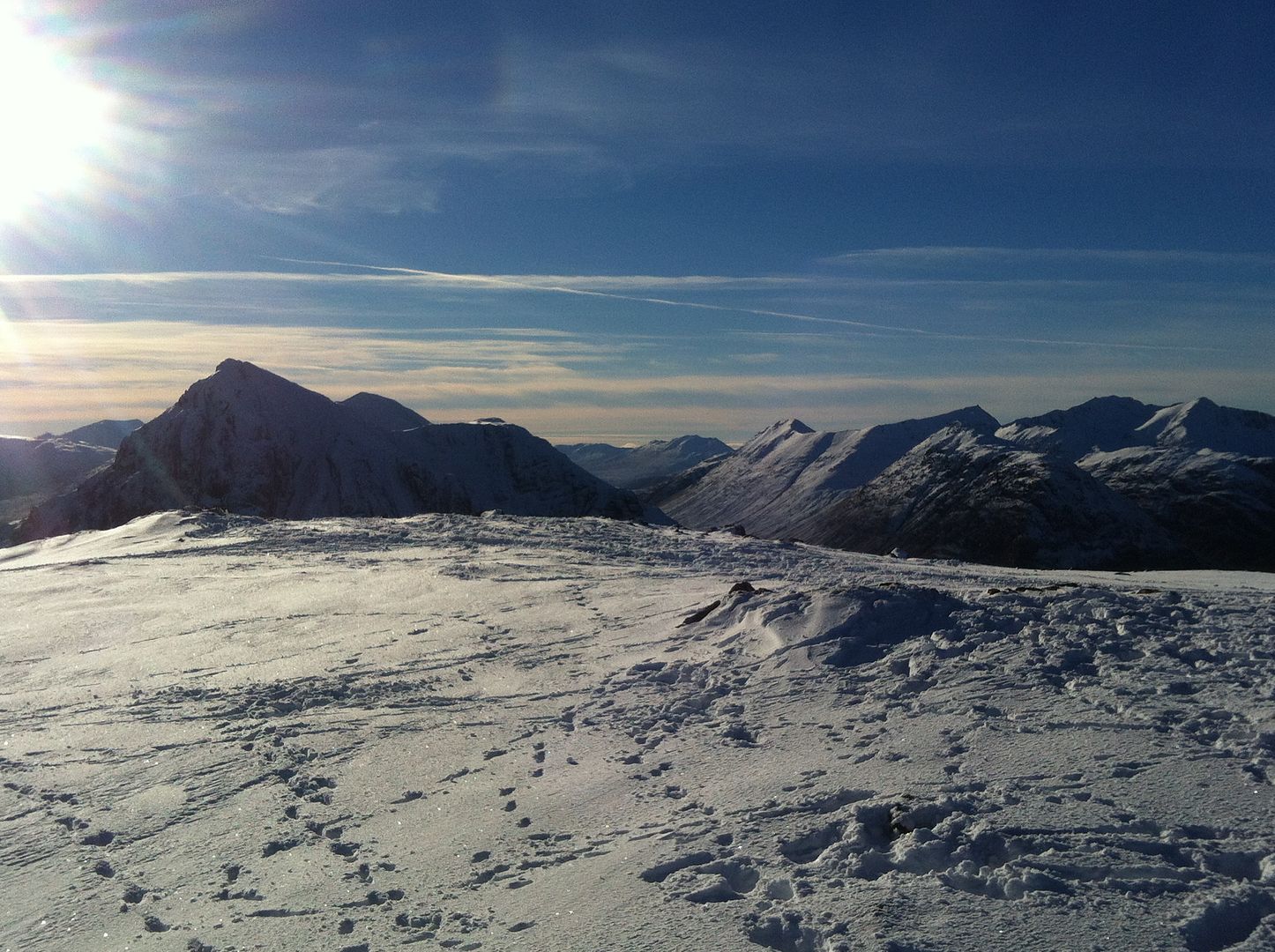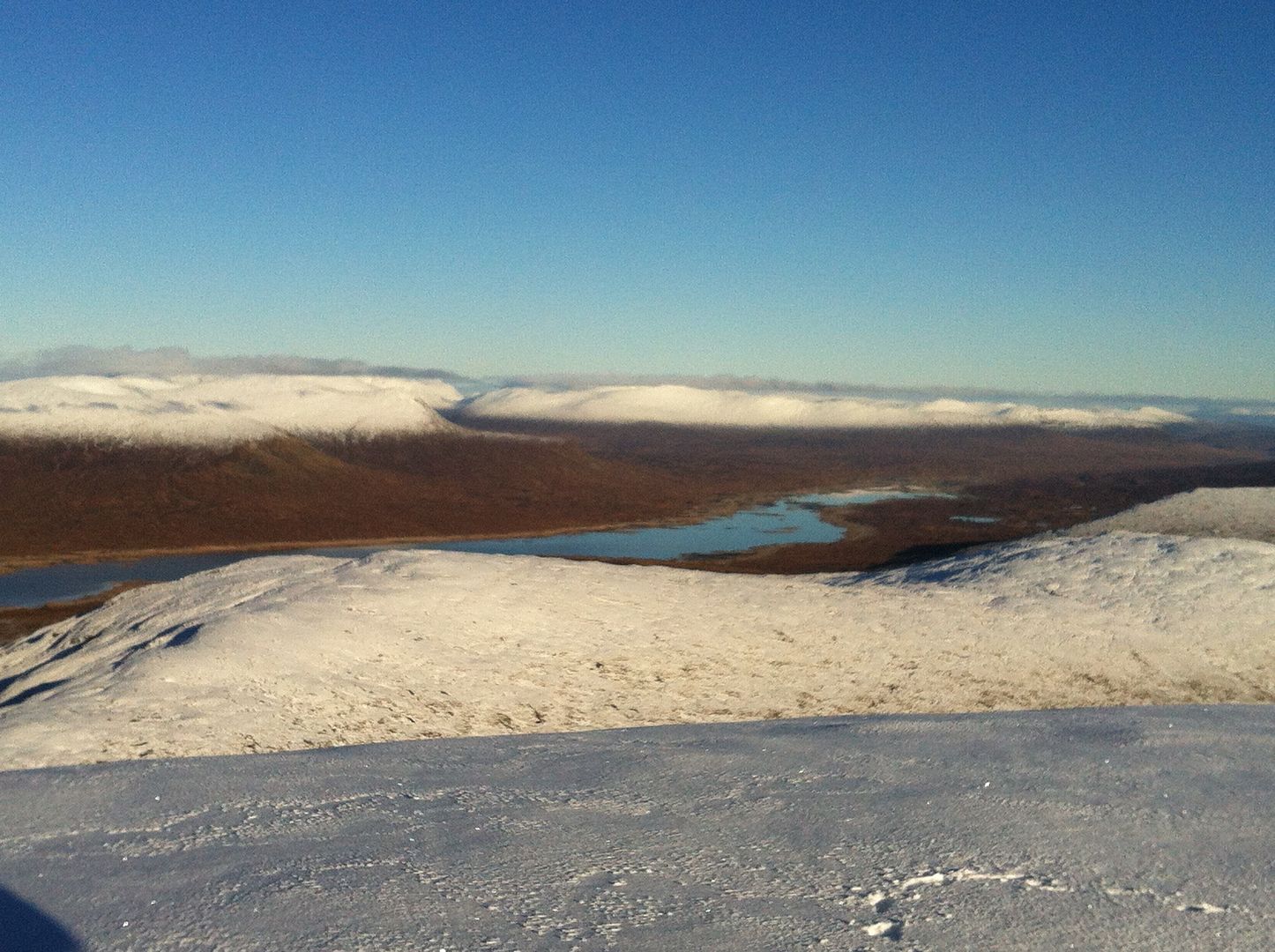 We sat for about half an hour, taking many photos and making short work of our pieces. The descent, was a joy up above the snowline – had forgotten how much fun it was to throw yourself down a snowy hill with gay abandon..
Views were still something to behold.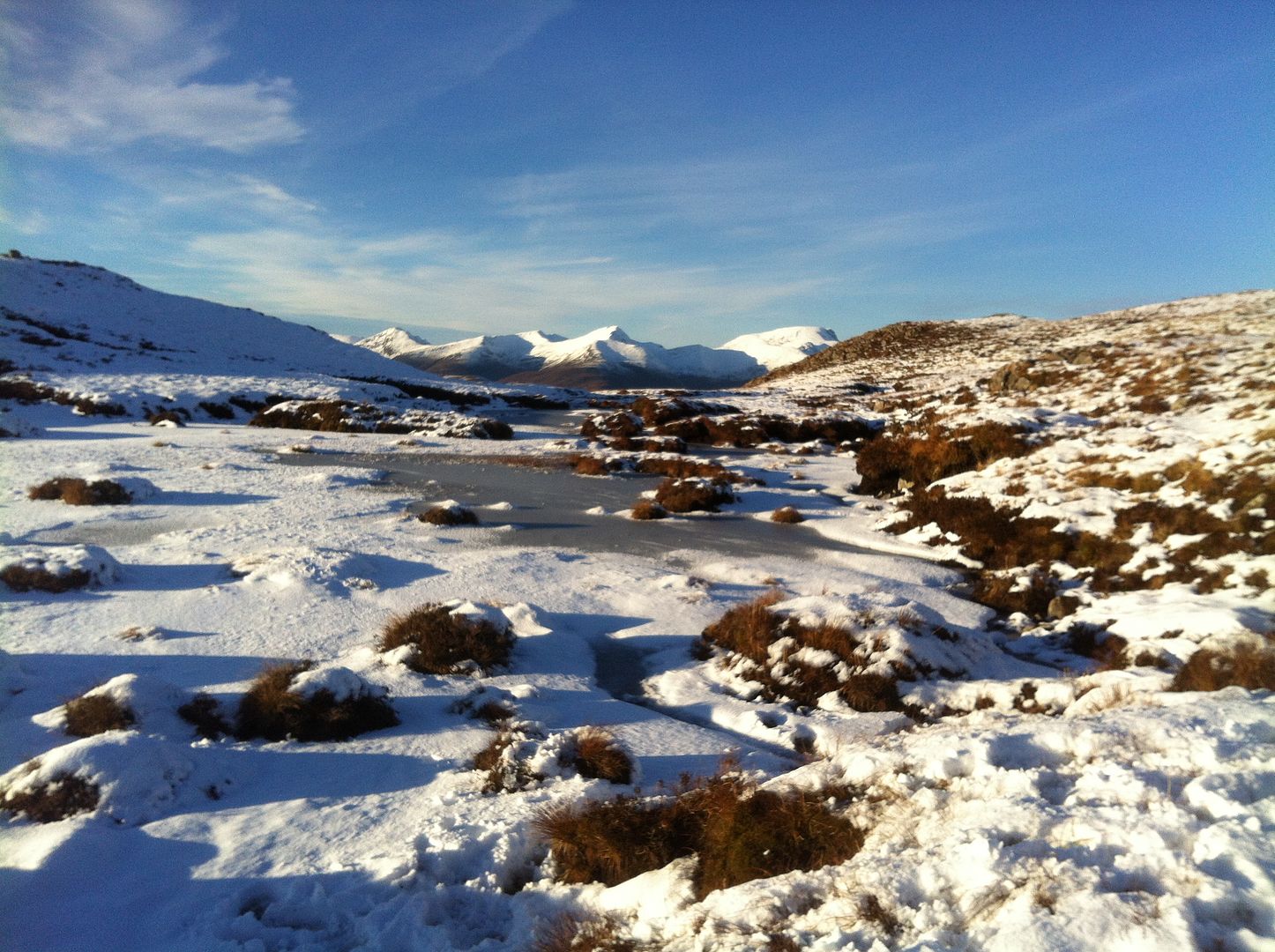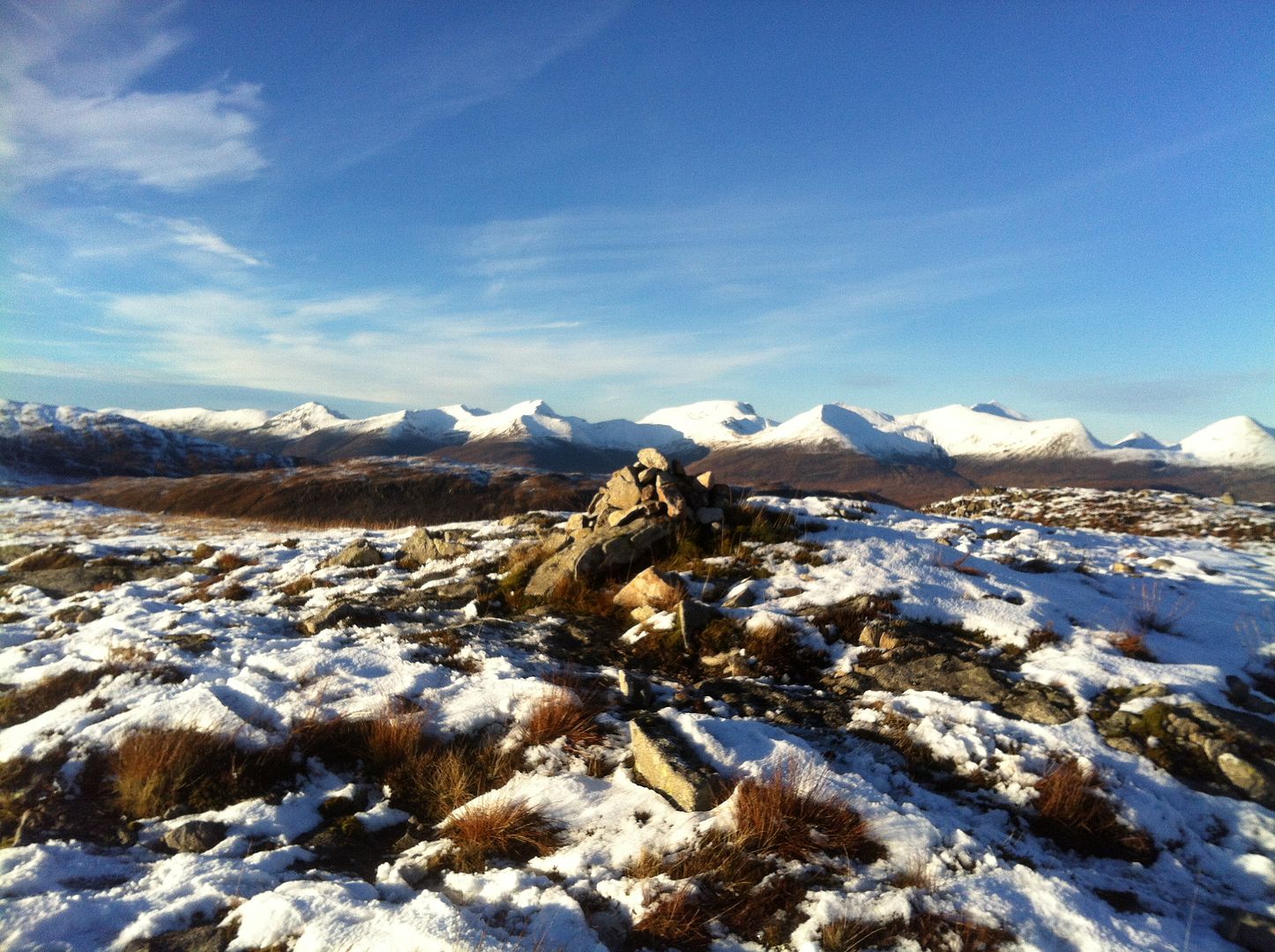 There was a low flying helecopter put down at Altnafeadh.. Spot the chopper in this photo..
We were soon down in the slushy stuff, the path saturated, boggy and slippery..
Not much fun at all. I did many an impromptu acrobatic manoeuvre in my attempts to keep my bum dry – much to Dougie's amusement in his nice new, grippy boots.
Glad we managed to find a dry route up, or it would have been a day of cold wet feet.
By the time we were back at the main road, we had almost caught up with the rest of the gang, and we said our goodbyes in the lay-by – a little bit sad that another meet was over,
and not just any meet – possibly the biggest and best ever – Thanks to Al and Allison for arranging and making everything so great
It had been a short day, so a meander down the road, via green welly and a pub for dinner, still got me home at a reasonable time.
I really did have the best weekend ever – Thanks everyone for making it so memorable.