Beinn Alligin, Torridon
Posted:
Sat Oct 04, 2008 8:02 am
hmm.. I seem to be in the minority on the voting here.. I only ranked it as excellent rather than a classic... and if it wasnt for going over the horns, I think I would've voted it lower.
Anyway, these are two quite easy munros, and although very steep in places, there is a very good path, especially heading up into the corrie of Tom Na Gruagaich. I followed the route from this site and from one of my Munro books, yet passed 3 groups doing this route anti-clockwise. Not one of them came over the Horns, saying they didnt think they would be able to manage it, so I was getting a little apprehensive as I approached the first horn... Nothing to worry about as it turns out...just some very straight-forward scrambling throughout and a very very steep descent down the other side. I actually found this harder going than the horns!! Weather was amazing, just some light cloud on Tom na Gruagaich, so didnt get my first view of the horns until Sgurr Mhor, but what a view!!!
view from Sgurr Mhor over the Horns and the corbett of Beinn Dearg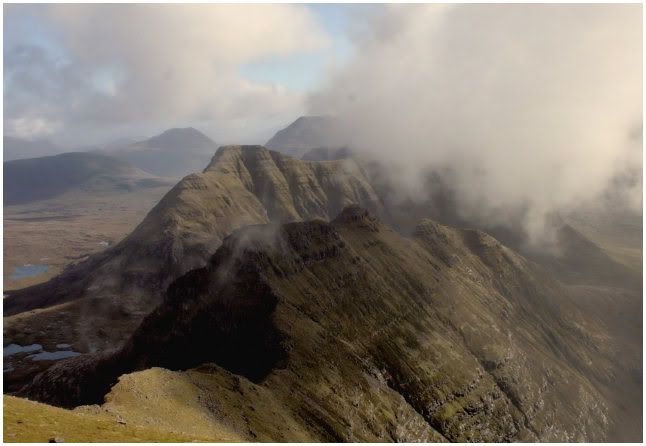 from the Coire Mhic Nobuil path - the horns in the background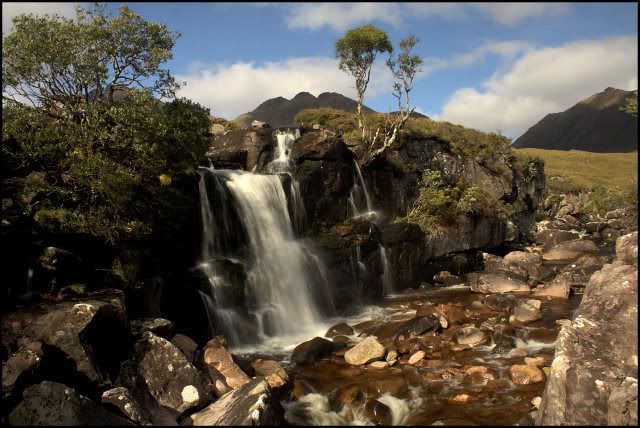 Beinn Alligin
-Tom na Gruagaich, Sgurr Mhor (and cleft) and the Horns of Alligin