Let's just say the day didn't quite start off with any confidence inspiring displays of navigational excellence.
We (Chris and myself) were simply heading from the M8 turnoff for Glasgow city centre (200 yards from where I work) to pick up Gary outside the Solid Rock pub (the frequented watering hole on my 10 minute walk to the train station). I still managed to take a wrong turn TWICE.
Anyway, we eventually found the way there, collected Gary and set off for Arrochar via the Erskine Bridge.
My directionally challenged self managed to get us there without getting lost and in good time. We we're parked, kitted up and heading upwards on the zig-zag path by 9:30am. Unfortunately, within 20 minutes, my steering skills failed me yet again and we walked straight past the path, we had to backtrack about 200yards to find the correct route. Given my penchant for heading in the wrong direction that day I should perhaps have let someone else lead.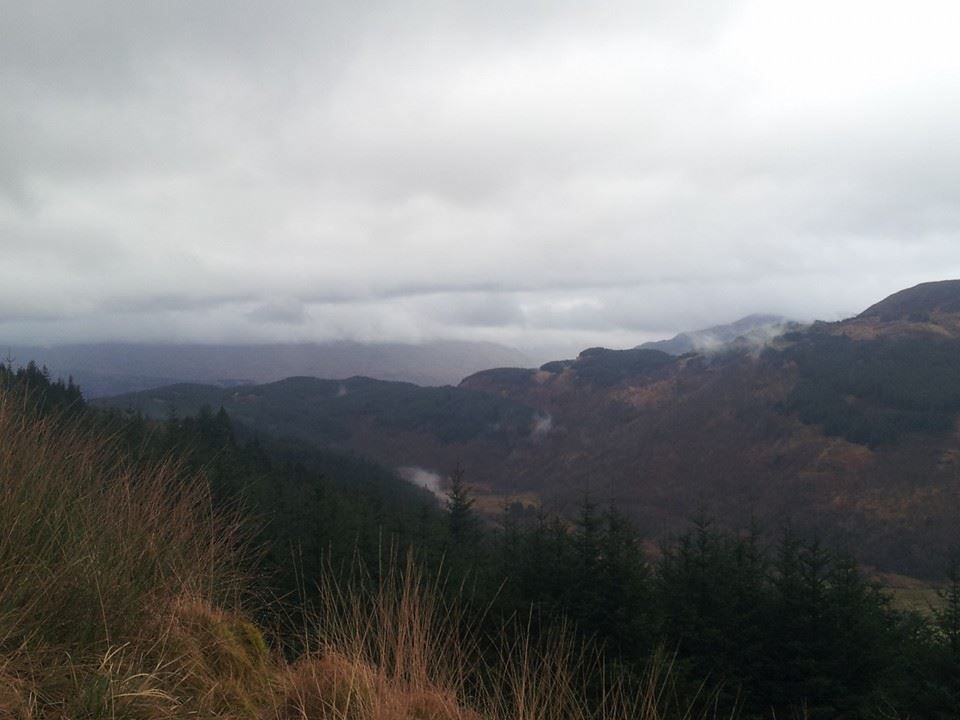 Well, we headed on up the rocky path\stream and after about an hour or so we'd settled into a nice pace that seemed to suit the three of us (I had been worried that these young lads we're going to hideously outpace me so much that my aged and abused ex-smoker lungs would fail me).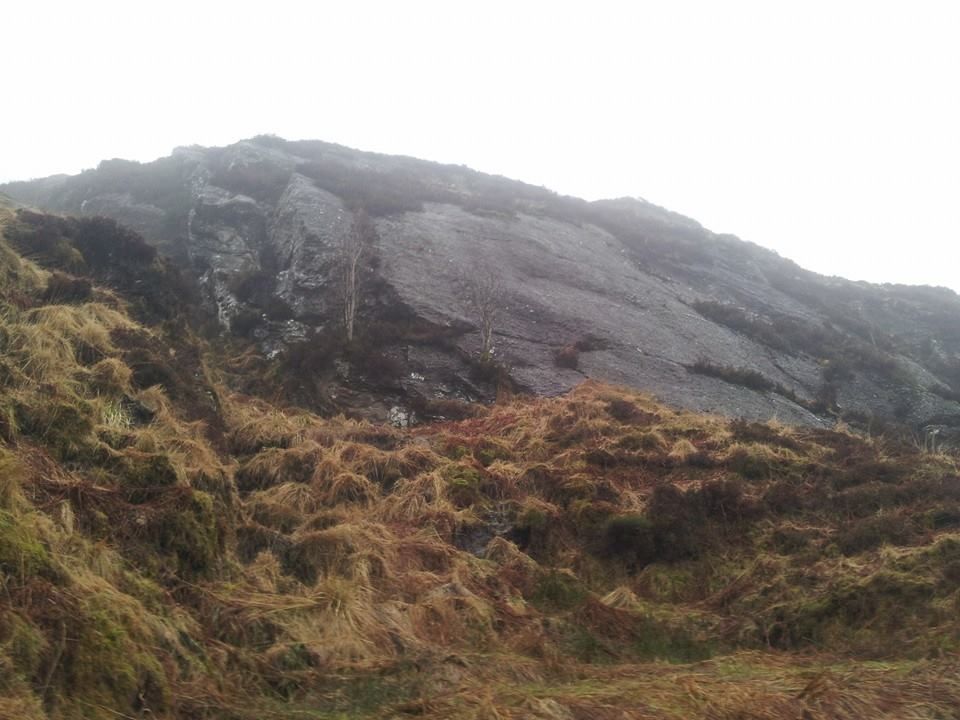 Before long, just below the cloud base, we began to appreciate just how much character Beinn Narnain has. The whole south east side is littered with rock features and small cliffs which really made it a pretty spectacular place to spend a Sunday morning. Certainly better than the usual lying in bed watching the room spin after an evening on the beer. Another 20 minutes into the clouds and the visibility dropped considerably, our views petered away to just the 50 yards in front of us.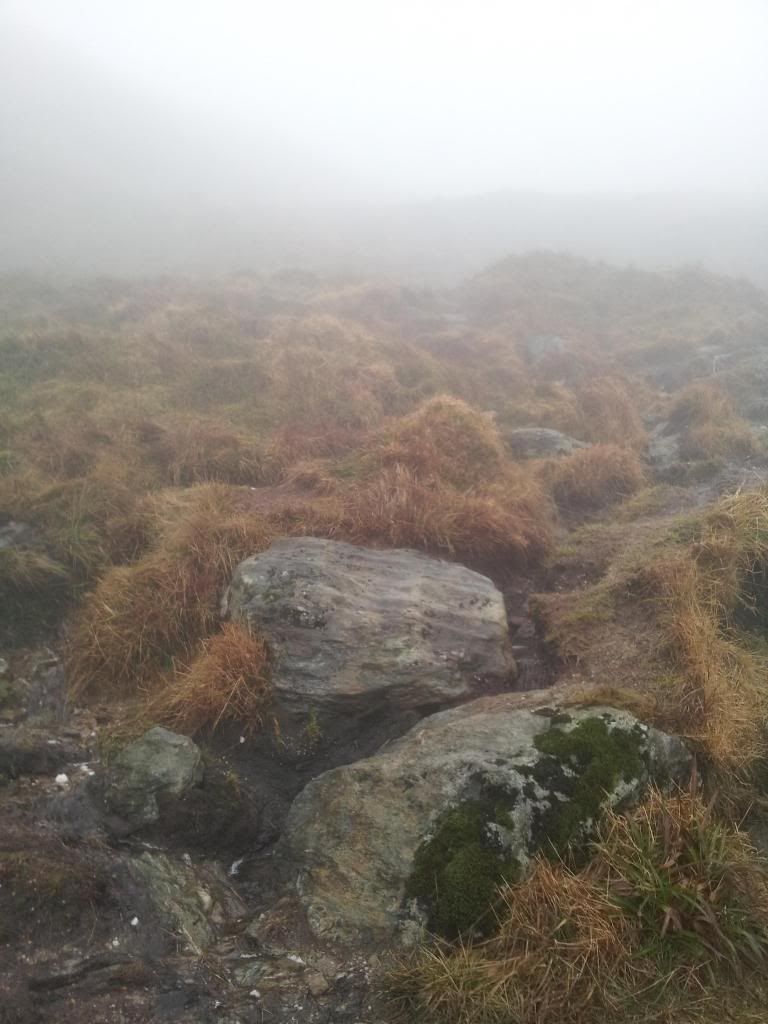 We carried on up the path, which resembled a stream at times, enjoying some nice little easy scrambles and it wasn't long before we came to the snow line. The snow wasn't too soft and we had some footsteps to follow which made the going a bit easier.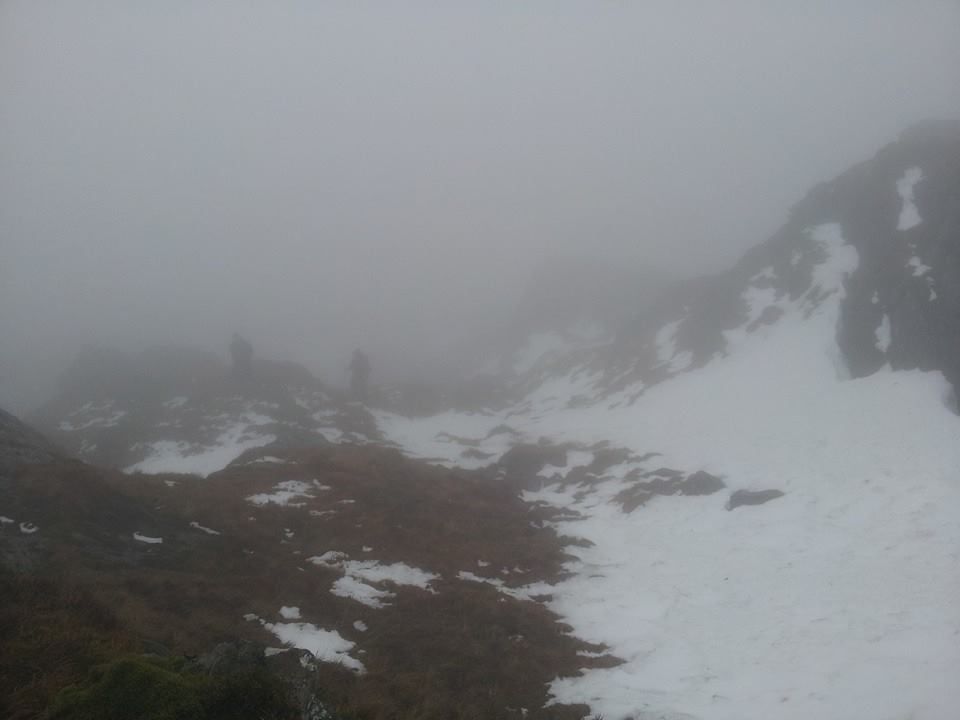 A little later a few steep slopes had us getting the ice axes out just in case, with the mist around us we couldn't see just how big the drops below us actually were. It felt a little un-nerving at times but once we'd passed it I realised just how much I'd actually enjoyed that section.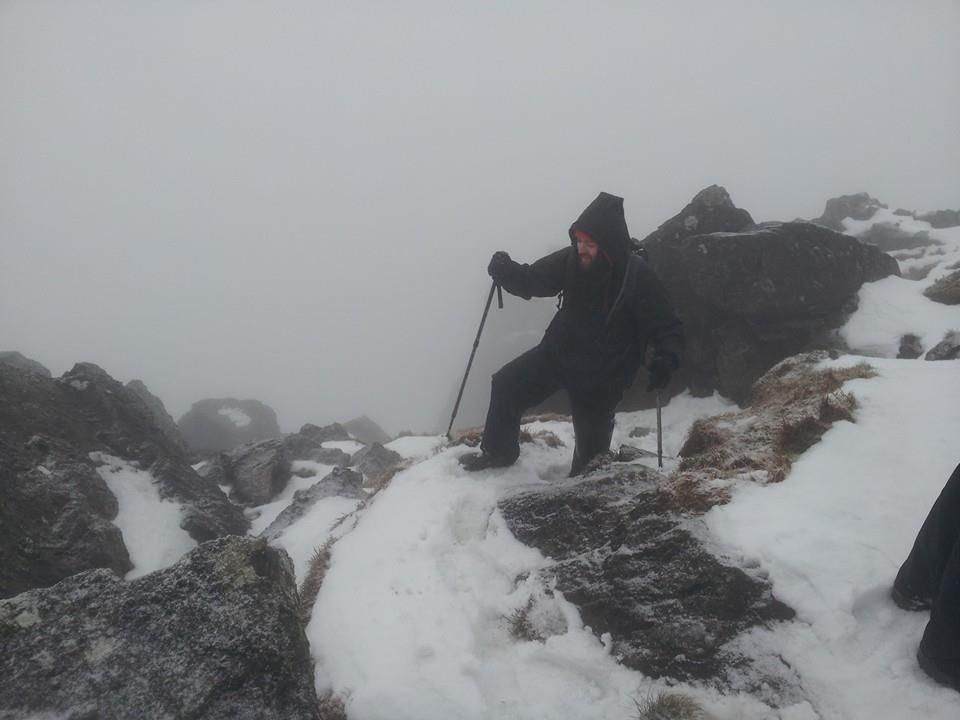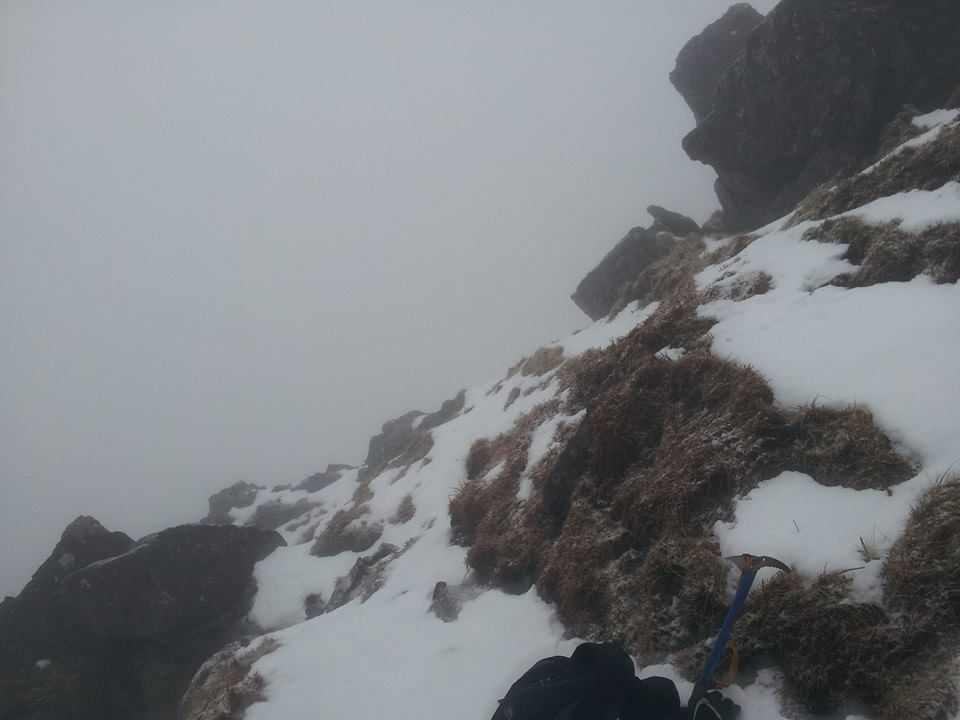 Our topic of discussion at that time veered to how we usually complain and moan about a hill for the first unchallenging 500m, but, once it starts to get colder, the terrain gets more difficult, the wind picks up, and the hail starts, we seem to get more satisfaction with every few metres climbed.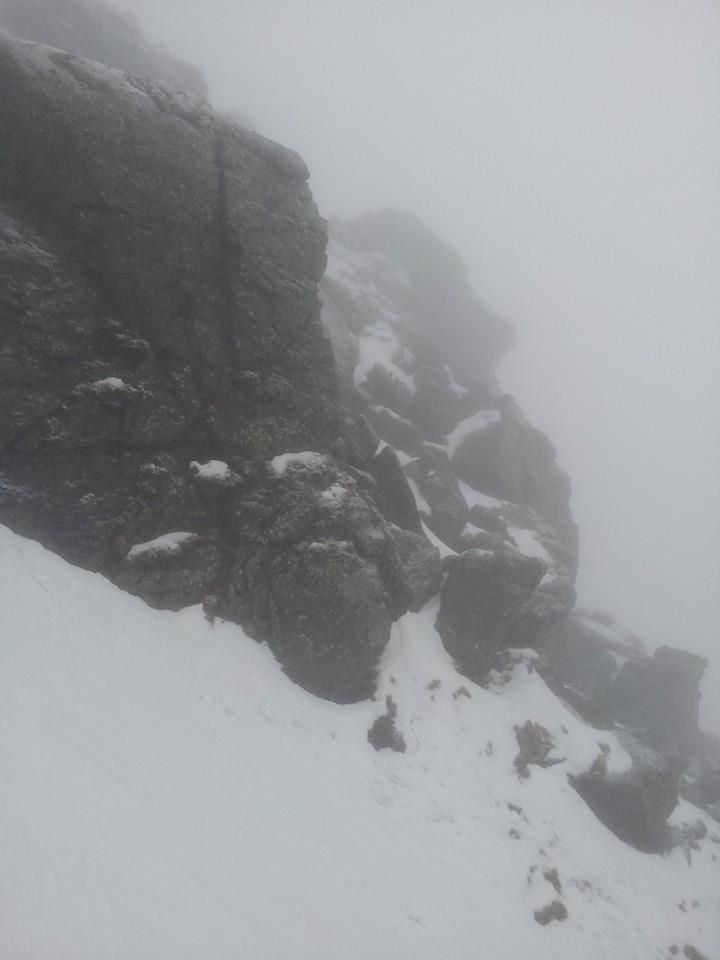 We carried on pushing through the mist, still following the footsteps of the person before us, and I'm wondering why that person always seems to have much smaller feet than me? Suddenly the spearhead appears from nowhere, right in front of us. It looked so ominous and intimidating the way it just loomed out of the mist. I'd been looking forward to seeing the spearhead face to face (pun intended) and it more than matched my expectations.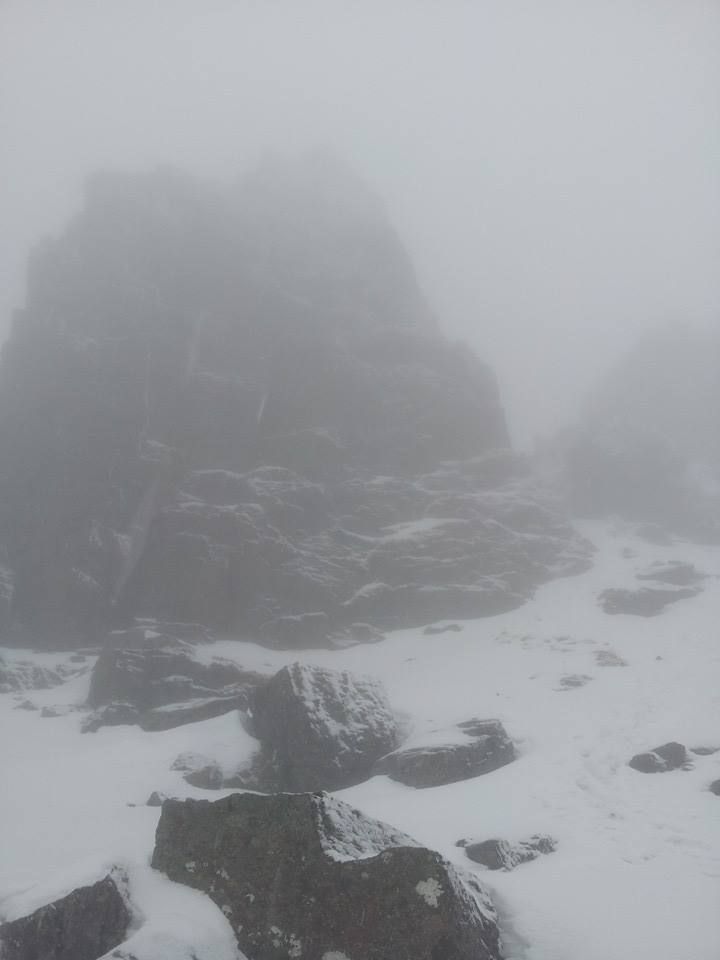 We found a sheltered spot just below it and stopped briefly to grab a bite to eat and take a breather. I took my gloves off the facilitate the wolfing down of my Snickers and Mars bar lunch but soon regretted it as the wind chill made short work of any remaining feeling I had in my fingertips. Gloves back on and we headed up the small gully towards the top. I'd always imagined that particular gully as being a challenging scramble but in fact it was really simple and a lot shorter than I imagined. There was no time to be disappointed though as we were now on the flat section and just minutes from the summit.
My fingers hadn't quite defrosted yet and it was gloves of again to take a few photos and to clap the compulsory summit dog. Gloves back on and time to head down the other side.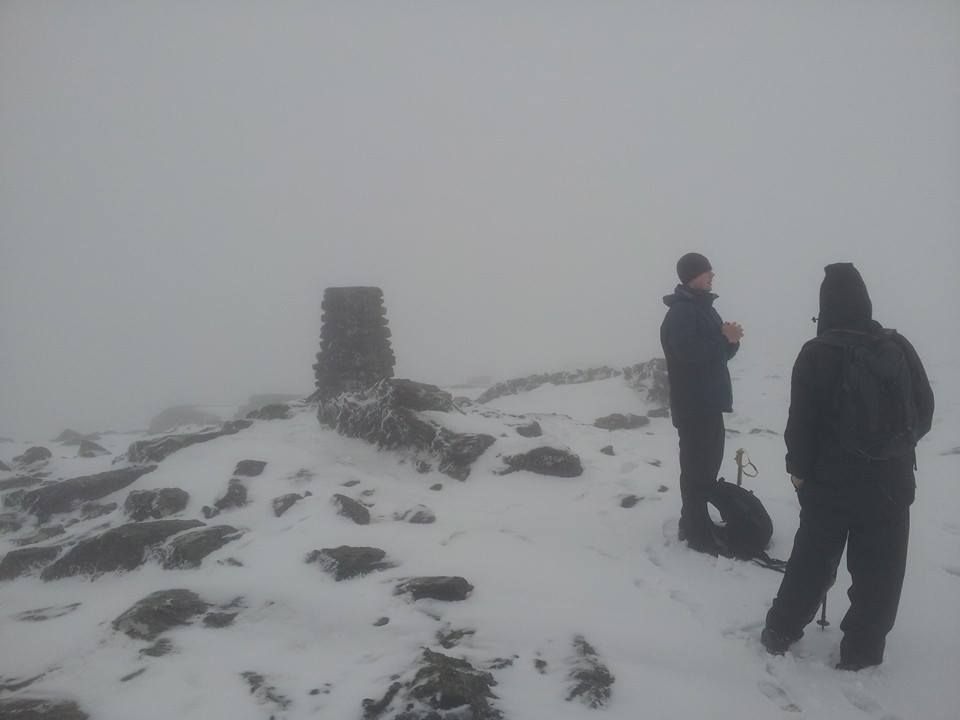 A quick time check showed that we still had enough daylight left to fit in Beinn Ime and get back to what should be a relatively snow free path in the valley. Quick check that we were all comfortable walking the last few miles to the car with the head torches and we headed for the next hill.
We traipsed across some wet boggy ground in the direction of Beinn Ime, checking the compass frequently to make sure we weren't off course. Visibility was back up to a few hundred yards on the bealach but the low cloud made it impossible to get a visual bearing. We made our way over more boggy slushy patches and we finally started to climb again. We spotted some walkers coming down the hill just to our left so we headed over to where they'd come from. I was quite pleased that our navigation had brought us so close to the path we wanted to be on. From here we just followed the footprints upwards.
After the aesthetically pleasing and rocky Beinn Narnain, Beinn Ime just felt like an endless slog upwards through slush, mud, and deep soft snow. Progress felt so slow that we were constantly checking our time and using my phone to get an idea of our altitude. It was a pleasant surprise to find that we weren't going that slowly after all. The hill steepened and by now my thighs were burning, a contrast to the bitter wind-chill and hail that was battering my face. Luckily the snow underfoot got a more solid and knowing there was only another 150m or so to the top helped my forget the increased gradient. Before we knew it we were at the summit. There was a friendly well equipped chap already there who was kind enough to bring along the obligatory summit dog for some clapping. We de-gloved and (very quickly) took a few pics at the cairn.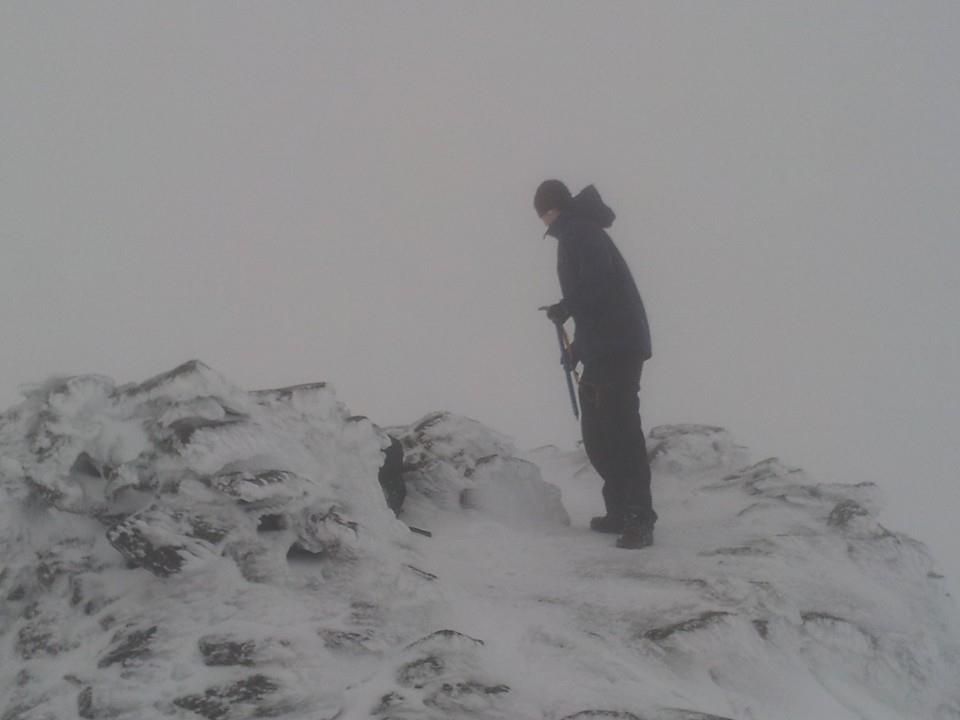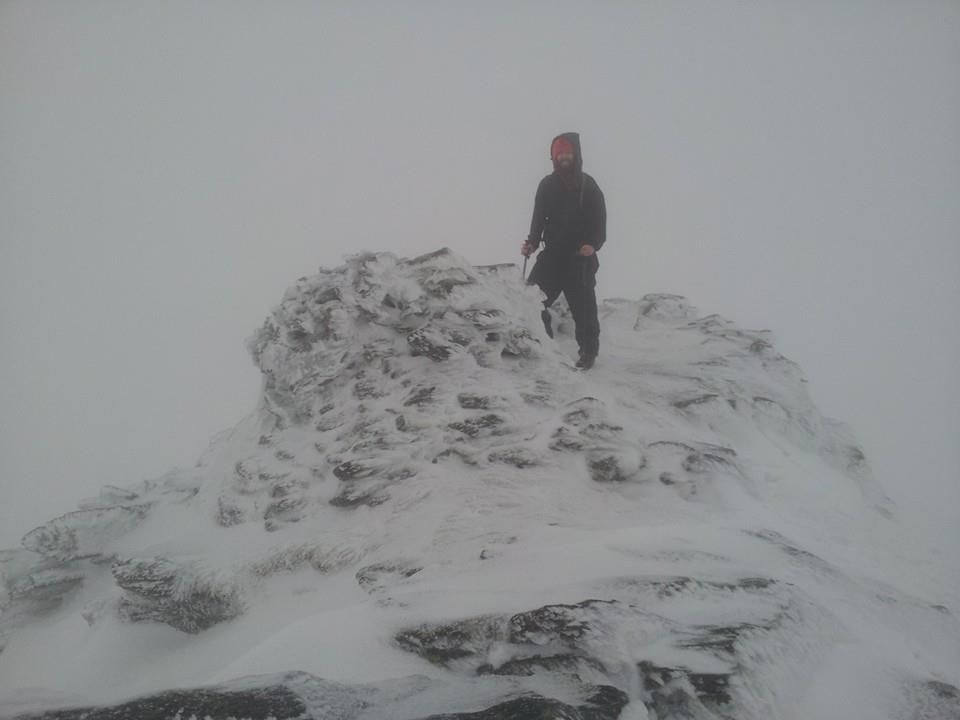 It was far too cold to be hanging around for long. We noticed that both Chris and my own hair had actually frozen (bloody hippies!!). We set of back down the way we came, conscious that it'd be getting dark within an hour. We made very quick progress back down off the hilll to the bealach, then dropped down to the valley.
About 500 metres further down the valley and we started to get a feeling that something wasn't quite right. Visibility was still terrible so we still couldn't get a visual bearing, so, out came the map and compass again to see if we could work out exactly where we were. Just as we unfolded the map a brief gap in the cloud revealed Ben An Lochain directly in front of us. We'd come off the bealach too early and dropped into the wrong valley. I immediately remembered reading a walk report about someone else making the exact same mistake, so, after mentally kicking myself for a few minutes for being a muppet we decided on our next course of action.
We figured it's be easier to just carry on down the wrong valley and then walk along the road back to the car, rather than make our way back up the wrong valley (in the dark) and down into the right one then walk the path back to the car.
After about 20 impromptu pitch black stream crossings and some very wet terrain later we arrived at the road. Then, a brisk and rather rain soaked walk from the Rest And Be Thankful to Succoth car park to end the day. The little "detour" cost us about an extra hour and a half but even that considered, it was a fantastic day out, and the first time I've managed two Munro's in one day.
Really looking forward to the next one