So this weekend, I found myself chasing the sun west like usual after work. Looked like it was going to be an amazing weekend, with sunshine and snow and fun.. I was just sooooo excited..
I arrived at the Wade bridge in Glen Shiel, our camping spot for the weekend. I had thought my Dad would have been there, as I was a little later than I had said, but no sign.. I made camp and waited, and pretty soon he arrived, followed by Dougie a little later.. It was rainy, but plenty time for it to clear up..
Right enough, the morning was a lot better, a little cloudy, but more sunshine was appearing all the time. We did the car faff, dropping one off at Clunae, and then driving halfway back up the glen to start the walk.
We all know 'that' path up to Bealach an Lapan, steep and boggy. There was a brief snow shower on the way up, but it cleared away leaving even more sunshine. Forcan ridge looked amazing.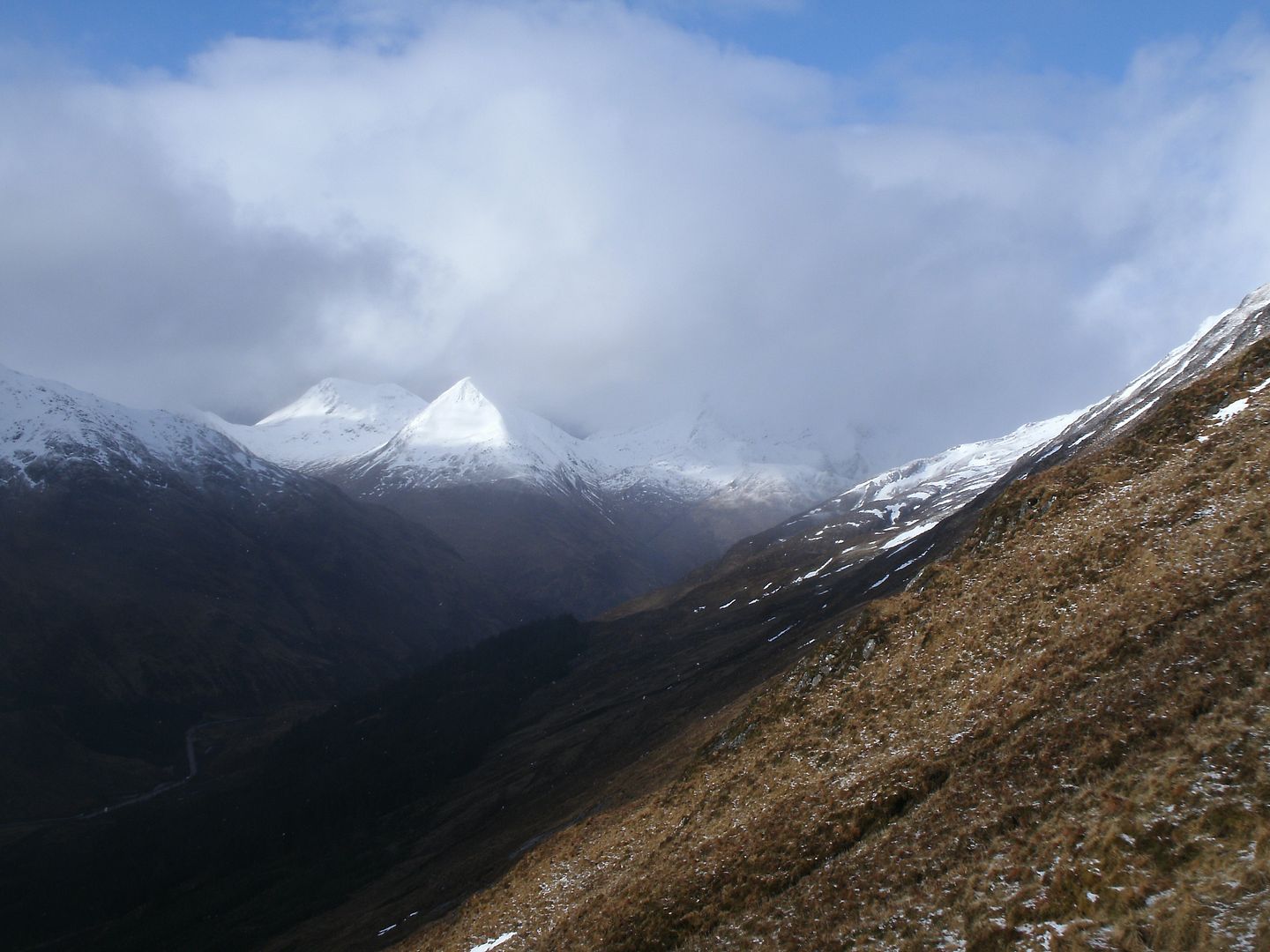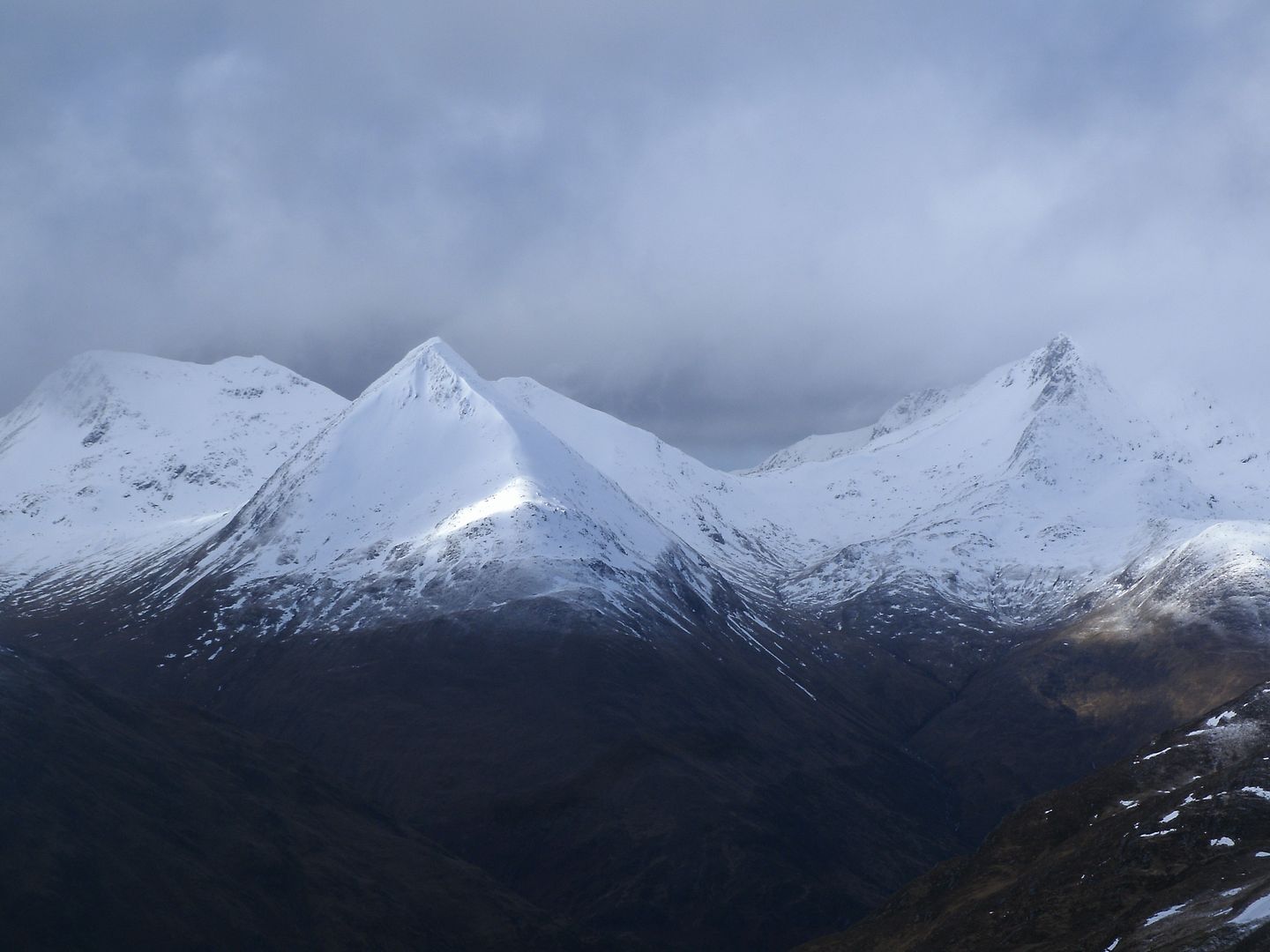 We reached the ridge, now well above the snow line, and paused to look at the views down to Beinn Fhada and beyond. Dad seemed confused about which hills we were climbing ' We don't have to go up Spainteach?' he was asking.. Hmmm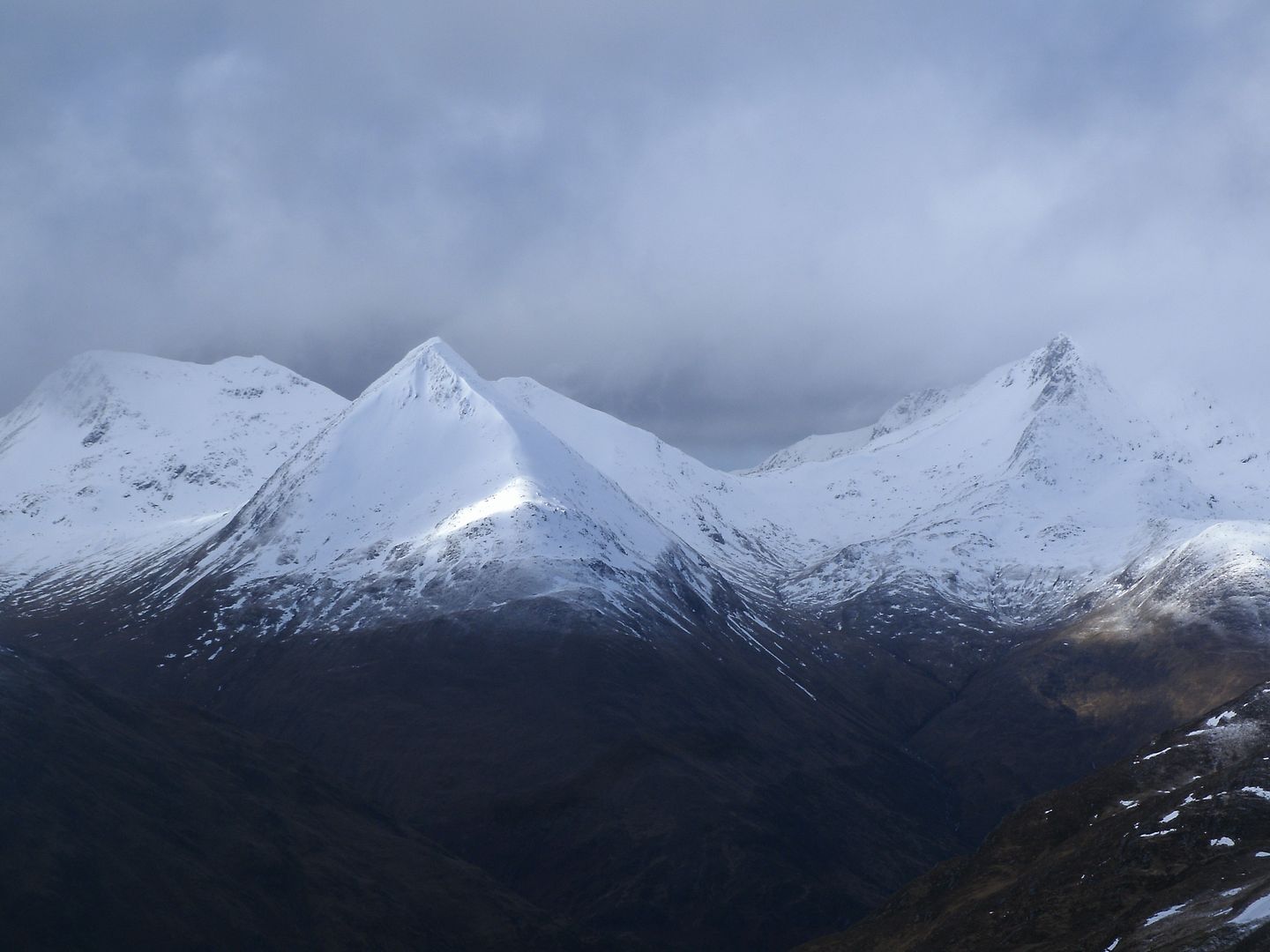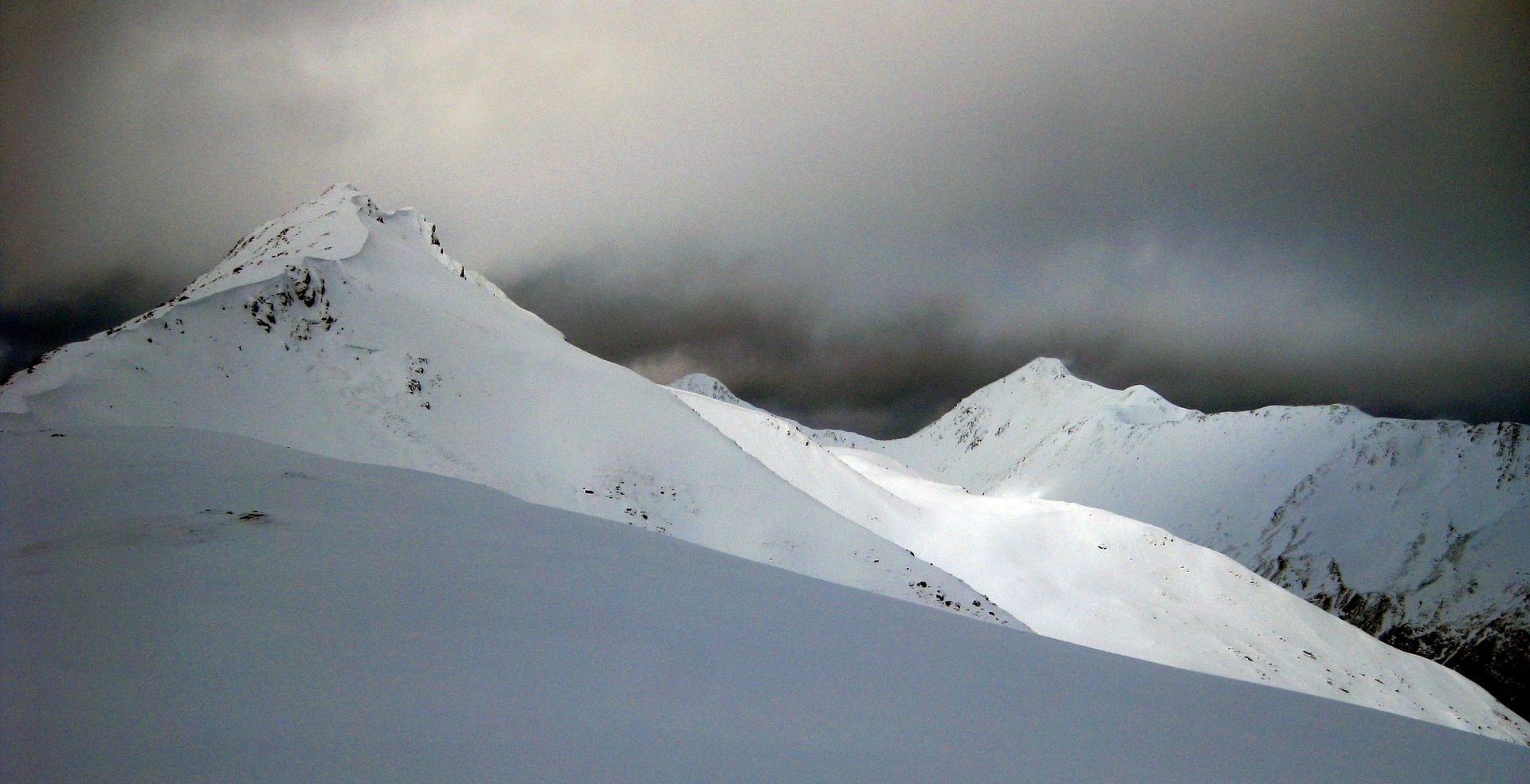 So onwards up Saileag we trudged. Huge cornices to the left,. It wasn't very far before I was holding onto my axe for dear life struggling to get purchase with my boots – crampon time!
The wind had got up as well, and there was a lot of spindrift, so I was cold by the time I had my crampons sorted. Dougie had neglected to bring his winter boots, which was a worry.
The boots he had were good ones, but we found out at that moment that there was no way his crampons were fitting on them, so he put on my Kahtoola spikes instead.. Not exactly ideal for the conditions..
Dad was well ahead by this point, nothing to do but follow his footprints. It seemed to be a lot further than I remembered to the top of this one.
The wind increased, and it turned to a near whiteout. With spindrift and hail whipping the right hand side of our faces, upward we trudged. Underfoot, it was sheet ice near the top, and Dad hadn't bothered to put on his crampons yet, so I overtook him, as he danced about.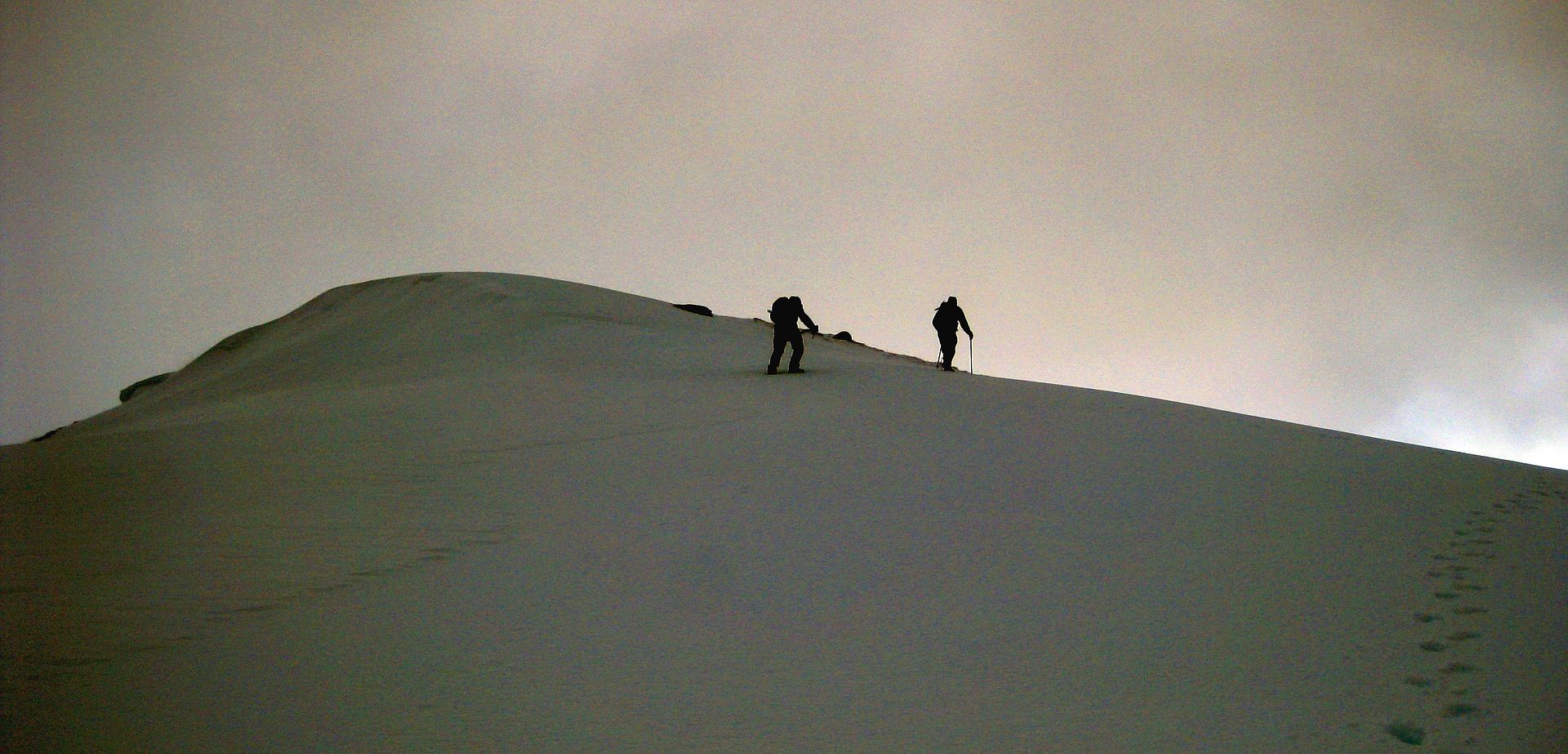 At the top, the cairn was buried, and I had to get the GPS out to check where we were.. Everything was so white, and disorientating, I was confused even about whether I was going up or down.. I think we found the spot, or near enough to call the hill bagged for Dougie and Dad..
After waiting for Dad to get his crampons on, downward into the deep white yonder we went, the snow a little softer this side made for a quick descent, keeping well right to avoid the cornice. We reached a place with a few large rocky outcrops on the ridge. The snow here was packed hard and Dougie struggled with his inappropriate footwear, so I tried to help by cutting him some steps.. The pace slowed a bit..
Once passed this section, we found ourselves at the bealach. The ridge itself, looked very pointy and narrow, with a sheer drop both sides of the pointy bit, so we had to descend quite a way to get round, and climb all the way back up again. At least the wind had dropped enough for a quick bite to eat, and we could see at least 50 yards, which seemed like a luxury compared to what had come before.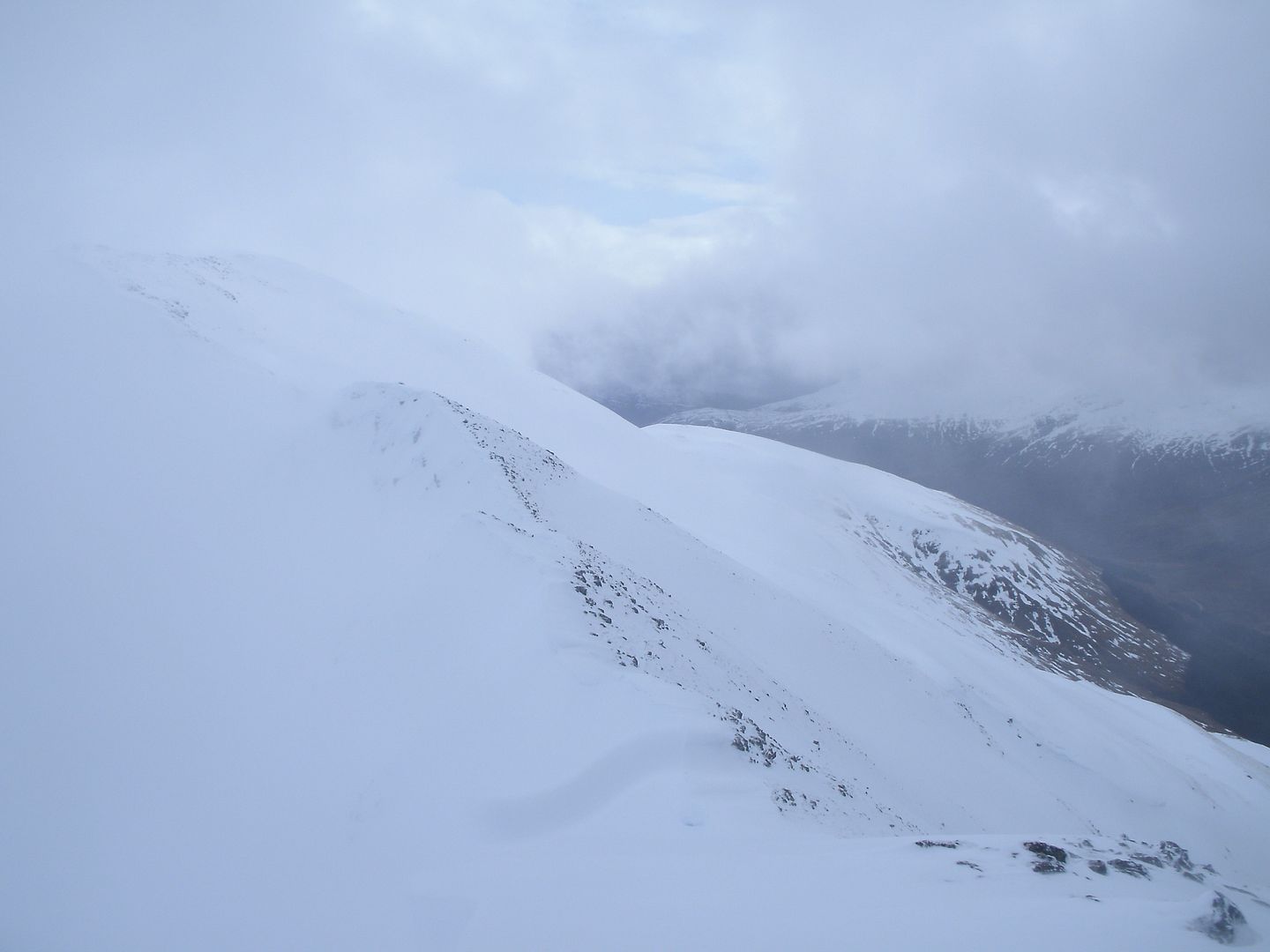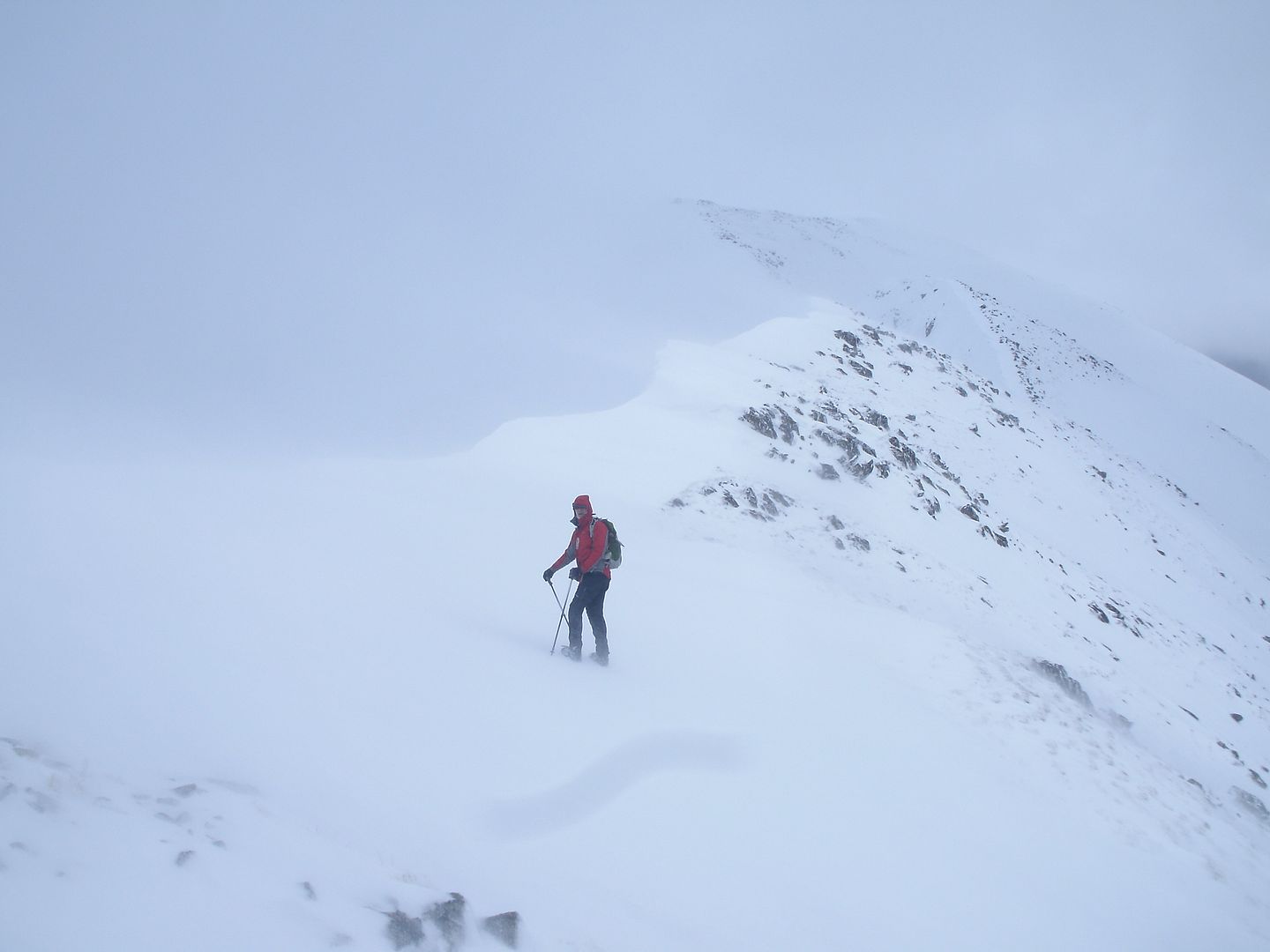 So then it was upward, back into the white mists. The climb was a big effort, trying to kick/cut steps for Dougie, and with the return of hail to the face, things turned a little grim.
We got up to the flatter section leading up to the summit, and things got even more tricky – narrow ridge with a huge cornice to one side in complete white out. I almost pooped my pants when I suddenly saw a couple of rocks well below me and realised another step would of seen me off the cornice..
I pulled out the GPS and zoomed right in to the map so I could keep tabs on my location and stay away from the edge. Terrifying!
Unfortunately the worst was yet to come, as we made our way to the even narrower bit, up to the summit cairn. The drops either side seemed very steep, and very close together.
I was in front, and turned to ask Dad if he thought it was safe, but he just pushed past, the cairn in sight just a few metres away. I let Dougie past too, and followed apprehensively in their footsteps. Dougie collapsed at the cairn, which pretty much summed up how we were all feeling.. At least there was a cairn so we knew where we were for sure!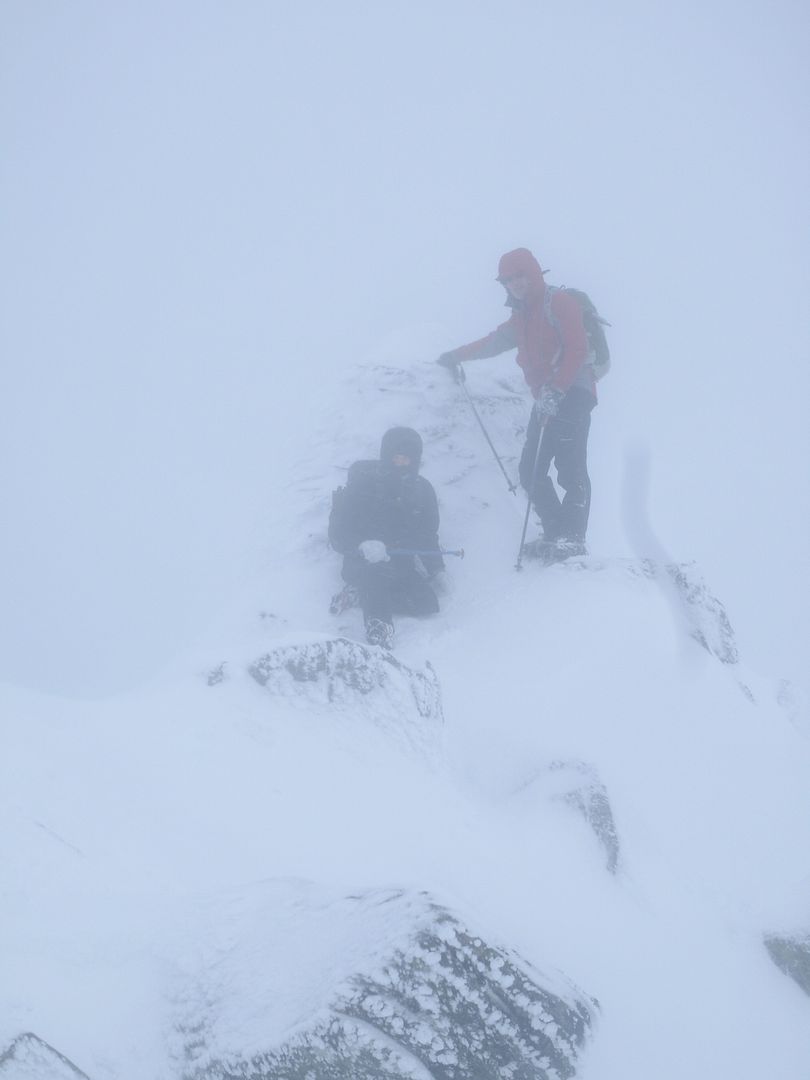 We had a chat – things were getting a bit serious with the conditions worsening and all being knackered. We saw a possible escape route down a ridge just before the next bealach along. Just as we were leaving, Dad dropped one of his walking poles, which slipped down a slope and over the edge into the white abyss - unfortunate
On the way down though, the conditions improved slightly so we could actually see where we were going.
We had to descend a little further than you would usually for a gully, and stopped for a bite there where we decided that it really wasn't far to Aonach Mheadhoin, and we might as well go up there too..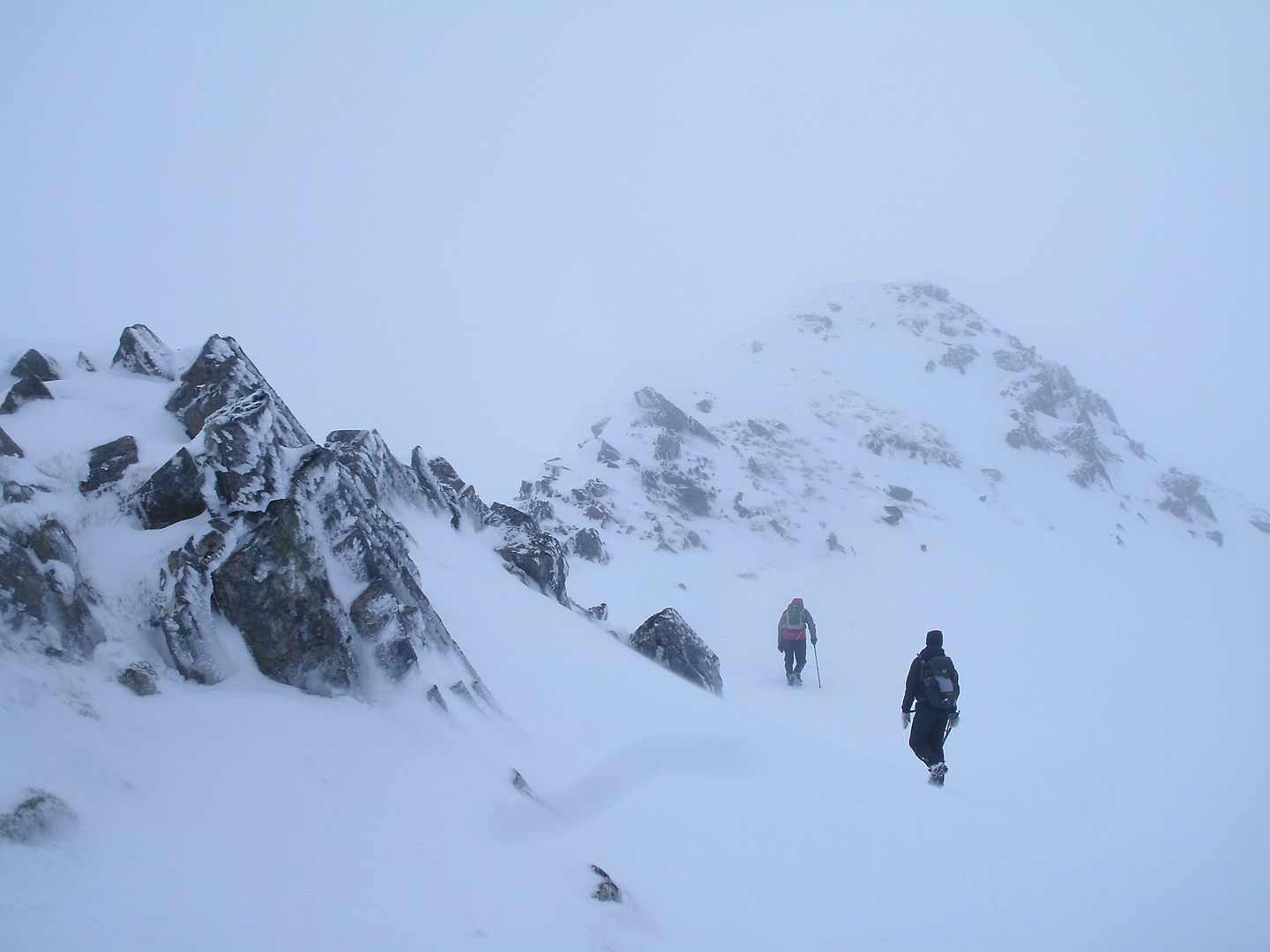 We had just got going again, when we met a group of walkers doing our route in reverse. They told us about a huge cornice the other side of the next summit, but we had already decided that we would be descending the south ridge, so didn't matter to us.
The whiteout was back, and the wind was the strongest it had been all day, causing Dougie to lose his map, and me to walk crab-like to avoid the icy blast to the side of the face which now felt raw after hours of hail whipping.
Some of the slopes up to the summit were incredibly steep – Ice axes swinging up a sweat, we arrived at the plateau – yet another top without a cairn,
so more wandering about aimlessly, examining anything that pierced the snowy surface in case it looked cairn-like, but no joy in finding it.
So it was back a few yards, and straight down the South ridge, heading for the glen below. I don't know how Dougie got down with his inappropriate footwear – it was like glass for the first few hundred yards,
but we were soon down to the fun soft snow - much hilarity sinking up to the thigh every now and then and faceplanting. We were almost out of the clag, but the spindrift was still mental.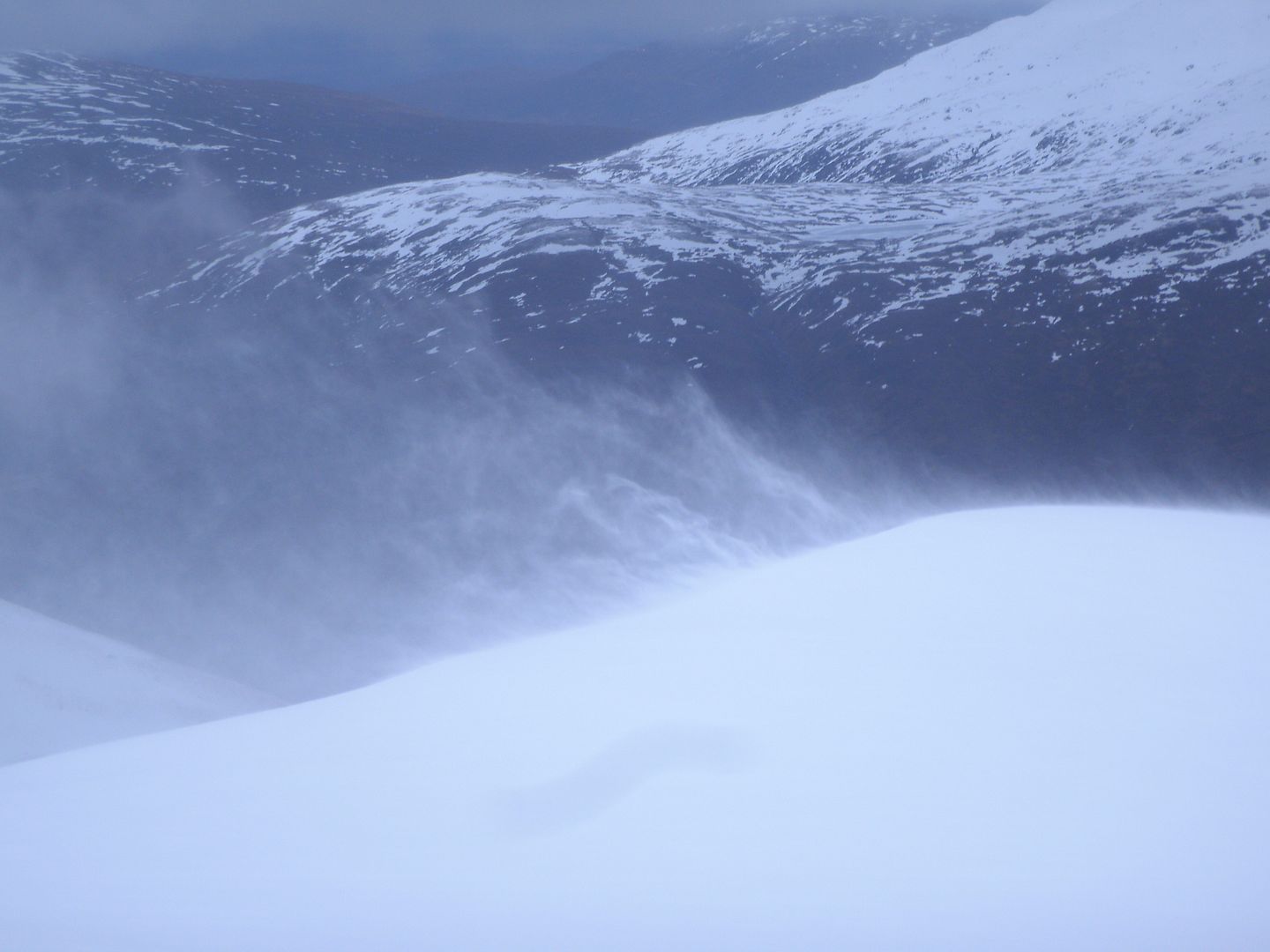 We could see the other group of walkers taking the ridge we had thought about taking. Must of called it a day after the second top and come back down. Our route was good though. After pausing at the snowline to get the crampons off, the going was steep, but firm underfoot, so quick progress down to the glen.
There was a huge waterfall to our left which drew our attention mostly, but once in the glen, there was a braw wee path going down to the road. Only a couple of miles along the road to Clunae now. Dad looked tired and managed to hitch himself a lift, but by the time he came with the car for us, it was only a few hundred yards anyway. A couple of pints and a dinner later, we retreated to the tent for some tea before early bed – Tough day!
None of us were awake before 9, Dad said he was off home.. Dougie said we could do a wee corbet beside Shiel Bridge which seemed like a good plan. The weather was infinitely better than the day before, so I was looking forward to a nice easy day.
We parked up next to the campsite, and took the track down behind, that was marked 'Lochalsh Trail'. We had never heard of such a walk before, but it sounded like something we might be interested in for the future.
It was a good path, but after a short distance, we decided to follow a wee path that stuck closer to the river, instead of the eroded looking track zig-zagging up the hill. This path took us closer to the bonny gorge and impressive waterfalls,
but got steadily narrower until it petered out,
leaving us on incredibly steep ground, our ice axes getting stuck in trees often
We managed to find a route round and upward to regain the track above, which quickly descended again down to a bridge. Once out of the trees in the open glen beyond, we were in high spirits, with beautiful mountains and waterfalls all around.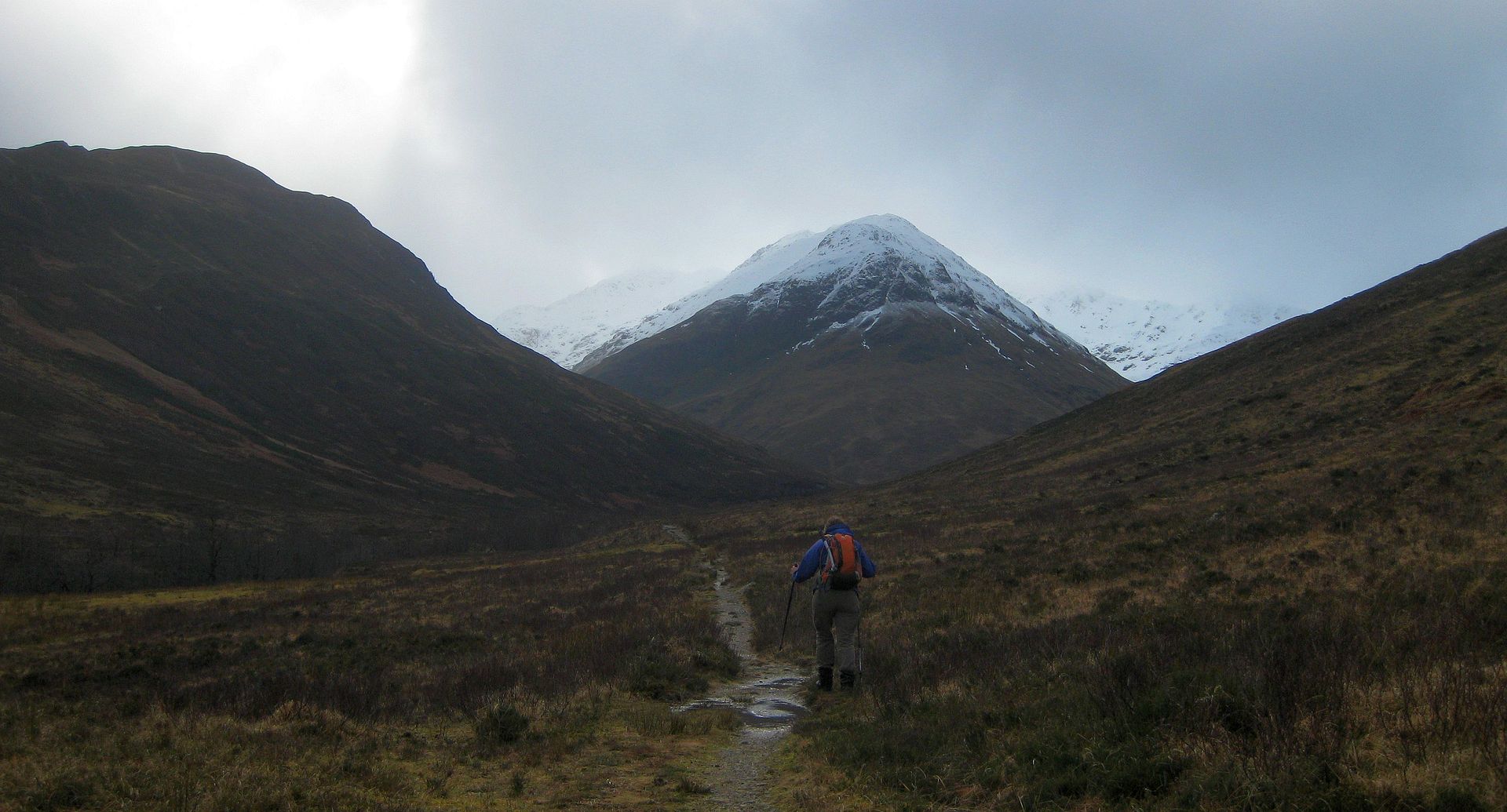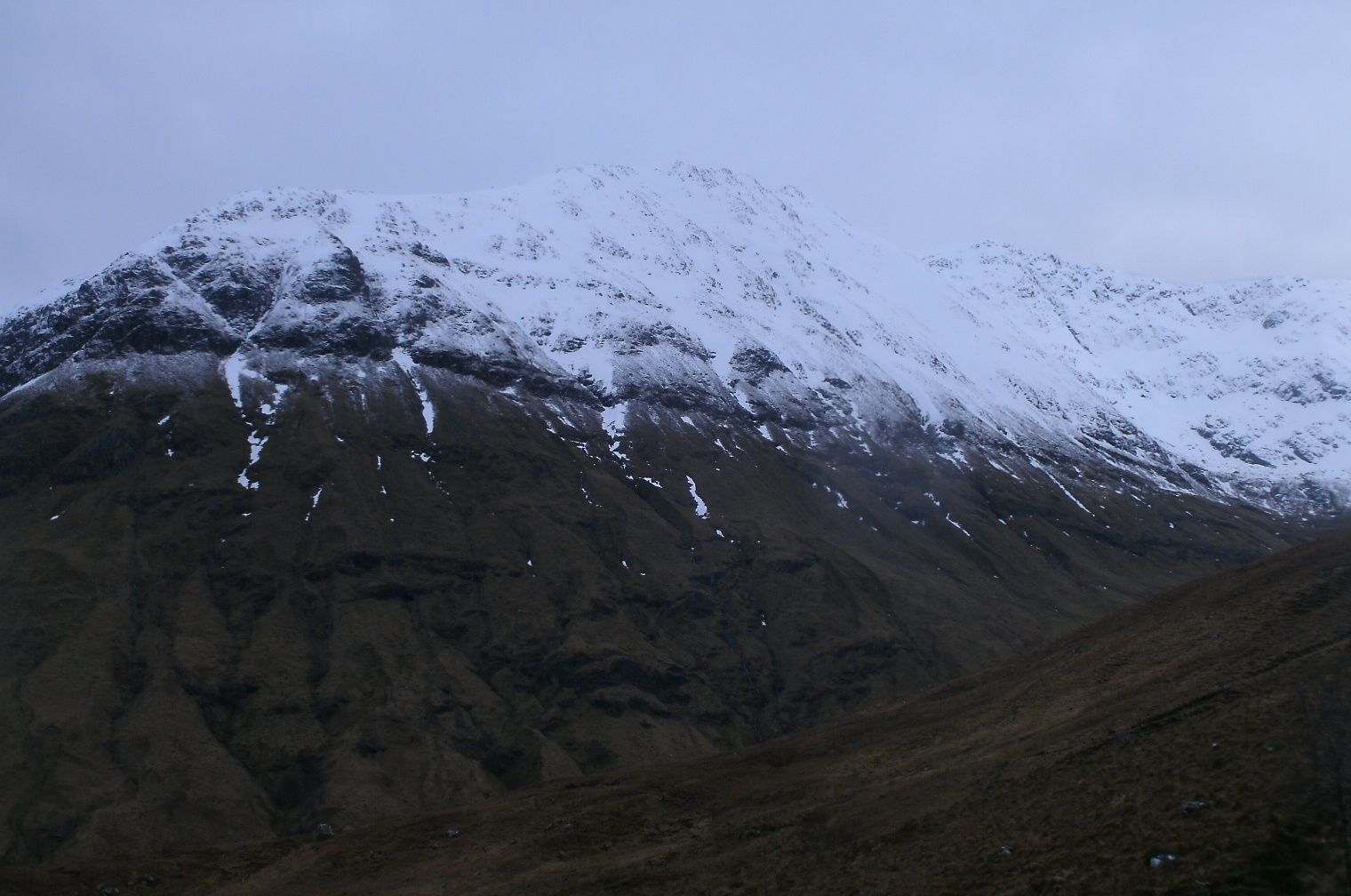 Soon the path was skirting uphill, our legs tired from the day before, felt like lead!
We met a friendly runner, over from Skye, who stopped for a chat about how lovely a day it was. The Sun was out, and it was a hot wee climb, but made it up to the bealach making good time.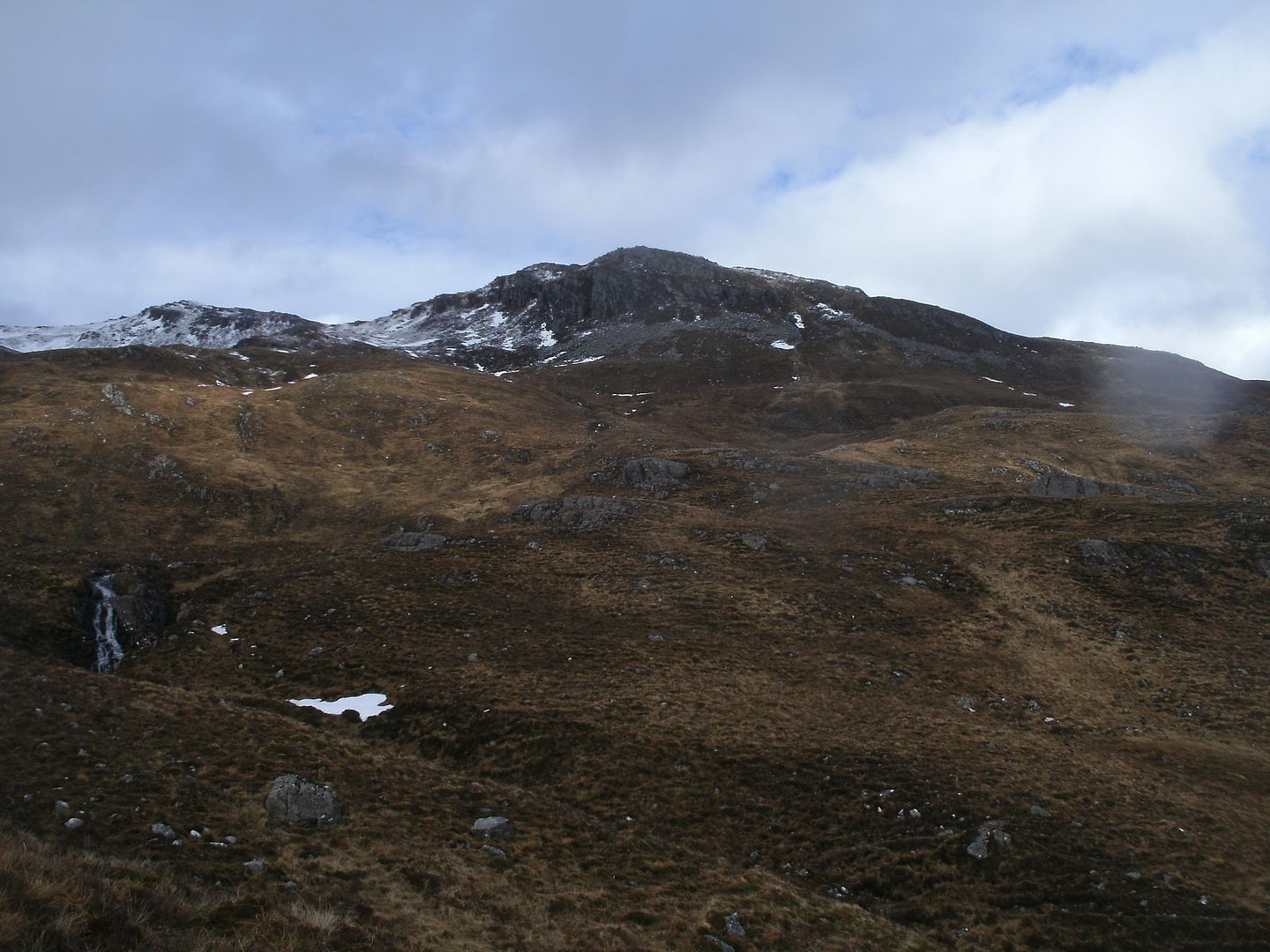 From there it was a pathless ascent, first up a handy rocky spur, and then onto some steeper ground. The views were opening up and we could see across to Skye, Raasay, Knoydart, and the sisters looked fantastic. Good to take our minds off the steep incline.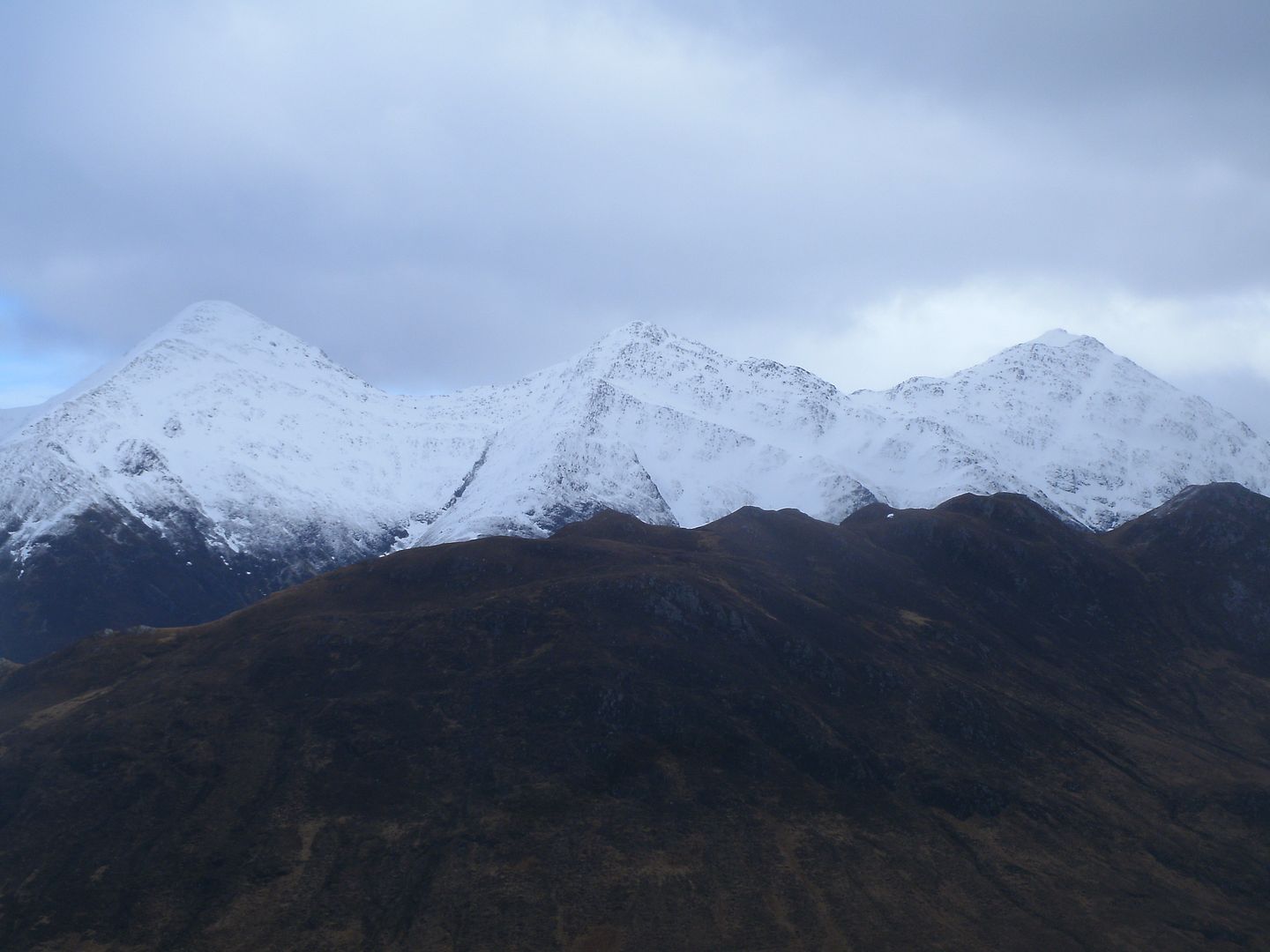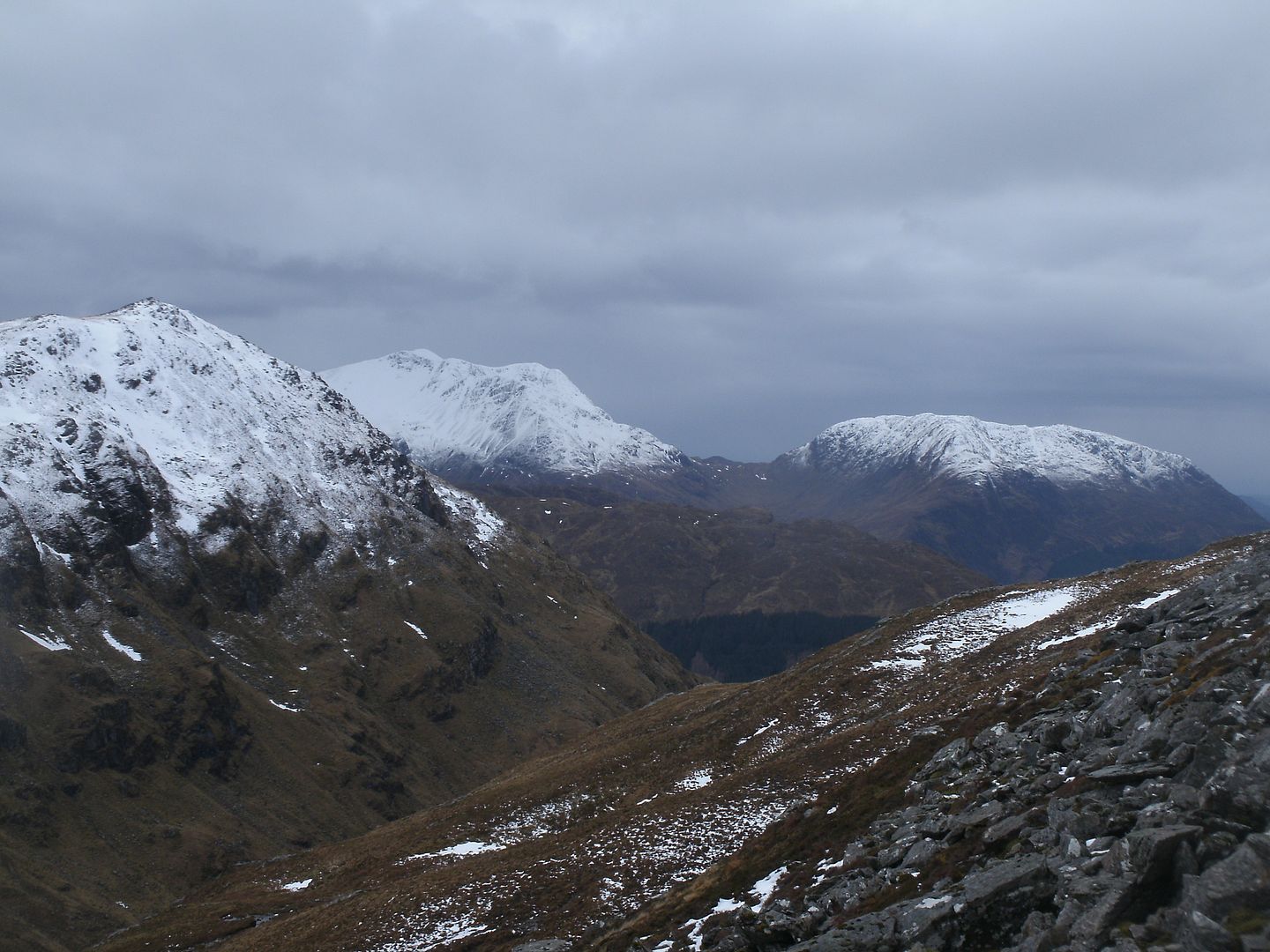 Once up to the plateau, it was a bit snowy, but no crampons required for the easy wee climb to the summit. It was a bit windy and cold, but we sheltered in the lea of the cairn, and ate our sarnies, Torridon looking especially impressive in the distance.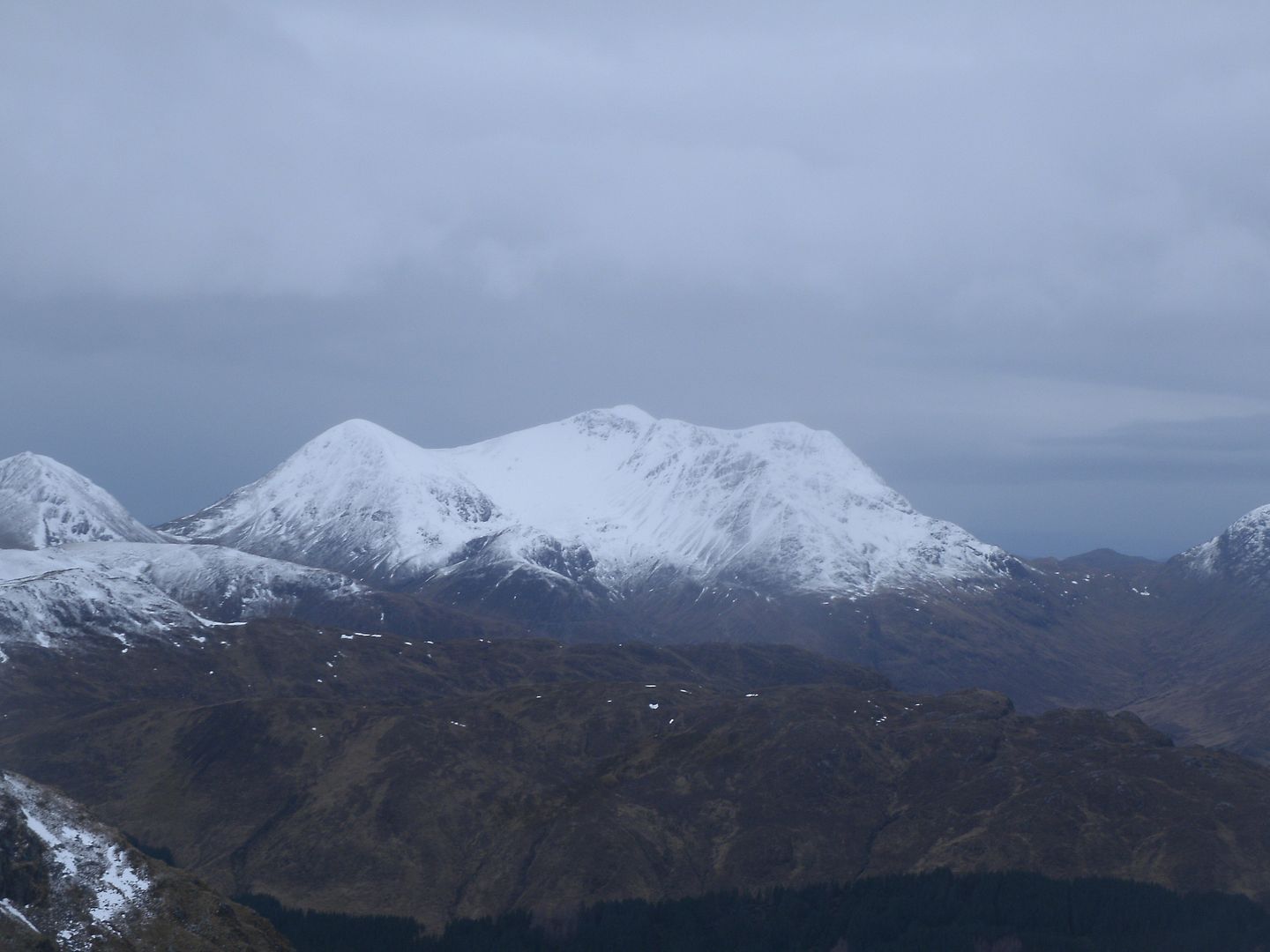 Eventually, our extremities got too cold to stay, so we retraced our steps a short way, this time, heading to the other side of the plateau, and straight down the long easterly ridge. Fun running down snowfields at the top,
but soon we were tired of descending.. Just seemed to go on forever, and the floor of the glen just wasn't getting any closer at all
We got to the path eventually, without having to endure much boggy ground and it was an easy trot back to the car really quite early.. Too early for a pub tea in Kintail Lodge anyways
Braw memorable weekend so this was. shame the weather forecast was wrong Saturday, but you canny have everything