So this weekend, looked pretty windy on Saturday.. Dougie chose to work it in the hope of a finer Saturday another time, so we didn't set off until Saturday afternoon, heading for a wee wild camp spot in Glen Lyon. It was as windy as forecast - thank goodness for the hurricane-proof tent
We awoke in the morning to find the wind had not dropped as forecast..
Should we set off and see how we got on? Surely it would drop eventually..
So we drove up to the dam, and with drizzle getting blasted in our faces, we headed up the road that goes over to Glen Lochay. As we got a little higher, we got a good view of the dam, and saw a huge jet of water getting blasted into the air..
The sun came out a bit, didn't make any difference to precipitation levels, but at least there were some dim rainbows to raise a smile to our faces.
We turned off the road toward the dam, which turned into a track soon after. Some of the gusts had me stopped in my tracks, which made for a surprisingly energy sapping walk along the undulating track alongside the loch.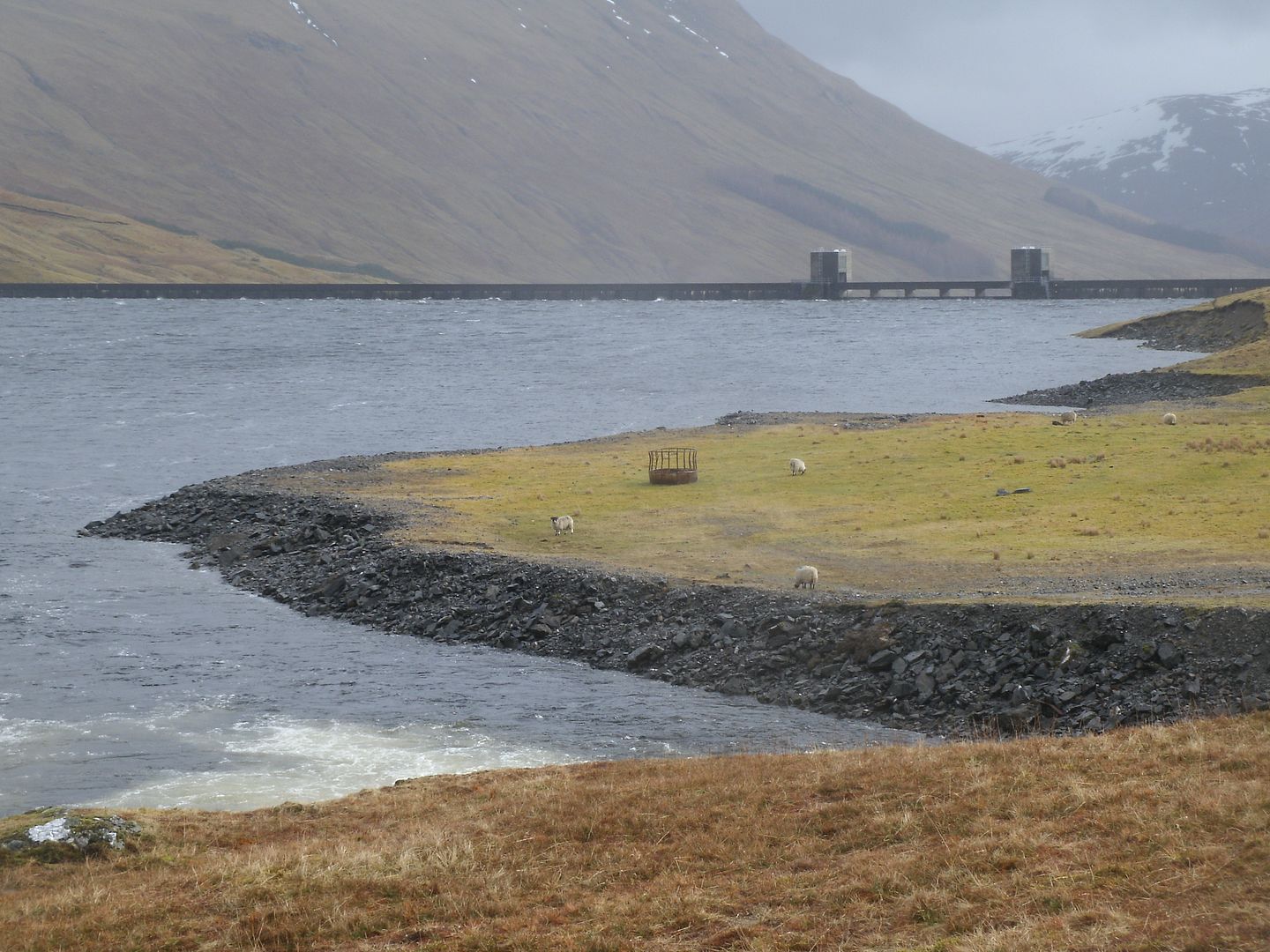 We passed a big boat shed and carried on a bit further before we got to Chall burn. There was an extremely rickety bridge over, just some rotten planks really, but we were both glad we didn't have to ford the river - Sooo much snow melt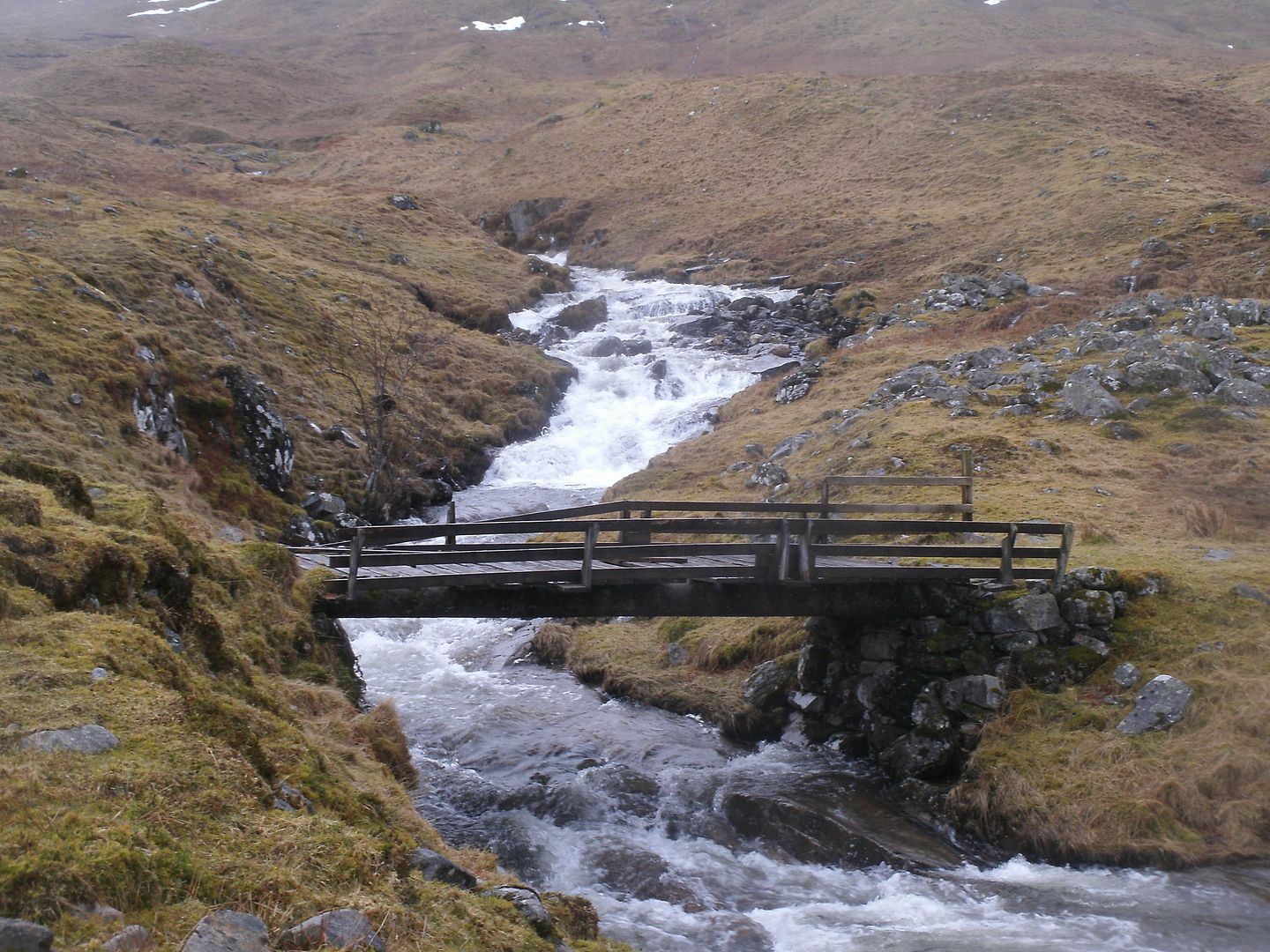 Once over, we sheltered by the side of the track for a cereal bar, then headed stright uphill.
The going was rather less boggy than expected with all the thawing going on round about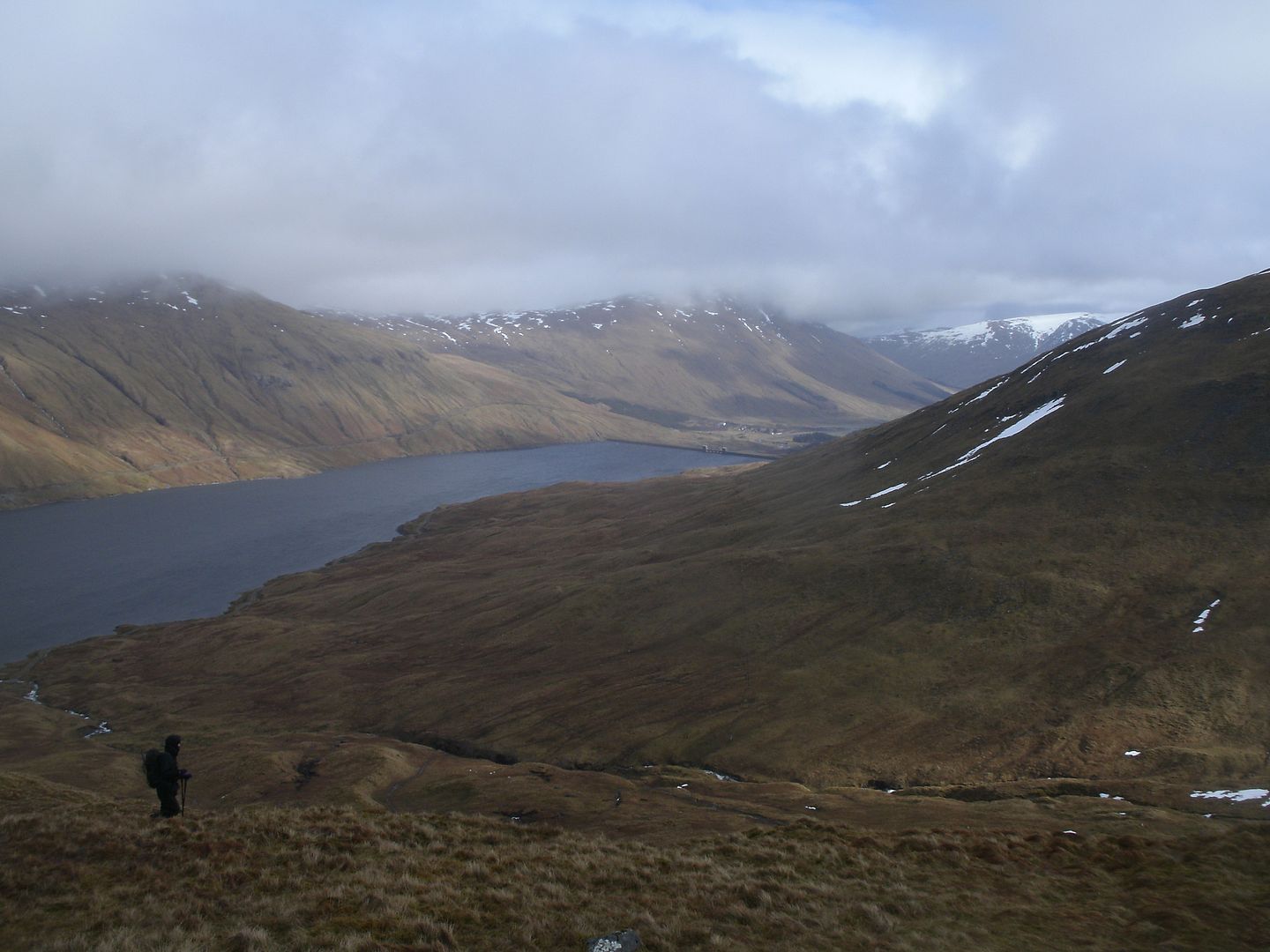 It was an easy camber at first, but it soon got steep, and increasingly snowy. No firm consolidated snow anywhere!
We were getting blasted with varying amounts of rain from our right, but the wind wasn't getting any worse for the increase in altitude, and the sun came out again for a time, and we were getting some nice views of the loch..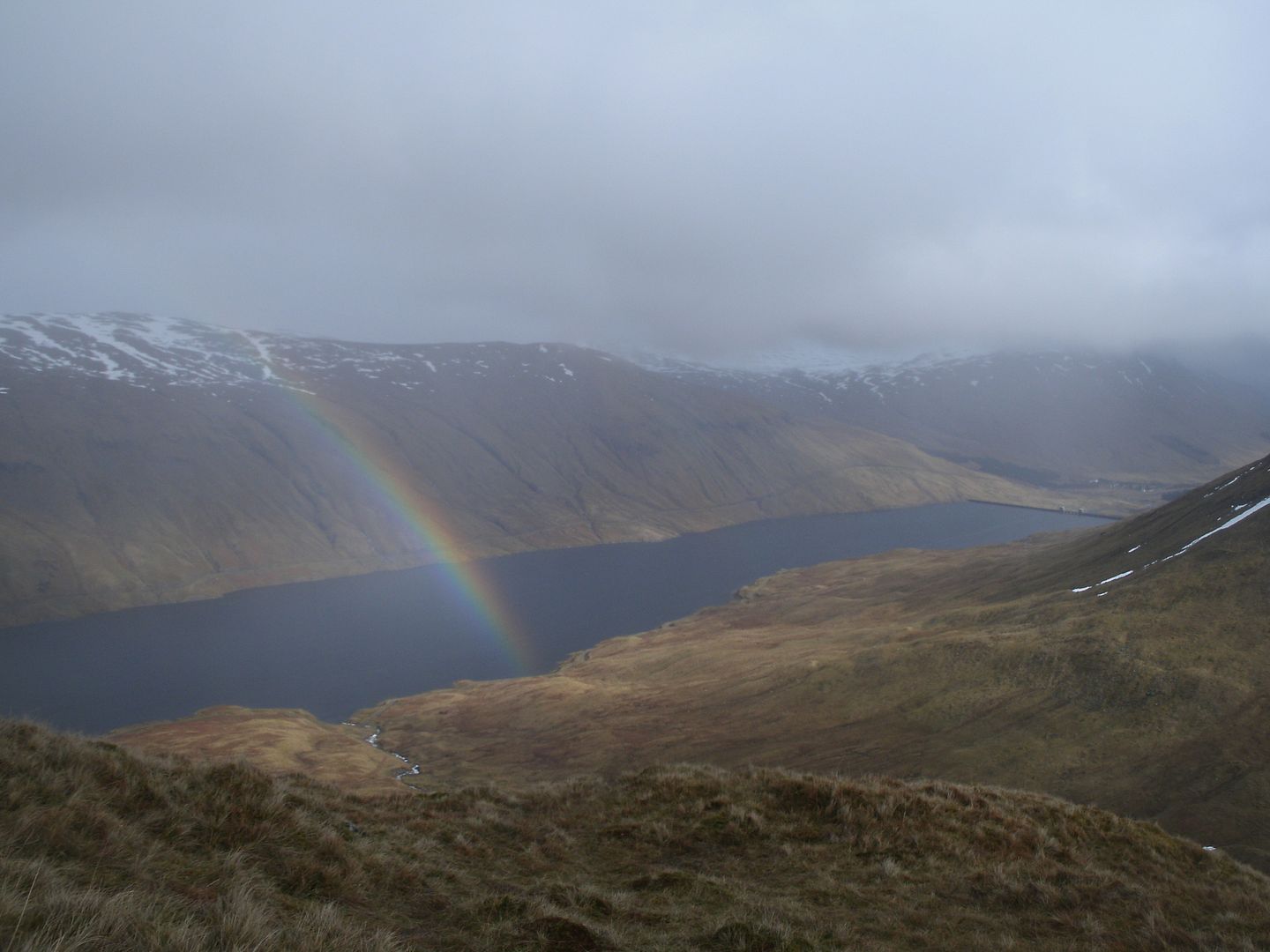 The snow patches were melding together by now, and we made it up to the main ridge, for an unpleasant few hundred yards getting thoroughly coated in icy sludge

It was a joy to get up to the 949 point on the map, where there was a deep crack in a rock that gave us some good shelter - we weren't hungry, but just to get out of the wind for a few minutes was heaven
With every stich of clothing we had brought on, we headed toward the summit, knowing it was only a km or so away.. surely we could make it that short distance? It turned out to be easy walking, we were round the corrie a bit, so sheltered from the wind now by the summit itself.
I noticed the ground was getting rather steeper than expected, then I saw above me, I was heading up to a cornice
As I got a bit closer though, I noticed part of it had caved in already, so headed for that and with a monumentous effort, made it over the edge to the summit plateau
Dougie was a little behind, so i waited for him and we sought out the cairn together.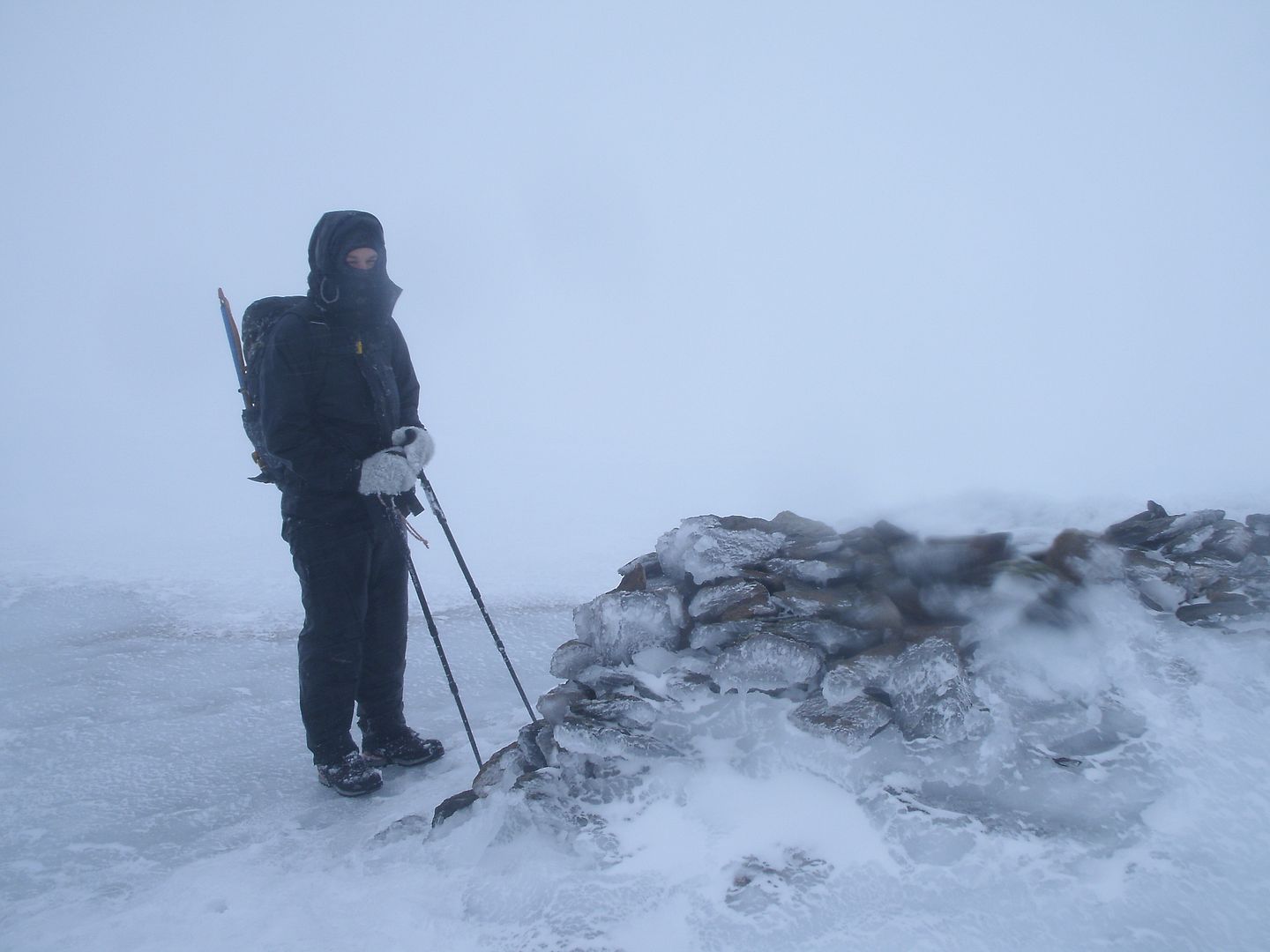 We didnt hang around for long, it was too chilly to stop, and we headed down the NW ridge' this side of the hill rather more icy, we were soon stopped to put the crampons on. We only needed them for a couple of hundred yards, but I dont think I could of made it down without them.
I was just fickering with them, when Dougie said, 'look behind you' and I suddenly it was clear!
We could see the Buachaille, Ben Alder, Etive hills - just braw! (in the claggiest way possible
)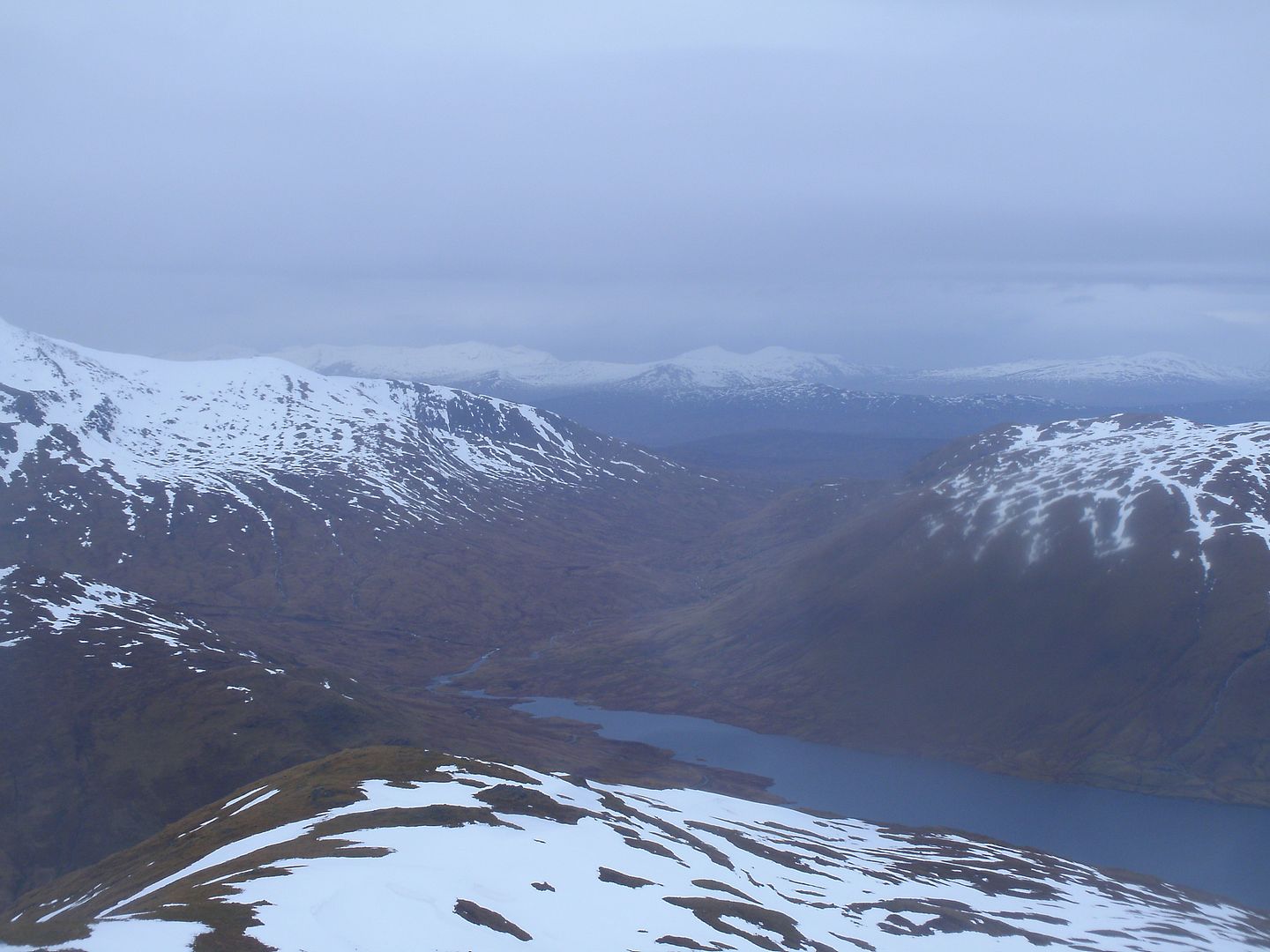 Well at least we could see the ridge ahead now, the crack signifying the edge of the cornice, a good 20 yards from the edge
We tried to keep close to the rocks that pierced the white blanket, and soon we had our crampons off
We rocketed down soft beds of snow, almost right to the burn that comes down from the corrie. It was a very flooded burn, and rocky as it was, the crossing was still a little adrenaline filled.
Dougie looked long and hard before he found a spot he was happy with, and it wasn't far from there, back to the track.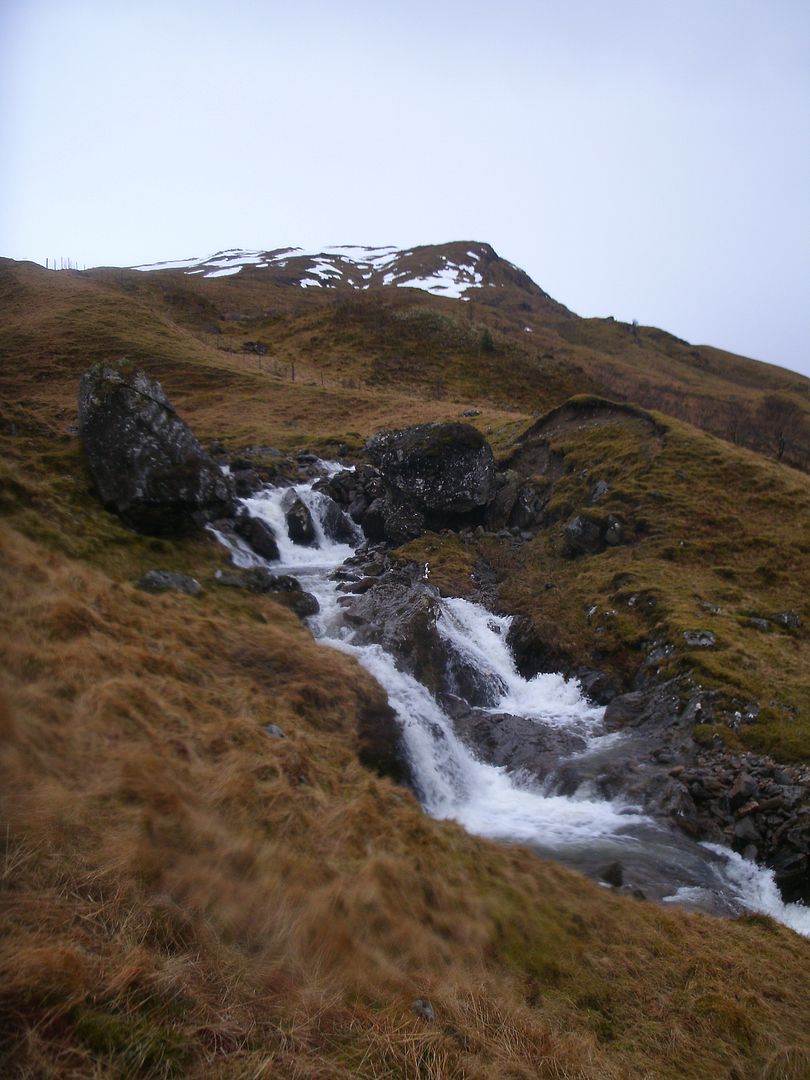 The wind had finally dropped significantly suddenly, but the rain got heavier,
so it was a damp trot back. We decided that it would probably be quicker to cross the dam, and get back to the car that way, and it gave us a good chance to check out the huge jet of water that must of been 100' tall at least!
impressive stuff. It was getting wetter by the moment, so not too much hanging about before the race back to the car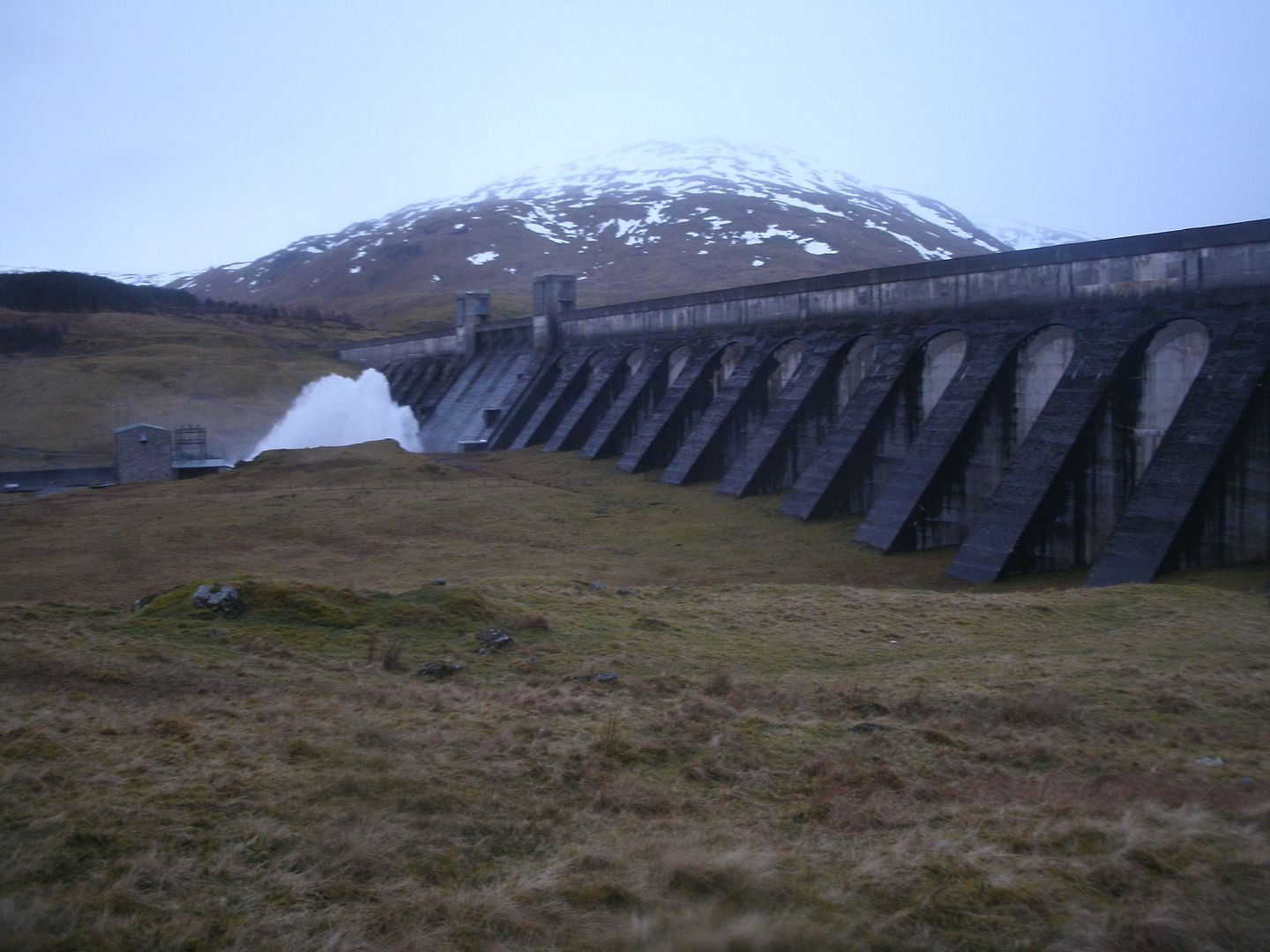 Shame the weather was wrong again, but I enjoy battling the elements every now and then.. Makes for a satisfying day
The way things are thawing out, there will be no snow left by next weekend, so glad we made the effort while there's still some fun white stuff out there too