Well,there was'nt really a decision to make – for the sake of another few hours as against another full days walking/cycling to bag the next hill – I was soon dropping down the north east ridge to pick up another this time excellent stalkers path.
These blokes really knew how to pick the right line.
This path took me down fairly quickly to the bealach between the hills in unfortunately deteriorating weather , heavy rain now.
Another break at an old ruin ,which is'nt shown on my map, looking up to the steep climb ahead.
After a bottle of juice and two bakewell slices I was ready to start the plod upwards.
A path took me onto a shoulder and then a steady trek up grassy slopes to another twin topped summit ,the east top being the high point with this well built cairn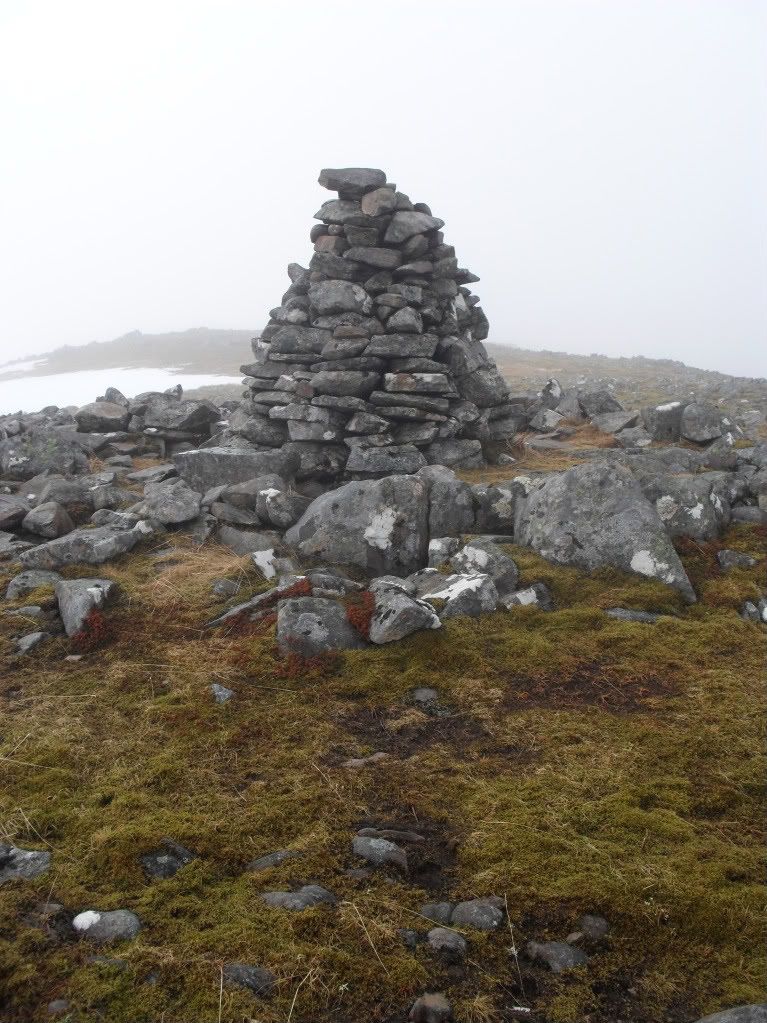 As you can no views – the showers as these "weatherpersons" say had merged to give prolonged periods of rain – aye it was peeing down,rain,sleety snow,hail.
Left the top just before 3.00 pm to drop down towards the head of the glen and this famous lodge – you will probably all now know where I am
Rain was pretty heavy now and with walking into the wind down the long 8 miles back to the car I was'nt in the mood to take any more photos – sorry.
Head down I tried to keep a steady if not too quick pace. In my mind I had split the remaining walk into 5 short stages and was pleased to cover these in more or less the times I was hoping for.A lot of tarmac to be covered however and the in last few miles the sole of my right foot was giving me gip.
My thoughts,or was it hallucinations, turned to dry socks and more especially the bottle of beer I had in the boot of the car.
Anyway,the walk came to it's inevitable end, back at the car bang on 7.00 pm
Ah the bliss of dry socks,clean clothes,a cigarette and a drop of good ale
(for the record the beer was Bitter & Twisted
)
Had to drive straight home however - arrived 10.45 pm.
Glen Elchaig it was of course and the hills Faochaig and Aonach Buidhe
Day after day alone on the hill,
The man with the foolish grin is keeping perfectly still,
But nobody wants to know him,
They can see that he's just a fool,
And he never gives an answer,
But the fool on the hill
Sees the sun going down,
And the eyes in his head,
See the world spinning around