Originally planned to bag Sgurr a'Mhaoraich, but got held up at Pulpit Rock on the A82 as it was late opening and then we had to wait for wide HGVs to pass from the other direction. Finally got through all the roadworks and decided to go for CMD instead, got to north face car park and predictably there were more roadworks on the path.
Previously I came round to cmd from the Glen Nevis car park but this way looked quicker on the map. Initial walk through the trees is well signposted for Allt a'Mhuillin, first sight of the north face:
Up to the VIP car park and over the stile, good path alongside the burn initially but left this to cover boggier ground up Carn Beag Dearg.
Few patches of soft snow lower down, this became more compact and easier to walk on as height was gained. Spindrift blowing about here, higher up this was being blasted in my face by swirling gusts so goggles came in handy
Over to the return route by Lochan Meall ant-Suidhe:
Felt like a slog going uphill but nowhere near as bad as the route up from the CIC hut. Temperature dropped and wind increased higher up, hands got cold so I swapped over to big gloves and felt the wind chill while gloves were off. Camera was also affected and the battery warning light came on after it had been out the bag for a minute. Carn Dearg Meadhonach cairn:
Poor visibility so I nearly took the wrong ridge down after one of the cairns, Carn Mor Dearg cairn was under snow. Wind was getting stronger so I sat on a rock for a while, hoping for a view of the Arete:
Became clearer lower down, snow was consolidated and perfect for walking. A few easy scrambles on rock were made interesting when the wind changed direction just as you were balancing on crampons
Had a seat & got some snaps when the wind was highest.
The Ben appearing out of the cloud:
North face:
Eastern Mamores:
Middle Mamores:
Back to CMD:
Blue sky:
Another look back to CMD from further round this time. I noticed someone coming down from the Ben but didn't pass them, from the tracks in the snow they had traversed round the north face from roughly the point where the abseil posts used to be.
Frozen waterfalls higher up:
Steall Falls:
Clear at the top, so didn't need GPS to navigate in the clag. Shelter:
Western Mamores:
Carn Dearg: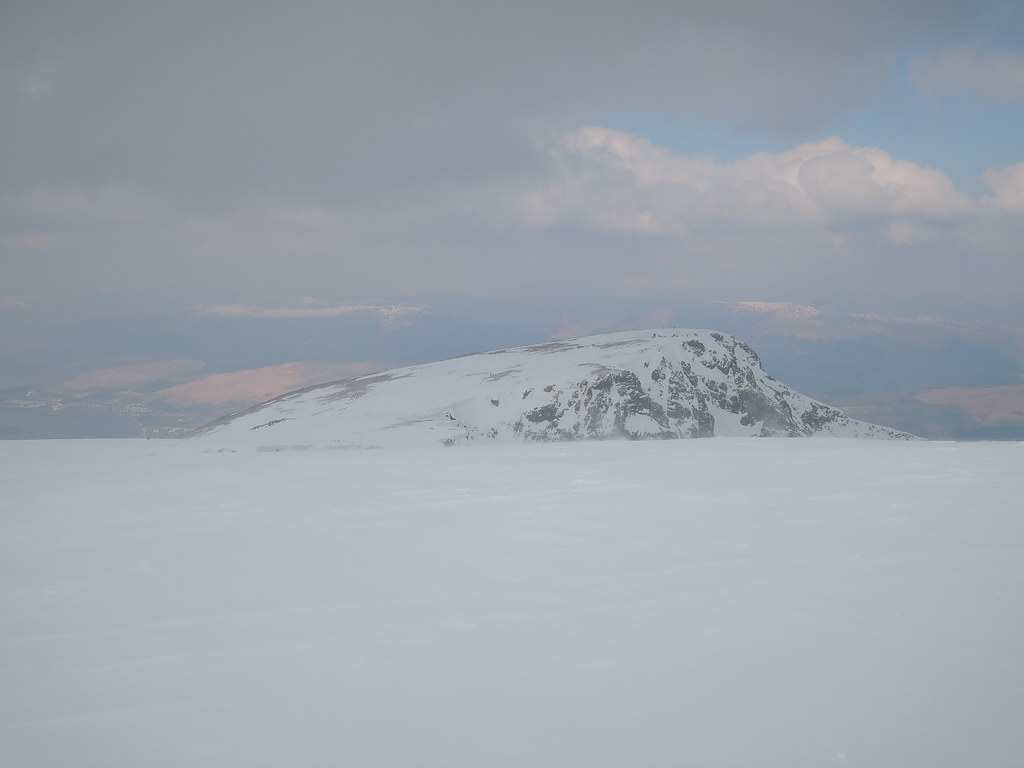 Went straight down instead of zig zagging on the path.
Really good path leads round to the end of the Lochan.
Then disappointingly disappears so it's boggy heather time down to the Allt. I decided to cross it higher up as I thought this would be easier. Nearly fell in but escaped with one wet boot.
Last look back to the north face from the path. Snow's in really good condition just now, last time I was wading through knee deep powder in places so this is perfect