So this weekend was the meet we had all been waiting for, and the weather didn't look too minging.. How exciting!
I was due to meet Dougie in Inverness at 9, but unfortunately the A96 was closed, which meant an interesting detour around Moray, without a clue where I was going.
Didn't look like anyone else did either!
Made it to Inverness, quick dinner in Tesco's then up the road.. We arrived after midnight, got the tent up in high winds, then realised that we had neglected to bring sleeping bags, and Dougie didn't have a sleeping mat either..
Oh well nothing for it but to head inside, have a drink, and see what we could scrounge up.
There were a few hardy souls still about, and I can only thank Bod and Val for not turning up, as we managed to borrow their duvets.
Unfortunately Dougie wasn't well, so coughed all night. I also found out my sleeping mat had a puncture, so had to be refilled frequently.. Oh the joys..
So with no sleep, and man-flu, Dougie wasn't keen on our planned Quinag adventure. Eventually though, I talked him round saying I would take the car so he could turn back any time. We were in the 'late' party, with Johnny Corbet, Jackie and Charlie, several groups having already left.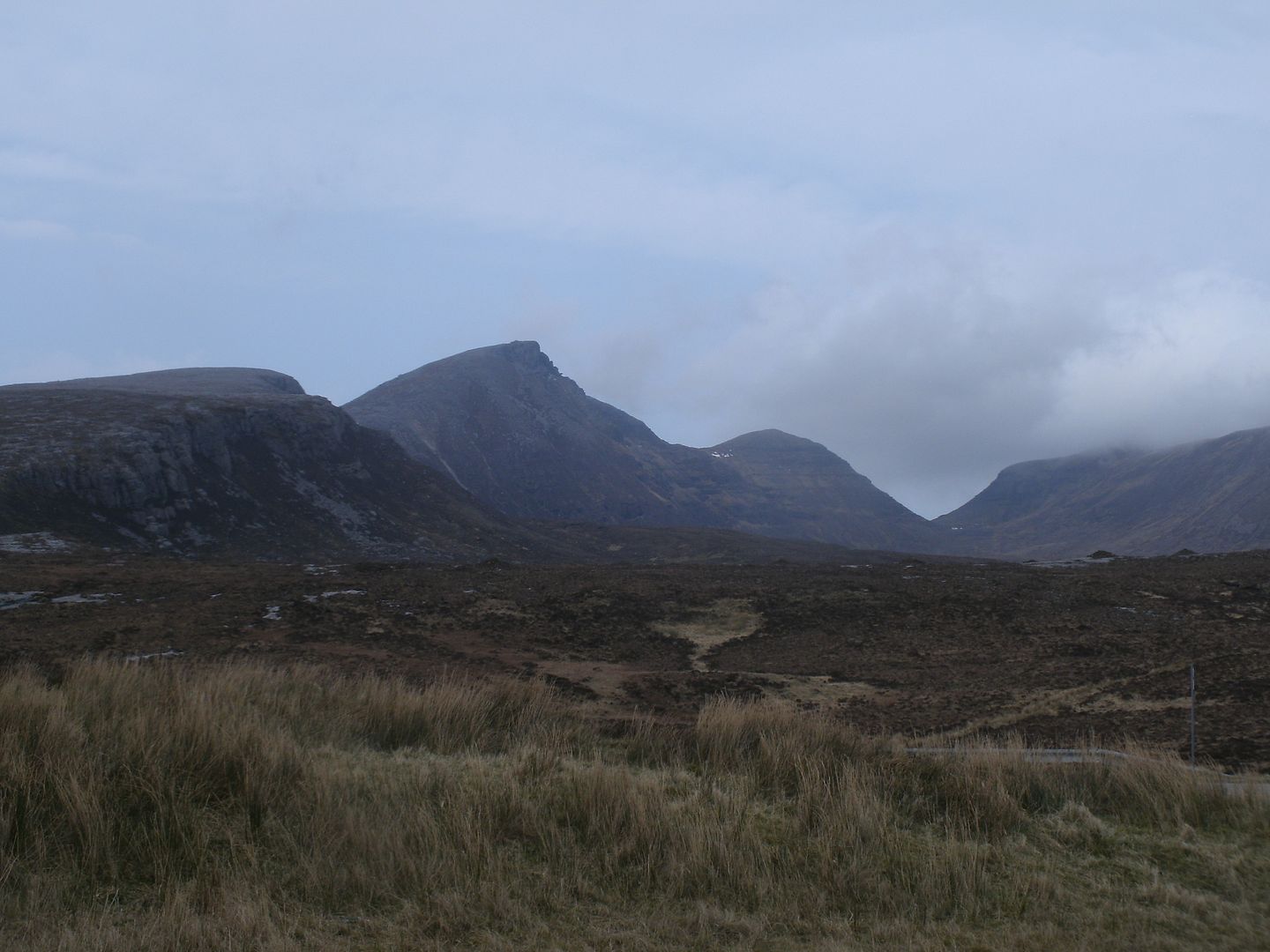 We set off along the path, and were up at the fork in no time, heading left across slabs and up the gently angled hillside. It was fairly windy, but with it behind us, we were getting a wee push up the hill.
The path petered out, but this was because there are so many slabs, one isn't really needed.
We stopped for a break in a shelter on a minor top.. It wasn't that great a shelter, so we were off again once we had cooled down, the going getting somewhat steeper on the climb up to the first corbet of the day – Spidean Coinnich.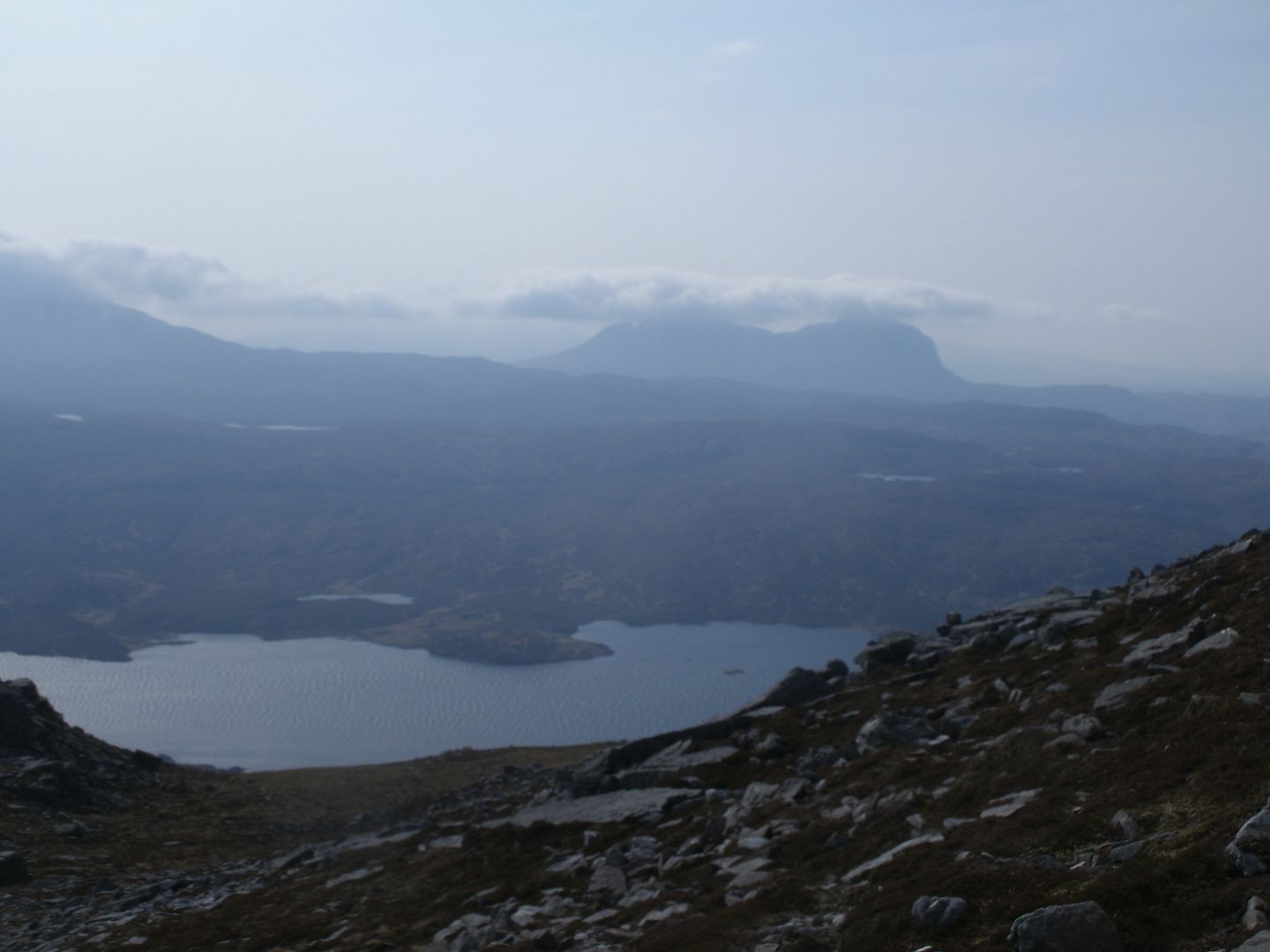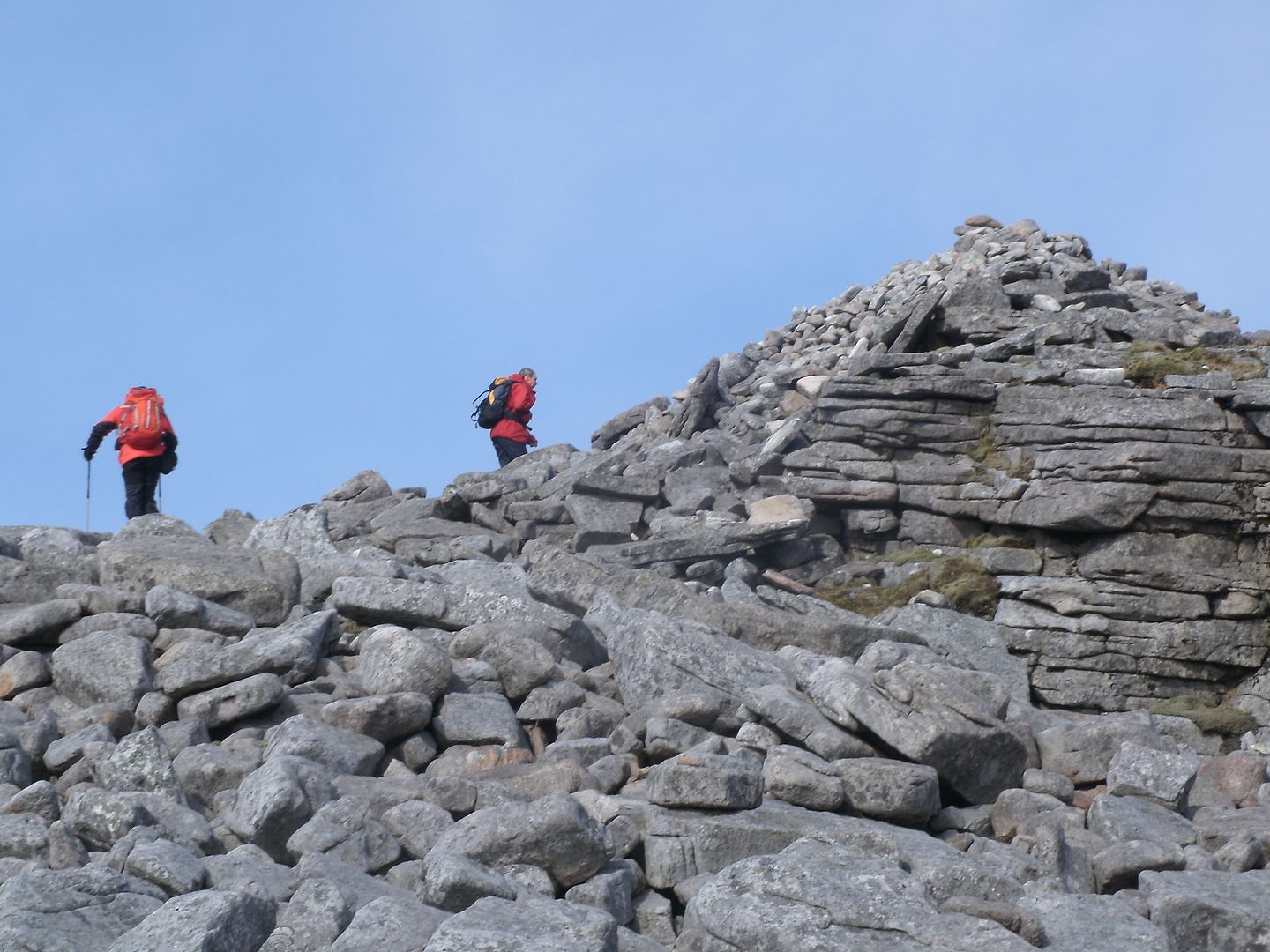 We had another break in the lea of the cairn, consuming a bumper pack of jerky Johnny had brought along. The views were brilliant, albeit rather hazy. Far better than the photos would suggest anyway.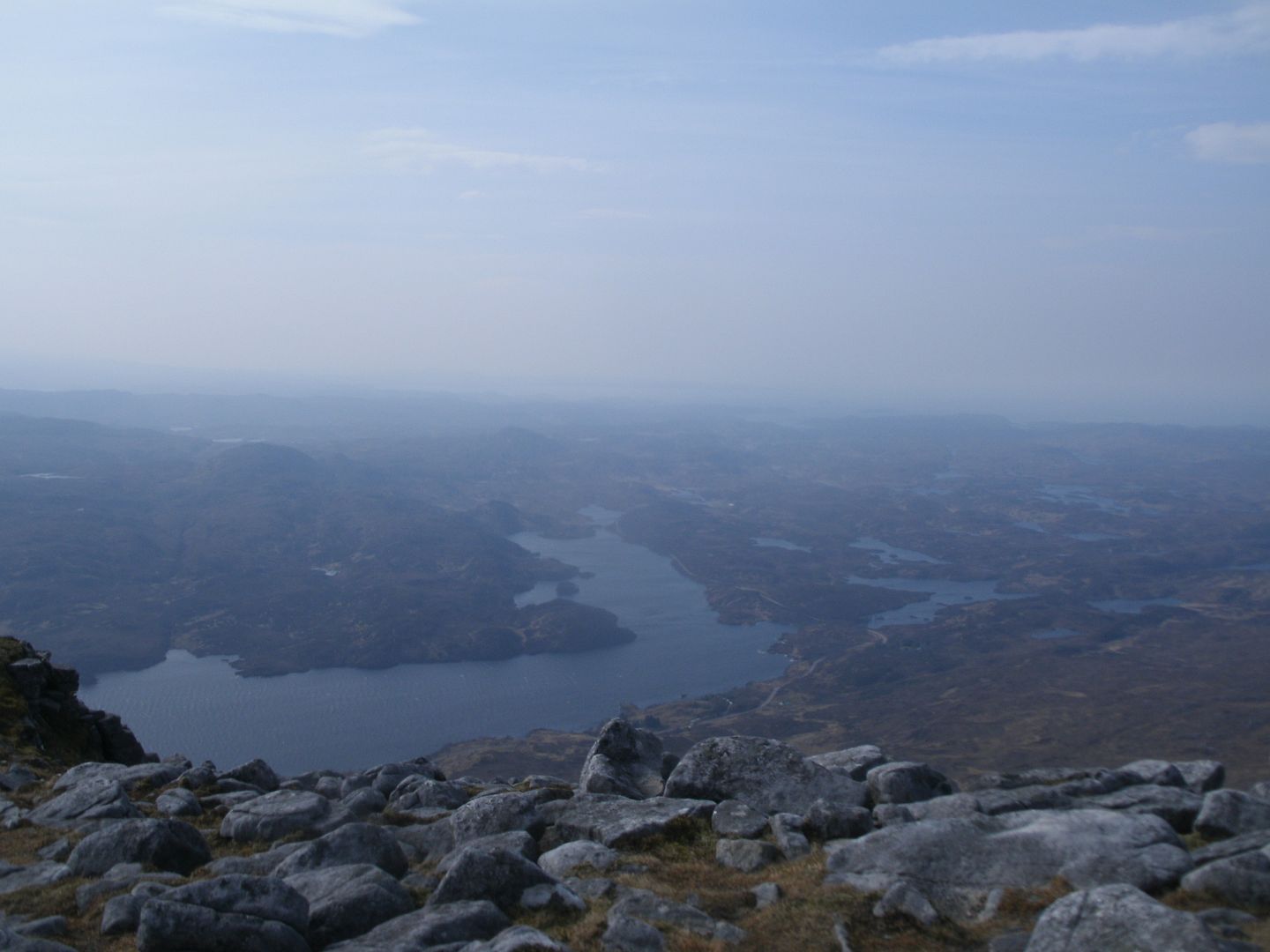 The descent from there was a delight, weaving through rocky pillars, down to a bonny wee Lochan. Dougie's man-flu had appeared to have got a lot better.. There is obviously something about stunning scenery that cures all ails
From there an ascent up to the next wee top was hairy going in the wind. The summit was very narrow, and there was no conversation as we all concentrated on keeping feet planted on the ground..
We could see we were catching up with a large group of walkers – presumably another WH group,
fooling about taking photos in amongst the rocky pillars.
The path takes a very steep route down to Bealach a'Chornaidh, where we stopped for lunch behind a rocky outcrop, next to a couple of walkers who looked bemused as to why it was so busy. No quiet picnic for them!
It was great to get out of the battering of the wind for a bit. We watched the group ahead zig-zag up the hillside, some taking a scramblers route which looked good.
When I got there though, I couldn't hang on to the face with the wind trying its best to wrench me off..
A bit higher up though, there was a nice little recess which gave some good scrambling up to a grassy plateau.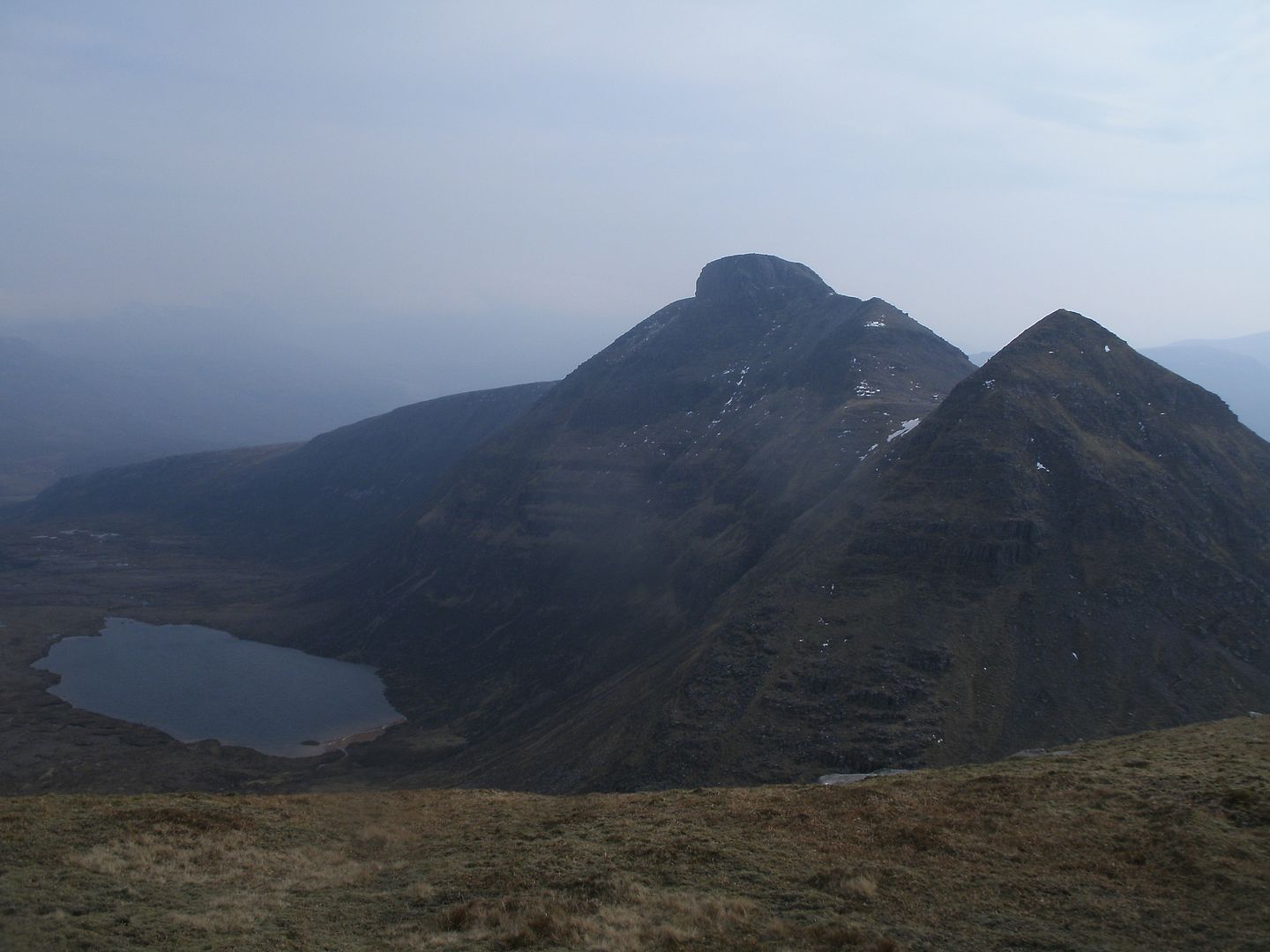 The others had got ahead what with me spending too long messing about in the rocky bits, but they kindly waited while I caught up.
We headed out toward Sail Gorm, meeting up with the large party at the next bealach where there was a bonny rocky extravaganza of outcrops and sheer cliff faces either side. A truly awe-inspiring place.
A queue formed as everyone wanted a picture on the central pillar.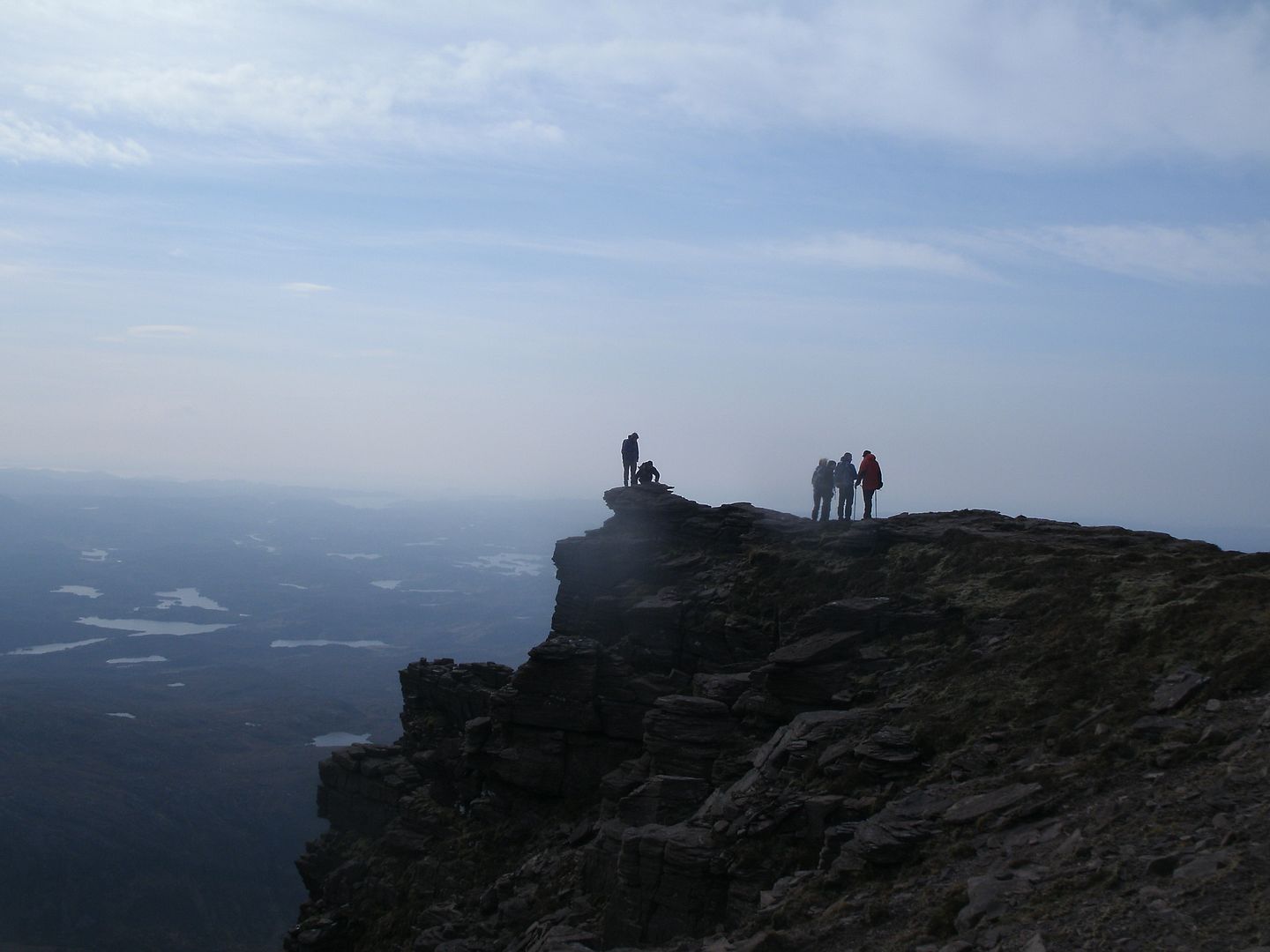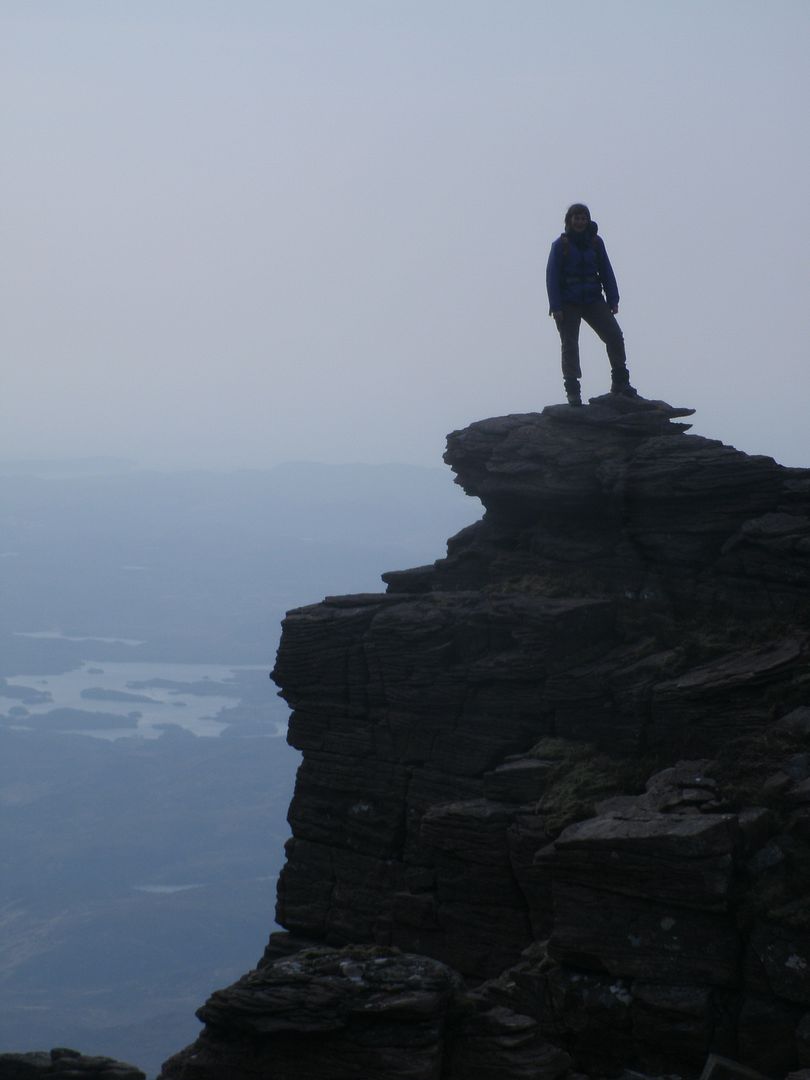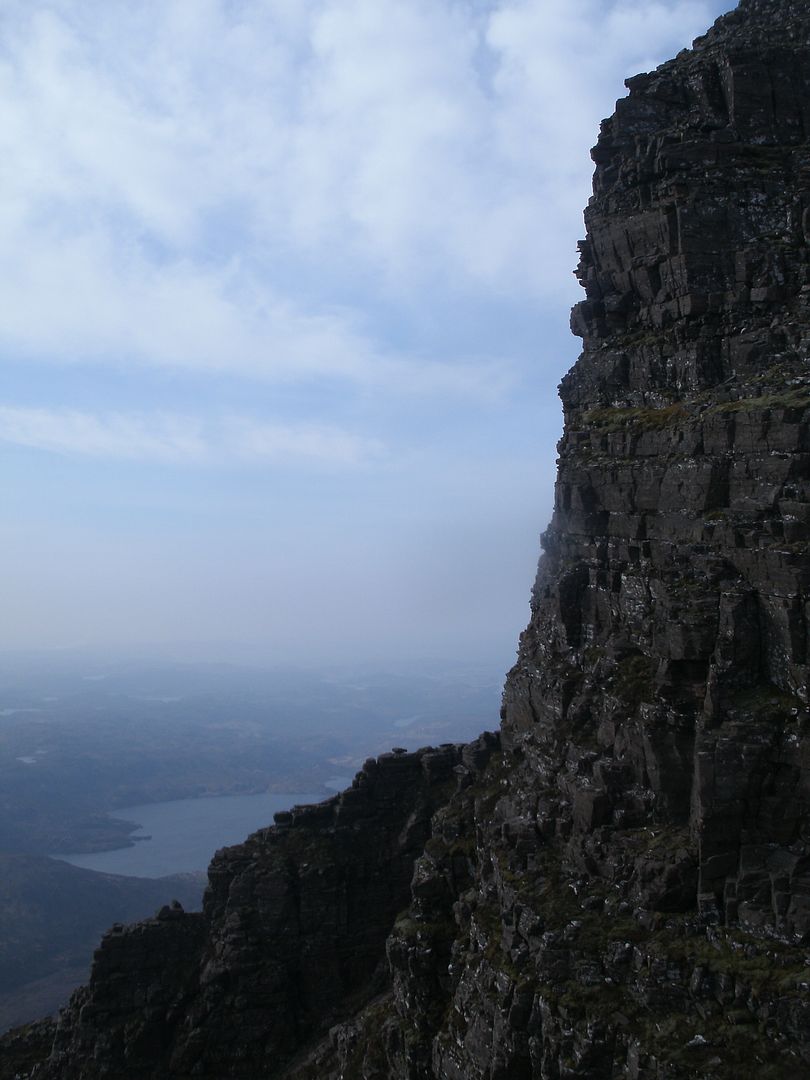 It was on the lea side of the hill, so a nice place to rest and take in the hazy sunshine, despite it feeling like we had just had a rest really!
After much tomfoolery, we all headed toward the summit – looked a long way off, but a bypass round the next hill helped a lot. Really fun scrambling on the other side too..
Then it was all grassy easy cambered slopes. Unfortunately also very exposed, and as we climbed higher, there was a serious risk of getting blown over, and it was hard to stay on course.
When I arrived at the summit, I found Dougie had reserved a premium spot in the shelter of the cairn for me, so I lay down and enjoyed the sunshine, amusing myself by watching others trying to ignore the 60mph wind to enjoy a break.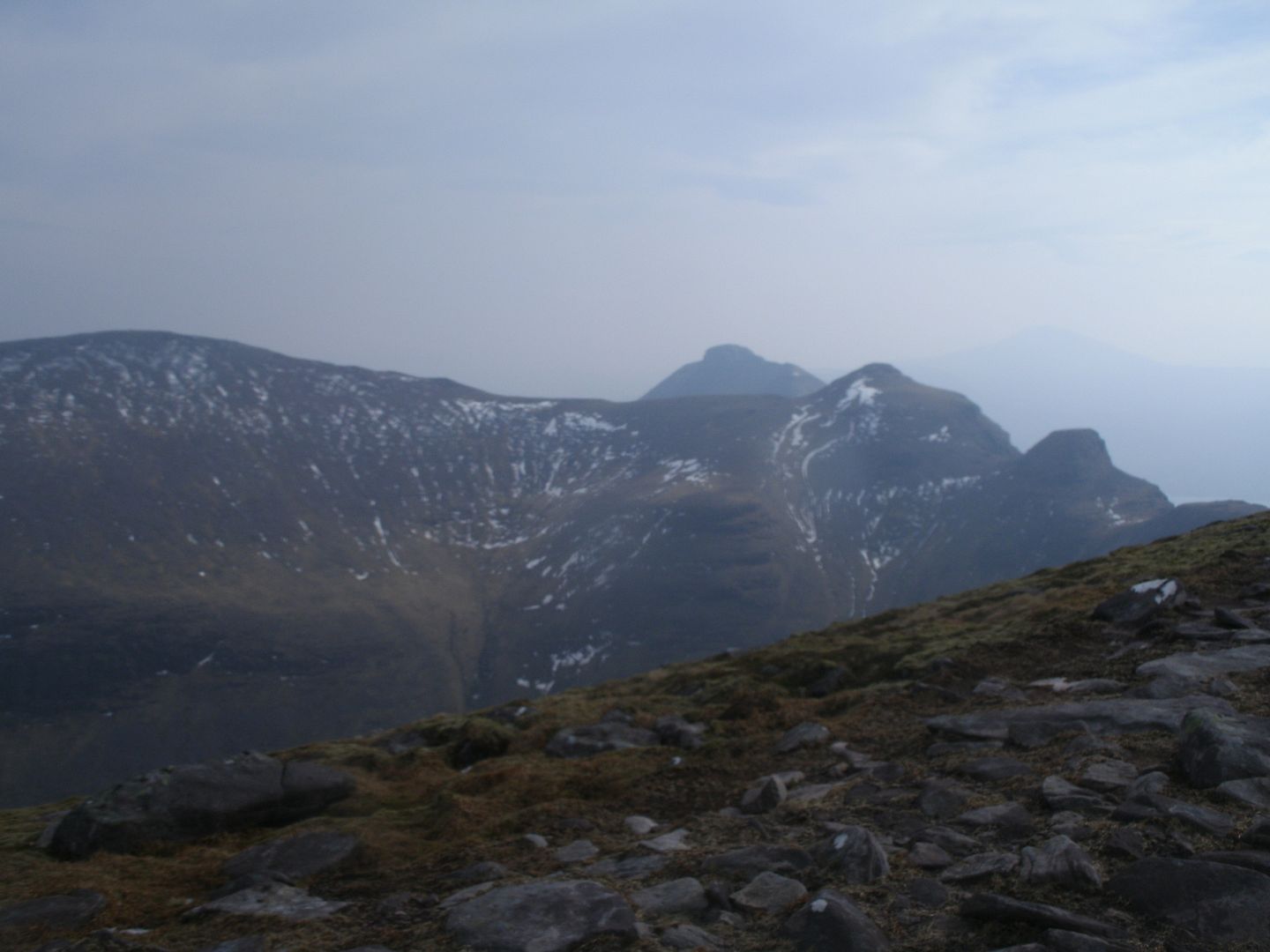 The walk back was even windier, and a hop over a small boulder field saw me losing my balance, getting blown over and managing to get myself a nasty knee bruise which made it seize up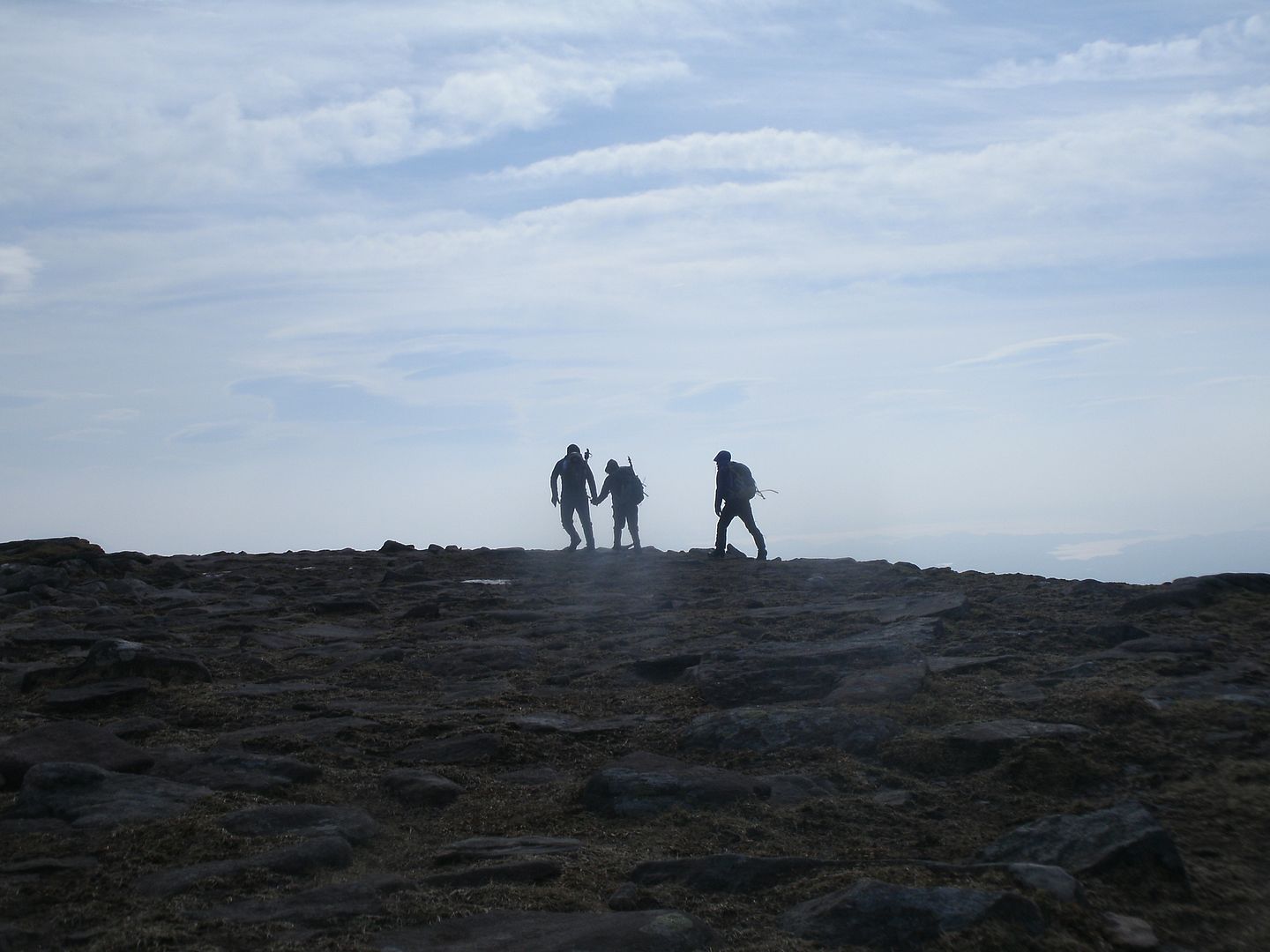 Most folk took the bypass path again, but I did some more scrambling.. Didn't take very long at all to get back along and we were soon traversing through a couple of soft snow patches, round to the bealach before Sail Garbh.. An appropriate name for this easy angled gem, with rocks to scramble over or bypass as the mood takes you.
I was almost sad when the pink granite changed to grey quartzite signalling that the summit was close. I could of carried on with this kind of terrain for infinity. Unfortunately, although the views were the best of the day, my camera had decided to pack in
Still, another summit stop to soak up the hazy views, and finish the flask, then we were off back down to find the descent path.
It was easy to find and offered really easy going down past a Lochan on spongey, knee friendly ground. I was so busy yakking on, I didn't notice the distance, and arriving at the car park was almost a surprise when it came.
So back to the bunkhouse to hear about others adventures. It was really busy without a pub to go to for dinner, the microwaves were running overtime!
The drinking began, and a good banter was had by all. Only second in the quiz this time, but you canny win them all! We weren't late as usual to bed after our sleepless night. It was really calm when we went to bed, but in the morning, it was really blowing a gale again.
We went into the bunkhouse for breakfast and to hang around saying goodbyes when folk were leaving. The wind had really increased since we got up, and so our Stac Pollaidh plans were shelved in favour of Cul Beag from behind – should get some shelter from the hill on the way up if we went the steep way was the thinking.
It was a beautiful drive down to the parking spot next to Loch Lurgain. We weren't in any hurry in leaving, knowing it would be a short day, so it was almost midday before we set off up the gorse lined, scratchy path. We were soon up above the trees,
and it was surprisingly quick up to the wee Lochan which signified the point to head up the hillside.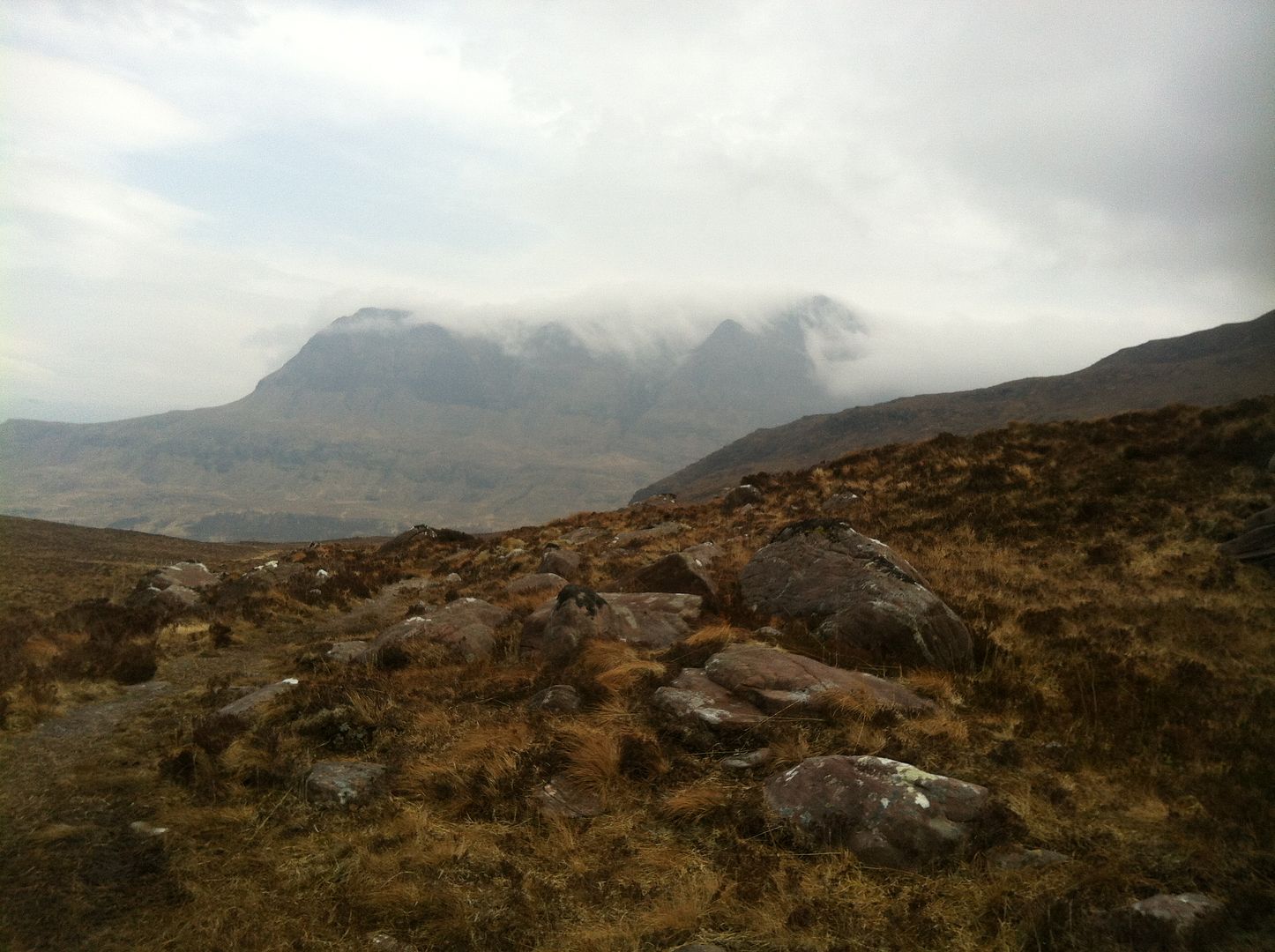 There is a well trodden baggers path, cairn marked, which avoids boggy ground. As we got closer to the hill, it was clear that we weren't going to get any shelter from the gusts, so we hid in a wee gully for a rest before we started up the steep stuff.
The views of Stac Pollaidh were amazing, and we could see the top of Suilven managing to pierce its cloudy blanket. The path zig-zagged pleasantly for a while, but then went straight up, big eroded steps sapping strength from our tired and hungover legs.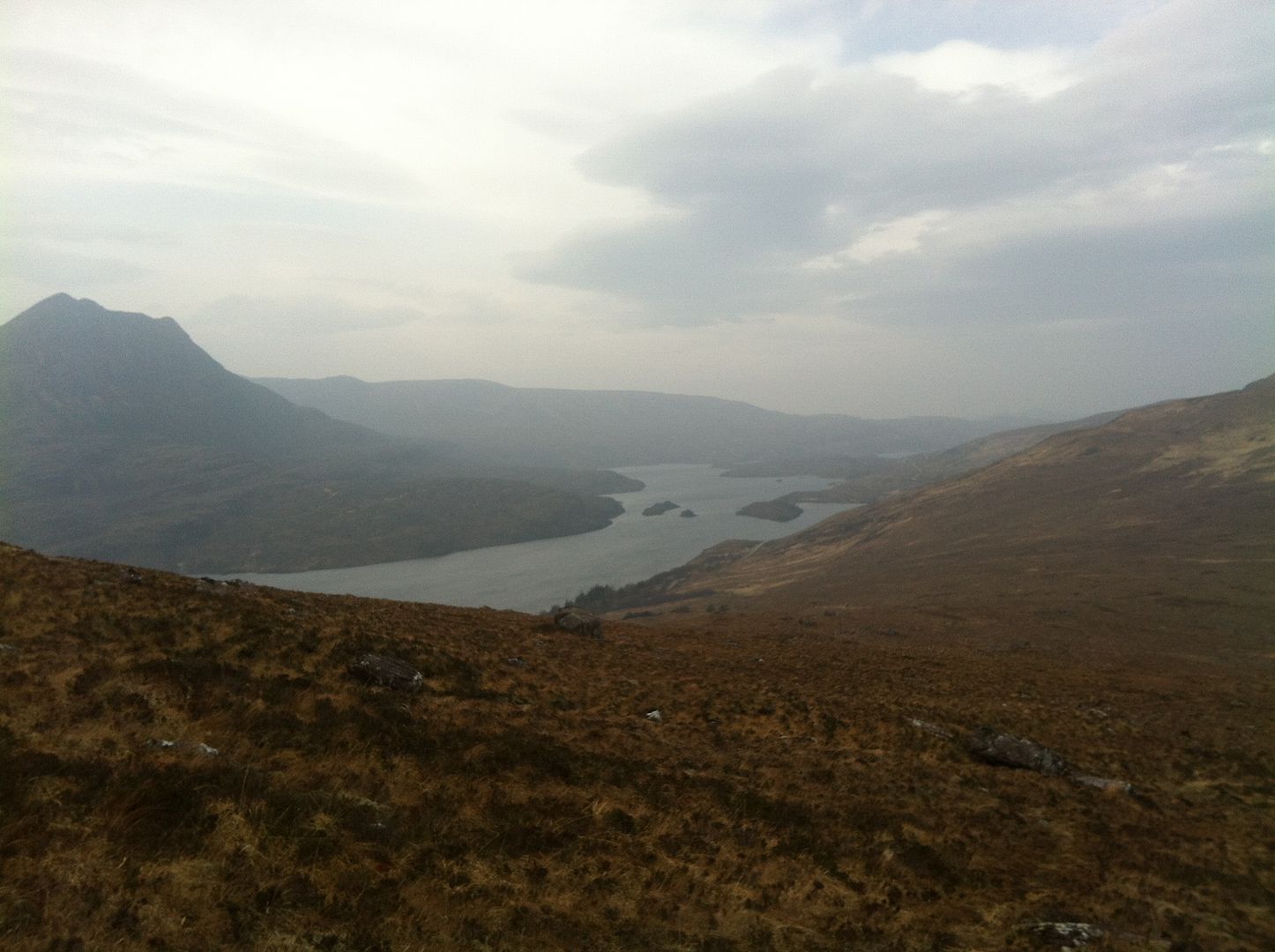 The top above looked claggy, and uninviting, but then we met another bunch of walkhighlanders coming down that said it wasnie too bad up there..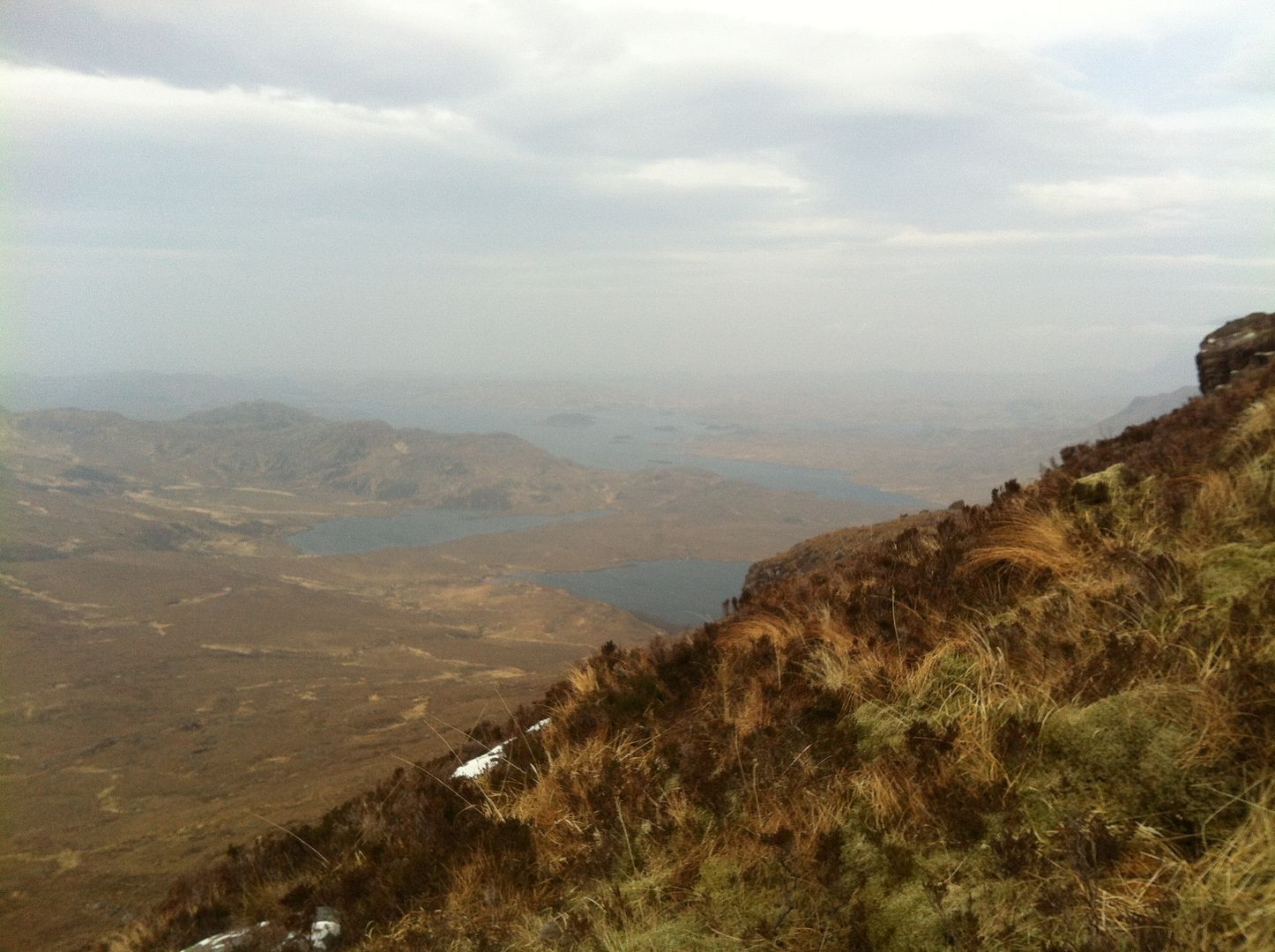 Up, up, up we went, the going unrelenting, to a bealach of sorts with a cairn, and on to even steeper ground.
It was only about 250 metres climbing from there, the path winding its way up into the mist, but it seemed to go on and on for infinity..
The zigs were fine with the wind behind, but the zags into the wind were torture!
All of a sudden, we were on the summit plateau, only a few yards from the cairn. Somehow, we managed the few yards without being blown over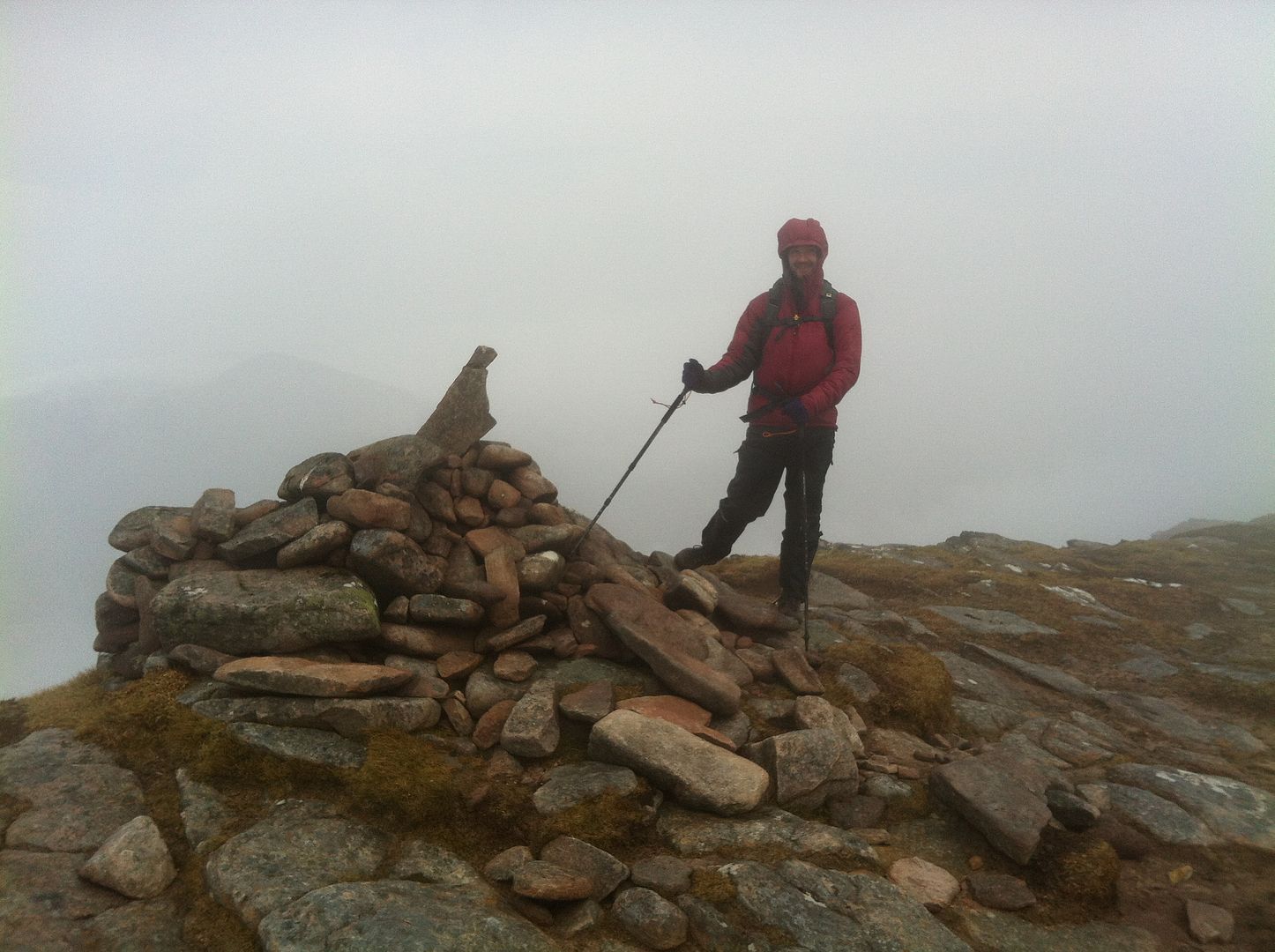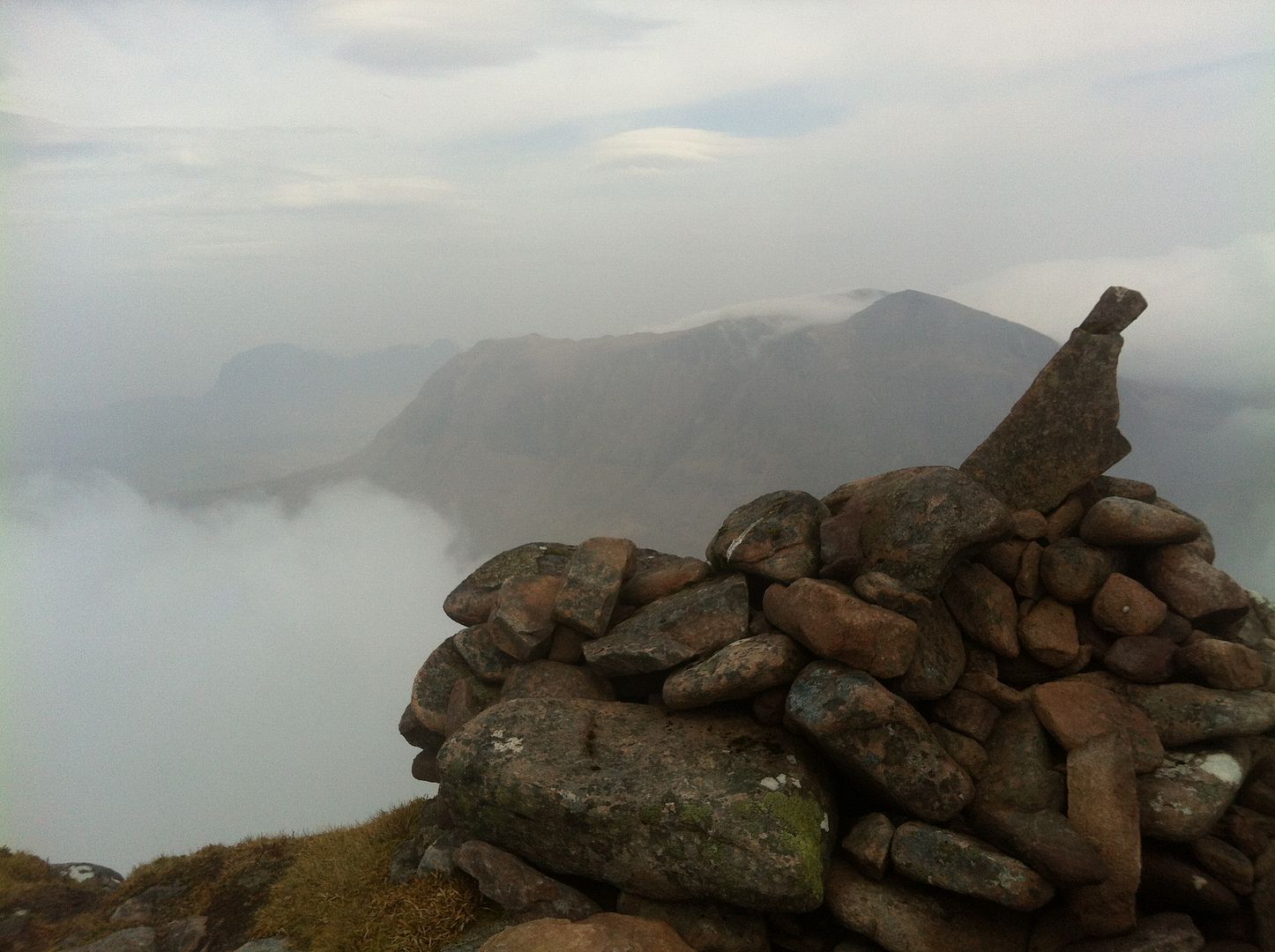 We sheltered on the lea side of the summit and had a long sit, watching the cloud coming and going, different views appearing and disappearing - was just braw. Shame there were no views at all to the east, but what we could see was magical.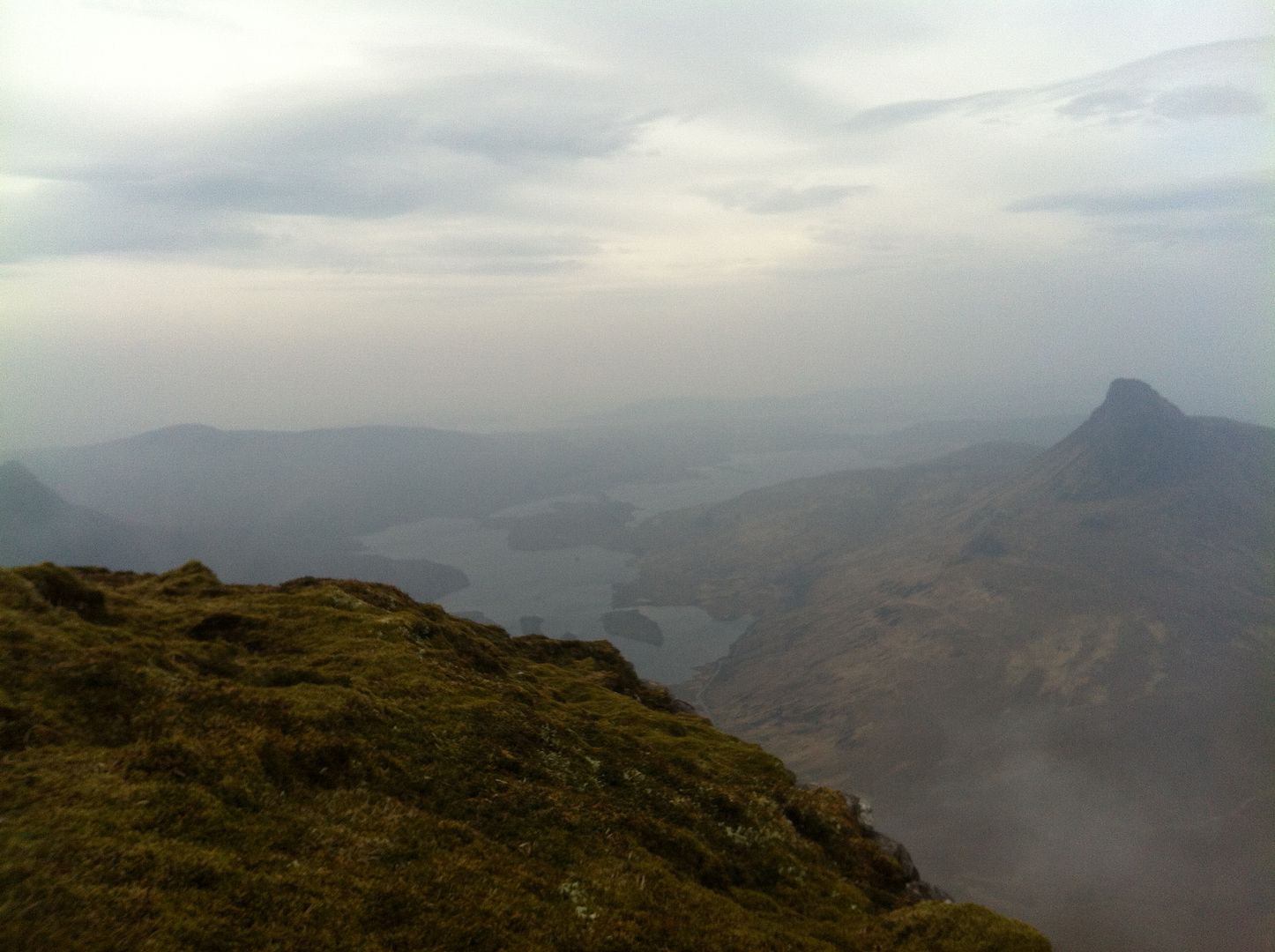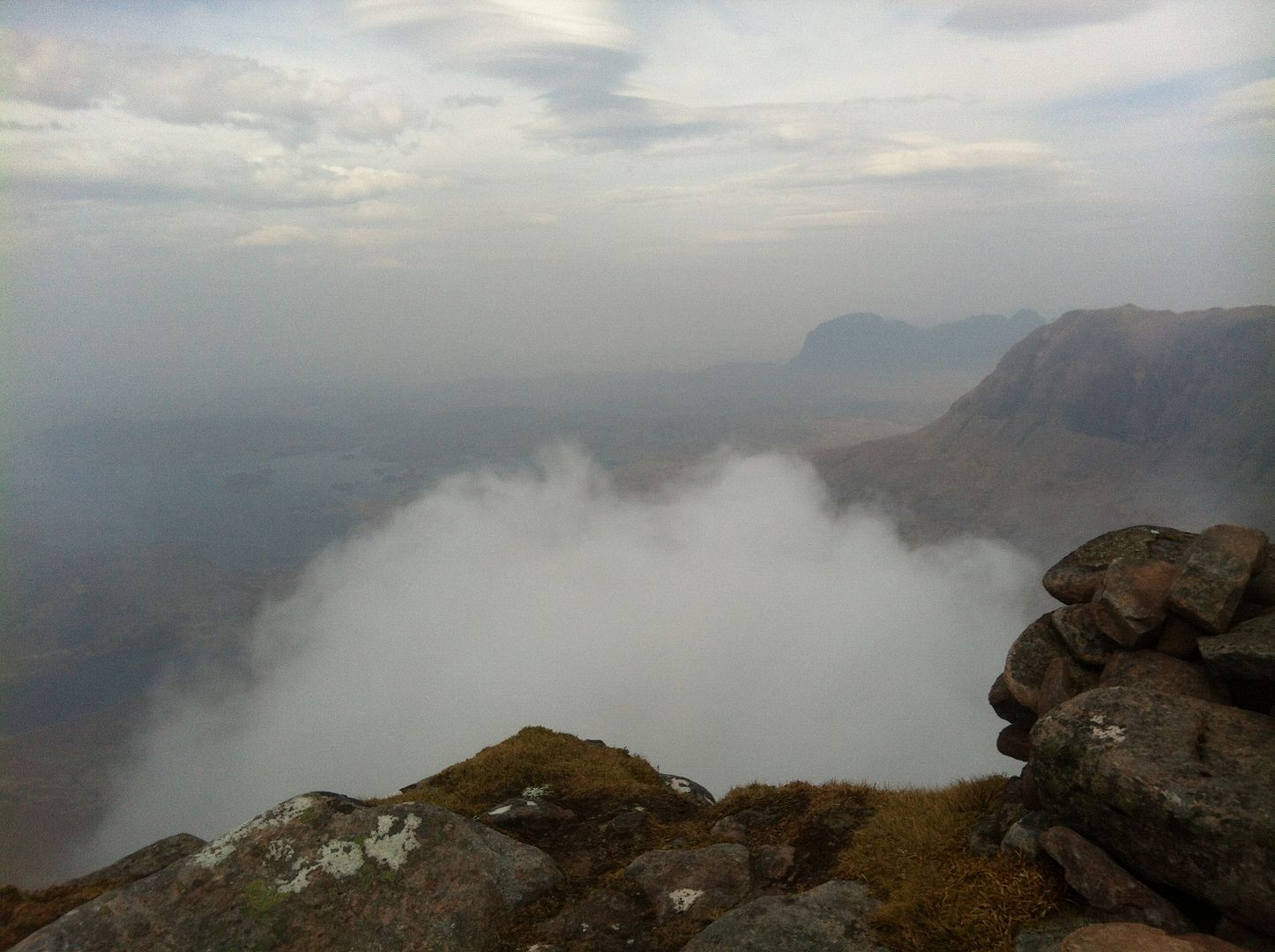 Chilled after the long stop we retraced our steps a way, then managed (on purpose obviously)
to find a different line down on an even steeper baggers path back to the bealach cairn. From there the ground was nice and kind to the knees and from summit to car took only an hour or so. A fine walk, but great to get into Sunny and out of the wind , felt like I had been battered all day.
We headed off after that, only a brief stop for a gander at Rogie Falls. It was an excellent meet, but getting too old for all this staying up late and drinking molarkey
Cheers ahbody for having us along.