At last the much anticipated Inchnadamph WH meet was upon us. Had decided to go for Quinag on the Saturday, Canisp on Sunday and head down to the Fannaichs on Monday. That was the plans anyway... Drove up after work on Friday night, the roads reasonable although did get my windscreen cracked by a stone coming through the roadworks south of Ullapool. I've never driven through Assynt by night and was frustrated by the thought of all my favourite hills being hidden behind a cloak of darkness - especially when the gloaming had been so perfect coming up to Inverness. Arrived at the Lodge by about 9.30, struggling to find a parking spot in a very busy carparking area. Inside, the log burners were going and it was grand to see a lot of familiar faces. Settled down with a glass or two of whisky - think the combination of the long drive and the whisky rather went to my head and I went off to bed around 11 in a rather unsteady state
Next morning was the reckoning for me - didn't feel too great and was re-aquainted with my breakfast somewhat unexpectedly. It was also much windier a day than had been forecast. I could see the flattened top of Spidean Coinich from the back of the lodge, inviting me up, so I wasn't for letting a hangover and a bit of breeze get in the way of our plans...managed to set off at the agreed time of 9am with SK, Rodmeister, PeteR, Jelena and Fyfe Flyer for Quinag.
Car Park
View of Spidean Coinich from Lodge...
Into the "Milkpail"
Rod, Sick Kid and myself (who for the day shall be called Sick Weasel) forged ahead - the other two blithely stepping through the terrain, me dragging my semi-lifeless corpse around after them. As well as being windy, the clouds were down low and a haze sat in the air. No indication at this point what our visibility might be later in the day. We tramped over the slabs of Creag Mhor, Sail Gharbh topped by a layer of cloud and what seemed to be a considerable amount of ascent and descent coming our way
First summit under the belt then a nice little ridge and improving views all around - I could make out Suilven to the south but most of the other hills were still obscured by haze. We came to the wee rocky outcrop before Bathaich Cuinneige and had to participate in the pose on the rock - I think Rodmeister may have a snap of me stood there looking down. Pretty exilharating anyway. On round to Sail Gorm, where the wind really whipped up, enough to take you off your feet. I'd climbed this summit years ago from the North - a very hot and boggy approach.
Sail Gharbh in cloud topped condition
The peaks ahead...
Spidean Coinich pops out of cloud
SK & the Rodmeister at summit 1
Ridge
Looking back...
View down to lochan
Approaching Sail Gorm
Spidean Coinich, Suilven to the R
Sail Gharbh from the bealach
Poseur's paradise...
...and accompanying view
Path to Sail Gorm
Rod & SK battle the wind
We then retraced our path back to Baithach Cuinneige, meeting Scoob on the way, though I was still in a far from human state
By this time I still hadn't managed to keep anything down and did worry about gettting dehydrated, especially with the wind whipping across every available surface. Did find some glucose tablets, which maybe gave me a bit of energy, as I picked up on the final climb to Sail Gharbh. This was a much rockier top, with a band of blue ?limestone just short of the summit. Fascinating that each top of this hill was so different - what a place. Views remained impeded by haze, but we did manage to spot a gaggle of WHers heading over to Sail Gorm in file.
Return journey...
Rod contemplates where we've been
Approaching top of Sail Gharbh
Sail Gorm
Rocky approach
Summit 3
Queasy Weasel
View to the W
WH Laggards just getting over to Sail Gorm now...
The descent to Bealach a Chornaidh was straighforward, sandy beach at the end of the lochan there and some great views back up to Spidean Coinich. Then a long tramp over the boglands to return to the car - eventually dragged myself there feeling done in. We'd talked the night before about making it up Glas Bheinn, just over the road, but I don't think I could have managed it in the shape I was in. Back to the lodge and a couple of hours kip and I was feeling more human, managed some food and able to join in a good evening of banter and quiz. Stuck to drinking water, mind
Descent
Spectre-stone
View back to Sail Gharbh from track
Stats
Quiz night...
Next day we were up early, partly due to the clocks going forward and having to vacate the Lodge by 10.30. Another windy but dry day. Took leave of the weekend companions, some of whom were looking a bit fragile, but most hale and hearty, discussing what they were going to try today - I do hope Hutchy1 didn't head up Wyvis as he planned as he may have been blown off the other side
. Anyway, our plans were for Canisp, which promised to be a nice gradual ascent from the East, just a couple of Km down the road from the lodge. After taping up the crack in the windscreen, we set off. I was still feeling a bit tired, but much better than Saturday. Clouds were draped over Conival and yesterday's haze had not lessened. Another boggy slog before rockier ground was reached, including some huge stone pavements of exposed slab. Got to the top of the mountain - funny how soft and rounded it felt coming up this side when I always think of Canisp as being quite a pointy fellow. Unfortunately the top was in clag with a big wind blasting us. We sat on the west side of the summit, under the cairn and had some lunch, hoping that the clouds would clear. There was only one hill I wanted to see from here and at the moment, she was invisible. Did get a semi-good Brocken spectre from the cairn, however.
Scoob & the Weasel - Corbetting rivals
Lodge
Canisp from the road
Cloud on Conival
Slab "pavement"
Nearing the top
Note lack of view behind...
Spectre
After 15 mins or so I finally got what I wanted to see - Suilven looming like a ship out of the clag, with her covers still on, but the wonderful, unique shape of the hill there to see. Snapped picture after picture as the clag came ond went - sometimes you'd see her then, as if a mighty magician brought down his veil, she was gone again. Eventually, cold fingers encouraged us to head back to the car, past a dried up river-bed. Conival was coming out of her covers too as we wandered back.
There is something there...
Yay! Suilven
Dry river-bed
Conival
Stats
The walk had taken us 4.5 hours - there was still too much day to do nothing with, so we headed up for a peek at the Bone Caves. A pleasant walk up the side of the Allt nan Uamh in sunshine (sunshine!!) and we reached the caves, a pair of ravens perched above on Creag nan Uamh. Interesting place this.
On the way back down, spotted the underground spring - Fuaran Allt nan Uamh coming mysteriously out of the ground at a fair flow rate. Pleasant little waterfalls further down too. Back at the car and a drive to Ullapool for a fish supper, warm enough (just) to sit on the front eating that.
Off to the bone caves
Valley
Source of underground stream
As you do...
Snap on the road to Ullapool...
Ullapool harbour
Campsite
Plan was to drive down to the start of the walk on the Gairloch road and look for a spot to wild camp, heading off early the following morning and getting 3 - or maybe 5 - of the Fannaichs done. Found a perfectly serviceable spot just south of the car-parking area and settled down for an early night, knowing we had a big day ahead. There was little traffic overnight to disturb us, although a very inquisitive grouse did come right up to the tent at one point and made some investigative noises then a loud cackle-burble which was a bit amusing. Managed to get set off by 7.15 on monday morning, which wasn't bad, give the clocks change, and set off down the track to the boat house, where we spied a little tent. Didn't - stupidly - take the new track off to the left, so ended up having to climb the deer fence to get out of the boat house area. Then back to the track and some confusion about what hill we were actually going up first, me mistaking Sgurr nan Clach Geala for Meall a'Chrasgaidh as is so easy to do
We were also a bit late in leaving the track and had to cut back down to the bridge rather than face a watery wake up. Haze on the surrounding hills remained but it was possible to make out the ghostly form of An Teallach over to the NW, looming up from Meall an t-sithe. The climb up the grassy slopes of MaC was tiring and SK was flagging a bit today. I, however, felt restored to better fitness and was happily romping off ahead.
SnCG & SB from the track
Boat House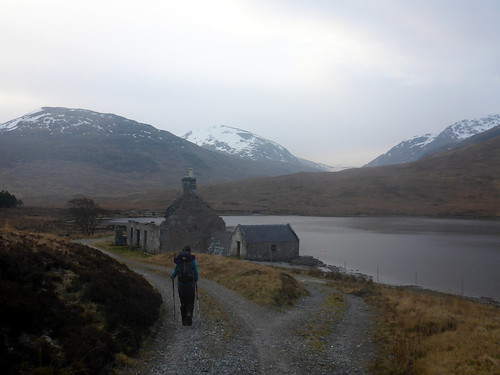 Bridge, MaC behind
An Teallach
SB & A'C
Morning mist in the valley
Last section to MaC
Sgurr Mor comes into view
pano from top MaC
Heading to the top of MaC there were good views over to the western Fannaichs and - though I didn't realise it at the time, to the Fisherfield hills. Right at the top of MaC, the impressive form of Sgurr Mor reared up - we'd been up there 2 weekends before and seen nothing, so I was especially grateful for the views today. Particularly impressive were the crags of Creag A Mhadiadh and the loch below. Sgurr nan Clach Geala looked imposing from here, a serated edge swathed in snow. We sauntered down to the bealach of Am Burach, found a little shelter to stop at to put crampons on and headed up the steep snow clad side of SaCG, keeping well away from the edges as there was still risky looking cornicing around. Up to the summit, gingerly stepping out to the smashed trig point and what views - back round the horseshoe to An Coileachan, where we'd laboured under blizzard and high winds seeing nothing, then on to the snaking sinuous ridge to Sgurr nan Each. The snow was gone from the south facing slopes of SnCG so off with crampons, ditch packs by a big rock at the bealach and nipped up SnE unencumbered. As it's only about 100m ascent from the bealach it was a skoosh with good views to Loch Fannaich albeit through the sunhaze and back to the horseshoe. Then back to the packs and 3 Munros done before lunchtime
Pretty in pink - top MaC
SnCG
Creag a'Mhadaidh
SnCG from the bealach
eastern Fannaichs
Sgurr Mor
SnCG
View to Western Fannaichs, Fisherfields beyond
Happy weasel
Sick Kid on Sick Trig
Towards SnE
Ridge SnE
View back up the horseshoe
Summit SnE
Looking N from top SnE
Sick Kid had been feeling a bit knackered, but fortunately was restored by lunch and up for adding in the two western hills, Sgurr Breac and A'Chailleach. This did mean a bit of a drop to 550m into the valley floor before heading back up to 999m. Ach well, it was a cracking day for it. The descent was reasonable, bit boggy in places and we made for a big rock at the eastern spur of SB - looked easy enough up from here, helped by finding a great path that led up. Impressive waterfall over in Coire Saobhaidhe, just a great day to be out.
Sgurr Breac from SnE
Waterfall SB
Path up SB
An Teallach
View to Loch Fannaich
Summit SB
West to A'Chailleach
Reached to flat top of SB without too much effort at all and enjoyed to views - An Teallach making an appearance again, cornice remnants all around. Down a stony path to Bealach Toll an Lochan then on to the final hill of the day, the Old Woman. Another snaking ridge then summit reached - two small cairns of similar height. We'd wondered which descent route to take - either head downby Sron a Goibhre or head back to the bealach and along the longer, gentler spur of Druim Reidh. We chose the former, mostly as the thought of re-ascending to Toman Coinnich was unappealing, but this probably would have been the easier route - it was very windy on our path down to Sron a Goibhre, with pellets of ice being whipped up from the cornice and smacking into face and nexk like tiny bullets. After the Sron, there was a steepish descent to boggy ground by the loch, then an ATV track of sorts to follow down the stream, then turning NE around the head of Druim Reidh, watching for one craggy bit very close to the path. Finally the path runs south of Loch a'Bhraoin, with a stile to climb into an area where drainage and new trees have been planted, leaving digger scoops full of water - wouldn't like to try and get across here in the dark!. We could then see the boat house at the end of the Loch and gratefully got back onto firm track, getting back to the car in under 10 hours. The weather was still beautiful, the effect of full sun in the face leaving us like a couple of berries, as we made the last few metres up the road, the pinnacles of An Teallach alluring in the distance.
Towards top AC
Sick Kid getting her 5 a day (now increasing to 7 a day I hear...)
Descent route
Lochan
Mind the crags
Loch a'Bhroain
View back to Boat House
Car with compelling backdrop
Stats
[url=https://flic.kr/p/mDj21H]
[/url