"There's only one hake left" one waitress was overheard saying to the other. He moved with the lightning speed of a snake striking at it's prey! "I'll have it" he cried. Old hands and seasoned WH meet veterans such as Old Danensian and myself were taken aback by the audacity and temerity of the newcomer. The English upstart had stolen our dinner from under our noses. We marveled at his audacious raid, even if his table etiquette may have been questionable!
We were in the Caberfeidh in Lochinver, despite my protestations that we were liable to end up being dismembered and added to the broth pot. We had ended up there because the Lochinver Pie Shop was closed for the evening. I had planned on eating at the bunkhouse, but because I could not be arsed stopping at the chippie in Ullapool on the drive up last night, I had eaten tonight's dinner last night in the bunkhouse and so if I wished to avoid having to eat tomorrow's lunch for tonight's dinner (are you still with me????), I was going to have to dine out.
Nine of us sat at two tables in the front room of the Caberfeidh. Nine hours previously, the Hake Thief had borne more than a passing resemblance to the Prophet of Doom as nine of us had followed the River Traligill up the Gleann Dubh towards the two Munros of Assynt. "We're not going to get any views from up there today" he chimed. The rest of us kept our counsel and plodded on.
It was the Saturday morning of the Inchnadamph meet and it had been a wild night. However, unlike previous meets, nobody had taken to running about the bunkhouse in his underpants whilst trying to climb into other people's beds under the flimsy pretense of trying to find his trousers. Nor had anybody insulted fellow members by referring to them as fornicating primates in the employ of a Walmart-owned UK supermarket chain. Not even the ultimate insult had been employed - namely referring to Charlie as being a native/resident of Thurso. No, it had been a quiet night inside the lodge, even if all hell had been raging outside. Would Nigel, Rod and their respective tents still be there in the morning?
09.30 hours and Nigel (Old Danensian), Evie (Sunny Speyside), Jodie (jriskowski), Jim (Doghouse 103), Mark (The Dude), Darren (hutchy1), Chris (jepsonscotland), David (David Main) and myself were away from the crowded car park and off up the glen.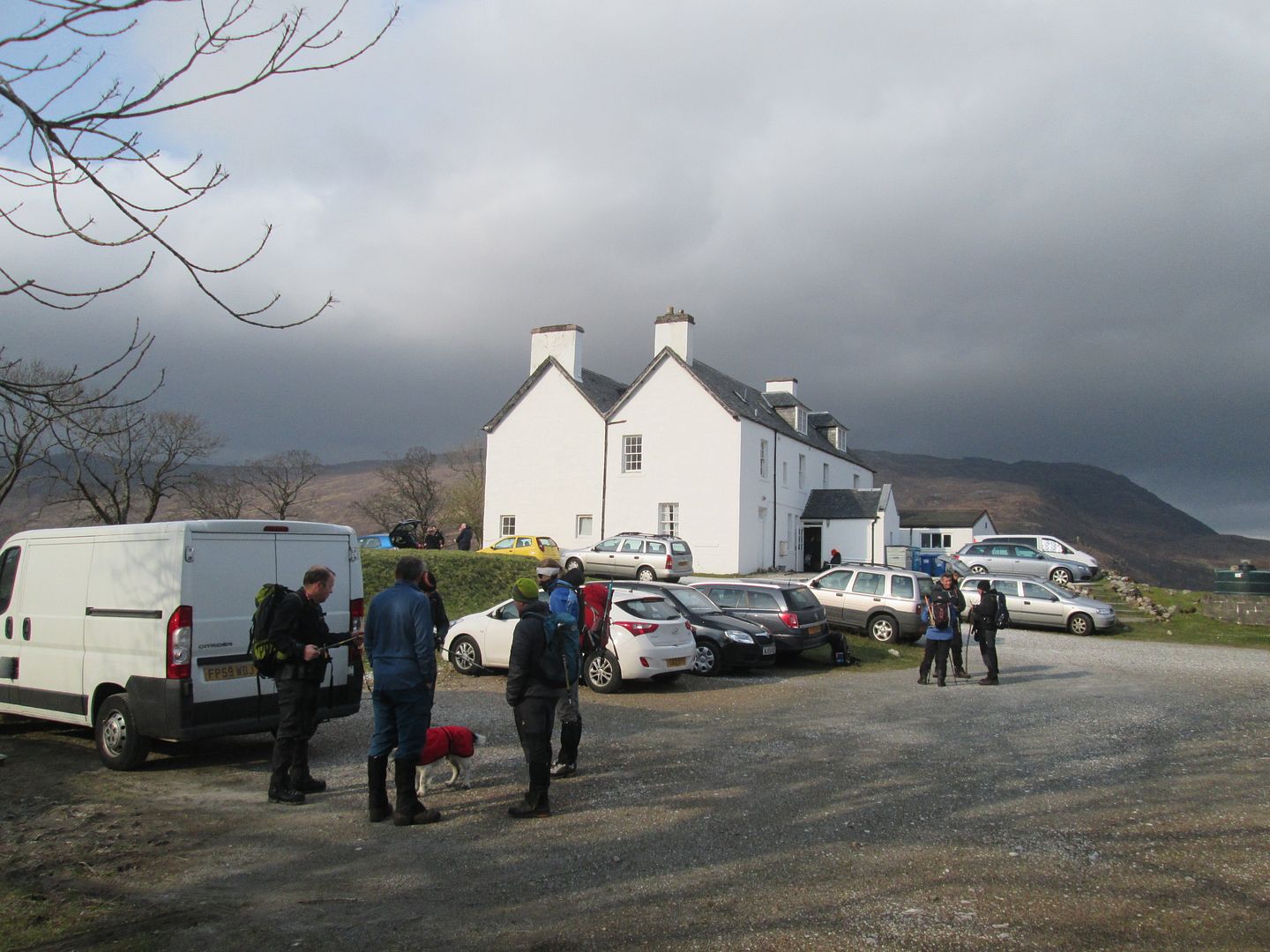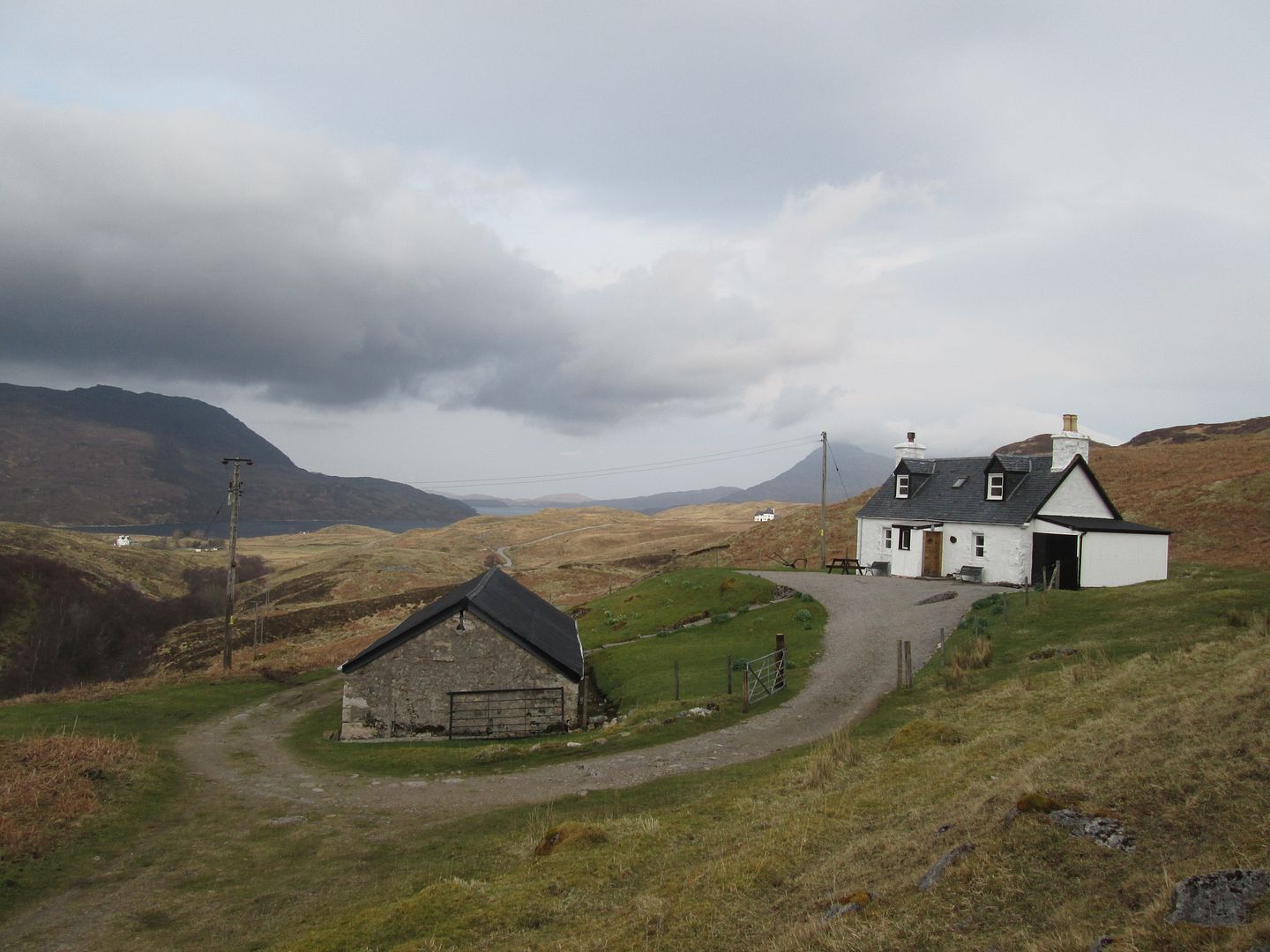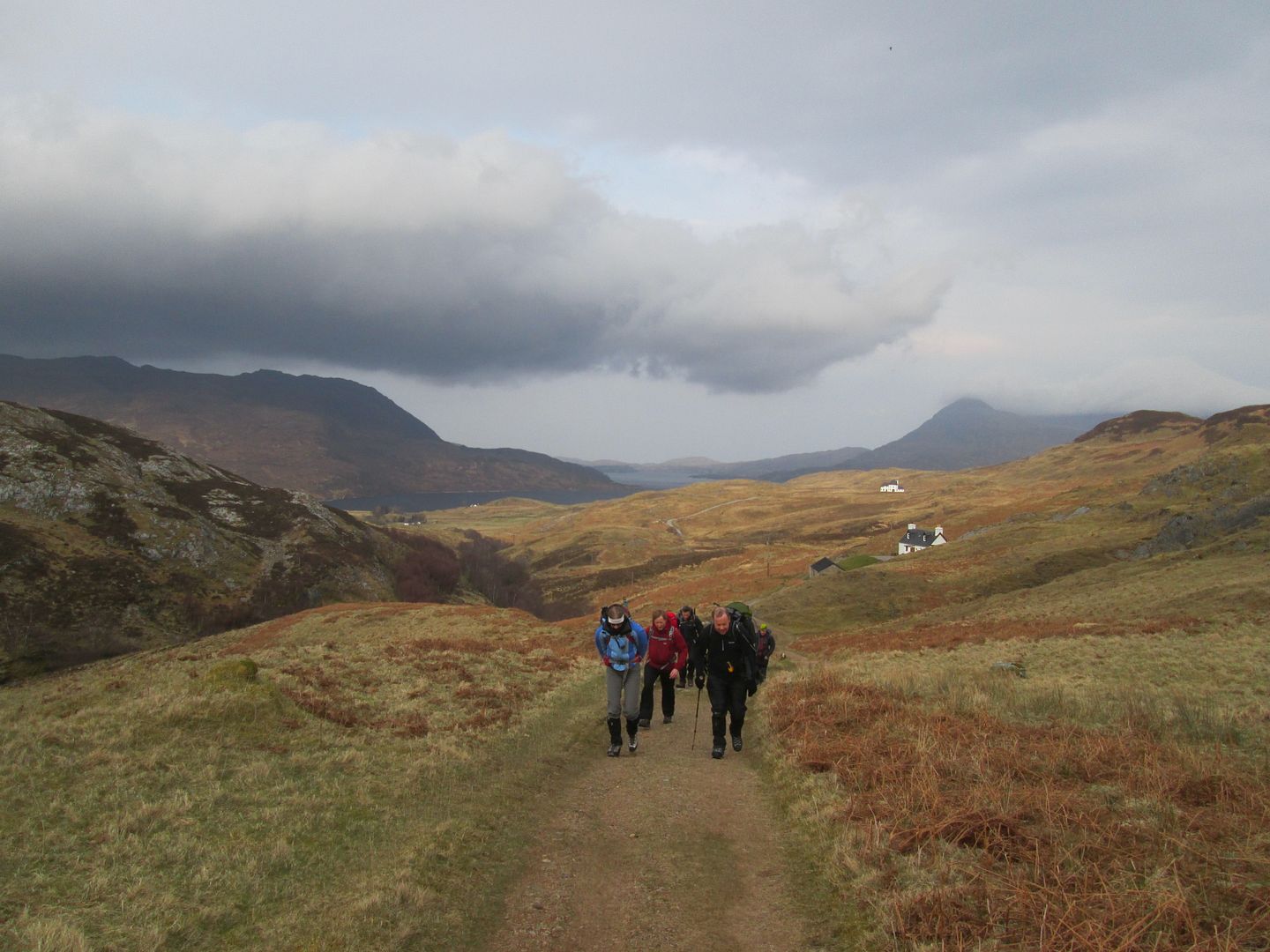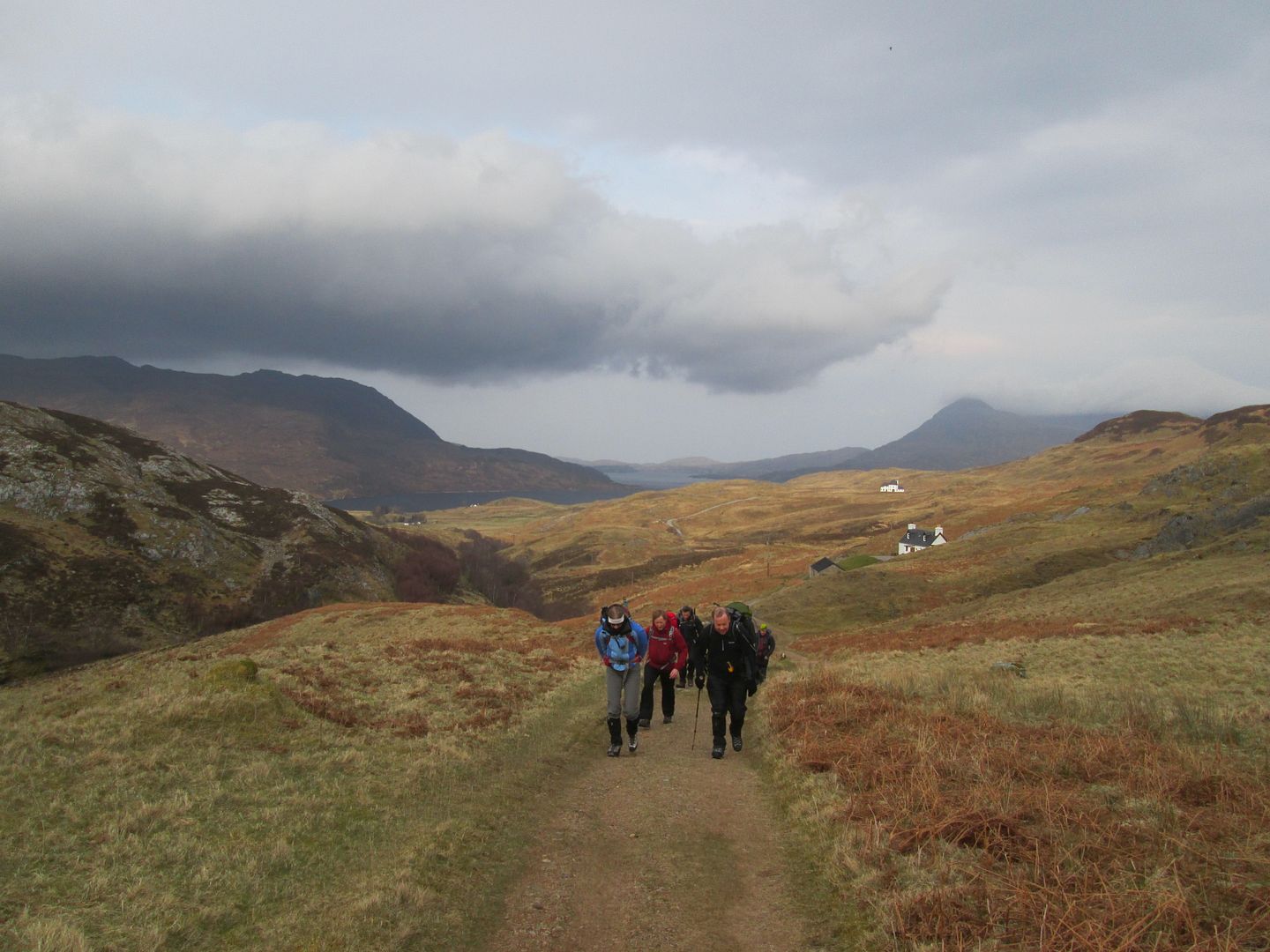 To be fair to Chris, prospects of views from the summits and ridges looked pretty bleak, especially as we climbed up beyond the snowline and through the crags that led us out onto the plateau to the north west of the summit of Conival. But then a kind of miracle happened. Slowly but surely the late March sun started to win it's long battle with the clouds (or at least it managed to achieve some sort of parity). By the time we stopped for lunch just short of the summit, the prospect of summit views was a real possibility.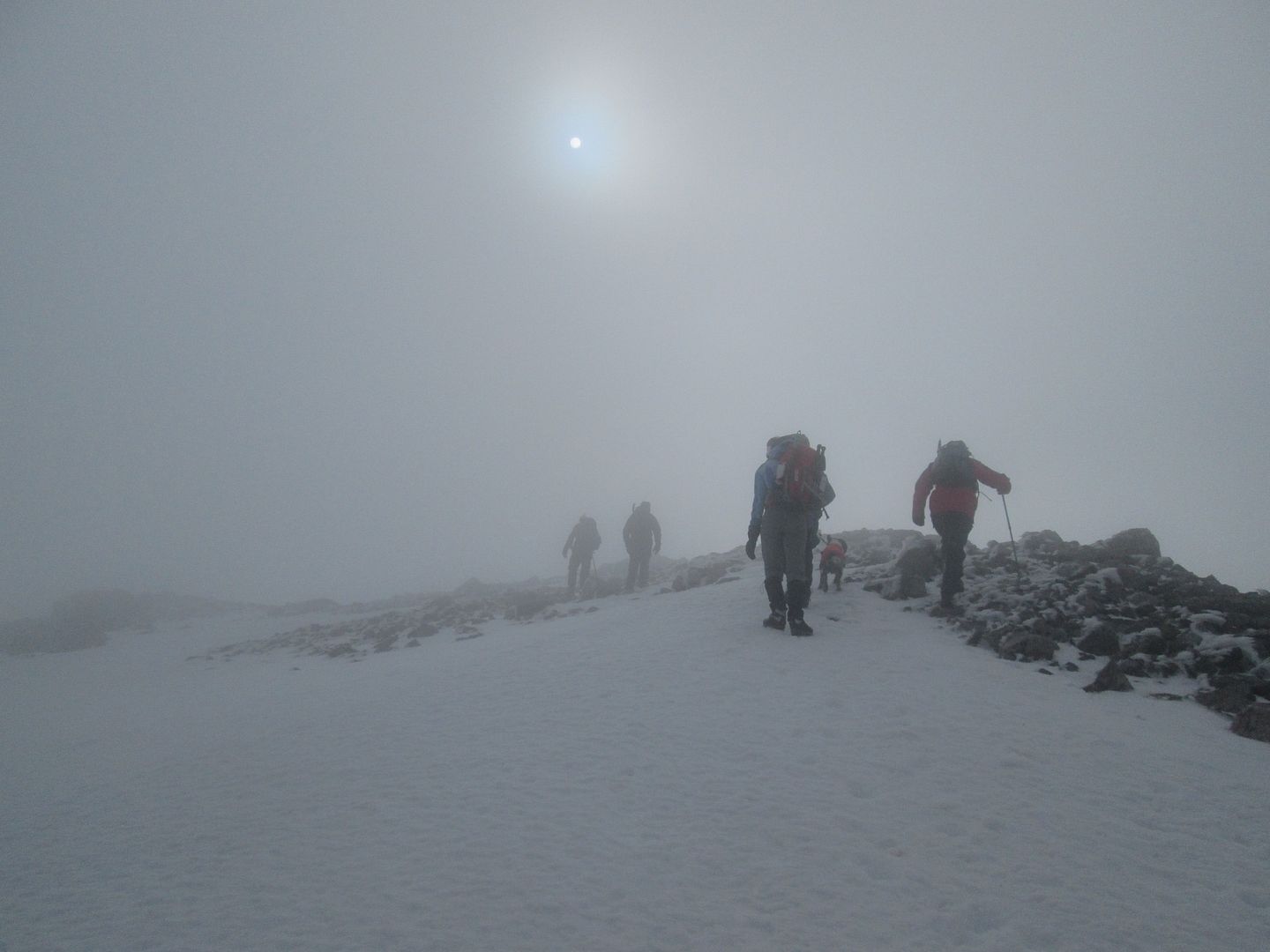 We reached the summit to be tantalised by views of the connecting ridge leading east to Ben More Assynt being strafed by bands of wispy cloud. At this point Evie decided that she had seen enough. She is not keen on high winds in exposed locales and didn't fancy the ridge walk, despite my efforts to encourage her with the fact that there would be strength in numbers. She bade us farewell, reassuring us that she would be fine retracing her steps on her own.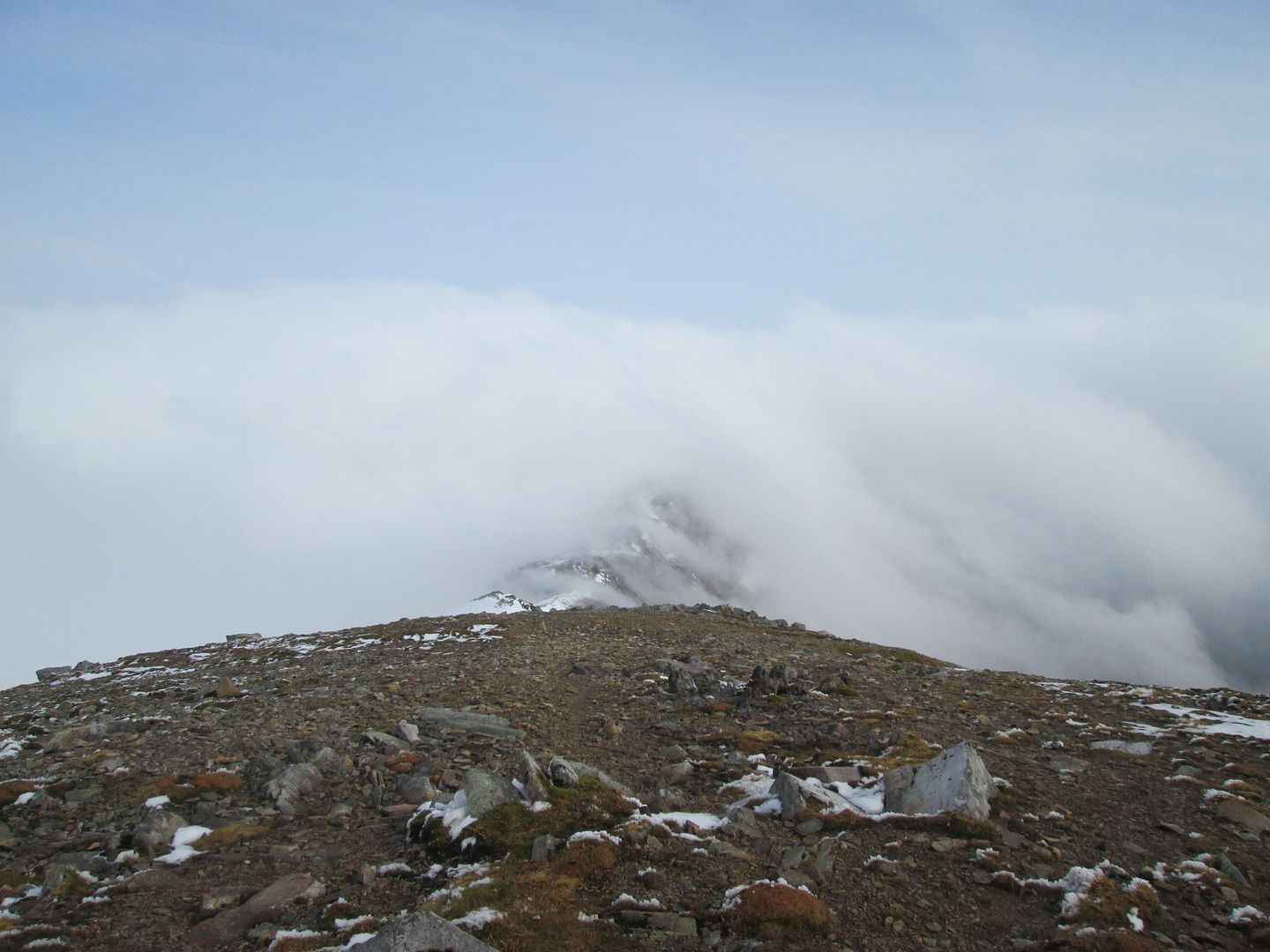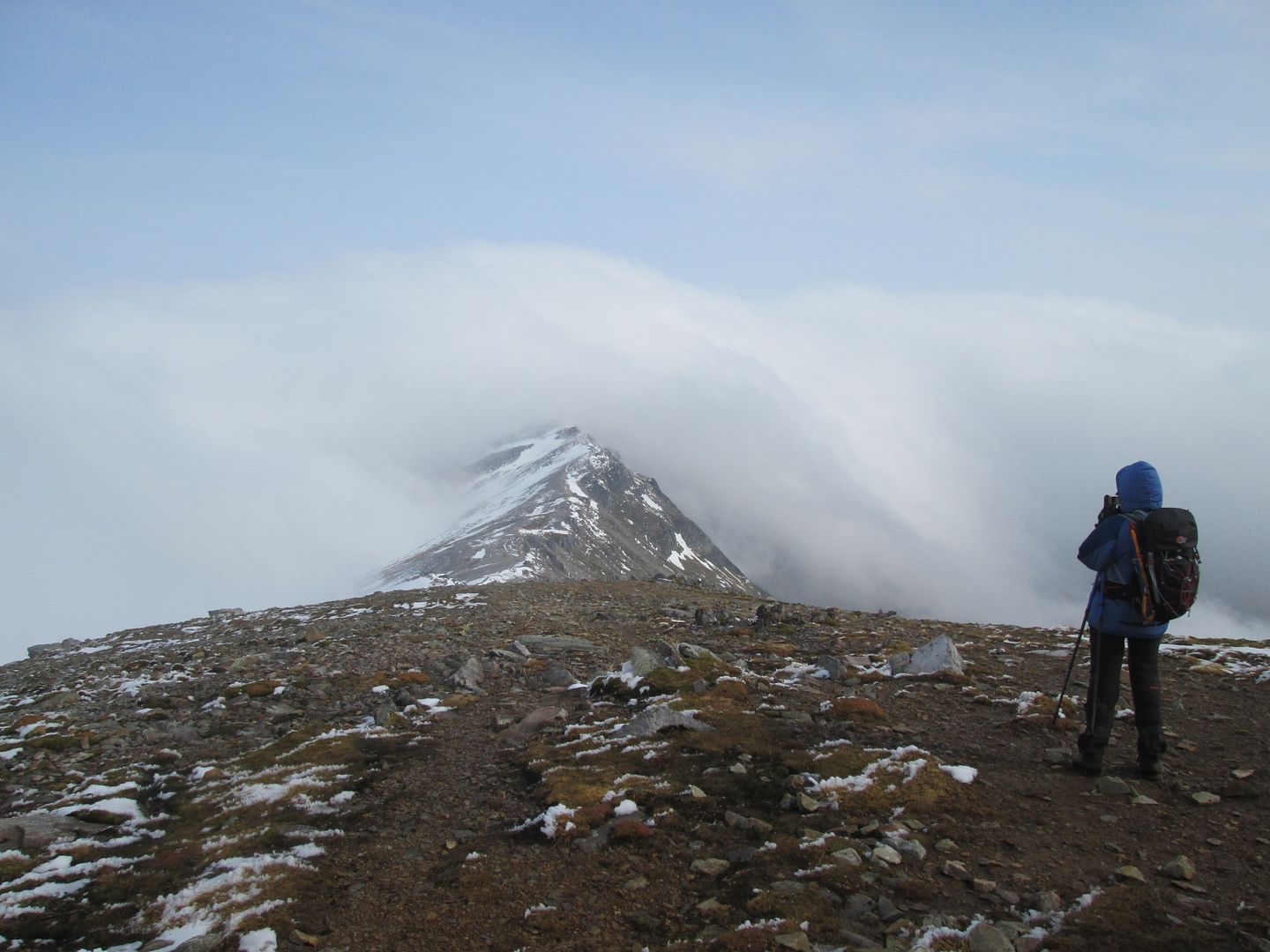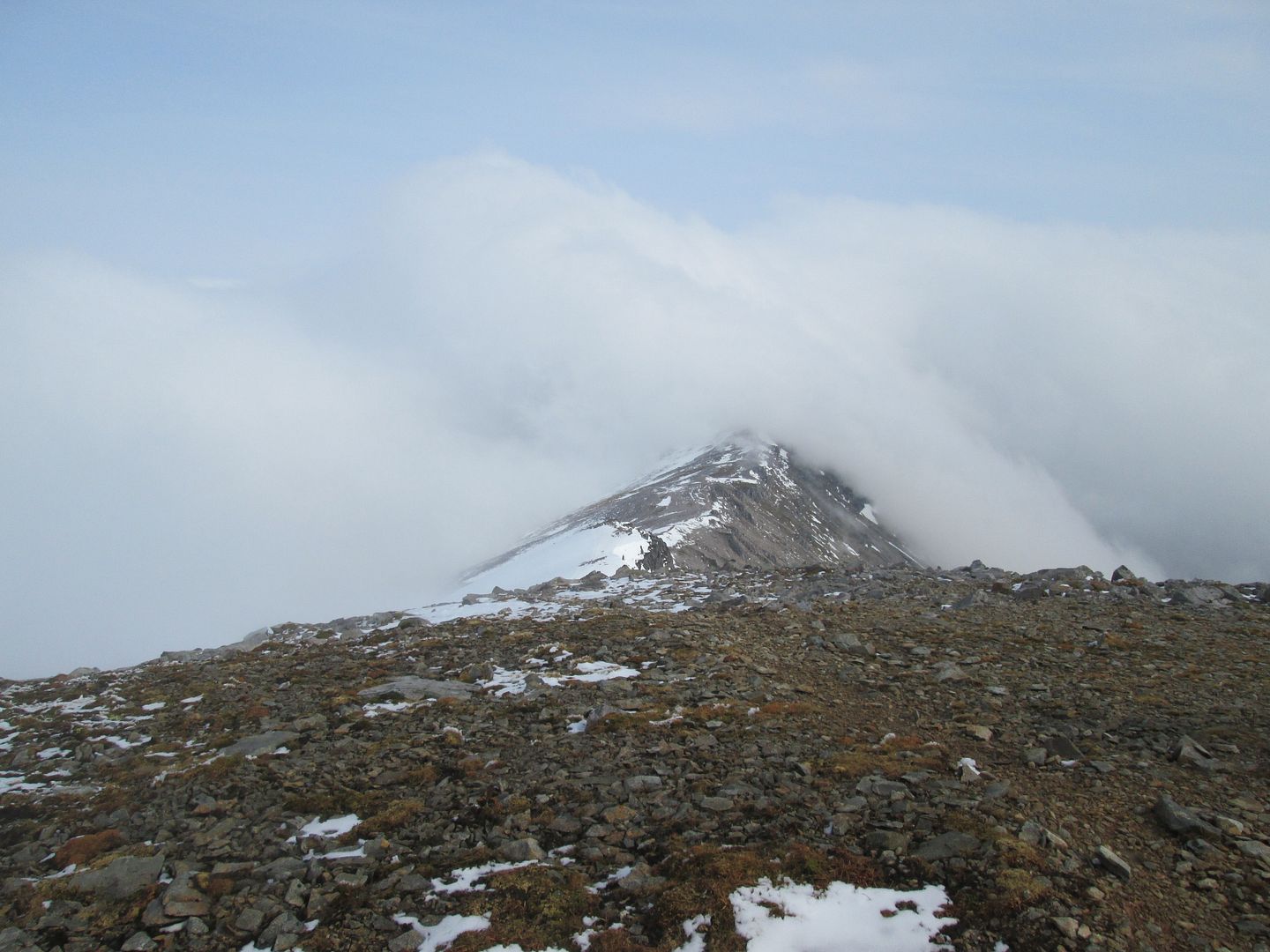 Looking back to observe her progress off the summit of Conival, we saw two more figures descending off the summit towards us on the ridge. These turned out to be Dave (Kaiserstein) and his partner Lydia, who eventually caught up with us as the summit of Ben More.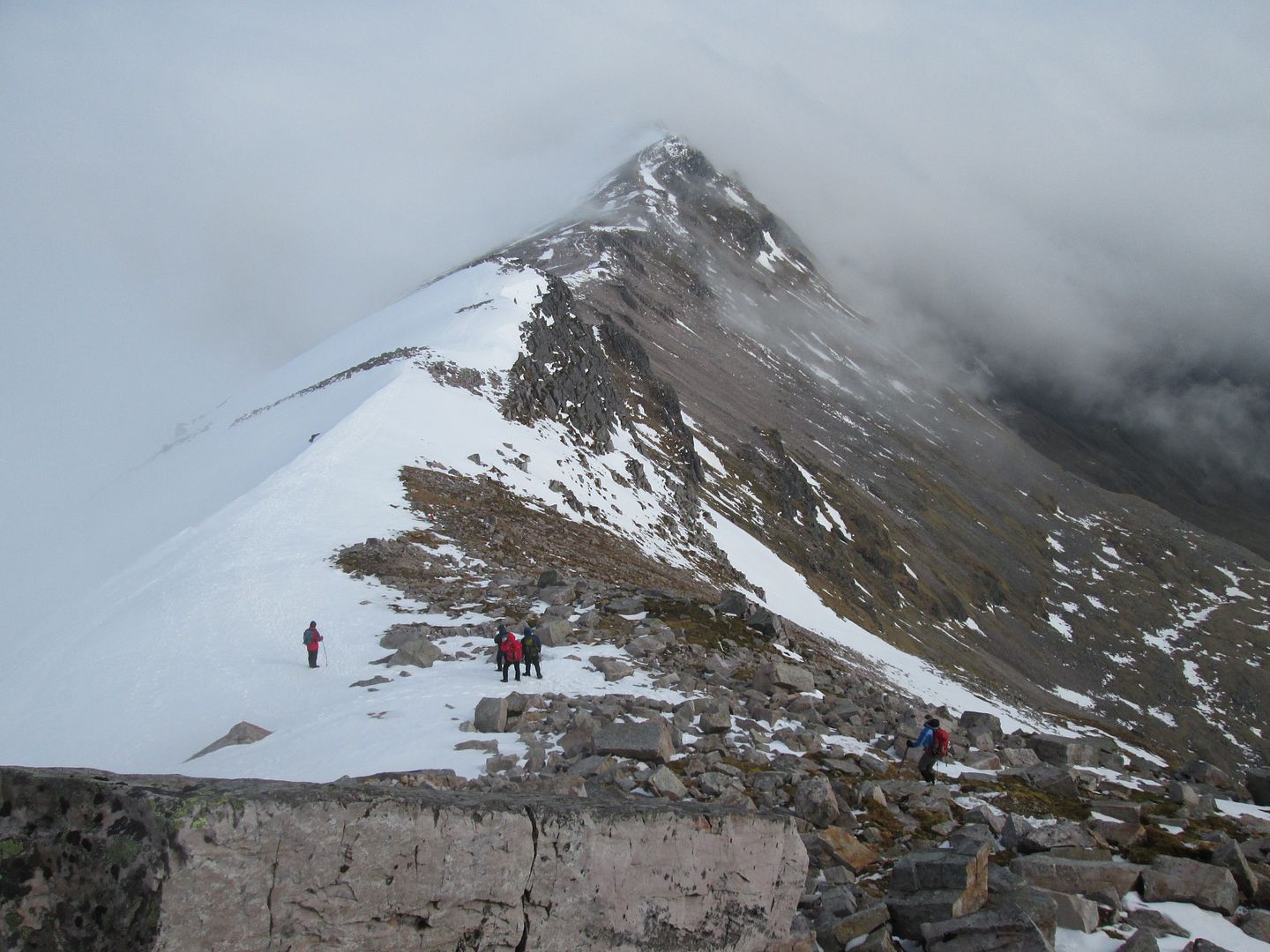 The walking was hard work in places due entirely to the gusts of wind that would momentarily threaten to lift you bodily off the ridge. The Prophet of Doom and would-be Hake Thief was now reduced to something more akin to a slavering 5 year old in a sweetie shop as he took in his finest hill day to date. He reckons he wouldn't have been able to do the ridge on his own (I dunno about that) and I don't know whether he felt like crying or smiling when he asked me how it rated on a scale of 10 compared to other ridge walks I had done and I answered about 6.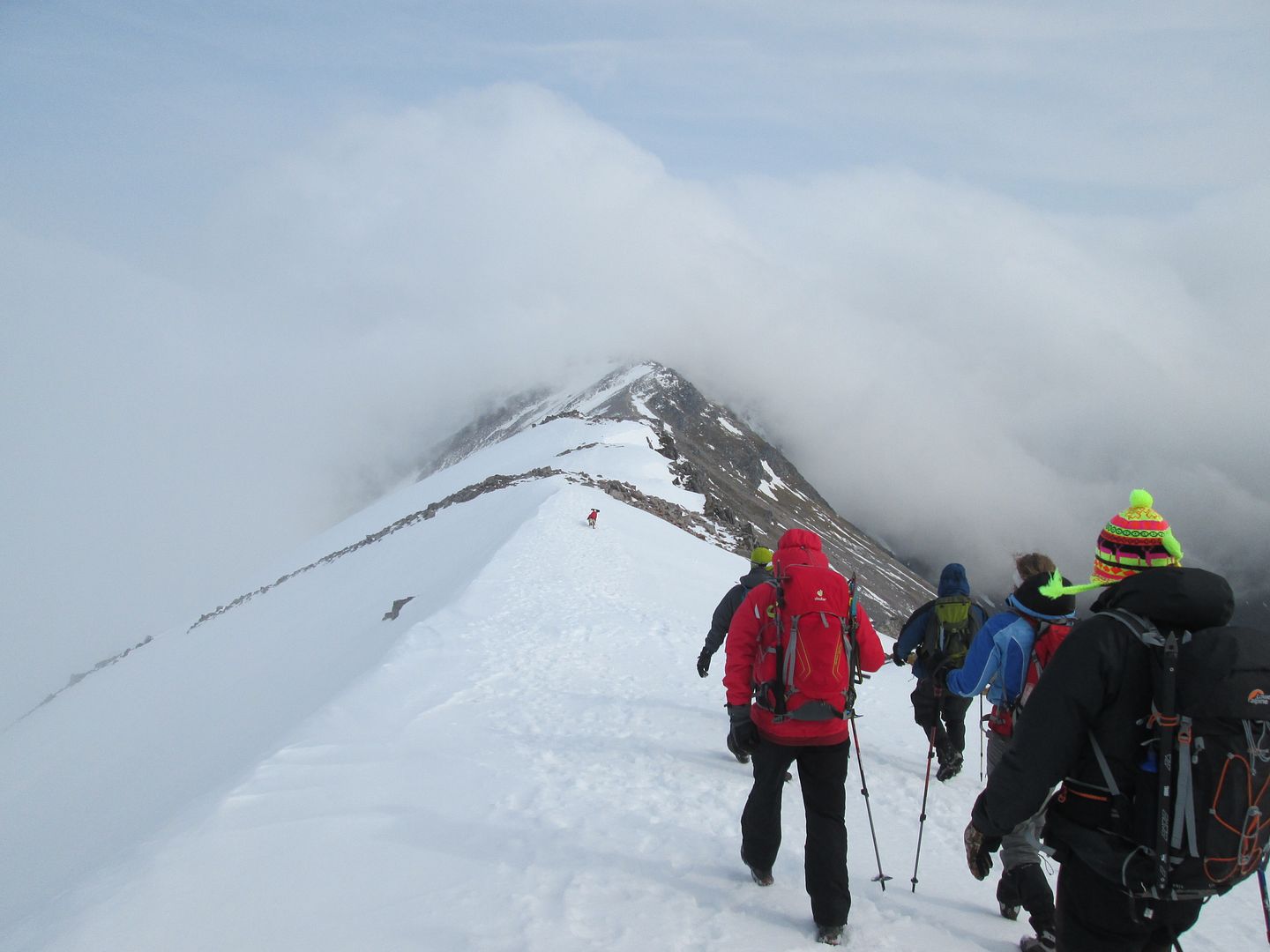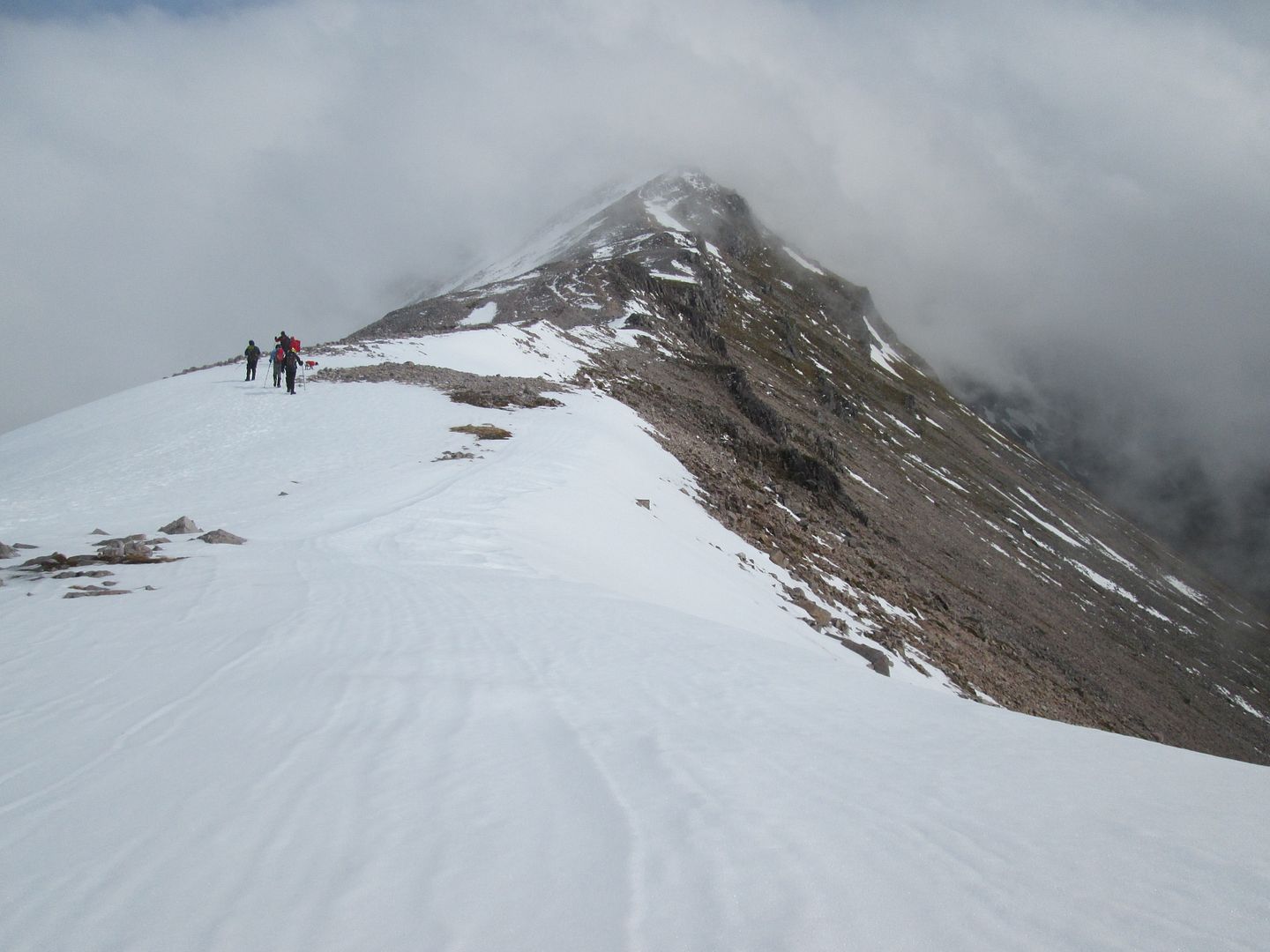 The summit of Ben More Assynt is somewhat understated and, clagged in as it was, it had a rather eerie and desolate feel to it. We hunkered down in the shelter of some crags a short distance below the summit on the northern side and were soon joined by Dave and Lydia.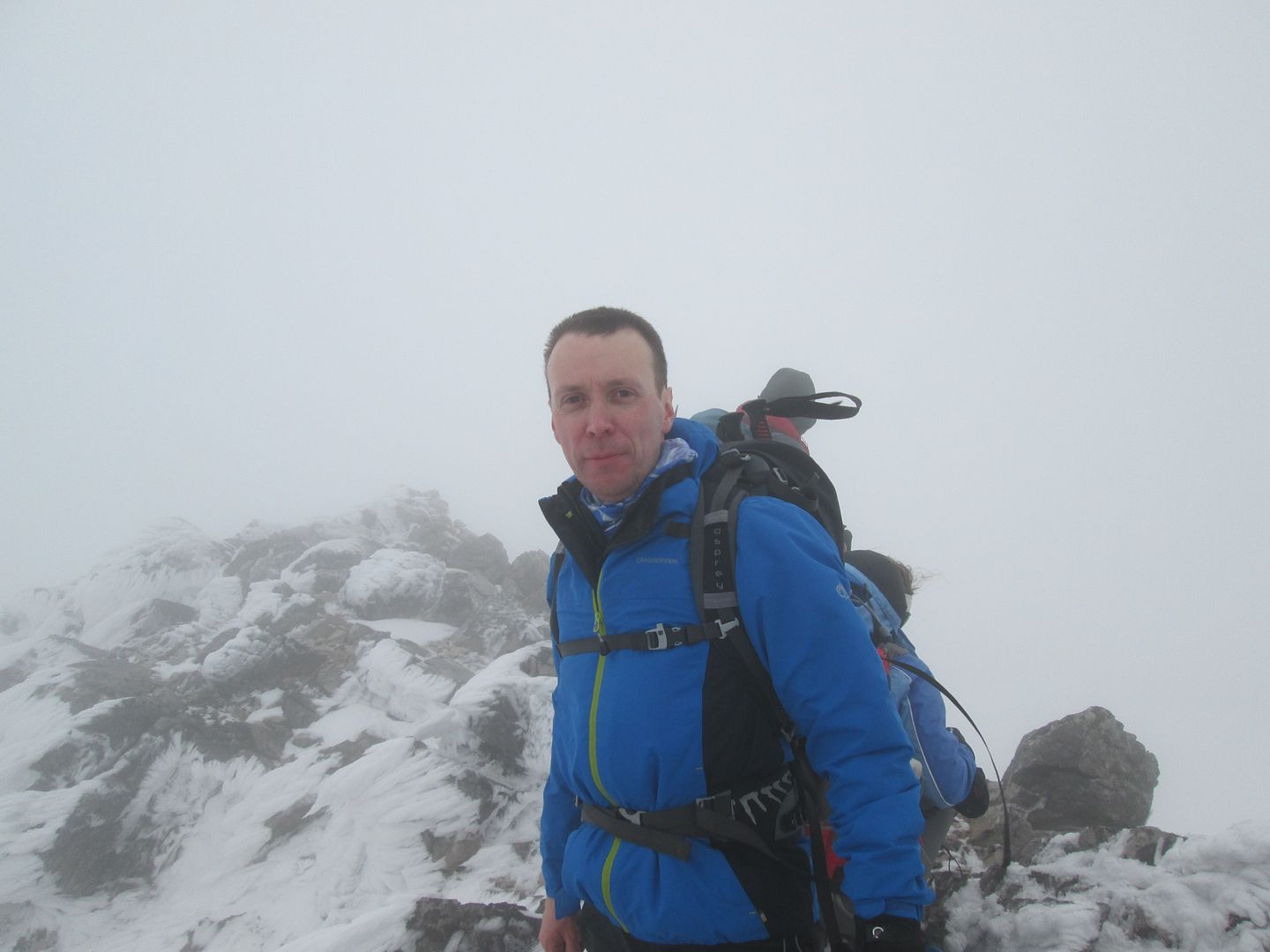 Then it was a simple case of retracing our steps back along the ridge and over Conival. Some fun and games was had along the way, posing on and jumping from rocky promontories. Darren took things a little too far however when he face planted the ground and shredded his trousers in the process.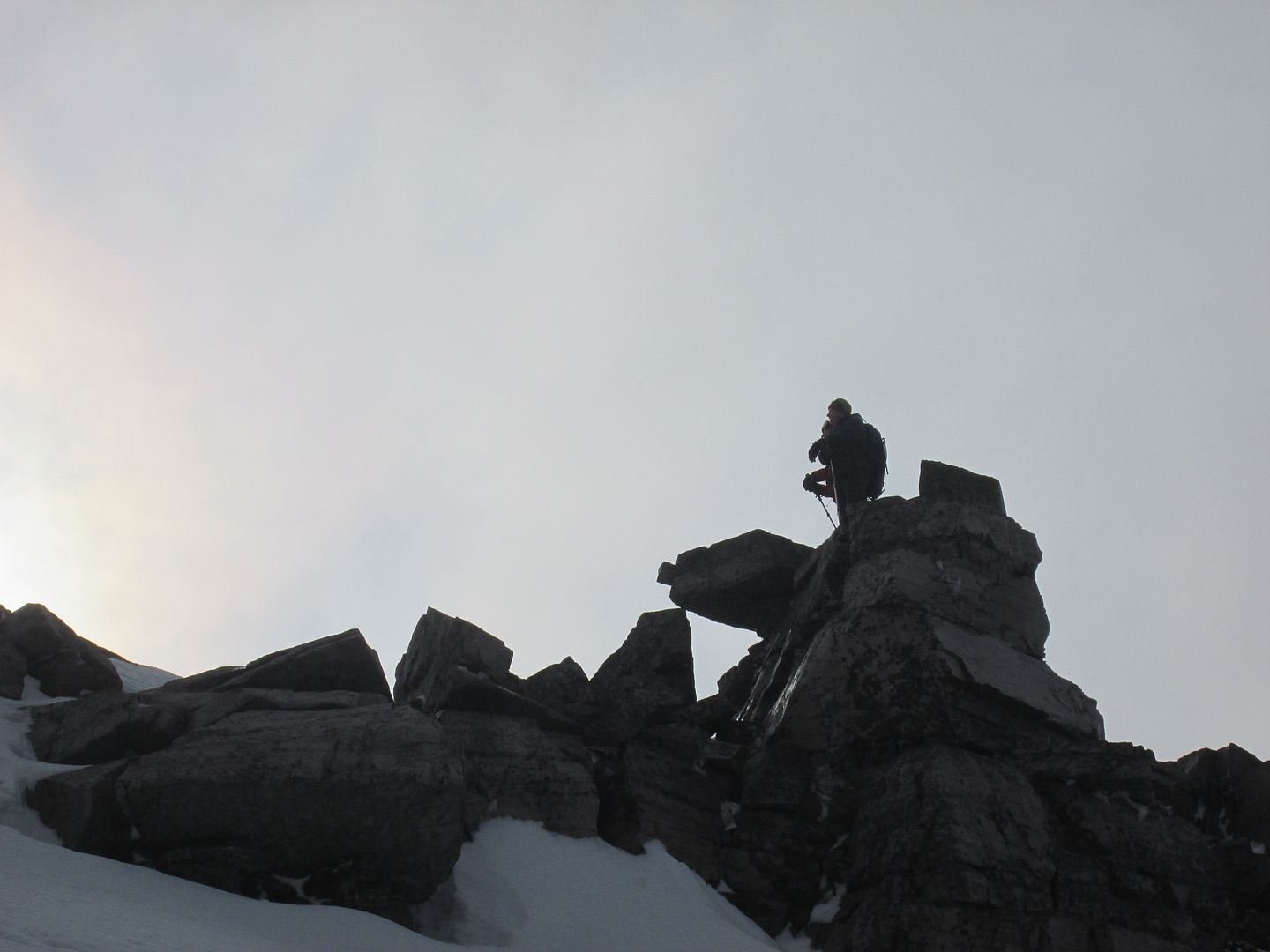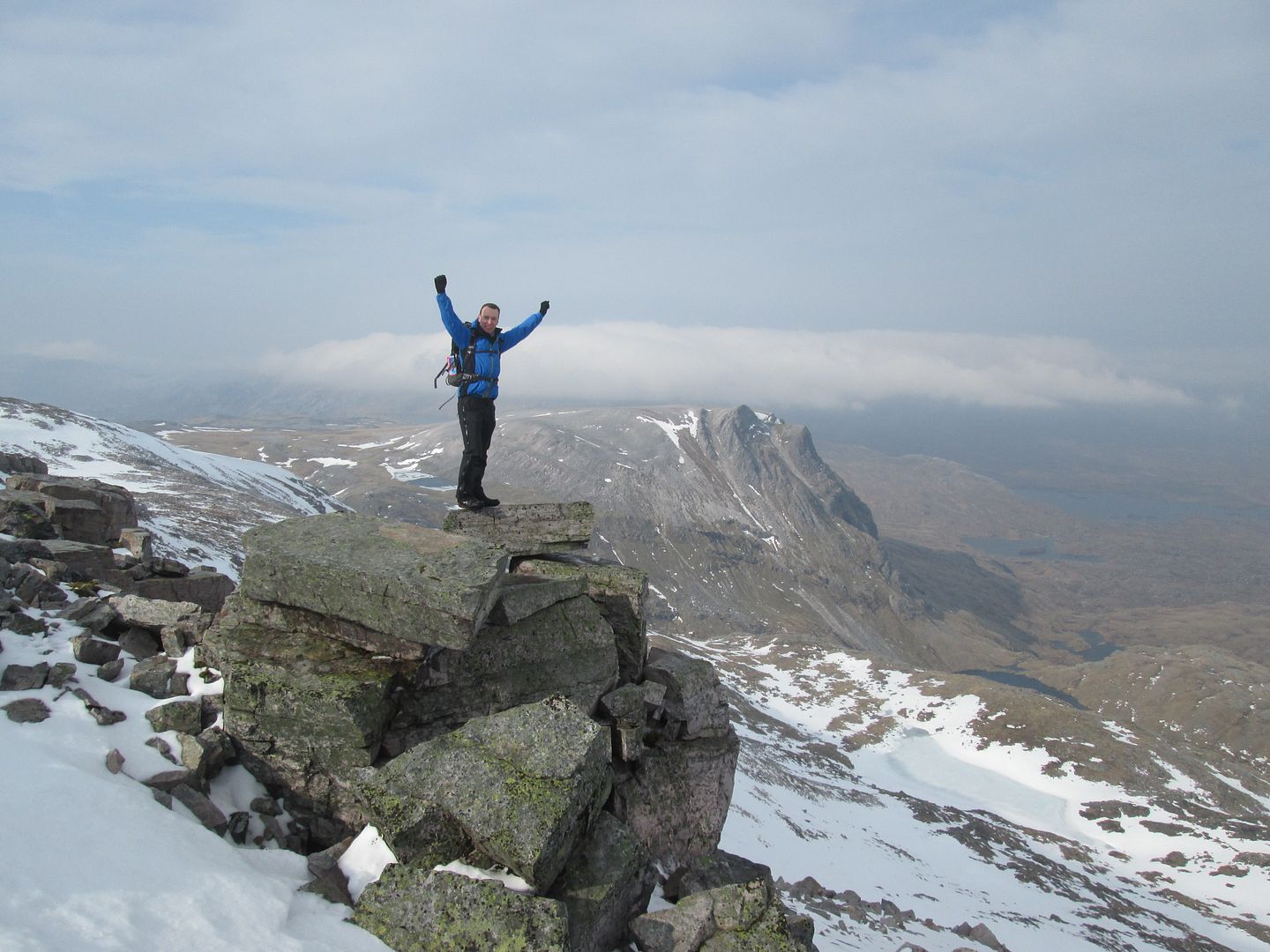 The weather improved as we descended although the anticipated clear views of Canisp, Suilven, Quinag and co. never quite really materialised. Still, the views across the lochans of Coire a'Mhadaidh to the towering buttresses and crags of the 860 spot height summit east of Bheinn an Fhurain more than made up for it.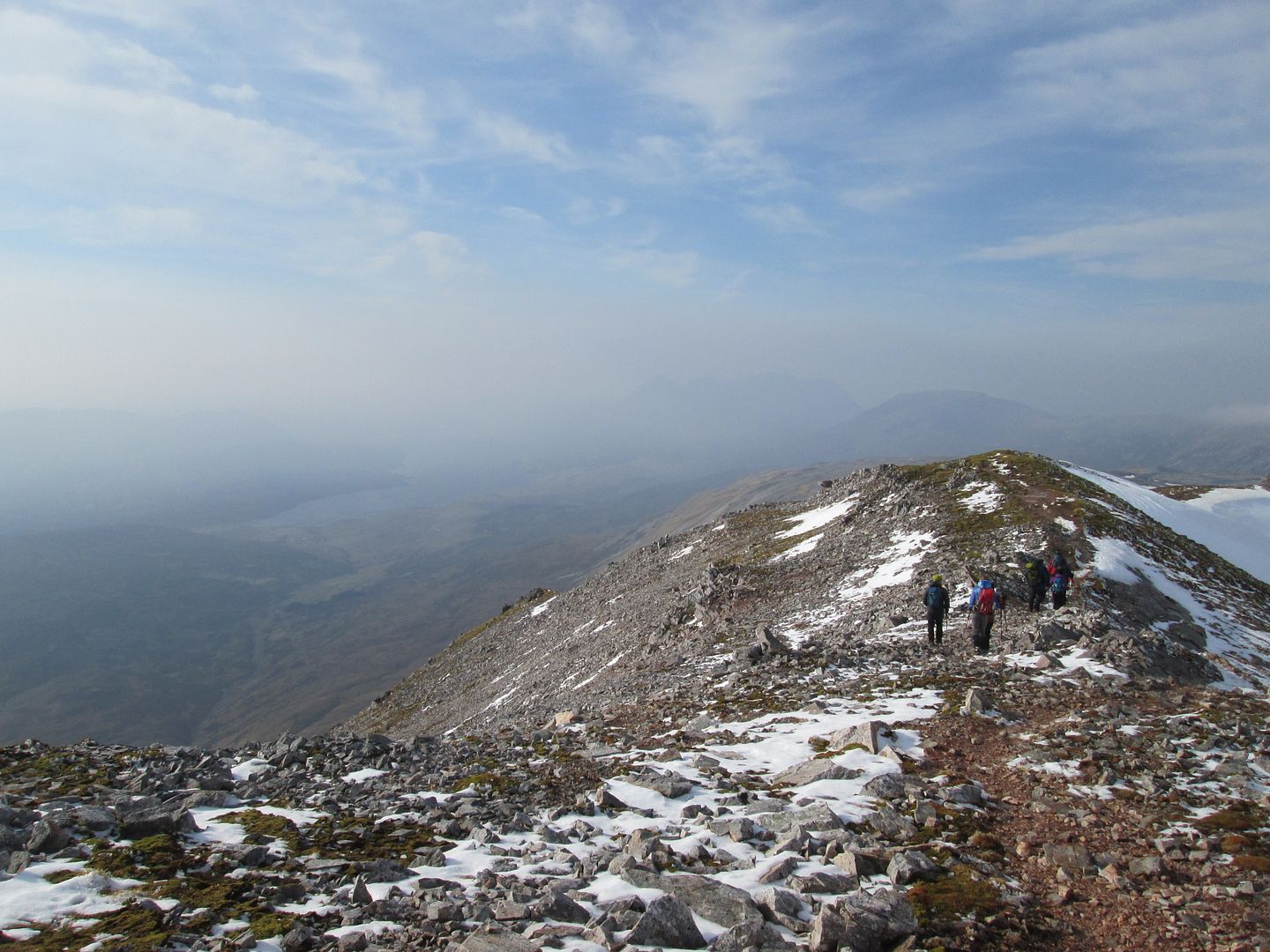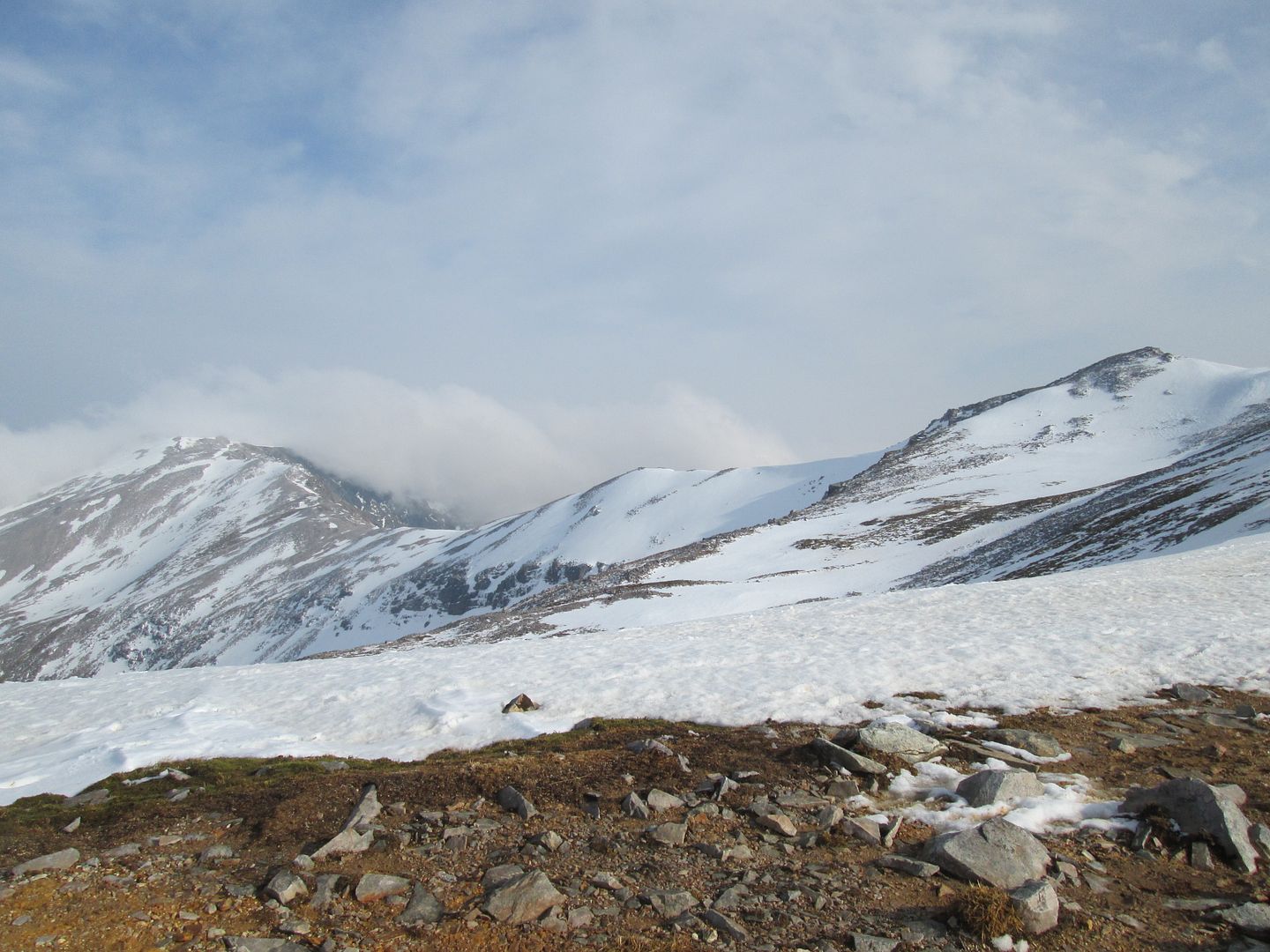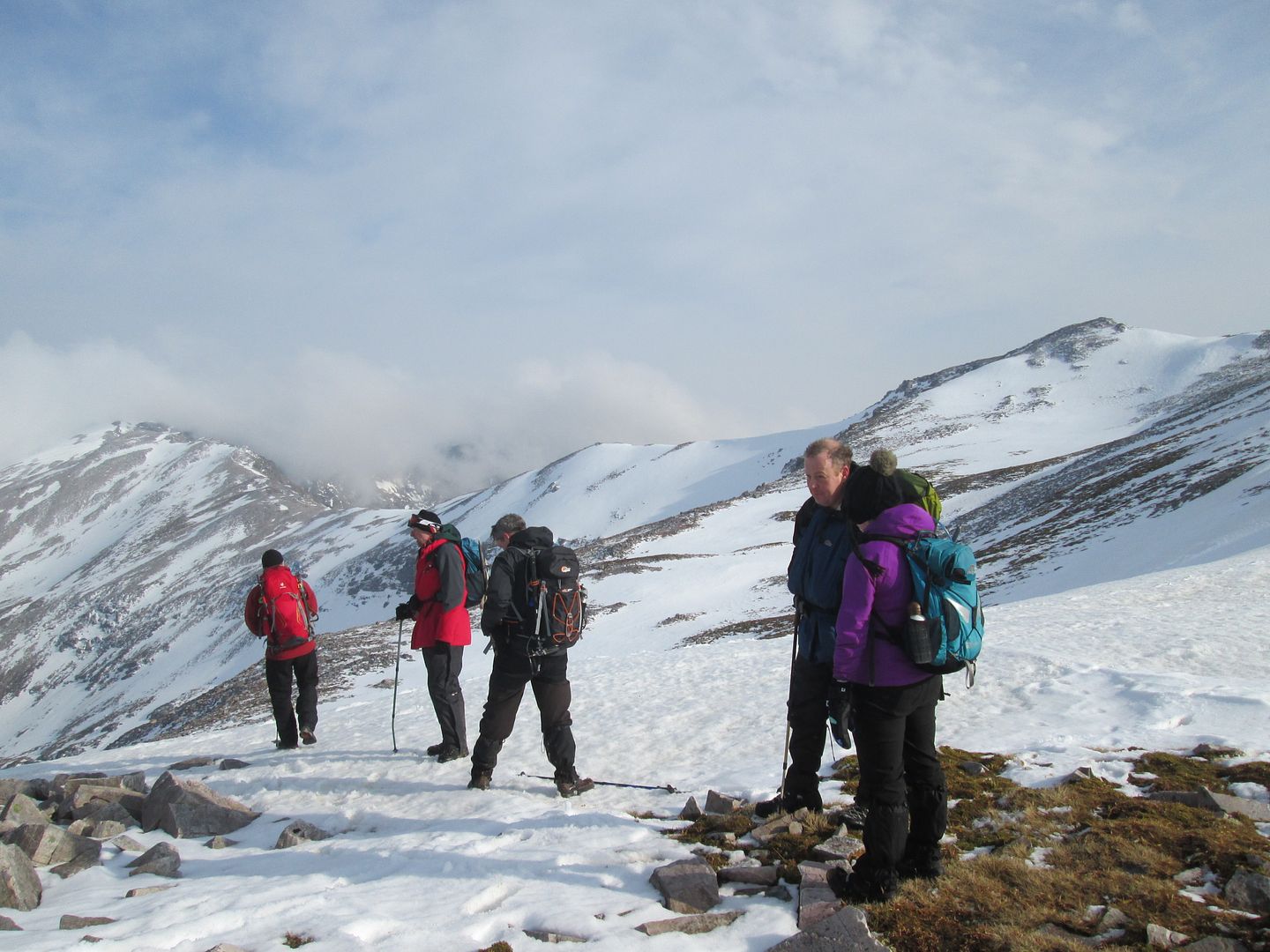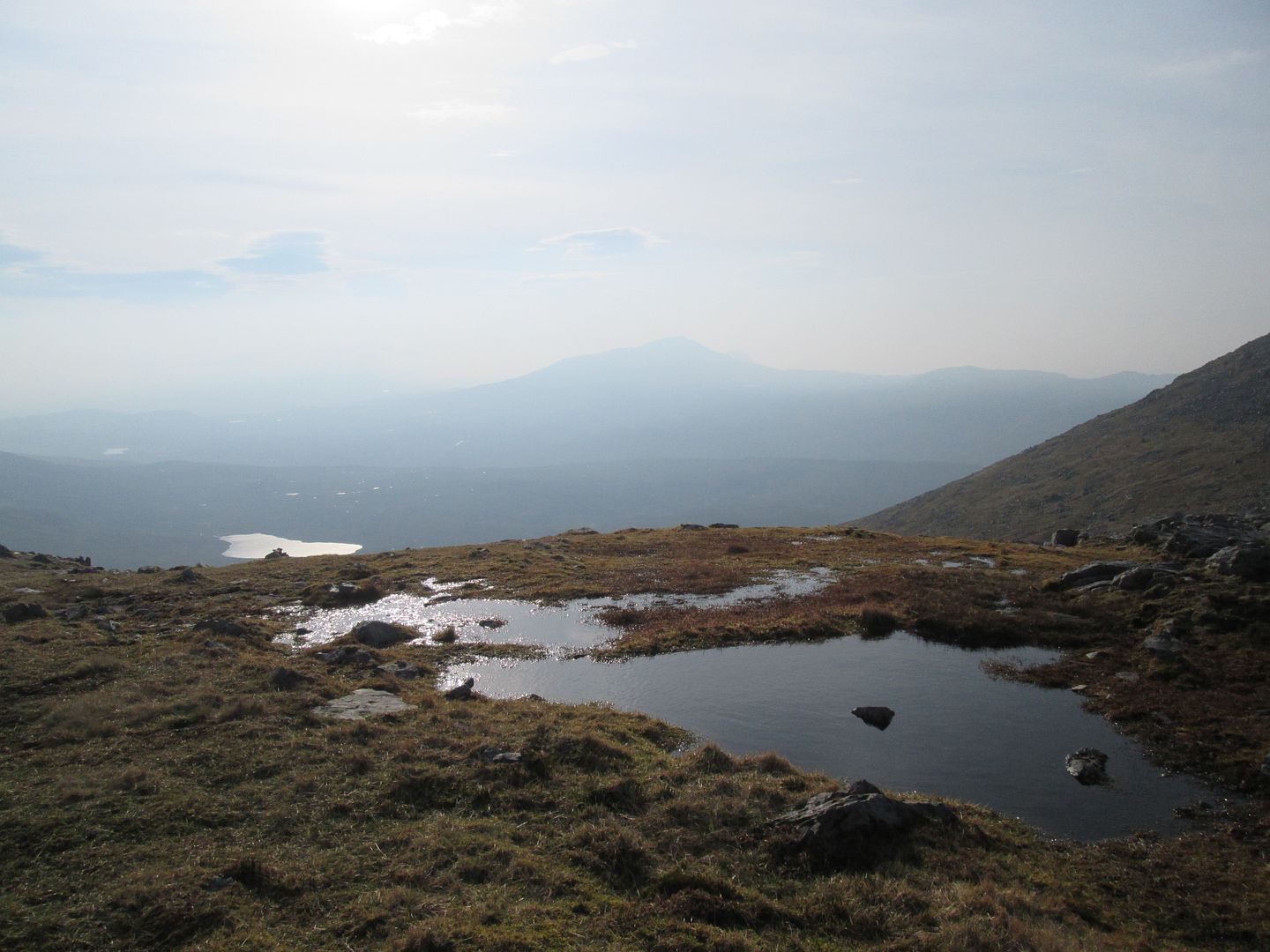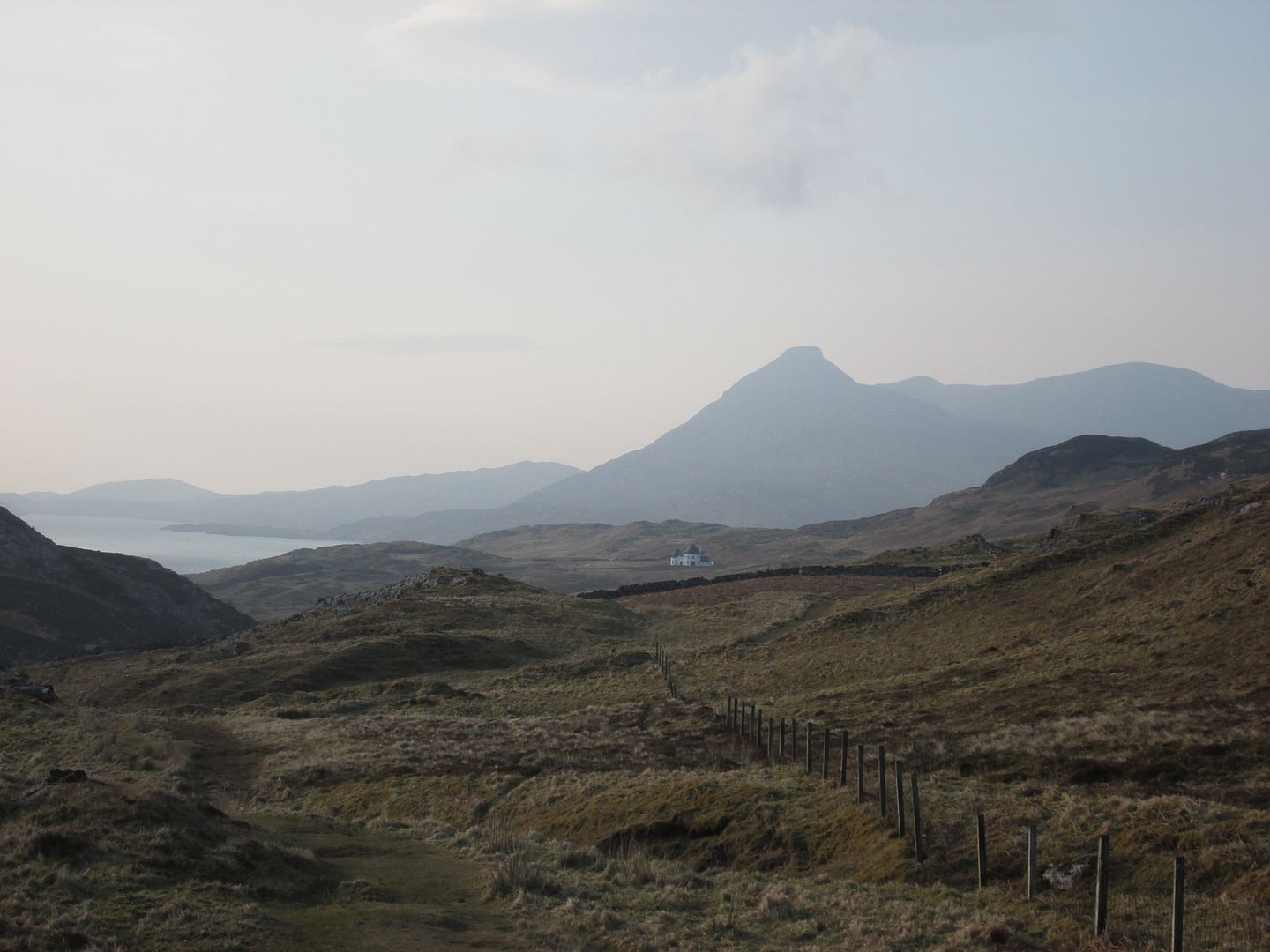 Back at the lodge, there followed a quick beer, a sit down in the world's most comfortable chair from which I feared I may never be able to extract myself, a shower and a brief catch up with reports from other folks. Then nine of us (Evie, Jodie, David, Desmond, Jim, Nigel, Chris, Martin/Fife Flyer and myself) set off in three cars to Lochinver.
I must say I am not convinced by the Caberfeidh's dabbling with a "tapas style menu", particularly as I was so hungry I could have inhaled the meat from a scabby horse, but the haddock goujons (in as far as they went) were most satisfactory. And as for the hake, well who wants a poncy little bit of hake after an eight hour epic in the hills anyway!