So this weekend, I was a stag doo widow, so I arranged to meet my Dad, who I hadnie seen for a month, as he has been awa in Beirut visiting my big sis and nephew. I had Friday off in celebration of the financial year coming to an end, so I was up at early O'clock to meet my dad at 10
We both arrived a little early, and I let my Dad do the drive up to the car park up past Coirehoille
where we were discouraged to even get out of the car, by the rain thundering down.
We did get up the motivation eventually, and started up the Lairig Leacach.
The forest at the bottom of the glen was unbearably hot without a breeze. Too hot for waterproofs, too wet to take them off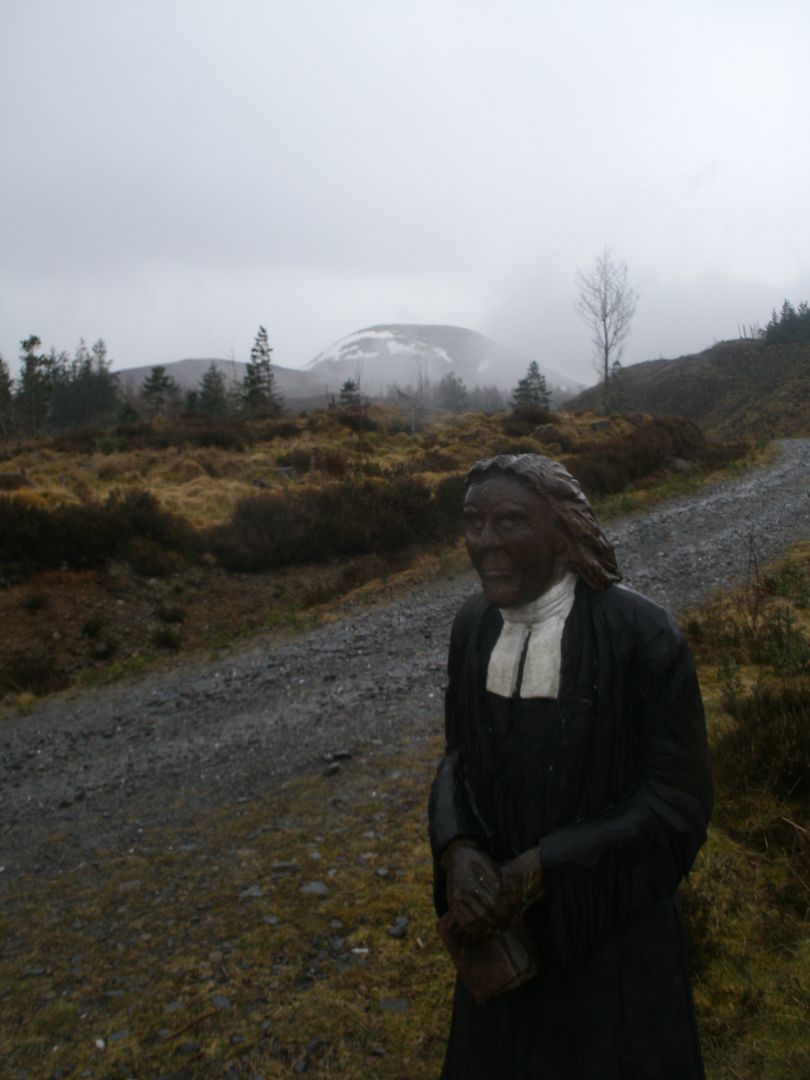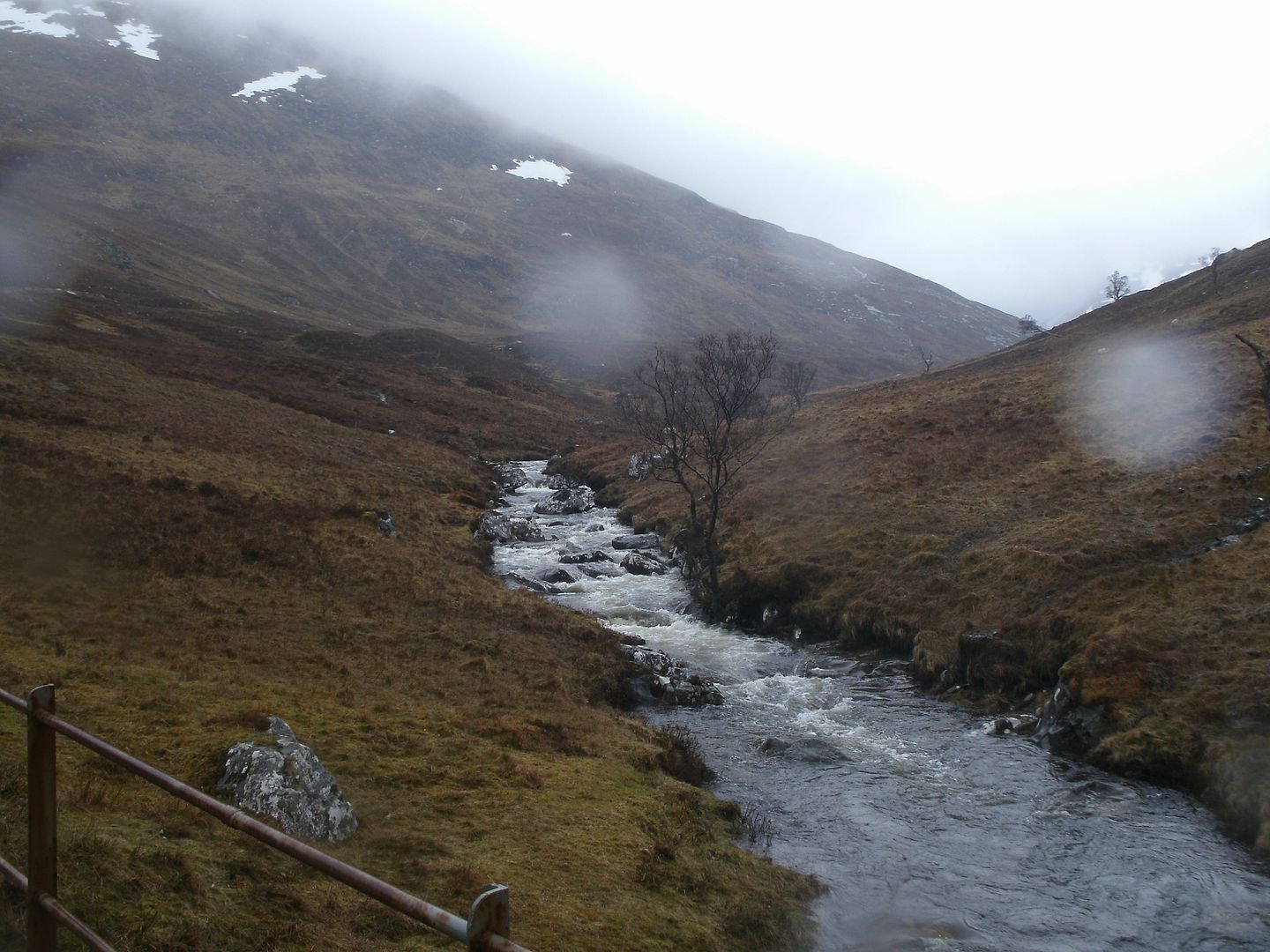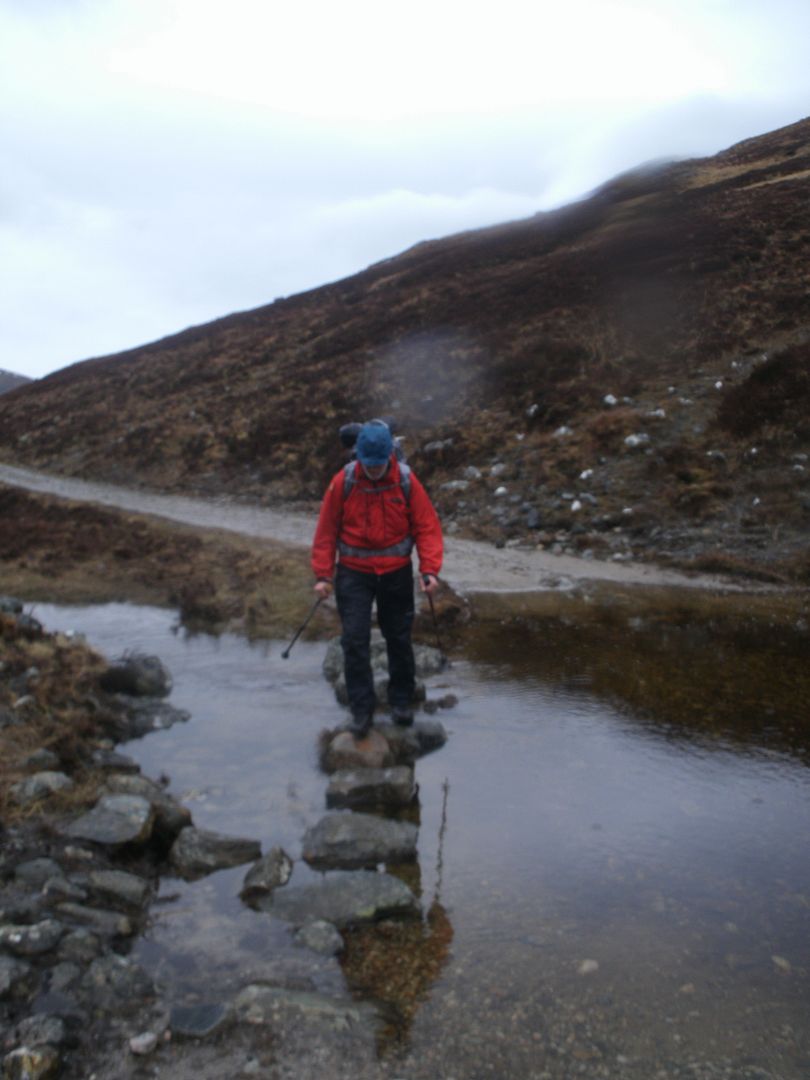 Its an easy walk, though the clag was right down, and it could have been any glen, anywhere.. We trudged on, heads down, and got to the bothy about midday, unpacked, and got the brew on.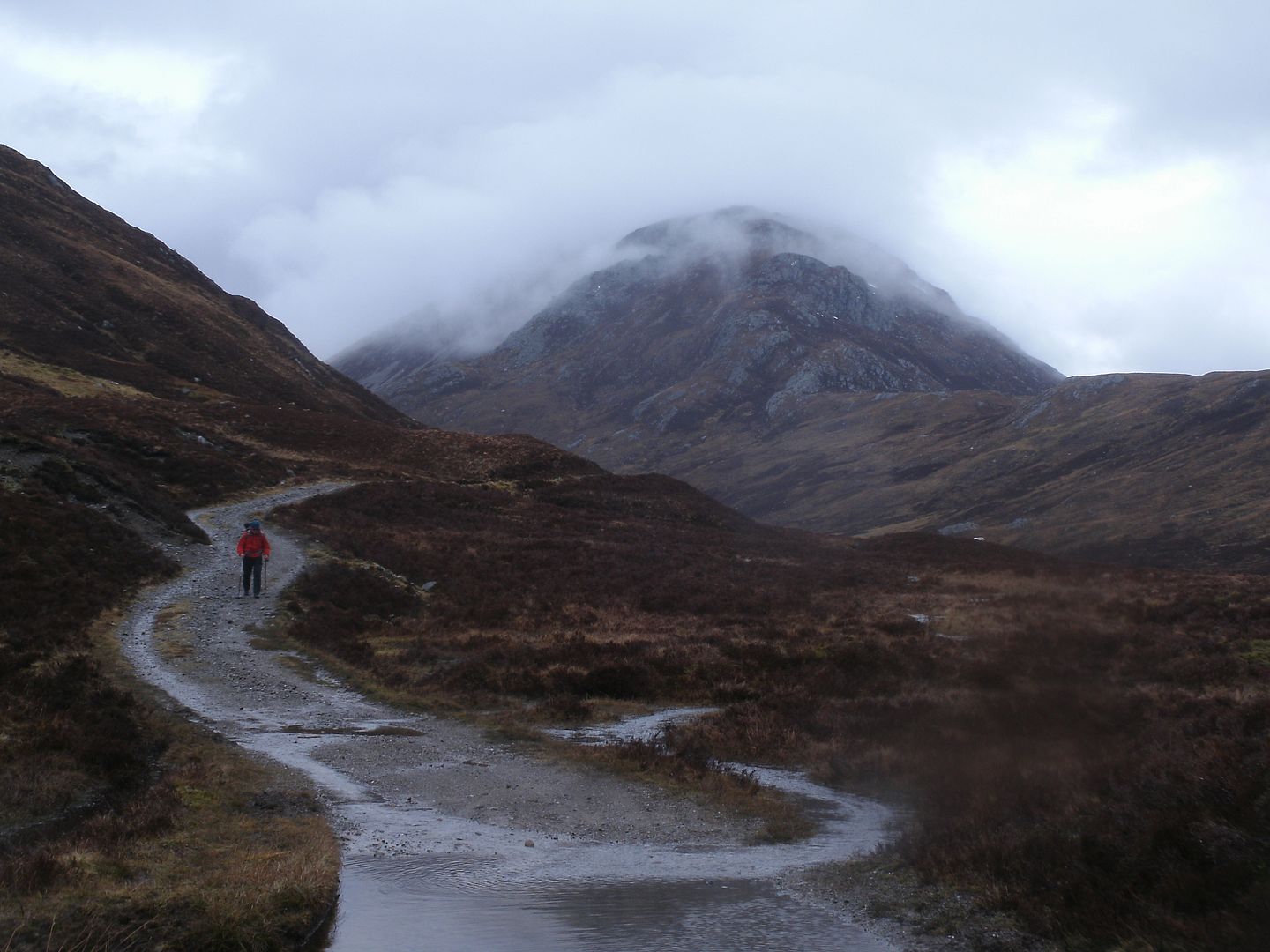 We were hungry, so had lunch and faffed.. before finally setting off again at about half 1. The weather was perking up, with the rain off and some gaps appearing in the clouds.
I had been meaning to come up and do Stob Choires Easain and Mheadhoin for at least two years, so finally it was time to give it a bash.
We headed more or less straight across the bog, heading for the path at the other side of the glen. Made it across the stream without bother, and followed the rather dilapidated path for a while, looking for a break in the knee deep heather to give us a start up the hill.
Like always, it was Hobsons. Heather was dry underfoot, but a lot of effort. Clear patches were boggy, and a lot of effort
but that part didn't last long as we traversed up to the ridge.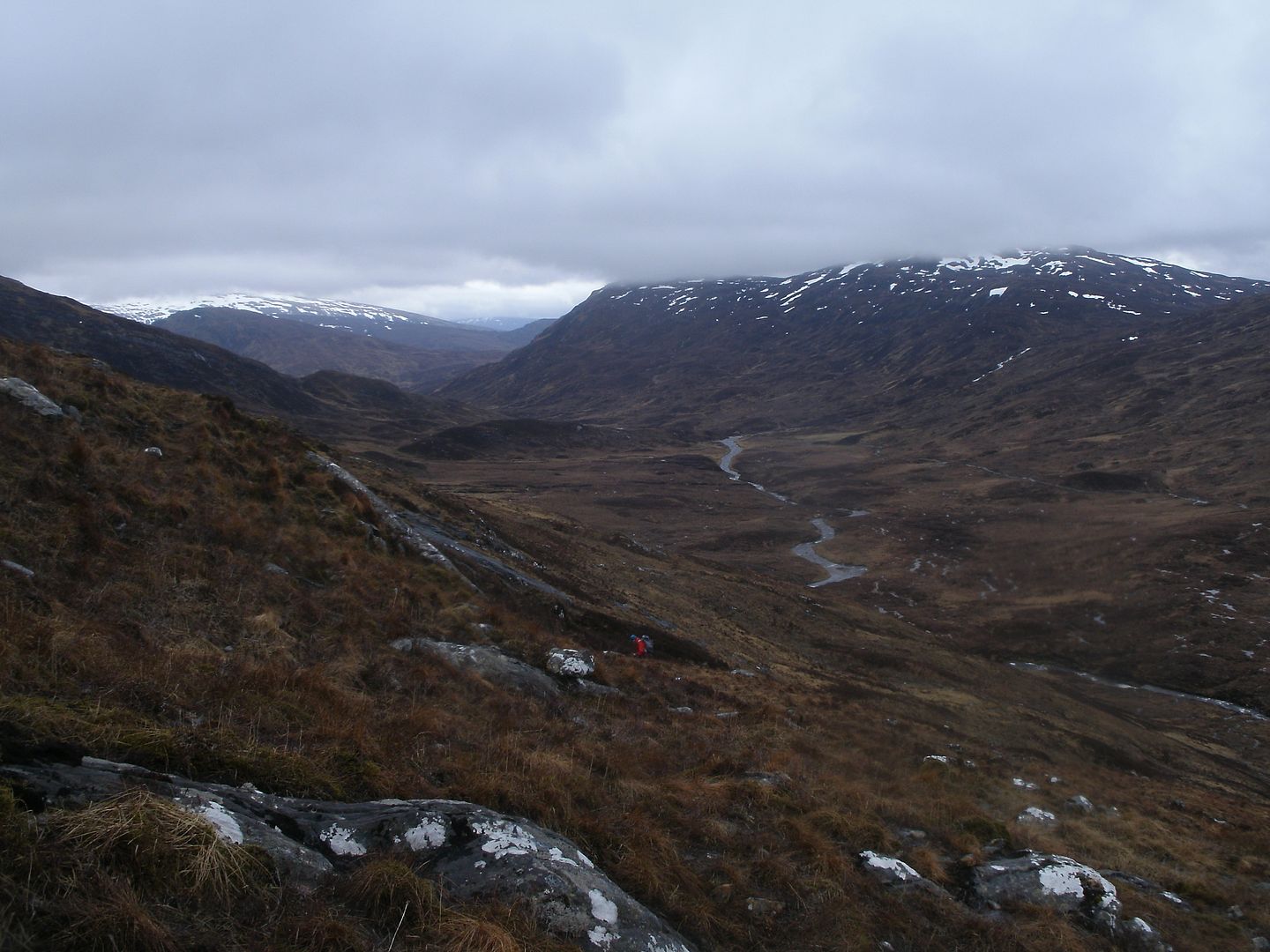 What we could see of Sgurr Innse looked especially impressive, and we talked about coming back for it on another trip.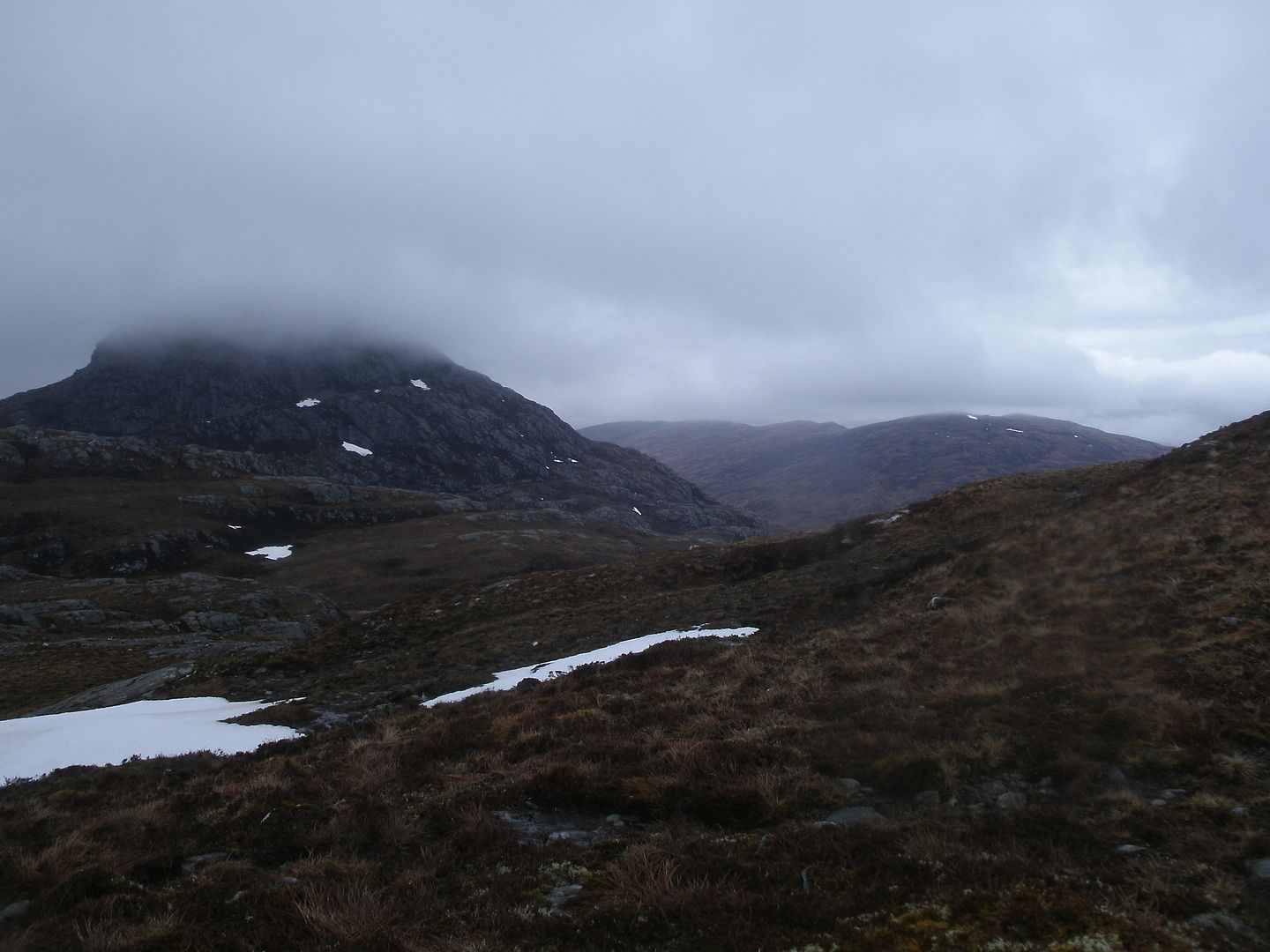 We splooshed our way up to the ridge, where short, mossy heather and a stalkers path were our reward.
The path came to an end abruptly in a wee gully, so we traversed round some steep stuff, the peak ahead coming in and out of the clag.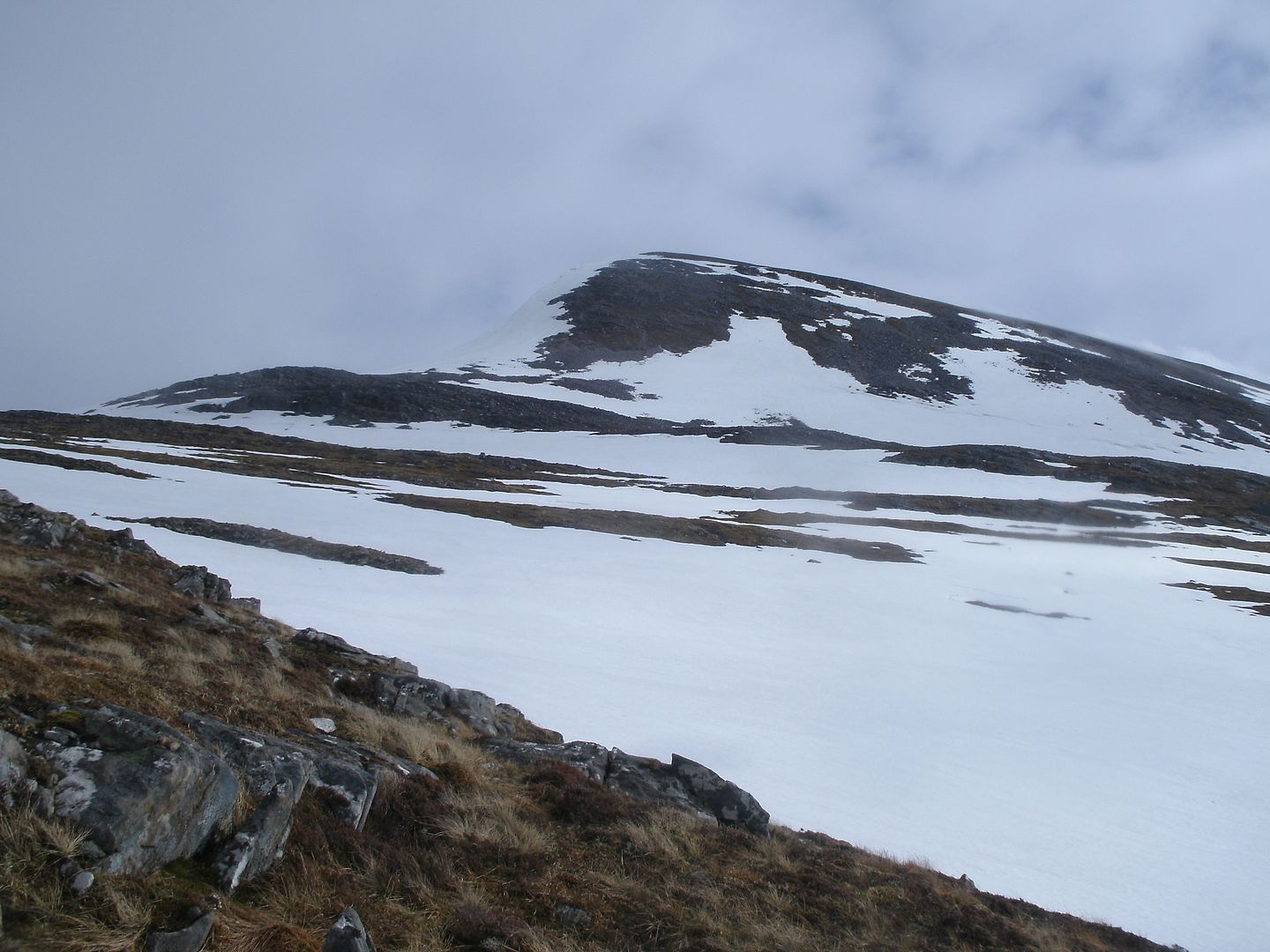 Even the sun came out for a while, can't remember the last time I had such a defined shadow
We were beginning to get up onto patchy snowy ground, and the surface was far from crisp, so a fair bit of effort.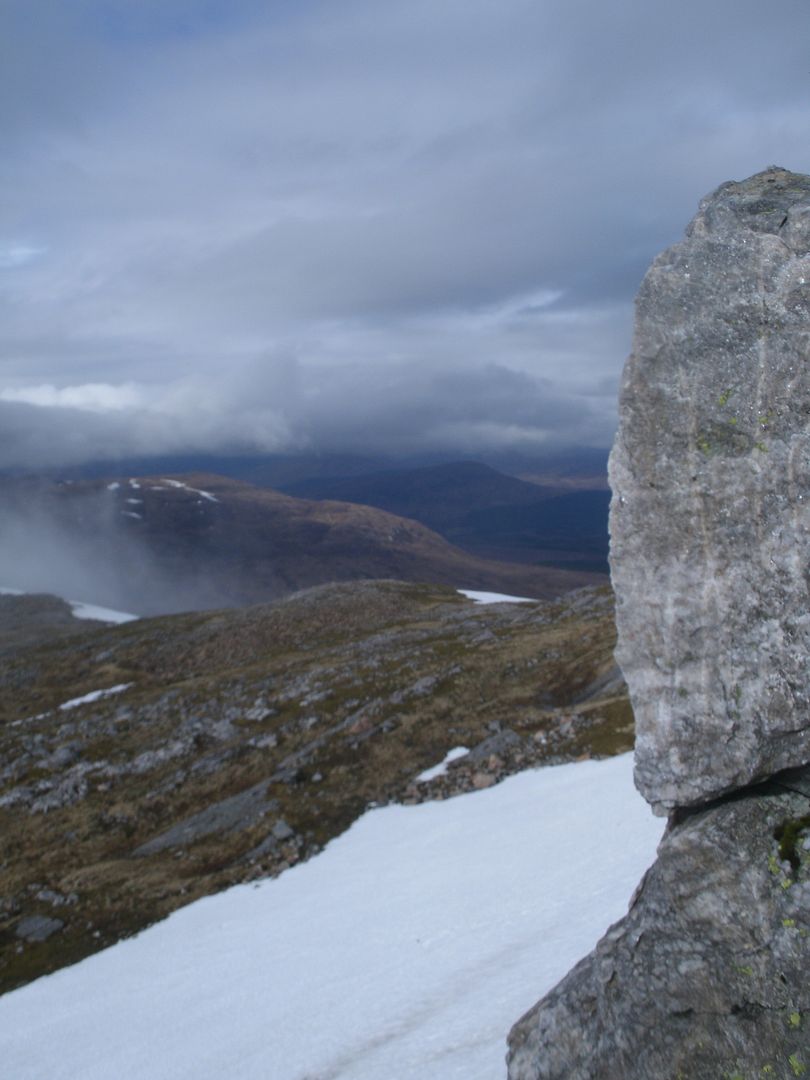 We scrambled over a rocky lip, and it was on to the the steep quartzite cone that caps this splendid mountain.
Another wee patch of snow, and we were slip sliding on scree.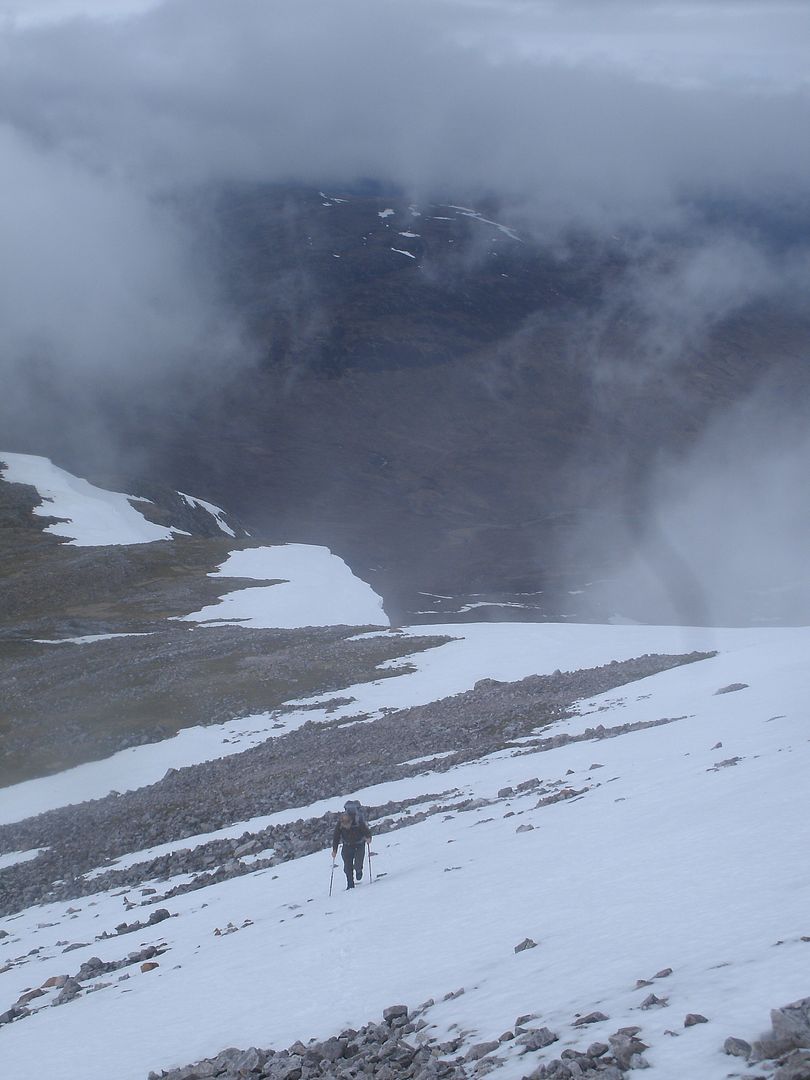 There was a path up this bit, but it was frequently buried under snow, and very close to the big cornice on our left, so we were forced to make the best of things - two steps forward, one slip back
Dad had eaten a few too many shawarmas, or whatever they have in Lebanon on his hols
and was really struggling, so I seemed to be stopped more than I was going, and I had to put more clothes on just to keep warm. We got back on the path eventually, which zig-zagged pleasantly upward. The clag came rolling in again, and when I got up to the snow, I was instantly confused as to which direction I was meant to be going as the clag meant it was like entering a white abyss.
I figured as long as I felt like I was going upward, I was going in the right direction, and stopped every few steps to make sure I could still see Dad behind. Don't want to lose each other in this weather..
I suddenly felt like I was going downward, so checked my GPS to find I was at the summit, or very close. I waited for Dad to catch up and we wandered around the small plateau for a few minutes, but no signs of a cairn. Our wanderings were not as comprehensive as I would of liked however, as there were multiple large, worrying cracks in the snow beneath our feet
so it was very hard to tell if we were standing on a cornice or not. We gave up looking as we chilled, and set off for the second Munro of the day - Stob a Choire Mheadhoin. It was nerve racking stepping off the summit, with large drifts of sculpted snow masquerading as bigger obstacles than they actually were, but it wasn't far before we were back on solid ground, and a baggers path winding through the rocks, at times fairly precariously.. Down through the mists we went, getting hungry, and looking forward to our piece in the coll. It was pretty barren, but we found a rock further on for lunch. The climb the rest of the way up was really easy angled and fine underfoot. It suddenly cleared and we were above the clouds
Shame very few other hills had managed to shed their clag, but I could see some of the Grey Corries, the Cairngorms a looooong way away, but most impressive of all, Stob Coire Easain, and it looked spectacular!

Couldn't believe we had just been there.
We got to the summit, the lack of snow up there was weird compared to the surrounding hills.
We talked about the way back. The only way I could see was the way we had come.
It looked like it would be possible on another day, to traverse round the corrie, but the huge cornices meant we would have to retrace our steps over Easain.. I didn't mind so much, but dad didn't think he would make it.
I knew that we just had to make it, no other option, so we turned back, and started out. We were back at the coll in no time at all. The the re-ascent began. Dad really struggled, every time I looked back he was stopped, bent over leaning on his walking poles. I had never seen him like this, and it was very worrying
He again suggested traversing round, and I humoured him and sat down to look at the map, but he could do nothing but agree that over was the only way. We were halfway there anyway I told him, which was only a slight exaggeration of the truth.
We eventually hit the snow again, and could see the top. I think that climb may of taken an hour
At least this time we were at the summit, we could actually tell where the highest point was, and we could tell from the foot prints we had walked over that spot already
So onward down the steep, slippery scree, we were glad to finally get down onto 'normal' ground below. We managed to avoid the scramble, and was surprised when Dad said it was after 7! No time for another stop, we took a very similar route down, this time following the ridge path until it petered out before slip sloshing down the bog back to the path.
The bothy was temptingly close, but took an age to get there..
We were still all alone in the bothy, and we had litres of tea, a fine big dinner and a lot of chat before bed. A couple of hours later – about 1AM, we were joined in the bothy by a couple of Liverpudlians who had cycled up. I was too sleepy to do much conversing!
Everyone slept late on Saturday morning. I woke at 7, and dozed until I thought it was about time we were getting up, so got dressed and went out for a tab, which seemed to get everyone else up too. There was light rain and low clag. Far from ideal
Dad was feeling surprisingly fine after yesterdays exploits, so we made plans to tackle some Grey Corries. We left a bit after 10, for the ridge path up Stob Ban. The bothy is surrounded by some right bad bogs, and it took a surprisingly long time to get to the footbridge, just a couple of hundred yards away.
Its a bit delapidated, and may not be there for much longer I would think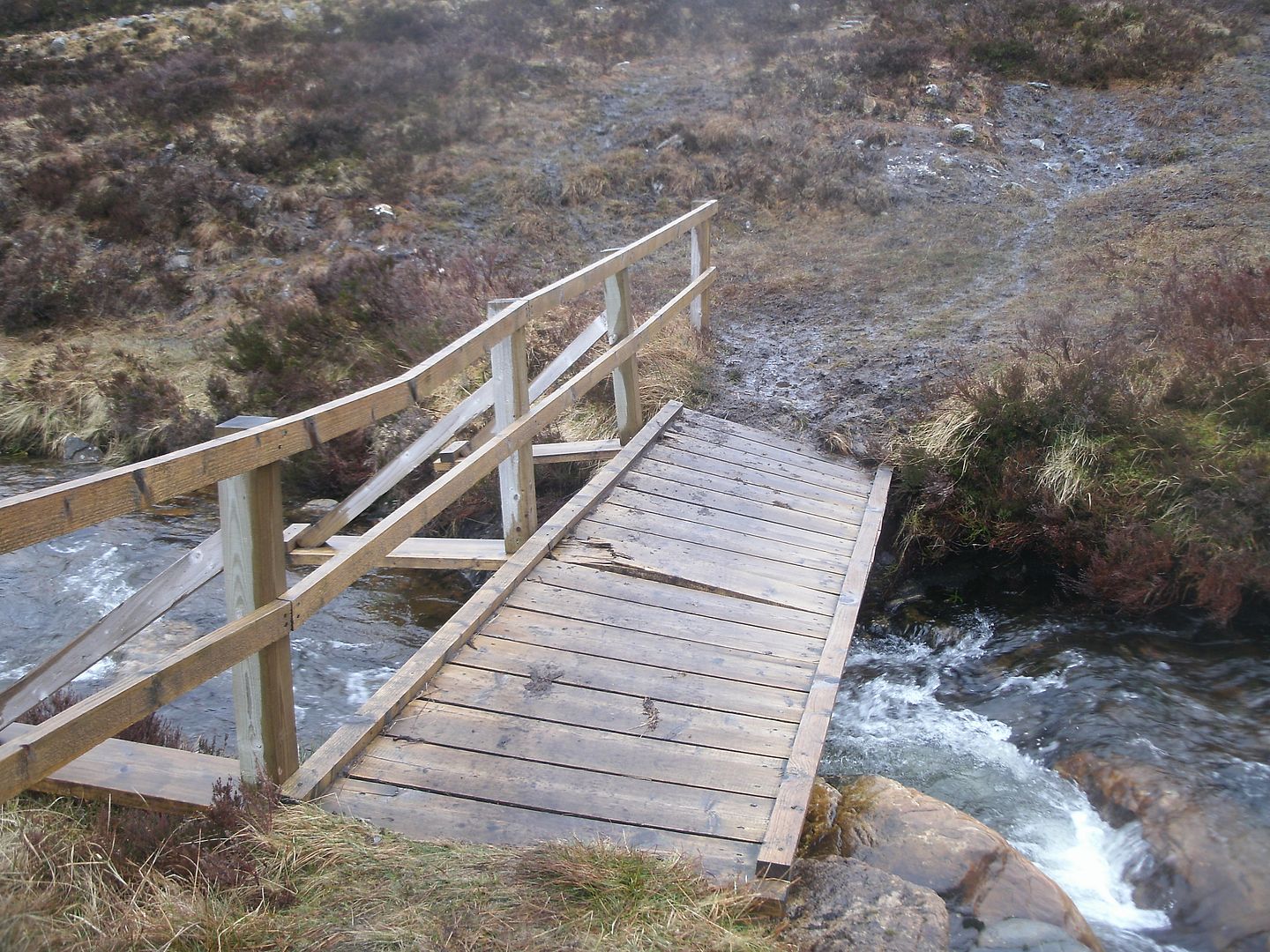 We got back to the track, and before long we saw the path and were heading uphill. The path was little better than the open hillside, and we lost it for a while, but managed to spot it again, just before we headed the wrong way.
We went up the crest, a few rocky bits slippery underfoot.
We were soon up in the clag, hitting snowy patches, we took turn to kick out steps. The rain was turning scotch misty, and the wind was getting stronger from our left, driving it in to every orifice in our clothing.
It was getting less and less fun all the time.. Just an hour after leaving the bothy, we made the summit, looking like a pair of drowned rats, and feeling wetter than that..
No hanging about, we located the path to the bealach, and started down. It was surprisingly steep, and loose quartzite again had us slip sliding. At least there was a better path today so some relief from the gradient occasionally.
We met one of the Liverpudlians who had come up the other way through the corrie, and exchanged pleasantries about the unpleasant weather, and he warned us about a cornice at the top of the corrie.
We got down below the screes, the wind dropped, and the rain stopped for a time. There then came an interesting lumpy, rocky part of the ridge which took us to the bealach beyond. We stopped for something to eat and talked about the next hill. Neither of us were keen, the lure of a brew down at the bothy was just too great
besides, I think the Grey Corries may well deserve better weather than this.. So we set off for the corrie, expecting the going to be tricky. We weren't wrong either, huge cracks in the snow made it feel dangerous,
and while there wasn't a cornice as such, the slope was very convex.. We went back up a ways, and traversed round, looking for a way down, which we did find. It was rather steep though, and I took it very slowly, my dad having to wait for me for a change
Easier angled slopes were reached and it was fun taking giant steps down the snow, sinking to the thigh every now and then. We could see below where there had been a massive avalanche, with debris strewn over a huge area.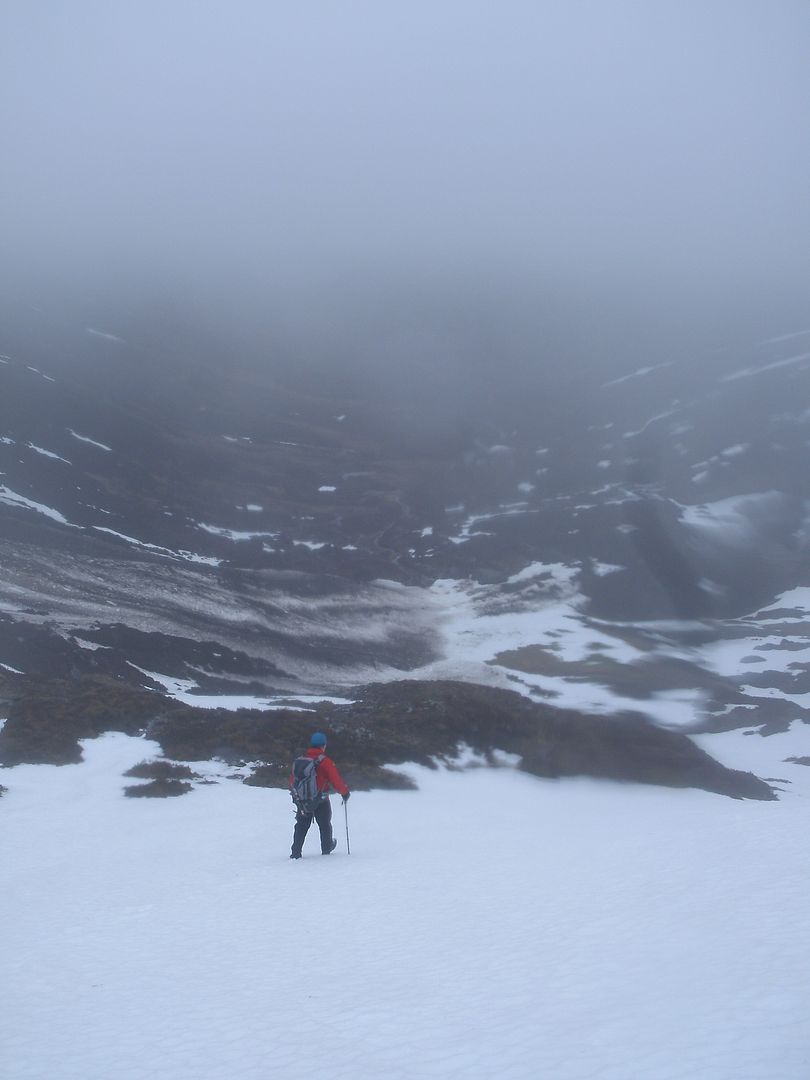 When we got closer, the scale of Mother nature's hissy fit was awesome.
A huge chunk of the hill had been ripped clear away, with huge hunks of heather and enormous blocks of ice strewn everywhere. Dad said he had never seen the like in Scotland and it reminded him of glaciers he had walked in the Alps!
Once we were passed that, there was no more snow, and the path was a boggy mess..
Better making our own way across the hillside. I tried to take photos of the bonny waterfalls we passed, but alas (as you can see
)my camera had succumbed to the damp, only capable of steamy blurs
Some good views over to Loch Laggan opened up once we were back below the mist.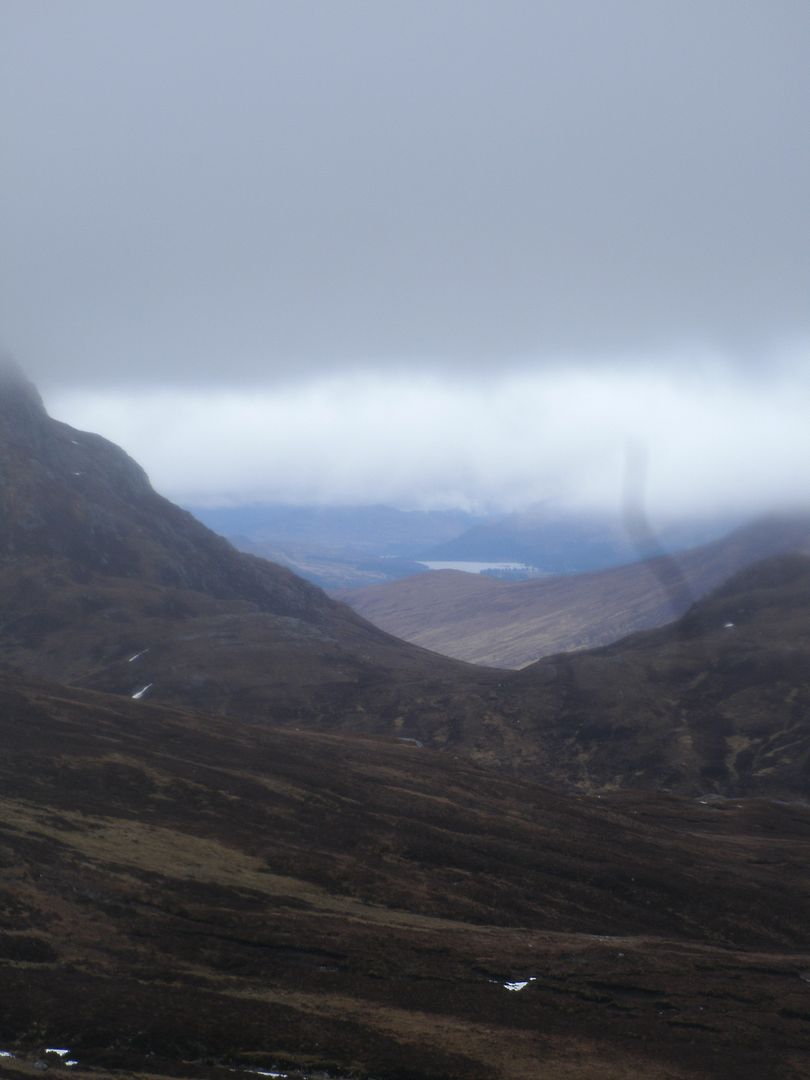 Wasn't far to the bothy thank goodness, where we found a couple of kindly loons drinking tea who had also done Stob Ban, and we had a good banter with them until they left. We made a brew, packed our things, and by the time we had finished the rain was almost off.
It was a rather nicer walk back down to the car, with the weather improving all the time, the waterfalls in spate with snow melt, and the clag clearing a bit to give us some fine views.

By the time we got back, Dad looked knackered and was fair hobbling, so a good job we didn't attempt any more than we did today
Shame the weather wasn't better for this trip, By the looks of things, the snow will be away before long
Really fun weekend with great company. Loved it