So this weekend, I found myself driving to Glen Gloy after work on Friday. I had wanted to go up to explore for a while, looked like it might be bonny.
The road up the glen is a challenge in itself, but I managed to find a useable pitch for the tent about half way up the glen. It was windy and wet so it was nice to get cosy inside. It rained all night
I was up early in the morning, and drove round to park up at the farm at Kilfinnan. The rain hadn't eased any, so bad I couldn't face getting out of the car. Dougie had said that it would clear up round about now, so I waited..
At 9.15 the sun came out,
not that the rain had stopped, but it was enough to get me motivated enough to get my boots on and set out. I unfortunately just had my snugly bed socks, my walking socks were back at the tent.. Maybe they would be alright I thought..
This was my third attempt at these hills, the first time was in the worst winter conditions imaginable, the second time was in the heat wave last summer when I fell asleep, and ran out of time, so today I was determined-ish.
It was an uninteresting stomp through the woods to the start of the path. It is most handily signposted though, quite good considering my map No 34 was lost up Creag Meagaigh somewhere..
The rain came and went, and I felt hard done by that I wasn't getting to enjoy the sunshine due to the thick forest.
The path goes quite steeply uphill, the way lined with bonny wee primula's, felt all springlike and nice.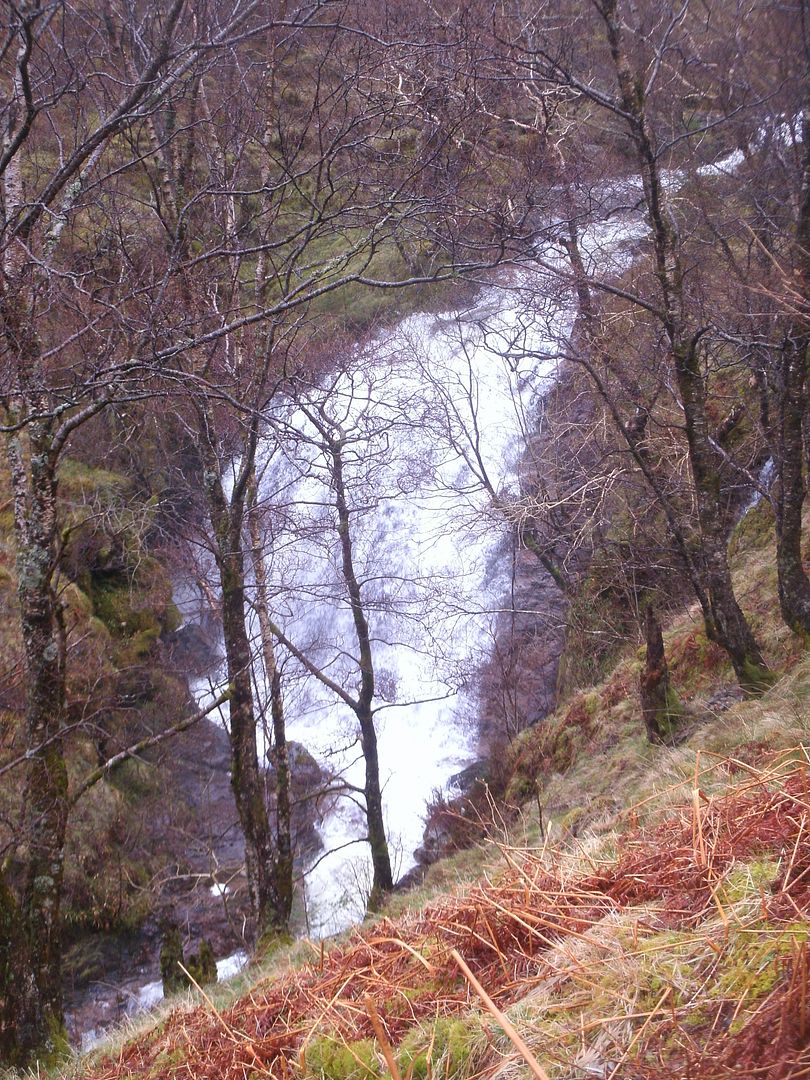 I was soon out of the trees, the path turning into a burn. It was a strong wind in the face all the way up, so frequent stops to put my back to the wind and let my face thaw out a bit.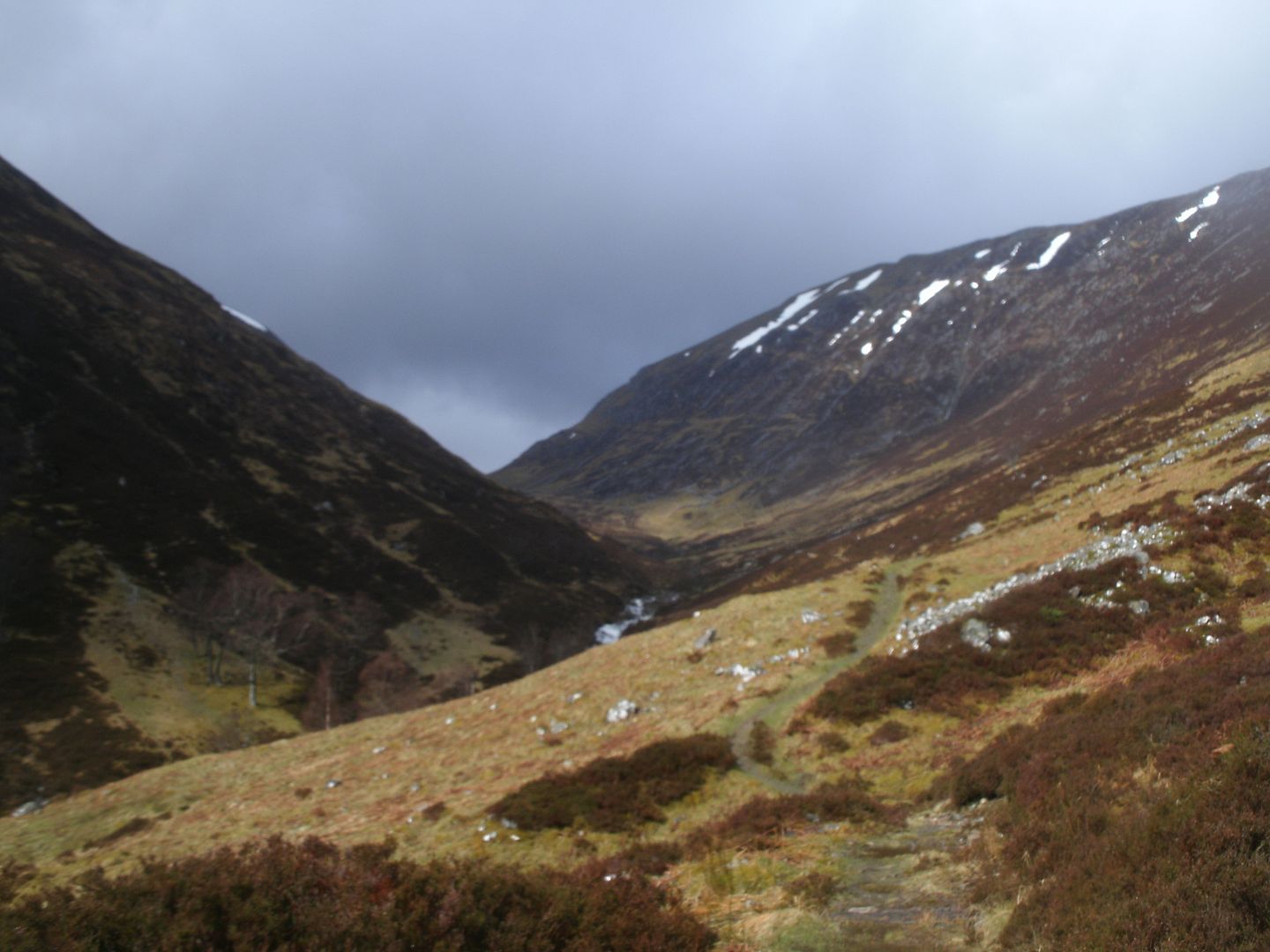 Near the top of the glen, there has obviously been an avalanche or land slide, and the path has been completely swept away, although a few footprints are starting to forge a new one.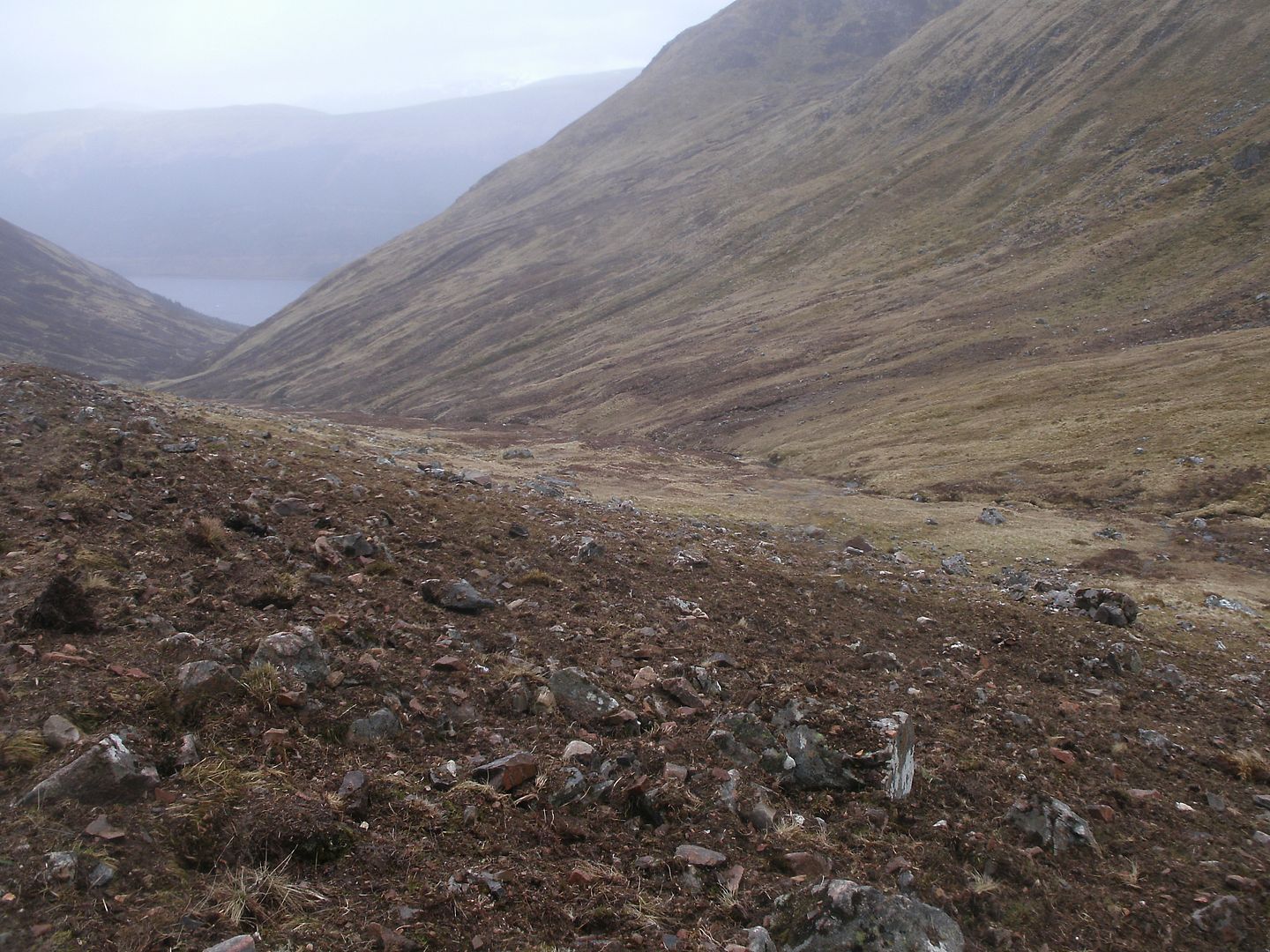 If I thought it was windy in the glen, that was nothing compared to what was in store for me at the bealach. Made my way over a patch of snow, over a lip and then I was blasted so hard, I found myself staggering backward.
Jeepers, maybe today was going to be my 3rd fail on these! But I struggled on into the wind, across a boggy bit and onto the baggers path toward Meall na Teanga.. There is a short steep section where I got blown over 3 times..
'I really must turn back' I was thinking, and so deep in thought was I, that I found that my legs had carried me along the traversing path to the coll.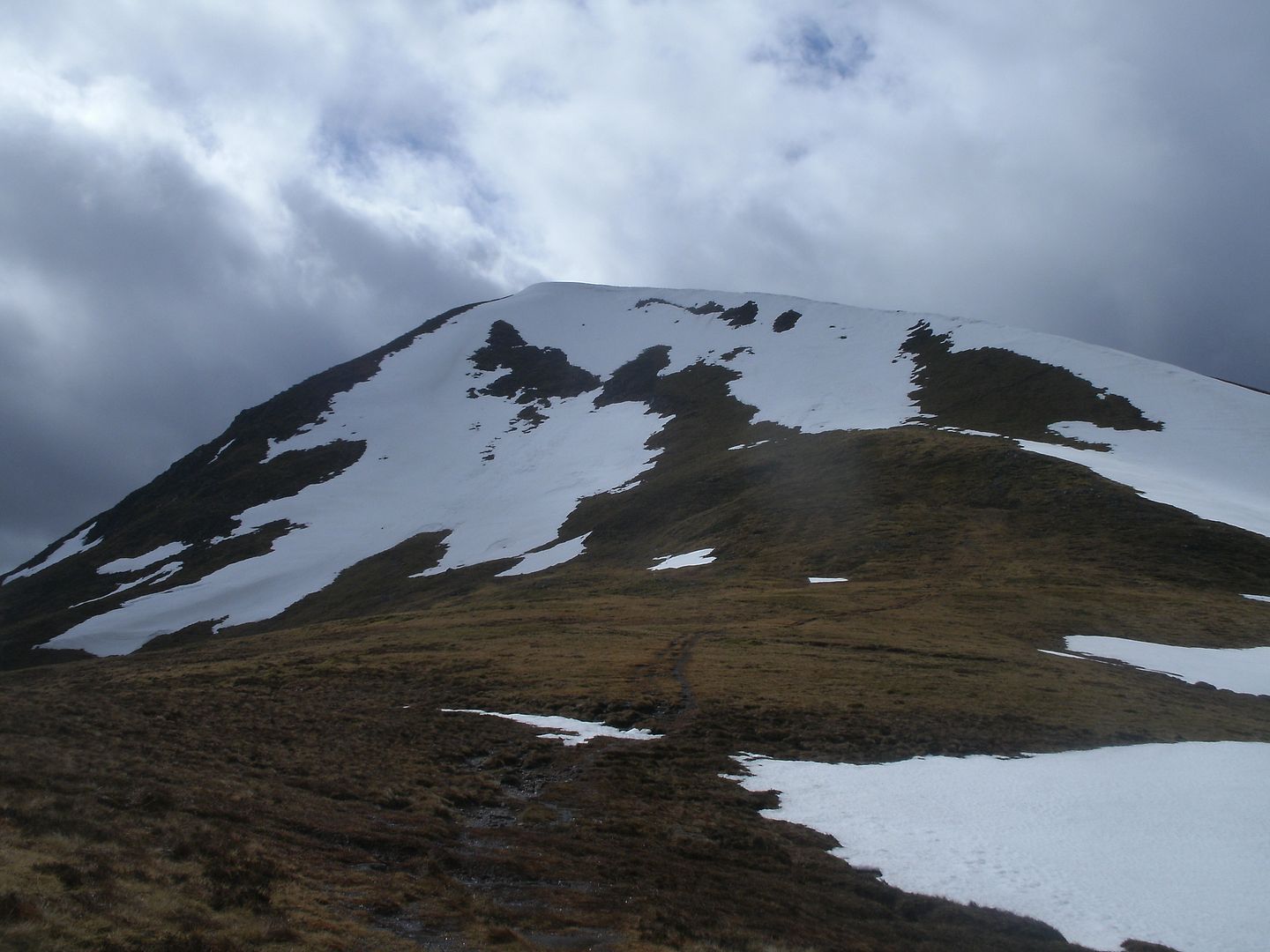 I could see the summit, very close now – shame not to go up when I was so close. The rain was off, and the sun was out, and the summit sheltered me from the wind as I started uphill. Just before the cornice, a snow shower passed over, and rather than go up to get whipped in the face by hail, I sat huddled under my brolly to wait it out.
The sun returned, so it was time for a dash to the summit. The cornice/snowy bit was slushy and slippery, and it was a little scary going over, but made it fine, only to stand up, get hit by a gust of wind which almost threw me back over the edge! I ran a few feet and was back on solid ground for the short walk to the summit cairn.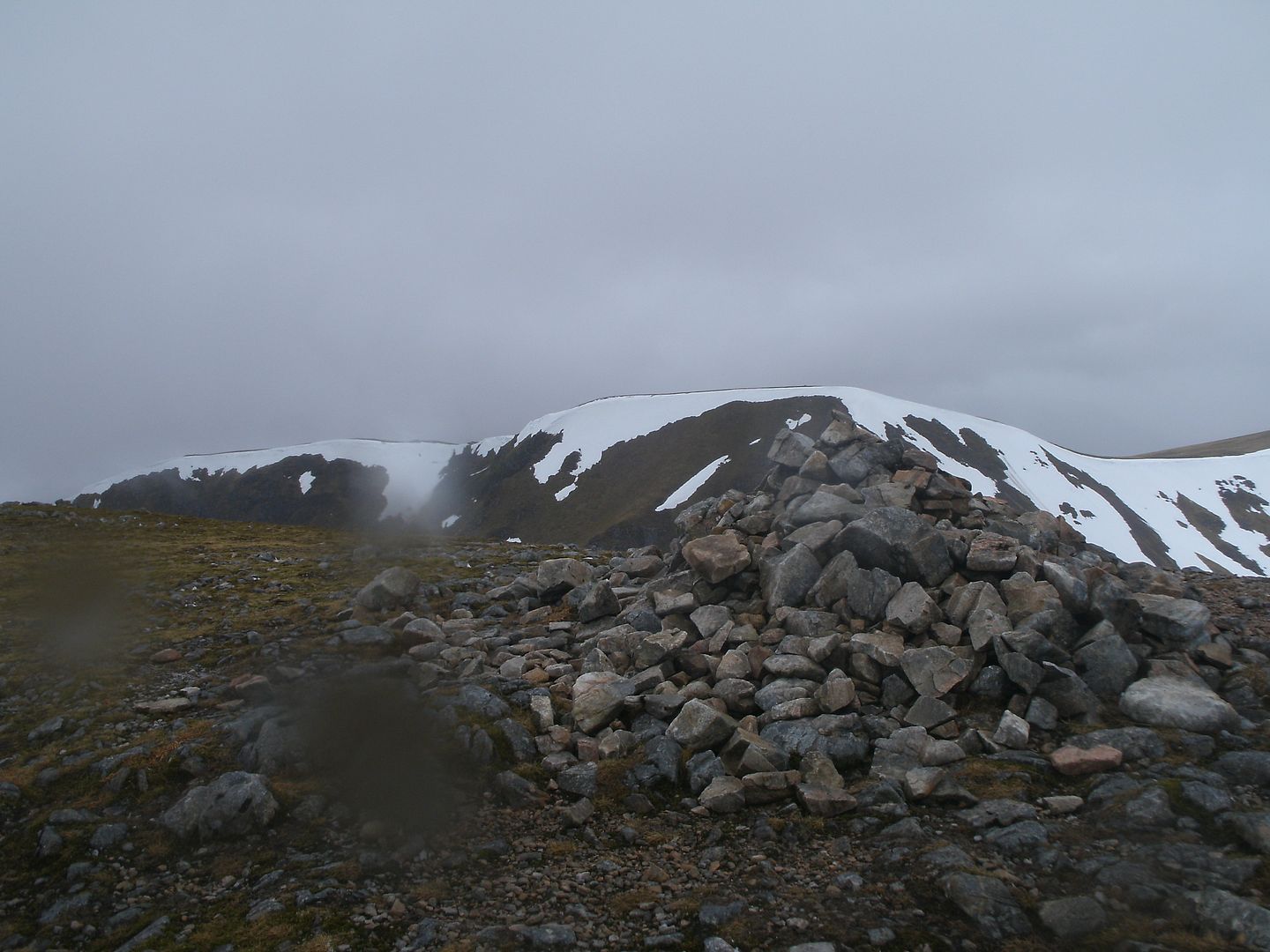 Despite a network of showers, some hazy hills came into view, and if there had been any kind of shelter, I would of lingered to see what would get revealed next, but I could hardly stand in the wind, and I could see another shower headed my way,
so a quick retreat. Unfortunately not quick enough, as the shower literally hit me in the face, and it became hard to keep my eyes open. Downward I stumbled, getting thrown about, until I couldn't hack it any more, and lay face down in a small depression for ten minutes to get control back of my senses
I checked my GPS – I had missed my footprints in the snow, and so had to climb back up a few yards before finding my way back down. Back over the cornice was bliss out of the wind. I had been worried about the manoeuvre, and was so pleased to be passed it, that when I replaced my axe between my shoulder blades, I lost balance, and slipped down the steep grass. With nothing to cling to or stop myself with, I was at the mercy of the hill gods. I came to a stop eventually, jacket, fleece and top round my armpits, bra filled with moss..
A bit bruised and sore, I decided it was time for lunch while I still had some shelter. So I stopped at the same rock as I sat out the snow shower, and with the sun back out, it was hard to motivate myself to get going again.
When I did, I again got blown over 3 times on the decent to the bealach. Would I go up the other hill? There would be no shelter, but it looked very close.. It was only 1.30, so I may as well give it a go. Up to the pony track I went, where I found myself struggling to inch along the zigs, and getting blown without control up the zags.

The wind was so strong, it was impossible to place feet where you wanted, just had to put them where the wind decided. My neck was aching from keeping my head upright. Ever so slowly, I made progress, and eventually found myself in a grassy col – canny be far now!
Inevitably, a snow shower came over, so more getting slapped in the face. The cornice the other side looked formidable and I mostly concentrated on not getting blown over it. I soon saw the summit cairn, disappointed that there was no shelter, and that a shower chose this moment to come, as there was no way I could hang around until it cleared.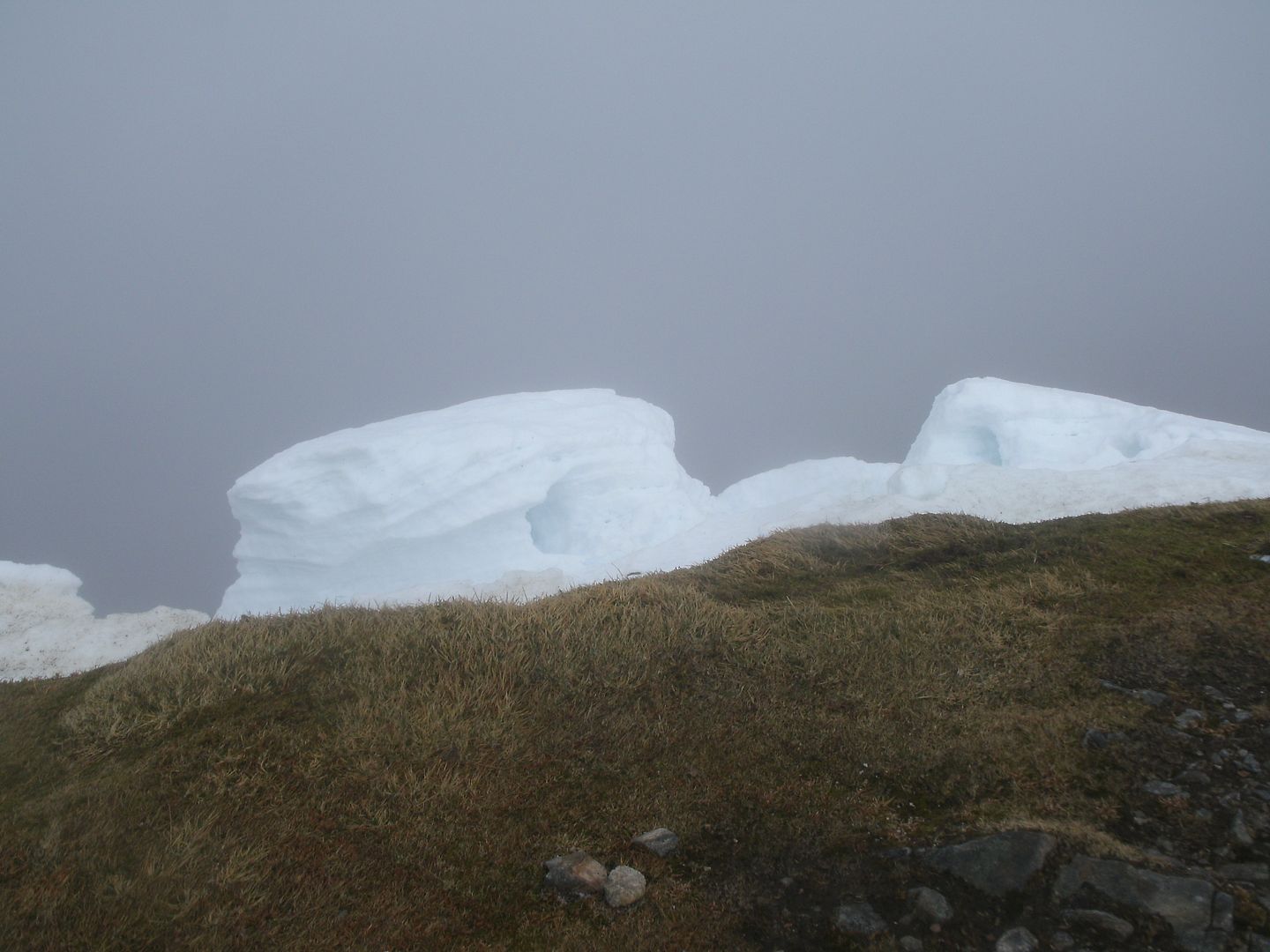 Sure enough, it was off by the time I got back to the grassy col. All I could think about was getting back to the path down the glen to get out of this wind however.. I had reached my getting thrown about and battered threshold.
Even downhill the wind made it difficult to make progress, but I got back to the path in the bealach eventually and over in to the sheltered glen beyond.

I was super thirsty, and huddled under my brolly again, while yet another shower passed over drinking and smoking and regaining my wits. The shower didn't pass over though, so the walk back down the glen was a soggy affair.
The path turned from a burn to a raging torrent, splish sploosh all the way to the forestry track. My inadequate socks made my feet slide around in my boots quite uncomfortably, so I couldn't even go at my normal pace which was more than a little frustrating. Got back to the car about 4.30, and then the rain went off – typical
Despite the wind, back at the car I found that I had enjoyed the day a lot.
I drove back round to camp, and wasn't back long when Dougie turned up. We had a nice evening with wine and a fine dinner, but in the morning the rain was persistent to say the least. He looked up the weather on his phone, and it looked like it was set to stay all day.. Plans of exploring the upper reaches of Glen Gloy were therefore abandoned in favour of tea and scones in Spean Bridge Mill, and an early retreat home. Ah weel, lang weekend next week, so hopefully there might be better weather for some walking then:D