So this weekend, despite the weather forecast being the best it has been for months on end, I wasn't sure if we would actually get away, as Dougie had been ill all week
He was a bit better, then a bit worse, then a bit better, but eventually on Thursday, he decided that the weather forecast was too good to bide in, and we would just go and see what happened..
So Thursday, straight after work, I set off, and got up to Achnasheen well before dark. I managed to find a nice camping spot just nae far from there. It was a chilly night, the stars were amazing although I was pretty chilled by the time Dougie arrived with the sleeping bag. In the morning the tent was stiff as a board with frost, but the sun soon had that melted and steaming. Dougie however was not in a good way, just all weak and listless, so we rested a while until we were 'moved on' from our spot – Ledgowan estate – such a friendly bunch!
So we found ourselves in the packed out car park at Craig. I knew a couple of folk who had said they were headed up this way, but we had not expected hoards like we were going up Ben Lomond or the Cobbler or something.
So despite Dougie's woes, we set out along the track probably not long before midday by the time we got going. We had planned a traverse of Sgurr nan Ceannaichean and Moruisg, but that was off the cards, so we just enjoyed the fabulous sunshine with a fresh breeze – perfect conditions..
There is a big hydro scheme being built in the glen that spoiled things a bit compared to previous wanderings round here, but it turns out all those big pipes make excellent sun loungers.
The track has also been 'improved' to take heavy plant vehicles, which in reality means a bunch of rocks have been dumped on the track to trip up hillwalkers and give them sore feet
So with Dougie poorly, it was a long hot trudge, with plenty of stops which was just grand. Seems like a long time since I sat by a bonny burn getting baked and roasted.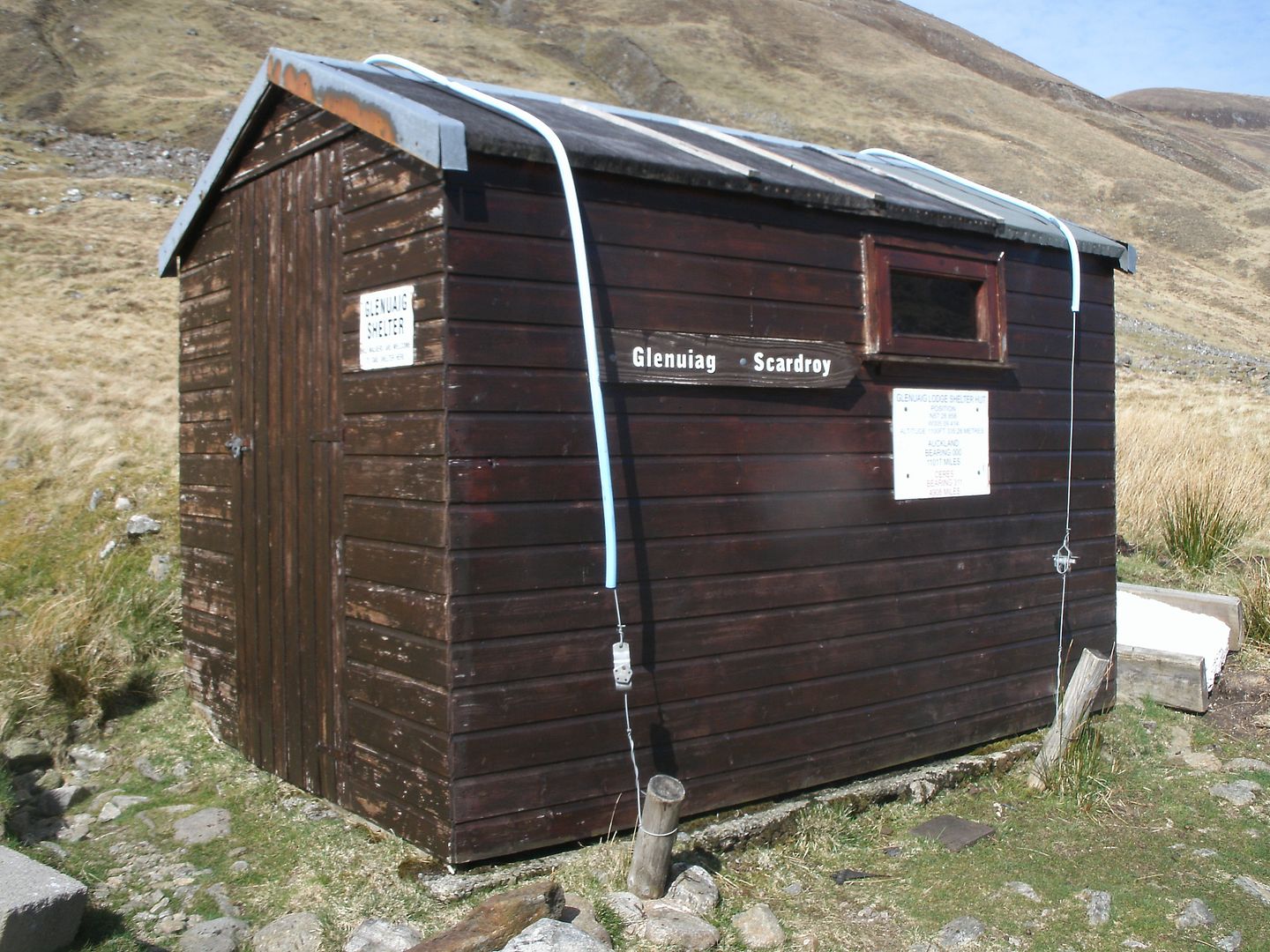 Eventually we got up to the Lodge at the end of the track, and after a wee explore of the bothy (no bothy book so if anyone is headed up that way…
) we attempted to find the path beyond, which falters for a while before becoming more prominent again. We didn't go much further than that, and found a braw camp spot amongst the many.
The glen was full of folk with the same idea, and there were colourful camps every few hundred yards. It was only half four, but Dougie was done in, so we just enjoyed the rest of the day pottering about. Just Lovely..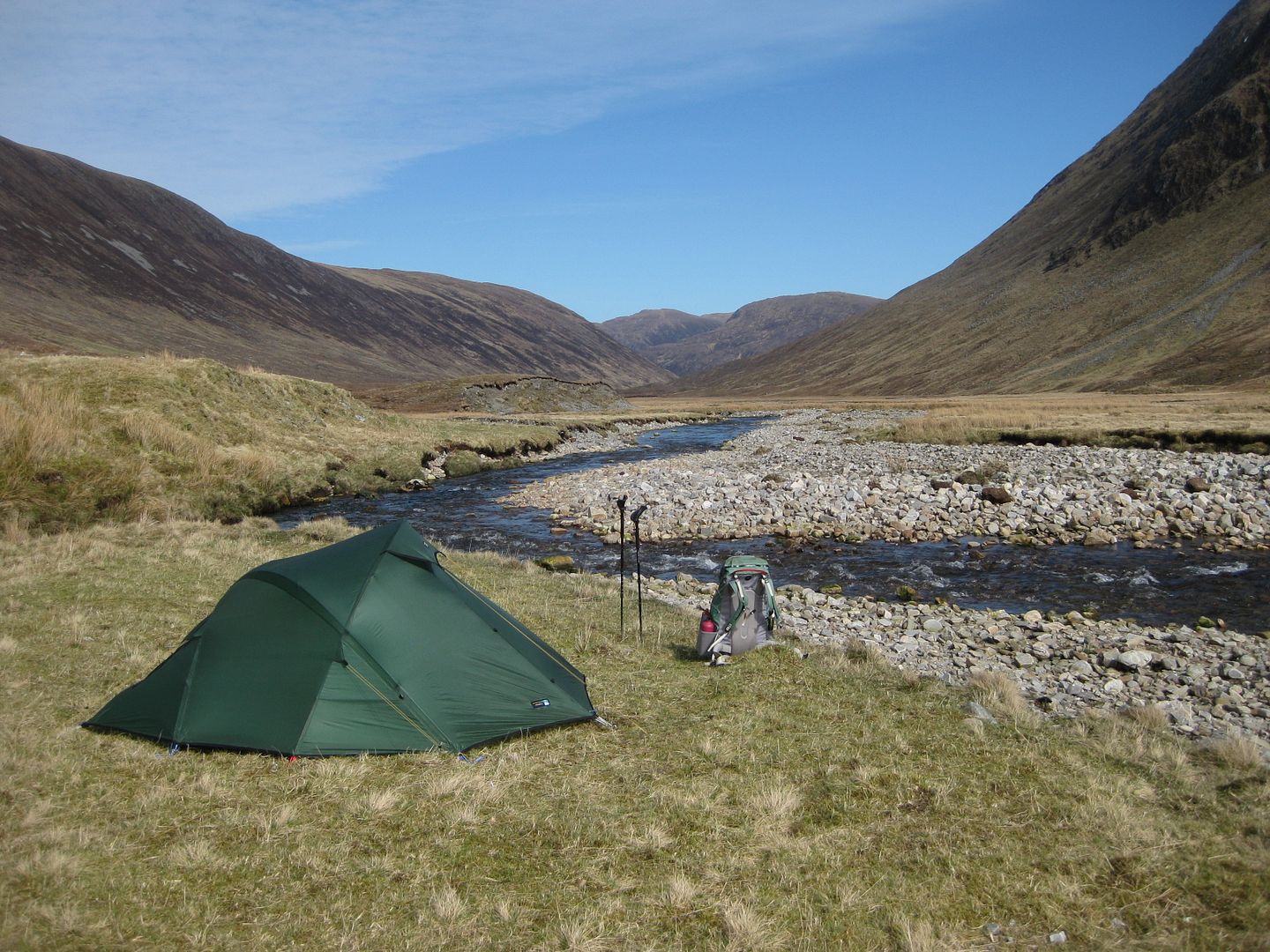 The night wasn't nearly as cold, and we were awoken when the sun hit the tent and turned it into a greenhouse. Dougie was no better, in fact maybe he was even worse.
It was hard not to be happy in the sunshine though, didn't really matter what we did, just nice to be out in such a bonny place. We did get going eventually though, deciding to take the path up to the corrie / Drochaid Mhuillich for a camp up there. We crossed the river with no bother at all, and tried to find the path, but alas I think being not so well used, it has been reclaimed by nature. We were able to follow its previous course using the gps, but barely a trace was seen as we slogged through bog, rocks and heather.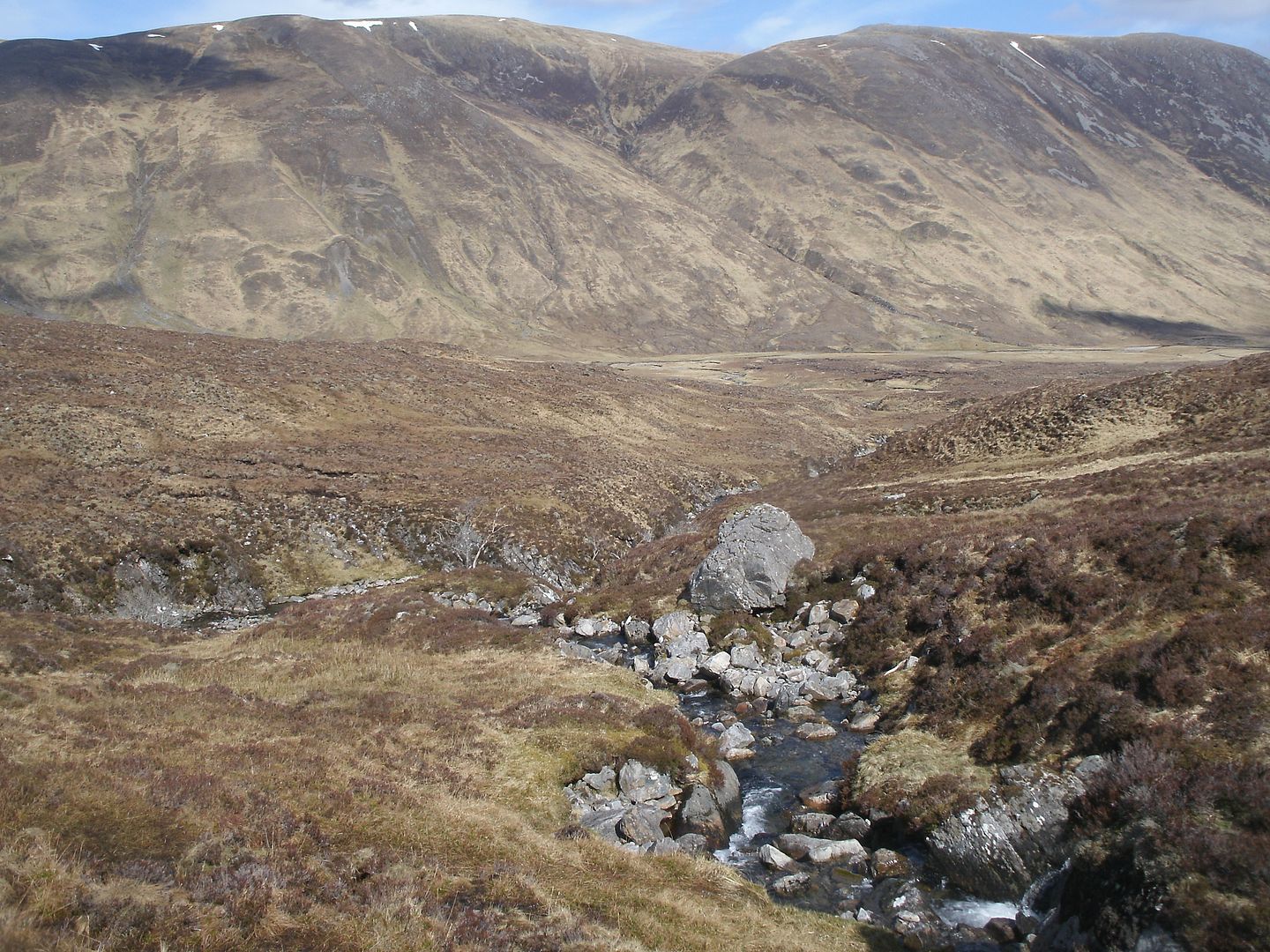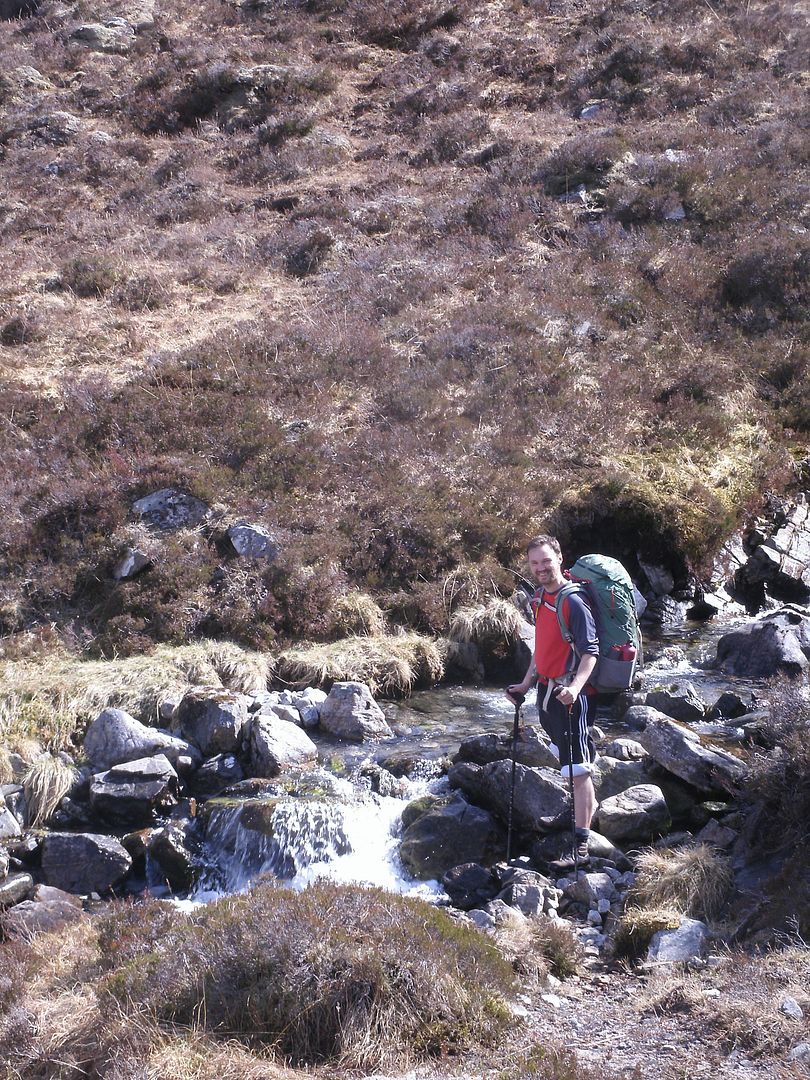 No cool breeze today, so stifling heat led to many cool off stops to take off the big packs. I could see the snow in the corrie ahead and all I could think about was how good it would be to get up there and wallow in it.
Before long, we were there, and what a bonny wee spot it was. We found a brilliant wee grassy camp and lazed around while we had lunch, watching group after group of walkers coming down to the corrie and back up again to the surrounding hills. Dougie was feeling a little better, so we decided to try and get ourselves up Maoile Lunndaidh. Would almost be a crime to not attempt it with it being so close.

So we left the majority of our stuff at our camp spot and headed up the hill. The going is initially very steep, but the views over to the Mullardoch ridge were stunning, and kept us hungry for better views we knew were ahead.
Tough work in the heat saw us across some rocky bits and up to the ridge, where a pleasant bouldery section gave some more fun walking.
spot the ptarmigan
We stopped by a huge boulder/sun lounger before the final ascent up to the plateau, when who should come along but Weasel and SK!
Really good to see some friendly faces, so we had a banter for a bit before tackling the last uphill section together up to the plateau. They were rigidly sticking to their route despite the heat – completely different tactic to our 'wander about and see what we feel like' one.

The plateau is massive, and easy walking.
Gave us a good chance to absorb all the views Torridon, Fisherfields, Fannaichs, Strathfarrar, Mullardoch, Kintail, Skye and Knoydart were all just about visible through the haze – simply stunning. Even on this rounded lump of a hill (so it felt when we were on top) there was a beautiful corrie to our left, the rim still encrusted with snow.

As it turned out, its weird having snow and a heat haze in the same line of vision.
After a golden plover gave us all a fright with it's shrill call and last minute flight, we made the summit and sat for a while, taking in those awesome views and chatting.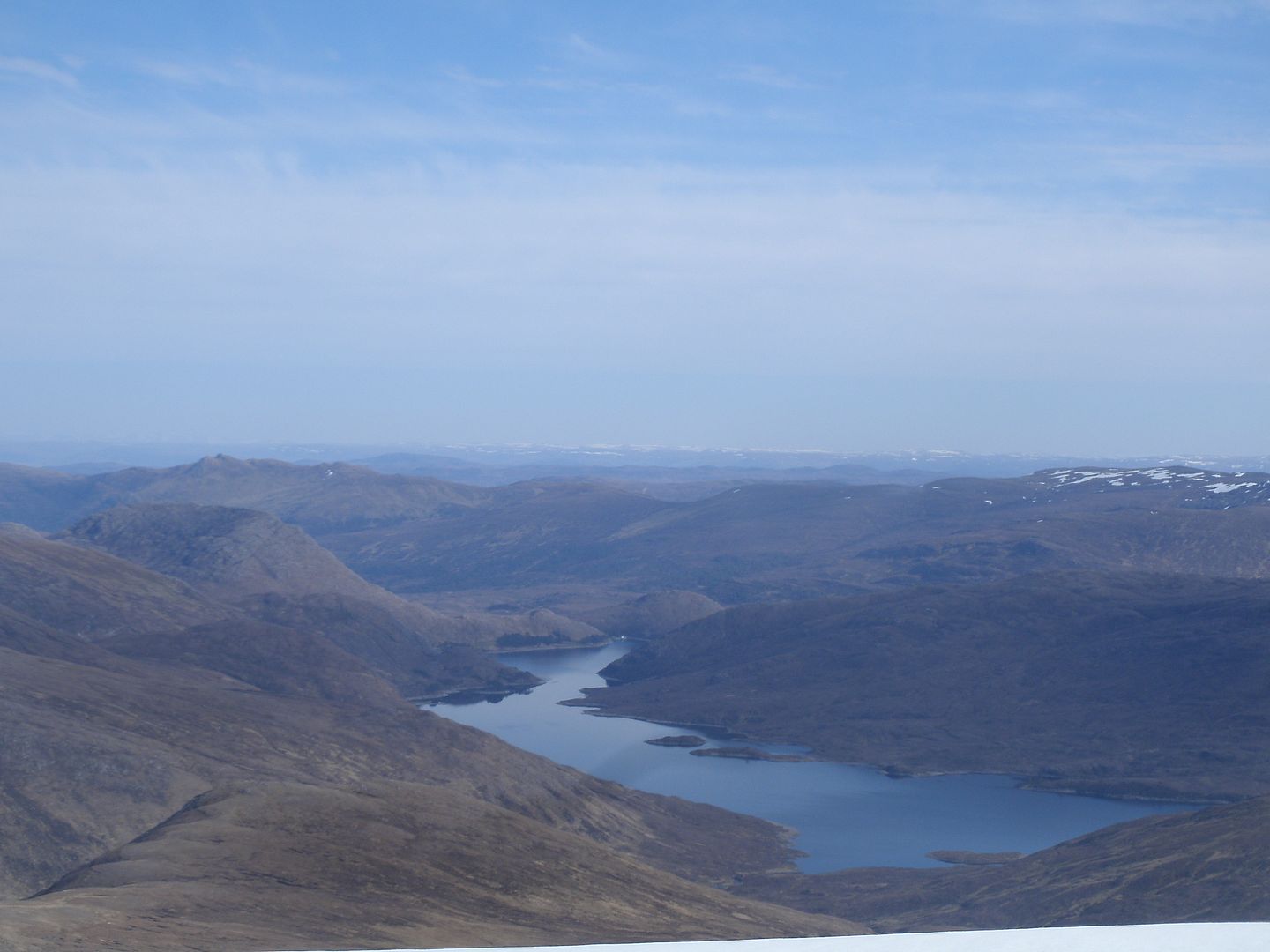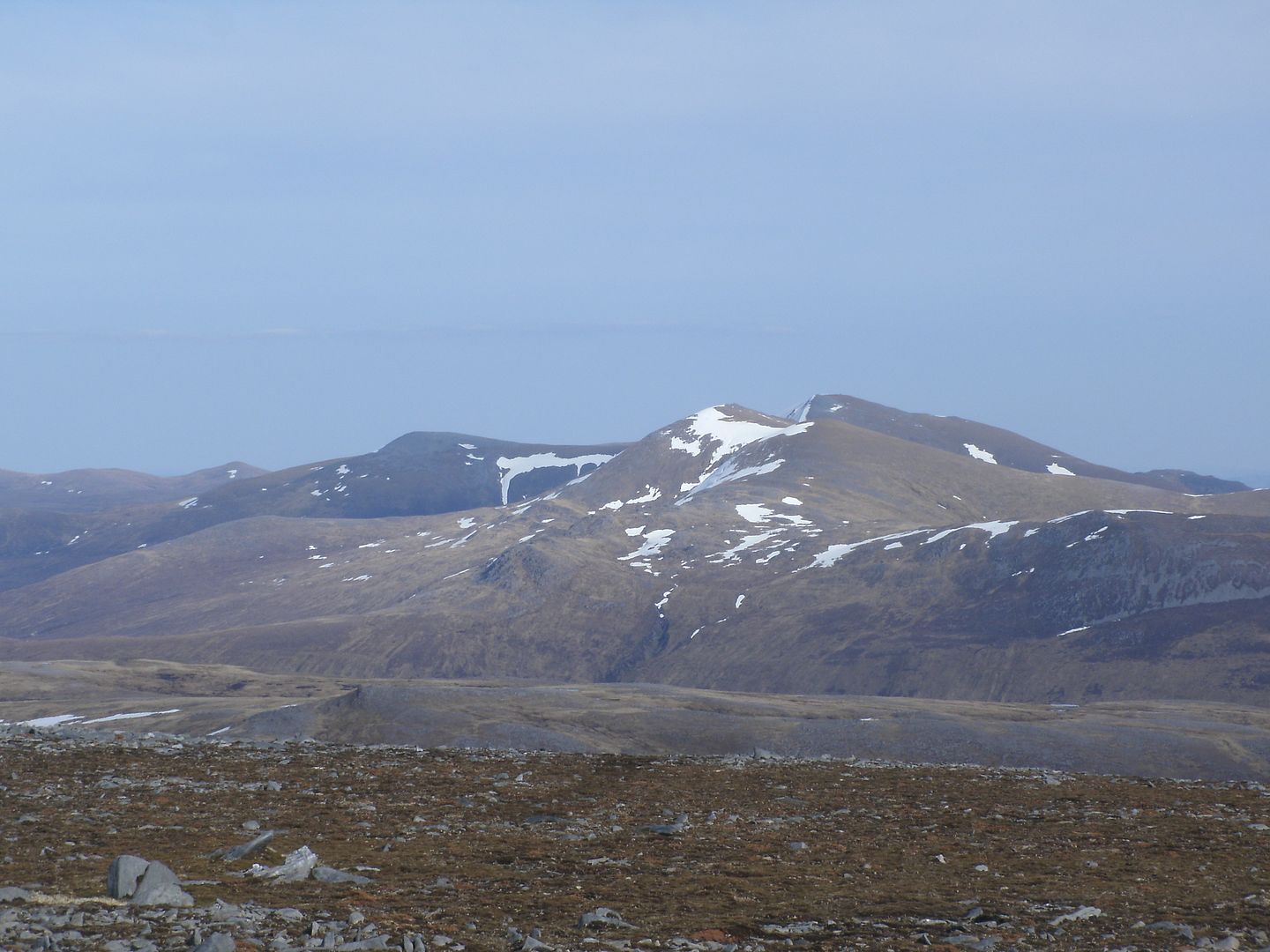 We were all getting burnt by this point – the weather forecast said it would be nice, but none of us had dared to hope it would be 'sun cream' nice
The shadows were lengthening, our stuff in the corrie looked very far away so we bade Weasel and Sick Kid a fond farewell as they were planning a summit camp, and we retraced our steps, this time taking a bit of a wider line to visit the other corrie.
The going was rathe arduous down the steep bit back to our stuff.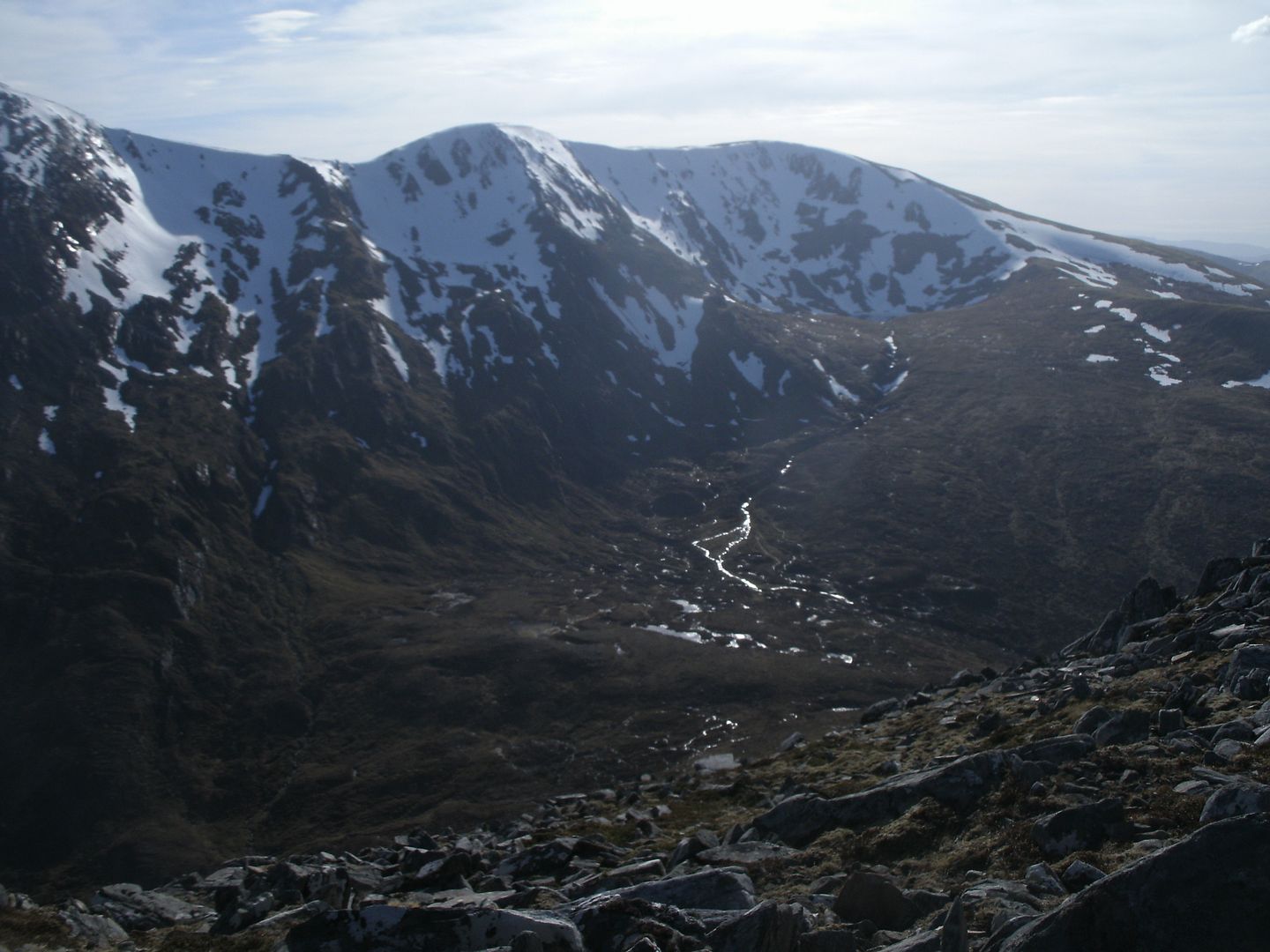 We were both surprisingly tired considering how little distance and ascent we had done that day. We whiled away the evening hours watching a ring ousel flitting back and forth bobbing in and out of the burn – far better entertainment than a telly.
Dougie managed dinner, which was a big improvement on the previous few days. I hoped he would be feeling better by morning so we could have a stab at the other two munros that were somewhere high above us. I had an evening snooze, much to Dougie's disgruntlement that he didn't get the other cup of tea and pudding he was promised, so more pudding and custard making in the middle of the night for me to try and make up for it!
We were again awoken in the morning by the heat of the sun turning our tent to a greenhouse,
and Dougie did indeed seem a lot brighter than he had all week. It took us a while to get going, neither of us wanted to leave such a bonny location, but as it turned out, we were out of gas – just too many cups of tea in the quest for hydration I guess
So we eventually headed upstream, the sunburn from yesterday rather sensitive in the sunshine. The going was a bit steeper beside the burn than other parts of the hillside, but it was well worth it for all the bonny waterfalls we enjoyed en route.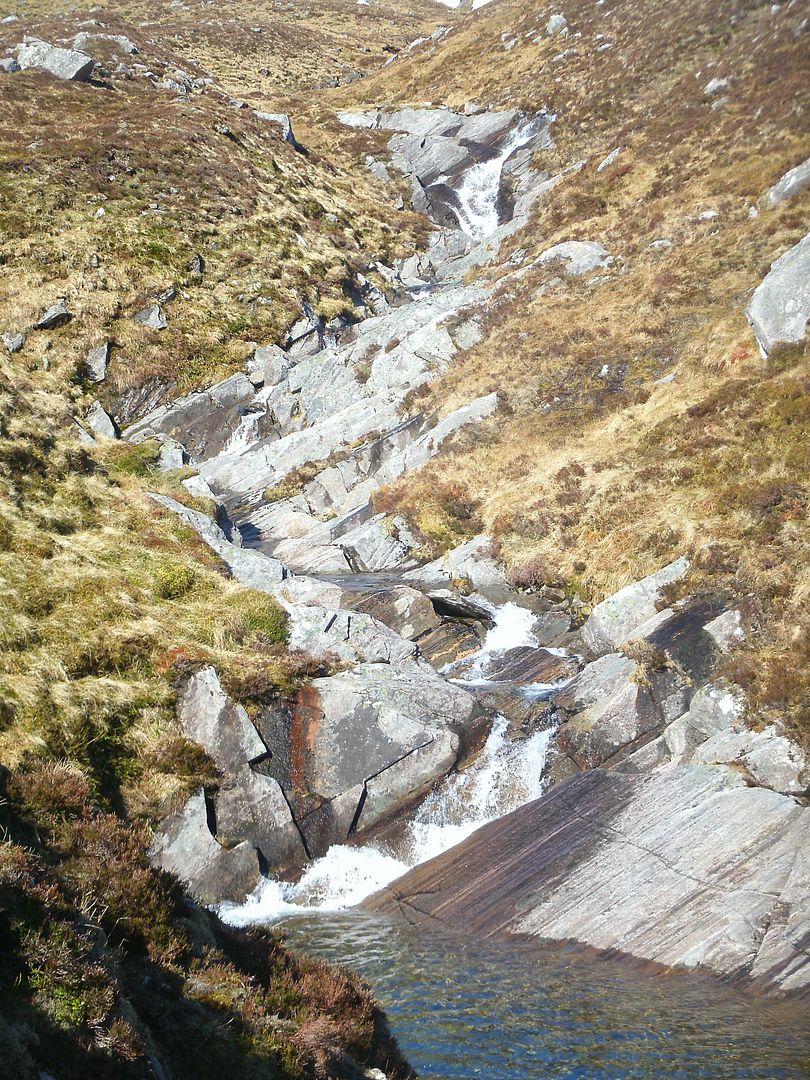 We finally made it up almost as far as the corrie lochan, and took a few moments to bathe ourselves in the cool, snowmelt water. From there it was a hot bog hop up to the ridge – much soft stuff and squelching underfoot,
so by the time we made the ridge we were knackered and lay down for a while in the short mossy heather.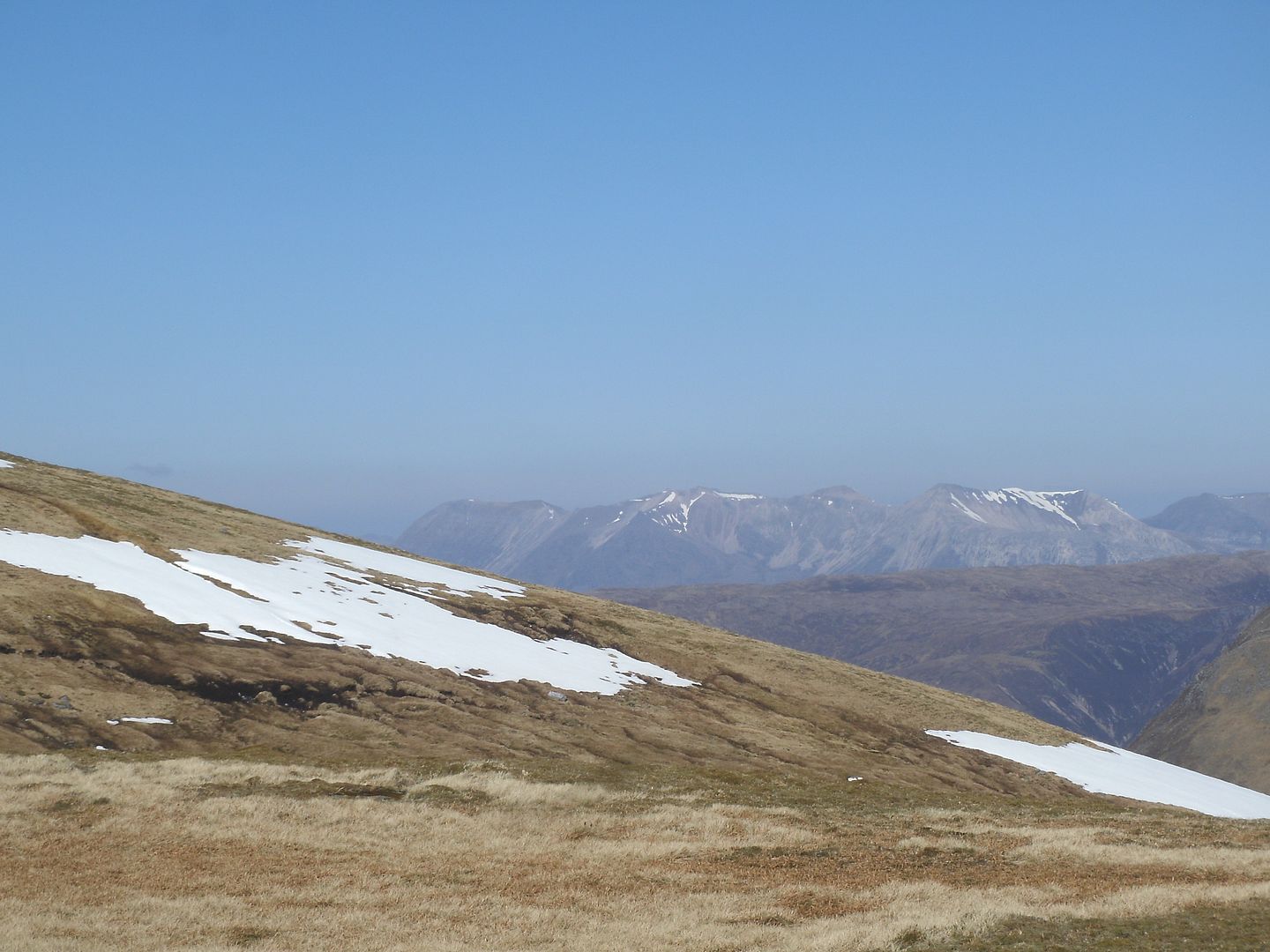 We eventually got going again, the ridge seemingly steeper than it looked from afar.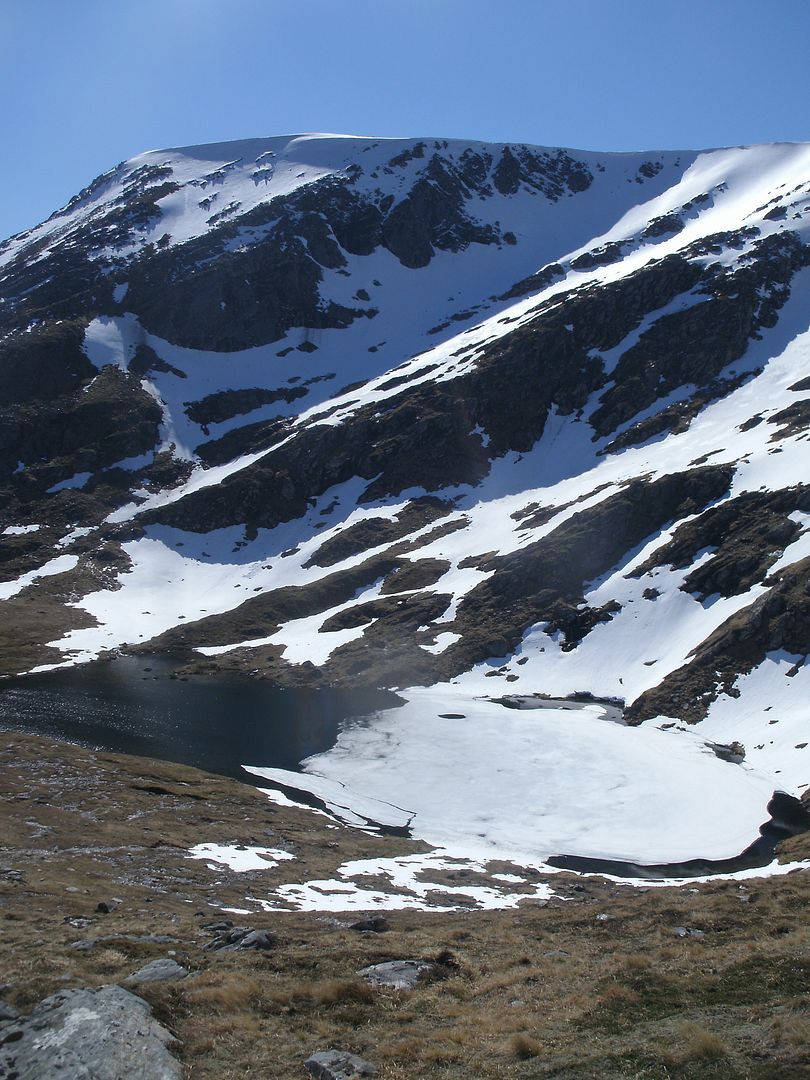 I was still rather surprised when we hit the summit though, I thought we were still a good bit away, but that view south to Affric and Kintail all of a sudden took my breath away.
More hills than I could even count, Dougie made an attempt at pointing some out to me, but that just confused me further so he gave up.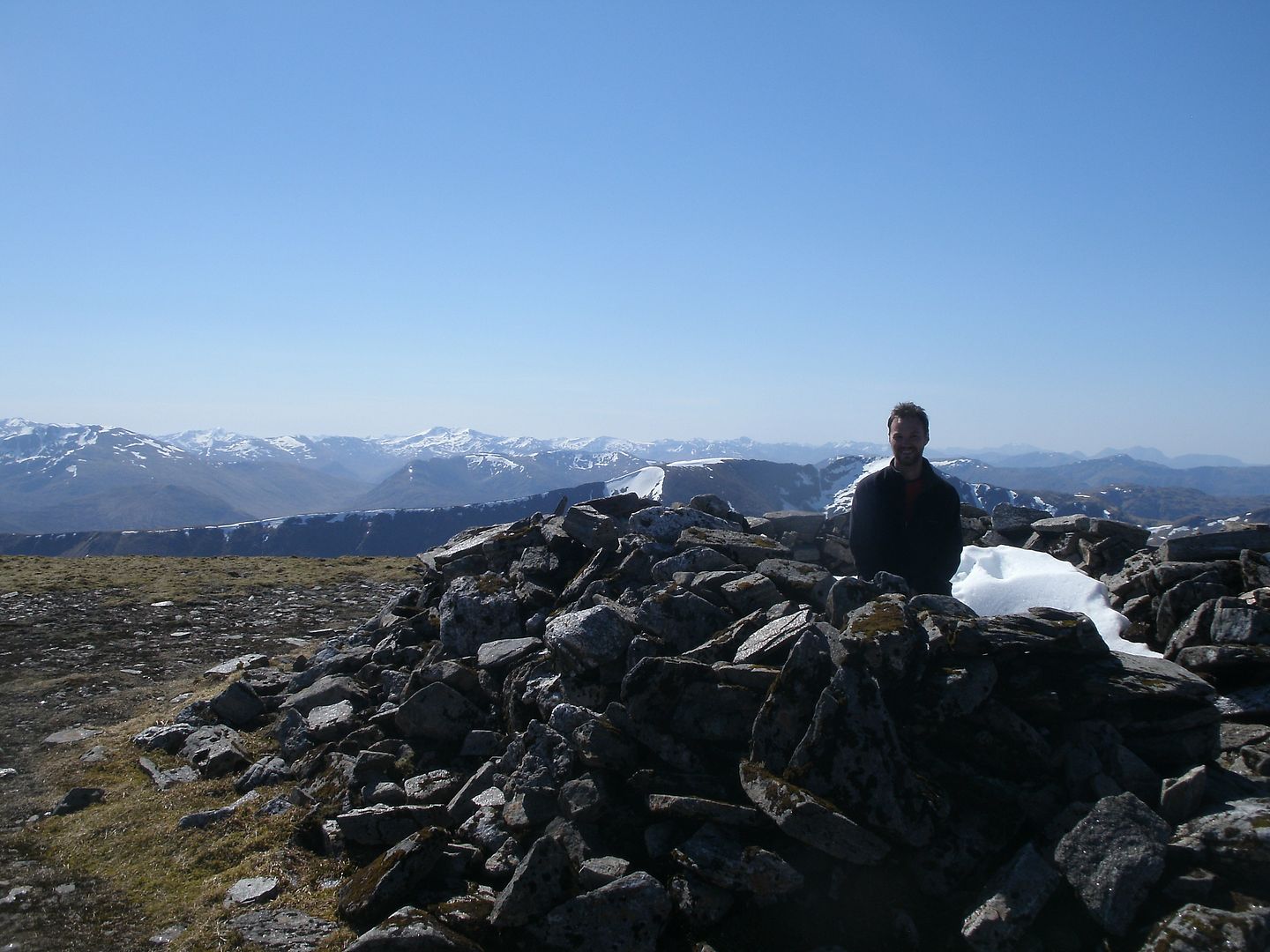 The path down to the coll wound its way through rocky crags, and was rather fun for the most part.
On the way to the coll, we disturbed an eagle that took off and we watched it as it glided in a huge arc southward. In the coll we passed a couple of groups of walkers headed the other way, and had another break to cool down. The climb up to Sgurr Choinnich looked steep, and it was a sweat fest on a baggers path that was slippery with shale.
We made it up to the ridge, where it was just a short walk to the summit.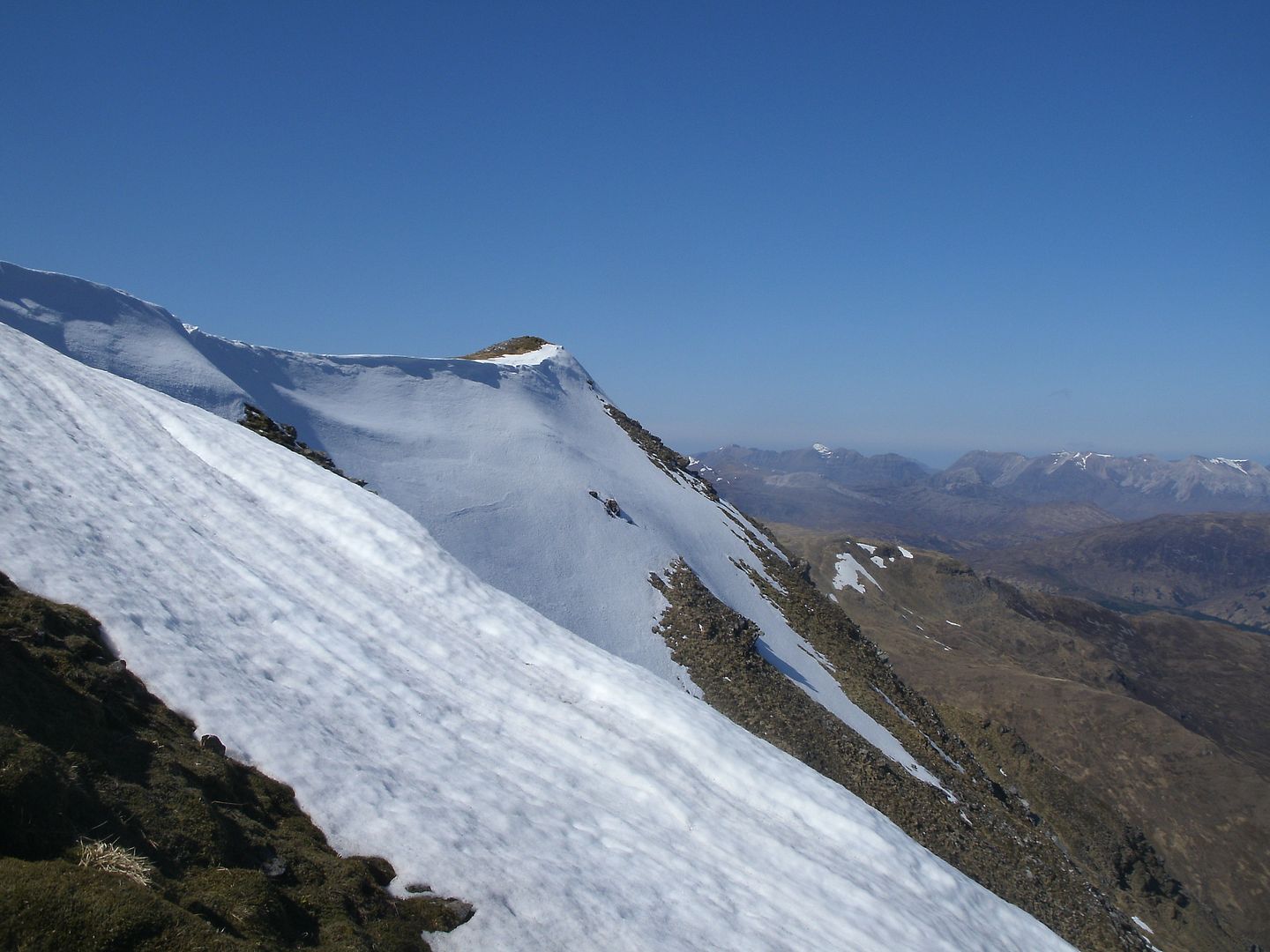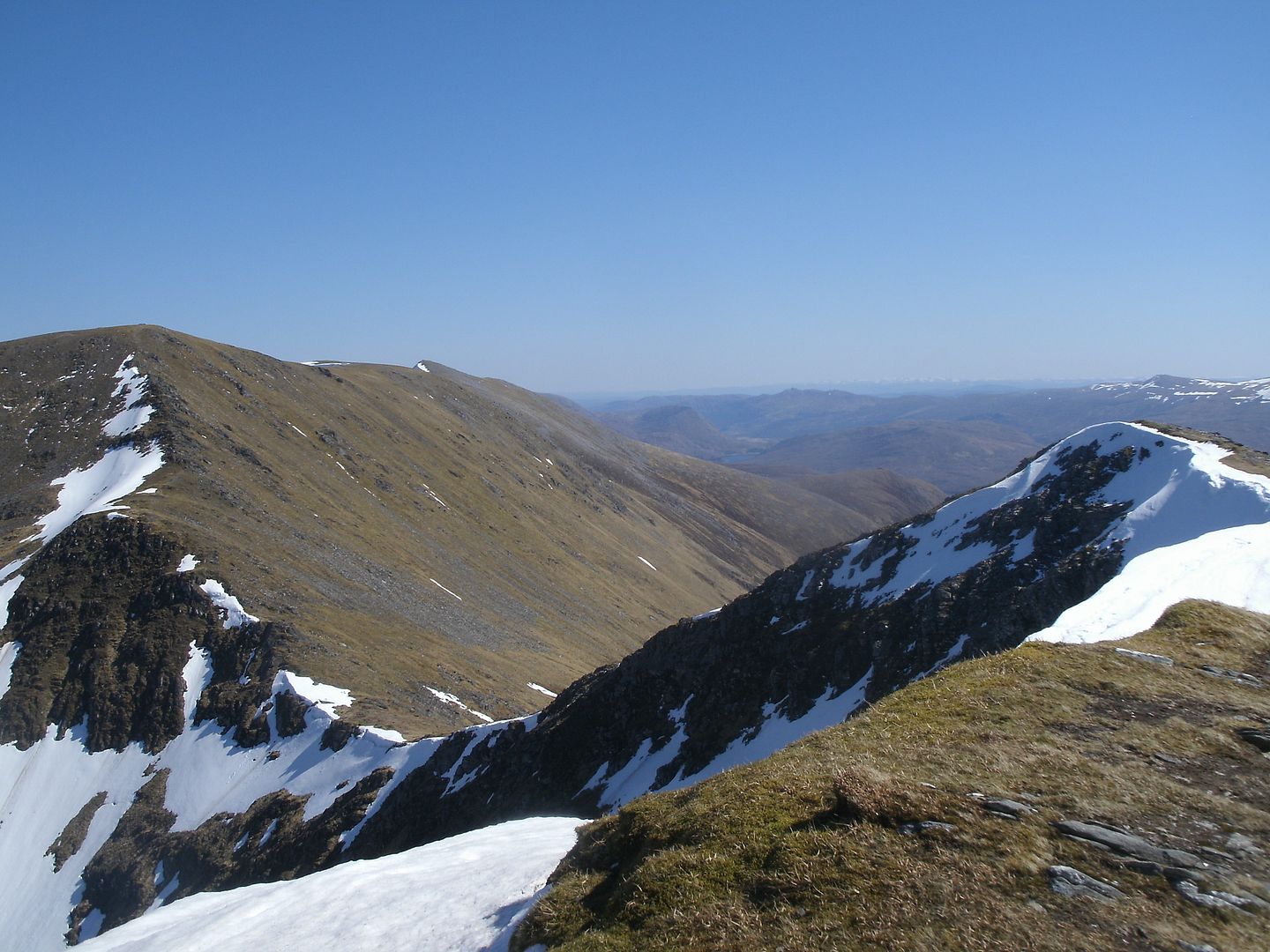 There was a fine breeze up there, but no good places to stop really, so we carried on, finding a grassy sheltered spot at the top of our descent where we lounged about for a long time, enjoying the views and the sun.
We talked about camping in Bealach Bearnais, but dry pasta isnie a tasty dinner, so we decided to walk out. The descent down to the bealach was long, but near the bottom there were a couple of rocky ledges that gave some fun scrambles to break up the monotony.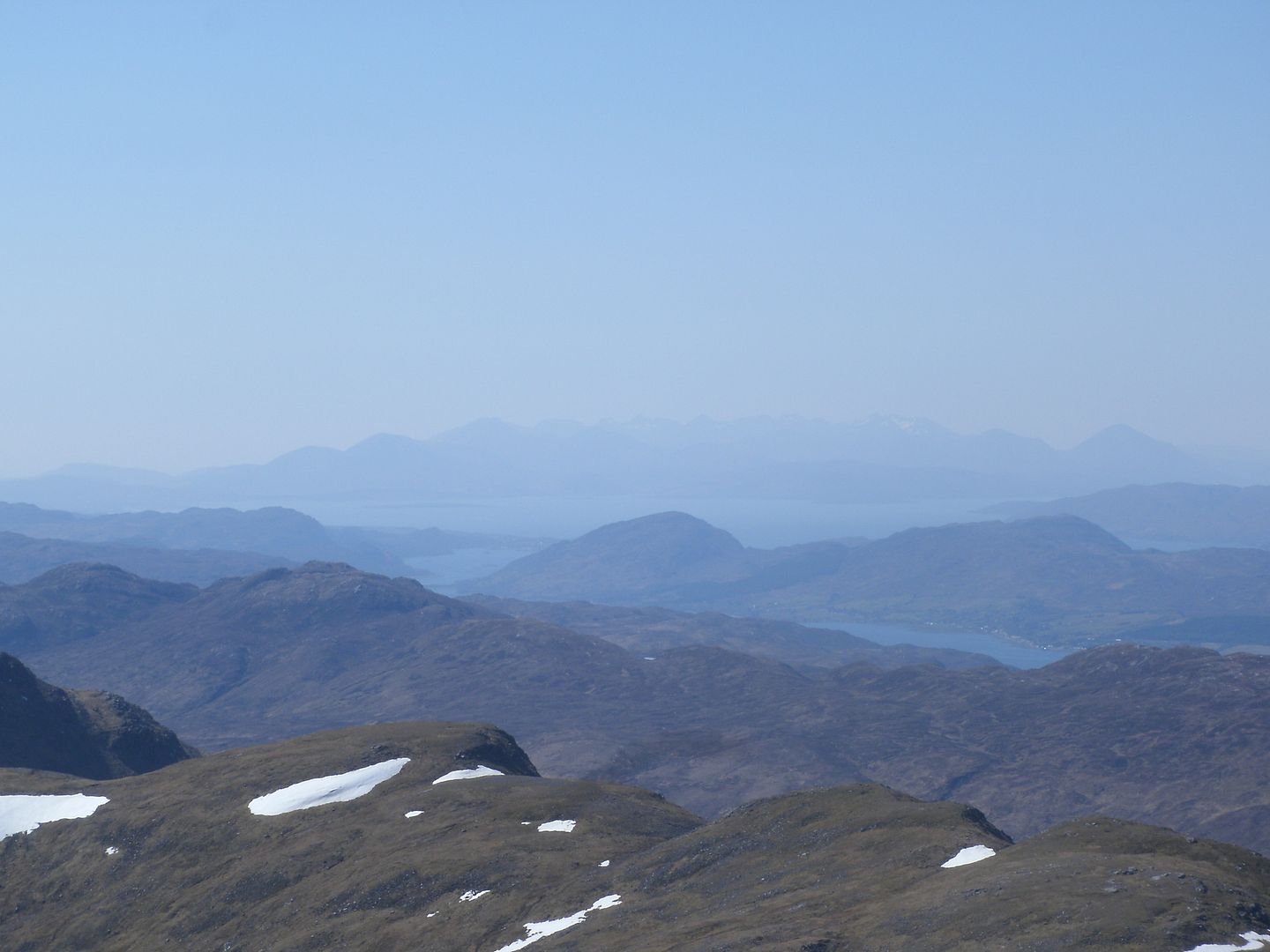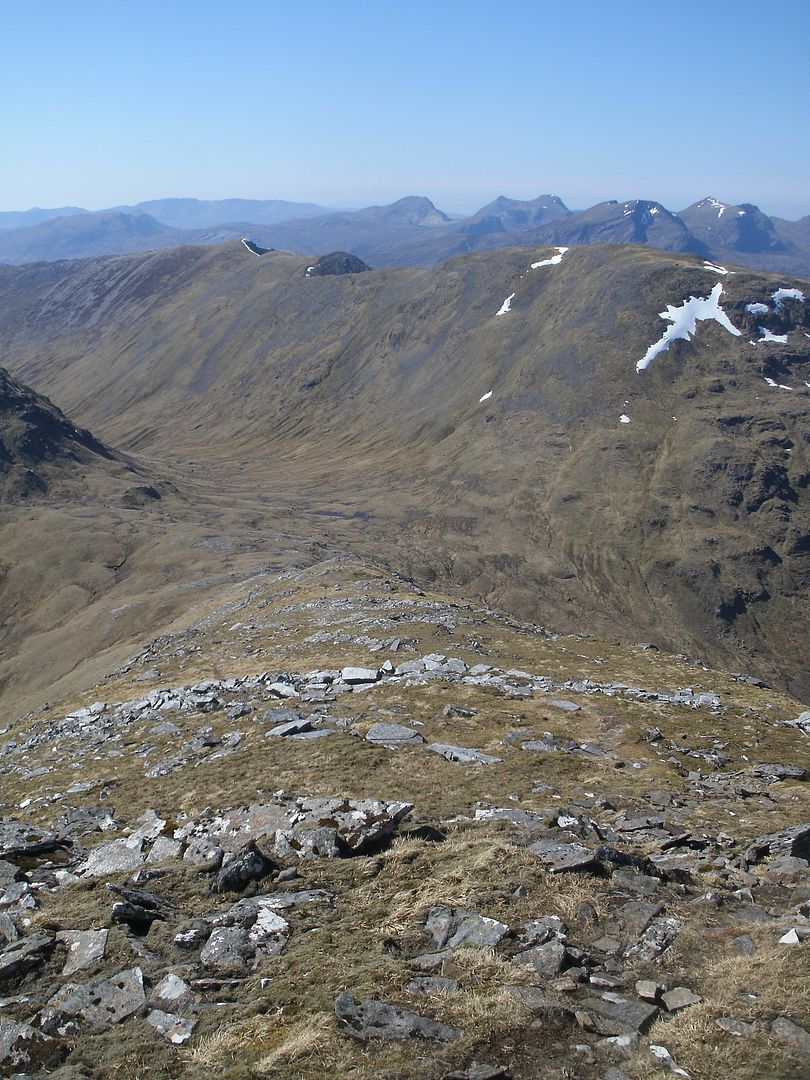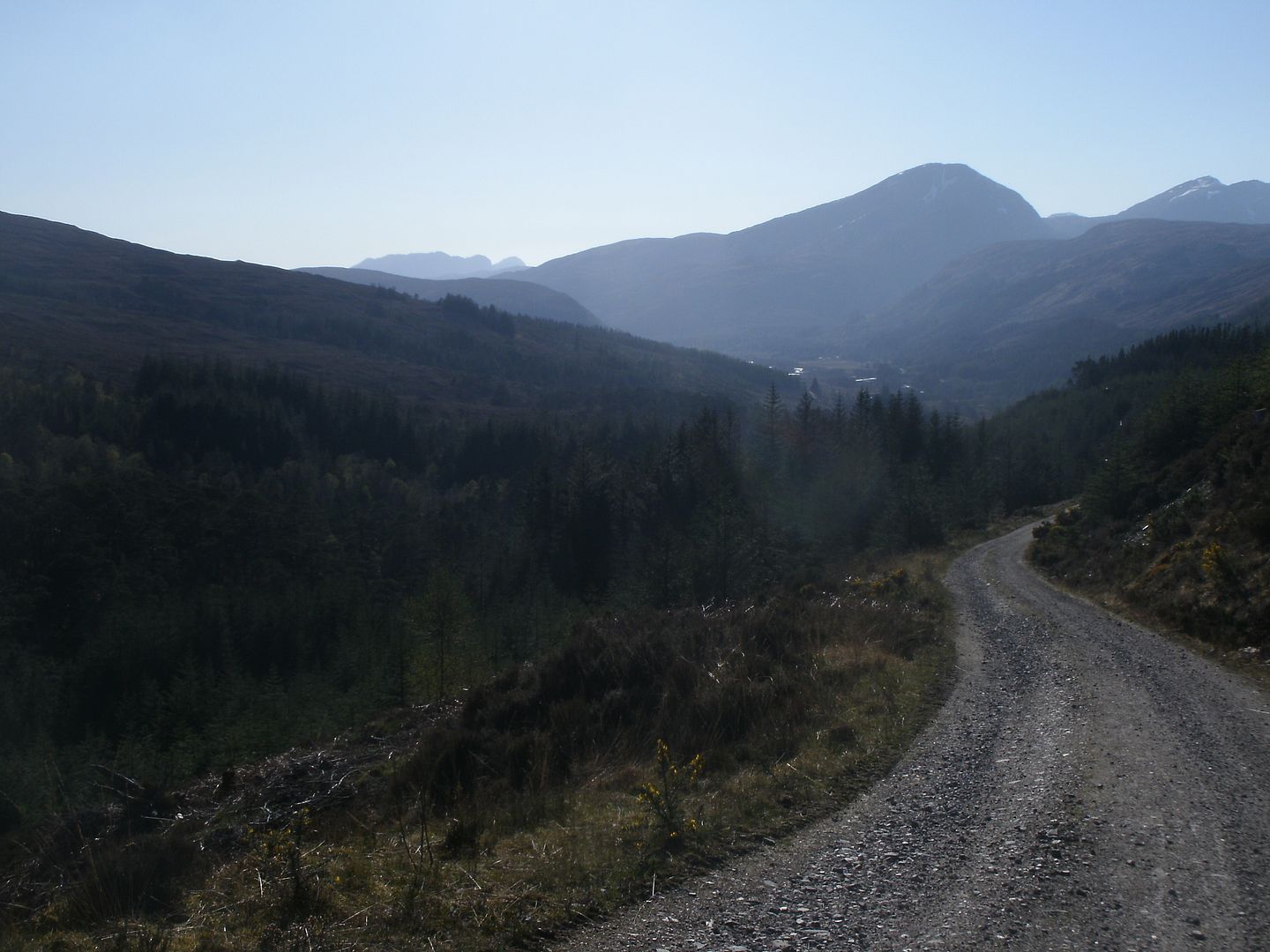 It was a long, hot, walk out, sheltered from all breeze, The stretches of the track between shade were like a furnace
Even at 7 when we got to the car, the heat was still stifling like we were in the tropics or something. It hadn't been a taxing route this weekend, but it had been nice to just potter about in the sunshine without any serious walking, and compared to last Easter (-18 in a bothy with gaping holes in the walls) and the year before (injured, abandoned then caught in an avalanche) it was surprisingly un-traumatic and pleasant. Lovin easter again