You know, looking hard at any set of hills and glens and unvisited places will reveal a route. And even a theme, a title to give the operation a plot. But this year I couldn't bring myself to concentrate, and there were a lot of gaps. The sketch-route looked quite improbable. To my surprise this route turned out quite a character, with three traits: free-range walking, geodiversity, and what one might call 'wayward solutions'. And a new ingrediënt made its debut: the flattish wetness of the northeastern bog.
Cairngorms from above: not much snow this year.
I sat on the three hour train ride to Forsinard enjoying the birds (red kite, curlew) in the estuaries and fields round the Black Isle, as we passed station after station. Well after dark, the train showed me its red taillights and left me on the platform at Forsinard. Empty. I had imagined someone else to disembark and show me the way. I gathered my wits, looked around and saw one house lighted. I knocked the door, no doorbell, and asked the man whether I could camp somewhere, and whether he could top up my juice-carton with water. If just one inhabitant gives you a vague sort of permission, you can camp anywhere. So I went to a narrow strip, planted with trees, along the railwayline, and found a spot.
RSPB not welcome.
Ben Griam Beg from Forsinard Lodge.
Blanket bog water pattern on Google Earth.
Day 1: More Crunch Than Squelch
At first light it dawned to me: I had gotten off in Forsinard, and all this stuff around me was to go on my back and be carried across wide open spaces. The legs sure remembered what to do, and soon enough I left the road for a rather unpermanent looking track west. Although prepared for a wet foot or leg in the first mile, there was more crunch than squelch. On Google satellite some areas look shot-perforated, a mostly watery surface broken up by tufts of vegetation, but on the ground the tufts outnumber the pools. If you're lucky.
What got me attracted to Ben Griam Beg was the Iron Age hillfort, and the appearance of being the sole hill in a very large flat area. Along with its twin 'More' of course, across which my mouse-drawn angular route went as well. Looking closer and thinking it over, there wasn't even any other real option than to climb the second Griam too. I had lunch on the beach by the lochside. A very abstract view of blue-grey water, 'gael' hill and light grey sky. On the climb up I saw an eagle. If I'd enlarge the picture 10x you could see it, wingspan a mighty 24 pixels, white patches and all.
The summits of both hills are dry and rocky, with plantlife both short and rich. From Ben Griam More the Iron Age hillfort on the other hill is clearly visible. 'More' has a big, well built cairn on top, visible from miles away. Some snow buntings were fluttering around, hopping out of my line of sight as I rose to the summit. In the distance lay Ben Loyal, and Ben Hope was at the edge of visibility. The hills I knew were far away.
Home baked with love.
Right: very odd rock on Ben Griam Beg, overlooking a distinct pattern of lochans.
Ben Griam Beg from Ben Griam Mor summit
An excellent estate road with a yellow, loamy surface led me across the Badanloch Estate. A worker mowed a seemingly random strip of grass with a cyclomower. I listened to fairytales by Oscar Wilde, presented by Stephen Fry in the most succulent of english. The story brought me to tears and the golden plover wept along. I was milling over the impression the landscape made on me. It was a landscape composed of too little components, something was missing. Like an empty room where the carpet bears the marks of absent chairs and a table. Or a computer generated landscape with 'trees' toggled to 'off'. This lack of man-sized objects prevents one from gauging distance.
Nine and a half hour after departing I saw my destination for the day: Gearnsary. Where people of past ages chose to settle, it's guaranteed to be homely for me too. And indeed, a couple of trees and an old wall created just the snugness I was looking for, and removed the odd effect the emptiness had on me. Note: the bothy was open, but other information indicates it is closed normally. Good enough to sleep in when the weather is bad.
Loch Badanloch.
Gearnsary in the morning. The best weather this trip.
Day 2: The Great Friendly Giant
The still morning sky seemed to brighten. Sunny patches traveled west across Ben Armine's flanks. I loved the place and walked round drinking my tea. Down the road, Loch Choire Lodge made a halfhearted attempt at being an upperclass shooting and fishing lodge. Too green the corrugated plating on the sheds, too rickety the doors and windows, and to top this, the facade of the lodge itself had sunk into itself: it had burned down.
On the other shore, mergansers fled away from me. I found a track into the corrie and not long thereafter I reached the 1955 monument near the summit of Meall Ailein. Seemed the Navy airmen killed in the planecrash flew a Vampire. Hats off to these heroes, seated on top of an engine that produced barely controlled explosions and behind instruments that would not save you from hitting a misty mountain.
Ben Klibreck has a high pile carpet of the finest mosses, in the finest hues of green, brown and grey. I love a snow cover, but these mosses added pleasure to my walks this year. I would take off my shoes and indulge in a barefoot walk were it any warmer. On some flanks, the surface of this carpet is broken by pebbles laid bare by solifluction. On low points the grass alternates with peaty runnels of the blackest kind. And it's a big hill, a friendly giant, some 9 km long on my route.
This is given to the deer: Crystalyx, reduces the risk of twin lambs.
Ben Klibreck
Loch Choire Lodge from Klibreck, the Griams in the background.
No views on the summit, and further west, on Creag an Lochain, the wind got even colder. Slopes sloping at shallow angles in suprising directions ask for concentrated routefinding. At last a view reappeared. And then I spotted it: the Crask Inn. Smaller even than an eagle on a hillwalker's photo. A watering hole in this wet desert, for anglers, timber-men and cyclists. I welcomed a bulldozed track, thinking it would take me there quickly. It had been drawn ignoring the lay of the land, and was full of water and swamp every turn.
Crash site monument on Ben Klibreck.
Solifluction and peat on Ben Klibreck.
Crask Inn.
I was welcomed by Mike, given tea by Kai and talked to by John, the friend of the house. Him I asked 'can I ask Mike if I could take a shower in the bunkhouse', and hospitality was extended to include the private bathroom. Olive green wallpaper, stained, a bath with copper green corrosion and the water a peaty color straight from the moors. Hot. Bliss!
I dined with a Scottish cyclist who had a to do list with 'camp in front of Ben Loyal' on it. A fine plan. Much later she dropped the casual 'I climbed all the munros, easy when you're living in Scotland'.
Oddly enough, when I ordered a Red Kite bitter, and mentioned the kites of the Black Isle, it was Mike who said 'there's too many birds of prey'.
A chance for me to ask what the 'RSPB not welcome'-signs in Forsinard meant. A fellow visitor who worked as an RSPB-contractor told this story: the Forsinard Hotel had to close, and instead of buying it, the RSPB decided to propose a new centre opposite the hotel... True or not, I mainly saw the classic clash between city and country. Rich people with a powerful organisation and time to spare to watch birds came in to tell locals where it's at. And even though the timber round here was worthless, many wouldn't understand why the plantations had to be returned to the bog they used to be. (Note: much of the timber was a tax-exempt-induced project in the sixties, a very artificial thing, which took away much of the empty horizons. Similar to windparks now, which, if you ask me, cost a lot of public money and earn only the handy few some profit).
I had been told the food was excellent. Yes, the food was fresh and good, but some imagination might be added. In the morning an excellent locally made venison sausage accompanied breakfast. Tasty eggs too. In the view east you can see the chicken coops, freely placed on the moor.
Day 3: Tumbledryer Blues
At eight I was walking again, having checked my researched route with Mike's local knowledge. He said yes, there is a fenceline across the moor, but not many would consider going due west from Crask. I would, and I didn't regret it. I followed a 1950's track to a waterwork that induces water to flow south. The fence and I climbed Cnoc an Alaskie. However cowpat-shaped it is, it does have a trig point and the name has the ring of far and away to it. I followed the fence line on the side where I expected the least chance of sinking into the hill. Choose a direction that seems dry, and you will stumble onto a transverse ribbon of water. Choose a direction that seems wet, and you might be surprised by a dry surface. This is a game, where the outcome approaches that of rolling dice. You pick up floral knowledge of the pragmatic kind, each color and texture corresponding with a degree of wetness. Note: the fenceline is depicted on the 1:25.000 map.
Old Ford near Crask.
Cnoc an Alaskie Summit.
Crossing ridgetop west of Druim na Claise Carnach.
Did I notice it had been drizzling for hours? Did I consciously decide that my pertex jacket could handle it? What was I thinking, crossing the Fiag plantation, when bigger raindrops soaked the fabric? Was it the sphagnum surface, so wet that one wouldn't notice rain? Was it the mesmerizing repetition of heathery clumps, muddy throughs and swampy patches? The melancholy of this bleakest of places?
Anyway, when I crossed northwest of Druim an Claise Grianach and decided to use firebreaks to reach the road at the head of Loch Shin, I was soaked. The firebreaks split, got very wide, and very vegetated, but I made it to the road guessing which turn to take. Instead of walking 2 k in the wrong direction, I walked northwest to a group of small houses. Only one was inhabited, and my plea for a chance to dry out was turned down. A fast as I could I walked another 3km to Corriekinloch. It was either beg to be let in, or call it a day and camp. I just had to put an end to the shivering and the cold water running down my elbows.
Housekeeper Marian opened the door with a paint brush in her hand, looking perplexed. I stuttered my plea ... and was welcomed in. In return for drying out, I had to suffer the humiliation of not only being offered a tumble dryer, but also of being looked at with a motherly eye, followed by 'would you like a blanket, you look terrubly cold'. And please use the cooker. Hillwalker, self-proclaimed 'experienced', gets wet and is rescued by cleaning lady. There.
Corriekinloch is a corrie where the southeastern wind, waterlogged after travelling the whole length of Loch Shin, rises to a plateau and dumps its fluids on the flanks of Beinn Leoid. Being after just that hill, I climbed out of the corrie to a spot by a lochan I had marked as a suitable campsite. When I arrived in said spot, it was not as my imagination had advertised. It was a reedy, peat-banked pool. Some kilometer on, I came onto the Allt Fionn. Rivers, wherever you are, have meanders, and in the bends there's always a grassy spot that is well drained. The resident dipper put some perspective to my misery: a tiny bird walking underwater to search for food, and singing inbetween dips. Who am I to complain of wetness? I discovered the sleeping bag had a wet patch, and I compensated for that by a big, delicious meal and lots of tea. The mist was thick as soup. "Just go to sleep and we'll see in the morning", was the thing to do. One freedom of a long walk is to be free of options.
Corriekinloch House, waiting for tumbledryer to finish.
Too wet to camp.
Day 4: Peat and Quartzite
In the morning nothing had changed. Being less than 3 km from Leoid's summit, I couldn't let it go unclimbed. And lo, behold, at 650m I rose above the milky white mist. An inversion would have brought bright sunshine, and a big hurray. Instead, it kept raining. Why? At 900m was the base of the real cloud cover. Through the haze between this sandwhich I could vaguely see Ben More, Quinag, Ben Stack and even Suilven's murky outlines, like stains on council-house concrete. Upon return, I only saw the tent when I was 25m away from it. The fear that it somehow would not be found despite solid navigation, is as exciting as scrambling along a ridge.
Meall a'Chuail from Beinn Leoid.
Tent, Allt Fionn.
Following the Allt Fionn downstream from the camping spot brought me to Gorm Loch Mor. Fond memories of a frosty blue-skied morning 18 years ago returned. The remote feel to it hadn't changed. Massive quartzite rockfall on black peat along the shores, and further up caravan-size blocks, in a hillocky landscape. I crossed the stream coming from Loch Bhealach a'Mhadaidh using hands and legs. The ascent of Ben More Assynt is long, not steep. Patience would wear away the metres, and I would come out of the mist at the first snowfield. And so it was. After that, just quartzite, steeper, until the top section. It felt ridge-like, and quite alpine. No view, but when I continued to the saddle, Conival stuck above the mist. It gave me such a bulky stare that I hastily retracted my accusation that it shouldn't be a munro.
Originally, my imagined route would dive off the ridge to the southeast, round the south flank of Conival and onto Breabag, adding that corbett before making the roadside near Ledmore. The slope looked very wet and rocky, and dissappeared into mist. Walking the illegible terrain of Breabag wouldn't be a pleasure, and would take too much time. Instead I chose to add Conival and to walk out along the well-known path to Inchnadamph.
Staghorn on Ben More Assynt.
Conival
The geodiversity hereabouts is stunning. White, grey, pink, yellow, red. Angular, layered, contorted rock. Pebbles, split, blocks. Cliffs, scree, pipes and walls. And ALL rock and landforms have names.
My wet feet had swollen till wrinkled into folds just like the rock around me. Then they were stomped on for hours, till they hurt so much I took off my socks and loosened my laces. At Inchnadamph two ladies drove me to Ullapool, where I stumbled into Peacock House and bumped into Will Copestake. He was 33 munros away from finishing his 'slightly discontinuous' winter round. Lots of laughs, fine food, late bed.
First leg of the route.
Day 5: A Walk In
After 105 km and 4.400 m of ascent in four days I just couldn't bring myself to rush off in the morning. I bought food, socks, had some lunch with the family and was driven to Ardessie. There the second leg of this walk started at two o'clock.
The backpack was back to 'heavy', with five days of food (+5kg? probably more) to take me across Fisherfield, Letterewe and Flowerdale to Torridon. I sat eating apple and finishing the flask of tea not even 150m into the ascent. Beautiful cascades, warm weather. The summit of Sail Mhor comes equipped with a shelter-throne to admire the views over the western seaboard and towards the house I left at noon. To the south, the knobbly gneiss pierced through ochre hillsides. Steering clear of cliffs and lochs I walked straight to the outflow of Loch na Sealga (Sheallag on the Harvey map I brought). So there I stood, pondering. To wade or not to wade, that's the question. But there's no option than to cross Gruinard River. I spotted a boat with two fishermen. 'You want us to come over with the boat?' one of them shouted. 'If you wish', I replied. 'If you want!'. 'Yes of course'. Closer up, the two were very young, a German couple. I came on board, we switched to German, and they paddled me to their cozy and well-equipped campsite. The girl wasn't so smitten to camping, asking me whether May wasn't a lot better weatherwise, and complaining about their rucksack's weight, 16 and 22 kilos, just like mine at that age. I should have told them that to console.
View from Sail Mhor
Crossing Grunaird River
After another trackless section of 6km it became too dark to walk. I pitched my tent on the shore of Loch Ghiubhsachain at NH007820 (hesitating a long time on the precise spot), Beinn Dearg Bheag rising above. The loch was a mirror, the evening soft.
Day 6: Fisherfield Corbetting
As I knew a front would pass, I used the morning to climb both Deargs. Not far from the tent, sandstone conglomerates are slapped on top of the gneiss baselayer. Higher up, the sandstone breaks into towers. Some excitement was added by climbing steeply onto Beinn Dearg Bheags ridge through a heathery gully some two or three towers away from the summit. A fine mountain. Ruadh Stac Mhor and A'Mhaighdean looked wonderful, Chaisgein a big sprawl leaning away from me. Beinn Dearg Mor has its bulky side turned towards the saddle, so looks impressive. The climb is rather predictable, unlike the climbs from the east. Near the summit a flock of snow buntings came chirping out of the cloud, quite convivial. My little friends. As expected, the walk back to the tent saw some rain and wind, and was a tiring thing.
Geodiversity: conglomerate slapped on gneiss base.
Beinn Dearg Bheag, steep gully to join ridge
Beinn Dearg Bheag and Fisherfield
An Teallach selfie
An Teallach
Round two o'clock, the wind picked up. My tent was pitched rather sloppily, with its side towards the prevailing wind. I was thoroughly rattled, and sat holding the main hoop for a while, until a lull came and I could tie in an extra guyline. At four I fell asleep. Later I woke up in a sparkling white light. Had I been blown into the heavens tent and all? Blue sky and white clouds. Hurriedy I calculated two different routes to Carnmore. One along Strath Beinn Dearg to meet the Gleann Muice track. One, shorter, over the summit of Beinn a'Chaisgein Mor to meet the same track with only 2k to go to Carnmore. I estimated to need 3h30 so if I left at 17:30 I would make the track before dark. Inside of 20 minutes I packed my very much unpacked stuff while eating leftover cold ravioli and strode off at a very inspired pace. I crossed rivers in no time, bolted up to Loch Bearta and reached Chaisgein's summit dome in under two hours, in a headwind.
Once more I was struck by the dark, brooding brow of Beinn Lair, the contorted chaos of Beinn Tarsuinn Chaol, and the warty heights of the Maiden. What a wildness! What a wind! The clouds were a dark crimson, and just after drunkenly staggering onto the cairn, a hailstorm broke loose and I ran, I literally ran, rucksack bobbing, cheeks stinging, away from this menace. Fortunately this summit is clad in moss, so no twisting ankles. I walked east to meet the track at 20:30, just in time. Surely one could descend to Carnmore down the gully west of Sgurr na Laocainn. But would you take the chance of getting stuck halfway down with darkness approaching?
The Letterewe tracks are sheer luxury. Much unlike the Carnmore barn. Holes in the roof, ferns in the corner. A dump. I pitched the tent nearby and dived into a fine meal.
Bad weather near Loch Ghiubhsachain.
Beinn Dearg Bheag.
Beinn Lair from Beinn a'Chaisgein Mor.
Arriving at Carnmore, 21:00.
Day 7: A Clever Connection
This day I had an appointment. At three o'clock I was to cross Loch Maree. No doubt I'd be on time, coming from Carnmore. Beinn Lair begged to be included. I had had plans to climb it from the front, along a gully just east of the summit. But getting into Gleann Tulacha first would have been tedious, and later my observations confirmed that each gully was plugged shut at the top by a cornice remnant. Not to speak of the very loose looking sidewalls, layered with dripping vegetation.
Beinn Lair speaks to my imagination, especially the dark face, a foreboding wall to anyone coming in from the north. I discovered the rock is entirely different from the other hills around: horneblende schist. The summit is a cairngormy dome of assorted rock debris, hiding ptarmigan and golden plover. The views from each gullytop are tremendous. An eagle crossed beneath just when I reached for my camera. Had it been photographed, it would have looked photoshopped, but writing it down without pictorial evidence smells of counterfeit too.
Carnmore from Beinn Lair.
Beinn Lair geodiversity.
Beinn an Eoin from above Letterewe.
At two I washed and put on a cleanish shirt. One should be dressed properly, entering an estate. The boat took just a couple of minutes, with me smugly remembering the long walks out to Kinlochewe (1995) and Poolewe (1996). Of course, when one hops straight across Loch Maree, one is obliged to continue south and enter Strath Lungard. Moving to Kinlochewe would spoil all the benefit of the crossing. Across the loch I drank tea in a house which is built to have the kitchen window frame Slioch. You'd love dishwashing here.
Strath Lungard is the only Flowerdale glen without a path. Let me tell you there's a reason for that. It is wet. Very wet. And quiet, and full of birds. Greenshanks, merganser. And this huge waterfall halfway must be unknown. And which hills to climb? Well, Beinn an Eoin is top of the list. You can see it lined up along with Baosbheinn in the view from Letterewe, and its bow points straight into the heart of Torridon. When nosing about the plinth of the hill I spotted ONE greenish patch among the waterspecked brown. I instantly knew this had to be my camp-spot. And what a spot. Unique in uniting in its tent door view both Beinn Eighe's Coire Mhic Fhearchair and Liathachs pinnacles.
Strath Lungard waterfalls and Beinn an Eoin.
Liathach from Strath Lungard.
Crossing the river. Beinn Airigh Charr on the horizon.
Beinn Eighe and Liathach.
Superwet Strath Lungard. Tent in lower righthand corner.
Day 8: Too Wet to Handle
In the morning there was a lot of downy condensation cloud. I headed uphill, gaining the south ridge of Eoin at 680m. It snowed on the summit, but I did get partial view. Before ten I was back in the tent, facing the task of brewing a route for the last one and a half day while eating leftovers.
Beinn Eighe's Choire Mhic Fearchair from Beinn an Eoin.
Slioch from Beinn an Eoin.
Leftovers are delicious.
The first bit is easy: you cross rough terrain to the foot of Beinn Dearg. Marvellous sandstone pavements, strewn with blocks, in constant view of Deargs full length. Grand. Halfway things started moving away from me: one squall after the other came in. I hid behind the biggest blocks. Stuc Loch na Cabhaig dwarfing my efforts. Time faded away, rain became continuous and conclusions were forced upon me: 1) There's NO place to camp north of Beinn Dearg. Too wet, too rocky and too windy; 2) No camp means I cannot climb Dearg since I would come down after 7 and would need a tent. 3) Tomorrow the weather will be worse, so I will have to climb Alligin today 4) Climbing Alligin via its Horns can only be done by descending into Coire Mhic Nobuill 5) Could there be a camping spot on the Bealach a'Chomla ?
Phew! Hunted by route-math!
Conclusion: "wait for the weather to improve while slowly moving westwards to the foot of Alligin's / Sgurr Mor's west ridge and hope it has cleared a bit when I get there". Walking is often just mobile waiting. But I sure regretted missing Beinn Dearg, passing its summit at less than 2k on the easy side of the hill.
Beinn Dearg (Torridon) and sandstone pavements.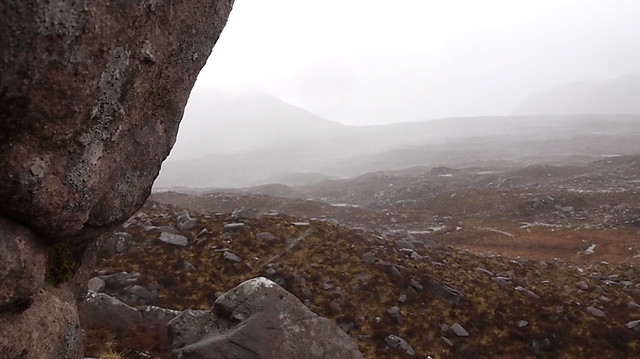 Getting whipped by squalls close to Beinn Dearg.
The weather didn't improve. The terrain was rough. Here, even a route that doesn't gain any height entails a lot of climbing. Before long I stood next to Loch Toll nam Biast, a beastly place without equal. The center corrie of Alligin is called Coire a'Mhadaidh, where they claim the last wolf lived. But Madhaidh means 'fox', while 'Biast' means beast. Do the math: the last wolf lived on this side.
After five I started my climb of the northwest ridge of Sgurr Mor. Only some 400m to climb because Toll nam Biast is at nearly 600m. I gained the windy and claggy summit at 18:40, and zoomed over to Tom na Gruagaich which I reached before eight, nearly missing the trigpoint because ALL possible bypass routes have eroded into paths that each look like they're the one.
Torridon geodiversity.
The Horns of Alligin from Toll nam Biast.
Tom na Gruagaich trig point.
Gruagaich's west ridge is steep and I hurled down it to arrive on the banks of the River Alligin, intended camping spot, at 20:30. It took a while to find a dry-ish pitch. I was overheated from the fast descent which gave me the idiotic idea of undressing and jumping in the stream. Of course, once undressed, I opted for a brief wash, refreshing. Then the bliss of dry socks and longjohns, all the wet stuff thrown out, and a good meal of couscous and coriander, raisins and almonds added. Instant custard as dessert.
I edited the route from the Beinn an Eoin spot on the navigation app and it said 13km. What?! That whole long day was only 13k?! I must remember to calculate how much distance is added by winding to and fro and up and down. At least 1/2π, all its million decimals included, it feels like. And: not a very satisfying way to bag Alligin. *must return*
A meal never fails to bring a wonderful, much needed indifference: what do I care if it rains or not? I'll zip the tent shut and we'll see in the morning.
Day 9: Coulin Afterthought
Not for the first time this trip, the morning brought the very same weather, slightly worse. I got up, packed and walked back upstream to cross, but the water had risen. Returning downstream I passed my tent's pole, all 2.4 metre. Just left it there in the heather.
After three deer fences I reached the roadside. The second car picked me up and brought me to Loch Clair. I decided last minute to walk out across the Coulin Estate to Achnashellach station, foresaking Sgurr Dubh, fine An Ruadh Stac or even Beinn Bhan. I can see the estate is beautiful, but it rains and keeps raining. Rivers overflow. Two blackthroated divers light up the walk. At Achnashellach, although I hadn't planned for making it to the train, I missed the train by 10 minutes. I ate my couscous leftover and at the roadside a car, stuck behind a lorrie anyway, stopped and took me to Achnasheen. Making for the station café I was again picked up by the next car. A typical lift: an older woman, smoker, with a car full of dog's hair. Said she's in a hurry making it to the airport. We reached 90 mph and I was dropped of at Longman's Industrial Estate outside Inverness. Much earlier than expected, but that's allright with me. I bought presents and enjoyed decent italian food at Zizi's. Next morning I'm propelled back to Amsterdam. In sunshine.
The last morning, Alligin river.
Coulin Estate.
DeHavilland dash 8.
Second leg of the route. Including use of car between Alligin village and Loch Clair.
GEAR
The biggest change was the use of iPhone + Viewranger as main means of navigation. I really really liked it, especially for constructing routes on the fly. Power use was reduced by closing all apps and switching on airplane mode most of the time to have map + route. Would love an option to shut down everything but GPS. A 5600mAh Powerbank (Chinese, no brand, 120 gr) provided two full charges for the phone. I could cover 5 days with that easily.
The second big change was the switch to lightweight shoes instead of leather boots. I tested Inov8 Roclite 315s in Italy and the dunes near my home and found them comfortable, but with a wobbly cushioning and really too flimsy on rocky terrain and for carrying loads. I bought Scarpa Vortex shoes, which have a more substantial sole and seemed to be up to the job. The goretex lining keeps water in, but even the Roclites do not dry out quickly. The Scarpa's are just about up to the task of contouring or zig-zag descents on steep trackless terrain. They couldn't cope with the wear and tear of my 'free ranging' style: the stitching has started to go in several places after 9 days of wet heather tramping. That's under 200 miles clocked in total. The Roclites surely wouldn't do better. Very expensive per mile.
This year a Montane Krypton jacket and a Rab Generator vest replaced my aging Montane Smock and worked wonderfully, at a friendly price and 300gr lower weight. The lower end of the temperature range had been well covered by the smock, but when temp reaches 8 or 10 degrees, or when goretex is called for, tis too warm.
Scotland will have my attention again in 2016, there's still a long wishlist: Mull, Arran, Jura, Ballater area, Mamores & Glen Coe ...
In 2015 I plan to walk to Rome (totally abstract thing to me right now).