I've been really busy of late, moving house takes up too much time.. So this bank holiday weekend came round really fast and no thought had gone into what we would do.. We decided on a trip we had been thinking about in Strathconon, but then at the last minute Dougie said he didn't want to go,
so I came up with the plan of doing some of the old drovers routes instead (thanks heritage paths website – you're great)
So I found myself dodging the cows and deer on the Glen Cannich road on Friday night. There were rather a lot of folk camped at the dam, so I found a spot half a mile back to pitch the tent, and sat by a loch drinking tea, enjoying the fine evening. A swan came and kept me company, but I had already finished my dinner, so slim pickings for him..
I retired to the tent at dusk, and must have drifted off, because the next thing I knew Dougie had arrived after having had a terrible journey that involved him waiting an hour for the RAC.. I hadn't even noticed he was late!
The morning came, and it looked to be another bonny day. We packed up, and got in the cars, but Dougie's wouldn't start.. So we ended up jump starting it, and driving away to Inverness to get a new battery.
By the time we were back in Glen Cannich it was 3PM – rather late – but it was still a bonny day, so we dropped Sunny off at the dam, and drove back to Liatree to start the walk.
The path we intended to take was not on the map, but it did used to be a pretty major drove route, and apparently, a trace of path still remained for a lot of the route to Strathfarrar. We set out to find it. Nothing for the first few hundred yards, but then sure enough, a wee path started to develop, and then I started noticing signs of a well built stone route, long overgrown.
We passed through a beautiful forest, with the burn tumbling past us all the way.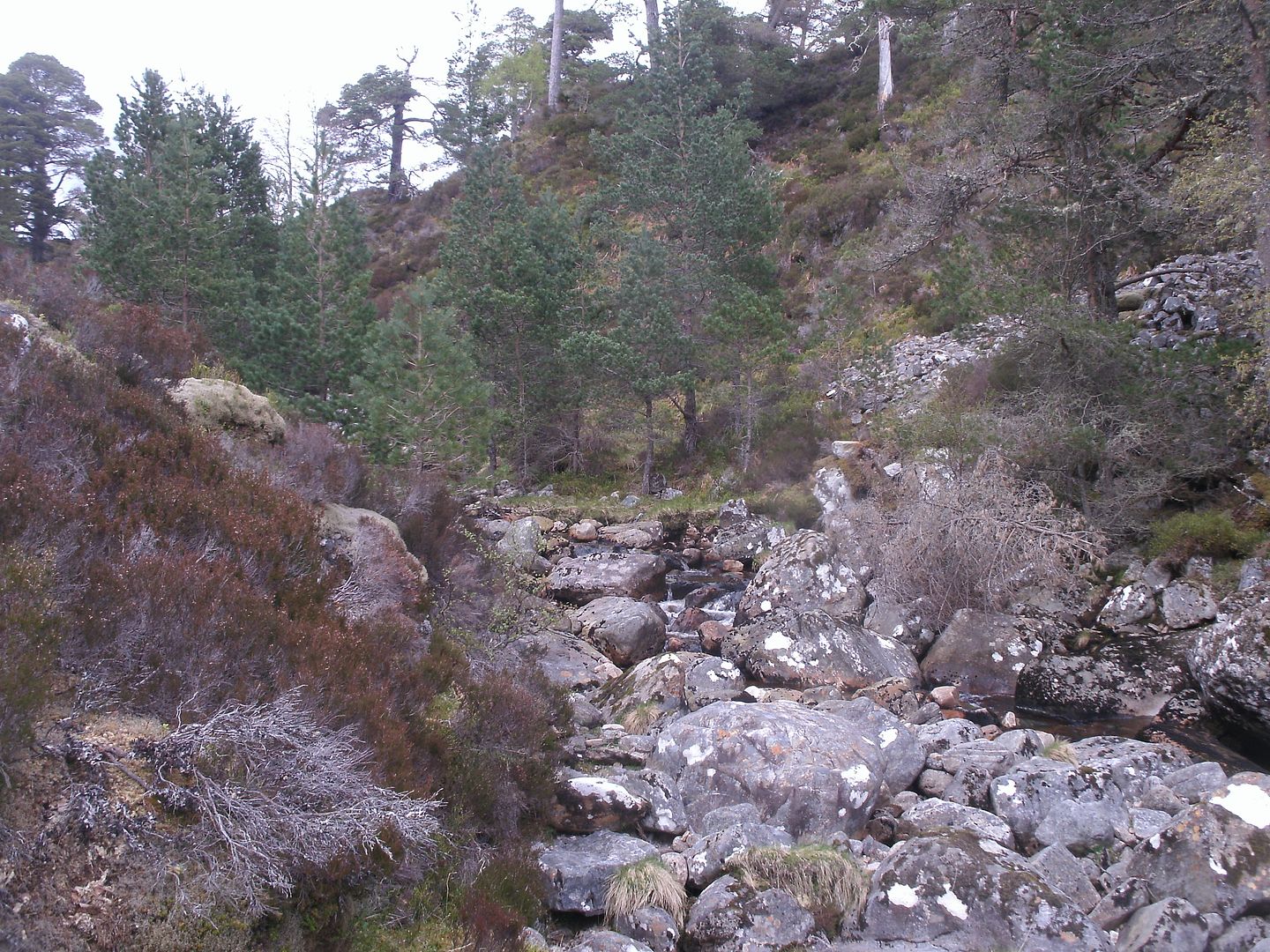 Really nice on a sunny day. We came out of the forest, to the moorland above, the path now lost to the bog. We crossed the burn and headed for the bealach, past some ruined sheilings.

We followed a wee burn with firm grassy banks upward to the bealach between An Soutar and Meallan Odhar.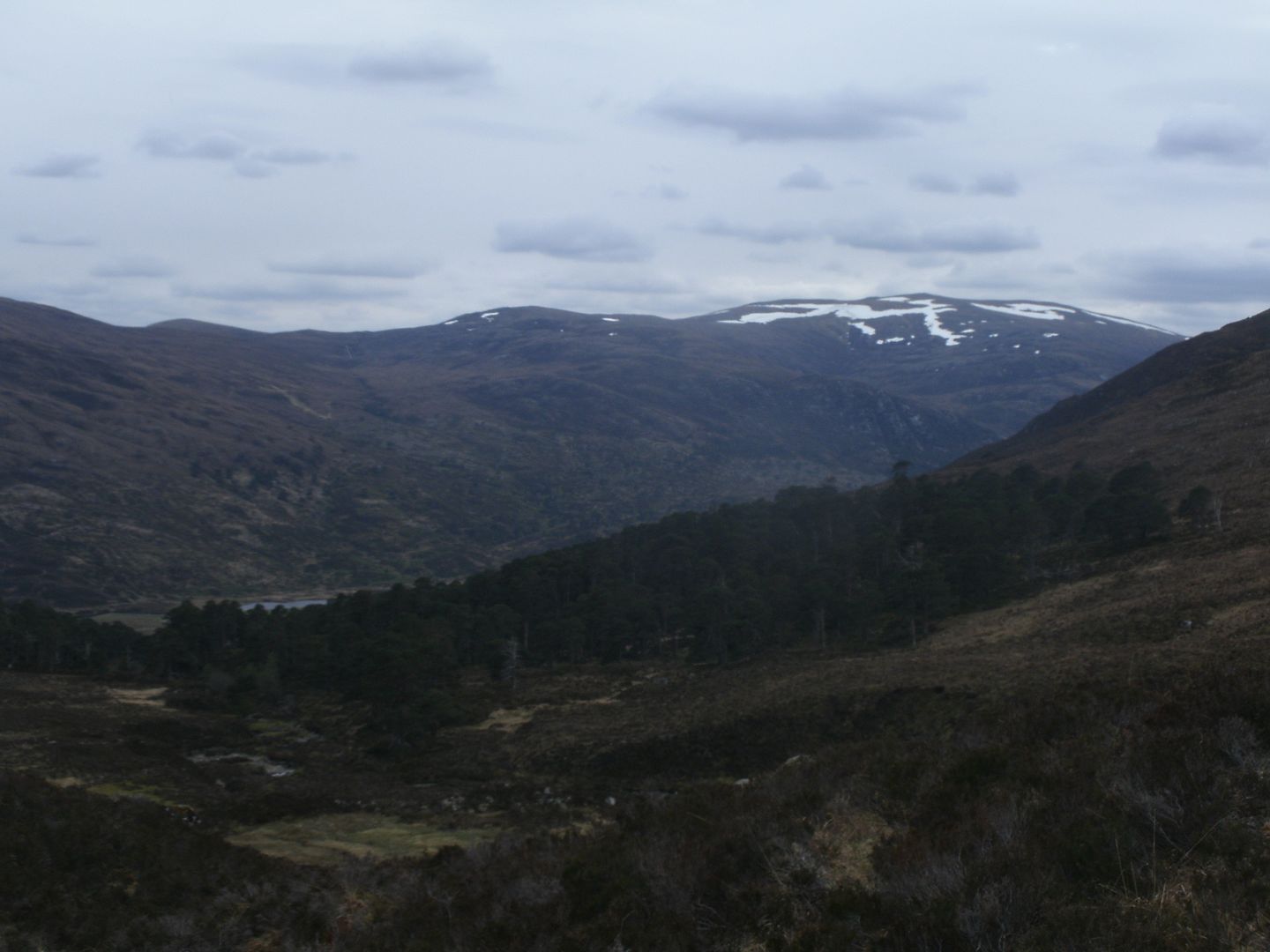 Apparently this is the place where Bonny Prince Charlie, after the battle of Culloden and a brief tour of the countryside, found out that the boat that was supposed to take him to France had sailed without him. T'was a bleak, peat hagged place.

We headed to the far side of the bealach, where a prominent, boggy path emerges, well used by the local deer population. We found ourselves once again in sublime natural woodland, on a path high above the ravine below. Parts of the bank had been eroded and the path was gone, which led to some precarious moments on near vertical muddy scree.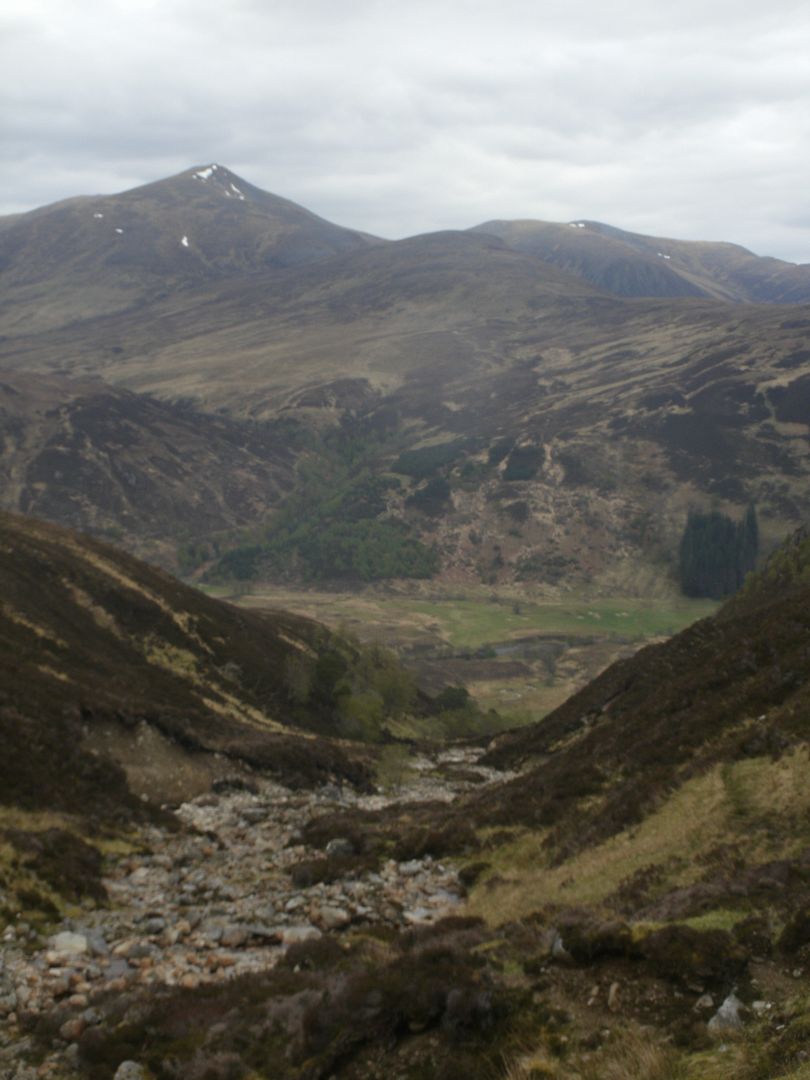 Things improved underfoot as we got closer to the grassy floor of Strathfarrar. The old drovers' route runs on the south side of the river, but having had enough of fighting our way along a boggy/overgrown path for one day, and not fancying the river crossings, we decided to take the bridge over to the road on the other side of the glen. The bridge was a slightly dilapidated, very bouncy affair, but we got across and up to the road for a couple of miles.

We met a couple of chaps who had been doing the Strathfarrar 4, had planted cars at both ends, but had then forgotten to take the car keys, so were having to jog back.. Poor chaps!
We walked the tarmac past Braulen Lodge, taking some time out to watch a Buzzard having a mid air brawl with a trio of crows, and onward to the bridge that would take us over to Inchvuilt.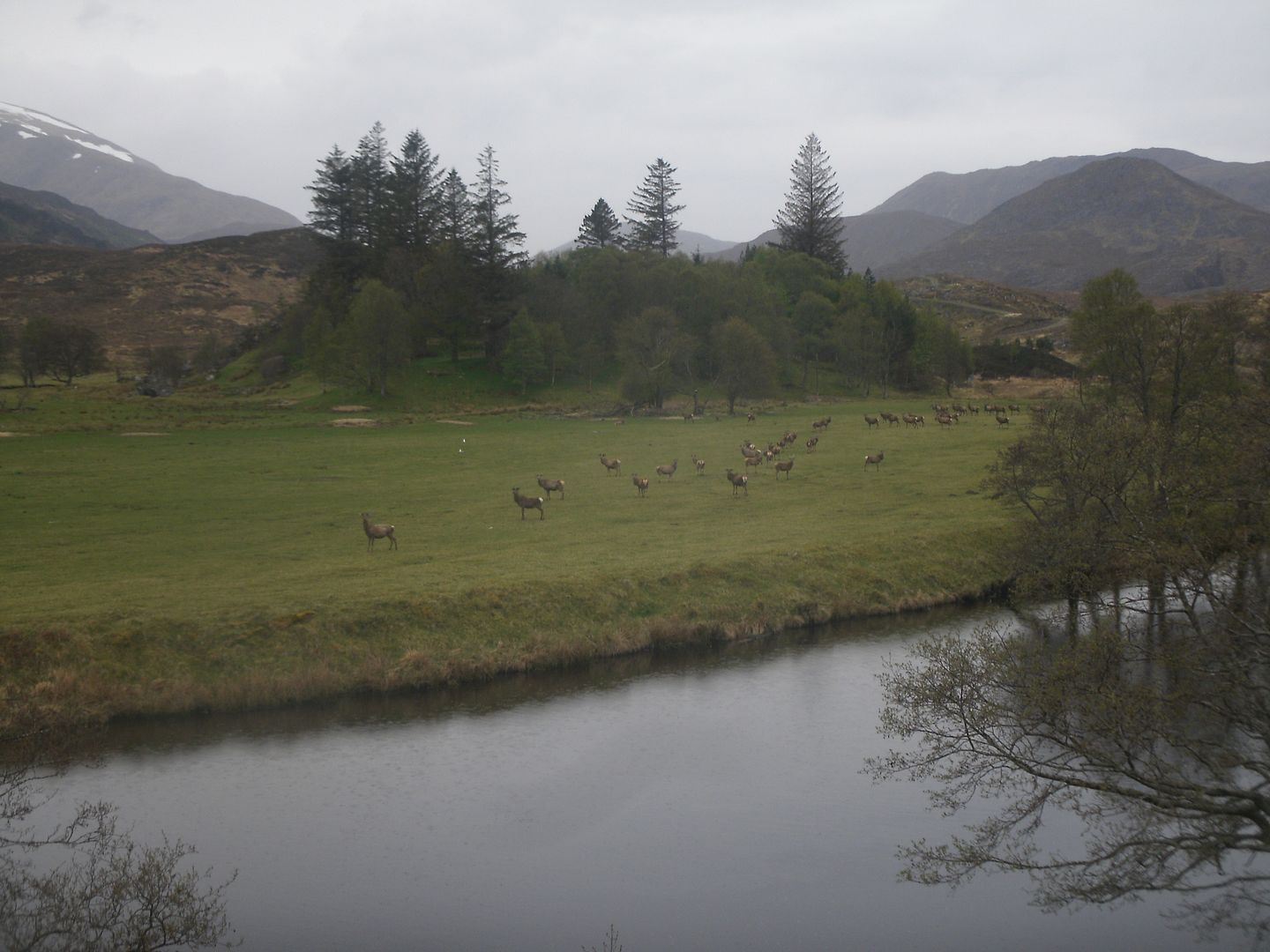 Unfortunately, the bridge is no longer there, which presented a bit of a problem.
It had also started to rain, and the dreich had set in. We saw on the map a little further upstream the river split in two for a way so maybe easy to cross, we went for a look, but no way across..
Fortunately a little further on, the ford turned out to be a concrete affair, so we were able to paddle across without incident, even if it was rather cold.
Unfortunate for Dougie, he managed to snap his boot lace somehow, and with the rain getting heavy his temper got the better of him.. Looked like a good place to call it a day and camp up
We got the tent up and inside found we were completely tick infested.. dozens of them all over our legs and hands crawling upward,
so a fair amount of time was spent flicking them back outside, or squishing.. It was a real invasion! We were tent bound for the night anyway, as the rain hardly let up . In the morning it was only marginally better, and the ford looked awful deep compared with what we crossed – glad we had while levels were low.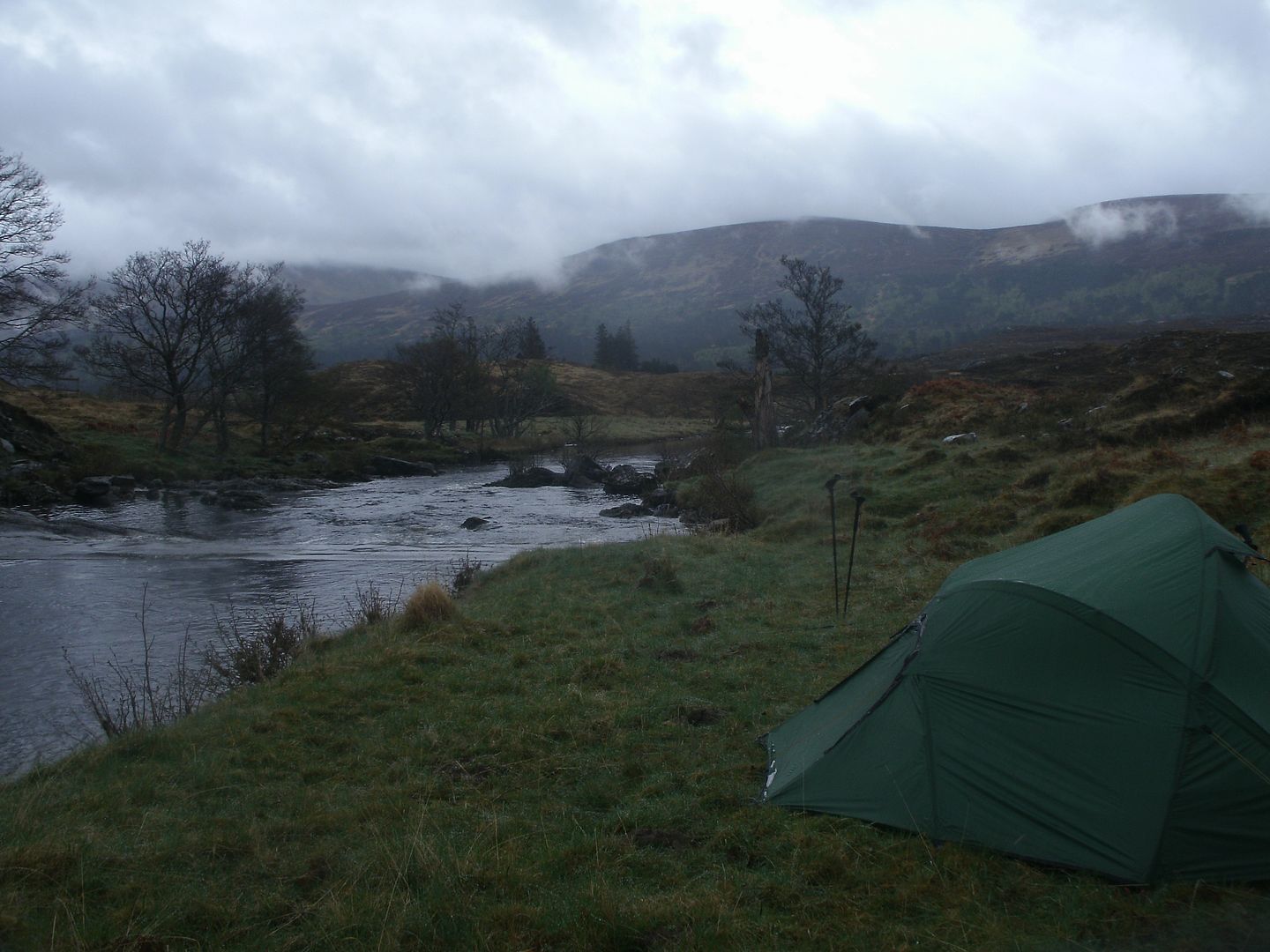 Our departure was somewhat delayed as we had to spend a fair amount of time picking ticks off each other, but by the time we left, the rain had eased a little, and there was a distinct possibility that the sun may put in an appearance.
We set out at about 11.30, up the track toward Inchvuilt, then taking a sharp right hander to the track that goes up Gleann Innis an Loichel.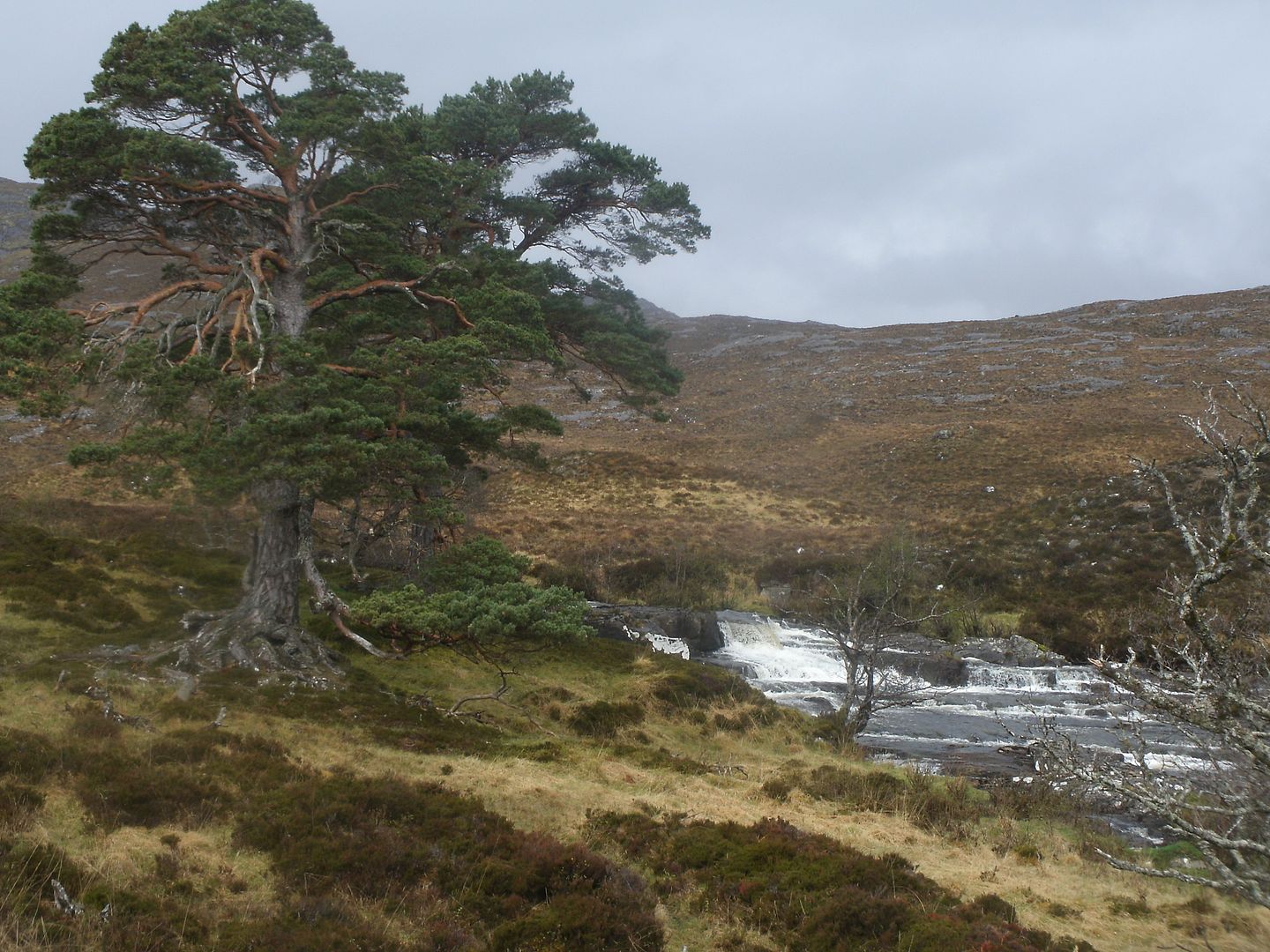 It was an easy wander, past more bonny woodland, and acres of fine camping ground. In fact there was a group of four tents camped at the far end, their occupants out for the day. We were back on tarmac for a mile or so, on the approach to the power station. It was hard on the feet, so we stopped for a bite, and ended up huddling under the brolly for 15 minutes waiting for a very heavy shower to pass.. Good timing as we would have been soaked otherwise. The power station seemed a bizarre sight in such a remote feeling place, and had funny water collection pipes running right across the glen.
There were a couple of handy bridges over the Allt Coire ne Feithe a bit further on, the path beyond having been 'upgraded' to take an argocat or quadbike.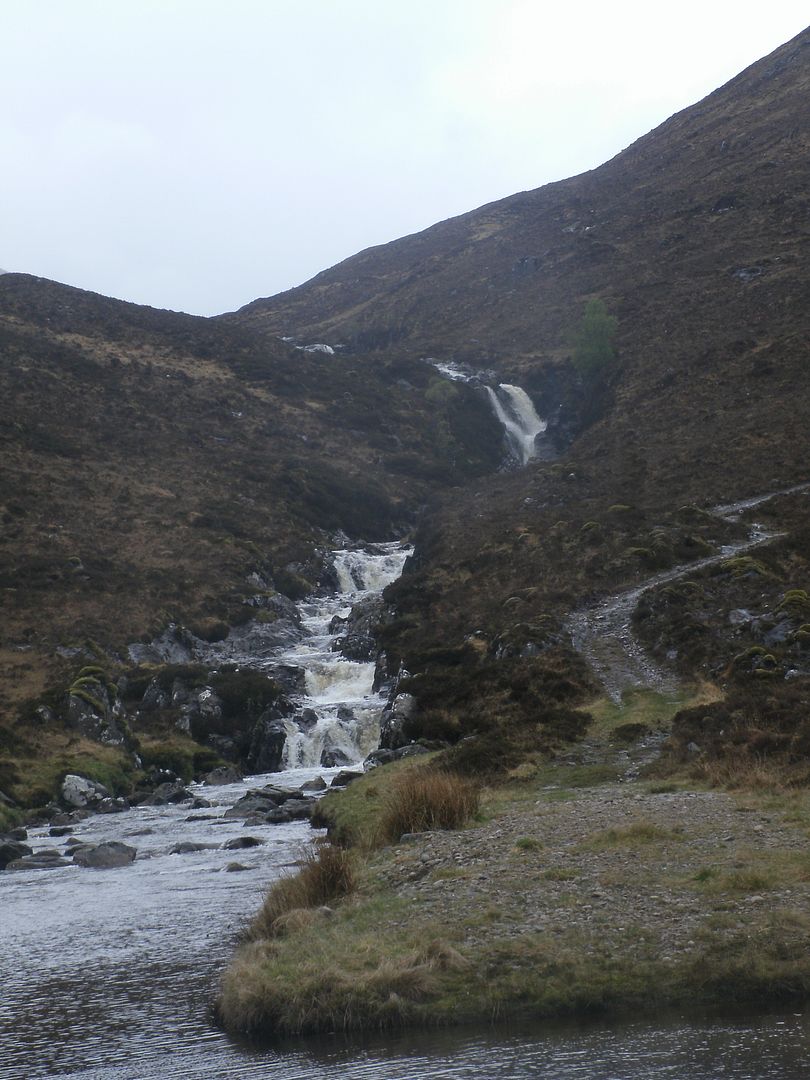 We were sheltered from the breeze as we made the climb up to the upper reaches of the glen, and it was hot work. The day may have been wet, but it was just as hot as the scorcher of a day we had had the day before.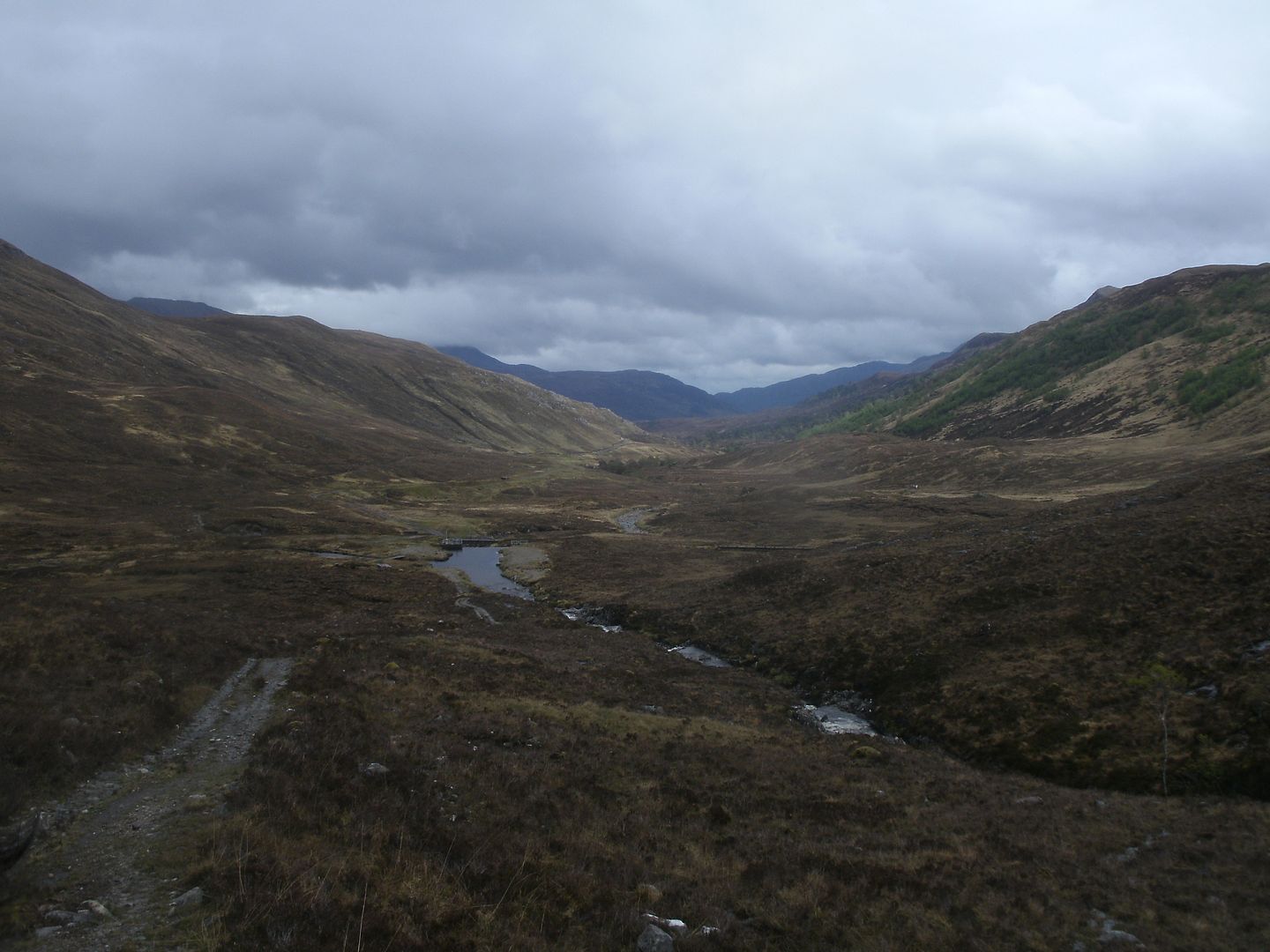 We could see the path we were intending taking up to the corrie now, and it looked arduous. We reached the turn off, and followed it down to the river which we had no bother crossing as it splits into 4 nearby the crossing point. Well I made it across OK, but Dougie tried to jump it and the bank gave way, giving him a very damp leg indeed!
We were soon plodding (ever so slowly in my case) up the path that only zig-zags a little and has some very steep sections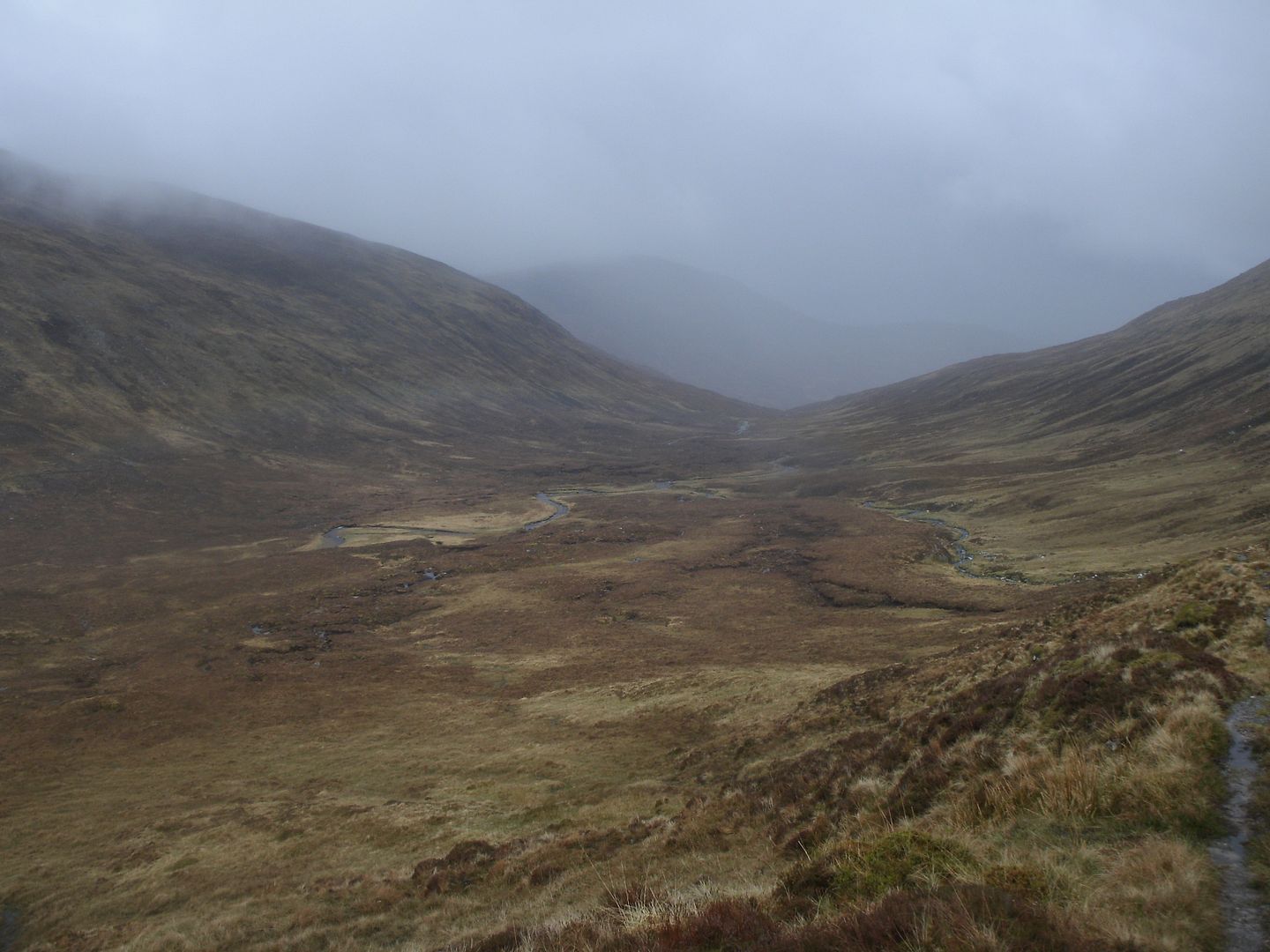 . The clag came in, and it seemed a little eerie, especially as we were watched by a ptarmigan who didn't seem to move, but was facing straight at us no matter where we were situated.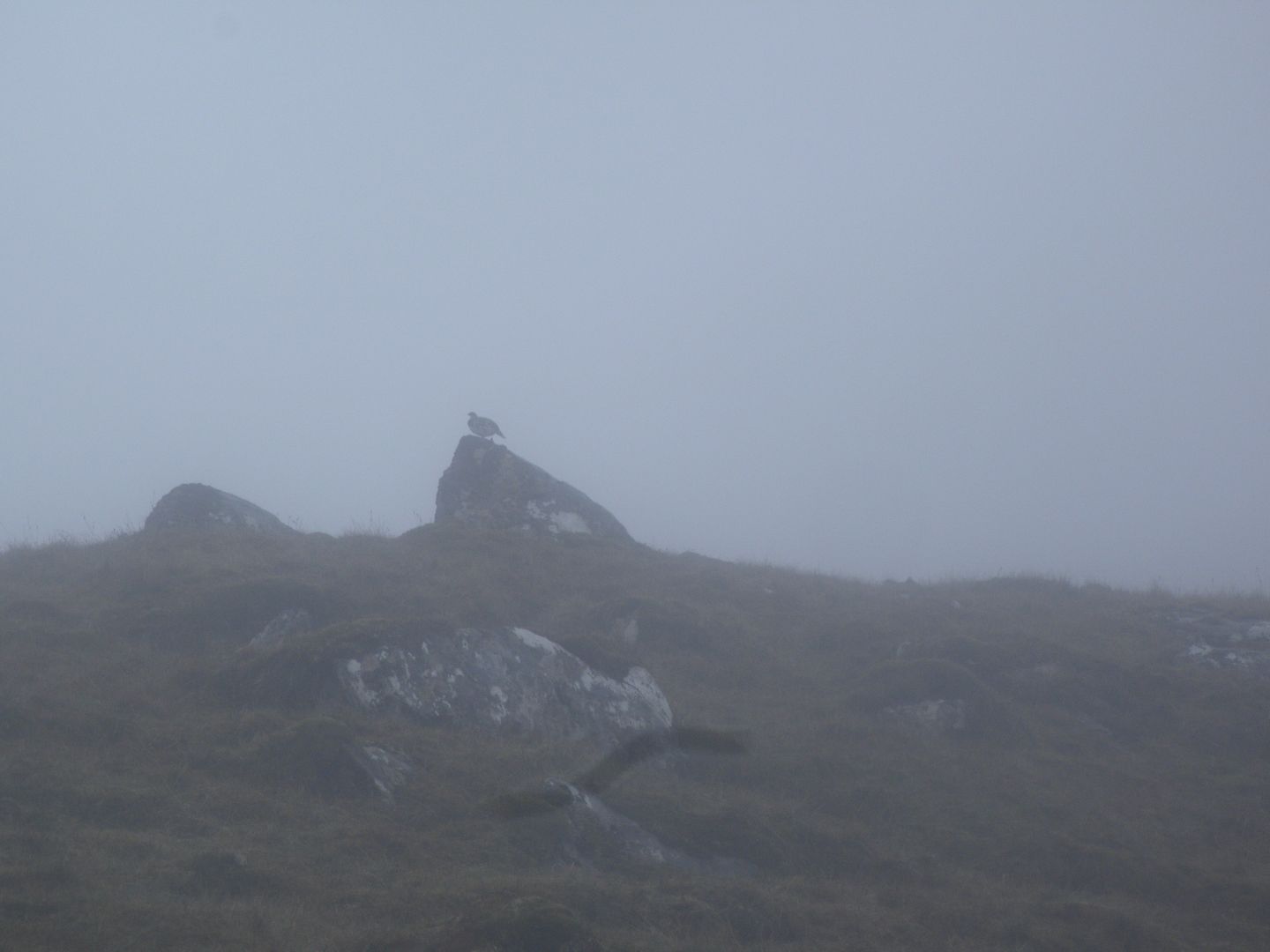 As we got to the mouth of the corrie, the clag cleared, and we found ourselves in a clear sandwich between clag above and below. I love the moment a corrie is revealed, always a wow moment as cliffs, lochans, waterfalls all hit you with a clatter, and steal your breath for a moment.

We made short work of the boggy undulating ground in the corrie floor, and round the side of the loch, some green patches at the far end looking like a tempting camp spot. It had been an easy day, and it was only about 4 o'clock, but I was glad we got pitched when we did because the rain started at 4.30 and was heavy and unrelenting all night.
My route had us going over the bealach, and returning to glen Cannich by the side of Loch Mullardoch, but Dougie announced that he quite fancied doing the end two of the Mullardoch ridge.. I was up for that if the weather was as good as the forecast. Felt weird being out without going up anything anyways.
So in the morning, we awoke to find it had stopped raining, although the tops were still rather claggy.. Another late start due to tick removal time, and we were off up the steep corrie. It was squelchy with snowmelt, and very slippery..

We slogged up the hill, packs now a bit lighter now the food stocks were getting low. There was a large patch of snow to cross, which was incredibly hard work kicking steps. By the time I got to the bealach, my legs were all jelly.
The wind hit us too – we had no idea it was so strong until we were almost thrown back the way we had come. Fortunately it had blown away the last of the clag, and the views were looking superb – looks like a couple of hills were on the cards after all.


We had wanted to get home early, but the hills were so close and tempting..So we took the baggers ridge path upward to our right. After the slipperiness of the steep, damp corrie, the short firm grass was bliss underfoot, and we made quick progress. The grassyness became a narrower and rockier ridge, and the path wove pleasingly between rocky outcrops.
The wind was fierce, so we took shelter on the lea side for lunch, beofre making it up to the long but narrow summit plateau of An Riabhachan. It was hazy, but we could see quite a way, from one coast to the other. Affric and Kintail looked a jumbled confusion of still snowy peaks.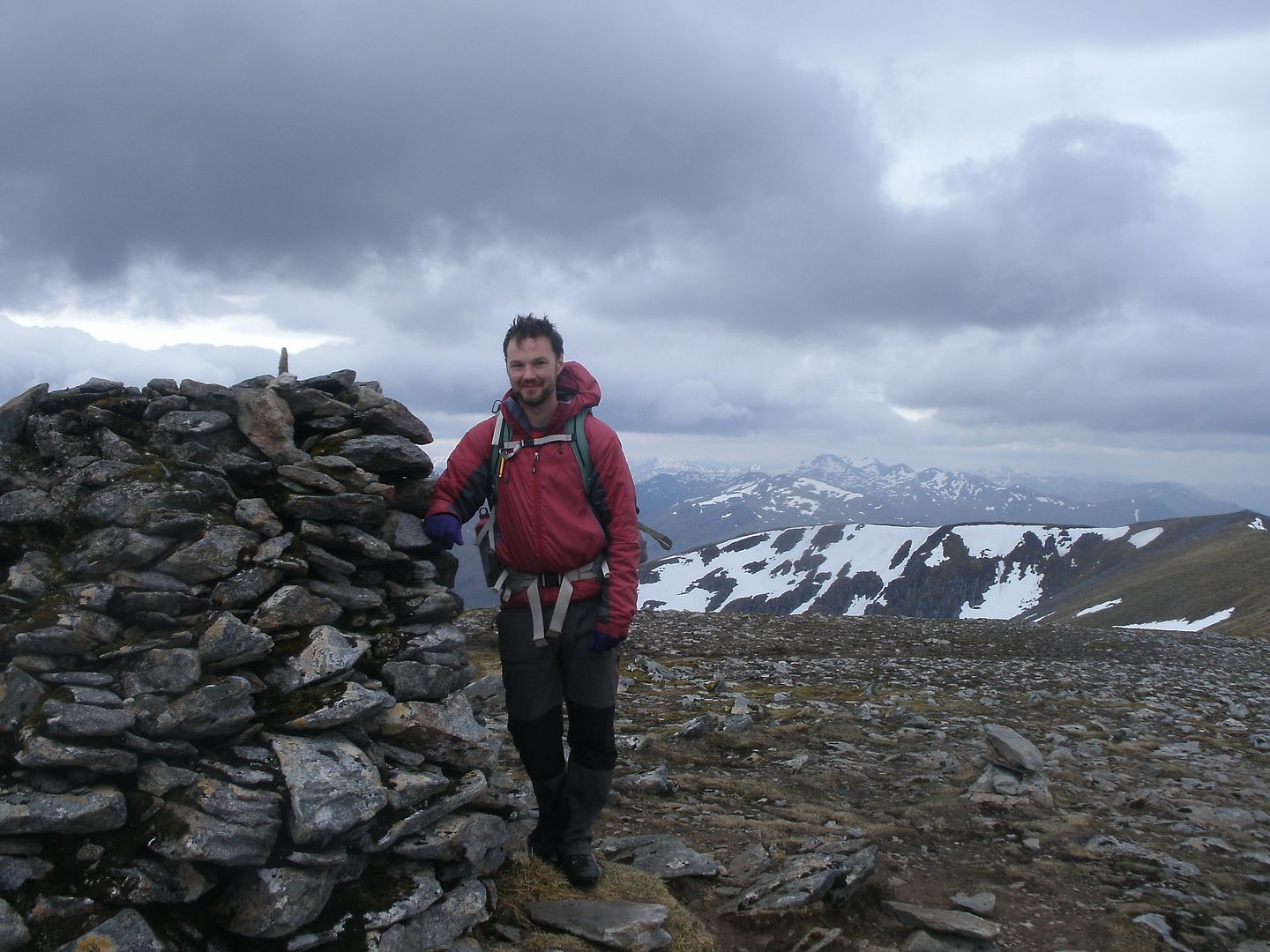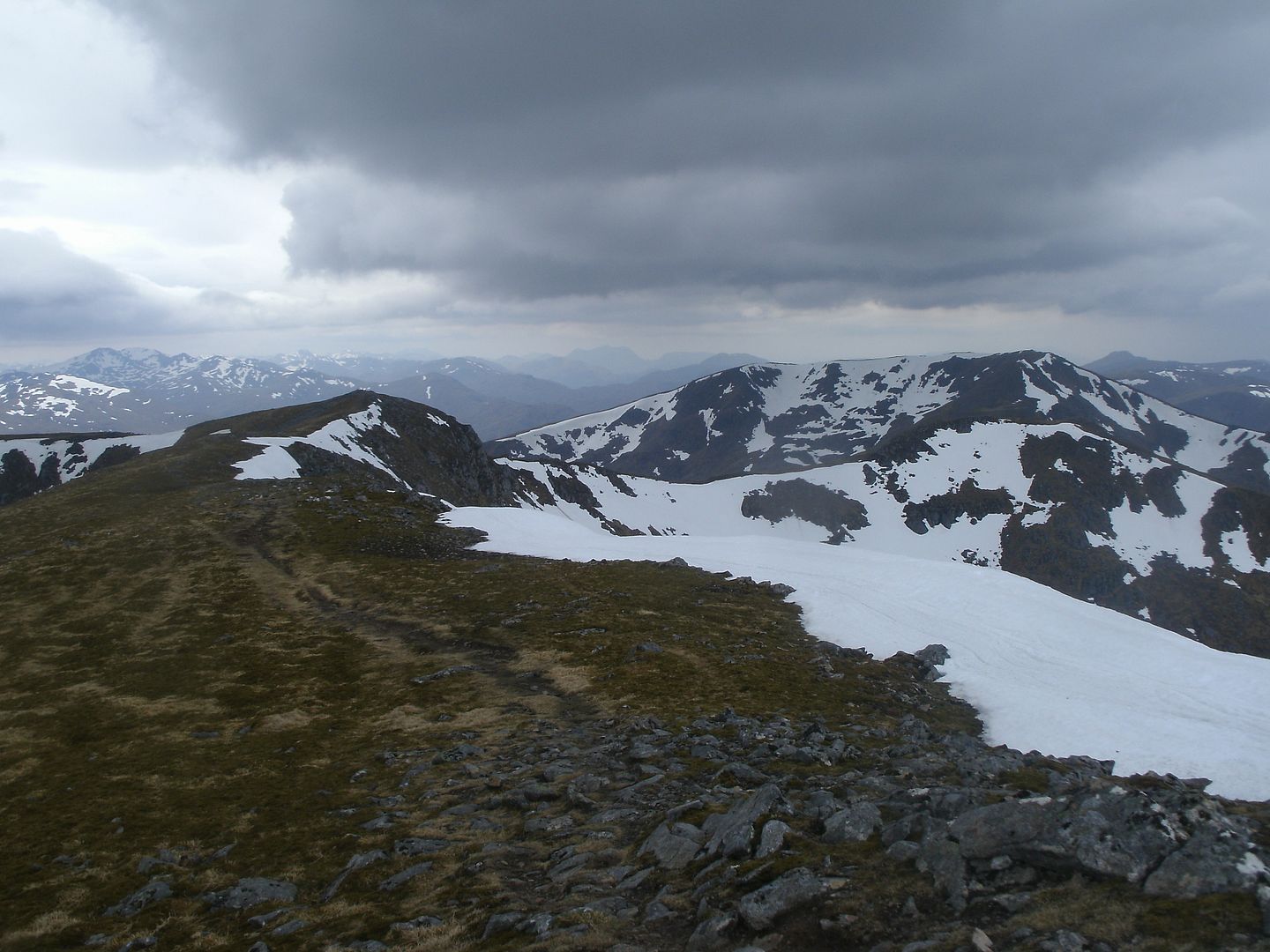 We didn't dally long at the summmit cairn, the wind buffeting becoming tiresome.
I remembered there was a shelter a bit further along at the next wee peak, but when we got there we found it didn't shelter us hardly at all, and even the couple of minutes we stopped there were too many as I got really quite chilled. It looked a long way to An Socach..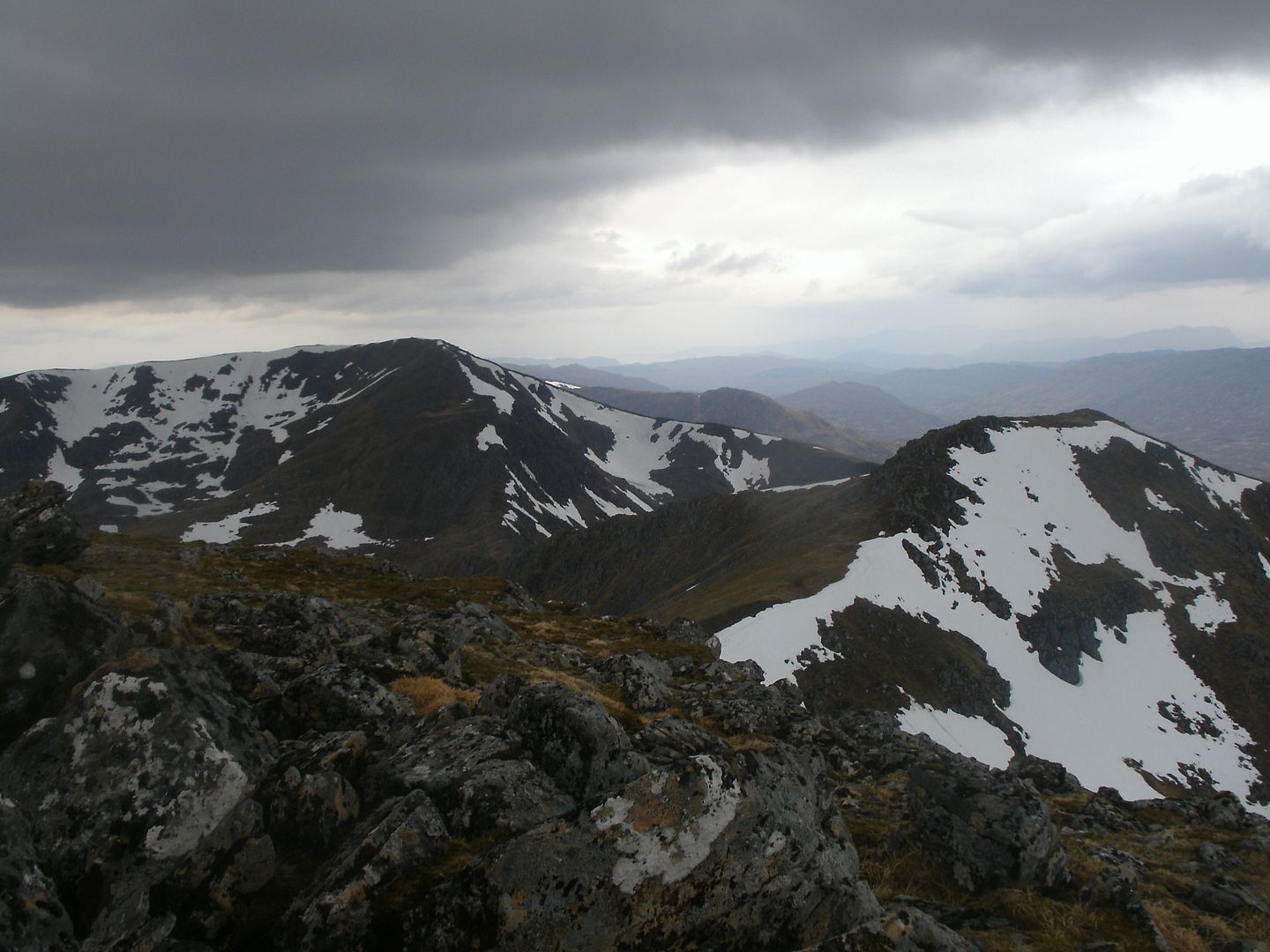 We set out, the drop initially really steep, and some hands were required for a few rocky bits. The ridge leveled out, and it was an easy walk up to the next lump on the ridge which we bypassed and were on the final descents down to the coll. The wind was strong here, and the ridge very narrow. I was forced to drop to my knees at one point as a gust caught me unawares.
Further down it was quite rocky indeed and hands were required again to lower us down to the coll. The way up didn't look so bad from here, so more firm grass upward for a time before another rocky section.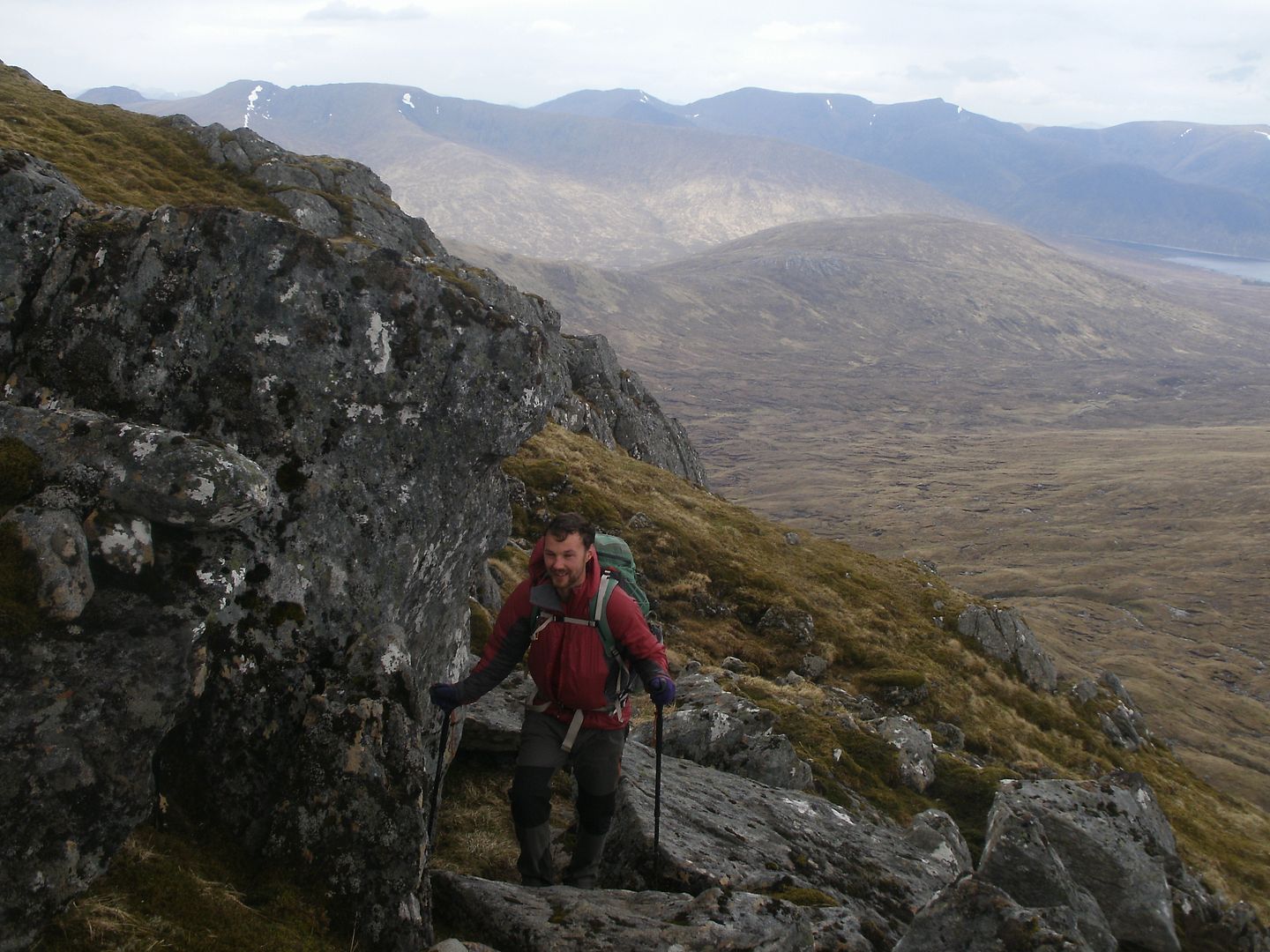 We were having so much fun, we probably foolishly dilly-dallyed. The last 100m up to the summit was torture, we had just ran out of energy, so a rest every 10 steps! We made it though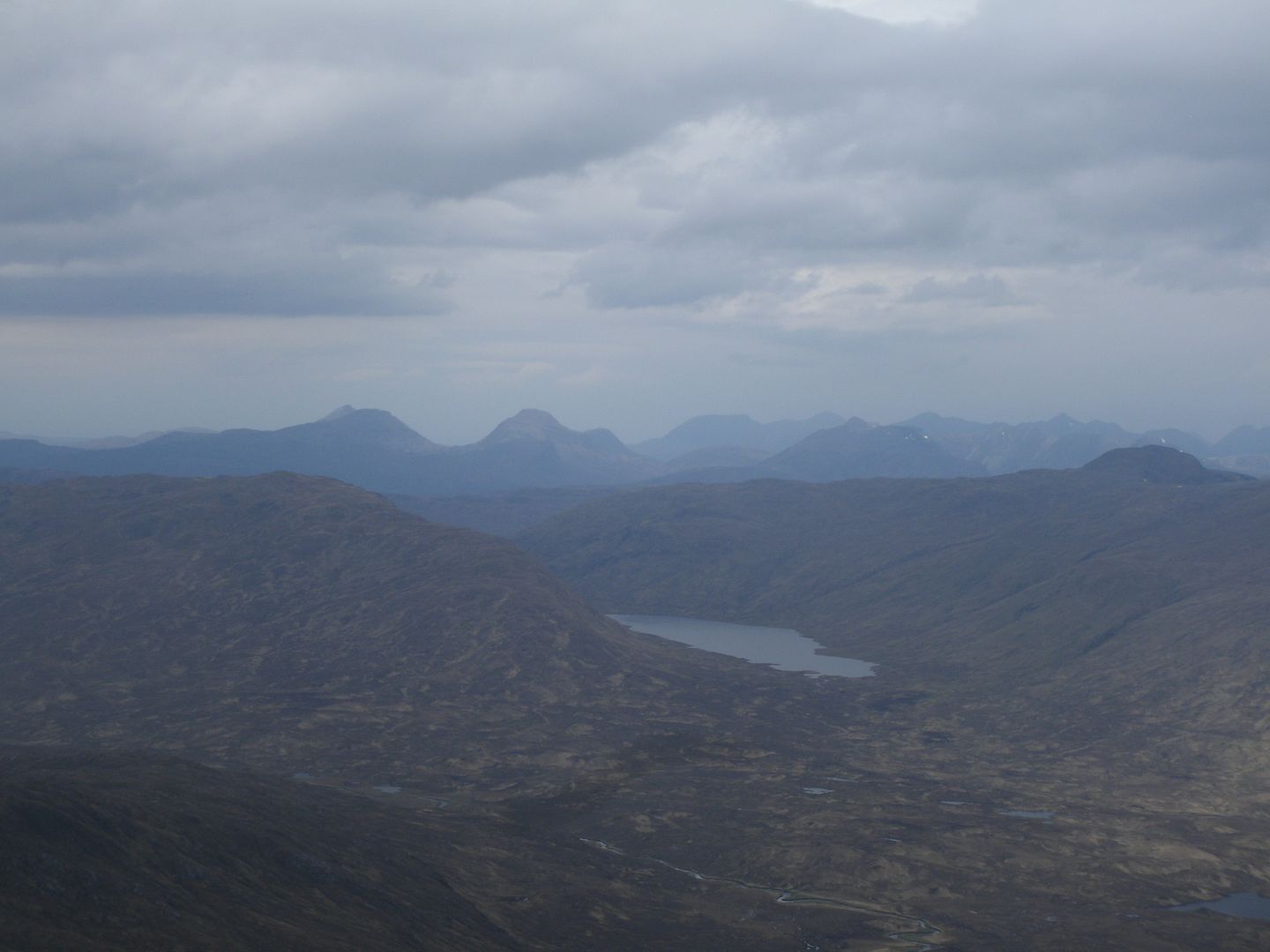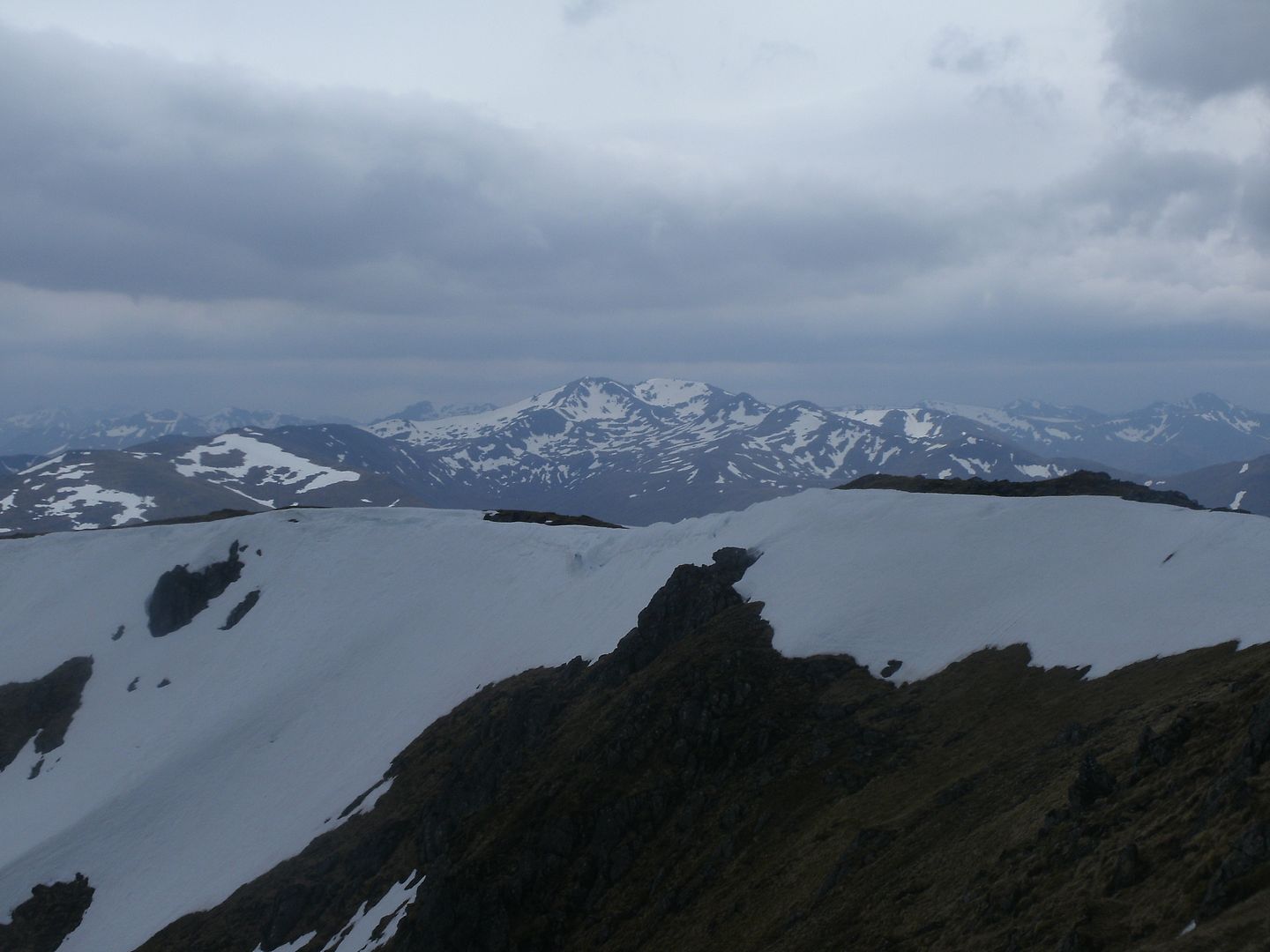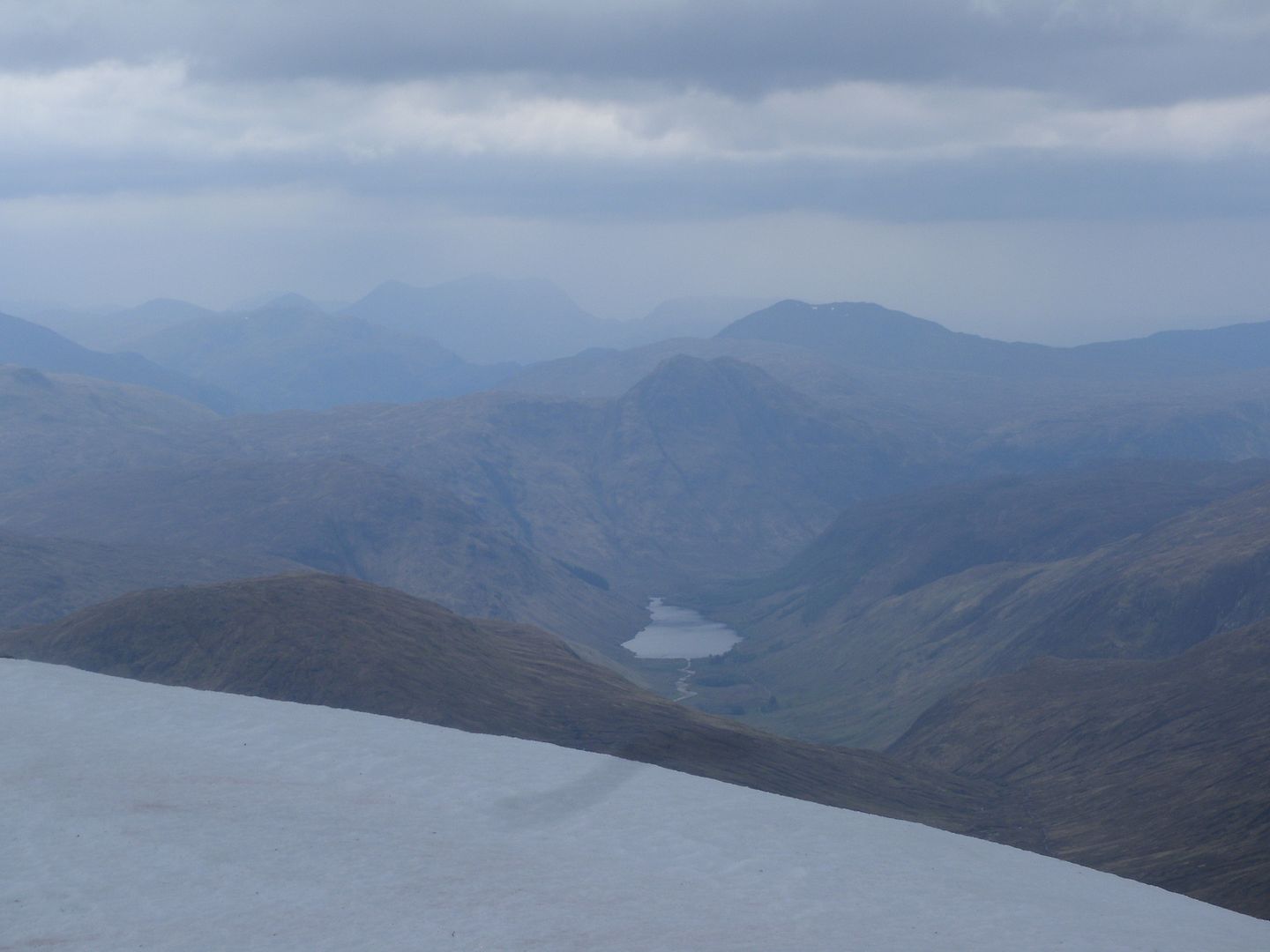 I was getting fed up with the winds, so just a short pause at the summit, and we were heading downhill on the baggers path.. The remaining cornices are really something to behold – huge jagged banks of snow that look very precarious indeed.The ridge down is a walkers dream, not too steep, firm yet springy underfoot.
We got our first real views of Loch Mullardoch, and the Affric hills looked great. Brought back many happy memories to see them looking so fine.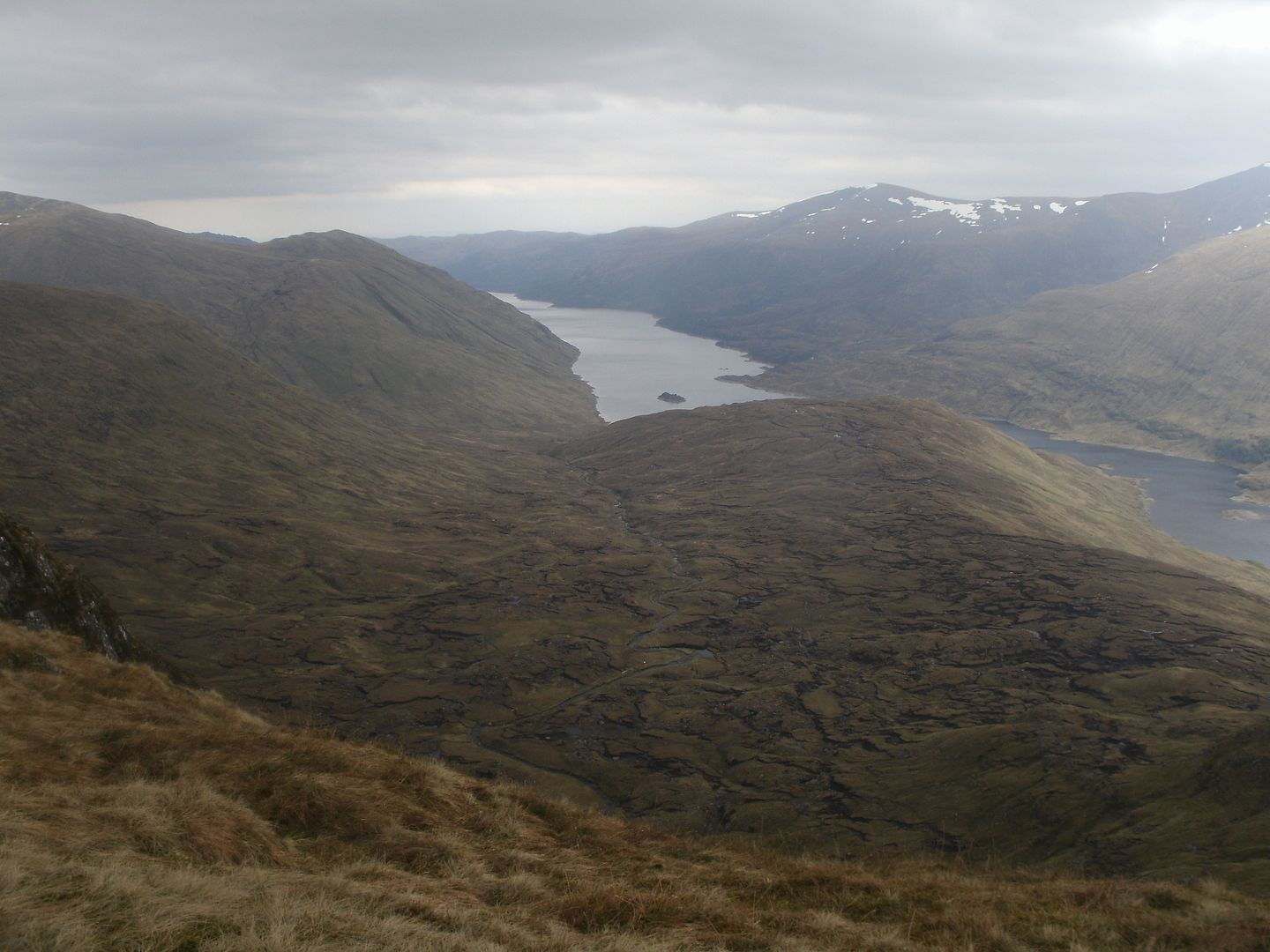 We weren't looking forward to negotiating the peat hags below. I hoped the baggers path would take a nice dry route, but it peters out on the steep bit toward the bottom, so we were left wandering around in circles and attempting impossible leaps from tussock to tussock. We headed straight for the river as that was the shortest way over the bog, and had no problems crossing. There are new fences up there so a squelchy argocat track goes all the way up. We chose to take the other boggy path worn by boots that follows the river more closely, and were rewarded with some bonny waterfalls.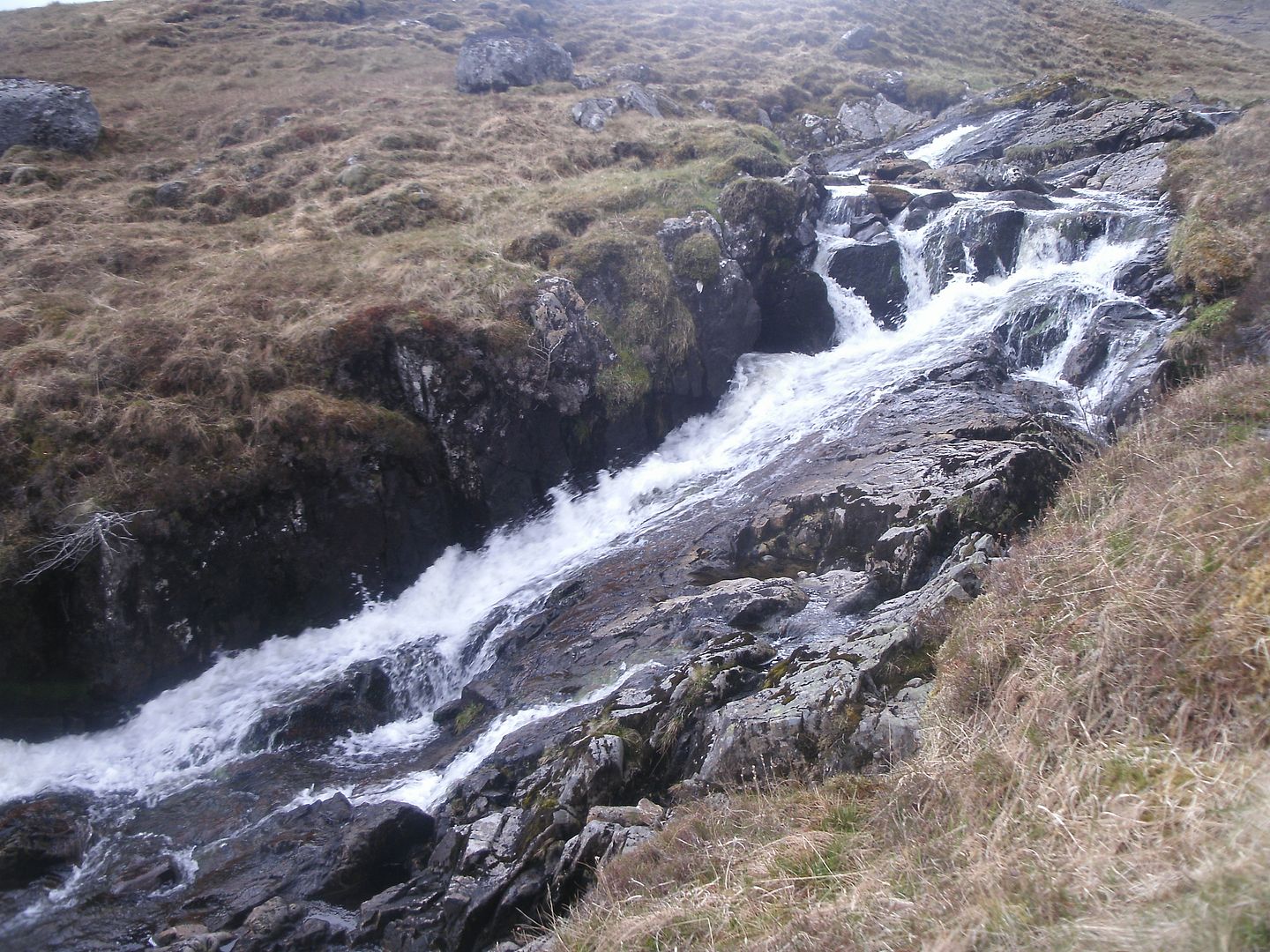 It was brightening up, and we stopped in a sublime wee spot for a bite to eat. We were tired already and we still had to walk quite a distance along the loch.. So much for getting home early..

The path improved and it was an easy stomp down to the lochside where the good path ended.
The path goes through bogs, rocky patches, across burns and undulates frustratingly. This made it pretty hard to stride out and get any pace up at all, We walked for an hour and found we had only covered around of a quarter of the distance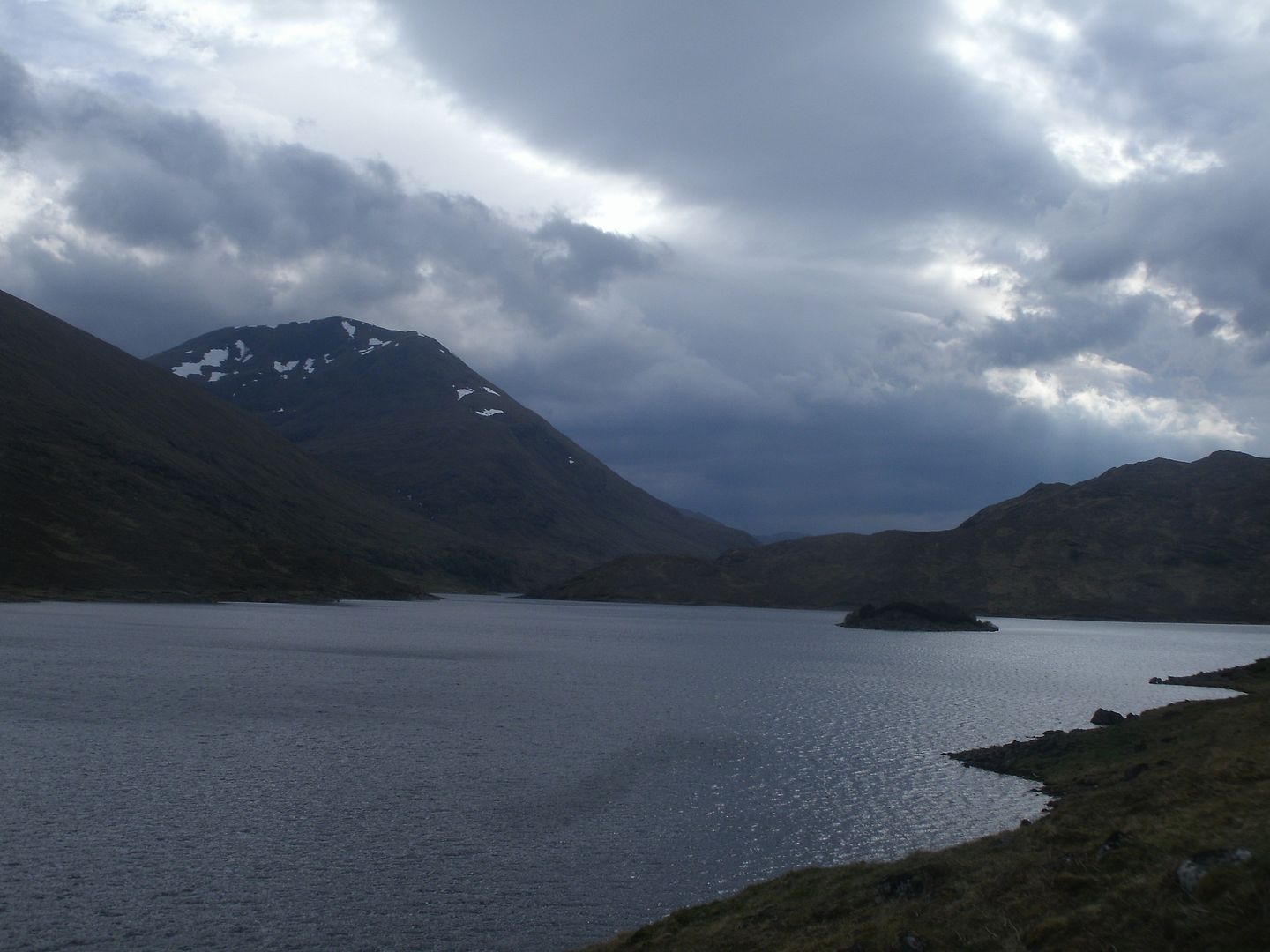 At least the scenery was beautiful, and there were lots of goats with cute kids
There were many deer carcasses, some picked clean, but some looked like the deer had fallen down the steep banks and come a cropper
We unintentionally chased a goat for a mile or so it being trapped down by the shore and too silly to go uphill.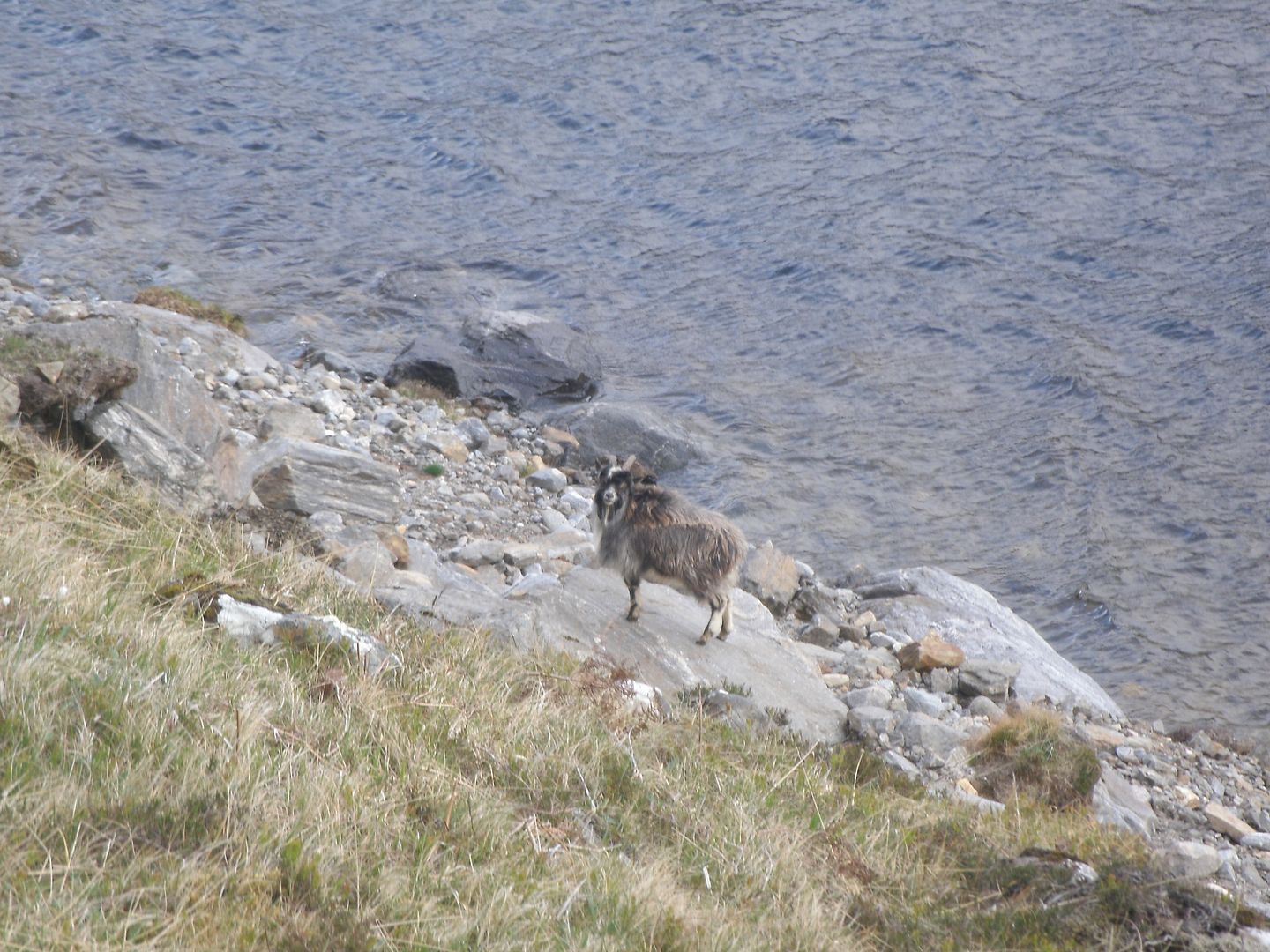 Eventually we got to Allt Taige which was quite a sizeable river.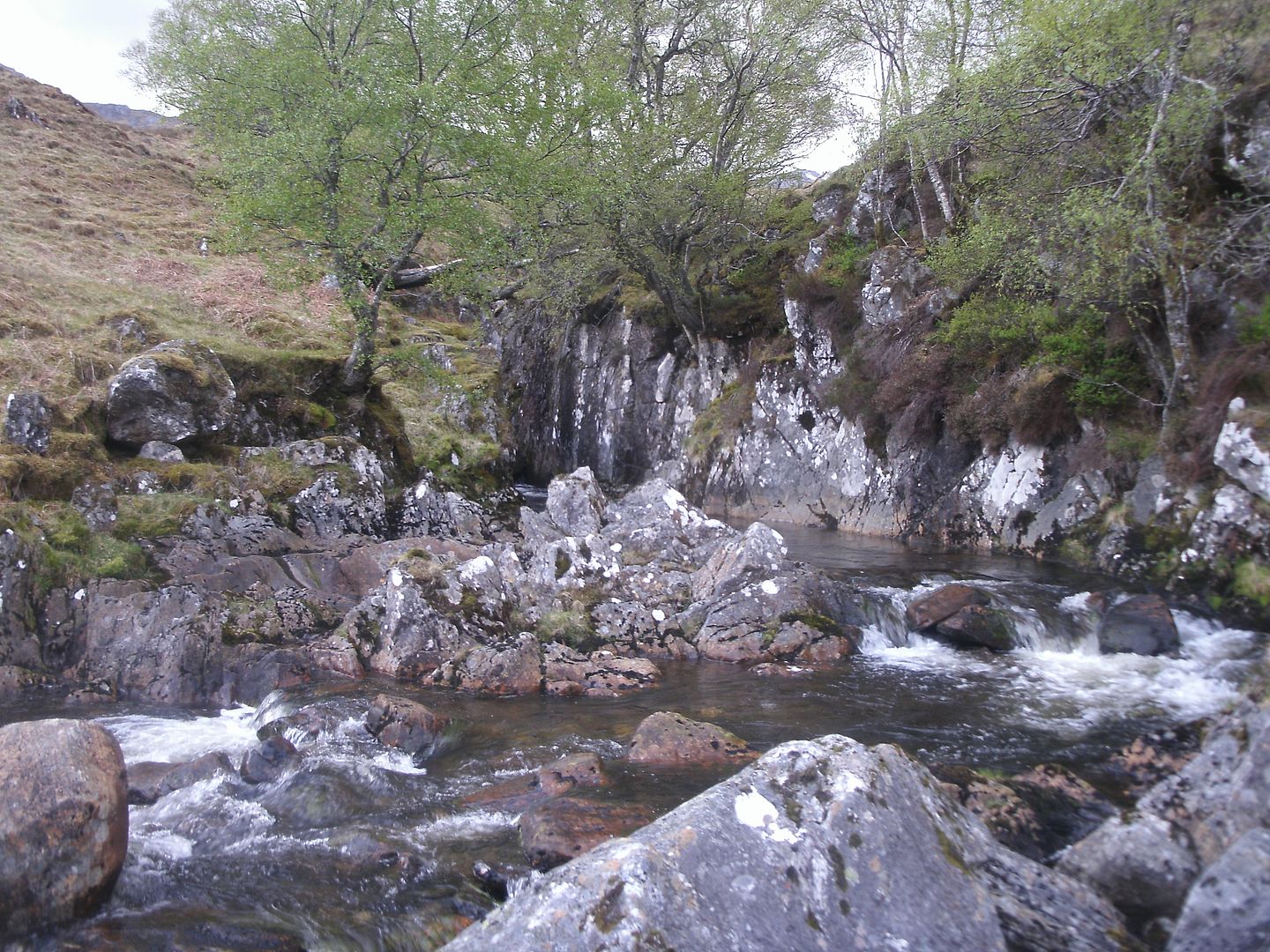 We had to do a leap of faith from slippery rocks above a rather large raging waterfall. I slipped and went up to my knees,
so was squelching all the way from then on
Dougie made it across unscathed though and we headed onward, anxious to get back with our lengthening shadows. The next bit is unpathed on the map, but the path is just as good as anywhere else along there if not better.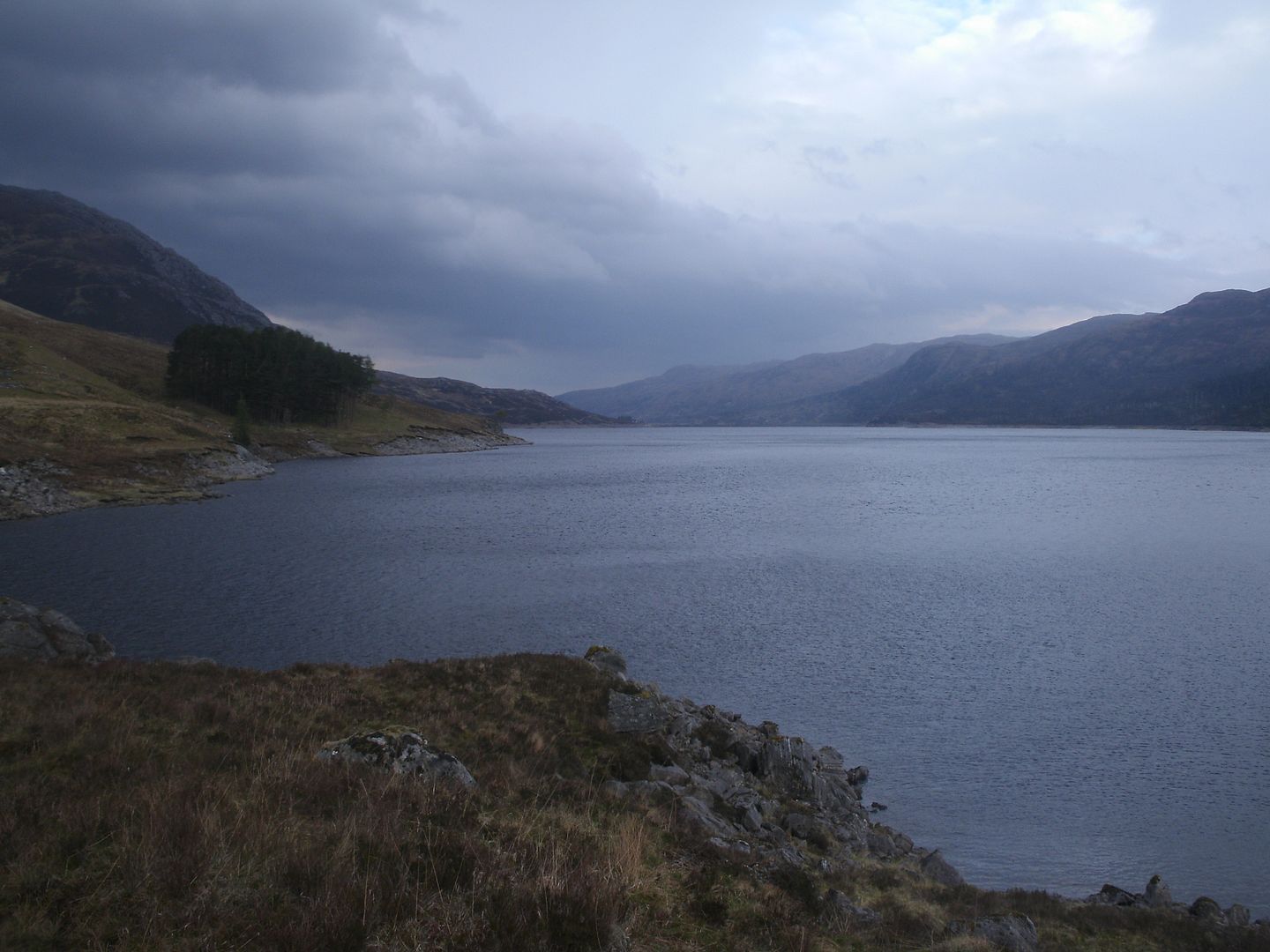 We started to make decent progress, although that may have been due to the fact that a shower was coming up behind us, so we were trying to outrace it!
It headed north though, and only a few drops were felt.

I could hardly believe it when I heard the Allt Mullardoch, not far now..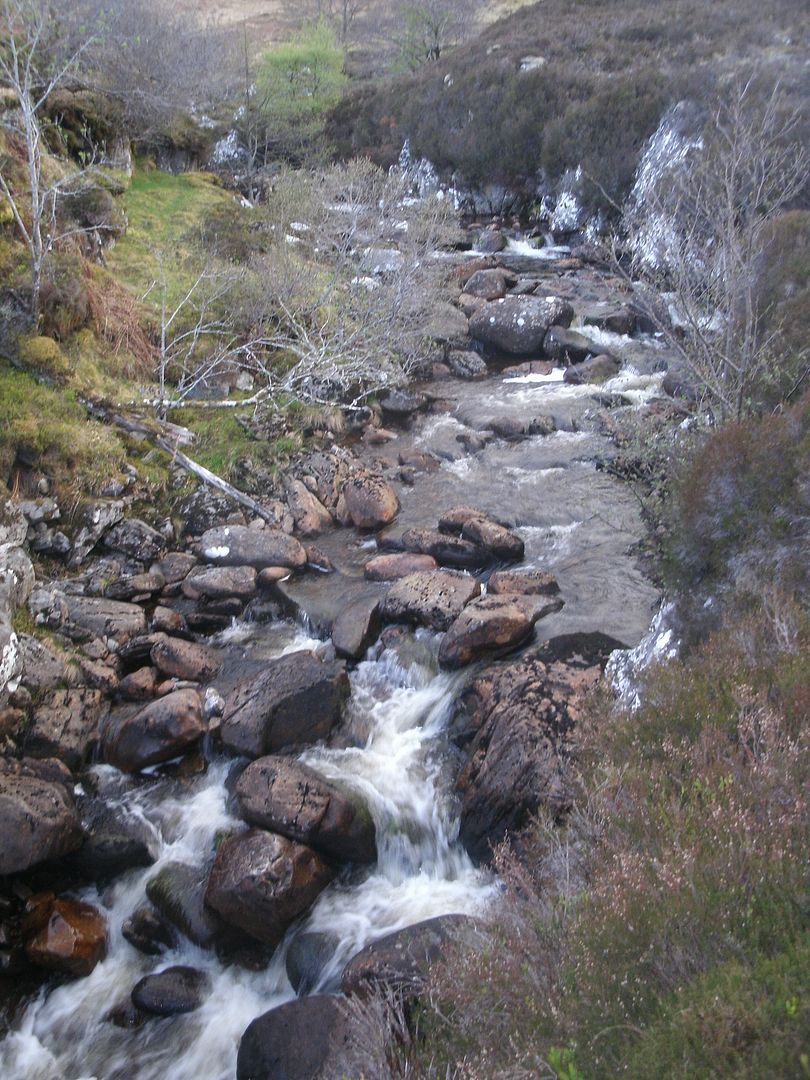 The last mile or so has a confusing labyrinth of boggy paths and tracks, and there was a lot of bog hopping before the firm track was found past the boathouse and back to Sunny. Sare shanks, I had never been so glad to see her
This was a superb trip on every kind of terrain imaginable, in such varied scenery – it just had everything and I'll nae forget it in a hurry. Just Brilliant.