Despite the fact that every single message board on the A9 gave warnings of heavy rain, it looked like it was going to be a spectacular day. The plan was to take on Sgurr Thuilm and Sgurr nan Coireachan, camp somewhere in the glen between the two hills (or in Corryhully bothy if the A9 predictions proved accurate), then head back to the car the next morning before the rain started.
View up Glen Finnan
I'd never been to Glen Finnan before and I was not disappointed, it's an absolutely stunning place spoiled only by the view of the Glenfinnan Lodge for most of the walk up the glen, not that it doesn't look like a nice enough place, just that it gets in the way of the view of the hills.
Nosey deer
Shortly before reaching the Corryhully bothy I encountered a massive DofE group who had come through from Loch Morar (I don't know their destination though). One of their leaders told me that it had been atrociously bad for midges the previous night and suggested I should probably camp higher up than in the glen, this sounded like good advice considering the guy looked like he had just lost a game of find the hay in the needle stack.
Corryhully Bothy
By the time I reached the start of the proper ascent of Sgurr Thuilm I was really starting to feel the heat and, combined with the weight of my 12 kilo pack, I was fairly getting through the water. Considering I had only brought 1.75 litres I should probably have topped up from the burn earlier but never really considered it at the time. As it looked like there was no one around for miles I decided whenever I stopped for a breather I would take my t-shirt off to try and get a little sun on my shockingly white torso, fortunately no one happened upon me while doing this as I don't particularly like to make people cry.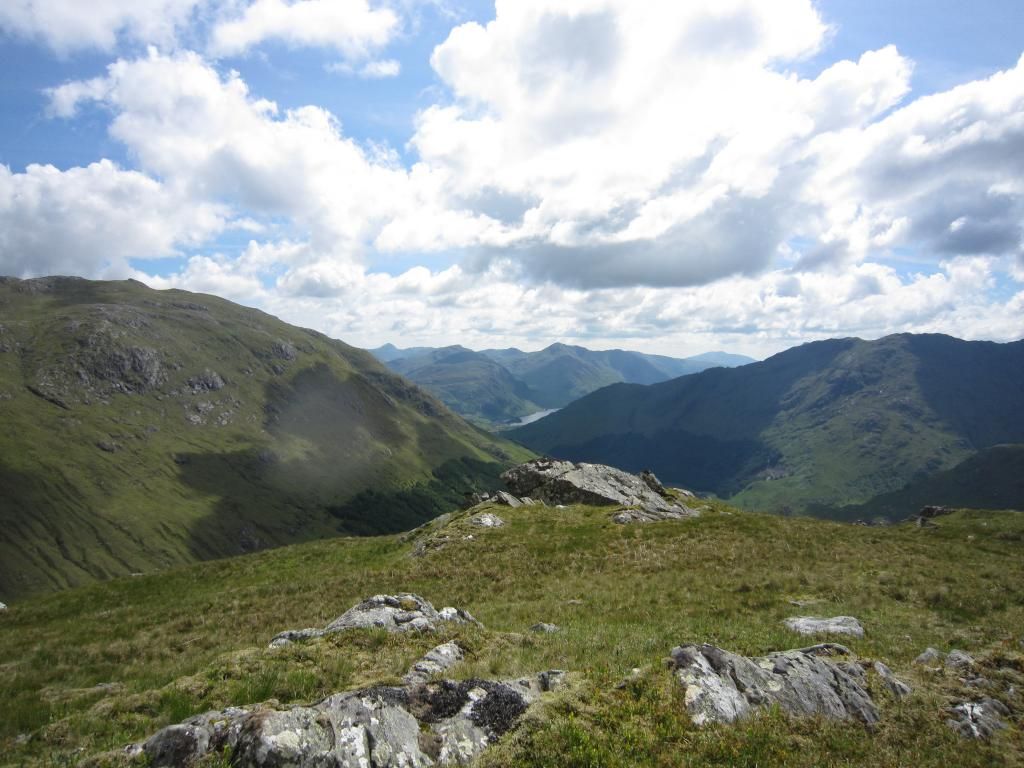 View down the glen from Druim Coire a' Bheithe
Once Druim Coire a' Bheithe was reached the going got a bit easier and I soon made the summit of Sgurr Thuilm. Even at this height there was hardly even a slight breeze and so everything was perfectly calm and quiet except for the high pitched whine that I assumed must have been coming from something down in Glen Pean. The views from this summit are exceptional and so I stayed a while to take a few photos. I then started to notice that there were a fair few wasps buzzing about and all of a sudden it dawned on me that the high pitched whine was coming from a nest (possibly inside the cairn a few metres north of the summit cairn) and so that was my cue to leave.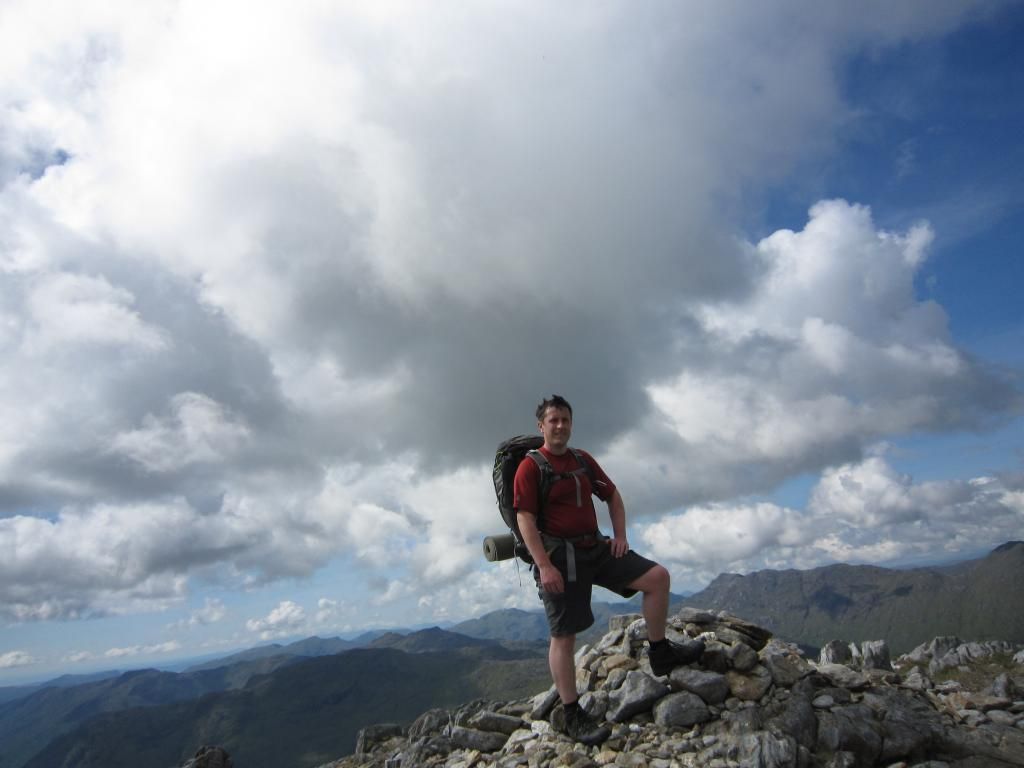 Sgurr Thuilm summit
As I only had a litre of water left I decided I would have to ration. I poured half a litre into my empty bottle to see me over the ridge which would leave me another half to do me from Sgurr nan Coireachan summit down to wherever I could top up. The ridge doesn't look too bad at first as it's really broad with a straight forward path, however it's roughly three km long, has four summits and the path is really rocky making progress slow. About an hour after I left Sgurr Thuilm I stopped for a breather and a look at the map, I was incredibly dismayed to realise I was only about half way across and had much less than half of my half litre left. Still with nary a slight breeze I decided to dip my head in the "infinity pool" (sorry, didn't take a picture of it but can be found on Google if you're interested) and it felt fantastic.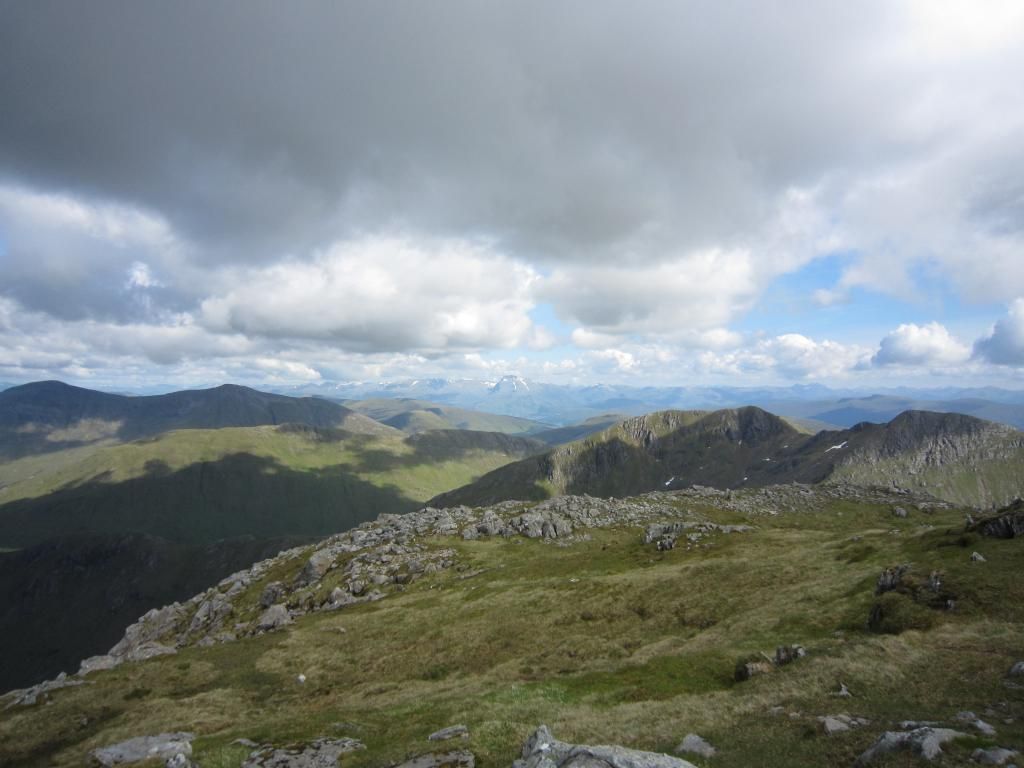 Ben Nevis in the distance
The final push up to the summit of Sgurr nan Coireachan is quite steep, however it didn't seem to take too long after the last summit of the ridge (Meall an Tarmachain [826m]), and so about two hours after leaving Sgurr Thuilm summit I could finally drink a little of my last half litre of water. Again the views from this summit are spectacular including great views of the Cuillins. Unfortunately the lack of wind meant I started to get eaten alive by midges, even at this height, and so I wasn't able to take many pictures before I had to start heading back down.
Sgurr nan Coireachan
The descent route takes you over another top, Sgurr a' Choire Riabhaich at 852m, but once over this you start to get great views straight down Glen Finnan. The descent route from here is quite steep and seemed to be taking a long time, especially since I could see and hear the deliciously cold and moist Allt a' Choire Charnaig way below on my right and the river Finnan on my left. The area along the Allt a' Choire Charnaig looked like it had a lot of good potential camping spots and so instead of taking the path marked on the map (Leachd an Doire Chuilinn) I headed west. Unfortunately this whole area was rather squidgy as well as swarming with midges and ticks, but on the plus side at least I managed to finally end the water shortage and so lift the hosepipe ban. I ended up following a deer track back across and down to the glen.
Sgurr nan Coireachan
There's a few nice flat areas right outside Corryhully but since I like a bit of space I decided to just keep heading down the glen a bit more. When I came to a small bridge over the river Finnan I decided I would cut across and camp somewhere in the woods. When I finally found a nice flat open area I decided I would camp there no matter what as by this time it was nearly 10pm. Unfortunately though this area had the hugest concentration of midges and so I had to pitch up quickly and just jump in without even cooking dinner. Inside the tent was like a sauna but due to the thousands of midges that had made it inside I still had to get in my sleeping bag and sleep with a midge net on. Even though there wasn't a cloud in the sky it sounded like constant rain the entire night, this was due to the blood suckers battering into the flysheet trying to join their brethren (or is that sistren?) on the inside.
Looking out to the Atlantic
After a very itchy night sleep I woke to another incredible warm and sunny day. Most of the inside midges had either died in the night, or were maybe just having a long-lie after their midnight feast, however I did notice quite a few ticks scurrying around on my sleeping bag. After packing my gear and breaking camp it was then just an easy pleasant three mile stroll back to the car.
Sgurr nan Coireachan
Despite the heat, sunburn, dehydration and lack of blood it was a great couple of days in a beautiful place. I would highly recommend Glen Finnan to anyone that's never been before. As for the rain that the A9 soothsayers had foretold, in the central belt at least, it arrived late evening lasting only a couple of hours.
Glen Finnan