So this weekend, I was pretty darn excited all week. It was the first time I had been able to get out for ages and my Auntie and uncle whom I haven't seen for a couple of years were doing a coast to coast – Evanton to Poolewe, so I had arranged to meet them in the Fannaichs to walk with them for a couple of days. As the week wore on the forecast looked better and better
I picked Dougie up from work and we set out on the long drive, arriving at about 9.30. We set off without too much faff, hoping to camp somewhere not too far up the Allt breabaig.
We found a decent spot, but the wind dropped disappointingly a couple of times, and the midges came out. Only to be expected I suppose
We awoke absolutely sweltering, the sun already well up in the sky. It looked like it was going to be a roaster
We headed up the glen, it being a bit further than I remembered it, so we were a little late, but Kris and Richard were still there and much merriment and blethering followed while we caught up with our news. We took the baggers path up Sgurr Breac, hardly noticing the climb in such bonny surroundings, and so deep in conversation.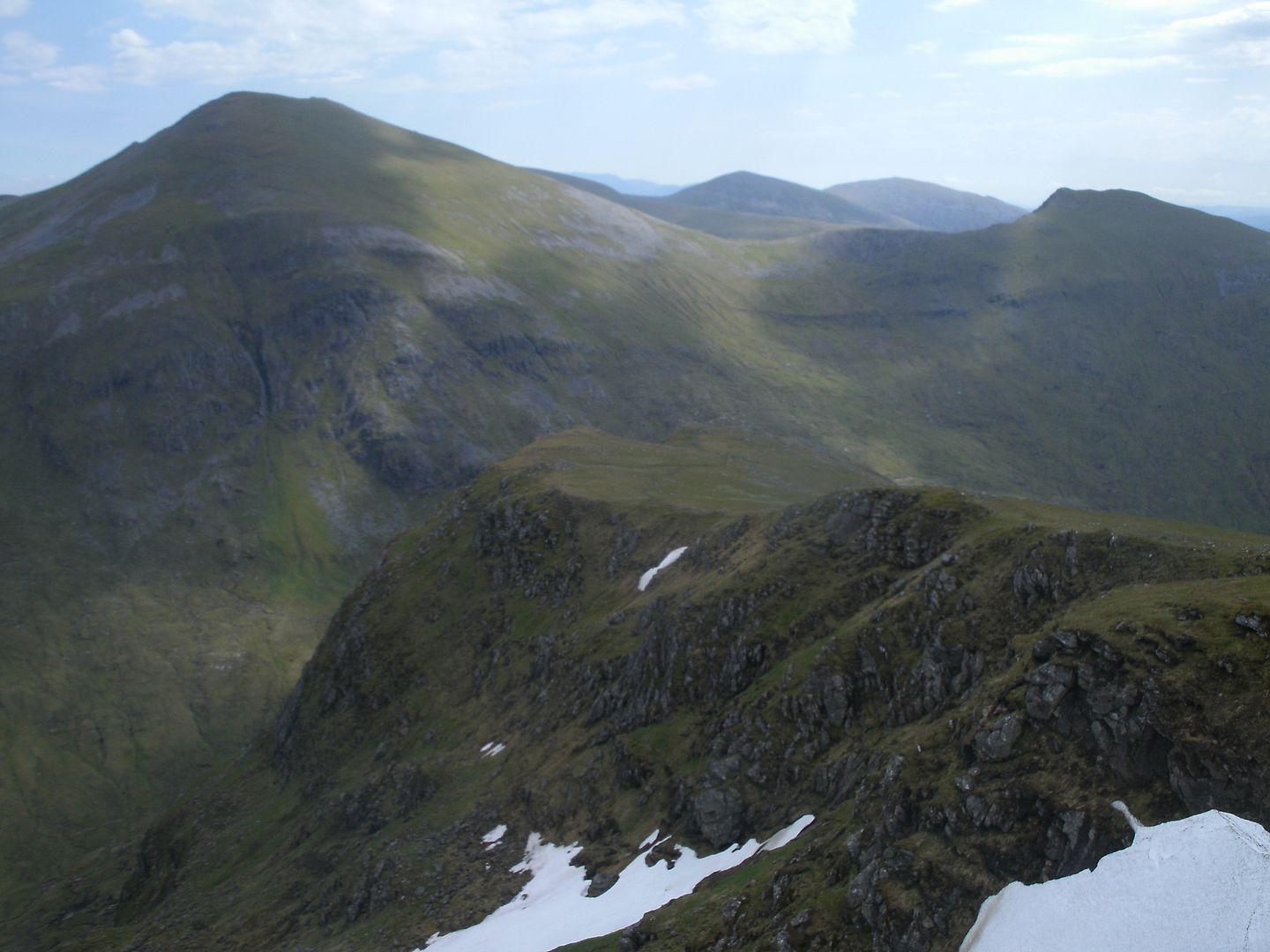 A couple of bits we had to take our hands out of our pockets to get over a rocky lip, but the going was generally fine, and it only took an hour or so to reach the summit.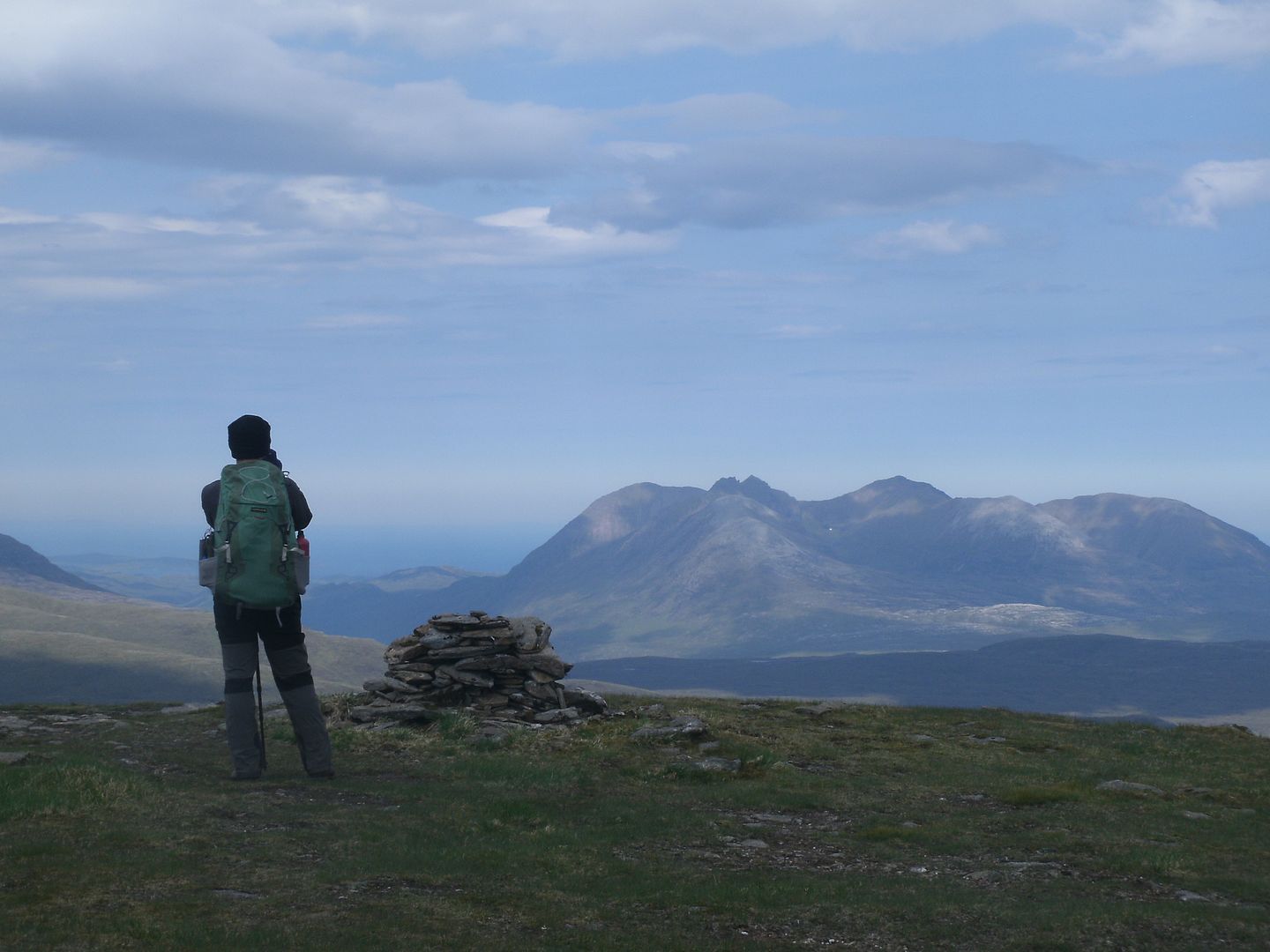 It was a little windy, so we didn't hang about, looking for a sheltered place to stop which didn't present itself until the bealach. It was fairly hot out of the wind, even this high up
The climb up Toman Coinnich was rather bigger than I remembered, but still not tire-invoking. So onward to A Chailleach taking in the views. Kris was struggling a bit in some of the gusts, even though at its worst I would say it was 40 mph..

We reached the top, passing a few folk on the way – popular today
There was a big enough cairn for us to huddle out of the wind,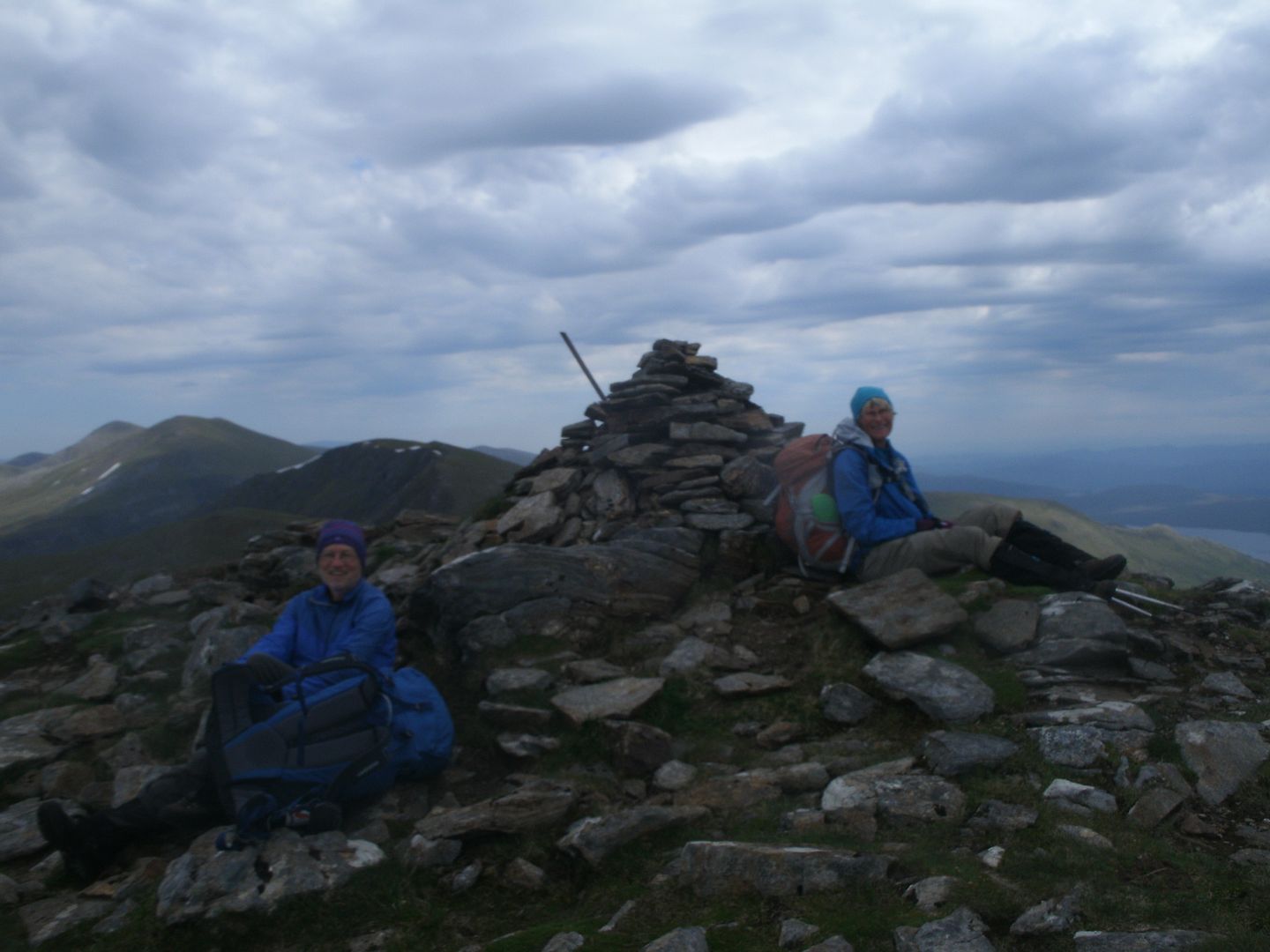 so we sampled more supplies, and discussed our way down.. Looked quite steep on the map, but Dougie had scouted out a route (I had been wondering what he was faffing at) and sure enough it wasn't too bad. It was only 3 O'clock, so plenty time and we therefore had a long stop, chatting and lounging in the sunshine.
The bothy looked close, but it was an optical illusion
At least the ground was firm, and the going good. There were several cool, tasty springs feeding a network of burns with firm grassy banks, leading all the way down to a large sheepfold and the river beyond. I was with kris, but the boys had taken an alternative route. I think we both felt jammy to make it across the big river, which probably gave us some false confidence. We reached a 3 foot, innocent looking ditch, Kris jumped but the ground on the other side gave way
I saw her go in all the way to her neck!
I could only squeal in surprise as everything went into slow motion. I didn't know whether to laugh, or be concerned, as I watched her, with momentous effort, haul herself into the reeds on the far side.. We both burst out laughing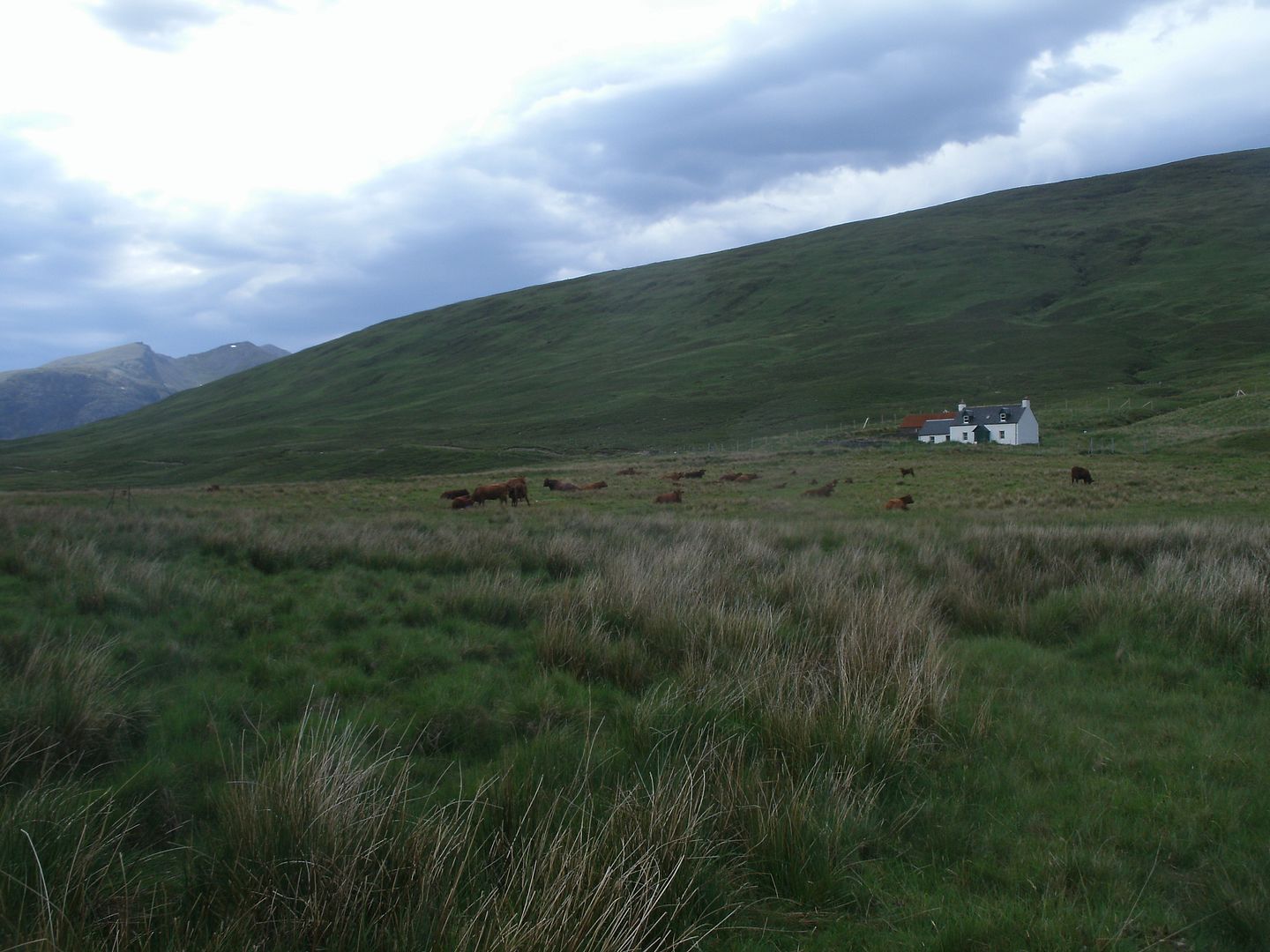 It was only a couple of hundred yards to the bothy anyways, although I think Kris and Richard may have thought the lodge was the bothy as Dougie had to tell them that it was the hut round the back
It is the nicest bothy I have been to in a long time though, stove, flushing toilet, sink with running water – doesn't get much more luxurious than that
The boys had found some wood down by the Loch so Dougie and I sawed it with the obligatory blunt bothy saw, Kris changed and hung up her clothes while Richard went off to find some kindling. We were all a bit hungry, but my Dad was supposed to be arriving soon, so we held off for a while, until we couldn't no more. At about 8.30, the rain came on, and it was nasty, although with a tin roof anything sounds nasty I guess. Dad didn't turn up until later, but it was well worth the wait..
The rain thundered down until 6 in the morning when I am reliably informed it stopped like a tap being turned off. It was quite nice by the time I was up and about at 7.30
We set off down the path to Loch an Nid, too deep in the banter to notice the cairn that signified the place you are supposed to cross the river
it didn't hamper progress though, and we were soon back on track, descending toward the loch.

It was the most idyllic place ever, a really bonny glen, so we stopped for a snack while we talked of ascent routes. I wanted to go up the biggest slab.. it was further than some routes, but I thought it would offer the most fun, and I got my own way
The ground over to it, was a lot better than it looked, with not much bog at all, but it was just so darn hot, it was hard to get up any kind of pace between clouds. There were couple of decent sized burns to cross, and when I went up to my knees due to a slippery rock, it was almost welcome.
We all took slightly different routes to the slabs, so we rendezvous-ed there, marvelling at the sheer sheet of rock in front of us.. Looked amazing
We took it at a slow trudge, trying to avoid the wee streams that tumbled down the slabs, occasionally collecting in tempting, bath-like pools.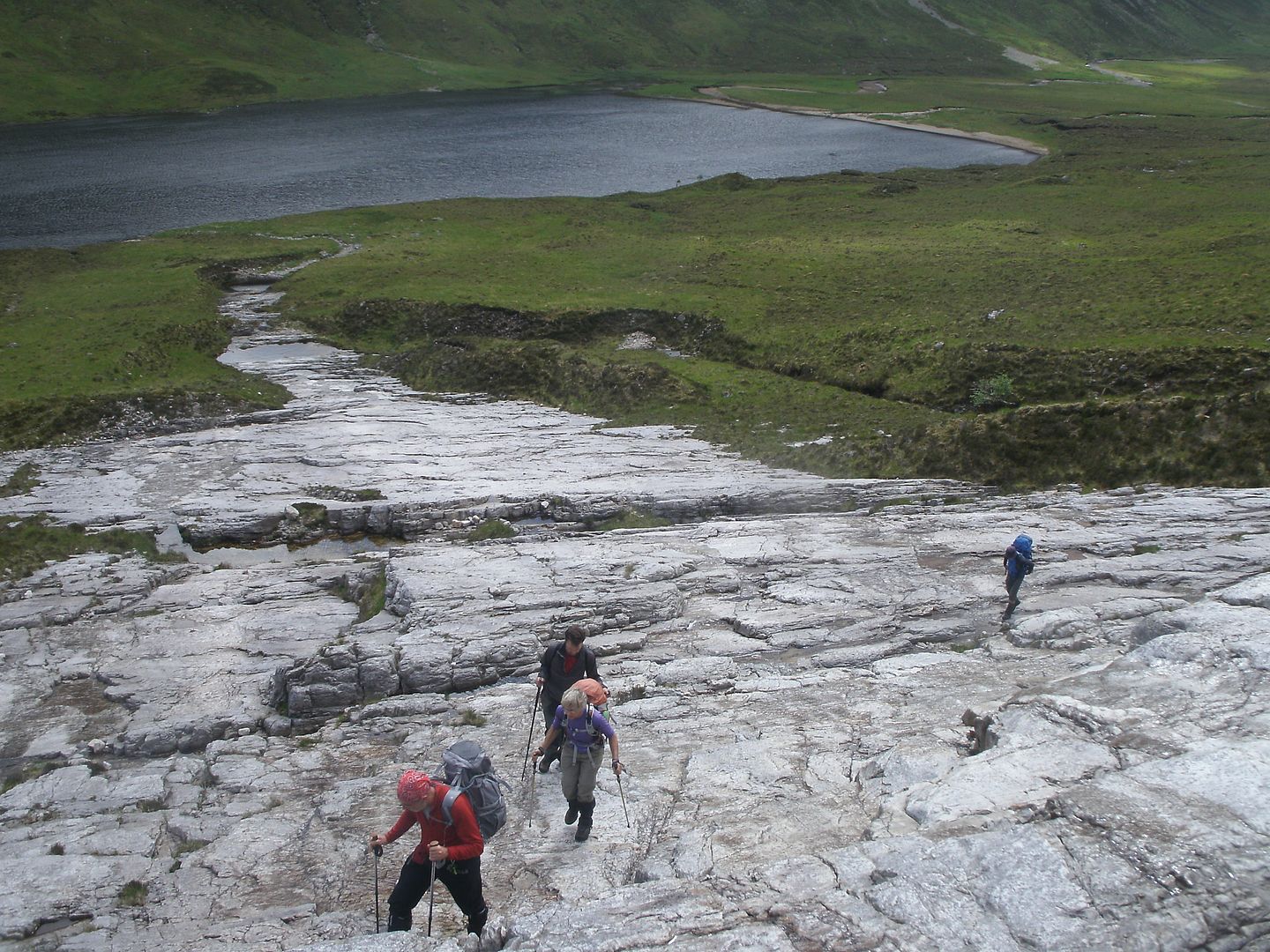 I saw a few wee lizards, scurrying for cover, and it was nice to be able to point them out to Kris and Richard, but they didn't look that impressed and I remembered that they used to live in Saudi, where I am sure the reptiles are somewhat more impressive!
The slabs just went on and on, it was just brilliant. I haven't seen any so big anywhere else in Scotland. Above Meallan an Laogh, it got a bit flatter for a while, before the slabs really steepened, and with the sun beating down, it became a sweat fest.

The rock made for good progress, even at slow speed until we inevitably hit the boulder field up above. Dougie disturbed a clutch of ptarmigan chicks who scattered and hid in obvious hiding places.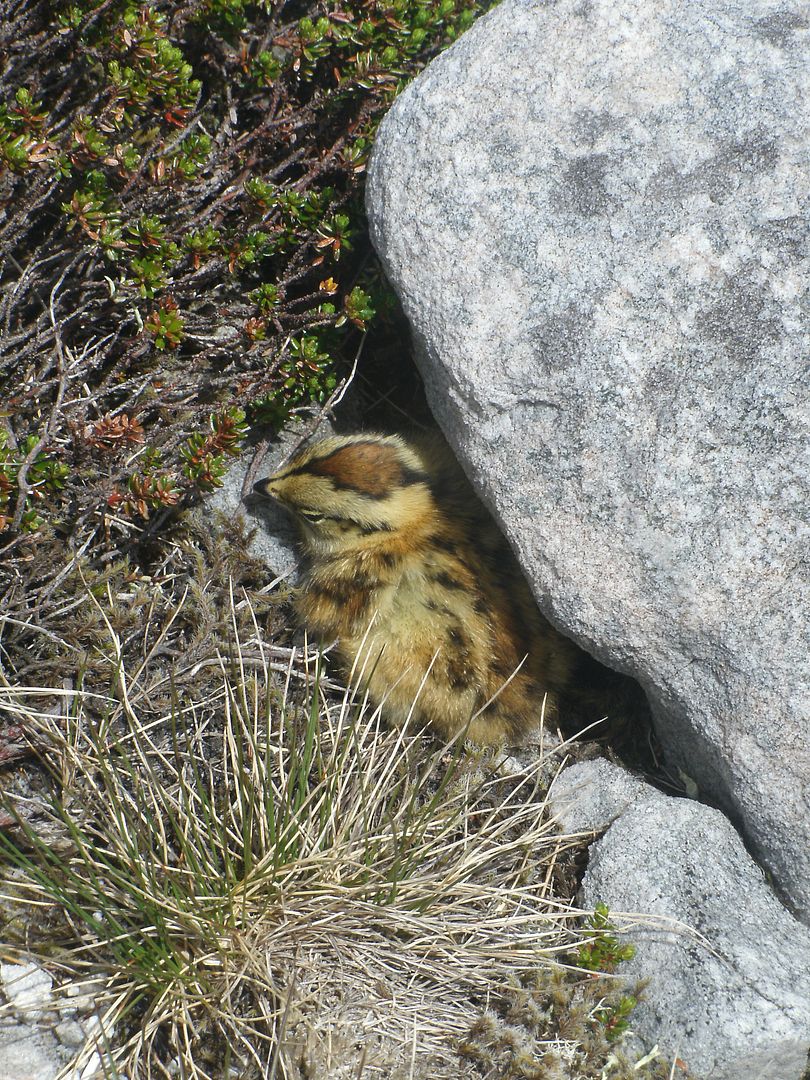 The mum looked worried, so we tried not to linger at the cuteness, and a last wee push, saw us on the flat summit of Sgurr Ban. Its a bit of flat top, so a bit of wandering is required for the views, but there is just something special about fisherfields...

We made our way round the boulder field to the path, winding our way down to the bealach, and that was where Dougie and I had to say our goodbyes. It was 2PM, and it was a fair way back to the car.. Kris Richard and Dad were heading to Carnmore, then Poolewe the next day, so we wished them good luck and turned ourselves back down the hill.
Lots of bivvy spots – wee walls built on the firm short grass. We made good progress, Sgurr Dubh looking mighty impressive to our right, I had hoped we would have time to return that way, but it had just been to blazing hot to move quick enough. We went through a short section of wee moraine hills, that were real ankle breakers, with thin moss covering unstable rocks beneath,
then we saw what we had been aiming for – more slabs
We rested a while by a wee stream, the first cleg of the season, landing on my arm for a moment before being swatted – seems a bit early..
We went across to the slabs, these ones were a lot smoother than the ones we has ascended, and I was a bit uneasy, despite the vibram doing its job well.

These slabs werent nearly as long, and a few fun, rocky obstacles saw us at an idyllic wee pool with a bonny waterfall. We stopped for a paddle, the river teeming with wee creatures that were attracted to our feet for some reason. We were on the move again quicker than we intended, the midges catching up with us.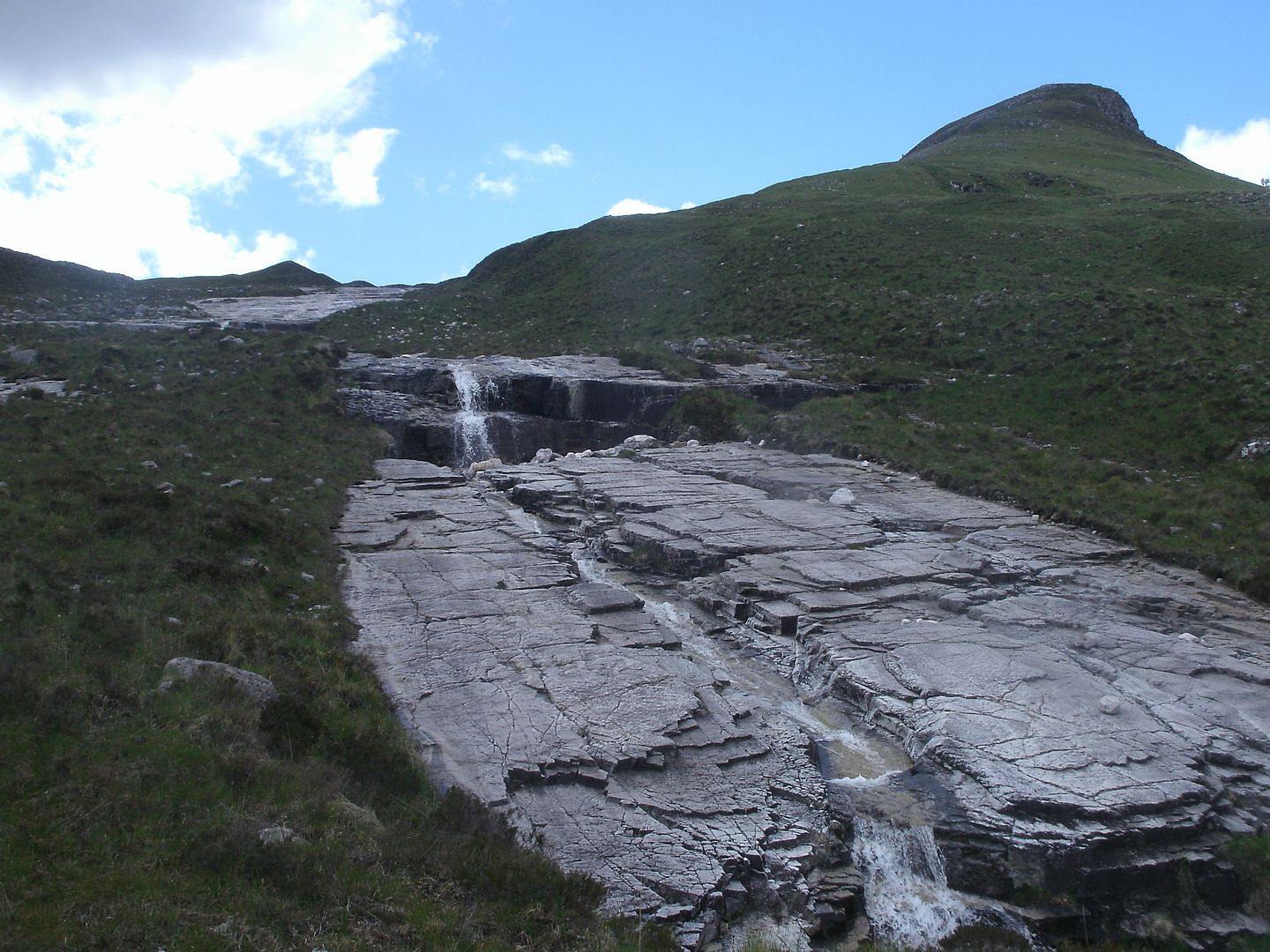 made our way down the burn back to the glen, where I misjudged a muddy patch and faceplanted the bog
Not to unpleasant in the heat, but got some funny looks in Tescos in Inverness
We made it to the path that would take us back to the bothy.


It was getting hotter by the minute, which made the short climb out of the glen a real chore, but once we were up, we rocketed back to the bothy, this time managing to keep on the path
A quick cup of tea and pack, and we were by the lochside on the track.
We had suddenly tired, my feet were aching, so a couple of stops were required. The track has a lot of soft shale which sapped our reserves further, but the ruins and boathouse down at the end, got steadily bigger.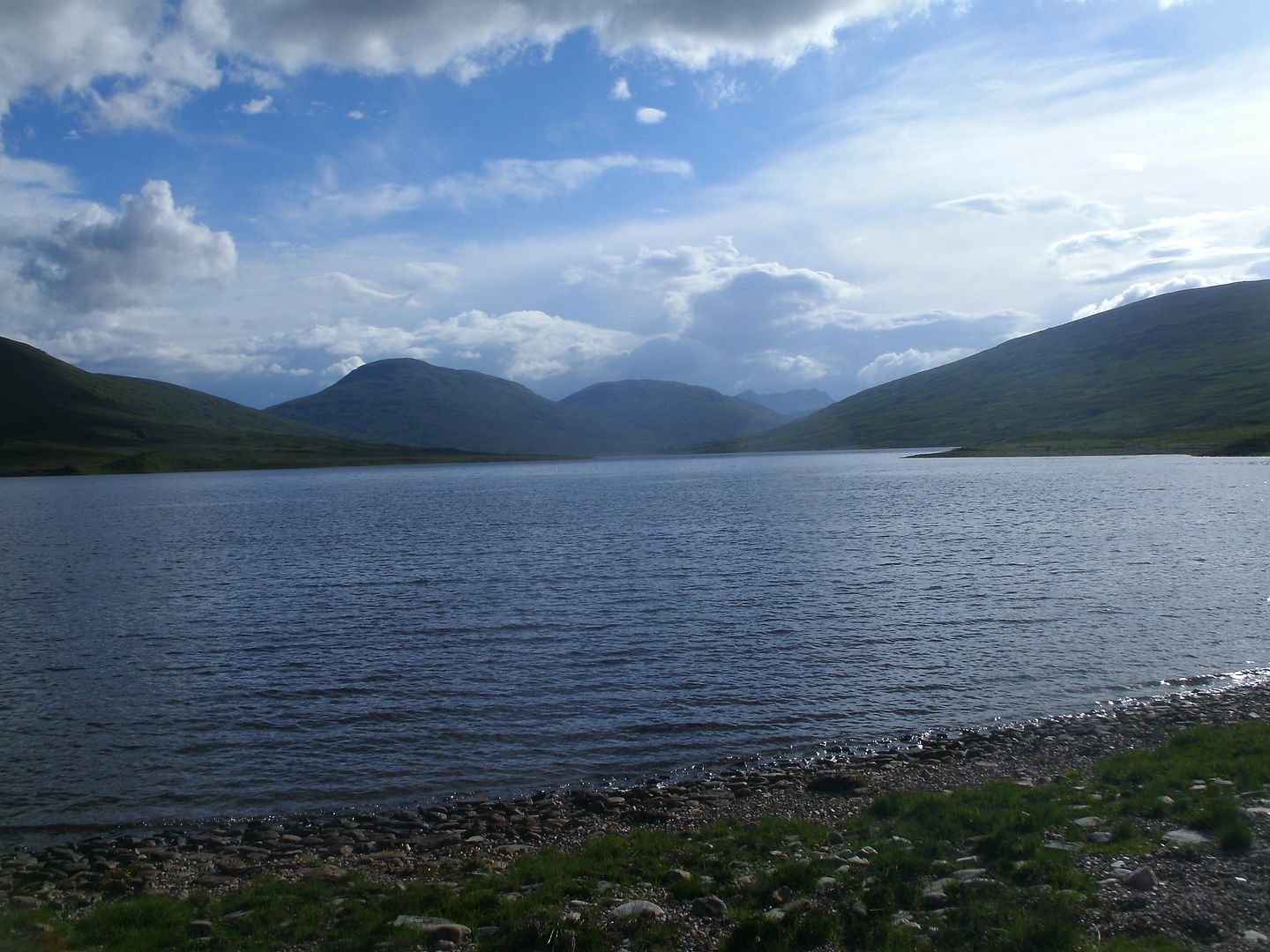 We finally got back to Sunny at 7.30. We hadn't thought it would be a 10 hour day, and a long drive ahead with the seatbelts rubbing sunburnt necks wasn't that great. Twas an amazing weekend though, bonny places, brilliant company, braw weather – doesn't get much better