So this weekend, the weather looked fab
so we decided to do our annual Scramble trip to Lochaber. We pawed over some routes at home, but it was still a toss up, and after a night in our home from home spot in Glen Etive, we were chased away from the tent by the midges too early. After breakfast at the Ski centre, we set off from Three Sisters car park at around 10.30.
We headed steeply up the glen, not a breath of wind, and it was really muggy. This lead to frequent stops in an attempt to cool down, and to let folk past.
We weren't going all the way up the glen, the route we were planning was up the side of Barn Wall. We got as far as the bivvy, and went up for a seat and a snack, but were soon found by the midges, so no time to relax
We crossed the stream above the wee waterfall, and headed straight uphill, the going arduous. We thought we could see the route as described – no picture in the book for guidance, just a grid ref, which only really narrows it down to a 100 metres
We took the grade 2 route up the ramp, as the first step looked impassable otherwise. Huge spiders webs stretched in front of our path, the silk was surprisingly strong and was inhabited by stripey spiders, who all seemed to already have their dinner wrapped up like a ready meal
From there was a pleasant scramble up a couple of ledges, to a grassy recess with a birch tree.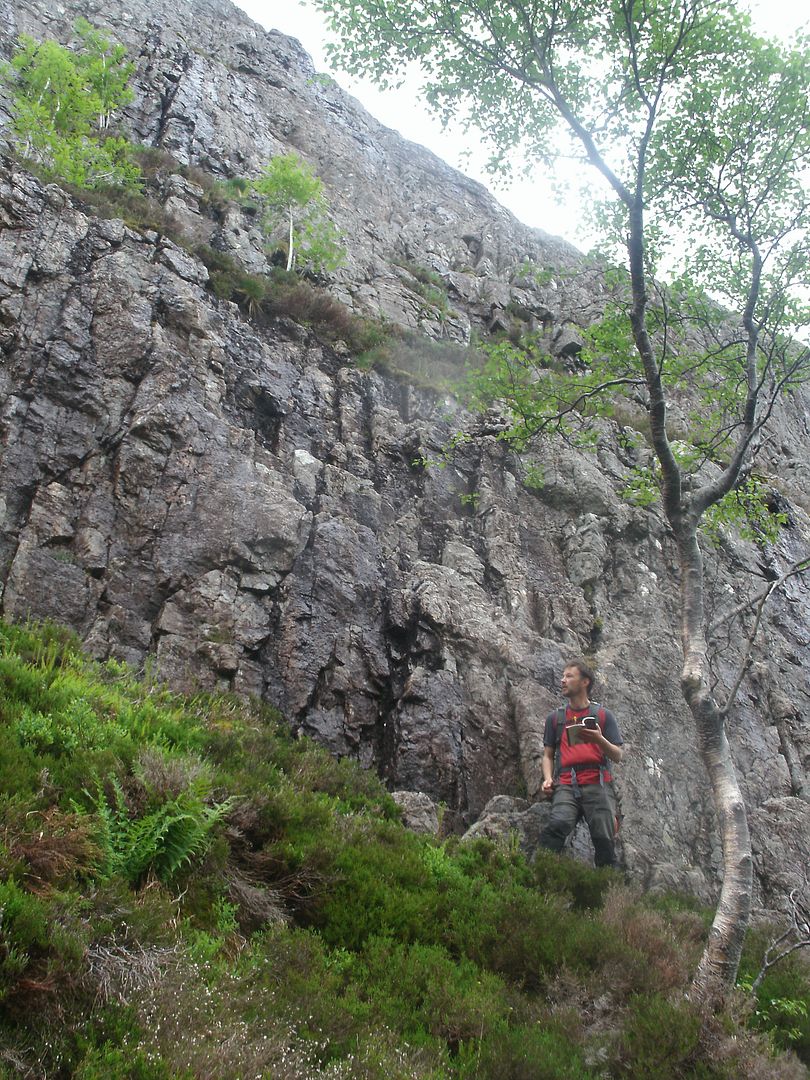 Things got a lot steeper after that, and nothing seemed to resemble the route detailed in the book. We definitely couldn't go down, so we continued upward, the going easy, but really steep and exposed. All this moving slowly made us a feast for the local wildlife.. Eaten alive
I thought the book route was to our left, so we tried to make our way over precariously. We didn't make it far enough over, and we were forced up a vertical crack, which was fine at the bottom, but 20 foot up, I ran out of grips
It took me a while to work it out, but I managed right onto flatter slabs, and the going looked easier from there. I waited for Dougie, legs all trembly
but he didn't seem to be coming, and he sounded like he was having bother
He made it up and we sat on the slabs for a while. Too knackered and hot for the midges to chase us off.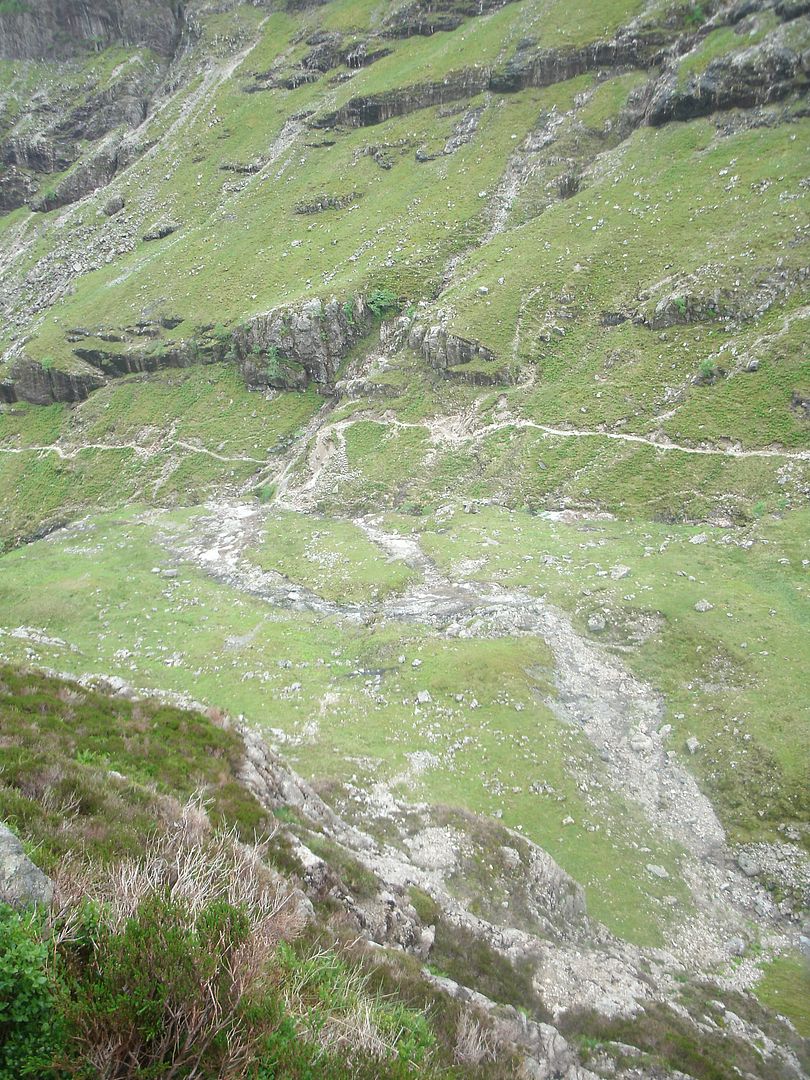 The next section was easy, and we made it up to some heather, with an overhanging wall ahead. I tried up the side, while dougie took to the Gully on our Right. It was quite an enjoyable section, and I was disapointed when I got to the top because the ground flattened out a bit, with no real further scrambling. We sat down and tried to look for our next target – Far eastern Buttress, just a we bit further up the glen.
The book said we could contour round easily, I would say it wasn't easy, but we countoured round, again not really sure of the exact location without a picture.
We got tired of looking for it I guess because we started up the rock in a place that was nothing like the slabs that were described, but it was quite fun, high 15 foot steps, punctuated with heathery ledges.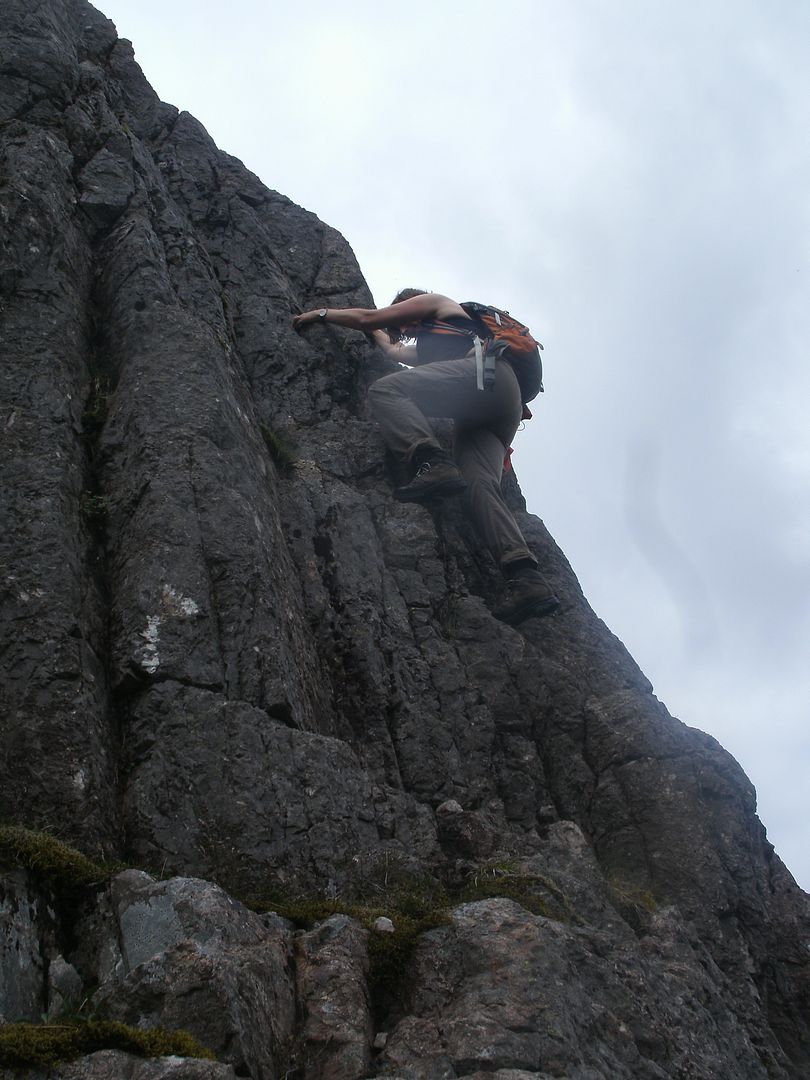 The steps got bigger, and steeper, and each one was more challenging than the last. By now we were all scratched - partly self inflicted because of the midges, and partly abrasions from rocks – shins, elbows and knees were bruised, and we were covered in mud
We definitely werent on the route in the book
I suddenly noticed that the clag was coming in, but knew this wasn't a huge crag, so we must be topping out soon. The last section was really steep, and a bit tricky at the top, but I thought it was fun. Dougie really didn't like it though, and was ages coming up behind.
We rested to let our pulses return to normal before easy slabs up the ridge for a while. A slog on grass through the mist took us to the start of the ridge up Stob Coire nan Lochan.
Even in the clag the pinnacles, gullies and fingals cave rocks looked amazing, At one point we looked off a large rock we were on to see a jaw dropping drop below. You could only look at it if you were lying on your belly, or it made you feel all queasy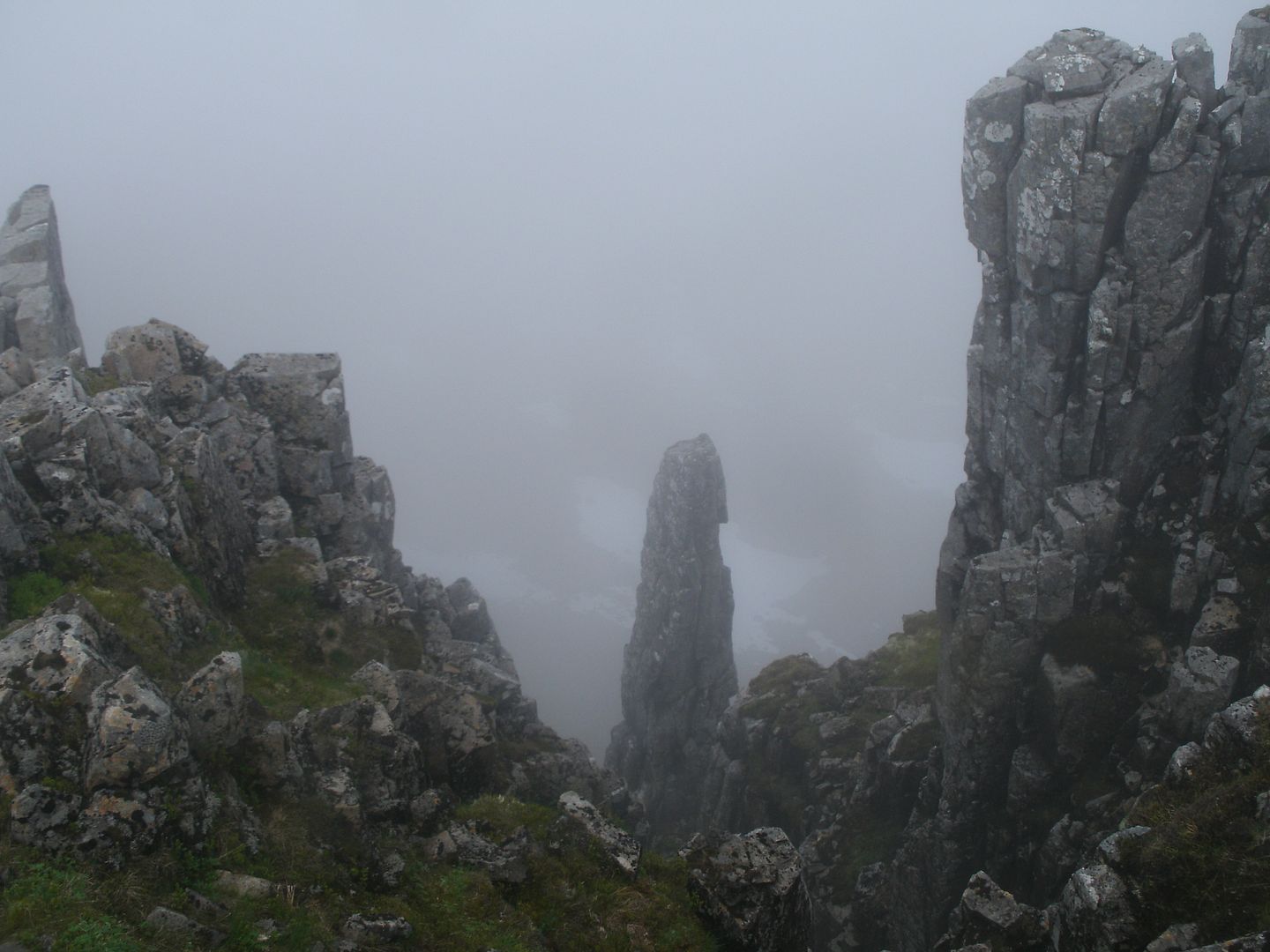 A path winds through the boulderfields, but we mostly kept near the edge to get the views of dramatic shapes. We reached the top, the sun threatening to burn through. It was a good enough promise for us to wait, and sure enough, views started to appear.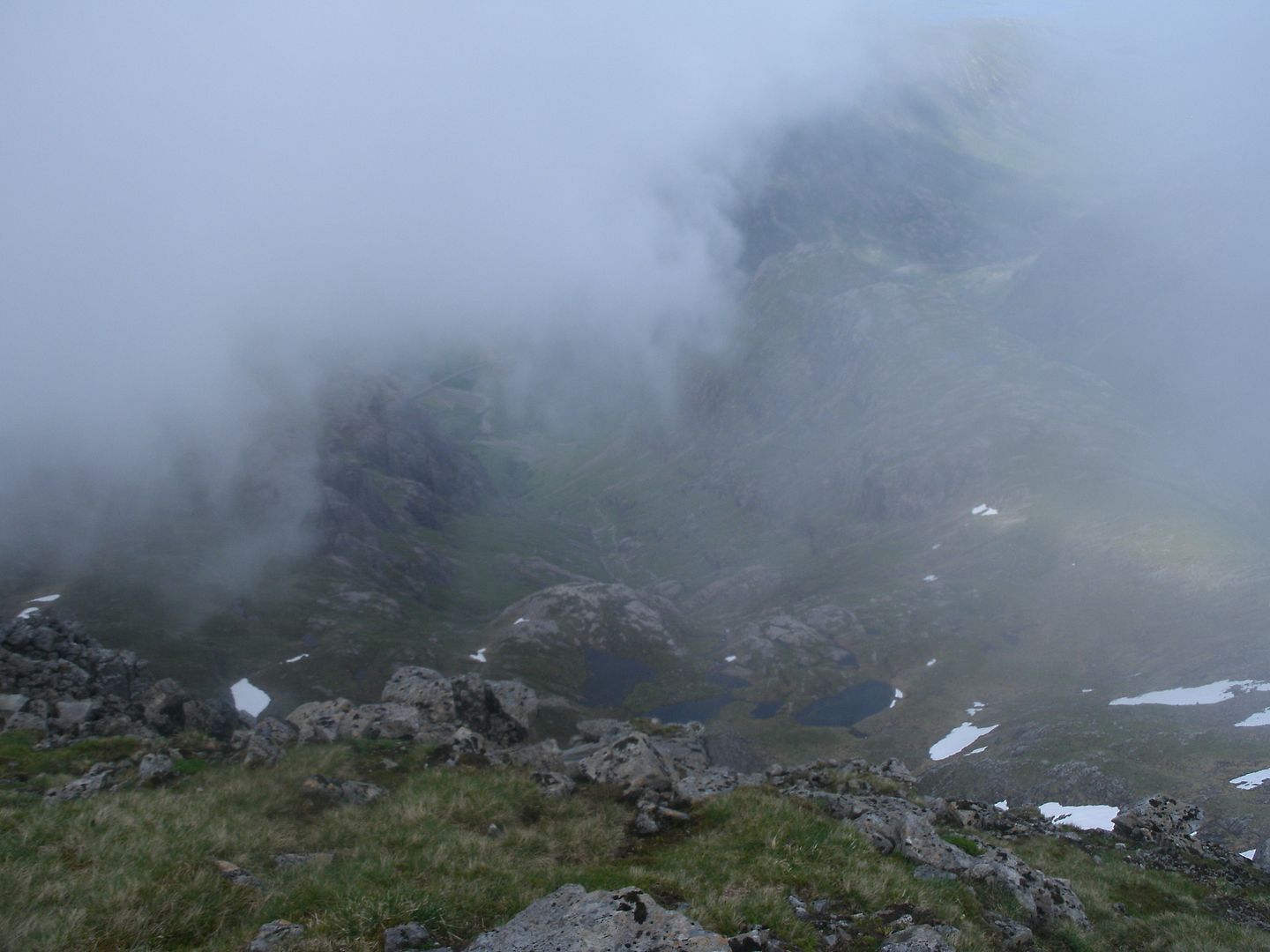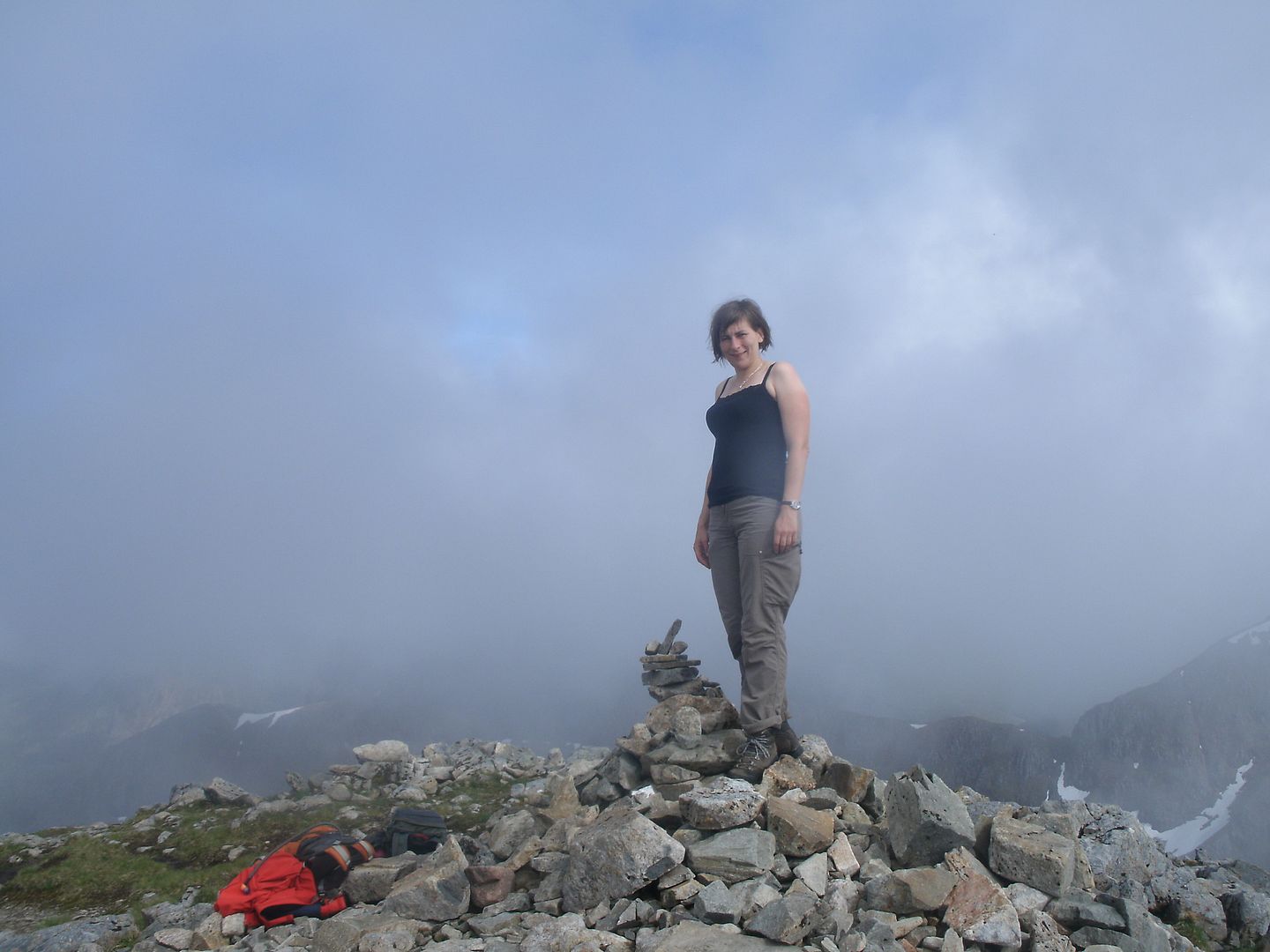 Unfortunately, it was at this point that my camera packed in, and with my phone at the car, thats the end of the pics for Saturday
We eventually carried on southward, a few easy down scrambles making things interesting. We decided we would go down zigzags at the nose of Gearr Aonach which is a grade 1 scramble, but is also supposed to be a good descent route, if hard to find.
We continued along the undulating, mostly grassy ridge, an obvious path all the way. At the very end, there did seem to be quite a few different routes worn, but we must of chosen wisely, because a wee scramble down a broken gully took us to a large path. We took it downhillward and It snaked round the hillside a long way, before terminating on top of a very slippery looking slanty gully. It wasn't as bad as it looked and the scree path continued for a good distance, curving back round left. There was a bit of a down scramble, but nothing too scary, and we were back heading right again for a way. Down a slab which steepened alarmingly. I attempted it crab like, but my feet slipped, and I ended up sliding down the bumps in the last few feet – ouch! There was one scramble left, the hardest of the lot, but still not too taxing, before the path again zig zags right beneath a huge overhang, then we were out onto grassy glen. Thoroughly enjoyable
The feet were sore though
It was a tired plod over to join the path that comes down from Lost Valley, back to the car in warm sunshine.
It was after 8 by the time we were back, but a breeze had got up, and we crossed our fingers it would be the same back at the tent.
We found that in our haste to get out of the midge infested tent, we had left it open all day, but it was breezy, so we had a fine night. Perfect camping weather
The morning came, but alas despite the breeze, the tent was still full of midges,
so we again ended up going up to the ski centre for breakfast. It was a little bit cooler, with clag shrouding the tops. That didn't last long.
We squeezed into the car park at Alnafeidh and faffed about a bit before leaving at midday. We took the left hand fork, our target was Broad Buttress, which isn't too far round as it turned out
We turned off the path, up a dry stream bed, the going rocky but preferable to the alternative - knee deep heather. The stream bed got very steep and narrow, and the going was ytough in the growing heat, using the heather to pull ourselves upward.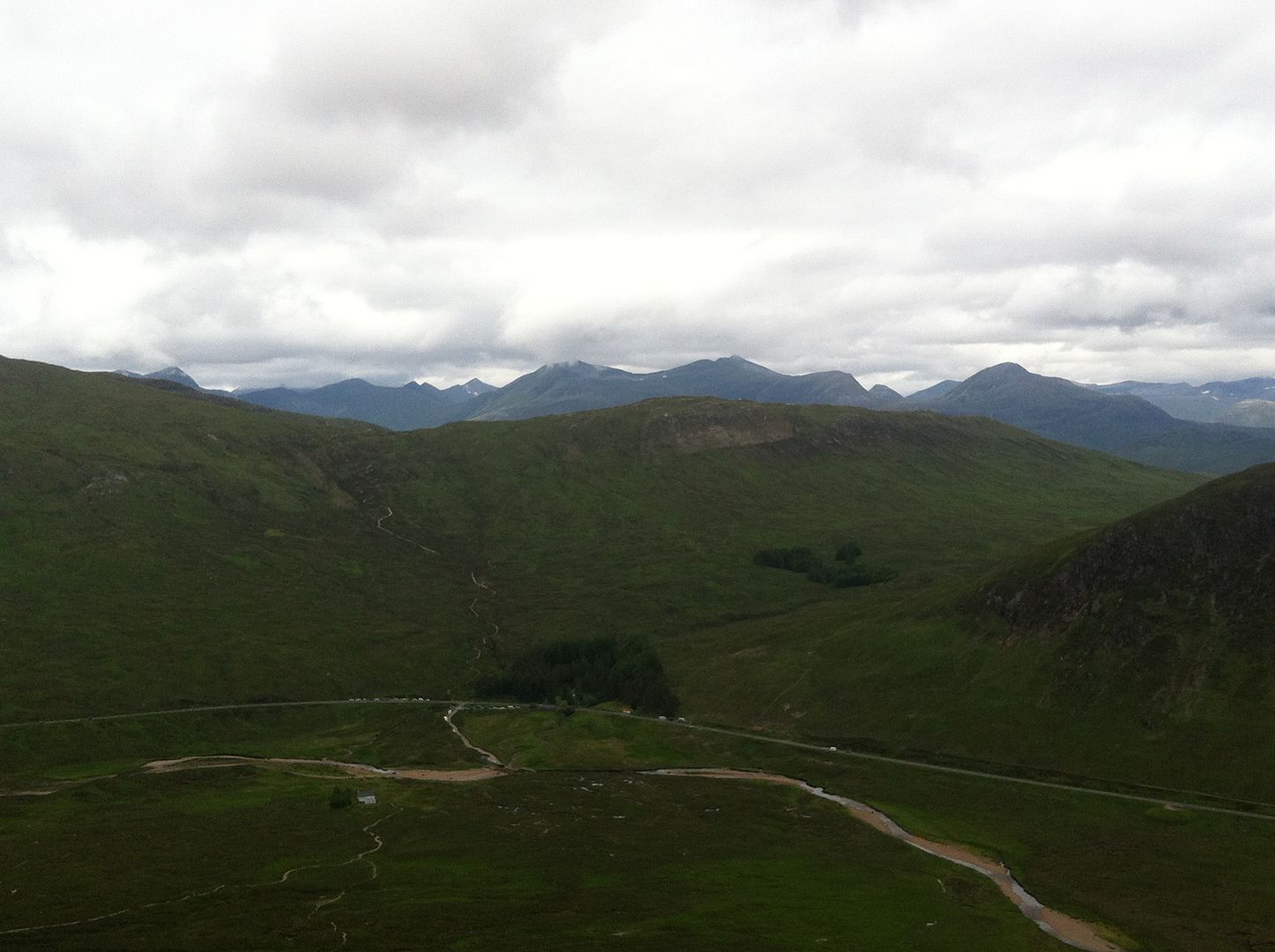 We managed to get over to the bottom of the lowest slab, I went round, as it was quite slippery, but Dougie headed straight up. At the bottom of the slabs proper, the book said to take a central line, but that looked tricky, so I went up the right hand side, it was still very steep, and no real holds, just dimples in the rock, that all seemed to be wet
Despite a couple of hairy moments, I managed to get up the 50 feet or so and on to the heather beyond. Unfortunately, Dougie wasn't so lucky, and his boots just didn't have the friction to get up. I certainly didnt fancy going back down!
So Dougie tried round the side. He disapeared into a gully, and I waited nervously for any noise or sign of which way he was coming.
I eventually spotted him, a good way round the hillside, with still no way over to where I was. We shouted to each other, and eventually decided the only thing to do was for me to go up, and for him to go down, to come meet me up the corrie.
This meant I was left to do the Buchaille by myself.. Thats a bit too scary even for me, but I just couldn't see anywhere else to go but up..
I had already deviated from the route, away over to the right, and the slabs below didn't look kind.
So I traversed round a face, with plenty of ledges, shame the overhangs made it difficult to use them. I half climbed, half crawled round, and it was a huge relief to get back on route.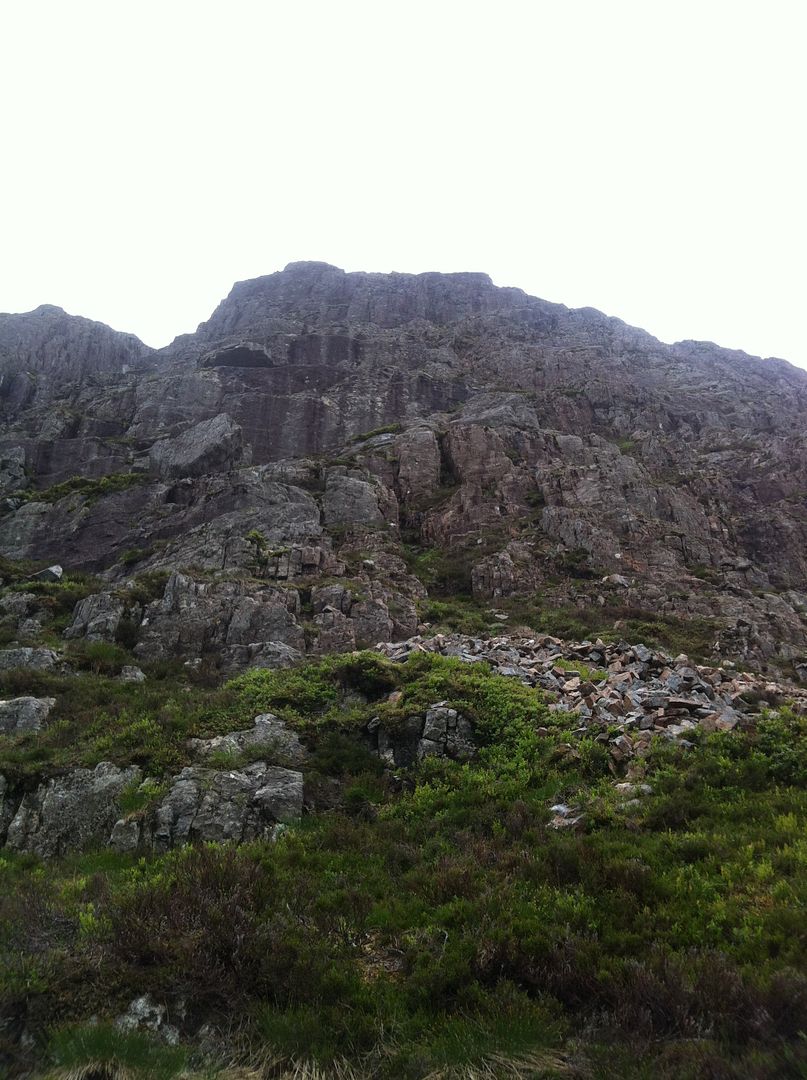 There was a large scary crag, but up the right, there was a clear route others had taken round the back, where a fun, easy crack took me up to the next ledge.
There was a fun section at an easier angle, with a good choice of possible routes and I felt like I was making progress, and the surrounding buttresses looked impressive.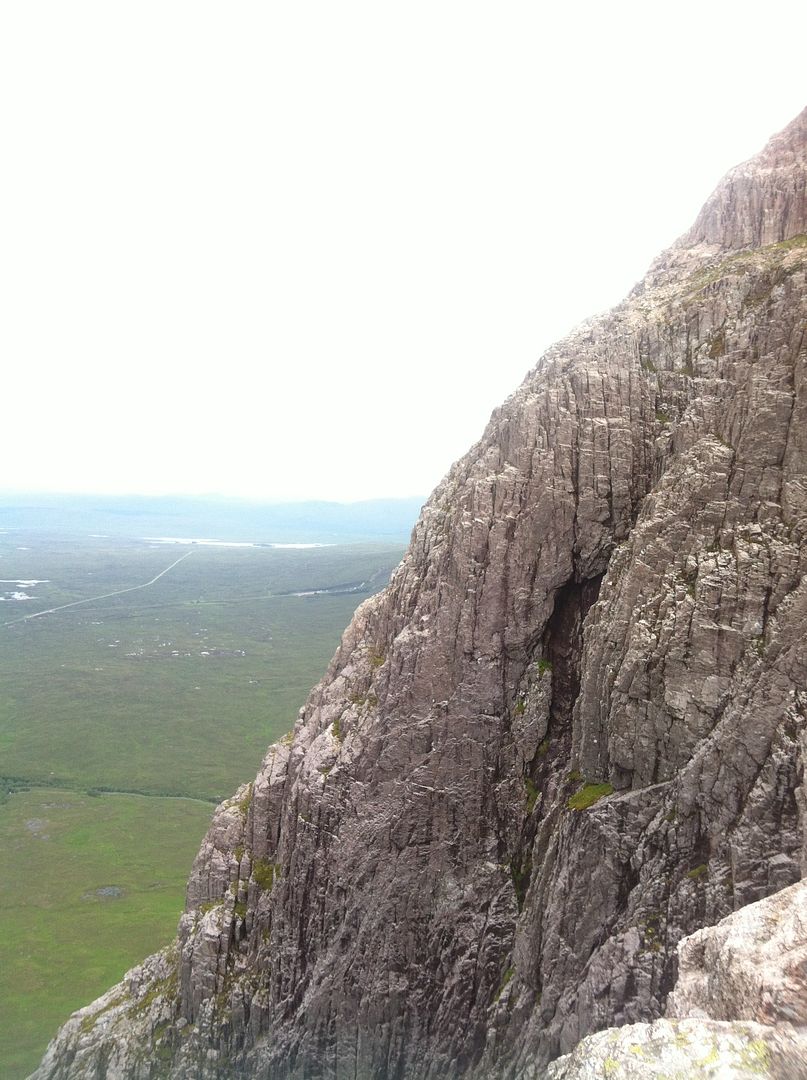 It got a lot more vertical on the next section, but there were ample jugs and footholds to feel very secure. Up at the very top, I ran out of places to go. I had got myself stuck. I tried a few things, but was so scared my legs were shaking like a leaf which just made it more difficult.
I looked across and could see Dougie looking up at my progress from below. I knew he would be worried if I stopped moving on a sheer face like this.
I dug into a grassy ledge with my hands, looking for the rock below, or anything firm just to hold on to for a minute. It was no good, but doing that took my mind off my situation, and my wobbly legs subsided enough for we to wedge my leg up to a high hold and with great effort, my whole body up onto the ledge. Yaay!
There was an easy section up huge ledges next.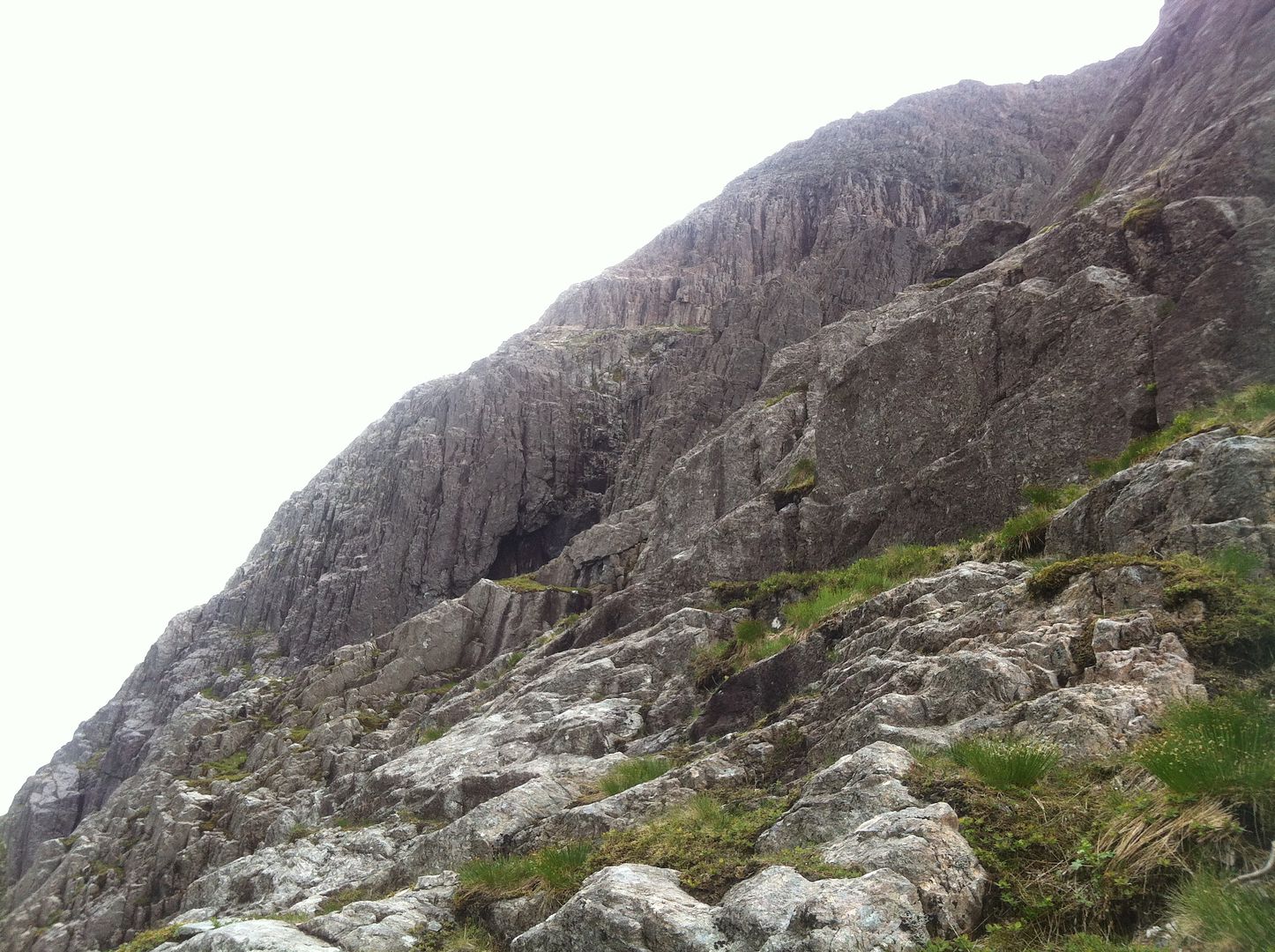 I was glad it was something a bit easier at that point. I spotted a large perched rock. Is that the large block they were talking about in the book? I passed to the right of it as instructed with difficulty, edging along ledges, that were just a little far apart for comfort, before after I had got up a bit, I saw an even bigger block, that must have been the one described. No wonder it was so tricky, I had been on the wrong crag again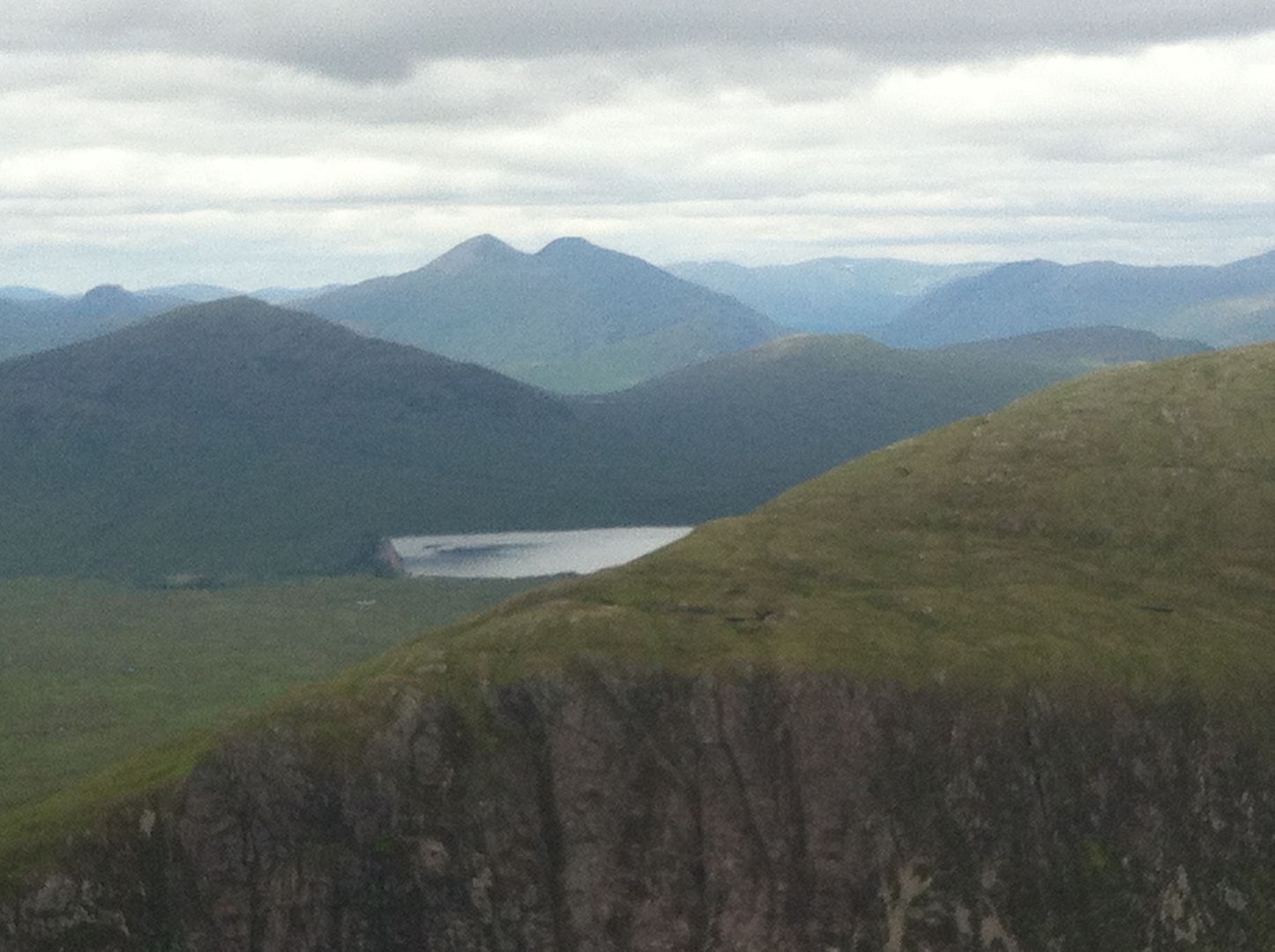 I made it up the steep slab to the right of the block, and some fun was had up a seam of more broken rock before I got to the bottom of a vertical obstacle. The book said to go right, and sure enough there was a wee, well worn groove with some holds to take me upward. Unfortunately, this feature veered right, and I ended up in the gully on the right. It didn't look fun to go back the way I had come, and I could see an easy way out of the gully just 15 foot or so above me. The gully looked grassy and amenable, but was really was steep, slimy, and the rocks were all loose, so pretty as dangerous as they come..
I was so relieved to get out of there, and back onto solid rock, The rest of the climb was really fun, the seam of broken rock made a reappearance for a good while, then it was up steps and slabs to the top of the climb.
The corrie at the top of great Gully looked amazing, and it was only then I realised just how far I was still from the top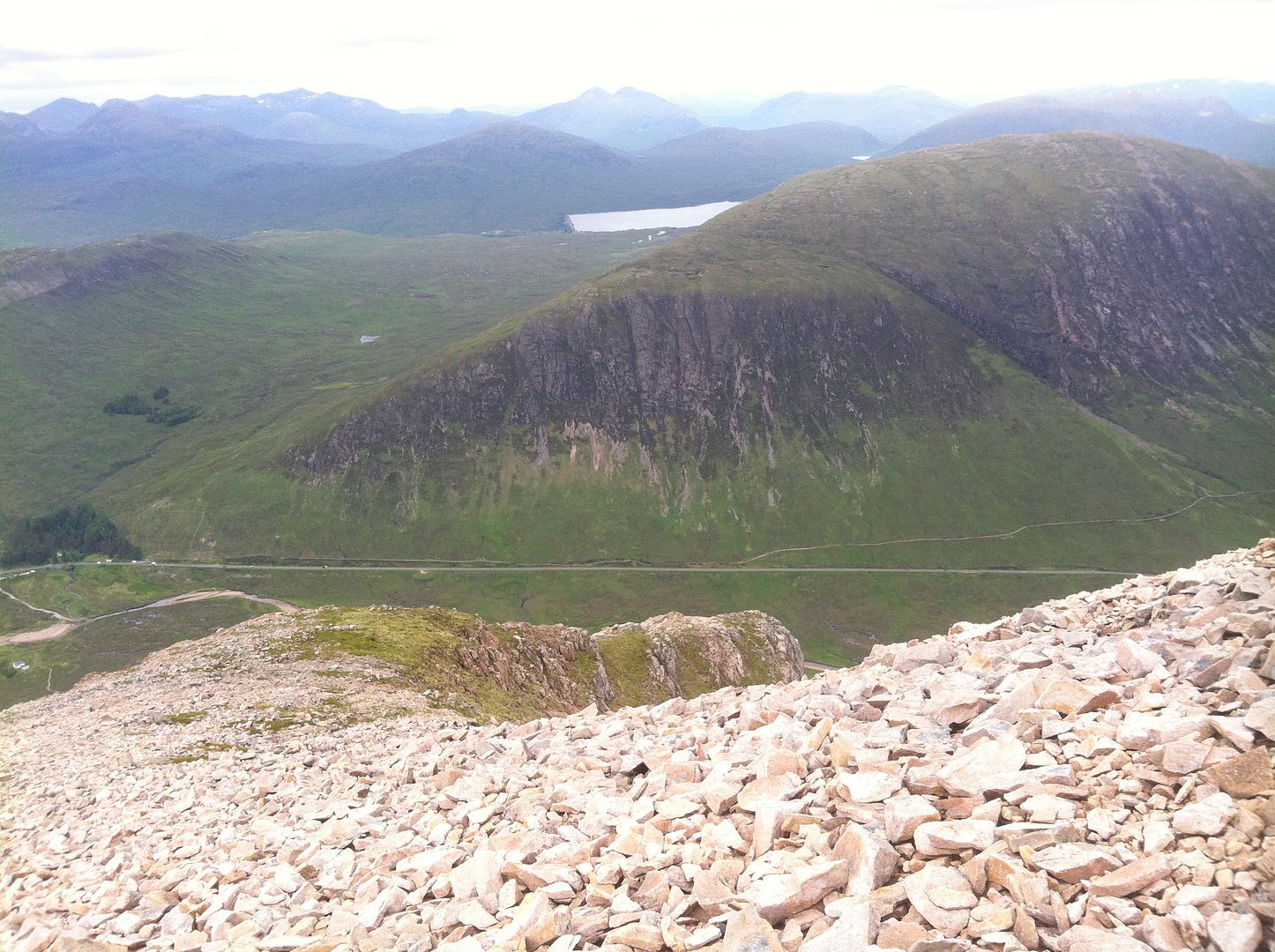 There was a tricky wee bump to negotiate, that would of easily be bypassed, then I was on a grassy easy angled ridge for a bit before the boulderfield began. I was roasting, and had to stop to cool down, and take it all in. Views of wee Buchaille and Bidean were really good. I hadn't even noticed the clag lifting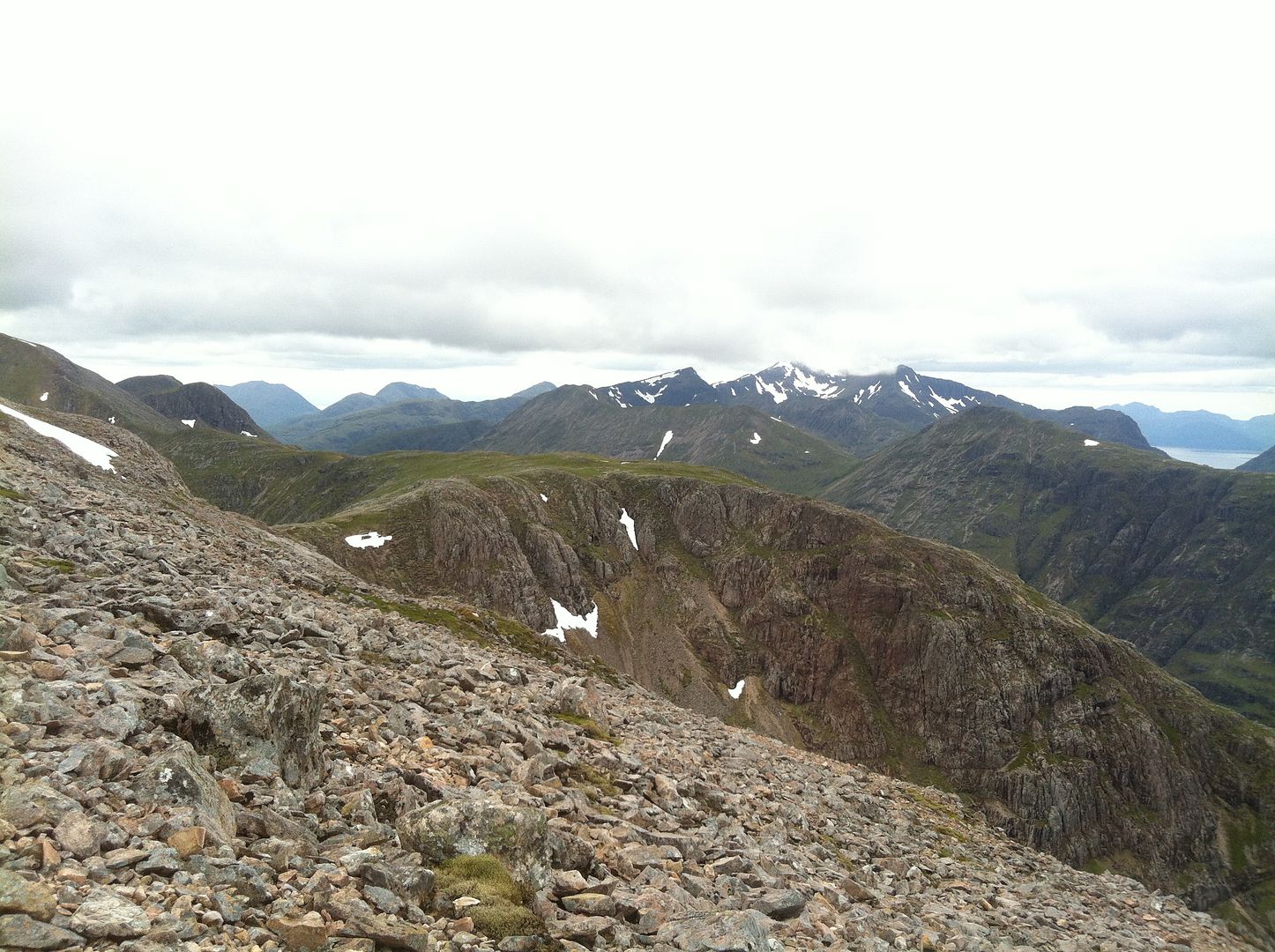 The boulderfield gave way to little scree paths that led me toward the summit. A totally hot and energy spping few hundred metres. I found myself on a bigger path and then I saw the summit! Although I had to ask a guy who was packing away climbing gear to be sure as Dougie had the map
I took a few snaps, but didn't linger. It was 4PM, Dougie would be worried. It hadn't been quick.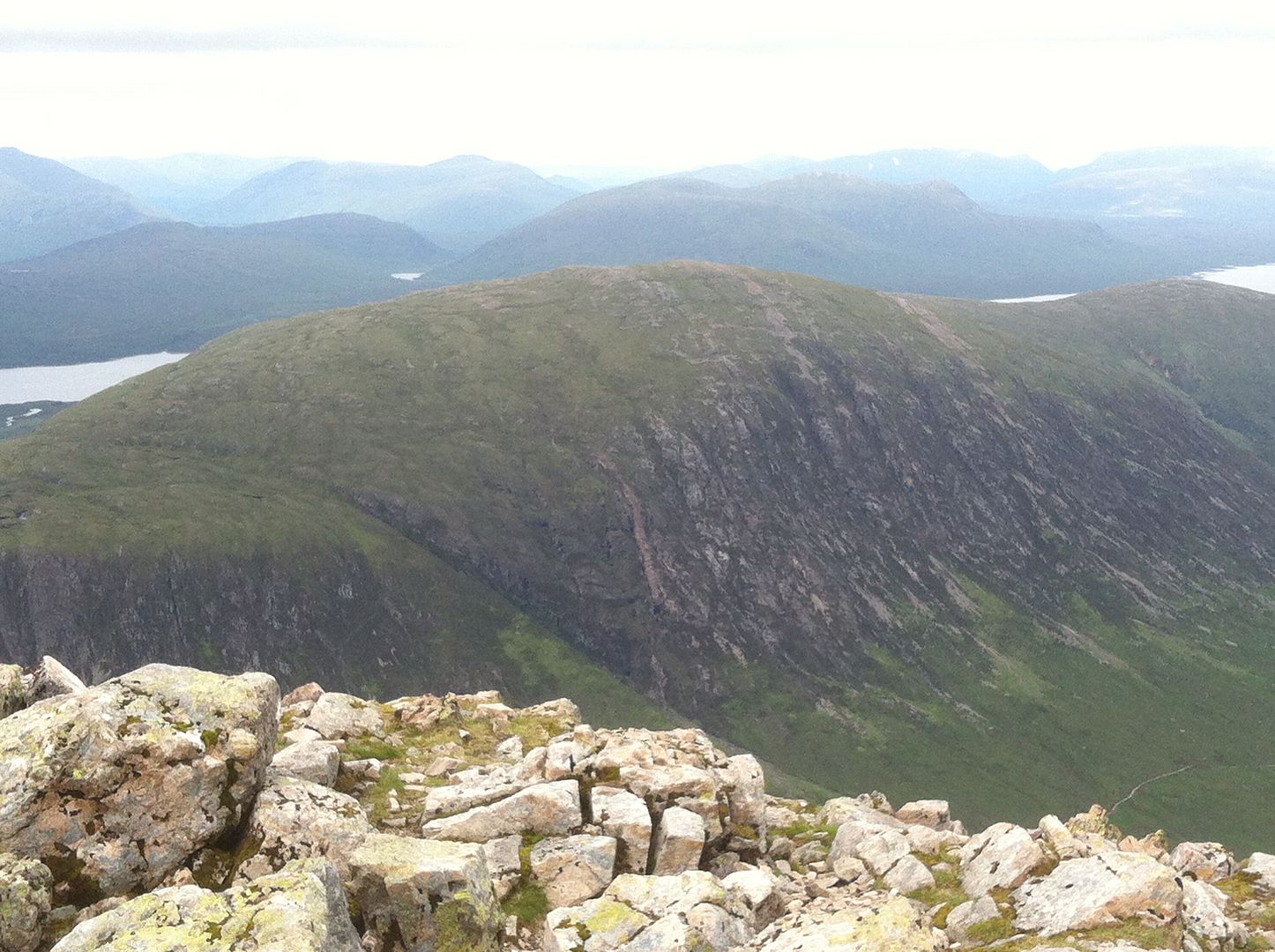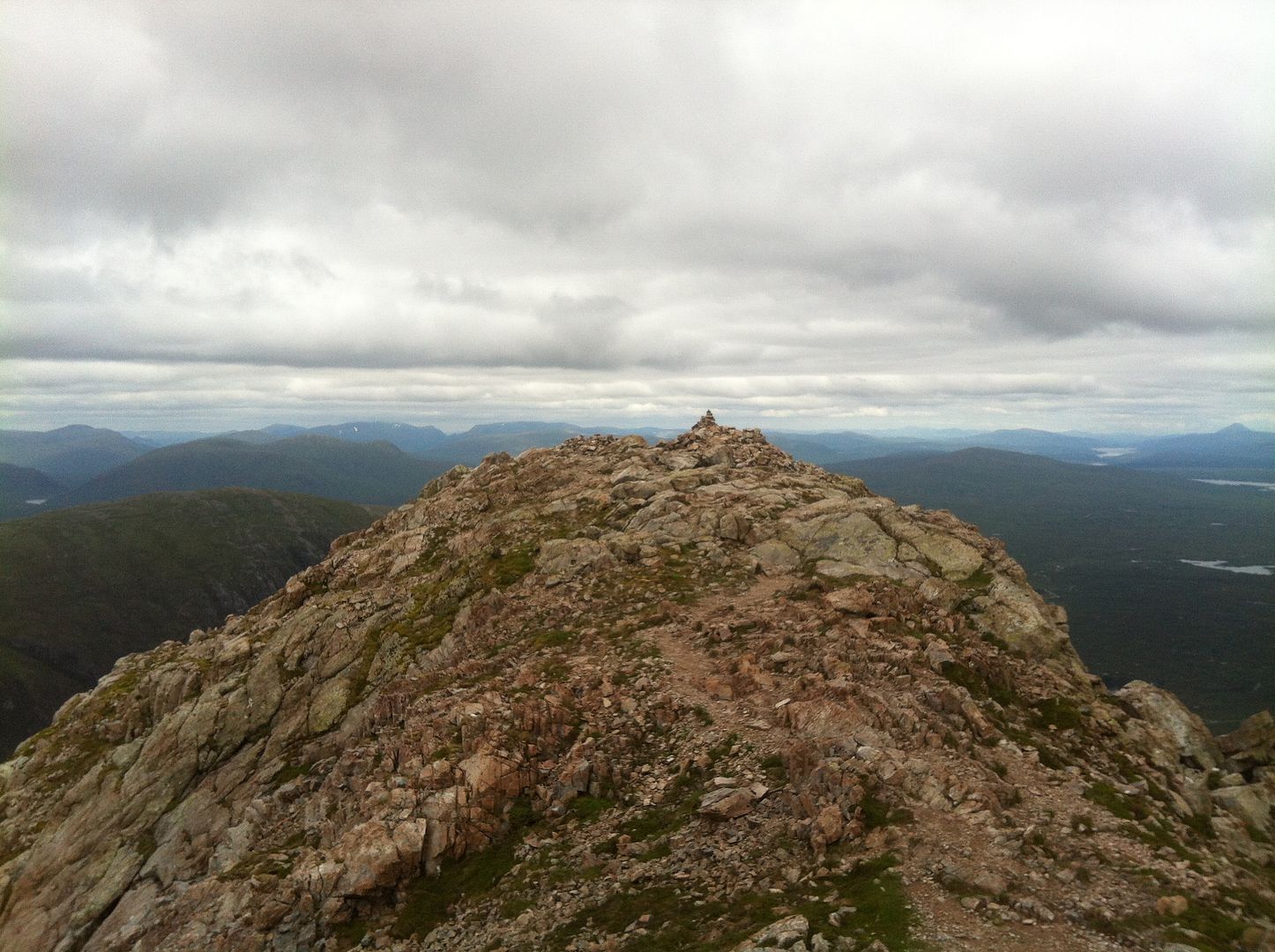 Before I had even walked 10 yards, dougie popped over the horizon, and he looked really pleased to see me, even if I was covered in gully slime, and bleeding at the shin.
We sat down, ate and talked about our varying experiences, before heading down to the bealach and over the lip of the corrie. Really slippy that bit, but the path has been vastly improved not very far down.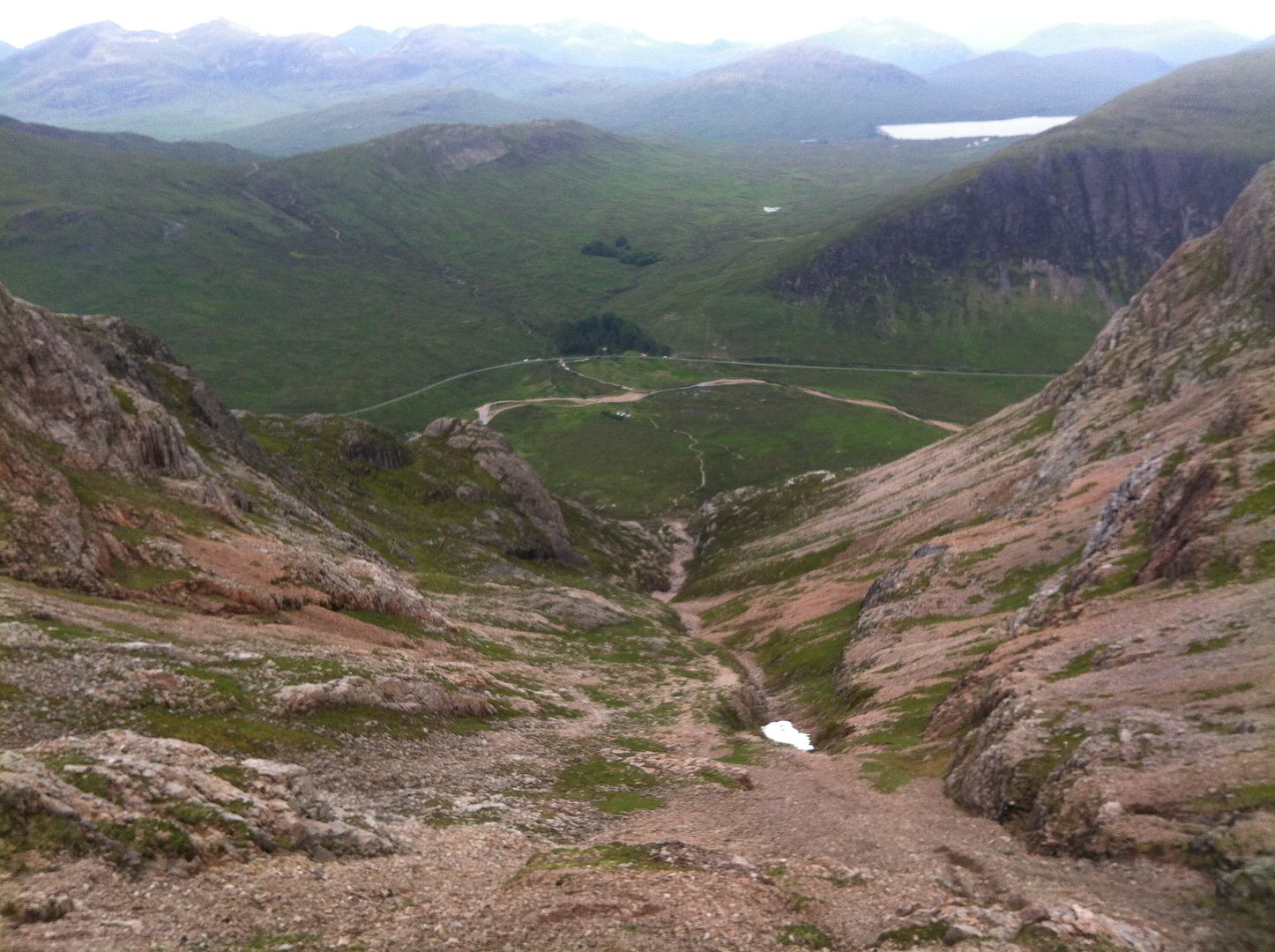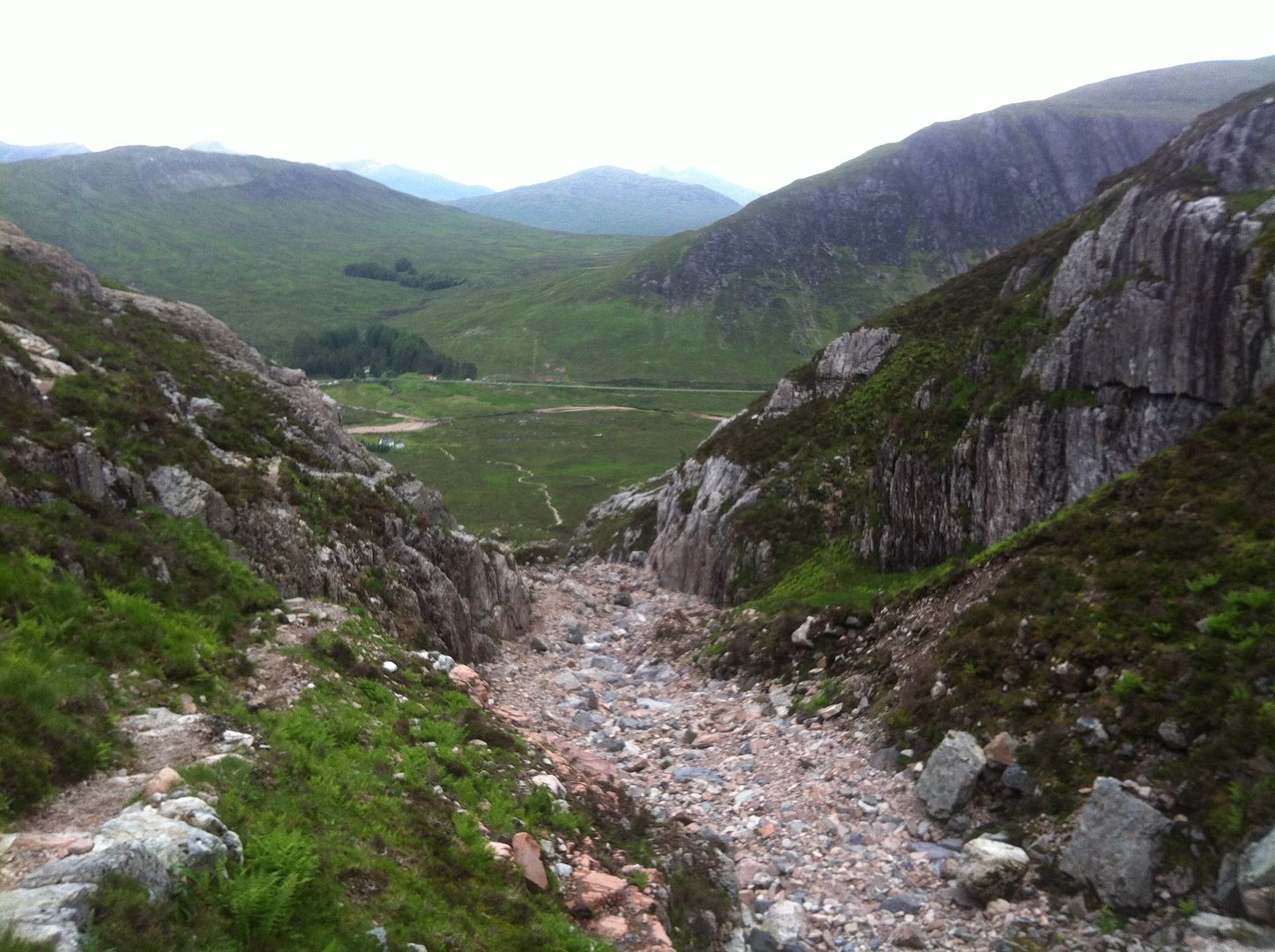 Oh the steps of dispair, as I named them were rough on sore feet and seeing how slowly the car was getting bigger was a little demoralising, but further down it turned into a pleasant march back to the car.
Quite a fun annual scrambling trip, although it would have been good to be able to actually stick to a route