Day 4 – Tuesday 13/04/10 – Inaccessible Pinnacle
Forecast was correct – a bright and calm morning – and time to grasp the thistle
A quick breakfast I set out from hostel just after eight to walk along to glen brittle hut and up towards sron dearg ridge.
Reached the first wee clump of rocks in not too bad a time and was ready for a break
Sgurr na banachdich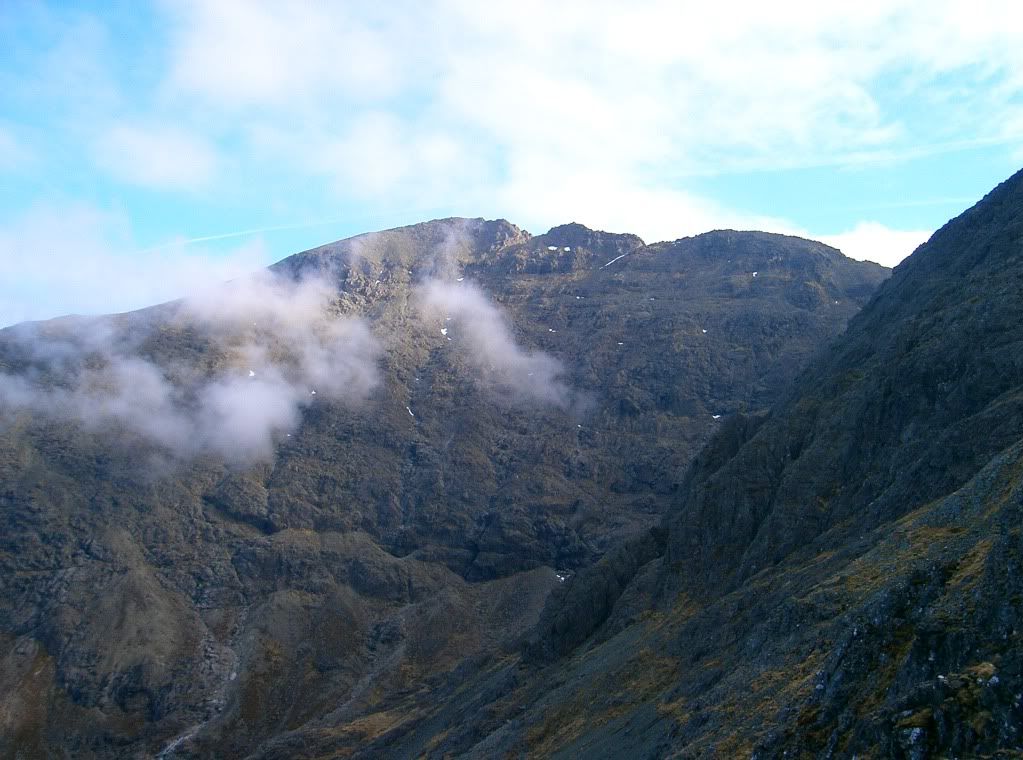 Glen brittle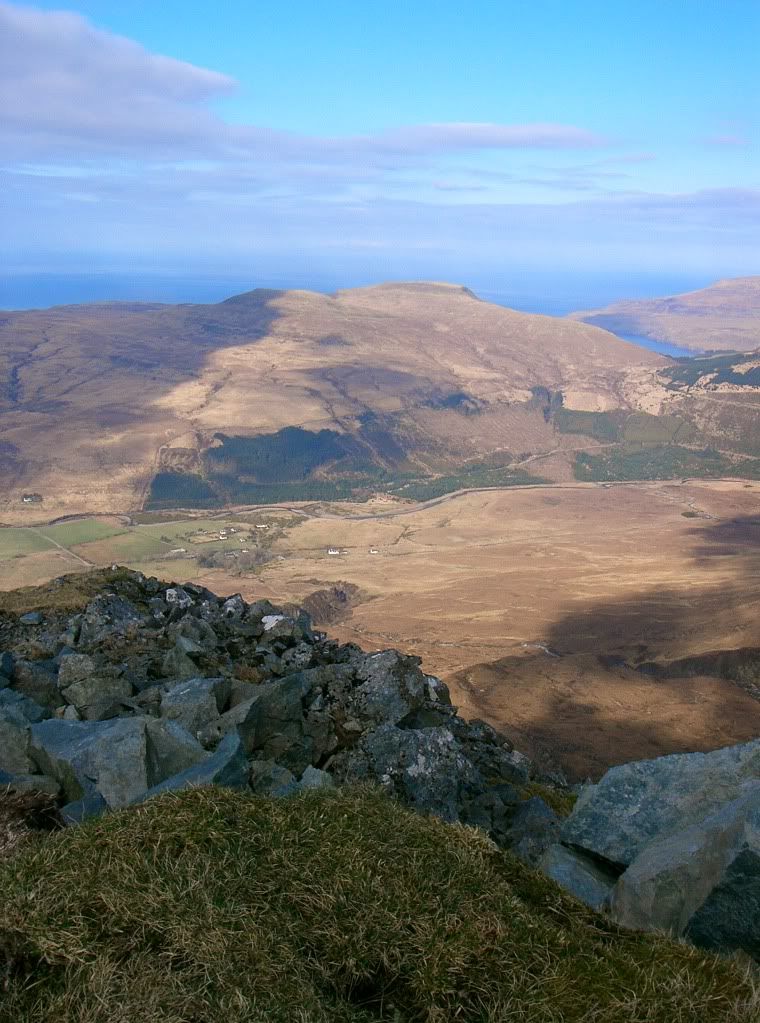 Sron na ciche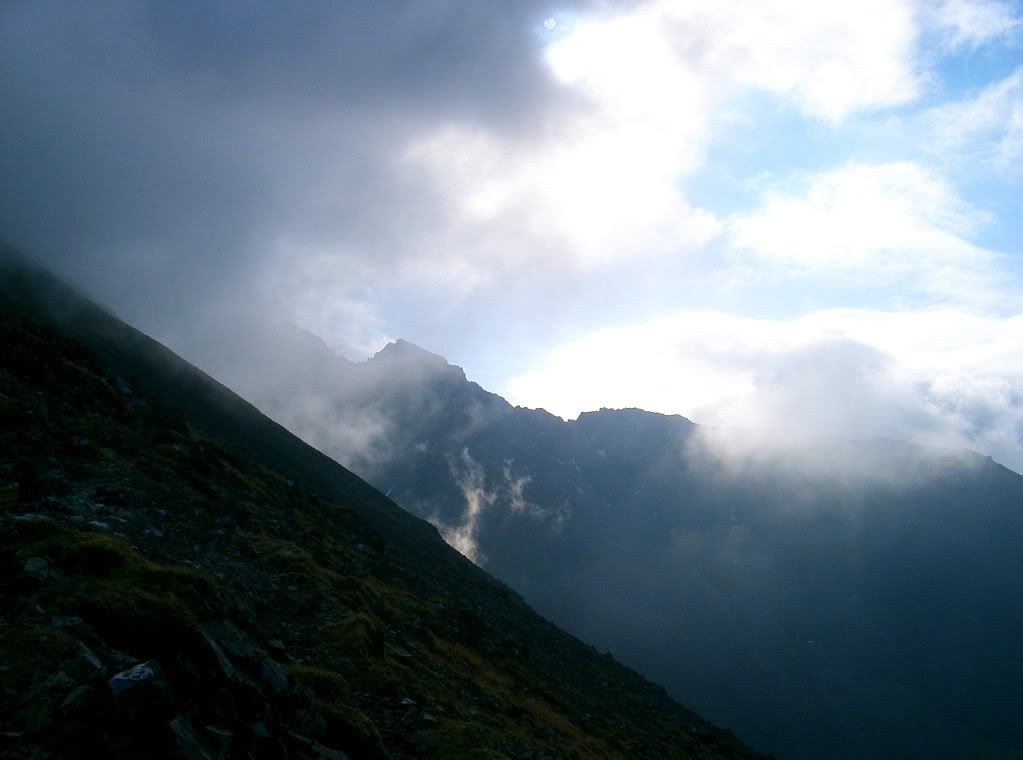 Sitting having my rest a couple of young lads came shooting up the the ridge and past me.
Carried on behind them and eventually reached sgurr dearg just before 11.00
Looking over coire lagan to sgurr Alasdair
Blabheinn and sgurr mhic choinnich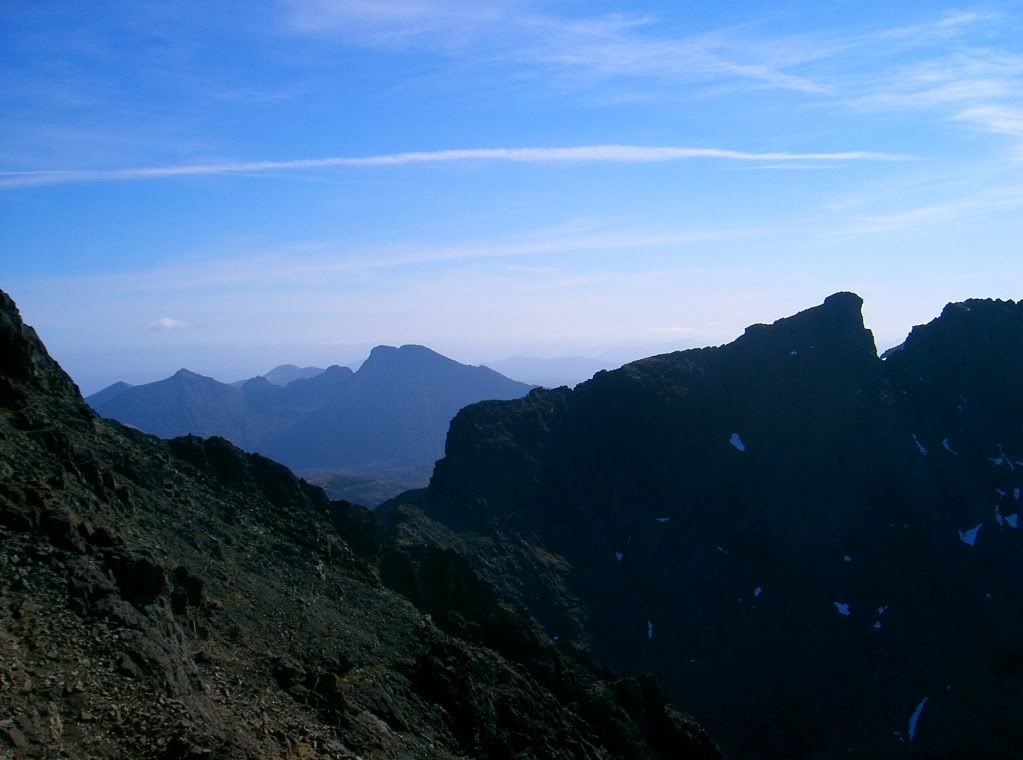 The two lads were already down at the base of the pinn and I got my gear together and set off down there also
Looking up the east ridge.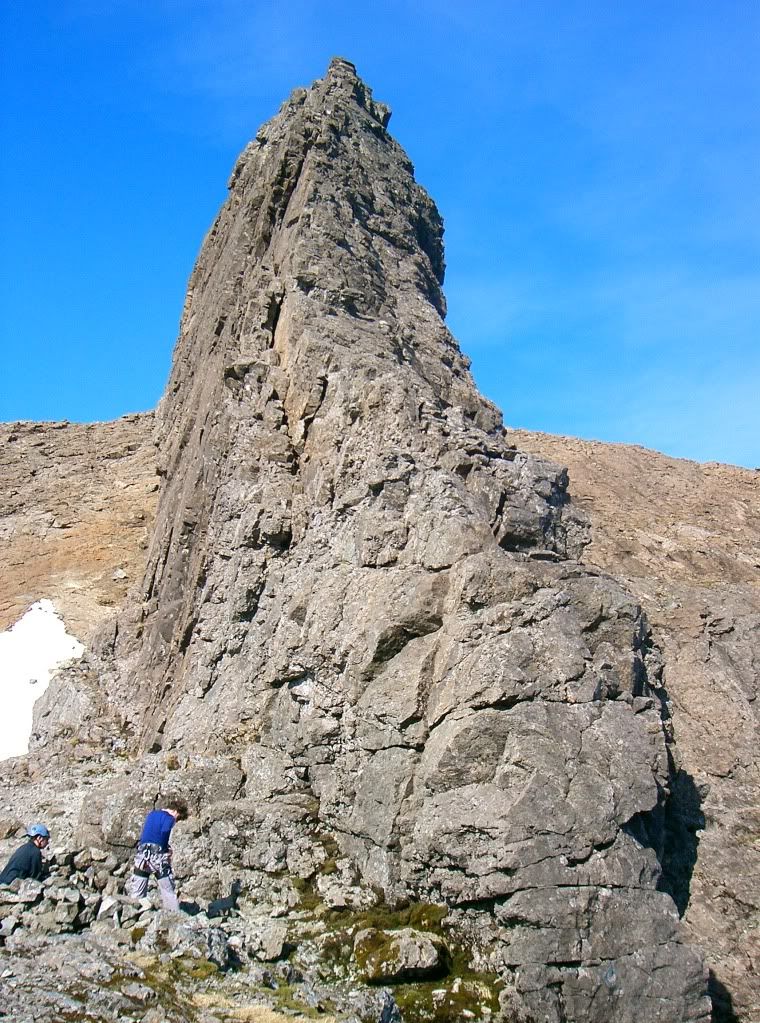 A few brief words about the weather I could see that they were getting some serious gear sorted out which looked as though it would take some time.
I was getting a bit of a knot in my stomach and just wanted to get it over with
so I asked if they minded if I nipped up before them.
I am not a climber and don't really have a great head for heights, but ok with a bit of scrambling.
Employed my usual tactics for the Pinn which is probably best described as a breenge for it
At the top soon enough
Ach – what is all the fuss about – five minutes of heavy breathing and it's all over again.
Close up of bolster rock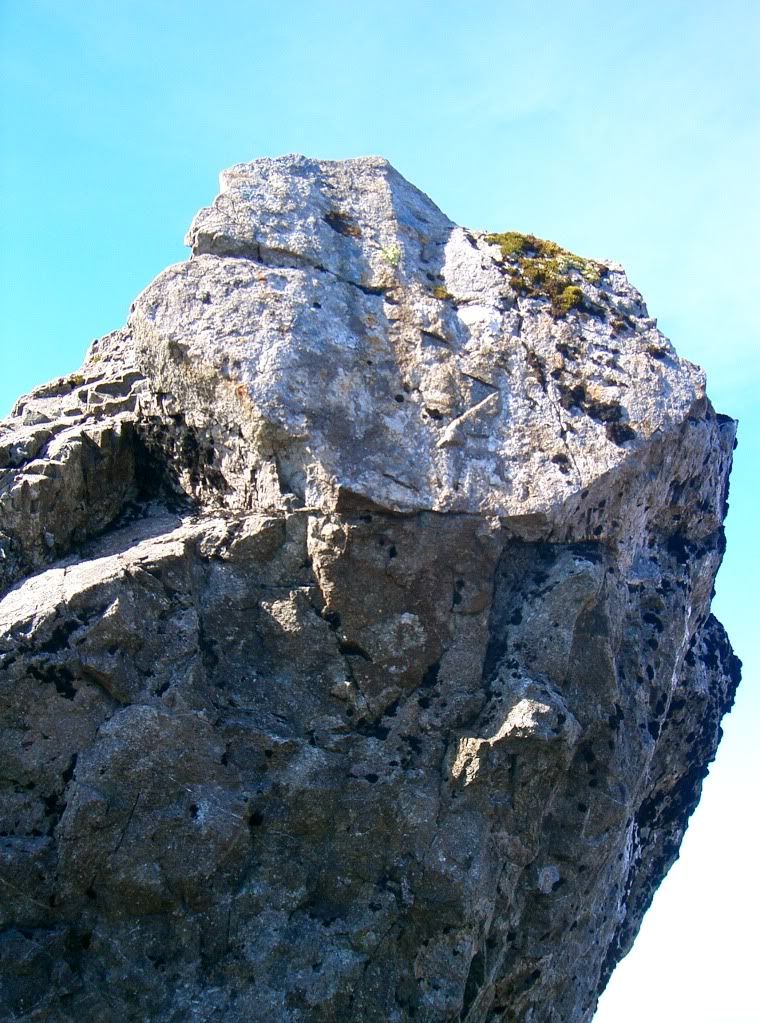 Looking down from top of Inn Pinn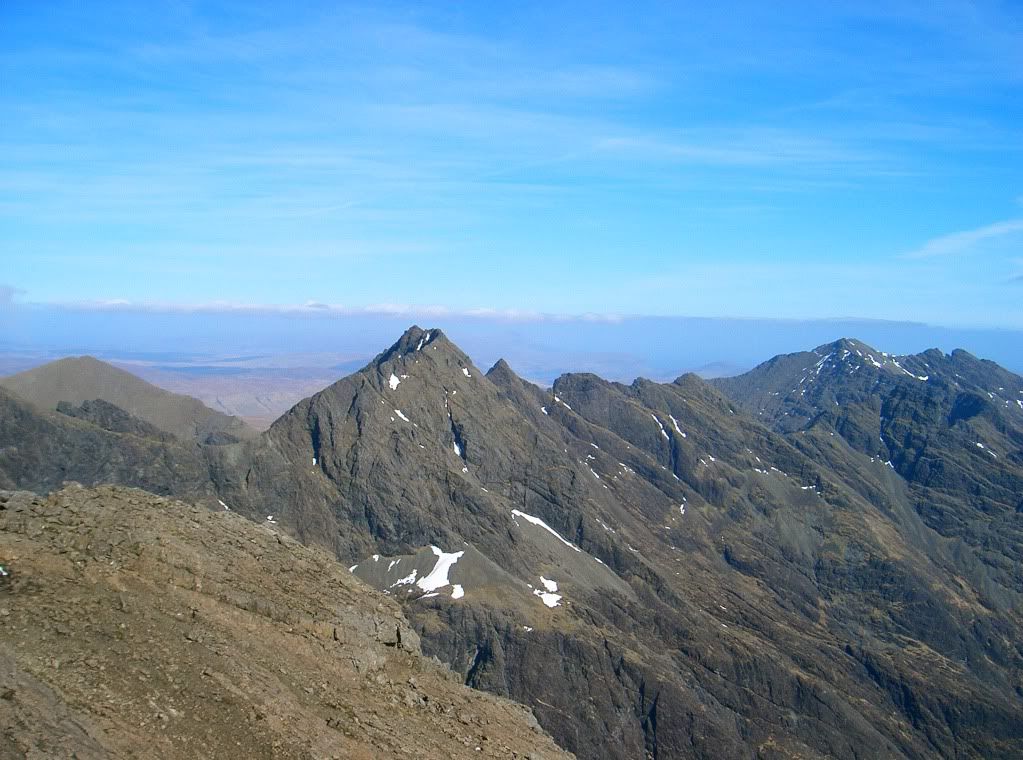 Took my time to set up the rope for the abseil and after ten minutes started down
Those of you familiar with the Inn Pinn will know that the first part of the abseil is down easy ledges and only the lower half is down vertical slabs.
Figure of eight descender is a great piece of kit and soon safely back down
My rope hanging down the steep side
Back up to sgurr dearg , got the gear stashed away and time for couple of ciggies
Photos of the Inn Pinn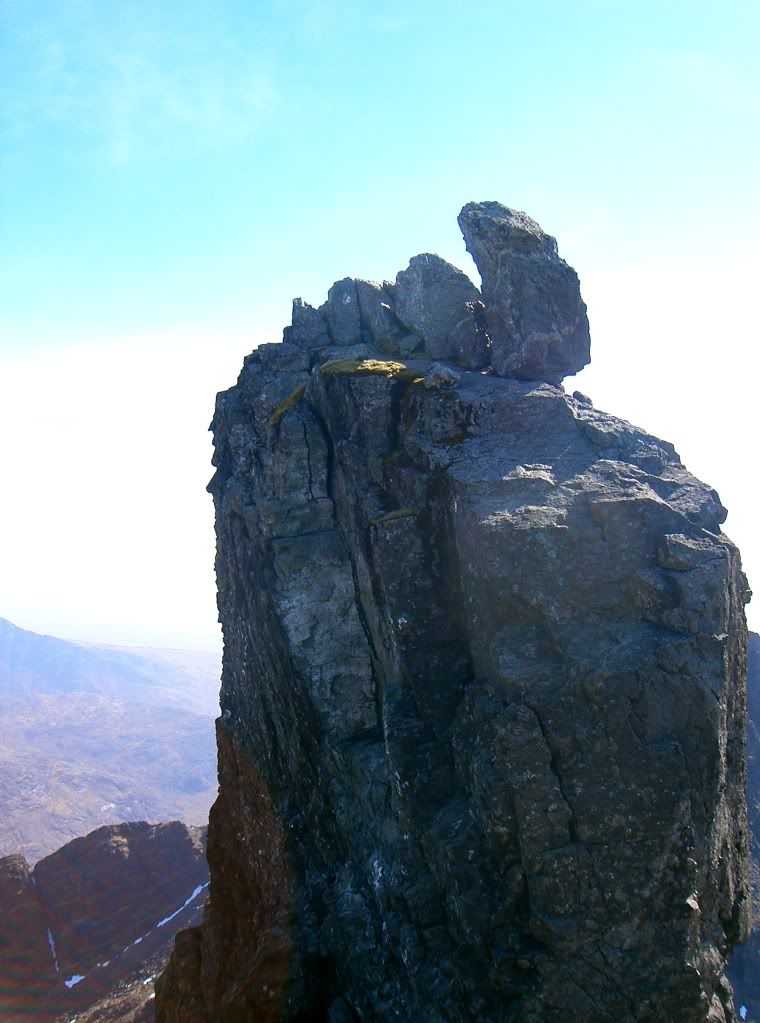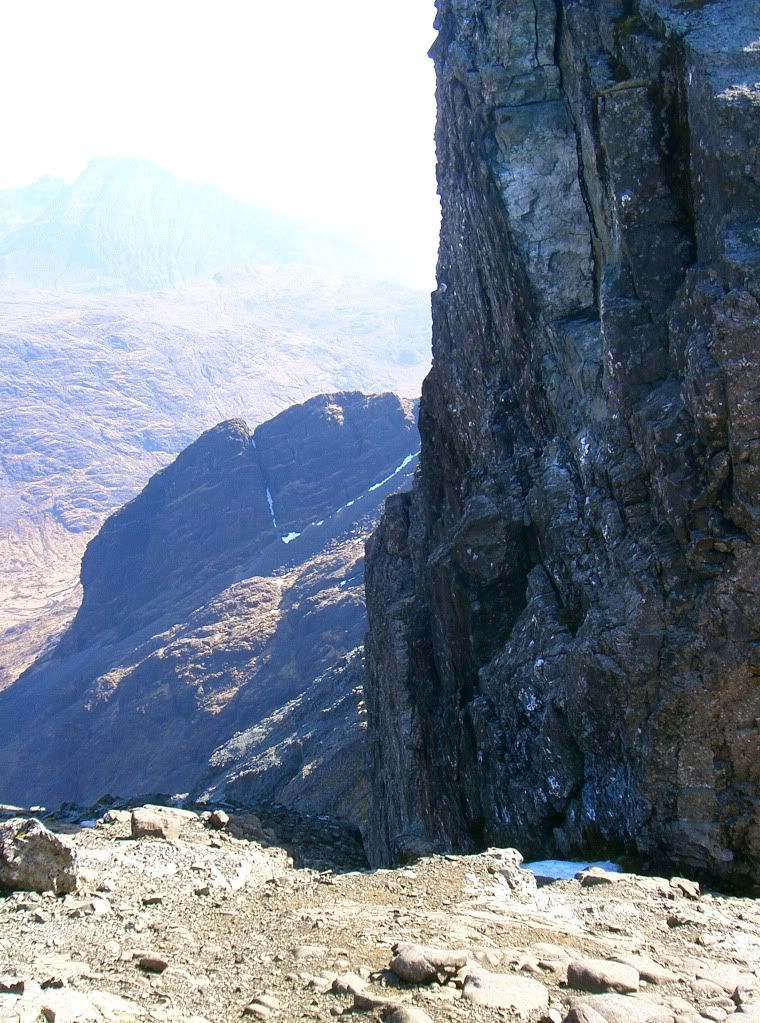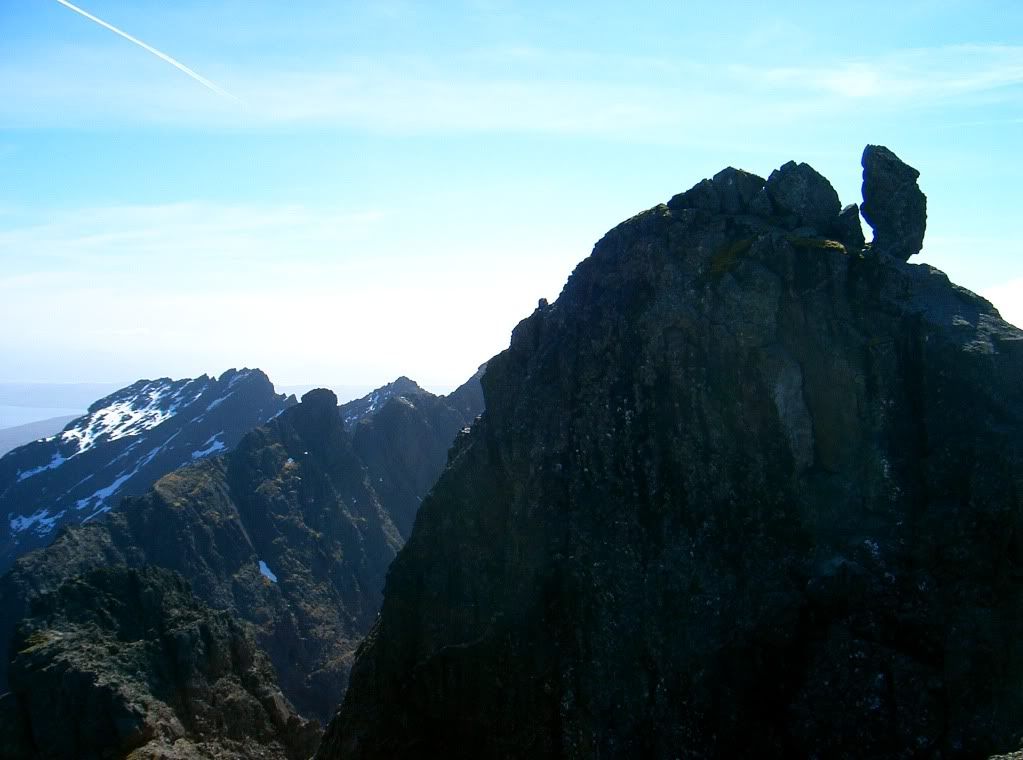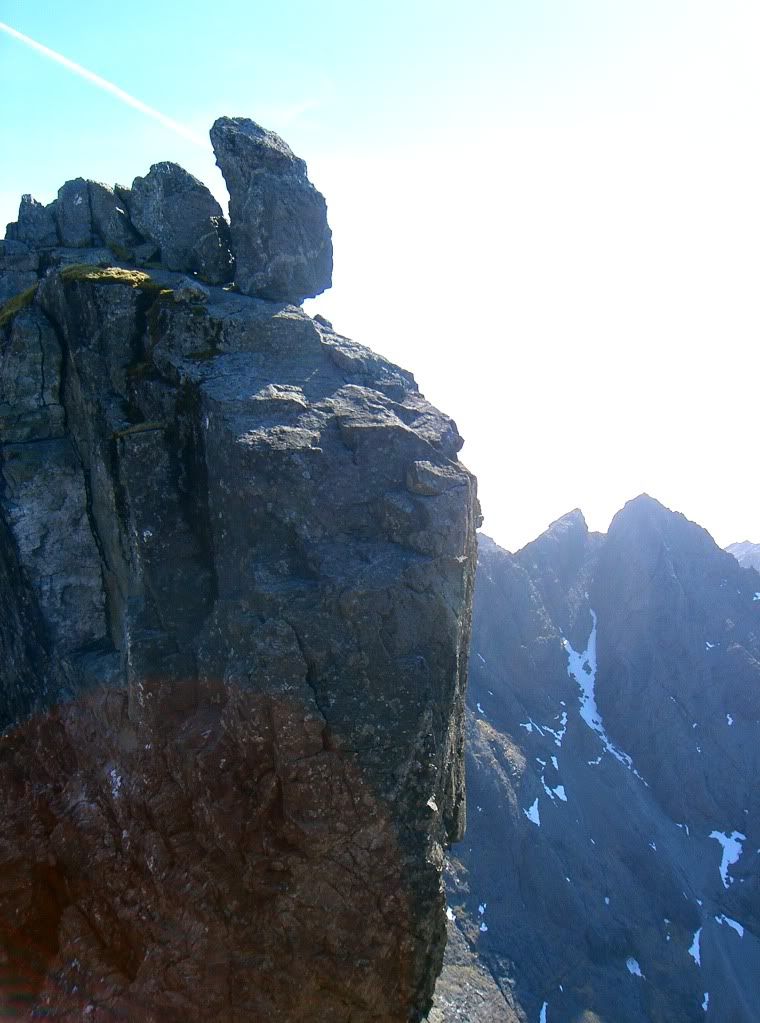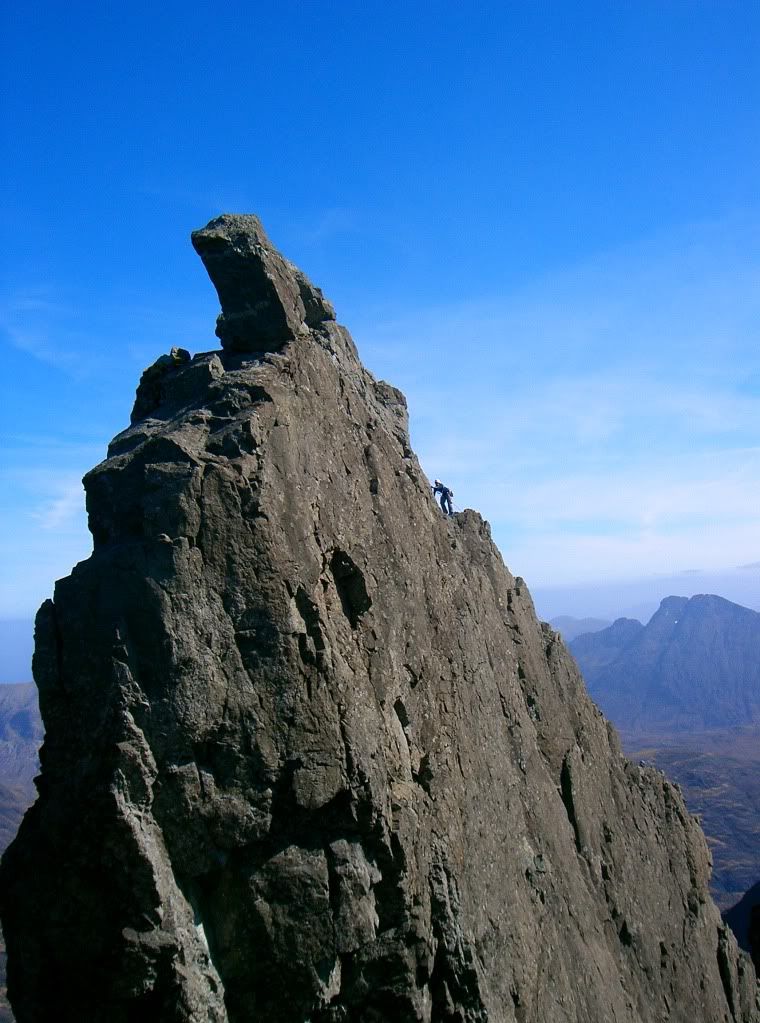 Stuck around to just after mid day the two lads were just nearing the top
Wondered whether to try and save a day by carrying on to Sgurr Alasdair either by dropping down the an stac screes ,cross the corrie, and up and down the stone chute
or head for sgurr mhic choinnich and along collies ledge
It was however very warm now and I just knew that if I carried on my knees would suffer for it. Decided to keep my powder dry and settled for the easy option.
Looking across to the snow in the stone chute however had me thinking about tomorrow.
Looking down sron dearg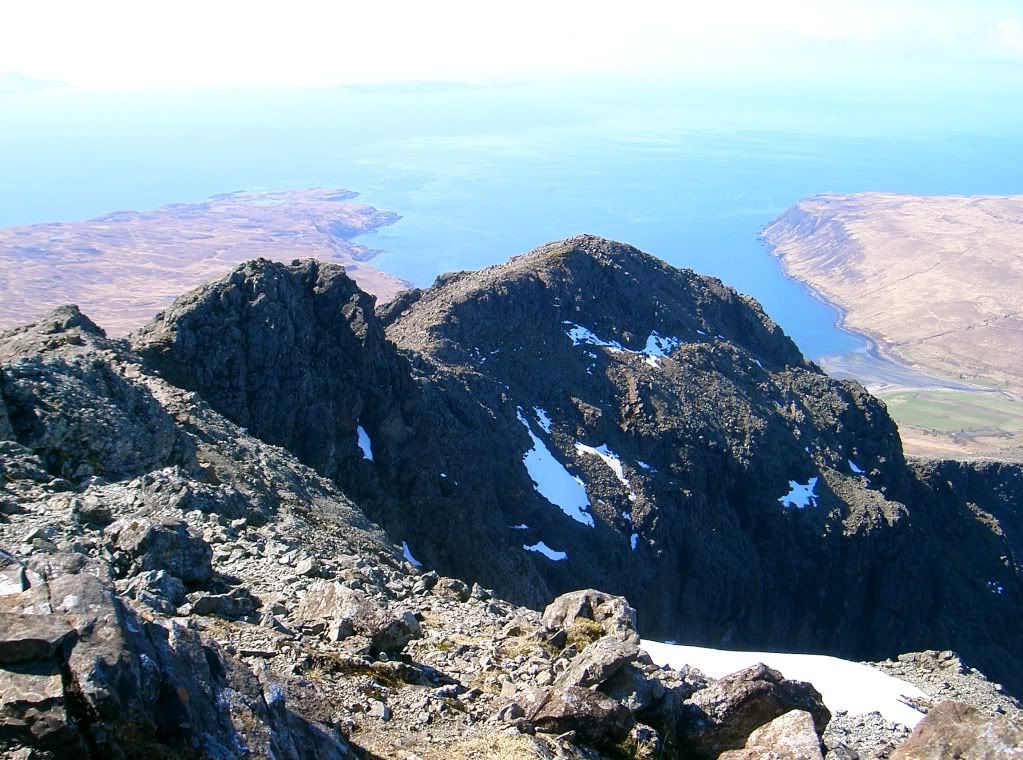 And back up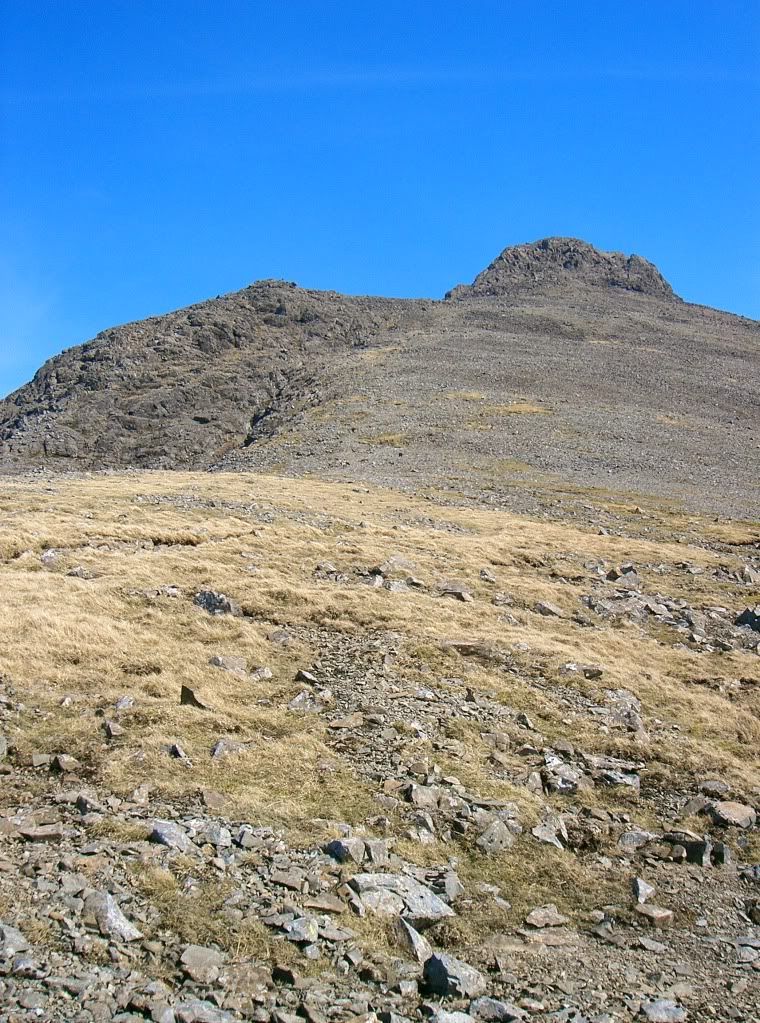 Ambled back down and was back at the hostel just after 3 pm
Hostel was closed for cleaning so had a wee splash out of the whb in the toilet in the outbuilding. No hardship to drive up to carbost for a couple of pints to fill in the time.
Day 5 – Wednesday 14/04/10 – Sgurr Alasdair
Another great forecast and one hill left to compleat skye munros again
Frost on the car and temperature gauge reading zero made up my mind that I would pack crampons just in case needed for the stone chute.
Drove down to car park at campsite and away just after 8.30
Decided to head along the sron nan ciche ridge – looking for the breezes.
Stopped at about 1500 foot mark for first drink and photo of the day
Rum (photo of course not drink)
I was feeling awfy relaxed today – definitely in wind down mode but eventually forced myself on
Carried on to level ridge of sron nan ciche which became pleasant walking over large boulders
Photo across to inn pinn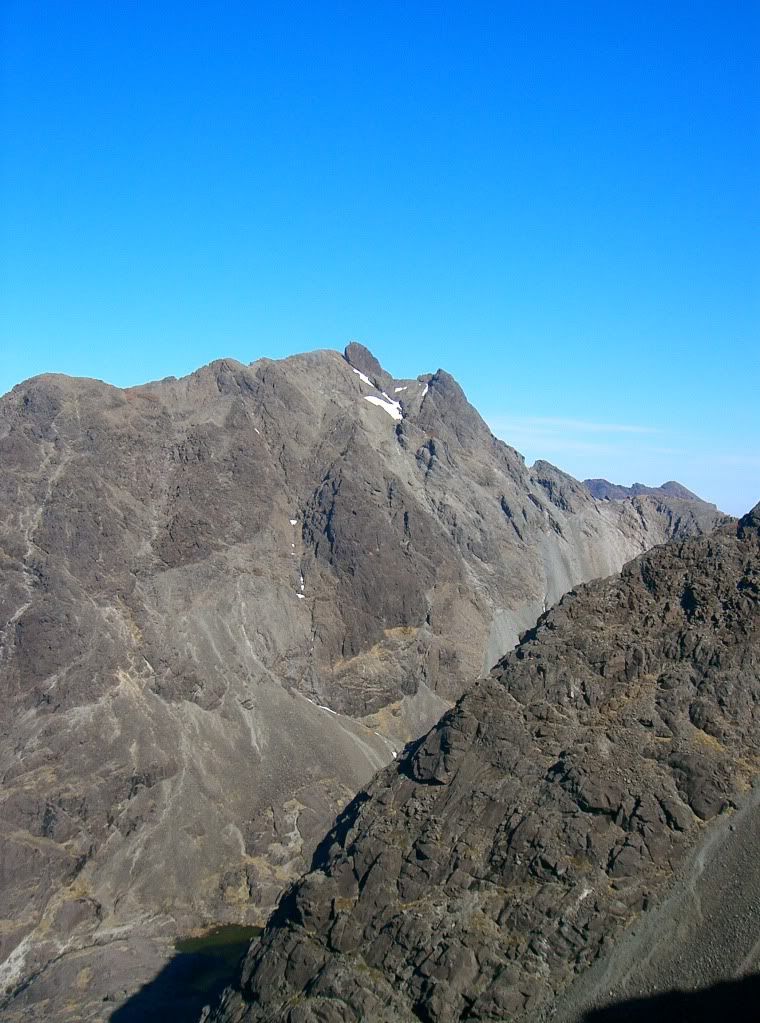 Sgurr sgumain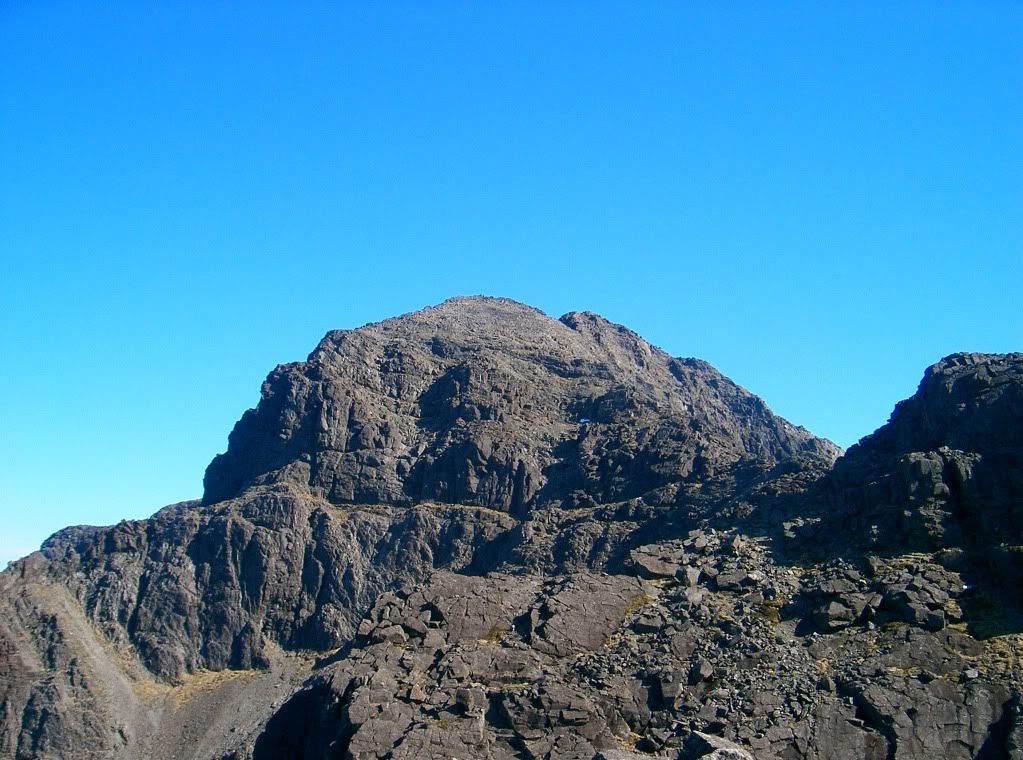 Sgurr Alasdair – thearlaich dubh gap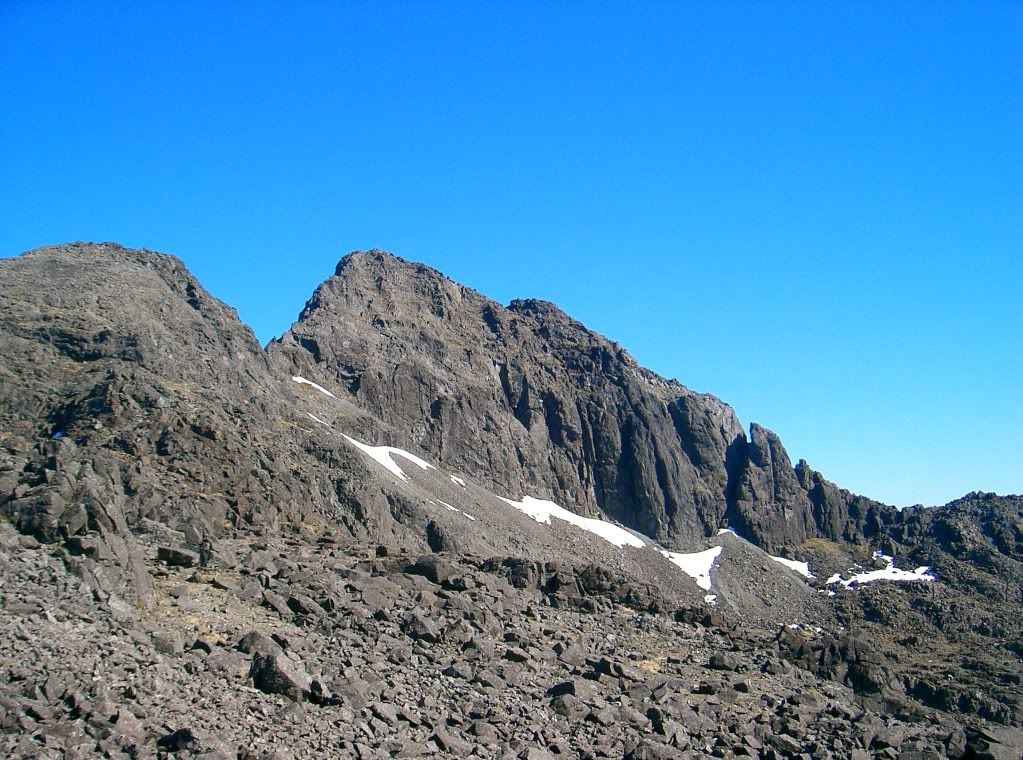 Coire a'ghrunnda – sgurr nan eag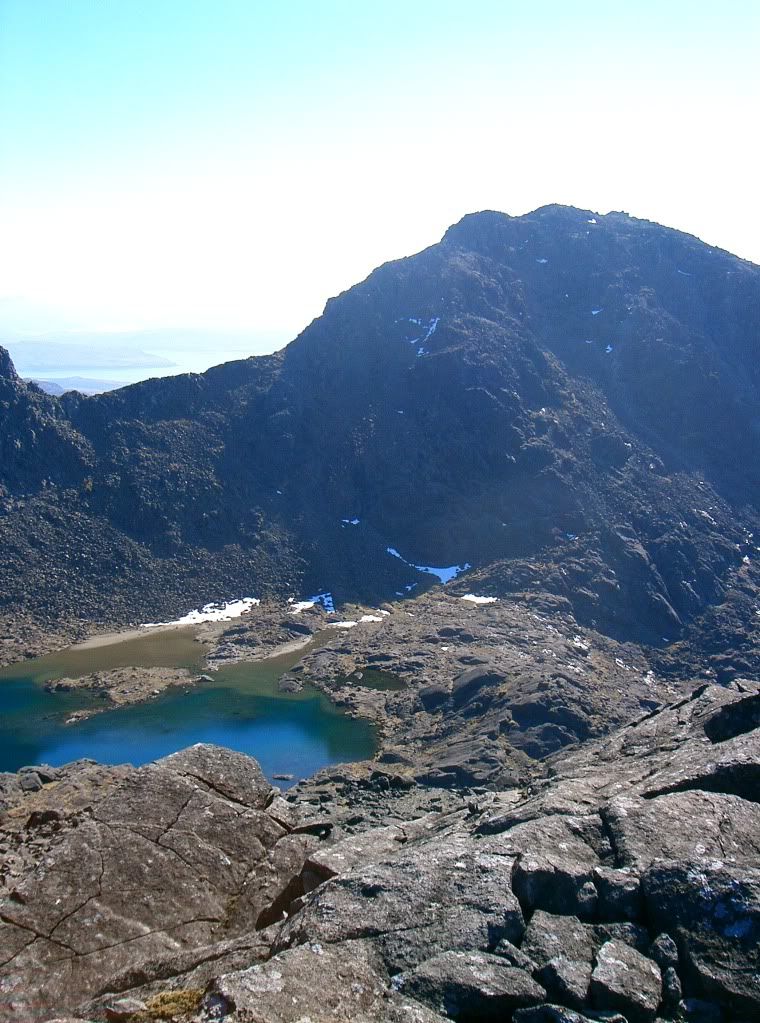 Sgurr dubh na dha bheinn – caisteal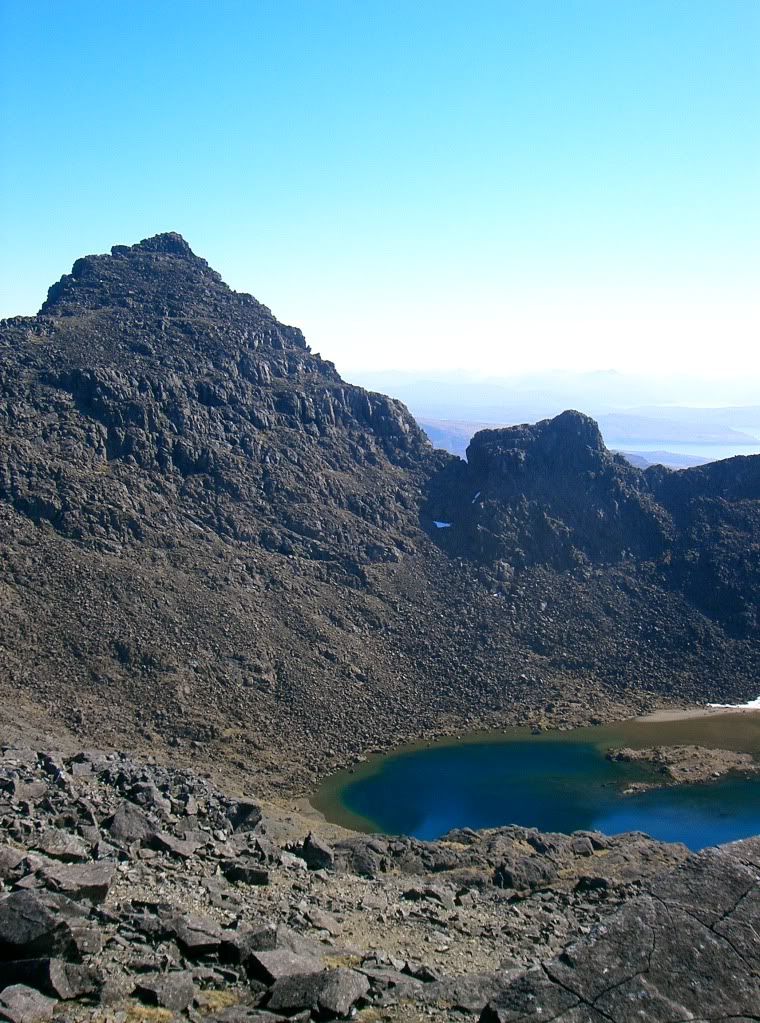 Over sgurr sgumain and down to col below Sgurr Alasdair – I found this descent quite tricky.
Dropped down to right to avoid mauvais pas and to base of chimney
Looking back up to pinnacle at col – mauvais pas round to right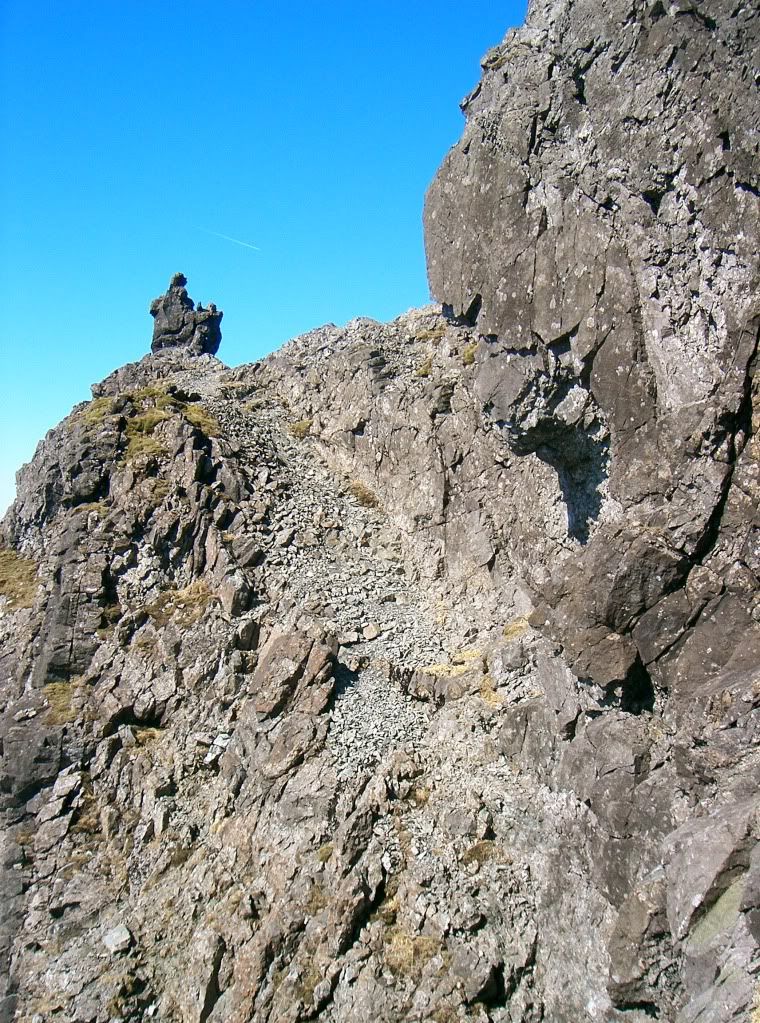 Looking back down the chimney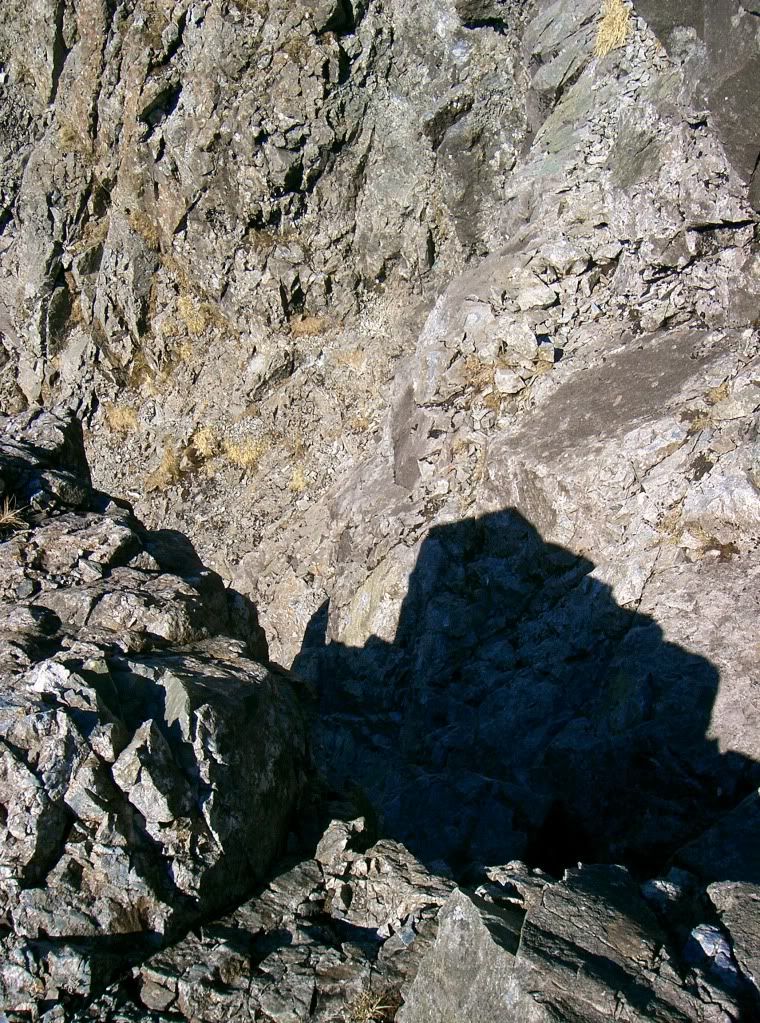 Once up the chimney it is easy scrambling up to the highest point in Skye
Photos from summit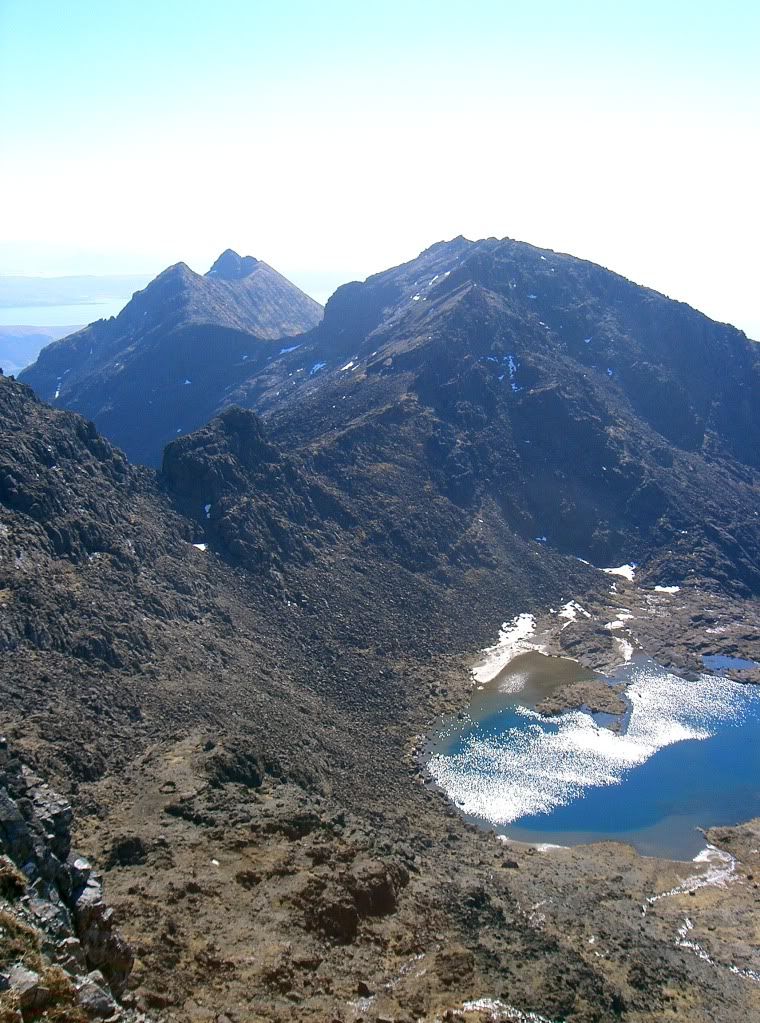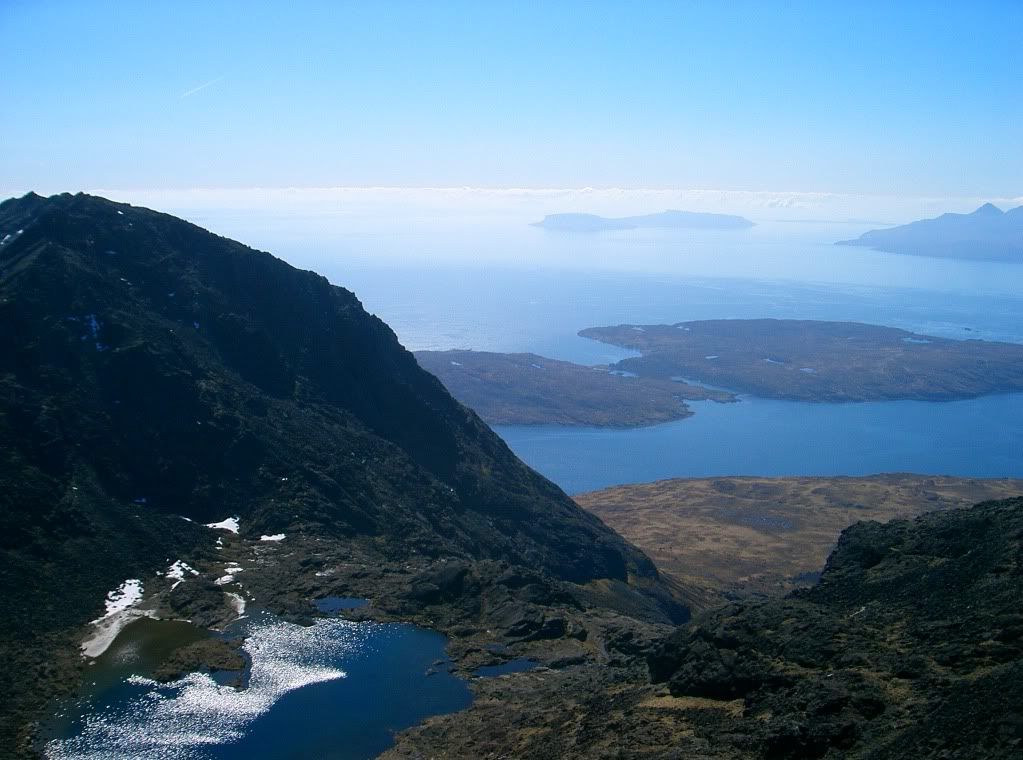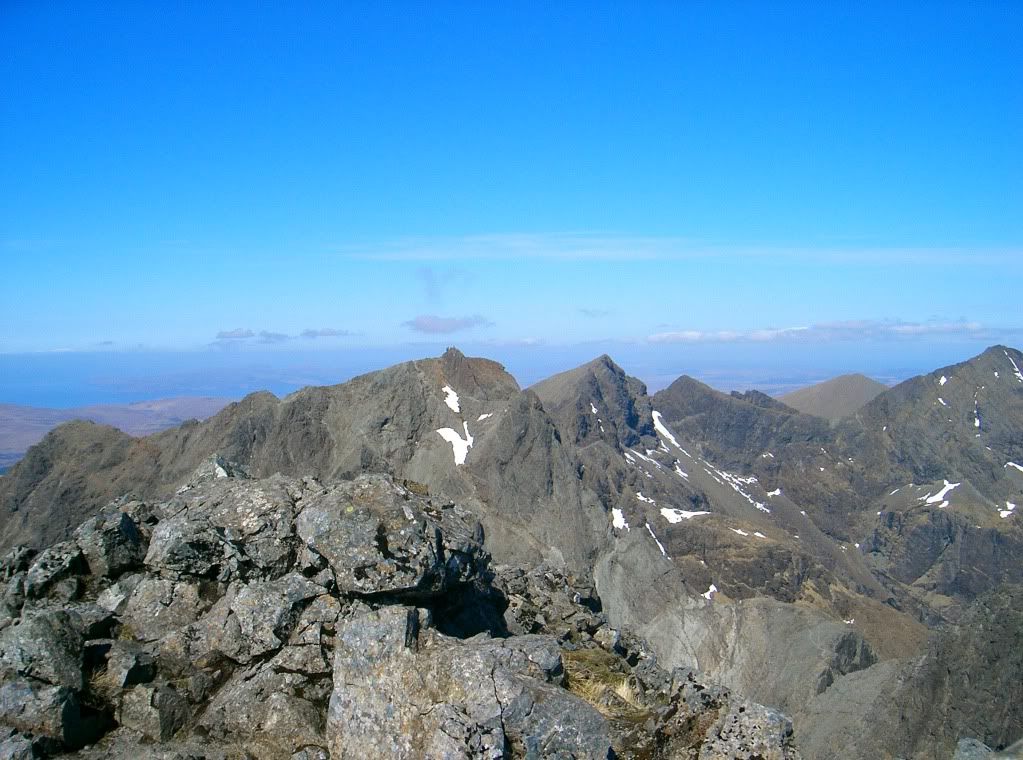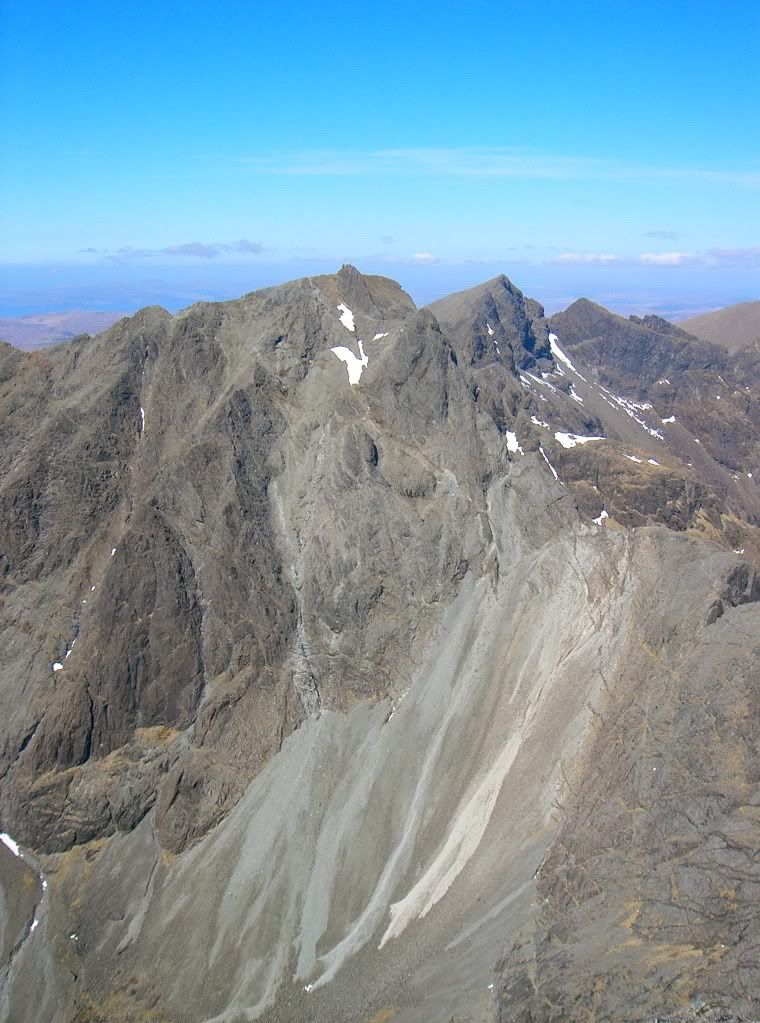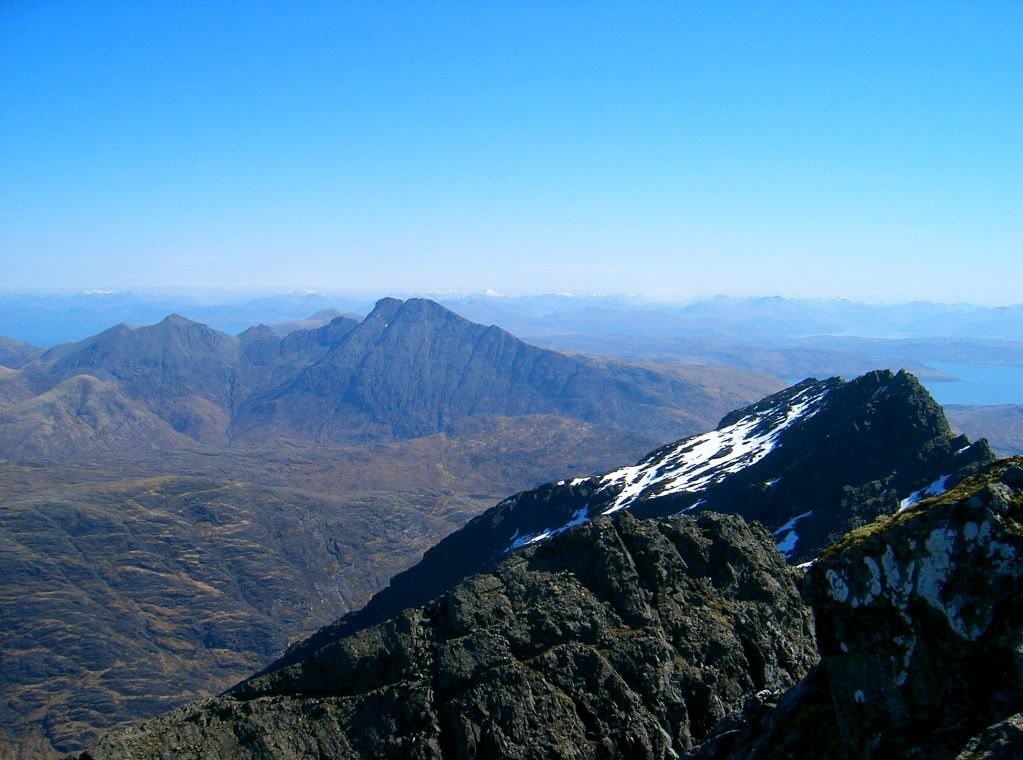 After half an hour ready to go down
Looking down stone chute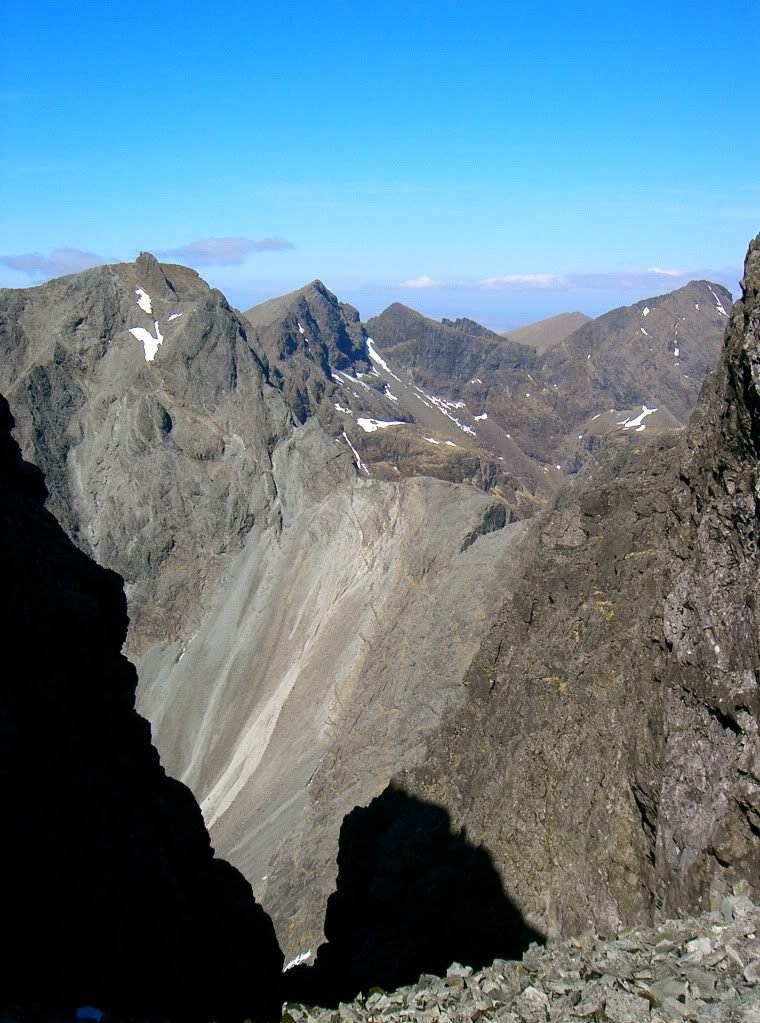 First part was on scree,as I neared top of snow slope I wondered if I had wasted my time in bringing crampons. Tried my walking pole into first patch of snow – it was frozen solid – not much sun reaches that place.
Crampons on then I made fine progress down the next few hundred feet of snow, so much so that I wished that the snow extended further down.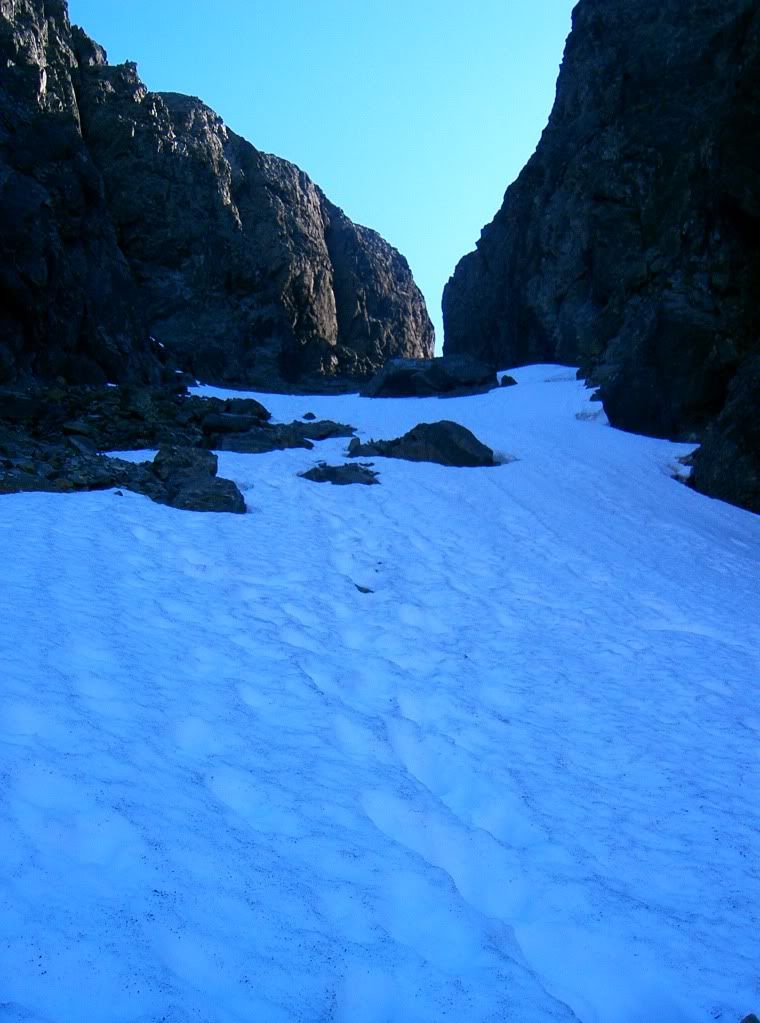 Reaching the bottom of the snow – back on to the scree.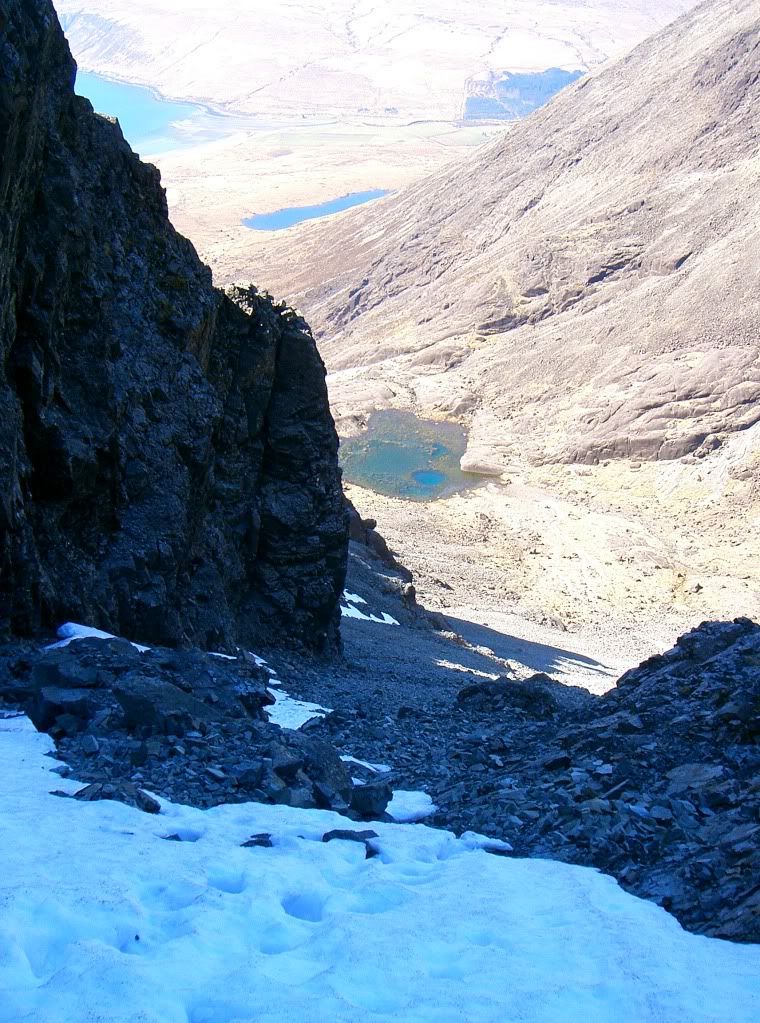 The bottom half of the descent was just murder.
Just when you think you are going to get a decent run on the scree you come to a bare patch and you've got to be careful to stop in time.
Back in the sun also now it was hot sweaty work with a few falls back on to my backside – took me an hour in total to reach the lochan
Time to chill out – boots off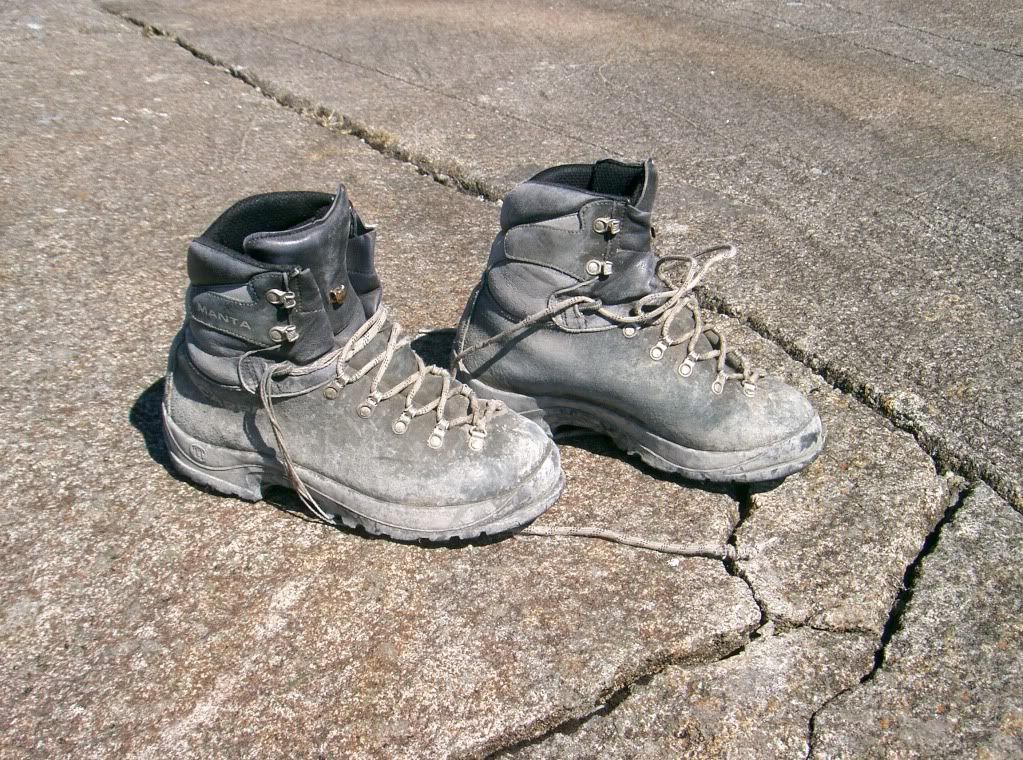 Lochan coire lagan
Looking up to stone chute
Sgurr mhic choinnich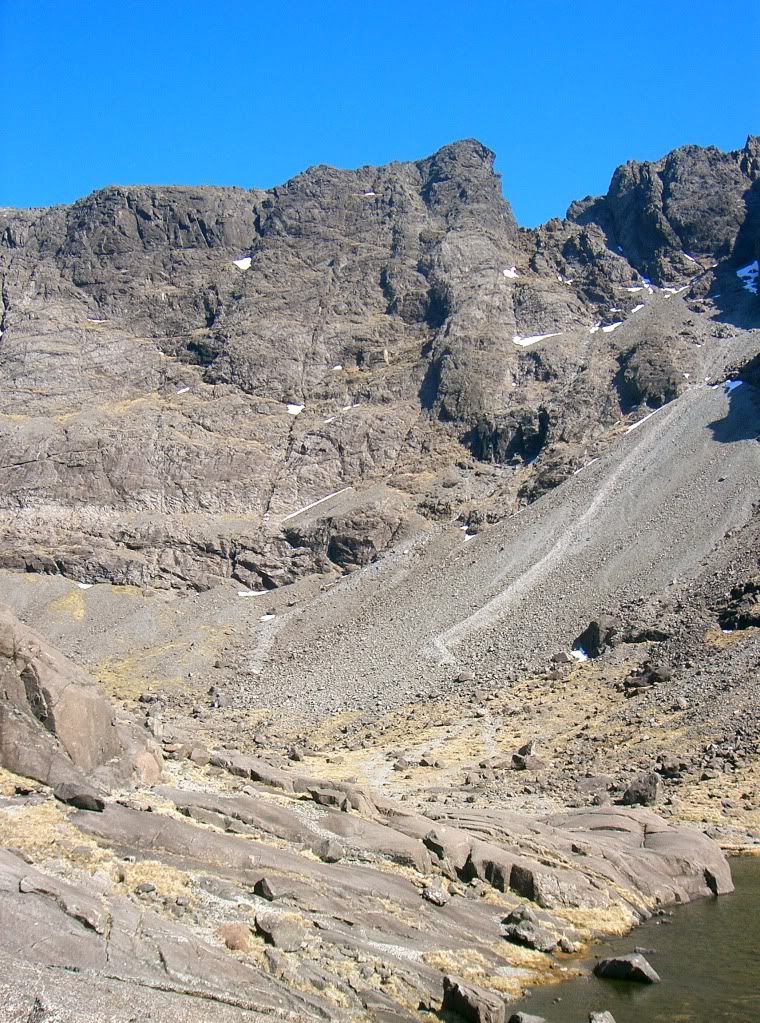 On way down now – a last look back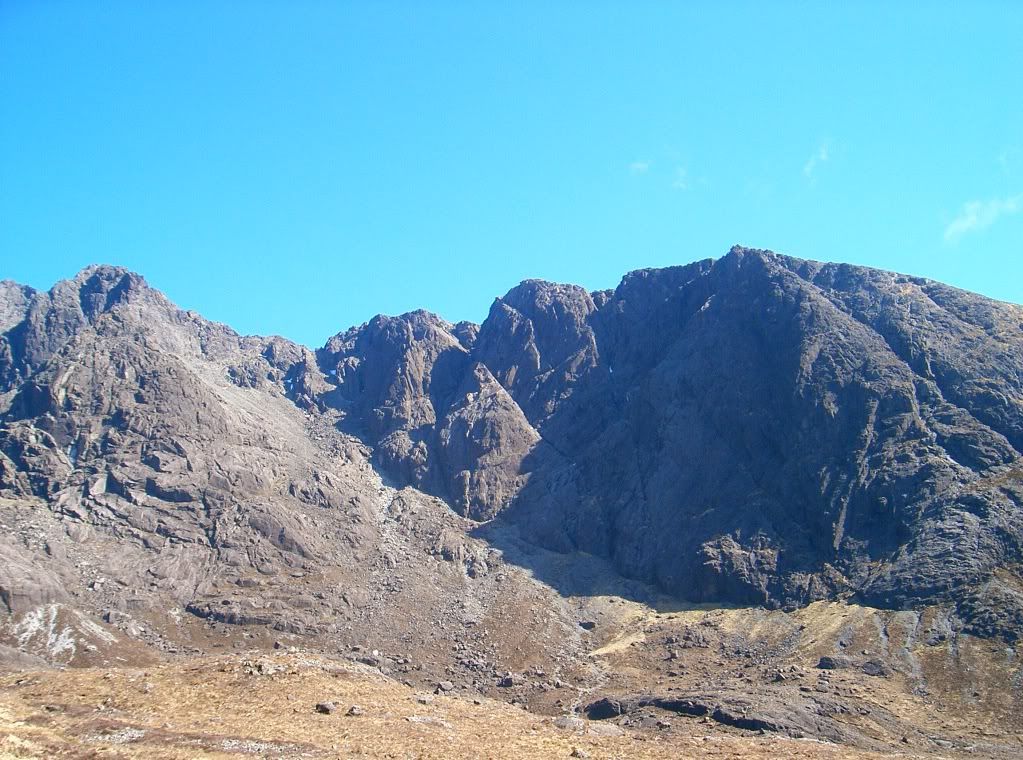 Skye compleat again – ma wee tail was wagging on the way down the road