So this weekend, we had been planning a 3 day extravaganza, but the weather looked poop for Saturday, so we changed plans, left Saturday afternoon and found ourselves bumping up the track at Corriechoille in the pouring rain. Before we had even sought out our campsite, I realized that I had left my boots behind, and only had one inner sole for my trail shoes
Great start..
We found a spot, and were attacked by midges as we set up the tent, only for them to all but disappear mysteriously. Not a breath of wind
A humid evening followed.
In the morning it was still raining, and we watched as cars appeared and their occupants set off.. Looked no fun at all, but by 10.30 it was getting brighter, and by the time we left at 11, the rain was off and the clag was lifting
We set off down the track through the forest, a newly built track confusing us for a moment. We seemed to be descending, but Dougie assured me this way was a lot better in trail shoes as the old tramway is a bog fest.
We reached a T junction and headed up left, pausing at the Indianna Jones bridge.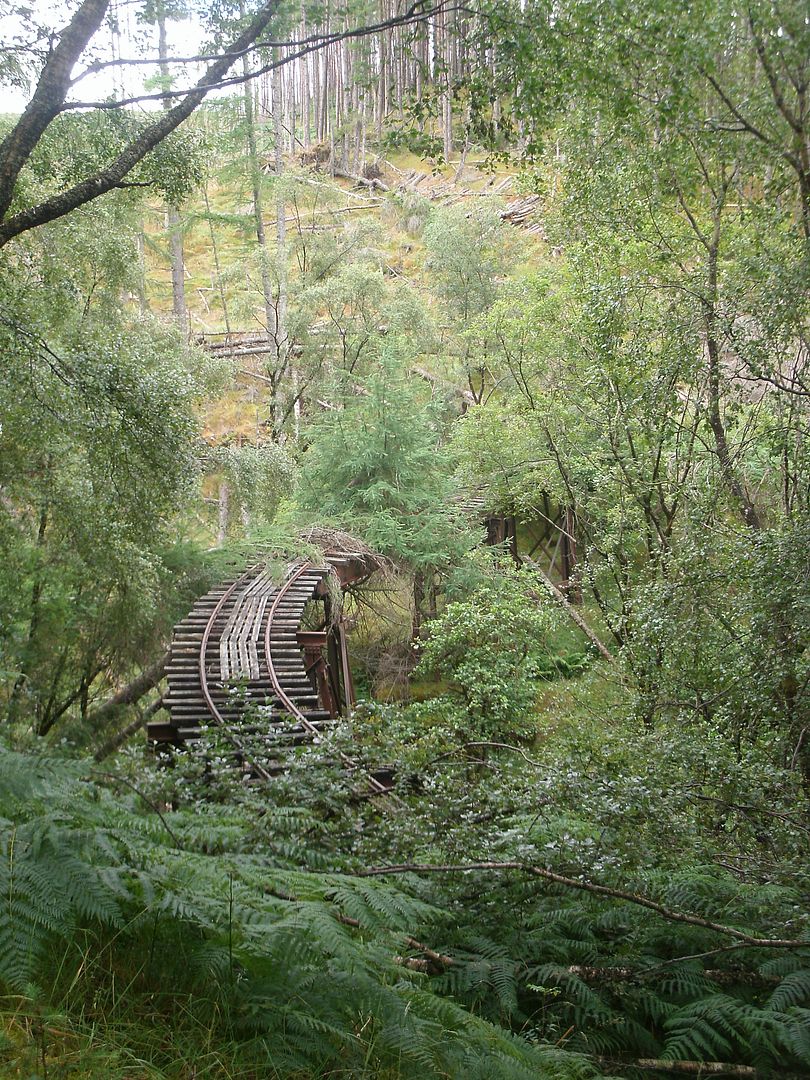 A bit further up we passed the wee hydro scheme with its squinty stile, and it was just a few boggy yards down to the river crossing. It was deep, with no chance of dry feet, so I just rolled up my troos and waded across. We paused at the far bank to wring out our socks. Looked steep!
But wasn't too bad really.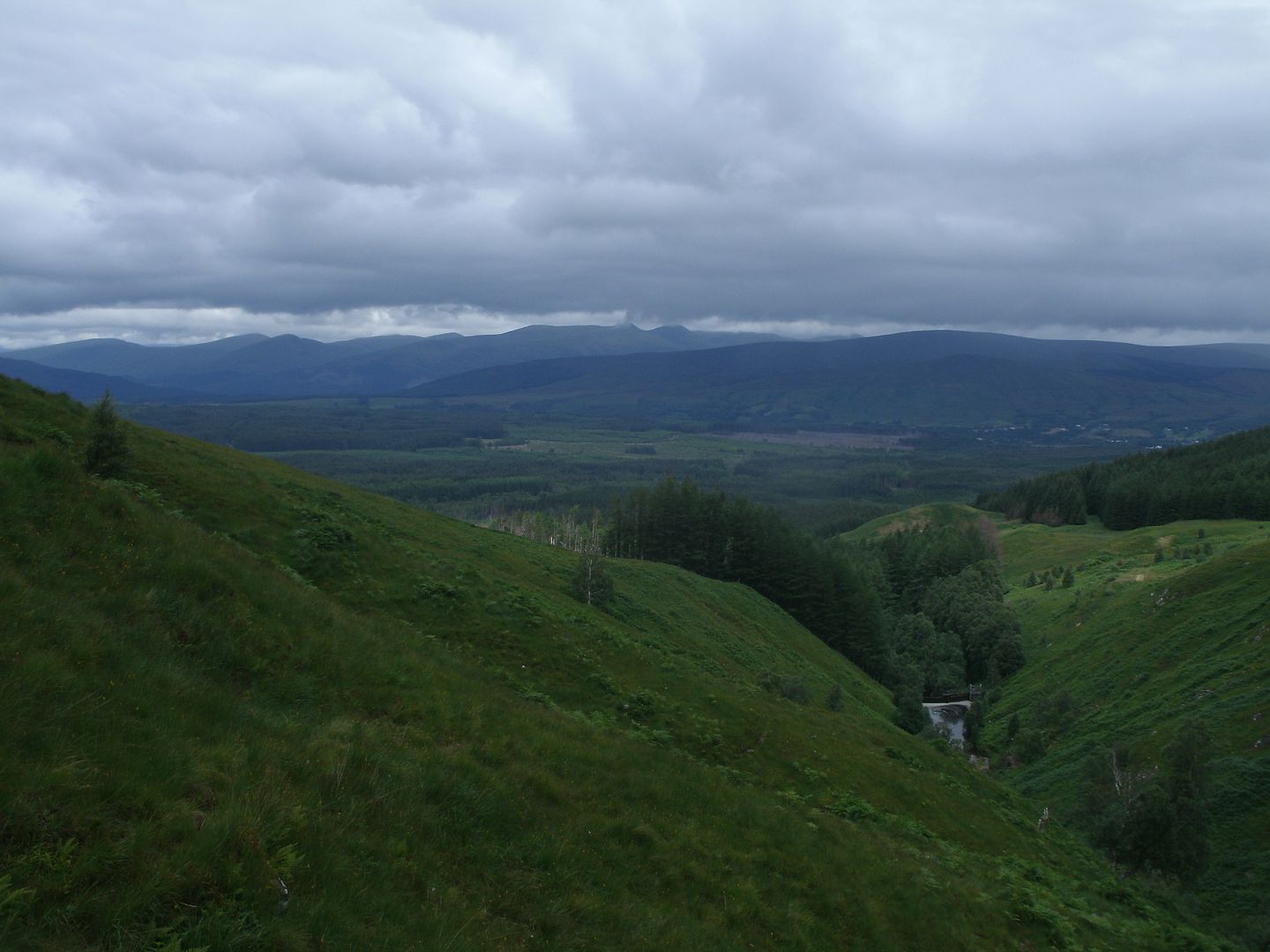 There was a bit of a path for a way, but pretty soon, we were trudging up a relentlessly angled grassy slope that seemed to go on forever.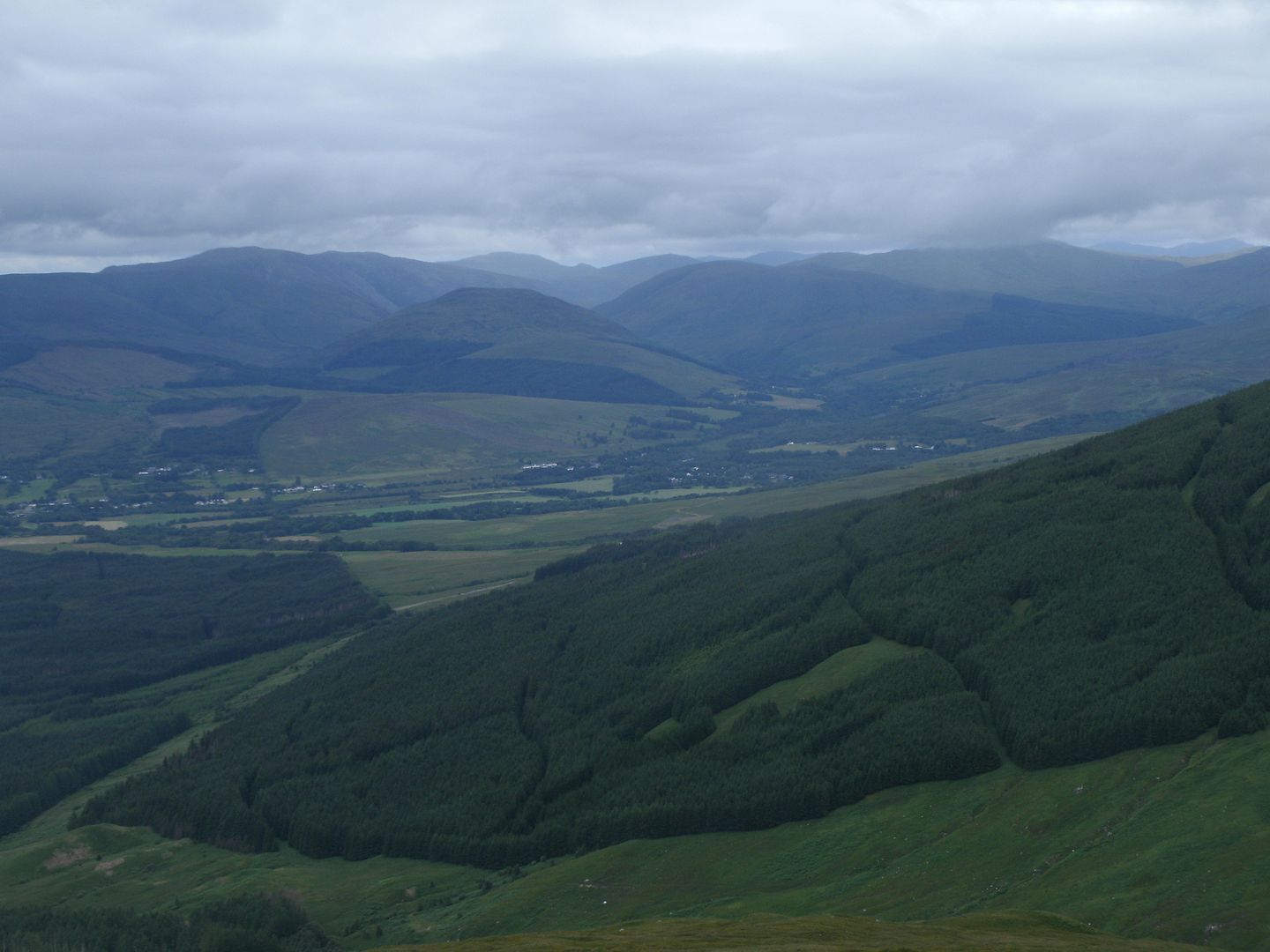 We found our way onto a quadbike track, that headed up to the ridge proper where the angle eased a bit. We found a bypass path, and when we got close to Stob Coire Easain, we decided to just keep on bypassing, despite it looking a bit of a steep traverse.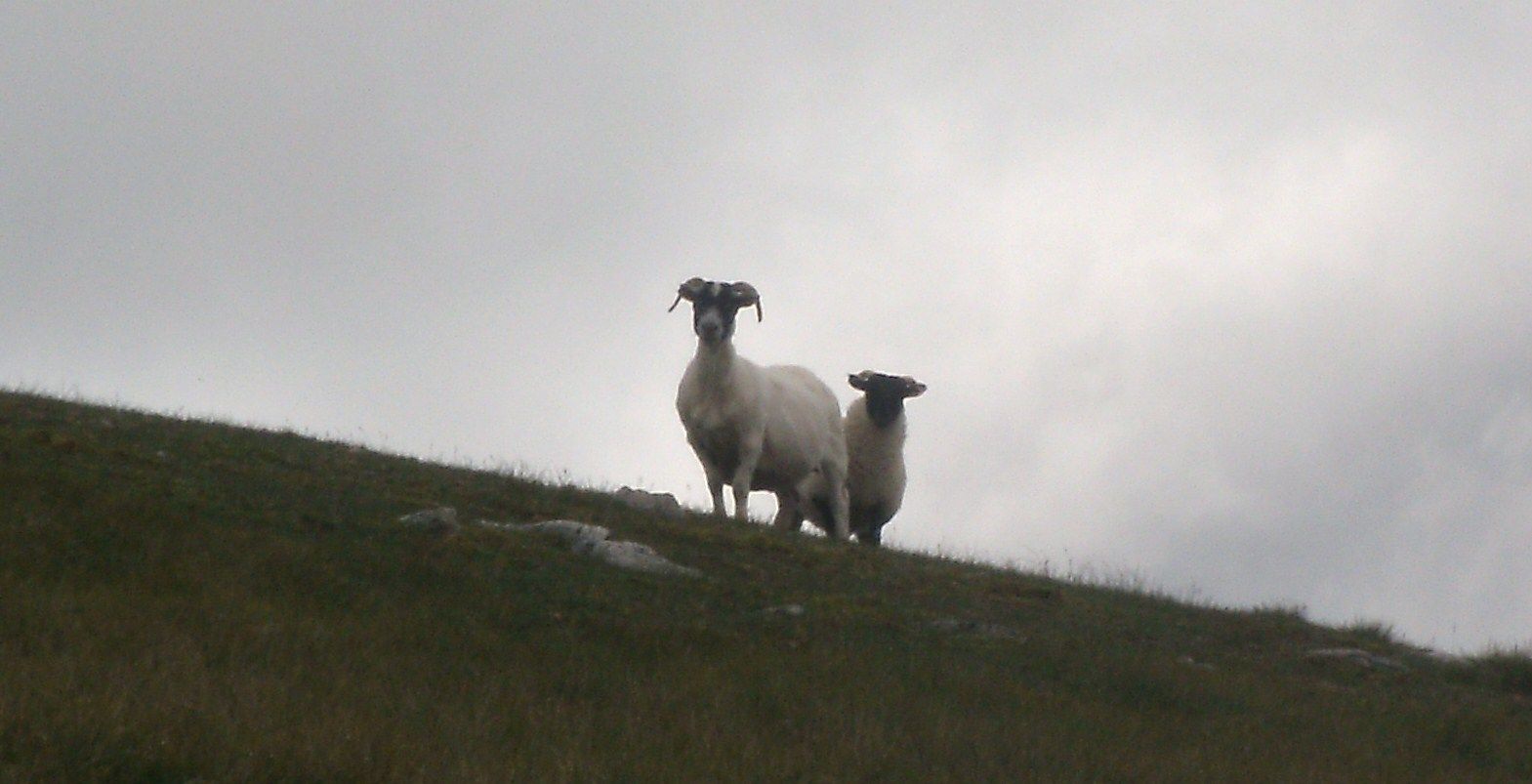 It was a bit silly really, the rocky terrain we crossed was very unstable, and we created quite a few rockfalls that gained speed and momentum toward the floor of the glen. It was really fun though, the best crack I've had for ages, with even some wee scrambles further round under the crags.
From the bealach beyond, we joined the baggers path up a delightful ridge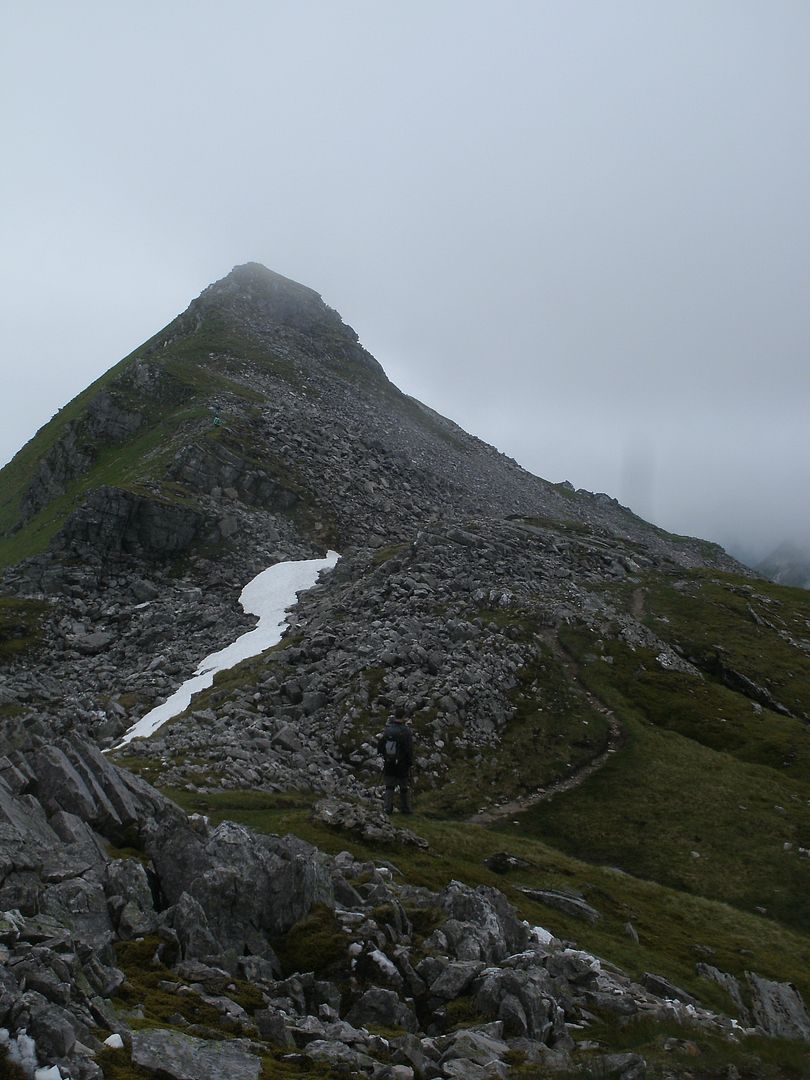 Unfortunately the clag put in another appearance for the summit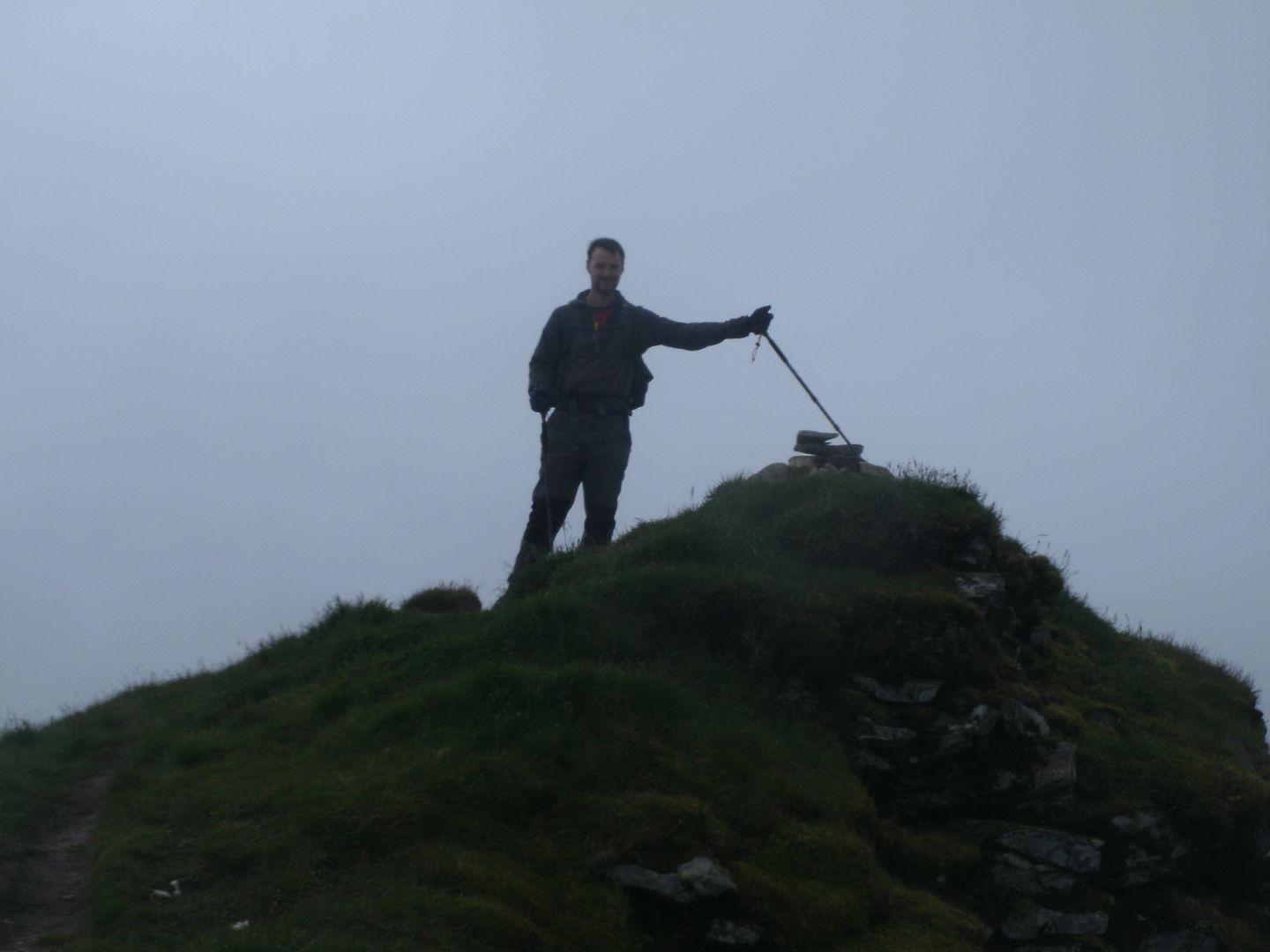 Which of course disappeared again after we had left
We retraced our steps, this time taking the slabs and boulders up to Stob Coire Easain. I found that the trail shoes offered very little protection, and my feet were black and blue from being jabbed and squeezed by rocks already.
Fortunately though, when it cleared it just kept on clearing and we got views from Knoydart, to Wyvis to ben Lomond and everything in between. It was really special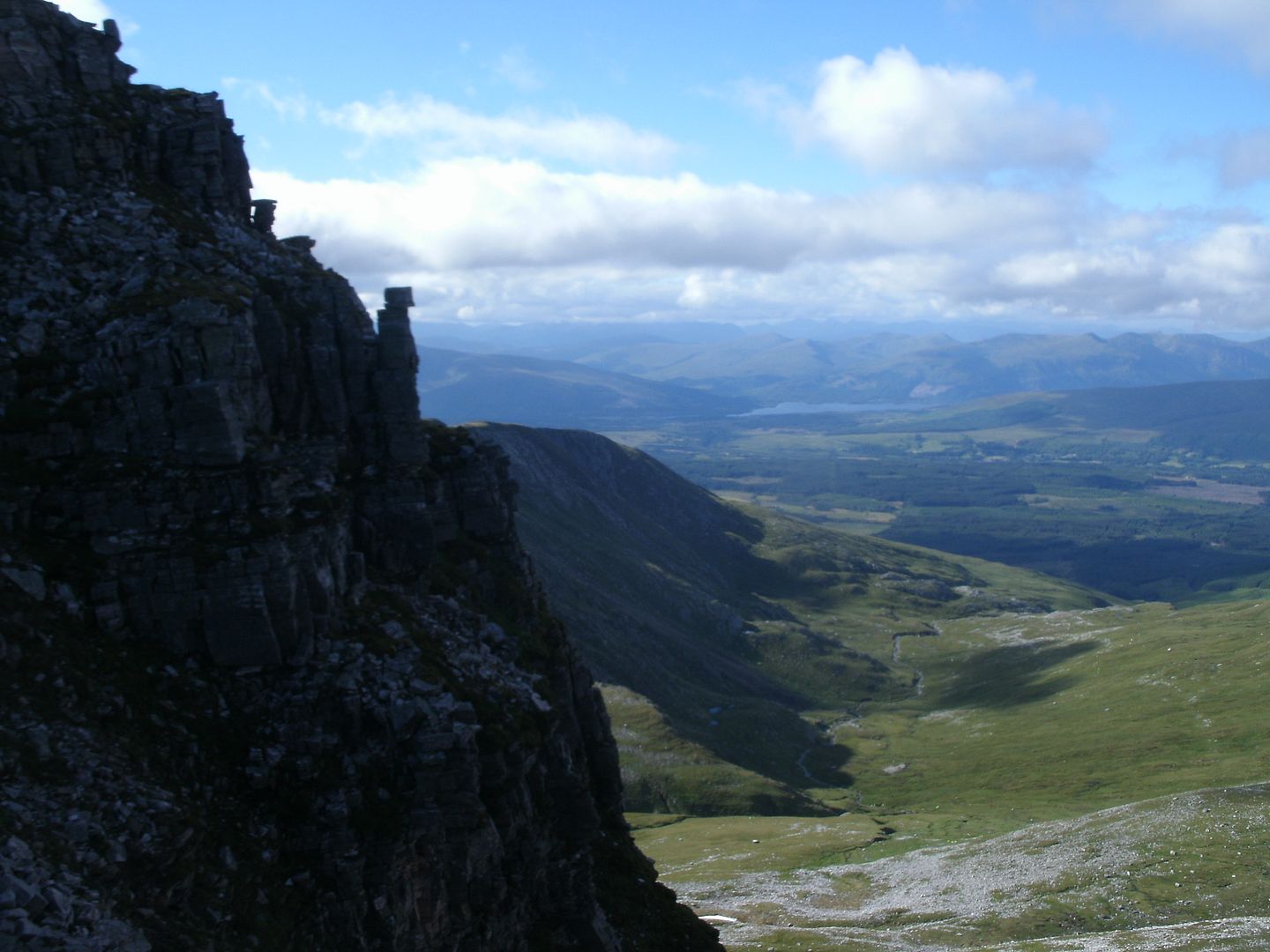 A shallow bealach and we were up on Stob Coire an Laogh, We stopped for a good while, taking off our boots and enjoying the views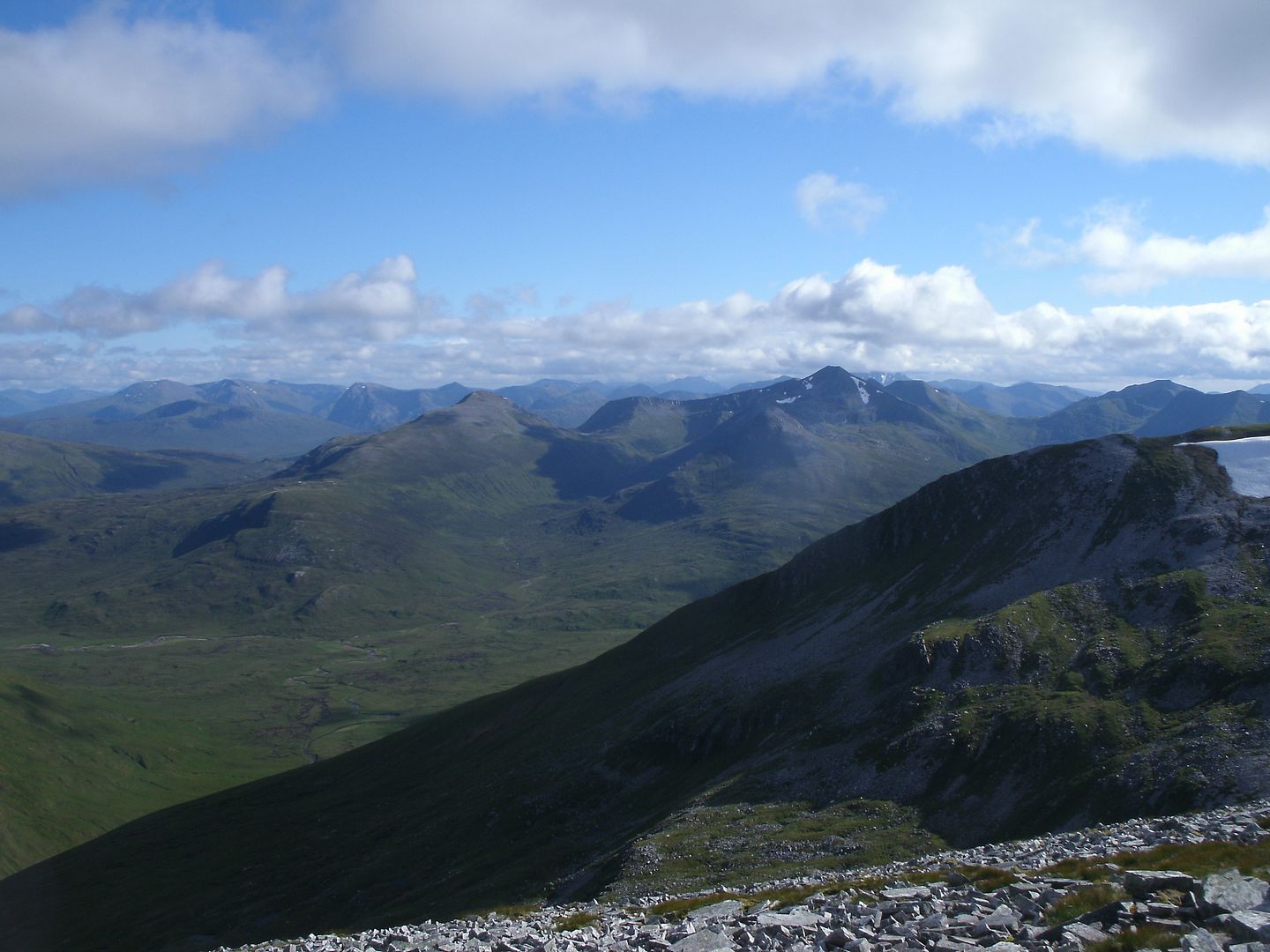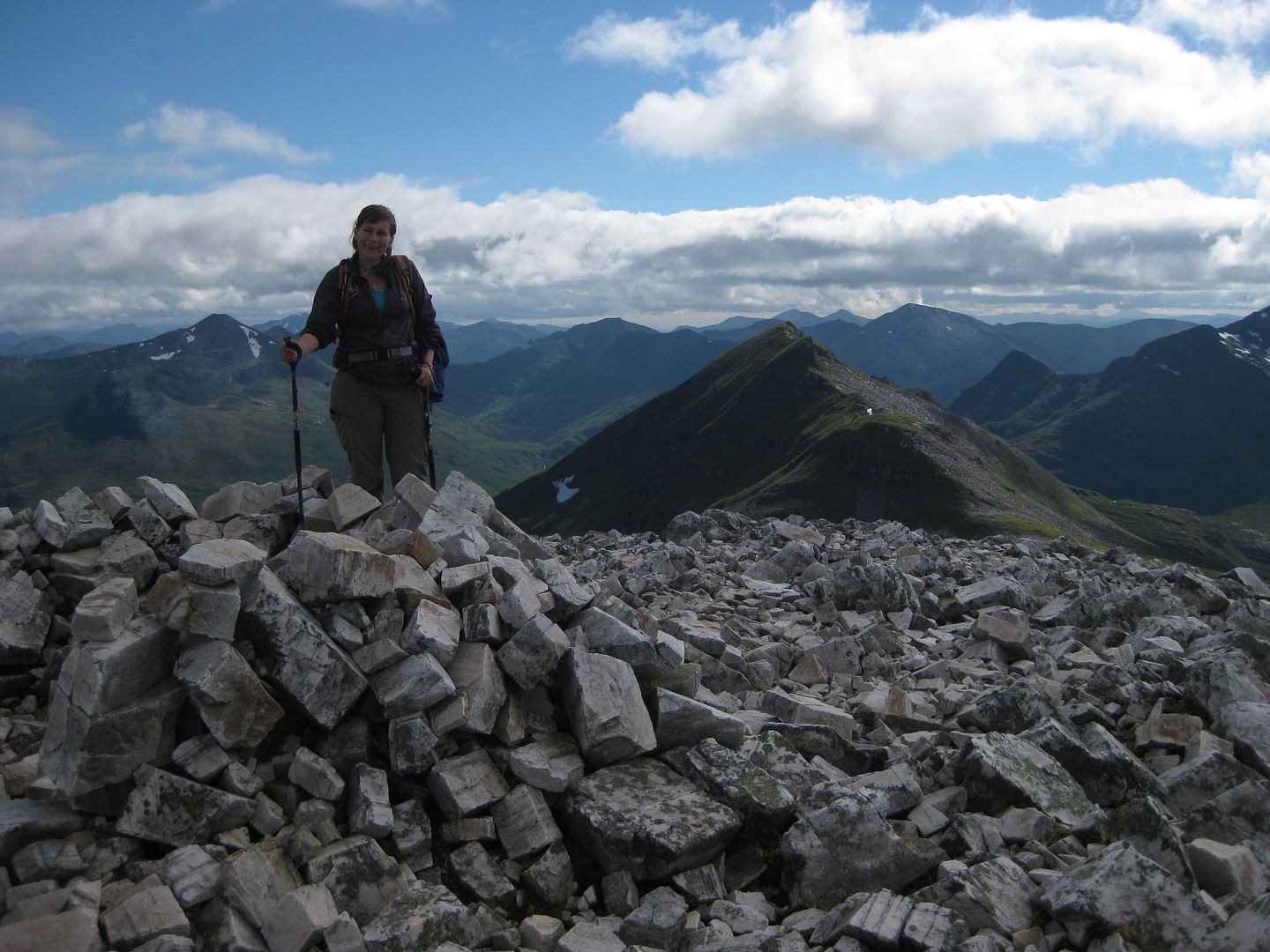 It looked a long way to Stob Coire Claurigh, but the ridge was fun with rocky aretes and interesting rock formations. My trail shoes had given up the ghost, and one sole had got rather flappy and kept on tripping me over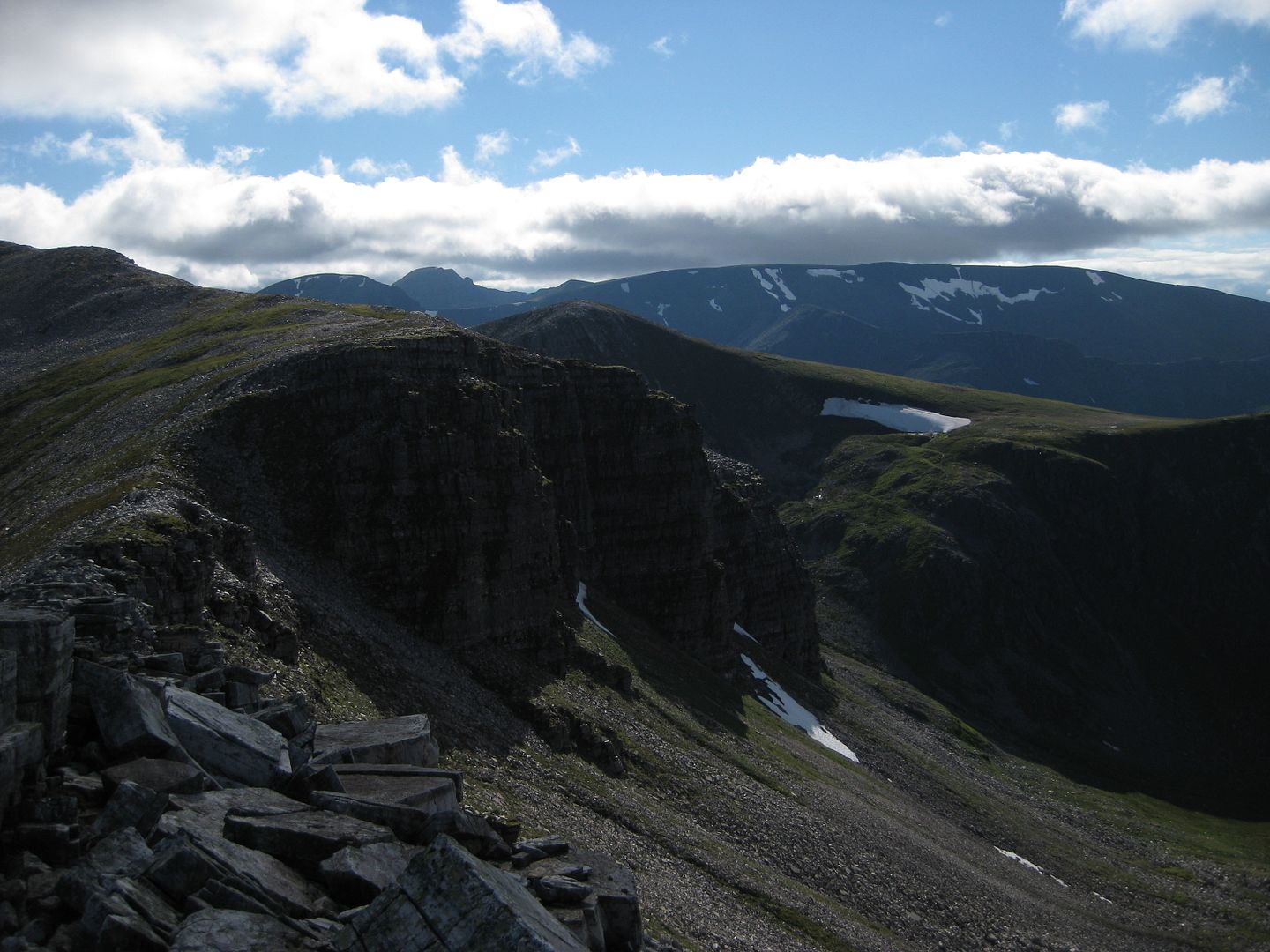 After many small ups and downs, we were on the final gentle climb to the summit.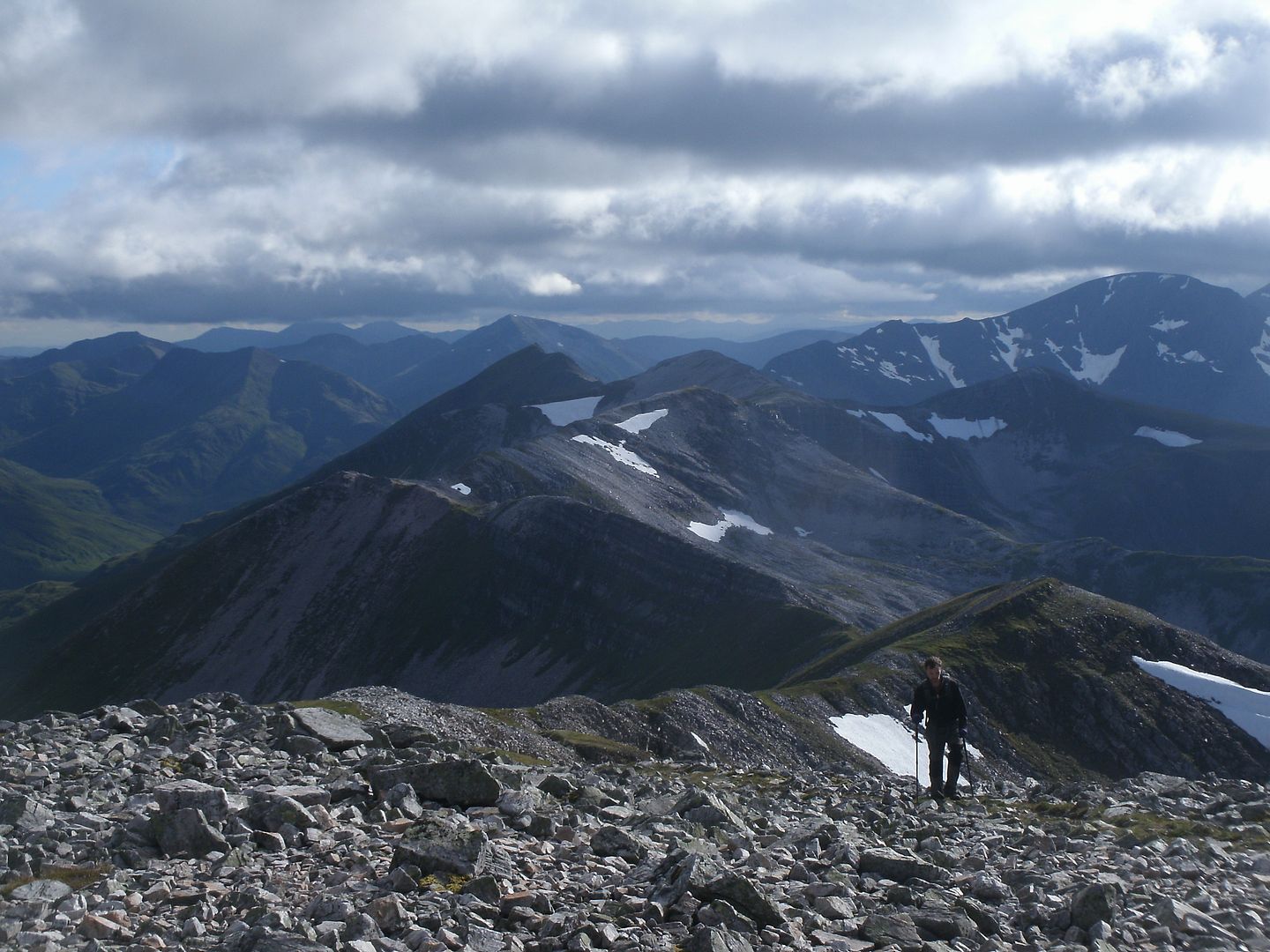 It was really nice, with swifts shrilly whizzing about above us, and killer views. After my feet had stopped throbbing, we headed off down the ridge.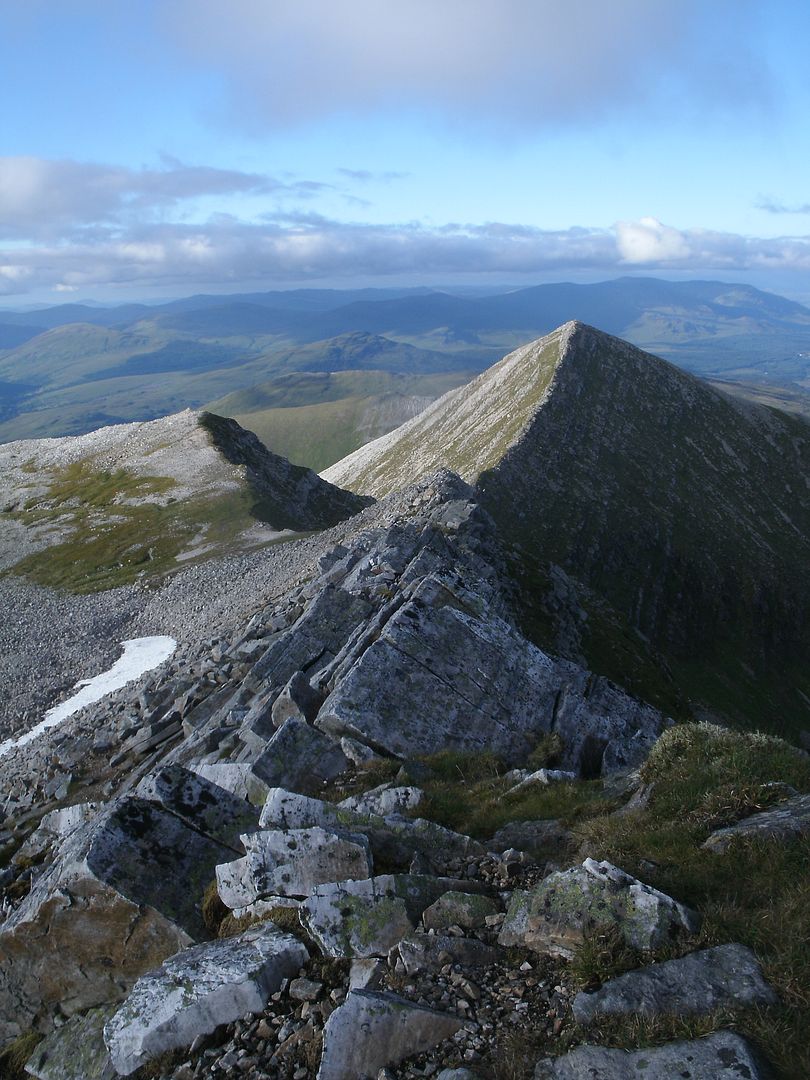 There s quite a good wee arete there which was fun, but tiredness had taken over and I was glad to get back onto grass for a quick mindless stomp down the ridge.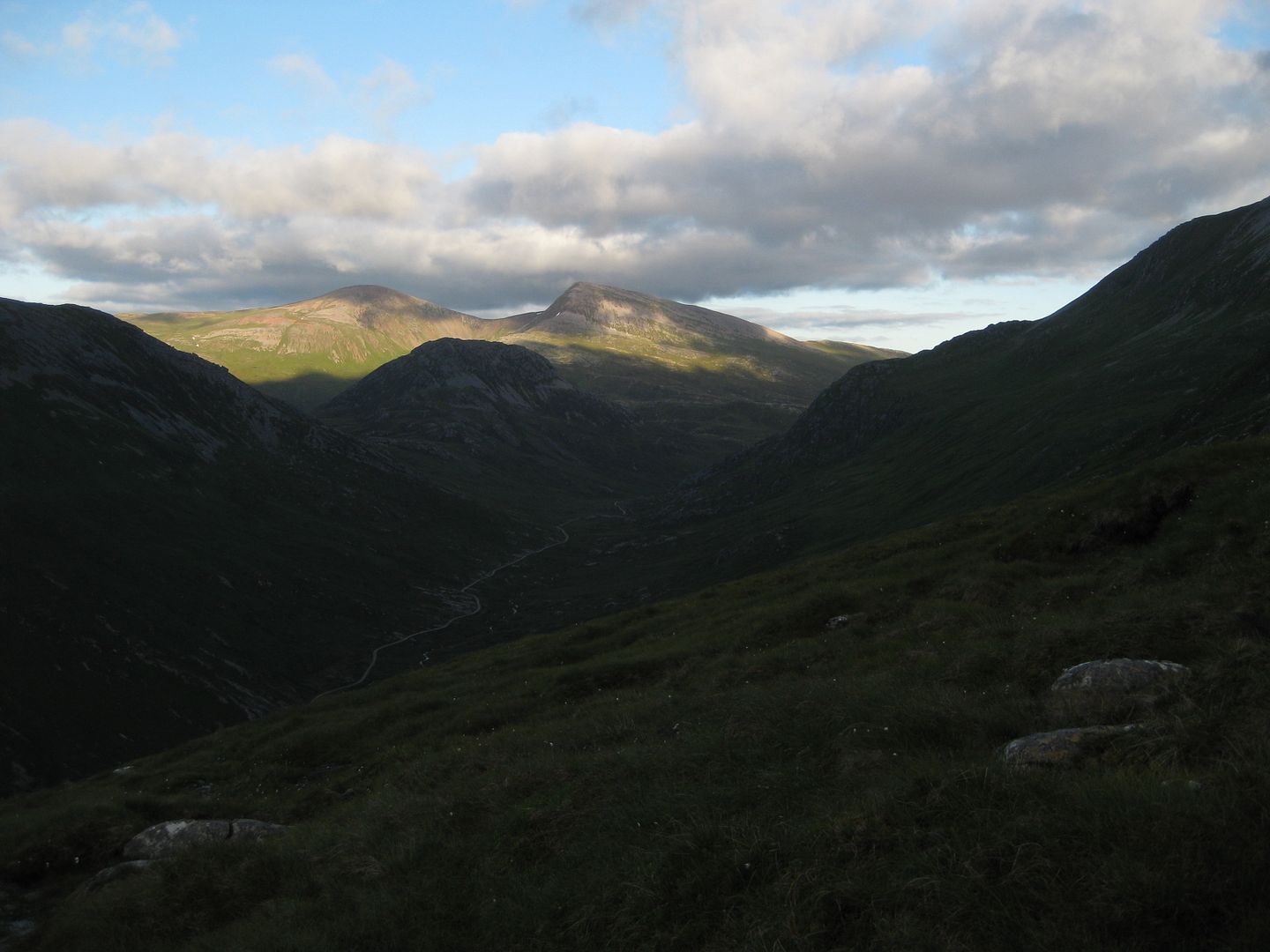 It got pretty boggy further down, especially the flat section near the track, where we were attacked by midges, too tired to move fast enough to get away.
There were some tents there though.. Brave souls
The track back to the tent didn't take long.
It was really good to have everything already set up and we literally fell into our beds for what was left of the evening.
The morning came, and we drove into Fort Bill to see if we could acquire me some shoes, but the rain rolled in despite a nae bad forecast, so it was a slow rainy drive with a scone at green welly on the way home
Quite disappointing to only get one good day on a long weekend, but at least we made the best of it.