A truncated weekend as I'm On Call on Sunday, plus Allison was away visiting her folks. I had considered going down Glen Etive to do Tops on Starav and maybe a reclusive Graham, but guessing that the road down the Glen would be hoaching with Glasgow Fair campers, I thought better of it. The 5 Tyndrum Corbetts have been in my mind for a while and they seemed to fit the bill rather well (except I'm not meant to be doing Corbetts on my own, says Sick Kid
). I read Rockhopper's & Johnny C's reports and I'd reckoned it should be easy to add on Stob Nan Clach, a Top of Creag Mhor. Sitting looking at the route last night it also seemed that if I was feeling very fit I might add on Beinn a'Chuirn, Mhanach's Top, but that did involve a lot of extra effort. I'd decide on the day.
Planned Route
Actual Route
Forecast was for an end to the recent heatwave and clouds/rain by mid afternoon. Set off at the back of 6 and was ready to go at 7.50am. I'd stupidly parked in the layby on the L heading up the A82 from Tyndrum, not gone on a little bit to the parking area on the other side of the road with the stone column, which is an easier place to begin from - had to walk up the side of that road for a bit which wasn't very pleasant - fortunately not much traffic at that time. Ben Dorain was looking spiffing up ahead, with its top free of clouds today. Joined the WHW for a few hundred yards then decided to cut straight up the line of fenceposts on the W facing slide of Beinn Odhar, rather than continue round to the south and go up the shoulder. This was steep, but straightforward. Reaching the upper slopes gave good views over to the Lui Hills and those at Crianlarich. From the cairn I could see the steep grassy slopes of Beinn Chaorach, the Hill of Sheep. I set off SE, picking up a faint trail, headed down to the lochan, then followed the deeply indented line of a stream down to Gleann Cumhang, losing 400-odd metres in the process. I came across the remains of an old electric fence, which has its posts so close to the ground that I think they must have used it for keeping rabbits or hamsters in place - a sheep would have just walked over it
Looking to my left was the impressive shape of Beinn a'Chaisteal, which would be my final hill of the day.
Ben Dorain
P1020886
by
23weasels
, on Flickr
Ben Lui hills
P1020888
by
23weasels
, on Flickr
Steep up Beinn Odhar
P1020889
by
23weasels
, on Flickr
Ben Dorain from Summit BO
P1020891
by
23weasels
, on Flickr
Beinn Chaorach
P1020892
by
23weasels
, on Flickr
Lochan, Crianlarich hills beyond
P1020894
by
23weasels
, on Flickr
old electric fenceposts
P1020896
by
23weasels
, on Flickr
Beinn a'Chaisteal
P1020897
by
23weasels
, on Flickr
Heading up Sheep-Hill was pretty tiring and steep and I resorted to counting double steps and stopping every 350. Eventually made it up to the trig marker, with a number of sheep taking an interest in my presence
on their hill
. I was relieved to see the route over to Cam Chreag was much gentler than the last 2 hills, and set off with a bit of a sping in my step, keeping to the line of posts as guidance. This top was reached easily enough - less than 3 hours in total thus far. My plan now was to find a way down to the Lairig Mhic Bhaidein and head up to Stob nan Clach. There was a line of crags immediately to the east of Cam Chreag summit, but a short walk along the top of these brought me to a steep but grassy route down. Once again it was endure the ascent up the stream furrowed side of this hill, good views of Ben Challum over to my right. The sun had decided to make an appearance and it was turning into a pleasant day.
Summit Beinn Choarach
P1020899
by
23weasels
, on Flickr
Cam Chreag from top BC
P1020900
by
23weasels
, on Flickr
Easy up to Cam Chreag
P1020902
by
23weasels
, on Flickr
Summit CC
P1020903
by
23weasels
, on Flickr
Lairig Mhic Bhaidein
P1020905
by
23weasels
, on Flickr
Stob nan Clach
P1020906
by
23weasels
, on Flickr
Ben Challum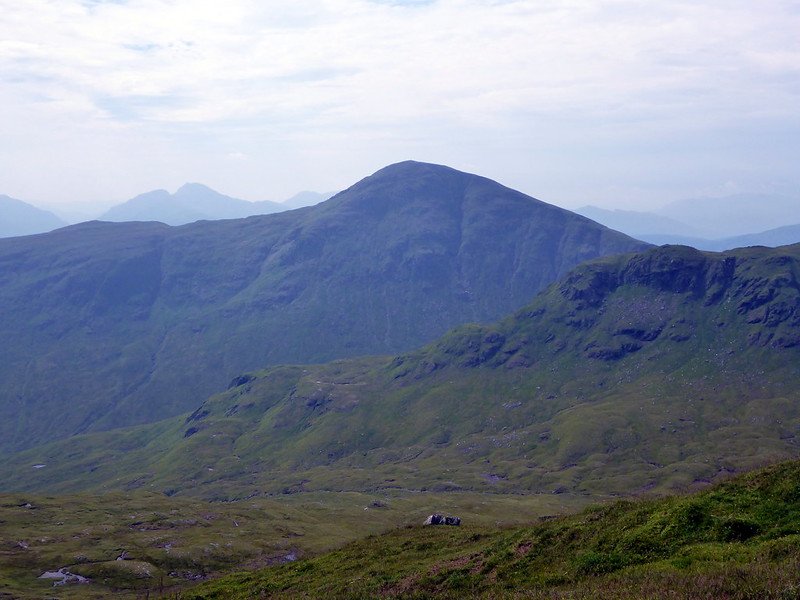 P1020910
by
23weasels
, on Flickr
Decided to have an early lunch on the tops of Stob nan Clach and to make a decision about what to do now. I was still feeling fairly fresh and was pleased with my time taken thus far, but looking away to the W and seeing the rounded outline of Beinn a'Chuirn - ooh it seemed a long long way! A skeck at the map suggested it would be almost 650m ascent, then I'd have to come up the craggy N facing slopes of Beinn nam Fhuran, and from a lower starting point than if I went up from the S. I decided to save Beinn a'Chuirn for another day, especially as I knew the good weather wasn't going to last. This decided, I headed along the northern arm of Stob nan Clach then down the steep sides into the glen and followed the line of the Allt Mhic Bhaidein towards its junction with the Abhainn Ghlas, disturbing a herd of very red deer in the process. The ground became quite boggy towards the lower reaches of the glen, but due to the recent good weather the bogs were tamed
No problems in crossing the river, then it was once more into ascent mode, heading up the steep cone of Beinn nam Fhuran. Was glad by this time I'd decided to miss out on Beinn a'Chuirn! Every step up that I took I could see would soon be negated as I would have to head straight back down to the bealach between Fhuran and a'Chaisteill. That doesn't spur you on, really
Creag Mhor from SnC
P1020912
by
23weasels
, on Flickr
Glen, towards Beinn Nam Fhuran
P1020913
by
23weasels
, on Flickr
BnF
P1020915
by
23weasels
, on Flickr
Mhanach & Beinn a'Chuirn from top BnF
P1020919
by
23weasels
, on Flickr
Loch Lyon
P1020920
by
23weasels
, on Flickr
From the summit of Fhuran I could look along Loch Lyon, over to my right were Creag Mhor and hiding behind it, Heasgarnish. The way down to the bealach was rather steep in places - once again I followed the fence line down. The base of the bealach would normally be a bogfest, I think, but was easy enough to negotiate today. Met a group of 3 folk heading down from Beinn a'Chaisteill, the only people I saw all day. Was very pleased that this final ascent was a long easy gradient. Reached the cairn and I could see the weather coming in -it had been spittery-spattery rain since early afternoon, but the heavier stuff looked not far away. Followed the path along the top of the Creagan Liatha and headed down once the crags were passed, aiming for the new track that scars Glen Coralan, but does provide for a quick exit. This follows the Allt Coralan down, under the viaduct until the WHW is once again joined. I stayed on this until I reached the layby where the car was parked, rather than risk walking along the A82 again as it was now chock-full of cars racign along in both directions. Managed to find a culvert under the railway which i crept through, wet feet not mattering a jot now that I was almost at the car. A good day's walking, with weather better than I'd hoped for.
Beinn a'Chaisteal
P1020921
by
23weasels
, on Flickr
Boggy Bealach
P1020922
by
23weasels
, on Flickr
Top, Ba'C
P1020923
by
23weasels
, on Flickr
Looking along Creagan Liatha
P1020926
by
23weasels
, on Flickr
Glen Coralan
P1020930
by
23weasels
, on Flickr
Weather now obscuring Ben Dorain's top
P1020931
by
23weasels
, on Flickr
Railway creep
P1020932
by
23weasels
, on Flickr
stats
P1020933
by
23weasels
, on Flickr