So after a couple of days in the north, a promising forecast saw us heading back to the Cuillin. We toyed with the idea of Alastair and Michcoinich, but decided to do the Corrie Grunnda circuit instead, as after a stop at the youth hostel for a proper look at the weather, we found that it was going to continue to be blustery and showery, and we didn't fancy Collie's ledge in the wet
So later than we should of, we set off up the path from Glen Brittle campsite, our enthusiasm making light work of the lengthy path. A few showers were giving us nice rainbows, and every time I looked at my watch, I was surprised at how much time had passed.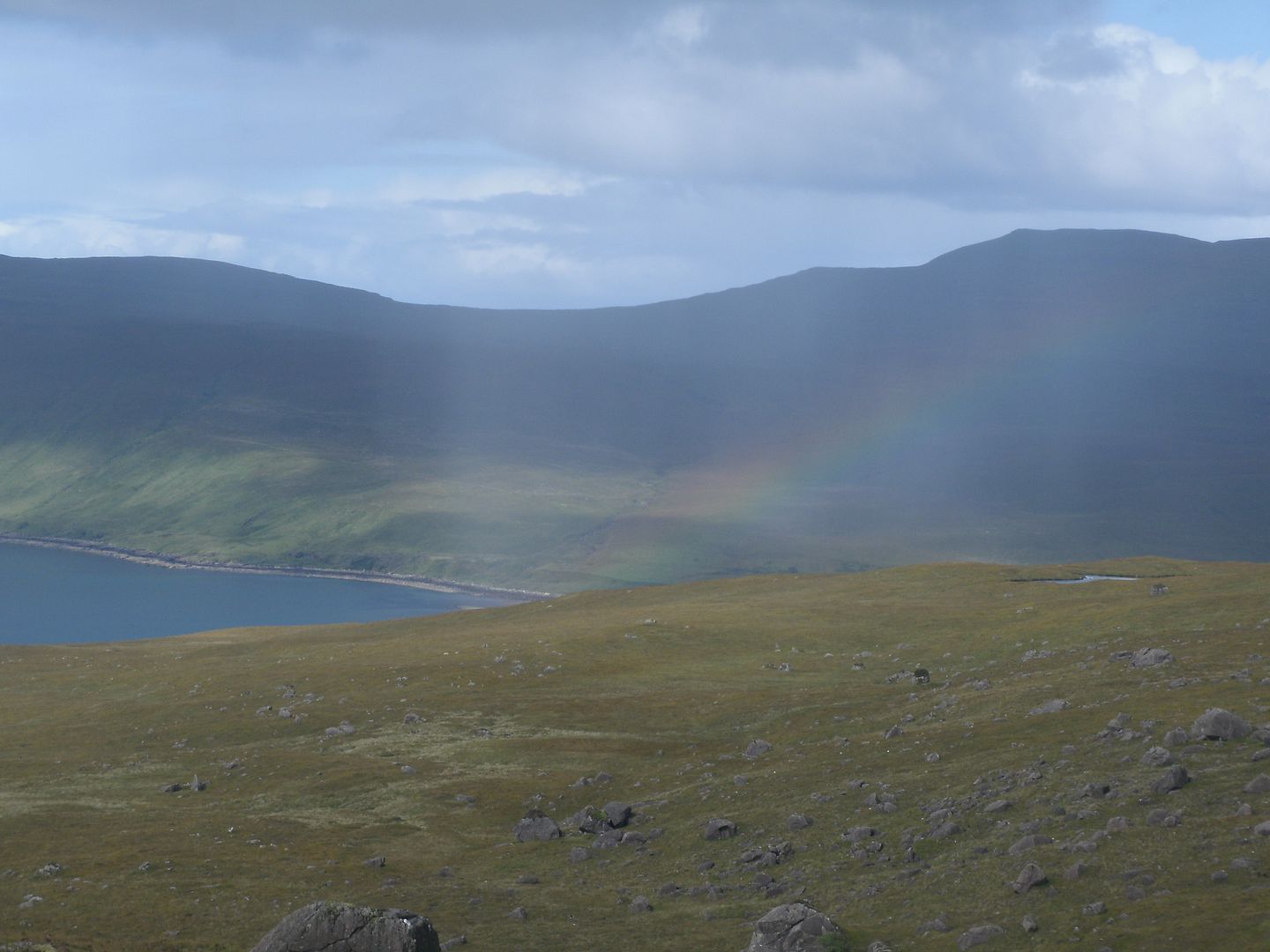 There was an unexpected fork in the path, and we headed up left, skirting below the cliffs of Sron na Ciche, the path getting steeper and rockier.


The mouth of the corrie was in sight, and cripes it looked slabby!

The path seemed to skirt above a huge boulderfield to get back down to the bottom of a gully that went upward. We cut the corner and went straight accross. This was really cool, with huge boulders creating an assault course that had us laughing and having a good time.
We reached the bottom of the gully, and headed up, it not being nearly as steep or tough as it looked. Half way up, a mega-shower came over, so we descended a little to get under a flake of rock that had come to leave a dry crevice underneath. The wool underneath the boulder, indicatind that we werent the first creatures to shelter there
The shower went on a bit, and it was a shelter for one rather than two
But it eased eventually, and we made it up to the waterfall beyond.
Up to the left, there were some easily scrambled slabs, even though they had water pouring down them, and we were suddenly in the corrie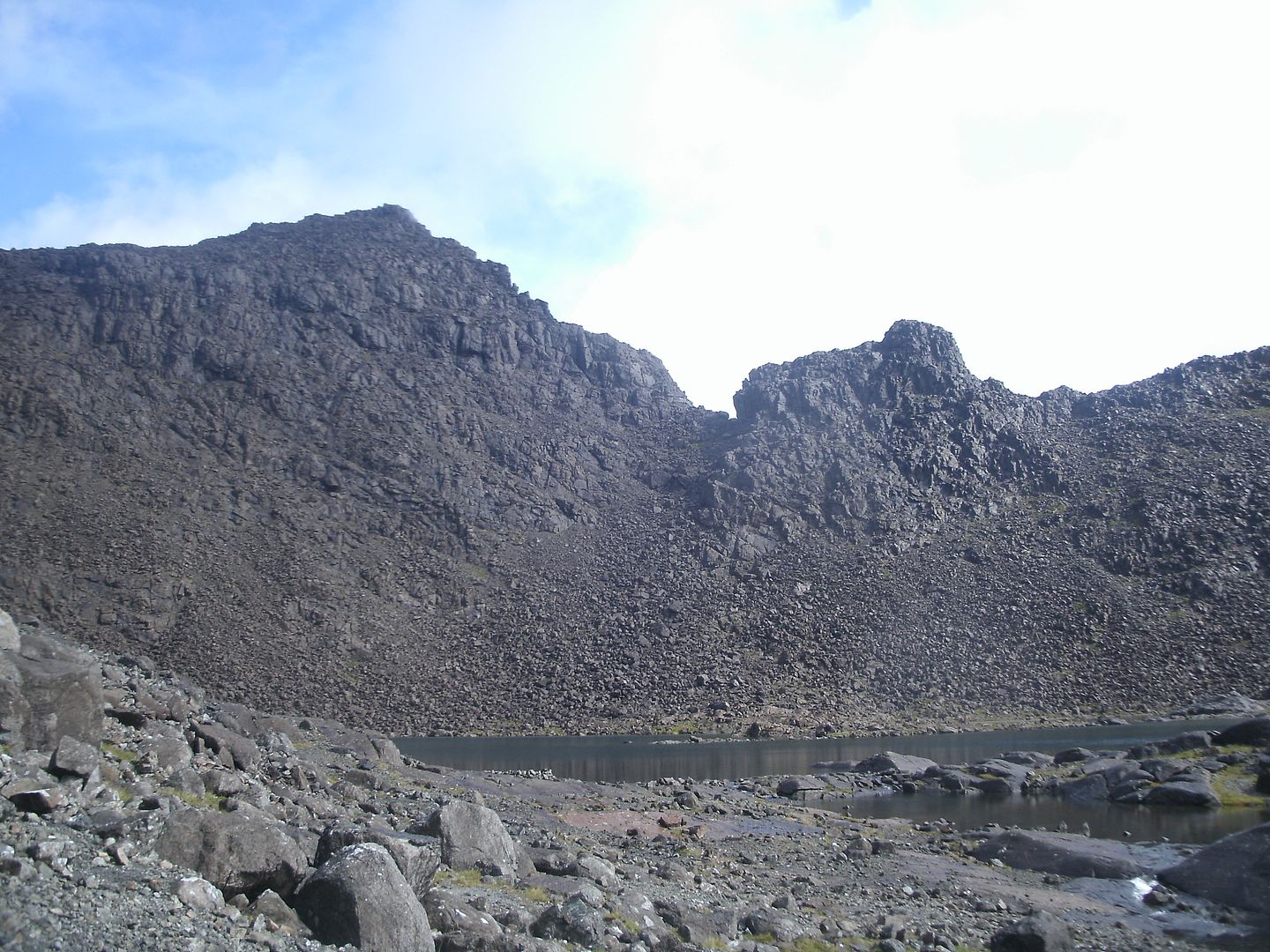 I had only ever seen it from above, and it looked a lot different than I remembered... We went round the lochan leftward, blazing sunshine at that point made us want to have a seat and some scraw.
We watched a couple of walkers descend and reascend to avoid Sgurr Sgumain.. I didn't remember there being any difficulties there and wondered why you would do such a thing
We eventually got up the motivation to get going again, and headed up one of the many faint scree paths up the corrie, aiming for the right of Thearlaich Dubh Gap. As we got up a bit, the screes gave way to massive boulders that were a joy to clamber over
Then we reached the main ridge, always an amazing moment the first glimpse of the other side.
The way ahead looked fun and did not disappoint, Da Bheinn was a joy. The descent was a lot less tricky than I expected too, even though the clag rolled in for a bit.
Bealach looked a bit scary with huge blocks dividing the ridge. it was all basalty round there and it wasnt dry, so there were a few precarious slips, bruised shins and much adrenalin pumped.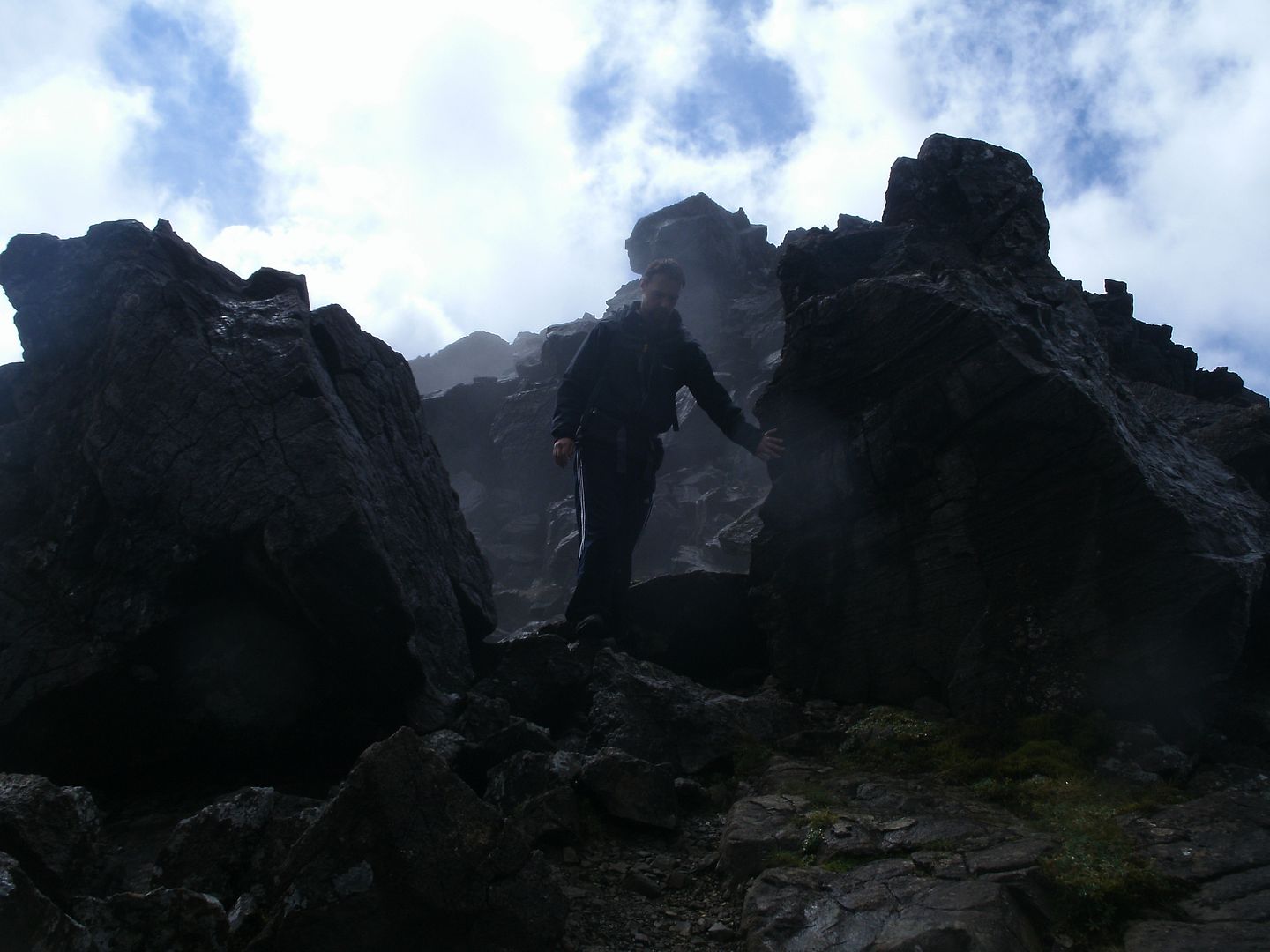 We managed to get through between 2 of the blocks to an even more precarious path, then up a pile of boulders to the start of the scramble. It looked rather intimidating, and halfway up the first pitch, we bailed down a ledge back to the path. Slippery stuff
We were only on the path a few yards when I spotted a cave to the left (well not a proper cave, just some fallen boulders with space underneath) which I couldn't resist. I went to explore..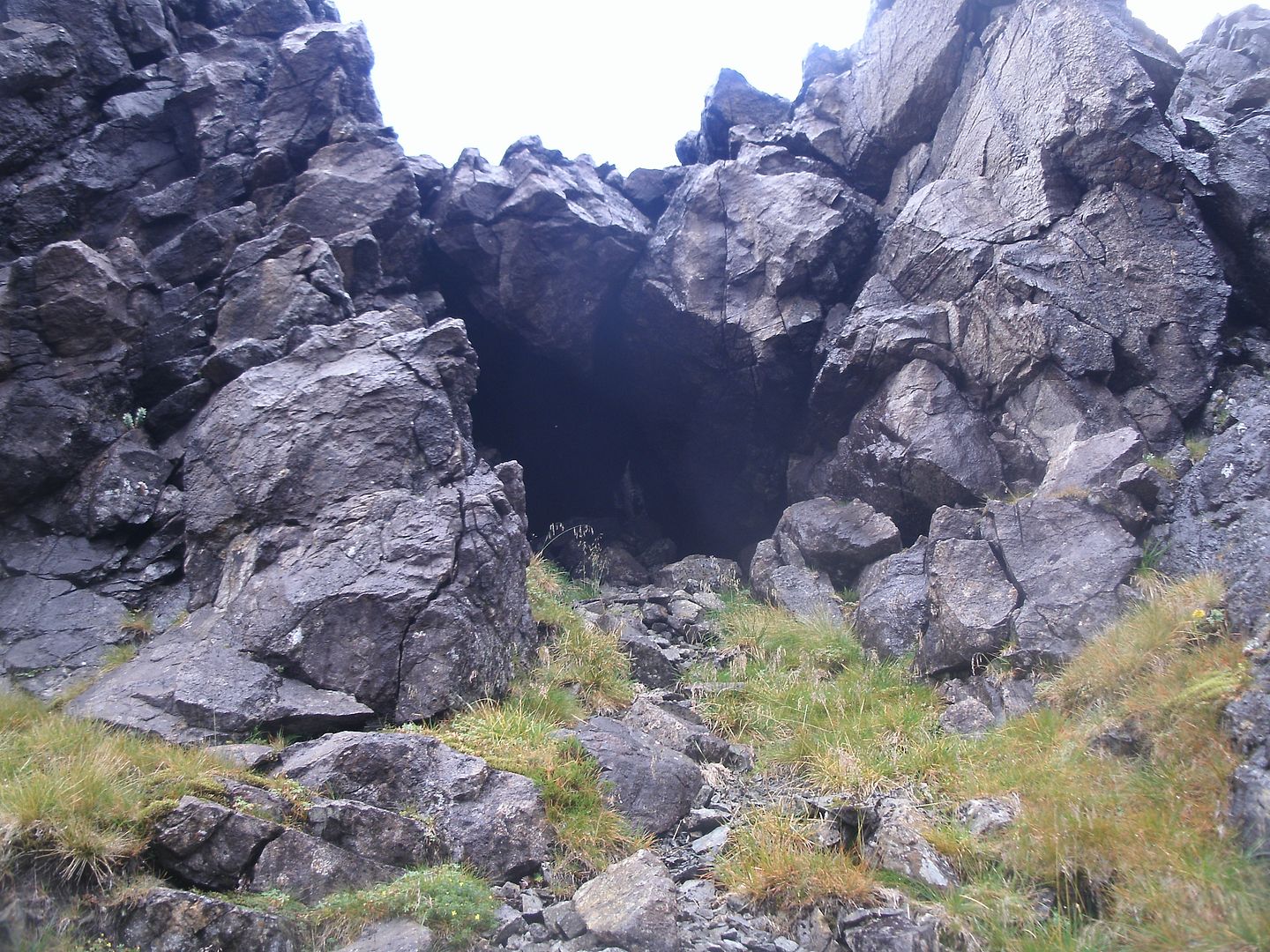 Inside, I could see light at the back, and with a bit of a squeeze, I was climbing easily up a few big boulders, and back onto the crest of the ridge.. Just brilliant fun, so I called Dougie through and he loved it too
It was only a couple of yards along, when we found the path again, it following the basalt seam. Unfortunately the weather had closed in a bit, and we were now getting fairly wet. Oh how I wish it had come whilst we were in the cave
but as it was, there was no shelter at all - blasted full force
We found our way up a fairly tricky pitch, rain streaming up (or should that be down) our sleeves and onto a higher, well trodden ledge. The rain turned to hail that hurt, and also accumulated on hand/foot holds to make them treacherous
We made it up another pitch, and found we were just a few yards from the top - yaay!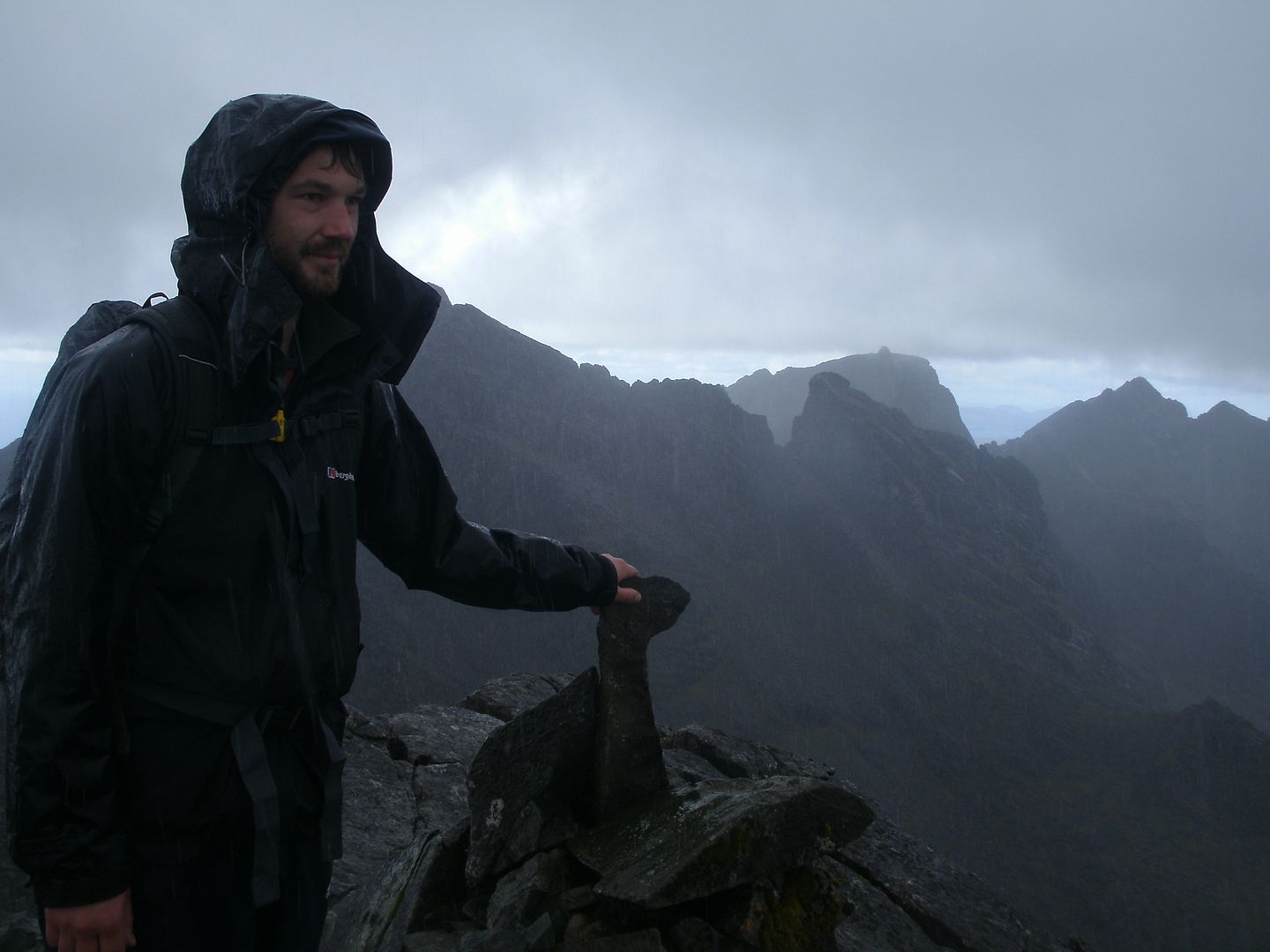 Definitely the trickiest peak of the Cuillins so far! and now we had to somehow get back down
We followed faint paths way to our left, eventually finding more vegetated ground. The shower eased, and the hailstones got slushier, making the grass more treacherous than the rock
We edged along a ledge, and fell in a controlled manner the last few feet to a path below
It was just an easy traverse back round to the basalt seam path and back to the bealach, where we stopped again as the sun had come back out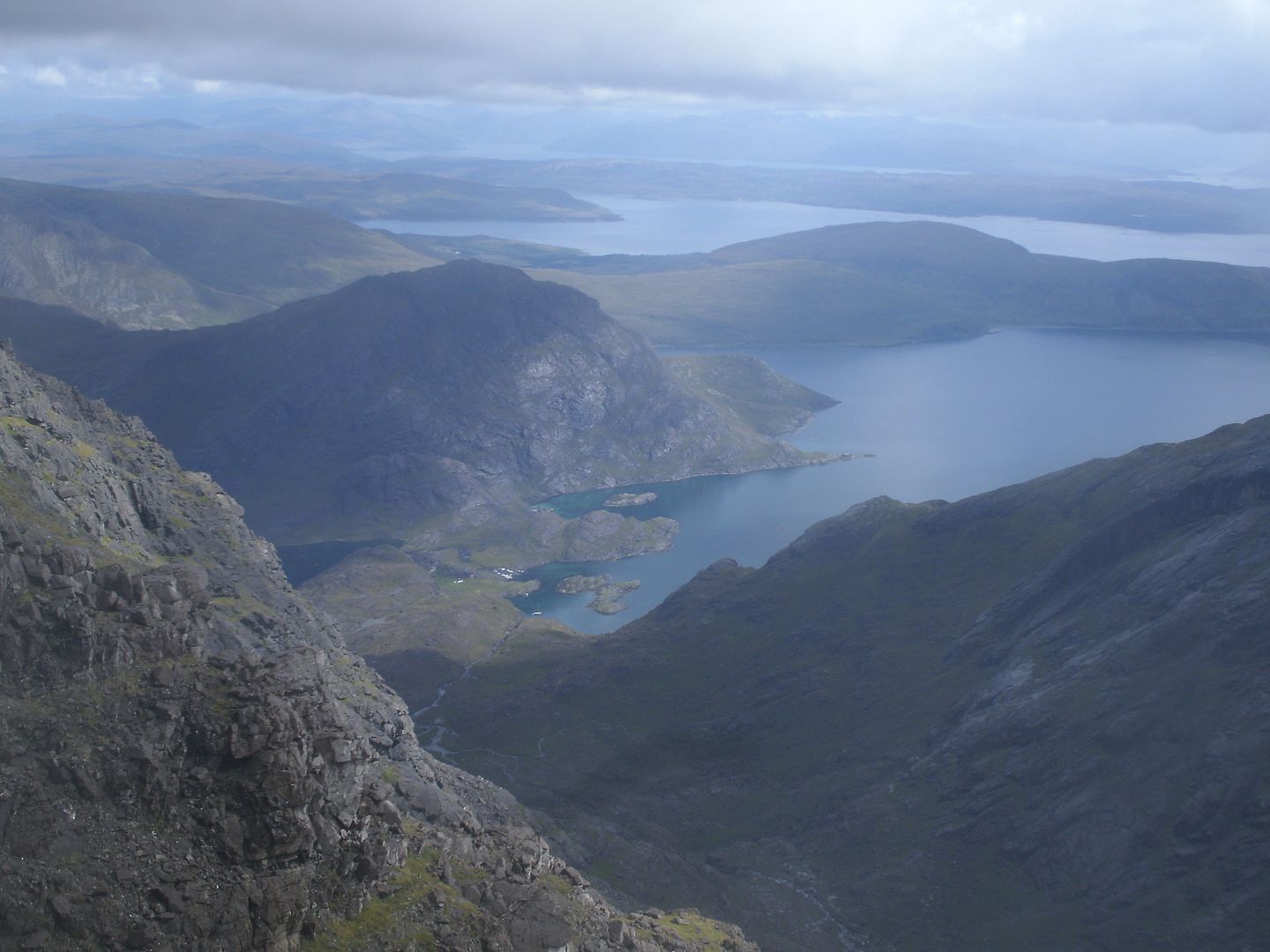 We reascended half of Da Bheinn, before picking up a traversing path to take us toward the castle. The first path we chose, was a dead end, so there was a bit of retracing of steps, and slogging up a bit of difficult ground. We found our way though, and made our way carefully down, pointing out geological features in the rock to one another.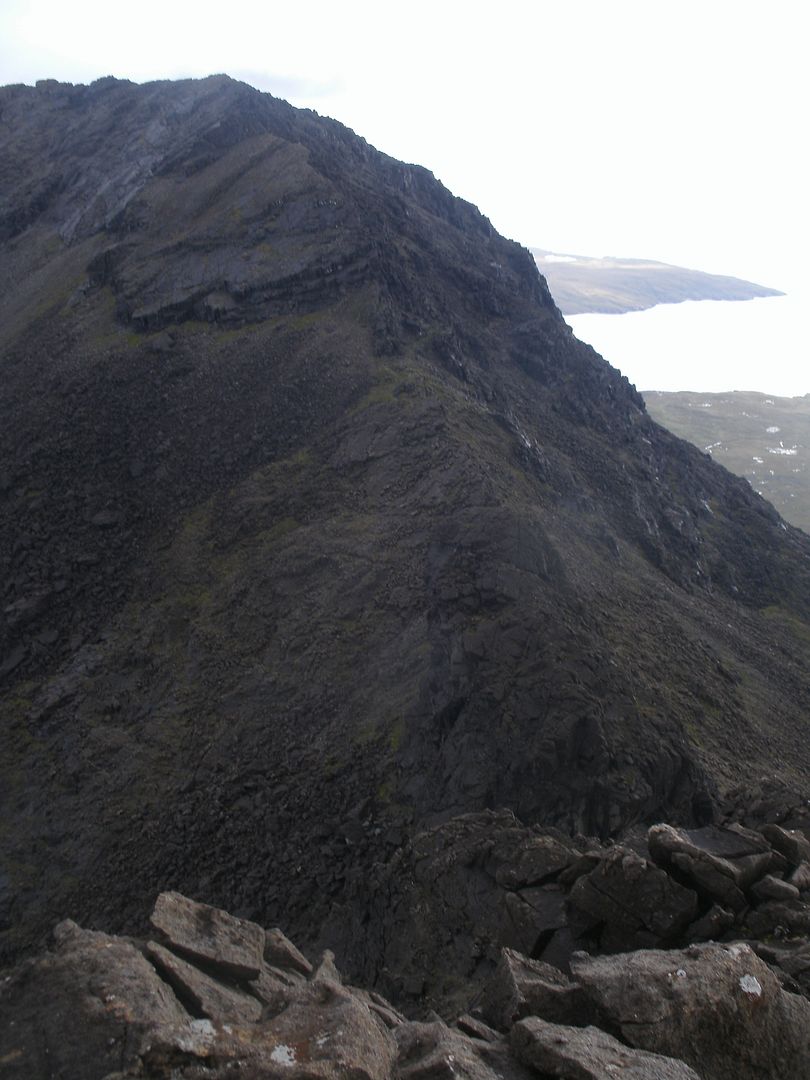 It took a while over the boulders, but we made it onto the path around the castle without any difficulties. We stopped for a time to watch a group trying to descend the bad side of Alistair, and we watched their struggle, heart in mouth as we watched one of them fall
Seemed to get up and work his way down, but could tell even from that distance he was sore. For the next hour we kept on looking over our shoulder, crossing our fingers that they get down OK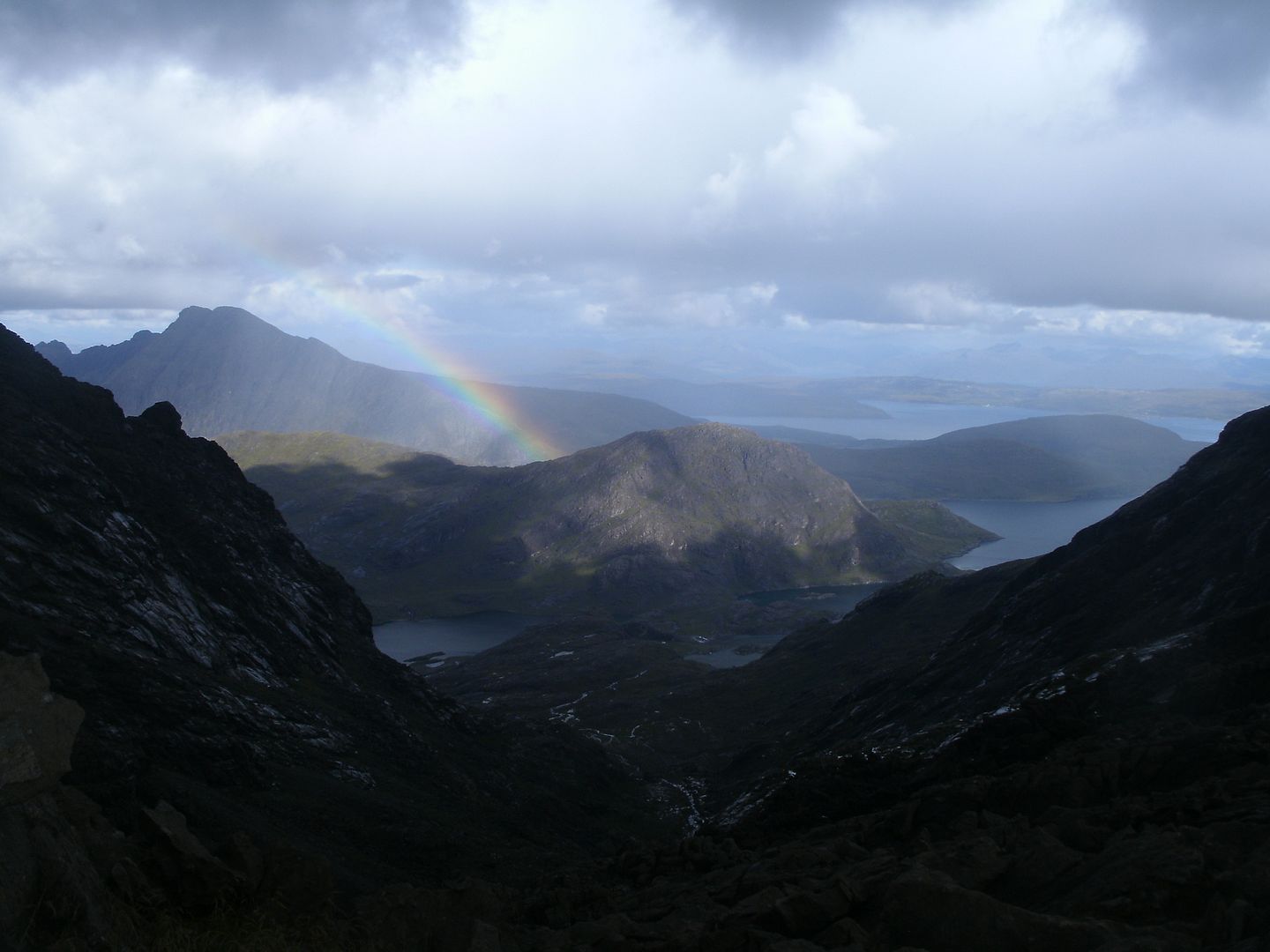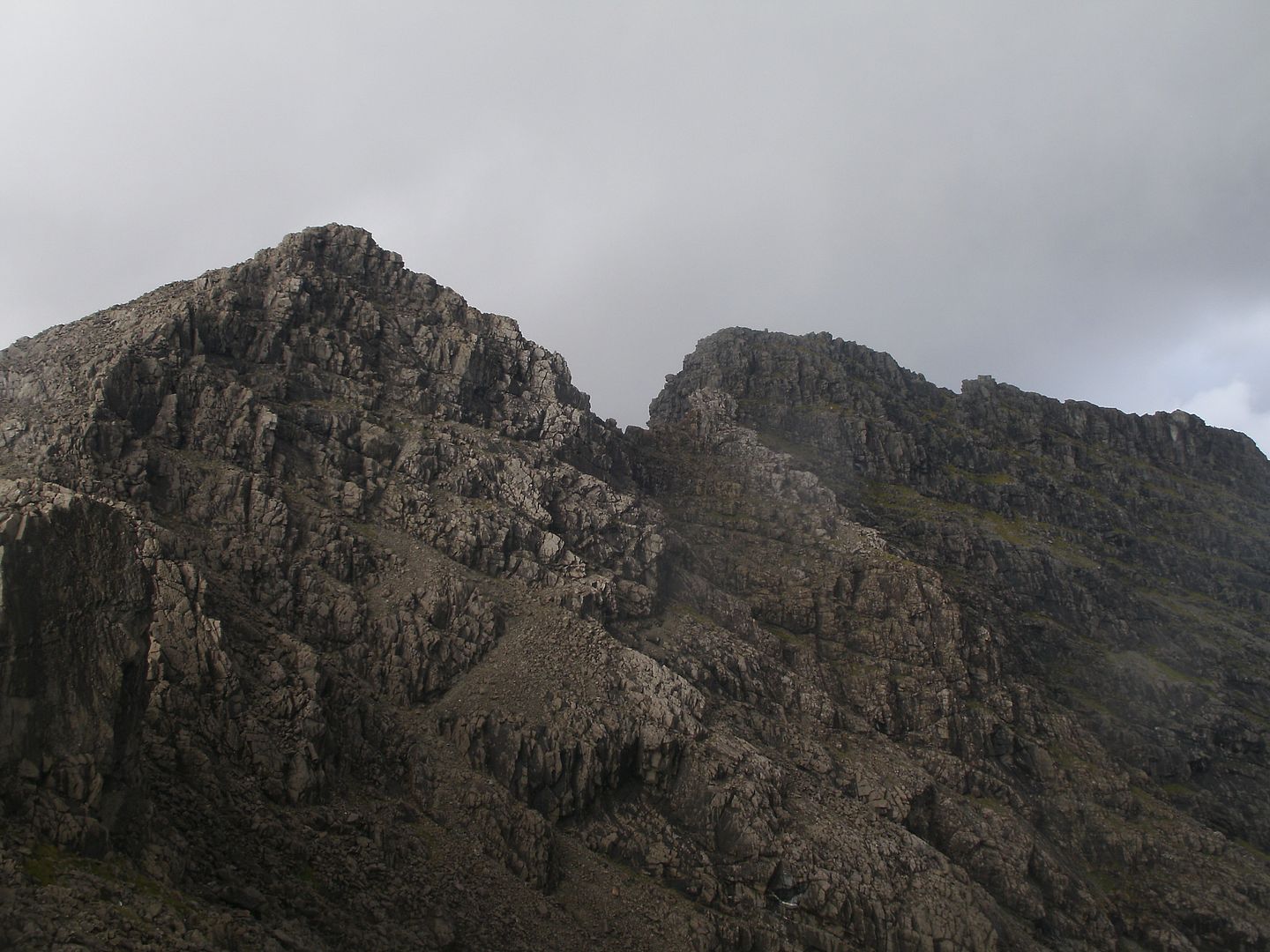 We stuck to the crest as much as possible for the ascent of Sgurr nan Eag, impossible at one point, but generally really good fun. My hands had started to burn from the sandpaper effect of the gabbro, but I was having too much fun to care. it was brilliant! Even Dougie said it was far better than he remembered. The ridge got flatter, and the going easier, until we finally got to the summit in beautiful conditions.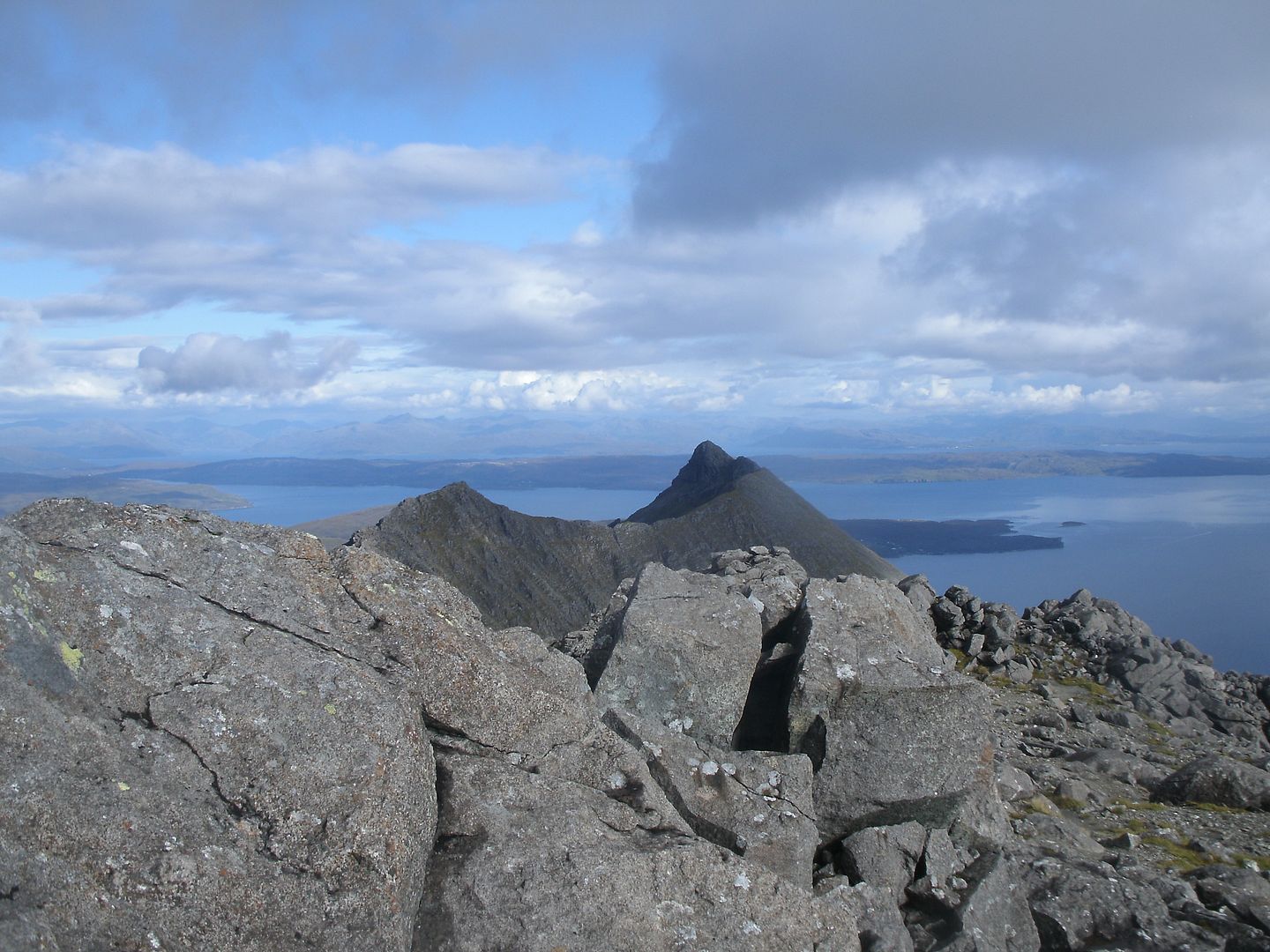 We could see way into the mainland, and out to the outer Hebredes, so we spent a long time hill spotting and generally enjoying our situation. The sun had an evening feel to it already though, and we eventually headed off to find our way back to the corrie.
We did have a path, but it seemed to be taking us in the wrong direction, so we traversed round trying to find another path. We did find another, which petered out above some very steep ground indeed
We traversed left again, then found a wee rake down, and repeated this theme for a good while, crossing boulderfields down near the bottom of the corrie. I was very glad to be down, as there had been a couple of moments where the way was not obvious at all. We were tiring now..
We made it back to the path, and followed it more closely to the burn until the top of the waterfall where we were forced right to get down easily. Dougie found a fallen walker here last time, so we perhaps a little paranoid about the dangers there..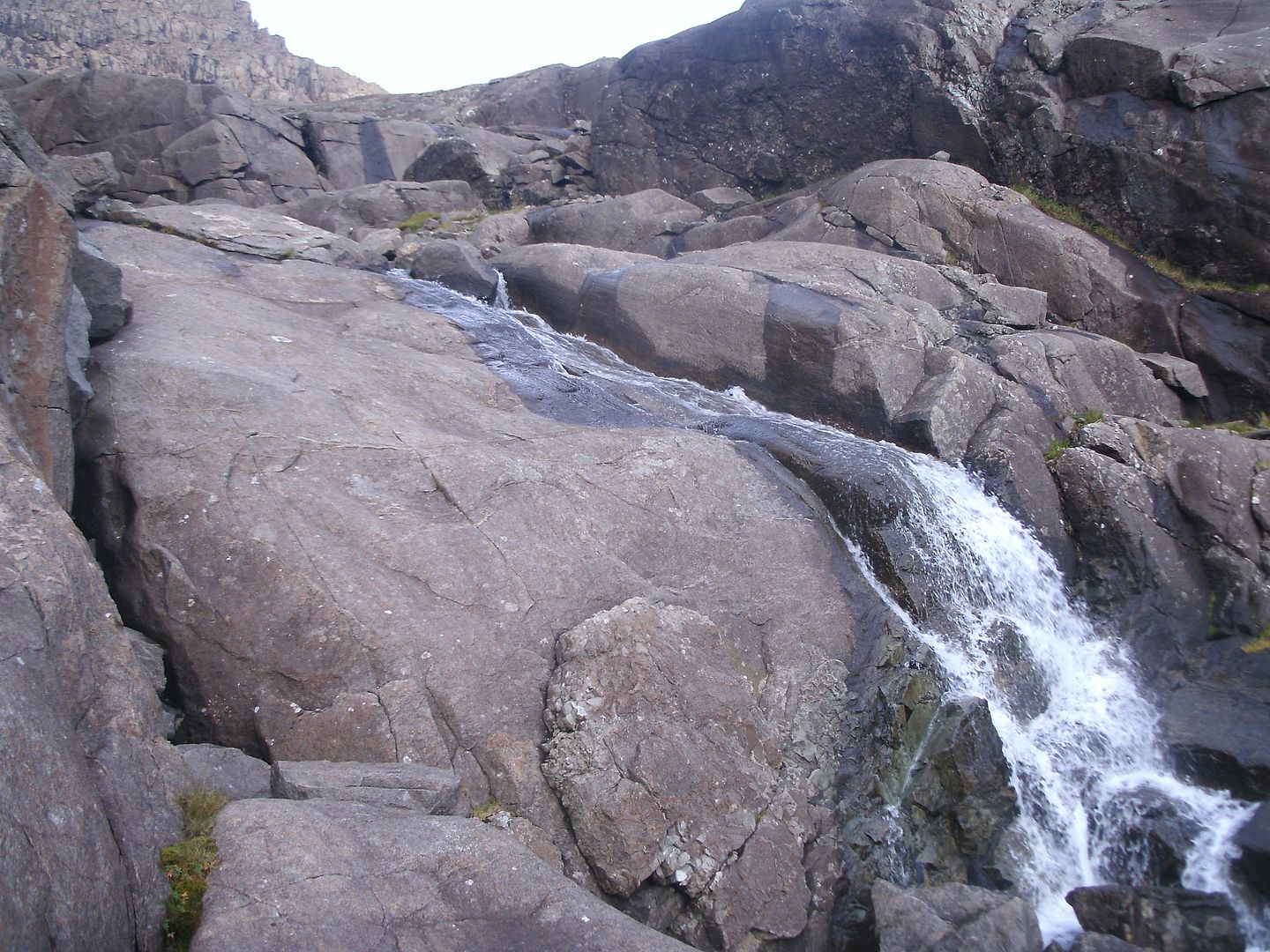 The scramble down was a little hairy, and it was a good feeling to get back to the decent path for the weary stomp back to the car.
Blooming long day! Too late for dinner in the Slig
Still one of the best days ever though, can hardly express how brilliant