So this weekend, the best of the weather looked to be in Lochaber, so we decided on Glen Creran. We headed over to the camping and Caravan site on Friday night - its a really friendly place, and not a dead midge or spider to be seen throughout the toilet block
Really nice place.
In the morning we parked up at the top of the glen, in sunny, still conditions. The weather had said that there might be a shower in the afternoon, but the chances seemed remote at that time. We headed down the private road to the farm, and beyond across the bridge.
It was another km down the track before I realised we were going the wrong way
Even more annoying when I remembered I did exactly the same thing the first time I had done Fhionnlaidh
This time though, we had been planning to do a wee scramble from the book, up the south face, so our error wasn't too bad, we were just on the wrong side of the river
So we retraced our steps, just a few yards, and got onto a path, that skirted a man made lochan. The path was badly muddied and potholed by the local bovine residents, but the beautiful surroundings more than made up for the underfoot conditions. Brilliant campspots round there
The path faltered, and a bit of bracken bashing, saw us at the bridge marked on the harveys map. Didn't look like it was crossable fron the approach, but turned out to be braw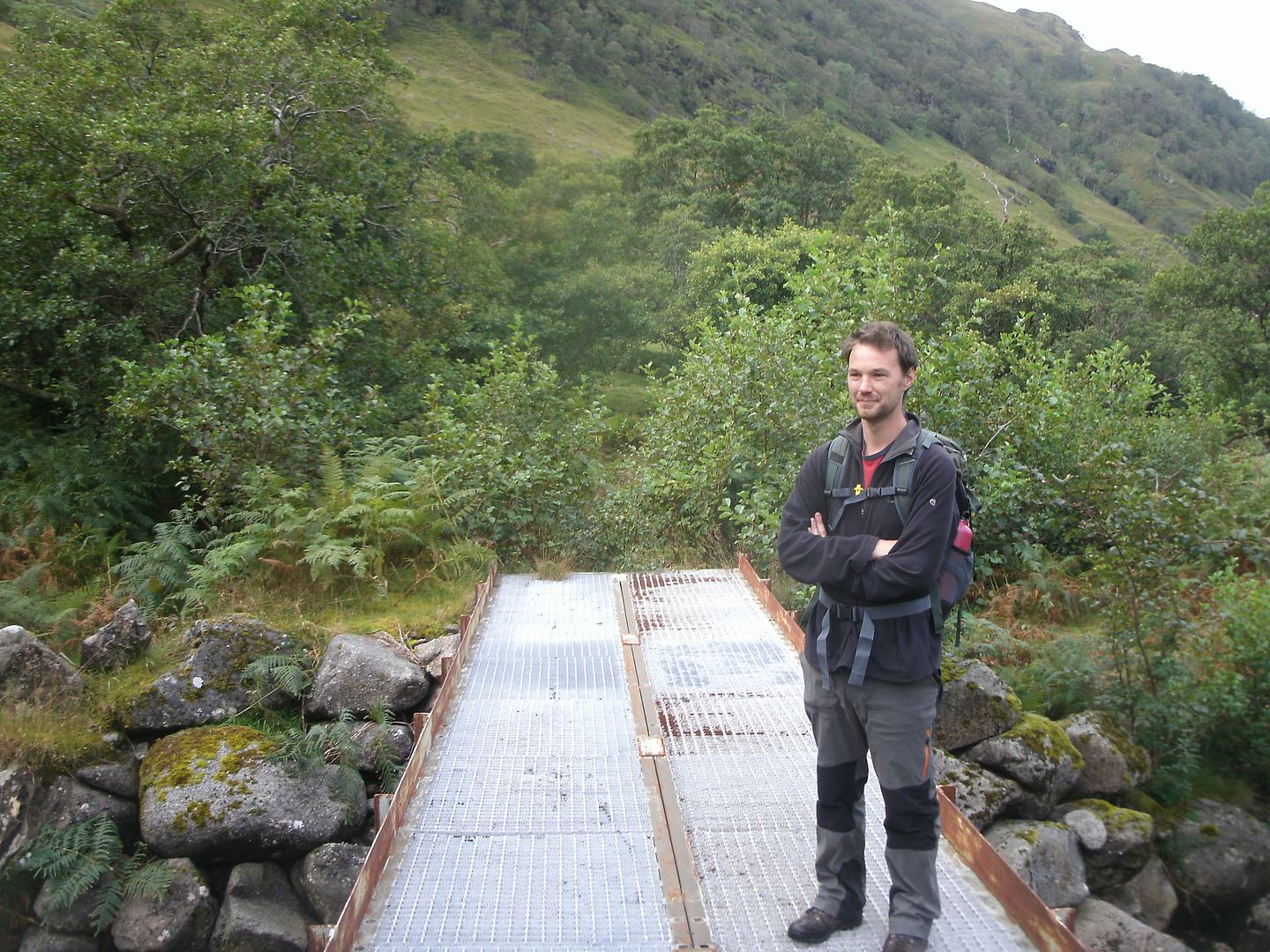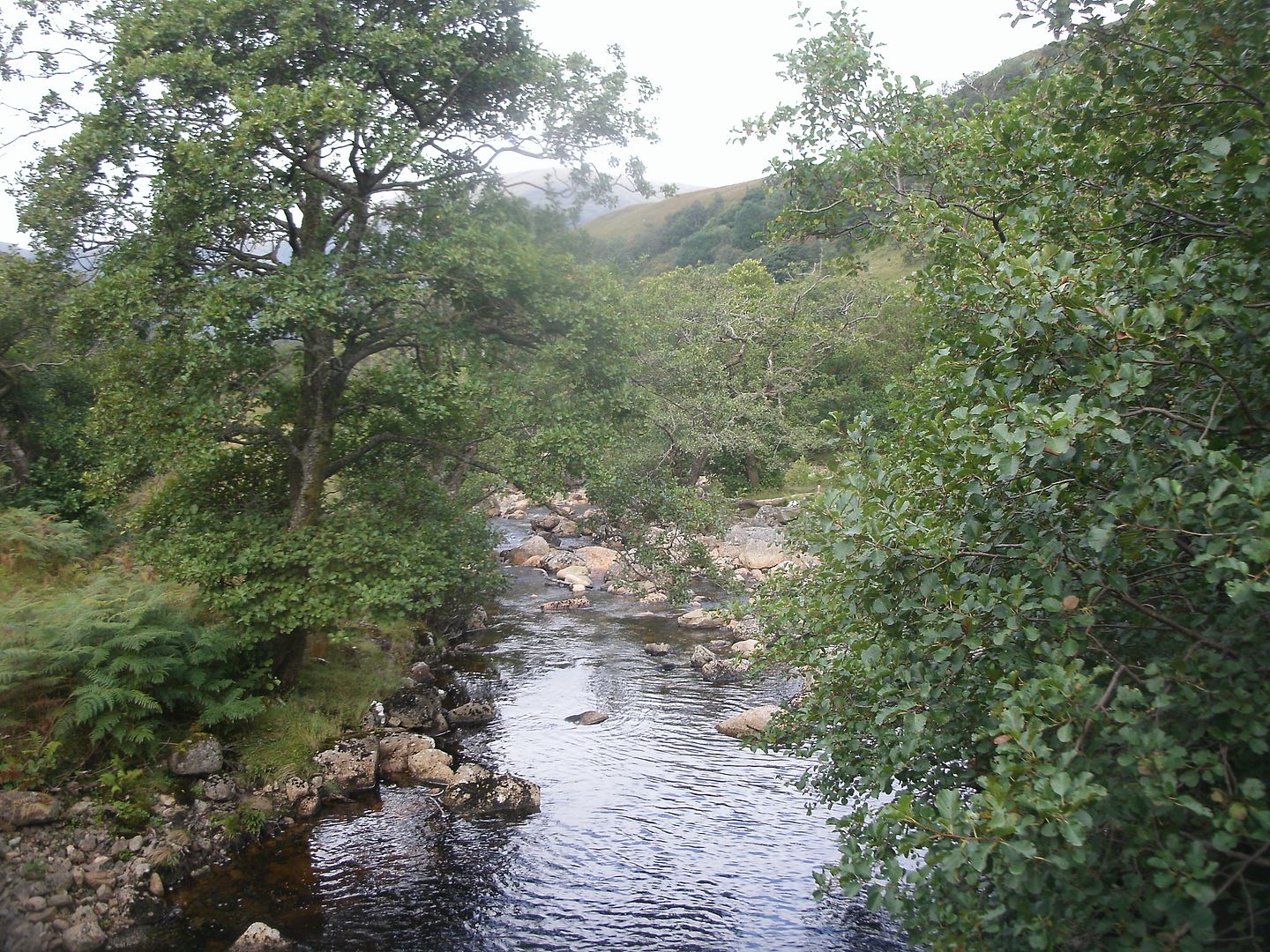 There was a boggy quad bike track, which disappeared quickly, and more brief bracken bashing to get up to the ruin. There was a large, bulldozed path beyond, that was rather confusing, as it started and finished in the middle of nowhere, and was never finished of with any kind of surface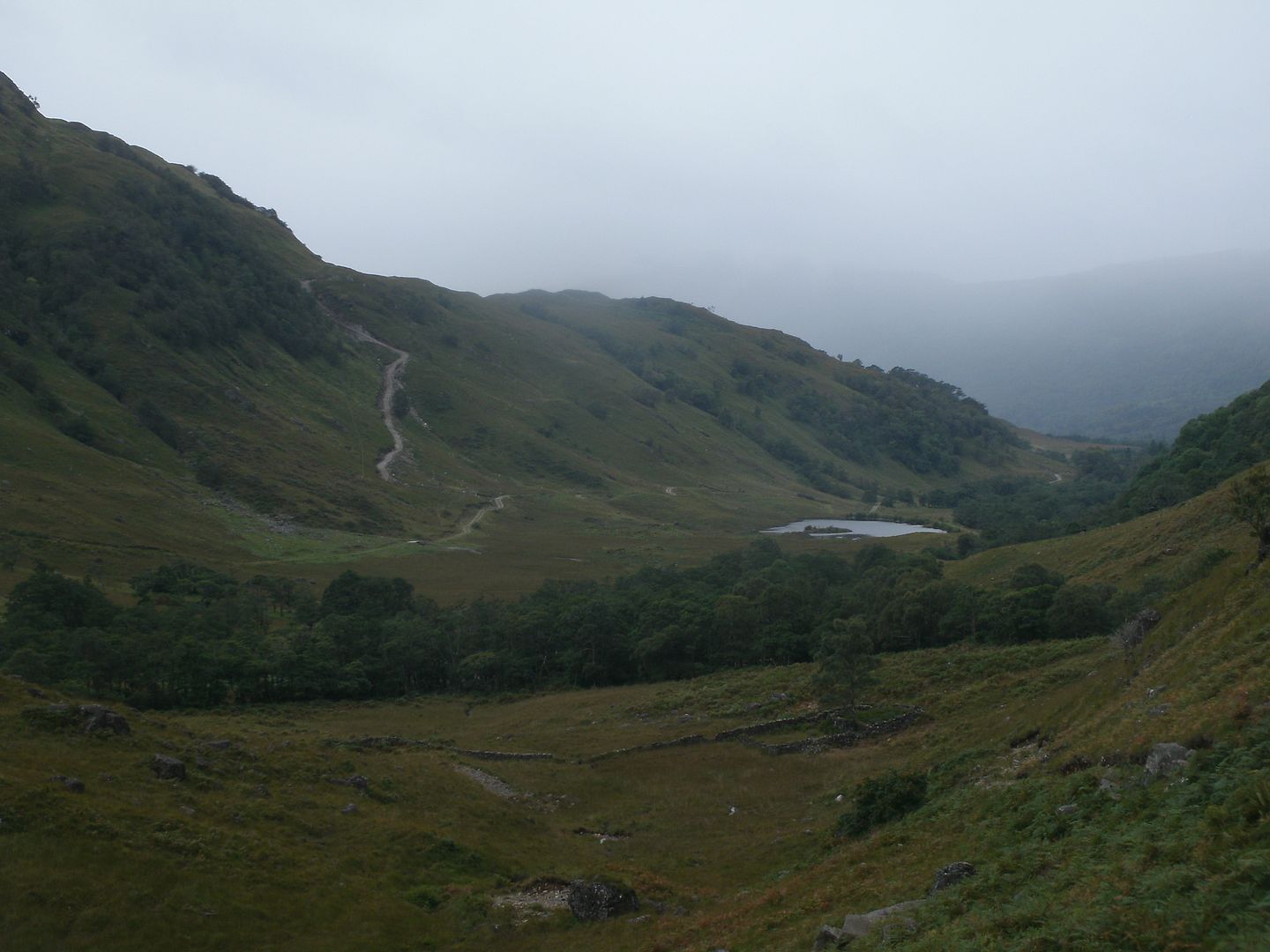 The path took us up a fair amount of the height up to the glen beyond, it was sweltering, and now off the path, it was tough going underfoot. we noticed that some mist had followed us, and started to kill the views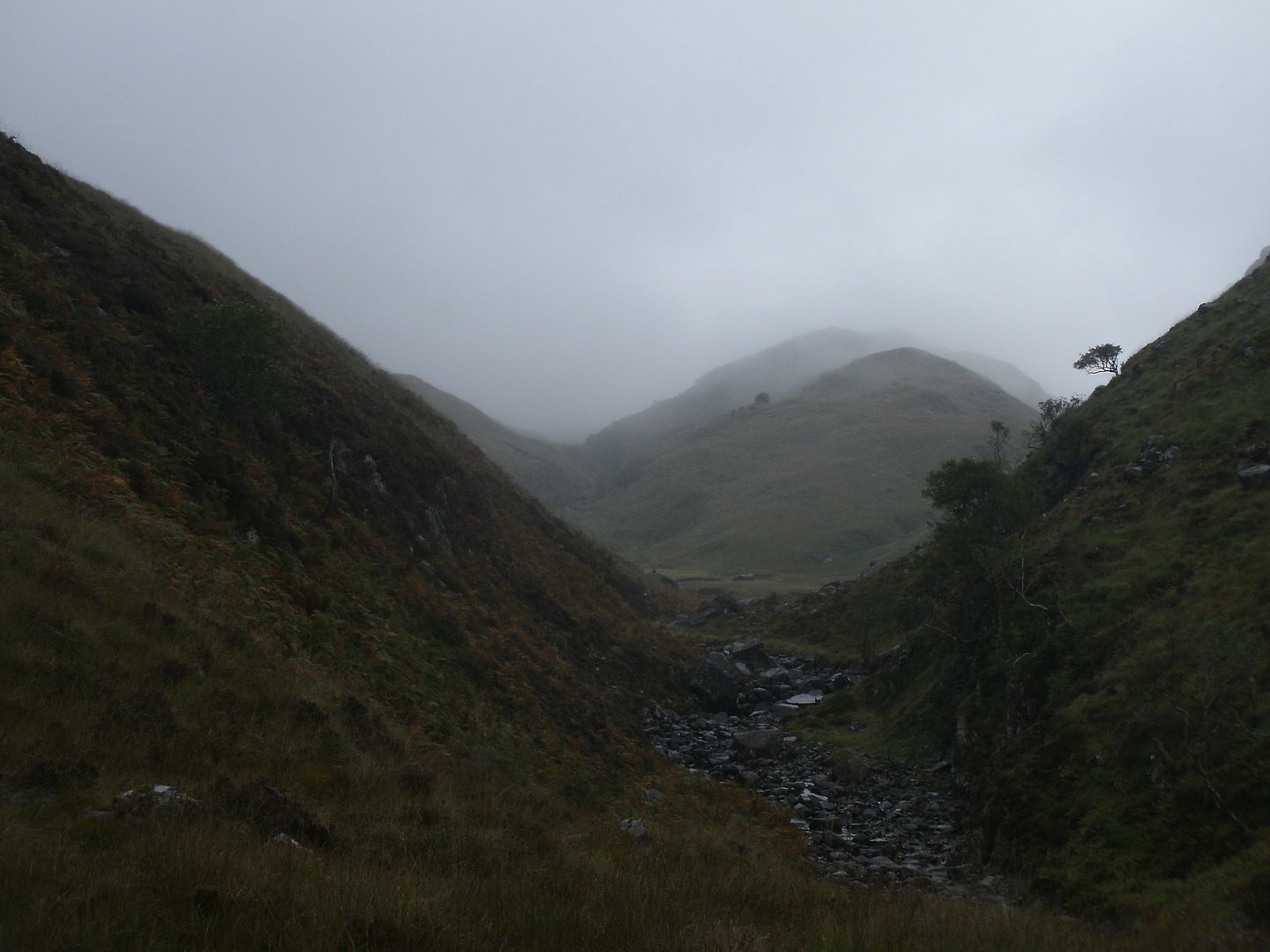 The drizzle started, and we got soaked walking through the long bracken and grass. There were tiny paths about, which disappeared often. We slogged it further up the glen to a wee lochan, where we stopped for a snack, as the drizzle went off for a bit.
Then it was onward up the glen, underfoot conditions hampering any hope of quick progress. We were apprehensive about the scramble as well.. Was it too wet and slippy? We had come this far, so worth going on to take a look
The dreichitness worsened as we got close. No sign of the face we were supposed to be climbing in the clag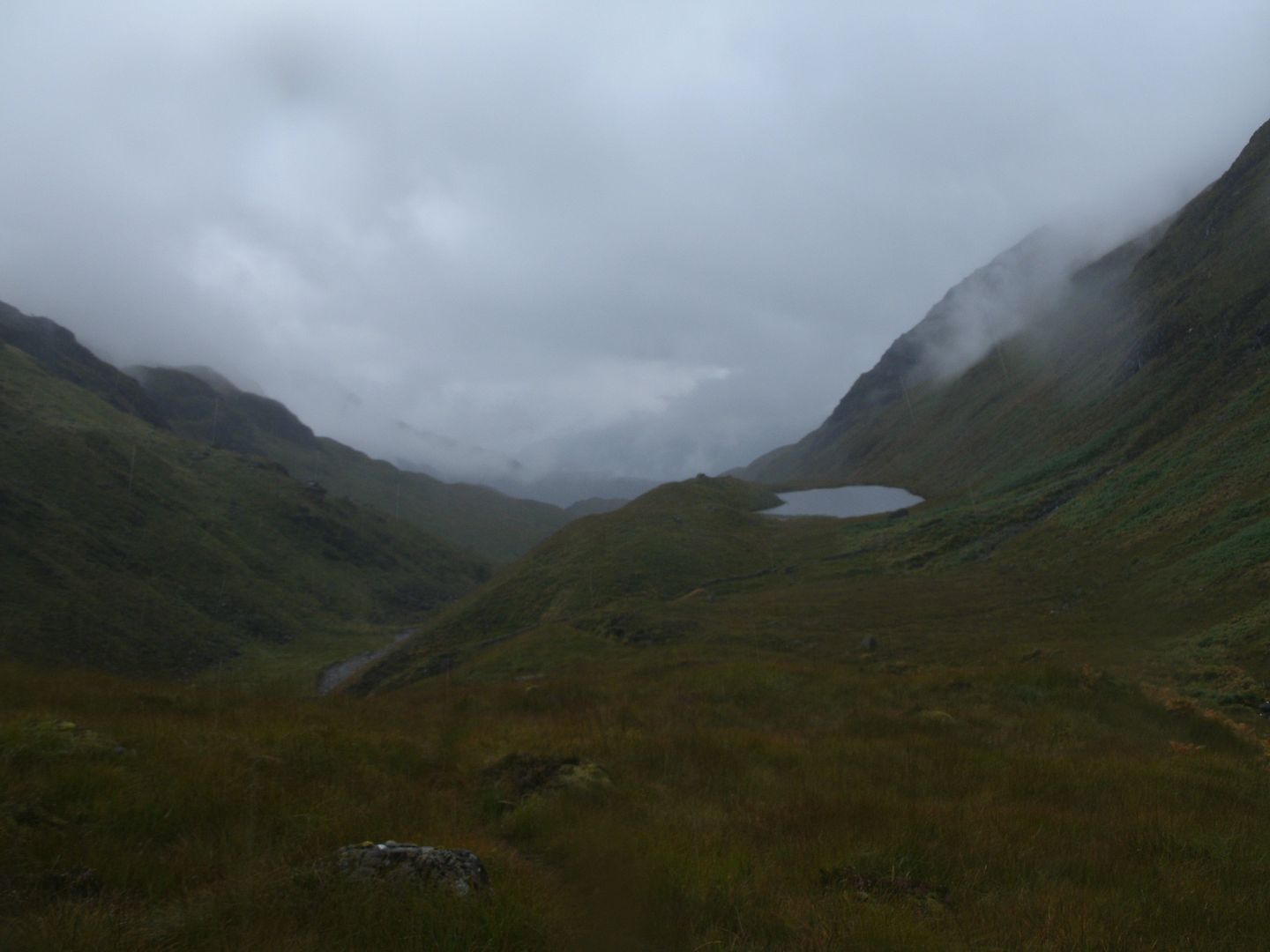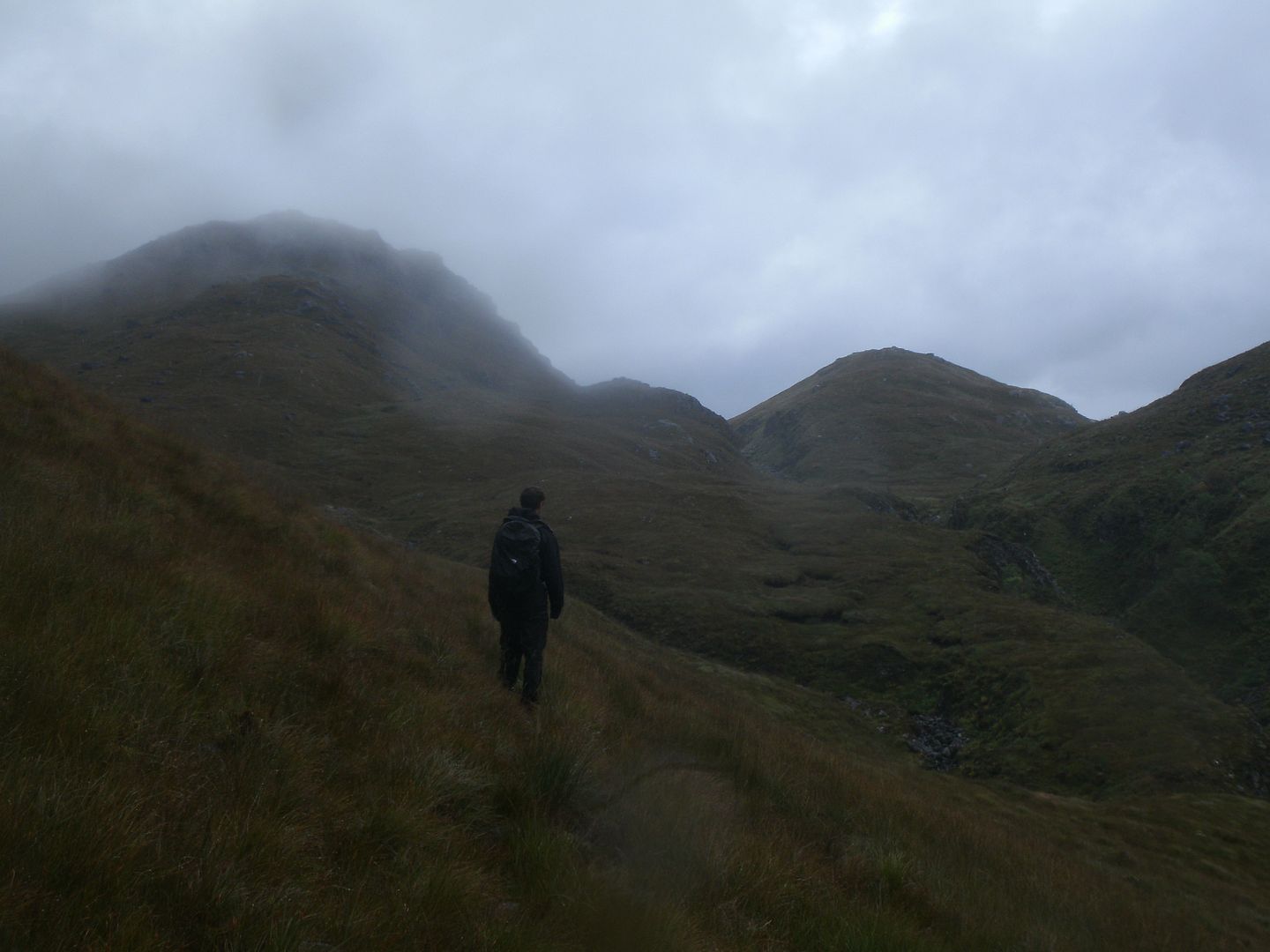 We found the gully we were to follow up, but the weather was really bad at that point, so we stopped and huddled under the brolly for a good half hour until it passed. Some fleeting views toward Glen Etive not staying long. We eventually got going again up very steep ground to the right of the gully. We were supposed to be looking for a pink band of rock, which would tell us where to turn rightward. In that clag there was no hope of finding it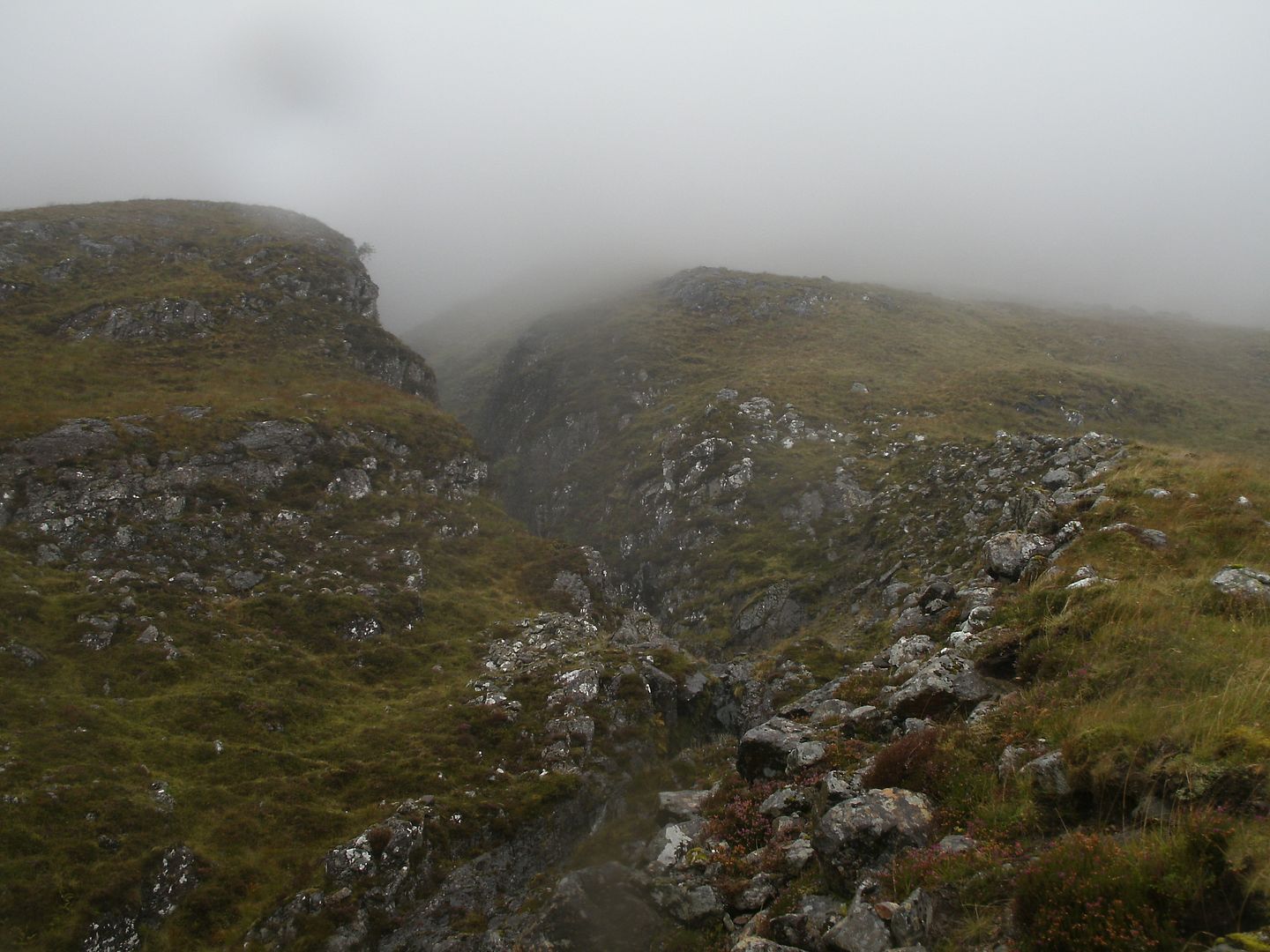 In a moment of inspiration, I spotted an outcrop the same shape as something pictured in the scrambling book, and that gave us enough of a clue to worrk out which way to go
We were up on the rocks in no time, the rock itself being grippy enough to take the easier routes up the series of short faces. Unfortunately, there were also a fair amount of slimy black moss which was treacherous, although the route seemed quite vegetated and there was always a way round if there was something particularly bad. We found this wee guy sat on a big boulder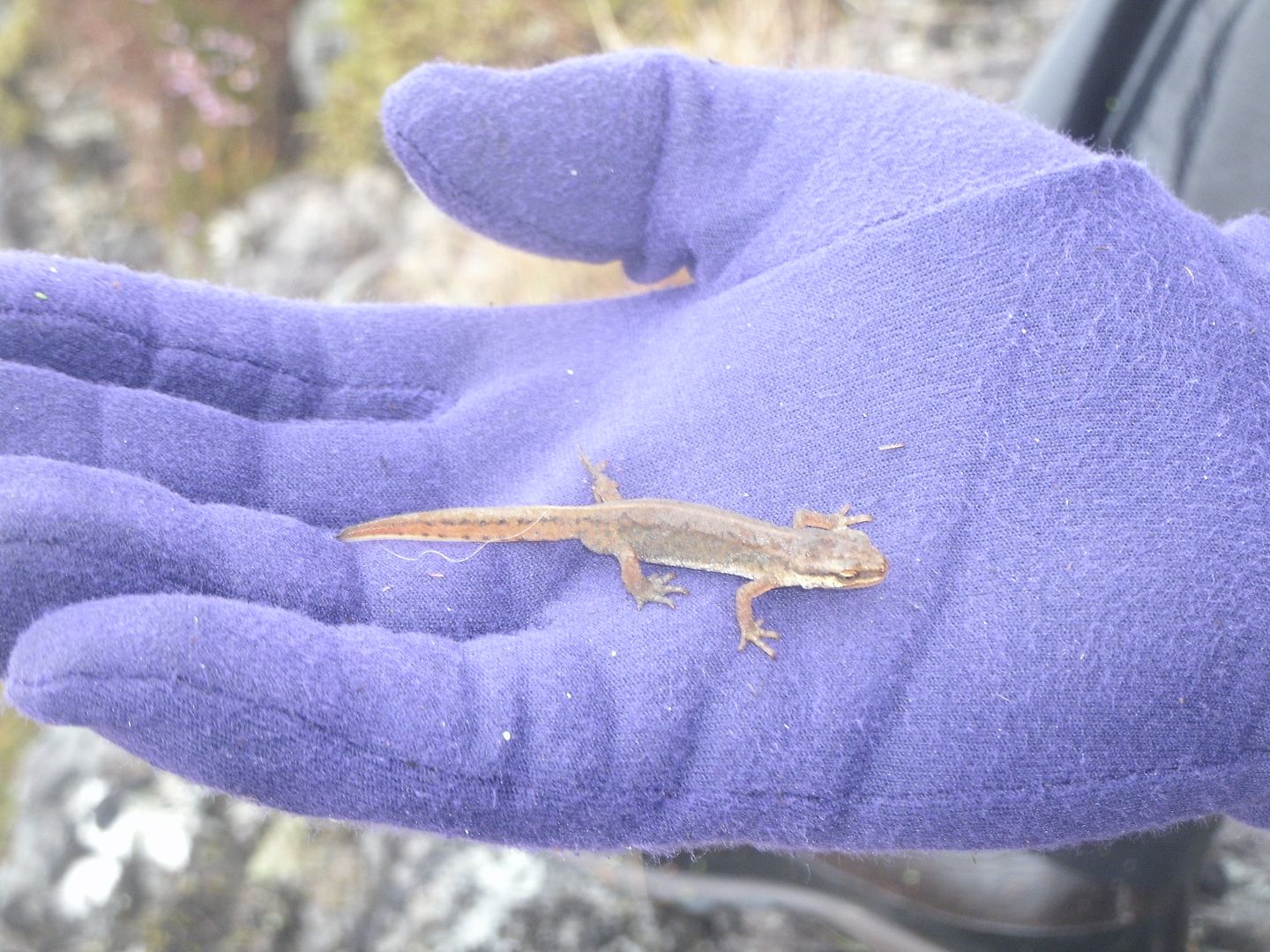 Wasn't very lively, but perked up after being held for a few moments. It had turned quite cold with the damp..
We headed onward, just a couple of outcrops to get over before a steep yet fun boulderfield took us up to a wee buttress that was quite fun. Up more scree and boulders to a pleasant wee section ending in a wall with quartz seams, that was impossible in the wet
Found an easier way up a rake to the side, and we were up to flatter ground, grass, slabs and boulders stretching to a false summit on the horizon. The rain was finally off and clag was clearing just in time for the top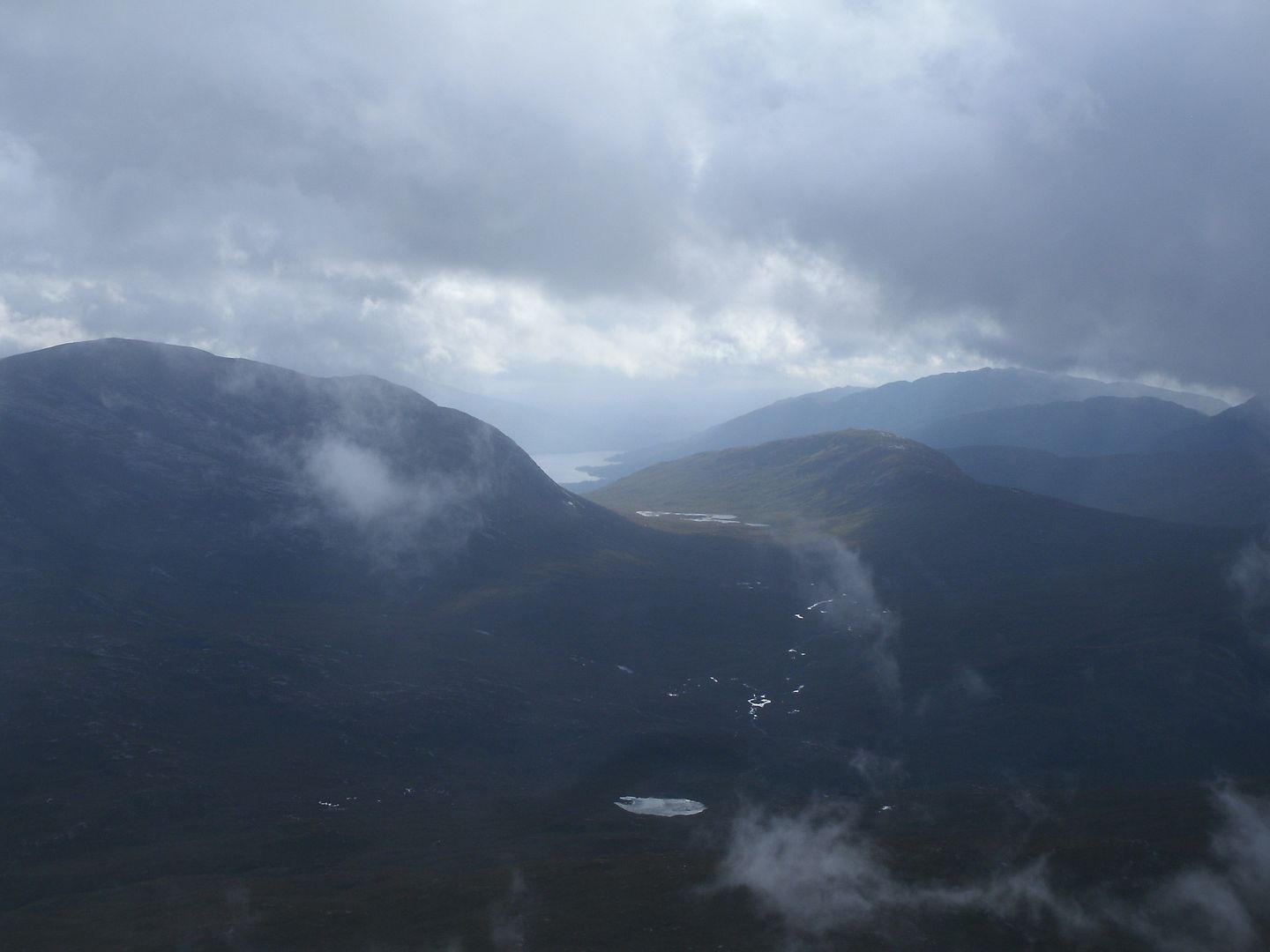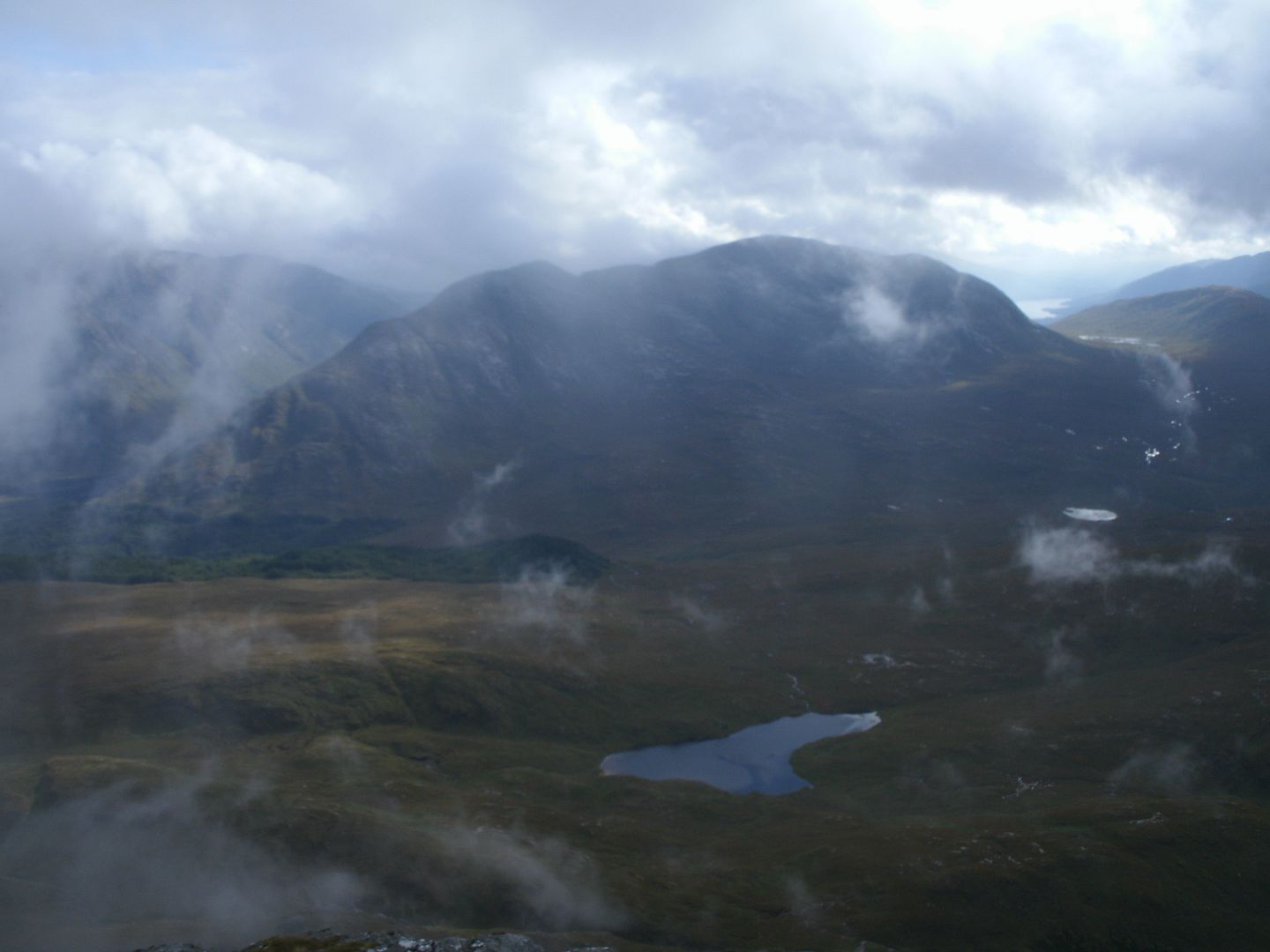 the summit was further away than expected, but by the time we got there the sun was out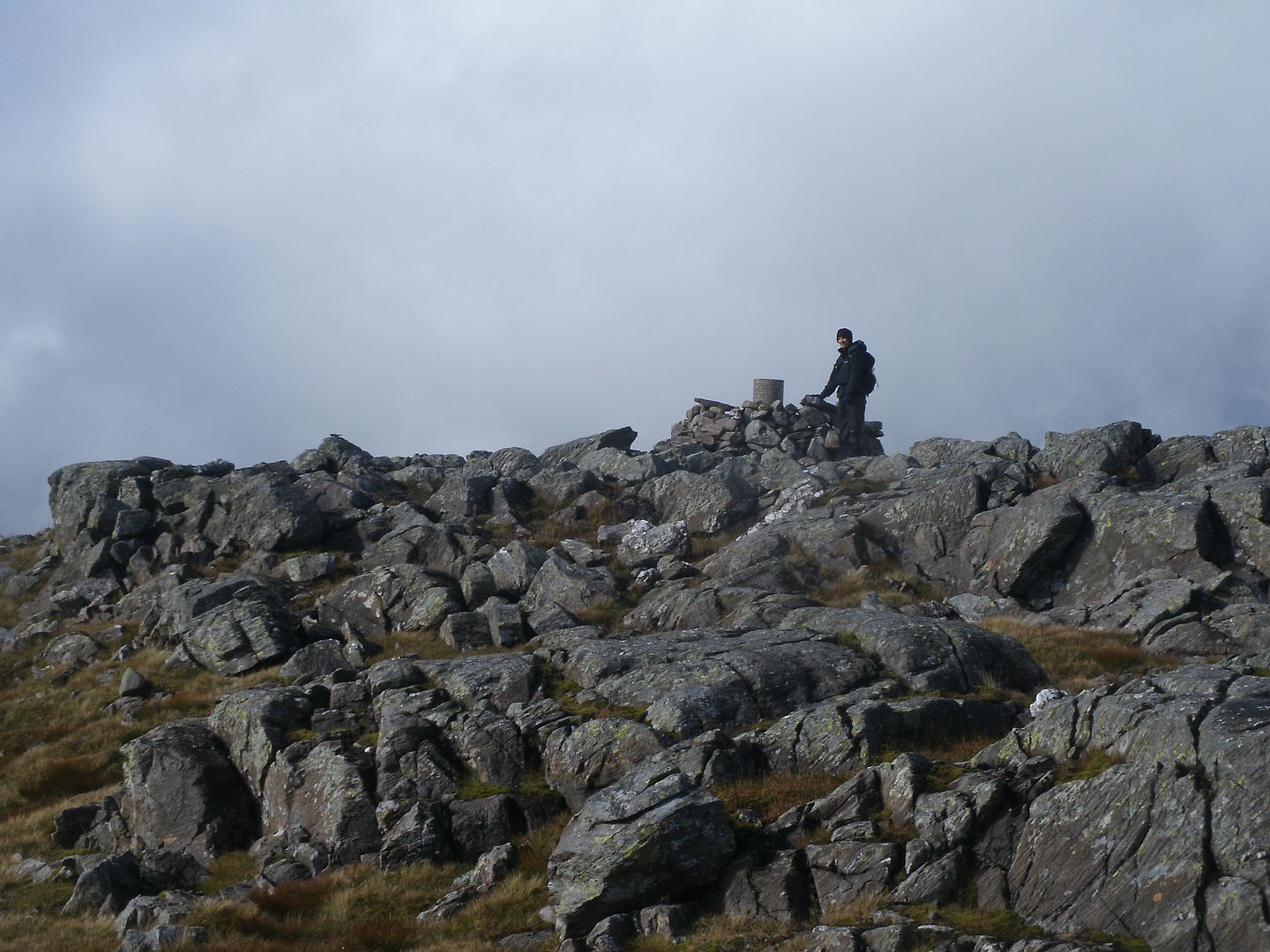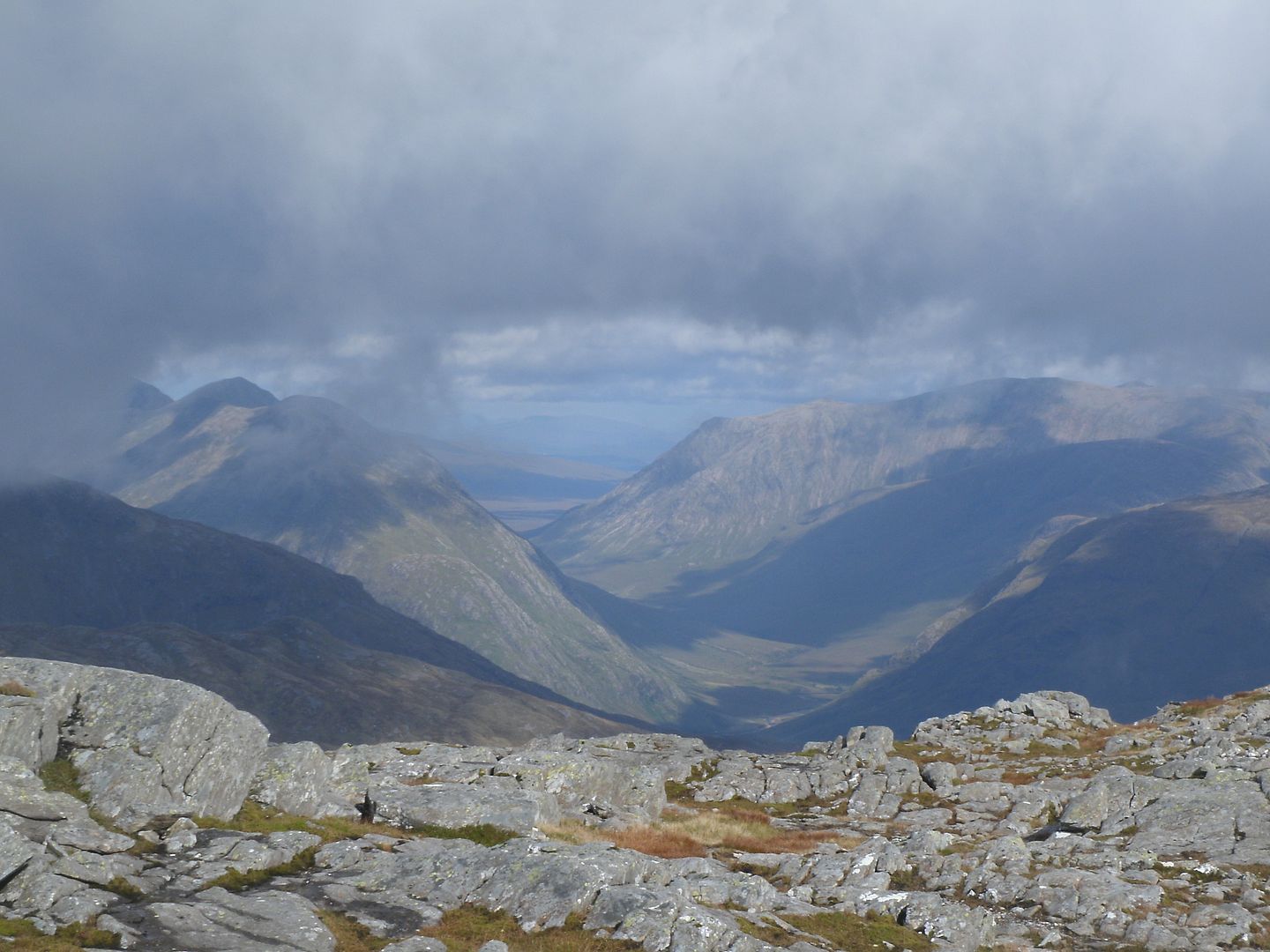 We didn't hang around long, taking the baggers path west along the ridge. At the top it is fairly interesting with slabs and boulders, but this soon turned into a boggy trudge down the hill. We lost the path often, and tufty ground made for some twisted knees and ankles
Apart from one bit, where I lost Dougie, and went back uphill, only to spot him miles below a few minutes later
it was a fairly mundane descent, and we were soon back at the farm, for the foot killing trudge back to the car. Surprisingly enjoyable day considering the scramble being spoiled by the rain
So it was back to the campsite. We had planned Sculard, but didn't fancy another boggy, pathless trudge, s0 in the end we found ourselves back at the same Glen Creran car park the following morning.
Some impressive looking deer fences had been constructed since my last visit to these parts, and the previous day we had been a way up Glen Ure without seeing a way over it, so at the bridge beyond the farm, we turned right, hoping to find a way through. After a short distance, we did find a gate, but the ground beyond was horrifically boggy
We found our way over to the burn, where we hoped to find something a bit easier going. No such luck though, we toiled up the steep, long grass, sweltering in the heat. We were soon stopped for Breakfast
We could see the way ahead, and it looked a long way on pathless, boggy terrain..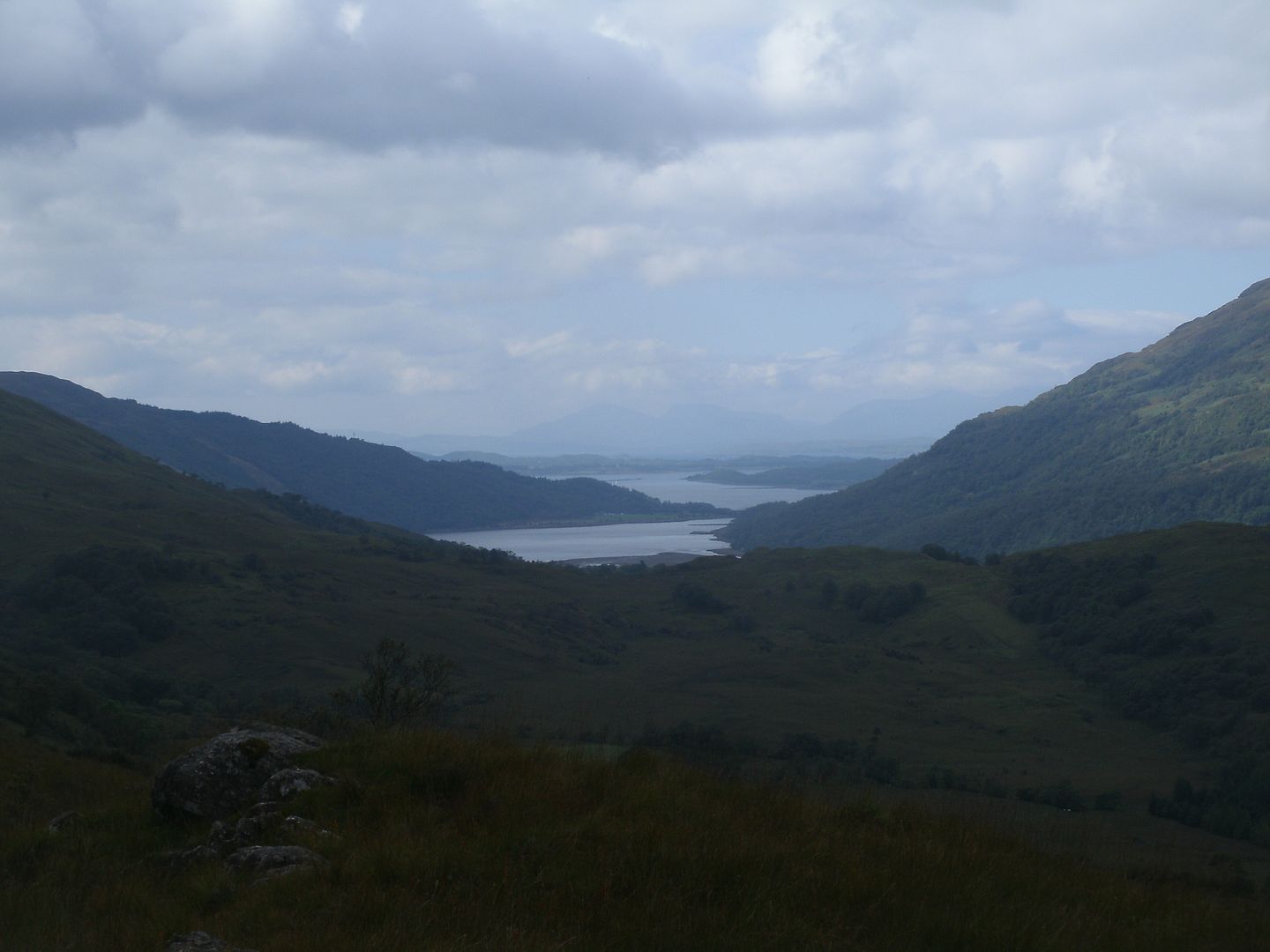 After a while, we found a rocky burn that provided good sport (and progress) scrambling up its slabby bed.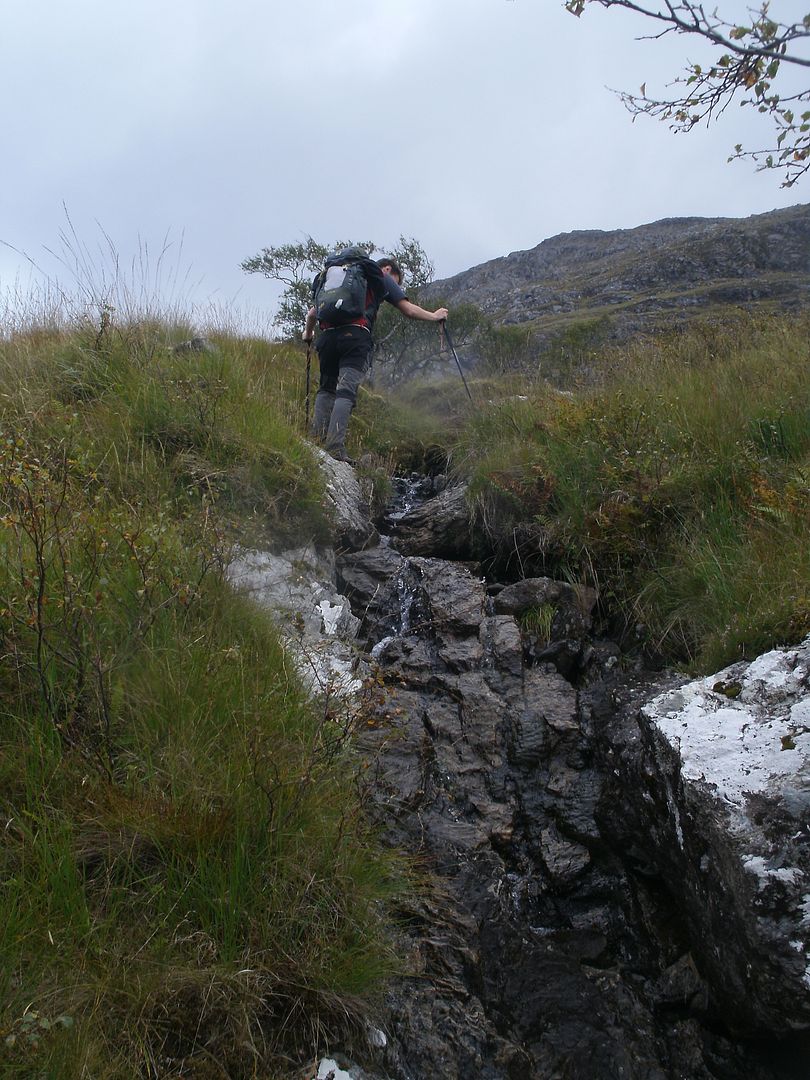 We eventually came across another deer fence, and after a good scout up and down to make sure there wasn't a way over, we were forced to climb over. At least there was no barbed wire..
The fun up the burn continued for quite a way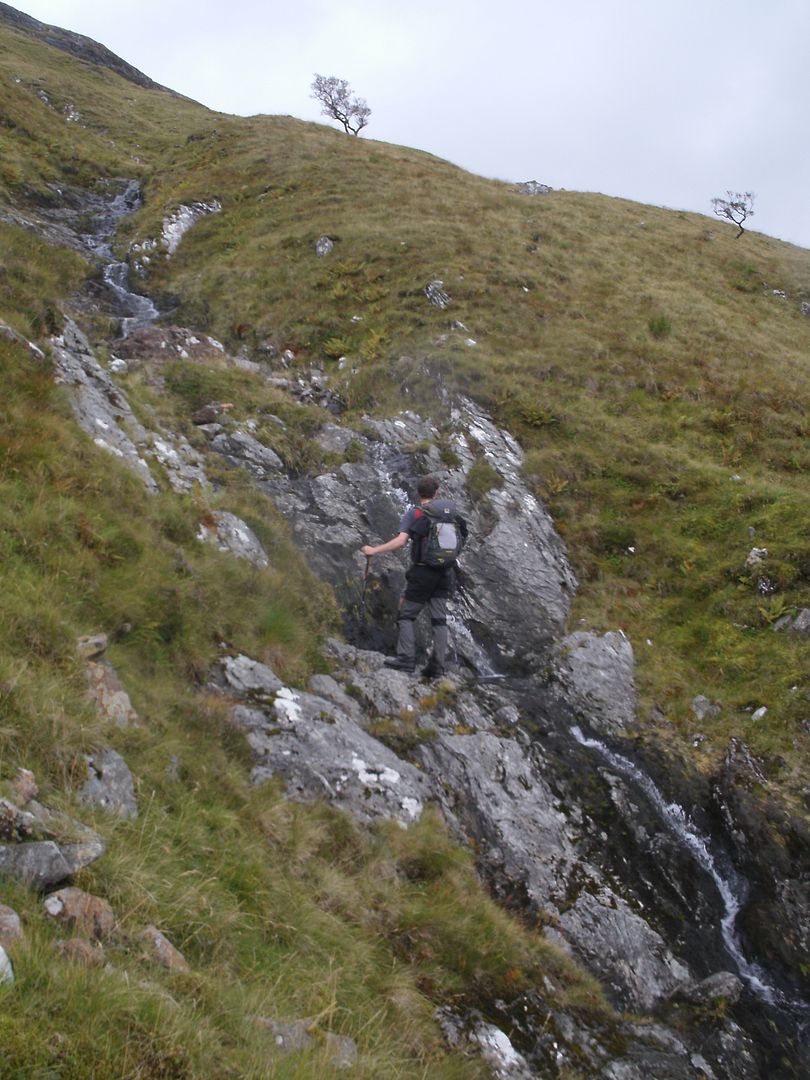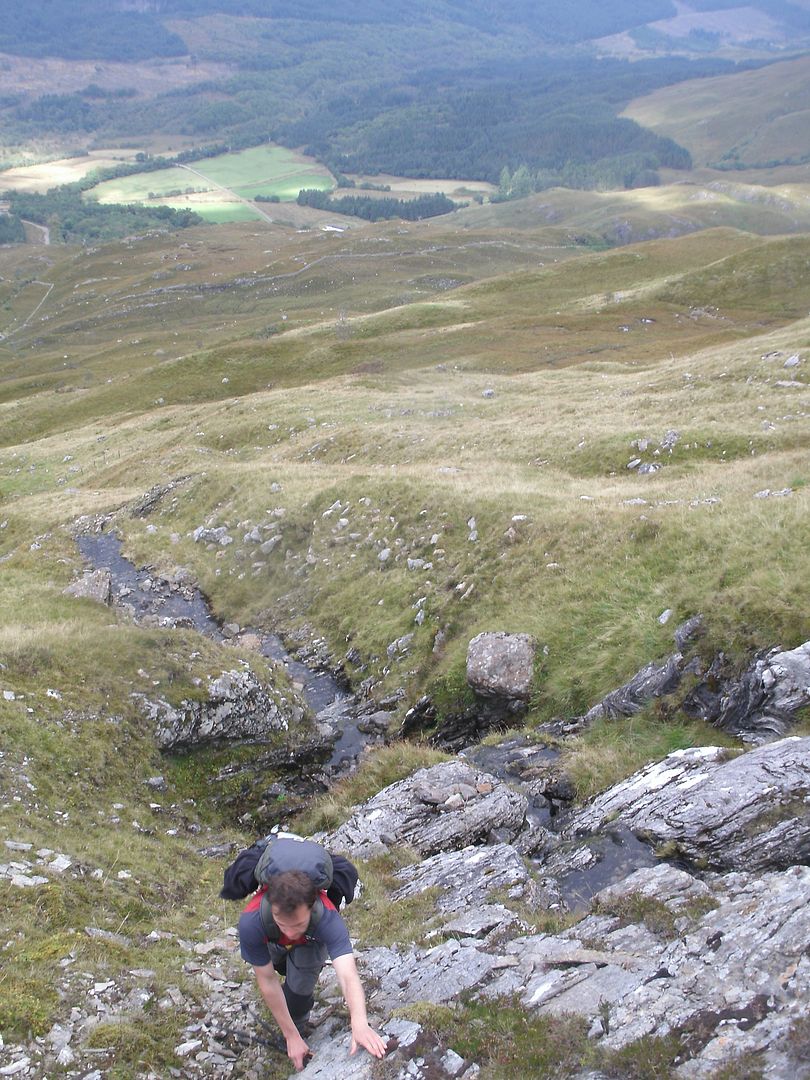 before we were forced to go rightward a bit to aim for the summit. It was incredibly steep, unrelenting, and a lot of breathers were required.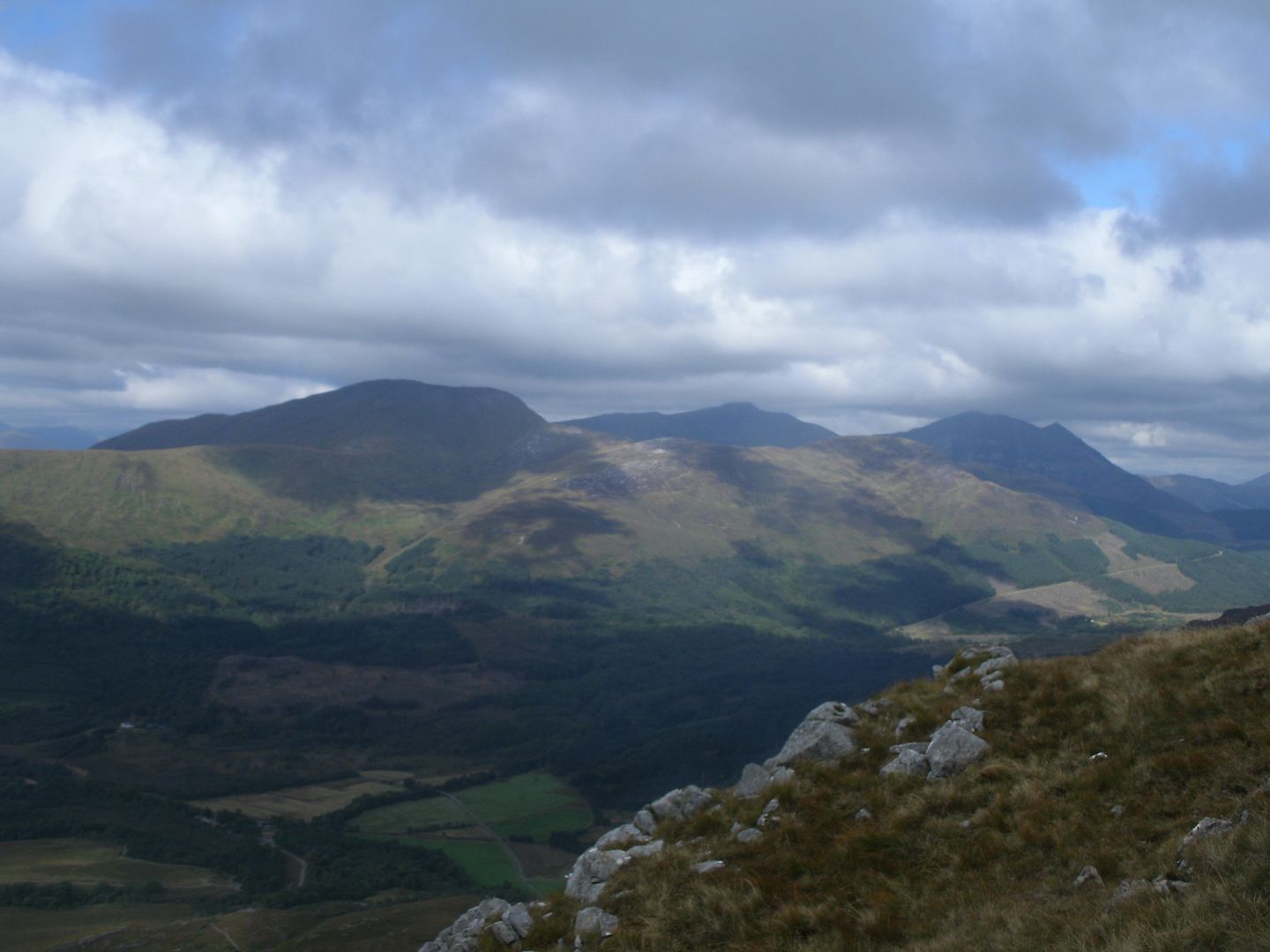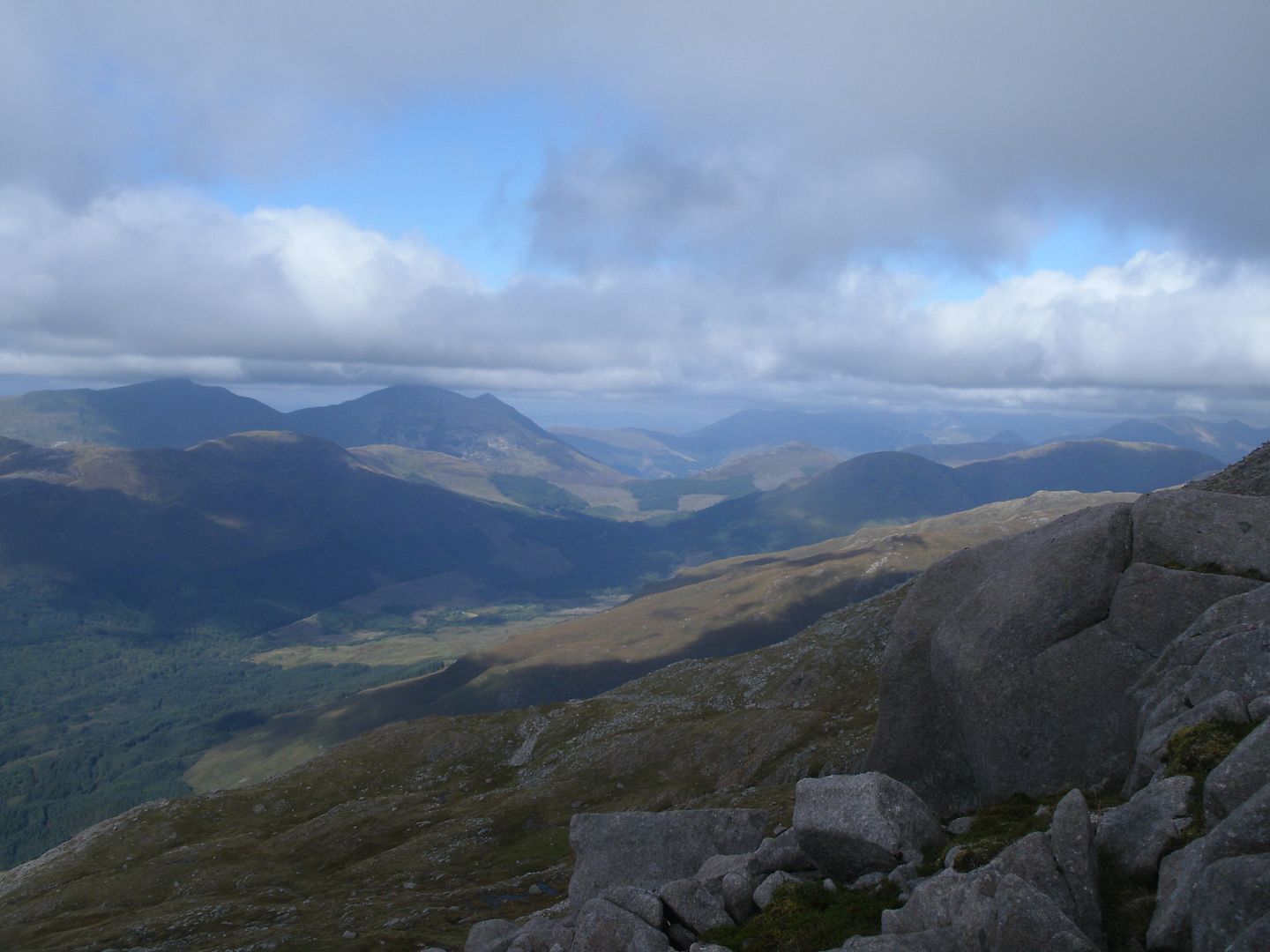 We were having a wee breather at about 700m, when we heard a funny animal noise, the like I had never heard before. Then we heard the noise of rocks being displaced or moved about. We couldn't see anything though so we set off again. Within 20 yards, we could smell an incredibly pungent smell. Not deer, or sheep, but something like that. I kept looking back, and eventually caught sight of a huge goat, easily the size of a highland pony, and with horns about 33 foot long
The stench covered the whole hillside, and was so strong, it made my eyes water..
So by this point, the going had got a lot rockier, and we started to have fun climbing up wee outcrops and over large boulders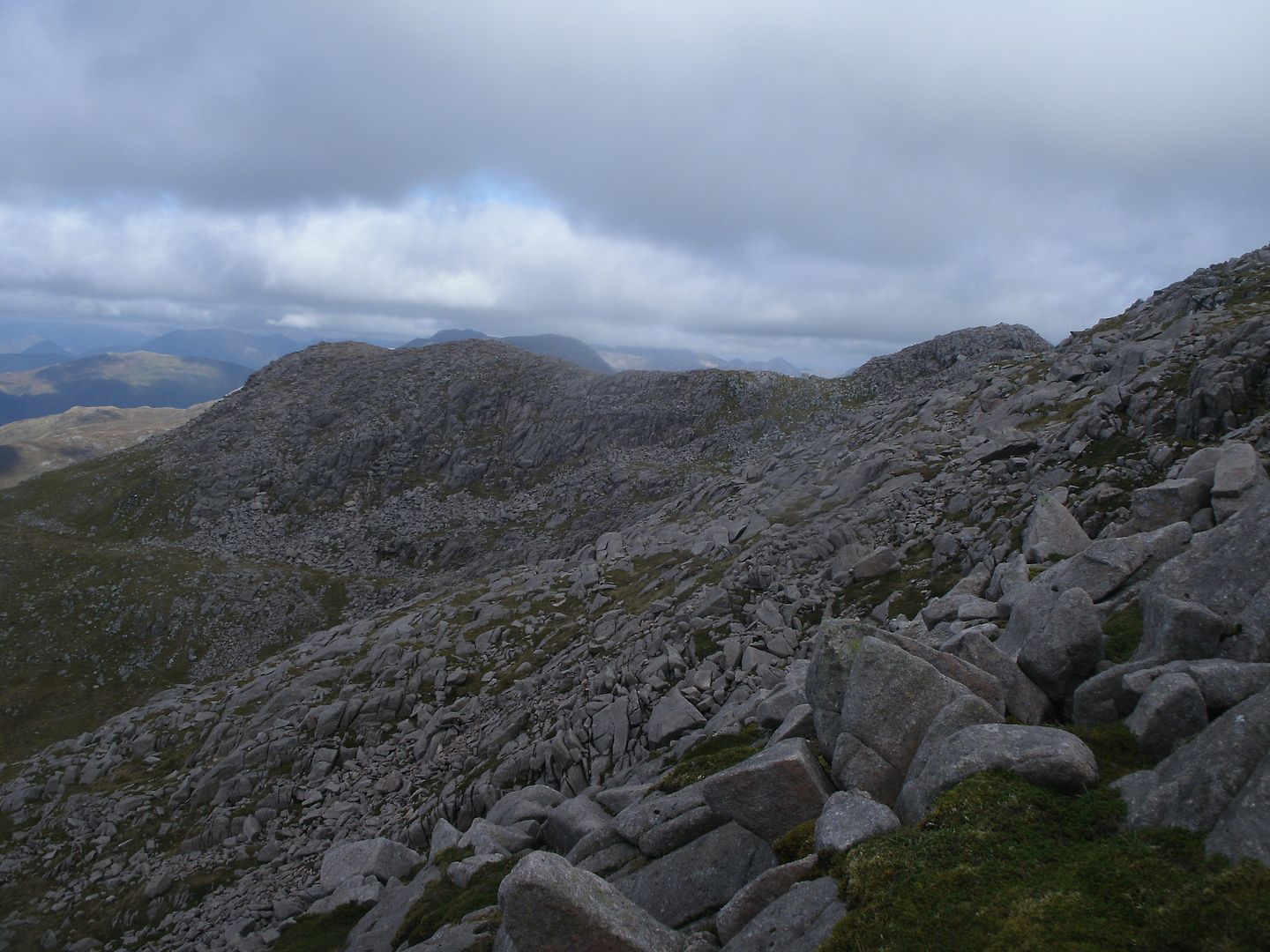 We found a wee path that took us up the last few yards up to the summit, which was quite busy. Everyone else seemed to have come along the ridge - longer but probably easier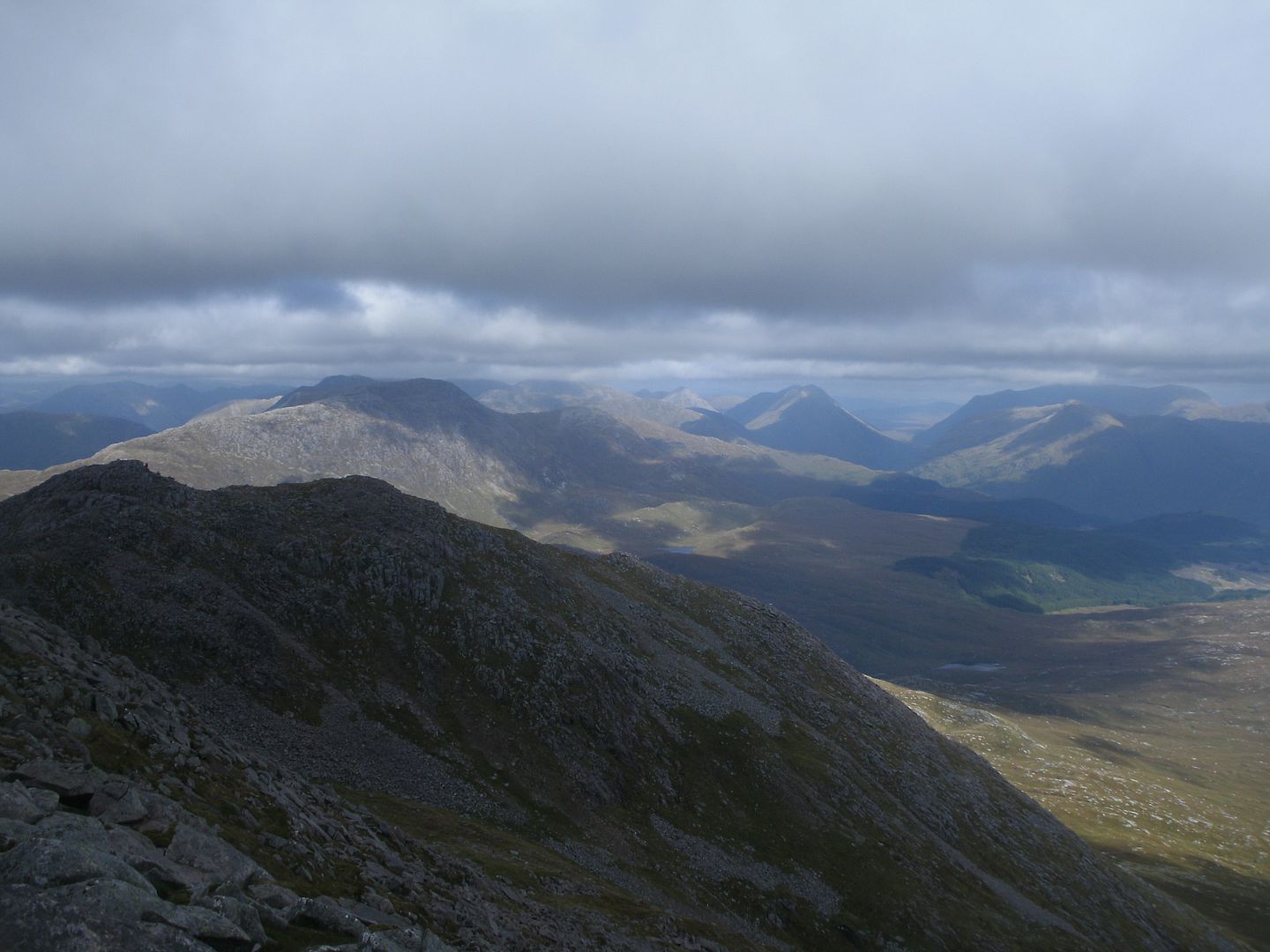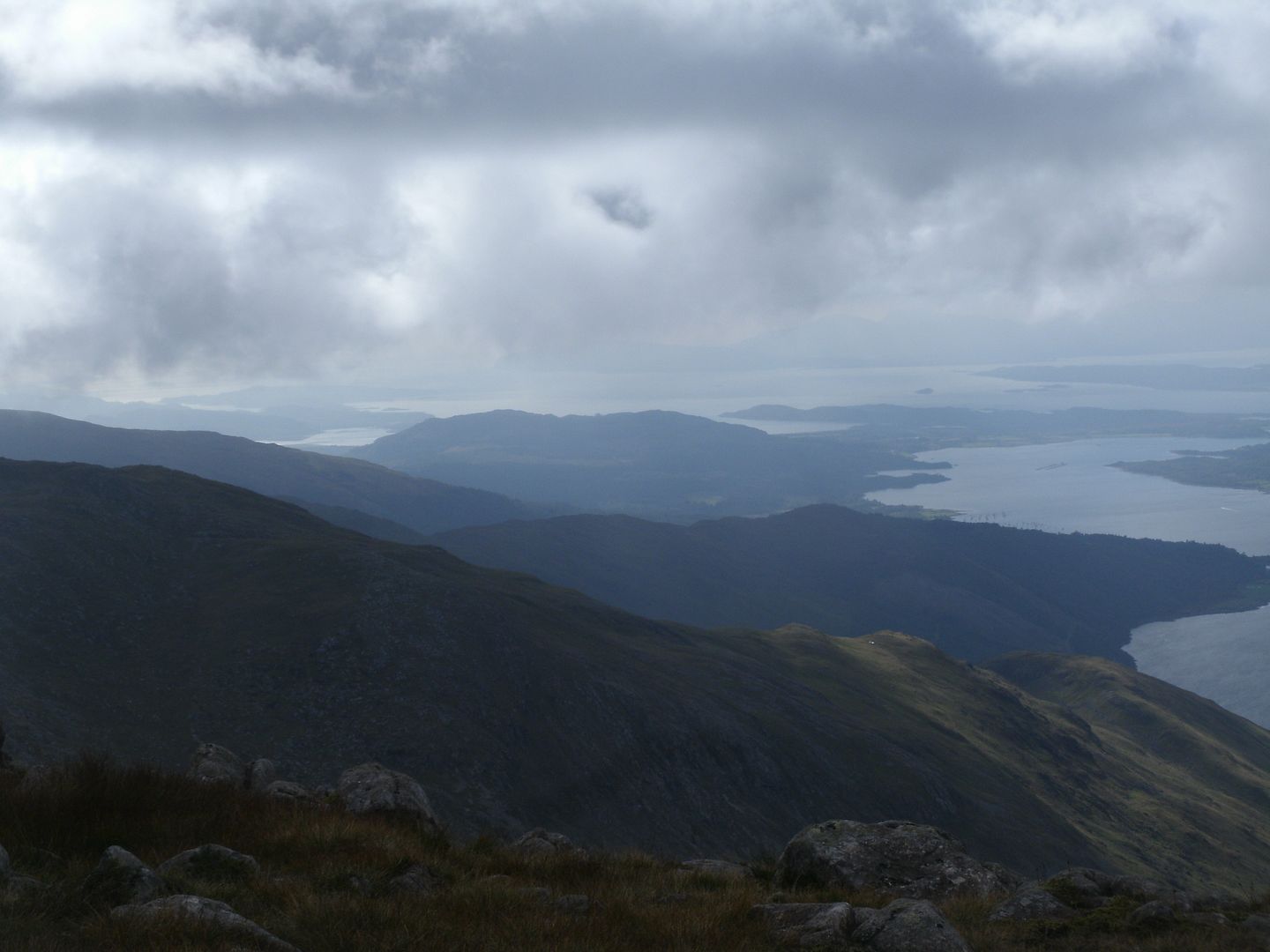 We found that we had lost our baccy, so after a quick sarnie, we headed back the way we had come, to see if we could find it. As soon as we were down a little, the stench of goat returned. I knew there had to be more than one goat, even if he was a giant one beast could not generate that much odour! We made it down and found the baccy. There was a lot more zig-zagging and traversing on the way down, trying to save our knees from the steepness. We bumped into this chap, who seemed a different breed to the one we had seen earlier..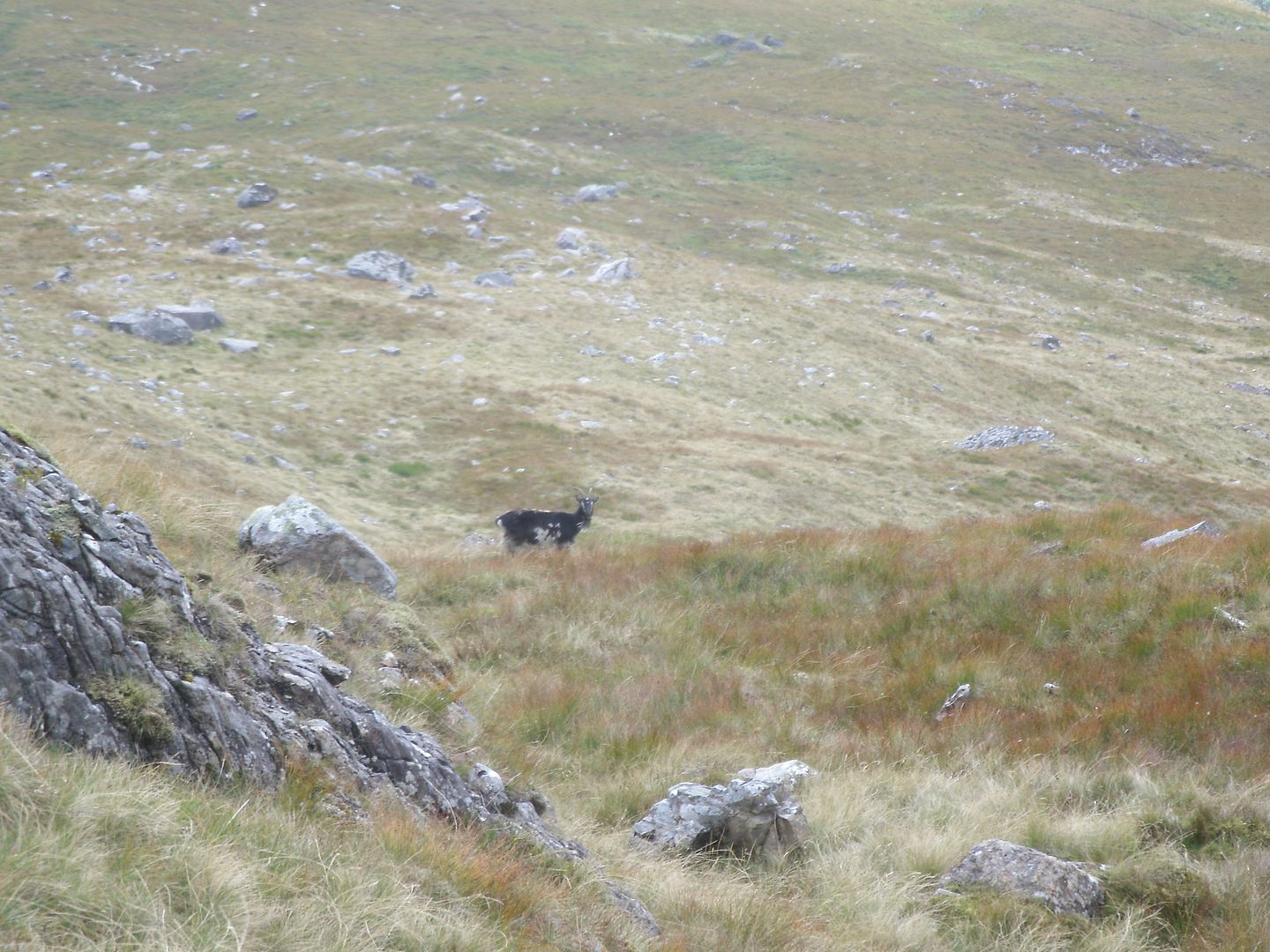 After we were down a hundred yards or so, I looked back to find a whole row of long horns along the skyline - the goats now out of hiding making sure we were definately away
Was something quite eerie about it though, even in the sunshine..
So we finally got back down to the fence, which we followed for a while, before it turned in the wrong direction and we were forced to climb over again. We followed a burn down very steep ground, with very long grass, back into Glen ure.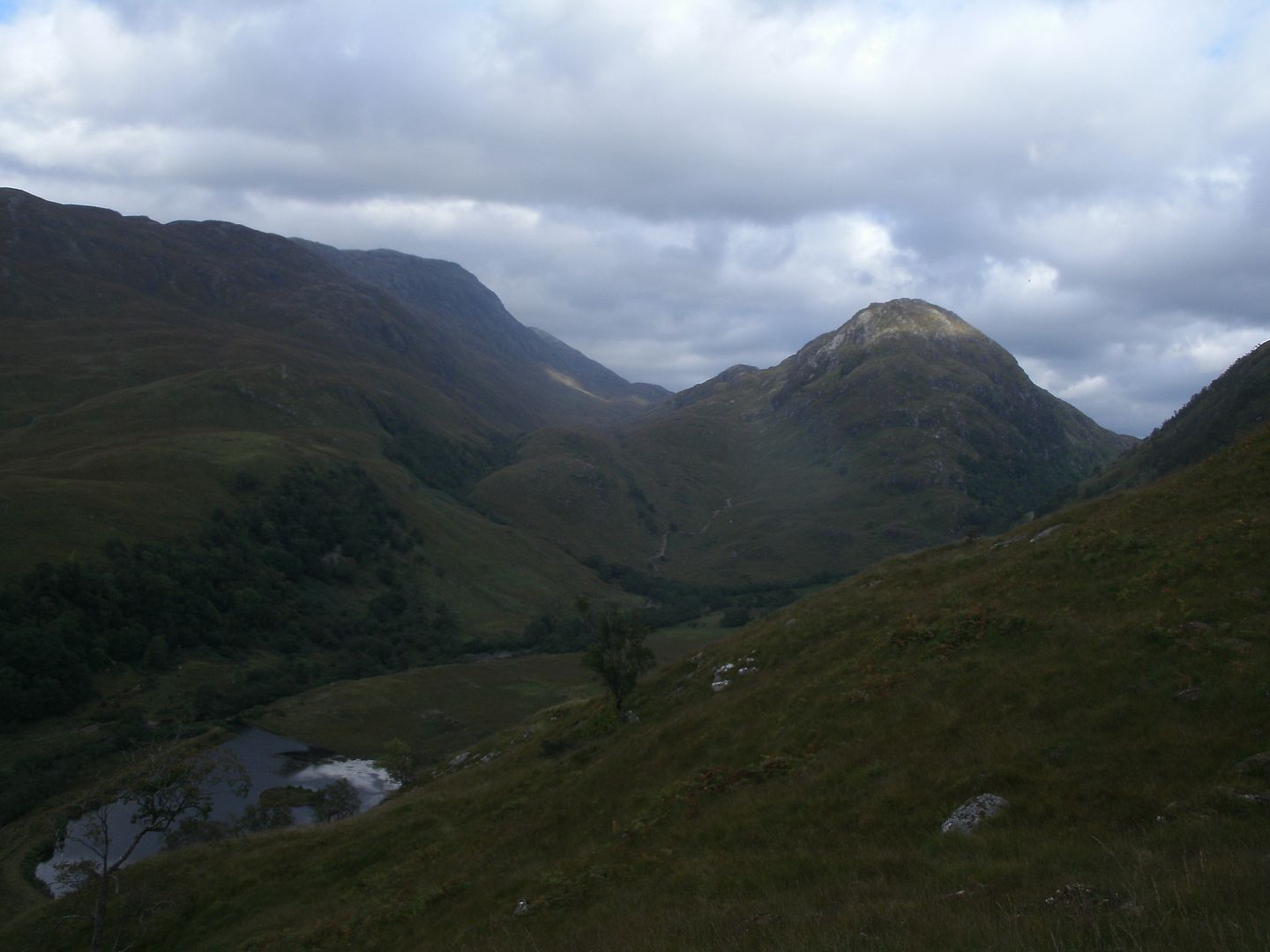 Only took half an hour back to the car, where we decided we were starving and made a beeline for real food cafe. Two hills I had a brilliant time on, but have no desire to go back to for a third time