Looking ahead to the weekend walking forecast, Sunday looked to be such a glorious day that it would have been a crime not to be outside somewhere.
We were looking for a walk within a short driving distance that wasn't too long. Meall nan Tarmachan jumped out straight away as a walk that came highly recommended, especially if continuing along the ridge.
Our decision was vindicated almost straight away as we drove towards Stirling we could see the sunrise in the rearview mirror, and it looked glorious.
As we headed past Loch Lubnaig, the haze was settling over the water, giving an impressive effect. The same was true of Loch Tay, as we started heading up the single track road to the car park. In fact, it never really cleared all day, meaning that we never really got a great view of it, which was the only pity of the day.
After some slight confusion upon parking up ("Eh, where's the visitor centre that's on the map? Are we in the right car park?"), a quick scout round indicated that this was indeed the right place. We were soon off heading on the path. I found the start a good balance of getting some height quickly, without having your legs destroyed at the same time.
Navigation was simple, what with a path going all the way. It gives the opportunity to pay a bit more opportunity to your surroundings, rather than swapping between map, WH route report, and Garmin on a rotational basis. We seemed to have picked the right walk. The Tarmachan ridge was under blue skies, while the Lawers munros were shrouded in haze.
We continued up towards the bealach that hides Meall nan Tarmachan from view and got a glimpse of the dam below.
IMG_2204
by
stuliv83
, on Flickr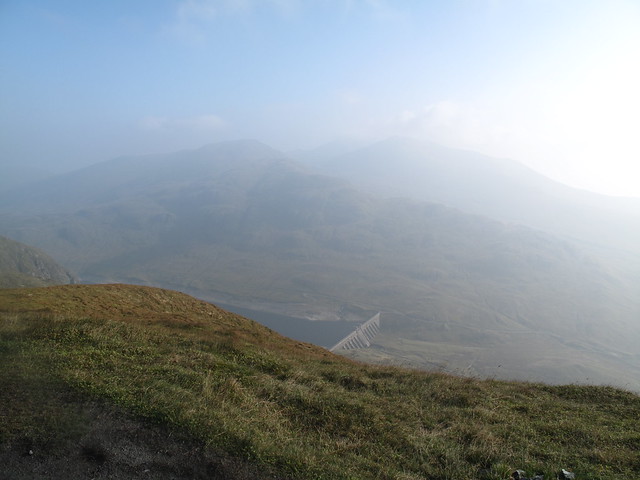 IMG_2205
by
stuliv83
, on Flickr
Two thoughts struck me as we came over the top of bealach. The first was - that's a bit steep. The second was - that doesn't look like the summit of a munro. I was right on the first count, and wrong on the second.
IMG_2206
by
stuliv83
, on Flickr
The stretch up to the top wasn't too bad, although I was never as comfortable as the mountain sheep watching over us. There was a couple of hands down moments, but it was good fun. Only 90 minutes after leaving the car park, we had bagged the munro. I reckoned this must be the quickest from car to cairn that I've done (apart from Carn Aosda, which was a thirty minute sprint!).
Usually on a one munro walk, you summit, and then that's it. You head back. Today, however, the walk just seemed to be starting. The view along the ridge was breathtaking. I was quite surprised by how much descent there was, and it seemed, to the eye at least, that Meall Garbh can't be much off being classified as a separate munro. It certainly deserves the status, rather than that of humble top (or, as we know them round our way "Canadian munros").
IMG_2210
by
stuliv83
, on Flickr
We didn't hang around too long, and got cracking. This stretch was straight forward, but incredibly enjoyable. Despite how it looked from the summit of Meall nan Tarmachan, there wasn't much of a descent, and before we knew it we were heading upwards again.
IMG_2211
by
stuliv83
, on Flickr
The upwards section continued in the same vain, and we were on the narrow stretch to the second summit of the ridge.
IMG_2215
by
stuliv83
, on Flickr
Getting over the side, we stumbled on the first problem of the day, as the path basically stopped, and turned into some very steep scrambling. There wasn't an intuitive route down, and it was a matter of getting as many points of contact as possible (for me, two hands, two feets, and a backside). As is often the case, its just a matter of concentrating, deciding where you want to put your appendage, and putting it there. Matters weren't helped by the fact that the rocks hadn't had their daily dose of sun, and were still incredibly slippy. After a shorter time that it probably seemed we made it back onto path. Looking back up at it, I probably wouldn't have flinched if we had been coming the other way, but its amazing how unhelpful gravity can be when its actually trying to help you out!
IMG_2217
by
stuliv83
, on Flickr
As we descended down again, the views back to Meall(s) Garbh and nan Tarmachan were absolutely cracking, and it was hard to believe how far we had came along
IMG_2218
by
stuliv83
, on Flickr
IMG_2220
by
stuliv83
, on Flickr
We had a wee stop for lunch on the way to the third top, and decided to follow the WH route off the ridge, rather than continuing along, and having to retrace our steps back, but this certainly looked like it'd be an enjoyable addition to the route.
IMG_2222
by
stuliv83
, on Flickr
For the first time, we were off a track. We knew we were aiming for a quarry, but it hadn't occurred that you wouldn't be able to see it from above. Nevertheless, it was straight forward going, as we could see the road we were aiming for way off in the distance, so it was just a matter of picking a line. Fortunately the dry weather mean that for this day, my own personal bog rating for the walk was 'mildy inconvenient' and we simply dodged around the few wet patches we encountered.
We had a wee poke round the quarry, which was kinda cool. I was glad I hadn't just stumbled across the top of it though.
IMG_2228
by
stuliv83
, on Flickr
The walk out was about as non-descript as it gets. However, we got our best view of the ridge we had just walked.
IMG_2229
by
stuliv83
, on Flickr
We were back at the, now packed, car park, by quarter past one and were off down the road shortly after.
All in all I thought this was a fantastic walk. I think the ratio of great scenery to difficult (in terms of navigation/physical exertion) is pretty high. I felt similarly about Schiehallion too. Those epic days of multi-munro bagging with the map and compass out permanently can be brilliant. But sometimes an easy day can be just as rewarding.