So this weekend after a disastrous walk with stalking restrictions and pelting rain, I met my Dad in the fort on Saturday night, hoping to do some hills. Weather hadn't looked too bad afore we left, but when we caught the walkers forecast on radio Scotland, it sounded somewhat less promising..
After a rainy night, it had stopped in the morning, and we decided to go up Beinn a Chaorainn and Beinn Teallach.. it would be my 3rd ascent, but by another different route, so didnie mind helping with Dad's totals at all.
We drove round to Roughburn, dumped Dads van and continued on a couple of miles to get a parking spot up the road.
So it was on with the boots, and onward into the drizzle
We had the scramble book out to inform us of the route, and along the west bank of the Allt na h-uamha. Easier said than done.. A short scramble from the road, saw us forcing our way through forestry plantation.. Those branches grabbing everything, hair, clothing, rucksack - talk about a fight! In the damp conditions the trees shed big raindrops, and I was soon soaked and steamy
There was a boggy path of sorts which we soon lost, ended up too far from the river, and had to claw our way back again.. Oh tough
That section thankfully didnie last very long and we were able to get along the bank with increasing ease.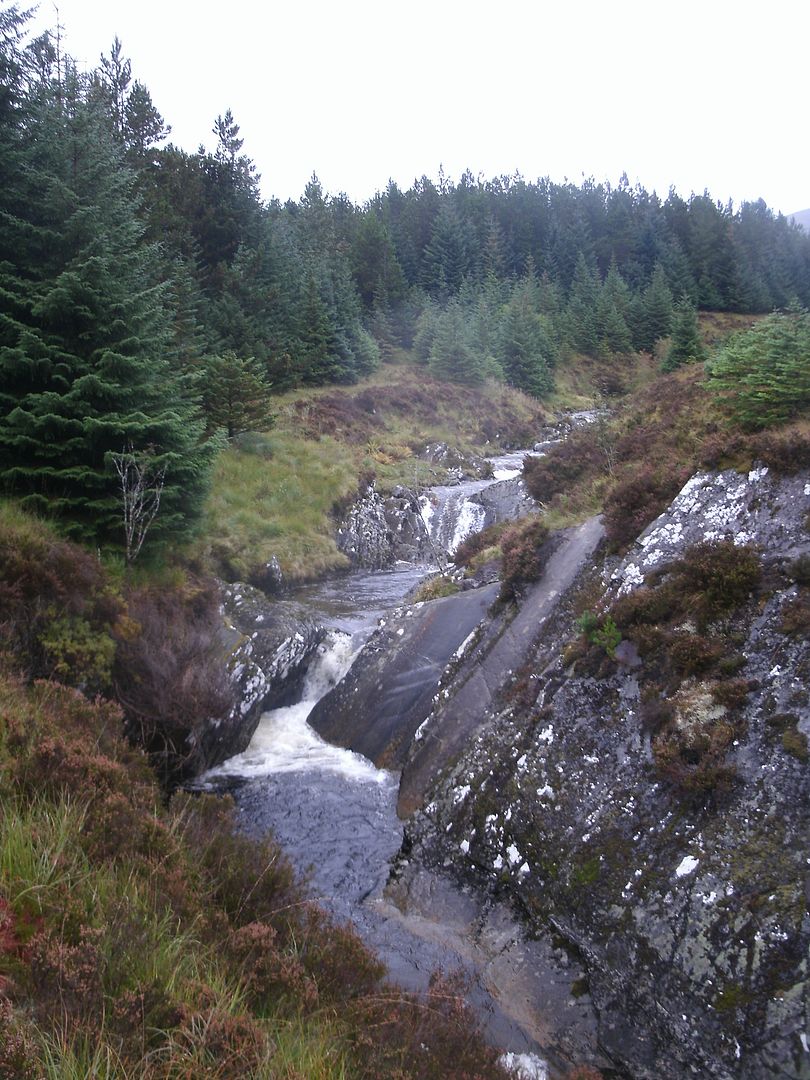 After 20 minutes, we found the fence detailed in the book, and we headed left up to the track which we followed across a bleak moor, and into the plantation beyond.
The track seemed to go on and on. Quite a few deer hiding out from the stalkers in the forest
After the woods, I was expecting to find a gate, as thats what the book said to expect, but no sign, so we continued along the track, which pretty soon deteriorated into a very soggy argocat track. Still no sign of a gate, and we were pretty sure which ridge we were aiming for, so we headed straight across. Looked far, but didnie take long to get to the steep stuff. The mists seemed to be playing tricks in fact, because the huge slope in front turned out to be only 50 feet or so, and we were up to a flatter section.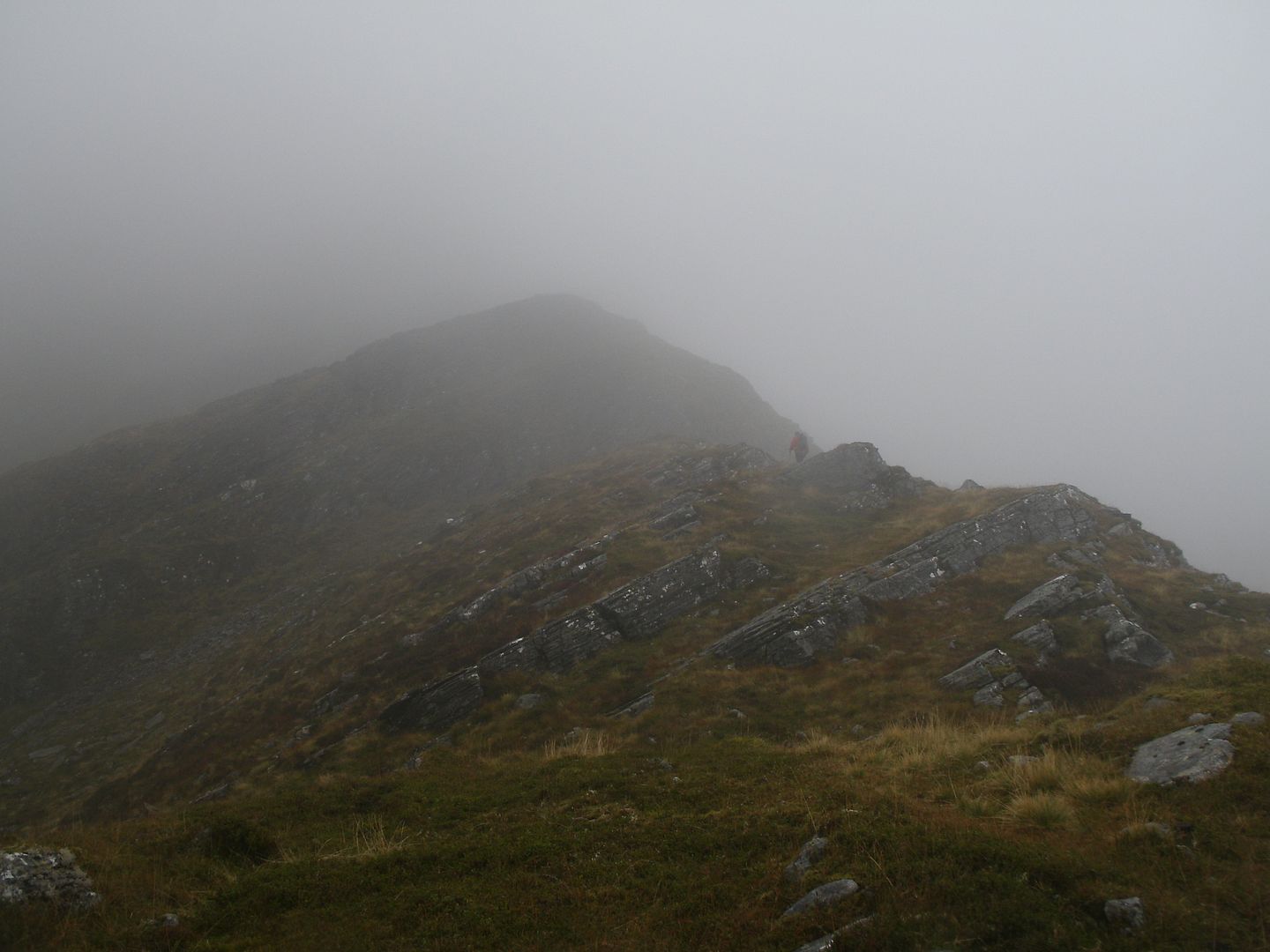 up another step and the rocks started to appear, in the form of short wee scramble runs. The rock was pretty slippy in the wet, but the scrambling was all so easy, and the holds so good, it didn't matter so much.
We stopped at a flatter grassy section for a break, the rain worsening. I really was quite wet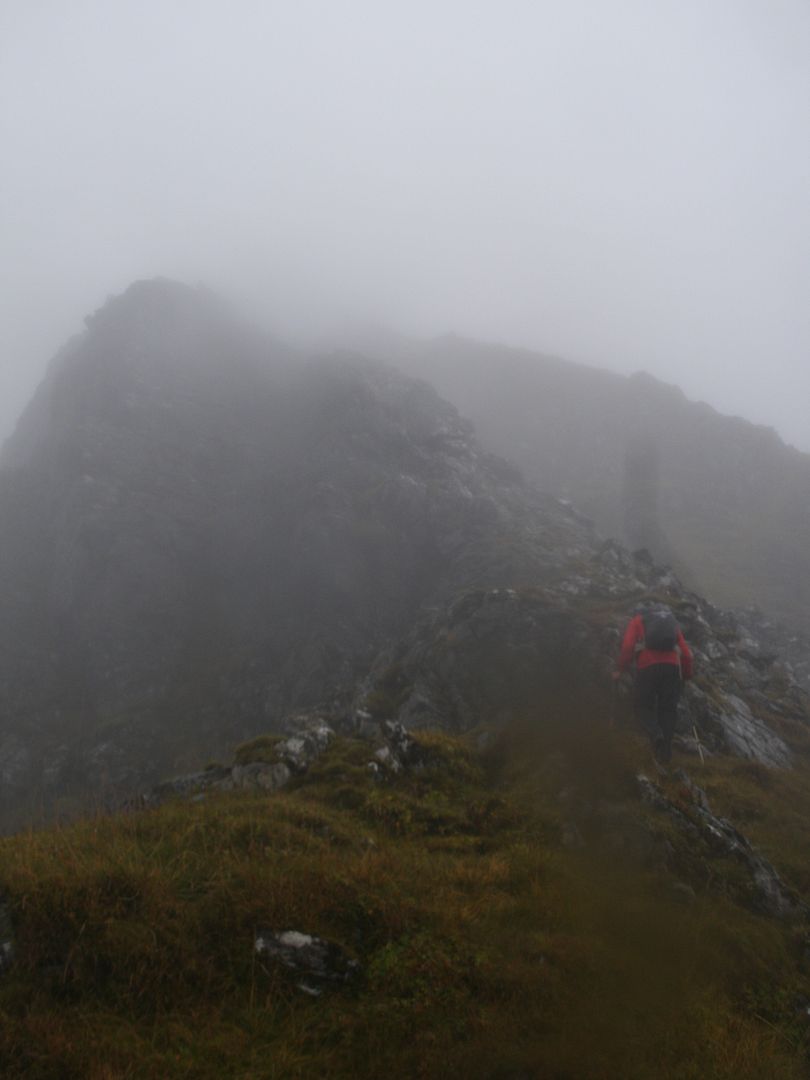 After that, the ridge narrowed, and some really pleasurable scrambling up a wee arete was a joy.
A short boulderfield led up to a very vertical wall, which I took up the nose, to find the going really quite difficult in the wet.. Definitely not the grade 1 route described, A bit of a wobbly legs moment!
och wouldnie be a proper scramble if it wasn't a little bit scary at one point I guess. There were plenty of other routes up that bit.
A less steep, but still hands on arete led up a short distance, and then there were just low steps of increasingly slight camber, signalling that we may be getting near the top. Was difficult to tell in the clag. We were right though, and the summit cairn was only a few metres away. The third time for me to stand on the spot
We didnie stop on account of the driechitness, and we stumbled down the ridge in the clag, not really being able to see the edges, so it was compasses and GPs's out for that bit. Eventually we were level with the bealach, so we cut down left. The ground was absolutely soaking, 2 inches deep everywhere, not even draining into channels. The frequent springs didn't help the situation. Stopped for a comfort stop and wrung out my knickers. Hadn't been that wet in a looooong time
The peat hags of the bealach were passed and we stopped at the other side for a munch and talked about a similar day we had spent in Glen lochay at about this time last year. At least that time we had rutting stags fighting for entertainment..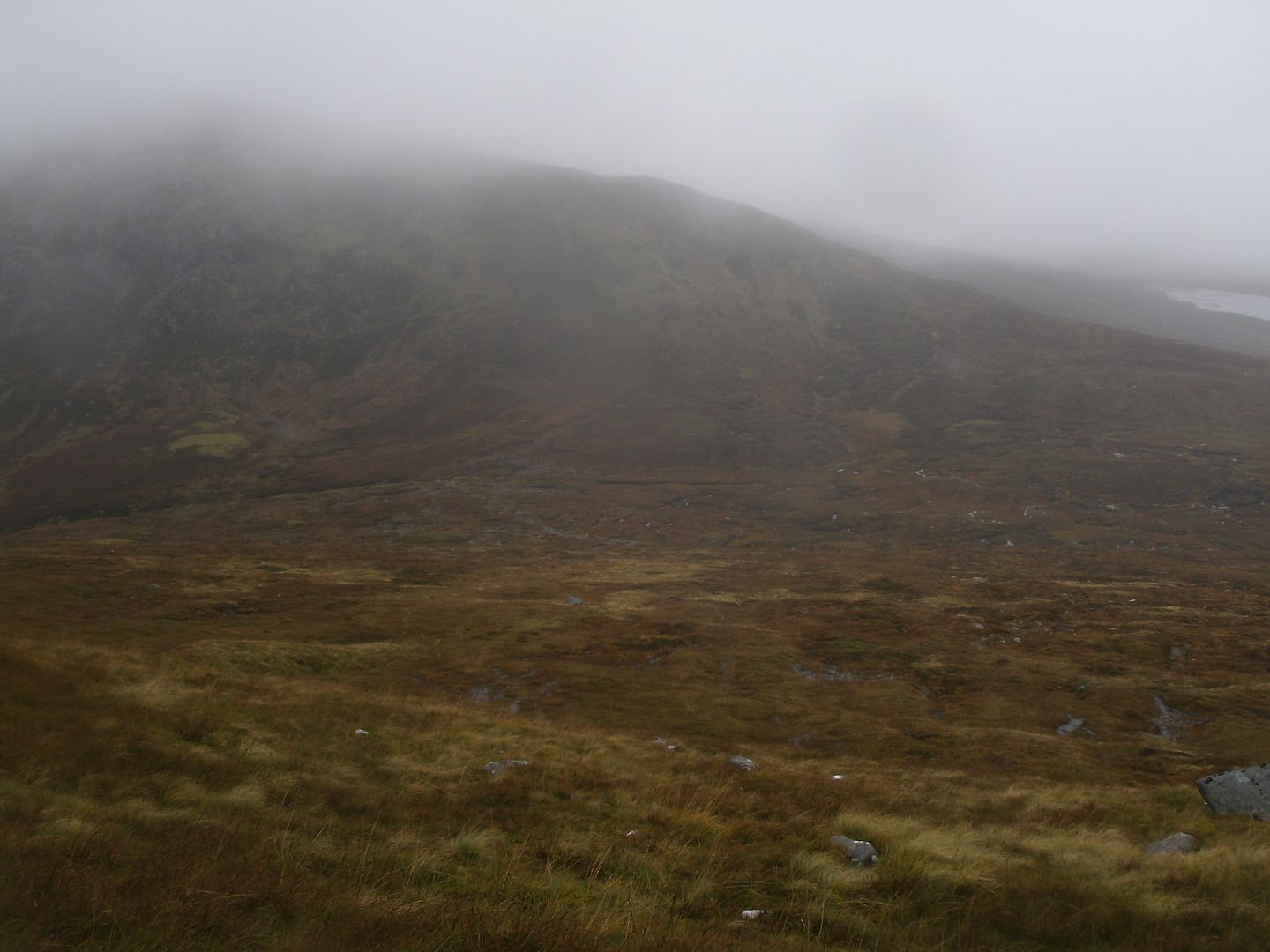 So then it was up Beinn Teallach. the smallest of the Creag Mheagaidh fivesome, but by far my favourite, with rocky tors and a windie path, up easy gradients. We reached the top, nothing much to see..
We headed own the path to the other top. i couldn't remember which was the right one, and couldn't be bothered getting the map out to check
We stopped behind the 2nd, bigger cairn, weather still to wet to enjoy it. We debated our bearings, as our compasses seemed to be pointing us in a different direction to our instincts, but they were right enough, and we headed south down the ridge. Was fine for a time before the splish splash theme returned. We found a couple of cairn markers that drew us in to a path that was good for a time, but quickly became a quagmire
Was still good to have a linear feature to follow, which took us down surprisingly quickly to the forestry, and the path along the Allt Chaorainn.
The river was wide but easy to cross, and then forestry tracks down to the main road. It turned out to be further from there than I remember.. Just wanted a cuppa back at the van!
Really enjoyed the scramble, and it would be an absolutely magnificent situation on a bonny day, so not sorry I did it, but oh so wet an cold!