I know a few hillwalkers who dread the car journey along the switchback road on the north side of Loch Arkaig to Strathan and access to Glen Dessarry.
I have been along a number of times now and personally quite enjoy the drive.
I do however well remember the first time I drove along it on a dark November night in the early nineties.My heart was in my mouth as I drove through the floods at the east end of the loch and continued in the dark to Strathan.
Anyway this latest journey would be perhaps my last along this road at least for a wee while. I was left with Sgurr na Ciche to tidy up this area .Why just this hill ? – explanation later.
Drove up on the Friday evening and stopped off at The Moorings at Gairlochy for something to eat. Arrived eventually at Strathan at nine o'clock.
Got the bike set up for the morning, and settled down for a few hours kip in the car.
Saturday Morning
Did'nt even hear my watch alarm at 5.30 and was only awoken with someone parking up in a camper van just before seven.
This stirred me into getting going and I set off at 7.20 using the bike as far as Upper Glen Dessarry.
Concentration was needed not only to miss the odd boulder but the fresh cow pats.
Started along the track,over the Allt Coire nan Uth,heading for the base of the slanting track leading uphill towards the Feadan na Ciche.
I was feeling awfy heavy legged and a bit out of sorts this morning.
Found myself gulping handfuls of water at each of the burns I crossed.
I was moving a bit too slowly but continued until the bottom of the rising track where I stopped for a break.Felt a bit better after a drink of orange juice, lay back in the warm morning sunshine for a wee rest and woke up with a start 45 minutes later.
The track gets you up quickly to the shoulder and along to the base of the feadan which was clear of snow
so made quick progress up to the bealach.
Sat for another break and chatted to a father and son who came down from Garbh Chioch Mor and were heading for Sourlies.
So how did it end up that I had this one hill to do in Glen Dessarry.
I had been at this point almost a year previously after coming over Sgurr nan Coireachan and Garbh Chioch Mor on a day of almost continuous heavy rain and strong winds.
If it was'nt for the fact that I was also doing that walk for charity ,I don't think I would even have been on the hill that day.
At the bealach only 600 feet or so below Sgurr na Ciche I had turned my back on the hill and walked back out totally soaked and totally scunnered. Whatever happened to my baggers instinct.
One of the reasons was that on two previous days on this hill I had not had any sort of a view from the top.
And this was why I was back today in fine weather.
Set on up getting to the top just after noon and finally got my views.
Westwards to Loch Nevis,Eigg and Rum
And to Knoydart and Skye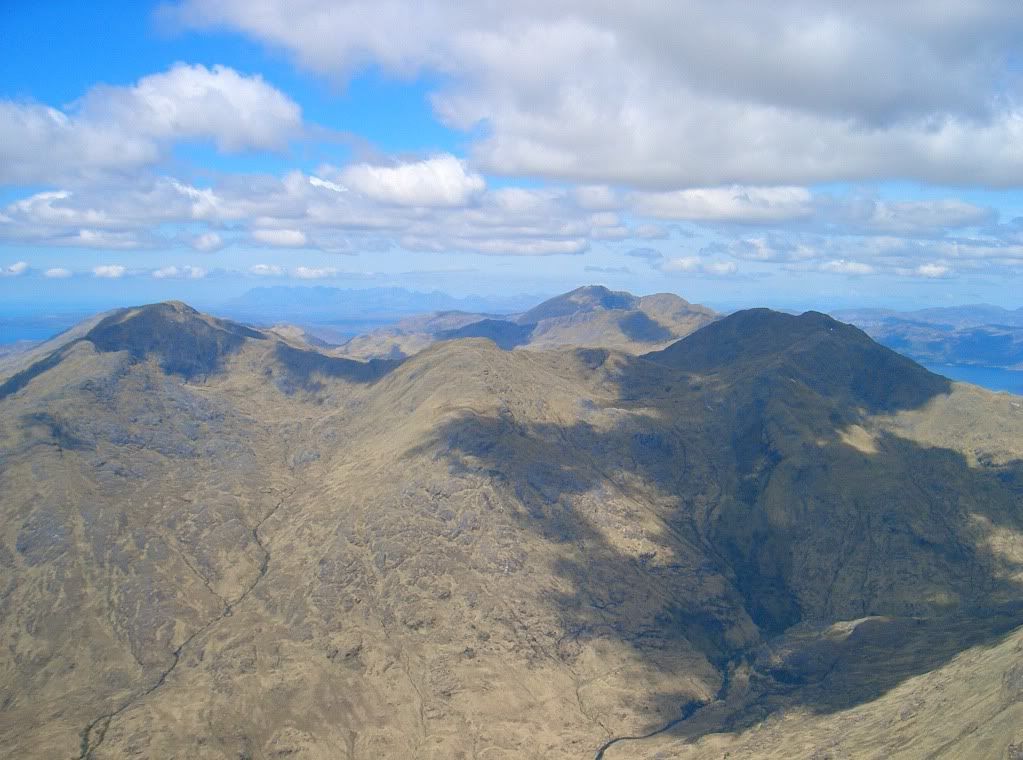 Beinn Sgritheall
Looking north over Beinn Aden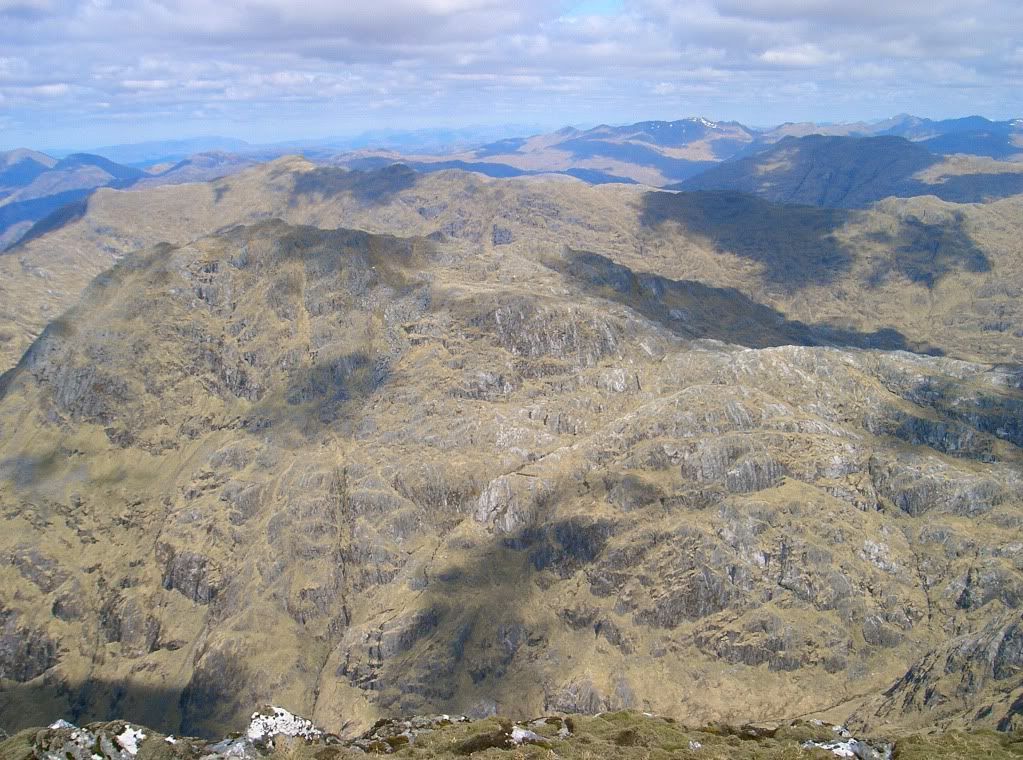 This is a hill I have still to do and it looked tantalisingly close,may have taken a couple of hours to get out to it,but how long would it have taken me to walk back out.
Anyway have other plans for that hill.
Sgurr na Ciche – Peak of the ------- Ach we all know what it means,no need for innuendo
These lines however came to mind
Far,far in the west
Is peace profound
Clouds pillow the hill's crest
Seas suck at the shore's breast
With rhythmic sound
Faint,faint is the gleam
On ocean cast
Dim, fantastic islands seem
Scattered fancies of a dream
When night is past
Chatted to a young bloke at the top who told me he had kayaked across Loch Quoich to get to the hill.
Once he left I relaxed at the summit for an hour and ate my sandwiches
Dropping back down to the bealach I met the couple from the camper van earlier at Strathan.
They told me that they had been just about to offer me a cup of coffee in the morning but I had disappeared on my bike.
Looking to Garbh Chioch Mor - Ben Nevis in the distance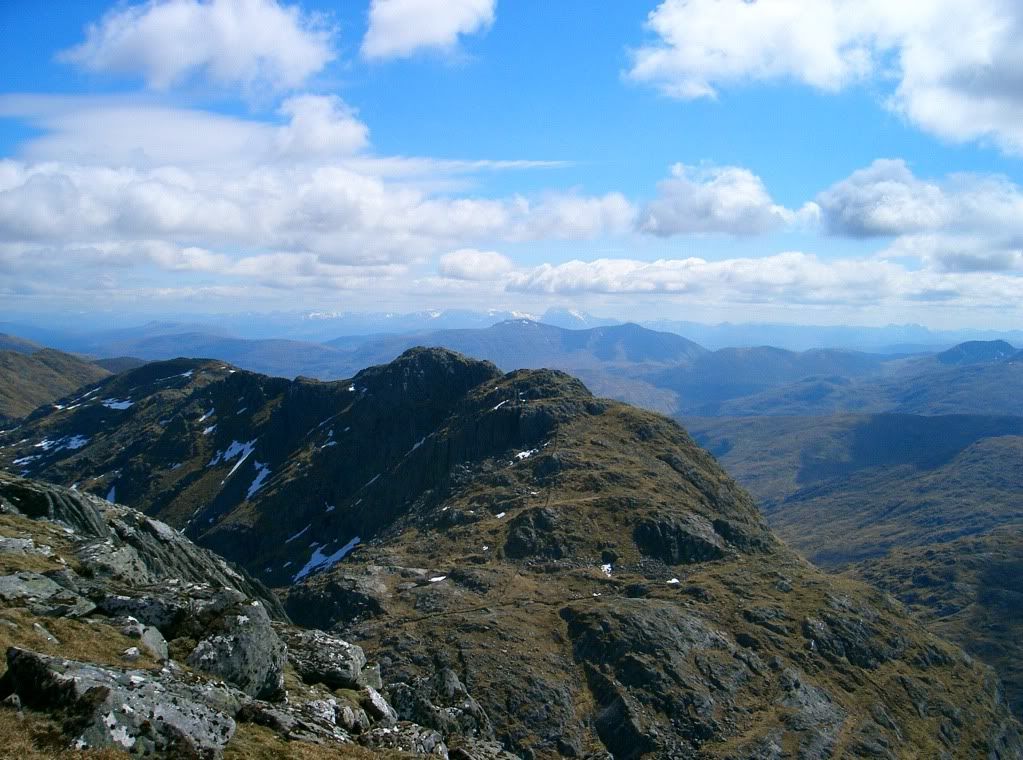 Back down into the feadan,I stopped to take this photo
And the same spot a year previously
Leaving the bottom of the Feadan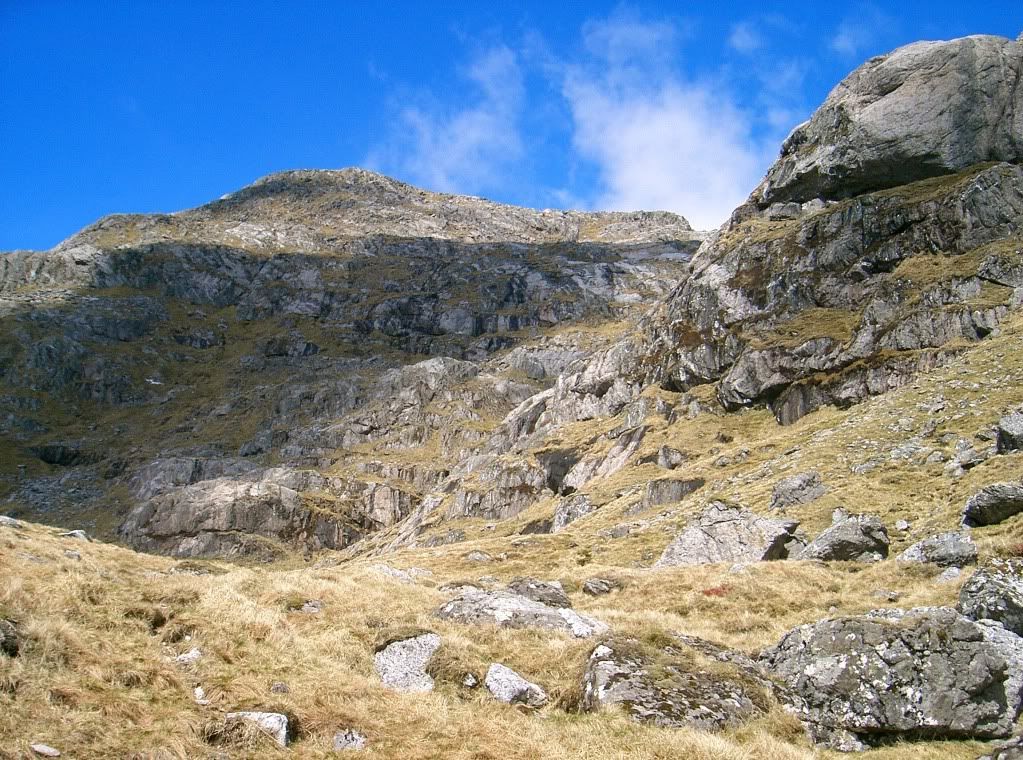 Strolled back out in the warm sunshine with a cooling breeze
Bidein a'Chabair
Glenfinnan hills
Back at the car just after four – a bottle of beer before driving back along that road - when will I be back ?