This weekend, we headed up to Glen Etive on Friday night - always a pleasure
It had been a bit damp, but things improved overnight and we awoke to a fine morning. We headed down the road, squeezed onto the verge at the already busy car park.. Thought I recognised FifeFlyers car.. but couldnie be sure. Views were brilliant, even at the car park.. Clouds lingering..
This would be my fifth attempt at this hill, not all of them have been serious attempts, but I have been at it from every angle, and Aighenan has become a bit of a sore point..
Anyway, I was determined to stop pussyfooting about going over Starav and whatnot, and just focus on the goal..
We did the faff, and left around 10.30 I think, sun already beating down. The path past the cottage was a lot less boggy than I remember, water levels generally seemed affy low.
Once over the bridge, we stuck to the river bank, mindful that a turn down the wrong path (and there are hundreds snaking about round there) could take us up the Starav ridge instead of the glen..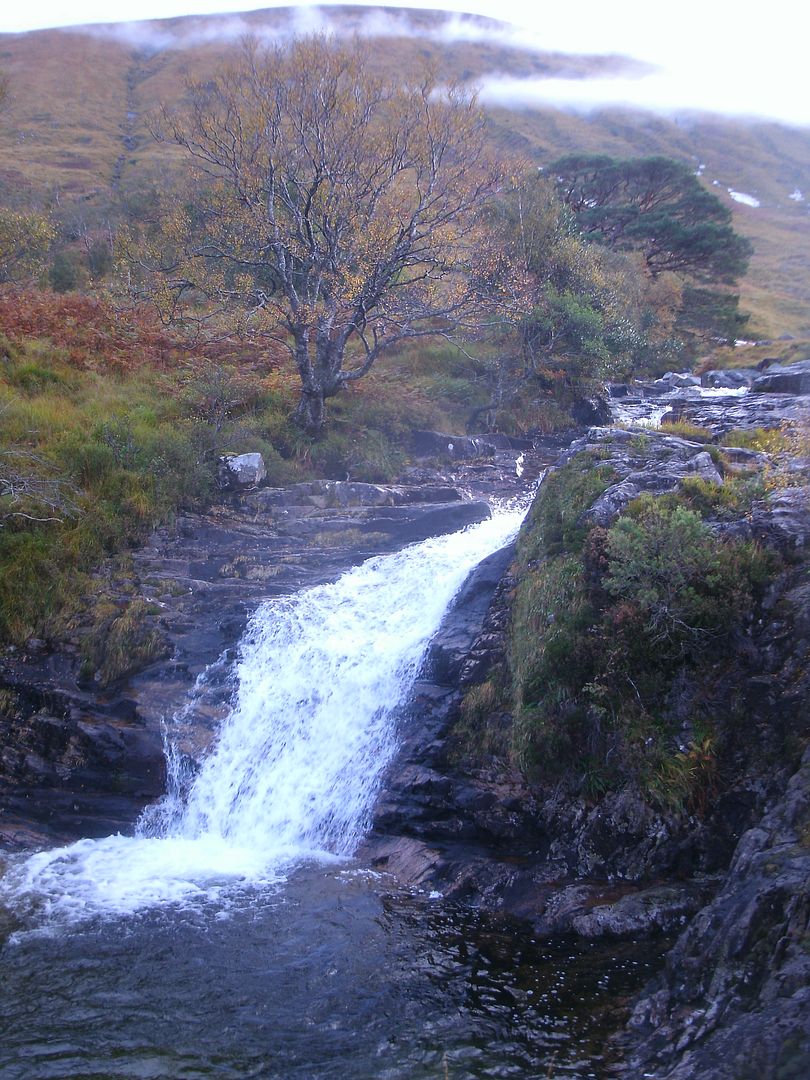 We were soon high above a really bonny gorge. I have walked the path the other side a couple of times, and been completely unawares of the glens beauty.. It was just really nice, in bonny weather, so we were stopping to linger a while before long. A group of guys passed us, it was really busy today, and we frequently saw walkers around the ridges above.
The path, initially boggy, improved somewhat, and the distant bealach , suddenly seemed to get an awful lot closer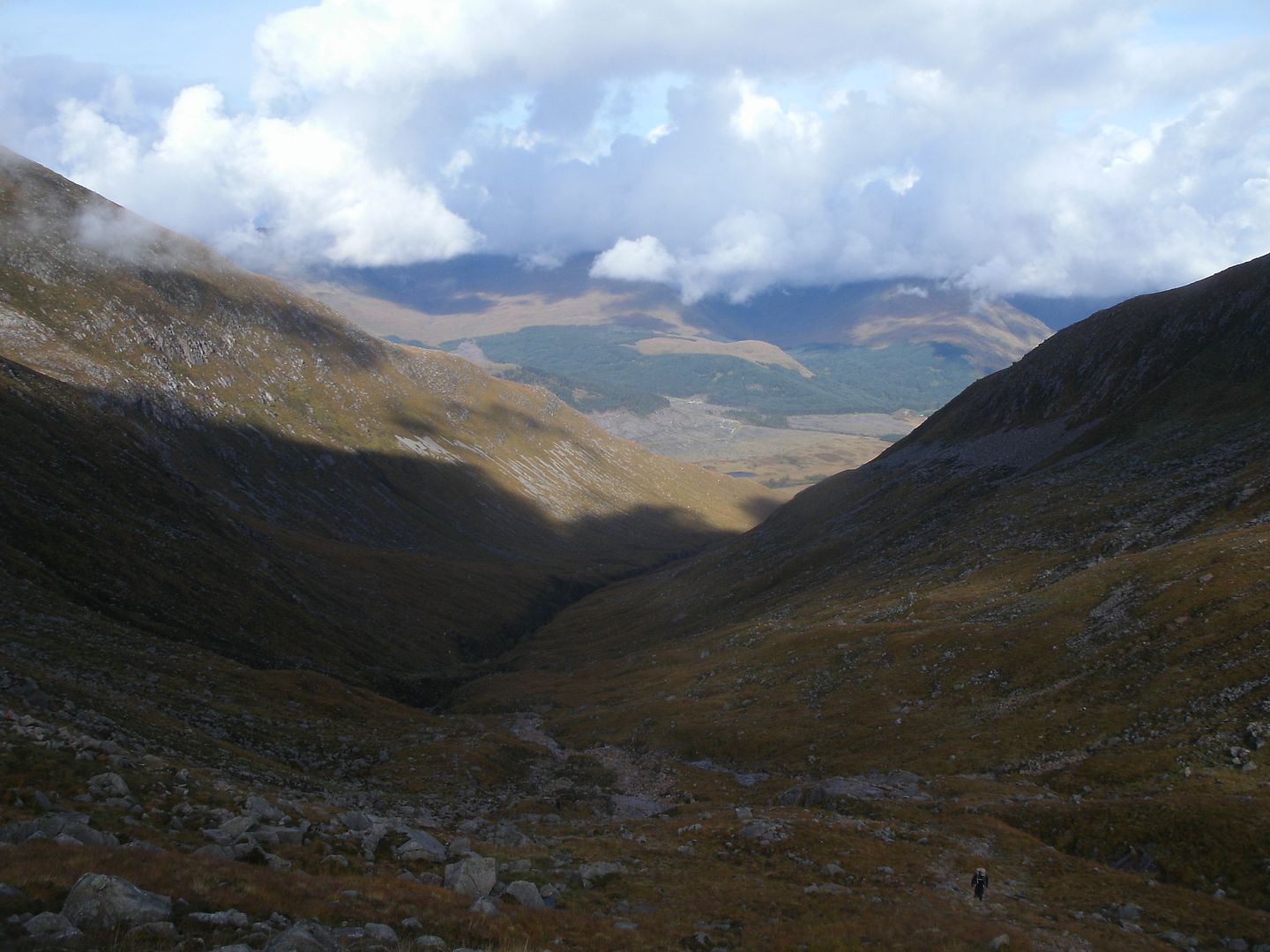 The final climb up to the ridge, was steaming hot, and it was a relief to get to the bealach, where there was a breeze! Brilliant
We got our first glimpses of Aighenan.. Looked like a bit of a drop, but we knew the hardest part of the day was over. We carried on the path, a bellowing stag, just not far below us was looking all agitated..
We kept an eye on him as much as he kept an eye on us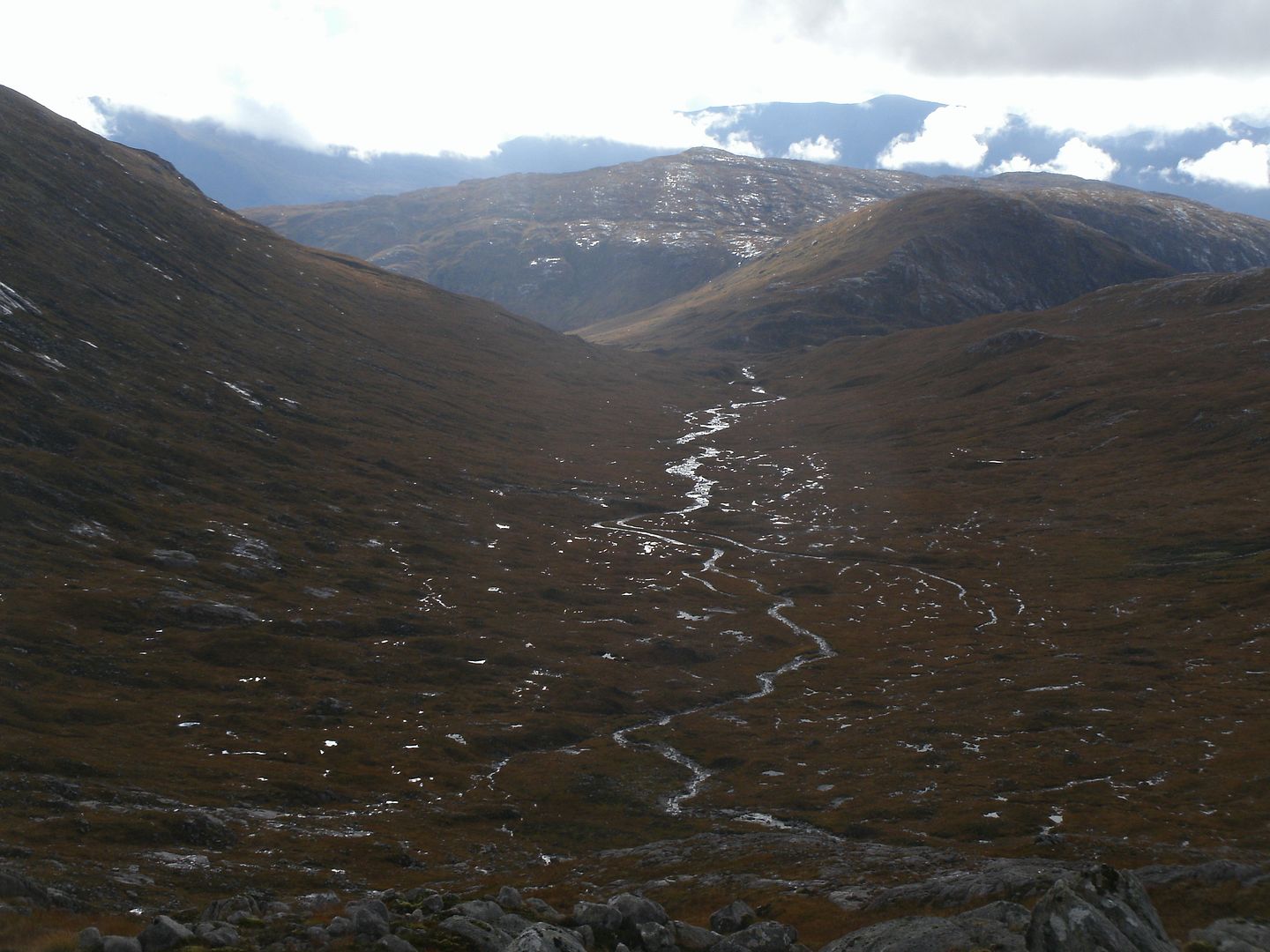 We stopped before the final climb for a snack, and a couple of walkers caught up with us. Turned out to be Martin and Evie
Always nice to meet familiar faces. They passed us by and seemed to tear up the steep hillside.. I notice that martin says in his report that it was Dougie and I who were tearing ahead, but we only caught up because they stopped!
Aighenan though, is a really fine hill, with plenty of we rocky bits to have some fun on. A wee bit steep for a bit, but I had summit fever, couldn't believe that in the end, this hill had been so easy.. Chuffed
It was a bit claggy at the summit when we got there and Martin and Evie didn't want to hang around, as they had left Karen at the bealach, so they headed off, while Dougie and I sat to wait for some views. We weren't disappointed, and we sat there a good while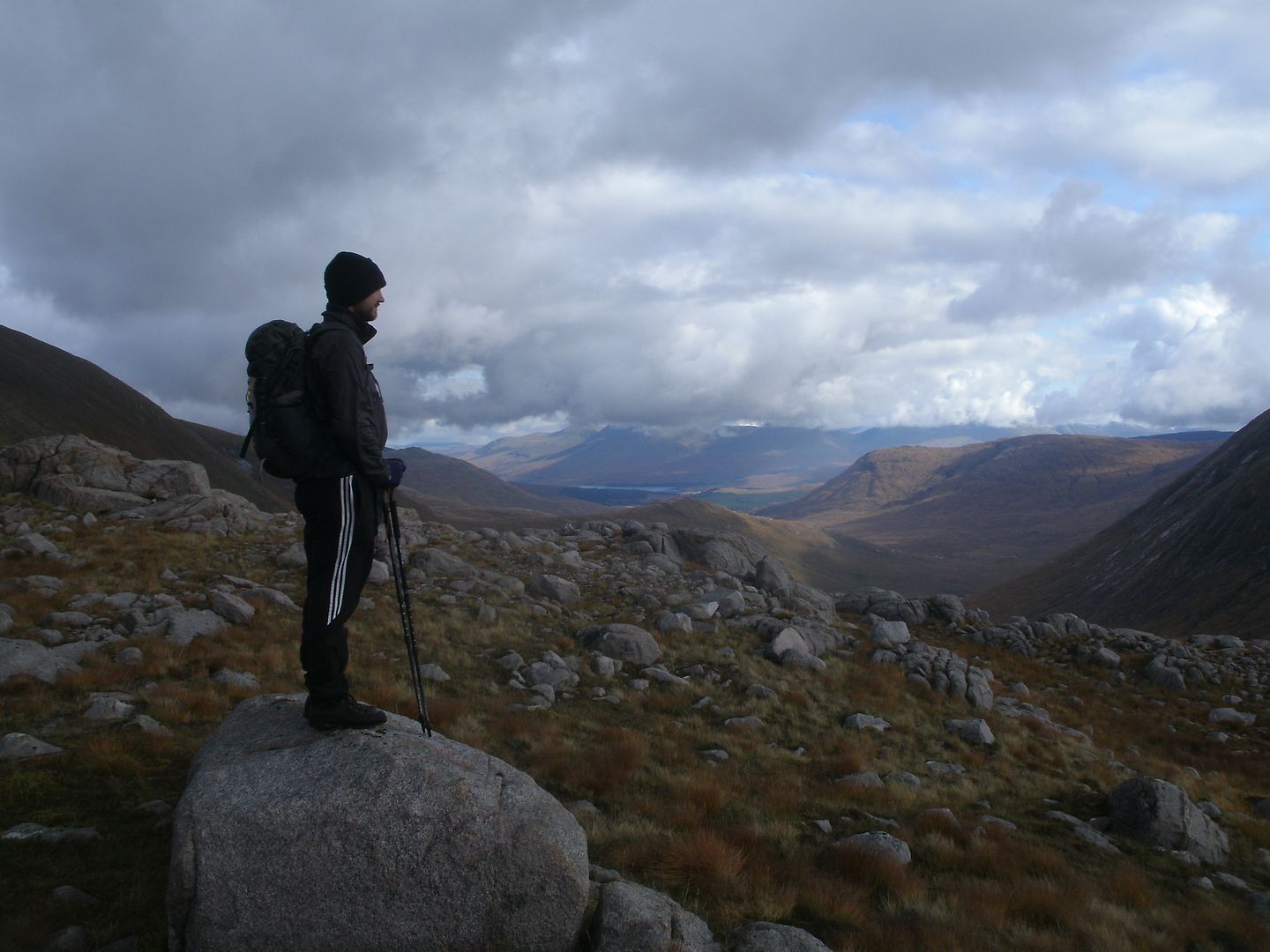 Eventually, it was time to head back
I have a bit of a dodgy knee just now, so downhill was sore, and I could tell Dougie was having to hang back a bit to let me keep up.
It was such a fine day though, it was easy to forget and enjoy the day.

It didn't seem like far to the bealach, the path the other side seemingly had steepened since this morning
but we made it down OK, and managed to find our way onto a different, but no better or worse path down the glen.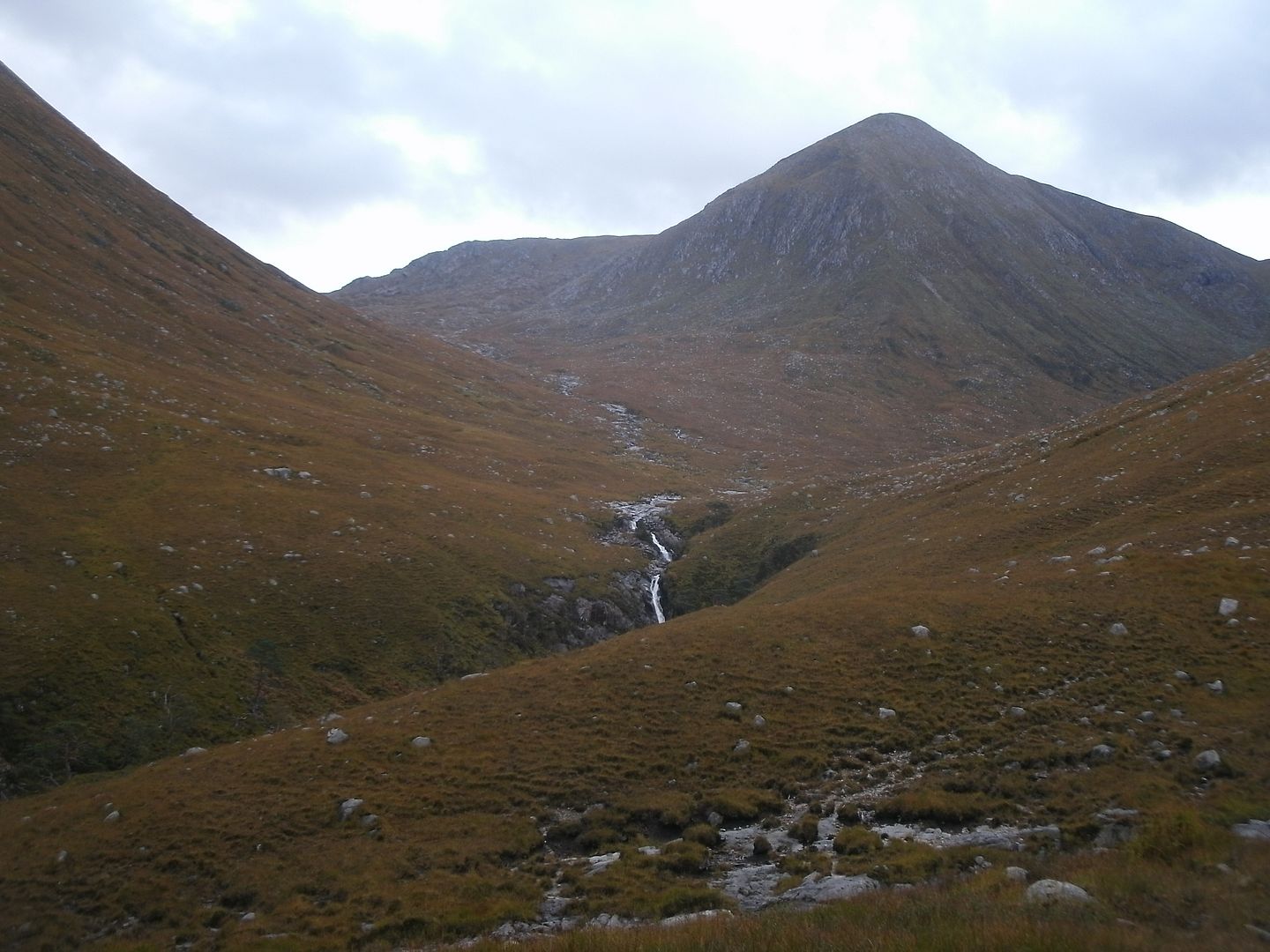 Once we got back to the bridge, we were tiring, but thankfully not really that far back to the car, where we were only back for a couple of minutes when the rain came pelting down.. Brilliant timing, and a sublime day on a brilliant hill
Got back to the tent, for nice dinner and mulled wine. The rain stopped after an hour or so, and seemed to stay off. There was no breeze whatsoever though, and in the morning the tent was still soaking.. Then we found we had lost the tent bags somehow, and with no wind to have blown them away, we were mystified..
We set off for the Waterfall car park in Glen Coe. We had thought about H-ulaidh, but the lure of the scrambles book was too strong to ignore
We had chosen the route up A Chailleach, which sounded brilliant on paper, but looking up to it from the roadside, didn't look like much...
We went along the road for a hundred yards, and found a path up to the study, where we found a load of photographers with their tripods out, getting the classic shot of the three sisters. They were looking pretty fine
We passed them by, and scrambled up the rock next to the hut, finding the wee shelter on top.. Looked a bit damp and mingy inside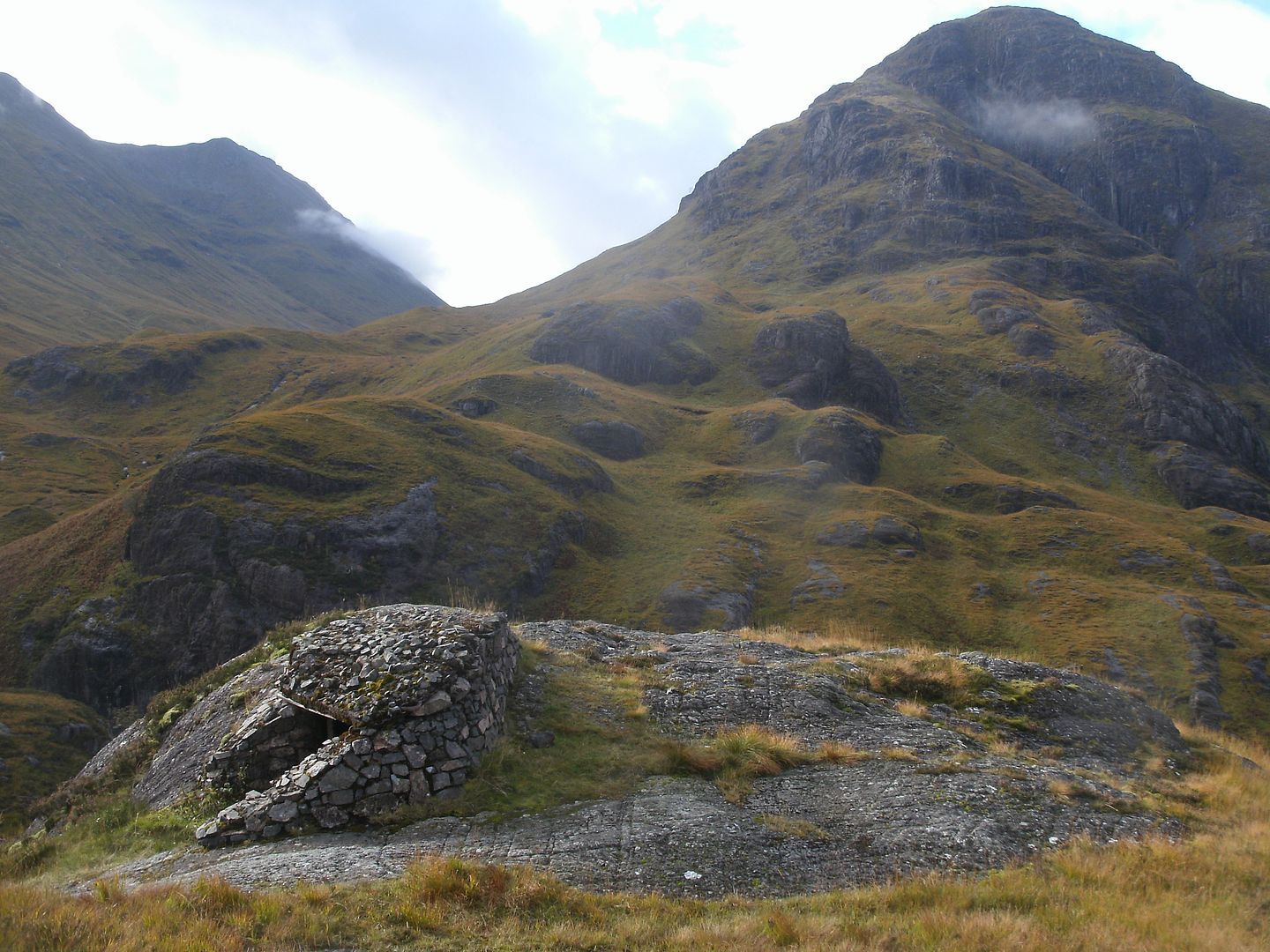 From there we headed up the hillside, spending as much time reading and trying to decipher the instructions on the book, as we did climbing. There were many rocky outcrops, and would be possible to avoid much climbing at all, but that would be no fun..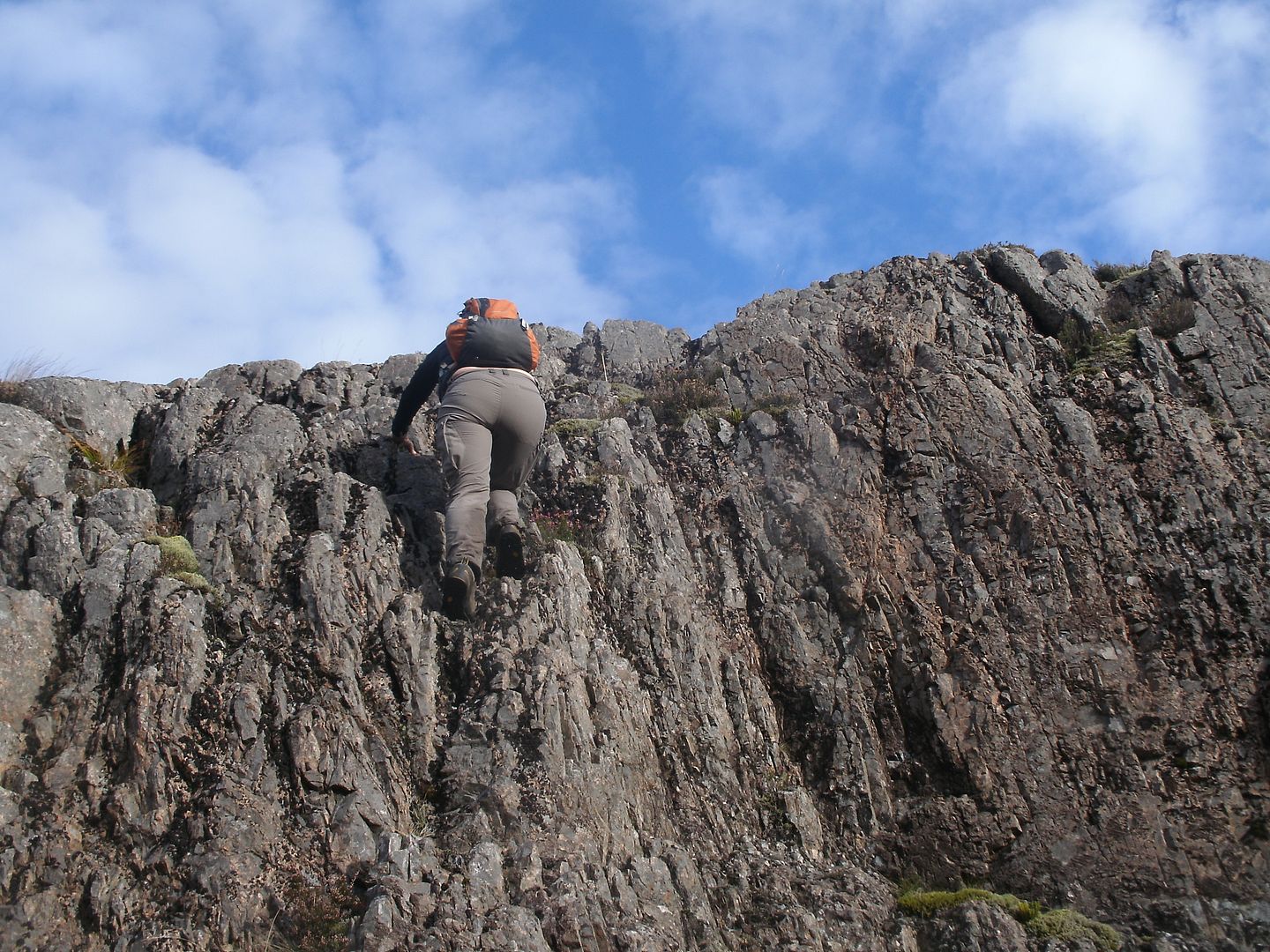 Rock was grippy, and although holds were small here, there were hundreds of them, so no difficulties, just good fun
The rocks got a bit more slabby, and there was a fantastic wee wall, negotiated on a set of ledges that slanted out the way, and with few hand holds. Almost had wobbly legs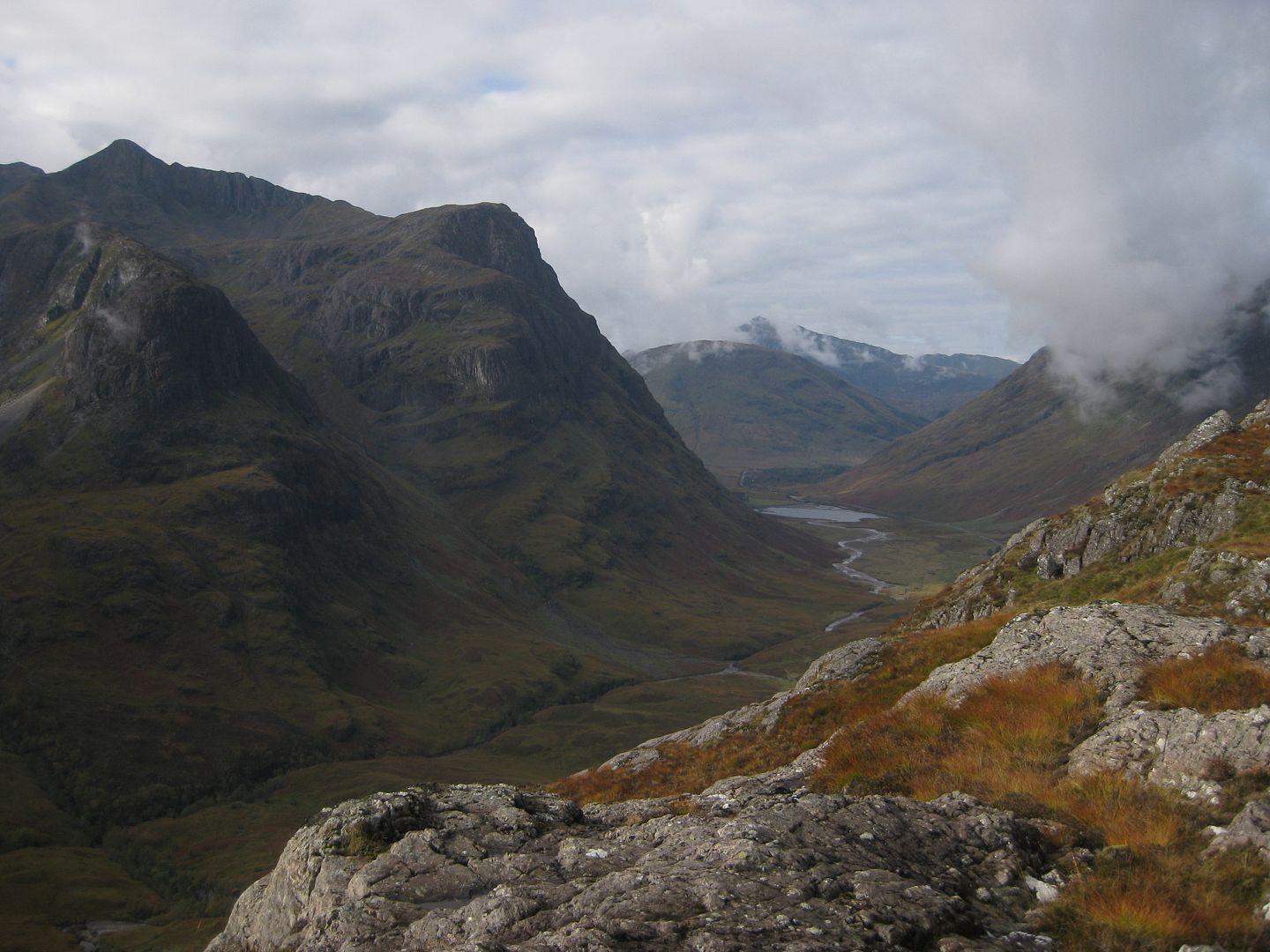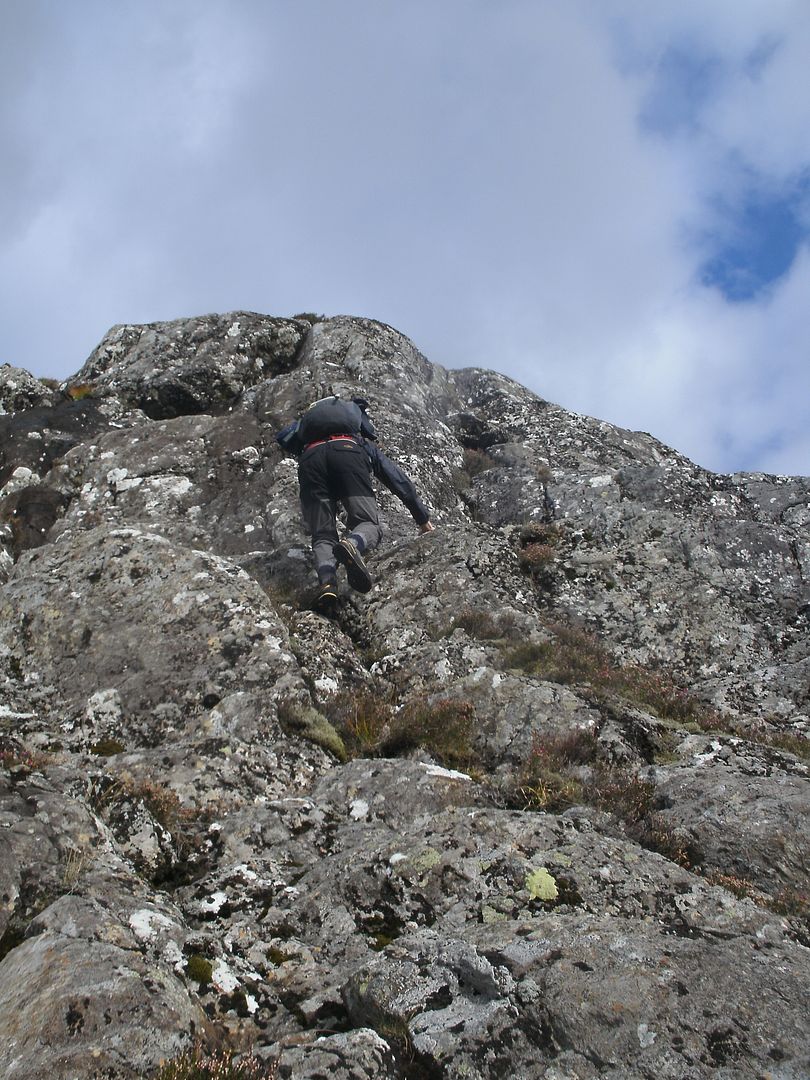 After a few more rocky walls and buttresses, we reached a huge wall of rhyolite, which the book said was the best bit. A good pitch up, with brilliant secure holds, but in the airiest of situations! Just brilliant!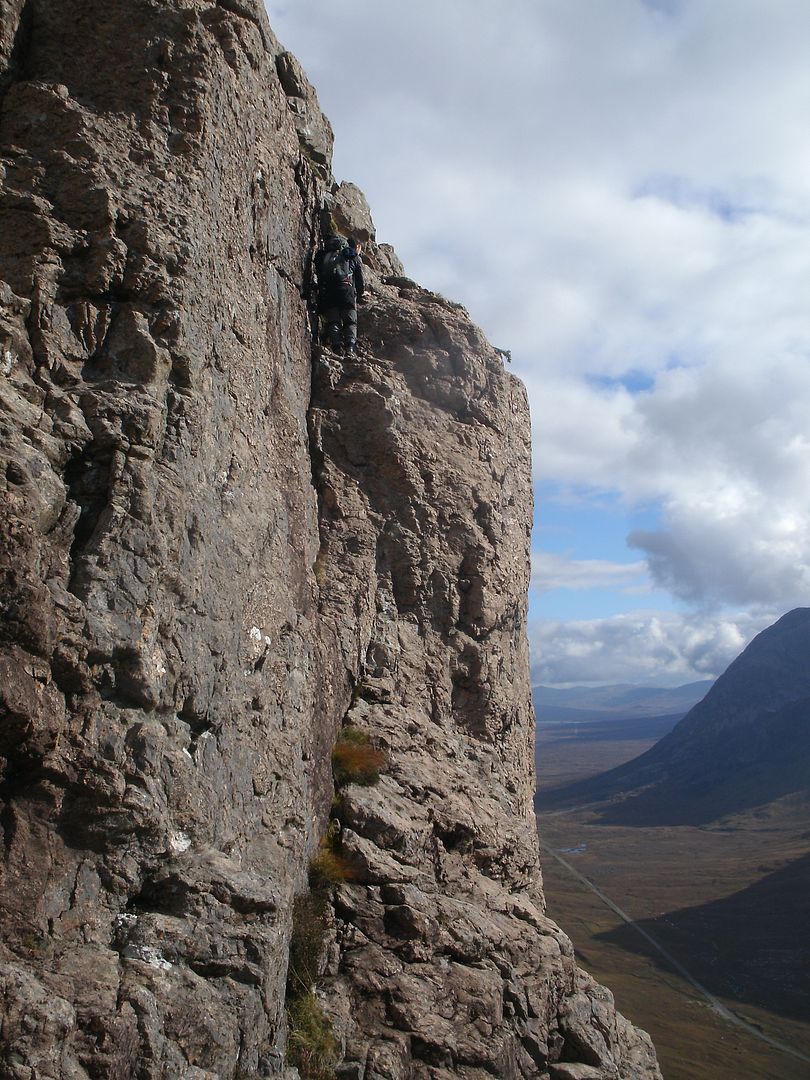 This took us up to a ledge, where the way wasn't obvious at all, but we managed to squeeze between a couple of jammed boulders, and to the fine rock beyond.
There were many easy routes thereafter, and it was difficult to choose the most fun, as it all looked brilliant. All too soon, we were on flatter slabs, and a cairn marking the top of the route

This is a route I know I will do time and time again, so different from how it looks from the road
With the sun beating down it was a hot trudge to the summit, still in scrambling mode, we sought out the slabs and rockier parts.
The views were amazing as well.. So clear, we could see for miles. Way better than the MWIS '30% chance of cloud free munros'


We got to the summit, but decided the slightly lower cairn down the ridge would offer better views, so we sat over there, for a good hour or so, sunbathing and hillspotting. The helicopter was buzzing about, hovered next to Rannoch Wall for a while and our hearts sank, but then just buzzed around for a bit, so couldn't of been because of an accident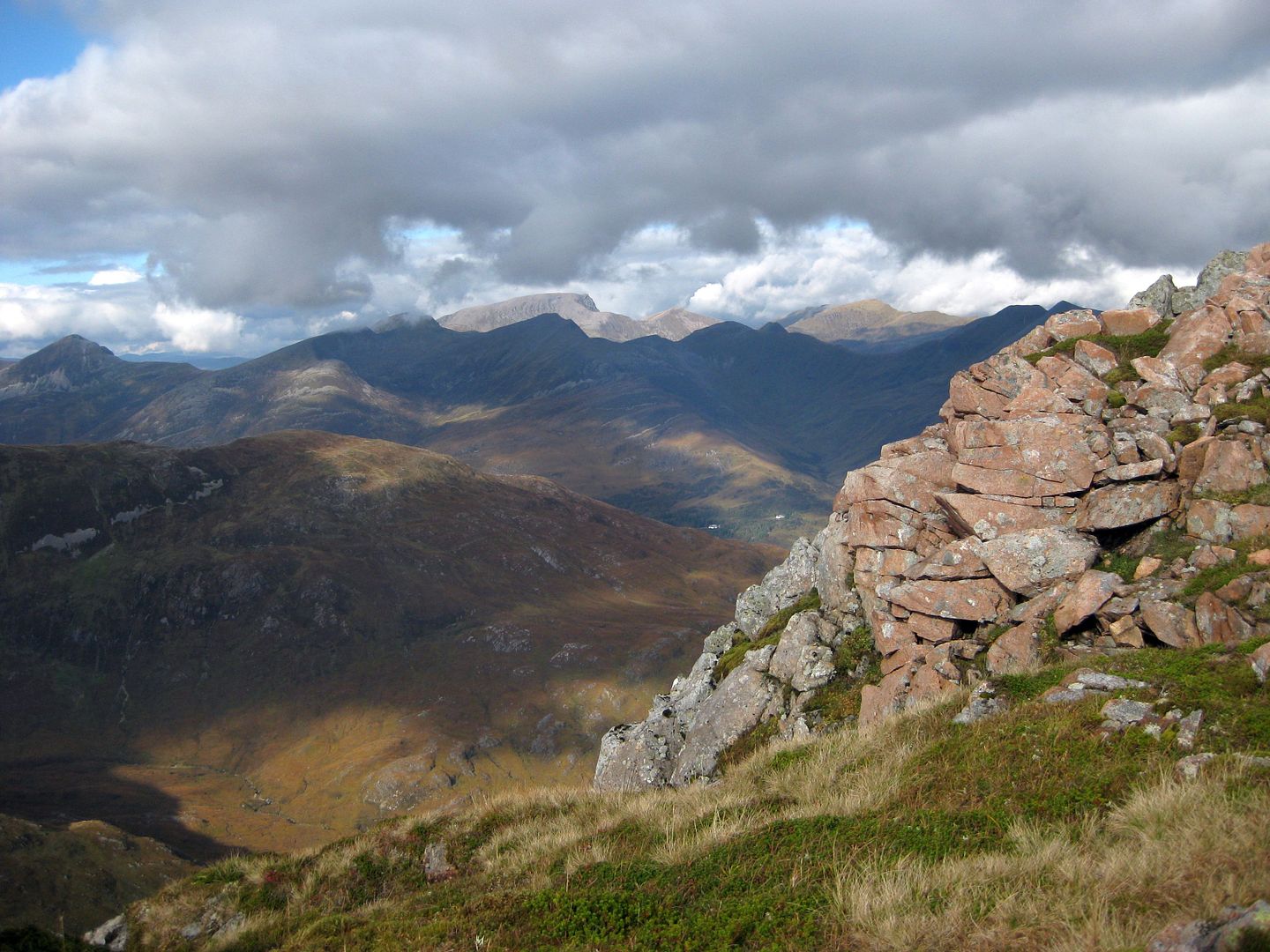 We eventually left, and headed down the ridge for a short distance before making a right to follow the burn back down into the glen. It was firm underfoot, but rather steep, and jippy knee made a re-appearance
The burn further down was really pretty though and as the angle eased, I forgot about it and went back to enjoying myself
It was just a short walk back to the road, the river easily forded next to the Wee Buachaille car park. The 200 yards back to the car was probably the most dangerous bit of the whole day - not much verge where they have blasted through for the road!
Only three miles on the clock, but another brilliant day in Glen Coe. Still so much to do, can hardly wait