So this weekend, we had managed to get Friday off.. Many suggestions were aired, but in the end, the weather looked good for going to Skye, at least for part of the time
We set off straight from Work on Thursday, and managed to catch the Radio Scotland walkers forecast which said Friday would be a bit rainy with gusts of up to 90mph on the tops
Oh well, no rush to get there then..
We stopped over at our favourite spot in Kintail, and had a leisurely lie in before heading across the bridge and visiting a couple of Castles out on Sleat.. Really cold and windy, glad we stayed down low.
Knock Castle is a bit on the ruinous side, although in a bonny location.. After we had a look about, we managed to find some wee cliffs on the beach for a scramble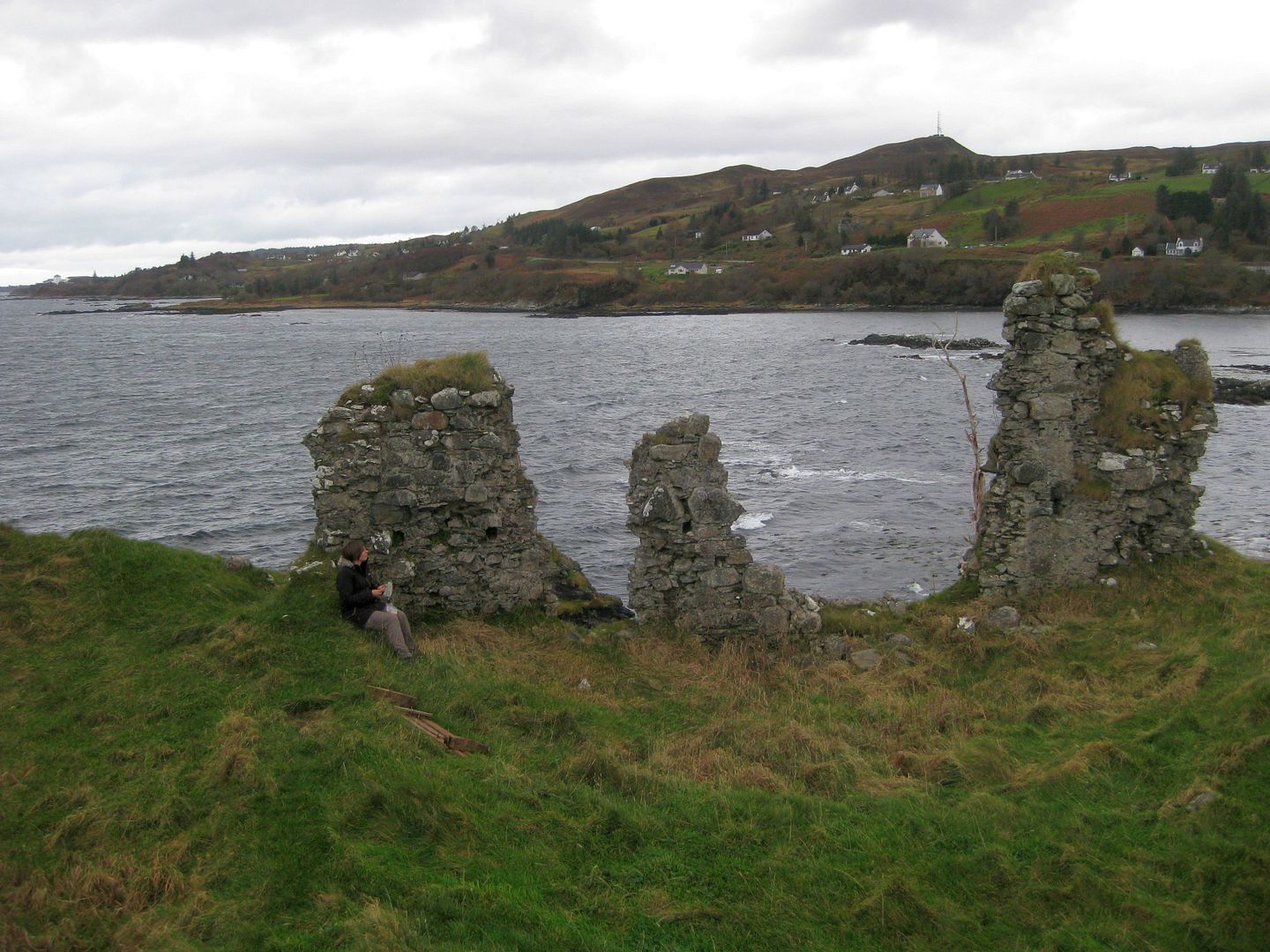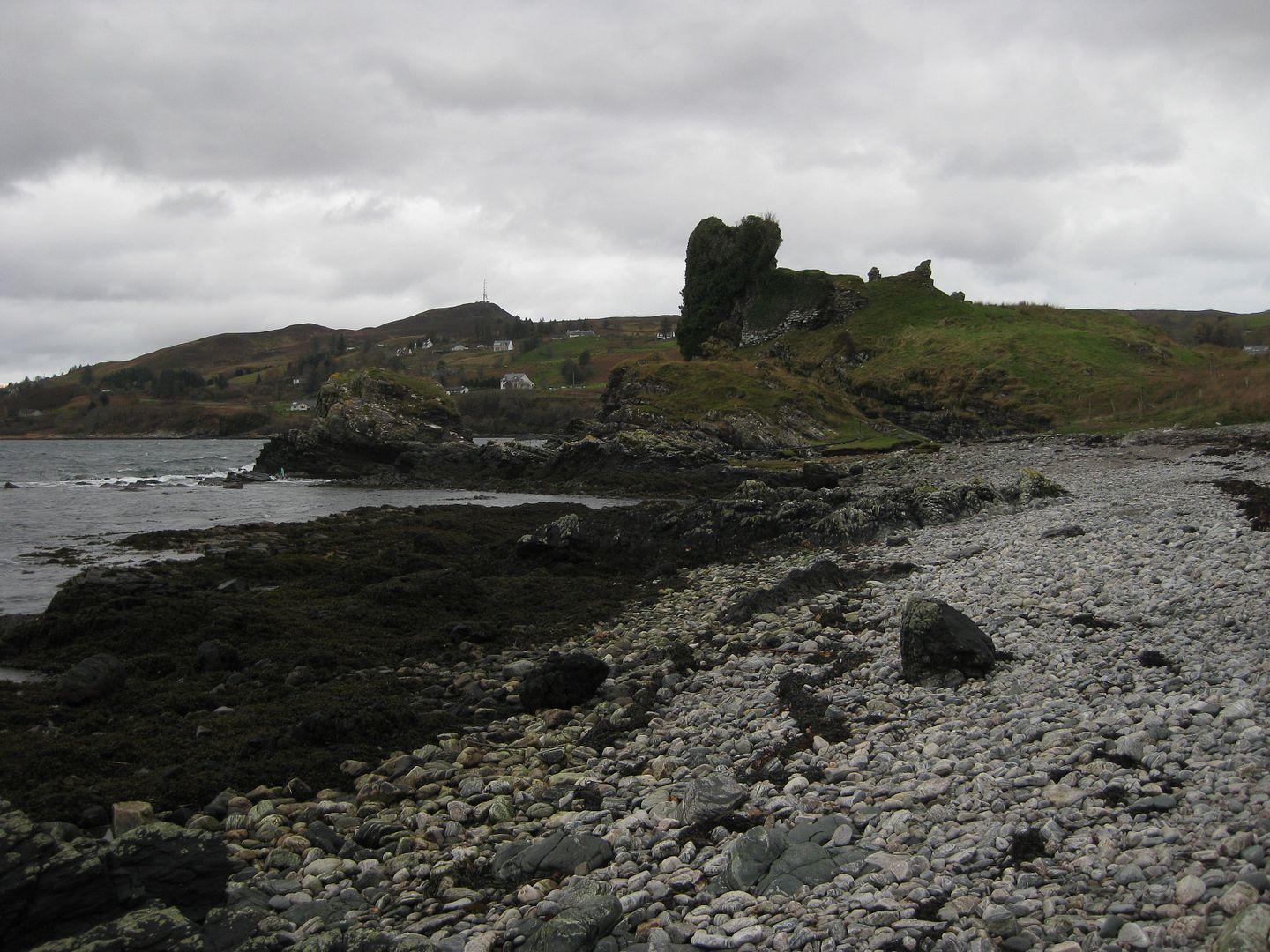 Then it was round to Dun Scaith.. A bit more of this castle left, which was apparently built with the help of a witch, over a single night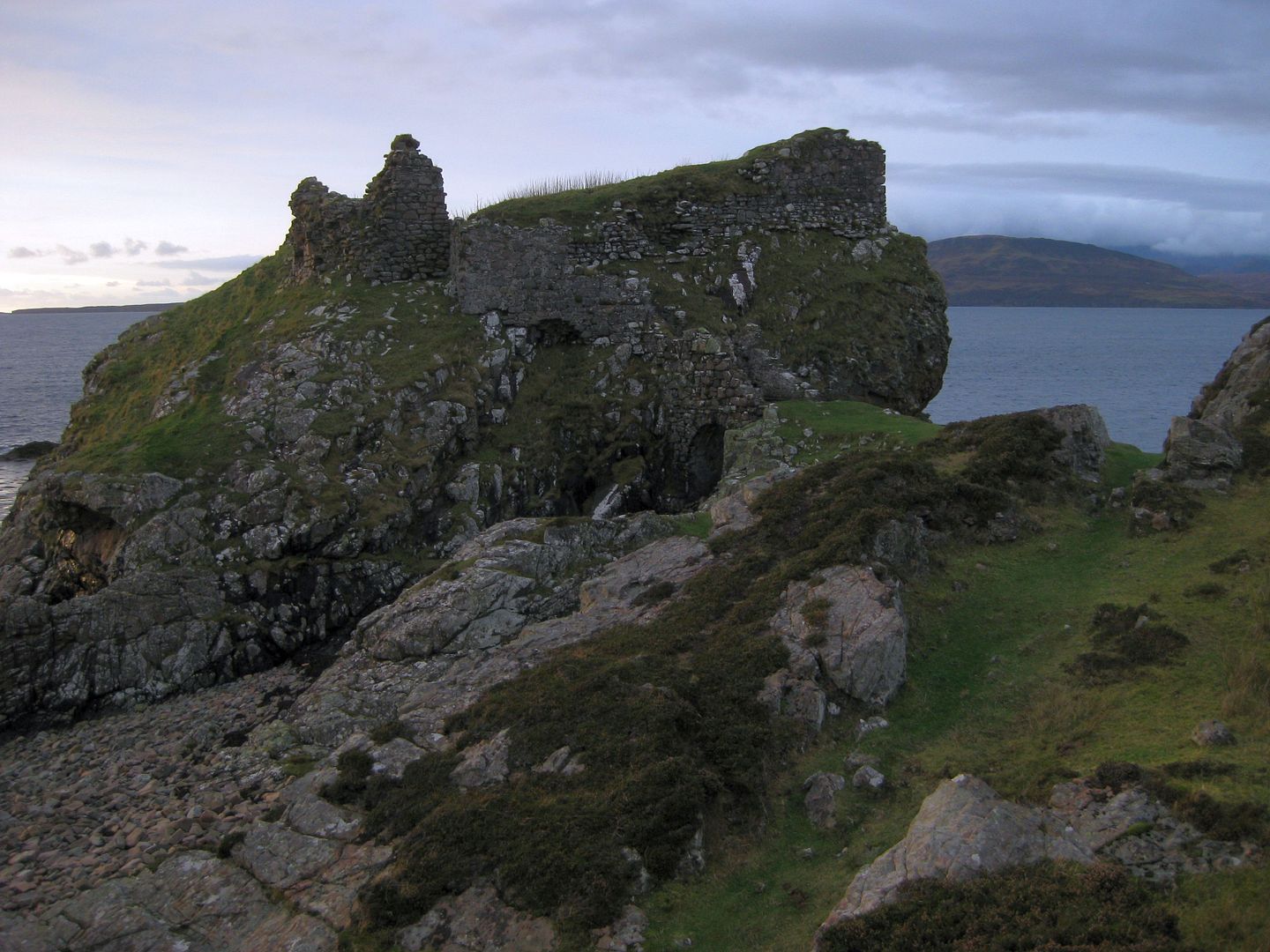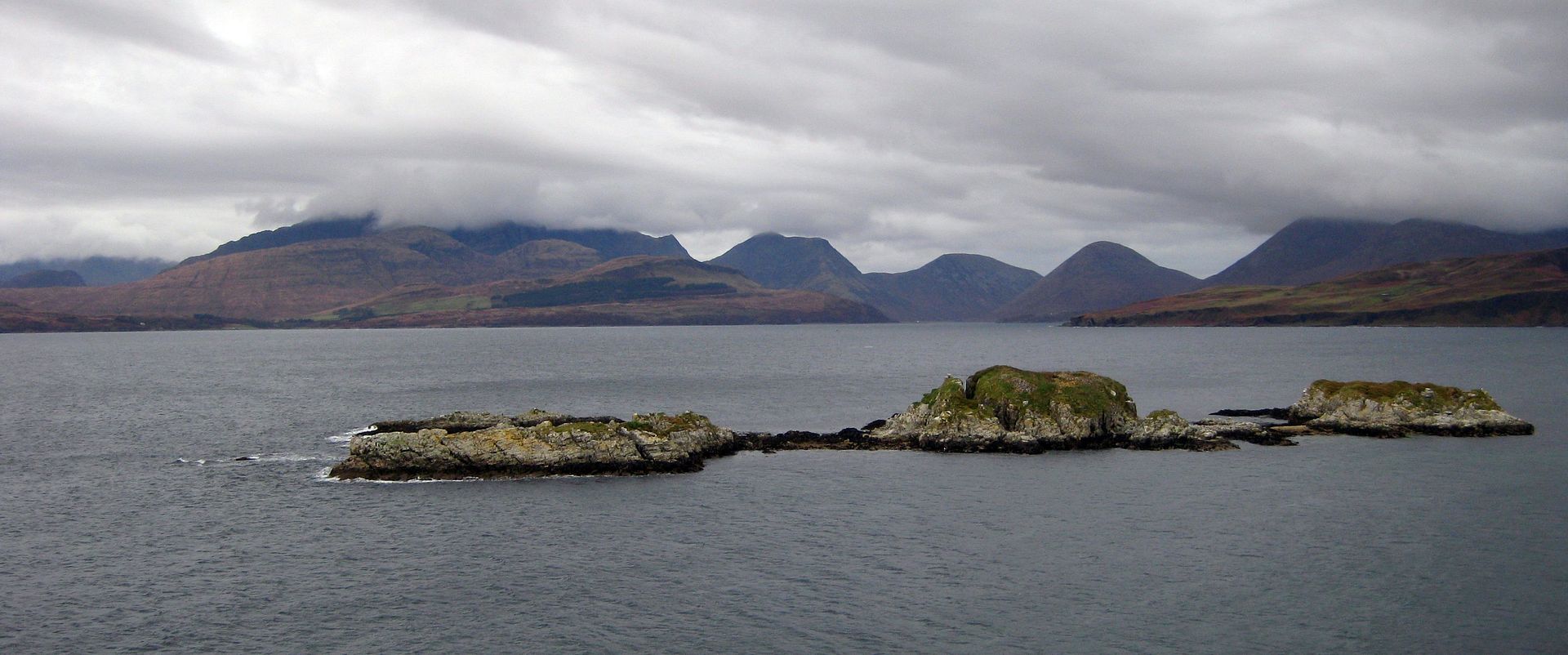 We stopped in Broadford, then stopped at the Slig expecting a pint, only to find it closed, so headed round to Glen Brittle, where we found the campsite also shut
Oh I guess no-one comes in November then
We camped up anyway, and had a nice night with the sea providing the soundtrack, and a million stars. It felt like the good weather was here
In the morning, after getting mugged by a flock of Fieldfares for most of my breakfast, it was time to set off nice and early. We had planned Alasdair and Mhic Coinnich, via Harts/Collies ledge. been looking forward to doing this walk for ages, so I was excited to be setting off.
We hadn't planned how we were getting up there though.. We didn't really want to do Stone chute, and couldnt really see a good way up in the book, so we headed right at the fork, on the path to Corrie Ghruunda, intending to go up the ridge.. Then Dougie found a route in the book, so we cut off toward it through the bog, only to find we were looking at a different rock face to the one in the picture
Oh well, we would just have to find our way up..
After much traversing and bog hopping, we made it to a path that took us under the Cioch, over varying grades of boulder fields, and some simple scrambling.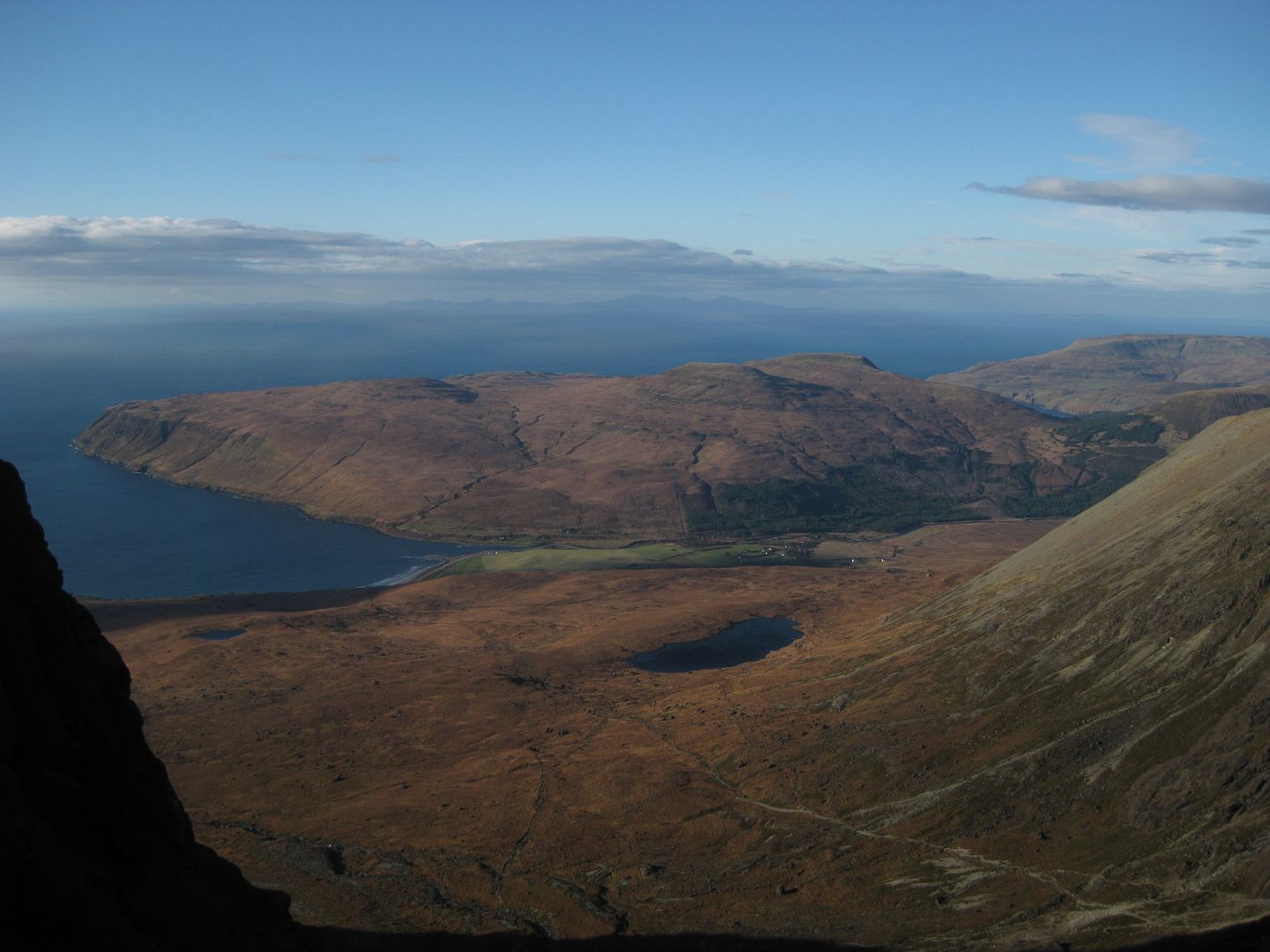 The going got steeper and steeper, my legs felt like lead and frequent stops were required.. We passed huge buttresses, and eventually saw sun lit rocks above - surely the bealach - Yaay!
It was fairly easy ground up to the top of Sgurr Sgumain, but then there were some complicated bypassing of pinnacles, and some slippery slabs.. We made it down, the hulk of Alasdair looming above.
I remembered the groove that marks the way up well, up to the left before stepping in for a few moves then out right. The rest of the climb was not as steep, but with a huge choice of routes. We popped out at the summit, highest point in the Cuillin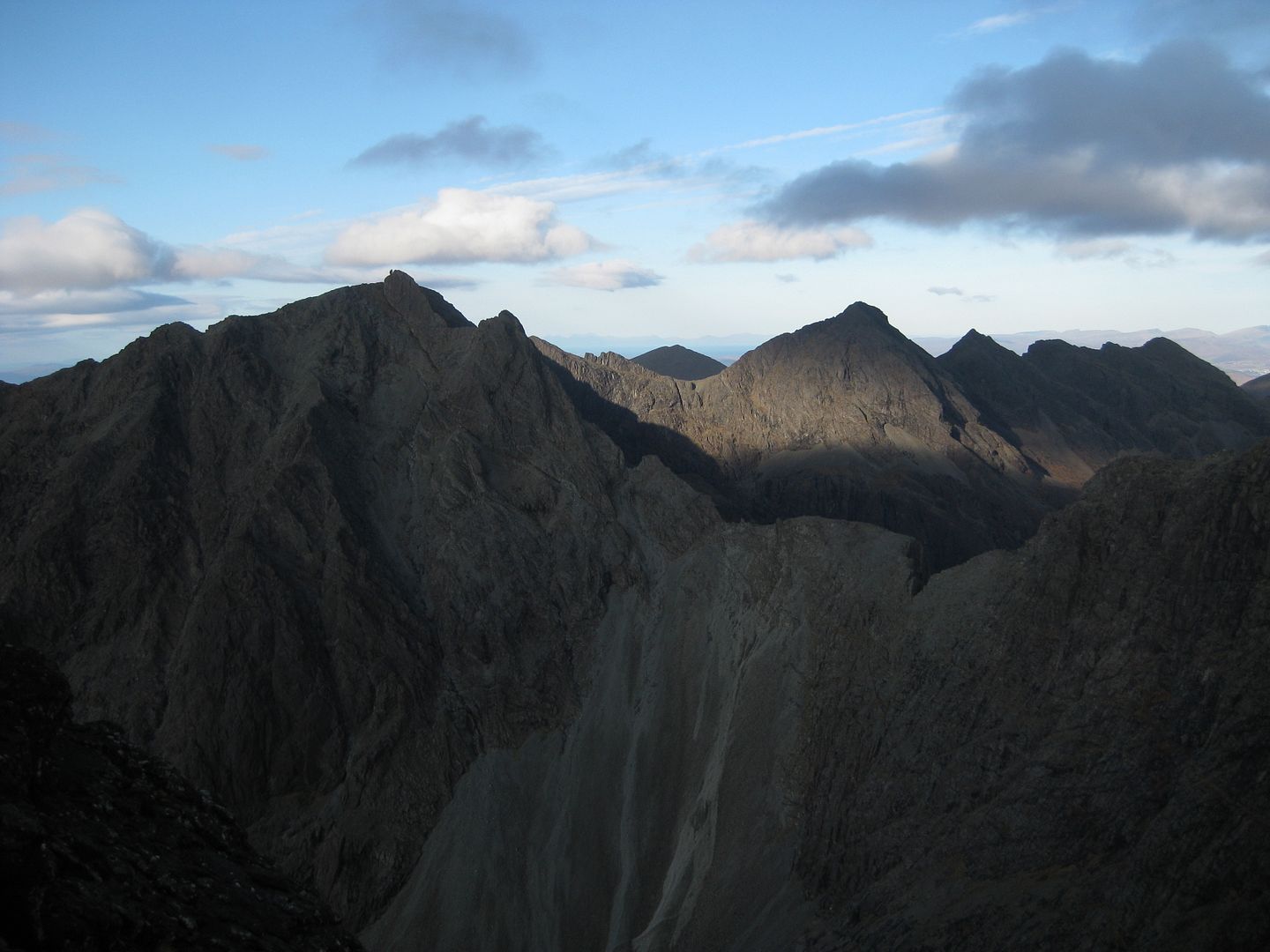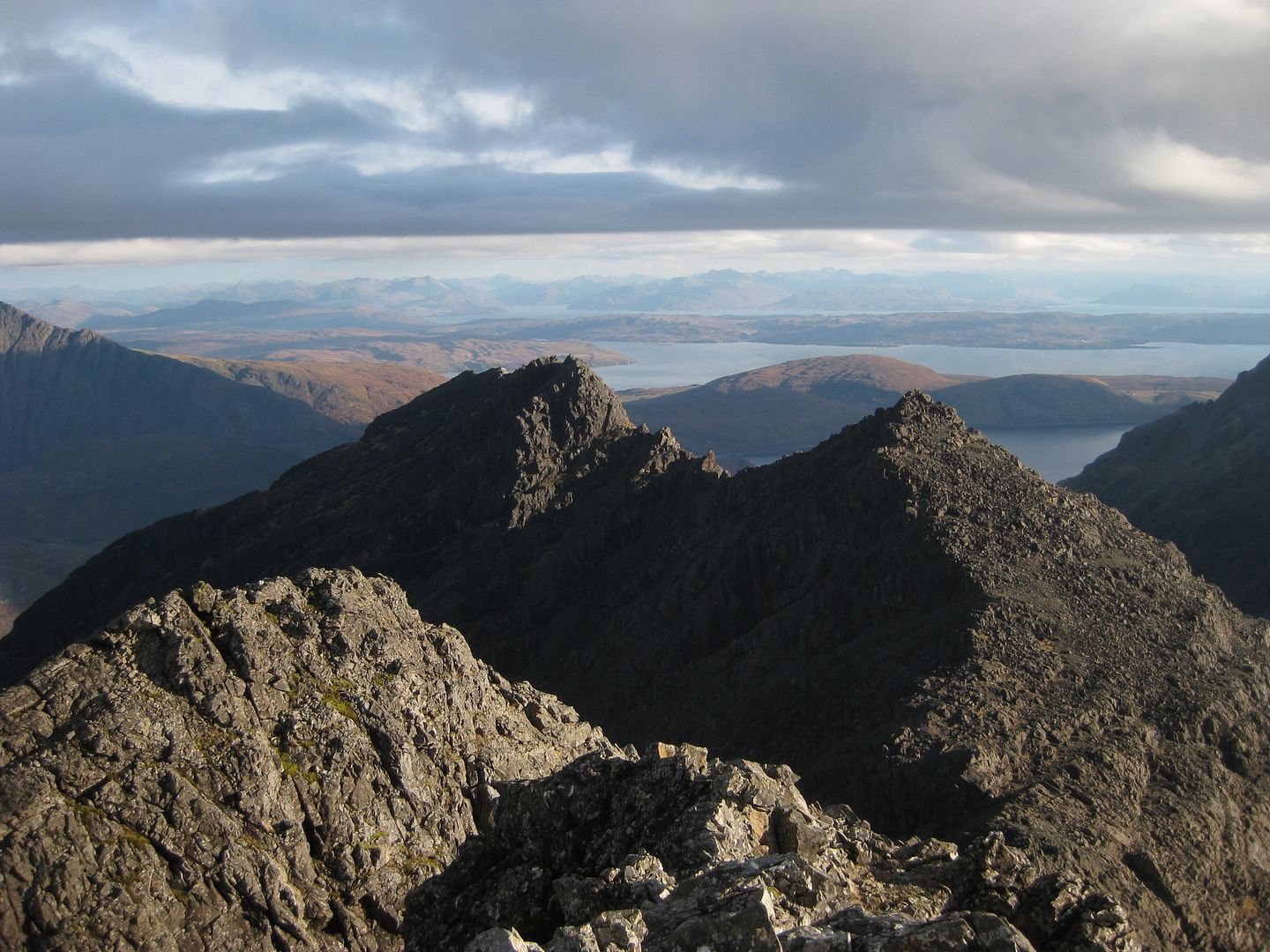 A group of lads came up from the stone chute, just as we were leaving.. Only saw one other person all day
The wee descent down to the top of the stone chute is easy, but on the other side Sgurr Thearlach looked inpenetrable!
So out came the book, which gave very little information, apart from to stick to the crest.. We headed right, downhill for a short distance, and found a well polished route up. It was quite a tricky climb really, but maybe it was just the route we found, and there is an easier way. Dougie commented that he hoped we didn't have to retrace our steps, as we couldn't of downclimbed it, but I thought my dad had told me before, that Sgurr Thearlaich was one of the easier sections of the ridge, so we would be fine
I was somewhat dismayed to find that after a lot of effort, we were only a couple of metres above the top of the stone chute, where we had been standing about half an hour ago
We reached the top, and sure enough, an easy, slabby arete stretched out before us.. It was really pleasant in the sunshine..
There were a couple of awkward notches, before we an ascent up to a cairn with a seemingly vertical drop beyond.. I went for a look, but the abseil rig left abandoned said it all.. We were at a dead end..
There was a wee path down to our left we followed, and we explored the area a little, but every direction looked petrifying
Time to look at the book, which said that the downclimb was of moderate grade, and shouldnt be attempted
So much for the easiest part of the ridge Dad
So we knew the way back was unfeasable, so nothing for it but to give onwards a go. The top of Mhic Coinnich was almost close enough to spit on, and that spurred us on. We found a wee chimney, and went down a way for a look.. Looked pretty scary, but faced with few options we thought we would give it a go. Dougie managed down the chimney, I managed down to the right of it. We were then on a sloping slab, at just a little too steep an angle to feel safe. To add to our woes, the rock was basalt, and shaded from wind or sun, so it was wet and slippery.. We edged, and bum slid our way down, before teetering across and up a little, to some fallen rocks at the top of the gully below.. Oh it felt good to be back on gabbro!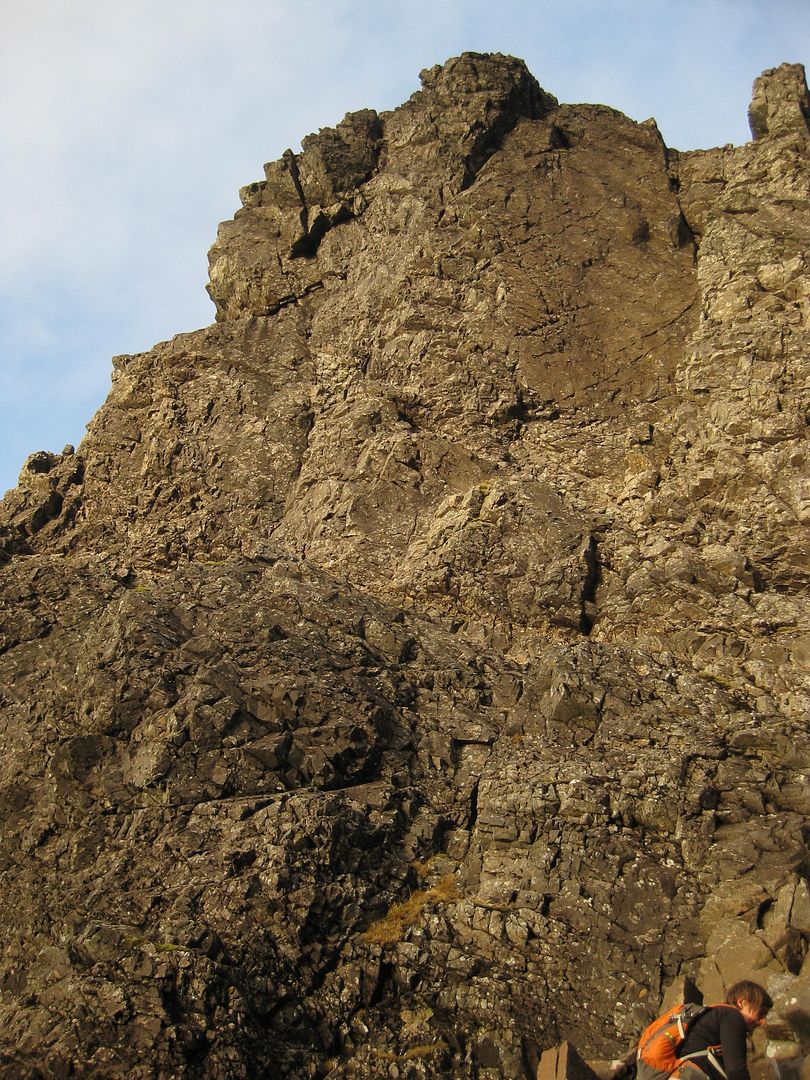 The joy was short lived, as we found that we still had some way down to go.. It wasn't graceful, but slowly, we managed to somehow reach Bealach Mhic Coinnich, where we stopped for a well earned tab, and wait for our legs to feel slightly less shaky
We again looked in the book for instructions on Harts/Collies ledge.. We didn't really need them, it is a fairly obvious feature. The first move is the hardest, with a massive step up which is aided somewhat by the best handhold ever. We were then up on the ledge, which is steep at first but soon levels out.
There was one section where the path narrows to just a few jutting blocks, and another we awkward section where you have to drop down a bit and climb back up, but otherwise just a walk round the hill.. I tried not to look down too much though, and was holding on all the way round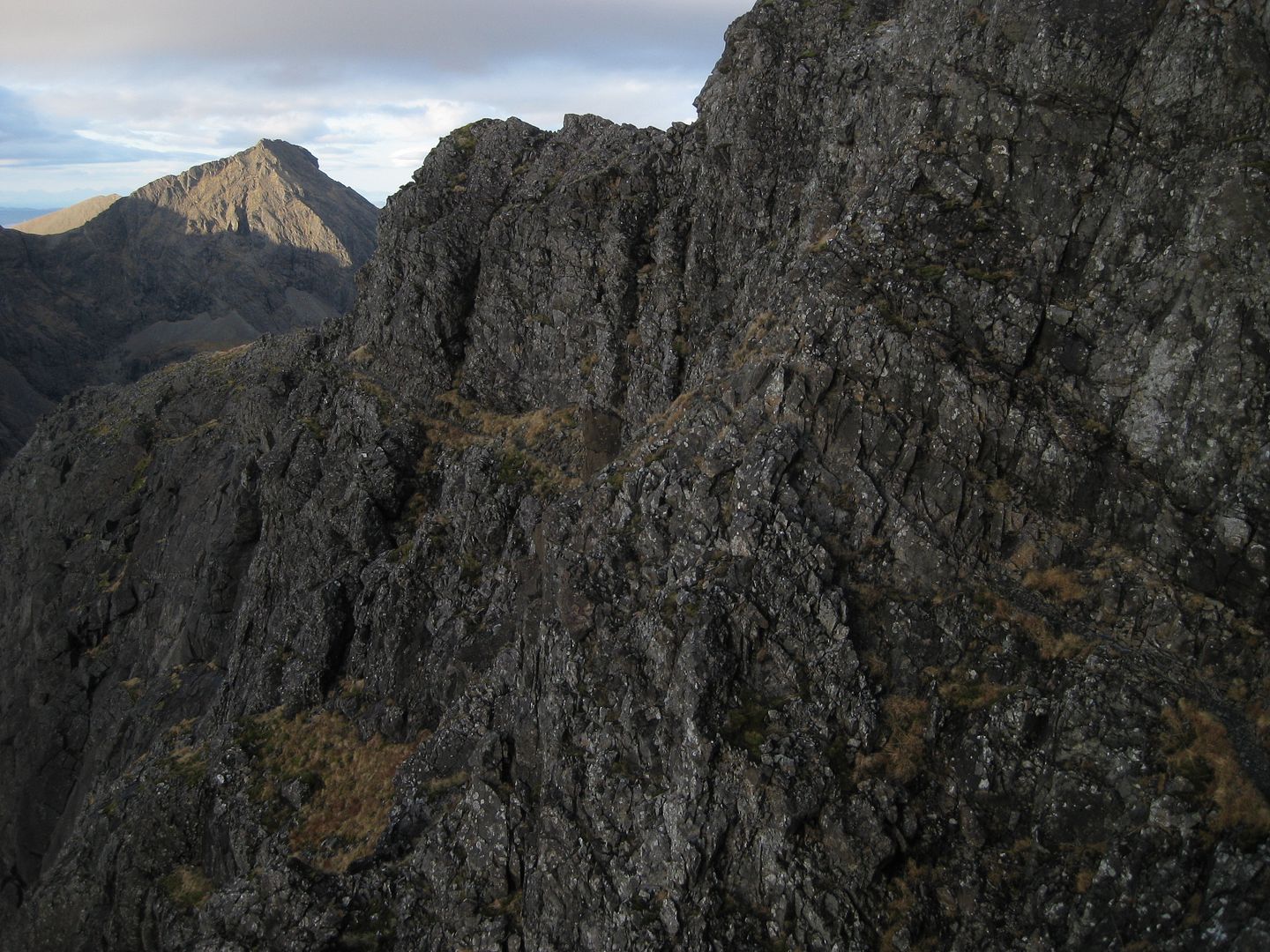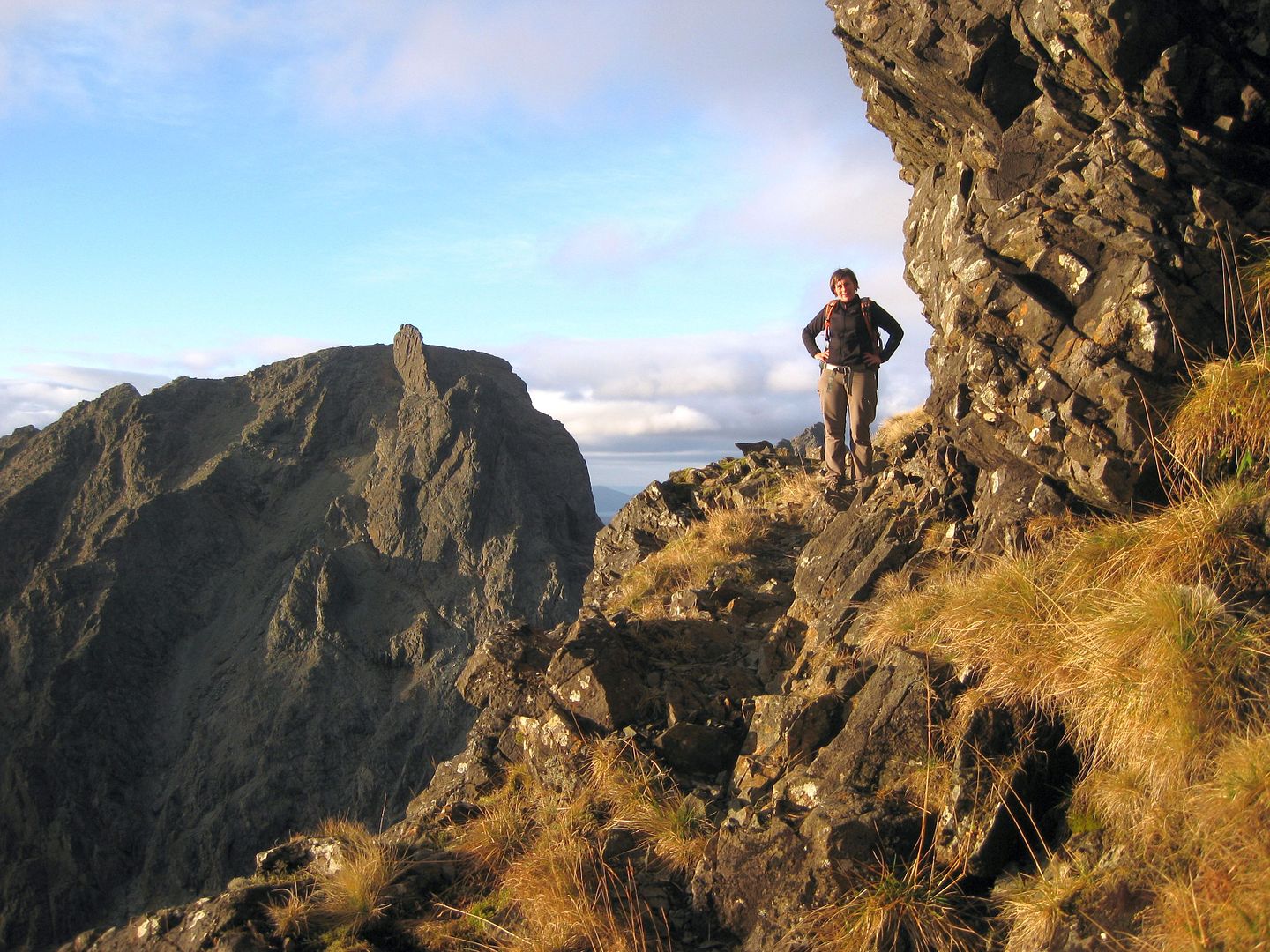 All too soon I turned a corner, and realised it was over and I was back on the ridge. A short climb saw us on the summit of Sgurr Mhic Coinnich. Yaay, only 4 to go for me now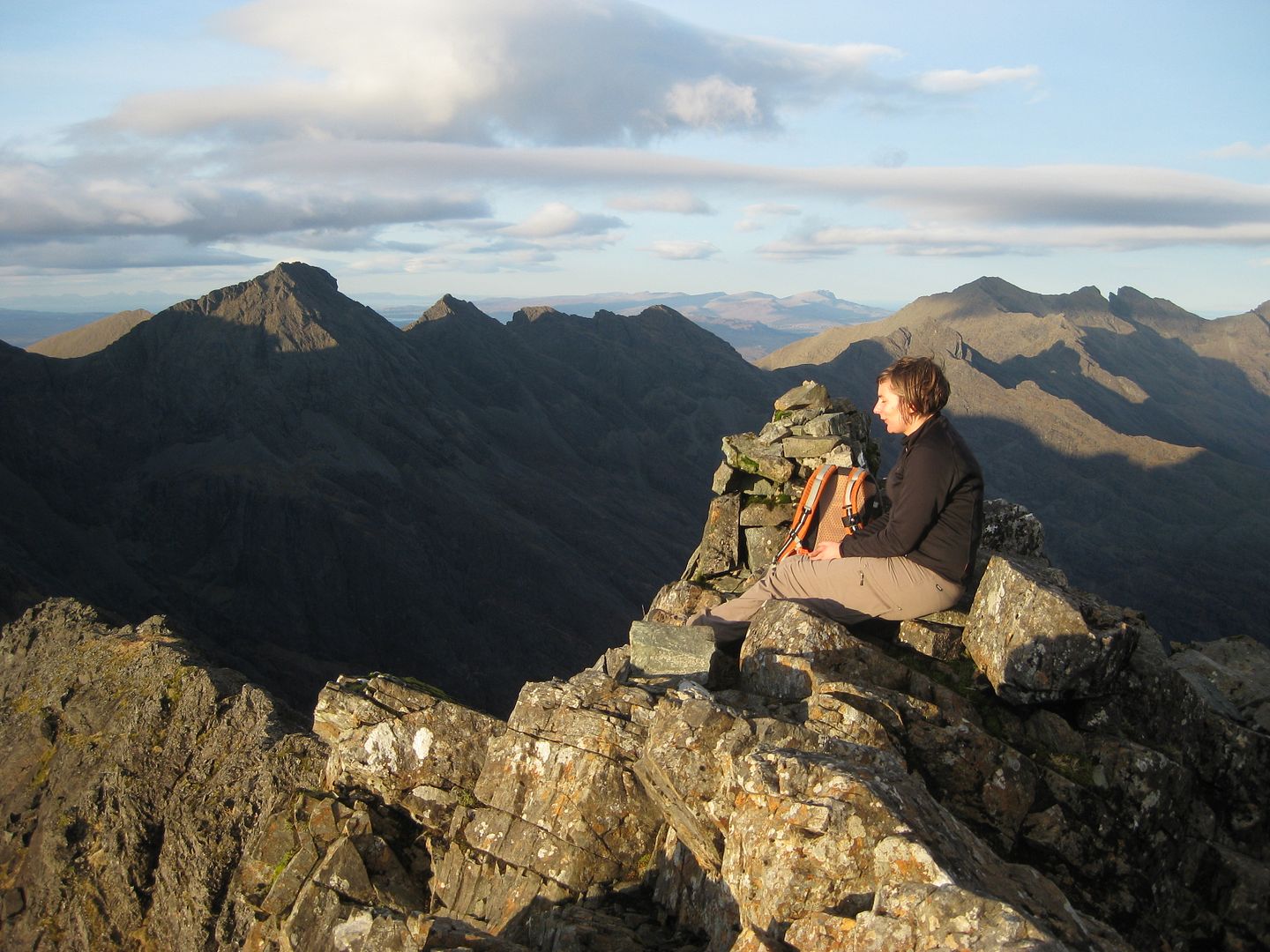 It was starting to feel like later in the day, and the way down to An Stac screes looked well, interesting..
We initially found a bypass path, which circumnavigated all the scrambling we had done to get to the summit, before a fun scramble along the crest for a while. There was a fair bit of down scrambling, before we managed to find a path that took us a more direct route to the screes.
Parts of the descent into the corrie was really good fun, getting up a rhythm and surfing down.. Other parts were treacherous and not fun at all
At several points I lost control, and slid down the slope in a cloud of dust and pebbles
The sun had started to set and there were some beautiful colours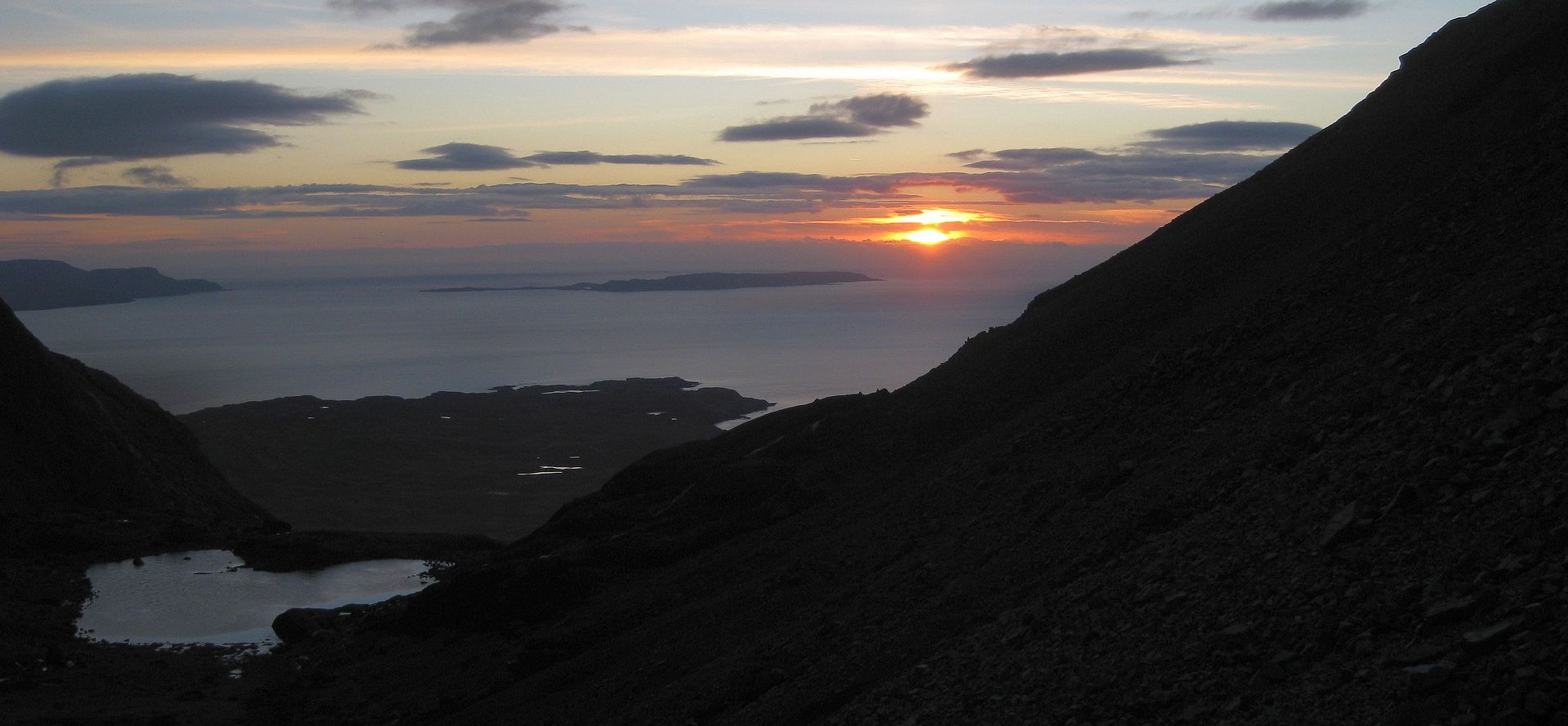 We finally reached the corrie floor, stopping by the lochan briefly to fuel up for the final march down the path.
We were most of the way back, going at a cracking fine pace trying to beat the darkness when I managed to go over my ankle.. I tell you they could probably heard me yelling over in Portree
So a slow hobble for the last mile or so, and a premature end to the Skye antics for this trip
Was good to get home a bit earlier today I guess, and it was worth going to have such a brilliant couple of days