It has been while since I have put a report on here, so please be gentle.
The long talked about 100th munro for Derek was finally planned. Stuc a'Chroin via Beinn Each. I've done Stuc a' Chroin a few times so this alternative route was agreed on. The weather was looking a bit grim with 60mph gusts along with whiteouts. Ah well!
All that was left was to do it, up early doors, collect Derek and head off to the Trossachs. Arrived, kitted up and set off in the dark, standard practice these days. Derek was given camera duties (as mine was waterproof) leaving me free to try to brush up on my gopro skills. The path is nice and clear and progress was made quite quickly with little drama, despite me nearly choking on my apple.
When we cleared the trees we were met with a winter wonderland that reminded me of recent holidays to the Alps.
A wee wander along the track took us to the turn off, which had a wee help for Derek the navigator.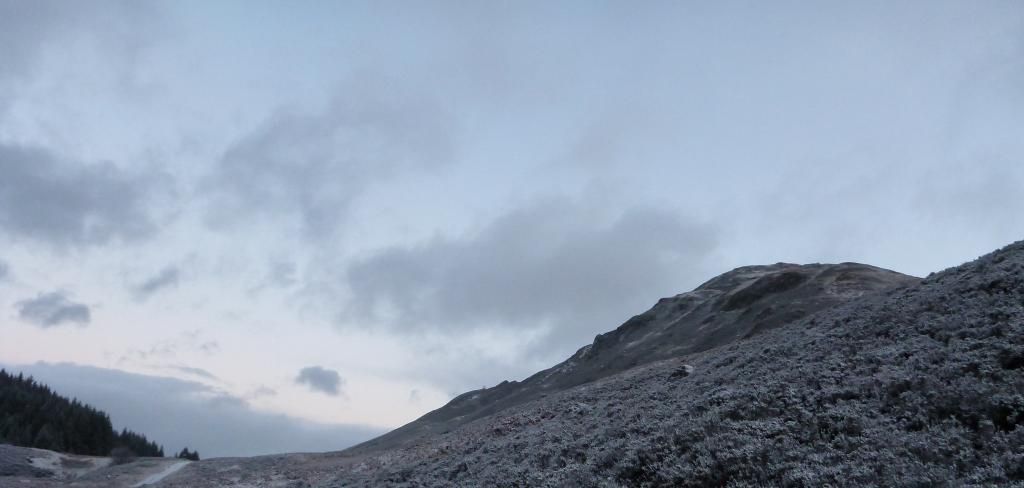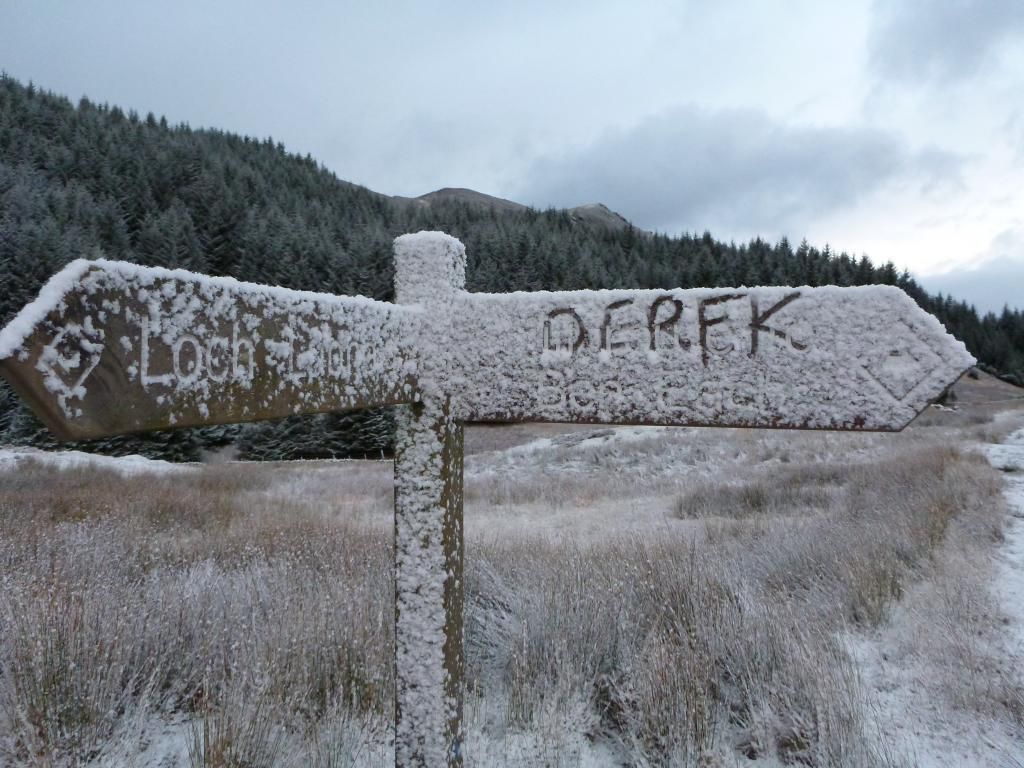 Onwards and upwards it was.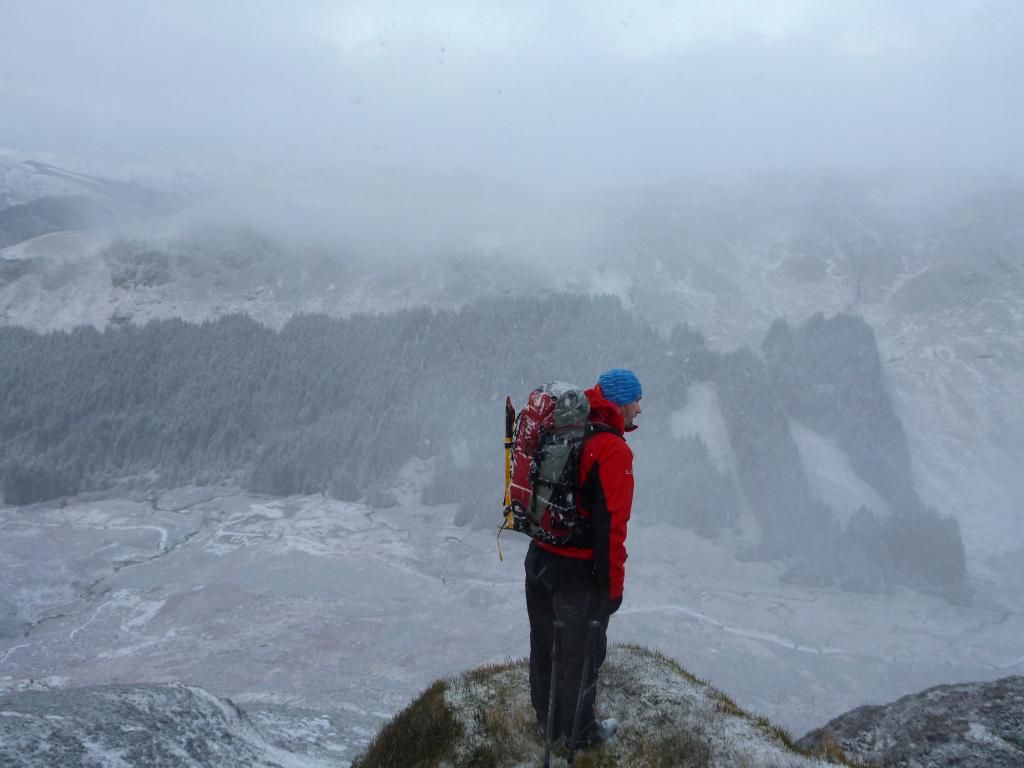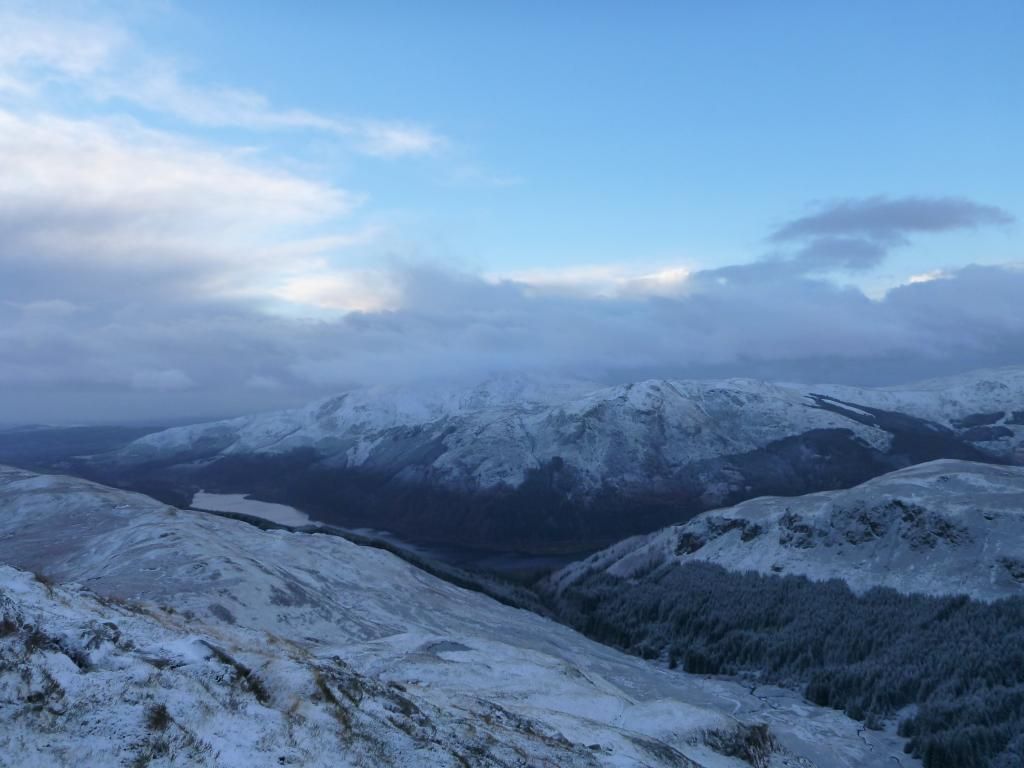 There isn't too much to add to the ascent of Beinn Each, there is a good path, there was a bit of snow, it was slippery and it was pretty despite being a bit stormy
Derek on Beinn Each
We didn't linger long. Stuc a'Chroin looked quite close but I supected it wasn't. First job, wind my way down some ice covered crags with an unhappy looking Derek in tow. I forgot the helmets, what a dumbass. There was not enough snow for the crampons so it was just a case of avoiding the patches of ice and being careful. Slowly but surely we made it off the summit/crags of Beinn Each and made our way towards the ridge that lead to Stuc a'Chroin.
We were treated to Beinn Each showing off its halo
It was getting a bit blowy now as we wandered along the ridge crest, I contemplated dropping off the crest to the leaward side but stuck with it a while longer.
Derek decided that I wasn't working hard enough so he threw his map/case away when we were putting on our goggles....."Don't worry I'll climb back up the hill and get it for you....don't be doinng that again though!" He looked all happy when reunited with his gear though!
We eventually reached the low point and it was just the up slope to Stuc a' Chroin left. I'll be honest, it took much longer than I thought, with quite a few false summits in very pretty conditions despite the drifting snow getting deeper and deeper. Unfortunately my photographer was struggling at this point and didn't take many pictures. I wonder if his goggles were steaming up like mine?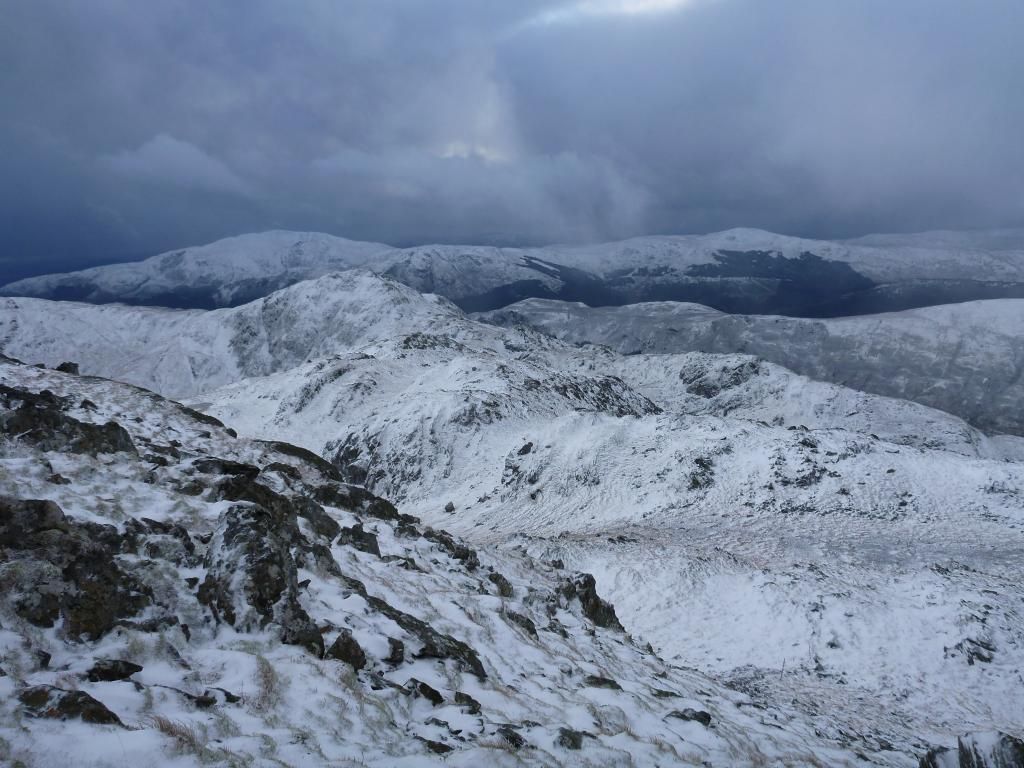 Then....it happened, it started to clear, there was no more up. The summit had been reached.
Derek had reached his 100th munro summit.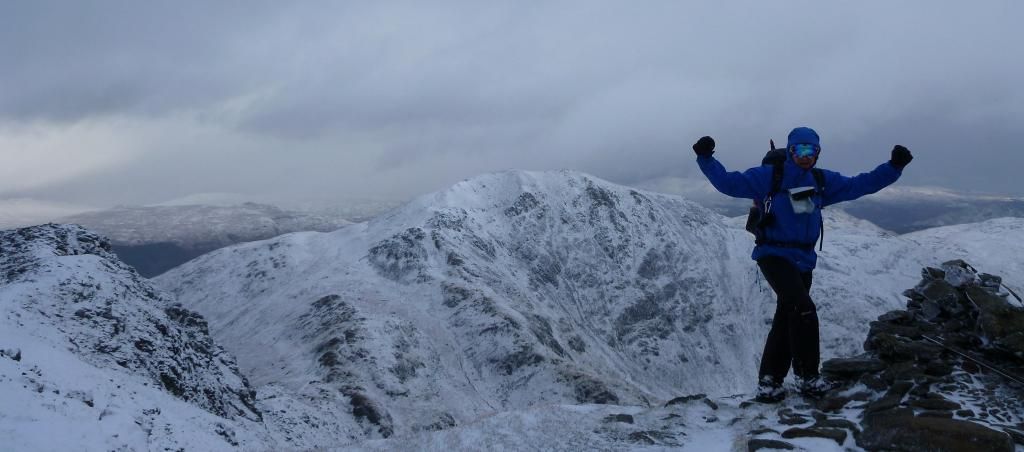 We didn't linger long, the wind was very strong and it was very very very cold.
We wandered down to the top of the prow looking over to Ben Vorlich and had some food.
I guess Derek could guess my thoughts, I wanted to descend the prow and go up Ben Vorlich, there is even another Corbett beyond. Then there was a group of two or three on the summit of Vorlich. We could catch them and see if they could transport us back.....a gamble!
I looked at Derek, he was frozen with the cold....his face said it all, he was happy with his lot, as we should be.
Sensible head back on, lets head back to the car.
I'm curious if others do the same as me, the cold doesn't really affect me (apart from my hands) when I'm walking but when I stop it's an instant freeze? I carry extra gear but 9 times out of 10 I elect to just keep moving as the extra layer make s me boil when moving? Anyone else or just me? haha.
This was where I made two errors, firstly there were very few pictures or video of Derek on his 100th munro. Second mistake, we contour hugged and skipped the reascent to the summit, I dropped too much height too quickly and ended up rock hopping around the top of a few gully systems which don't really show up on the 1:50000 map. Normally it wouldn't have been a big deal but Derek looked burst as the snow made it difficult going. A quick stop and I asked the question, reascend a bit away from the gullies and catch the ridge top? "Yes please" was the answer and it proved the correct call. The going was much easier and quicker.
We dropped down to the low point, skirted the lochan and contour hugged round to above the trees. Then it was just some heather bashing on a diagonal down to the track out. I'd describe that part as tedious and my mind wandered back to how much easier it would have been to go over Vorlich and then down. Ahhhhh, but sods law would dictate that we would have caught that group to only find out that they were going to Ft William or some other disaster. It's a long walk to my car from there! haha.
Anyway we reached the path without any drama, we were on easy street.
Derek was looking burst and he was hanging his head.
"What's up Del?" I asked.
"I've left my poles up there at my last stop!"
I may add that these are uber expensive black diamond poles but it was looking like they were staying on the hill, judging by Dereks face.
A deal was done, a price agreed and my bag was ditched and it was back up the hill for me once more to retrieve the poles for the dumbass.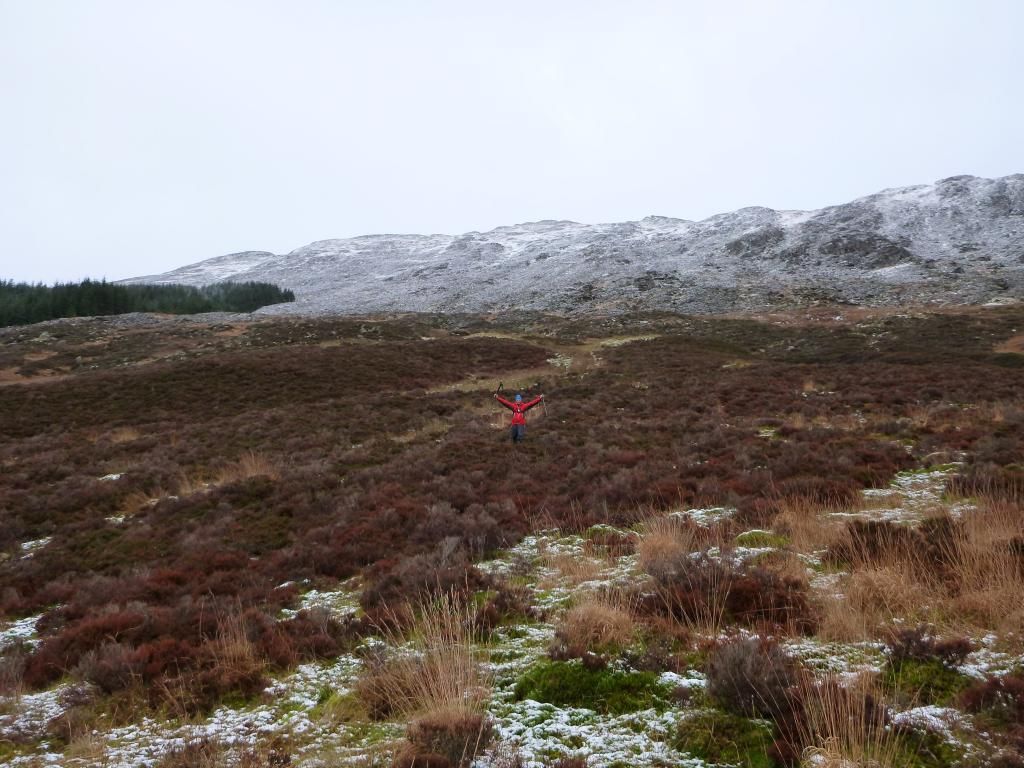 A tearful reunion and he was reunited with his beloved poles.

So, all that was left was the wander along the track (why does the way down have such a steep uphill part?), through a glen full of deer (hundreds of them) and then back down through the trees as the light faded.
We got back to the car as a monsoon hit us and the light went. Starting and finishing in the dark once more!
Another grand day out with old Derek!
Well done on 100 munros old bean!
Link to video
http://m.youtube.com/watch?v=GCLIsnmWiuA&feature=youtu.be