So after a couple of days recovering from my unfortunate flying incident, we were off back to Kintail on Thursday. I couldn't believe how much the rivers had gone down in the few days inbetween visits, but we were relieved to find our usual camp spot, nice and welcoming like always. A starry night in perfect cold conditions was a treat, even in the dark you could tell that tomorrow was going to be a beautiful day.
We got going around 10 after a leisurely start, taking the lovely path over Cnoc Dubh.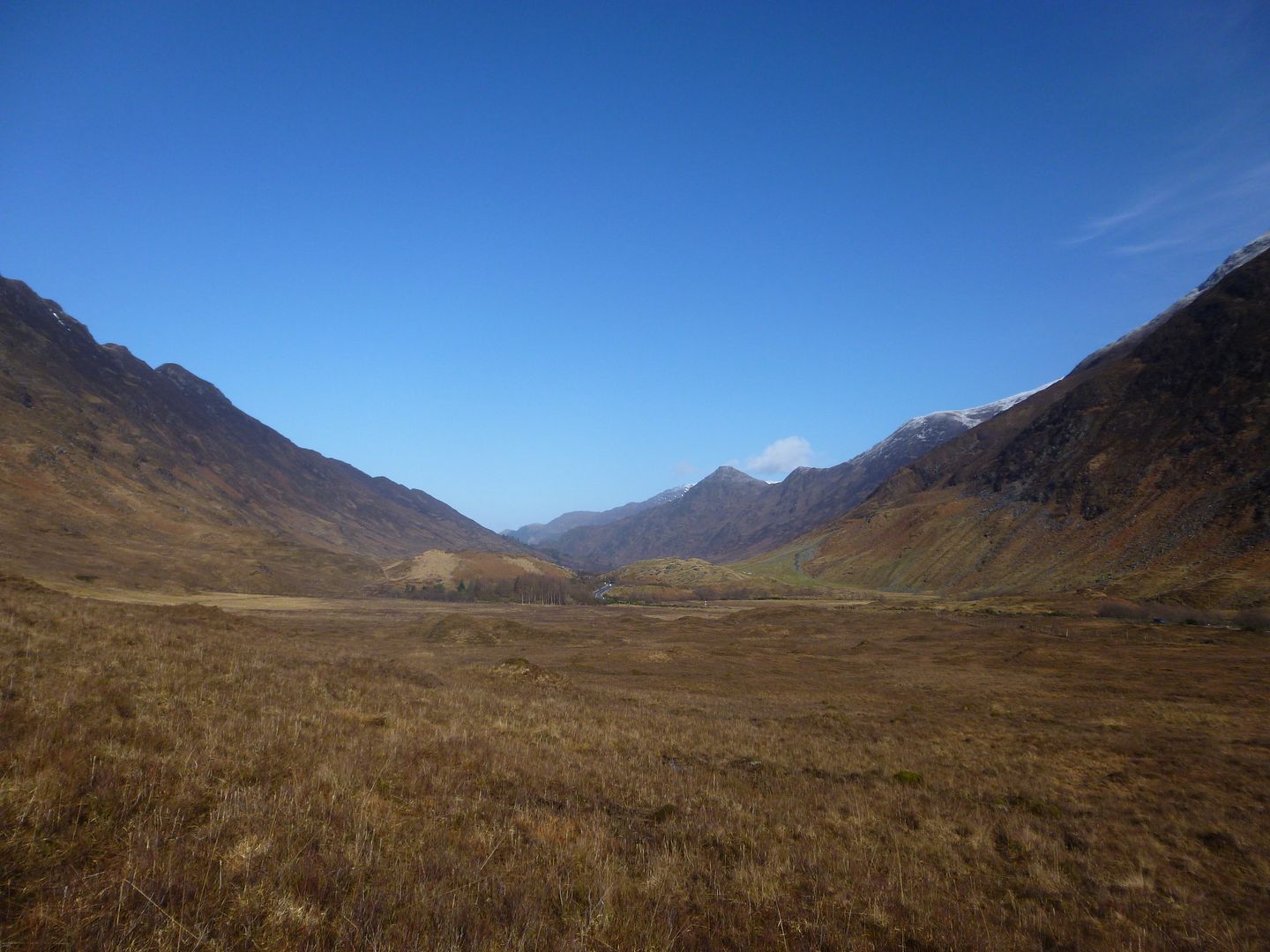 Must be one of the best paths in Kintail, winds its way up gradually unlike some of the brutal baggers routes. Deer grazed nearby, and hazy views gradually opened up.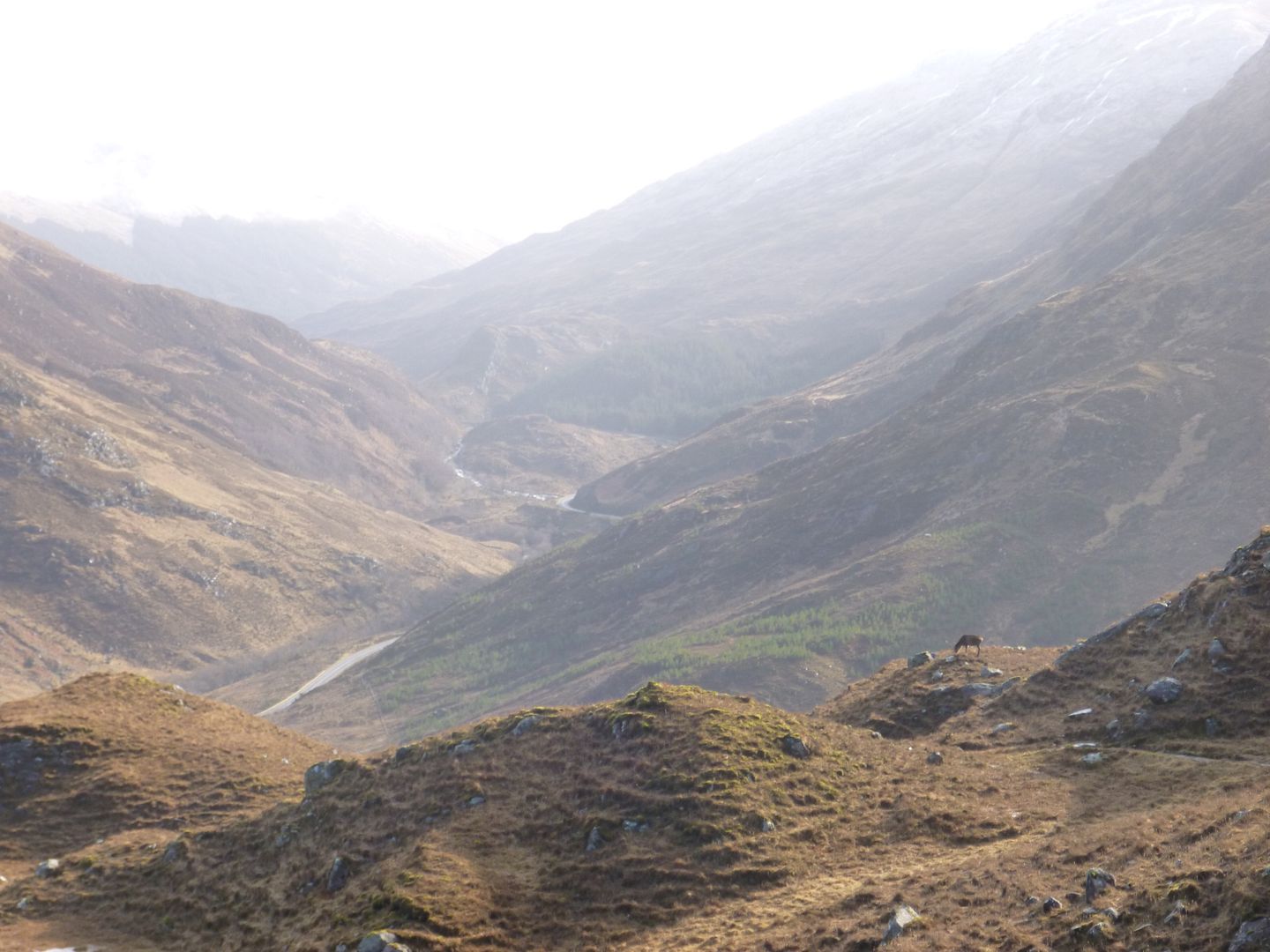 The breeze was seldom, and the sun made the climb hot, but made it to the bealach without too much effort to get the first glimpses of the ridge ahead. Forcan looked amazing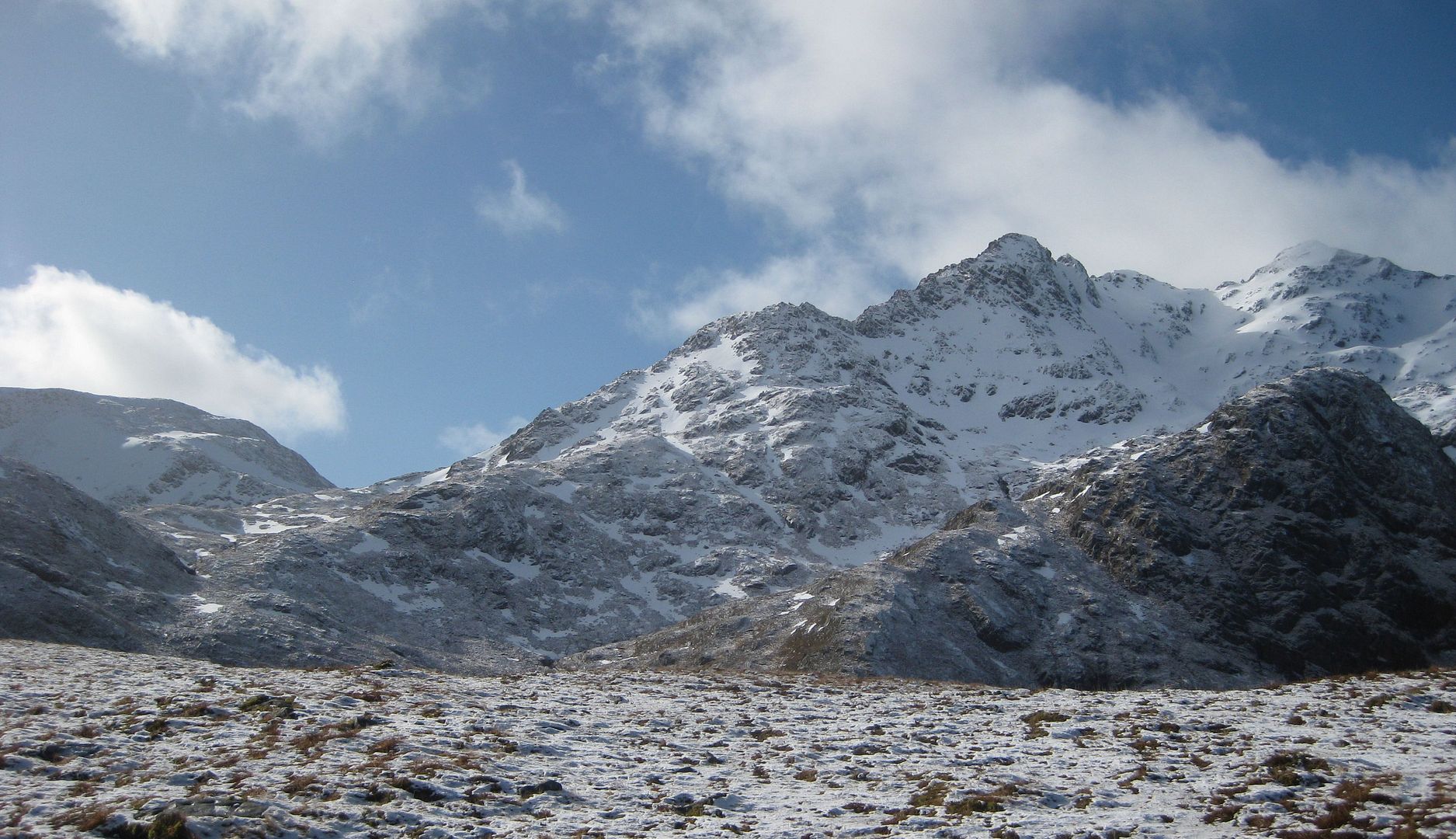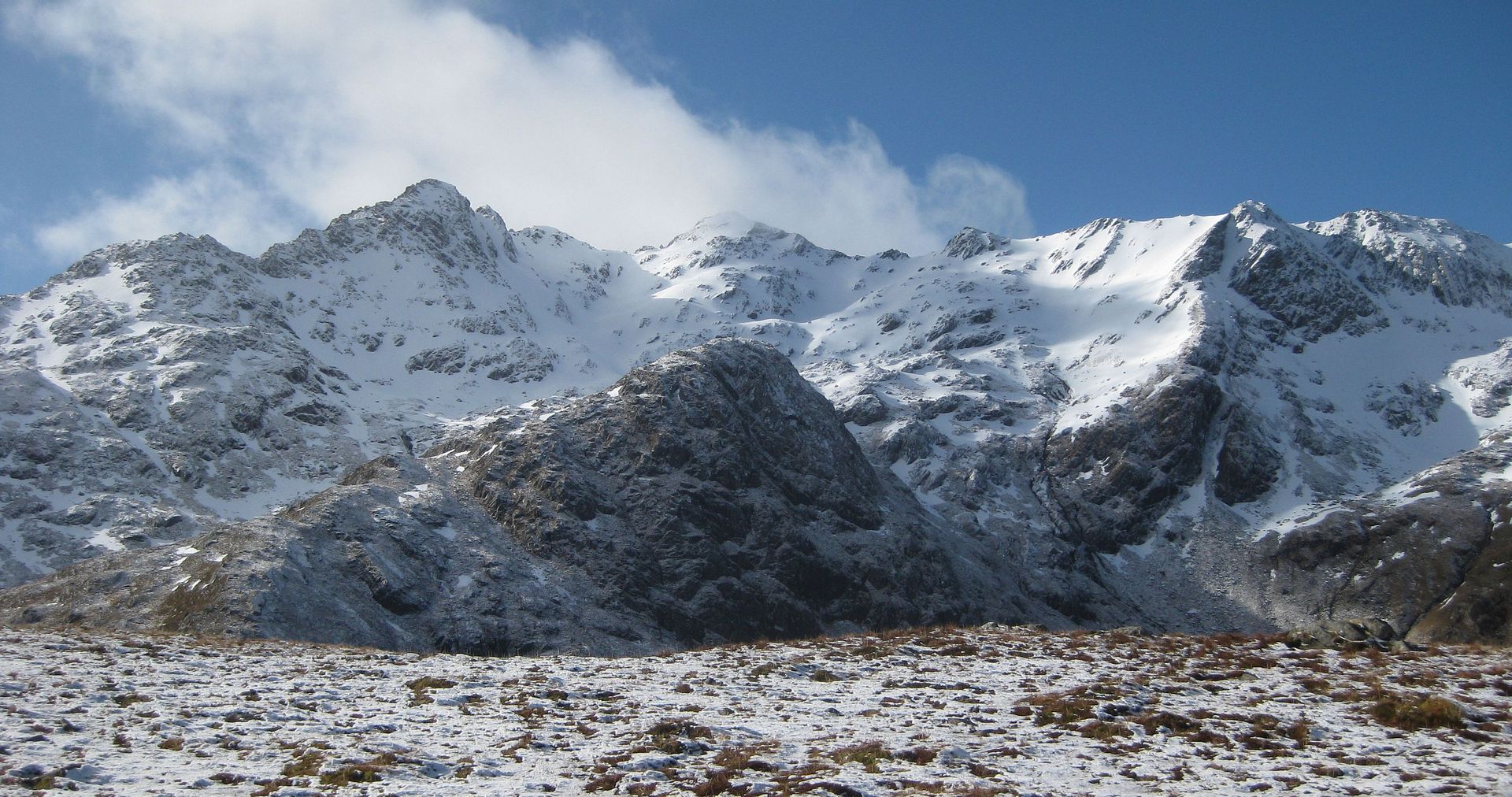 We climbed/traversed over Meallan Odhar, the going icy, and losing the path beneath the snow for a few yards along the way. We stopped just below the ridge to have elevenses, but not for long, anticipation making us restless.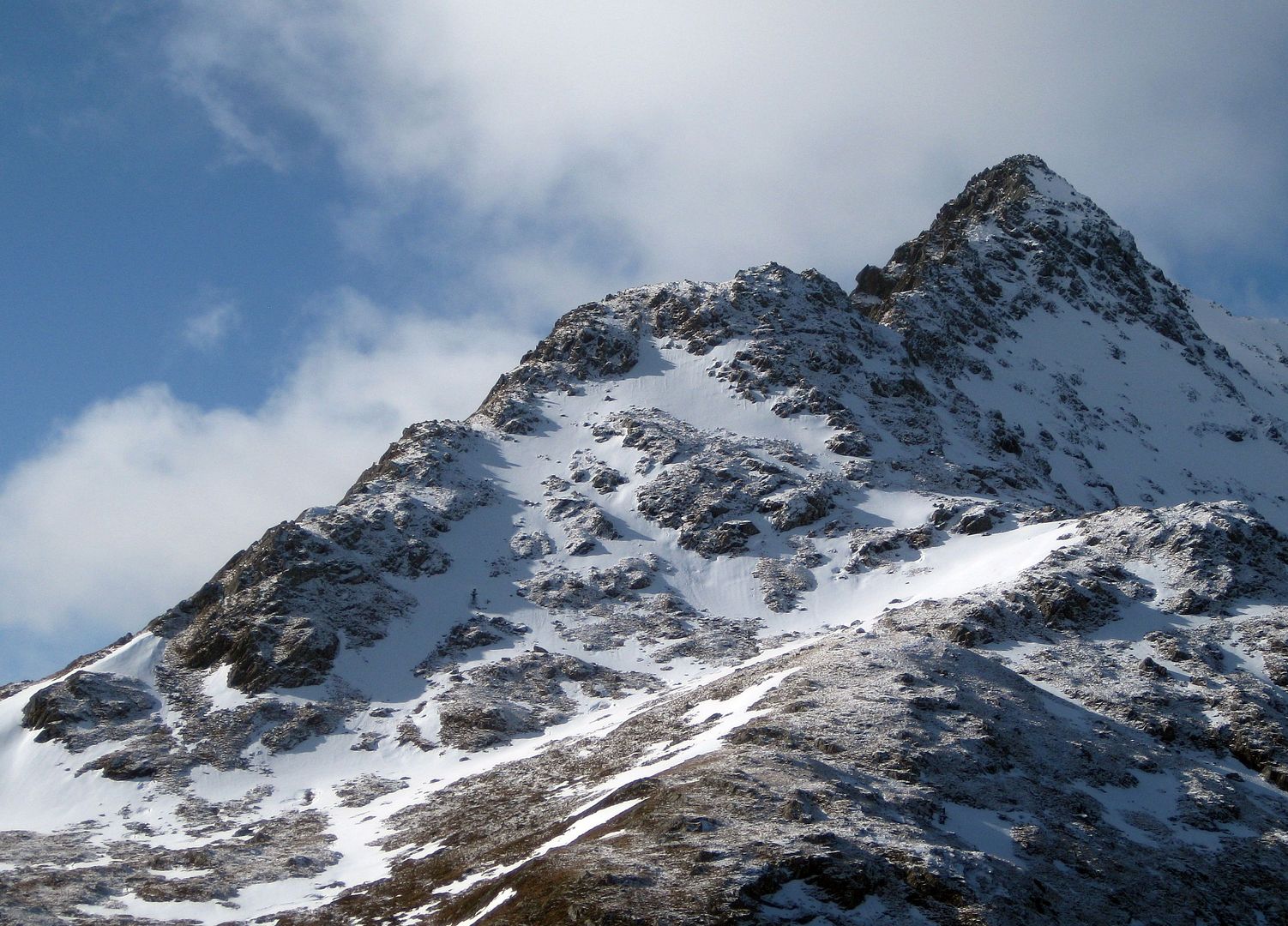 We were soon up on the initial slab. The sun had dried the rock out a treat, and it was a nice little warm up
beyond there was a steep rocky section, but no hands required as the path meanders it way through.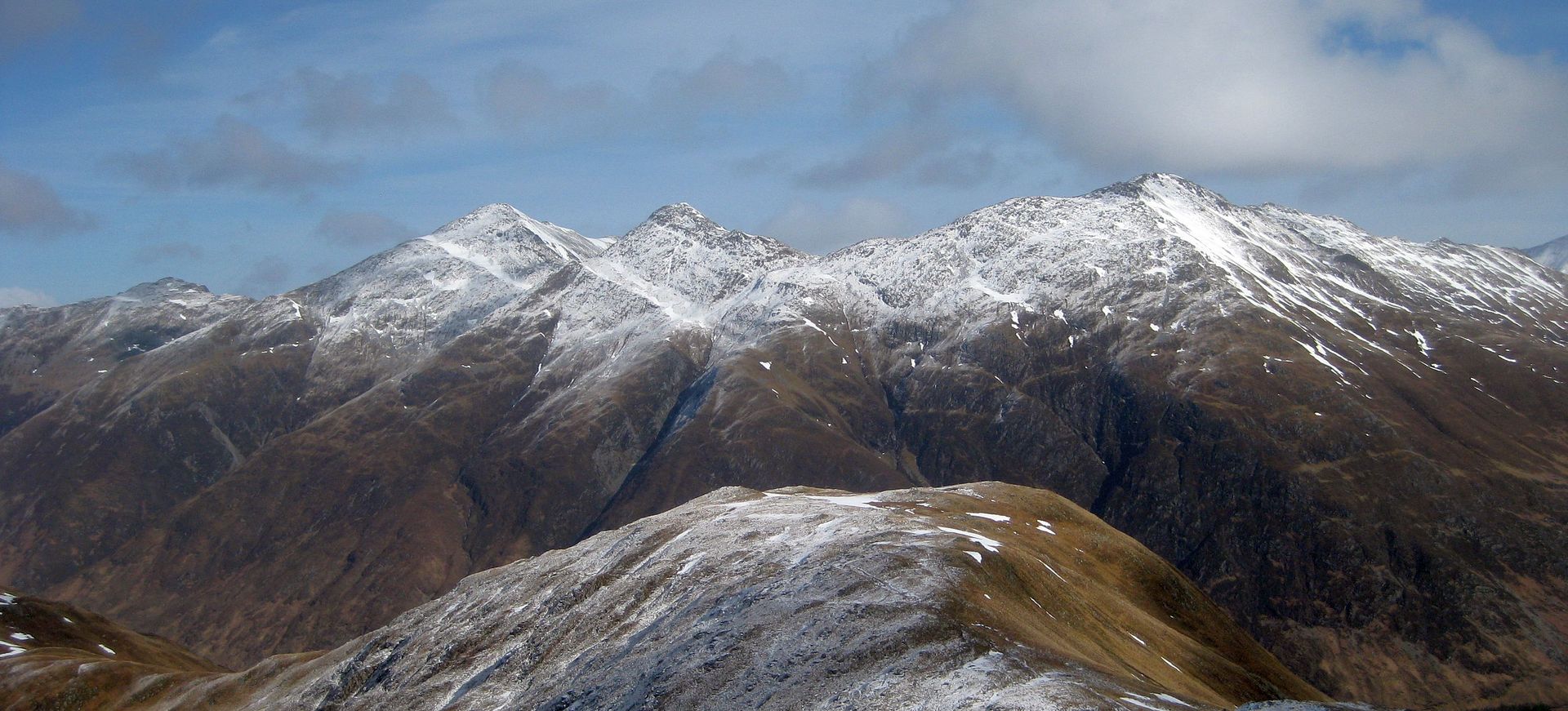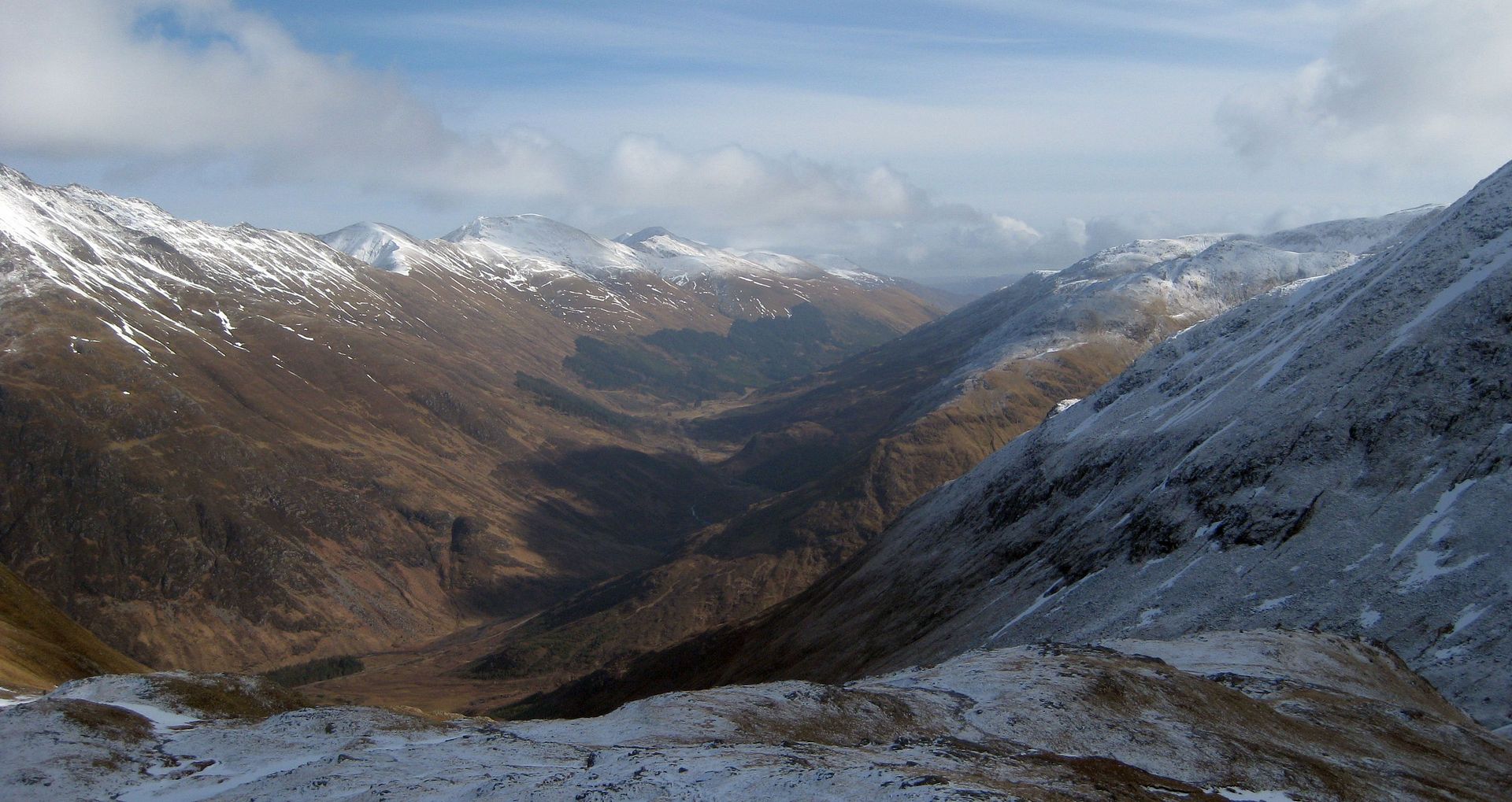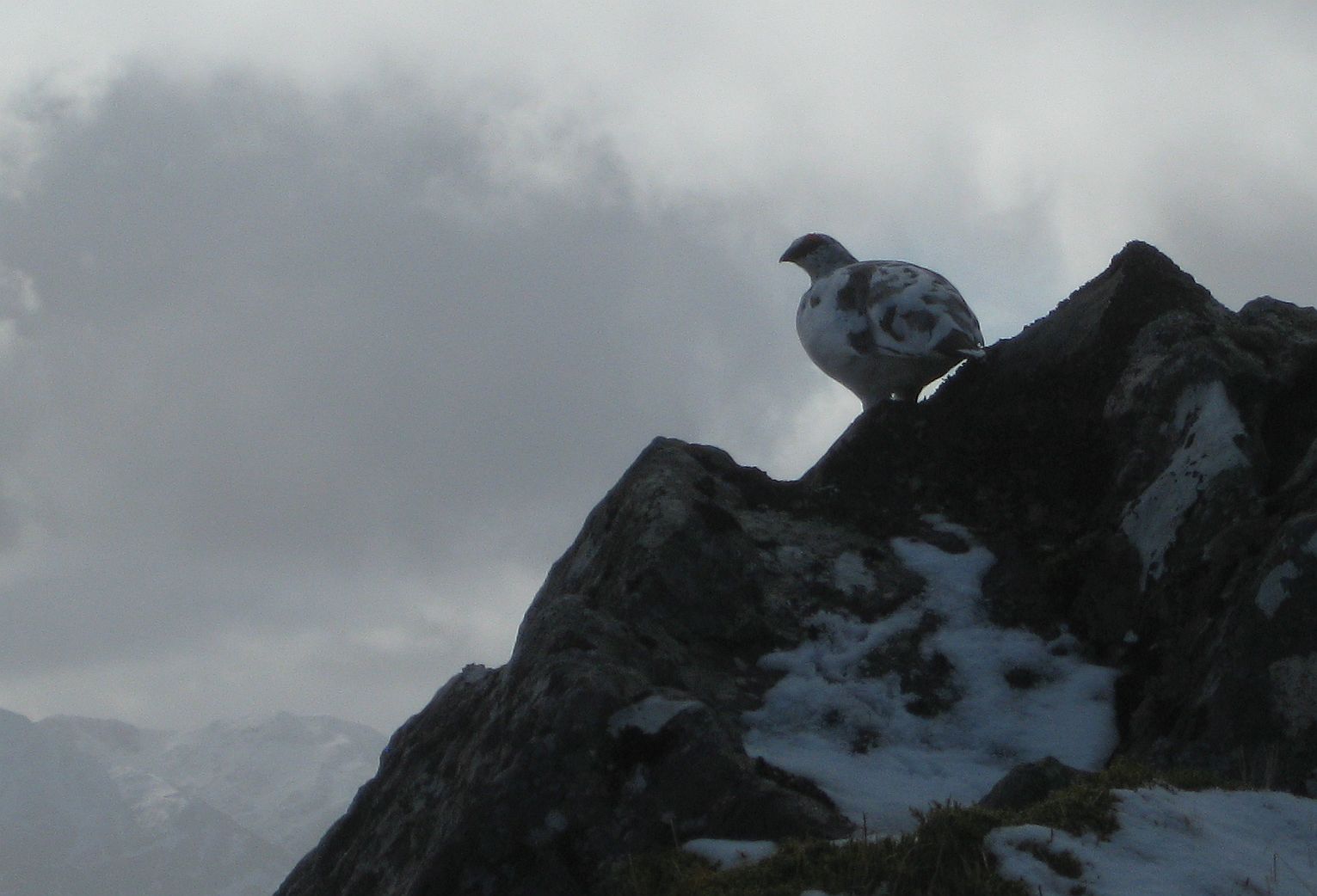 Once at the top of that bit, the ridge ahead stretched out, and looked pretty scary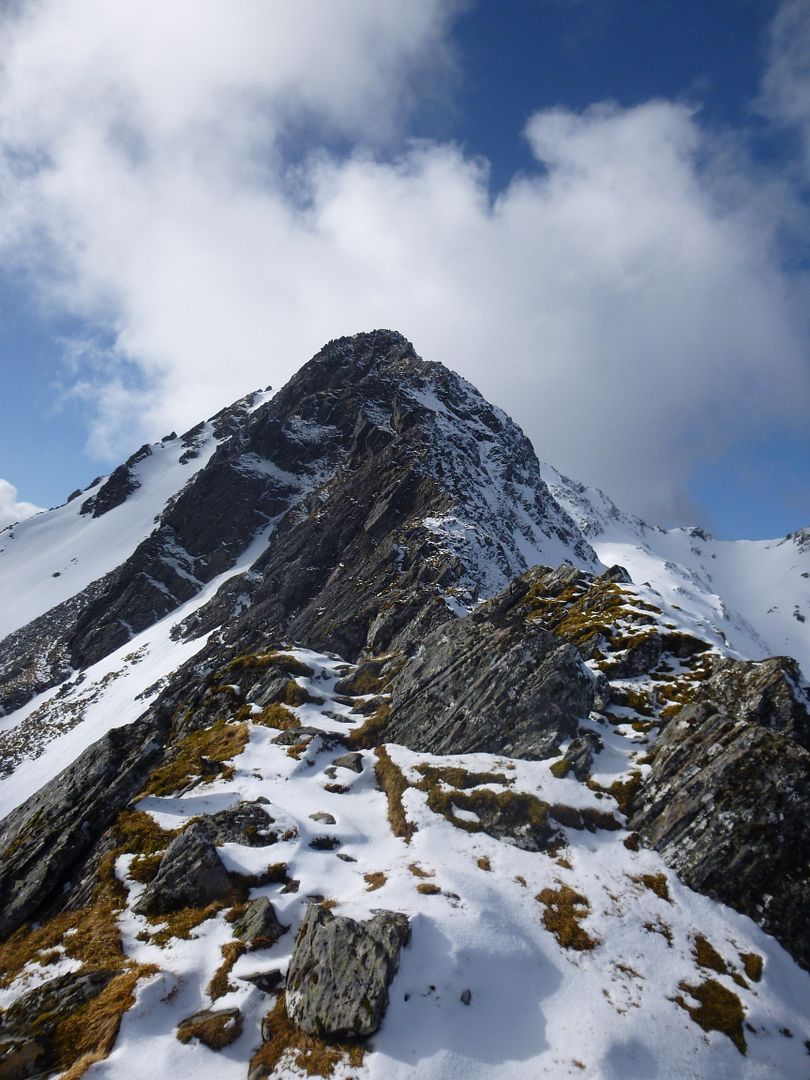 I had been up Forcan before, and remember it being a bit easy, even though I hadn't really done as much scrambling back then. I wasnt therefore expecting it to be tricky, but with the bypass paths banked up, there was nowhere to go but along the crest, and nothing scares a BC more than walking an thin arete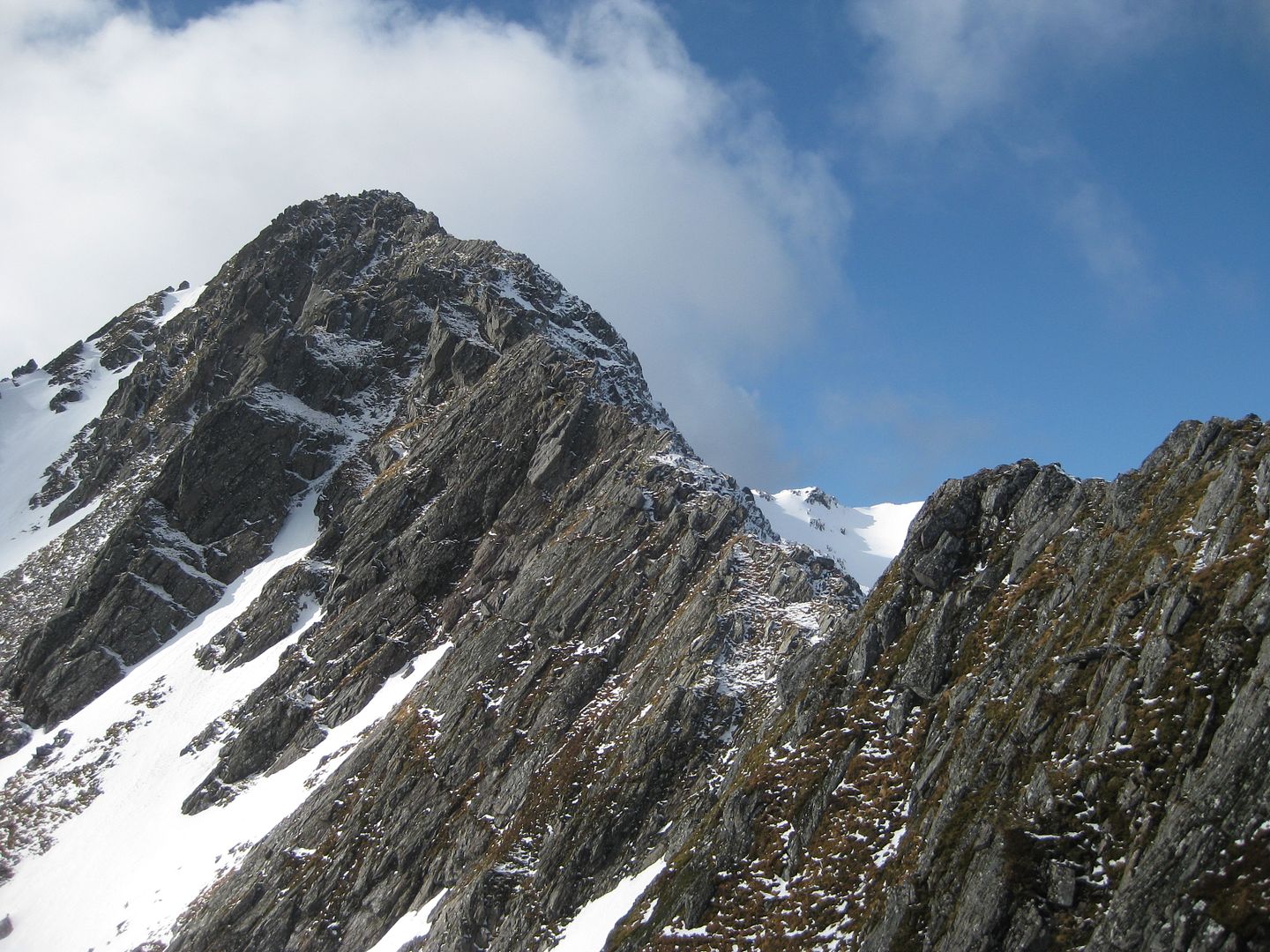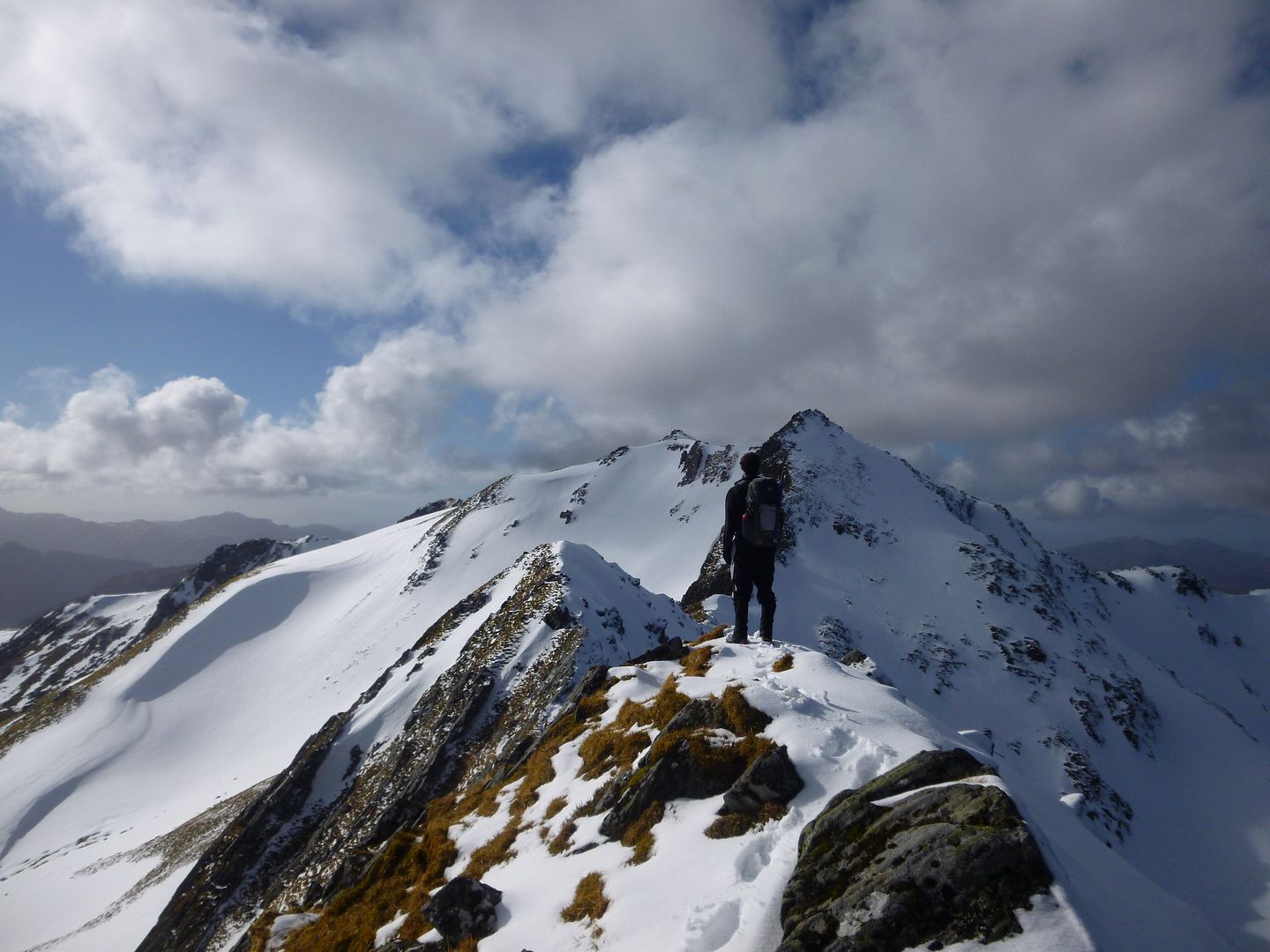 The next section was slow, but fun until I got stuck with a leg each side of the arete. My trousers had got snagged on a sharp bit. I pulled along but couldn't get free.. Dougie came up to help, and I ended up with a huge big rip in the bum of my trousers
We worked our way along, getting to a place where folk obviously abseil off, so had to go down a very eroded icy chute down to the left, and through a cleft. The snow was banked the other side and it took a lot of effort to get back to the ridge. Looking back I'm glad we didn't attempt a down climb
The going got easier as we went along, so only a sharp ridge really, mesmorising views were still making for slow progress.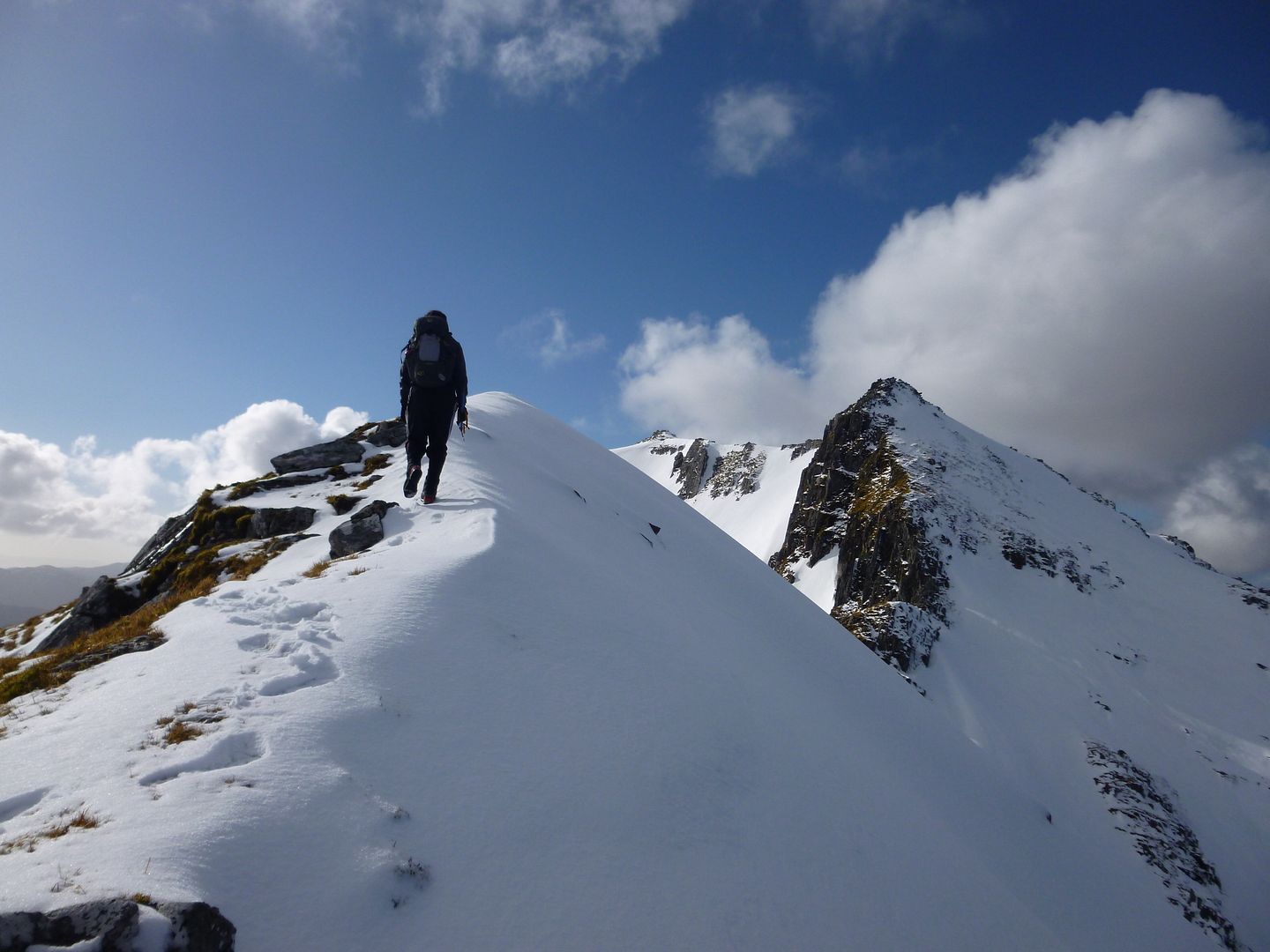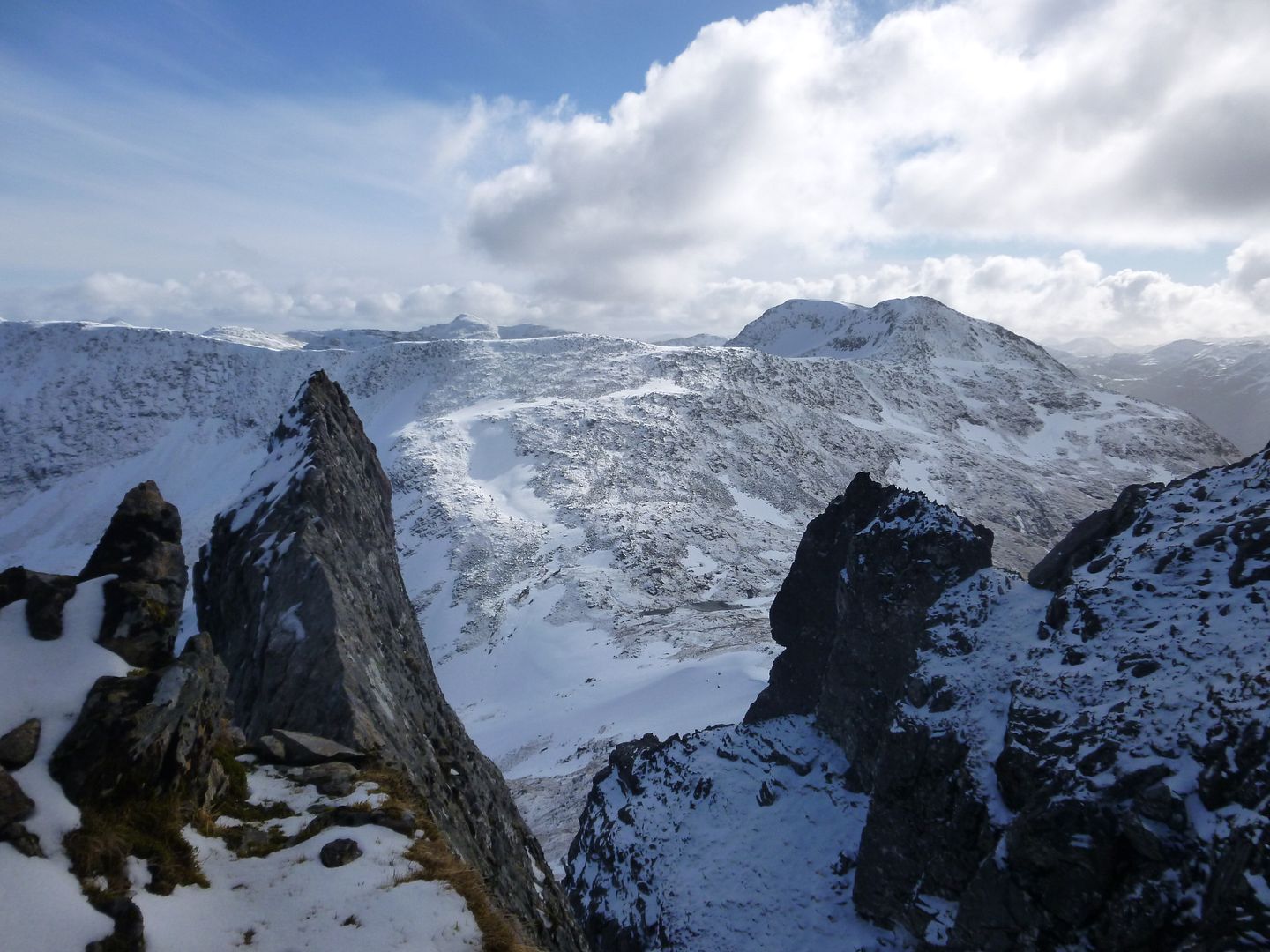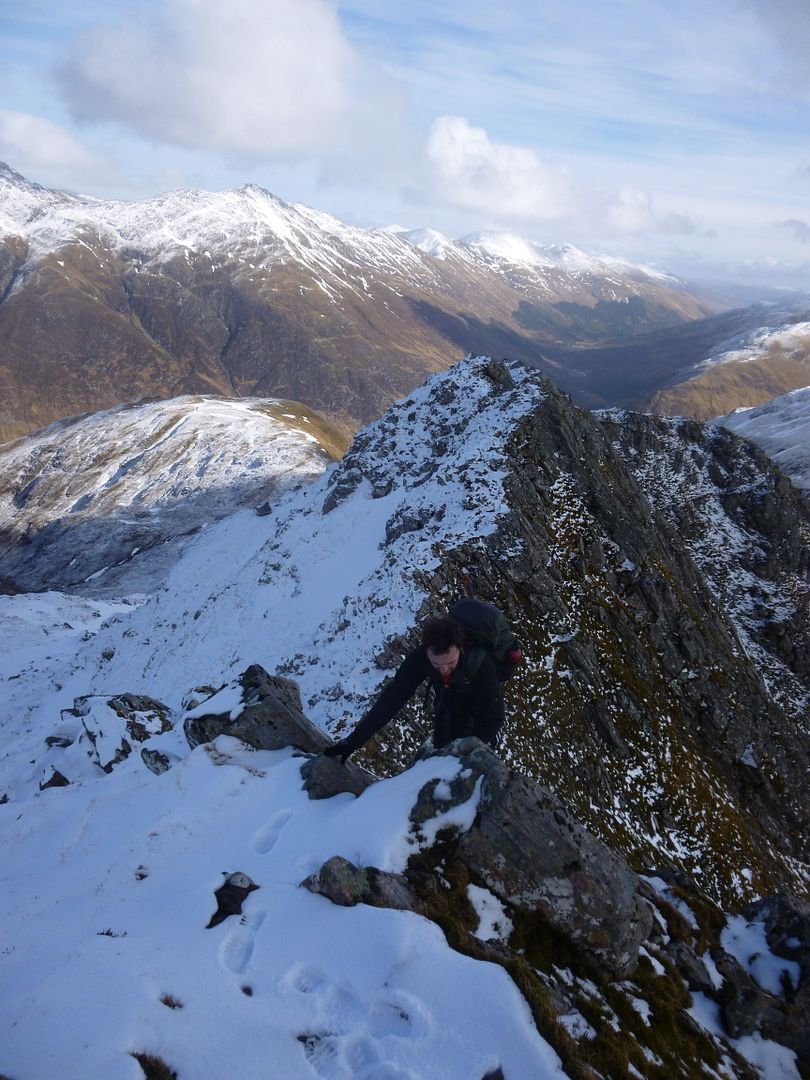 Eventually we got to the top, and saw the summit a bit further on - Hard work done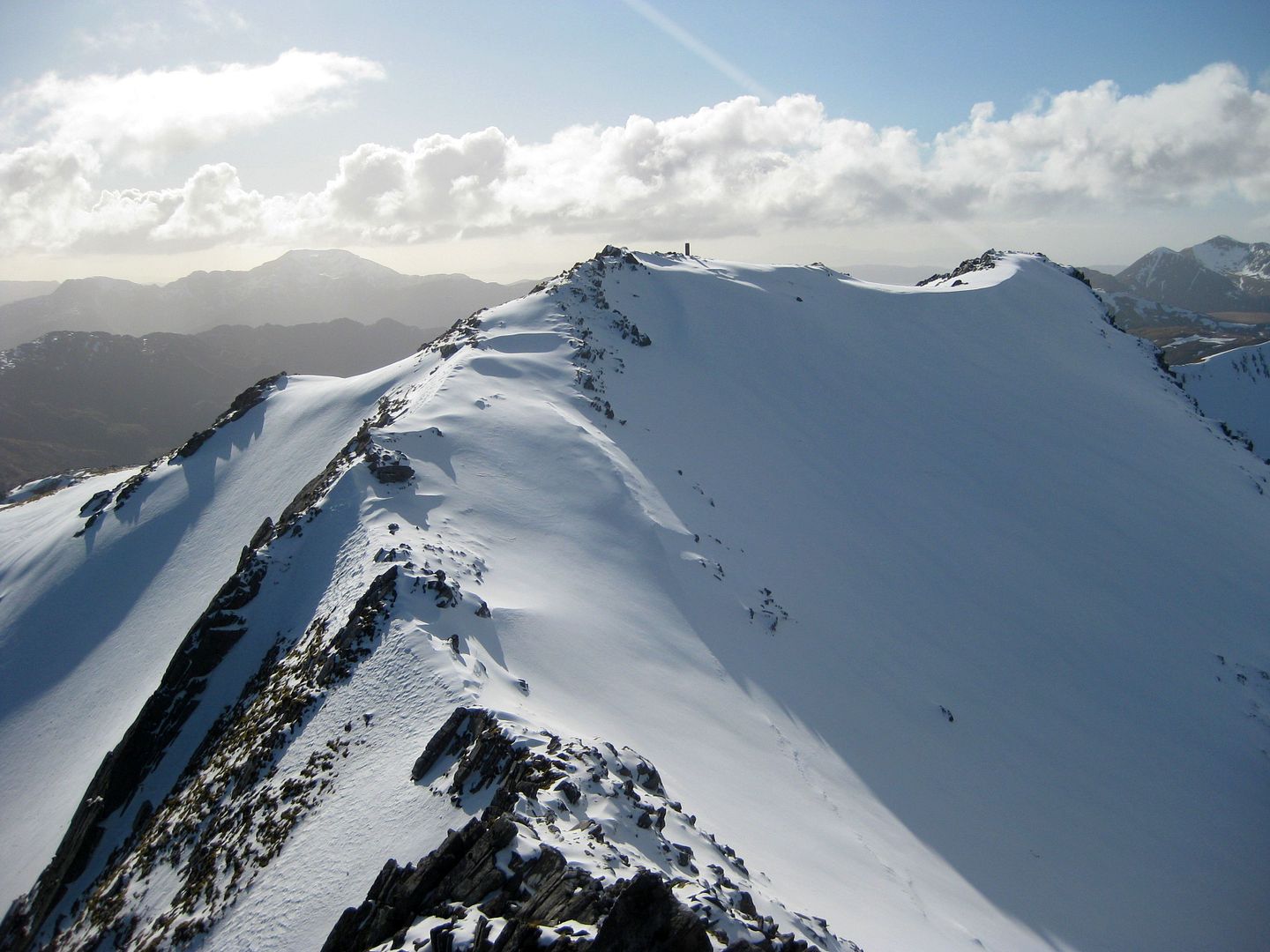 It was warm and peaceful at the top - Had only seen one guy from afar all day..


The path back to the bealach was under some deep snowfields, so we just made our own way down over them. Almost convex at the top, we had our axes out and kicked steps, but as the angle eased, we got some fun trying out arrests and different plodding and sliding techniques
We followed the wall round, but had to drop down quite a bit to get over the cornice and back onto the path home, where we were watched by the locals.
When we got back to camp, we found another tent had pitched up, and found it was my Dad who had come over Via Strath Carron as the Loch Ness road was closed. It was good to see him and we had good banter in the pub that night, despite the lack of draught beer in Kintail Lodge
My Dad has a few kintail hills left to bag, and he wanted to do A Chralaig ridge - fine by us, as it is a fine days walking
Dad drove us down to the car park, we set off up the hill (me in Dougies spare trousers
). Oh its relentless that one!
The views were hazy, but the sun was fighting really really hard to come through.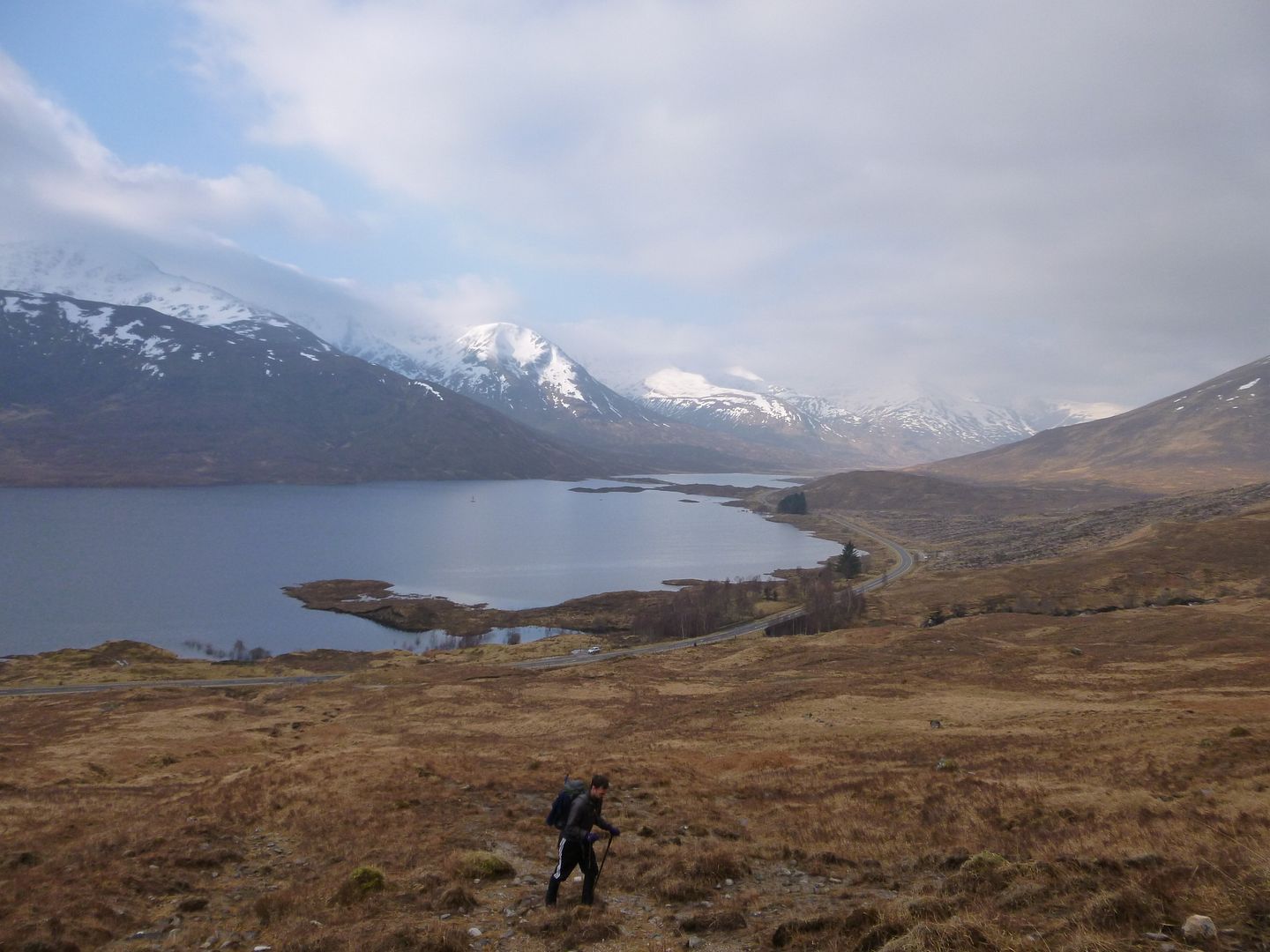 Steep meant braw views quickly, and the higher we got, the more the cloud seemed to disperse
We made it to the ridge, and had a wee sit down to cool down a bit. There was still a bit to go, but it was easy walking, and we made it up to the cairn after a couple of false summits and a bit of confusion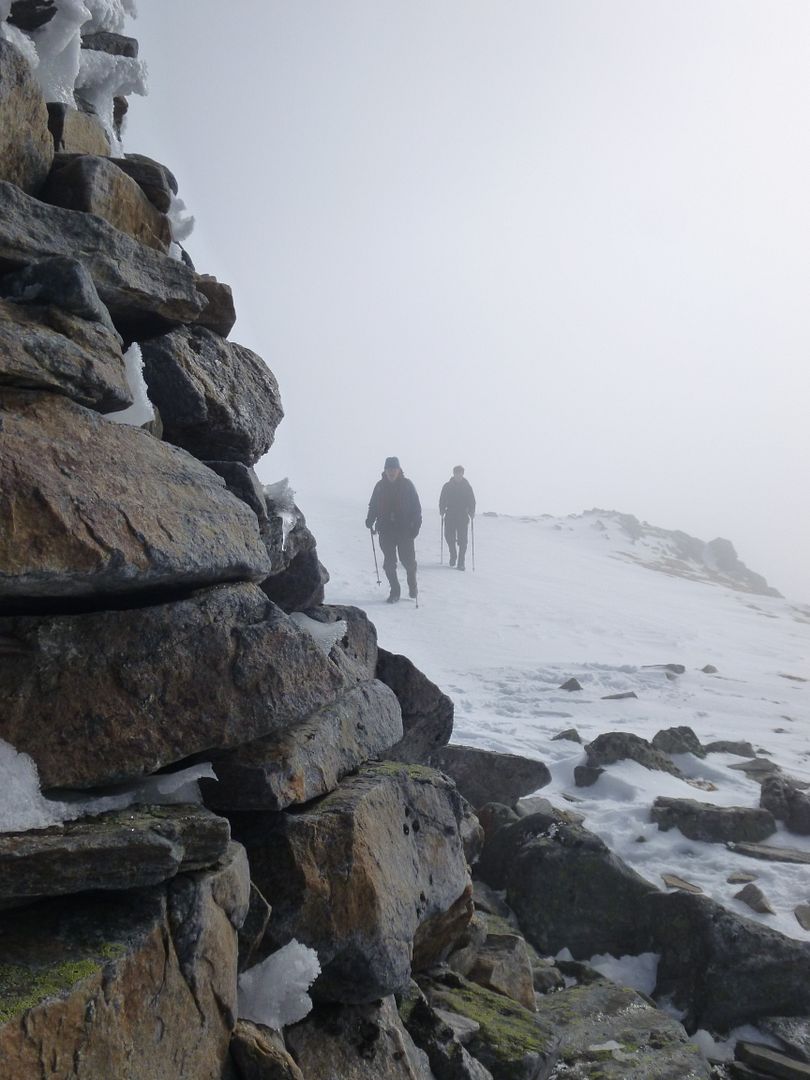 It was misty at the top, but as we sat and ate our pieces, some views came and went, the suns heat intensified, and al of a sudden the mists were gone and there were views all around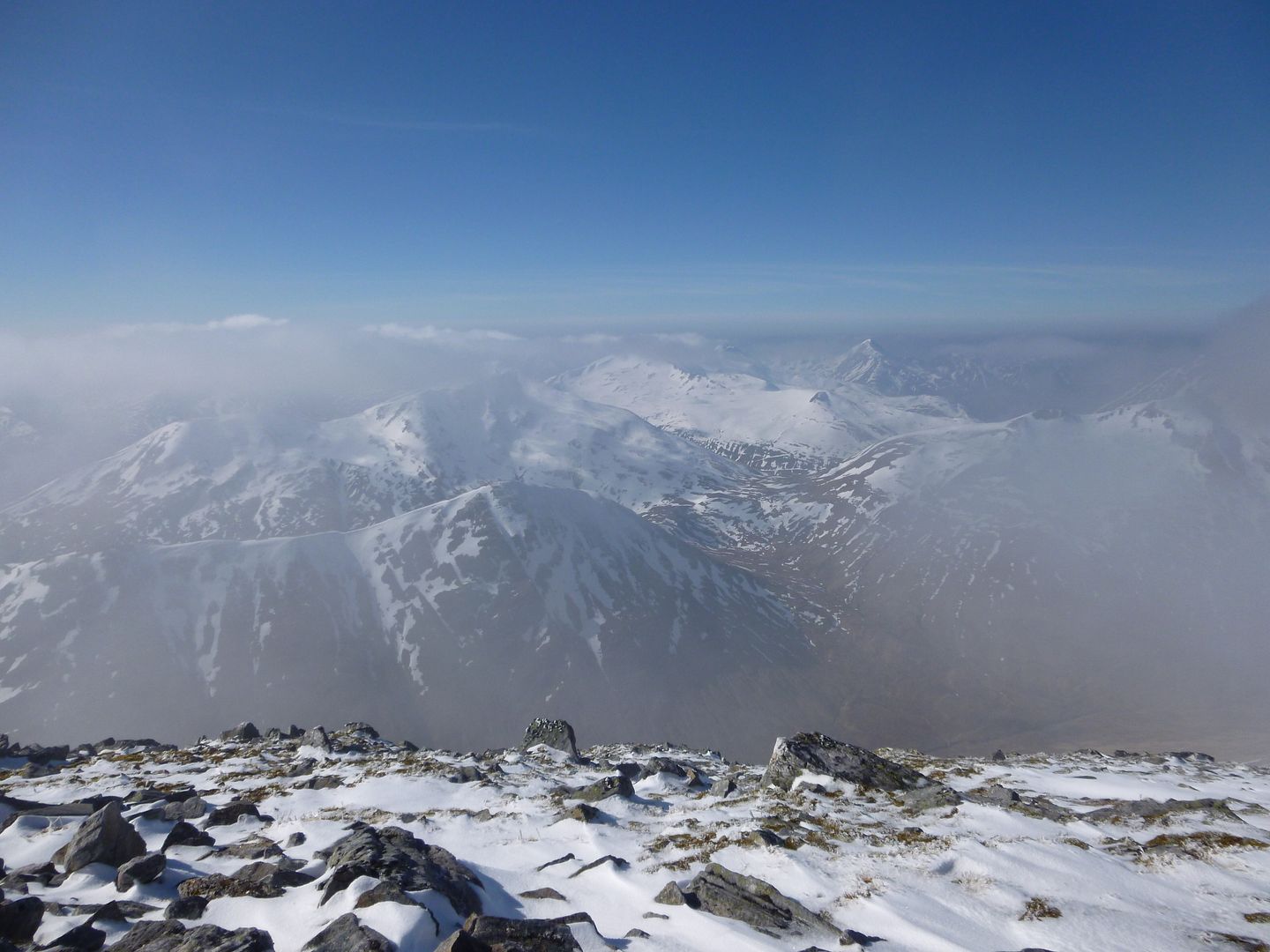 We made our way down the ridge, the snow nice and grippy, over a couple of rocky sections and over minor tops. It really is one of the finest ridges around there.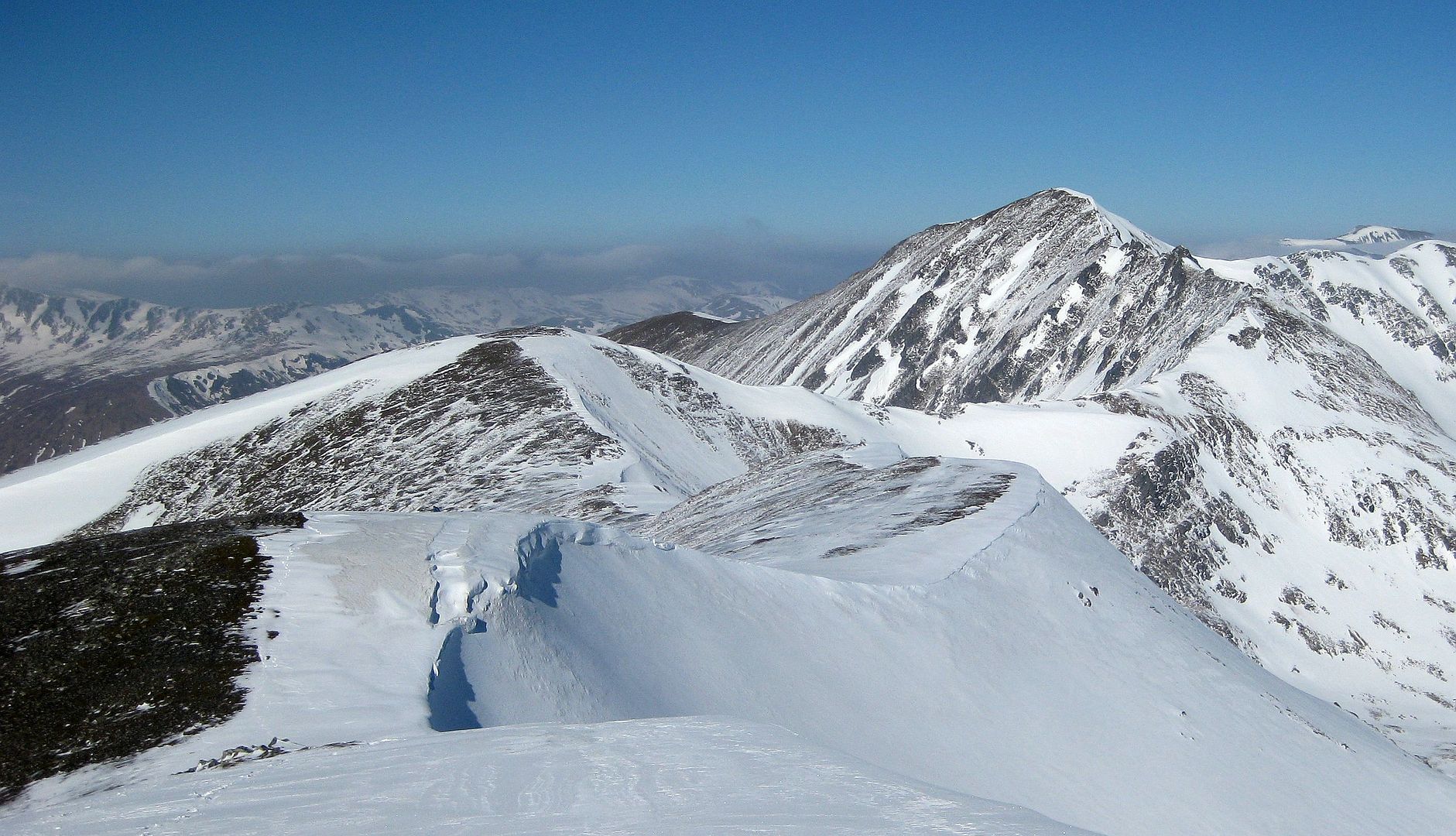 As we got further along, the pinnacles became more obvious outlined against the blue skies.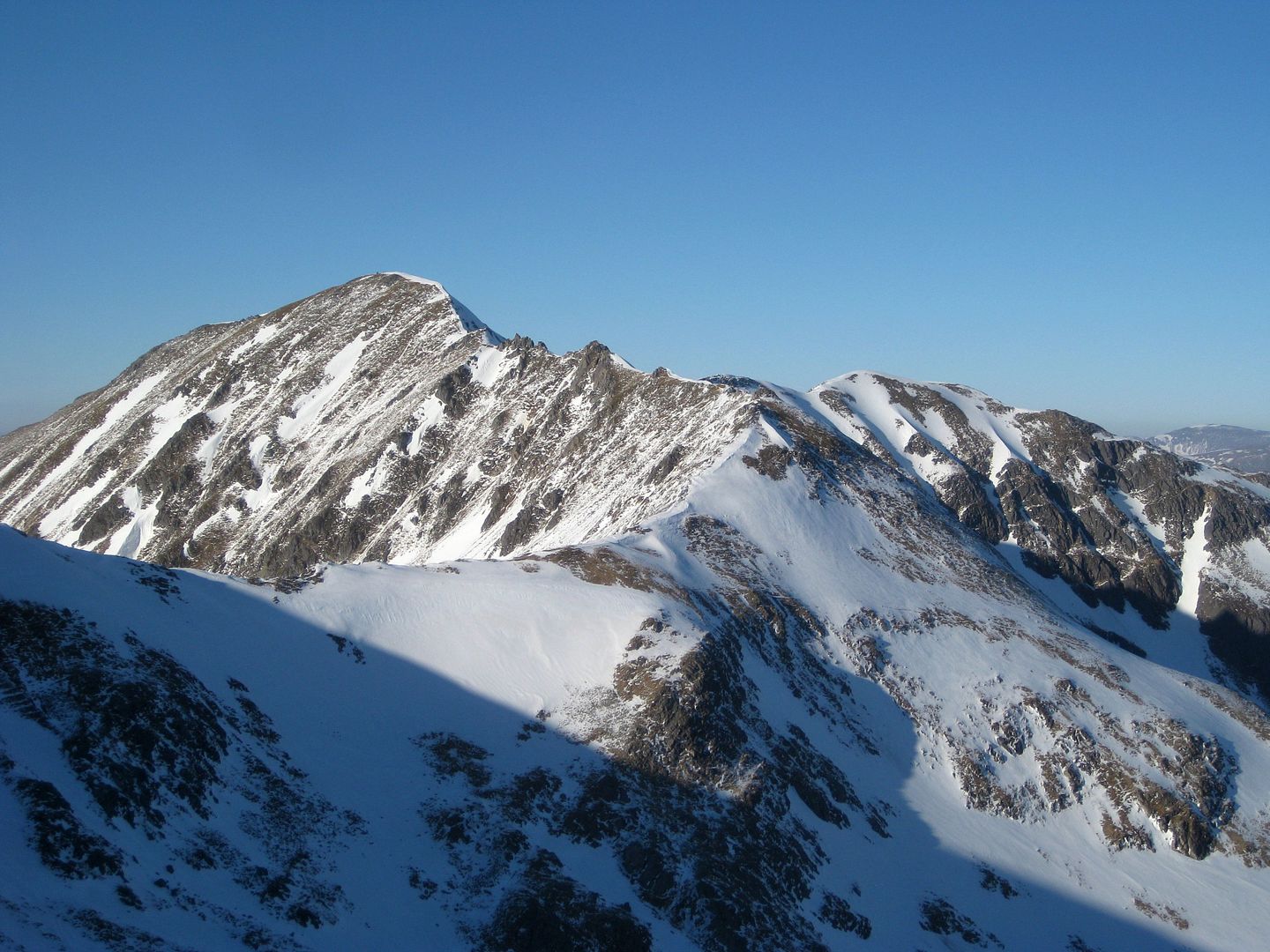 When we got to them, there was a tricky manouvre down slushy, grassy steps, and round a slightly overhanging rock, which was a bit tricky.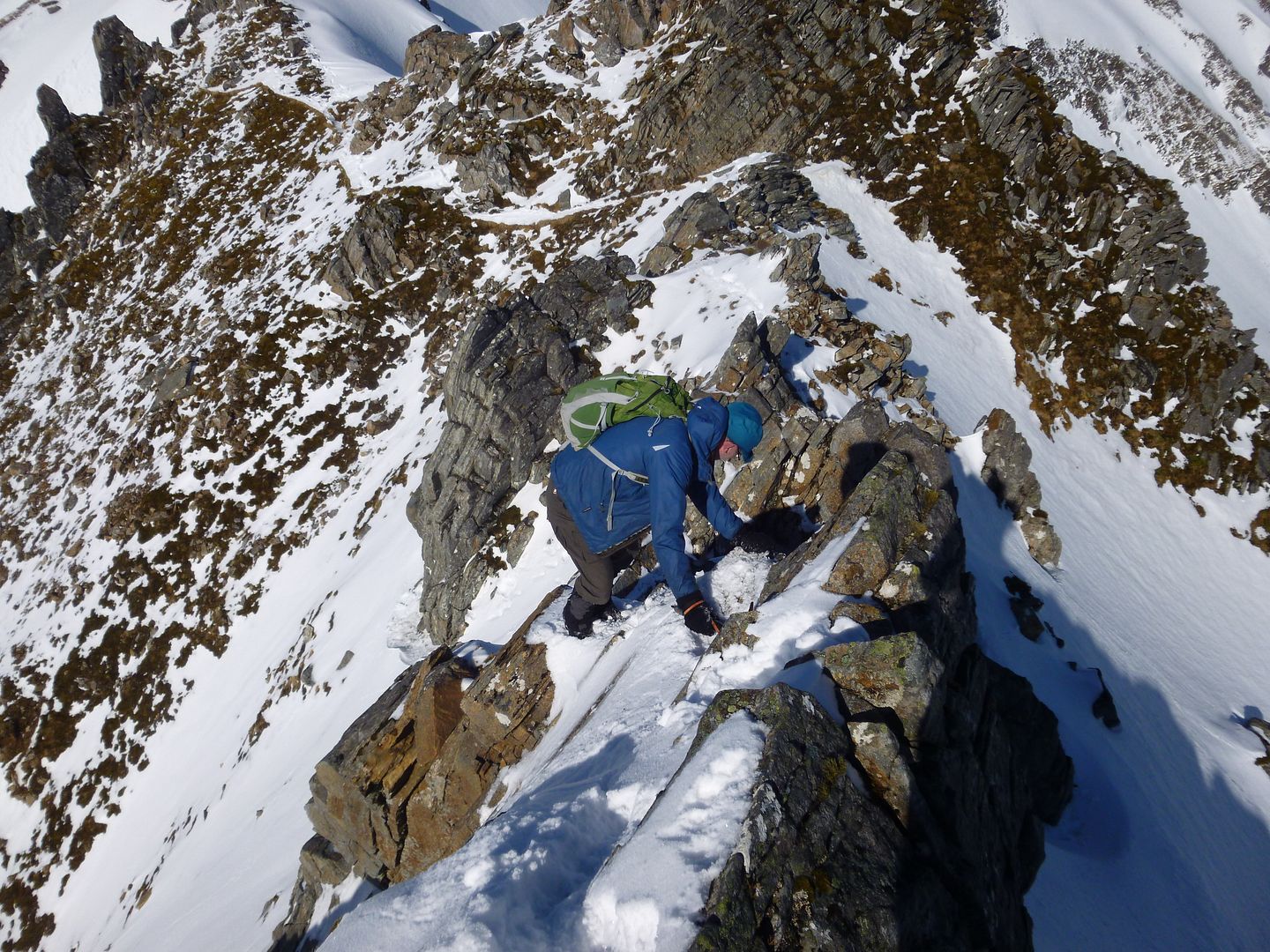 Then a bypass path took us round to a bank of impressively steep snow. I chose he 'rock face' next to the snow patch, which turned out to be a mistake as stone came away in my hands, which felt very insecure. I did get up, to find myself on the wrong sde of a large block, so had to go over the top, and down an icy slabby bit which gave me wobbly legs
From there it was an easy walk to the summit, with its gorgeous views up into Glen Affric and beyond.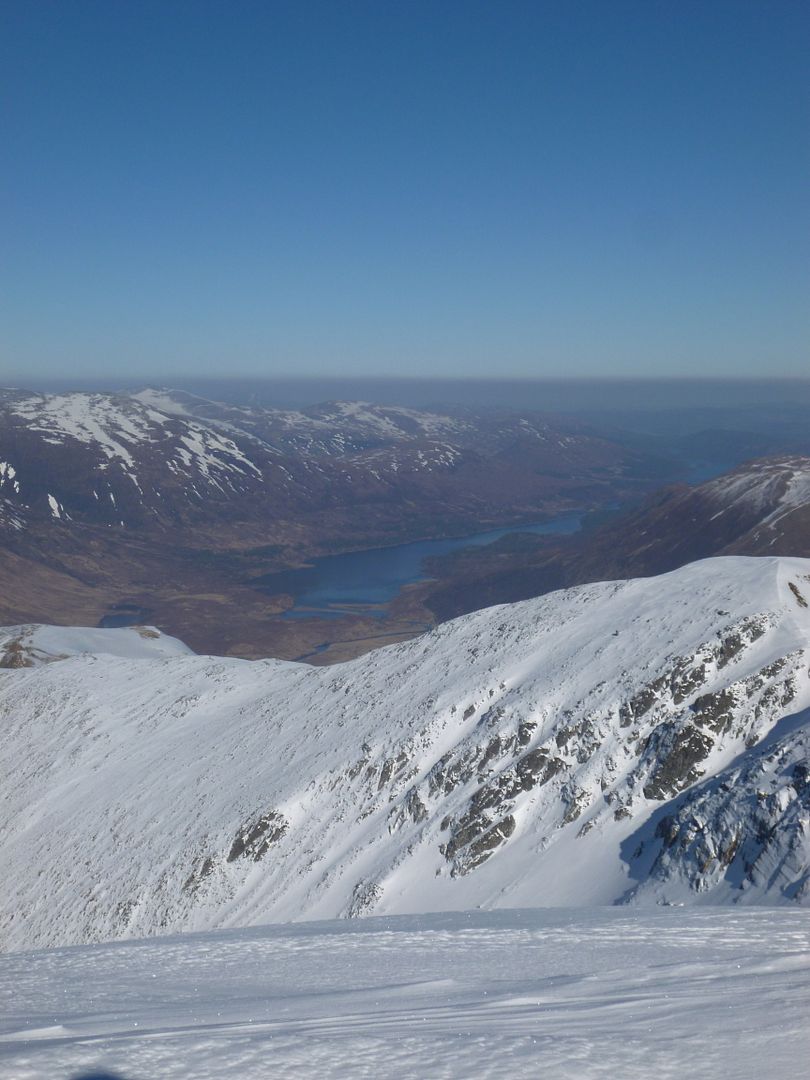 We didn't stop long as it was mid afternoon already and a long walk back.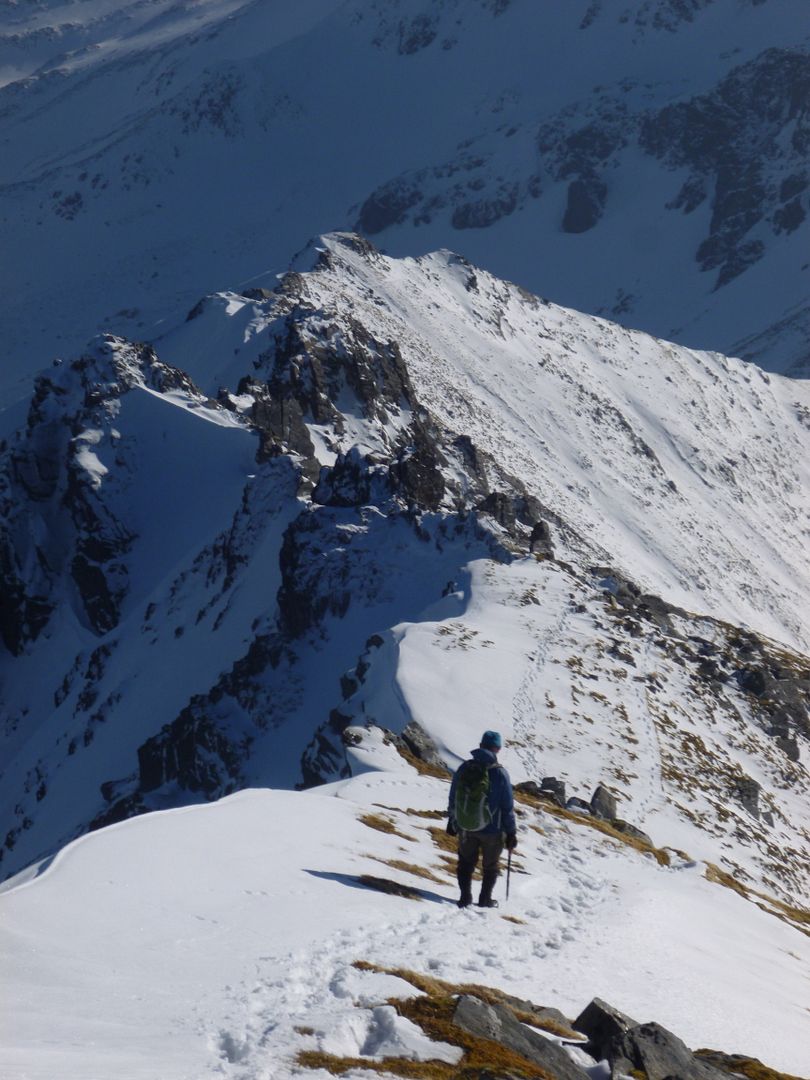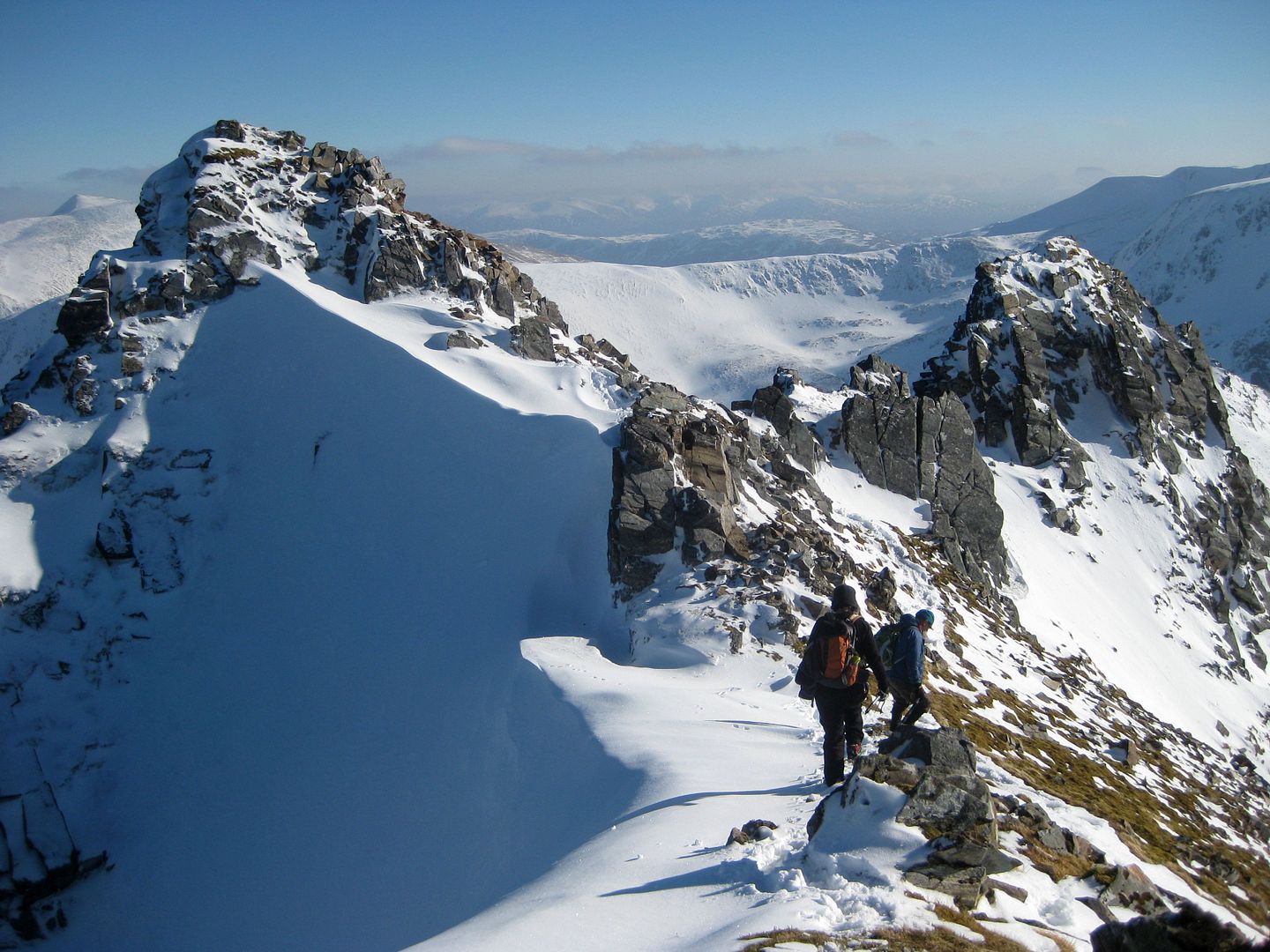 Rather than head down to the glen from the near bealach, we decided to stay up on the ridge and descend by some snow fields we had seen a good way back. This proved to be a good idea, as we got down all but the last few hundred feet on snow patches which were both fun and easy on the feet and knees
We joined the track, and were back at the car plenty before dark, but were so tired that we flaked out for an hour in our tents before heading to the pub for dinner and beers - Busy in the lodge, we had a very slim choice of meals which we had to eat at the bar. It was a good atmosphere with everyone having had a brilliant day out on the hills
Sunday morning came, but didn't bother with hills, so opted for a nice walk in the forests of Invermoriston, followed by a nice lunch.
Brilliant weekend, they don't get much better