So this weekend, was the first Good Friday I have ever had off! So we celebrated the four day holiday by buying a ferry ticket to Arran - a place I have planned on going for a long time
It was always such a long way away from Golspie or Aberdeen, so I never got round to it.. I have to say I regret not getting round to it sooner..
So it was early doors on Friday morning, and over to get the ferry at Ardrossan. It was drizzly and dreichit, but we knew the forecast for the following days was better, so no spirits were dampened. We Idled the day away with a wander round brodick, a trip to the castle, and an investigation of a fort near sannox which turned out to be very overgrown. Depite this, impressive cliffs and winding paths made for a fine afternoon wander. Eventually we made it to Lochranza where we were staying at the campsite. Nice place apart from the layer of concrete they have seemingly layed an inch below the grass
So Saturday morning came, seemed nice enough, but cloudy. We decided to do a wee circuit from Glen Rosa. It looked like there were plenty of routes, so just start at one end of the ridge and walk until we fancied coming back - simples
We went as far as we could up the road up Glen Rosa, and were soon amused as a mini bus of school kids from kelvinside High School got stuck in the mud, so all the kids frantically collecting bracken to put under the wheels.. They were still stuck when we had got ourselves kitted up and were on the move.
The track up the glen is nice, with tiny bridges even over the most innocuous streams.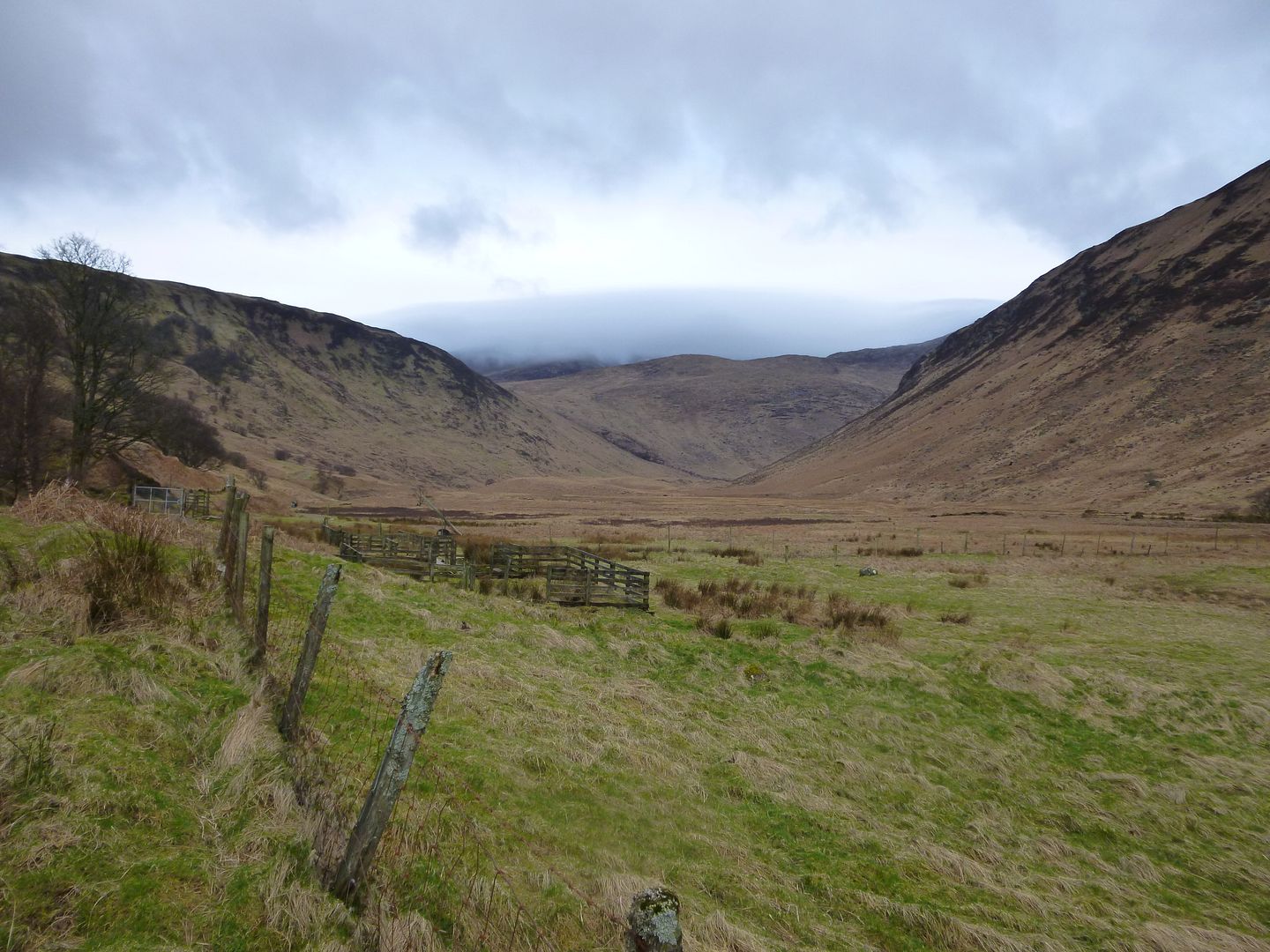 Not far to the Garbh Allt and we swung a left up the hill. The sun was almost out, and the burn was really bonny, so it was affy nice.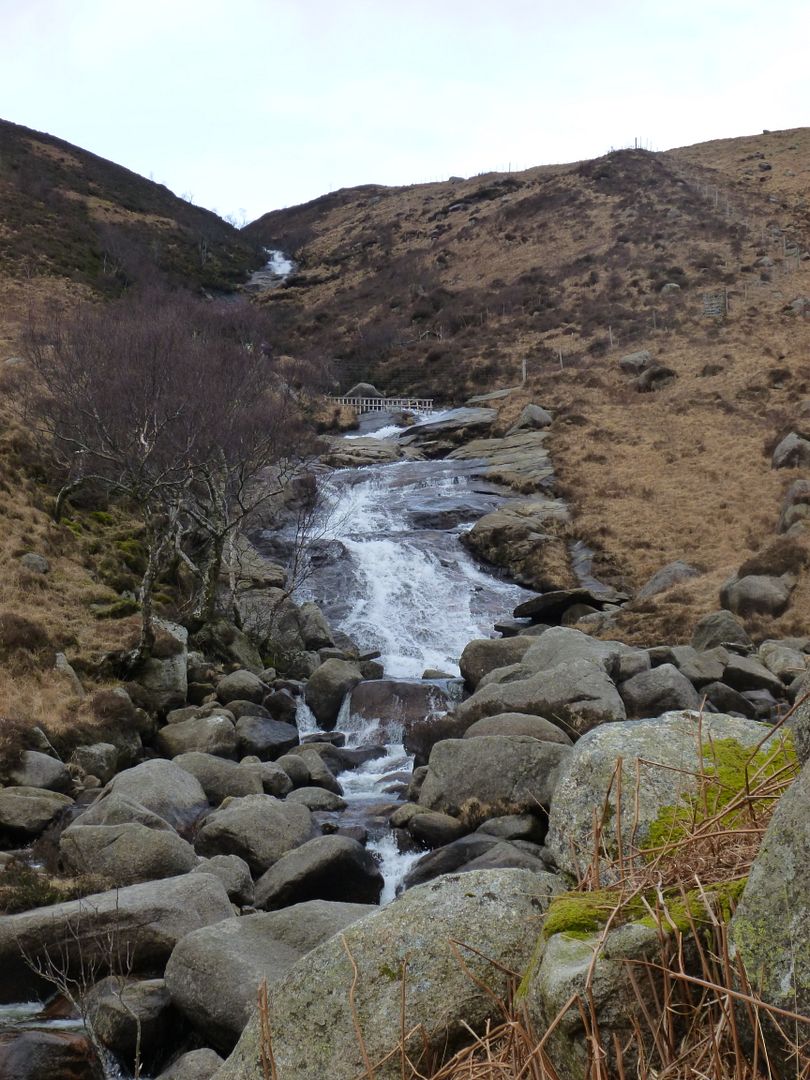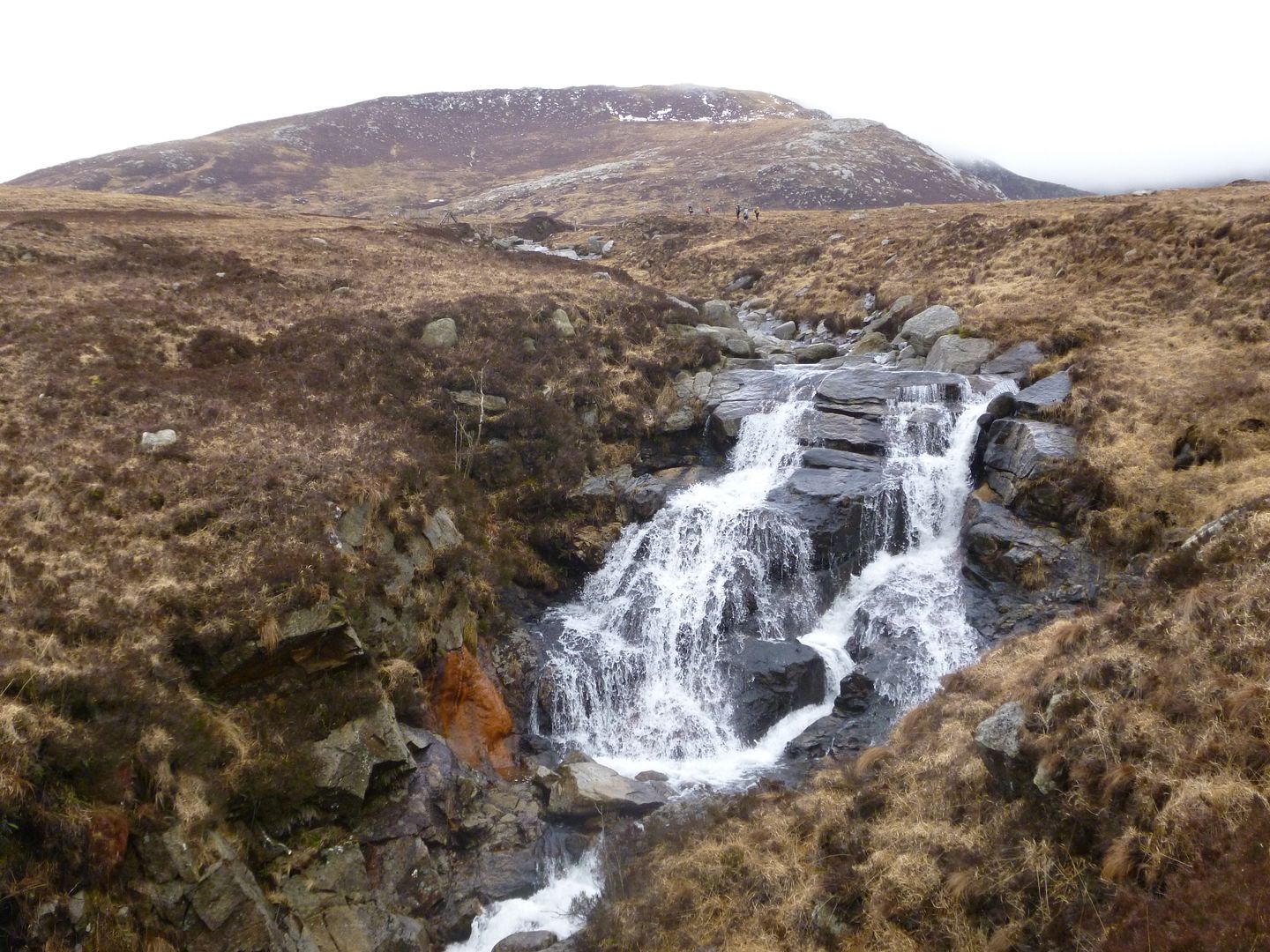 We got up to the gate through the fence where the path deteriorated to a quagmire, and we realised that we wernie far below the clag line
We bog hopped on from tussock to tussock, following the stream up. Managed to get across the burn nae bother and onward across the never ending bog toward the ridge.. Some good views behind, but the ridge was staying firmly clagged in..
Up we went, enjoying the change in terrain to slabs and dryness, even if the path was overused and eroded in places. We were soon up in the cold clag, visibility down to just a few metres
At least the going was interesting, with huge boulders lurking menacingly in the mists.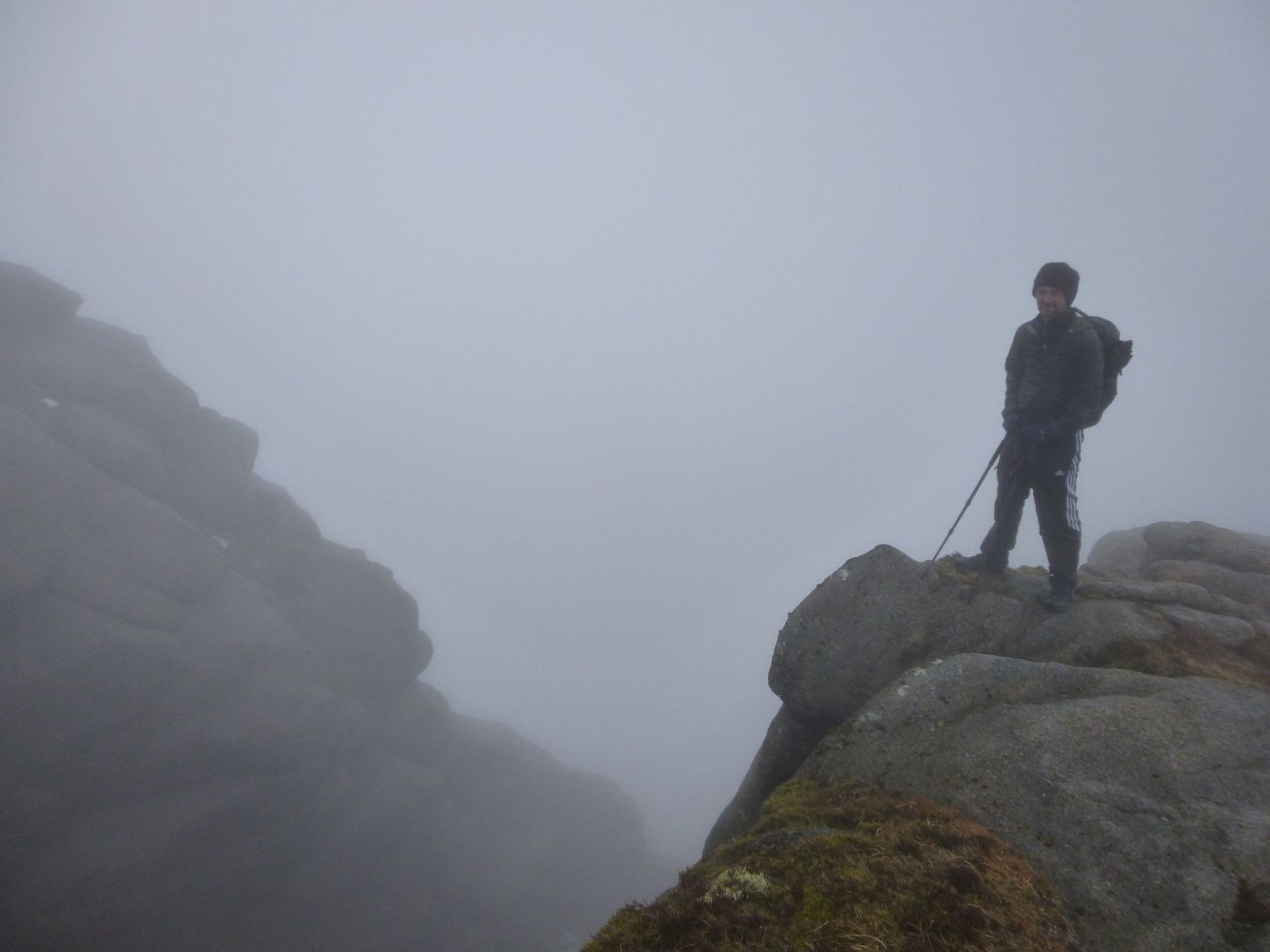 The top of Ben Nuis passed beneath our feet and onward to Beinn Tarsuinn.. There were a few patches of snow, but these were slushy and infrequent. No difficulties, but plenty of rock hopping and fun. After a couple of false summits, we found ourselves seemingly at the top. There were a few folk mulling around, probably because there isn't really a distinct cairn, so the usual bagging rituals remained unfulfilled
We dropped down to the bealach beyond, the going steeper and a bit more treacherous on eroded paths. managed down to the path that takes the south eastern ridge - no point staying out if the damp cold clag was going to spoil things, so time for home. The path traversed, and was on the snowy side of the hill, so more fun there, including a rocky tunnel.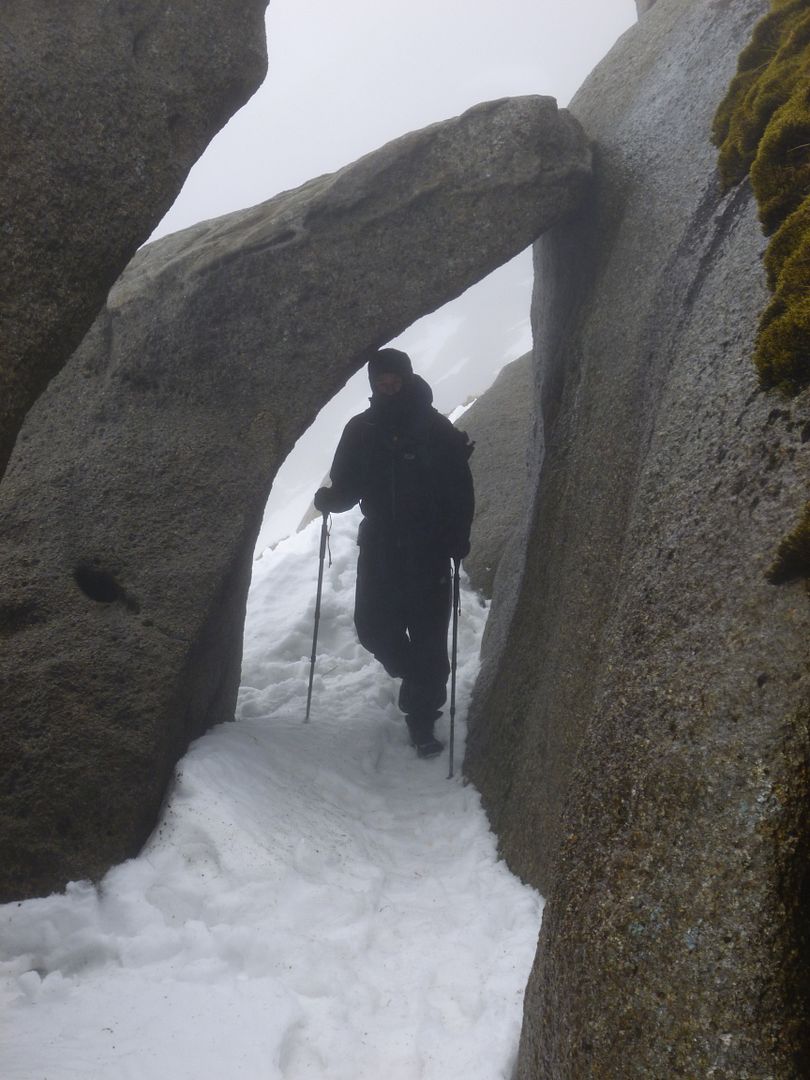 As we went down, the clag thinned and we could finally see something again. We stopped to chat to a few folk going the other way - really busy hills these.

After a long stop out of the wind to take in the sunshine,We enjoyed the ridge of Beinn a Chliabhain immenseley - best part of the day. We squeezed through cracks, scrambled up rocky tors, and balanced along rocky aretes, made all the more exhilarating by the stiff side wind that had got up.. Just brilliant!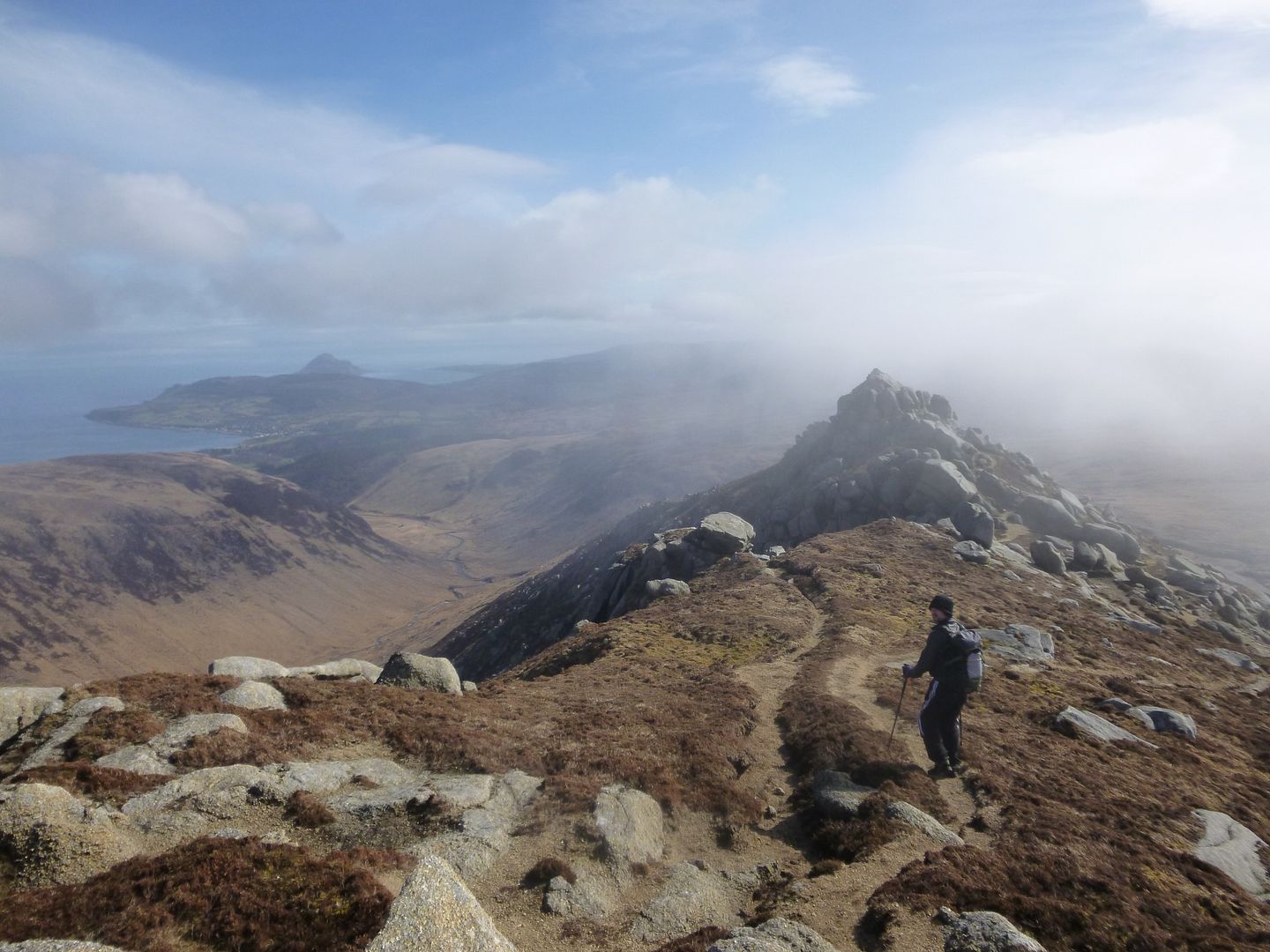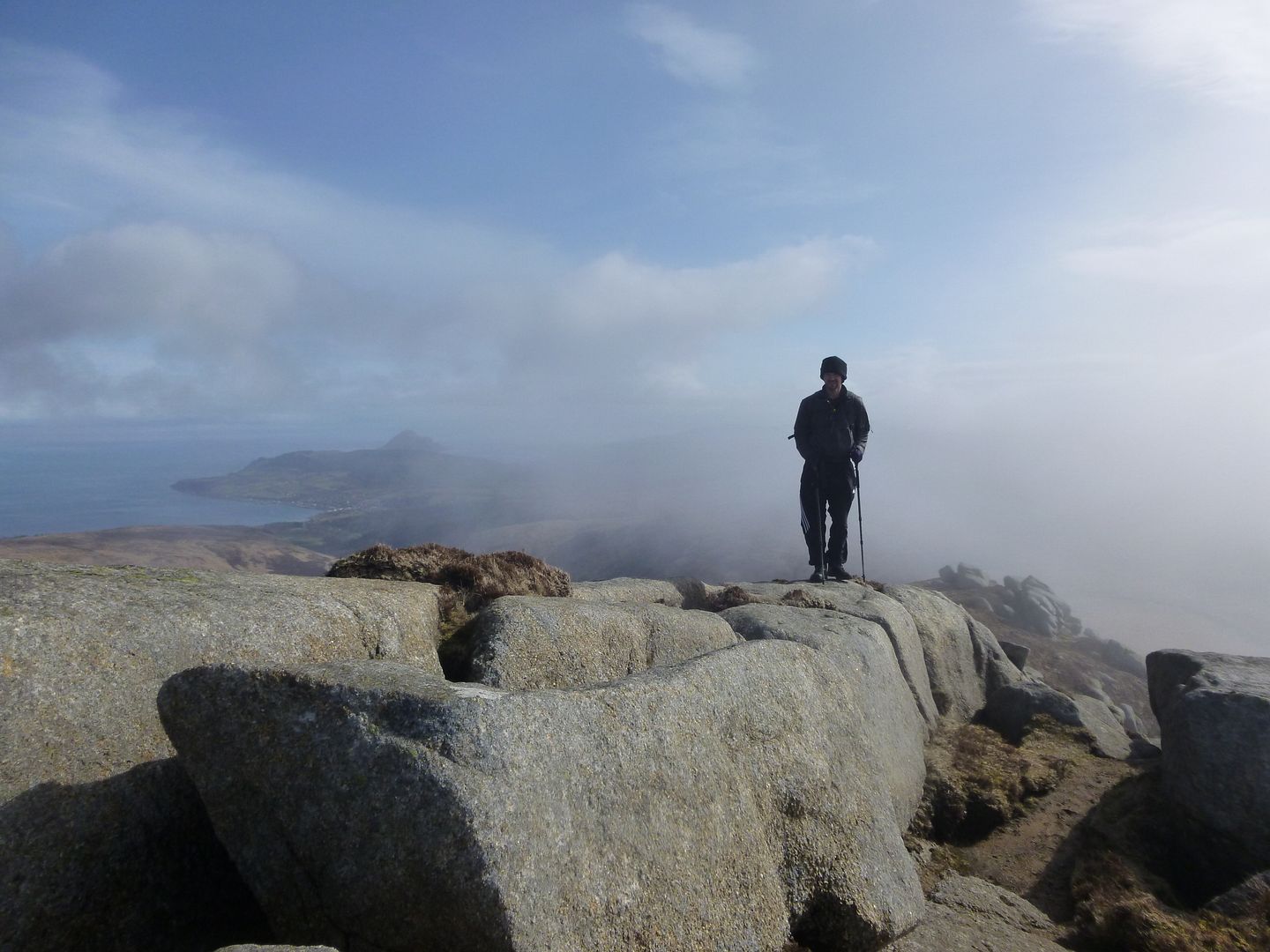 The fun was soon behind us as we descended back to the bog below, for a somewhat shorter bog hop back to the main path and beyond. Still didn't get a glimpse of our hill on account of the clag

It was hot in the glen, so we sopped to bathe our feet in the burn before the short march back to the car. Went out for dinner before the drive back to Lochranza for G&T's in the tent. The forecast for Sunday was good, so we plotted our route - The classic round of Glen Sannox - couldn't hardly wait!
So I was awake early on Sunday - Dougie was less enthusiastic, but we got going fairly early for us, and were second in the car park. The bus from kelvinside high pulled up just after - were they following us?
Set off in mist again, but it had been sunny in Lochranza and the sun burning through seemed inevitable. The race was on to get up there before the inversion was gone so we set off at a pace which was soon slowed as we realised how warm and muggy it was.. Absolutely stifling.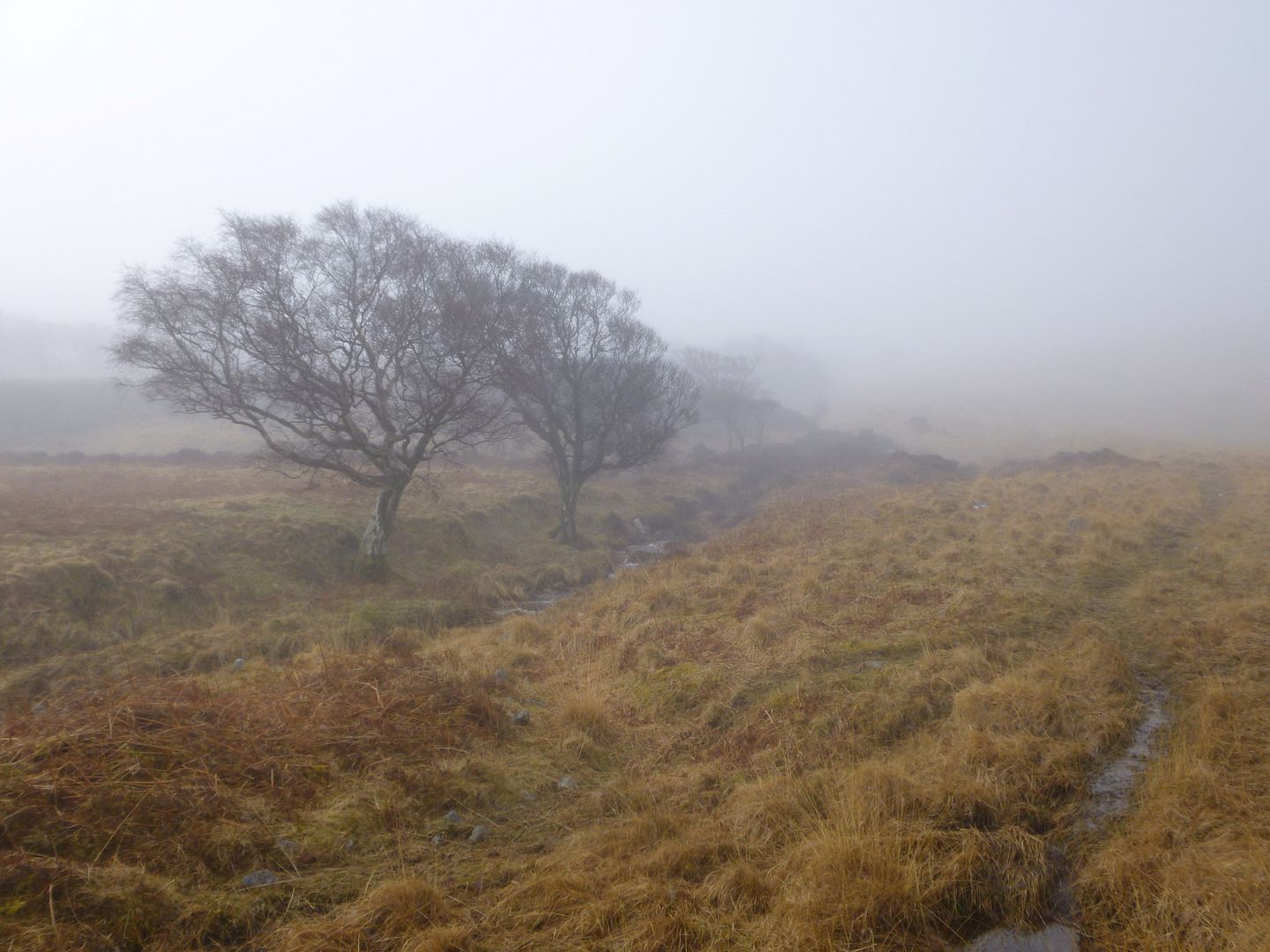 We went up the stream, and onto the network of traversing paths below the Cioch. After much floundering about in deep heather, the path turned upward, and the scrambling began. Nothing tricky, and mostly slabs to test your boot rubber, but soooo much fun, that the steepness went unnoticed
It was still hot though, we were soaked through and the sun got stronger as we finally made it up above the clouds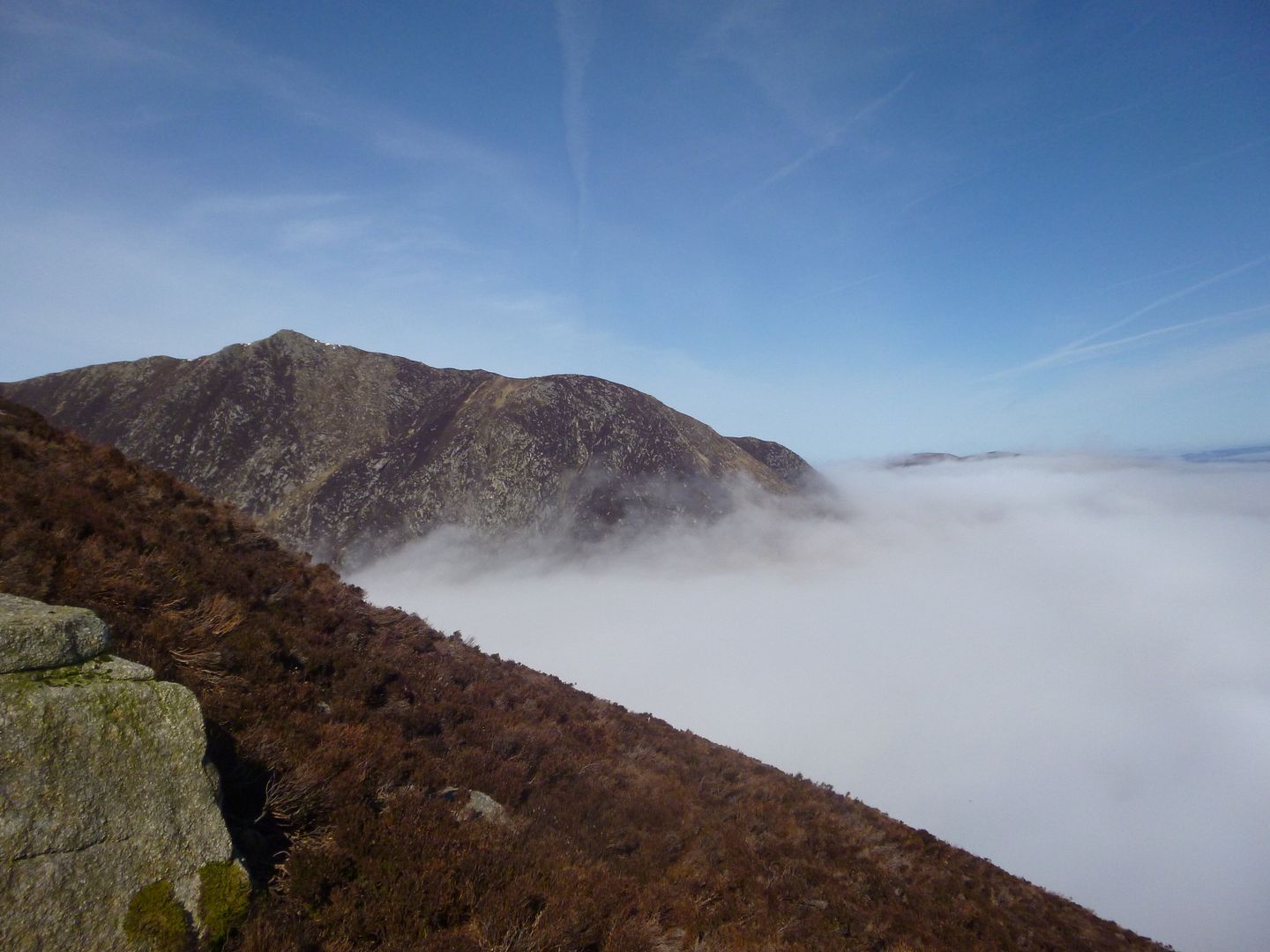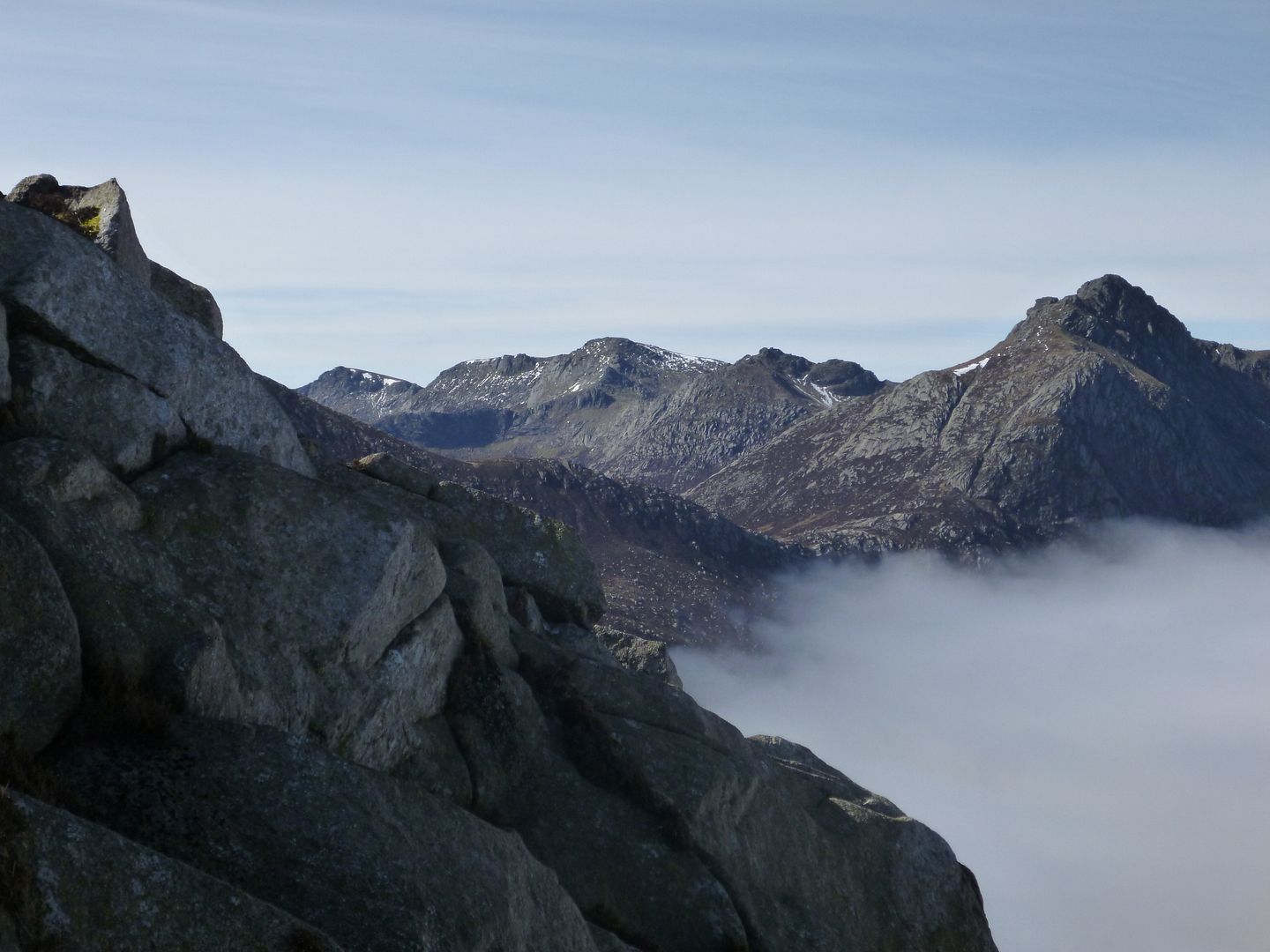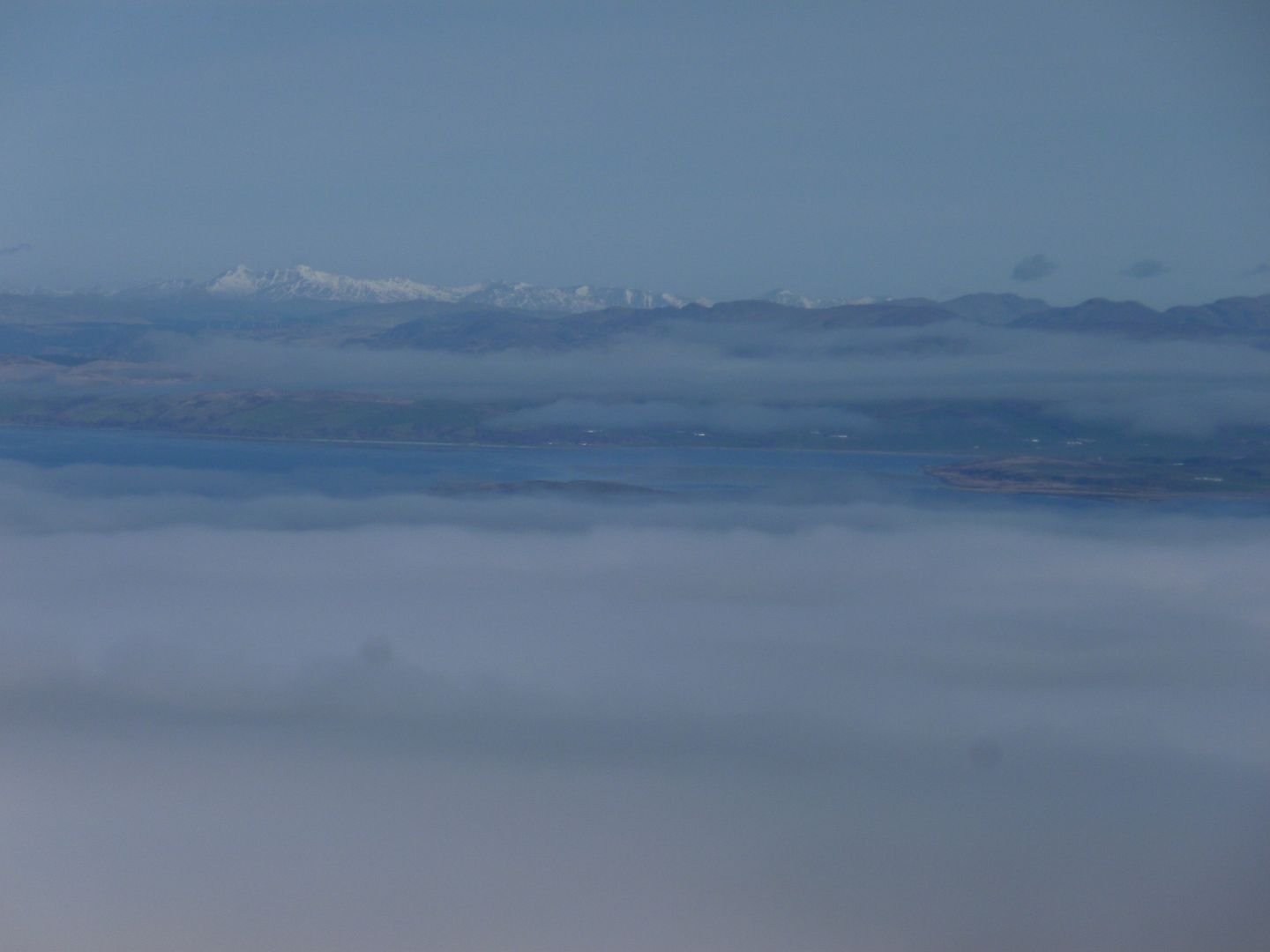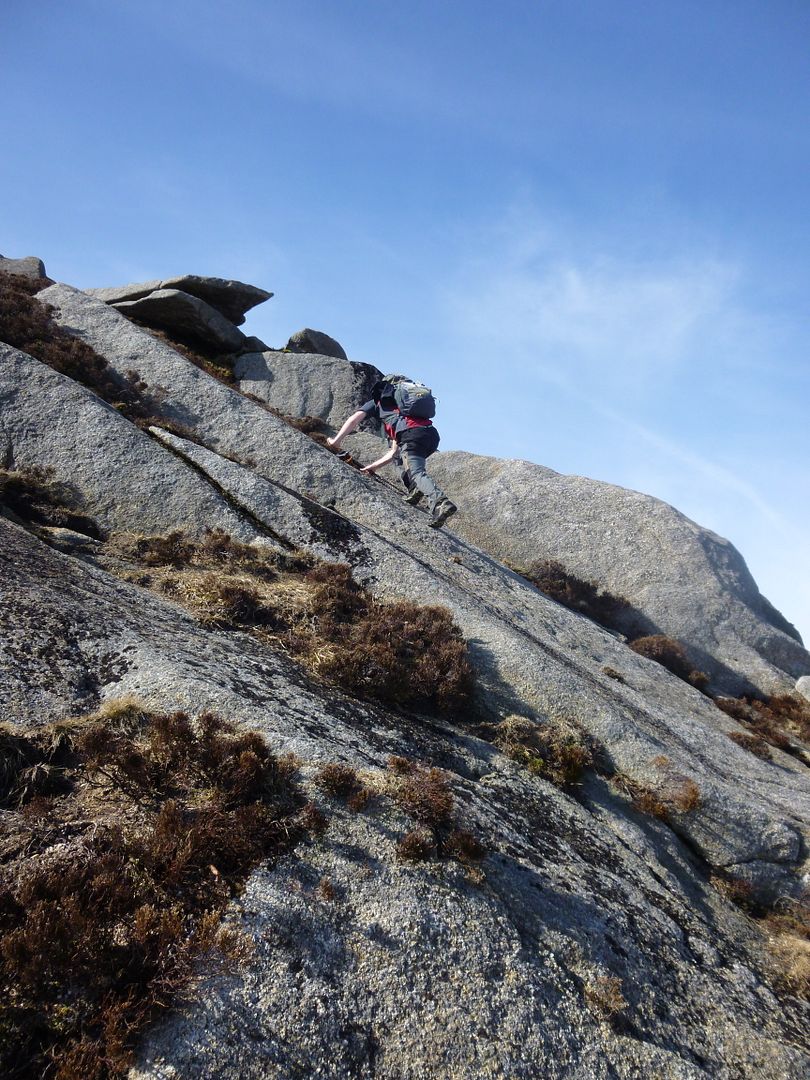 The scrambling petered out leaving a scorching climb upward, but when we got to the top wonder awaited in front - it looked amazing!
So onward over some pinnacles without any troubles, and up onto the somewhat grassier ridge beyond. We were forced to restock our water supplies from crisp white snow fields. Melted fast enough to keep hydrated, but tasted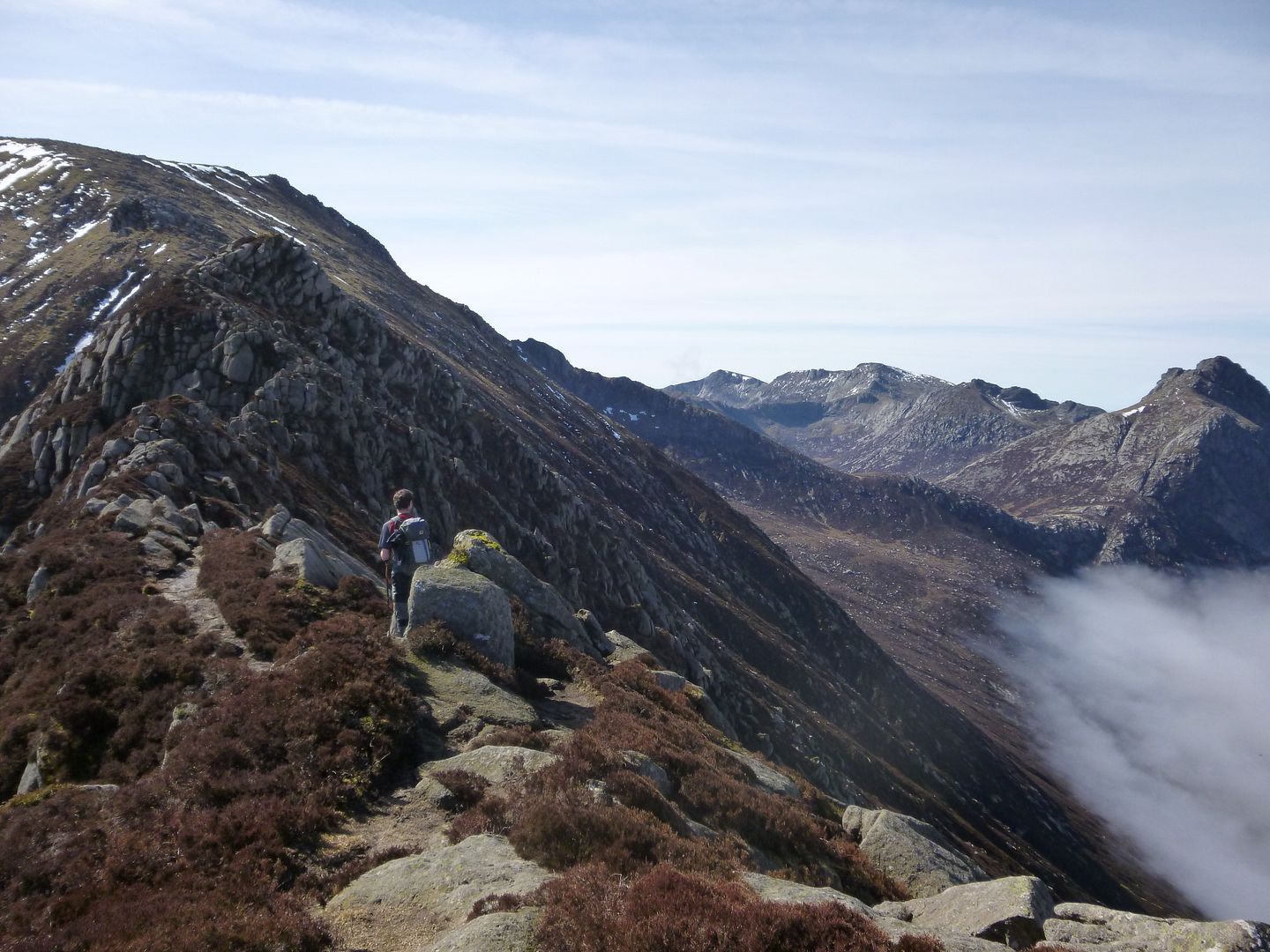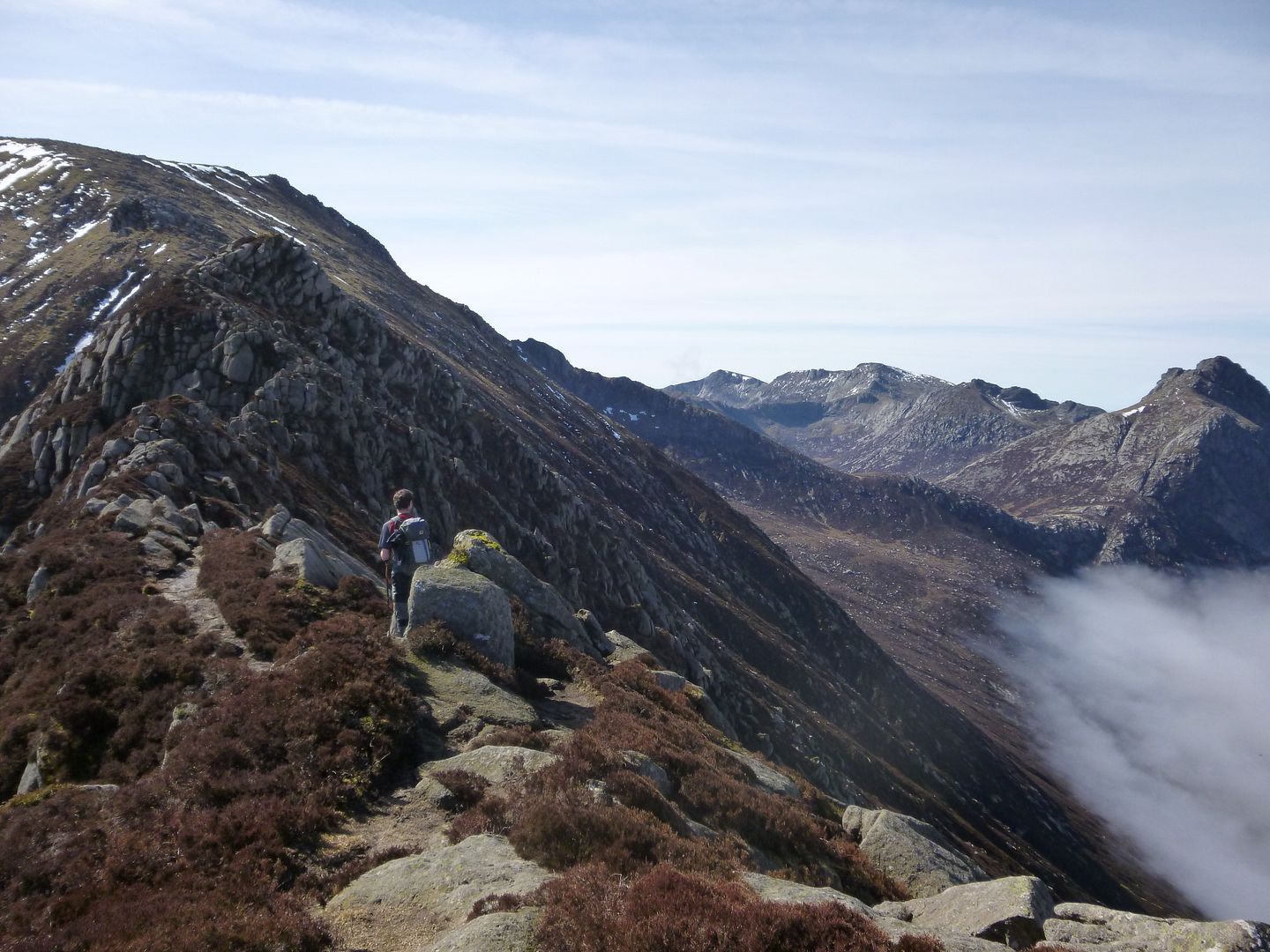 We discussed whether we were going up Goatfell or not - I was keen, Dougie thought that it might just be a bit much to tag it on to an already long day and I had to admit that he had a point.. Looked so close though, felt rude not to, so took the traversing path round North Goatfell, and onward to the ridge beyond. Dougie scrambled over the rocky bits but I took the bypass trying to save time. Unfortunately the bypass had a fair amount of snow on it, and the scrambly bits were wet and slippery, so not much time saved
Met up with Dougie again nae bother and we made our way over huge steep boulders up to the summit taking frequent photo stops. Such a beautiful day
We could see the paps on Jura, and all the way up to Cruachan looking all snowy. Doesn't get much better.
After a random meeting with one of Dougie's school chums
We headed back the way we had came. this time climbing up to North Goatfell, where we kind of bypassed the summit by squeezing through a narrow gap between rocks to a traversing path on the far side. It is a long punishing descent down to the Saddle.. Cir Mhor looking steep and inpenetrable on the far side.. Starting to tire already, and still a long way to go..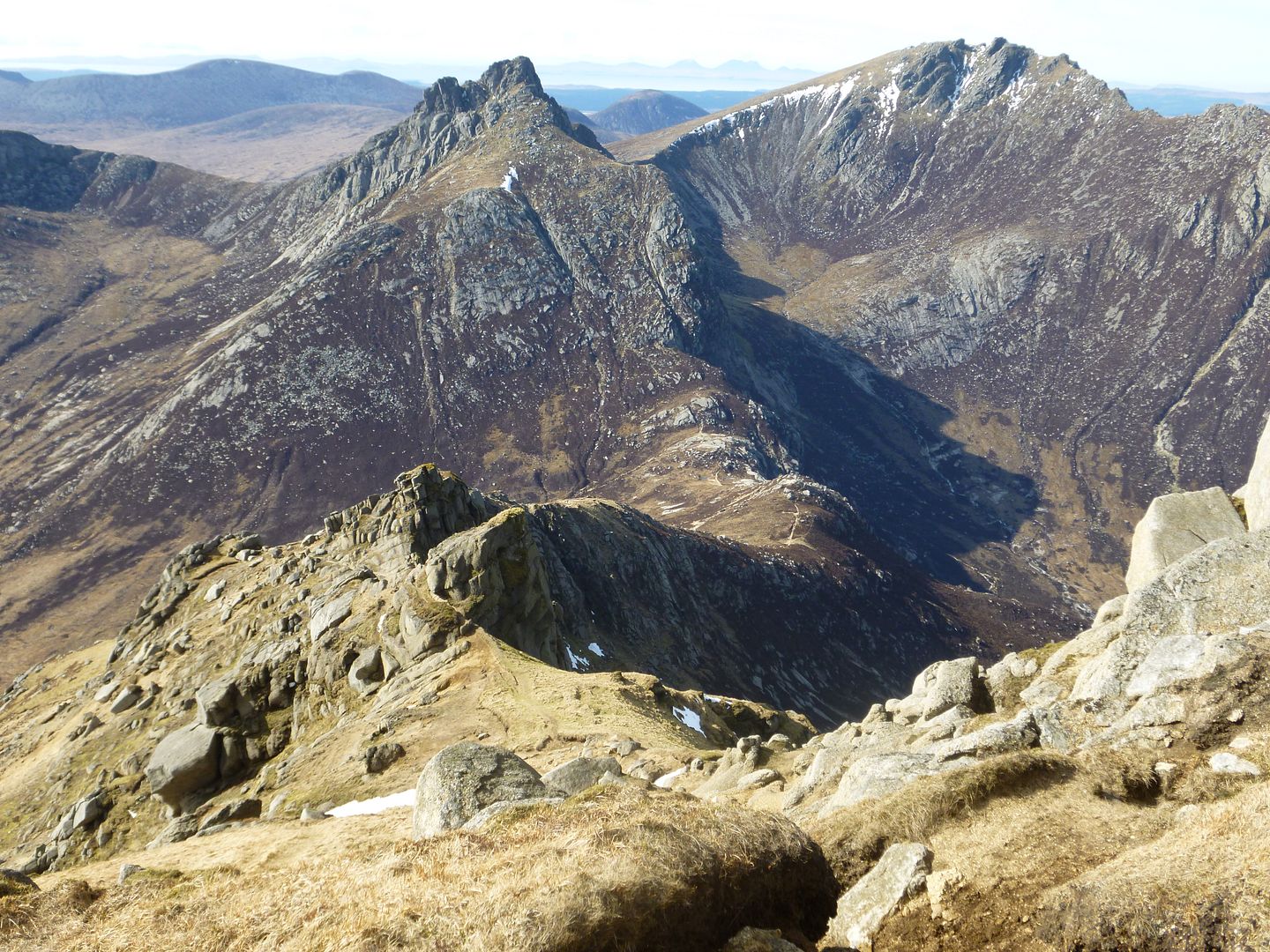 We stopped near the bealach for a good break in the sunshine. We were sweating so fast that it was hard to take on enough water. We were forced into another dodgy water refill from a pool on the ridge. We would need it for the climb ahead.
The path wound its way up, and was just as steep as it looked. The path people had been, and made giant steps, but mother nature had not liked their attempts, and had seen fit to wash some out, which made giant obstacles on an already punishing climb. The gauge of the old path looked horrific though and I was glad of the path peoples efforts. Slowly and drippily, we climbed up, enjoying the vista of the ridge already walked.

As if by magic, we found ourselves in a small corrie with huge granite buttresses all around - took both of our breaths away - we stopped to gawp.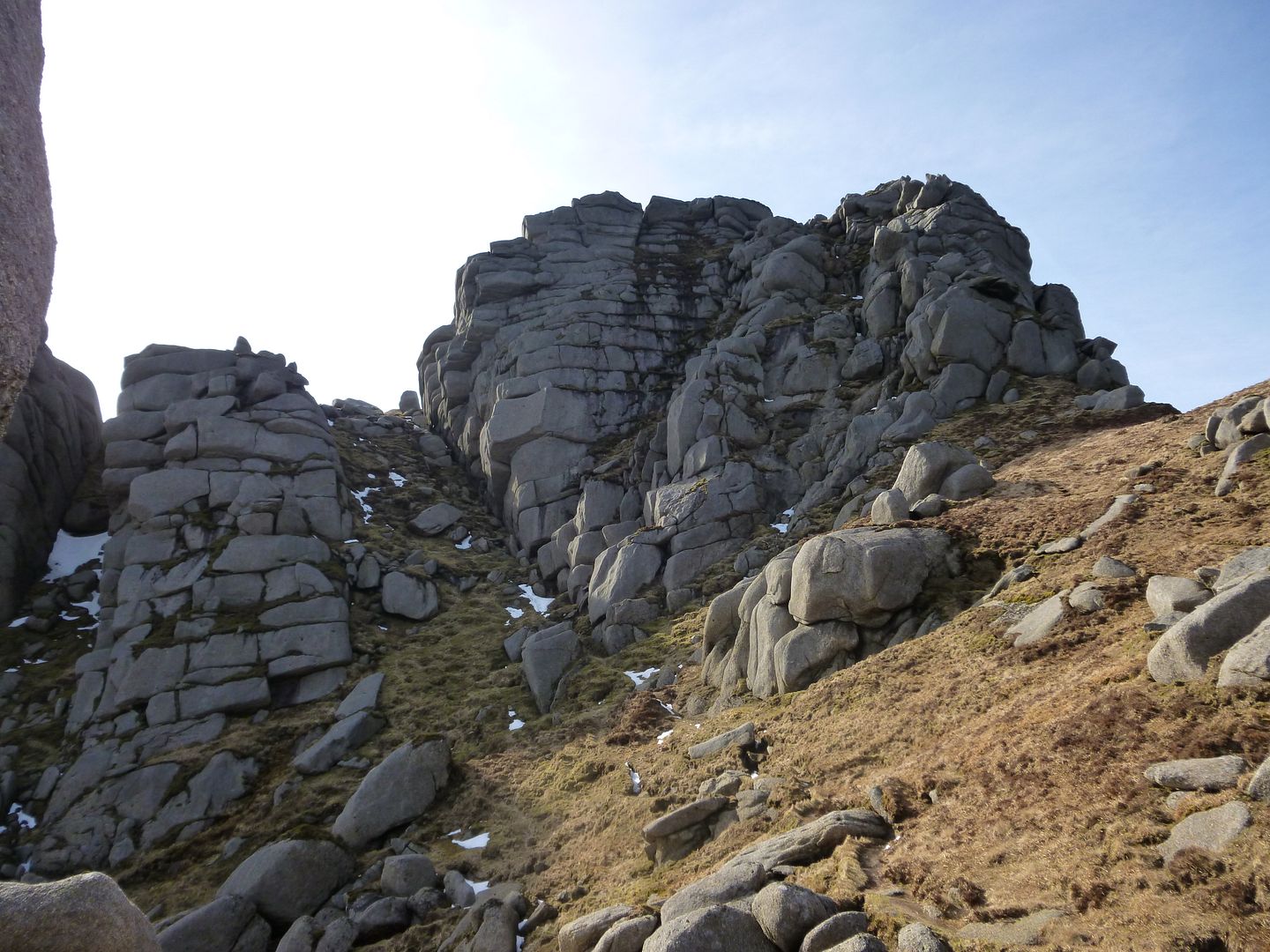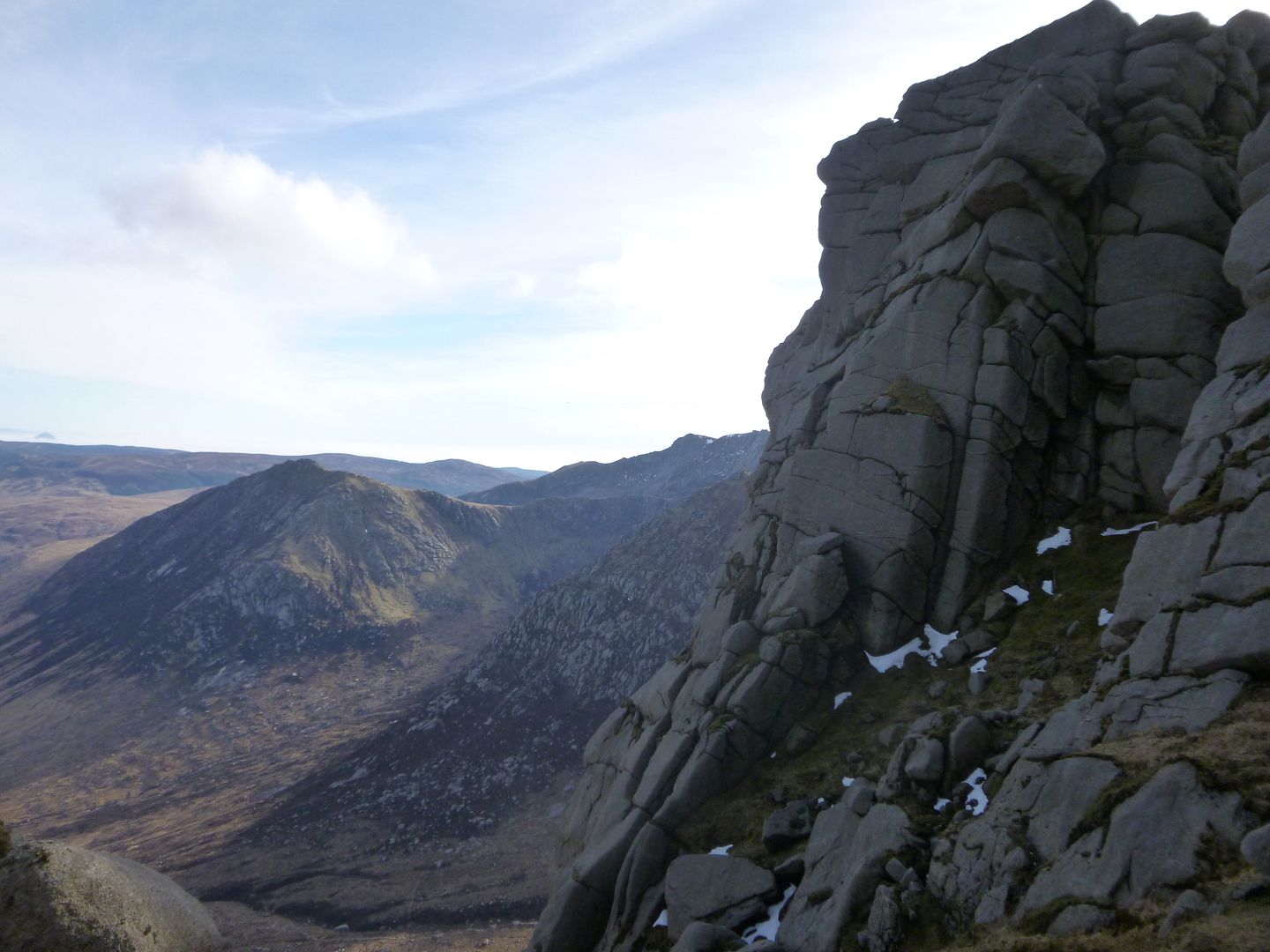 Before following the path up - not long now and boy were we glad!
The summit was an airy spot, again without much of a cairn to re-assure you that you are there.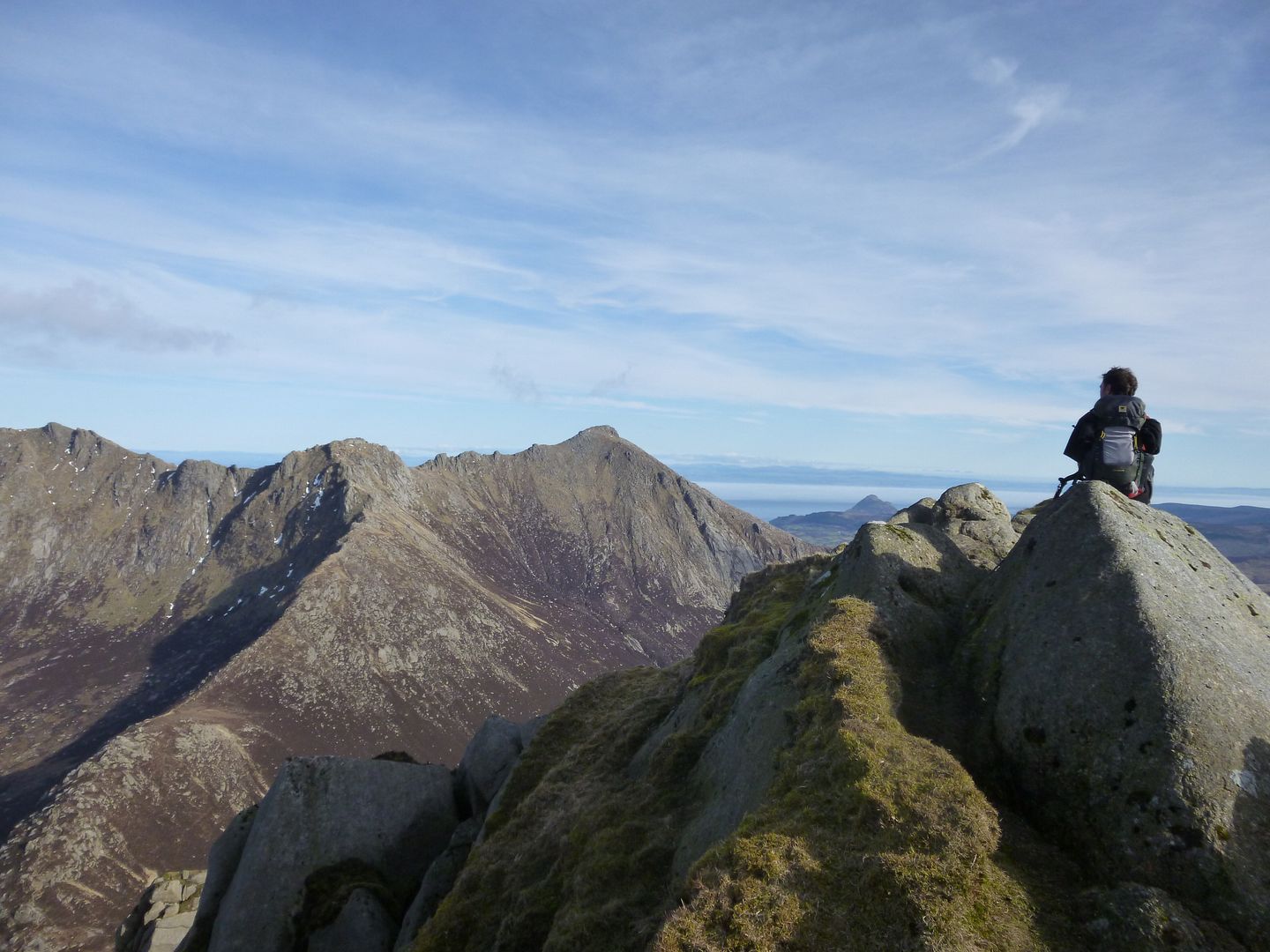 A steep descent on gravelly paths with some slabby bits took us down to the bealach. Looked like a long steady slog up to the last peak of the day - Casteal Abhail.
But the real treat was looking back to Cir Mhor - what a peak it is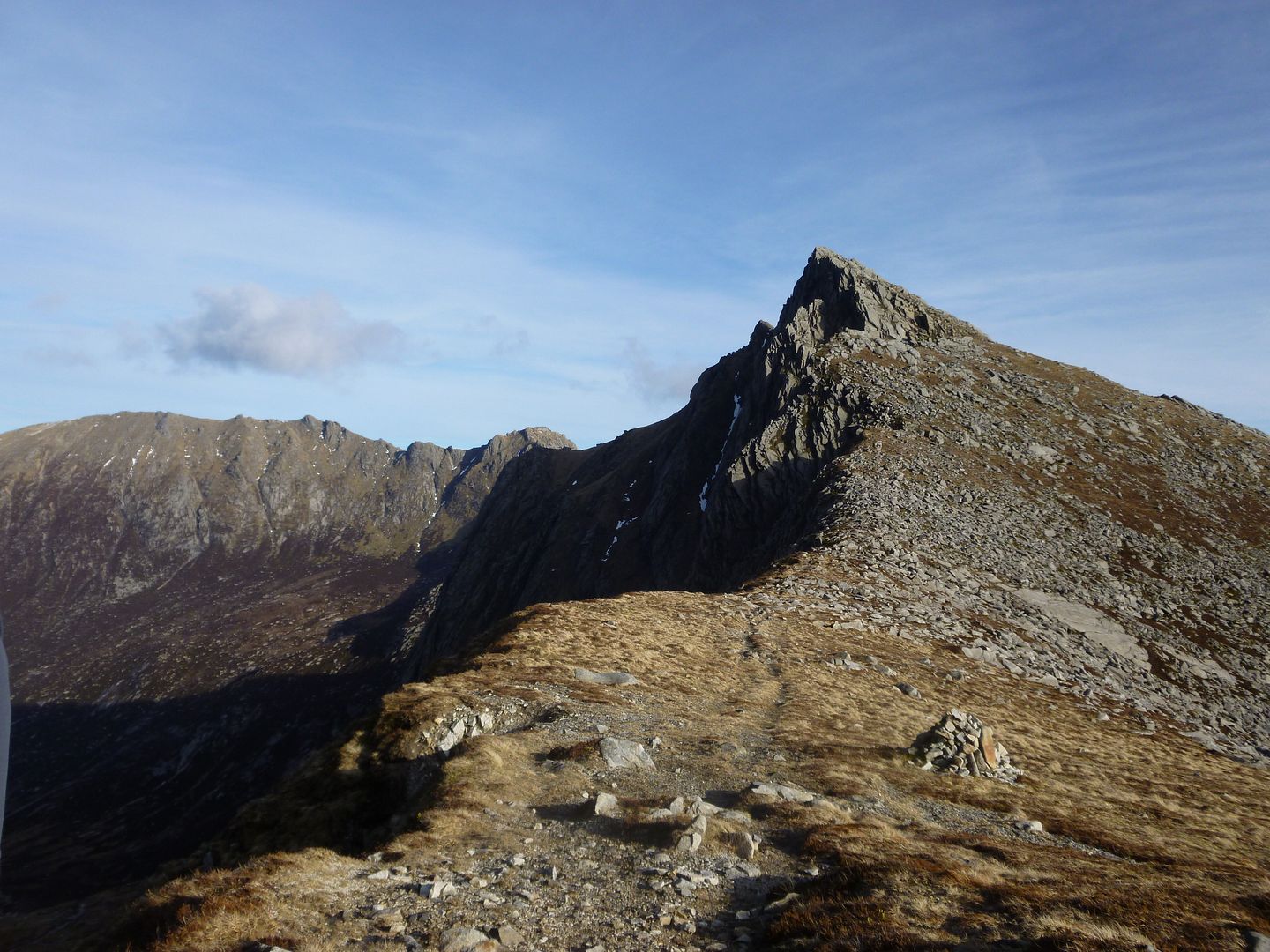 We started our ascent and were overjoyed to find springs there, marked out with cairns. The last dribbles of pool water were ditched in favour of this cool, clear nectar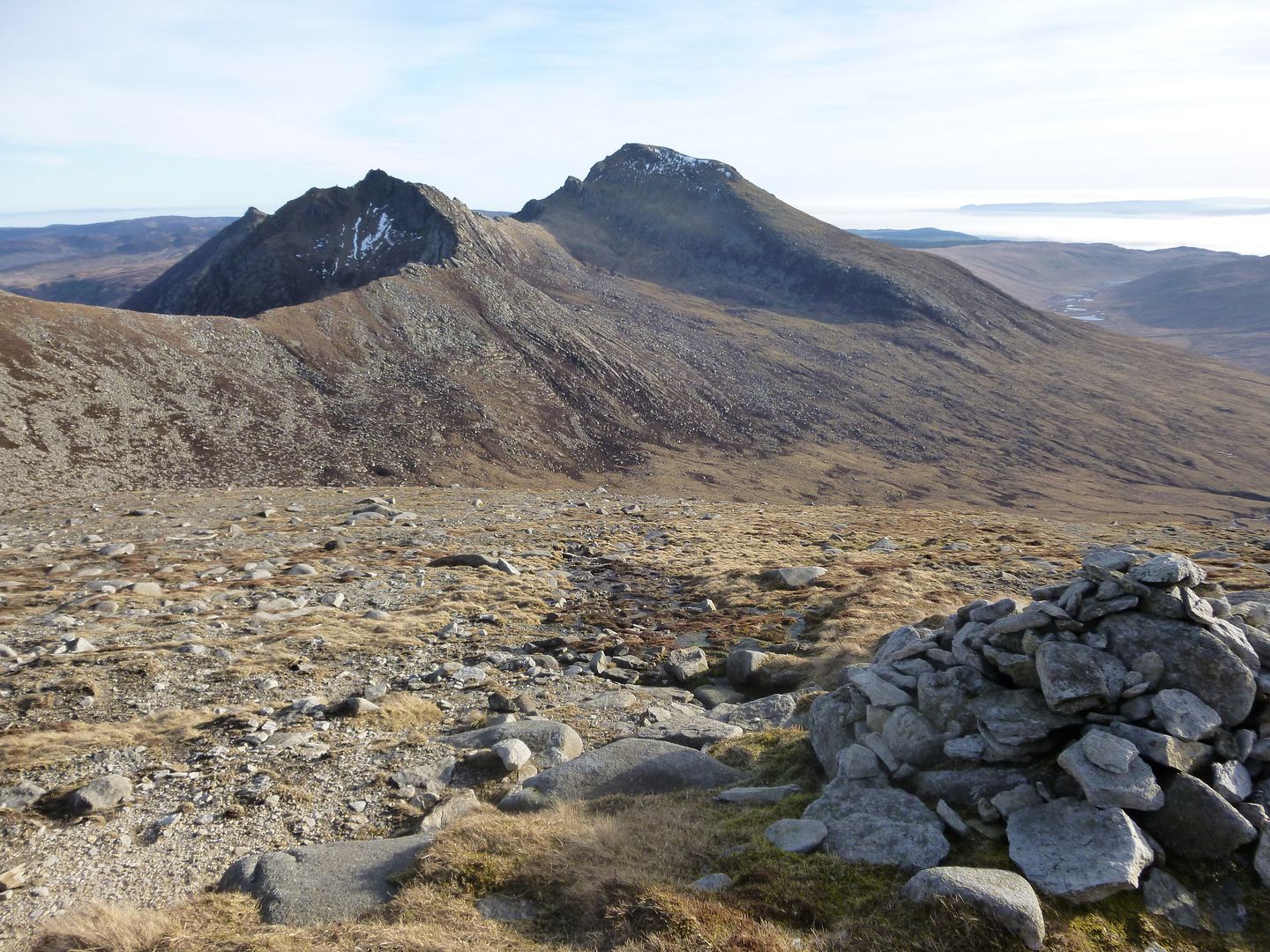 The path kind of takes a funny route up this one, staying close to the impressive corrie, which gives a steeper ascent near the summit.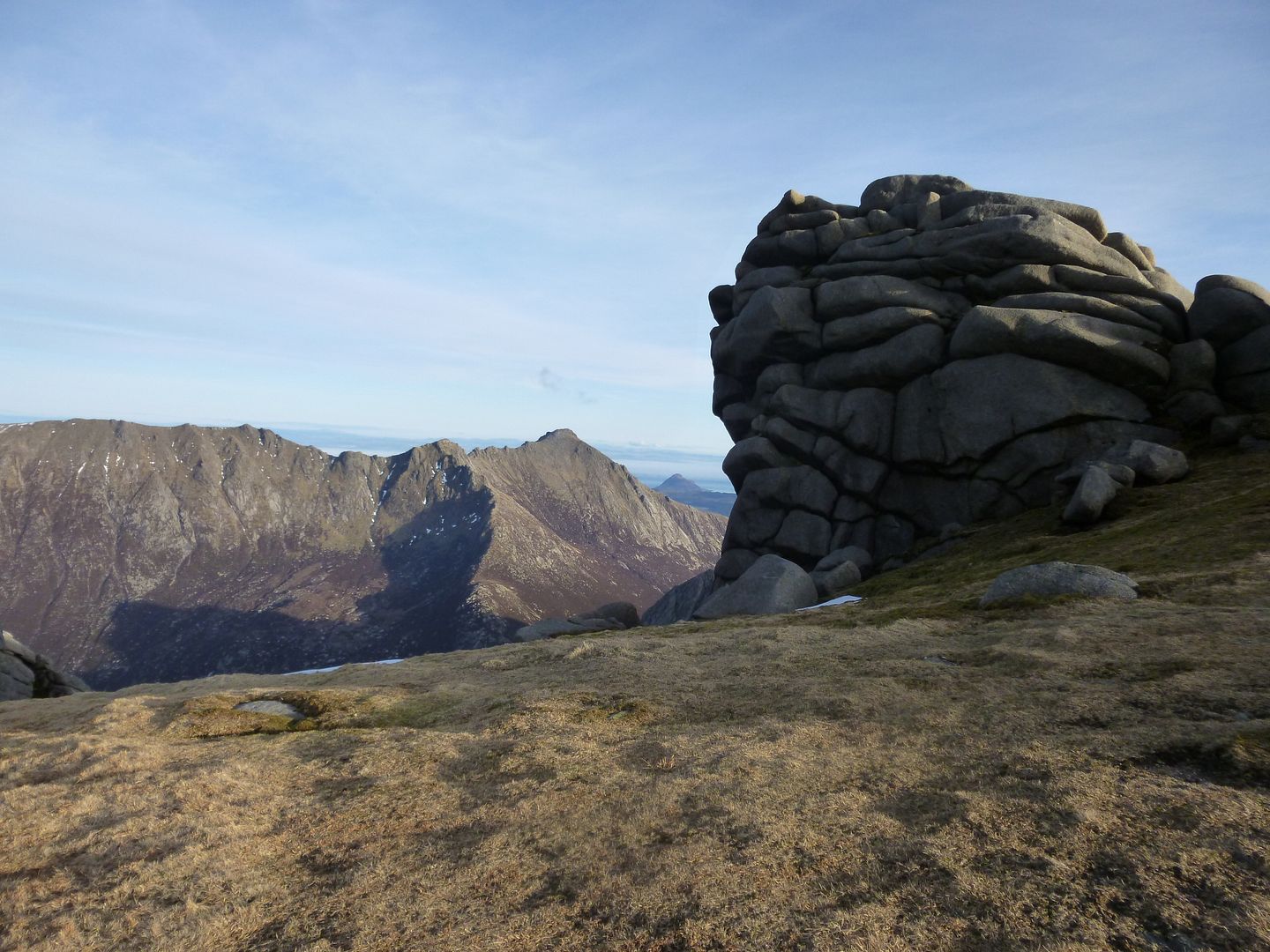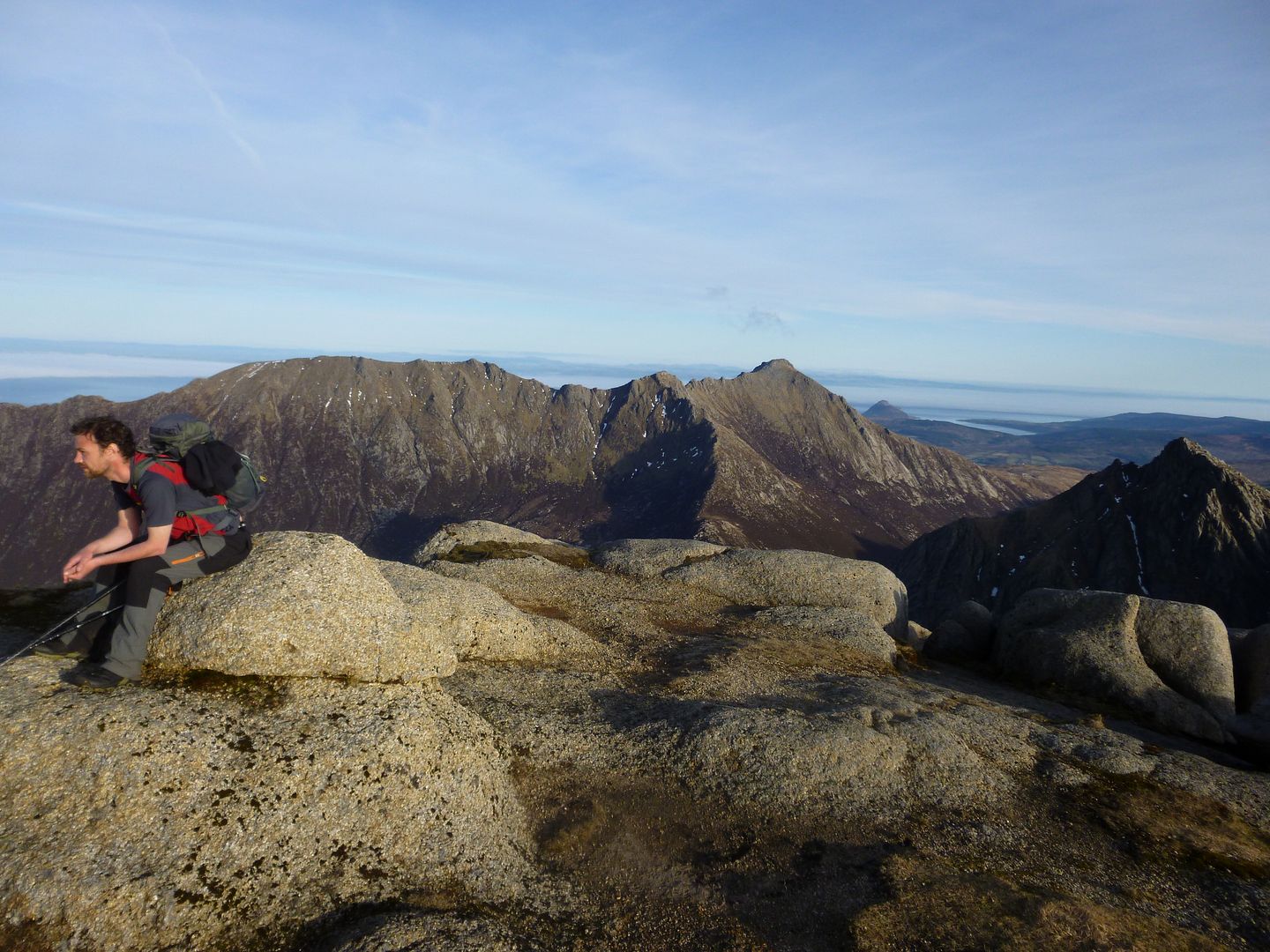 With the sun now feeling decidedly eveningey, we didn't hang about long before heading off - we knew that we still had the dreaded Witch's step to come..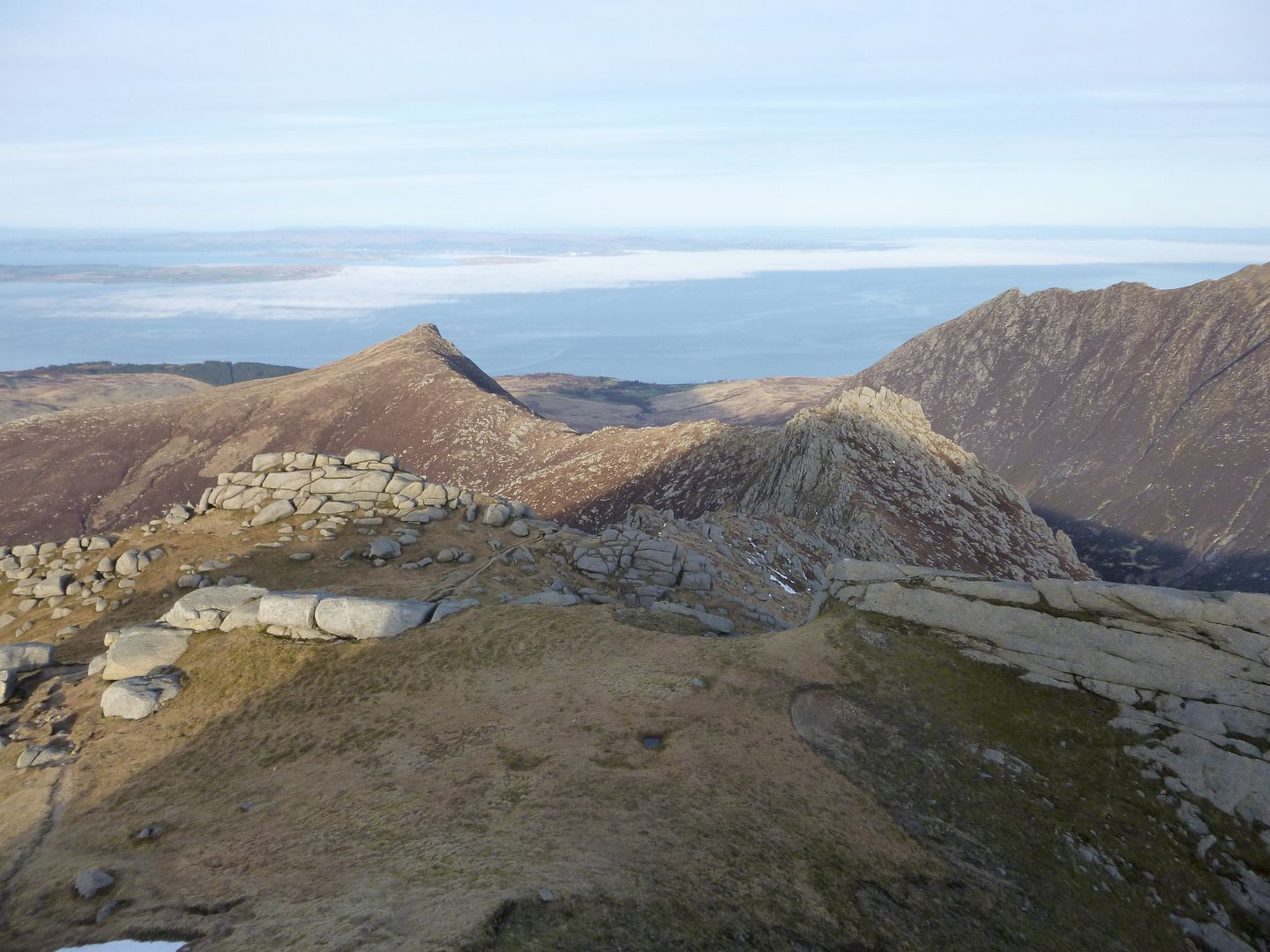 We had been eyeing it all day and it looked terrifying
So passed a few rocky outcrops (too tired for unecessary scrambling by this point) and onto the steep slope down. It was not a pleasant descent, a few wet slippy slabs and near vertical gritty paths. Was great to reach the cool shade of the notch.
It was hard to see a way forward as the rocks directly in front looked overhanging and mighty intimidating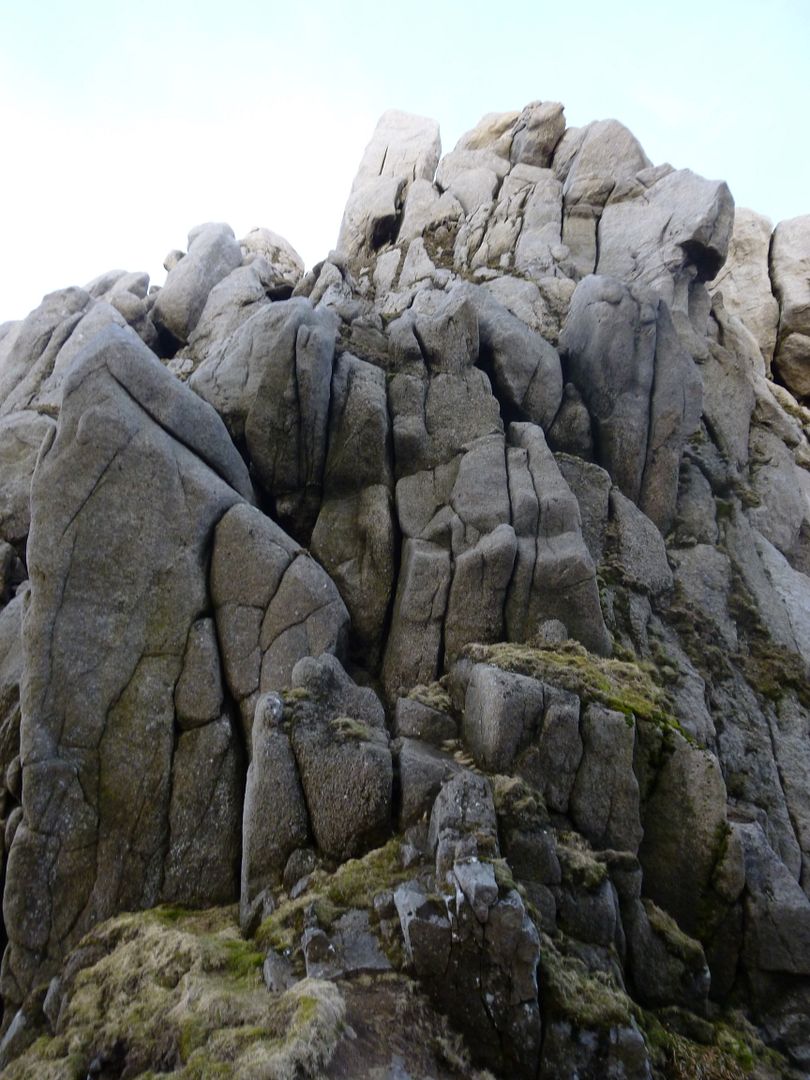 So we headed down to our left, trying to find a way. We thought we had, but it turned out to be too tricky, so a little further down we found a wee recess that looked good. We made it up the 15 feet or so, and edged round a ledge to make a path beyond - Yaay made it! well we shouldn't of counted our chickens because we were soon on a treacherously slippery down scramble, with slimy green stuff covering all the rocks. Shins and kuckles already well bruised by this point took another battering to get down. A steep grassy climb saw us back up to the ridgeline, by this time we were absolutely knackered, so mega efforts required, but we knew that it was all downhill from here, and we just had to get back to the car - always sounds so easy
So down to the bealach, where we had seen a traversing path going at least some of the way down into Glen Sannox from the other side of the glen. The heather was deep, so we were grateful for it, although there have been a few landslides, and plenty of precarious bits for some interest.
The path seemed t be keeping really high, and with the light fading fast, we really needed to be back at the good path in the bottom of the glen.. Thankfully the stalkers path turned a sharp right and we descended boggy and grassy slopes just as the dusk turned to gloaming.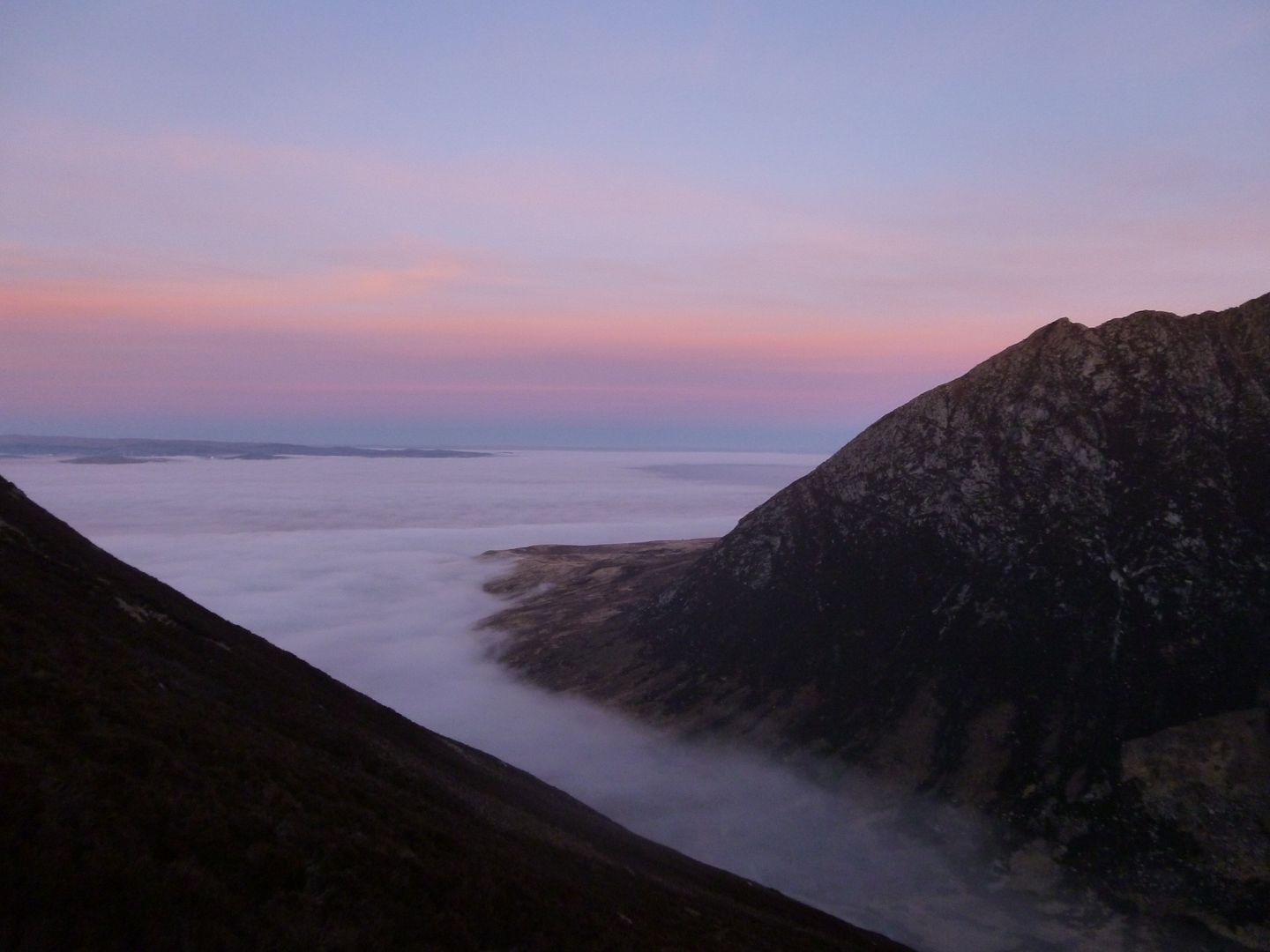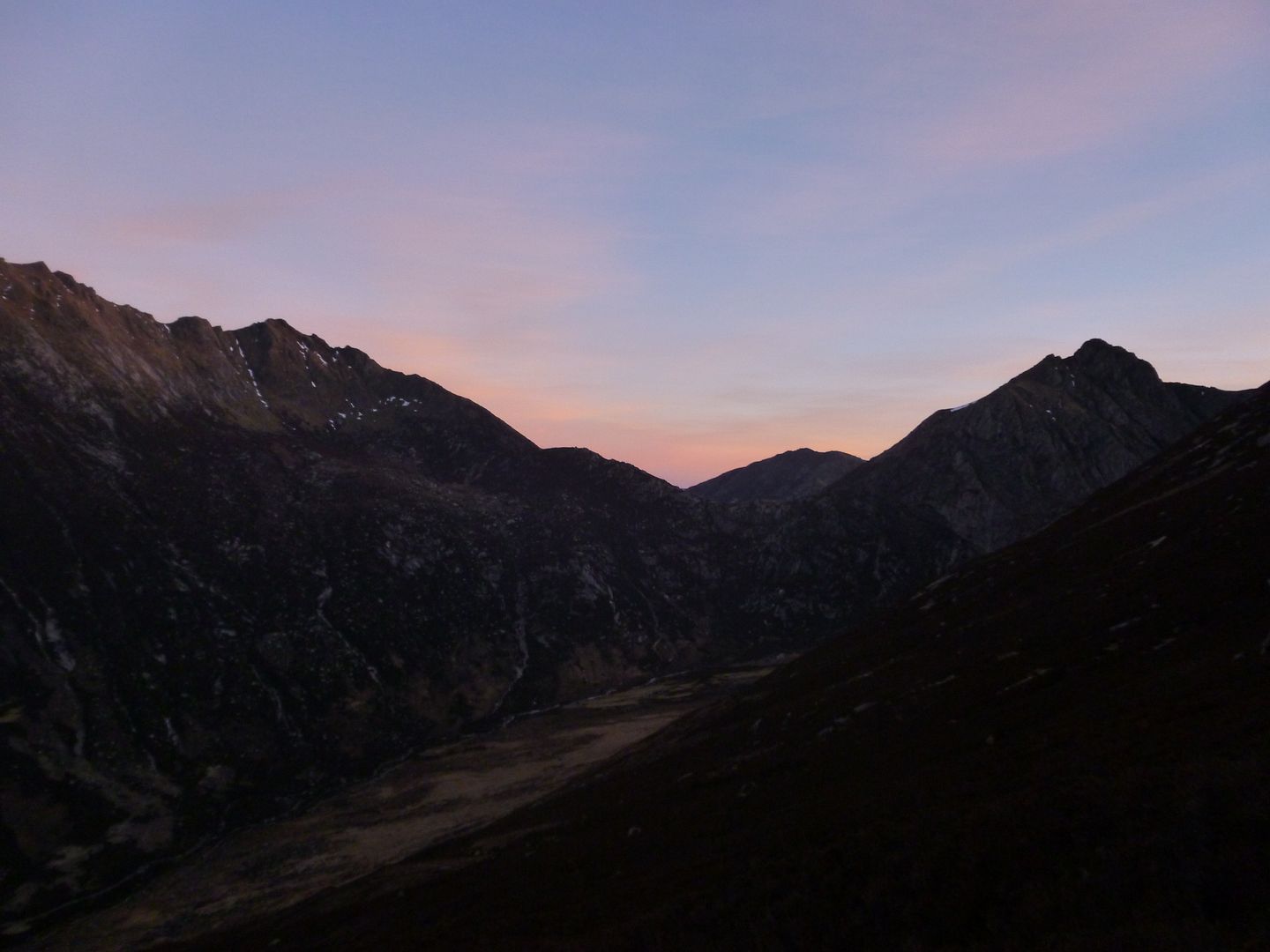 Ater a short stop for food - well past our dinner time now - the stomp down the path seemed to take no time at all, and we were really glad to see the car at 9.30, under a huge, red rising moon.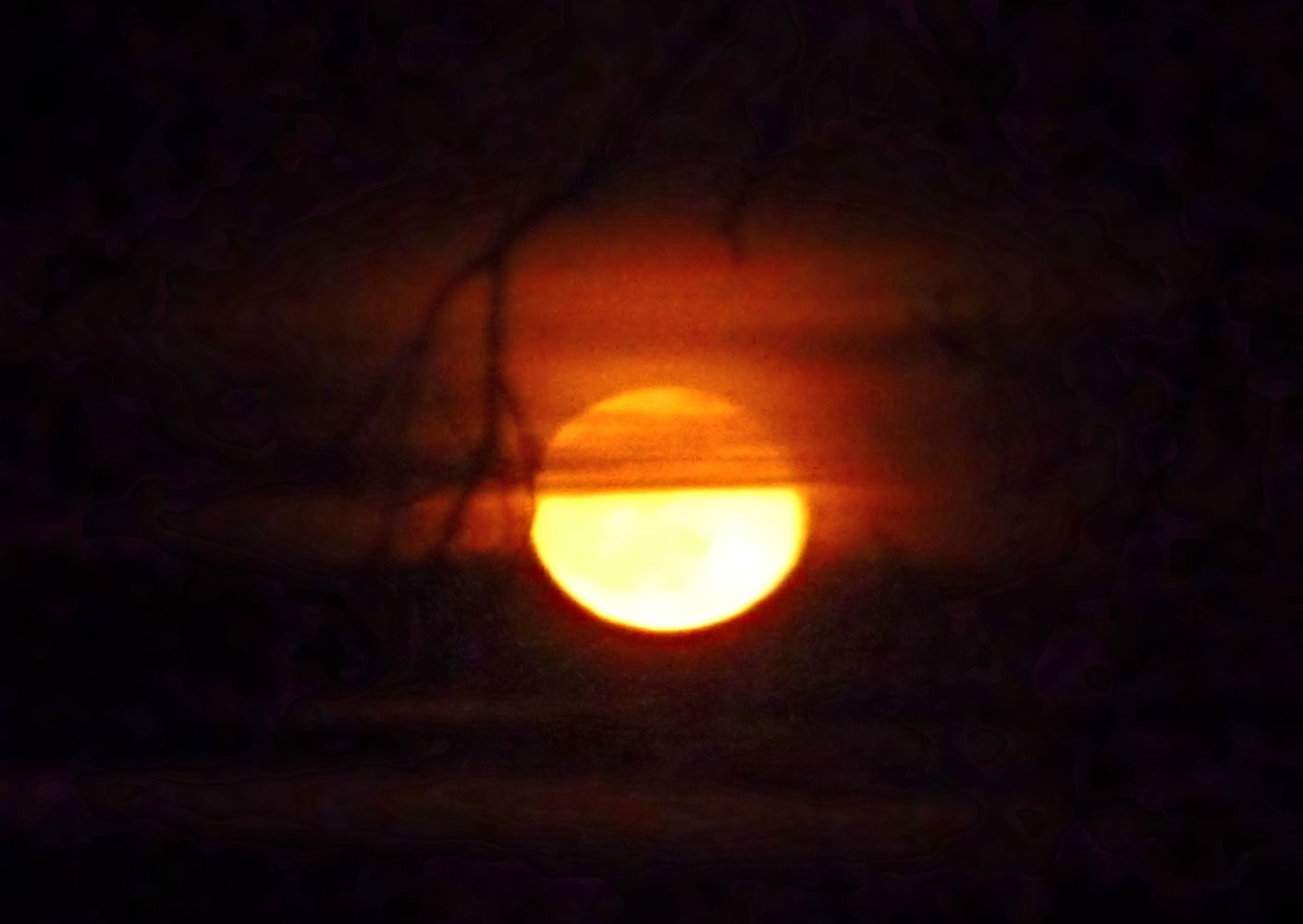 What a day - has to rank up there with one of my best days on the hill ever.
We drove back to Lochranza, where we were too tired for conversation and weren't long for bed.
The morning was misty again, so we amused ourselves with stone circles, sea caves, waterfalls and castles until the ferry home. Had an attack of heat stroke in the morning, following the sweat fest of the day before. It'll be a few days for knees to get back to normal and all the scrapes to heal, but this is one trip that will live in the memory for a long time.