So this weekend, I was supposed to be visiting a pal, but managed to find an excuse to head for the hills instead with the weather looking so good.
I had taken to the idea of going up Gulvain from Loch Arkaig – a plan I didn't feel that Dougie would of enjoyed, but with him stuck at work, it seemed the perfect time to go. I managed to skive off work at about 4 on Friday and was up at the car park by 7.30, booting up for the short walk to Invermallie bothy.
The water levels were too low for the waterfall to be going full force, but still bonny. The outflow of the loch is an idyllic spot however and I paused near the bridge to take it all in. Overhead, a soaring sea eagle came to my attention who made good progress down the loch. Oh to have wings like that – would make this bagging molarkey easy!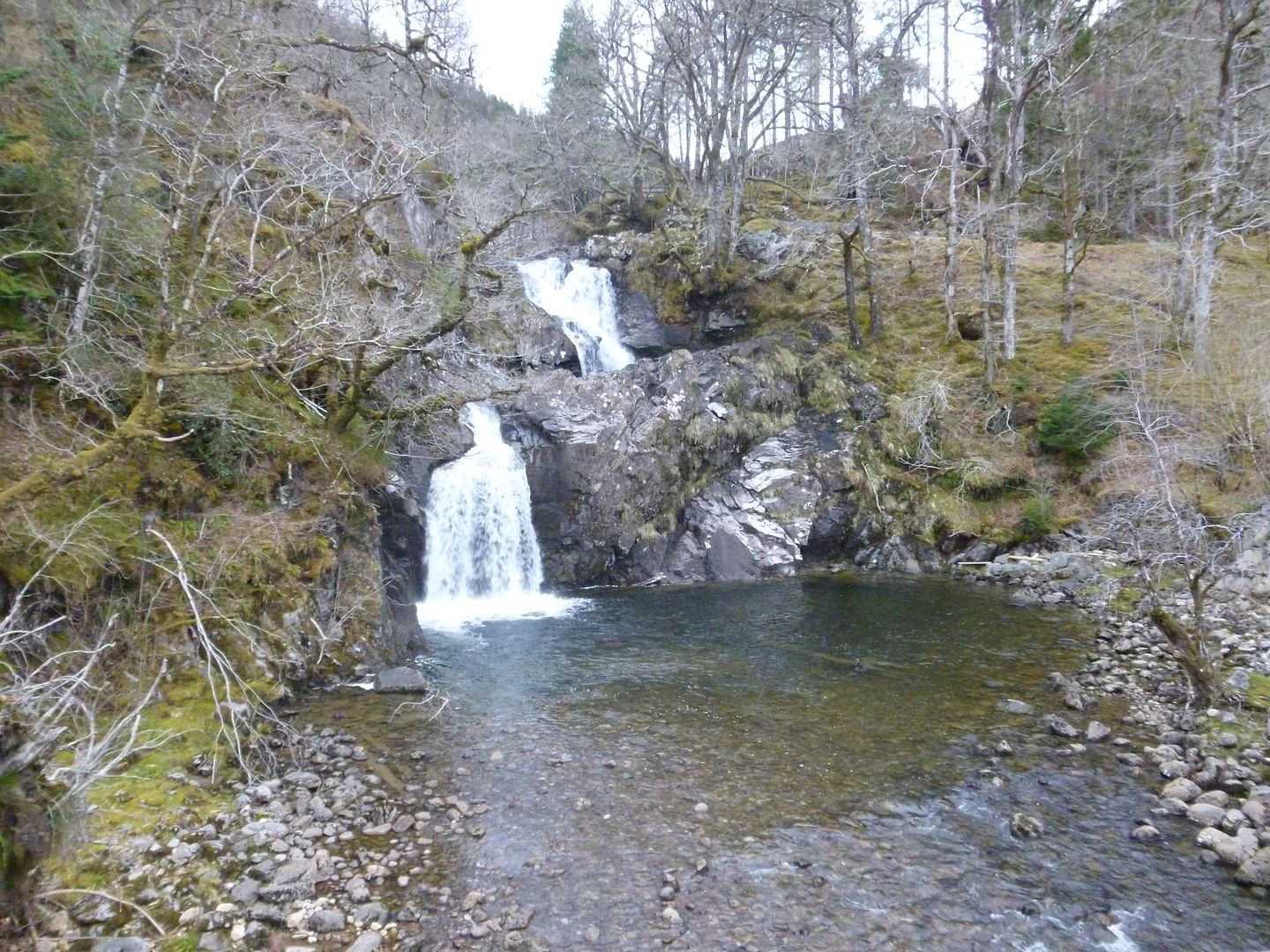 So at the far side, I made a right to take the track down the loch side. It undulates gently through the trees, past the fish farm, with its ominous drone, and onward past a funny wee holiday cottage. I found the turn off to the old track, which I had heard was boggy. Didn't seem boggy to me, I thought as I strolled across shortened grass, but soon the way was blocked with giant puddles, and overflowing ditches. All the worst bits had stepping stones though, so made it to the bothy in ¾ of an hour. A far shorter walk than I had thought.
I was disappointed that there was no-one else at the bothy. I don't know why, I'm usually more than happy in my own company, but not that night.
It is a vast building with bedrooms upstairs having signs for 'The Blue Room' and 'The honeymoon suite'
I had taken some logs for convenience, so I got the fire on and had my dinner. Sat outside long after dark, not a breeze or chill felt, an owls hoot the only sound.
I was up early in the morning, the chirping of the finches and tits hard to ignore. I got a brew on before I heard the unmistakeable chapping of a woodpecker very close by. I went out, only for the bird to fly off before I could get close enough for a good look. I went back to my brew making when I heard it again in the same tree. This time I didn't bother to creep up, just went and sat out by the favoured tree and kept very still. After a few minutes he was back, and I got a super view of him hammering, before I tried for a photo, the sound of my lens popping out scaring him off again
With such distractions, my early morning, turned into 9AM for leaving the bothy. I knew it would be a long day – about 18 miles so I thought, but there didn't seem to be any rush on such a bonny day. I headed upstream, looking for the bridge.
I found a wee plank bridge over the first burn, then made my way across tussocky ground to the new track, and over the river. I looked at heading straight up onto the ridge from there, but lots of boggy glen floor between me and the ridge, so I headed up the track for a bit until I found a burn to follow. The burn soon turned to bog, but I managed to pick up some quadbike track, and got through the reeds to higher ground without wet feet.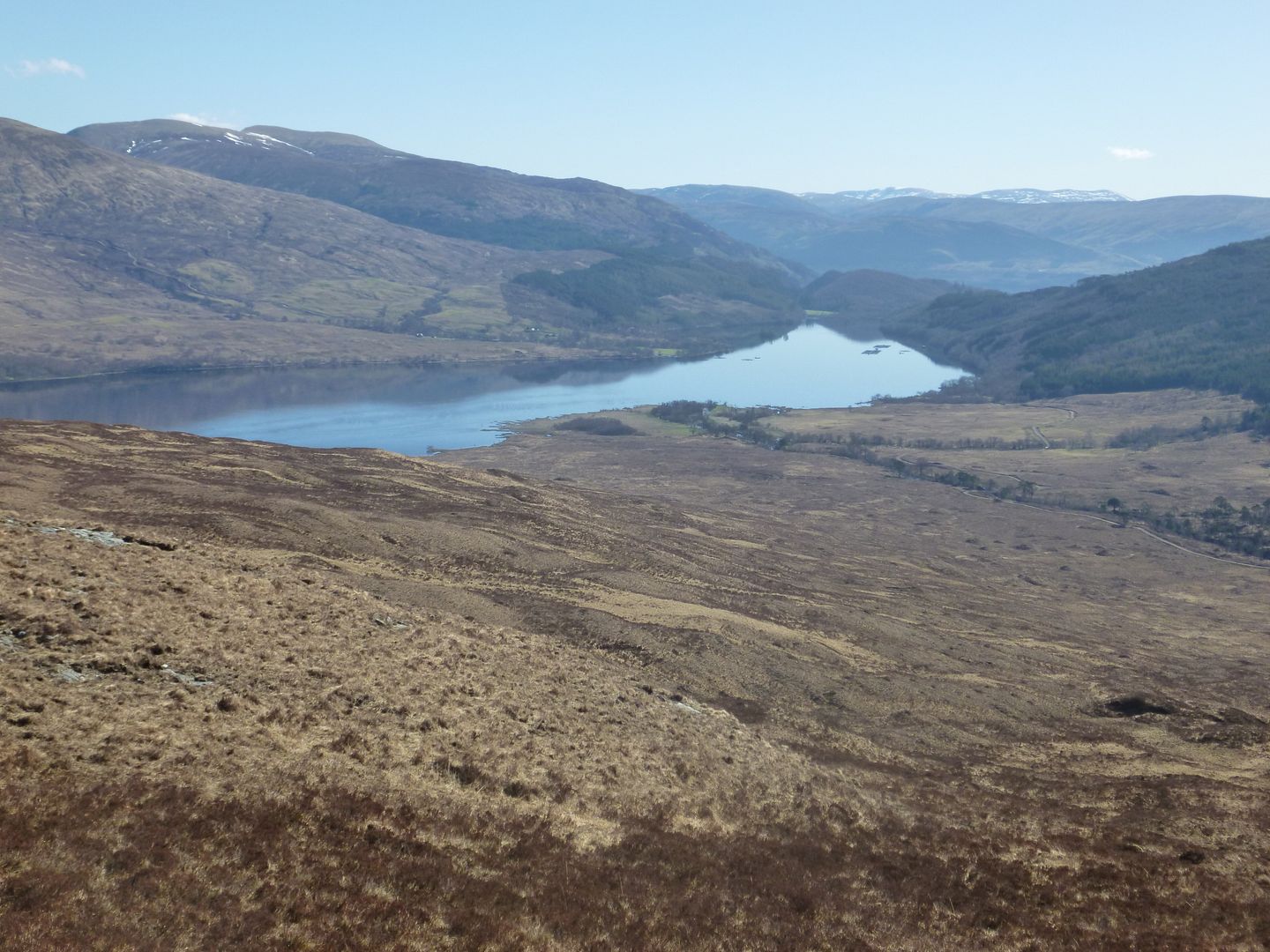 I headed up diagonally to the minor col and up steeper ground to southern parts of the top marked Mullach na Briobag. There were so many lizards, it felt like I couldn't take a step without sending one slithering into the grass in a panic. I had never seen so many, or so large – some being a good 8-10 inches long!
The fine dry heather underfoot, turned to peat haggage – a common theme for the day as I was about to find out!
I traversed and zigzagged through, some of the watery pools very large indeed. I have always enjoyed a nice peat hag - jumping across chasms, and planning ahead in the maze. There were several pairs of plovers about, their calls giving away their species from afar. One that I had a closer encounter with was a Dotterel – only the second I have ever seen.
Another col, before heading up onto Druim Giuthsaich, the going eased by the appearance of a argo track which took the path of least resistance upward. Once on the ridge though it took a very winding path through the peat hags on this upper bog. I left it and made my own way through enjoying the views that were starting to open up northward.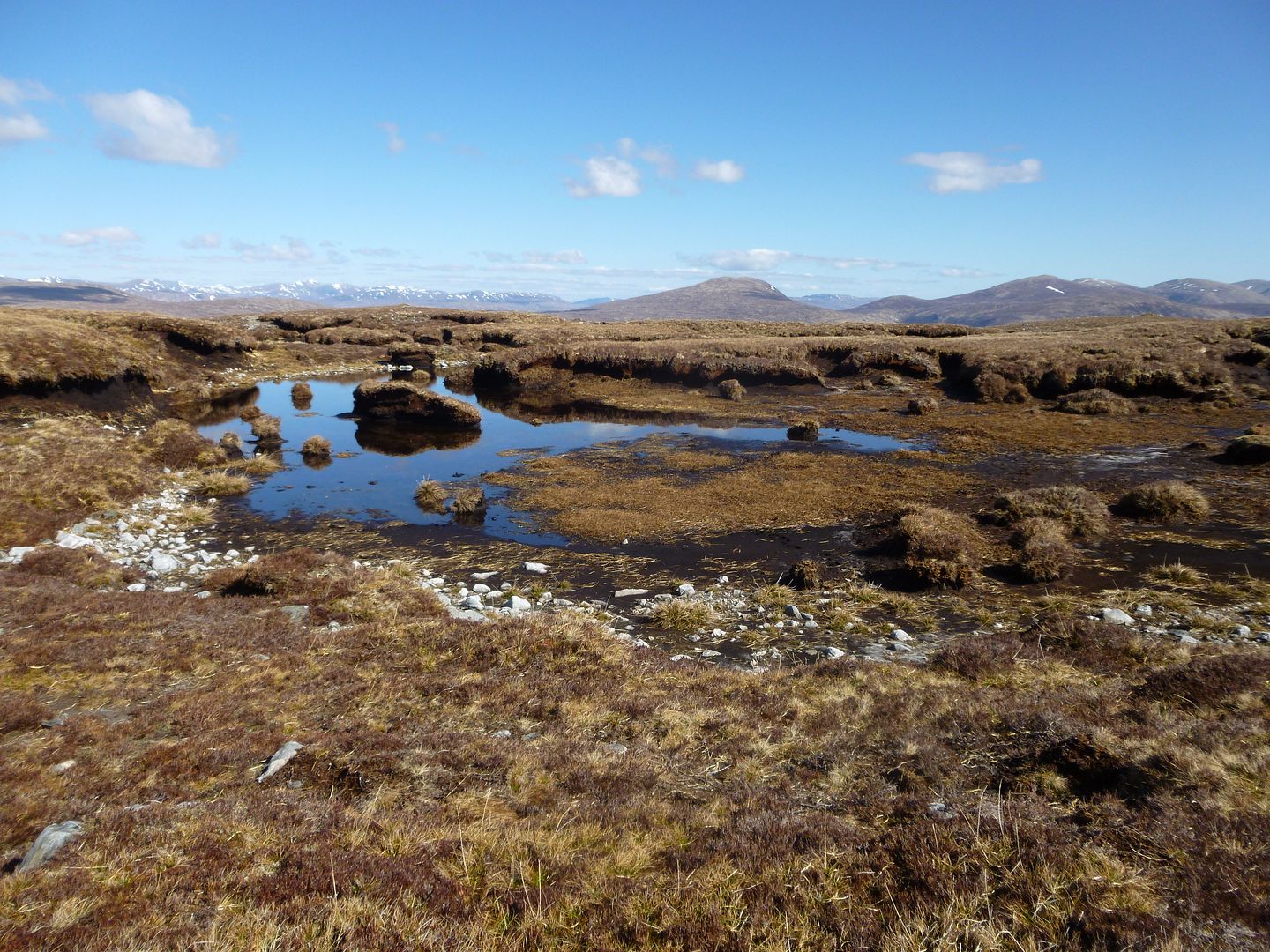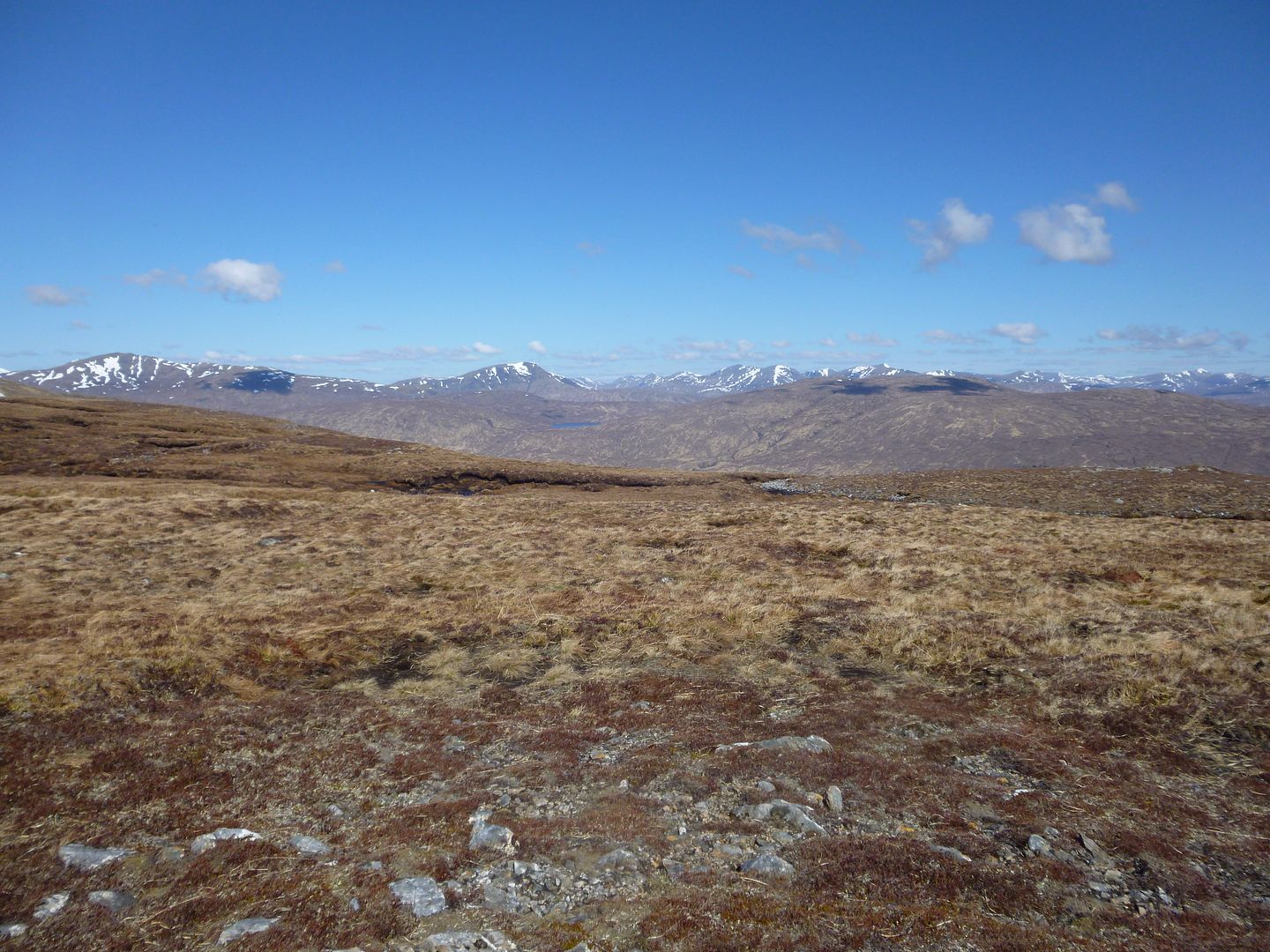 I could now see the Graham I was climbing, and it looked fairly disappointing
Not as disappointing as the blisters I was developing on my heels, which were quite painful. Whats the score with that? I've had my boots for over a year – at least a hundred walks, and now they give me blisters? Just odd..
Anyways, it was nice to make it to its slightly steeper slopes and away from the hags, as they were becoming tiring. The summit cairn was further along the ridge than I anticipated, and I am sure not at the highest point, but still a place to stop to take in the vistas. This is where I found I had left my piece in the bothy, so just had a couple of cereal bars and a bit of leftover easter egg to last me all day. It would just have to do I spose..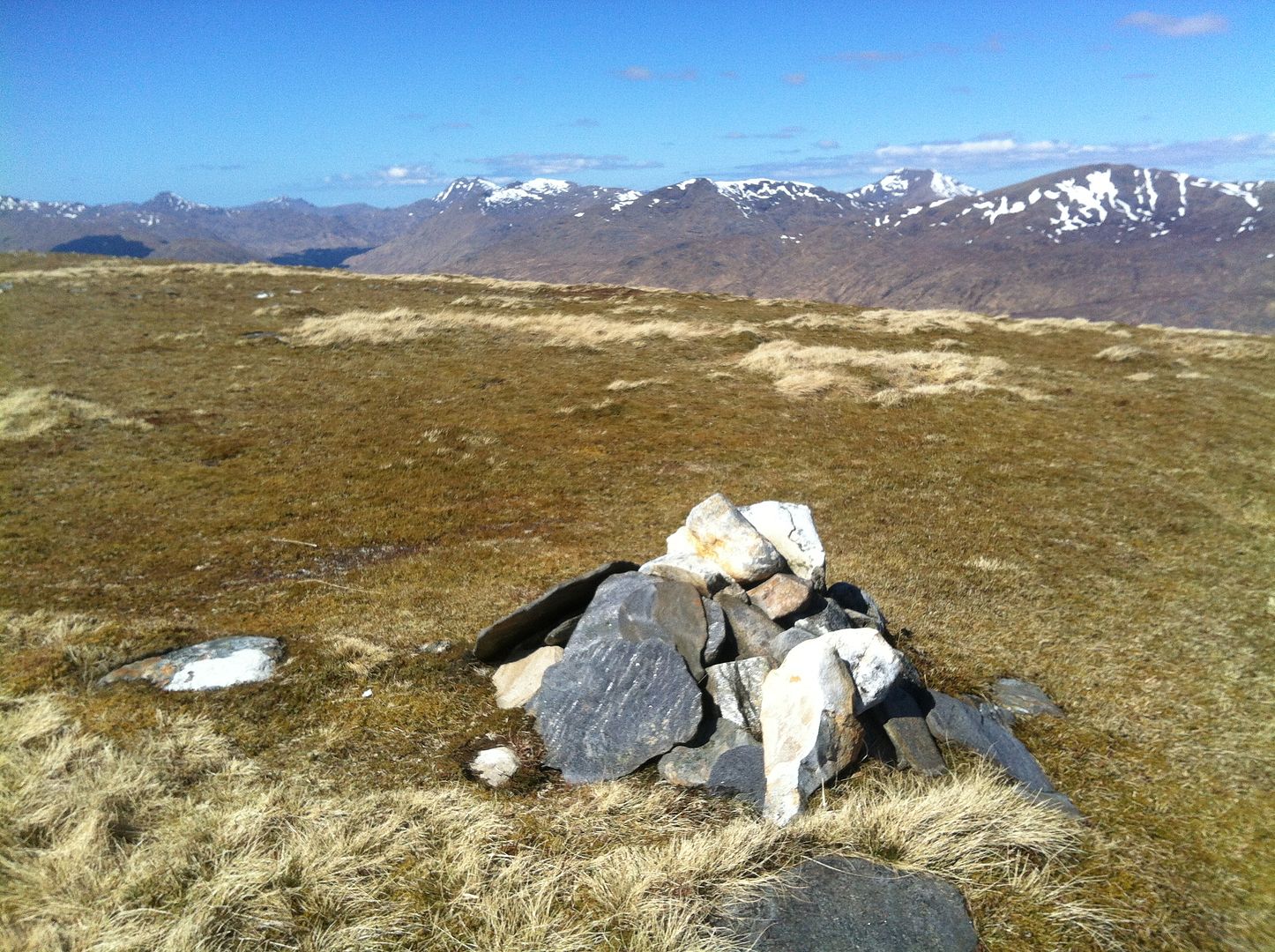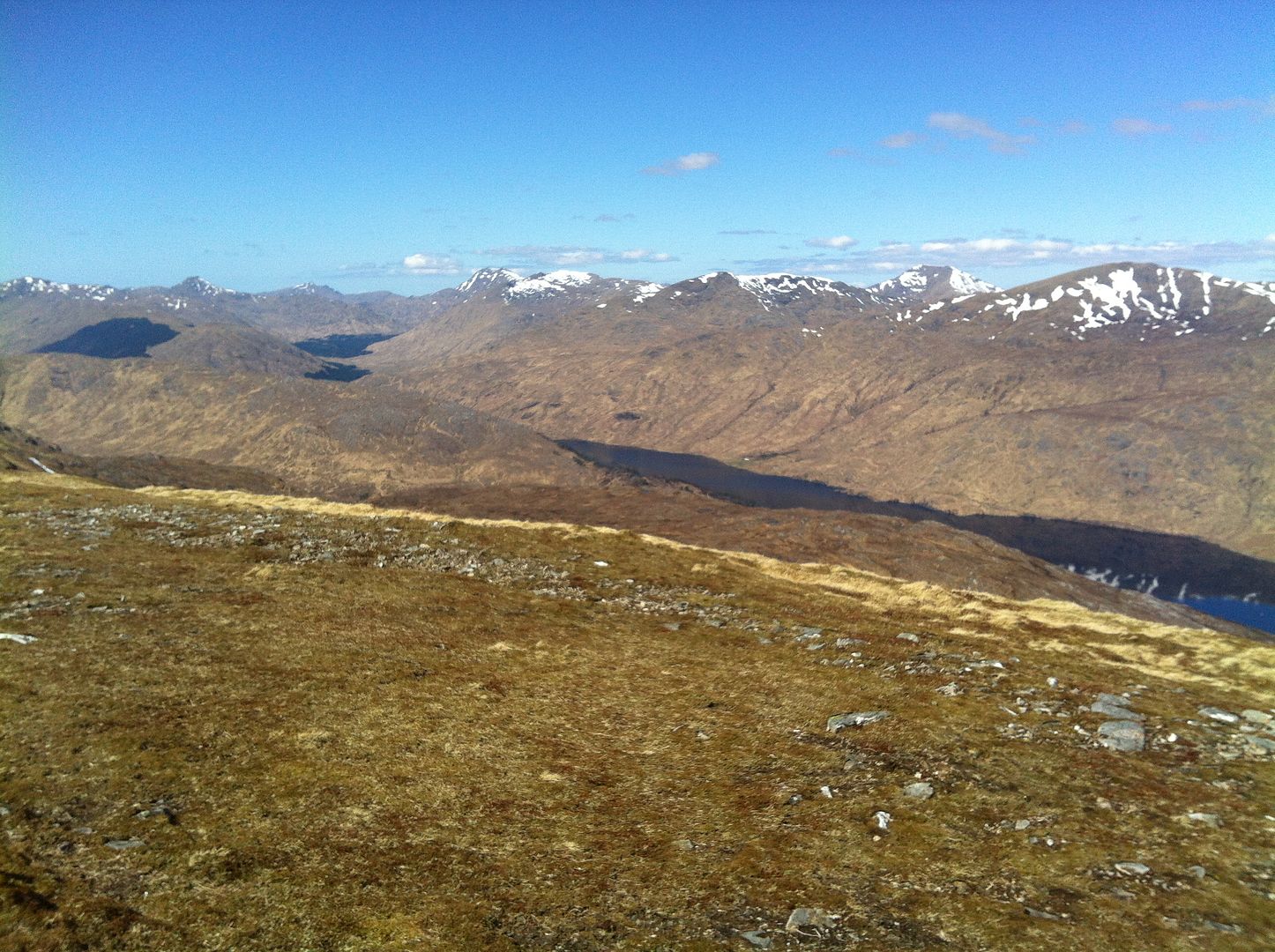 Gulvain was looking spectacular ahead, almost calling me, so only a short stop, and I was off. The terrain changed back to short wind-scoured heather and grass, so really quick progress down to a col, up again slightly then down steep on an overgrown baggers path that stayed above the bog, but below the summit of the minor top.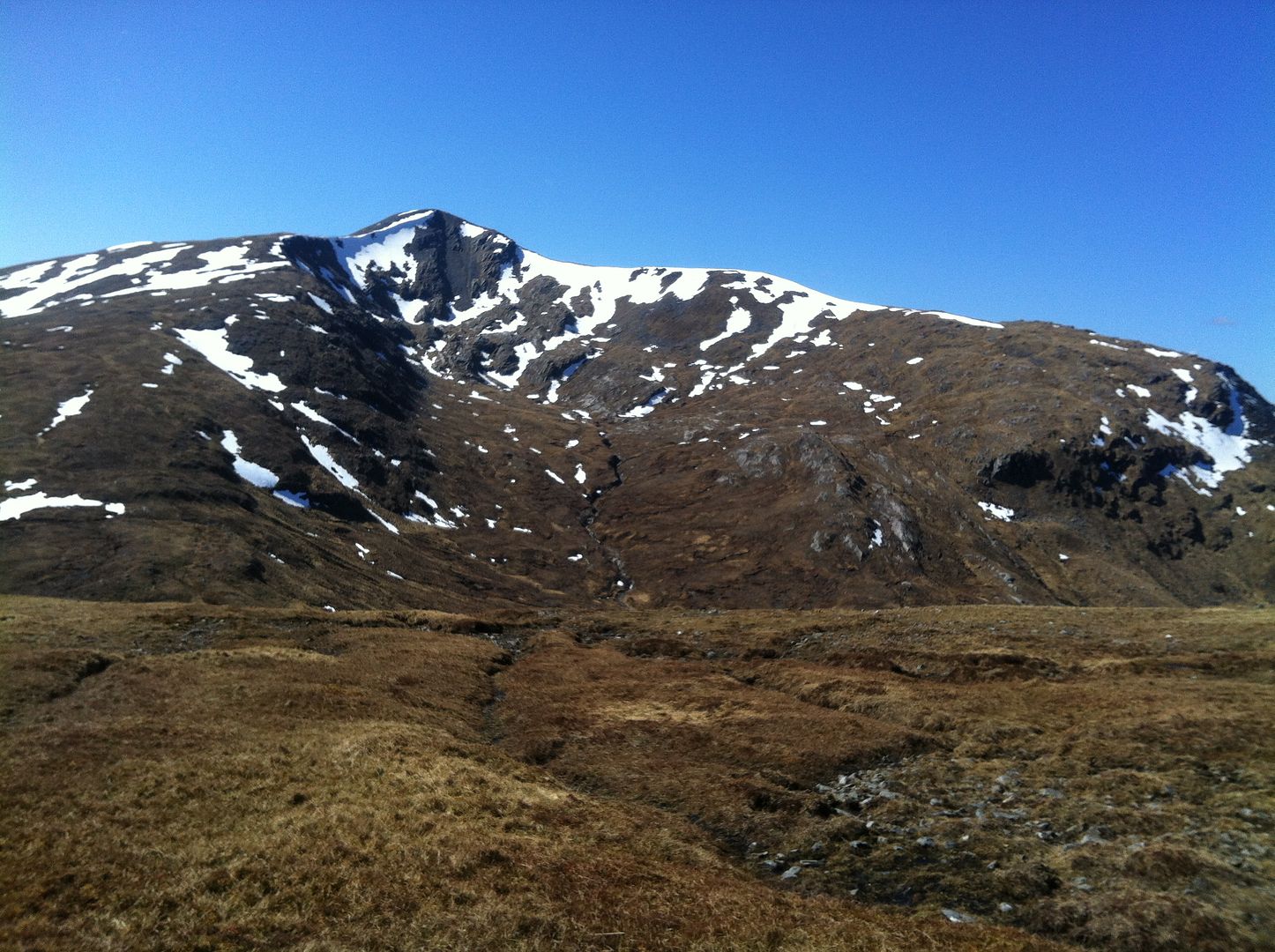 The path disappeared again before the bealach, where the peat hags made one final appearance before the ascent to Gulvain began. The lower slopes were fine and easy angled, but we were getting into the hottest part of the day and still not a breath of wind to dry my drippy face. There was a wee spring I stopped beside and drank several cups of water in quick succession, aware that the 2 litres in my platypus wouldn't cut it today.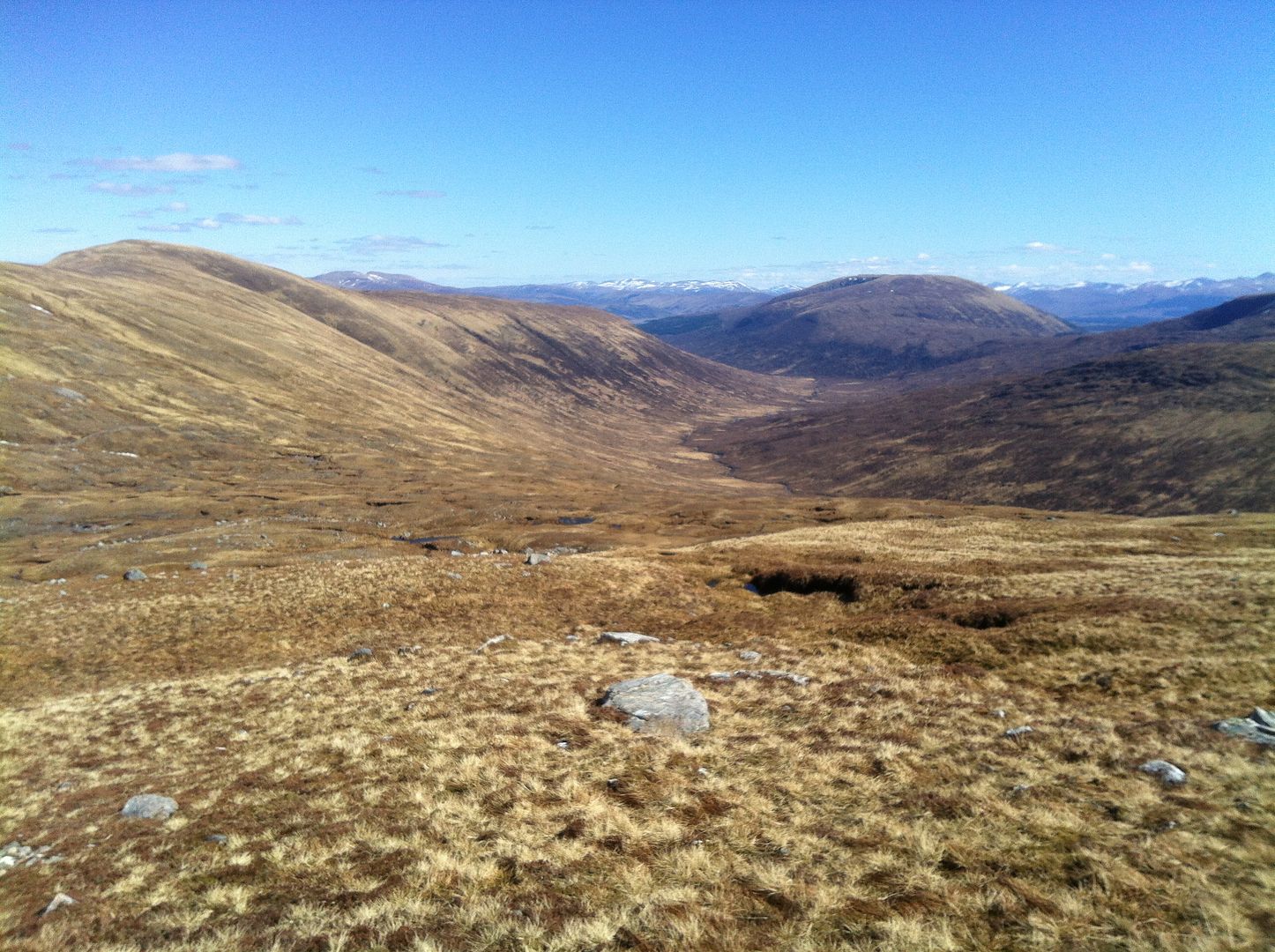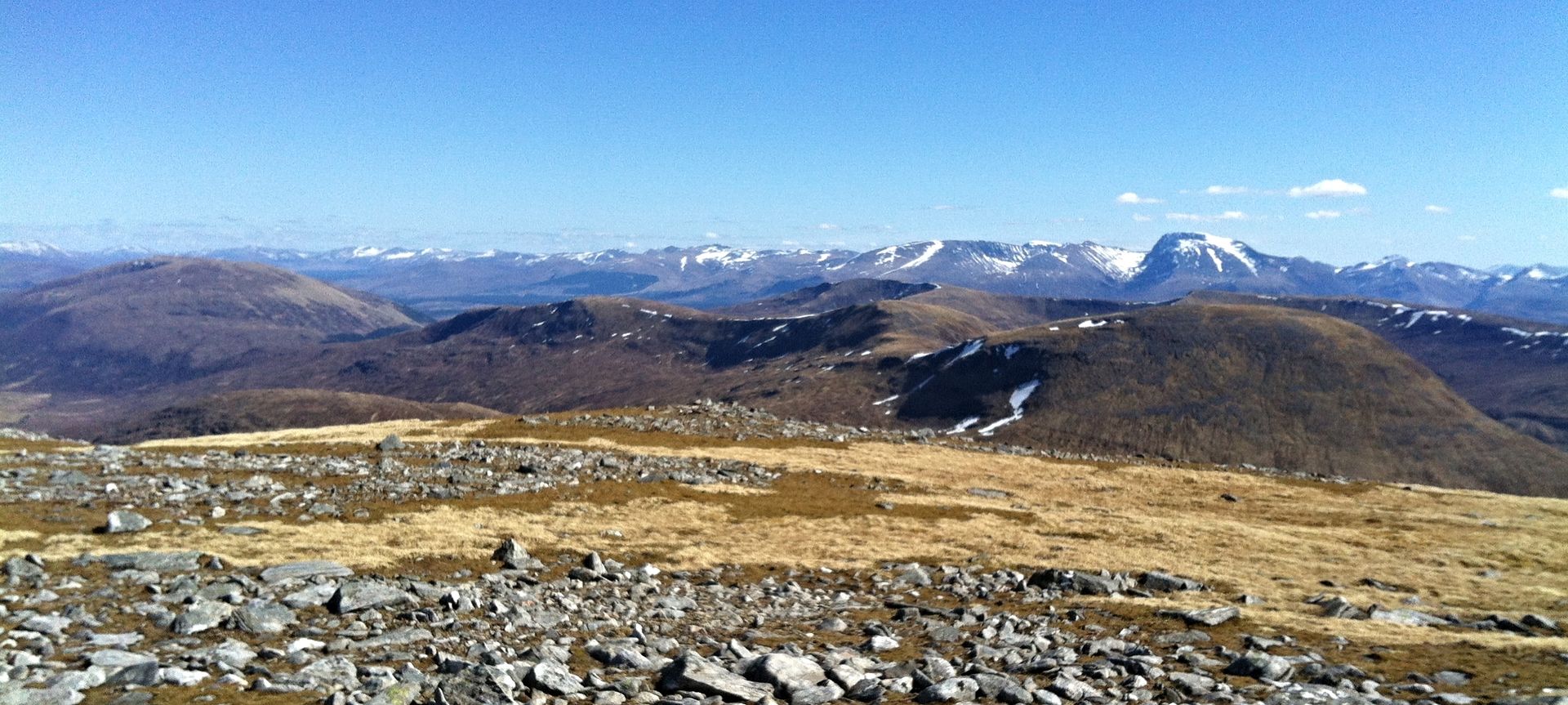 The terrain got rockier, and the easiest route was up quite near to the cornice, which I could hear cracks and pops coming from deep within. Thought it would fall any second, but it held.
The last 100m was very steep indeed, and terrain was now boulderfields, with mossy sections periodically which pulled your ankles every which way. So hot and tired was I that every few yards I was stopped, but somehow made it up onto flatter summit ground to see rather a lot of snow. Nothing better than a snowball bath on a hot day.
I went over the snow field expecting the cairn to be buried, but it was just over at the far side. Definitely snowy parts of this hill higher than the cairn today!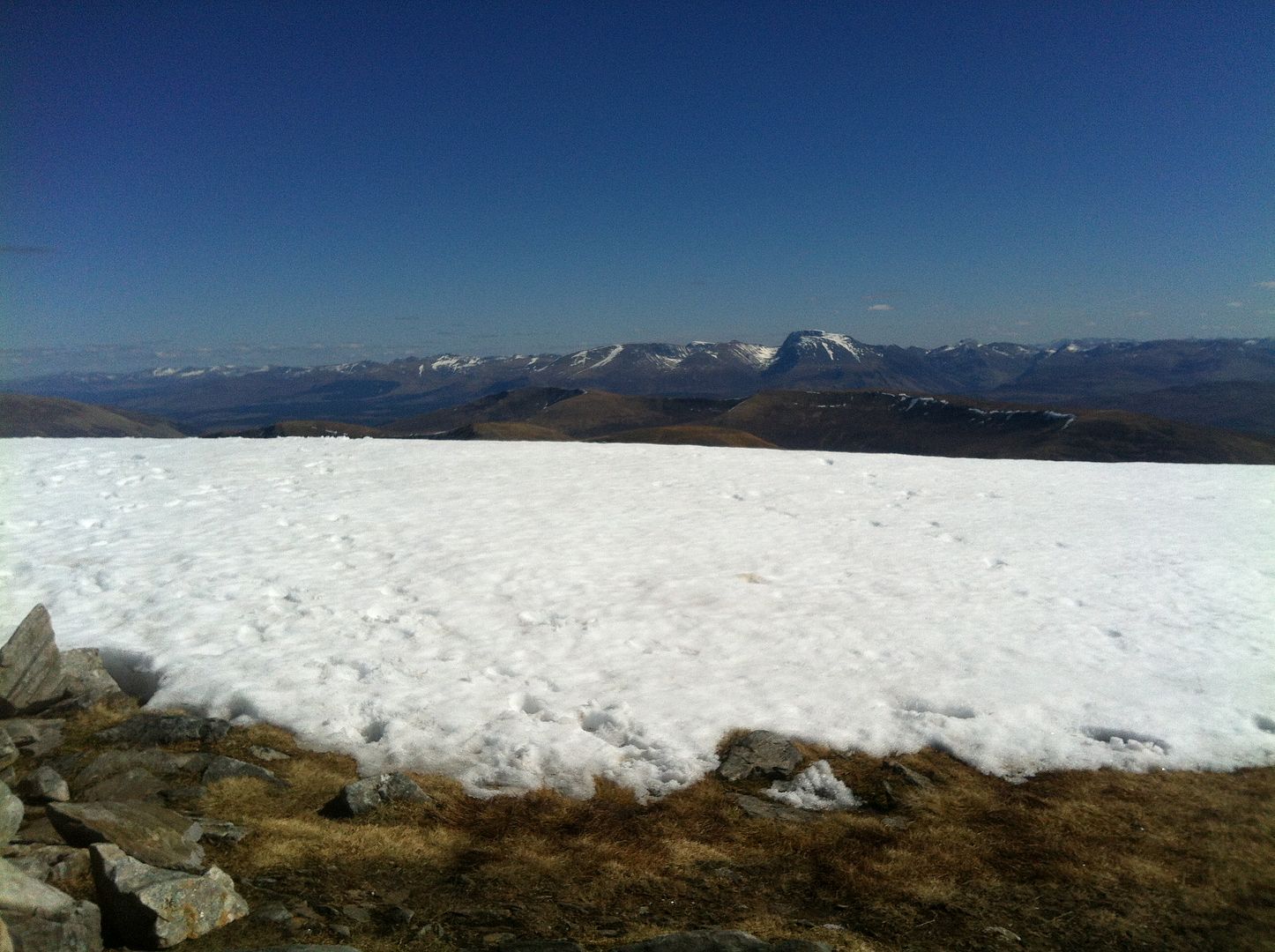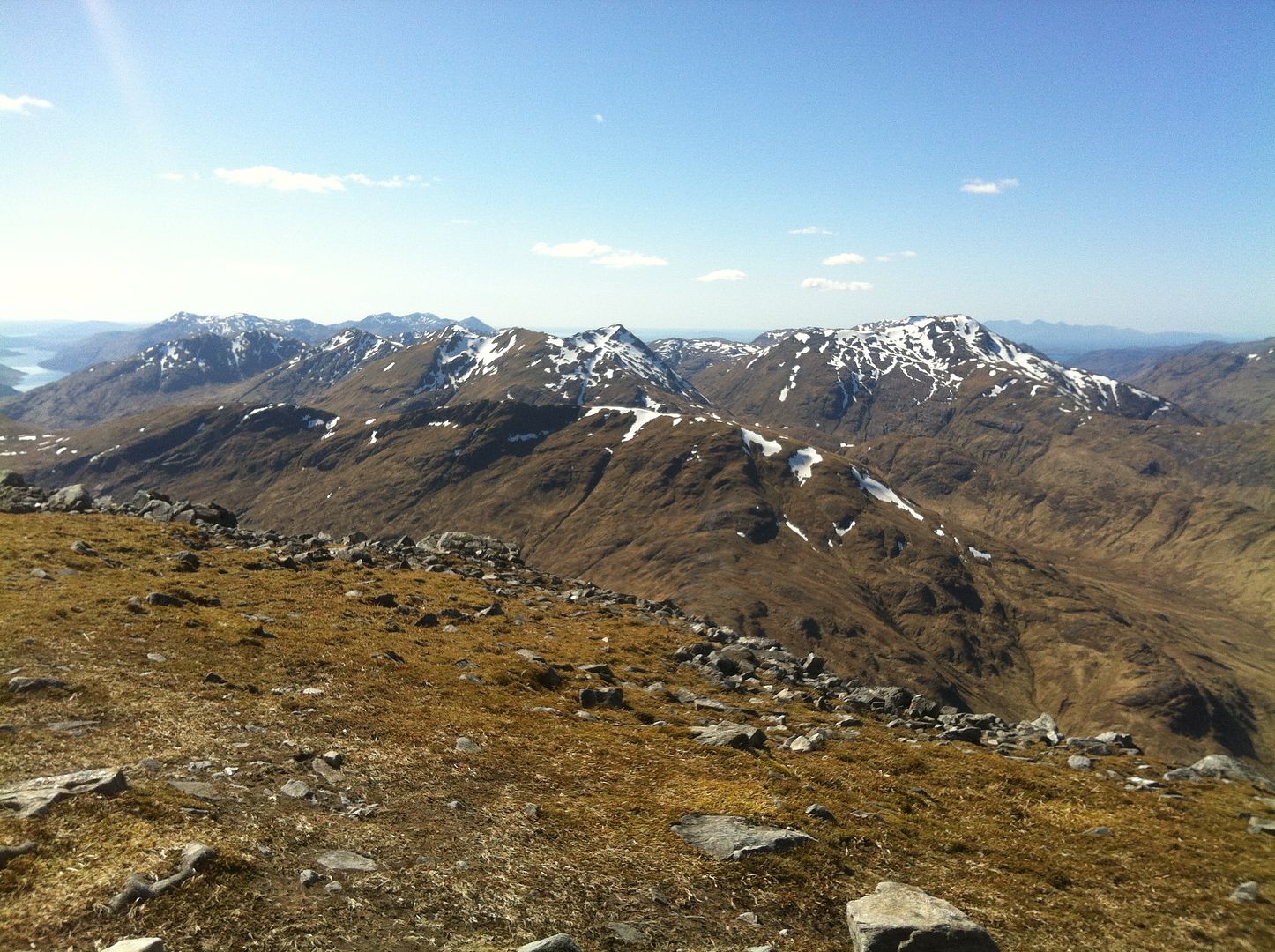 I sat for ages, looking out to rum and up to the Cuillin. I wished Dougie was there to tell me the name of all the hills I could see. I could name some, but looked like a confused jumble up toward Kintail.
Eventually I headed back the way I had come, carefully down the boulder fields to the easier slopes, where I veered right heading toward the glen, down some snow fields. The bealach had been peat hags, so I wanted to avoid that bit. The snow fields quickly became too soft, and I ended up thigh deep, struggling to get out. I managed to wriggle myself back on to dry land (gracefully of course!) and the great traverse was on, gradually down to the glen floor. It wasn't as boggy as you would expect, in fact the glen was decidedly drier than the ridge had been, which is a bit topsy turvy, but there you go.. My 3rd last munro and they are still surprising me
With heels now in shreds, I sat next to a wee burn, drank lots, and bathed my feet in the cold waters. Quite a major sheep fold there, so there should be a path starting up and sure enough a fine track took me hobbling down the glen. I tried not to think about how far it was. The river was gorgeous with falls and I even spotted a ring ousel mucking about in the shadows of the banks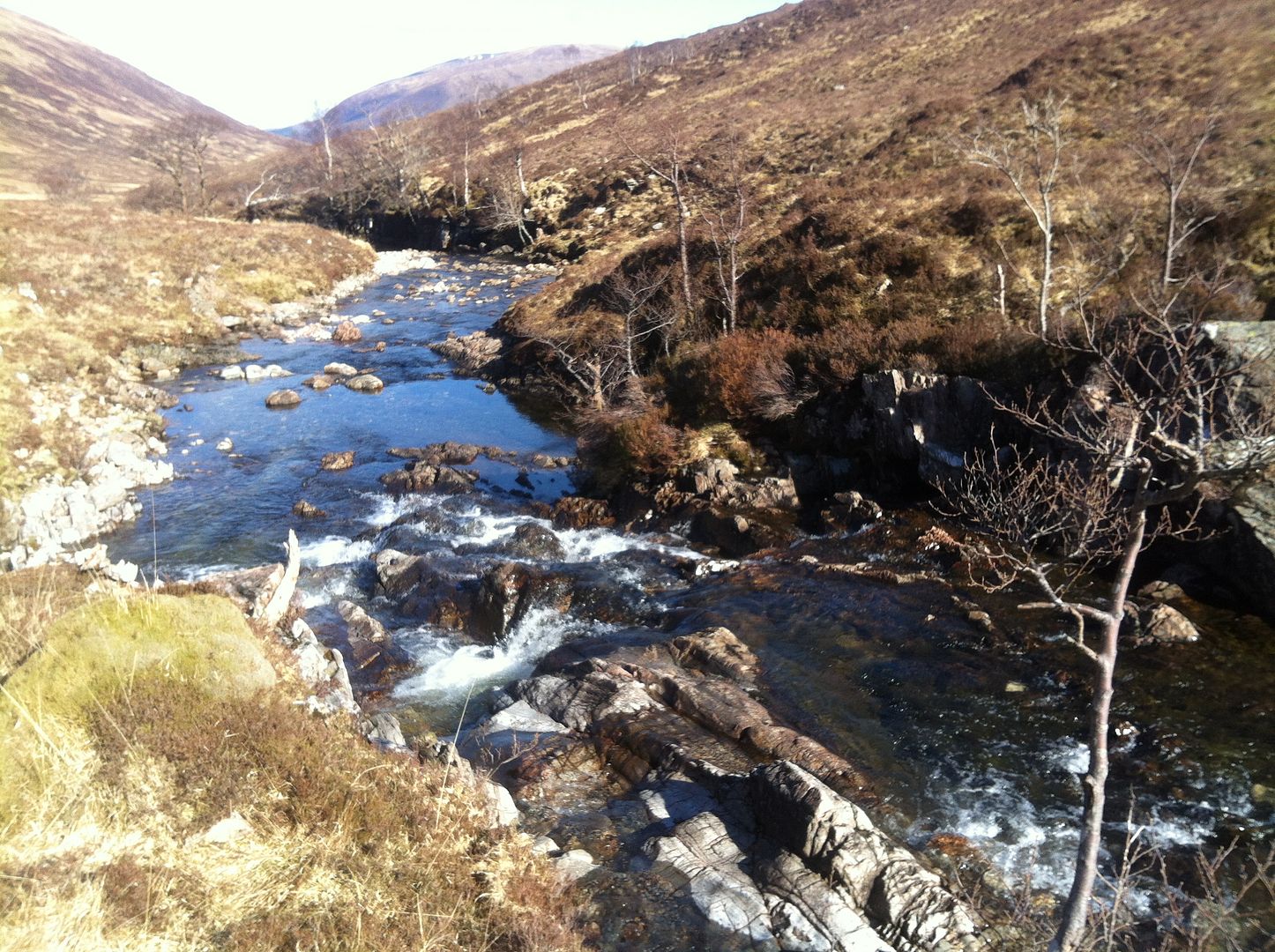 The puddles on the track were filled with tadpoles that I never tired of poking at with my walking poles to watch them wiggling their little tails. Saw this wee guy too, don't think I have came across many newts on my travels.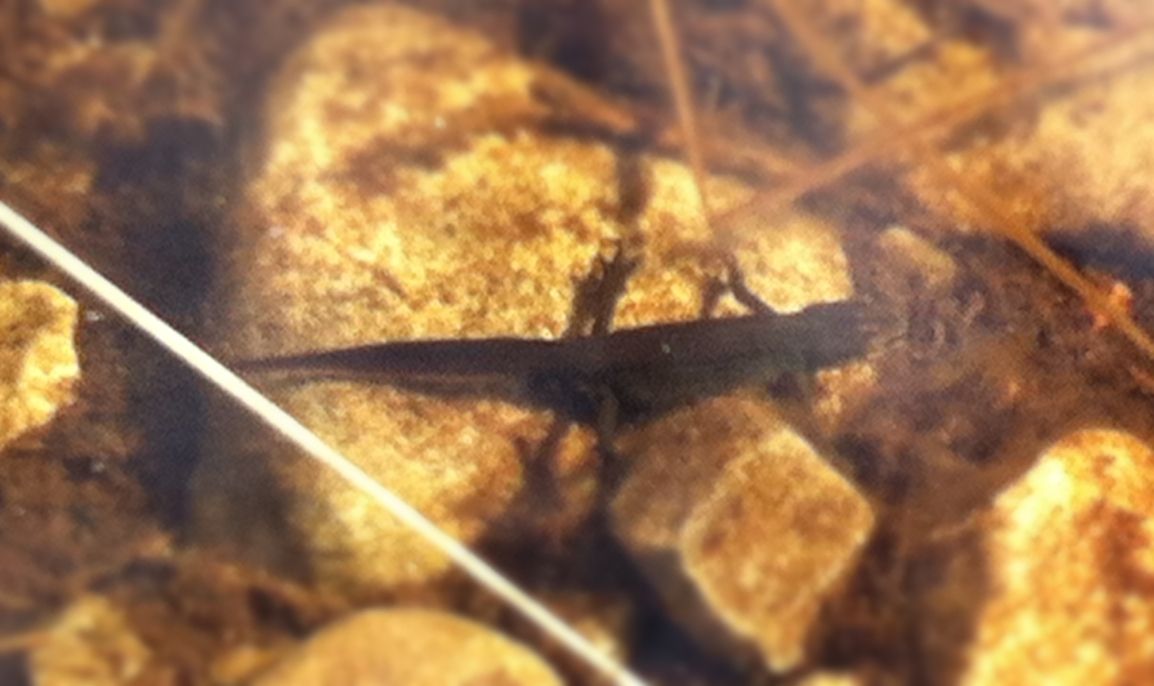 I passed a rickety bridge, encrusted with lichen, then was at the ruins of Glen Mallie.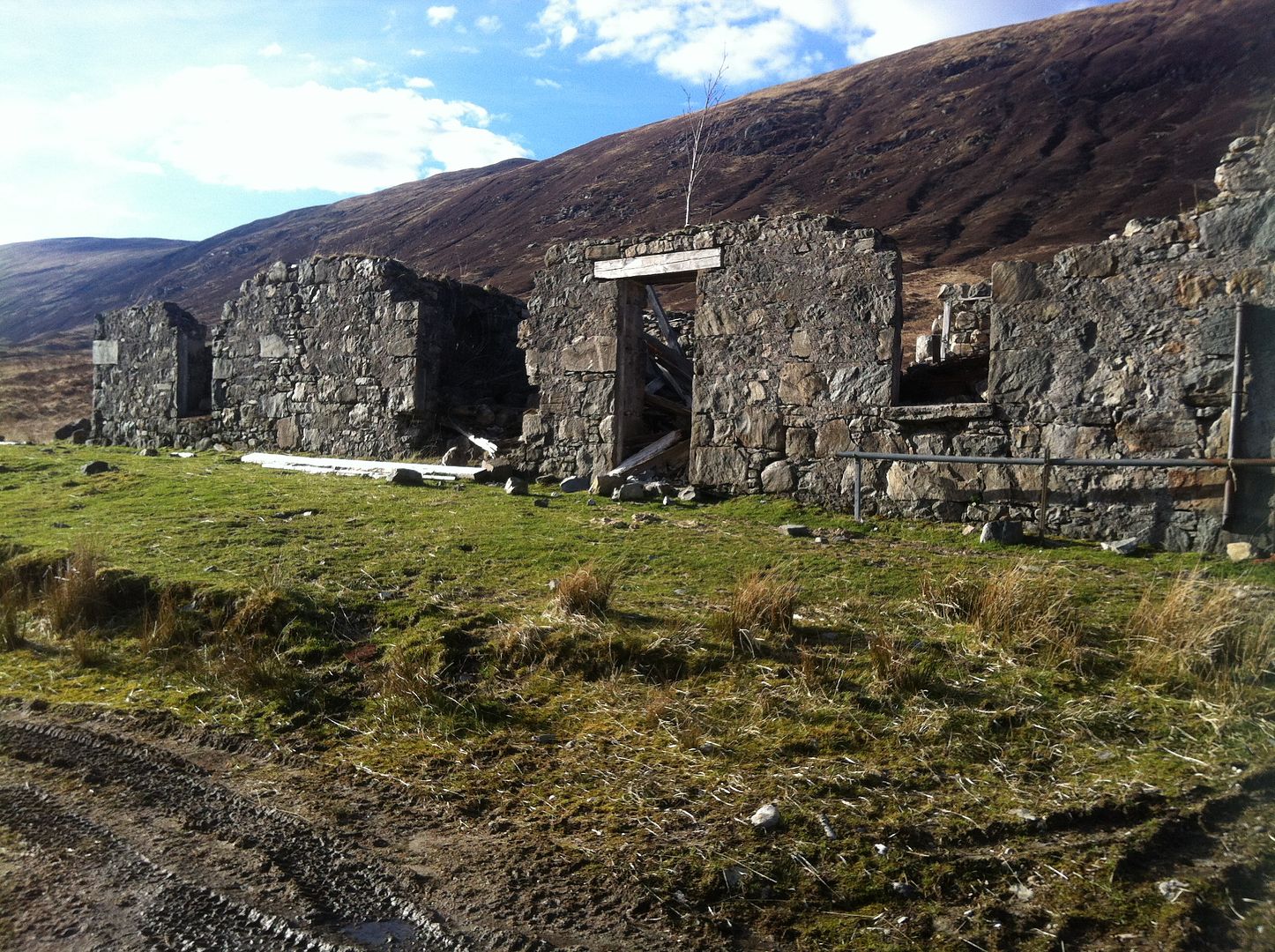 I found an old chair and sat in the lean-to out of the sun for a while. I made the mistake of looking at the map only to find I wasn't even half way back to the bothy yet. I peeled off my socks and looked at my feet, which were not feeling or looking bonny, and wondered how I was going to get back. At current speed I was looking at an hour and a half more..
I wrapped my feet back up and carried on, the track getting more of a bulldozed feel to it, and headed up the hillside a little, well above the bonny river. With all distractions gone, it then became an endurance game of pushing myself to hobble a little further. I have never been so glad to turn a corner of a glen and see a clump of trees that was hiding a bothy. By this time, it wasn't just my feet, I was having horrible cramps right down the back of my thighs and calves – another first for me, and I didn't like it at all..
I made it back, took off my boots and scoffed my forgotten sandwich before I even had my rucksack off. Oh that felt better  A glance at the GPS told me all that peat hag weaving had added a fair few miles on to what I had expected.
I set up the bothy so I wouldn't have to move for a while. Dinner, fire and tea within easy reach. Later on, the mouse came out to sit under my footstool chair, and we enjoyed the universal pleasure of fire together for a while. I gave him a wee teaspoon of my curry dinner and he scoffed hungrily before heading off to explore the other rooms.
I thought I heard someone coming in at about midnight, but I was dozing by then, so wasn't sure if I imagined it, but another dawn chorus had me up early, doing all the leaving chores.
The walk out to the car, seemed to take no time at all, another scorching day. I drove round to meet Dougie in Glen Coe as he was planning a scramble, but with legs and feet completely shot, I decided that home was calling louder than the hills..
Only two munro's left now