Itinery:
Day 1 Milngavie – Drymen camping 18km
Day 2 Drymen – Sallochy 21.5km
Day 3 Sallochy – Beinglas Farm 27km
Day 4 Beinglas – Tyndrum 'By the Way' 20km
Day 5 Tyndrum – Glencoe ski centre 29km
Day 6 Glencoe – Kinlochleven Blackwater campsite 16km
Day 7 Kinlochleven – Glen Nevis campsite 21km
Day 8 Glen Nevis – Fort William 5km
West highland way by the standard route, before we left I was hoping to climb some hills en route but it wasn't to be, though that didn't matter: we had a great time anyway!
Our walking week was from Easter Sunday and we were exceptionally lucky with the weather, walking in baselayers everyday except the last couple, and using vastly more suncream than midge spray. The latter didn't come out at all.
'twas Naomi and I's first long distance walk, we usually go up rather than along, but we wanted the full experience of camping and carrying everything. Because of these things I didn't really know what our pace would be like, how far we'd get each day, but that doesn't really matter at all when you have a tent and can camp almost anywhere. As it turned out we stuck to campsites throughout, some were better than others!
The week before our trip saw some snow down to reasonably low levels meaning we took winter levels of sleeping kit, as a result we were always comfortable and Naomi almost became as much a fan of the tent as I am! It did mean extra weight though: including food and daily water I was carrying about 22kg for the first couple of days and up to around 25kg from day 3 onwards. Naomi was struggling with her initial ~13kg so we swapped things around.
We carried more food than most would – or would need to – and ended up being pretty much self-sufficient. There were two reasons for this: 1. I'm a cheapskate, and 2. Naomi is vegetarian and eating out is not often great for vegetarians (Beinglas reinforced this!). I won't bore you with food details, aside from saying that cheese and oatcakes for lunch is the best!
Day 1: Milngavie – Easter Drumqhassie Farm (''Drymen Camping'') 18km
This was Easter Sunday, which meant a late start to walking. Naomi was in church before we got a train to arrive at Milngavie at around 3pm. It was a sunny and warm backdrop to the ceremonial starting pictures, Naomi:
John: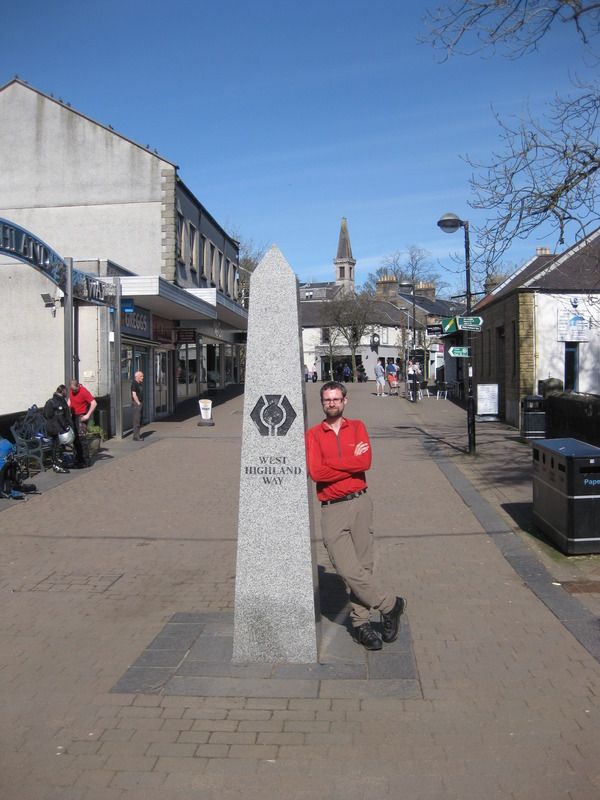 It's a shame we didn't get a picture of the two of us together, we were feeling quite conspicuous (despite the number of people who must start the WHW exactly the same way!) so I didn't grab anyone to be a photographer!
The opening salvos passed quite pleasantly I think, the scenery certainly isn't to the levels seen later but for me it was a great experience to feel that you've walked out of a city, into the countryside. Naomi is of the opinion that, if we were ever to do the WHW again, she'd skip this first day. In fairness the route after the distillery did go on for a while, but hey ho! We also saw very few people on this section, courtesy of our late start.
First view of Dumgoyne: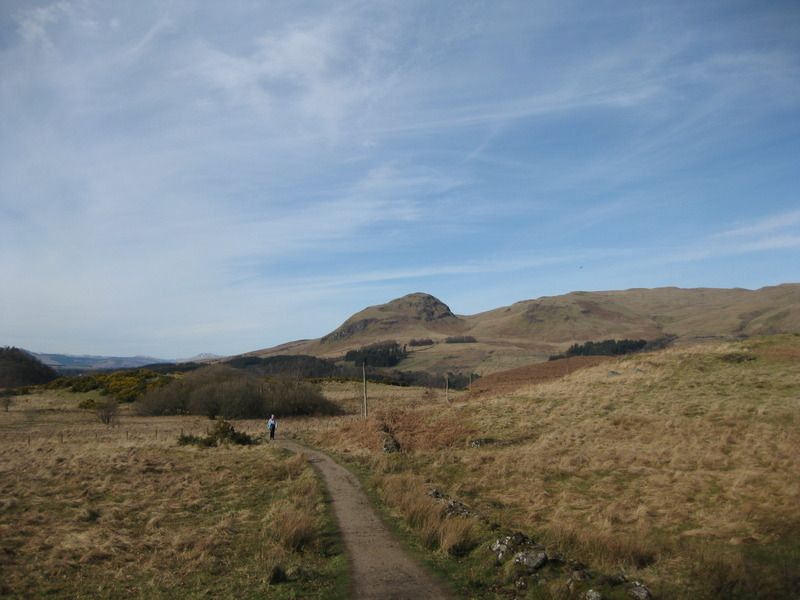 First view of Ben Lomond, still keeping some snow: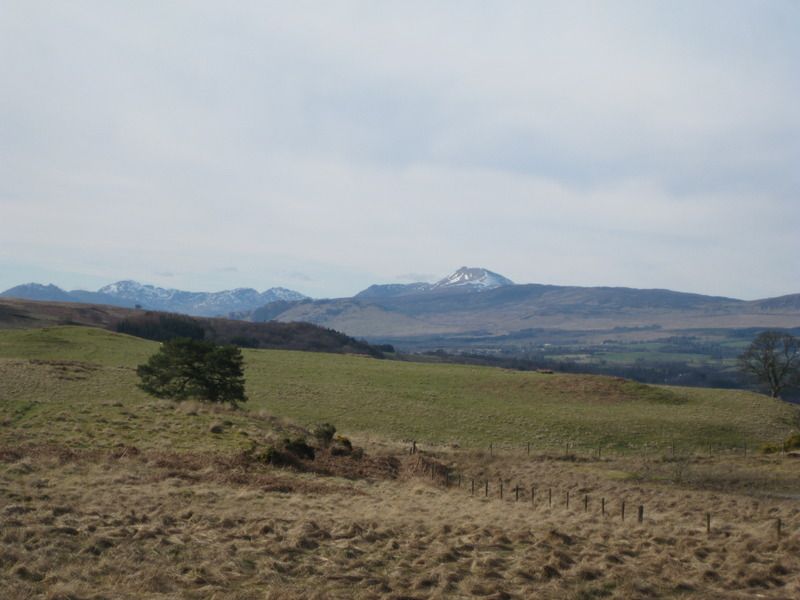 I'm not linking person & sign:
It was with some relief that we reached the campsite with time to get the tent up before darkness. We were treated to a nicely coloured sky while having tea on one of the benches.
I like pictures of tents, there will be many (pitures that is):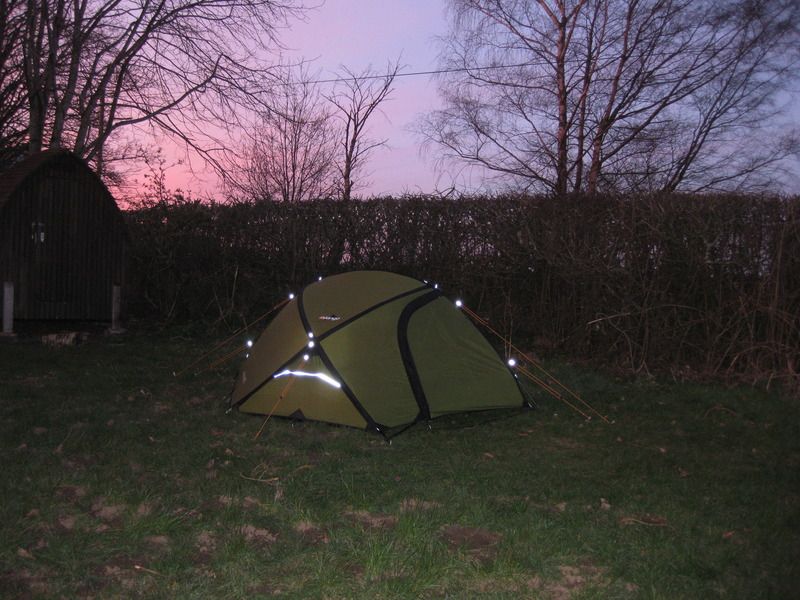 Much better than my usual tea-time view: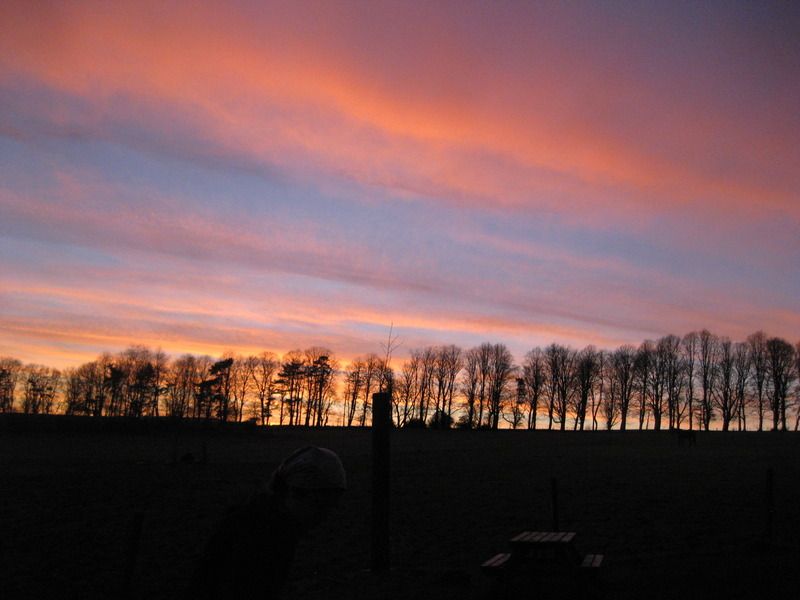 The campsite itself was sloping, I'd advise going round the back of the (soon to become) ubiquitous beehive/hobbit-house to find an OK pitch or two. There have been attempts to provide facilities (benches, covered cooking/washing-up facilities, washing line drying room etc) which was ok for £10 for the two of us. Only one other tent sharing the night with us.
Day 2: Drymen to Sallochy 21.5 km
The morning dawned misty. A damp tent packed away with the inner attached – a lesson learned here that we should have detached the inner as it was damp/wet when erected later (fortunately in the sun!)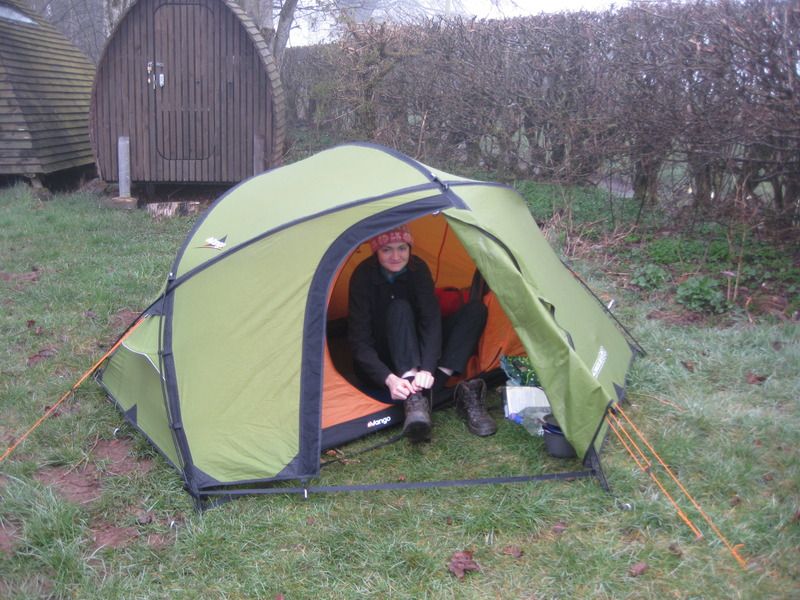 The early hours were spent walking in the mist and it was not until well into Garadhban forest that we saw our first fellow walkers. It was here that we first met a trio who had a habit of overtaking us mid-morning over the next several days – a chap and two ladies using b&b's/hostels (hello if you see this! – they told us that they had been walking in mist such as this the previous day until the sun burnt it off around midday, the same was expected today.
The sun penetrated the mist with exceptional timing, just as we neared the top of Conic Hill!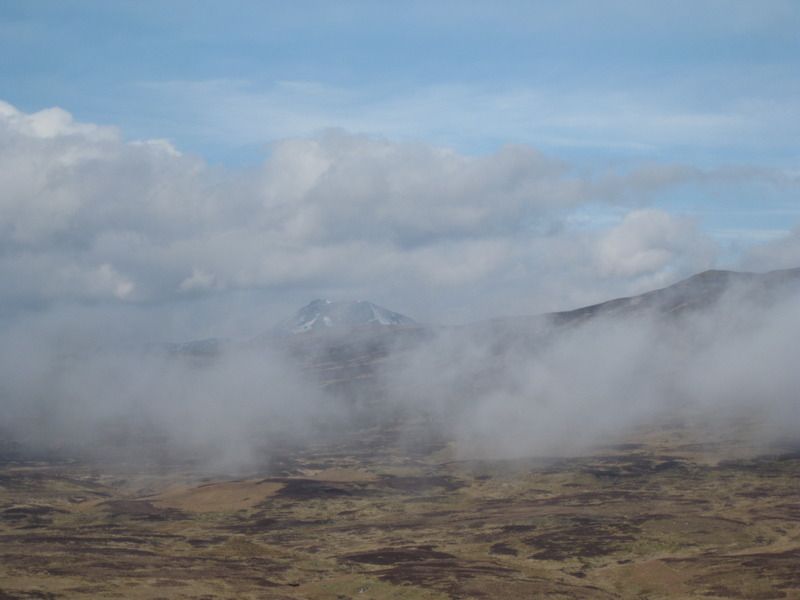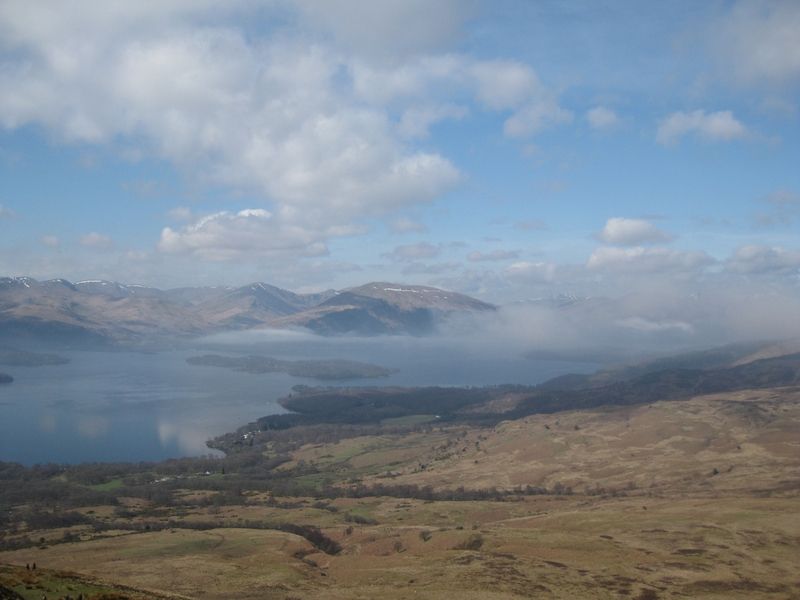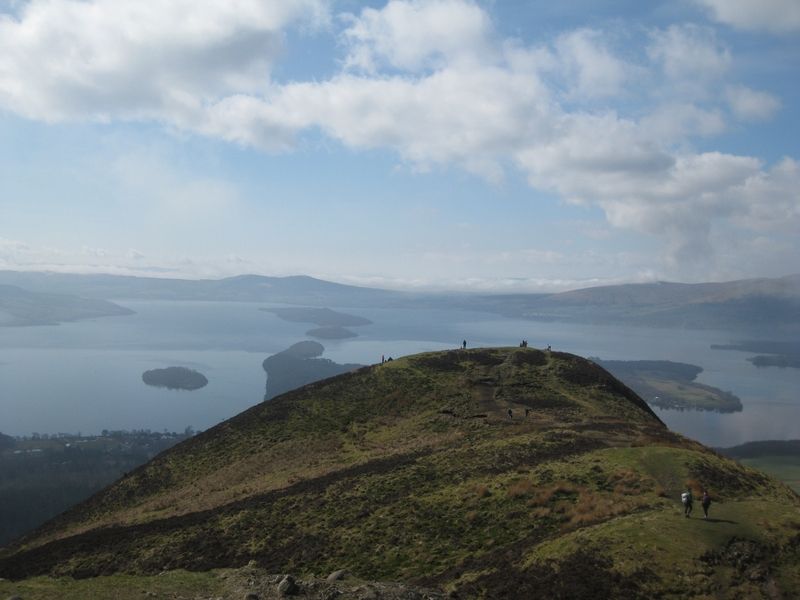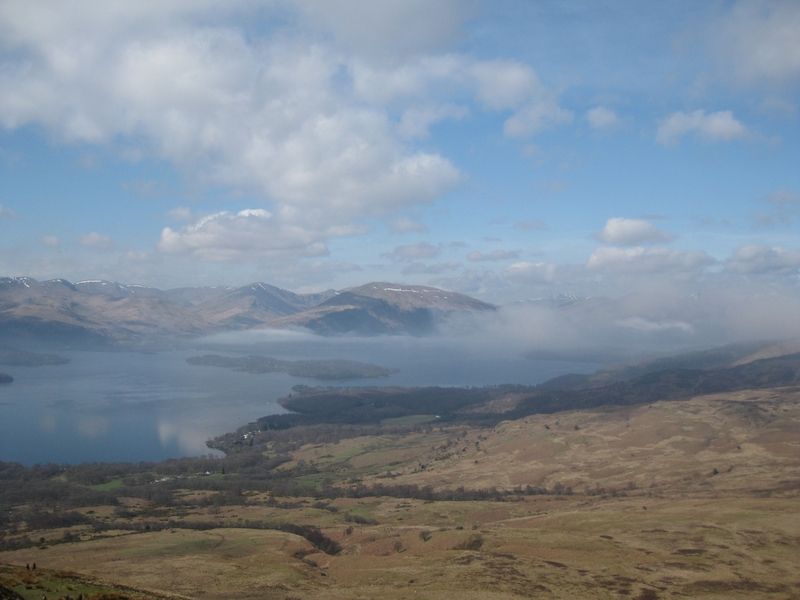 Naomi did not enjoy the descent of Conic Hill, too many people out on a surprisingly hot bank holiday Monday. We were, however, fortunate enough to get a table outside at the Oak Tree Inn for a pint and some chips& garlic bread. I was under the impression this place was a brewpub, but disappointingly there was no evidence of any of their own ales.
For the final section of the day to Sallochy I took on some extra weight, but the rest of the day was still a bit of a struggle. This was not helped by me marking the Sallochy forestry campsite in the wrong place on the map-it's not marked on the Harveys map and I now know is about 1.5km further north than the place 'Sallochy', where a car park is marked. We knew it was coming up though: as we passed Milarrochy a chap spoke at me at some length about the undulations of the path ahead, where we were going, etc etc, I thought I one point he would continue an explain to me how to walk!
Sallochy campsite itself was a decent enough place (£10 for the two of us). Basic, but nice quiet location and nice composting toilets. This pleased my inner hippie.
Good view from the tent:

Me and the tent: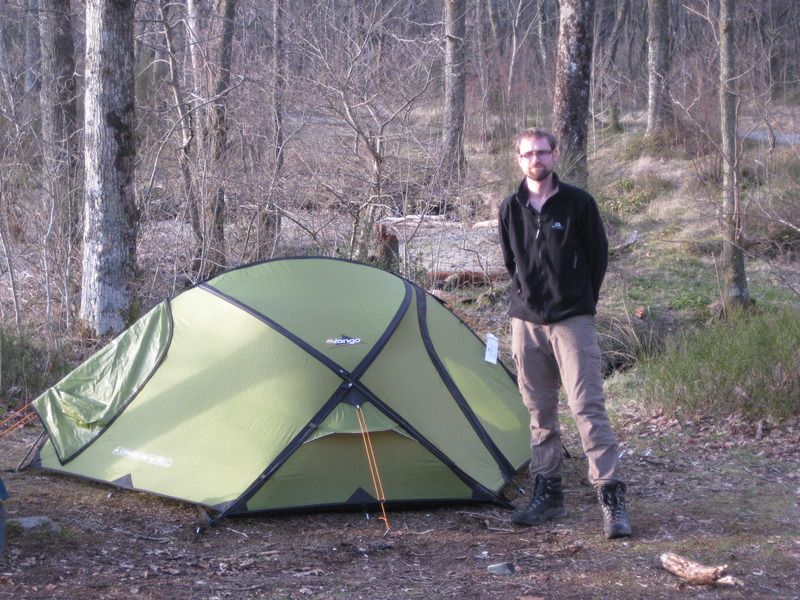 We went to bed with a different plan for tomorrow: we would get up earlier and split the long day ahead up into four roughly equal sections, I was worried we'd make it at the pace shown so far.
Day 3: Sallochy – Beinglas Farm camping 27km
I took some extra weight from Naomi from now on and it certainly made a difference: the 20km strop was partially pascified and we were able to keep a swifter pace.
We took great satisfaction from overtaking a huge group of people in purple sweatshirts as they stopped at the Rowardennen YH – after they started at the Hotel. We then stopped for our first break (ahead of schedule time-wise) and were overtaken by the trio spoken to the previous day!
The lower branch of the path between Rowardennen and Rowchoish was closed for path upgrades which were not signed until after we dropped down to the lochside. It seemed a shame to leave the narrow, twisty lower path and climb back up to the wide track but we had our fair share of interesting paths to come!
Small boulder: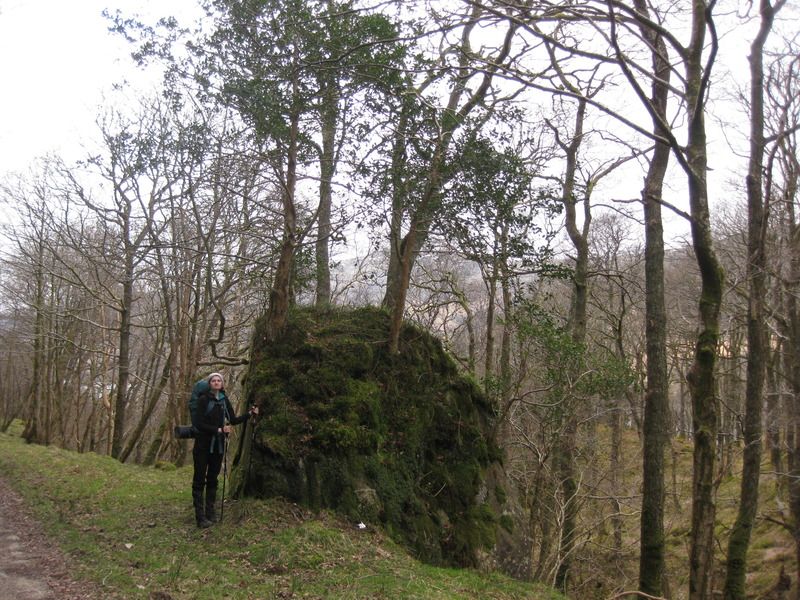 The route from Inversnaid to the top of the Loch is often mentioned as the most taxing of the trip and I'd certainly say it was-particularly with the big packs. It was fun all the same though! The heat meant water supplies ran very low, but given the number of dead goats we saw I was not too inclined to re-fill, didn't see any live ones either!
Naomi definitely not falling over here: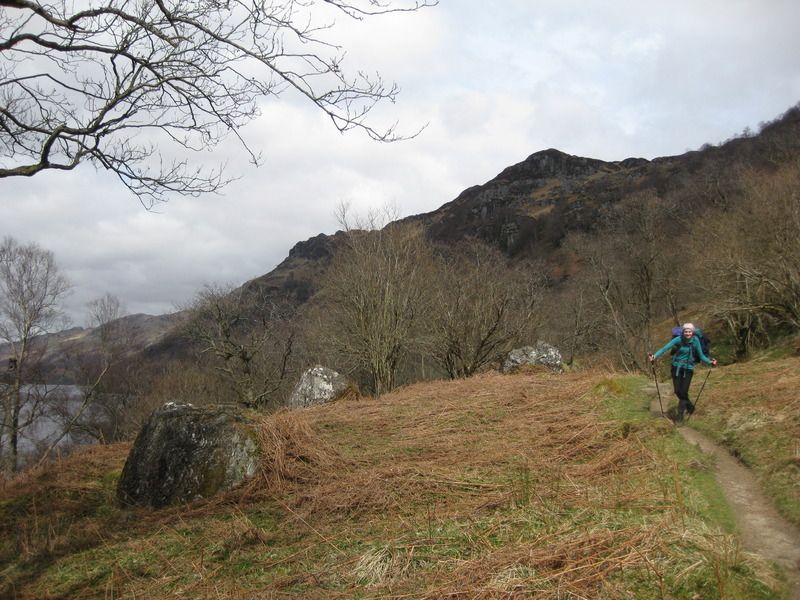 John not falling over either, despite bag:
The end of the Loch: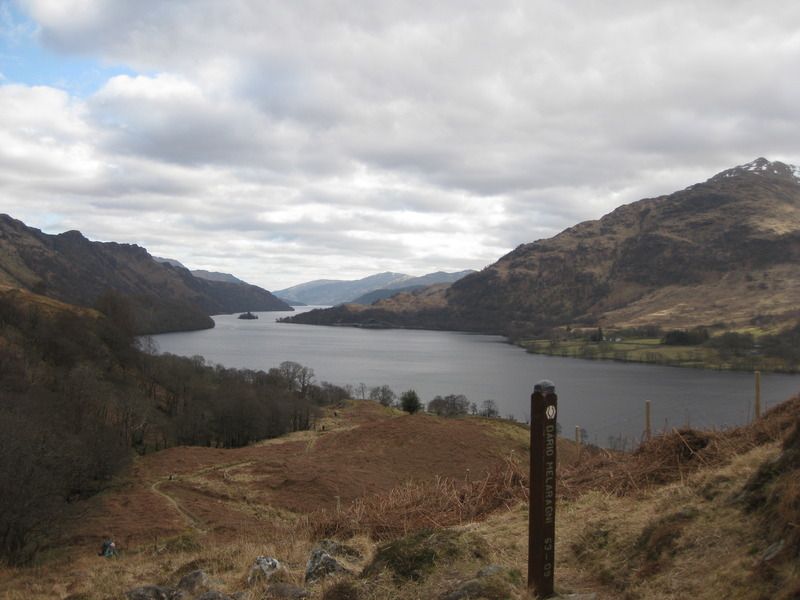 Beinglas was reached, tent up (atop loads of sheep excrement), showers had and we had a rather disappointing (and uncomfortable) meal at the campsite restaurant. Heard from our friendly trio that the drovers gave them good food so we should have gone there!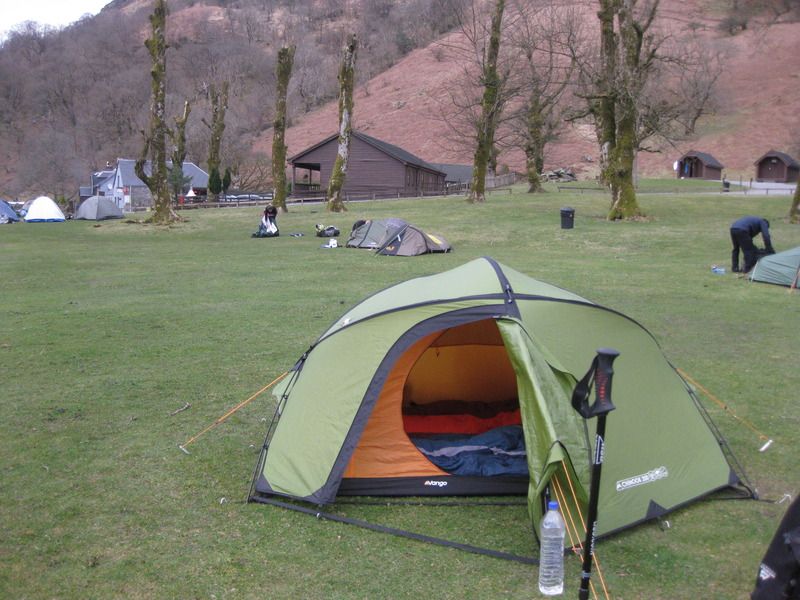 Cold, clear night: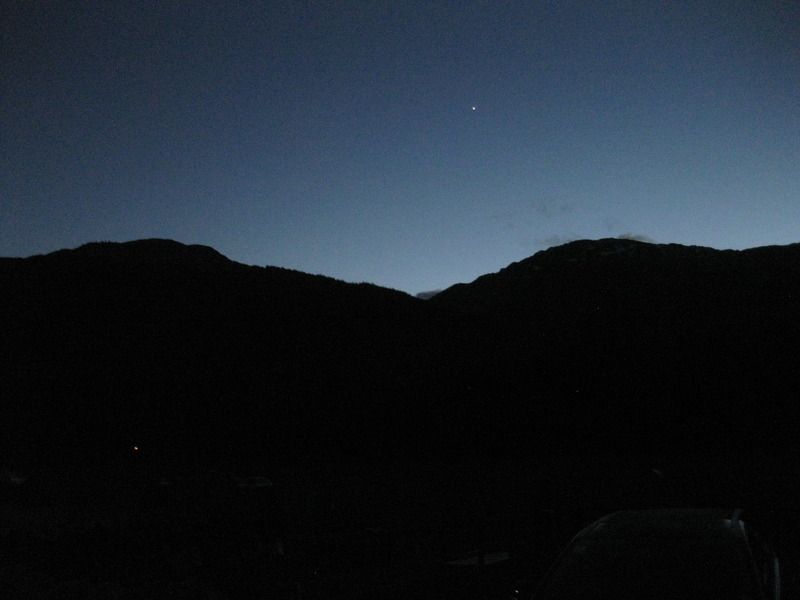 Day 4 Beinglas – Tyndrum 'By the Way' 20km
The morning dawned cold, the coldest we had I think with condensation frozen onto the tent, soon warmed up once walking for an easy day to Tyndrum. Arrived at the 'By the way' campsite with little incident. (edit: I broke my belt bending over to get through the cattle creep under the railway ~7km in!)
Frosty morning:
Falls of Falloch: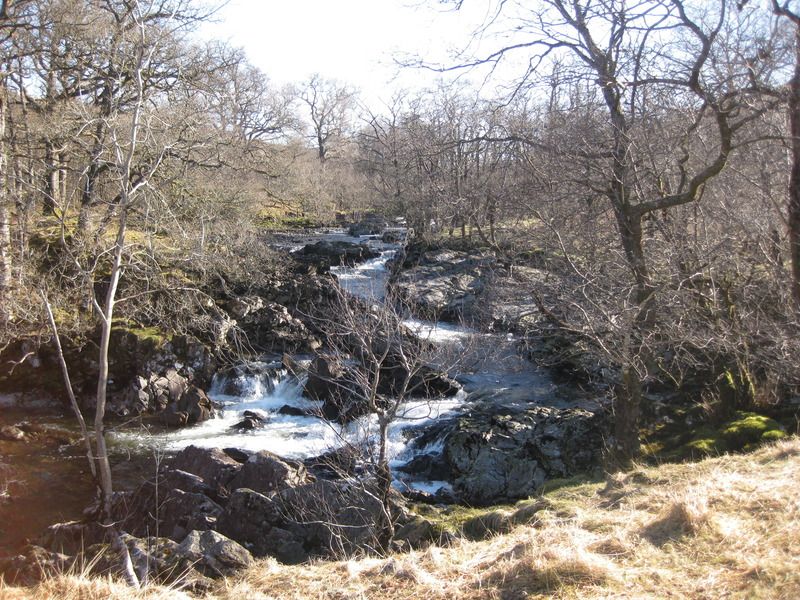 Another day of great weather: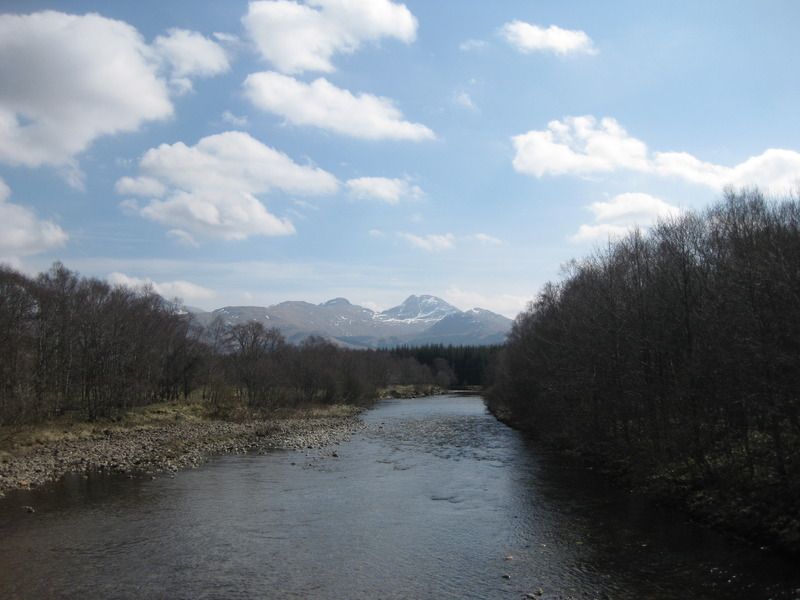 Guinea pig at Auchtertyre where we stopped for an iced cream: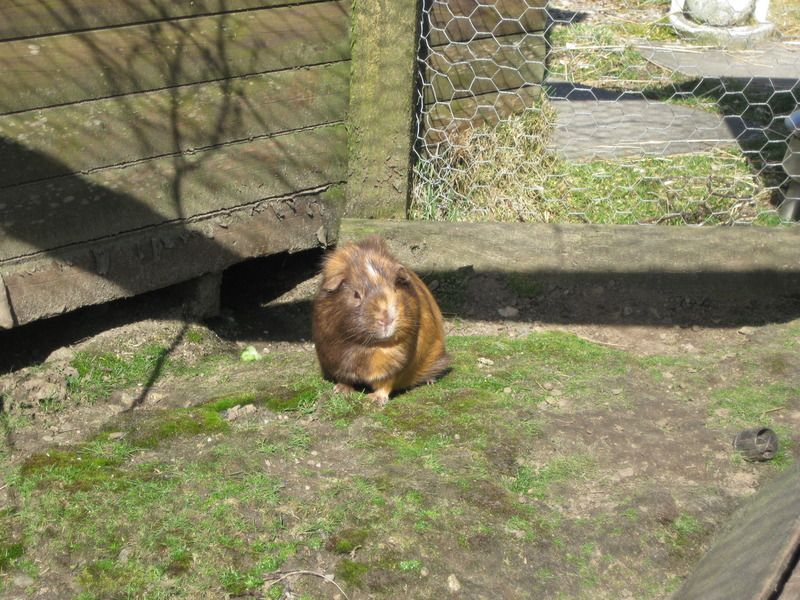 We were thinking of dropping down to Crairnlarich for some re-stocking but a chat with a DofE assessor convinced us that Tyndrum would be fine for a re-stock. Had a humongous meal with pasta, cake, yoghurt, orange juice, bananas, pasties, which was exactly what the doctor ordered: got cake and orange juice for breakfast too!
By the Way campsite:
Now past the half-way mark and confident we'd make it all the way. A rare glance at the weather forecast at the campsite foretold rain/snow coming for day 7 so it was decided to make sure we got over Devils Staircase before that arrived.
Day 5: Tyndrum – Glencoe Ski Centre 29km
Up early for a relatively long day. We romped along the first 10km to the Bridge of Orchy in under 2 hours-amazing going! Slowed a little over Mam Carraigh in the heat but we were at Inveroran by 12 so stopped for lemonade and toasties-a great idea from Naomi!
Tyndrum woodwork: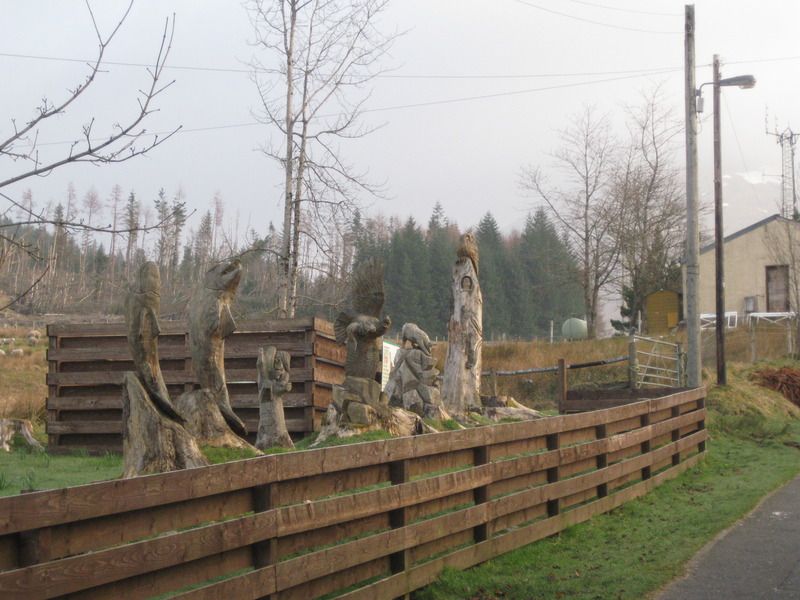 Classic posses with Ben Dorain: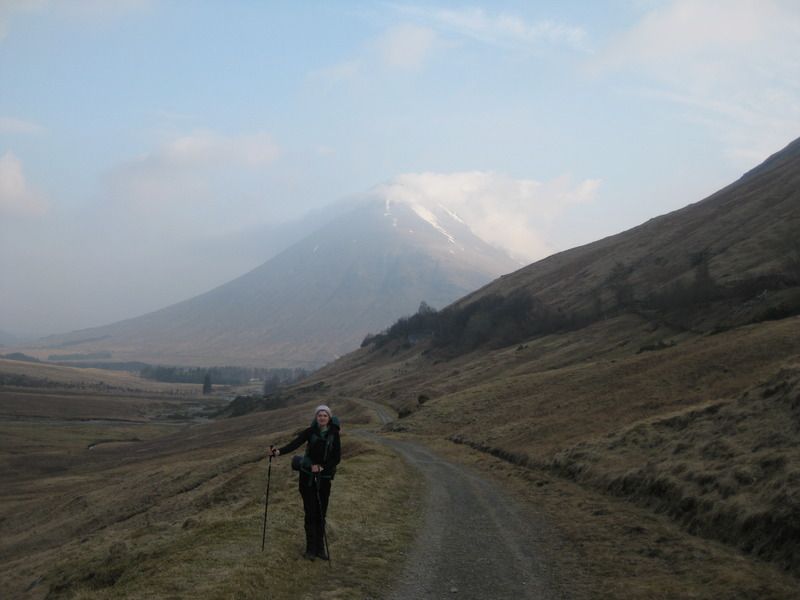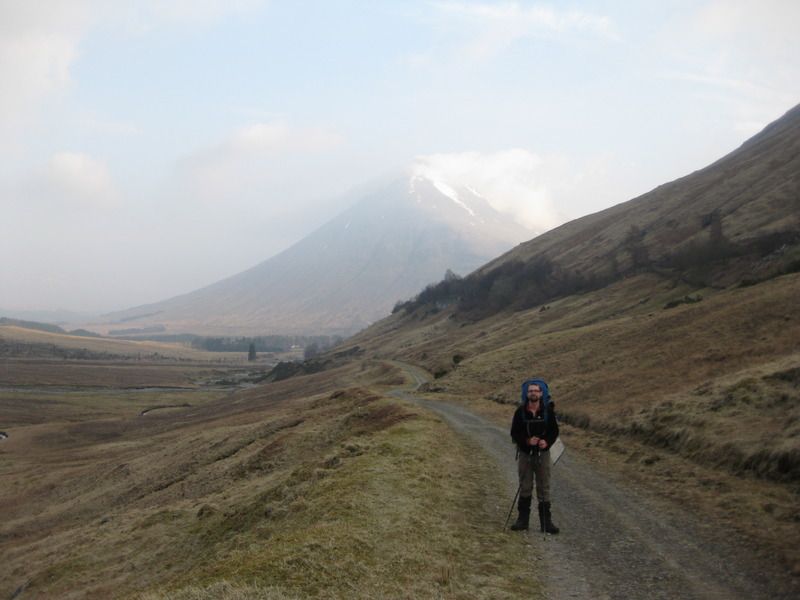 The longest road: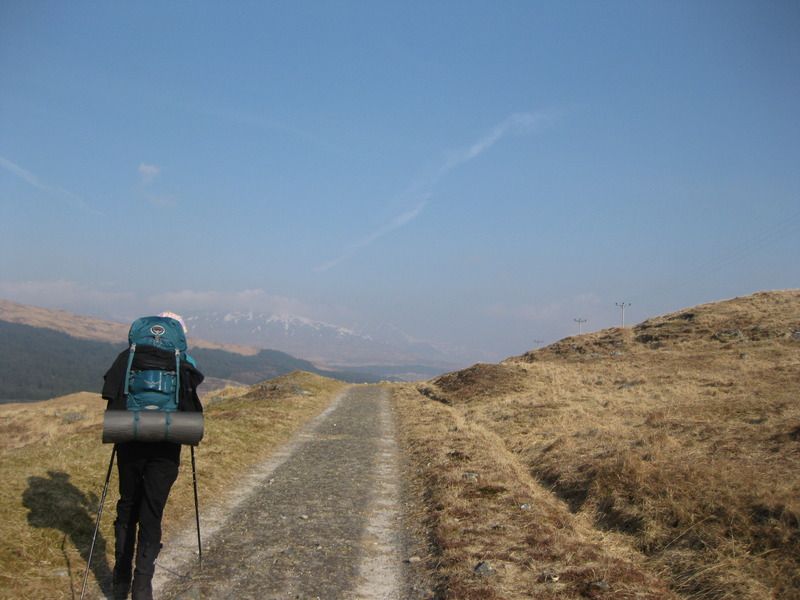 From the Bridge of Orchy:
Inveroran deer: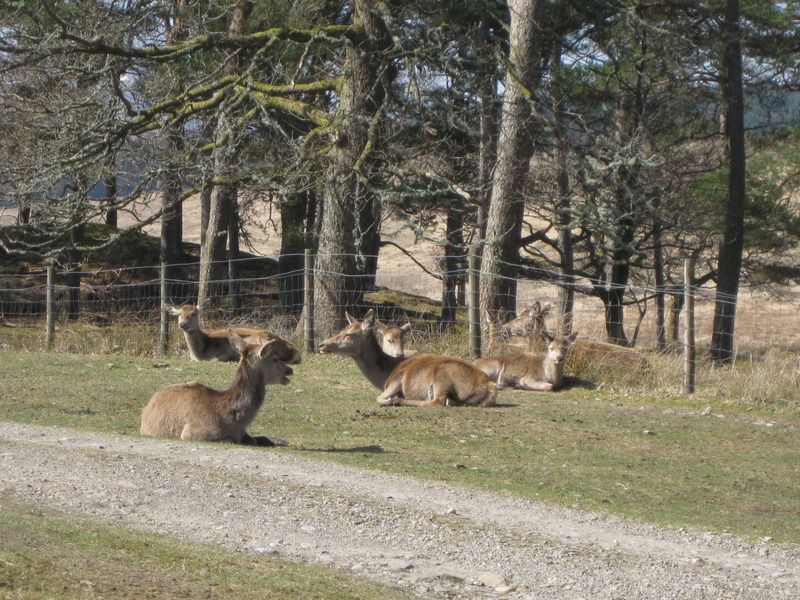 Views over Loch Tulla were the favourite of the trip for Naomi.
Rannoch Moor was traversed, nice views but not as wet as I'd imagined it, I think it looked more spectacular from the train on the way home.
Rannoch Moor:

From Ba Bridge, a nice spot for contemplation for the weary walker: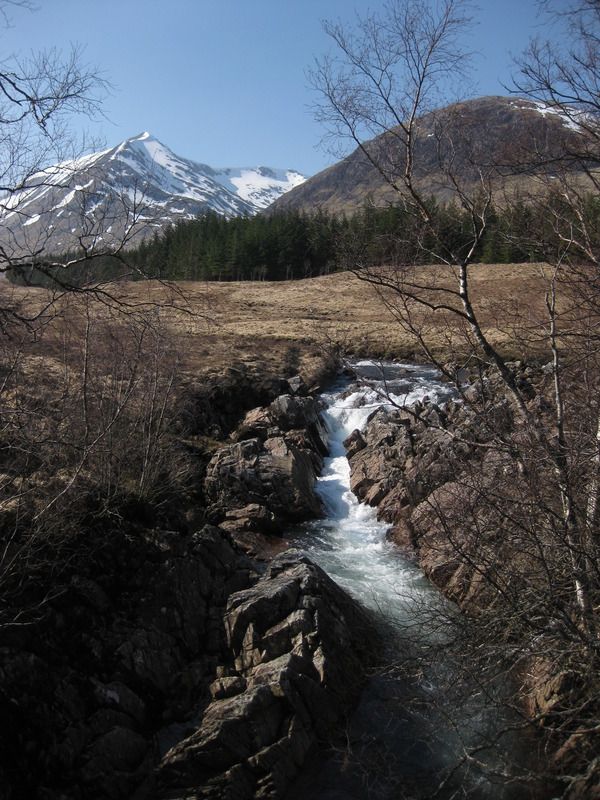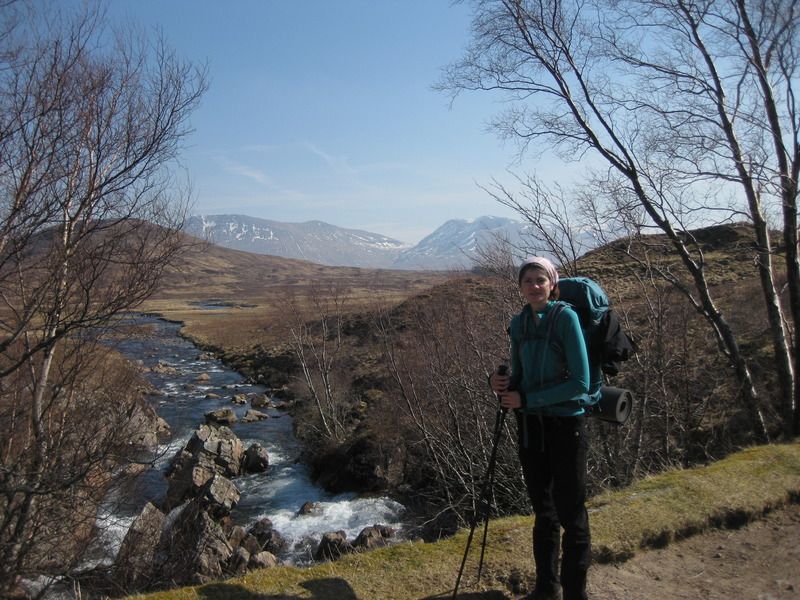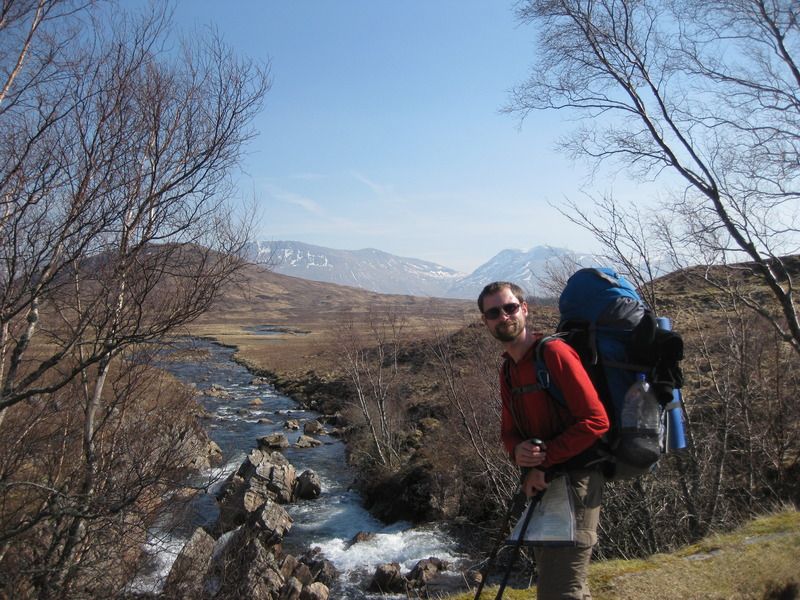 Buchaillie sighted: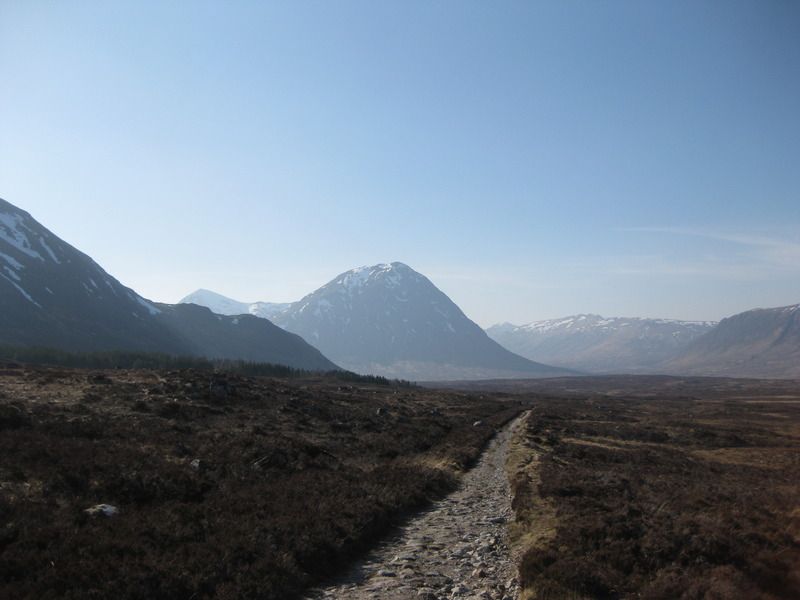 It was with some relief that the Ski Centre was reached, walked all the way up to the kiosk to be told to just find anywhere you can to pitch the tent. Hrmm, they at least didn't charge any of the tent-ers but it looks like they've sacrificed their decent tent pitches for detested hobbit houses (a common theme on this trip), we did find a perch, vaguely flat but more dirt/gravel than grass. The father and son in the adjacent tent were not overly impressed either.
Views to the Bucaillie were good though:

Day 6: Glencoe – Kinlochleven Blackwater campsite 16km
I think this was my favourite day of the trip for the views, so apologies for mega numbers of pictures!
Buchallie again: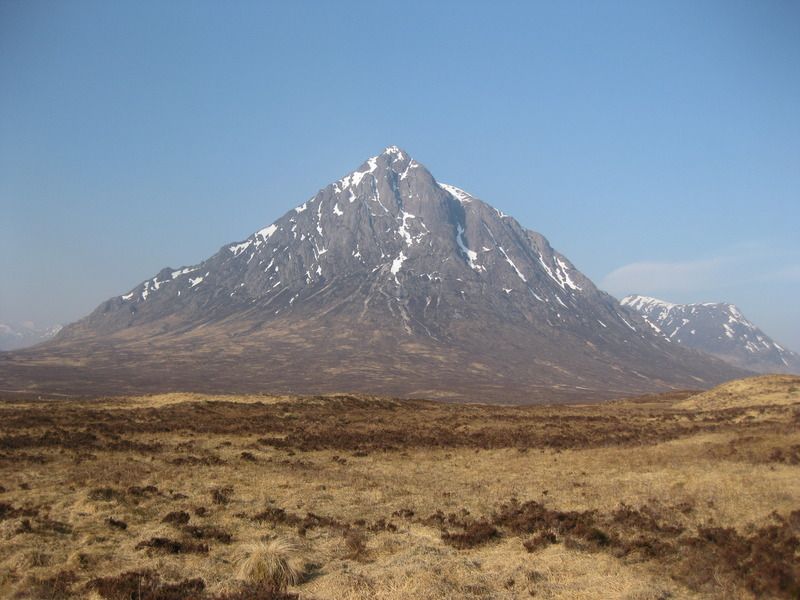 It was decided that the Devils Staircase was not worthy of its name, it is now known as Tinkerbells Staircase :p
Tinkerbells Staircase: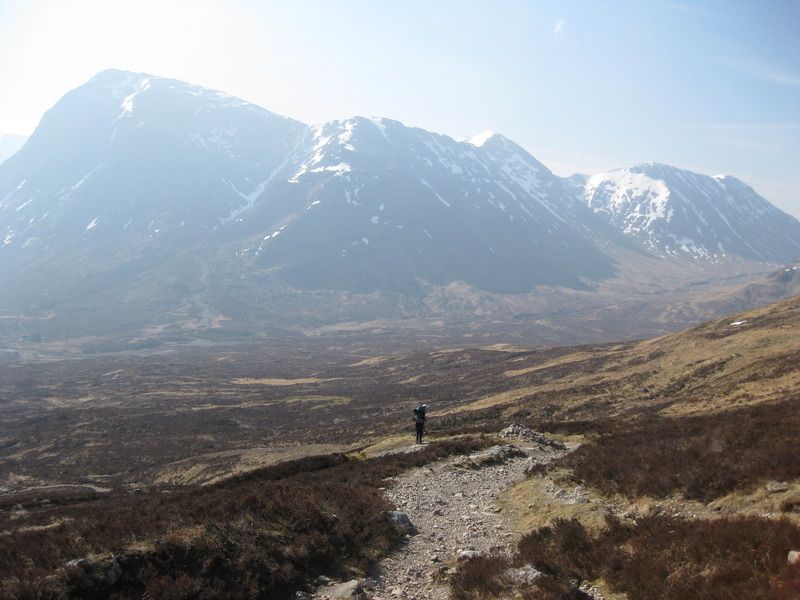 A few of the amazing photos:




From the top, Ben Nevis: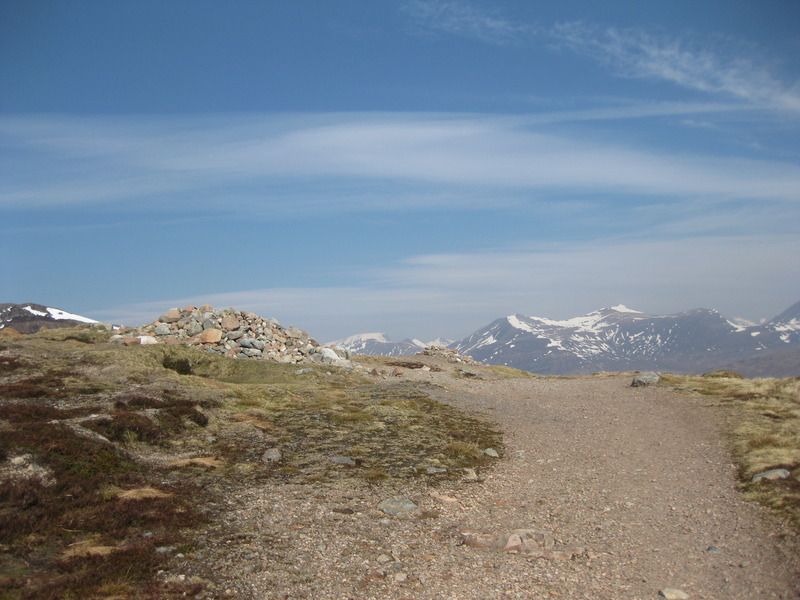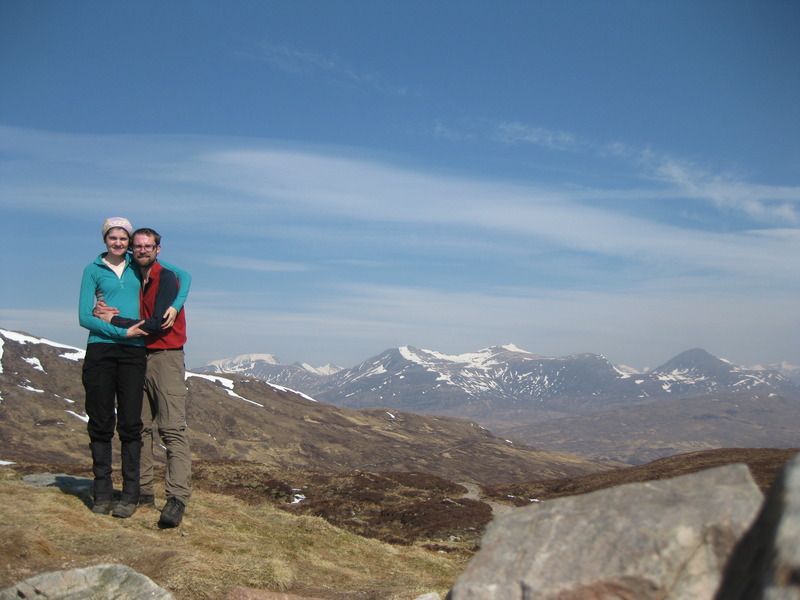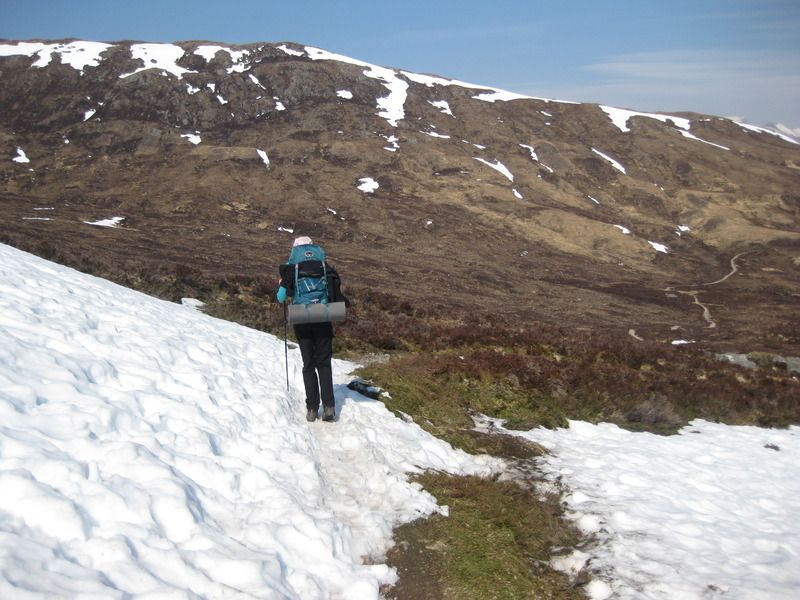 The views were great though, with our first sighting of Ben Nevis and there was even the odd snow patch to explore.
As mentioned by other reports, the descent to Kinlochleven does go on for a while, its OK while you have a view but once in the trees can be a bit dull. On the other hand, once you reach the pipes you're nearly there. It was another hot day and we walked past the Blackwater campsite to the town centre. I was fancying the other campsite but, really, the Blackwwater one looked fine and we went back. Before that, though, we demolished a multipack (2 each) of Magnum ice creams from the co-op.
Campsite: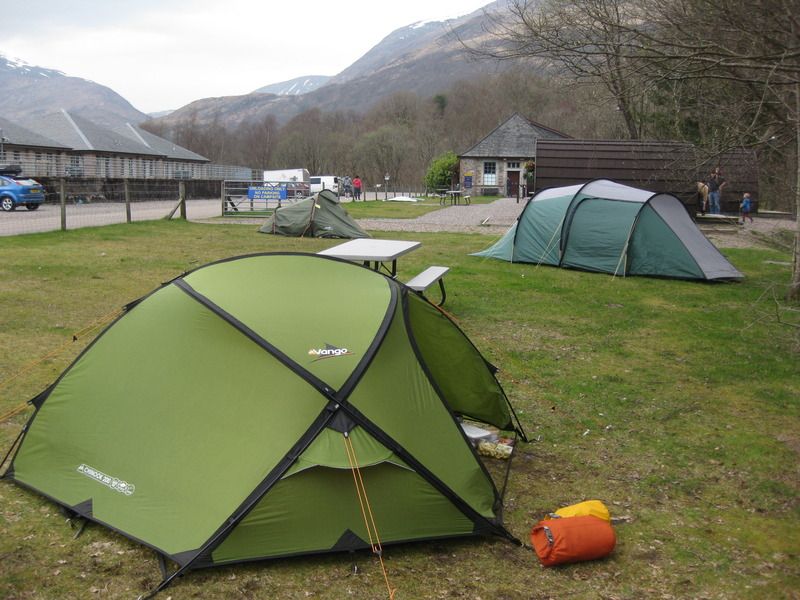 Re-stocking of supplies was later made (it's the biggest shop on the trip) and another luxurious tea was had while watching a treecreaper make its nest in the crack of a tree from the semi-covered cooking area.
Day 7: Kinlochleven – Glen Nevis Campsite 21km
Didn't really want to get up, the end was in sight but we were rather enjoying the simple routine of wake up, eat, deconstruct tent, walk, eat, walk, eat….you get the picture. Most relaxing.
Anyway, we got more interest from the weather today; it had snowed overnight and clouds/showers were still around. The walk through the Larigmor was a cold one with a strong wind coming down the pass trying to blow us back to Kinlochleven. Seemed like there were a lot of fellow walkers around in the pass, and for the rest of the day, the finish line must have been busy that day! After getting through the Larigmor we had a cloudy view of the Ben, the grand views and sunshine being over. We split off to take a spot in the Glen Nevis campsite for the night and instead of finishing our food had a trip to the Glen Nevis Inn – an unassuming building but certainly some of the best (and definitely best valued) food of the trip.
Snowline had lowered down Beinn na Callich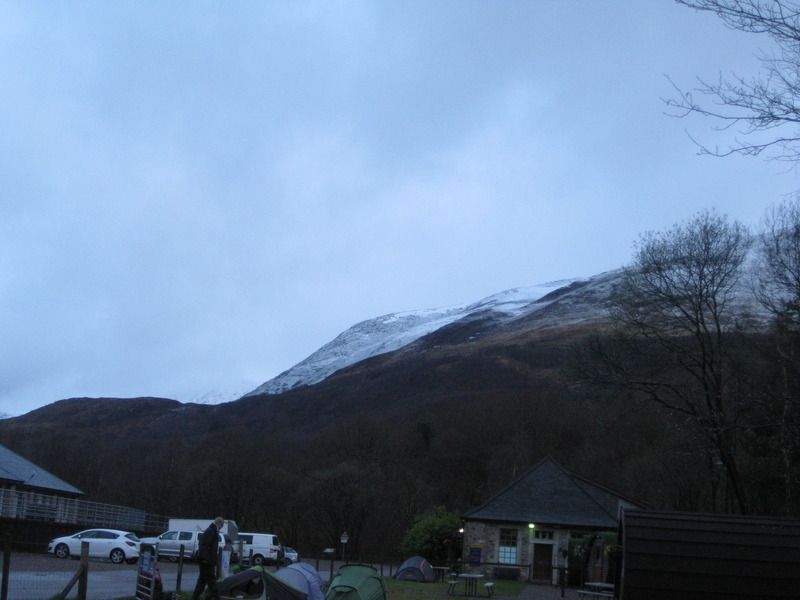 Raincoats out after 6 days of sunshine!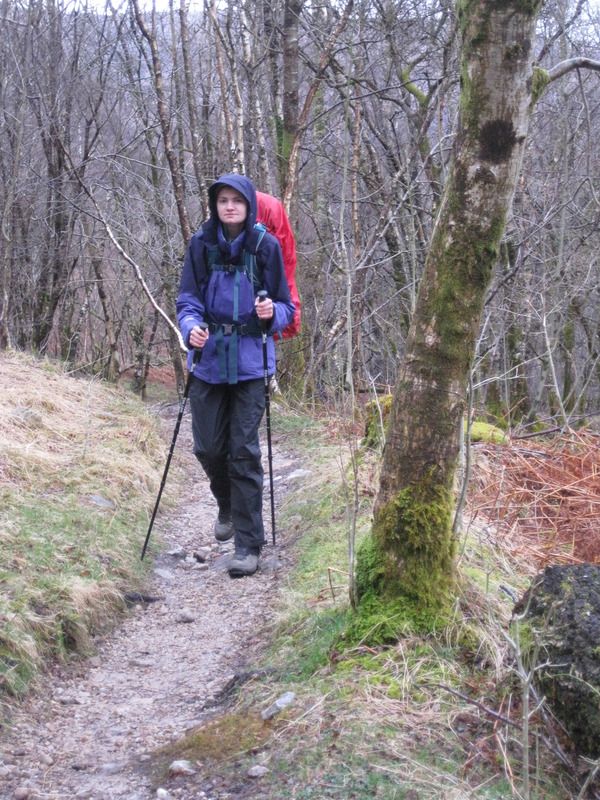 The Pap of Glencoe: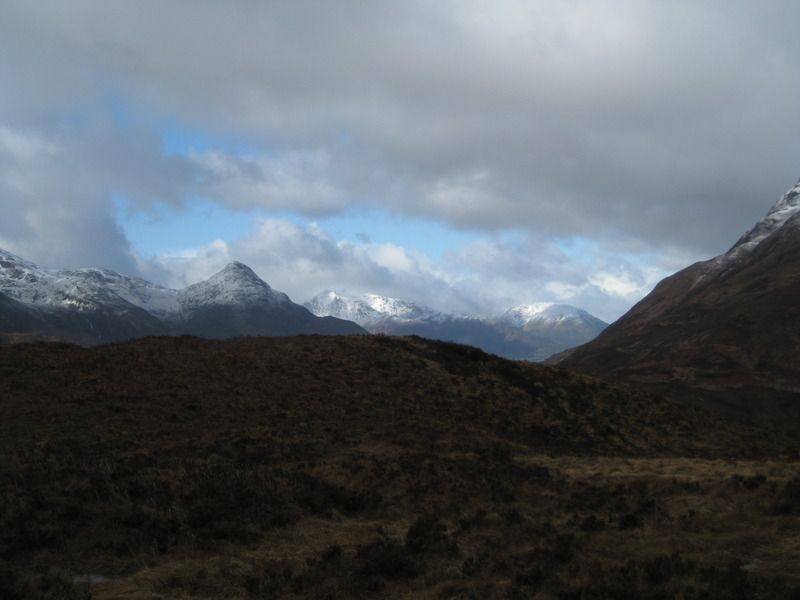 Larigmor: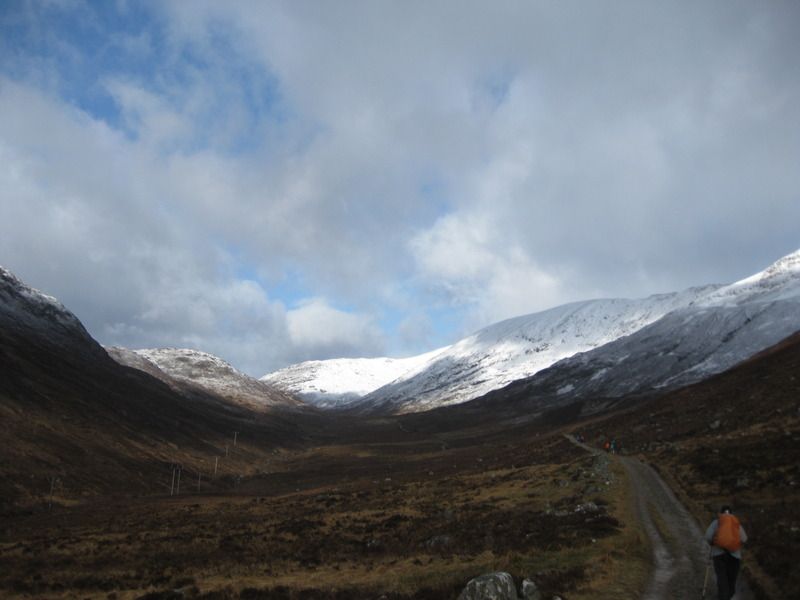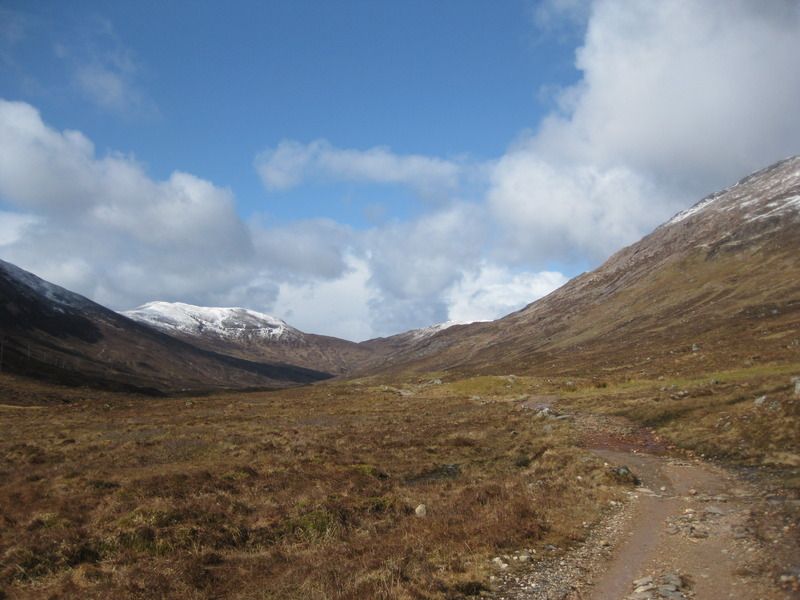 Frequent brief snow/hailstorms: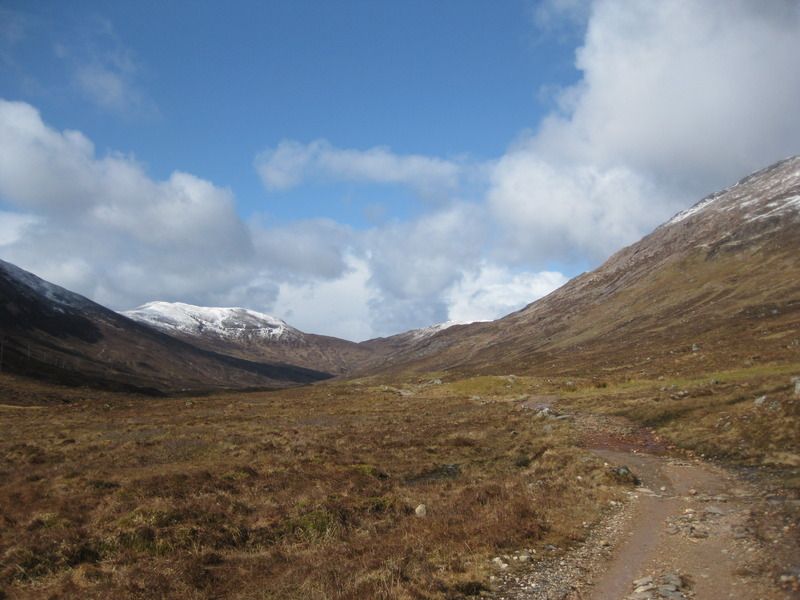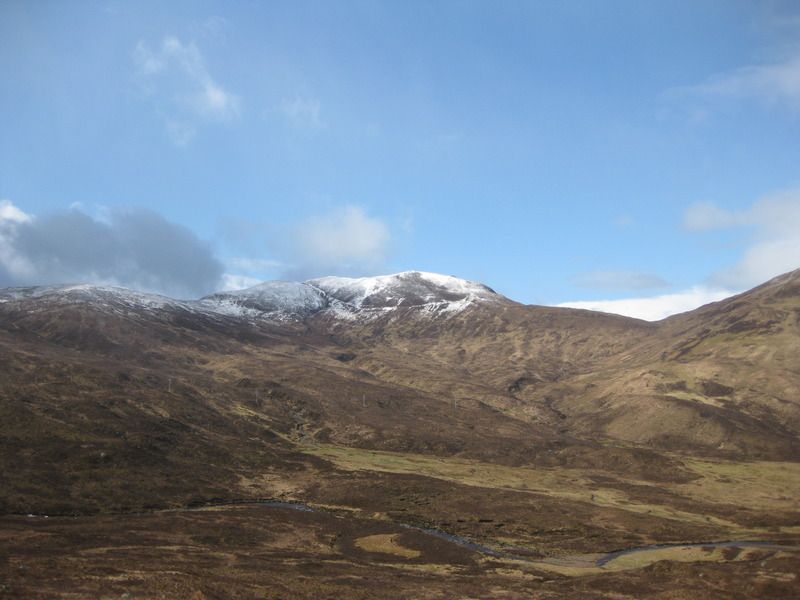 Half of ben Nevis visible: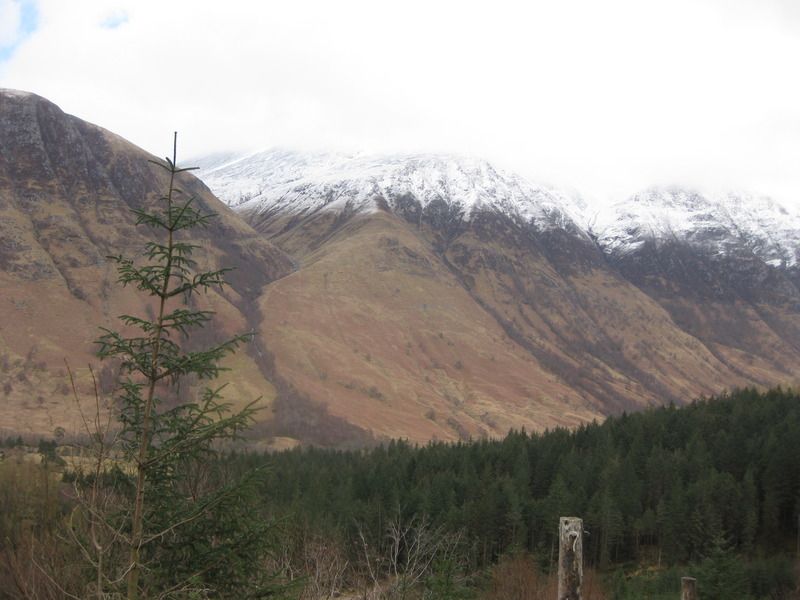 Tent erected for the final time 
Day 8: Glen Nevis – the end 5km
It rained/hailed/snowed all night, but that didn't matter as all that was left was a short romp into Fort William for the end of the Way. I'd booked a B&B in FW for our final night so there was no rush-we laid in bed reading well into the morning. The final kilometres were over in less than an hour, not much to see really, just the pleasing experience of having been walking since Glasgow. Formalities of pictures being over we found a café for a snack lunch before we could get into our B&B, and what a nice one it was, great view, but then it was called Lochview House!
Morning hail collected on the tent: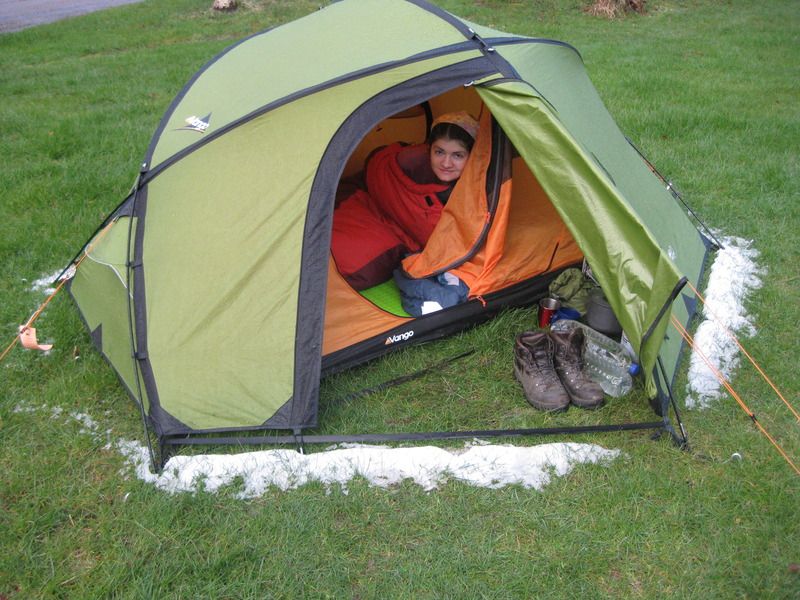 No caption needed: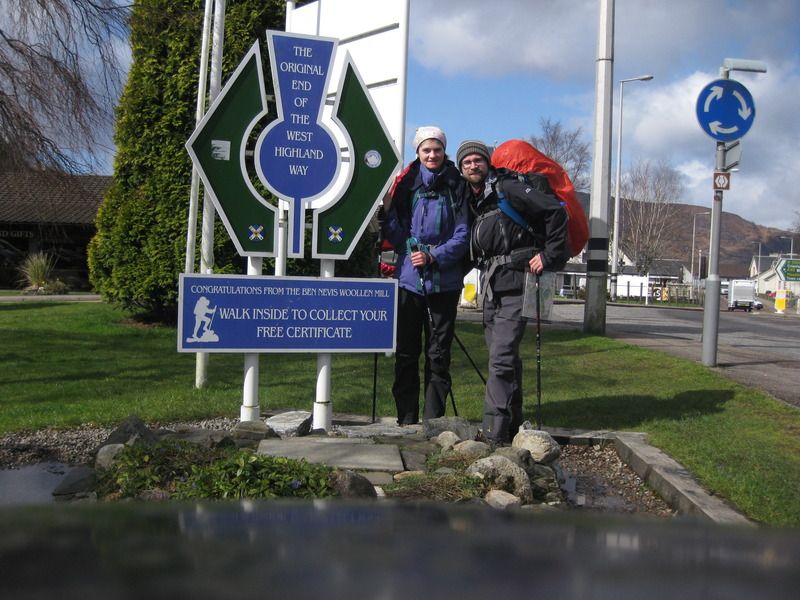 Weary man, and us: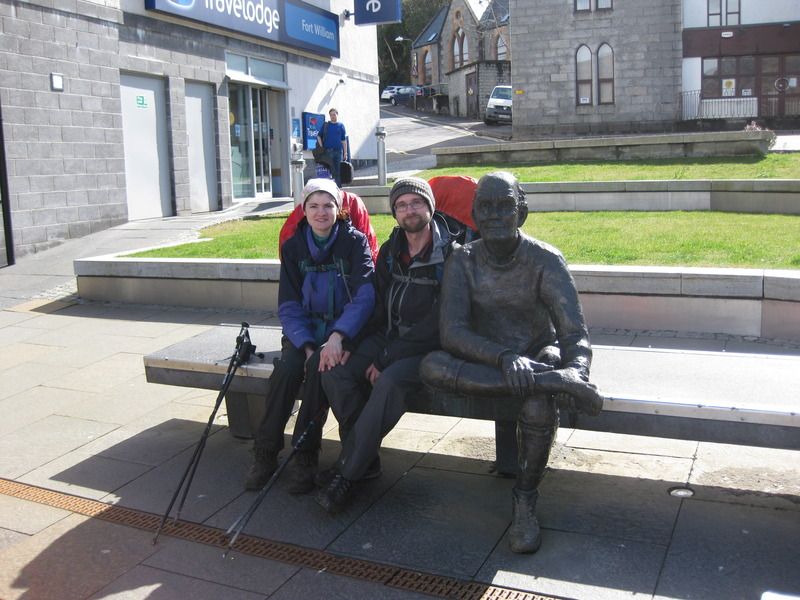 Post-script:
No blisters were made on our feet, I got a little one on my right hand from my pole strap. I thought I might, they're cheap and ever more battered ones from Tiso, seems like I should finally think about replacing them with some with nicer straps. I sustained a heel injury – felt like the back of the heal was bruised – sometime along the end of Loch Lomond which was stiff of a morning but had disappeared by the end of the trip.
As someone who usually goes up mountains when walking, I expected this trip to be easier than it was and maybe a little dull. I guess the weight made it harder, the weather made it amazing, and the distance satisfying. I can well see why tourists coming for the first time fall in love with the West Highland Way/Scotland.
We didn't want it to end, joked that we should just continue to Cape Wrath and see if anyone notices!
By the way, I entitled the report the Walk of the Wagtails because we saw so many, seems I didn't get a picture of one!