Lovely is it not – the broom,or the gorse – one of the best sights of spring and early summer
But of course – it's not about that
I'm talking about Loch Broom,Inverbroom Estate and more accurately Loch a'Bhraoin
Booked room at Aultguish Inn on the Friday morning for Friday and Saturday nights.
Had enough of roughing it in the car recently.
My boss was good enough to let me away at 3.30
to get home to get my gear and then up the A82
Usual frustrations getting to and past Fort William,busy of course for the Mountain Bike Championship weekend
Anyway still got to Aultguish for 9 o'clock and time for a couple of beers (Northern Light) before bed
Wanted to make a reasonably early start so skipped breakfast,not a great one anyway for too much to eat before walking.
A buzzard swept across the road in front of me as I drove along to Braemore Junction
I was parked at the layby,packed and booted and away just after 7.30
I was heading along the north side of the loch to make inroads into the Fisherfield hills.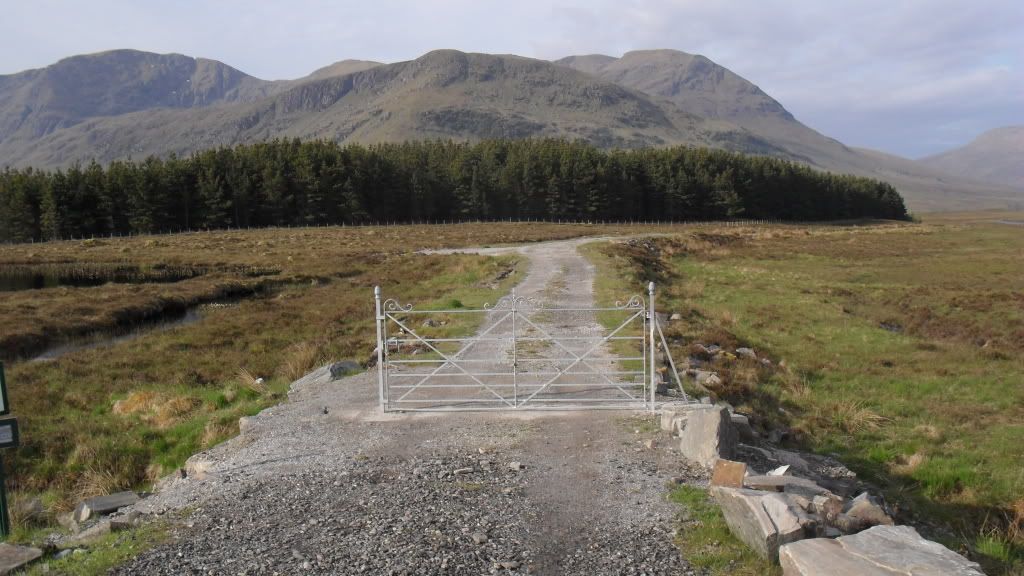 The gate at the start of the walk with western Fannaichs behind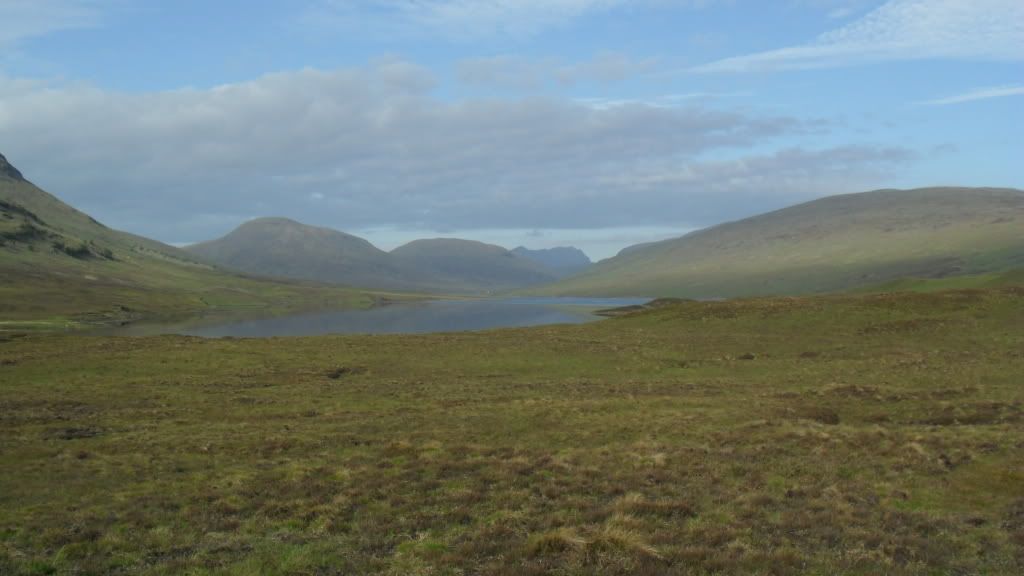 Loch a'Bhraoin with Slioch in the distance
A really pleasant morning, warm but with a slight breeze.
The new track took me along quickly enough to the cottage at Lochivraon which is being upgraded to be a holiday home.
The bothy at the rear is also being renovated. Wonder how people who rent out the cottage will like a bothy so close ?
Lochivraon Cottage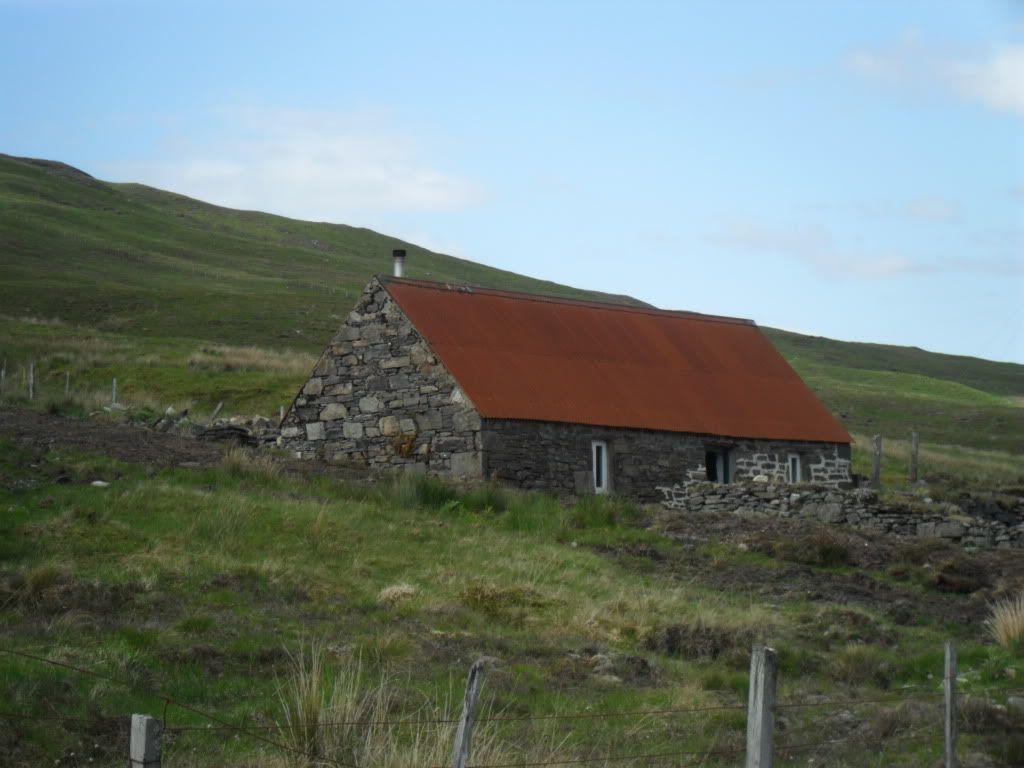 The Bothy
Had considered taking the bike for this stretch but was put off by some reports.
But now having walked it I think a bike would certainly be useful as far as the cottage.
Once past the cottage the track becomes a bit rougher and stops about a kilometre further on where I passed two padlocked bikes.
A wee grassy stretch past some peaty ground (where a green tent was pitched across the burn) brings you back to a good footpath at NH101728
This good path continues past an old ruin to the corner below Creag Ruigh a'Bhraghad, where I was a bit surprised to hear a cuckoo.
Not many trees around here, but looking up I could see a number of birches high in the gully above.
I dropped down to the burn to have a break before the steep climb ahead.
Sitting there and looking up to Mullach Coire Mhic Fhearchair,Sgurr Ban just above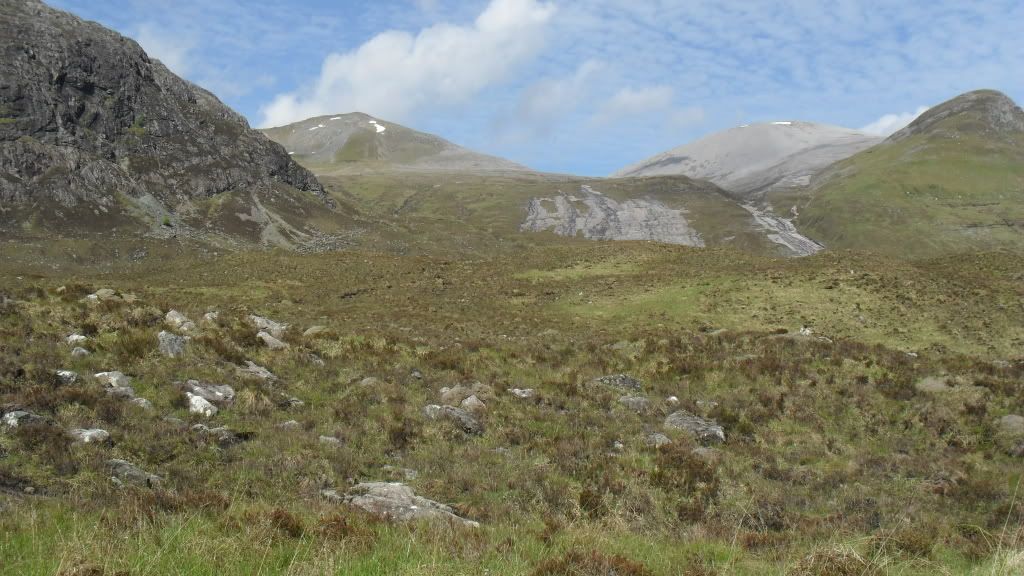 but looking a bit far away to me Beinn a'Chlaidheimh on the left,An Teallach in distance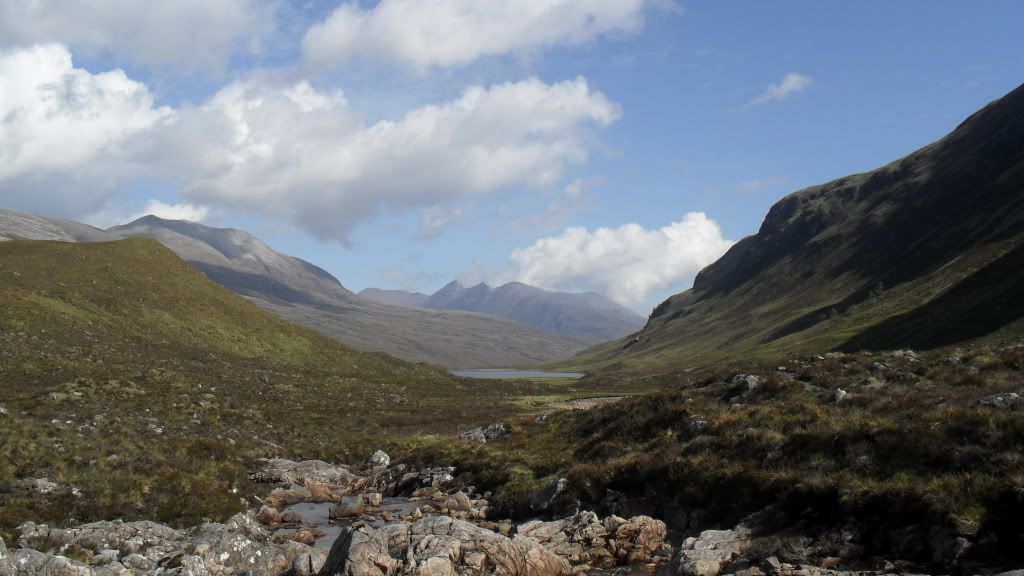 Just after 9.30 I settled for a good break and decided I would set off again at ten.
First part of the climb was over rough broken ground which didnae help the mood I found myself in.
Anyway plodded on up towards the large area of quartzite slabs which I stepped onto to walk up for a bit.
Man,it was affy warm now,this is a bit steep, I had lost the cooling breeze , and I was'nt going too well.
We probably all have these mornings when you suddenly think – "Just why the **** am I doing this"
It was getting on for eleven and I had a sudden vision of a grassy,flat,square of green some 200 miles south.
Aye the lads would be just arriving at the bowling club for the days competition.
Out on the green for an hour of contest,a bit of banter,and a good laugh.
Have a break for 15 minutes, sit under the shade of an umbrella,ice cold beer in hand, repeat process throughout day – Ahhhhhhhh !
Ach b****r it, I'm no there,I'm here,just get on with it – you know the drill Davy – one foot in front of the other – slow and steady.
I was heading for the east top of MCMF – 981 metres – but I wisnae getting there quickly.
Decided to stop for another drink and consider my options.
I did my usual mental arithmetic on distances,heights, times – did'nt want to be chasing the clock all day.
Decided on not going on to Beinn a'Chlaidheimh, I would climb that from Shenaval side some other time.
As soon as I made that conscious decision my whole mood brightened.
I knew I would get back out early evening, back to the Inn , a shower, changed, beers, food, chill out.
Suddenly things seemed a lot better, the top isna that far away, ah there's the breeze again, get to MCMF and have a long sit doon.
Reached the cairn just after noon, sat and relaxed and took in the wonderful views.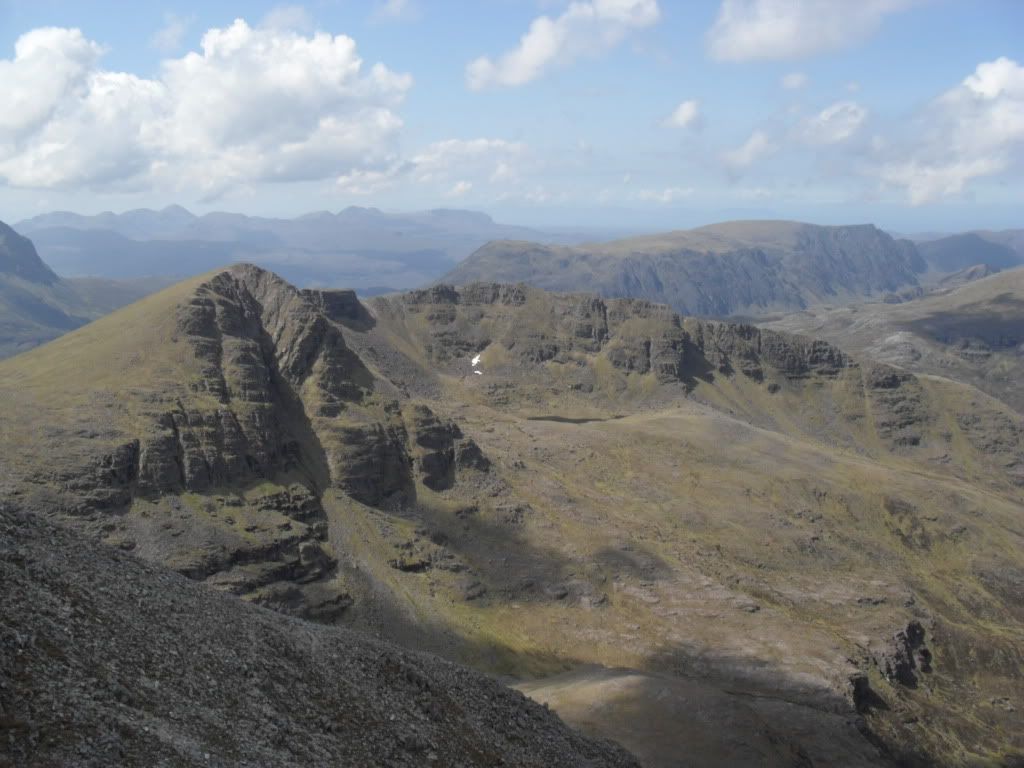 Beinn Tarsuinn
A'Mhaighdean and Ruadh Stac Mor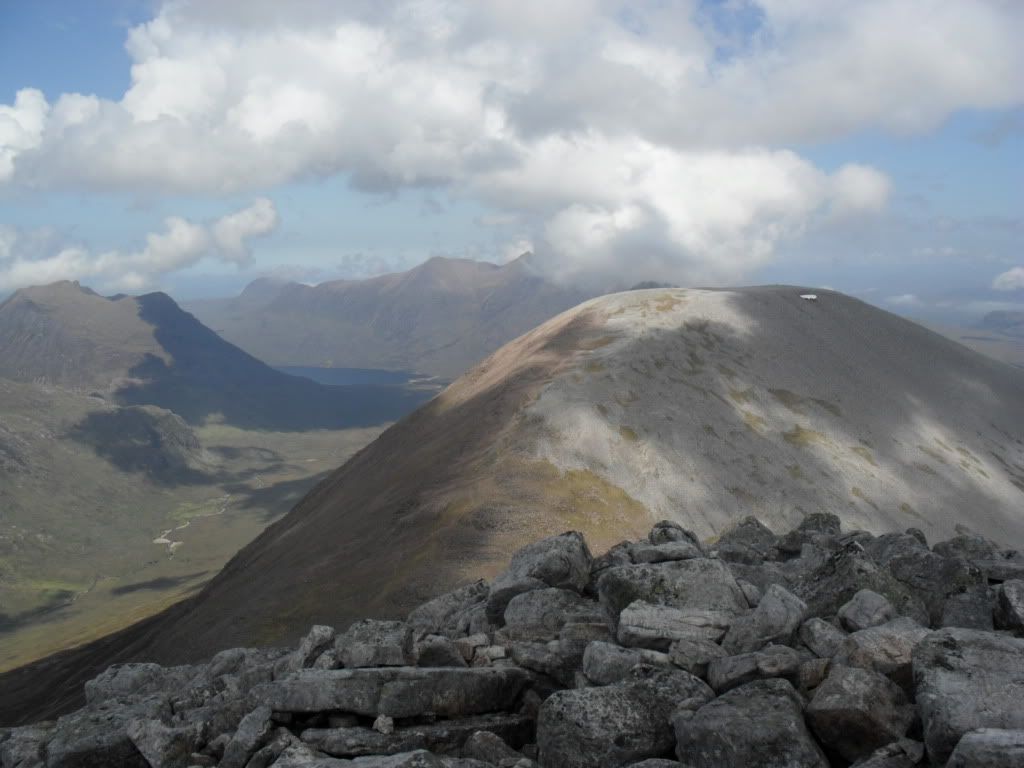 Sgurr Ban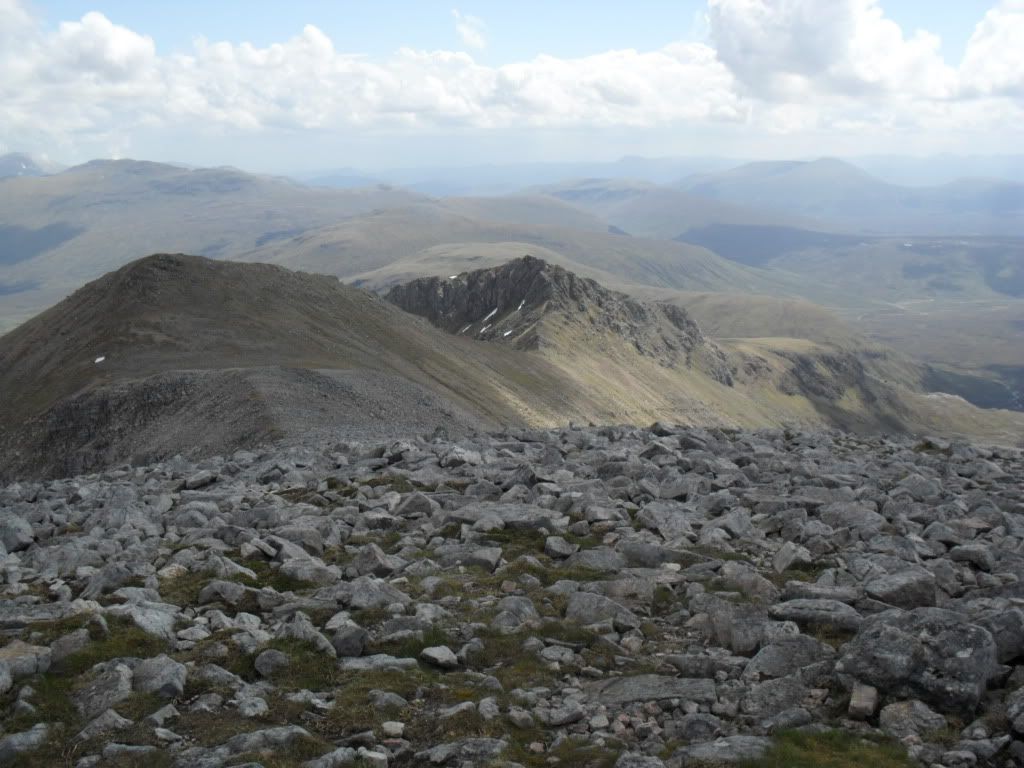 Looking back to the east top and Sgurr Dubh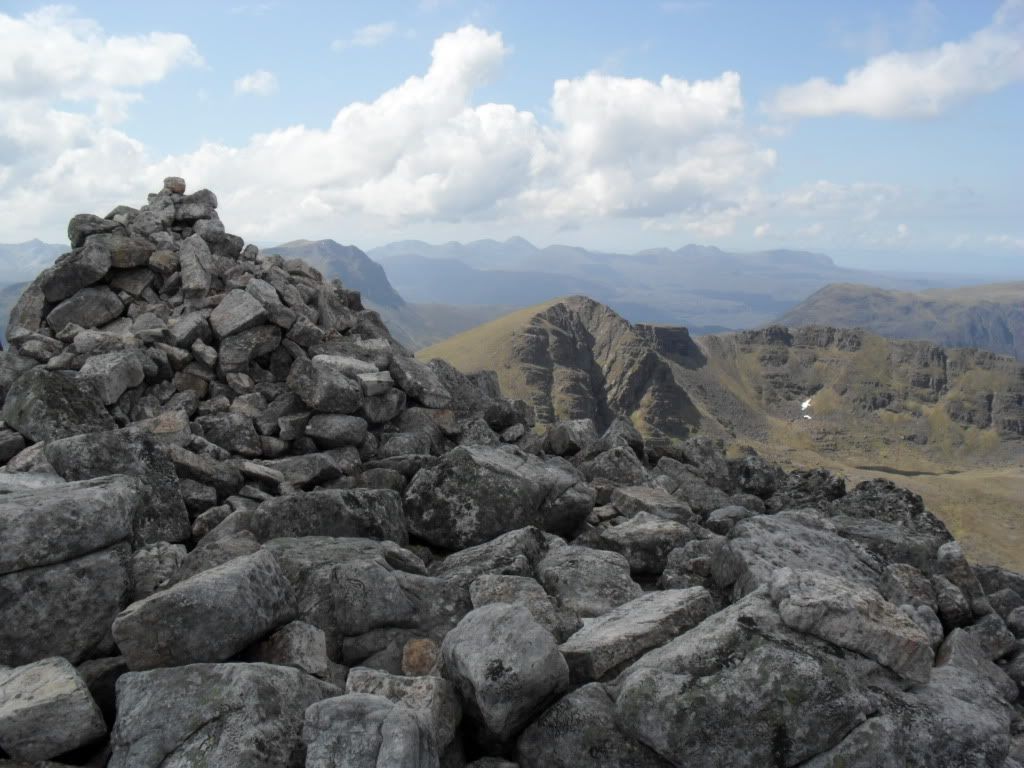 MCMF cairn
After 45 minutes I set off for Sgurr Ban and was pleased to reach there in another 40 minutes.
Another long break sitting in the warm sunshine, terrific scenery
Mullach Coire Mhic Fhearchair and Beinn Tarsuinn
MCMF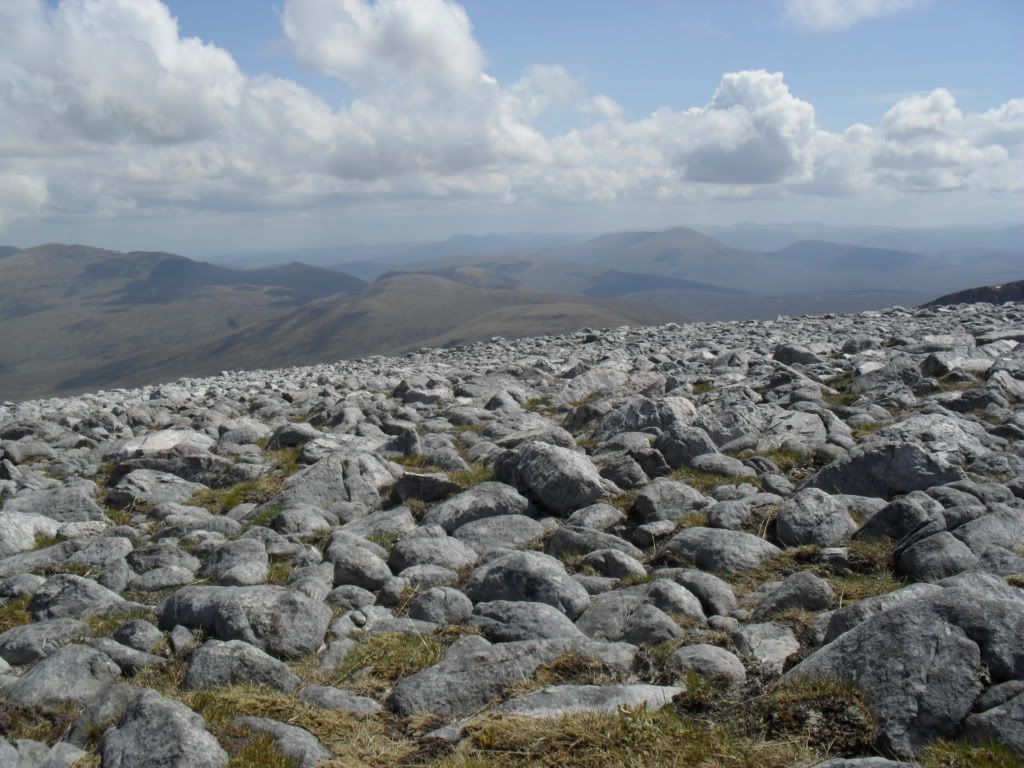 quartzite plateau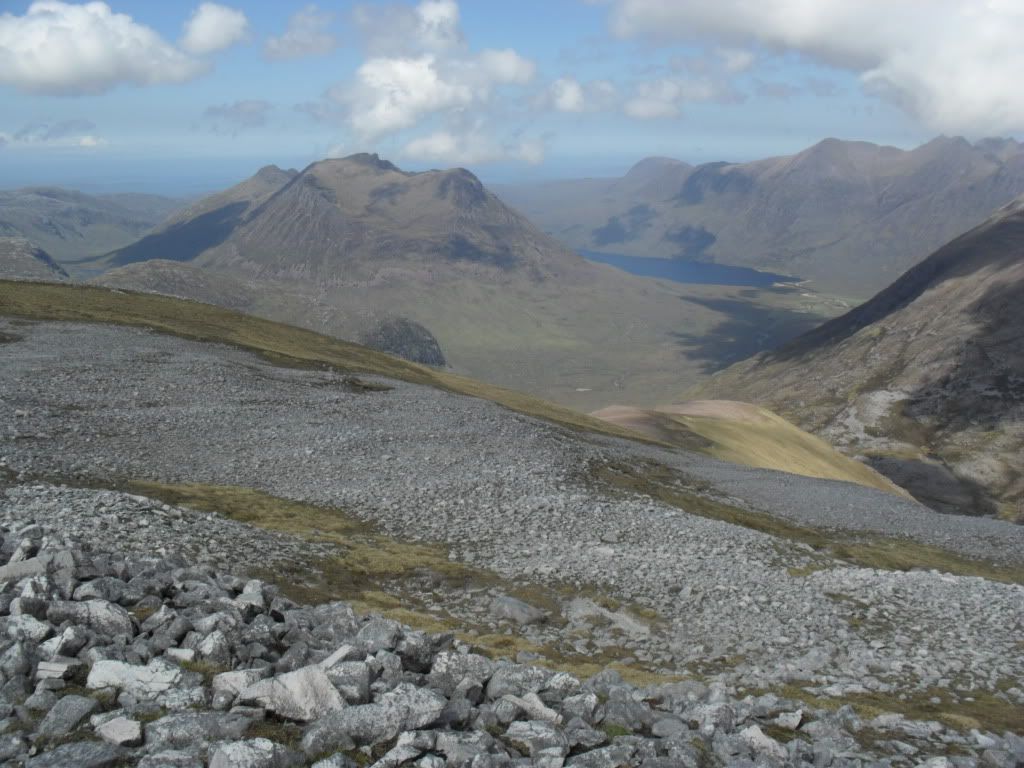 Beinn Dearg corbetts
Mine is the freedom of the tranquil hills
Where vagrant breezes bend the sinewy grass
And sunshine on the widespread landscape spills
And light as down the fleet cloud shadows pass
Did I have second thoughts about Beinn a'Chlaidheimh – no not really – but did wander out a bit to have a look.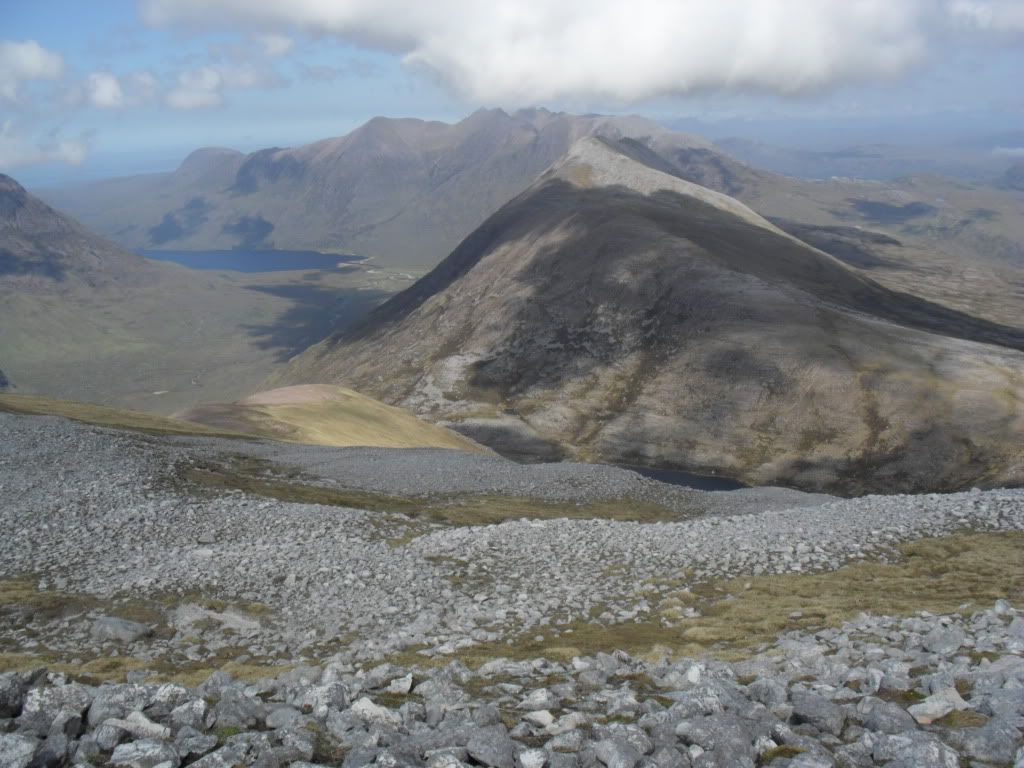 Naw – I don't think so – not today anyway.
Back sitting at the top a group of three walkers arrived at the cairn – they were doing the round of "the Six" from Sheneval
Left the top bang on 2 pm and set off down the east ridge on quartzite boulders.
Rough going of course but I soon cut down to the right to get to grassier ground.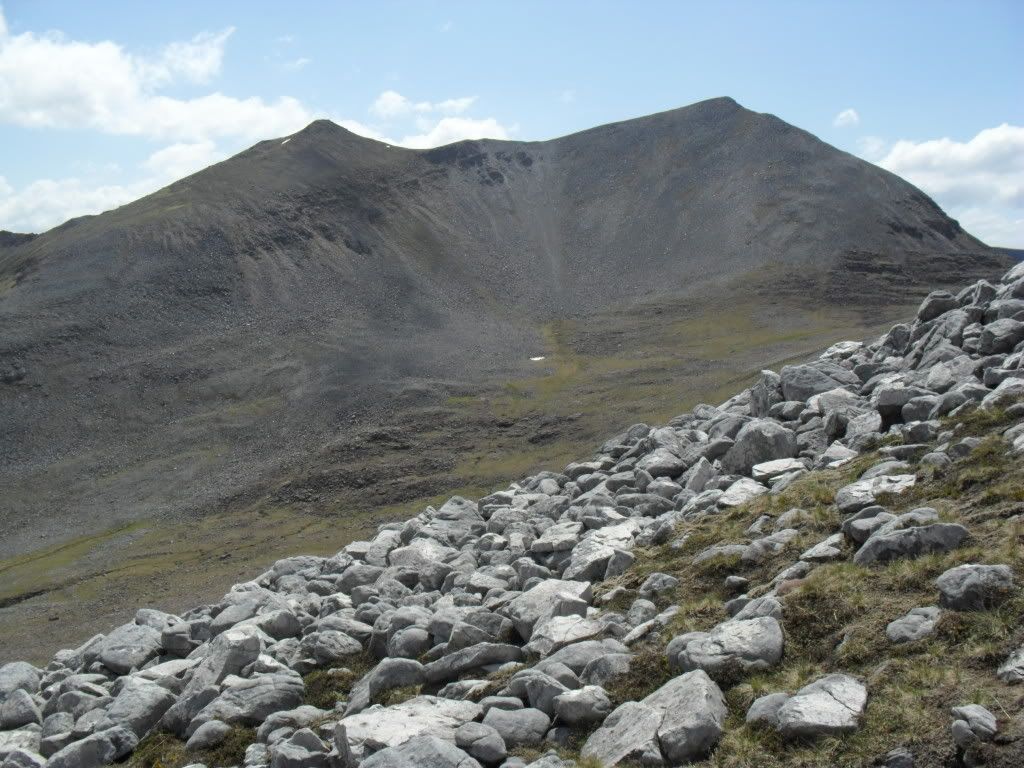 MCMF and east top
Sgurr Dubh
Went back on to the slabs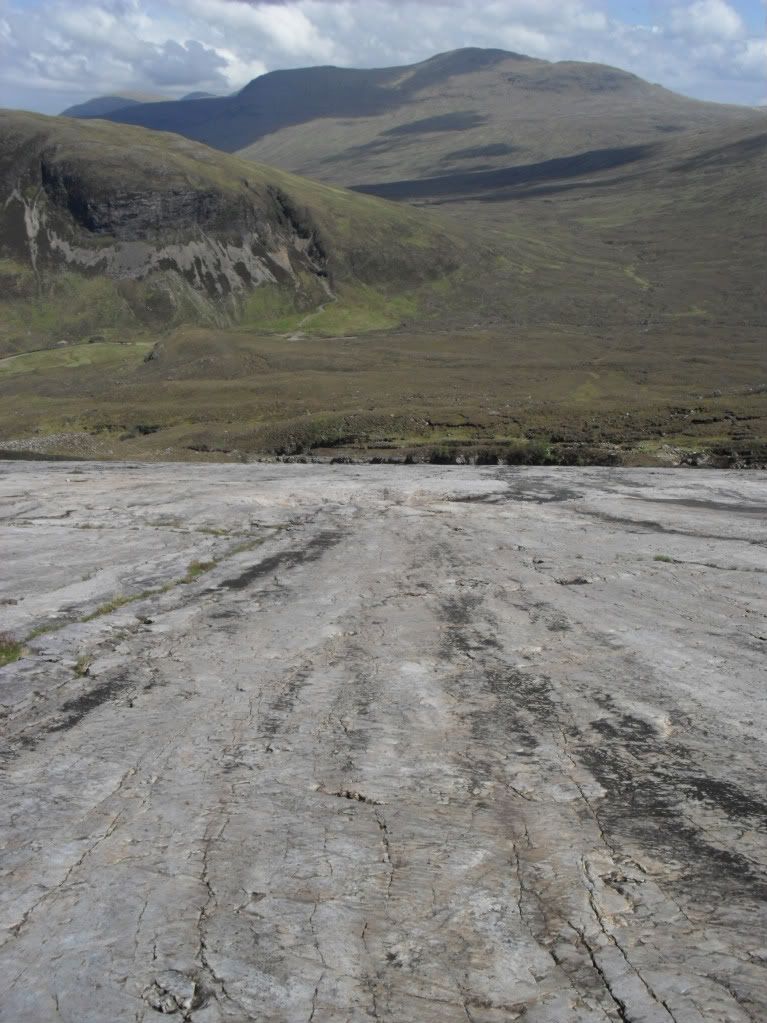 Looking down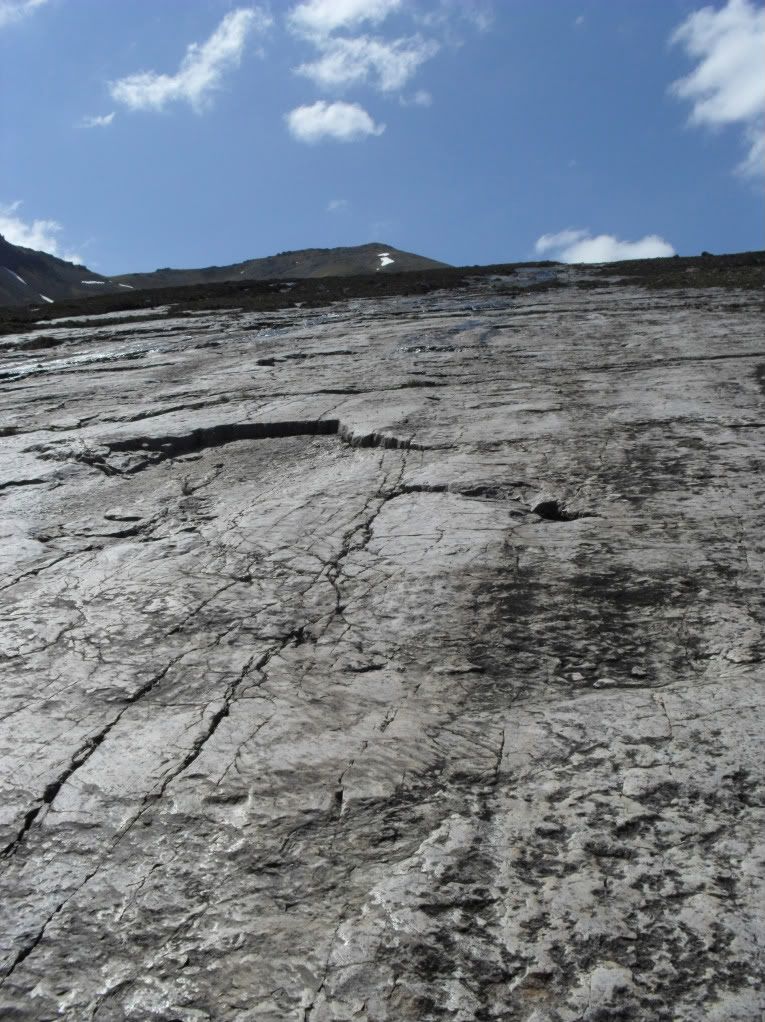 And up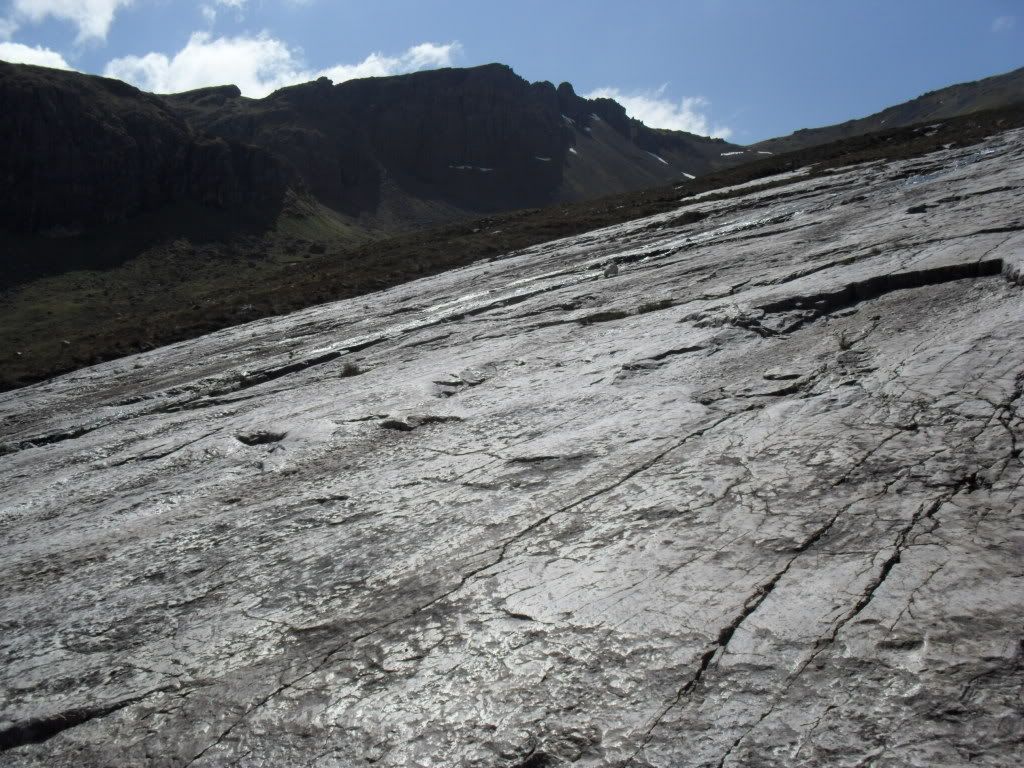 Sgurr Dubh from the slabs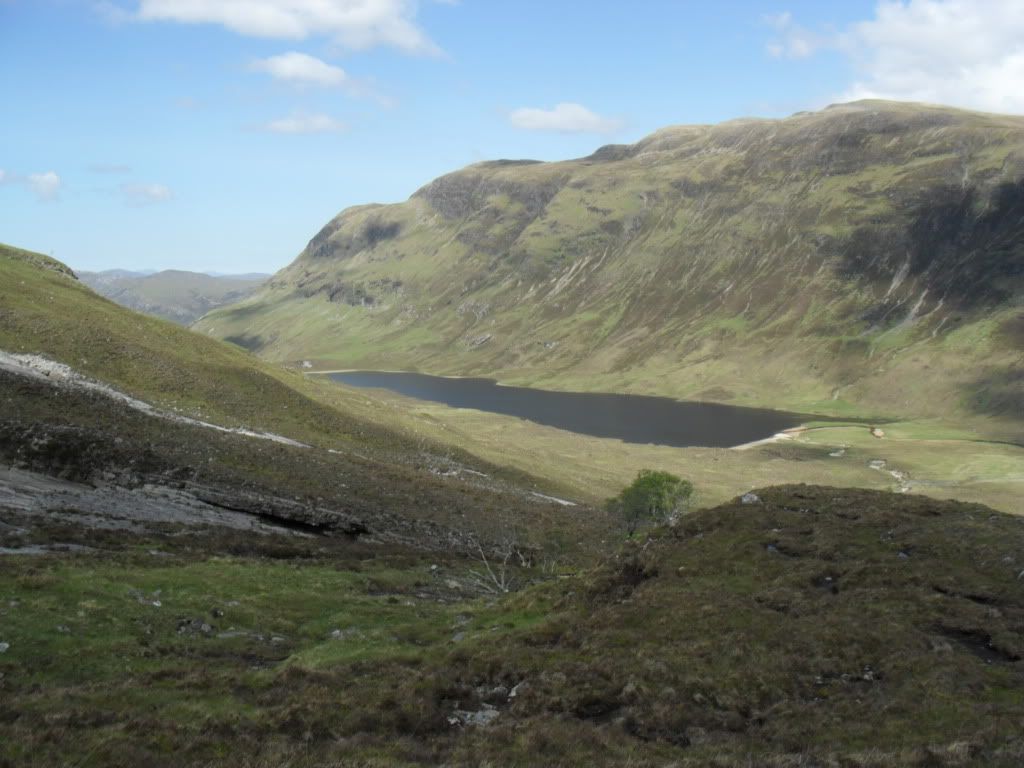 Loch an Nid – I cannae be the only one that thinks on "The Knights that like to say Ni(d)"
The way down from Sgurr Ban
I stopped at the burn again to fill my water bottle and have a wee splash
Cheerio to Beinn a'Chlaidheimh – hope to be back soon
Enjoyed the walk back out, waypoints along the way, the ruin,the tent,the bikes,the cottage – along the side of the loch again.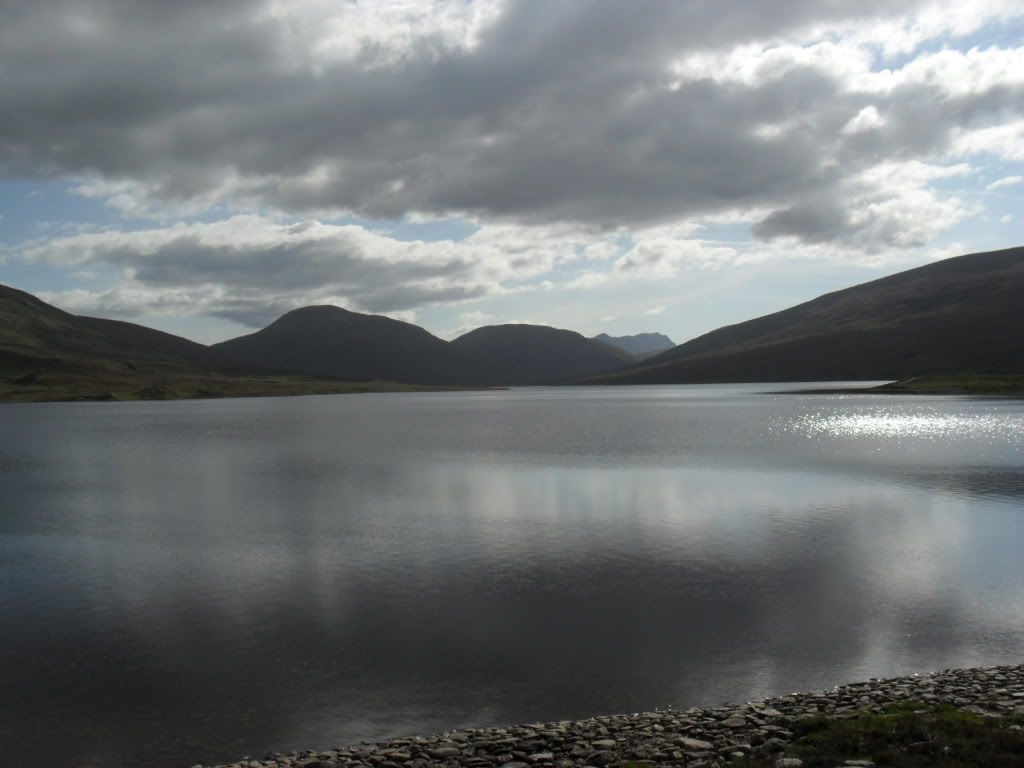 Back at the car just after six, nine and a half hours in total.
I was glad that I had curtailed the day and in the end really enjoyed it.
Absolutely no regrets on turning my back on Beinn a'Chlaidheimh – mind you I have seen the day --------------
must be getting old or something
Beers back at the Inn,this time Hebridean Islander, a grand meal, more beers and a dram --- and a great sleep
I was ready for my breakfast on the Sunday morning.
Talk at the breakfast table with two blokes (who were heading for Beinn Eighe) was of taking 39 days
to do the Munros.
The weather was a bit overcast so I was glad I was just heading down the A9 – no views of the Cairngorms however.
Of course went to the club for a couple of beers