So holidays have come round again, the third week I have managed to wangle this year, but the first where the weather looked like it might be anything less than hurricane-like
When I saw the forecast I thought I might head over to Inverie on the ferry and do some of the Knoydart corbets - would be nice to see Knoydart instead of the clag and rain had dominated my previous trip there. I sent a text to my Dad, and he said he wanted to come along too.. I knew then that my plans were out the window because he still had a couple of munro's to do there, and I would have to put that first.. Oh well, getting out is the main thing..
Saturday was stormy and it was a luxury to actually have time to think and pack as opposed to the usual Thursday night chaos. Sunday looked nae bad, so Dougie and I set off to do a corbet en route to meeting my Dad. Stob a choin up near Loch Voil.
sorry about the rubbish track - gps kept switching itself off
So we set off up the glen from the car park, past the farm. Got our first view straight away - looked steep!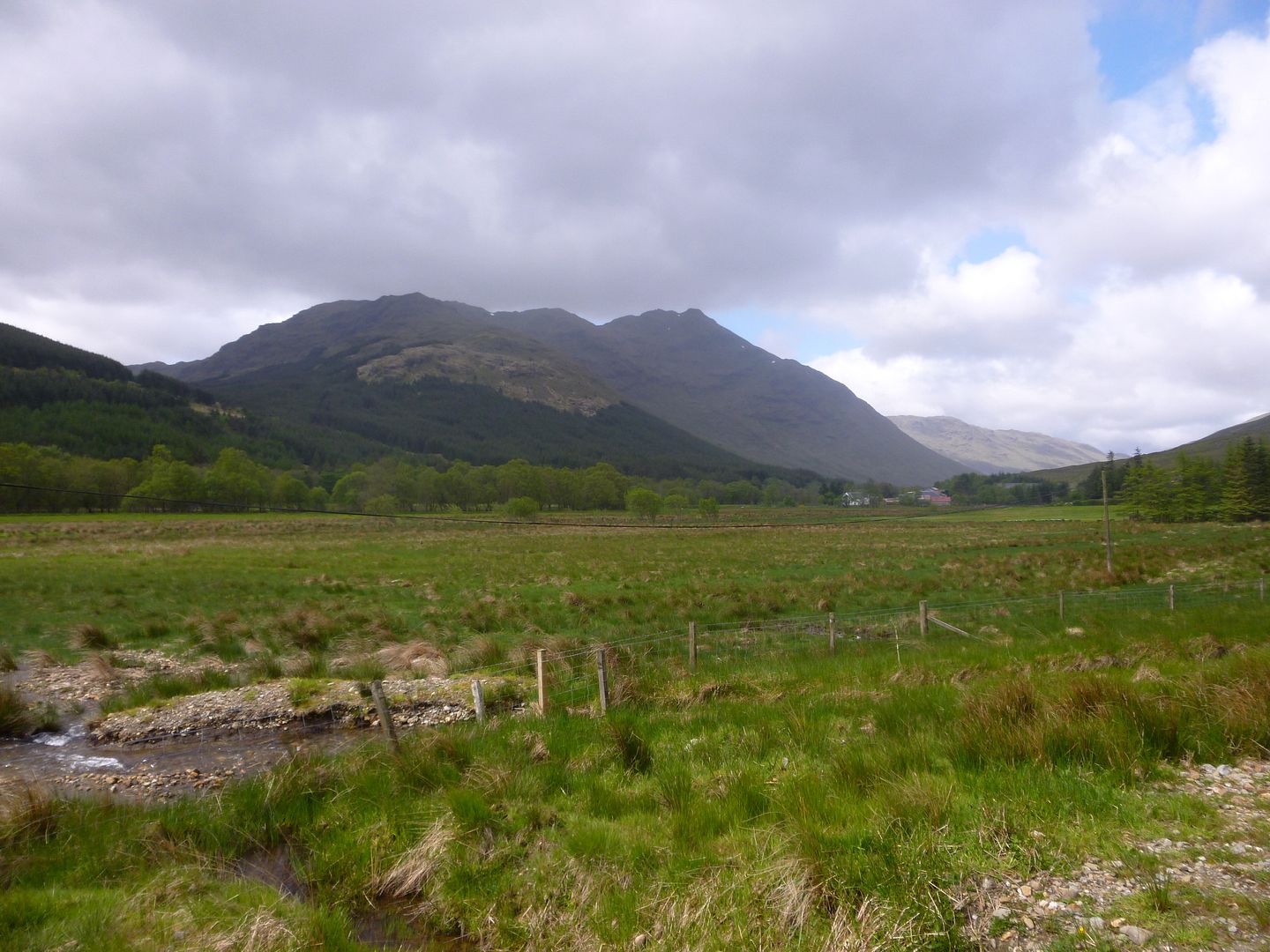 The hill got closer and started picking out the line we would take to the summit. We got to the bridge, and that is where the bog started..
ridiculously boggy!
We took a traversing line upward, the knobbly hillside making it tough going. The ground was so wet, that the foliage just came away beneath our boots and I slipped over often. At least the breeze was up to dry me out quickly..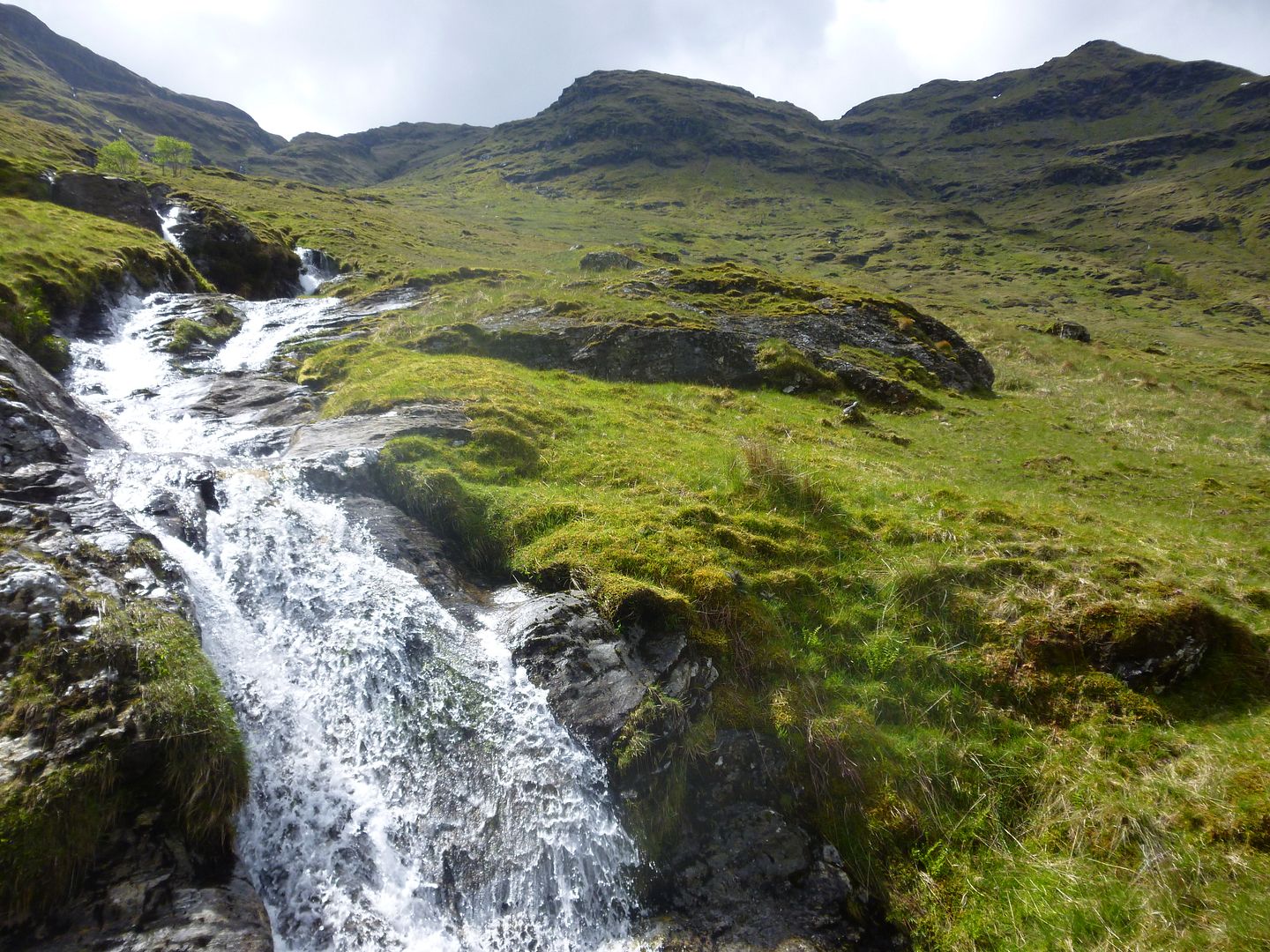 We reached a gorge, which we followed uphill until possible to cross. Nice views were opening up of the back of the Crianlarich hills. The sun was out, but the wind was fair getting up and it was chilly.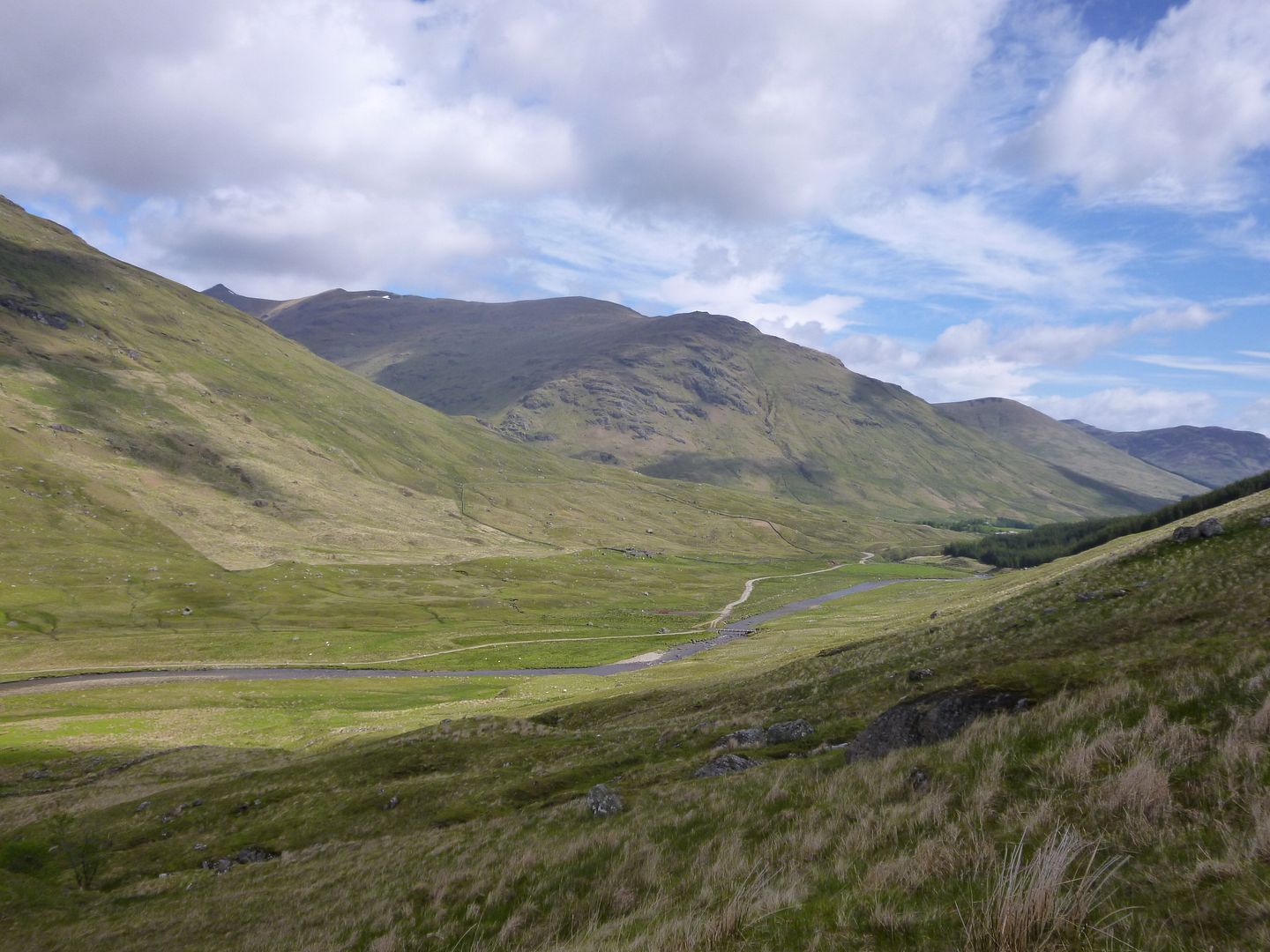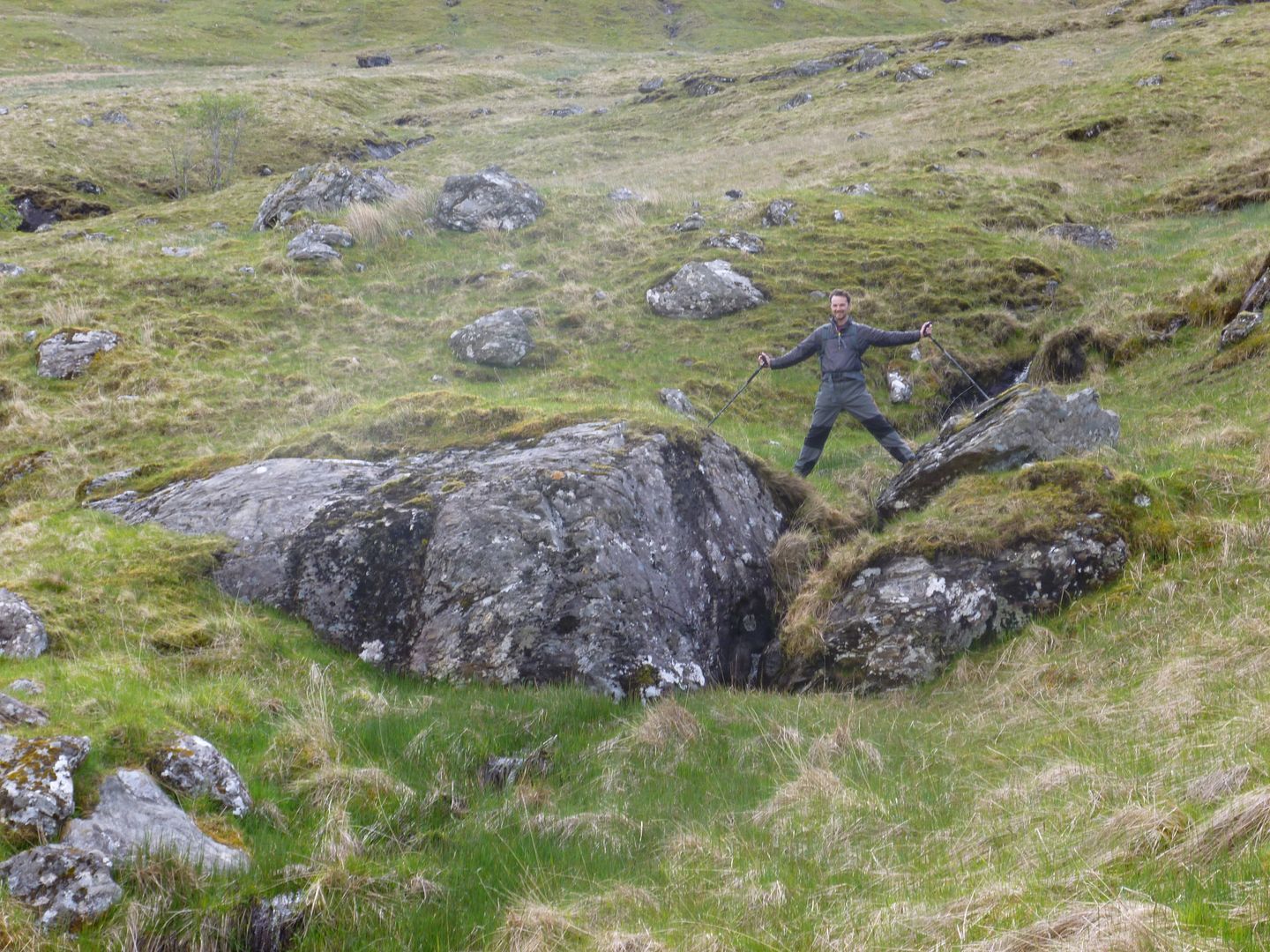 From there it got even steeper, up to our right, first up a steep spur, then over huge boulders and up to the ridge on the far side.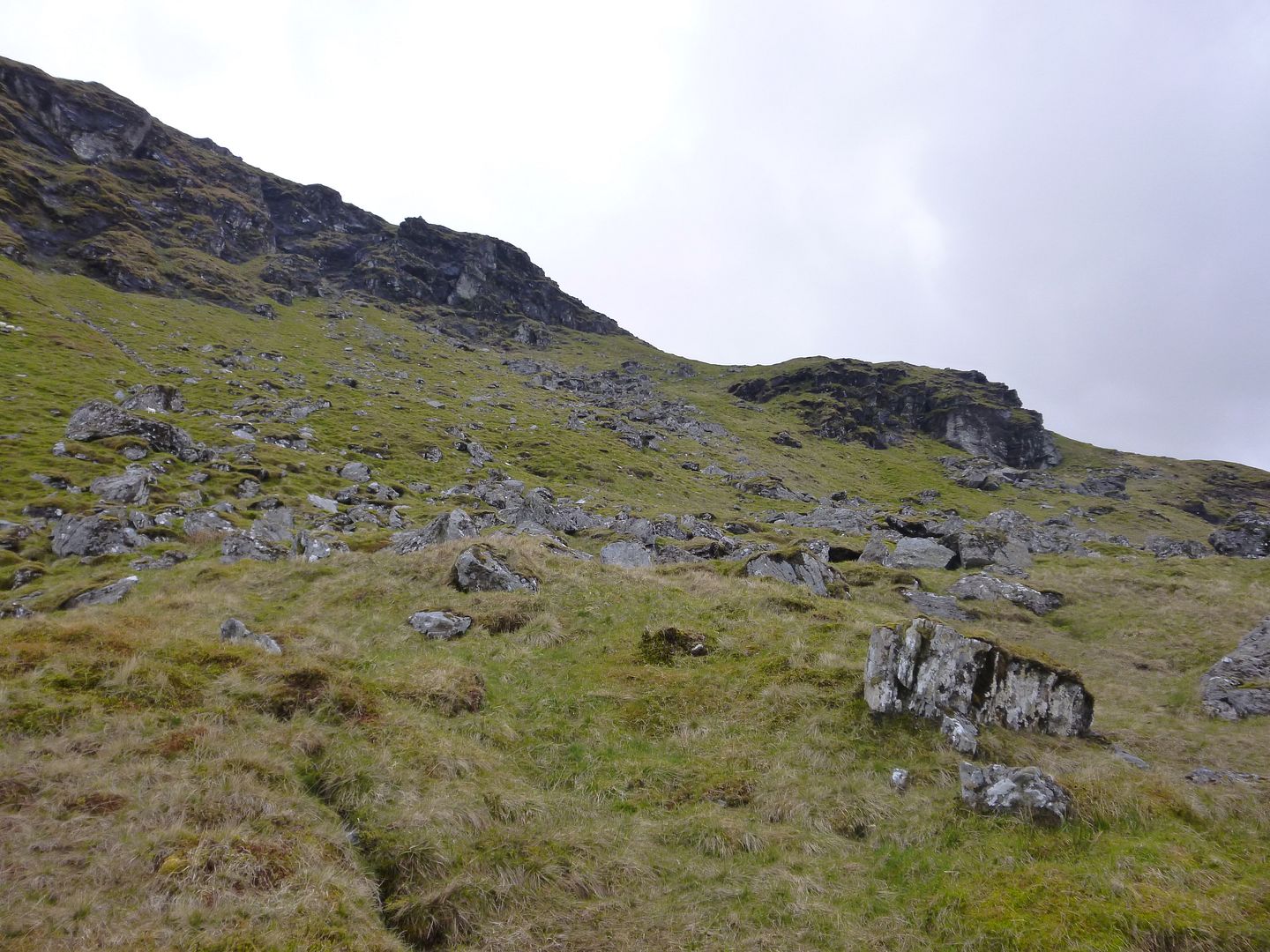 As soon as we were round on the ridge, a shower hit, and the full force of the wind was hitting us side on. The hill was so steep you would have been balancing anyway, so precarious progress upward indeed
We made it up to the first top, and could see the summit from there. We dropped down, and found the coll in between to be sheltered, so we stopped for some scraw.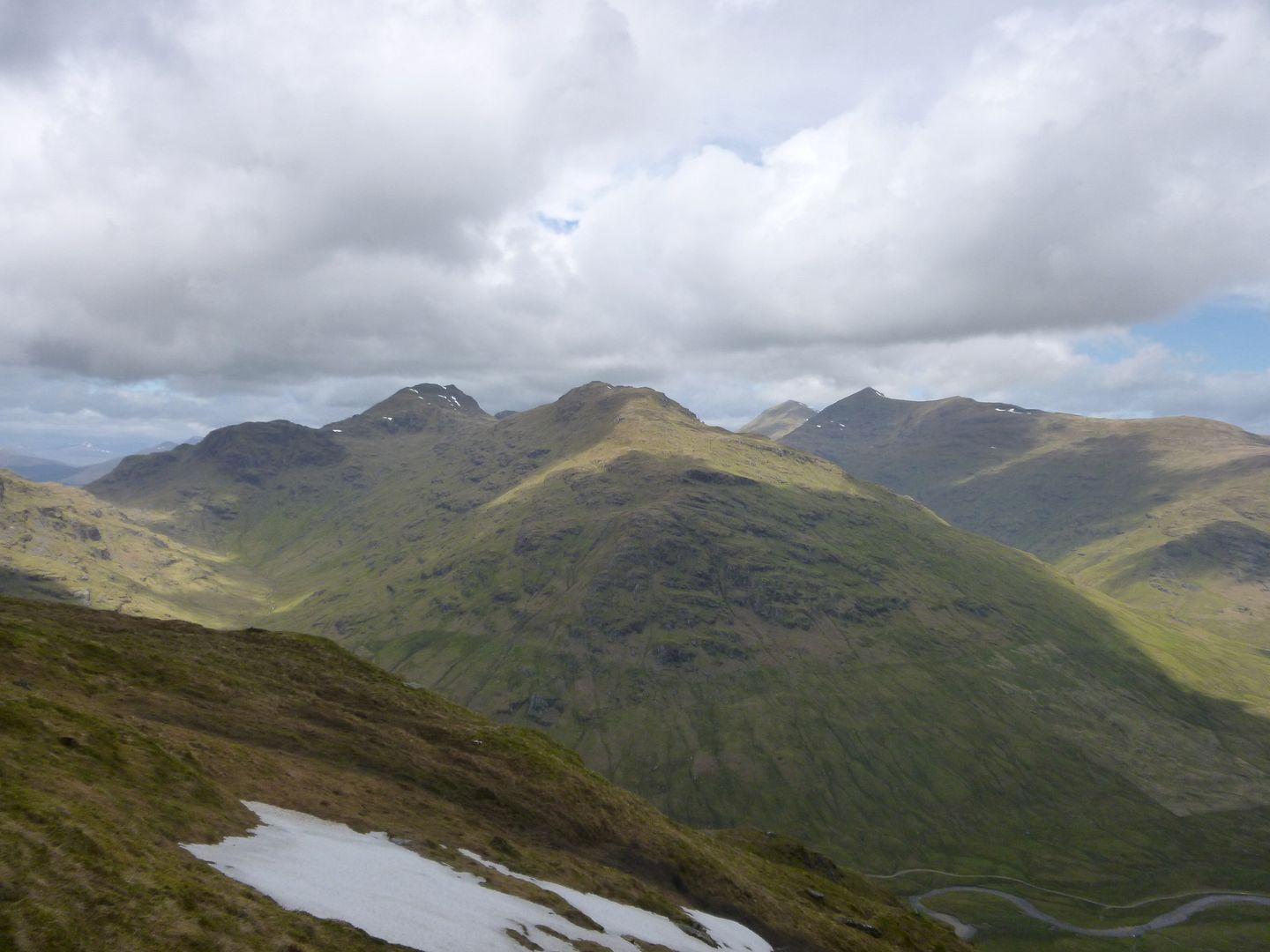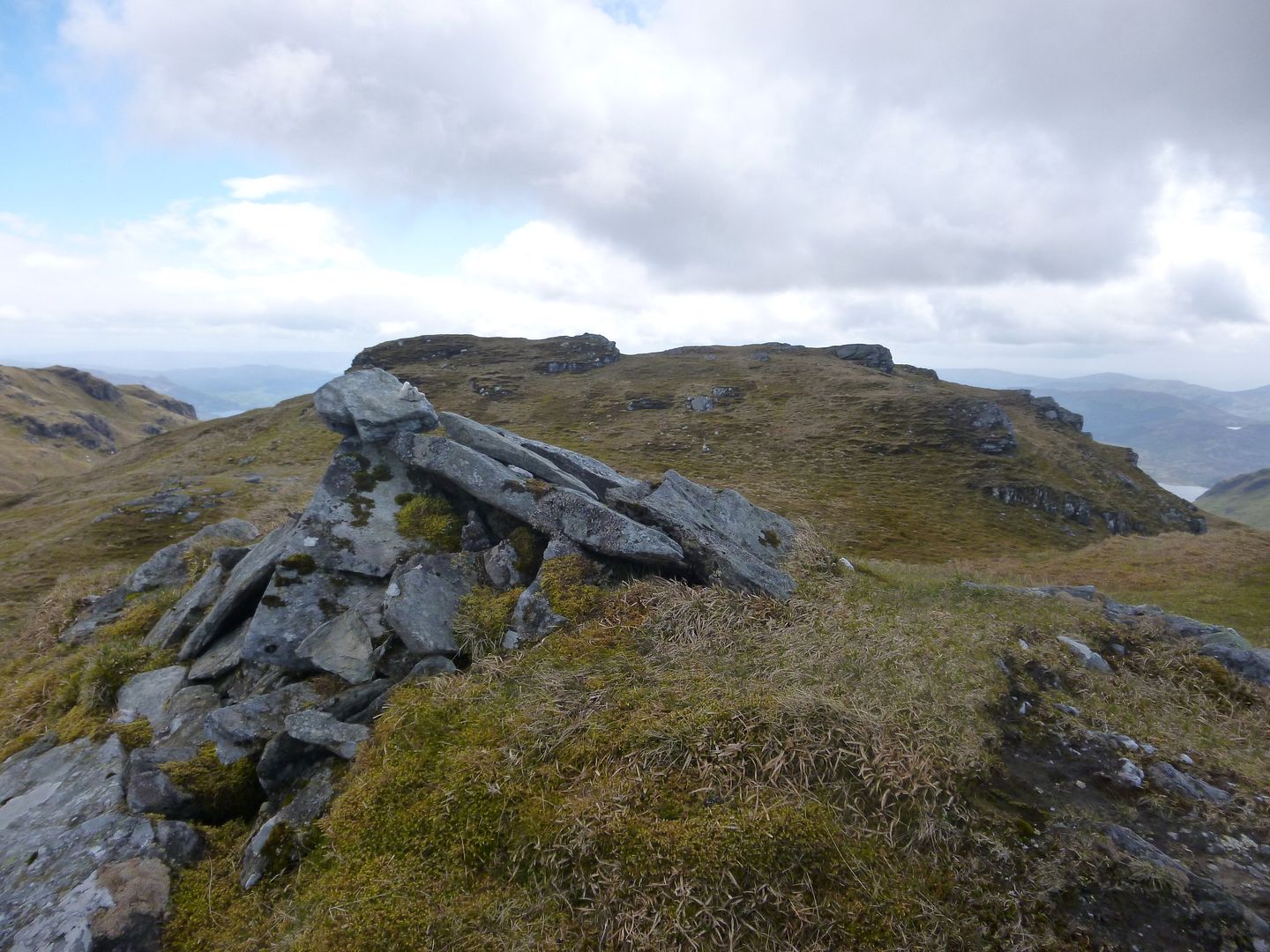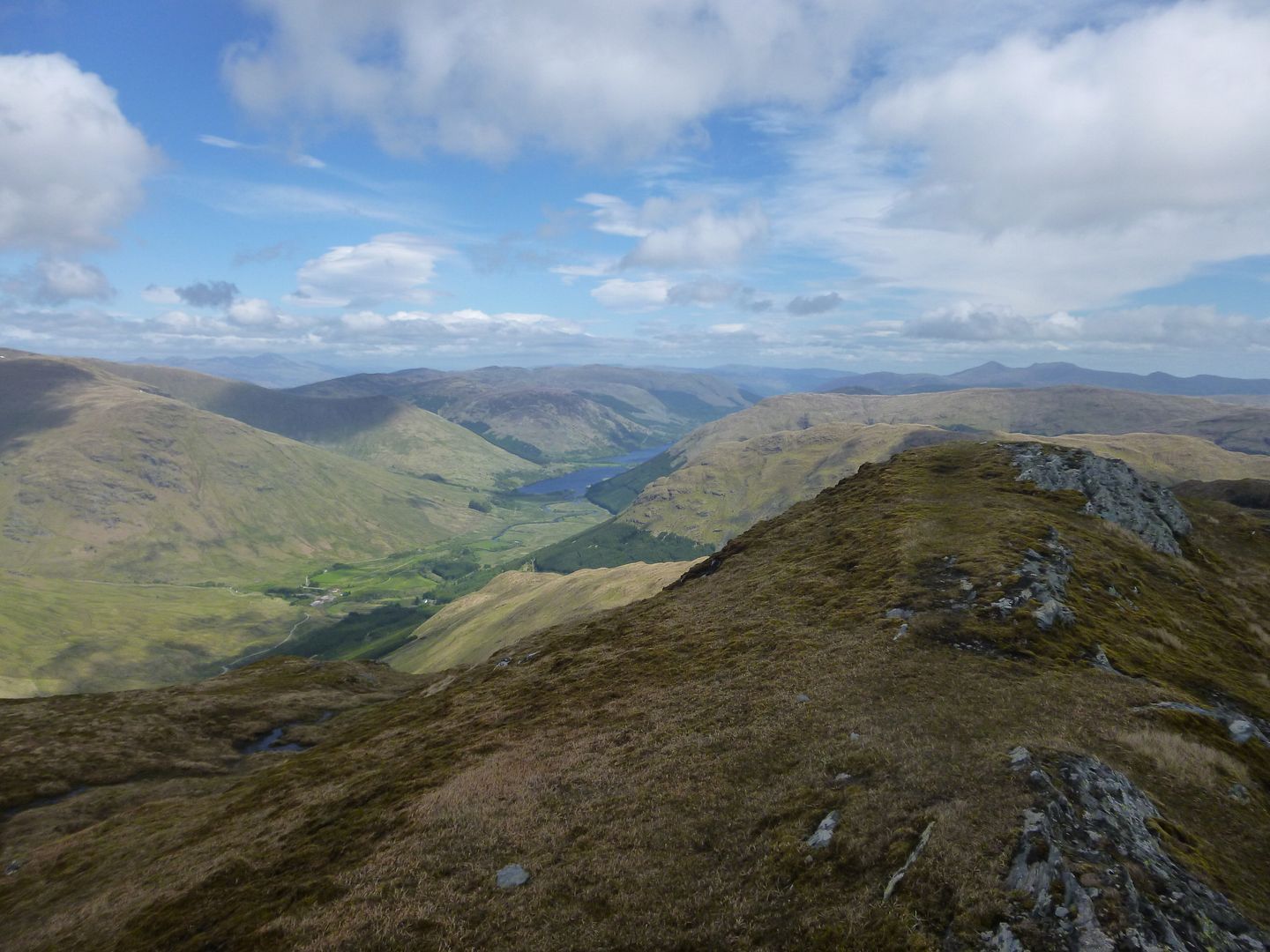 We headed up to the summit, and continued along the ridge, but neither of us were particularly enjoying ourselves, so we dropped down from the next coll, down into the corrie.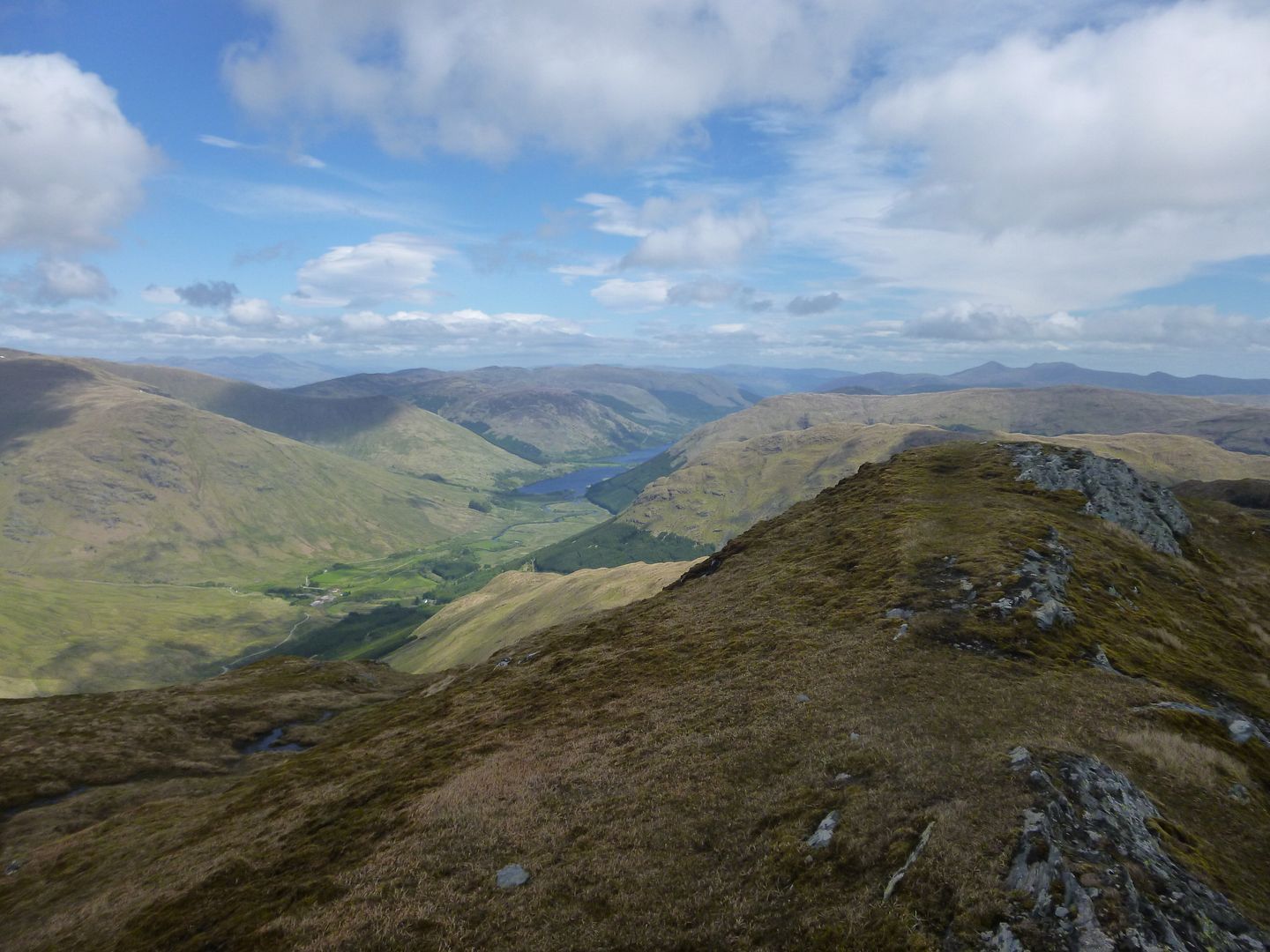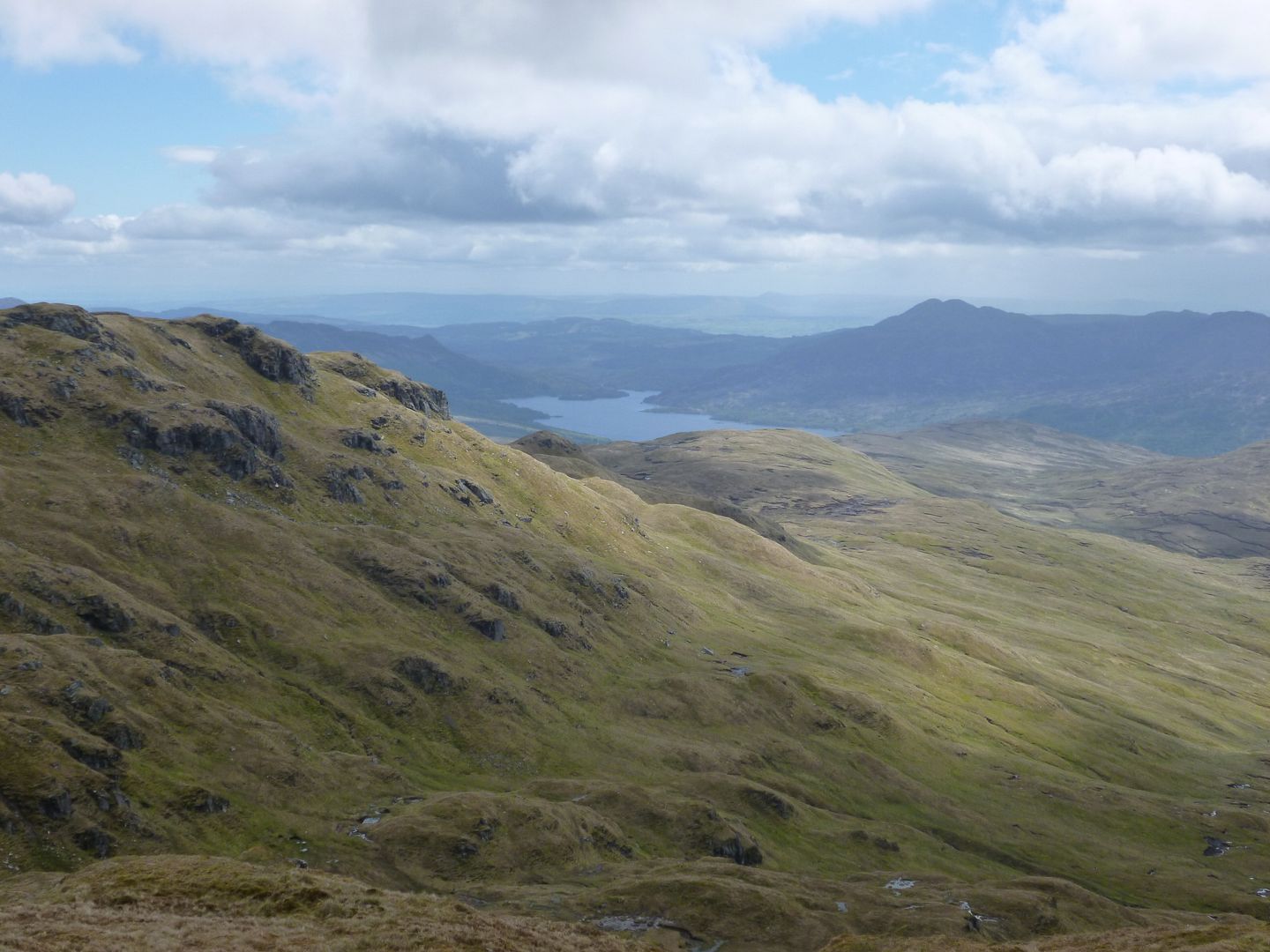 We noticed a fleet of over 25 land rovers which went up the track in convoy, stopped for half an hour, then drove in convoy back.. A bit odd and we wondered what that was all about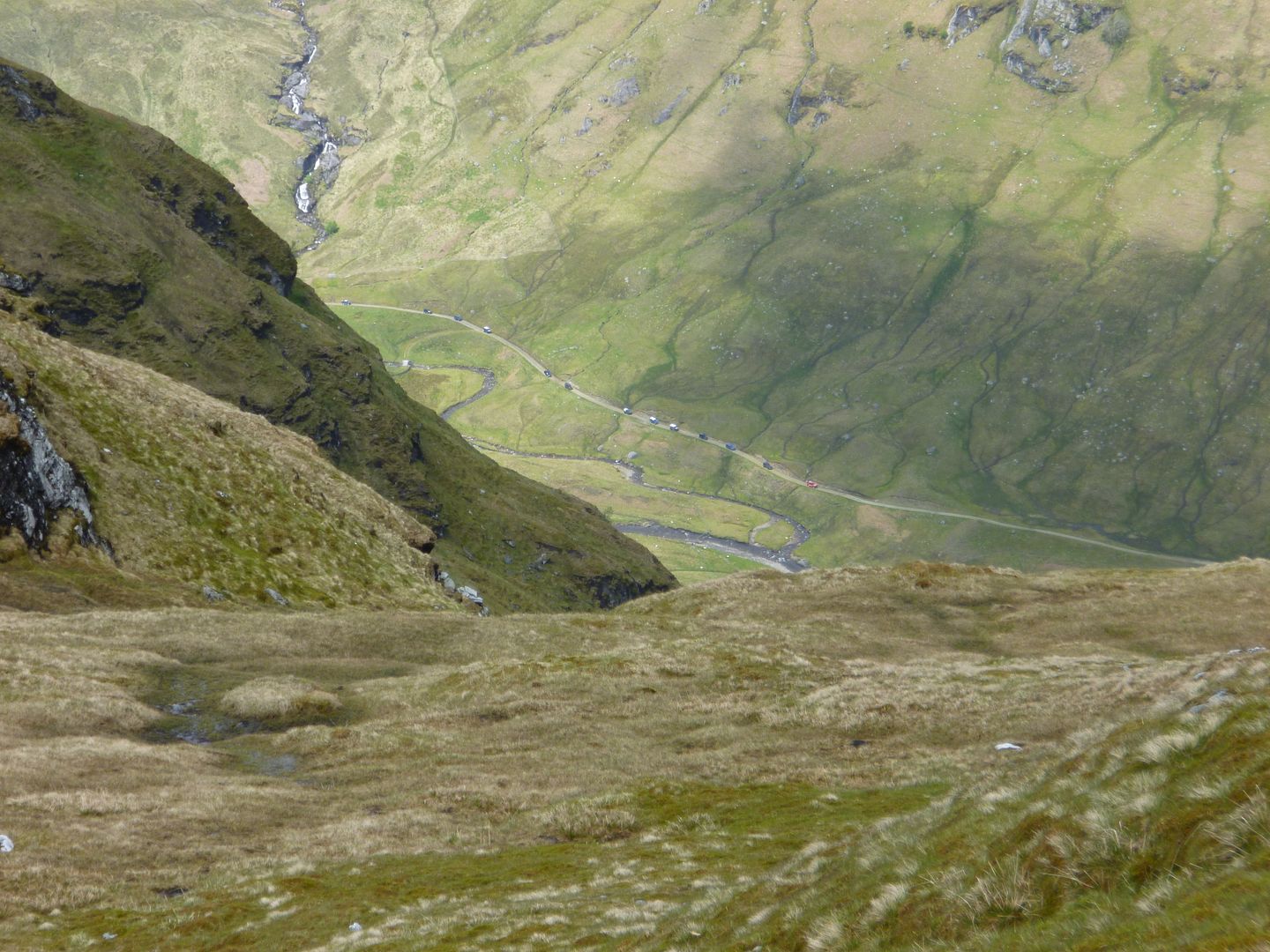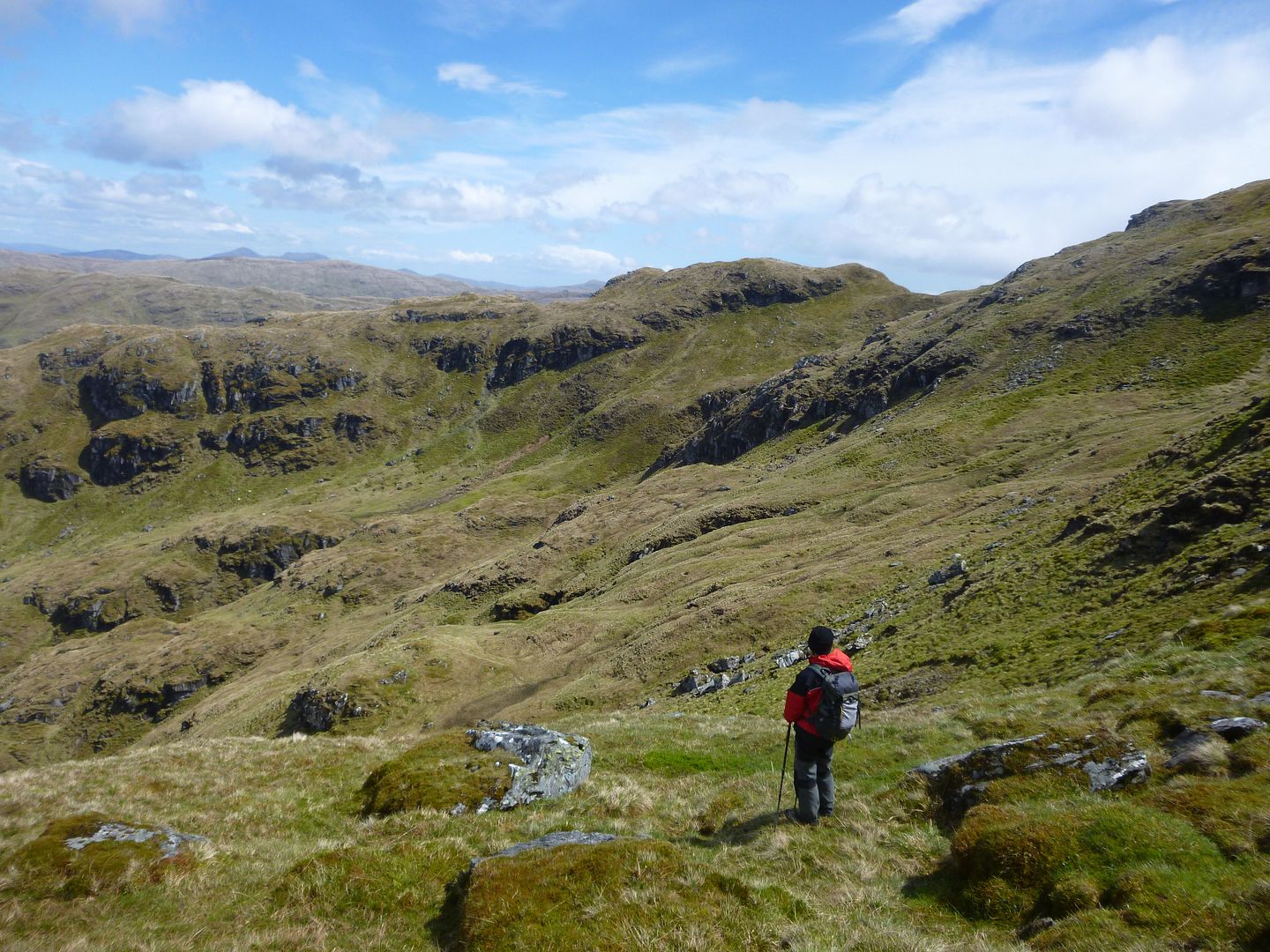 So we headed down the corrie, very steeply in places, and it wasn't much fun. It was as boggy as the rest of this hill..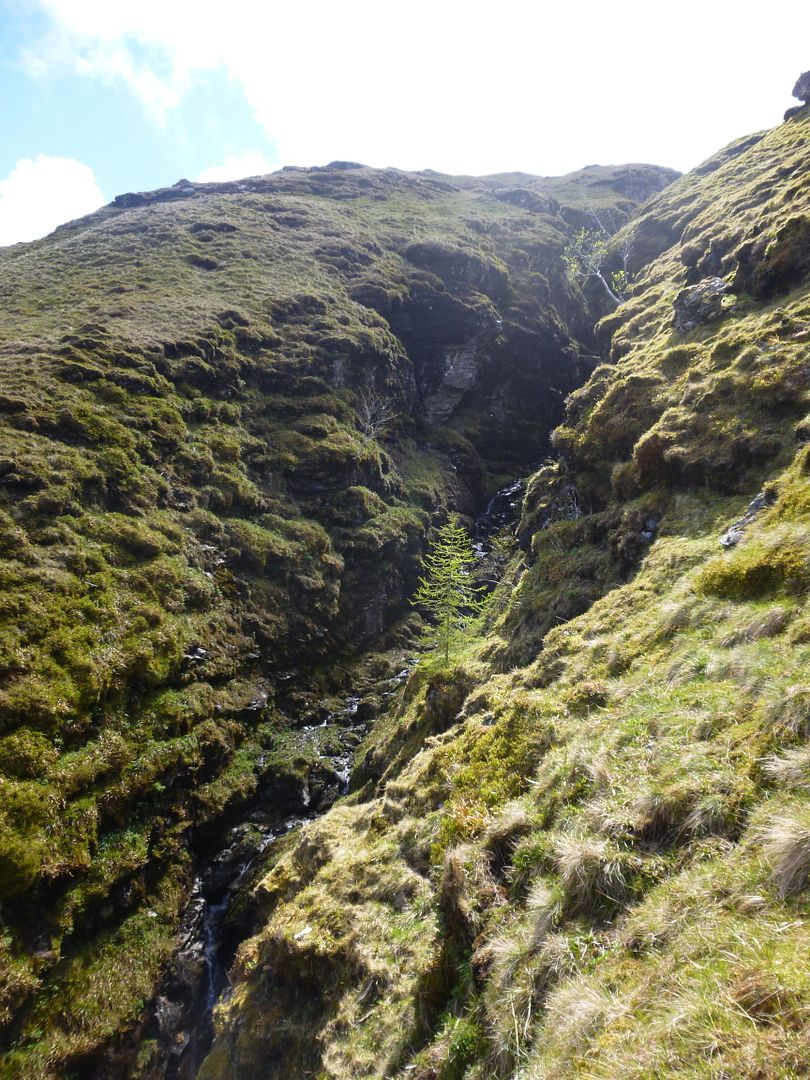 Eventually we made it down to the bridge, and had an easy trot back to the car, where I said farewell to Dougie as he had to be back for work, and enjoyed a sunny drive up to Fort William to meet my Dad.
We hooked up fine, and drove over to Arisaig to camp n the silver sands. It turned into a really bonny evening.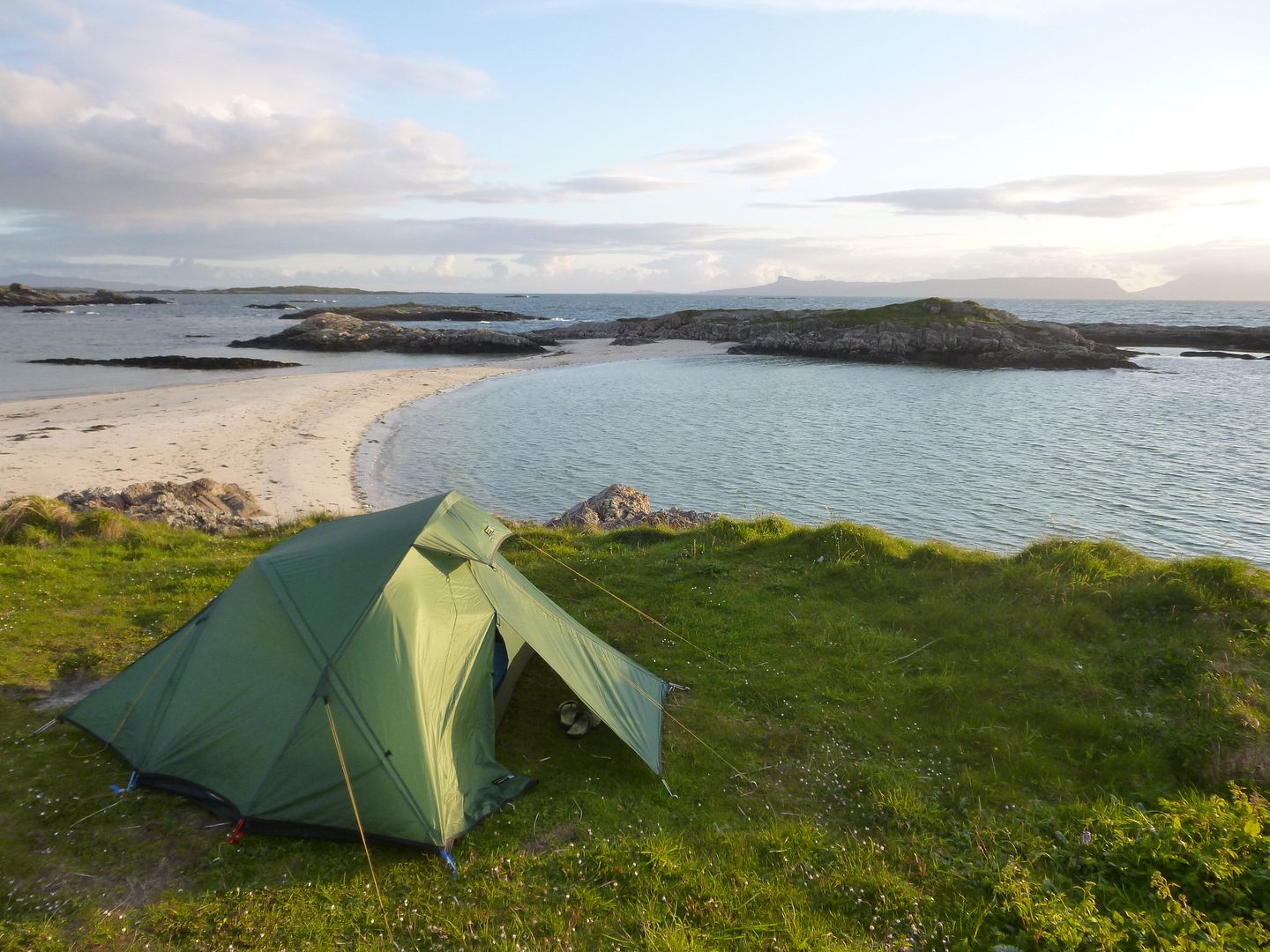 We were up early, and off to Mallaig to get breakfast and the ferry.
We arrived in Inverie in no time, and started out along the road. Dad had never been so I pointed out the sights to him as we passed through. The weather seemed to be a bit too nice and we were hot already at the track climbed easily out of the village.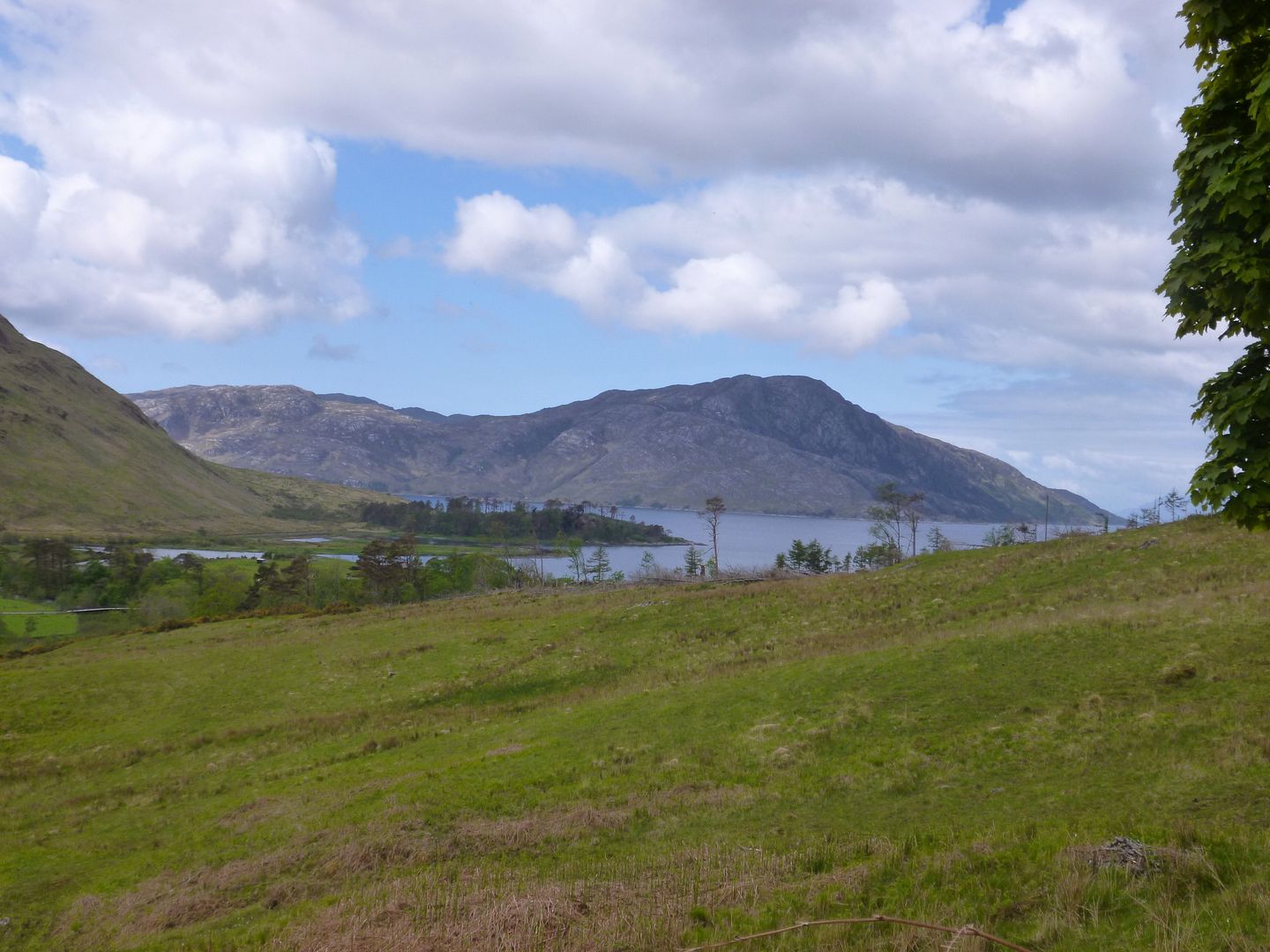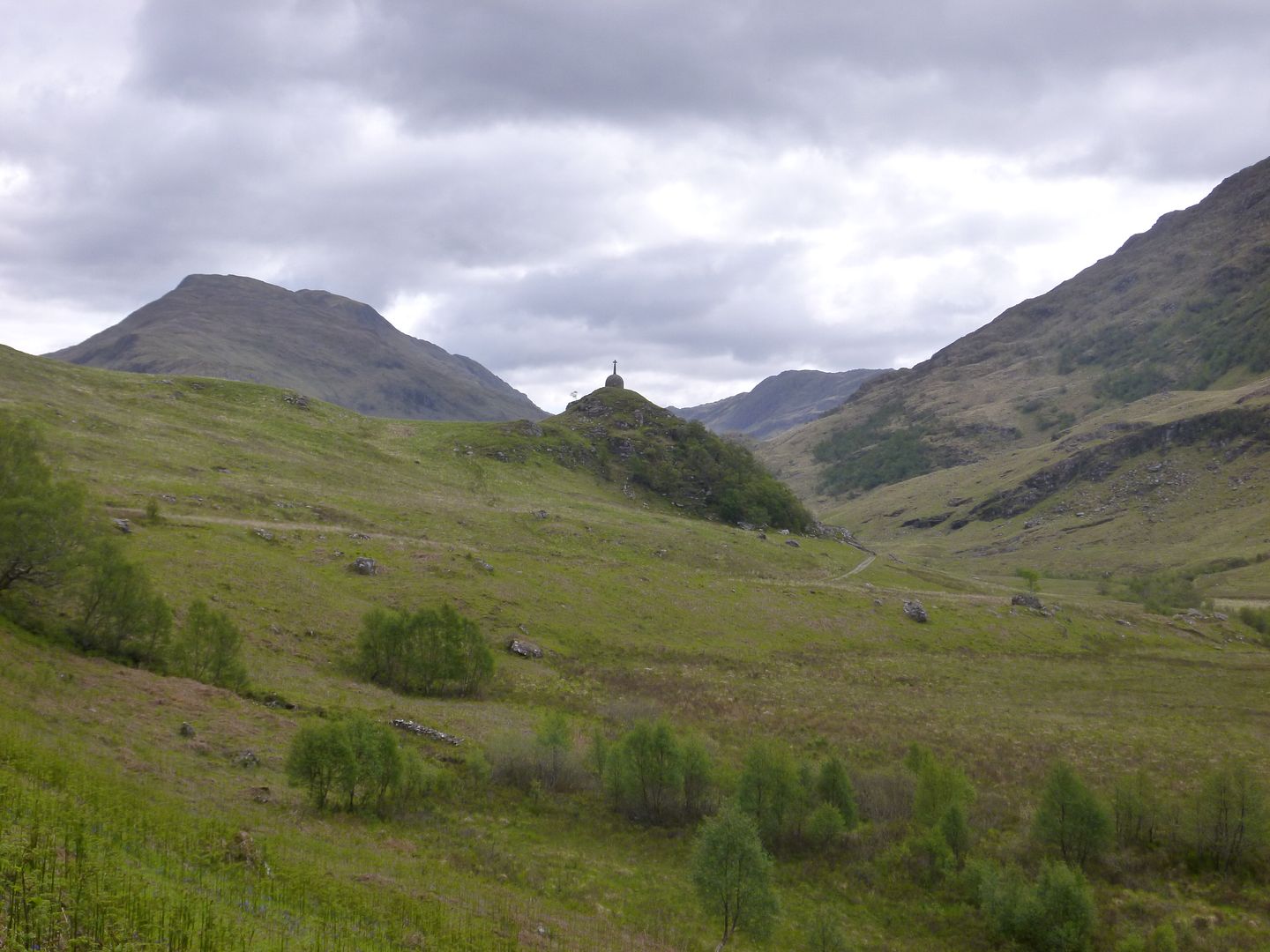 We had quite a march on as we took a right, and headed up the Gleann Meadail path.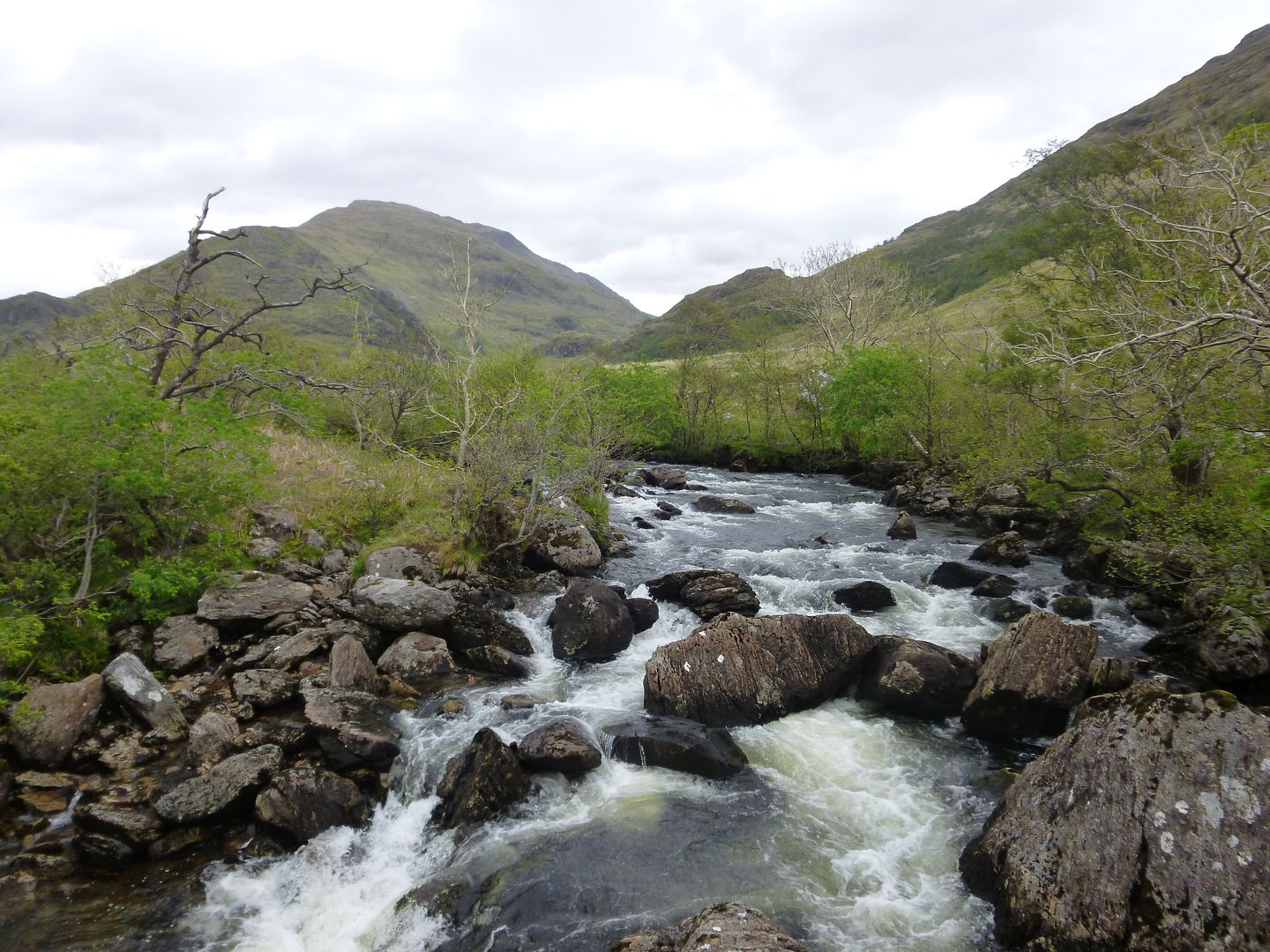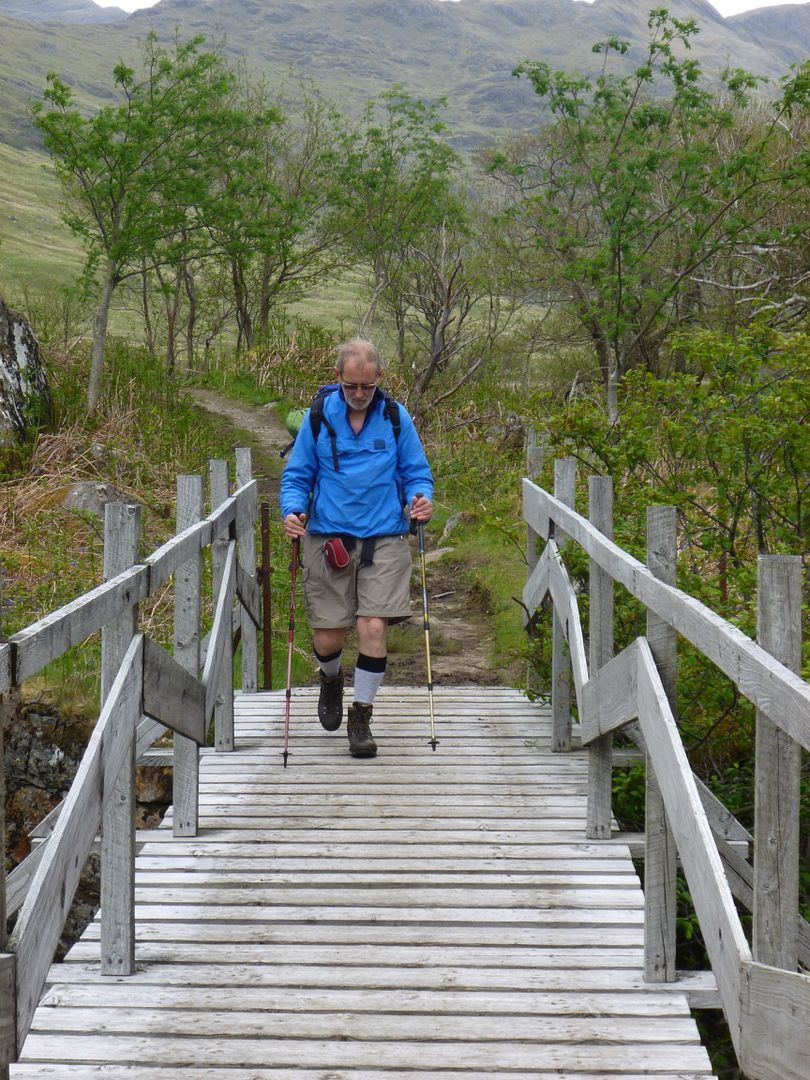 We stopped past Druim, at the 2nd bridge and talked about routes up the hillside while we ate. We decided on a direct route, as it looked far easier than the route I had taken previously up the nose. Wouldn't recommend once the bracken is out though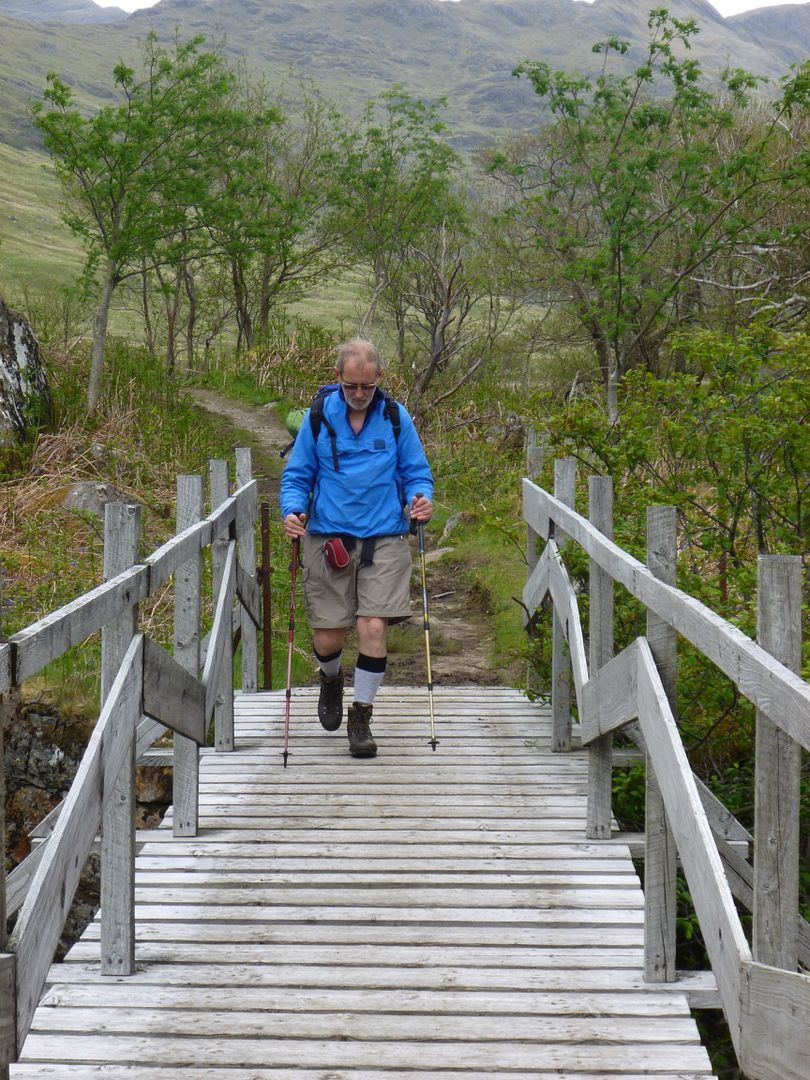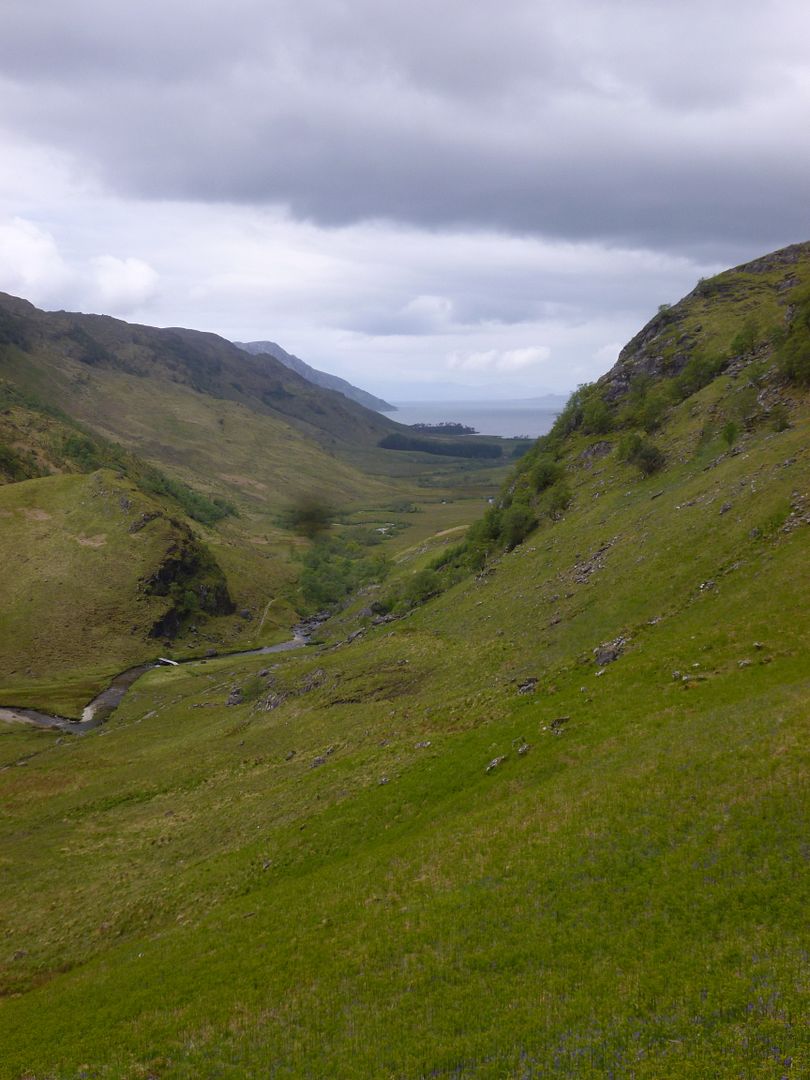 It was fairly steep, so had to stop a couple of times to cool down, but we made it up to the ridge nae bother. Dad pulled his back last week so I was carrying the majority load and I didn't know how I would manage, but it turned out to be fine and i felt fairly fit
Once up on the ridge though, it got a bit dark and a shower came over.. We didn't get that wet, but the remaining clag lingered, and the clear tops disappeared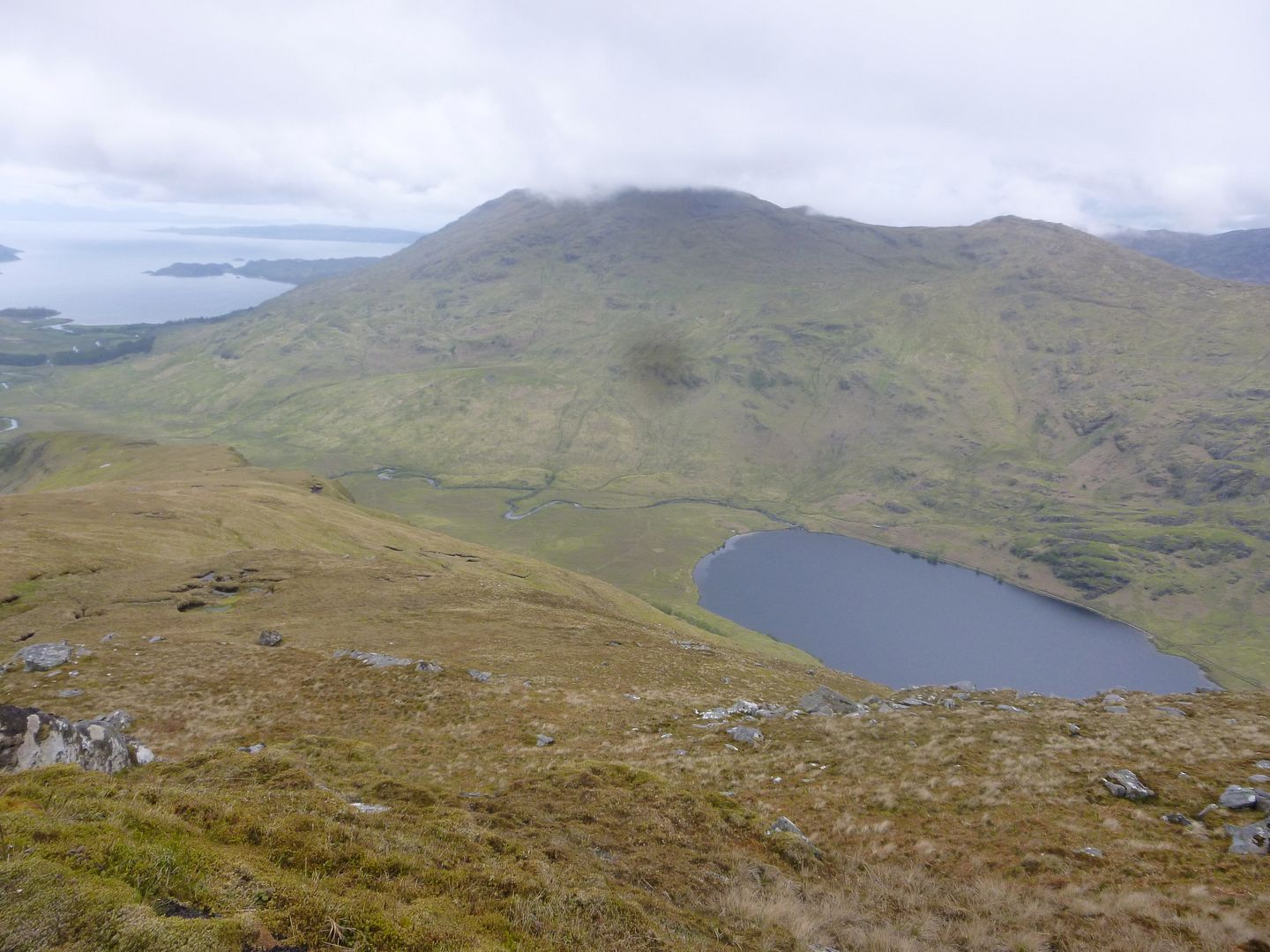 We managed to traverse the first top a bit, using a grassy ramp on the north side. This led to a steep traverse round to the coll beyond - quite fun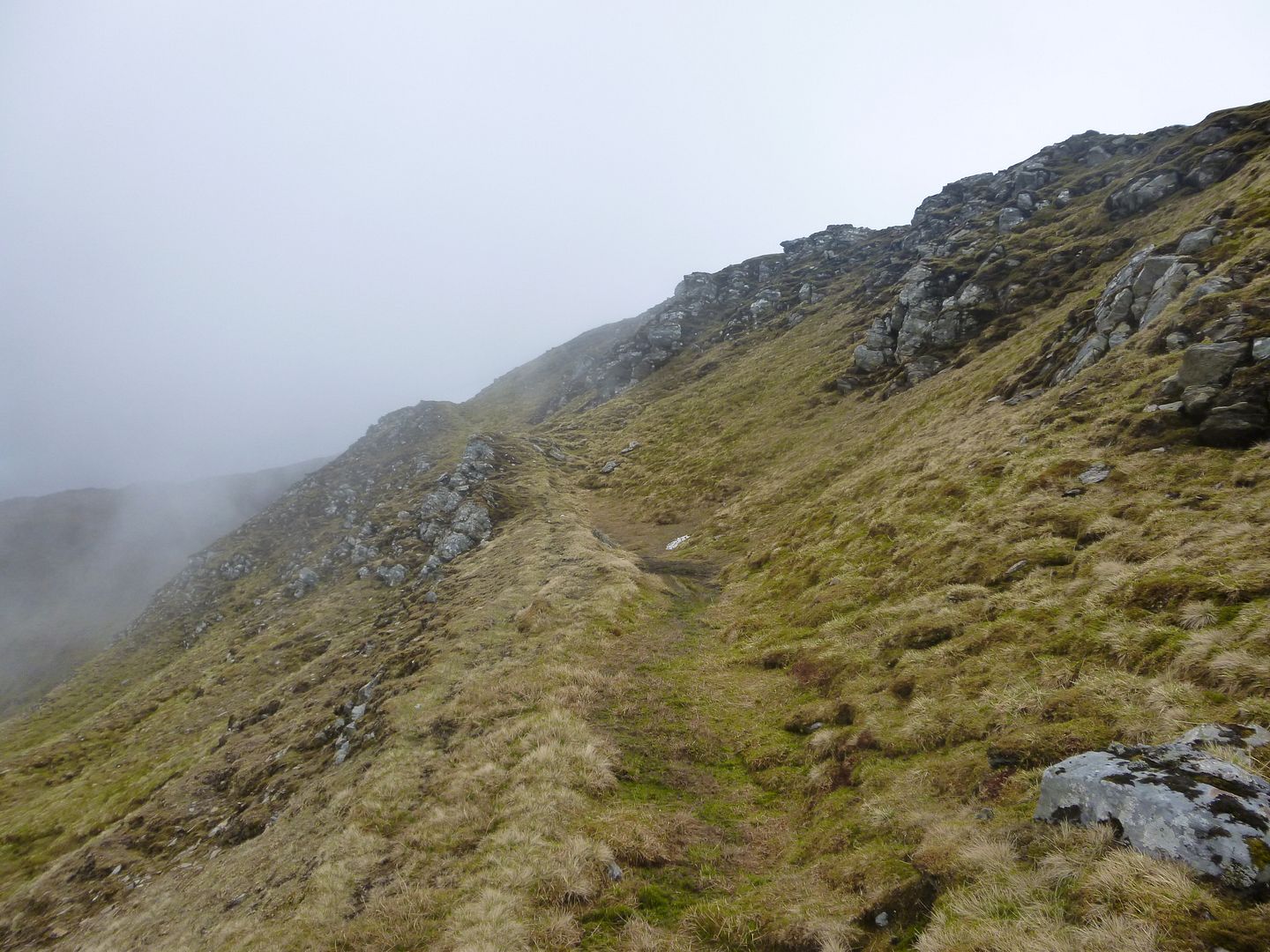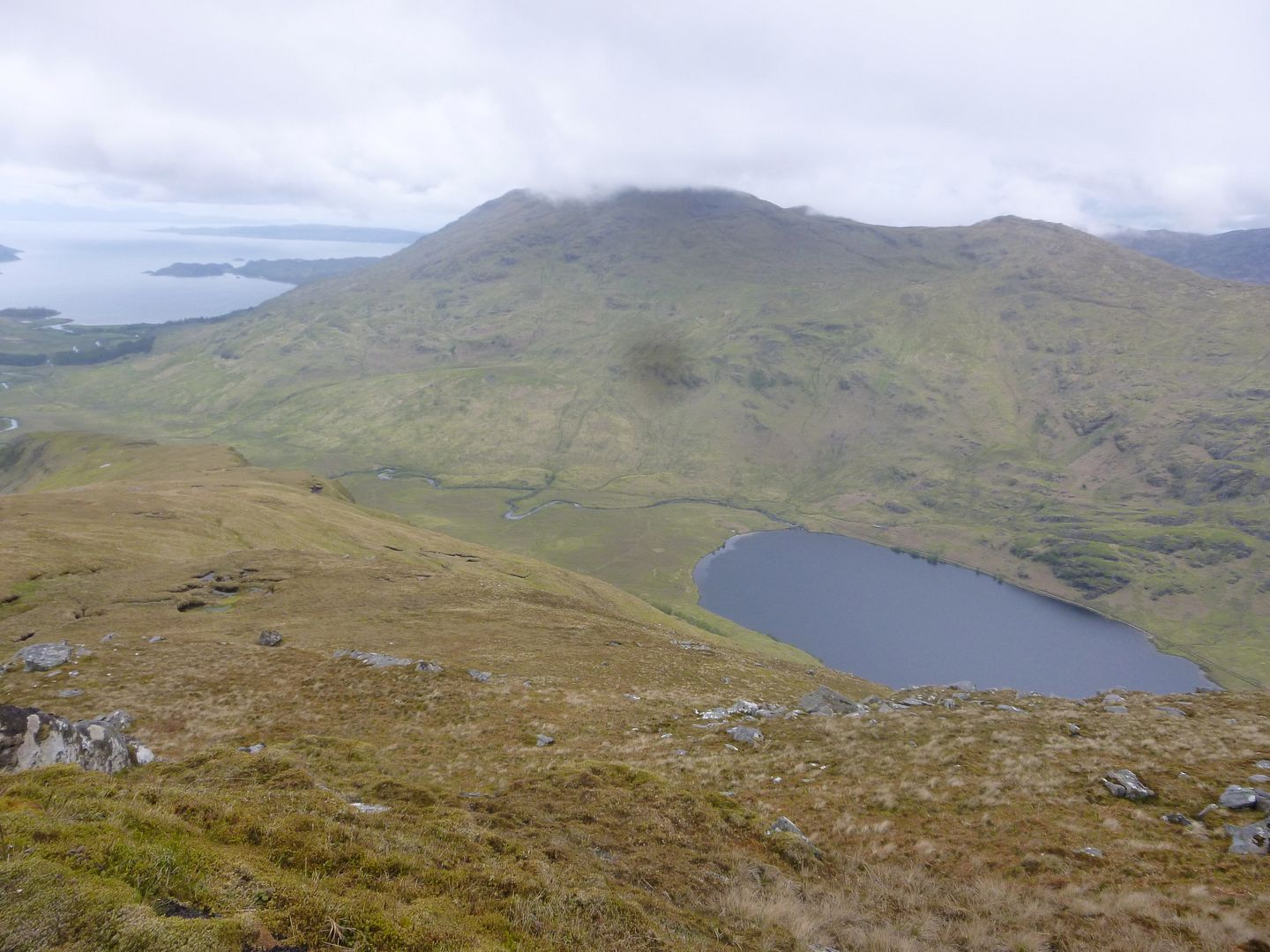 Then it was on to the final climb, steep at first, then leveling out after a false summit.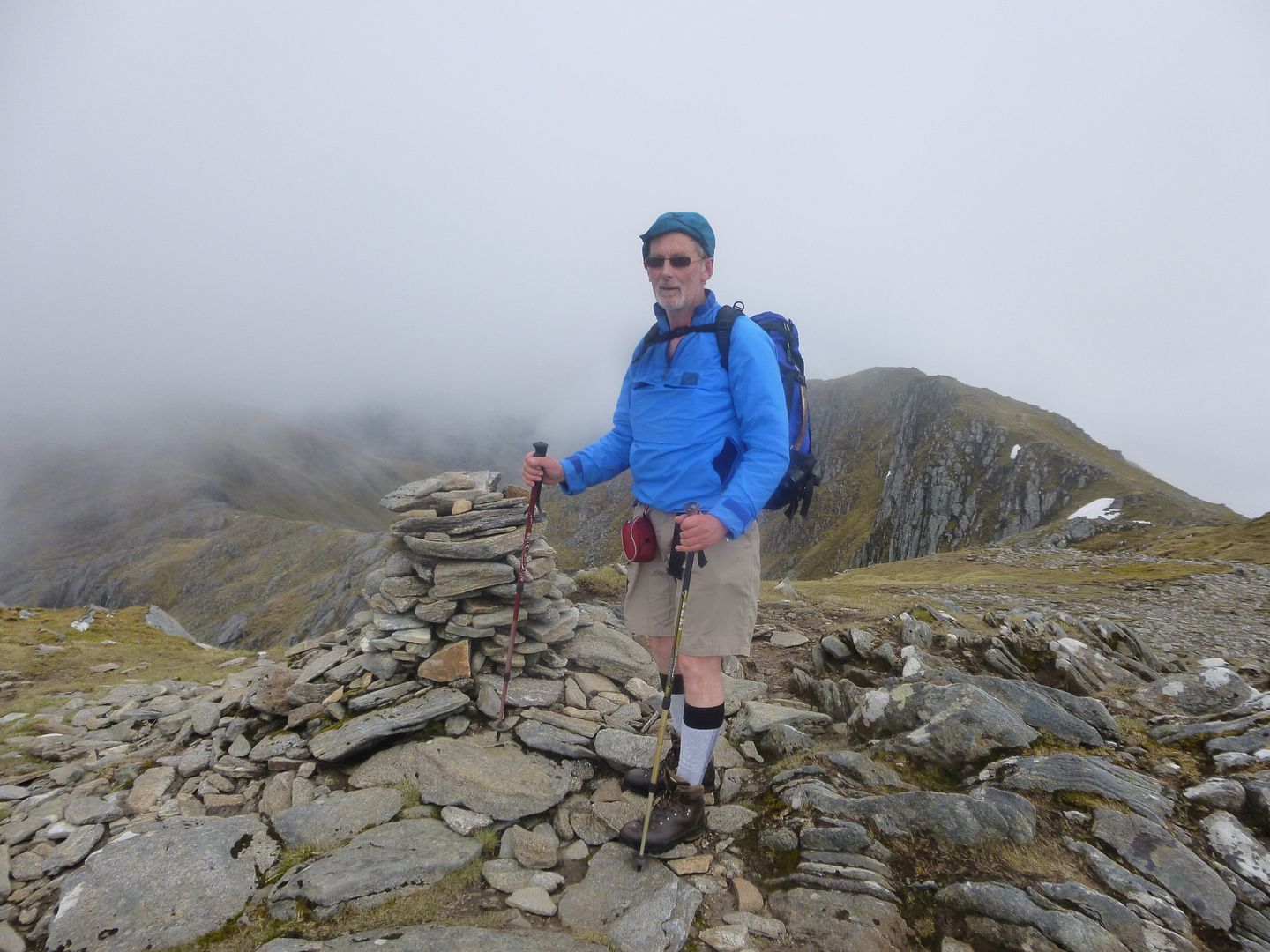 Nice views down to Barrisdale, but it was one of those days where views appear and disappear quicker than a camera can be turned on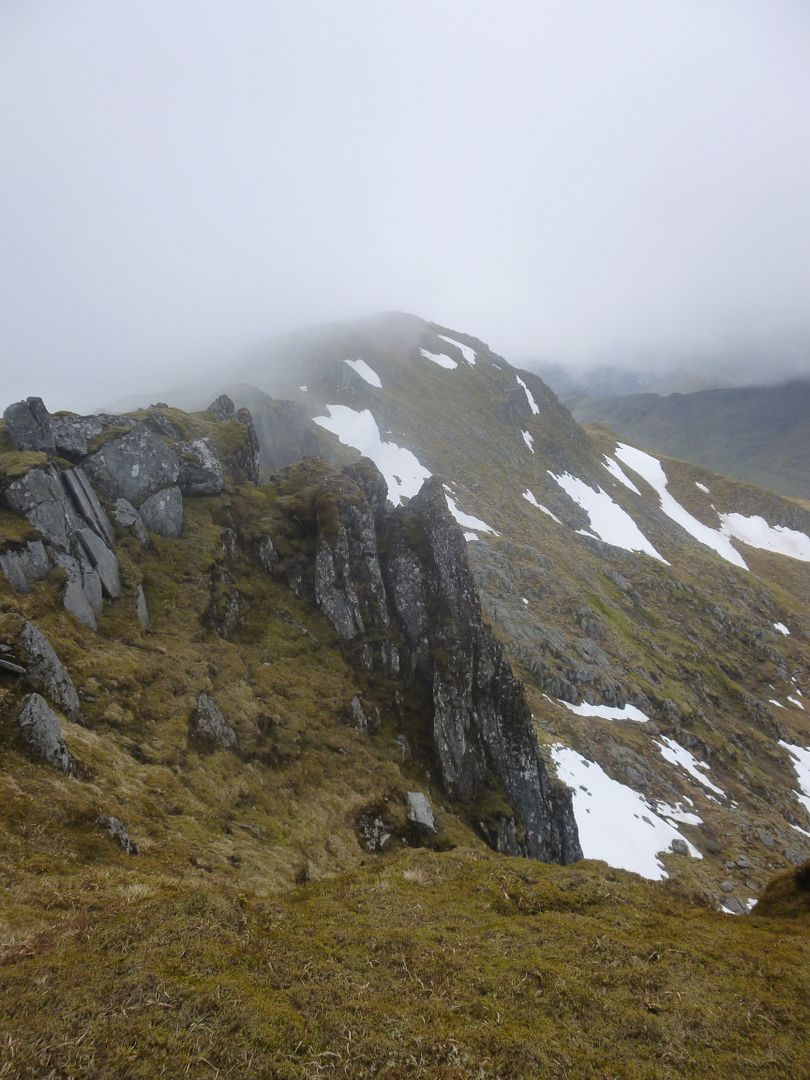 We descended down the ridge, the path zig zagging through the craggy bits in pleasing manner. A couple of bits even need your hands out of your pockets, but easy going. I managed to twist myself though and aggravate my dodgy hip, and this got worse until pain was radiating from my back down my bumcheek and right down my thigh with every step. It wasn't long before I was sitting on a rock, declaring that I was cream crackered.
Dad had been subdued too, and he confessed that his pacemaker wasnie working right, and he didn't feel that well either
With our planned camp spot at Mam Barrisdale still some way off, we decided we had to camp early, and would try to get to the hanging corrie on the far side of Meal Coire na gaoithe ear.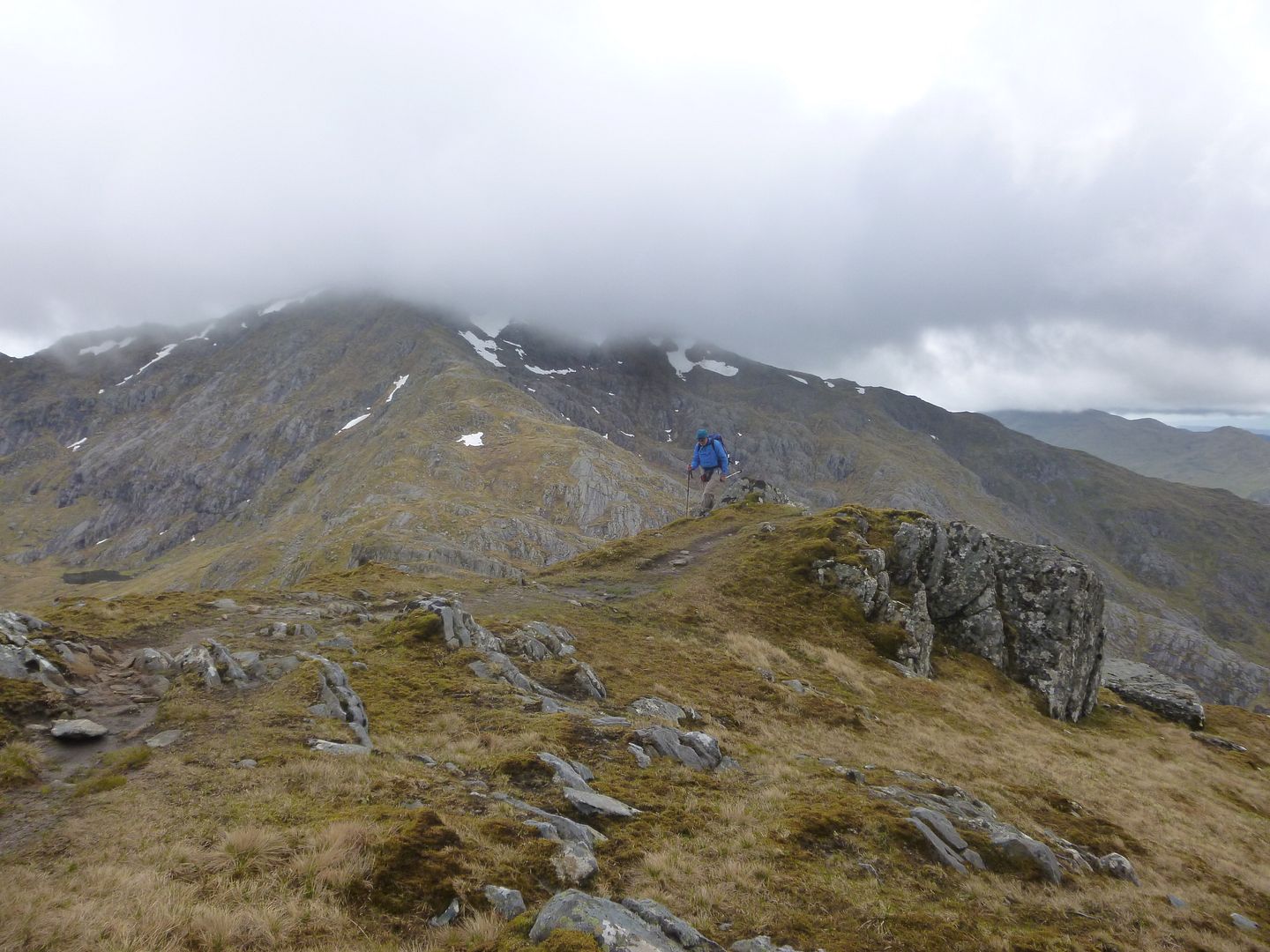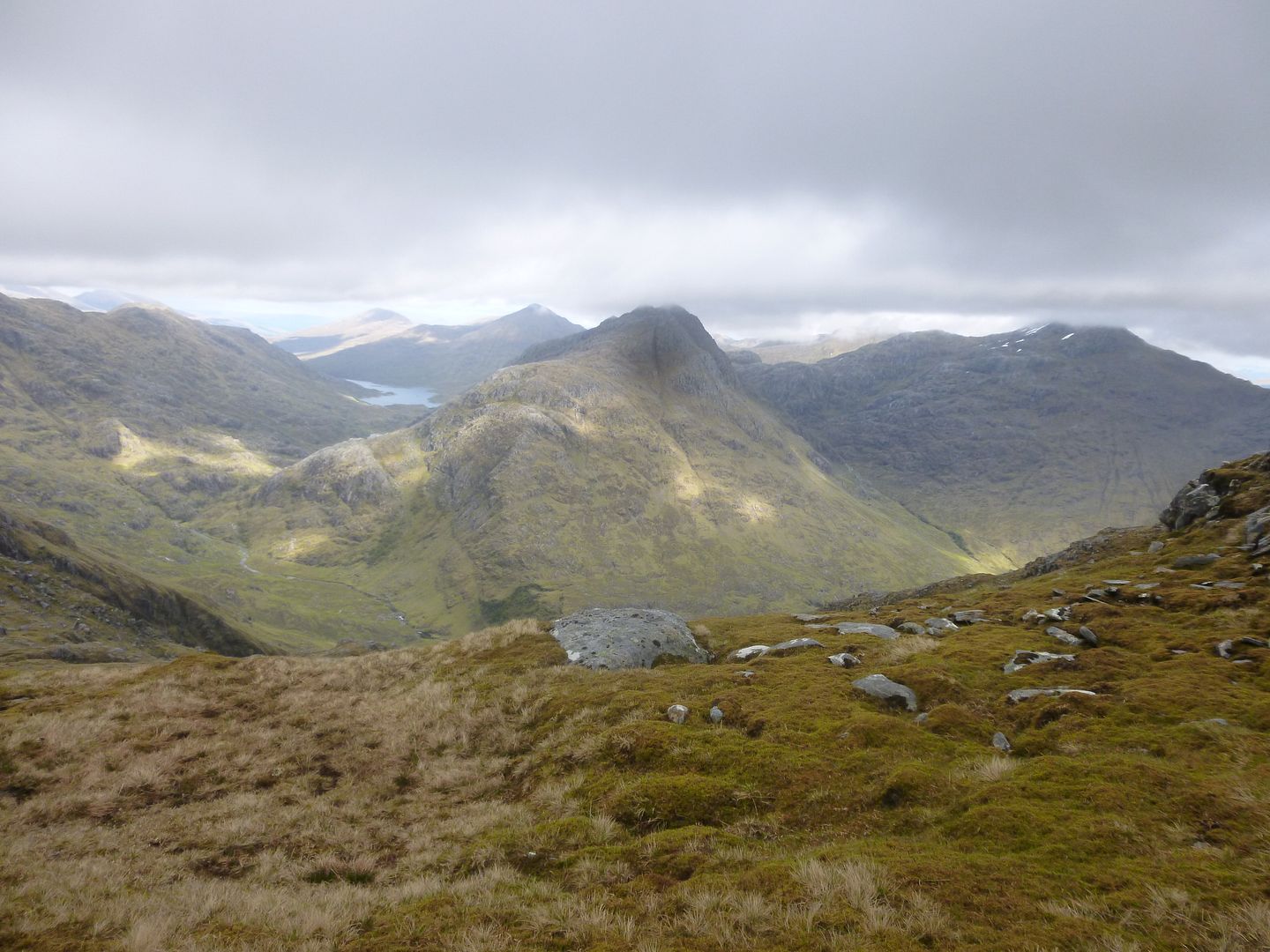 It was a slow ascent, but we made it over, to find a shortage of viable camp spots. We did find a peat hag in the corrie that was good eventually, just as the drizzle returned
Camping early meant for a long night but despite not getting that far, the mood was jovial and we had plenty of supplies to keep the food and drink flowing, and plenty of stories to keep the banter flowing. The drizzle seemed to last all night.
In the morning, I was disappointed not to be able to see 10 yards when I opened the tent, but by 9, there was sun getting through, so we packed up quickly and got on our way. My hip/back seemed to of sorted itself out, but my dad still wasn't on top form, and anything steep was out for today.
It wasnt far to the top of Luinne Bheinn (aka loony bin) where we sat for a good while expecting the mists to evaporate.. no such luck, just fleeting views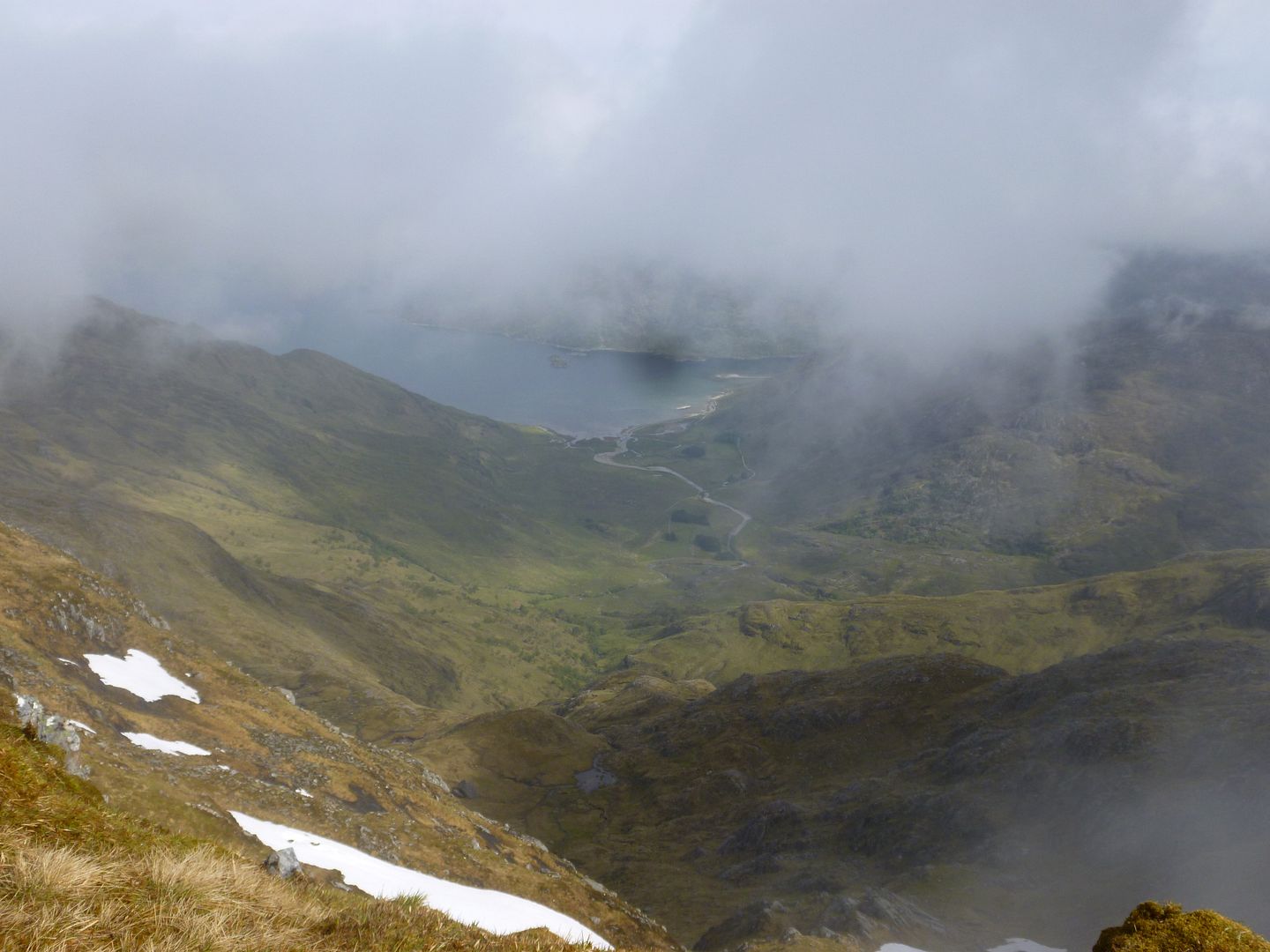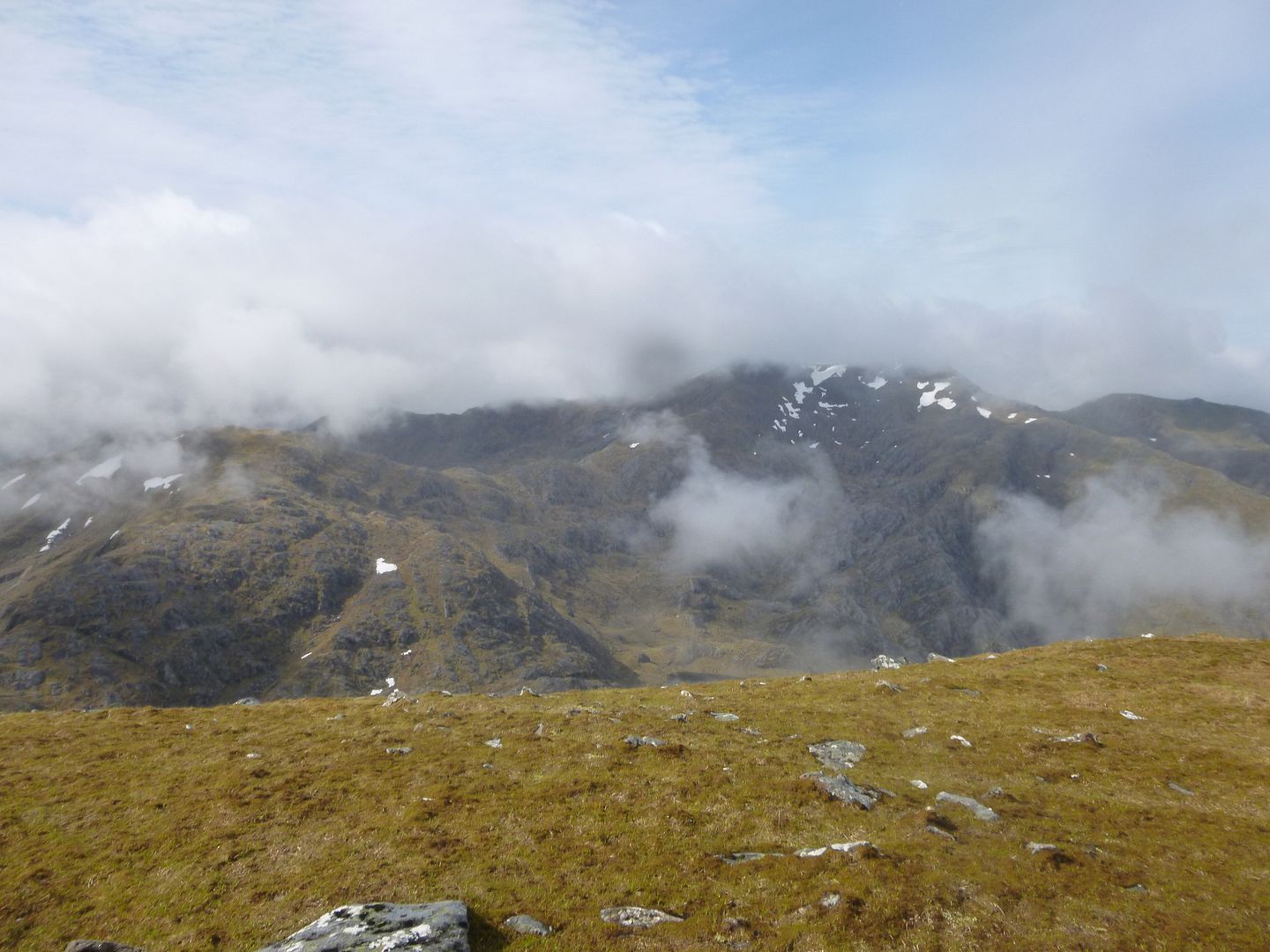 We followed the ridge path down the worst of the steep bits before heading left down to the skirting path along the fence. We stopped by a burn, now well beneath the cloud and enjoyed the sun for a while. We discussed our options. Ladhar Bheinn was out, as it was too steep for my dad to cope with, but we fancied doing something else, so we decided to traverse round to the corbet Sgurr Coire Choinneachean. It looked a long way, but I was looking forward to it. We crossed the Mam Barrisdale path at the cairn and kept on going round the hillside. The ground was good underfoot, and it seemed an effortless way to eat up the miles. Views to the slabby corrie the other side were magical, although I can't seem to find any photos of them, and it felt really good to be off the beaten baggers routes.
before long, we encountered the steep rocky gorge of the Allt Garbh, which forced us up the hillside to try and find a way over. It was probably best as lower down there looked to be craggy bits anyway. We carried on to a small plateau formed by a landslip below the crags of the ridge above. This made for some really fine walking.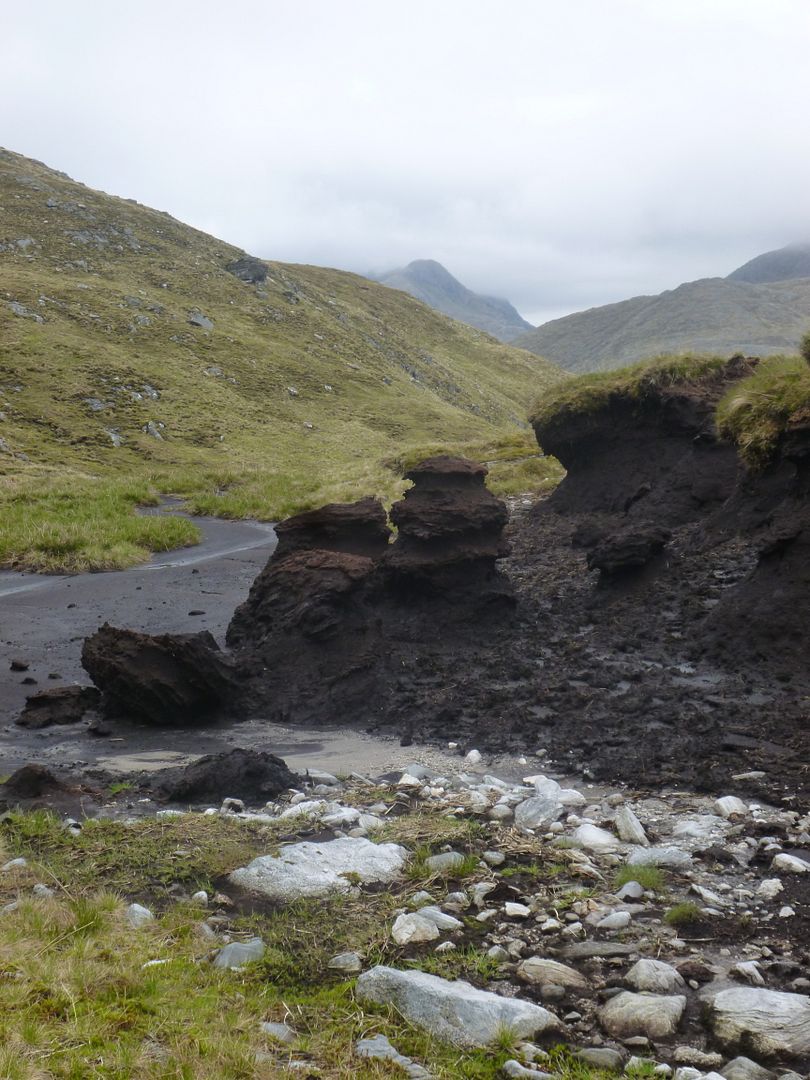 Eventually the easy walking finished, and we traversed steeper, bouldery ground, and were forced upward once again, before a fun grassy traverse onto the ridge some time further on.
Despite all the distance already put in, the corbet still looked a long way off, with lots of ups and downs along the way
The first few bumps, there was a bypass path, which seemed to go a long way down before heading up to the bealach beyond. To me it looked like more effort than going over, so I went over, and my dad took the bypass. We arrived at the coll beyond at exactly the same time.
The next top on the ridge looked formidable. My dad swore he had seen a bypass round, I had been looking for one too, but couldnie see diddly squat, so I was skeptical. Never the less, I followed him round, and initially there is a way if you are eagle eyed enough to spot it, but this soon leads to difficultly steep ground.. We persevered, and got round to the massive boulders, which turned out to be quite fun which in turn led to a grassy easy shoulder, level with the bealach beyond.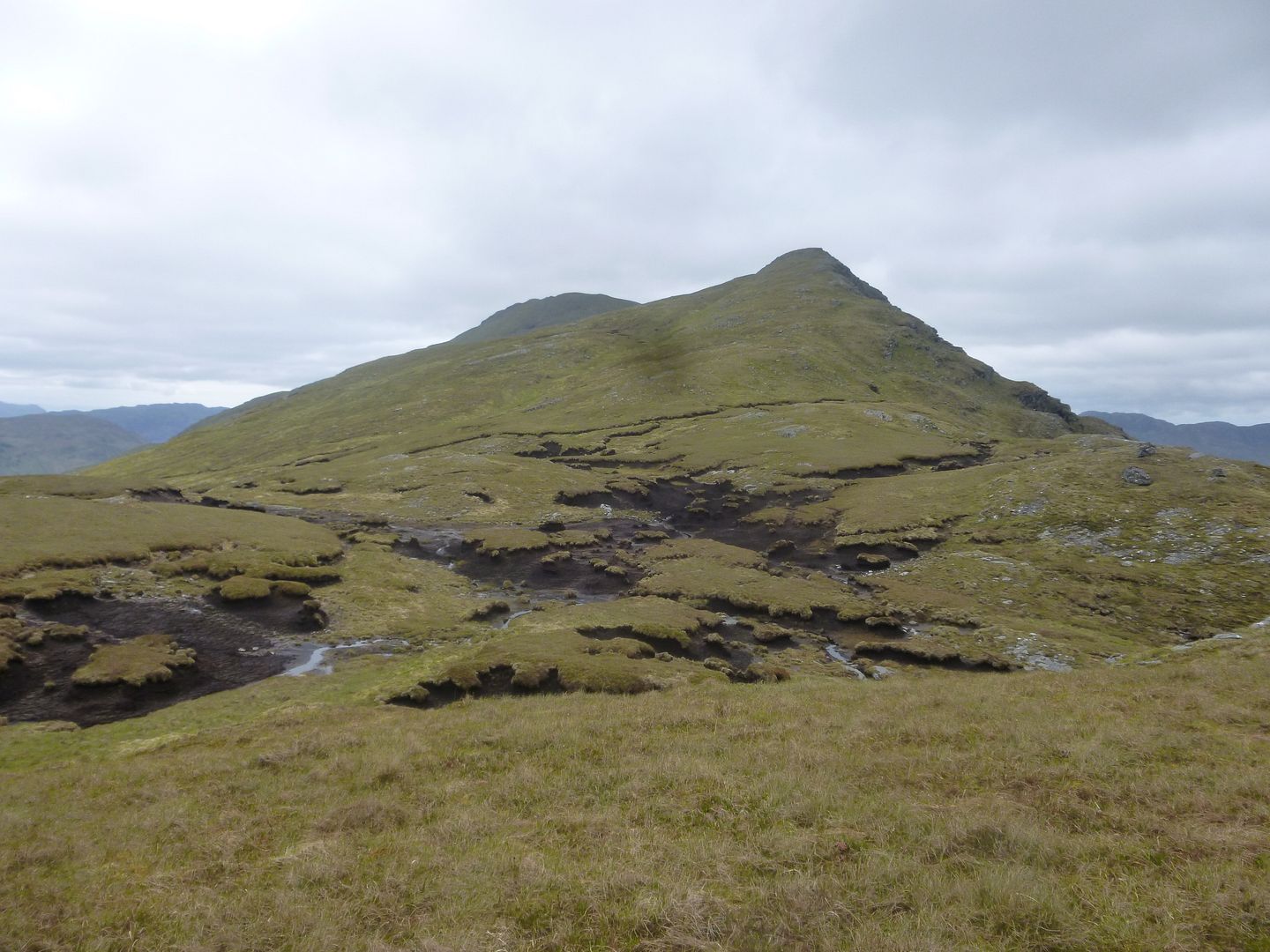 As you can see, there were a few peat hags there, well more than that, vast chasms of peaty doom which took a bit of a skirting to avoid
Easy grassy slopes took us up toward our target, which had cleared to entice us on.
A final steeper ascent took us up to pleasantly narrow and winding ridge, we were beginning to get tired, so stop for food was necessary to get us up.
We didn't really stop at the summit, because the best view points are further down the ridge, which continued to be narrow and dramatic.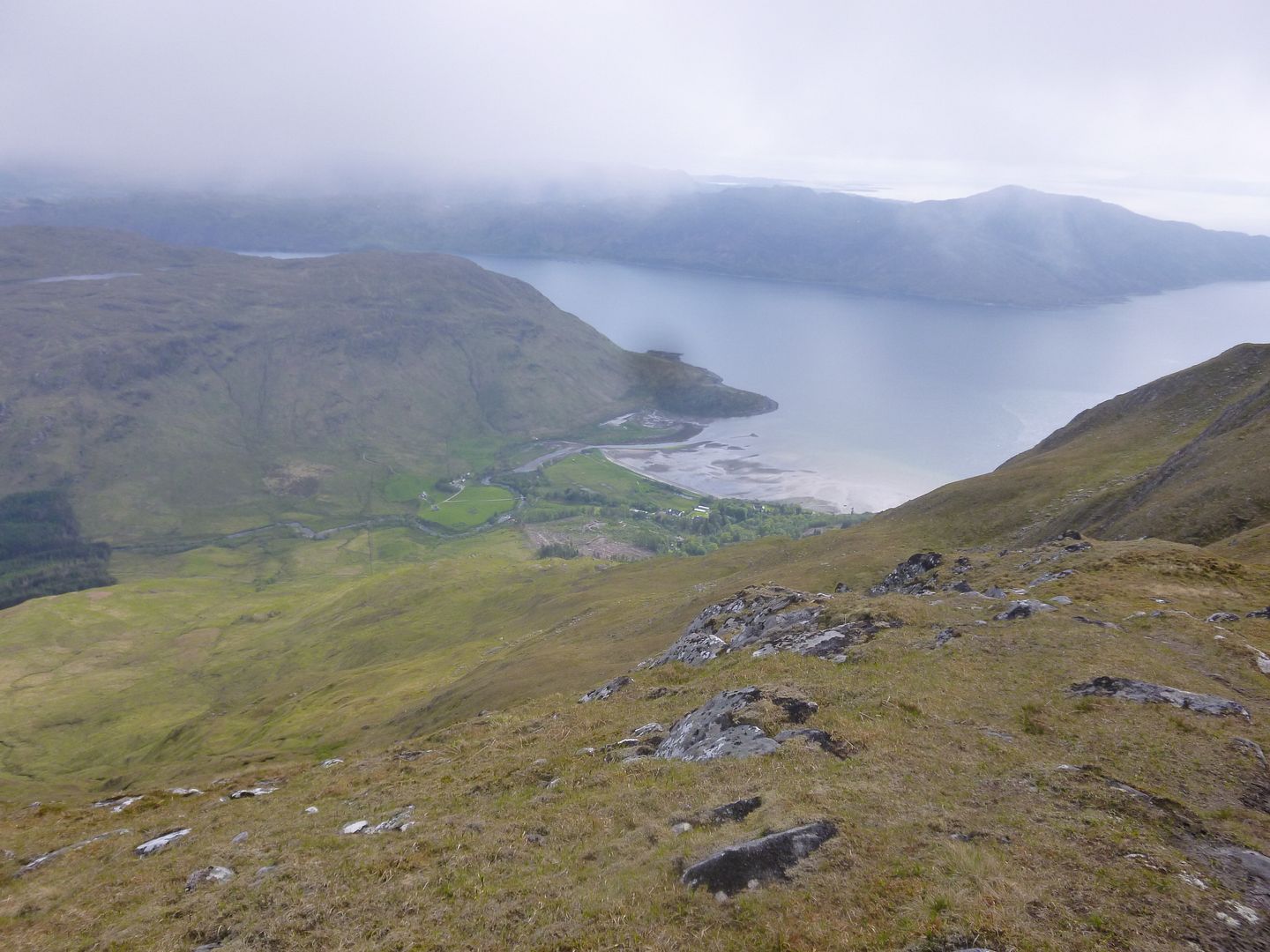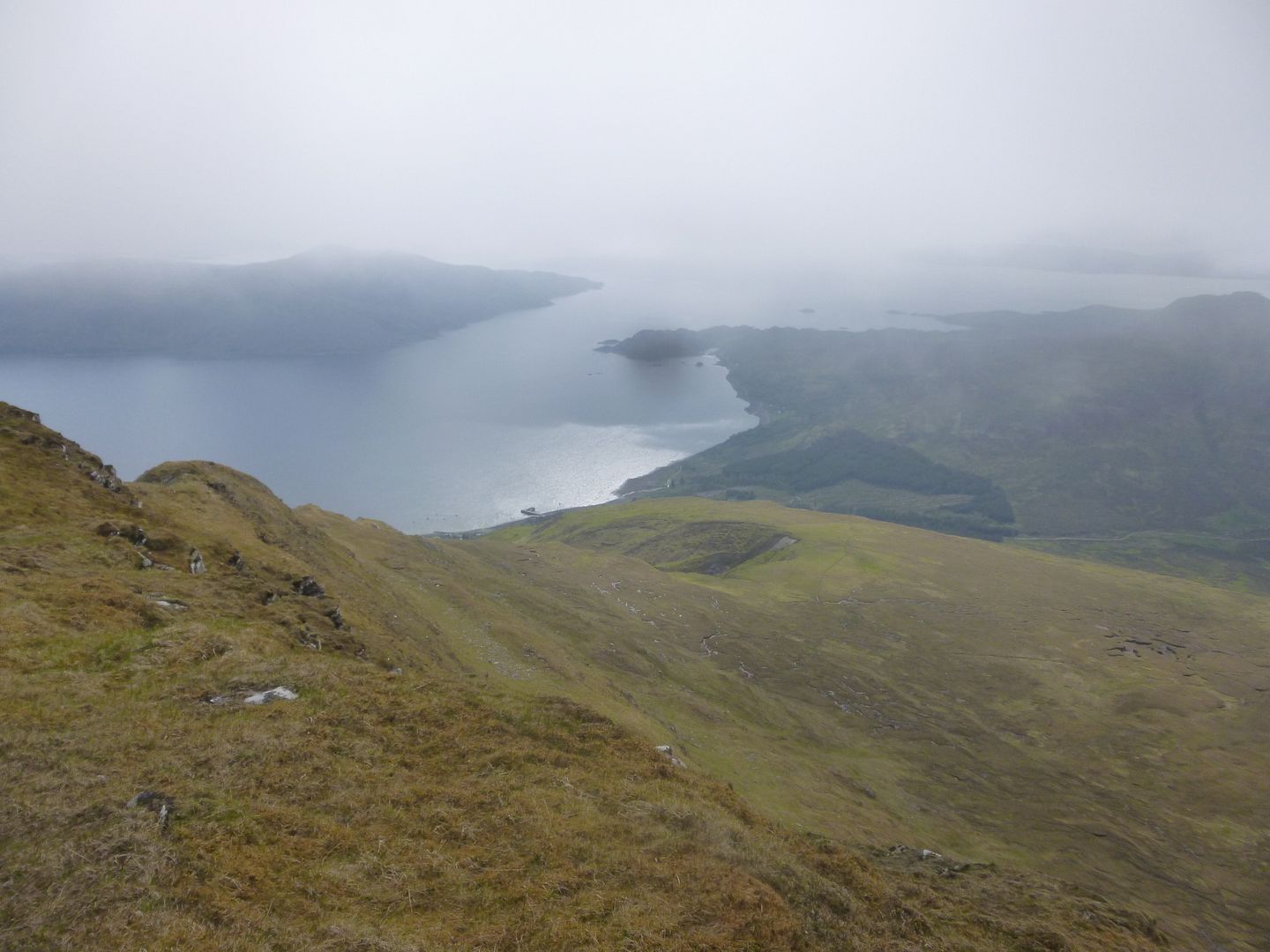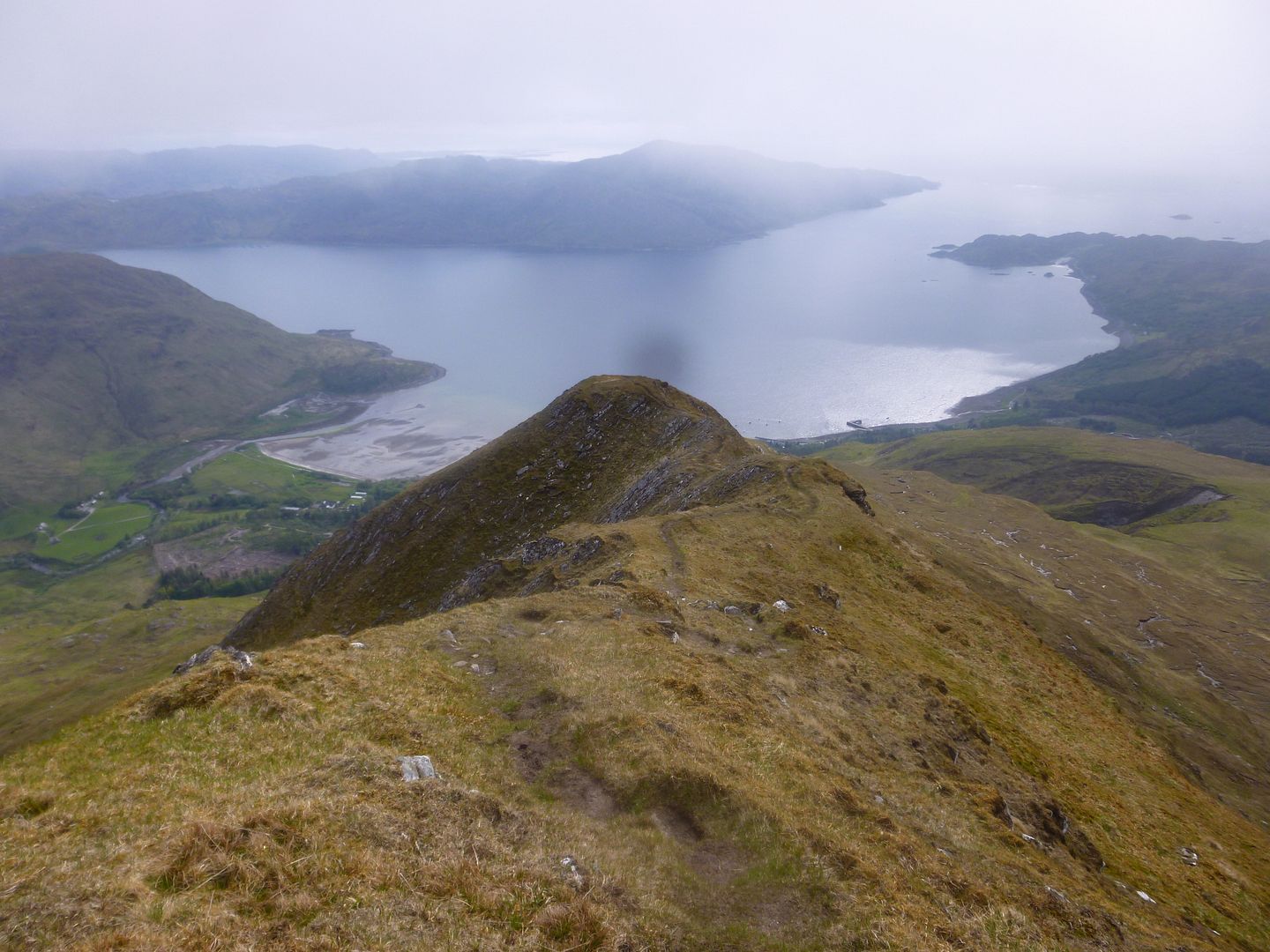 We reached the point where the path headed rightward across the lower plateau, but we decided to descend directly down toward the bunkhouse, which would save us some distance. It was steep, but nae bad at all until the last few hundred yards which was tussocky with huge bog myrtle and bramble bushes constantly trying to pull you back. I went over my ankle, and we stopped to let it ease and got covered in ticks. I managed to fight my way down to the 'open air swimming pool'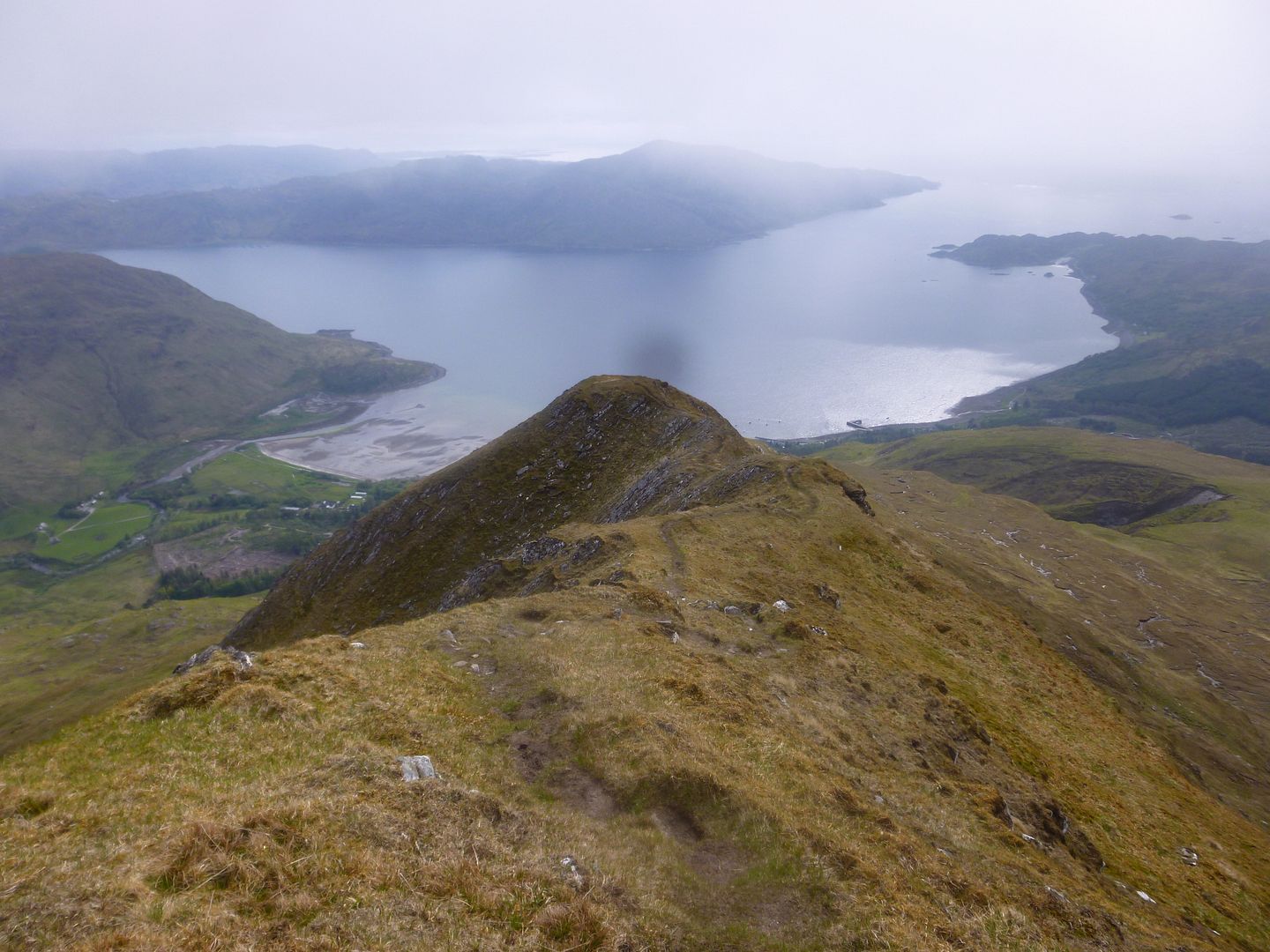 Where a tiny path went down to the track below - phew that had been tough!
A short walk saw us at the bunkhouse, where it was heaven to wash off that sticky feeling. We headed to the pub for the obligatory meal, dad asking 'are we there yet?' repeatedly on the short walk - he looked stiff..
But in the morning he was fit enough for a good ramble around the woods and lunch before getting the ferry back.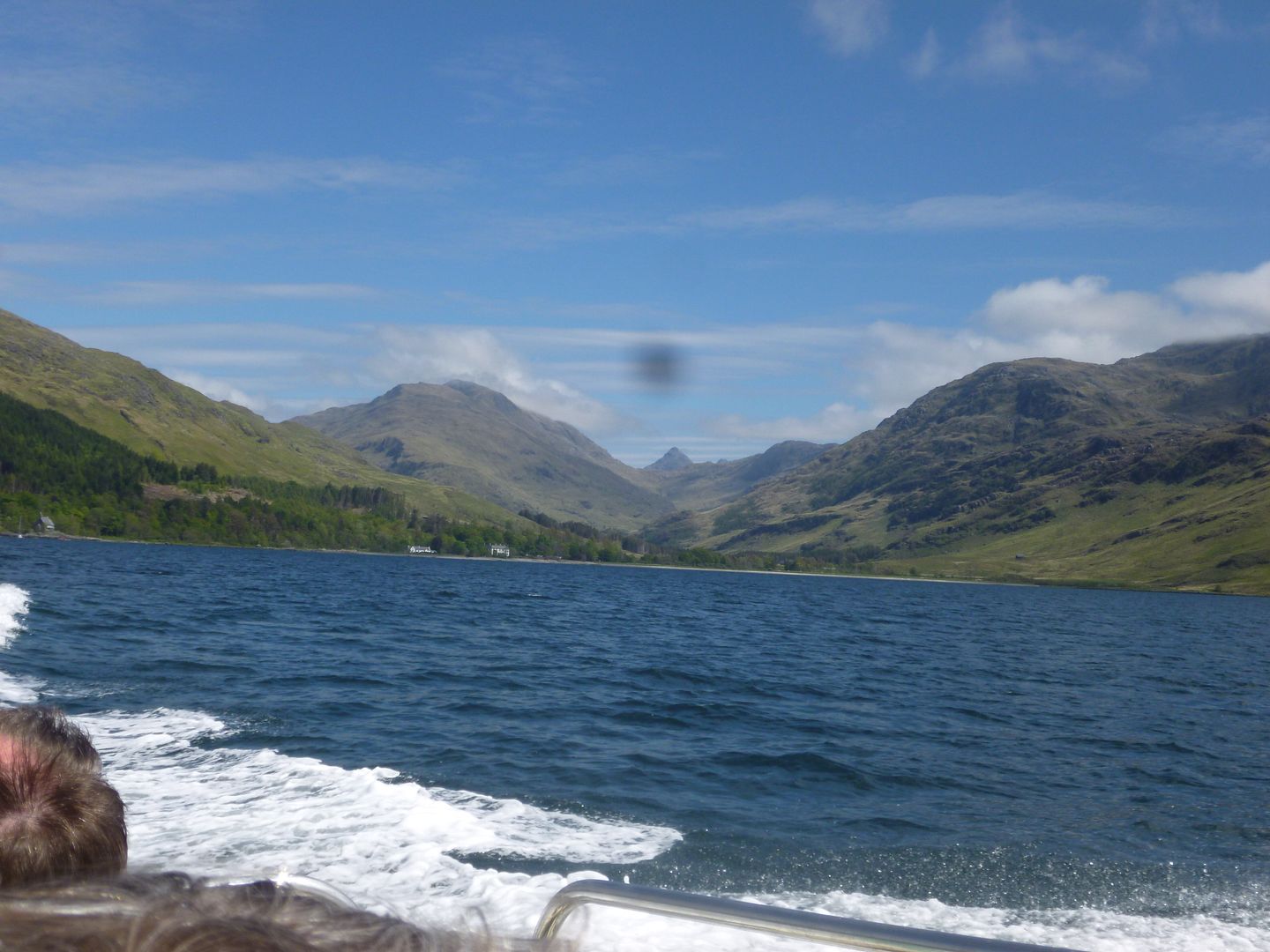 In Mallaig, I said my Farewells to dad, as he had to get home, but the weather was scorching, and far too good to go home yet. I headed back to the Silversands campsite, where I put on my scrambling shoes and spent the rest of the afternoon and evenng scrambling for miles along the rocks on the shore, only occasionally being forced down onto the sand.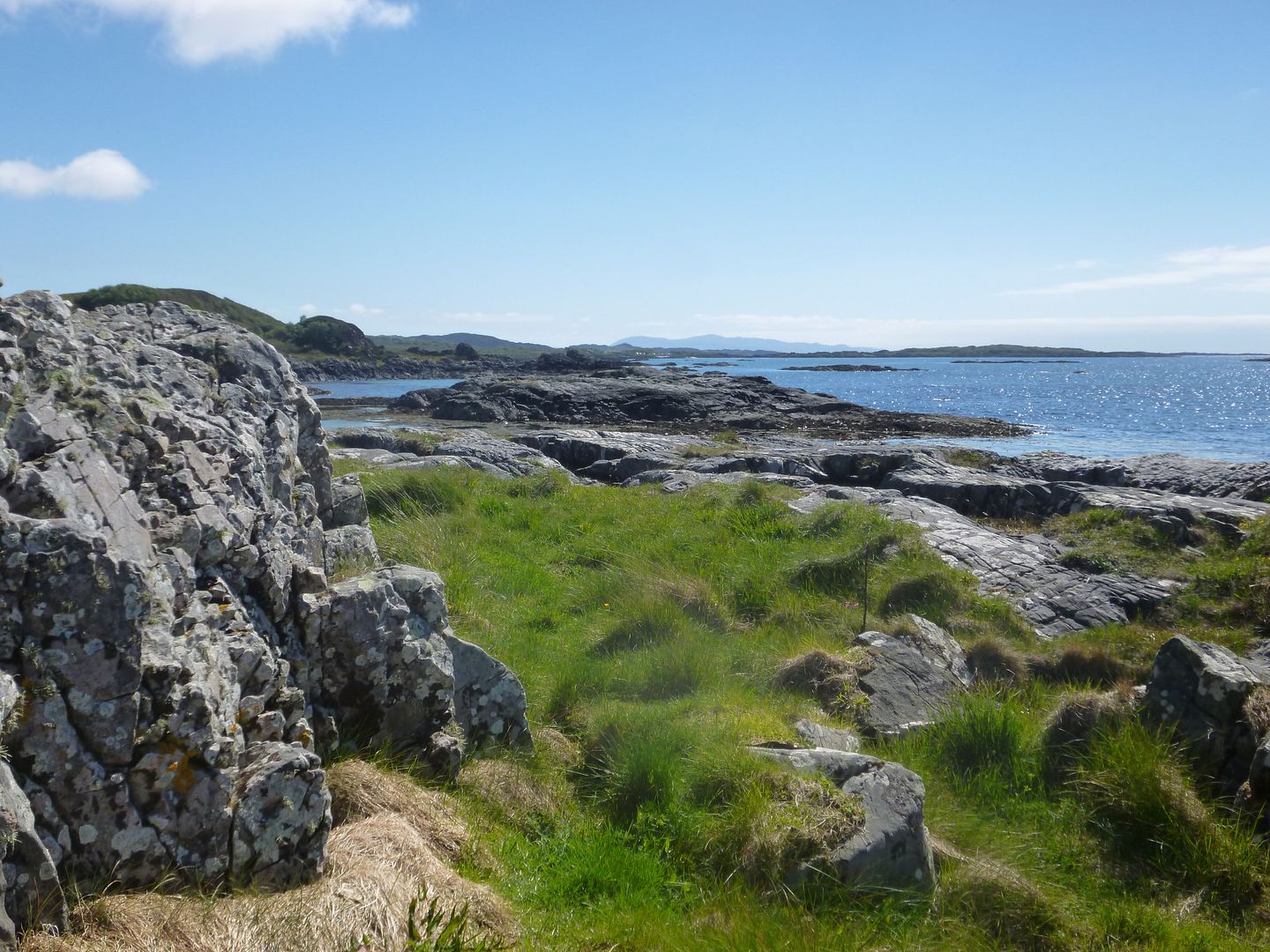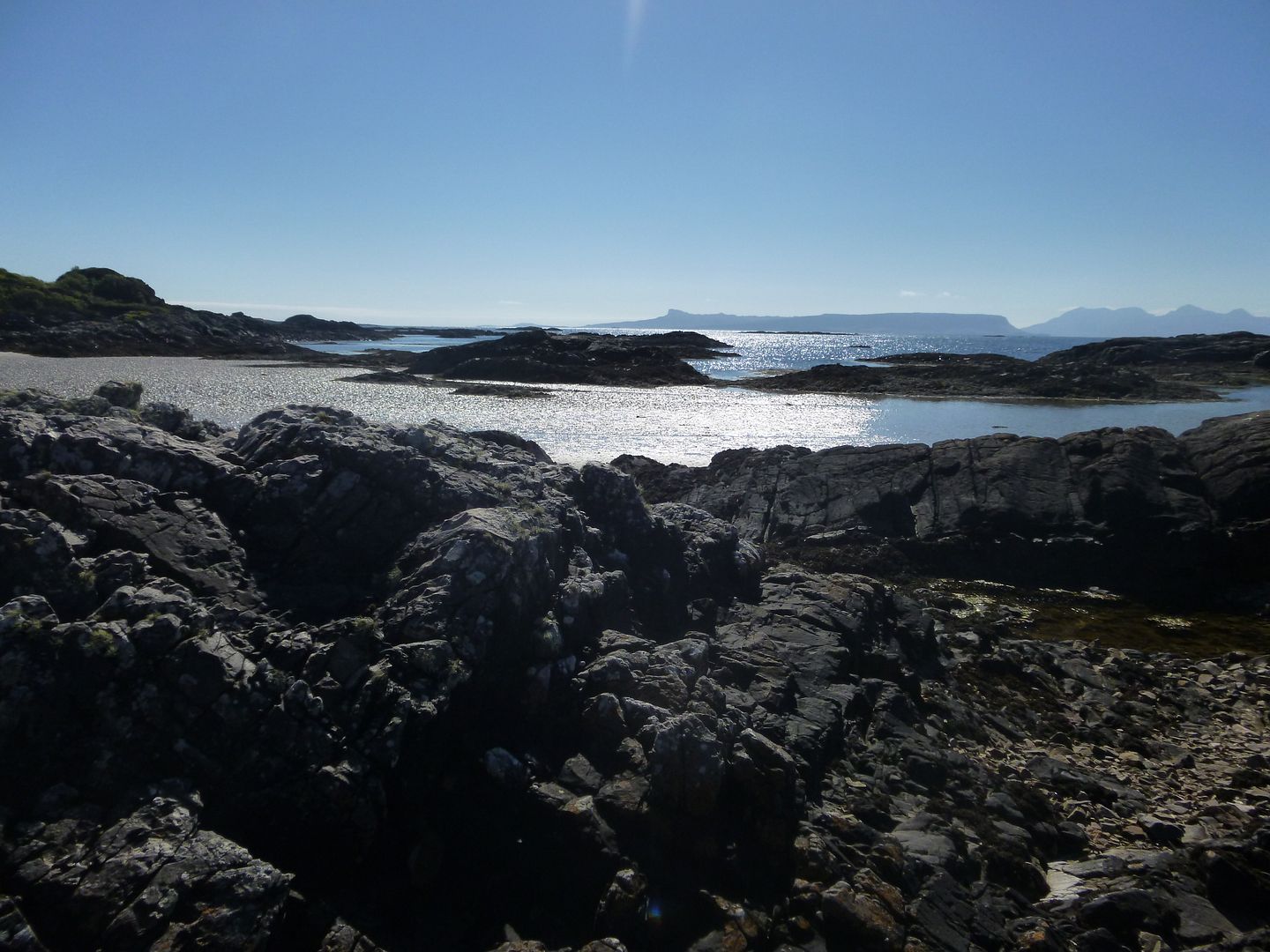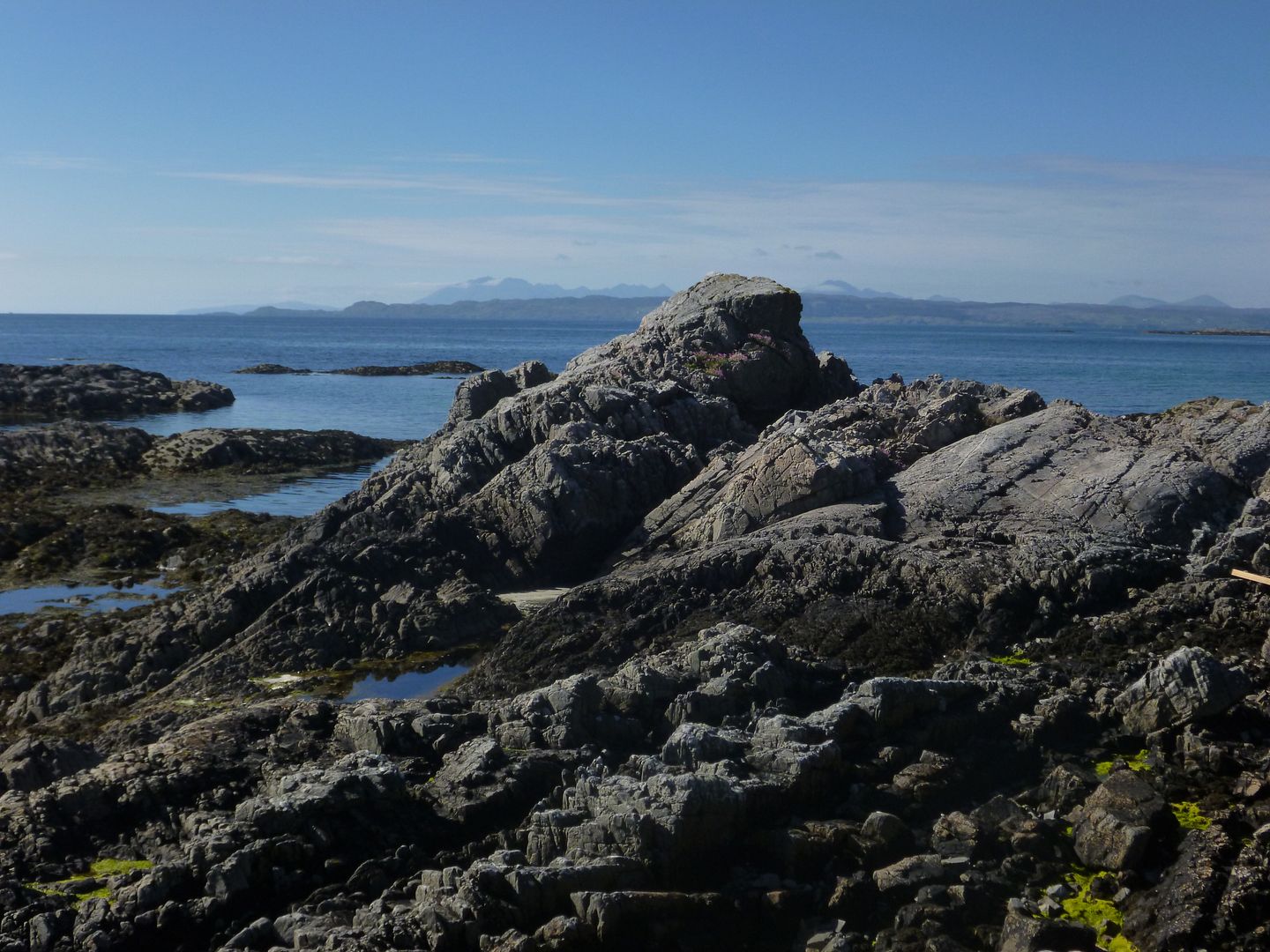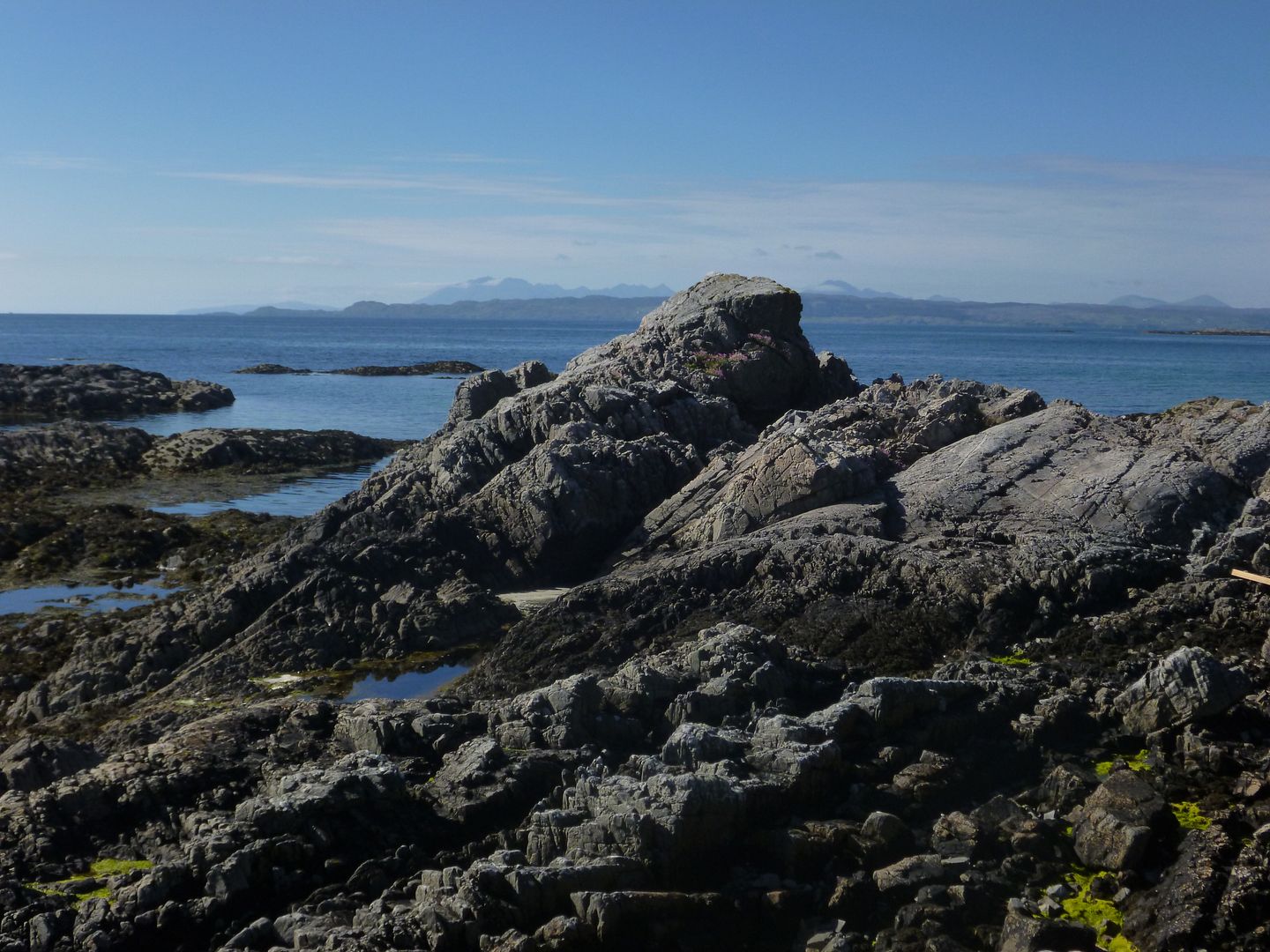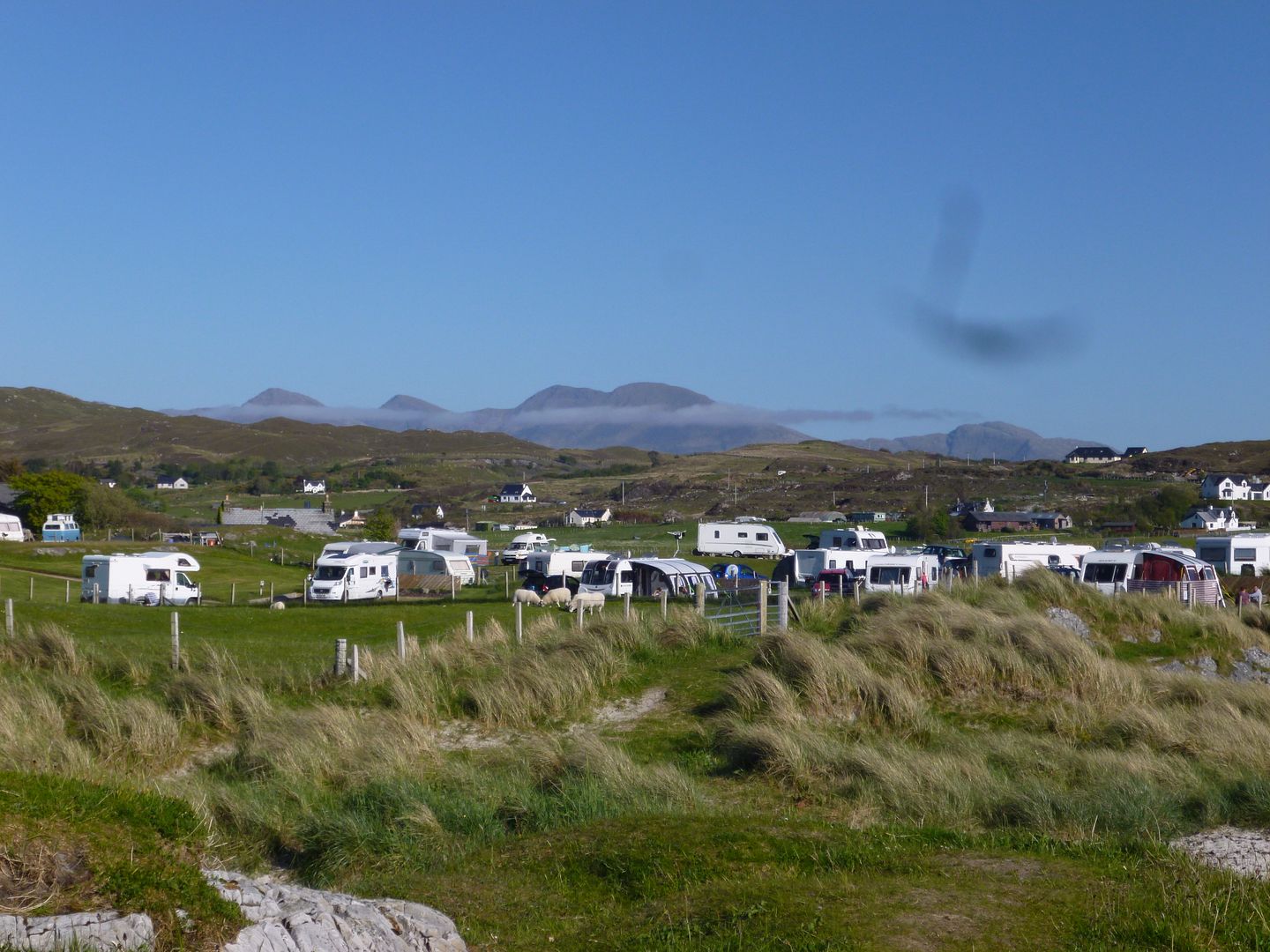 I never took anything with me, so when I got chatting to a chap outside his caravan, I asked him for a glass of water, to be handed a tin of stella
It turned out to be late by the time I got back to the campsite,
and I set up the wee tent on the little island. It was a really nice sunset out over the cuillin..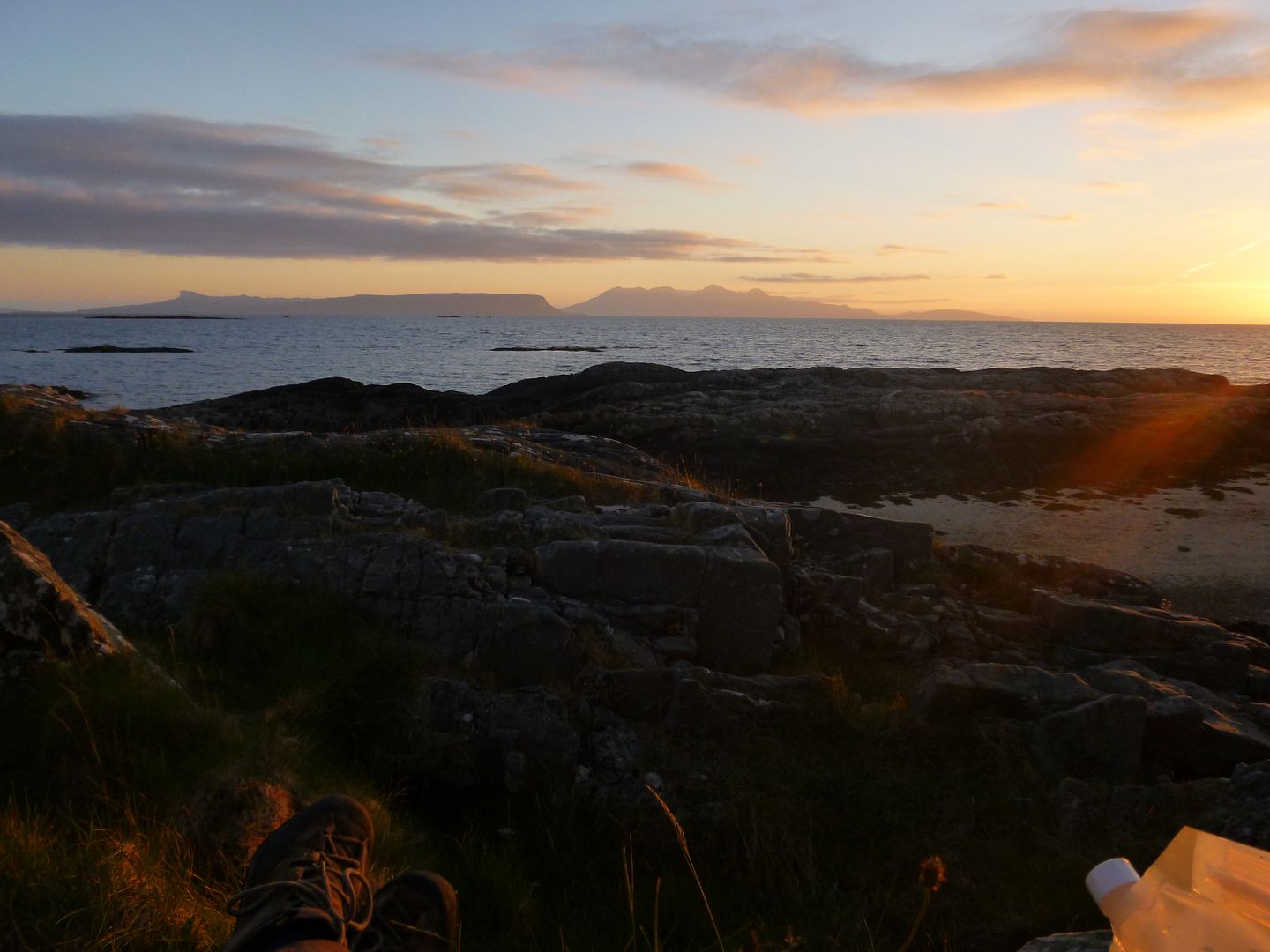 In the morning, I decided I would go and do Rois Bhein. I had seen that hill, from many angles, so I presumed the views would be good from the top, and it was set to be another beautiful day.
I set off, having bit of trouble finding a spot for the car, but did manage to squeeze her in to an already busy spot down by the loch.
I set off straight uphill through the woods, the going easy to begin with. I found a deer fence almost straight away though - one of the flimsy ones you cant really climb, but I followed it along to a corner where a sturdy post made for a precarious crossing. From there the going underfoot got worse with loads of dead wood, but after not very long I found an old overgrown track to follow, which first zig zagged, then went straight uphill impossibly steeply and I wondered how any vehicle could of ever managed that. The track fizzled out next to another deer fence which conveniently had a double post which aided the climb over. At least I was getting some views for my efforts already..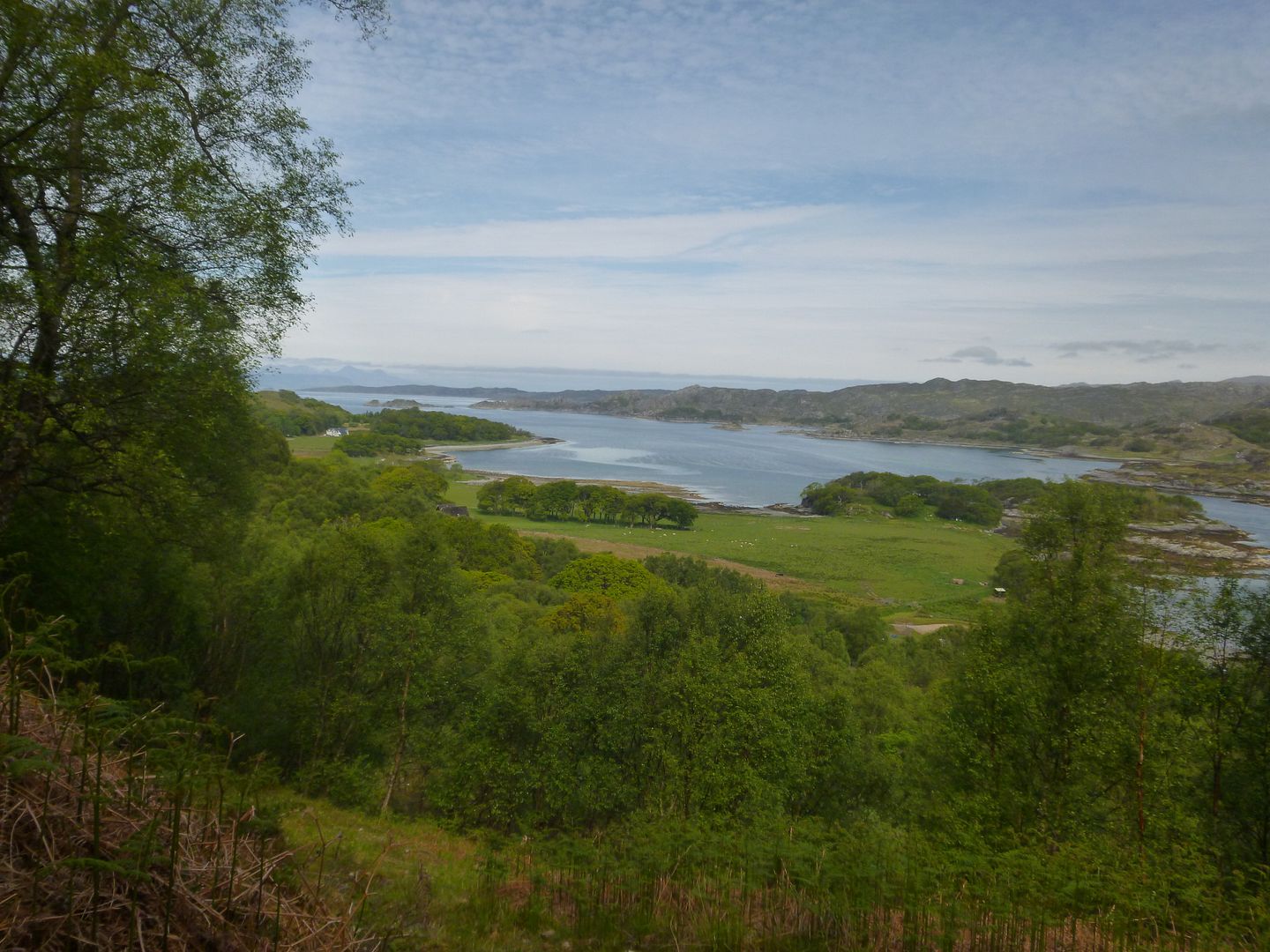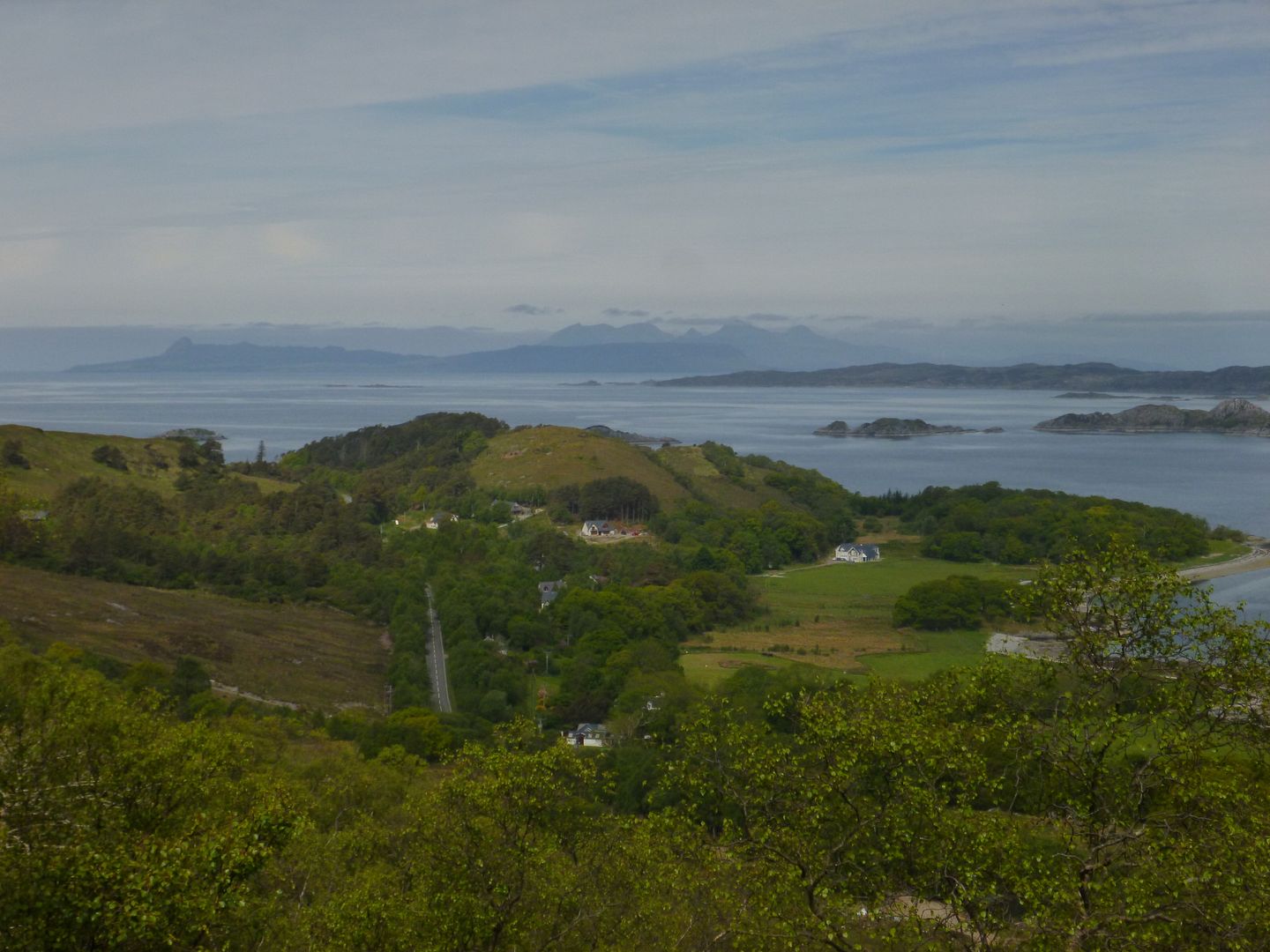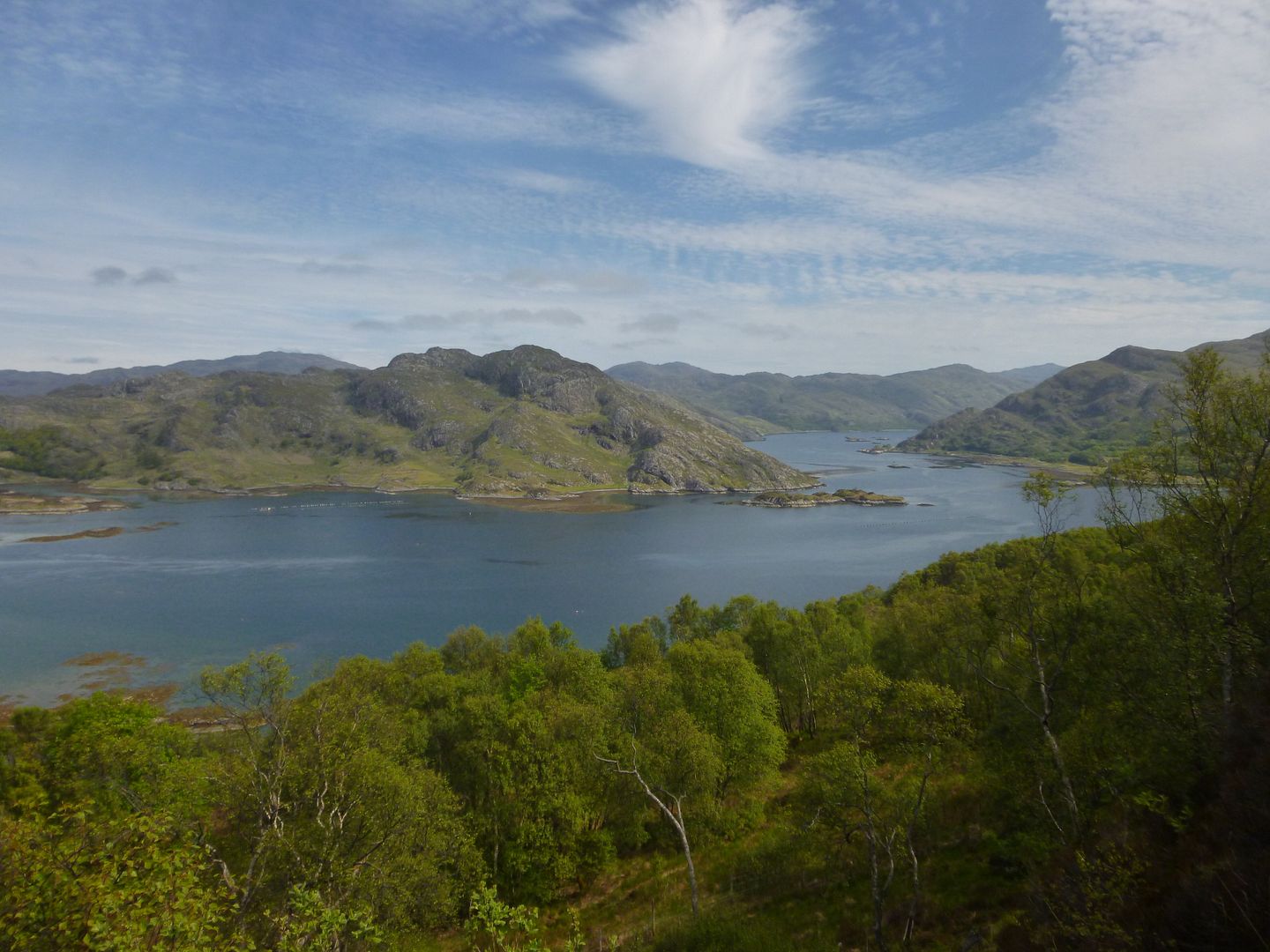 The ground the other side of the fence was steep and deeply heathered, so it was a bit of a sweaty struggle in the heat, but I finally made it to the squelchy open moorland above and boy was I glad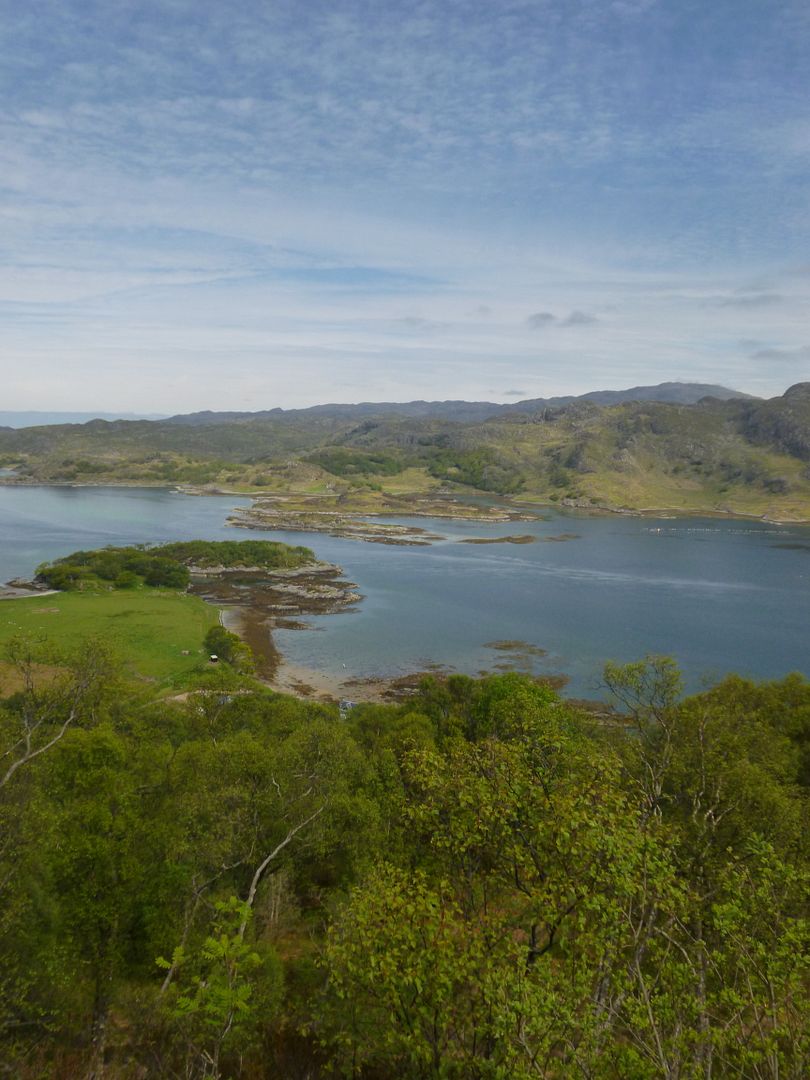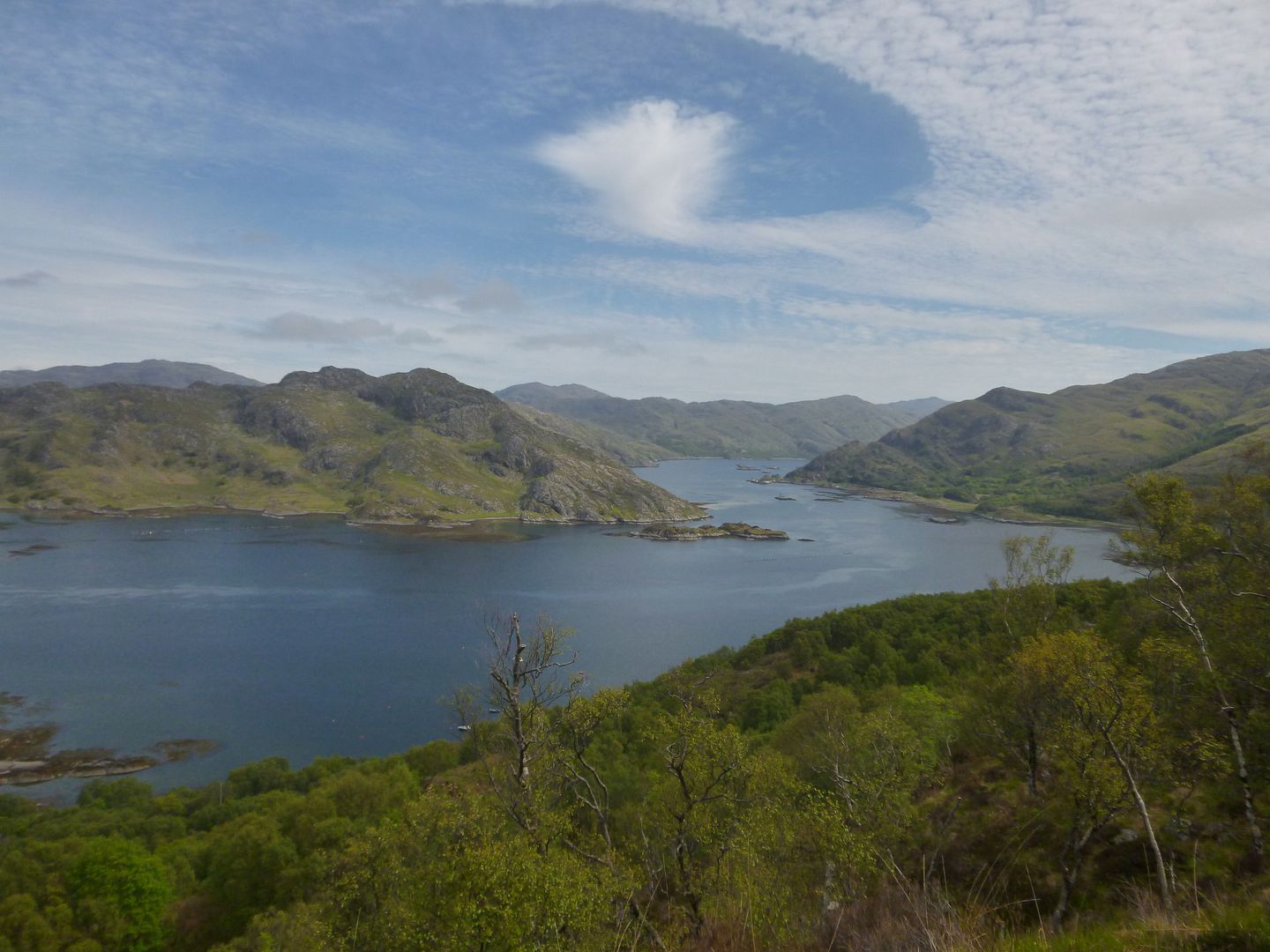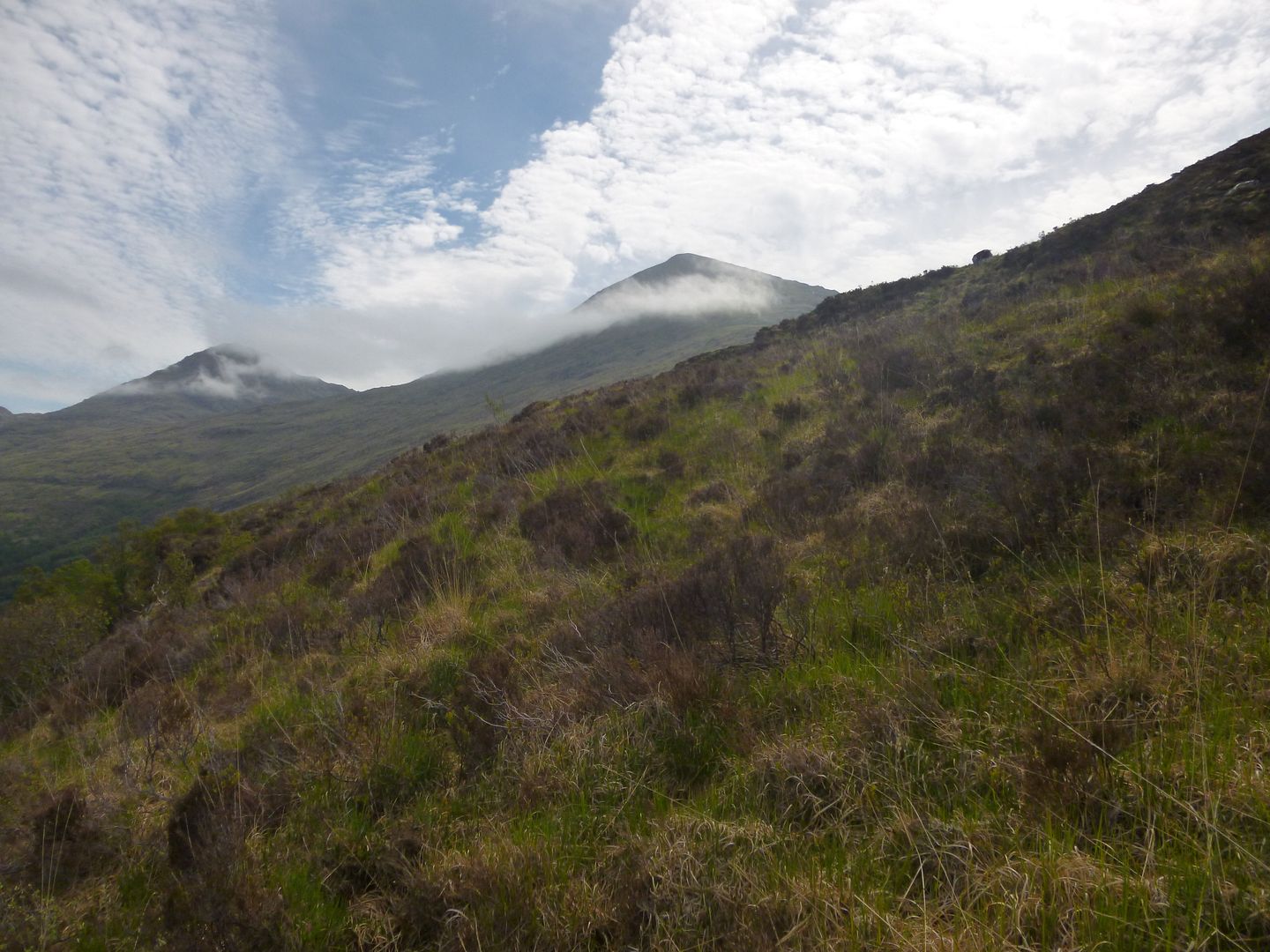 I could see my target, so just headed straight for it. its lumpy undulating boggy ground though, and I had to stop frequently to cool down so a slow ascent. I had all day anyway, so didn't feel rushed at all. I heard and felt the vibrations of the steam train on the Mallaig line - what a racket!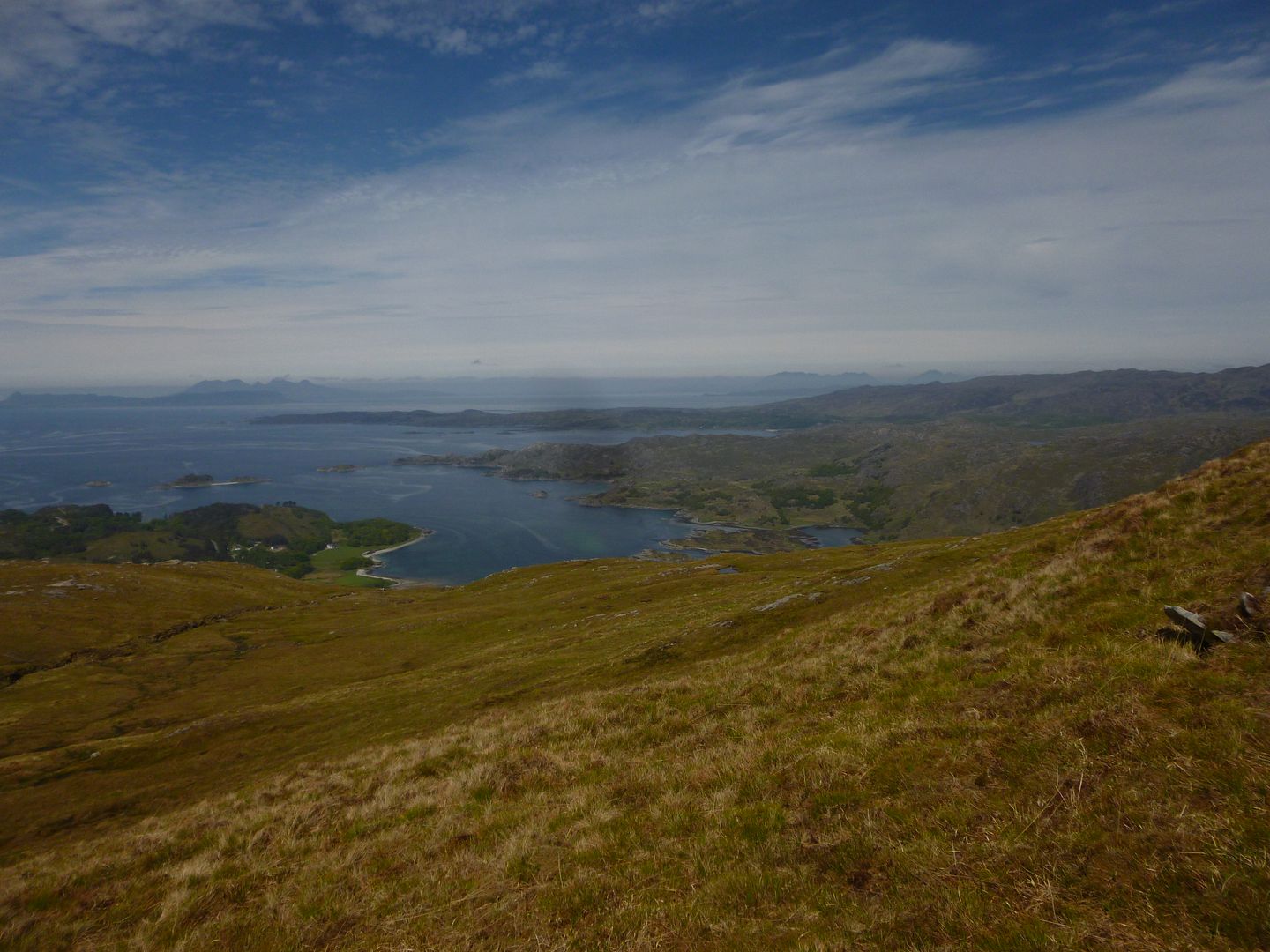 On the map, I thought it looked like a fairly steady gradient up this ridge, but there were a couple of steep bits which I weaved up, to try and ease the camber.
Eventually I got to the top, and looked at the map.. Looked like this was the lower of the two, and I would have to visit the other one. Huge cairn though!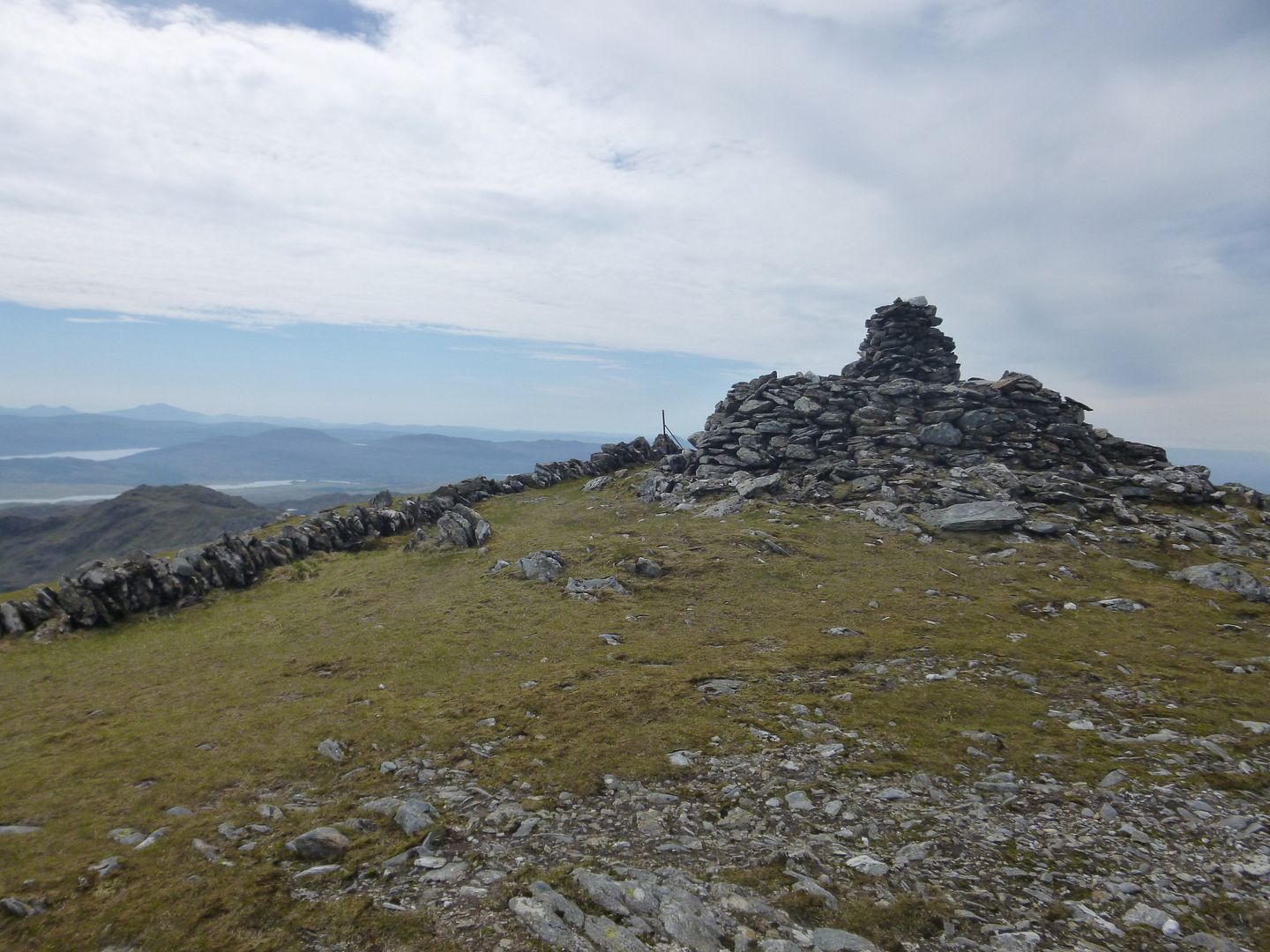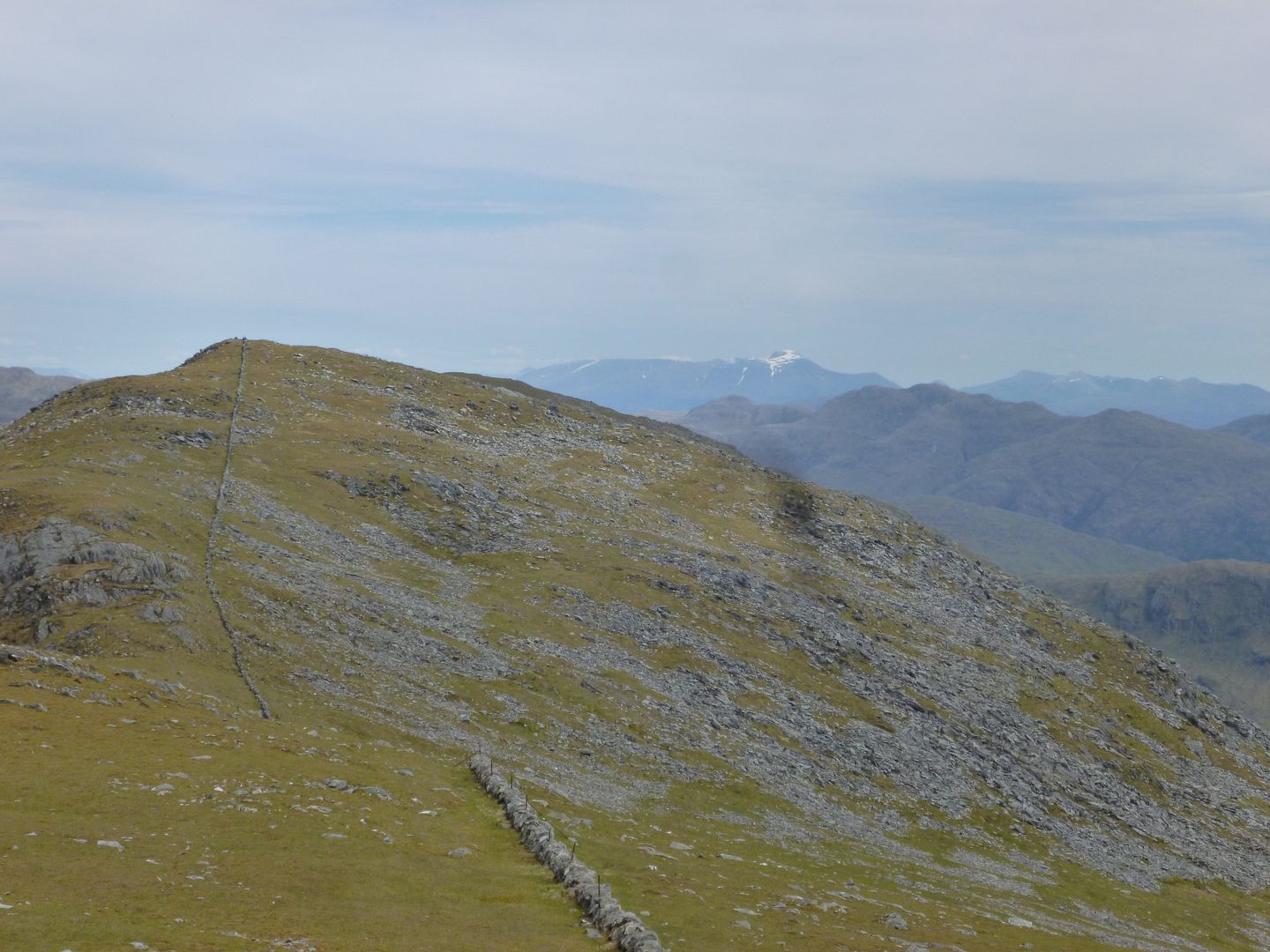 I set off, and it only took me 10 mins to get to the true summit, where I had my lunch and fell asleep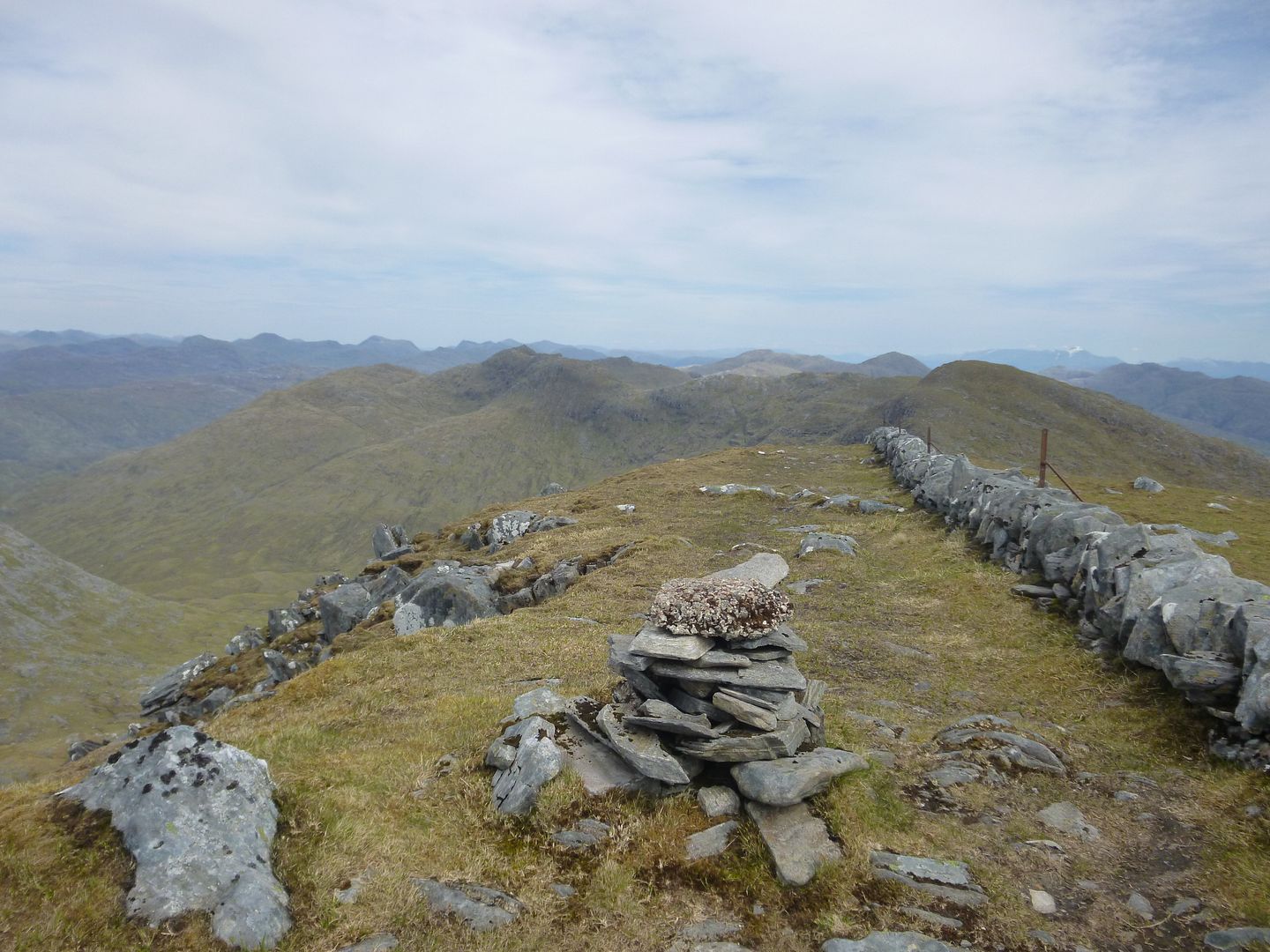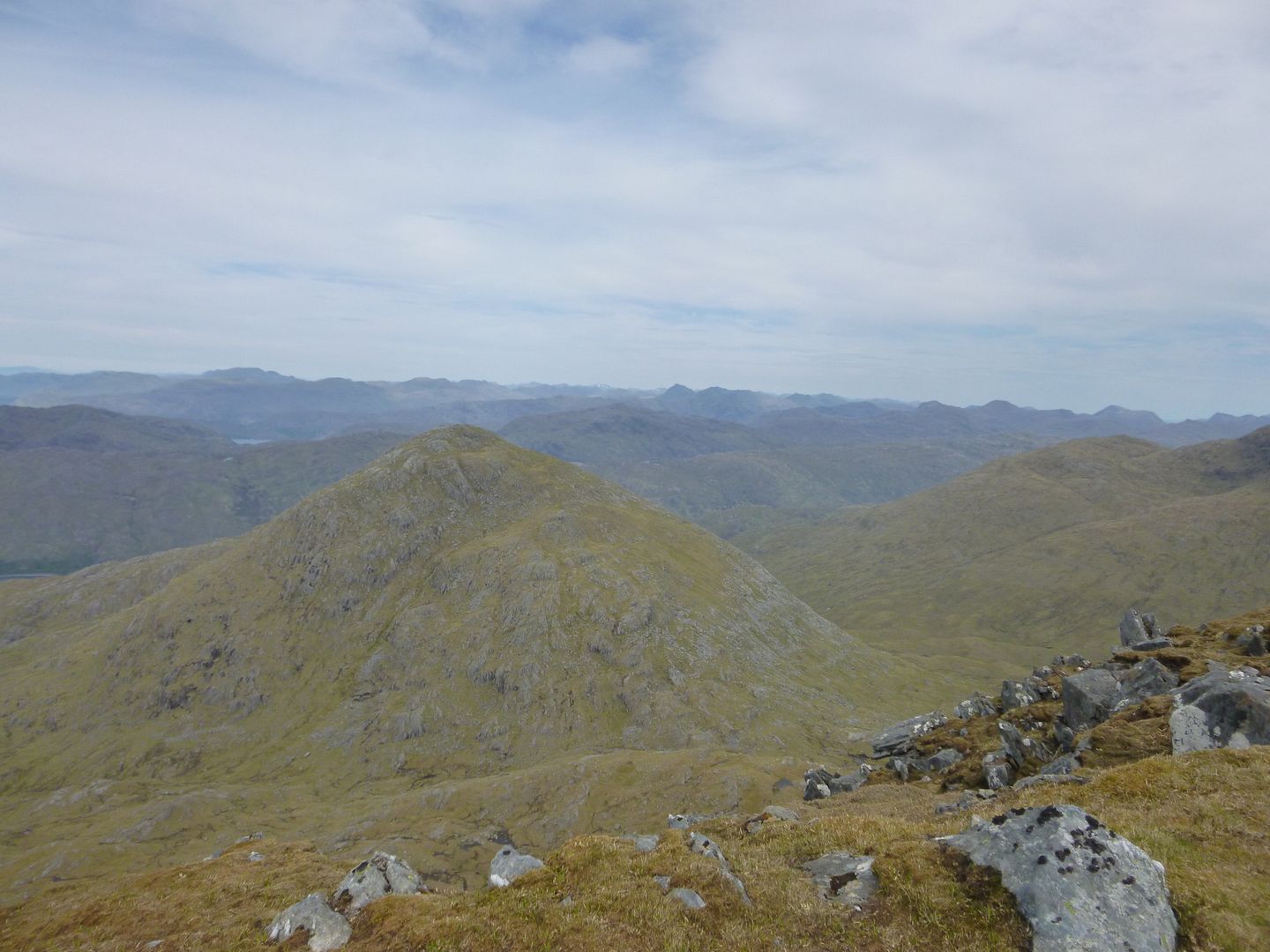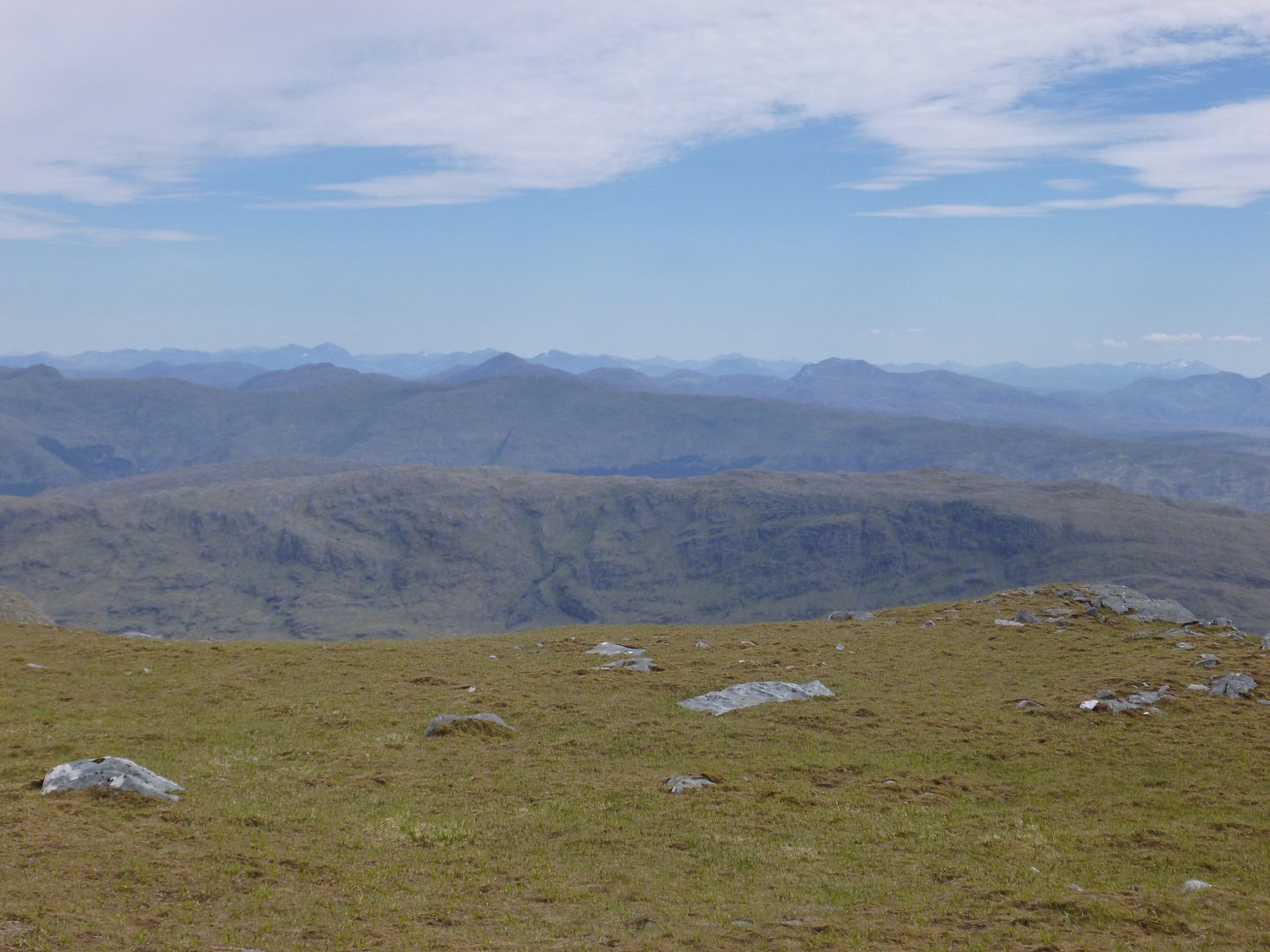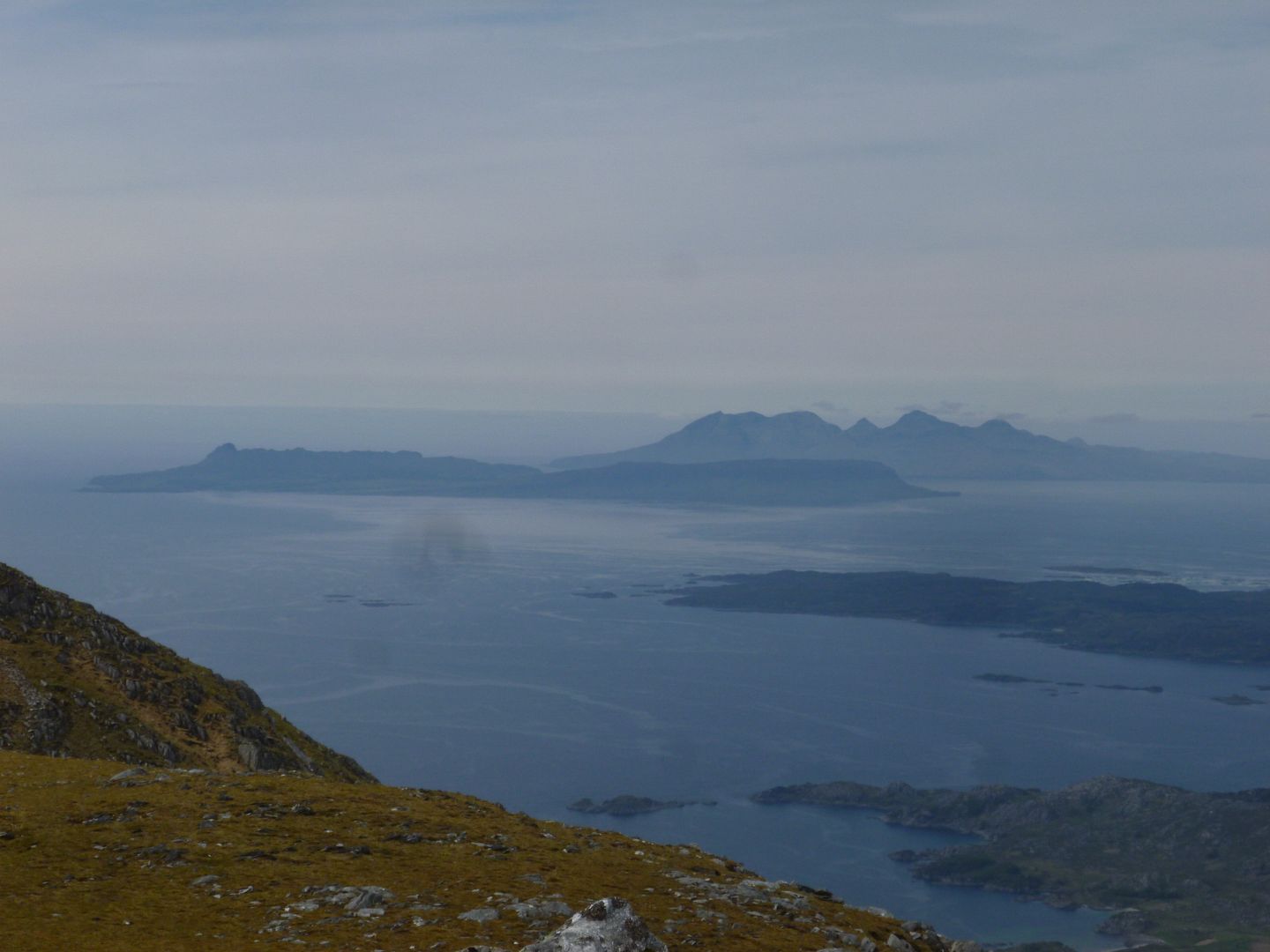 It was 3PM when I awoke, and enjoyed the views for another 10 mins before I left, retracing my steps down the hill. I stumbled across some argo tracks, which I followed for a good distance, hoping they would lead to a track and a way off the hill that didn't involve climbing deer fences
but I lost them eventually, and found a fence which I followed very steeply downward on a very boggy hillside. This took me down to a barbed wire fence which I gingerly crossed to find myself in a cow pat quagmire on a farm
Well at east I had found a way back to the road..
It wasn't far back to the car, and the long reluctant journey home.