Despite spending all last week saying that compleating was brilliant because I would never have to climb another boring heathery lump again, the weather looked a bit rubbish most places this weekend, and I hatched a plan, that I was quite looking forward to, to do a couple of heathery lump hills round about Glen Avon.
Dougie was working this weekend, so I skived off as early as I could on Friday and headed up the road by myself. Quite a lot of ups and downs to get to Tomintoul, where the bonny evening promised on the weather reports looked like it had not come into fruition
I set off under my brolly, and was soon at queens view - a little disappointing if you ask me!
The woods were really bonny though, with fine old birch trees and juniper bushes carpeted with blaeberries, and all looking so lush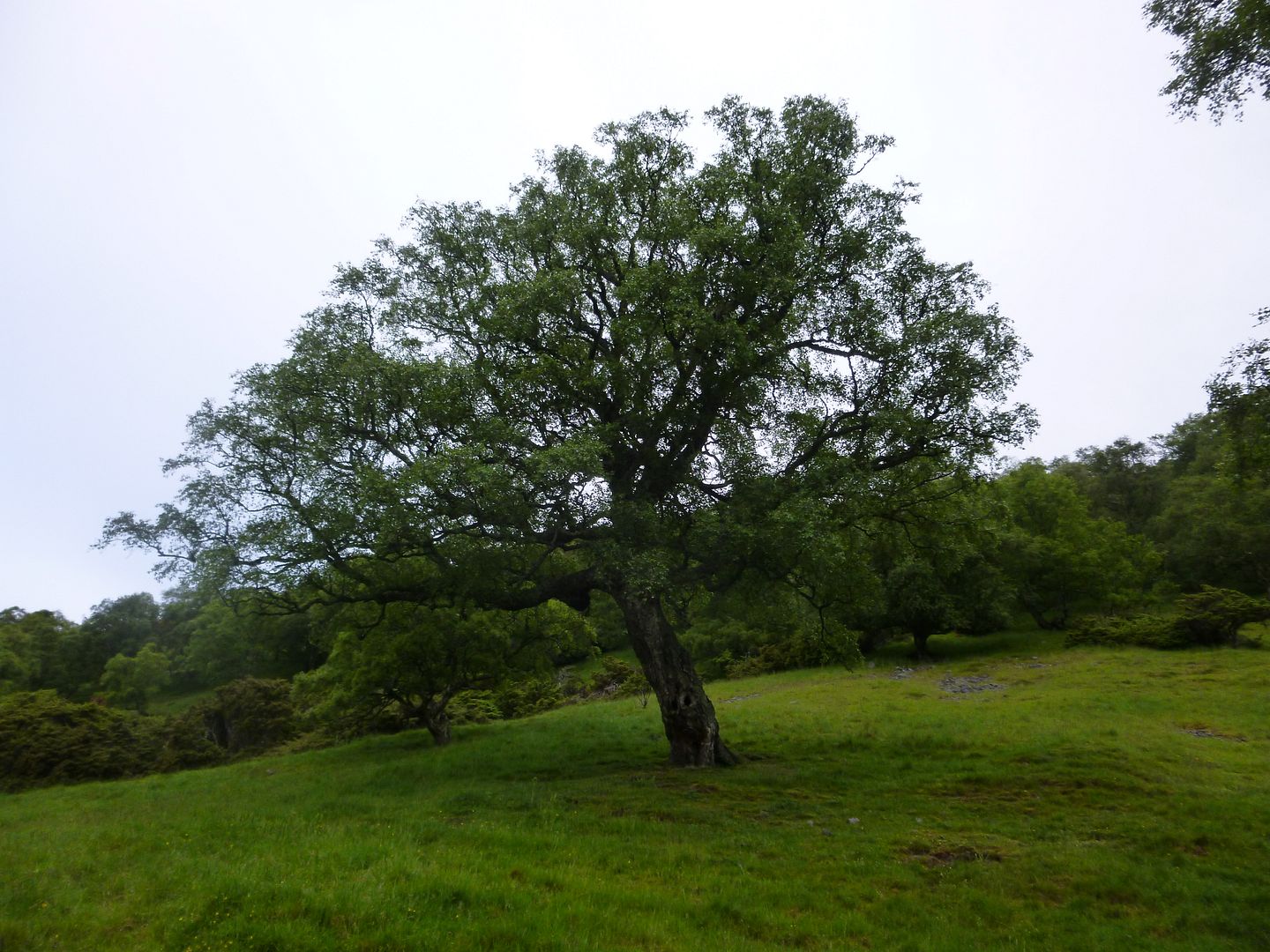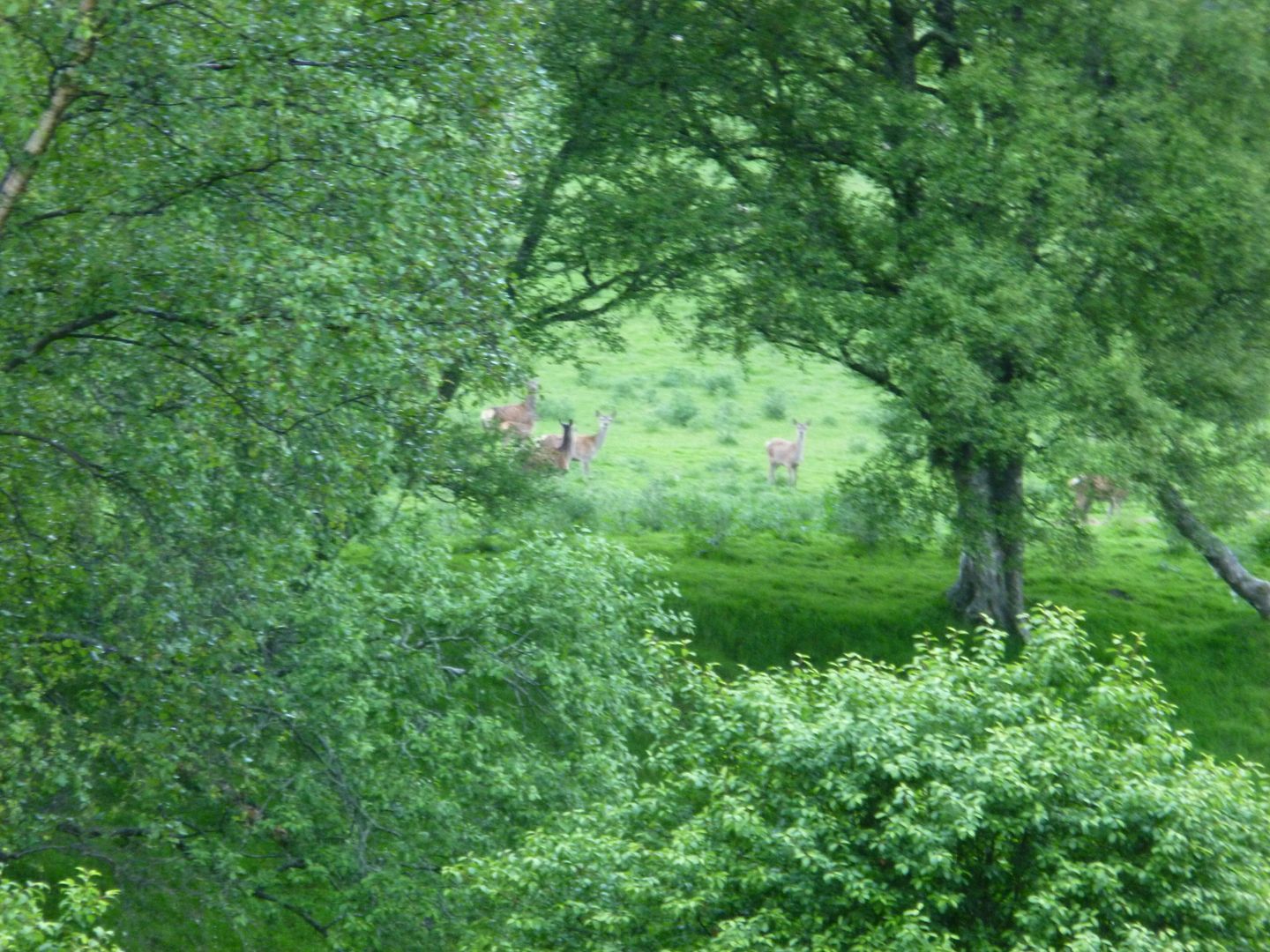 The track turned to tarmac, but it wasn't far to my turn off over a bridge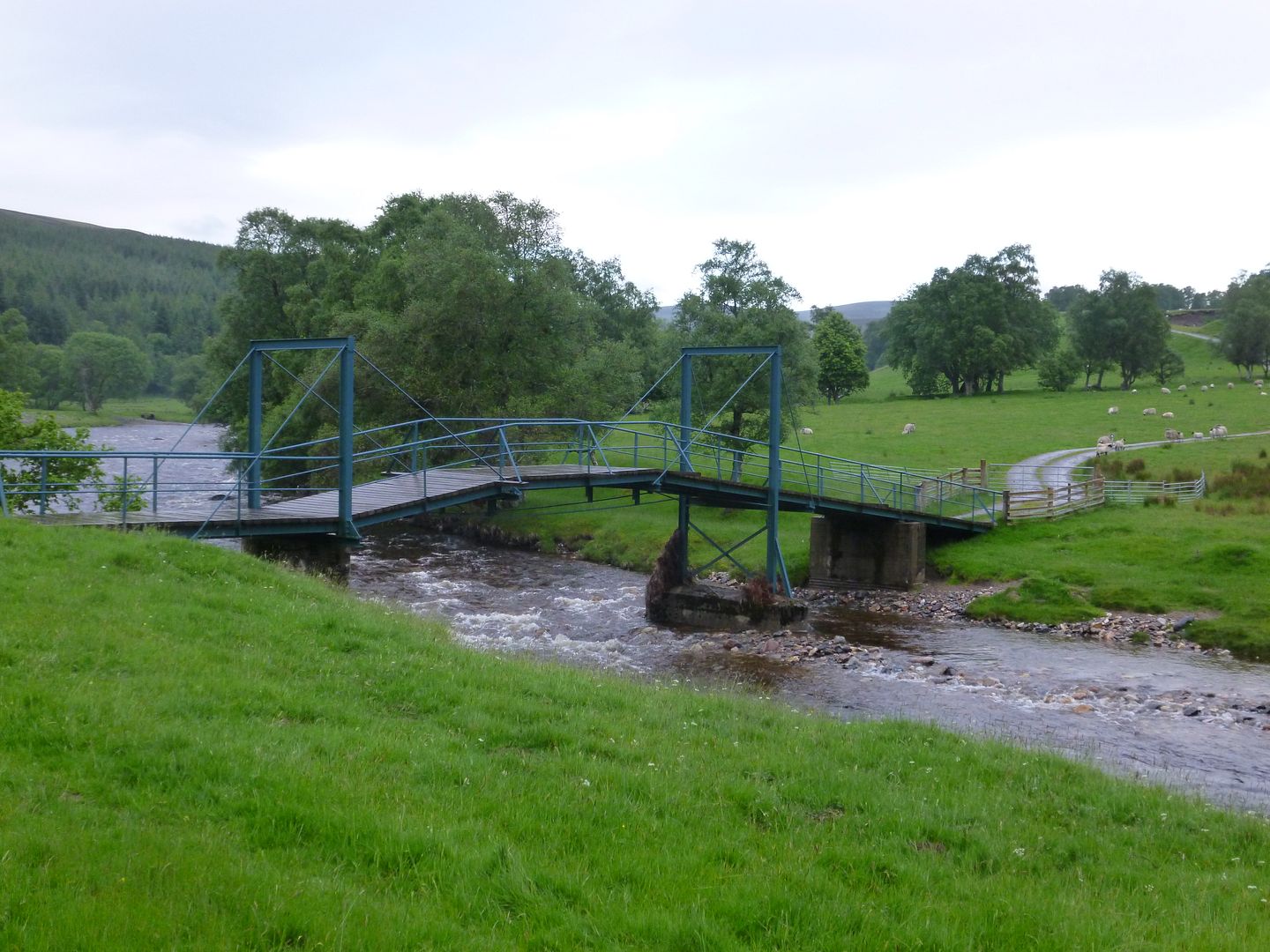 There were a lot of tracks, some on the map seem to have disappeared, and there are some new ones not marked.. Careful navigation required for a glen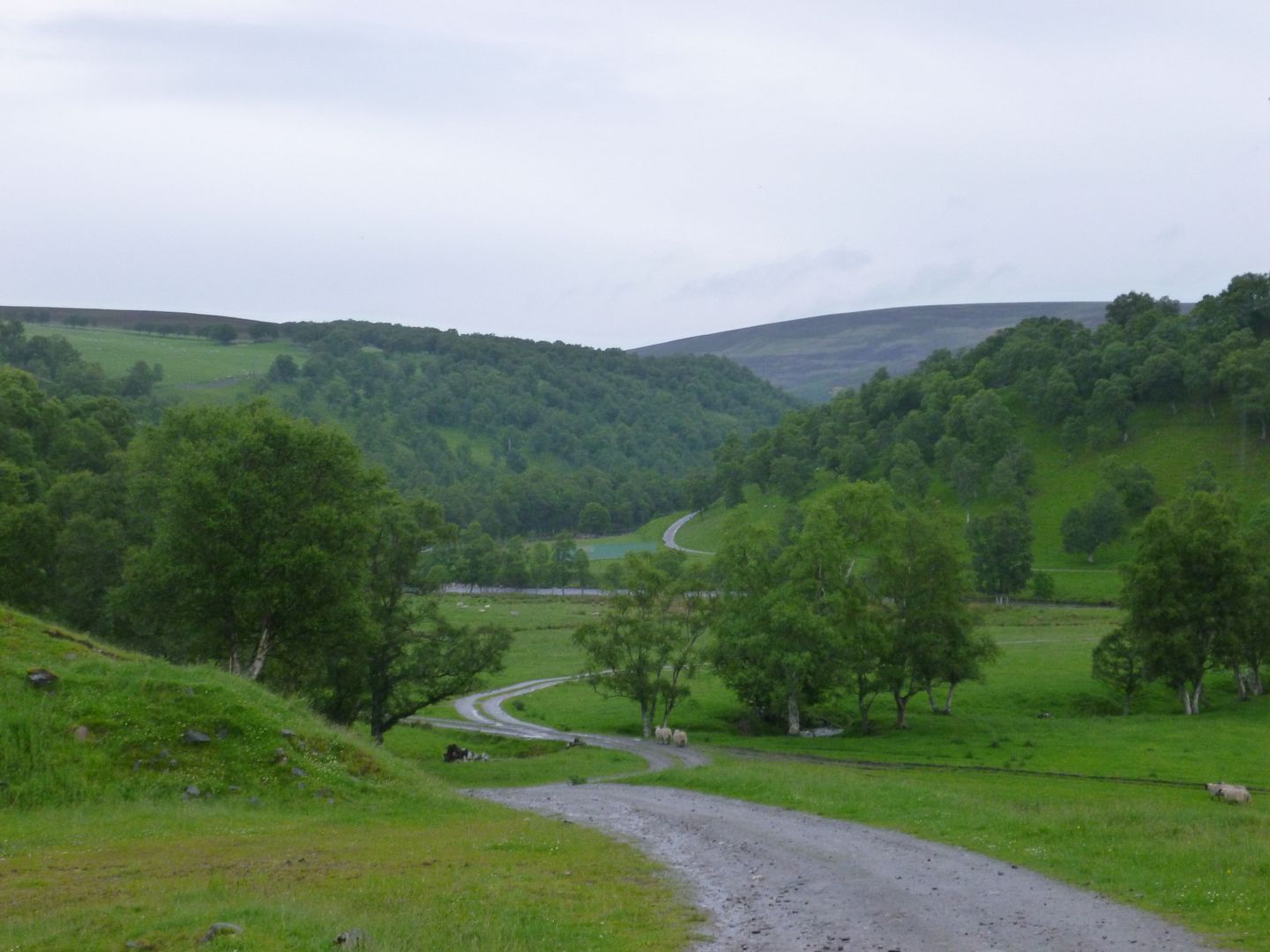 I passed the cottages of Gaulrig and followed the track beyond up onto the moorland. Lots of grouse butts and even a wee lunch hut up there. I could see clear skies ahead, and sure enough the rain stopped and the promised bonny evening materialised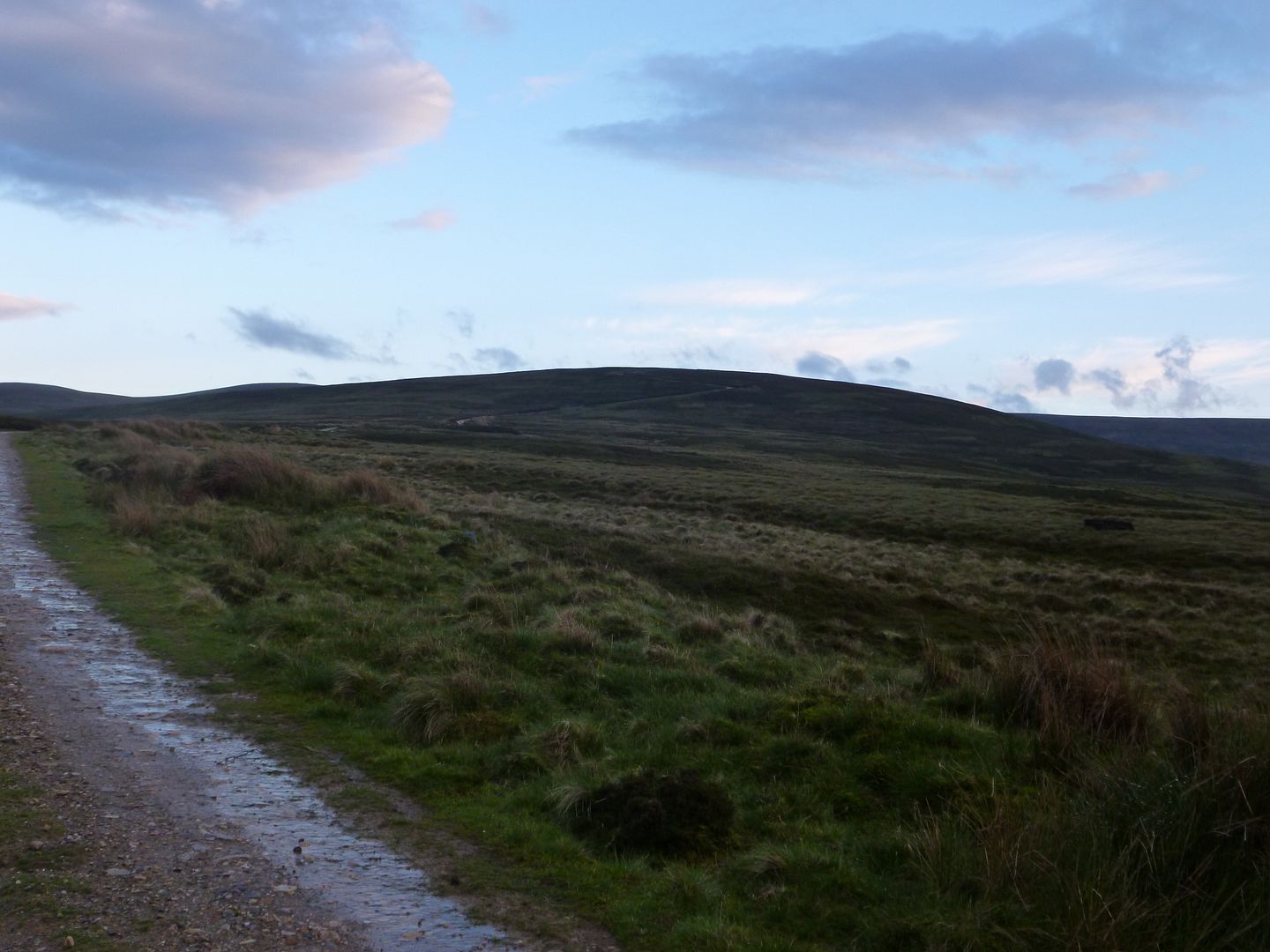 There is a track that goes right to the summit, where equipment of unknown purpose ruins any feeling of remotemess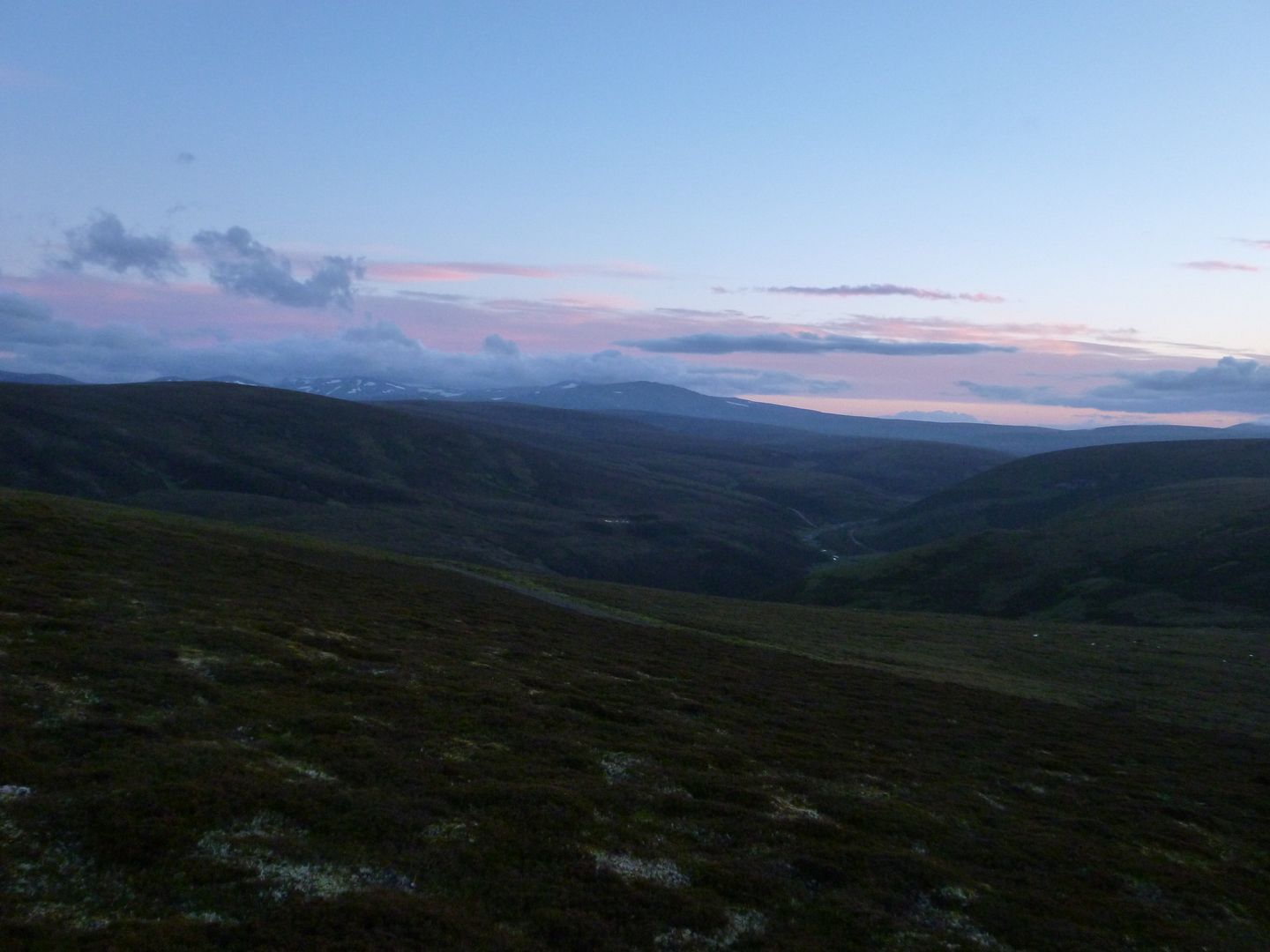 I didnt stop long, the boggy ground leaving no-where to sit, so I headed along the ridge, there still being a faint track to follow. After the next top however, there is a lot of tussocky uneven ground, that was rather treacherous in the fading light. I was glad to get to the top of the path marked on the map, which turned out to be another bulldozed track.
It got steep down to Glen Loin, and the track there was pretty much a rock filled trench so sore/difficult to walk on. Glen Loin is renowned for its fine wild camping spots and did not disappoint. By 11.30 I was all snuggled up with a brew. No midges, despite benign conditions
I woke up and saw from my watch it was 7AM - time to get up. It felt like a fine morning so no point lying in my pit.
I faffed with many cups of tea and packing up, so was surprised when I looked at my watch when I was ready to go and it said 6.15 - must of sleepily forgotten how to tell the time this morning
Oh well, I was up now so better start walking.
A short walk had me back in Glen Avon. Lapwings and oyster catchers cried their alarm calls and even swooped at me.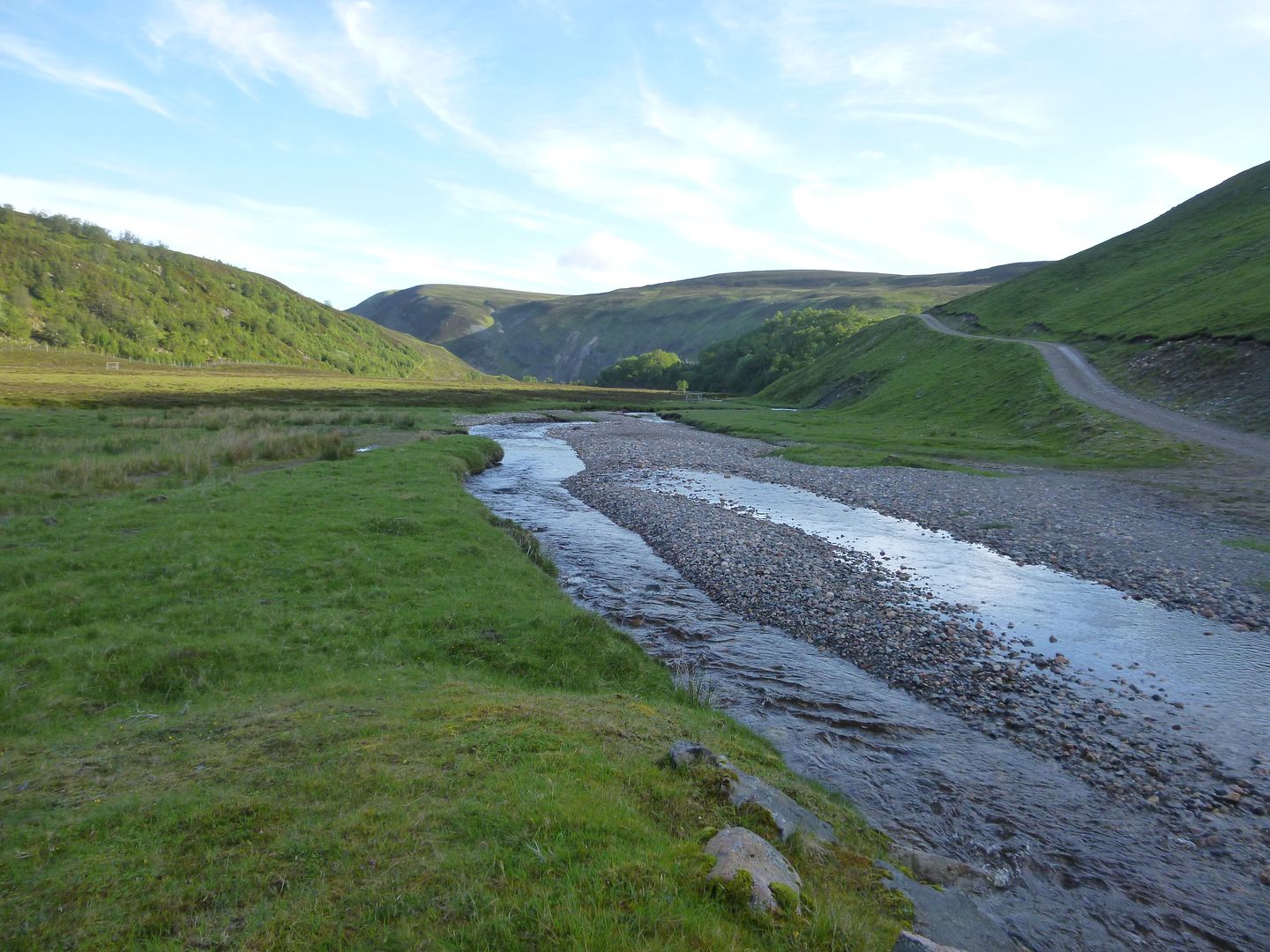 There was a path marked on the north side of the glen, but it looked boggy and with quite a lot of heather bashing so I opted for the track on the other side of the river.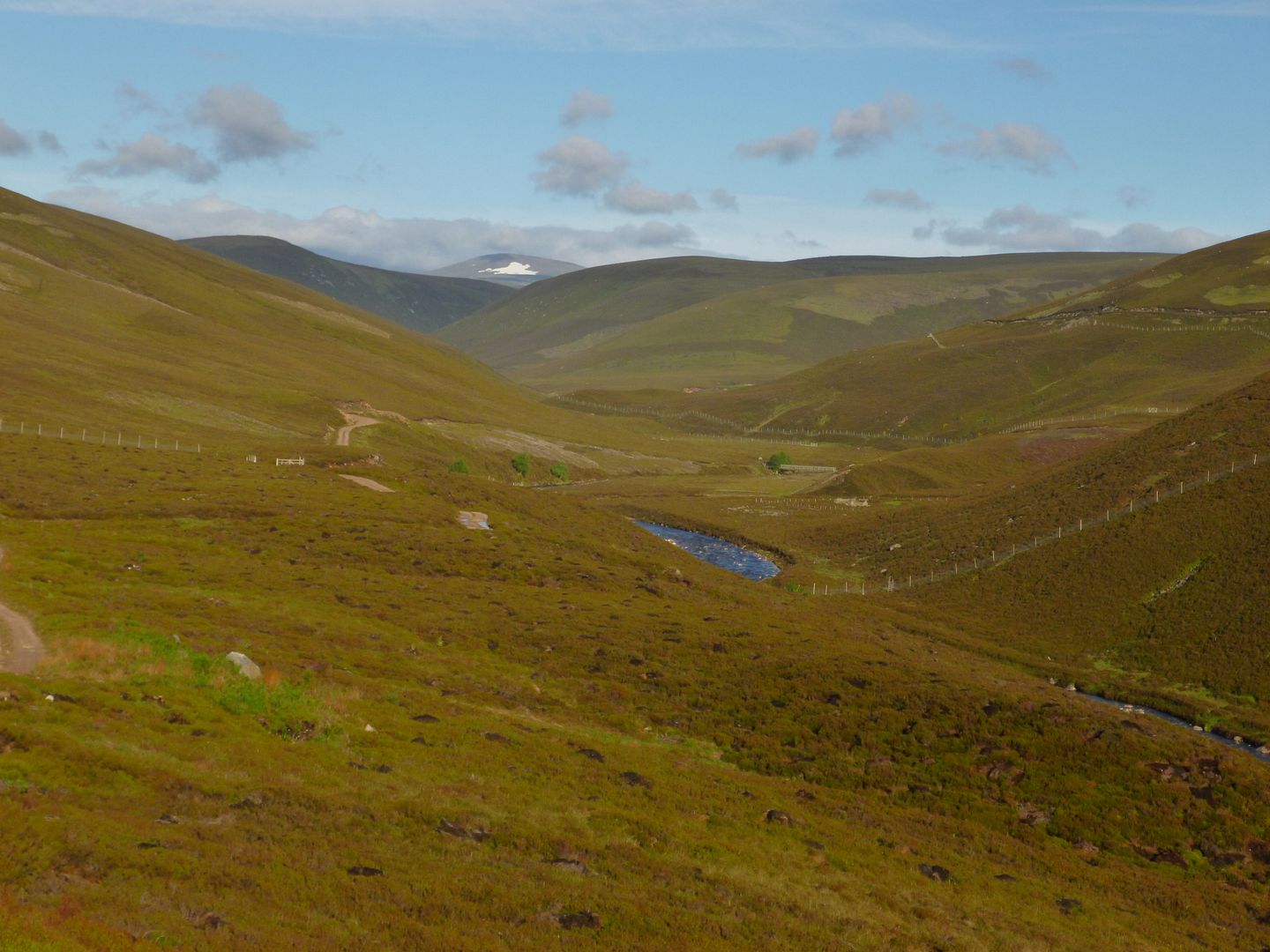 I was glad I did because further along bits of that path looked horrific, so I made the right choice. By 7.30 I was having breakfast beside Linn of Avon - doesn't get much better than that, what a beautiful spot
A little further on at Incheril, I took a right through a gate. There were chicks on the track, and I went to get my camera out, when the mother came flapping in - a Capercaillie! Then they were off, 4 chicks thriving - what a brilliant thing to see
I carried on up the track a short distance, it turning into a nice rocky ravine.

My route was up the ridge though, so I left the track, finding a route up, over undulating heather. Nice views opened up of the mornings walk, and the ever present Ben Avon, looming behind.
There was a faint track for a while, then it veered off left, so I followed a fence over the first lump of the ridge, the going underfoot nice and easy alongside an electric boundary fence.

At the bealach beyond, there was a massive peaty ravine that I had a bit of bother crossing. What a strange place to put a stile for crossing the fence!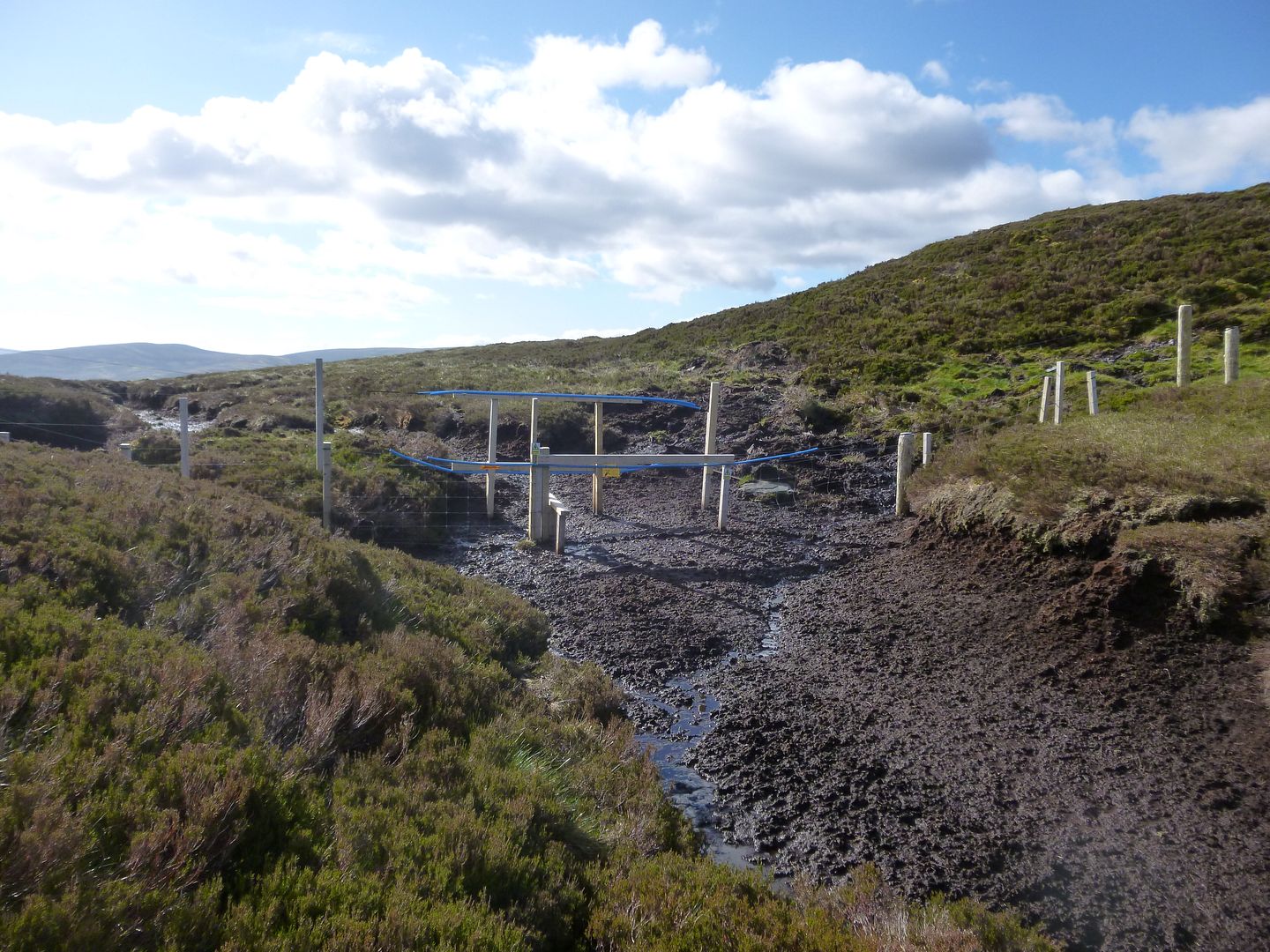 Then it was up to Creag Veann, which was the toughest climb of the whole walk - deep moss causing all momentum to be lost, and sheltered from the breeze, so far too hot.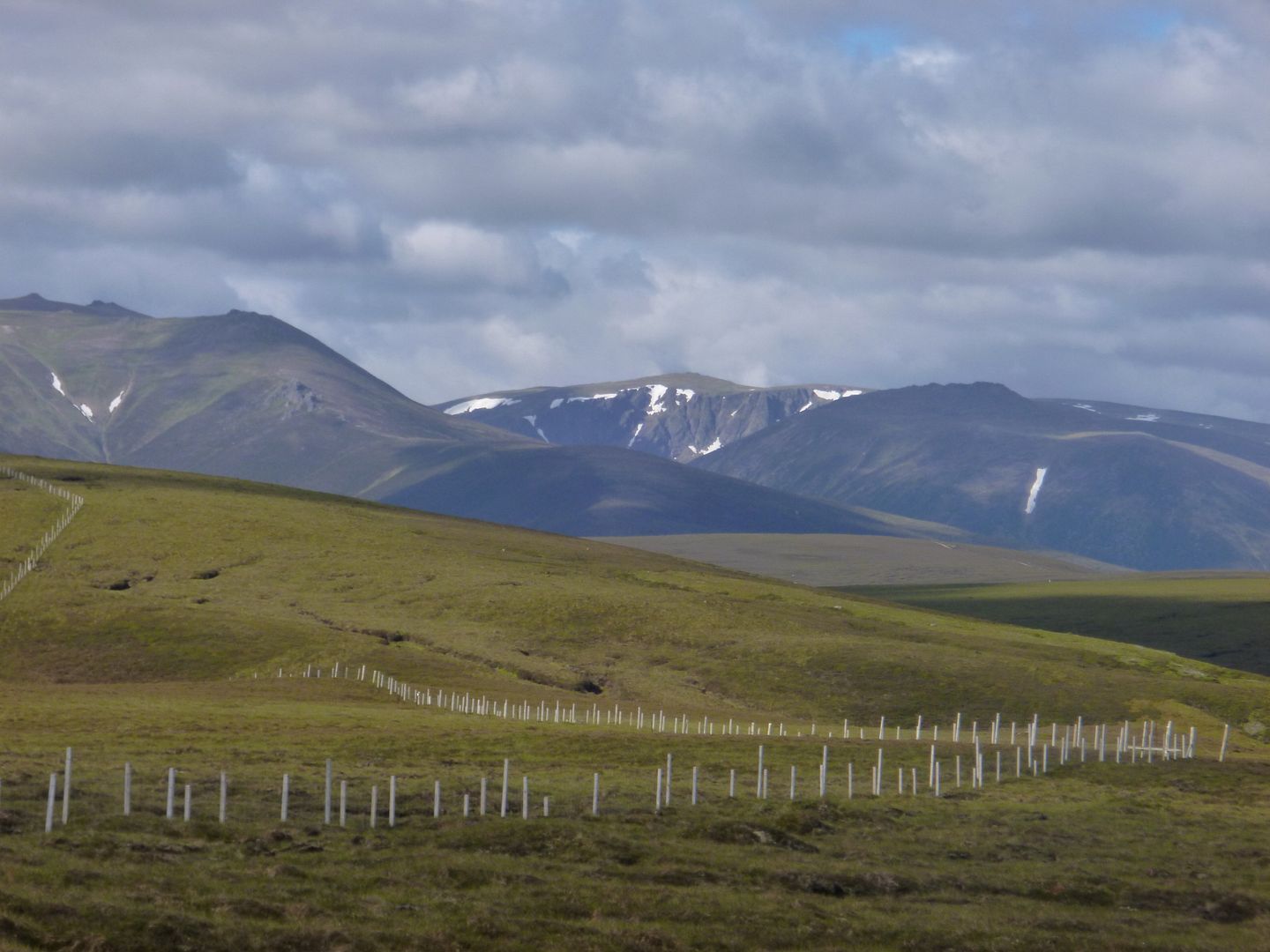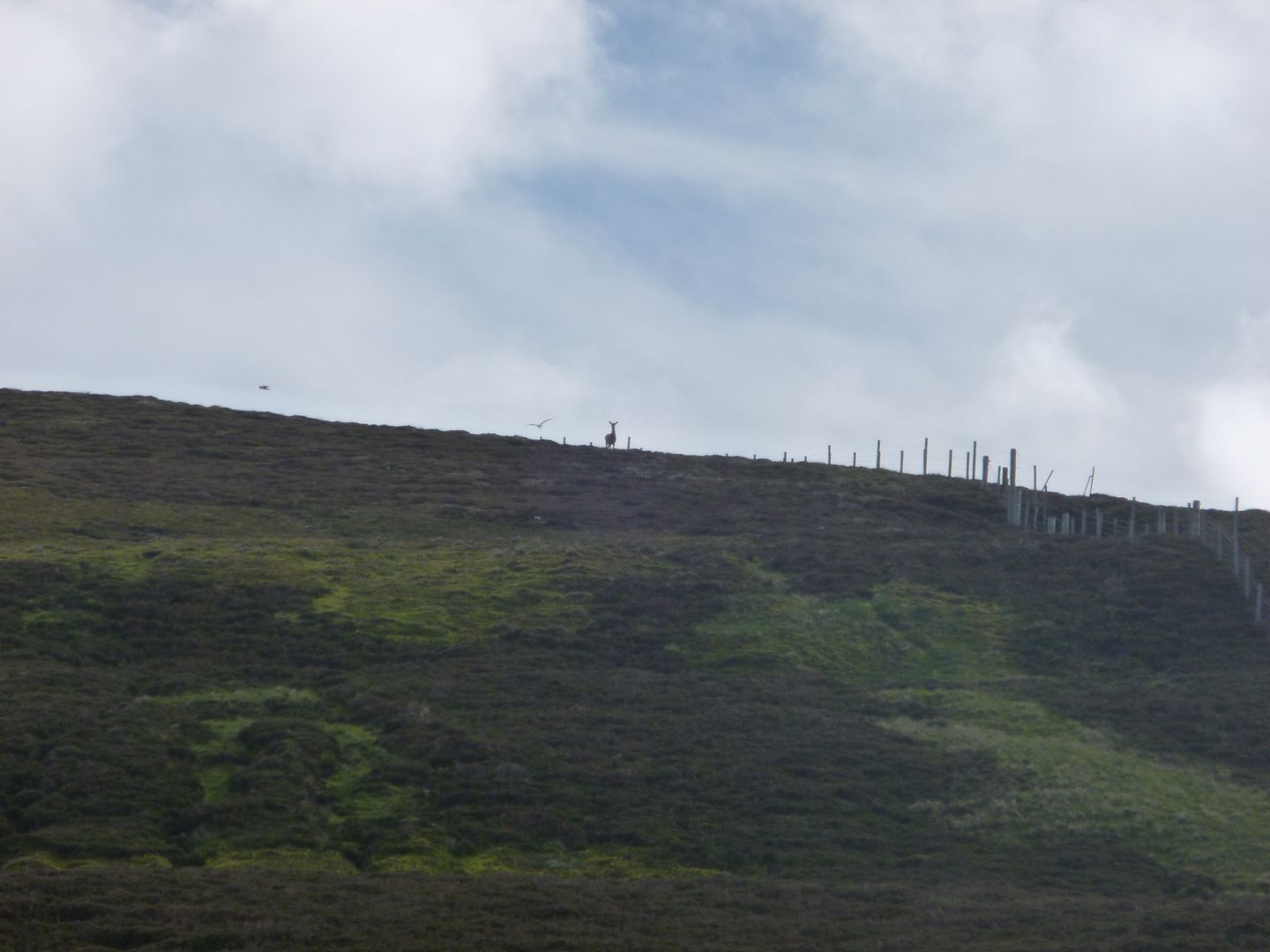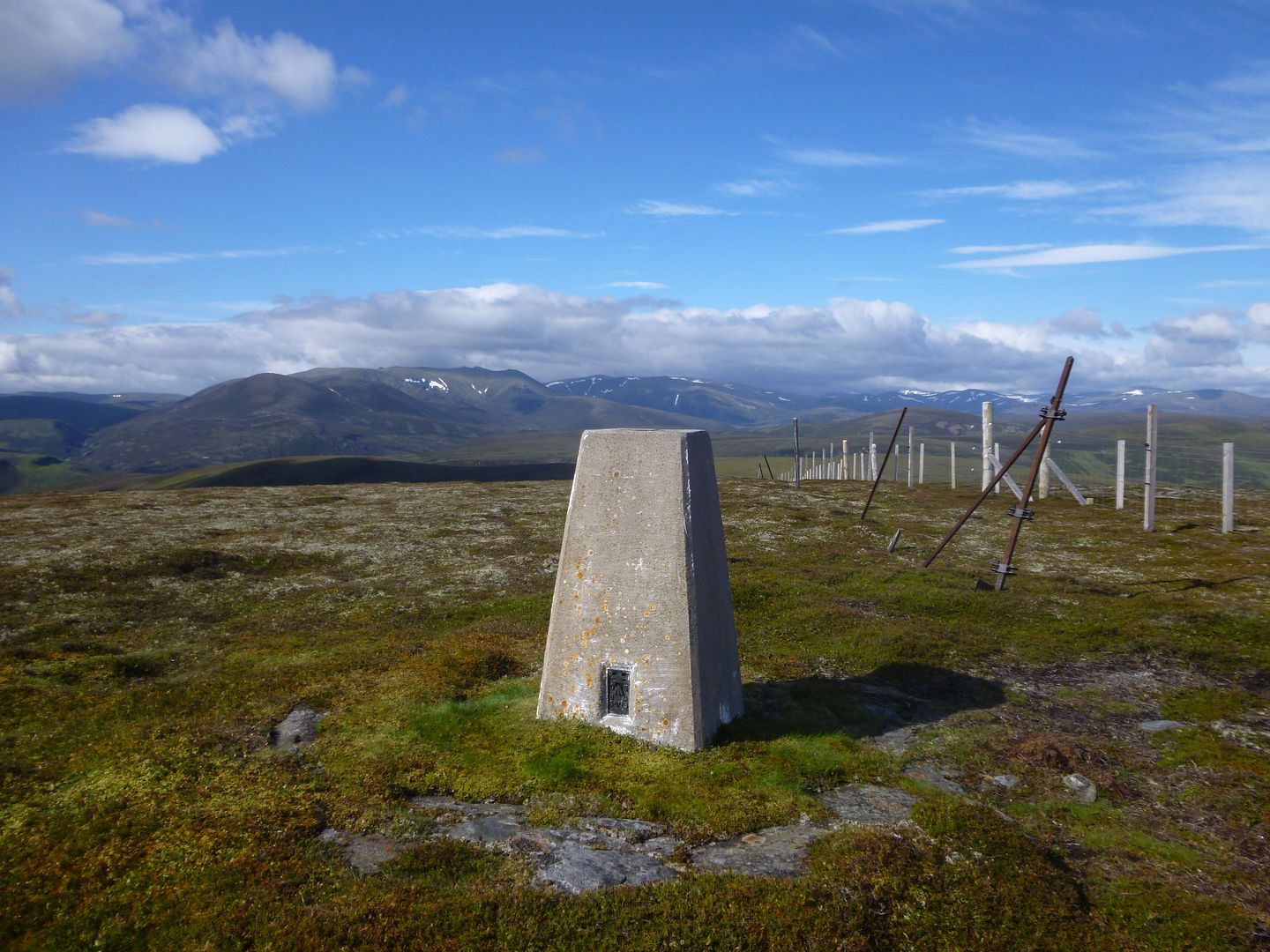 It was fine short heather on top, and I crossed the fence to touch the trig, and carried on down the ridge. The next section was difficult underfoot and tussocky, and seemed to go on for a long time before peat hags offered a welcome change.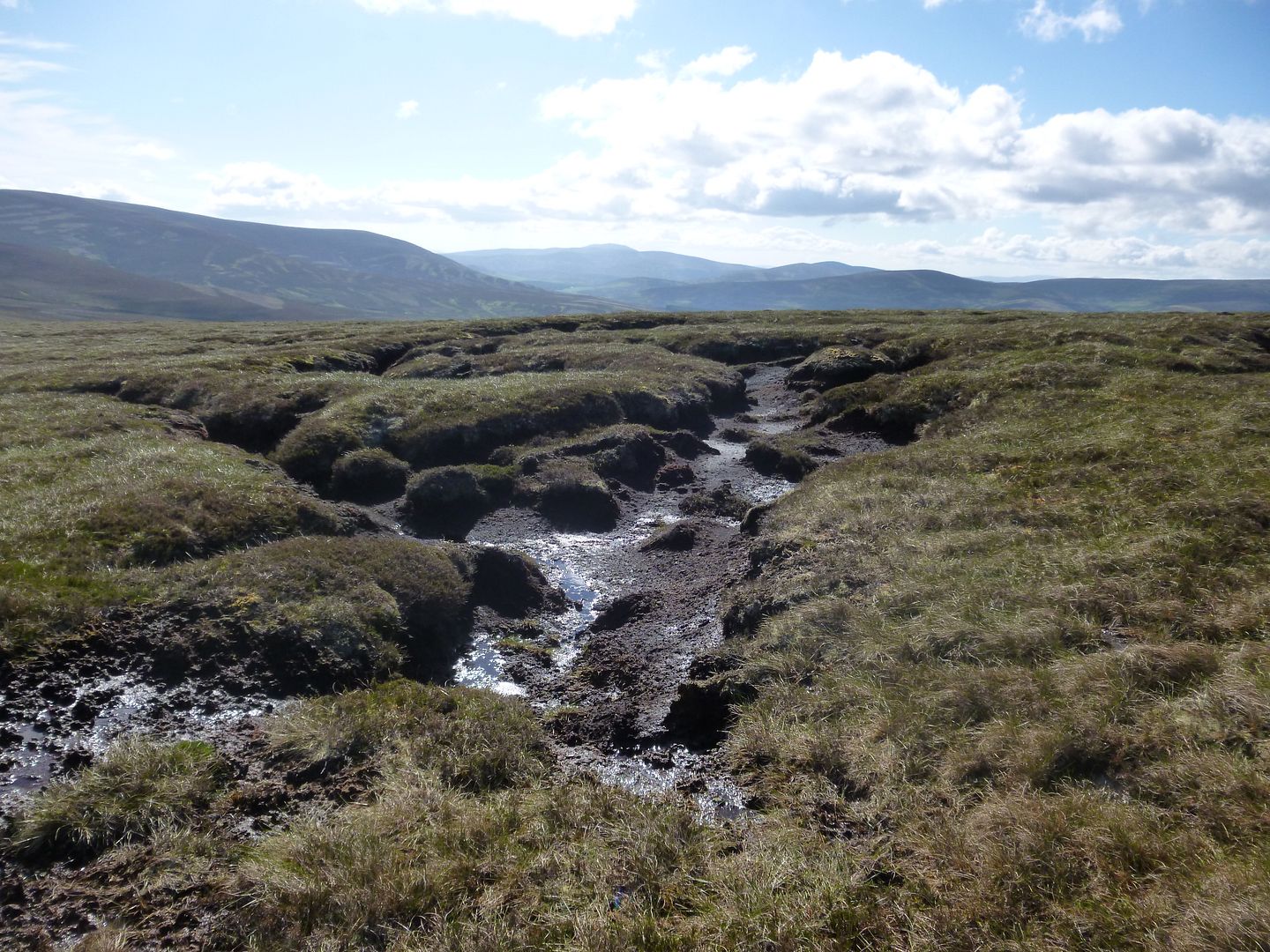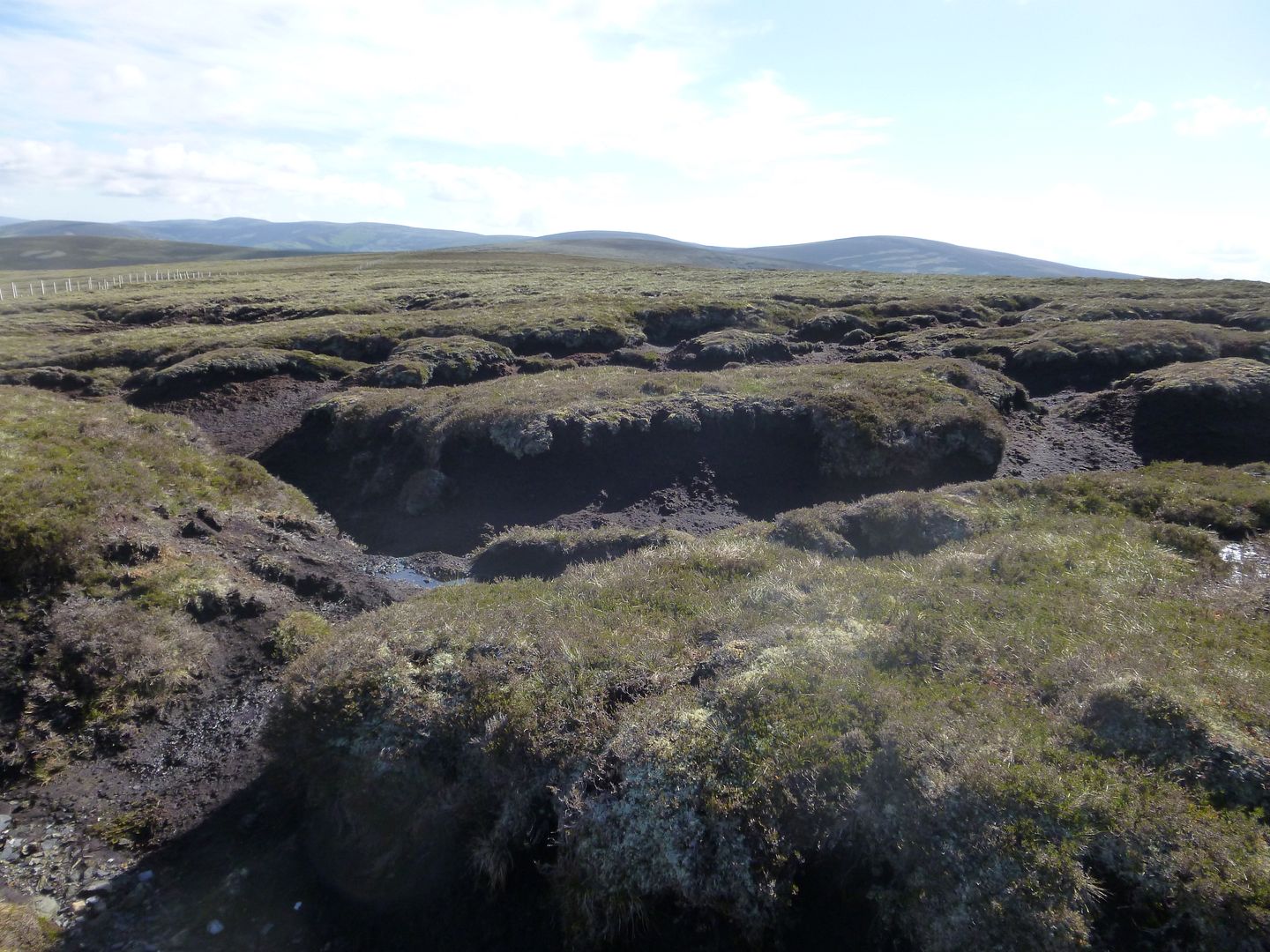 Carn Ealasaid still looked quite a way off.. but a stalkers path had emerged which eased progress up to Tolm Buirich, where I crossed back over the fence.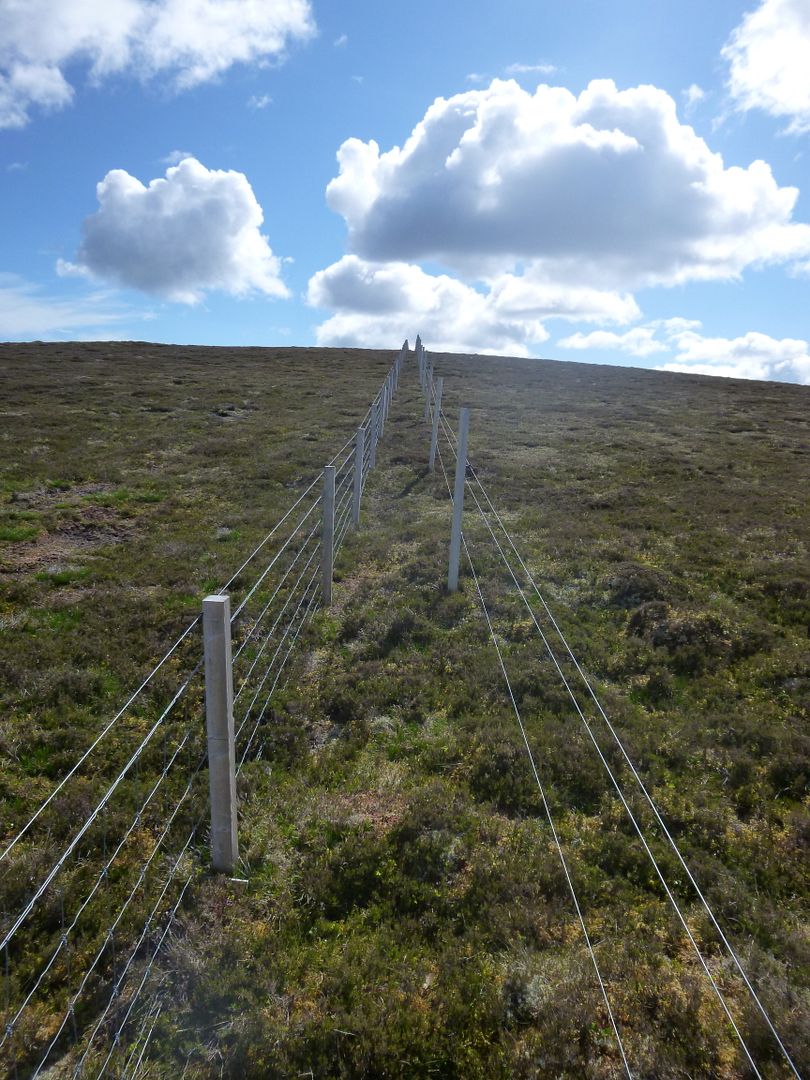 I stopped half way down and had a long stop for lunch and a wee snooze. The corbet was now the next lump on the ridge and looked like an easy saunter.
I left my pack and headed off. More peat hags hampered progress, and as I got higher up, the deep moss made a reappearance, so it was a tougher ascent than you would think, but its not that far, so I made it up, to find a couple of ladies preparing to leave the desolate summit. 'You look familiar - aren't you from walk highlands?' I was asked. Turns out it was none other than Dogplodder!
We chatted a while, but she was in a bit of a rush as she had to be out of the hotel car park by midday, but it was still nice to meet a fellow walkhighlander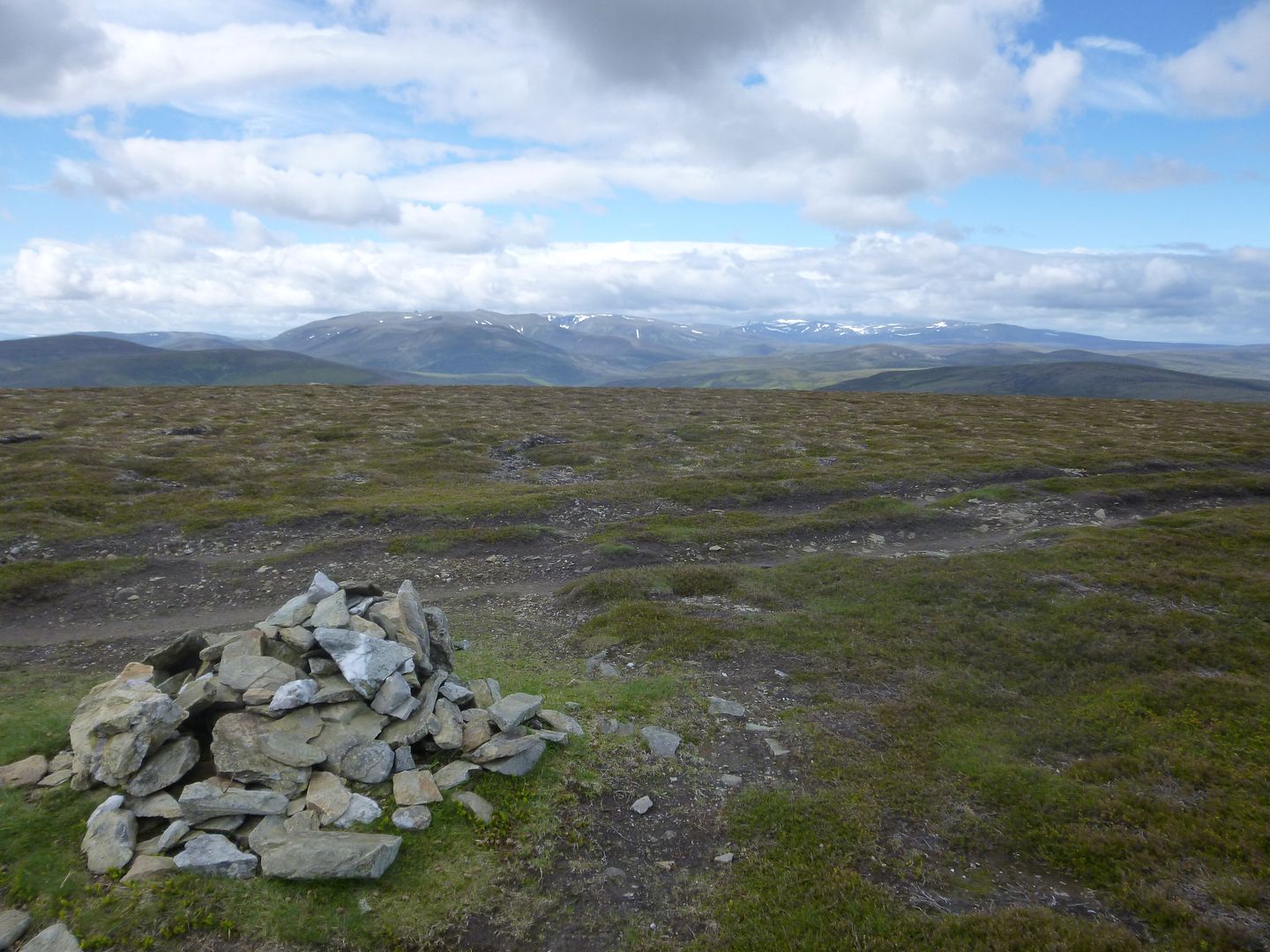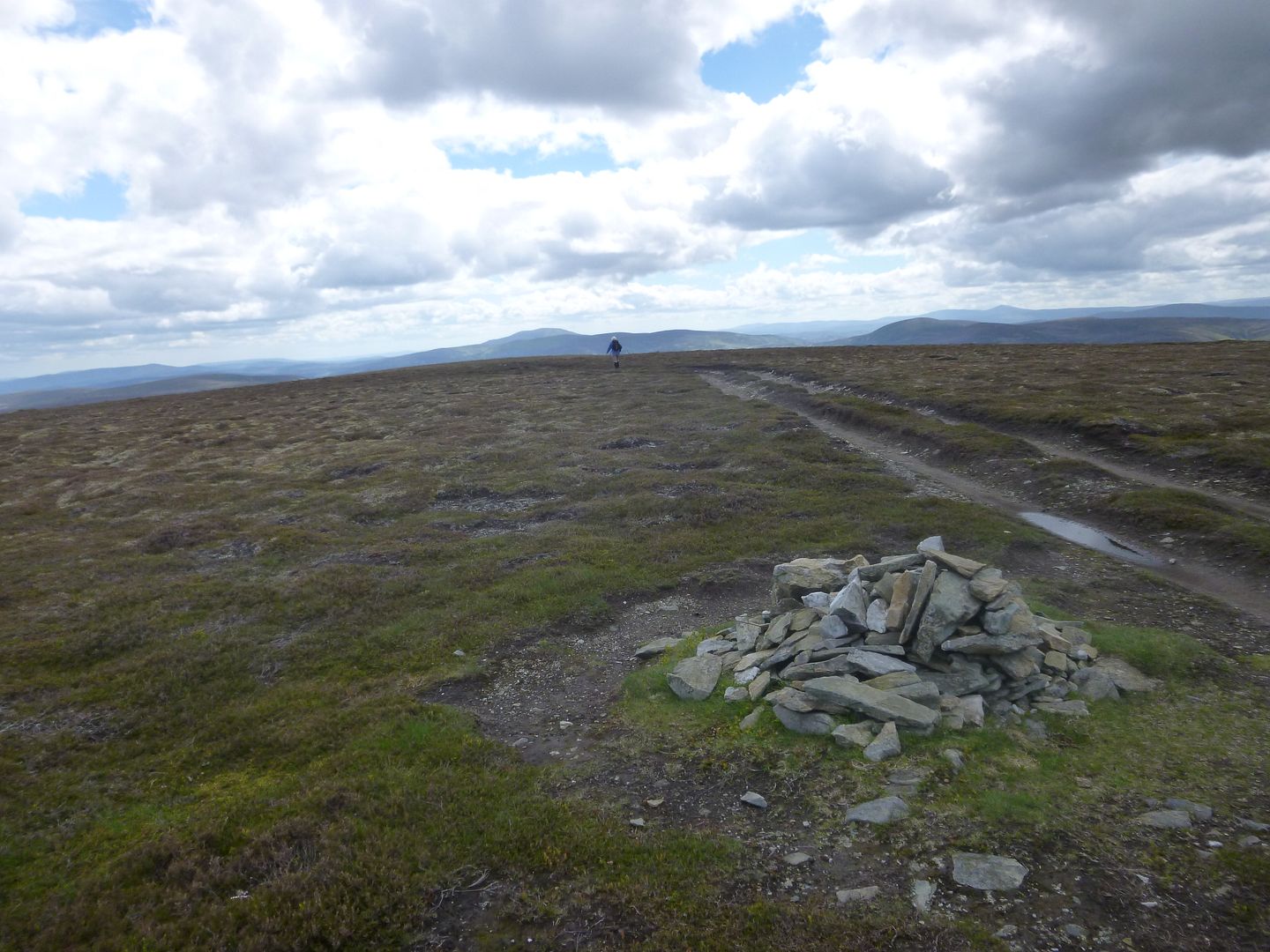 I returned to my pack, glad to get back to my water bottle, and traversed round rightward. I was hoping that I could walk the ridge all the way back to the car. It would cut the distance quite a bit, but I knew it would be over some of the roughest ground imaginable, so was in two minds about whether the track would be quicker..
I crossed the open moorland, some springs causing an awful obstacle to cross before I made it onto the track beyond. I followed the track until it started to head downhill, and then made my way onto the moorland beyond. There were plenty of wee stalkers paths between all the grouse butts, but none of them seemingly heading in my direction. Some bits were horrific - deep heather, huge tussocks, boggy pools of doom, but every time I got to the stage of getting really frustrated, I managed to find some easier ground, or a stalkers path I could follow for a short way and regained my determination.. There were huge ribbons of impassable bog so lots of that determination required!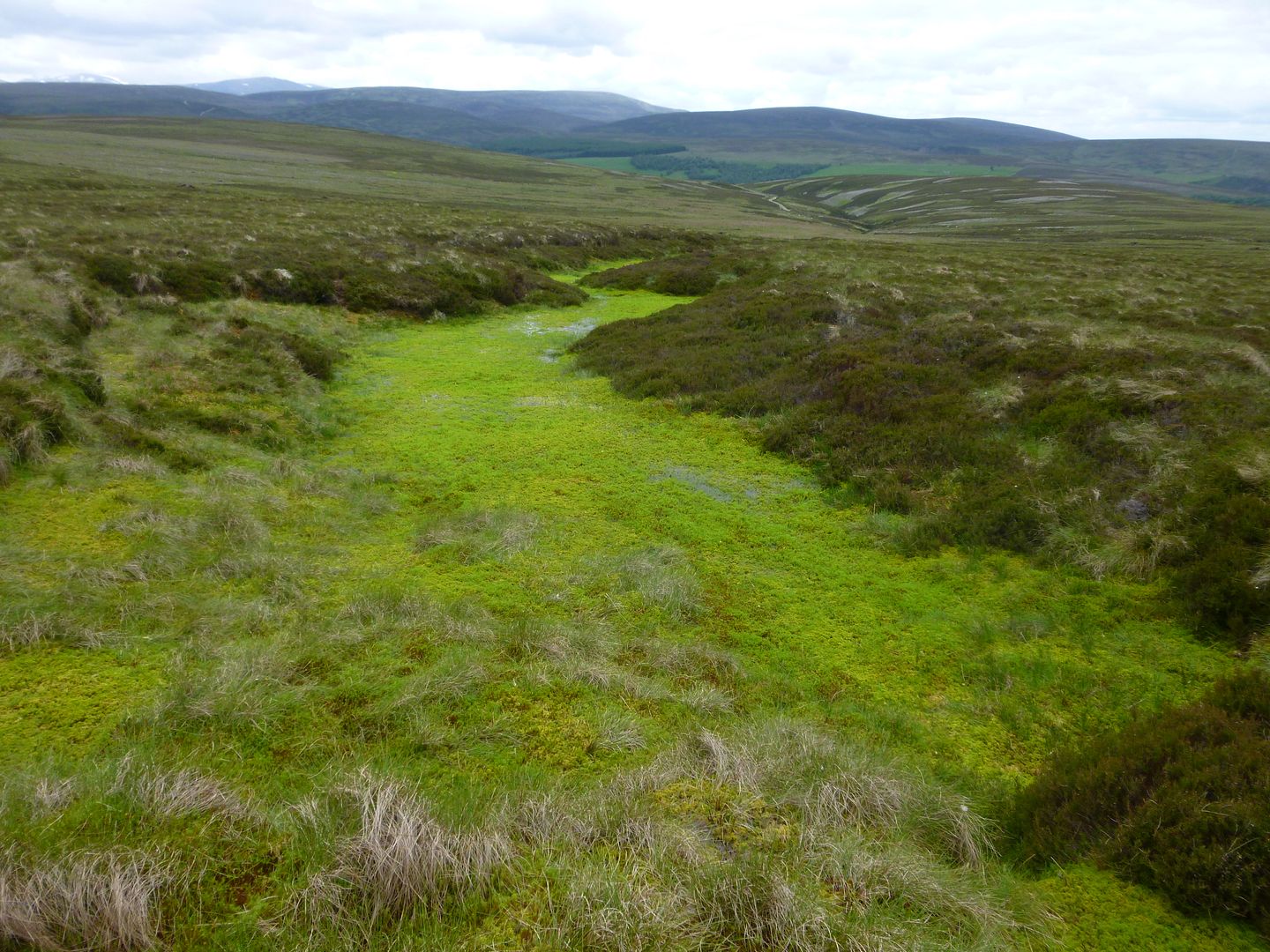 I crossed another track, where I stopped to refuel and had a few nice wee moments with a rather tame meadow pipit, who had a taste for cashew nuts. Once I got up my motivation again, the going was eased as I managed to find a stalkers heading in my direction
It took me round the side of Tom na Bat before I followed a fence leftward down to the track. I found with some relief that I was only 50 yards from the car - Oh the joy, as all that rough ground had made my feet very sore indeed! It was only just after 2, so managed to get home in time for dinner.
Well I didn't think that these heathery lumps would be such fun, but I had a really good time
The best thing about it is because I was walking on 2 days, I already feel like I have had a full weekend, but now I have a Sunday free. - Brilliant!