So this weekend, was Birthday weekend, so we took a long weekend, and got ourselves a cottage down in the Lakes for a change. It only takes the same time as going up to Glen Coe for us, so leaving after wok on Friday got us there about dinner time, to paw over the limited navigation resources we had available - A cicerone guide and an inch to the mile tourist map belonging to Dougie's Dad, which was printed in 1974
Day 1 - Glorious Gable
We decided that Great Gable looked like it had enough rocky bits to keep us amused, so we had a leisurely breakfast, and headed round to the end of the road at Seathwaite, where we got the last space on the roadside parking.. Loads of cars and it wasn't even the weekend
It was a quaint wee place with signs marking the paths, and even a public loo - a far cry from our norm
It was green and lush, with a nice waterfall tumbling down nearby, and alien breeds of sheep looking on nonchalantly.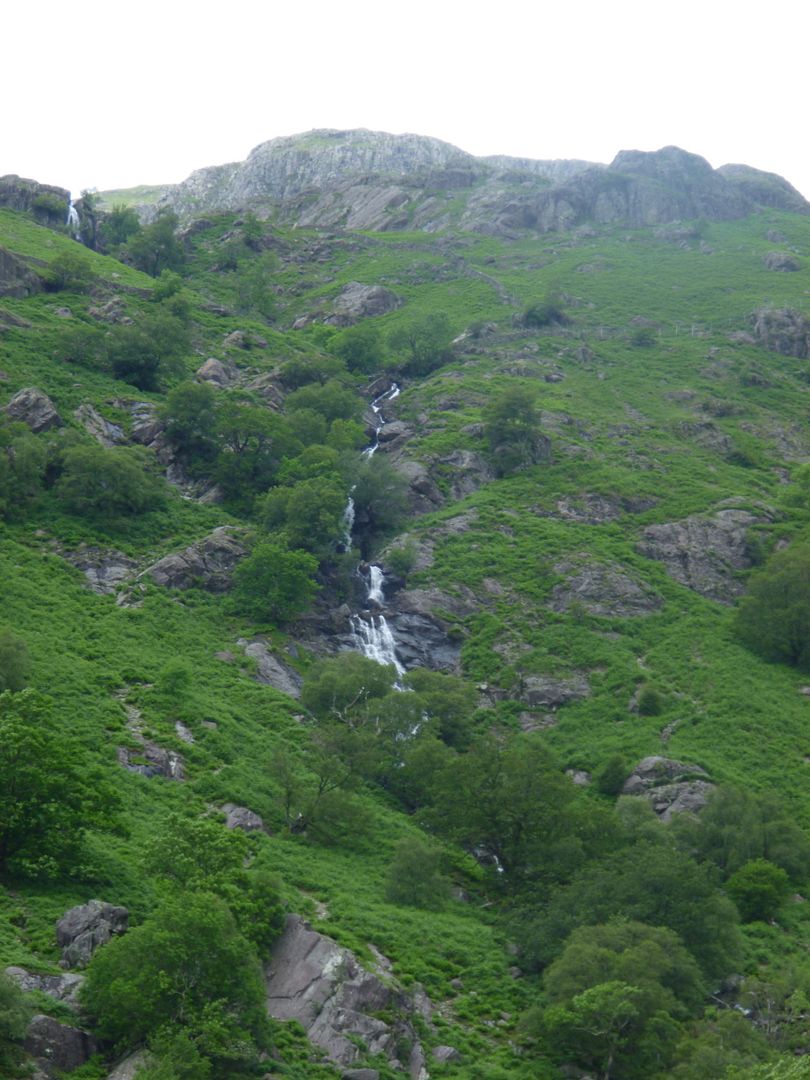 So it was easily up the glen on the track, there was some clag about still, but it was so warm that you knew that it wouldnt last long
We were soon up at Stockley Bridge

the path got steeper, and some fun slabs gave plenty interest.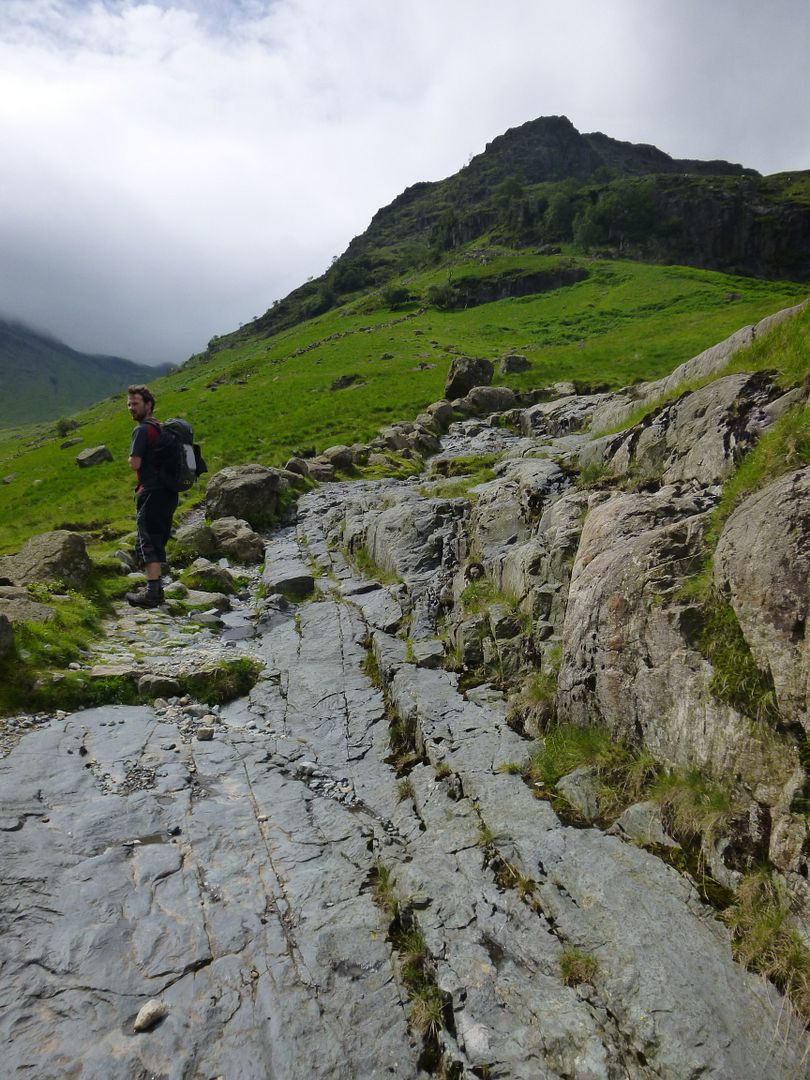 We eventually made it up to more level ground, and whizzed past the loch and up to Sty Head, where we stopped by the mountain rescue box for some scraw.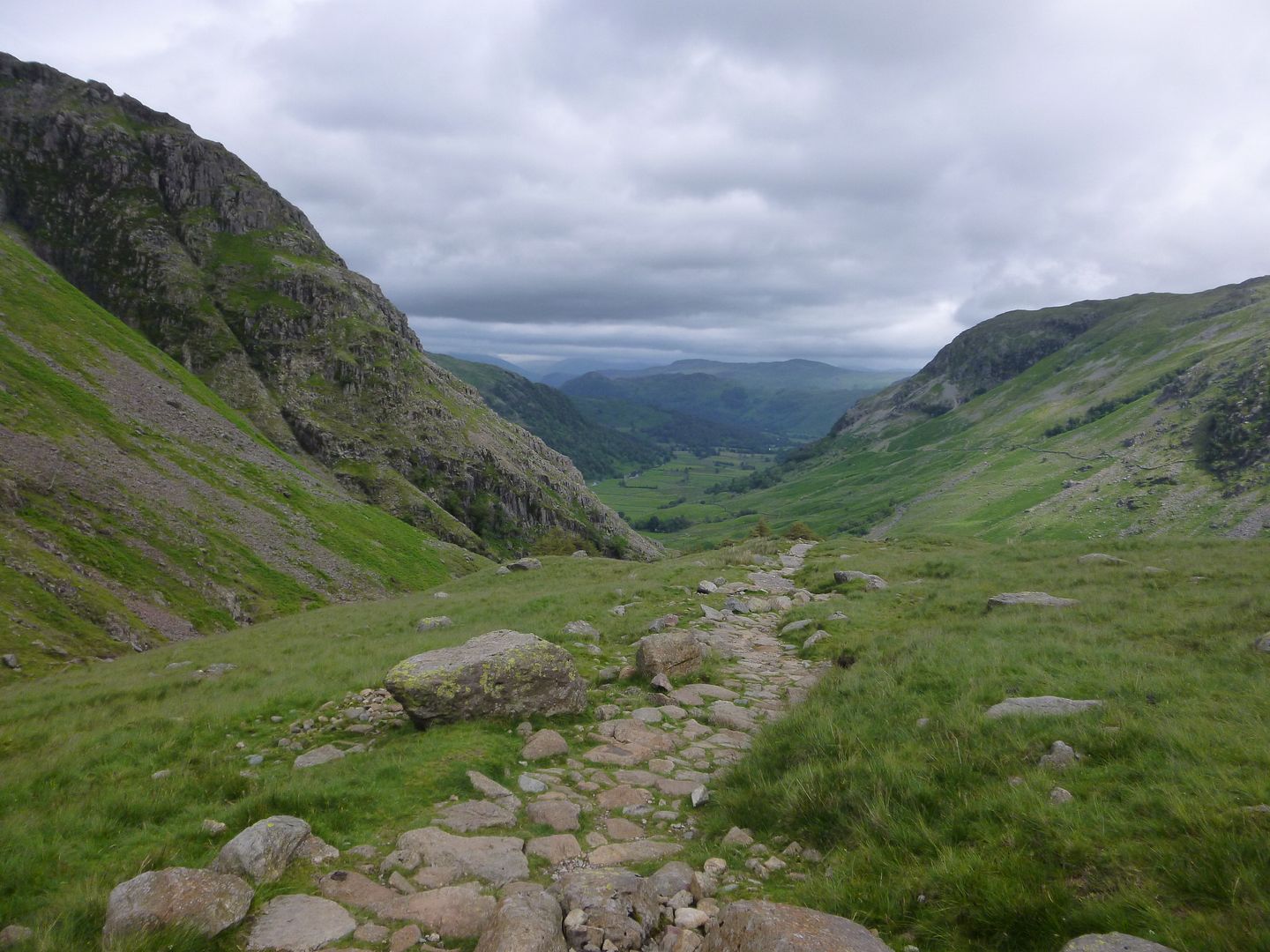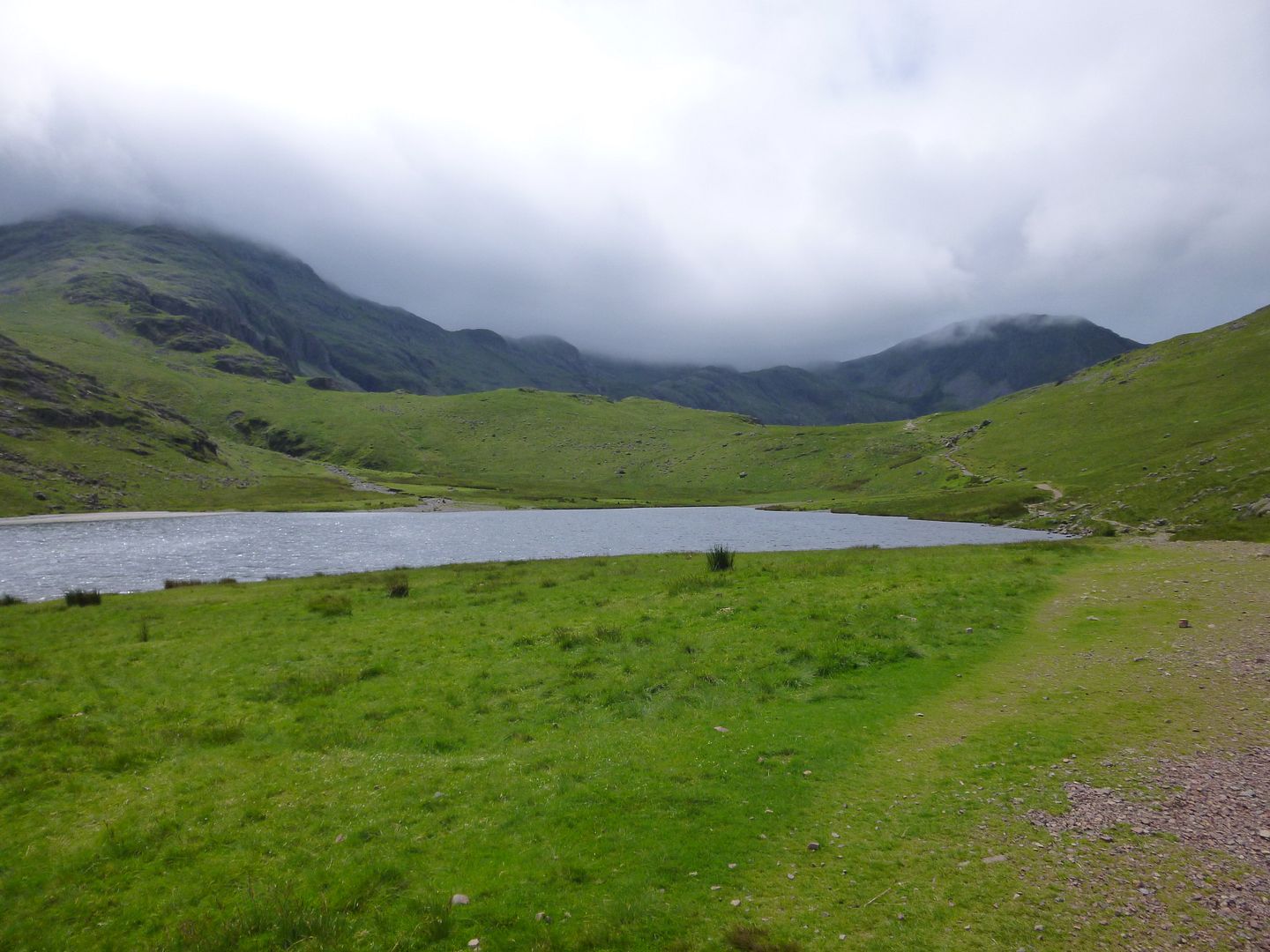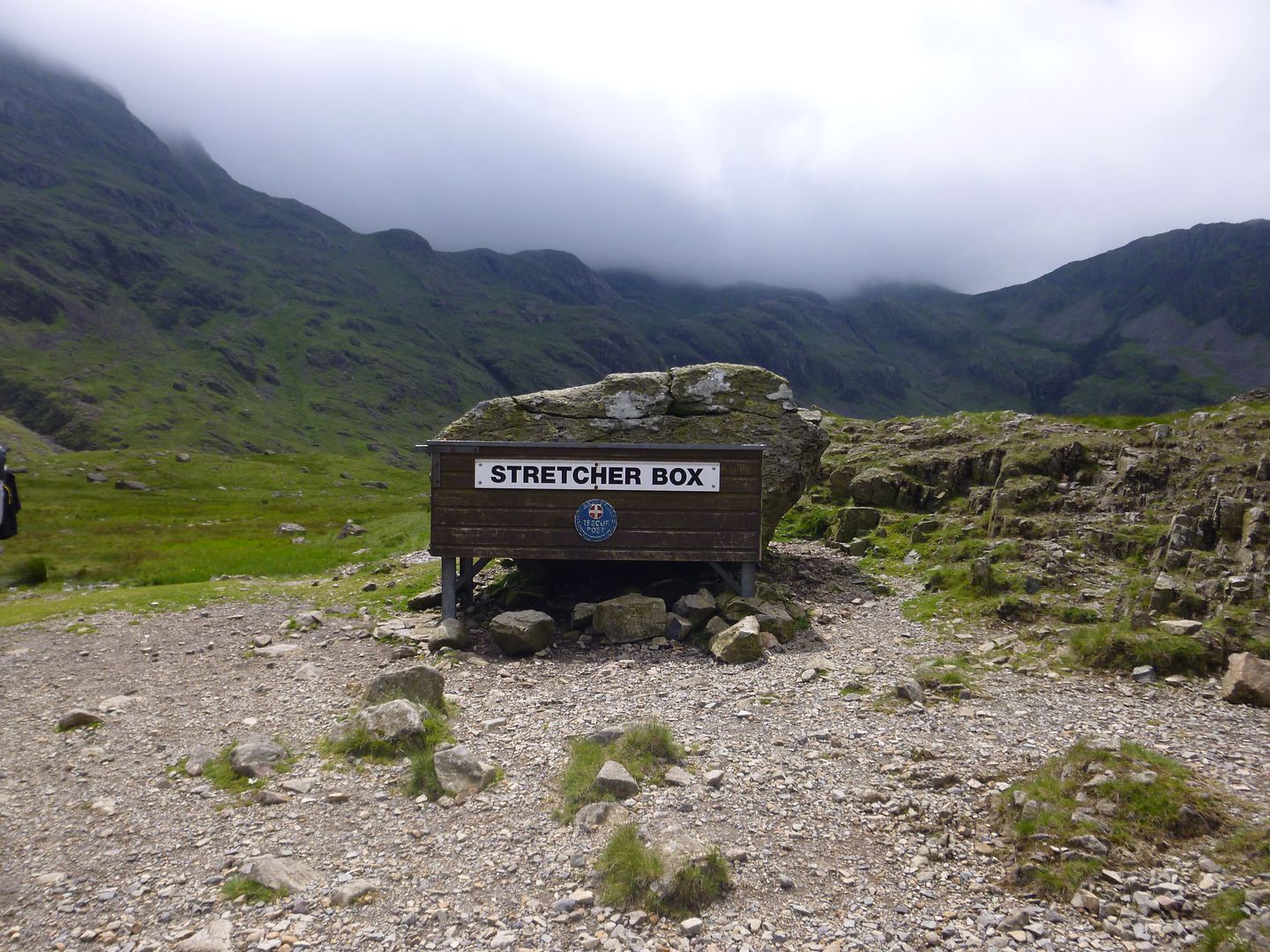 The path contouring round GG, was a bit faint to start with, going over a bit of boggy ground, but the way was clear enough
We made it round the base of some impressive looking crags, and over a fun boulderfield. I expected to see the needle, but it wasn't in view yet, in fact it seemed like it took forever to get there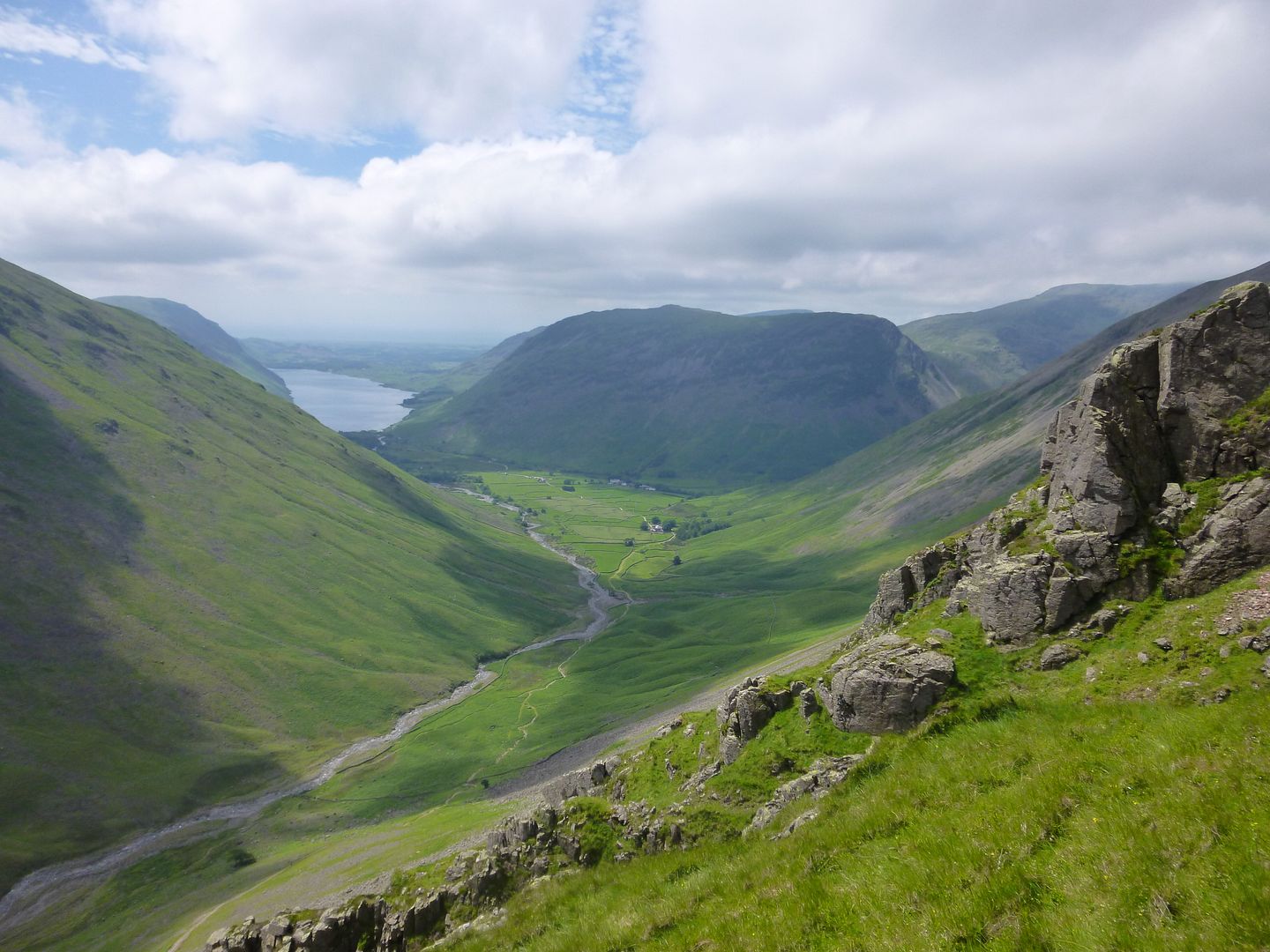 The path skirts well below the needle, and the groundroundabout is really steep, but starts to get a bit rockier, so the climb is entertaining before we even got to the base.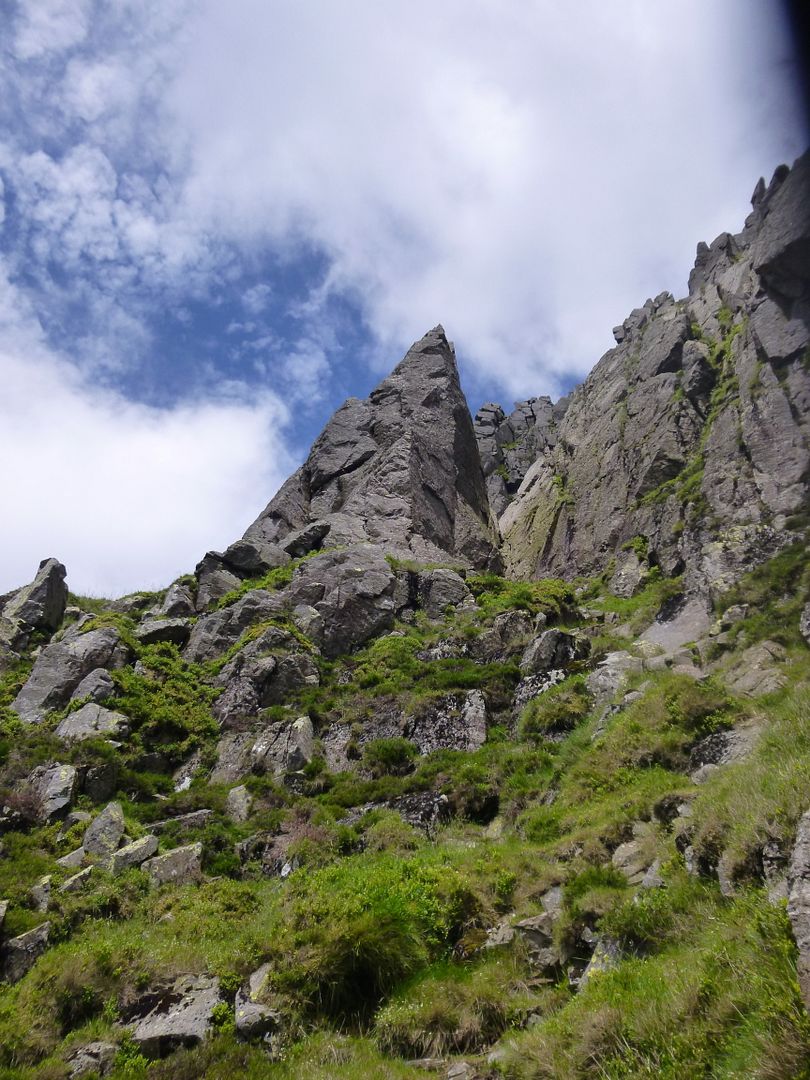 The way up the back was quite good. Really good holds to begin with, but then the chimney slants a bit to put you off balance, and there is a wee chockstone in the mix makes for a delightful wee pitch
All too soon, you are behind the needle, in a very exposed position. Only room for one, so Poor Dougie must of had a hard time waiting whilst I took a photae and started back down
The climb down is relatively easy, loads of jugs and ledges but two steep little walls that are highly polished. We had a wee break for a snack, before heading up to the dress circle for the climbers traverse. The needle looked infinately more impressive from there
It was a mostly vegitated route along, but lots of gully's and quite a bit of hands on, leading behind a big flake.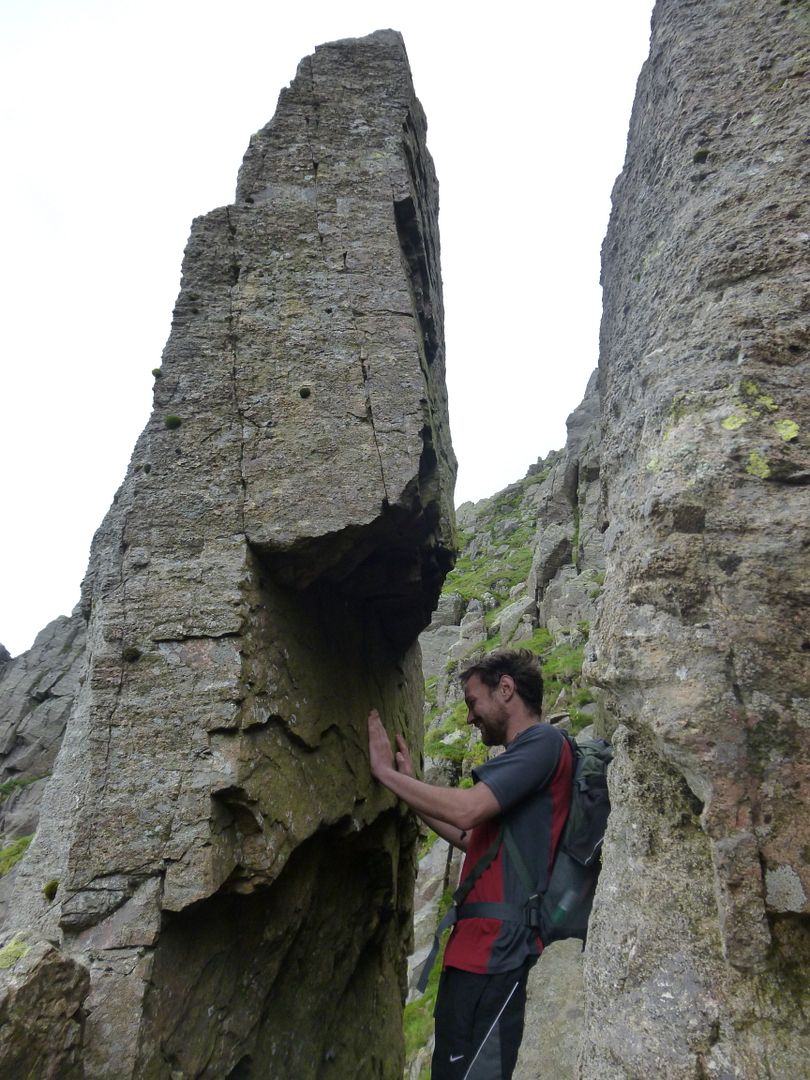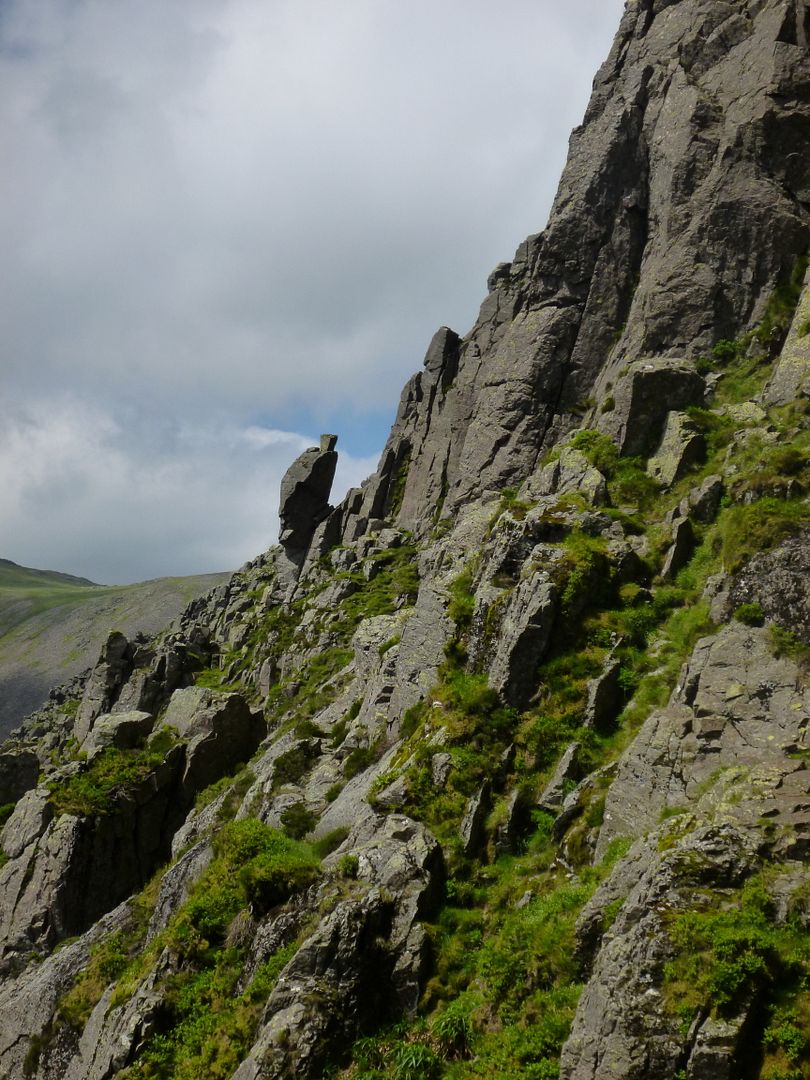 Beyond, we traversed a vertical wall to get down into a gully. Unfortunately I pulled my dodgy hip doing that, which made things really quite painful. We went to the next place that was feasable, and stopped for a rest to let it recover. We were right close to the sphinx now, and we found that we were supposed to of gone up the last gully for the scramble which we wanted to do, up arrowhead ridge. Instead of retracing our steps and going the advised route, we chose a rising traversing route up, which let to some difficulty. Dougie took a 4 inch wide ledge, but with very few handholds, while I traversed a ledge downward into eagles nest gully, where we were supposed to be according to the book. Both routes worked out for us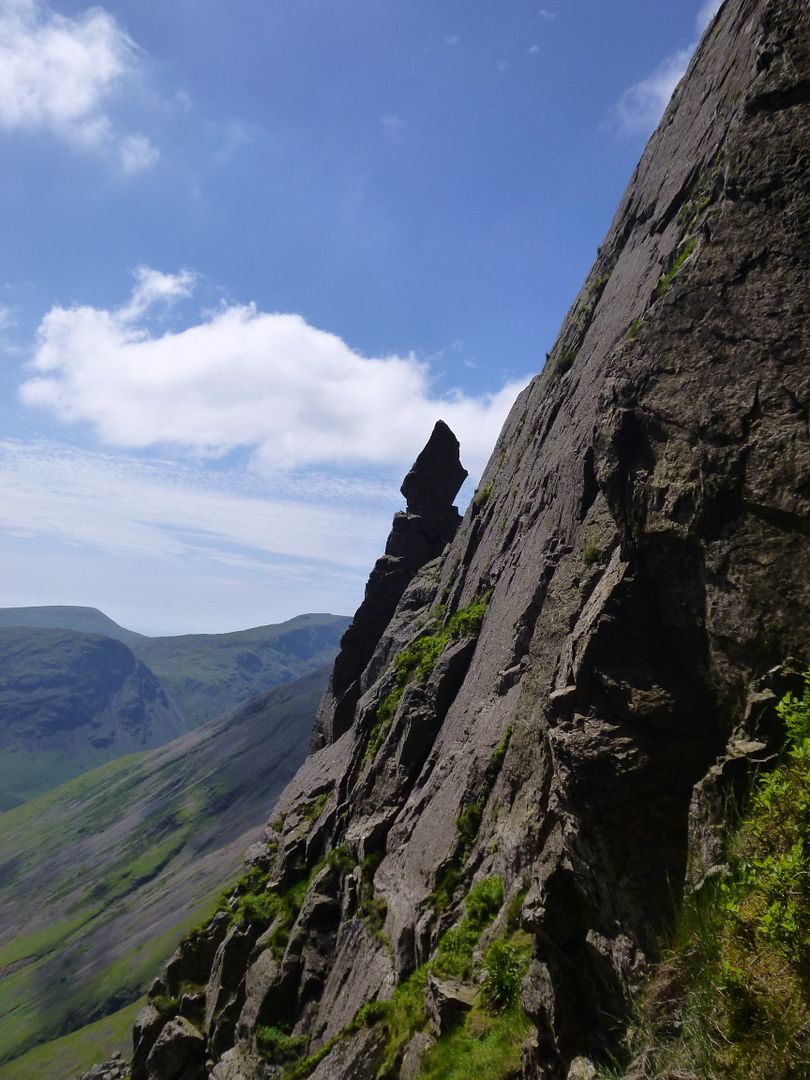 I climbed up steep, partially vegitated rock to the left of a huge Chockstone to meet back up with Dougie, and headed up a short distance to a deeper chimney within the gully. As I started up the green slimy rock there, I knew that the route said to bypass this bit, but it looked quite do-able, despite the slipperyness.. I was in a right precarious position, when I heard a shout from Dougie behind me and saw him fall
Only a few metres, but it didn't look pretty. I panicked trying to get down, the way up had been delicate, so a terrifying hurried descent
I found Dougie to be OK, if not slightly battered.. just scrapes thank goodness, oh and he had such a big lump on his elbow, that it looked like a double elbow
We retreated to where the gully was a bit wider and stopped again to gather our wits.. Oh this was somehow turning into an epic
So we set off again, this time bypassing on the left, as advised in the book. Easier ground, took us up to the left onto Arrowhead Ridge, just a few rocky bits between the grass. Steep though, some really dig-your-fingers-into-the-moss stuff, but we were soon on a flatter grassy ledge, on the crest of the ridge. The face in front looked quite tricky, but eases all too soon, with some slabs and perched boulders taking us back to a grassy ledge.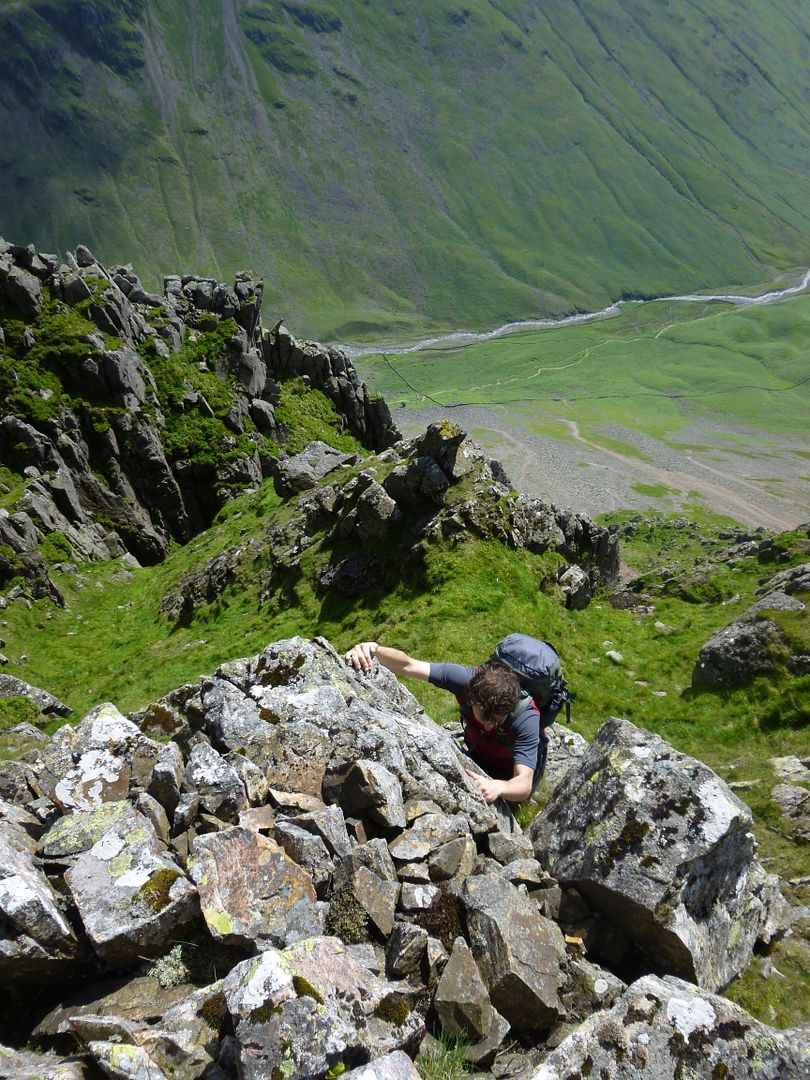 I had to go round to the left of the next we arete to clamber back onto the crest, but this too was over very quickly, and we were at the top of the Napes.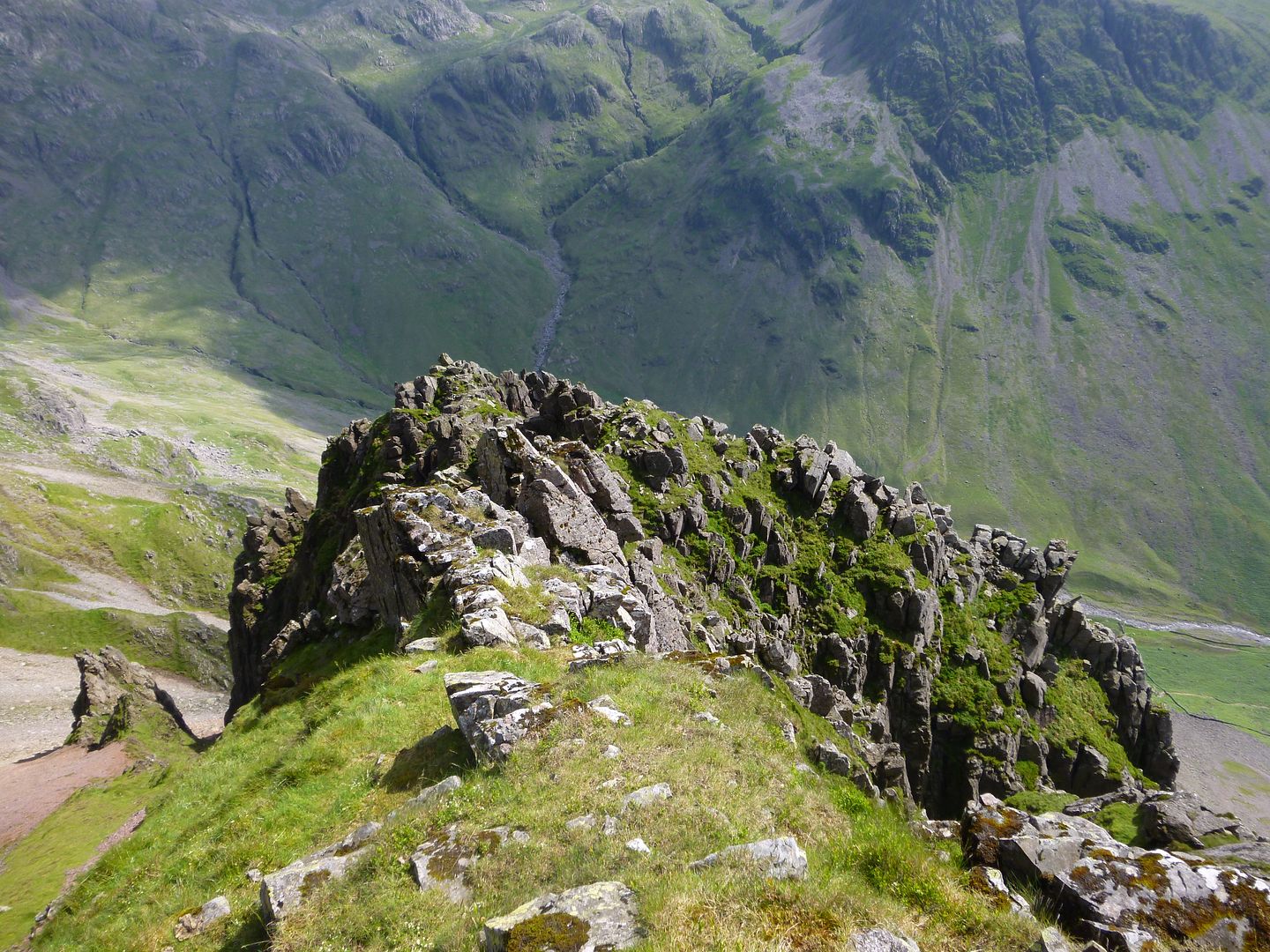 I could tell Dougie was still a little shaky from his fall, so we had a long stop there in the sunshine, eyeing up our next target - Westmorlands crag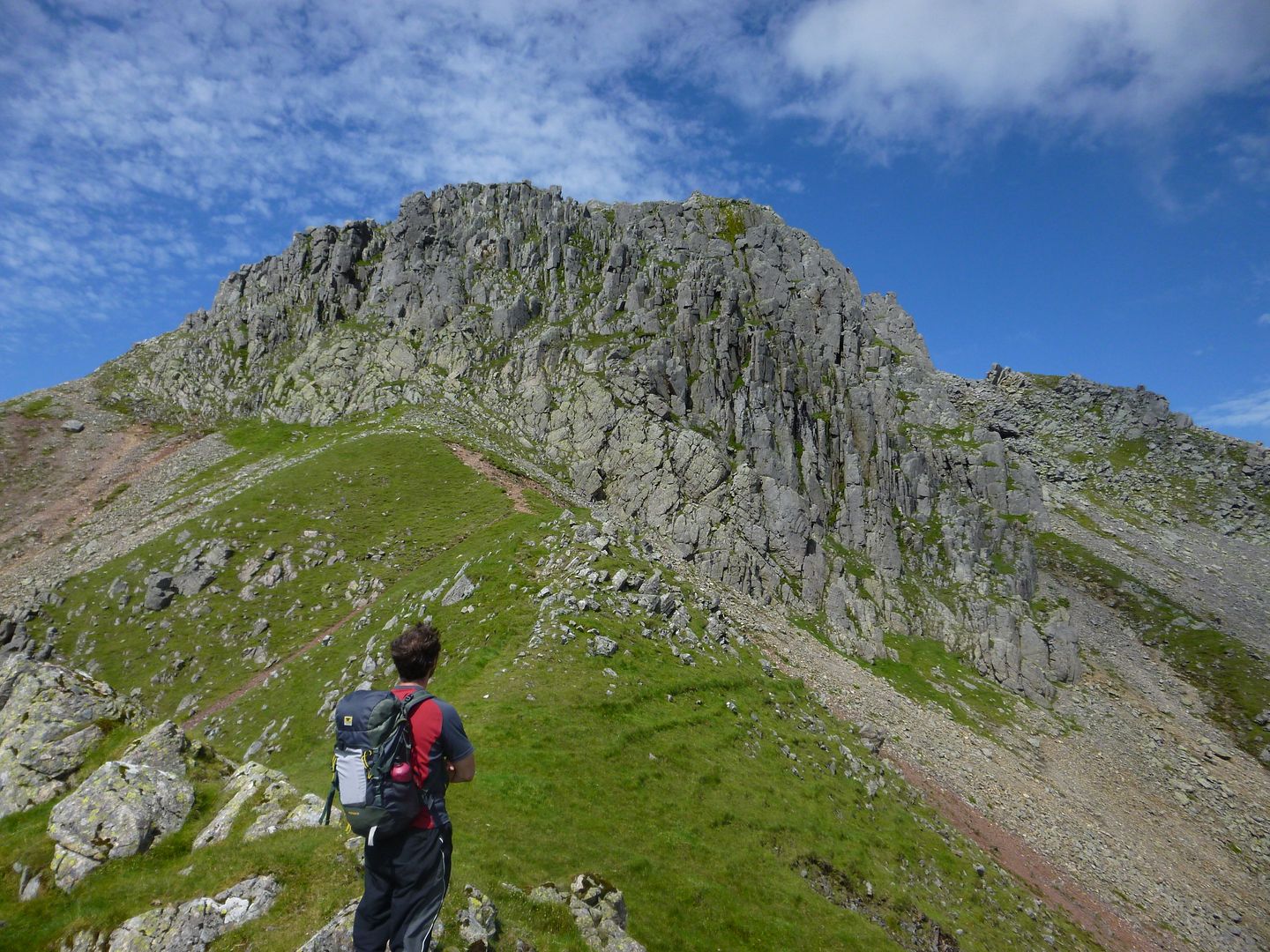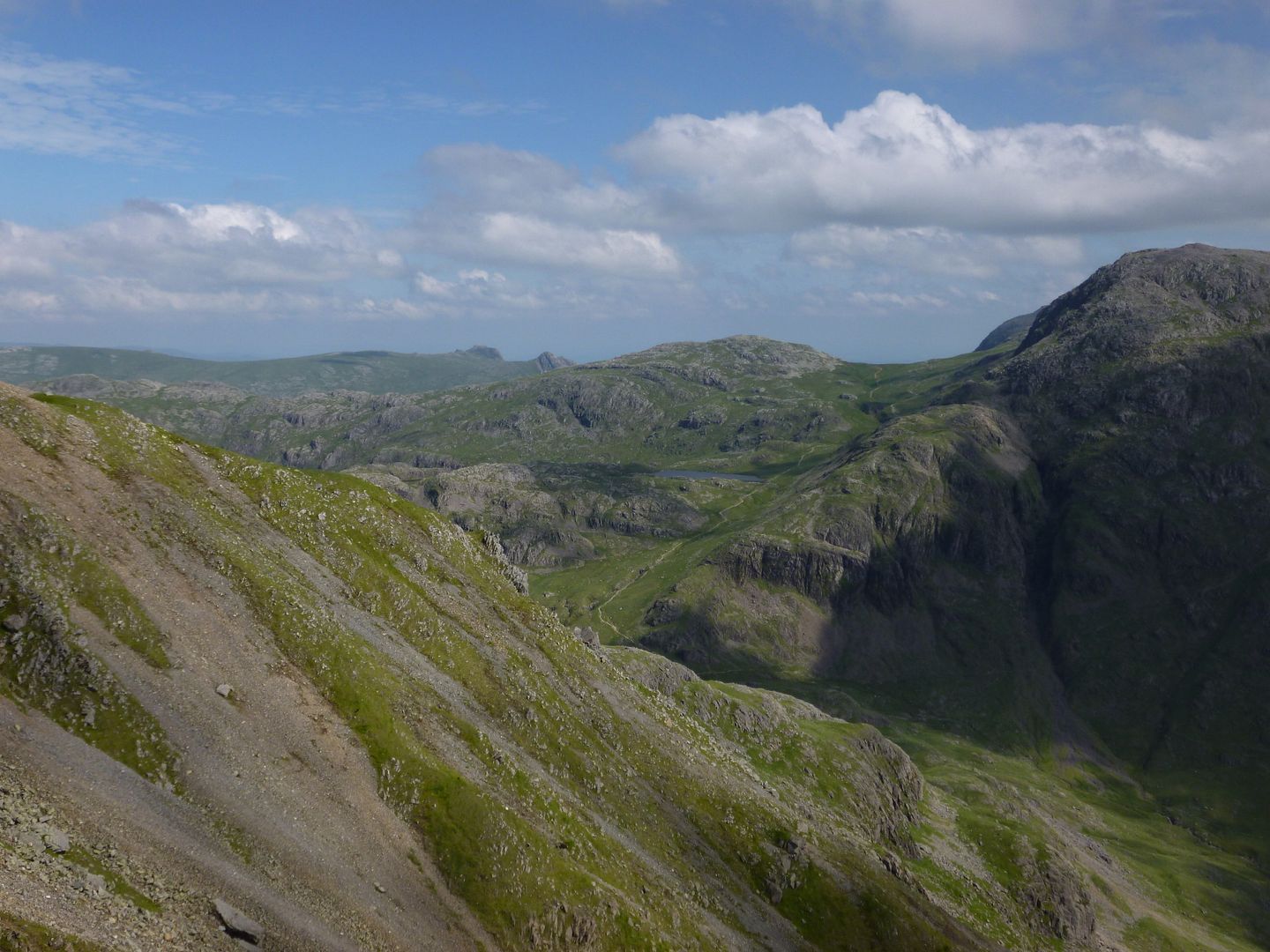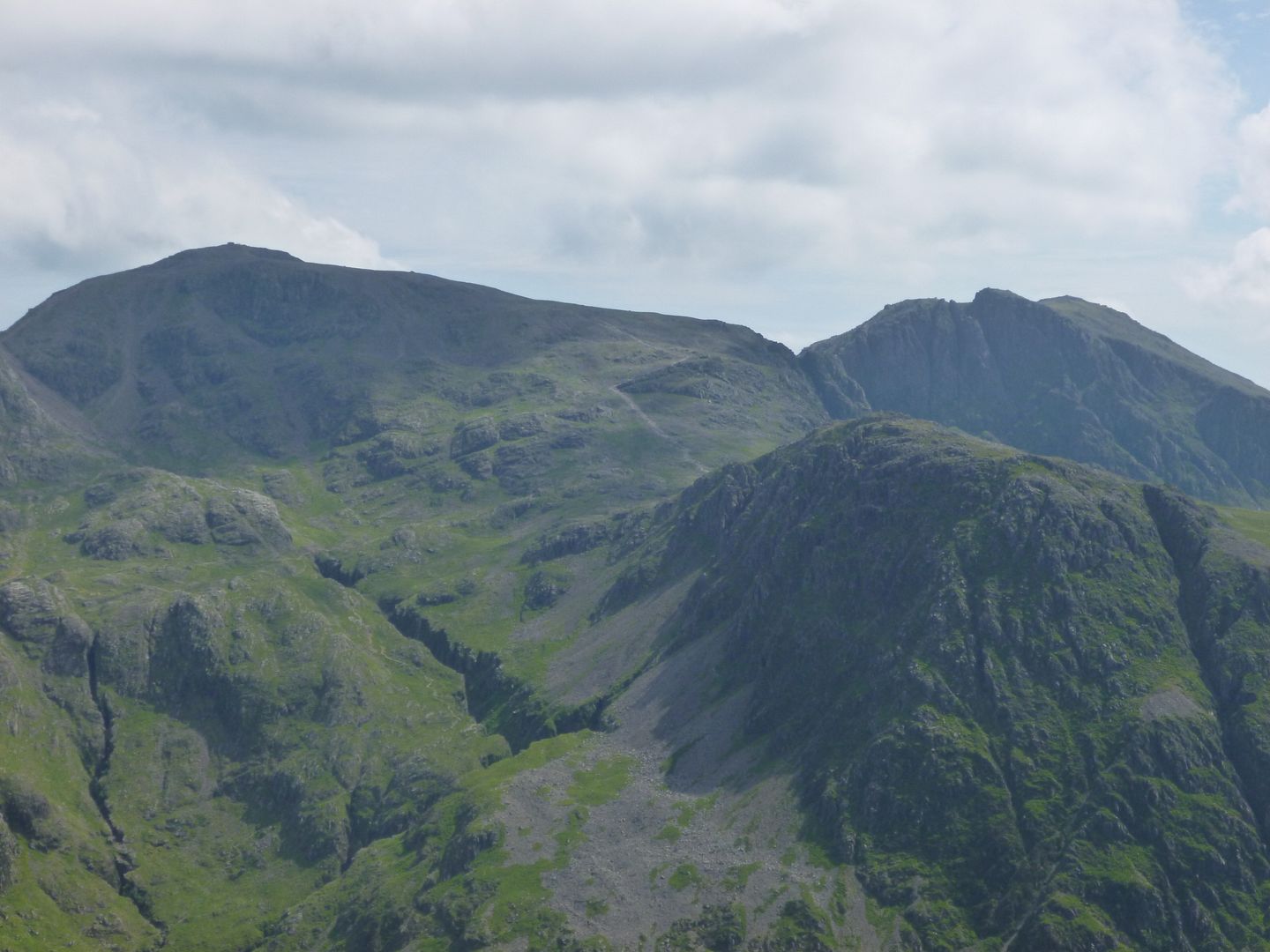 There was a path that skirted over red screes, round the bottom of one outcrop and up to the blockier looking ridge beyond.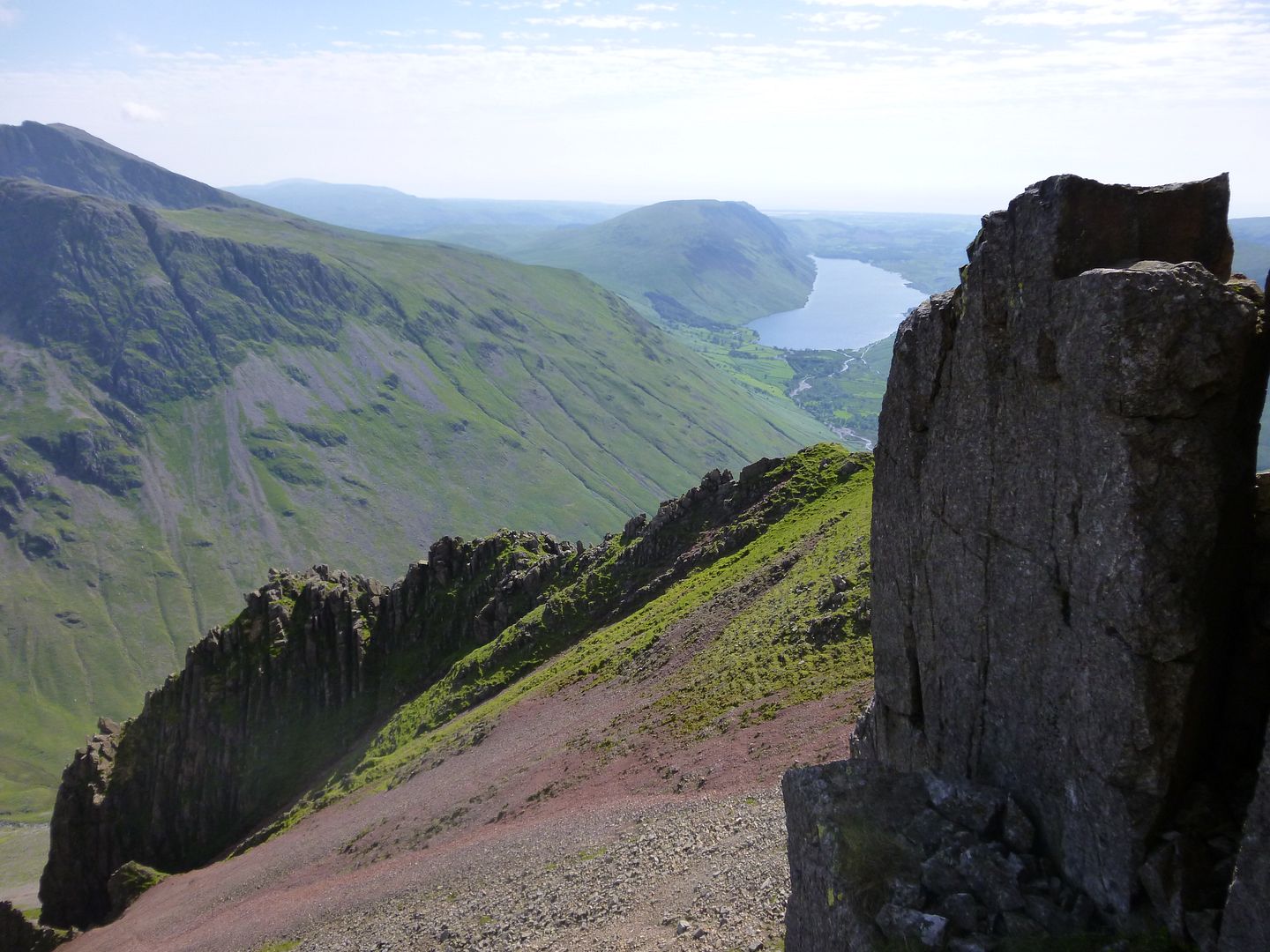 It was a brilliantly fun scramble, we raced up faster and faster it was so exciting. There are a couple of trickier vertical walls in there, but it was mostly very straightforward, but in such a airy situation, that it was really exhilarating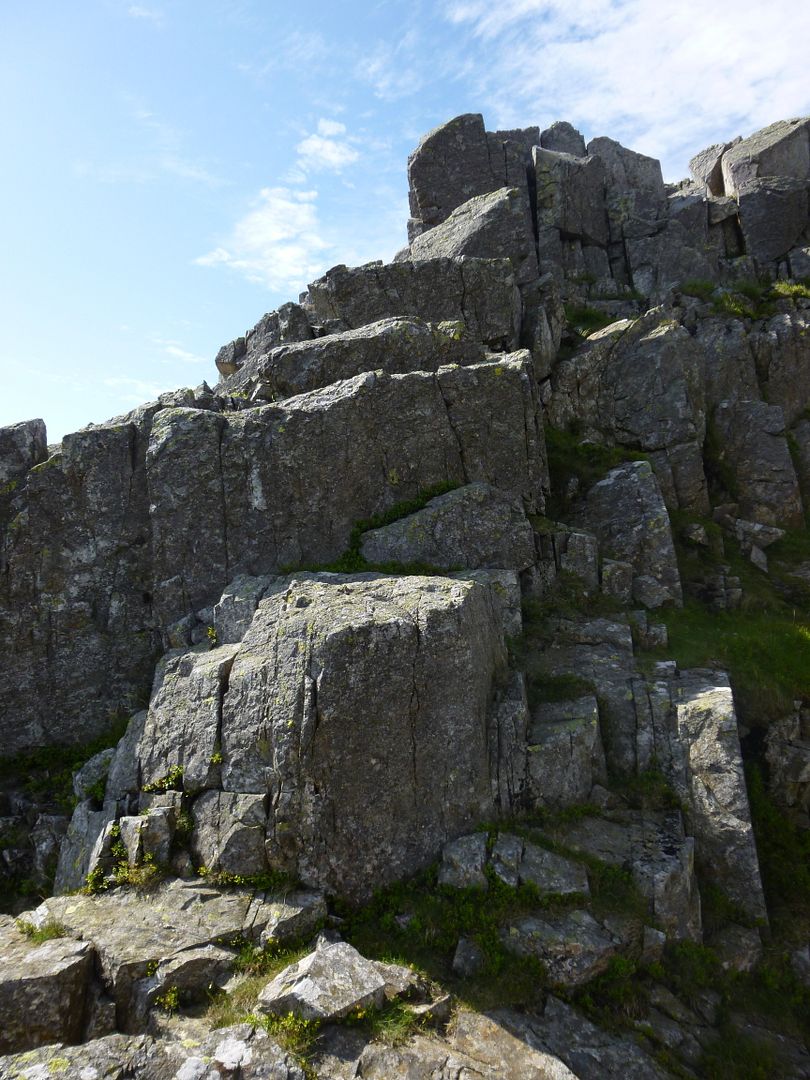 All too soon, the ground flattened out and we wandered to the summit
It was pretty windy up there, so we headed down the path toward Green Gable. It was thoroughly depressing after the joy of ascent - an roded 10' wide rocky path
although there was a little bit of scramblng at one point. We started bumping into people again now we were back on the beaten track.
The path up Green Gable wasn't much fun either, but it wasnt far, and we were careful to elect the right ridge for descent.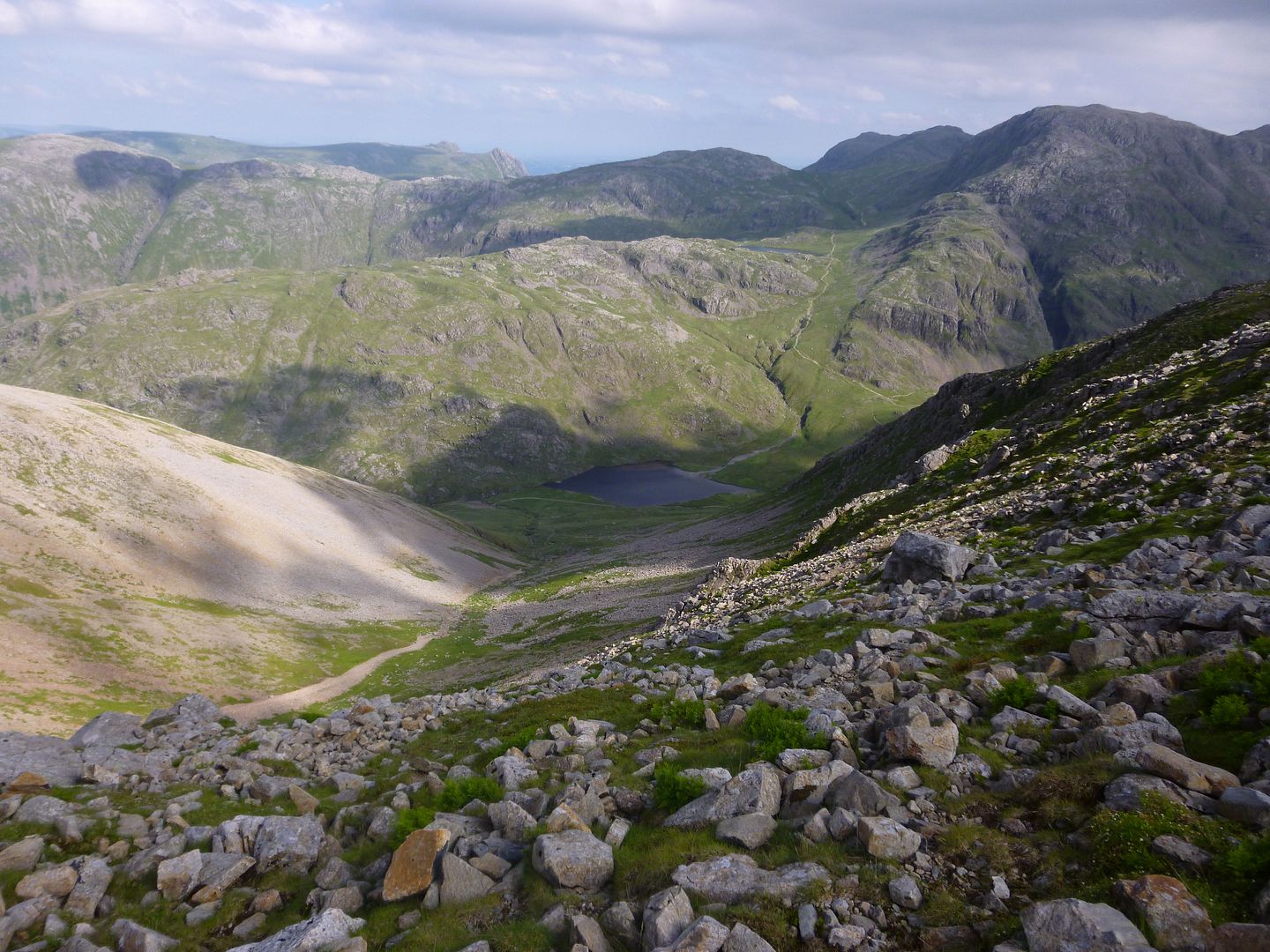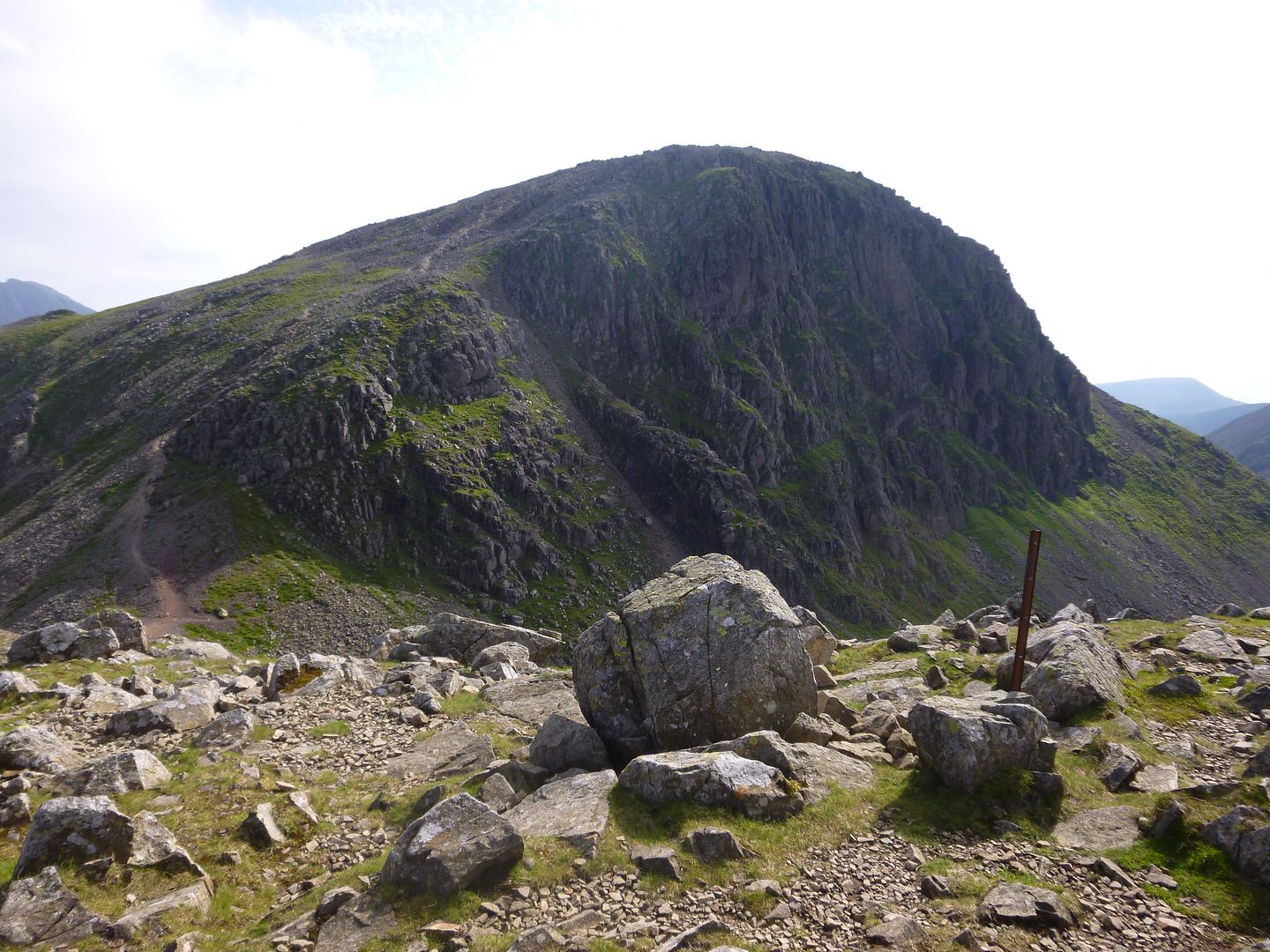 We got onto a path at the bealach which wound its way down into a grassy corrie - It was really pleasant.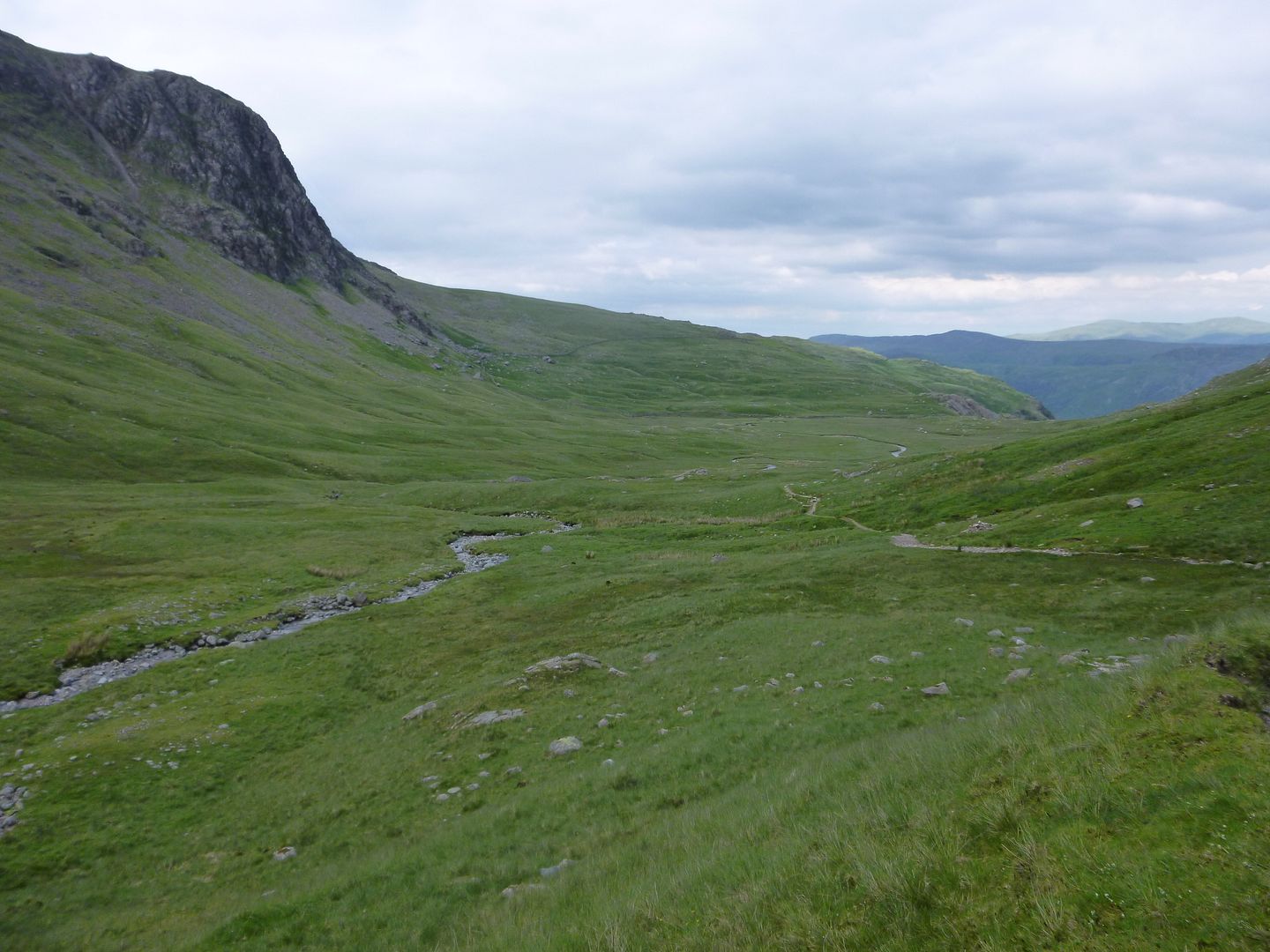 Then it was over the lip, and steeply down back to the car alongside a bonny river with many impressive waterfalls, through beautiful woodland.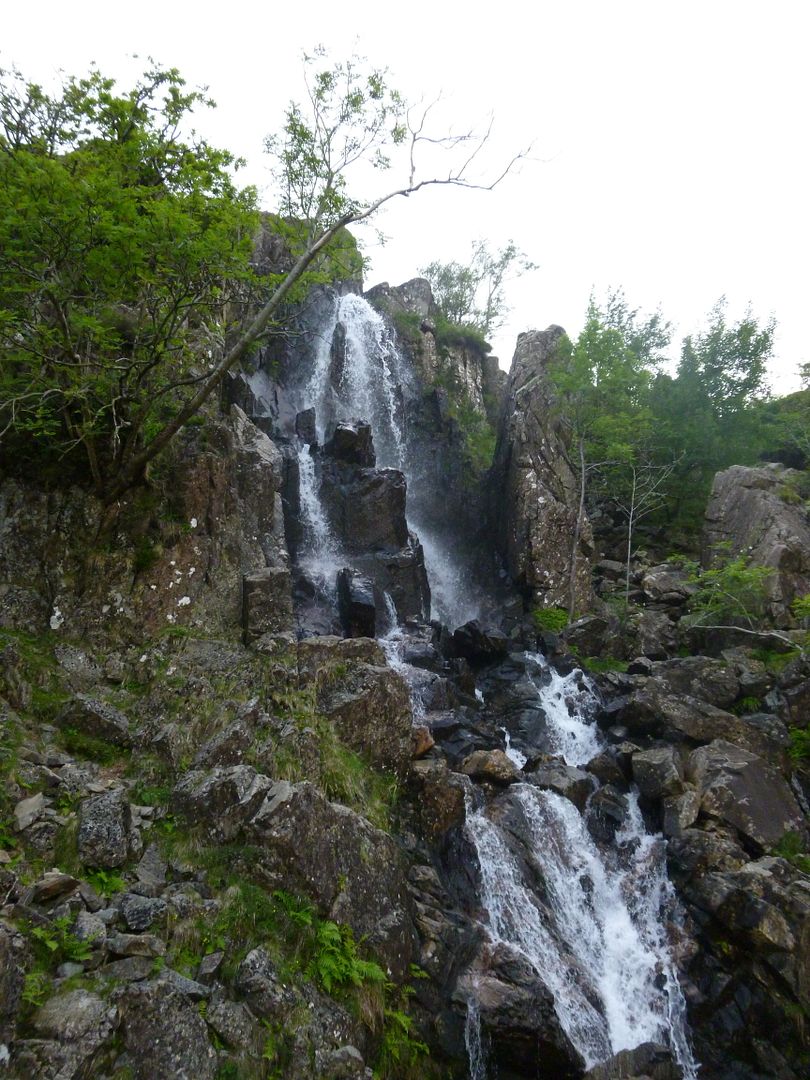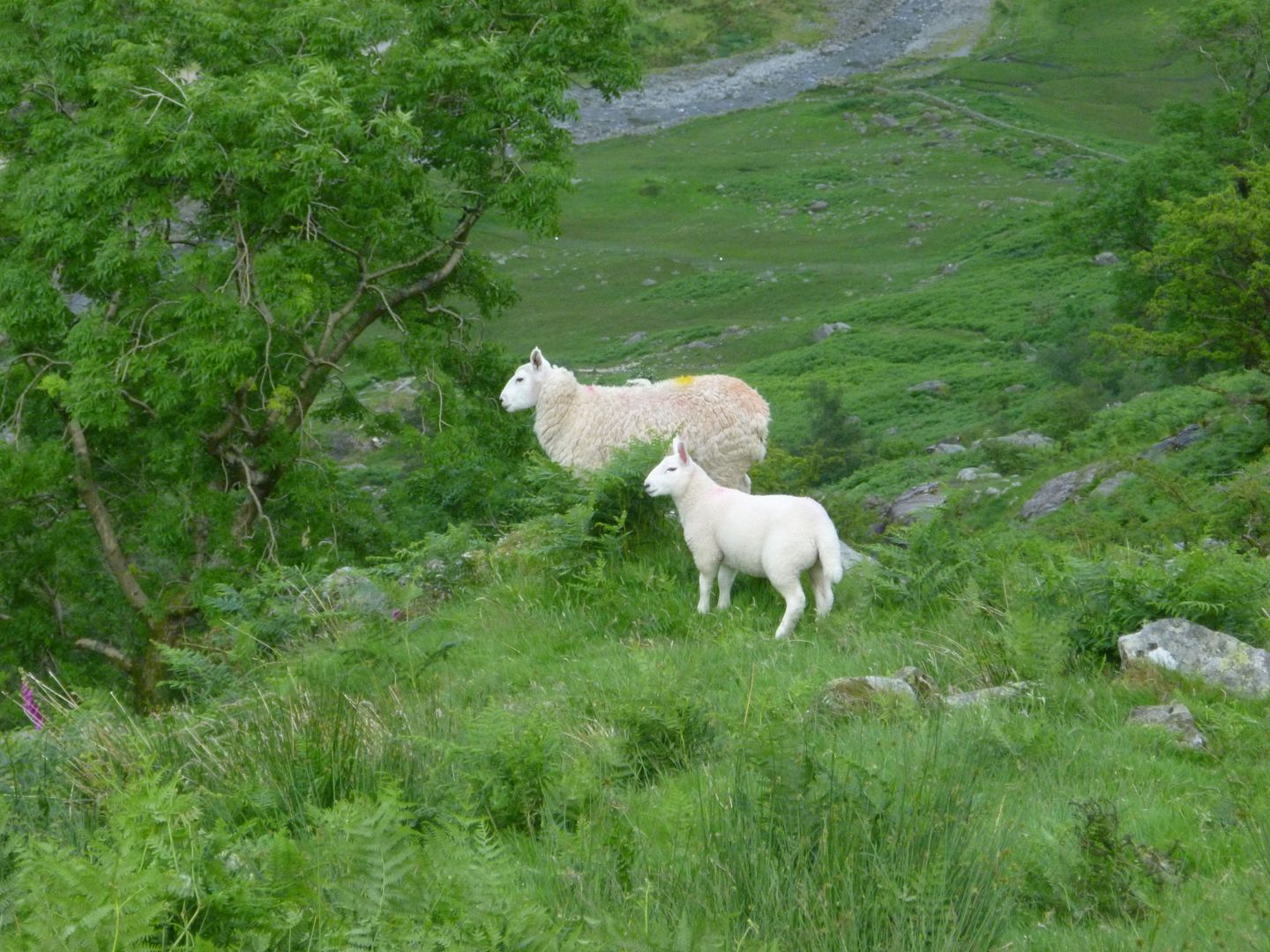 We got back to the car in high spirits. Looked like it was going to be a cracking weekend
Day 2 - Birthday Disaster
So Saturday was my Birthday, so we thought we would go and check out Lorton Gully on Grasmoor, as it was right next to the road, and would leave more pub time later. The first disaster was that I forgot to bring any socks, but Dougie managed to find a pair for me, so crisis averted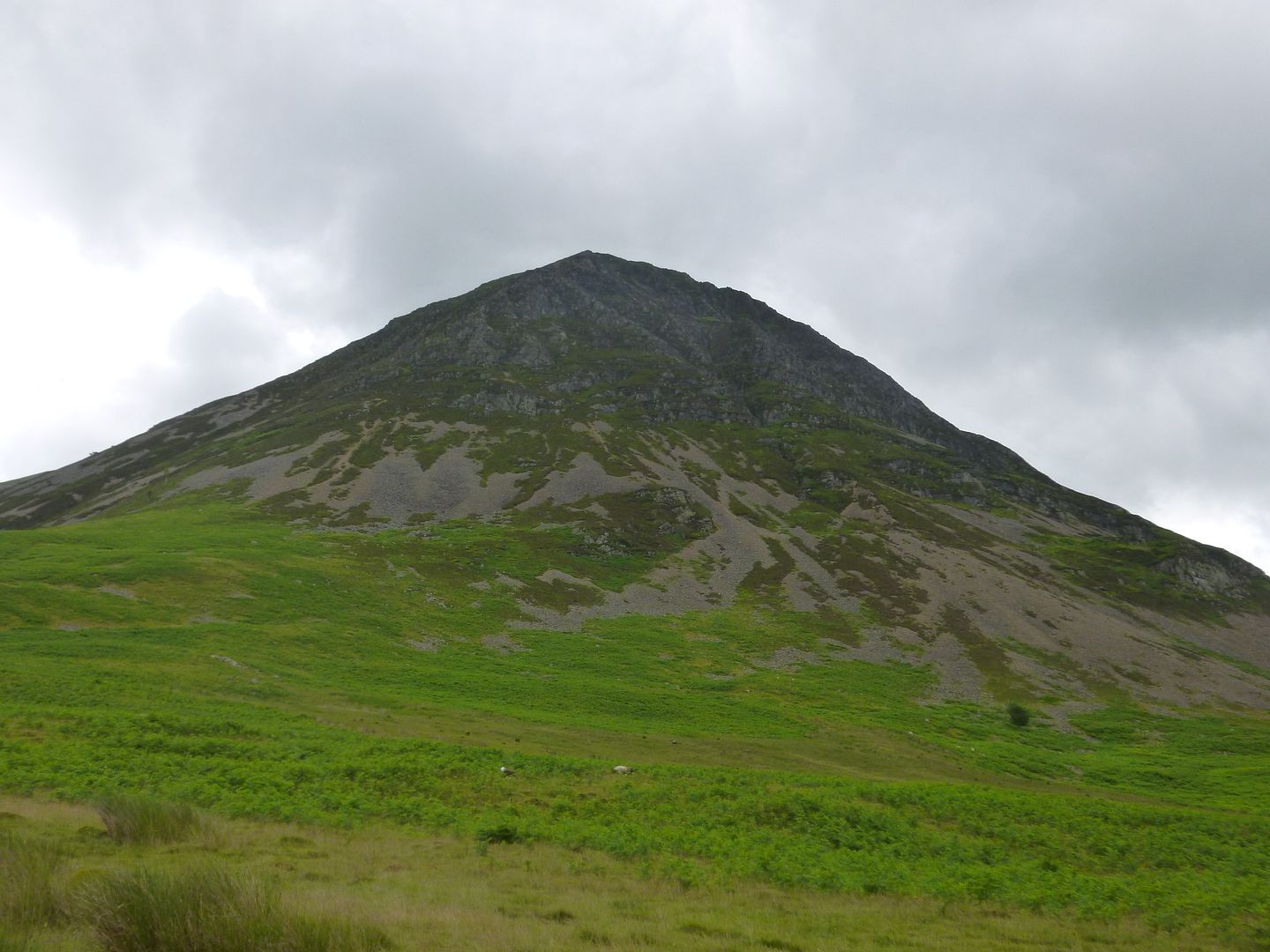 We set off along the path, taking a fork that traverses right. Pretty soon we were huffing and puffing our way up some very steep ground, but it seemed too tricky to our right to traverse over much further. Another hot day, and an abundance of blaeberries made for very slow progress indeed

When we did finally manage to get ourselves traversing, we were far too high, deep undergrowth was wet, so soon so were we. The scree slopes should of been a relief, but they were far too steep and unstable, so no fun at all. Oh what a slog..
We did eventually get to the gully though, rather higher up than intended, but good to get out of the heather.
The gully was exceptionally slippy though, even the dry looking bits, so it was a little bit tricky as we made our way up rocky steps.
The gully got more enclosed, with crags either side. The first and second walls wee fairly straightforward. The third had a tricky perched block which had to be straddled, and although tricky, it was quite fun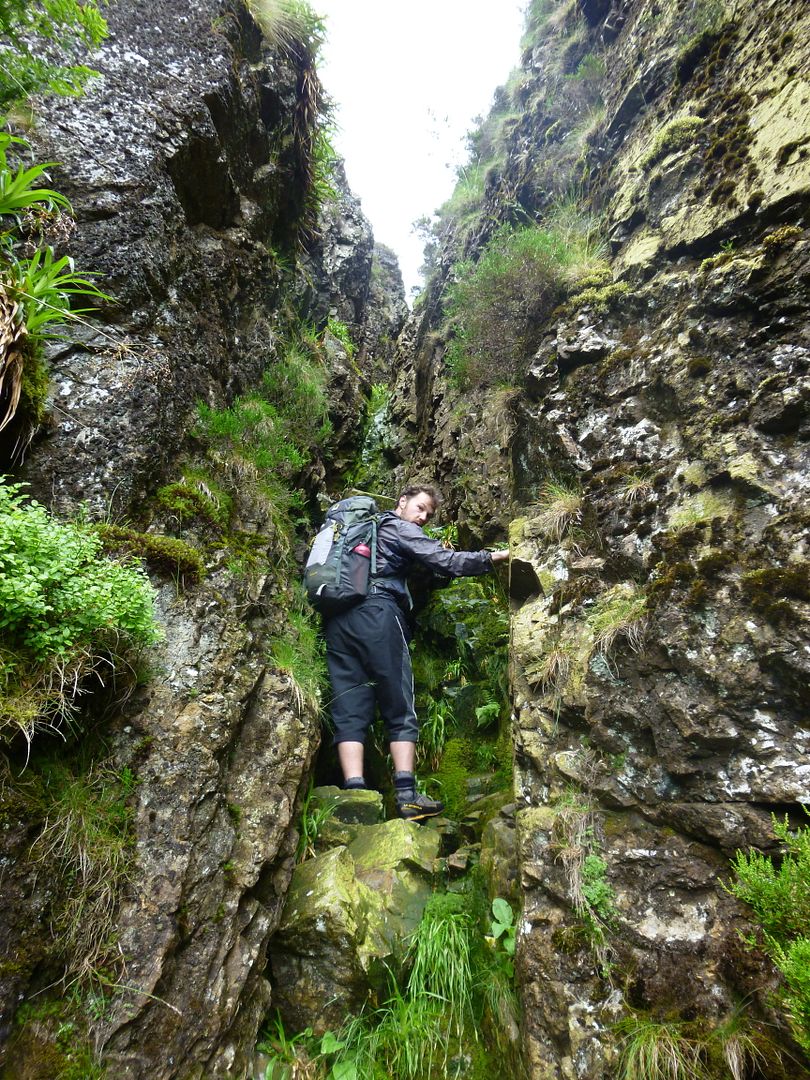 The fourth didn't look too bad, but it was covered in green slime, overhanging on the left, and all the ledges and handholds sloped inward, which made it very difficult. We tried multiple times, but we just couldn't figure it out. So nothing for it but to retreat
The trouble being that what we had already come up, would be very hard to down scramble.
Dougie managed to swing himself down like a monkey, but I had a really bad attack of the wobbly legs and required some help
We continued down the gully, making straight for the car, covered in luminous green slime, and soaked through, despite it being a warm bright sunny day.
The fail wasn't all bad, gave us time for a mooch round Keswick, and a visit to some neolithic sites I had had my eye onbefore hitting the pub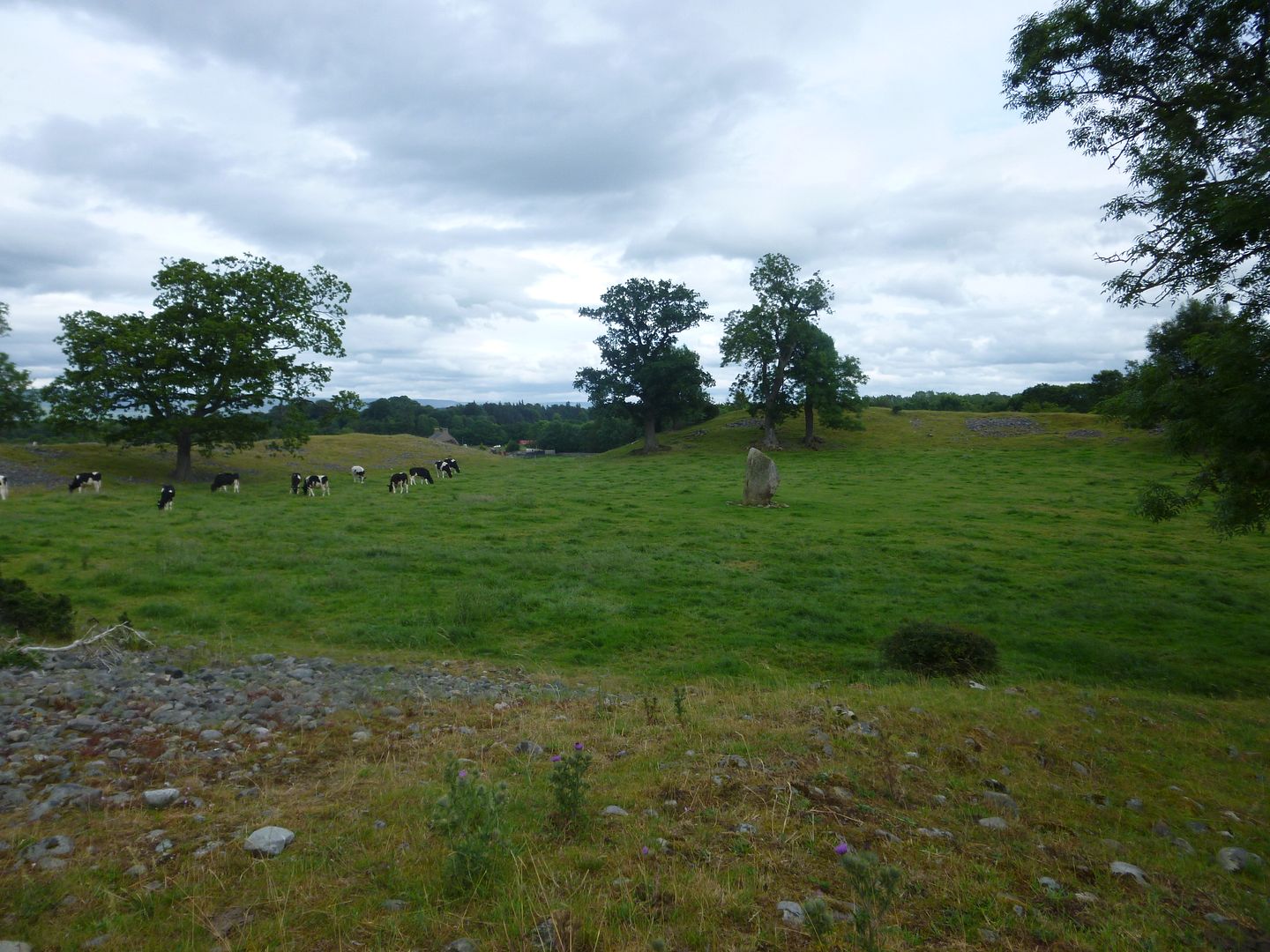 Day 3 - A day of two halves on Fairfield
We were up and out Early on Sunday - we thought we would try and do Link Cove Gill and a route up Greenhow end onto fairfield. When we arrived at bridgend, only for it to start drizzling. We set off up the path thinking that it wouldn't last long, but it didn't take long before the waterproofs were out, and things were really quite grim for a while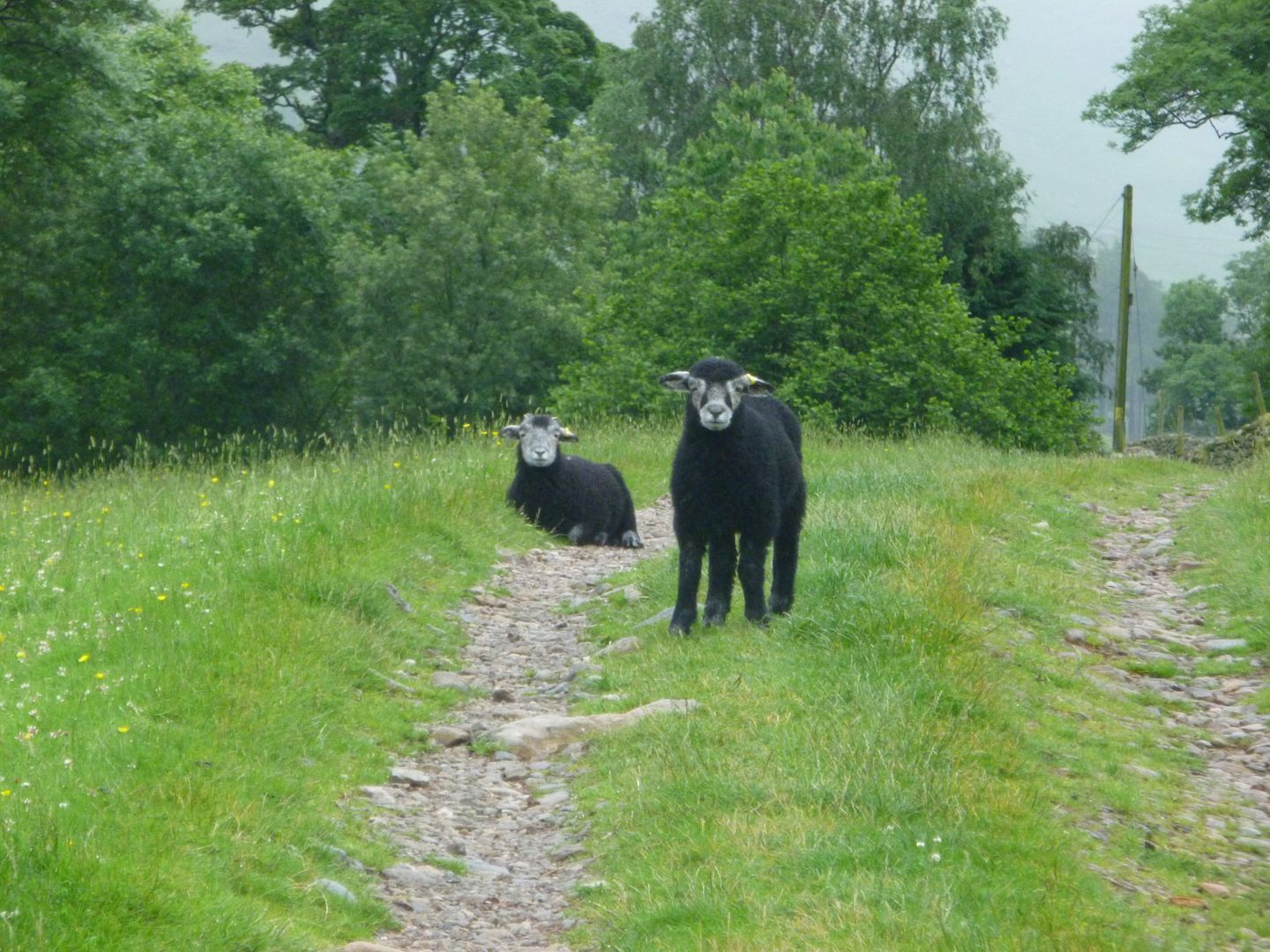 As we got further up the glen, it bacame clear that this wasnt a day for scrambling. I was slippering everywhere on the flat rocks that lined the track, so vertical didn't sound good
When we got up the glen we saw the Gill we had intended and knew we had made the right choice. Didn't mean we had to like it though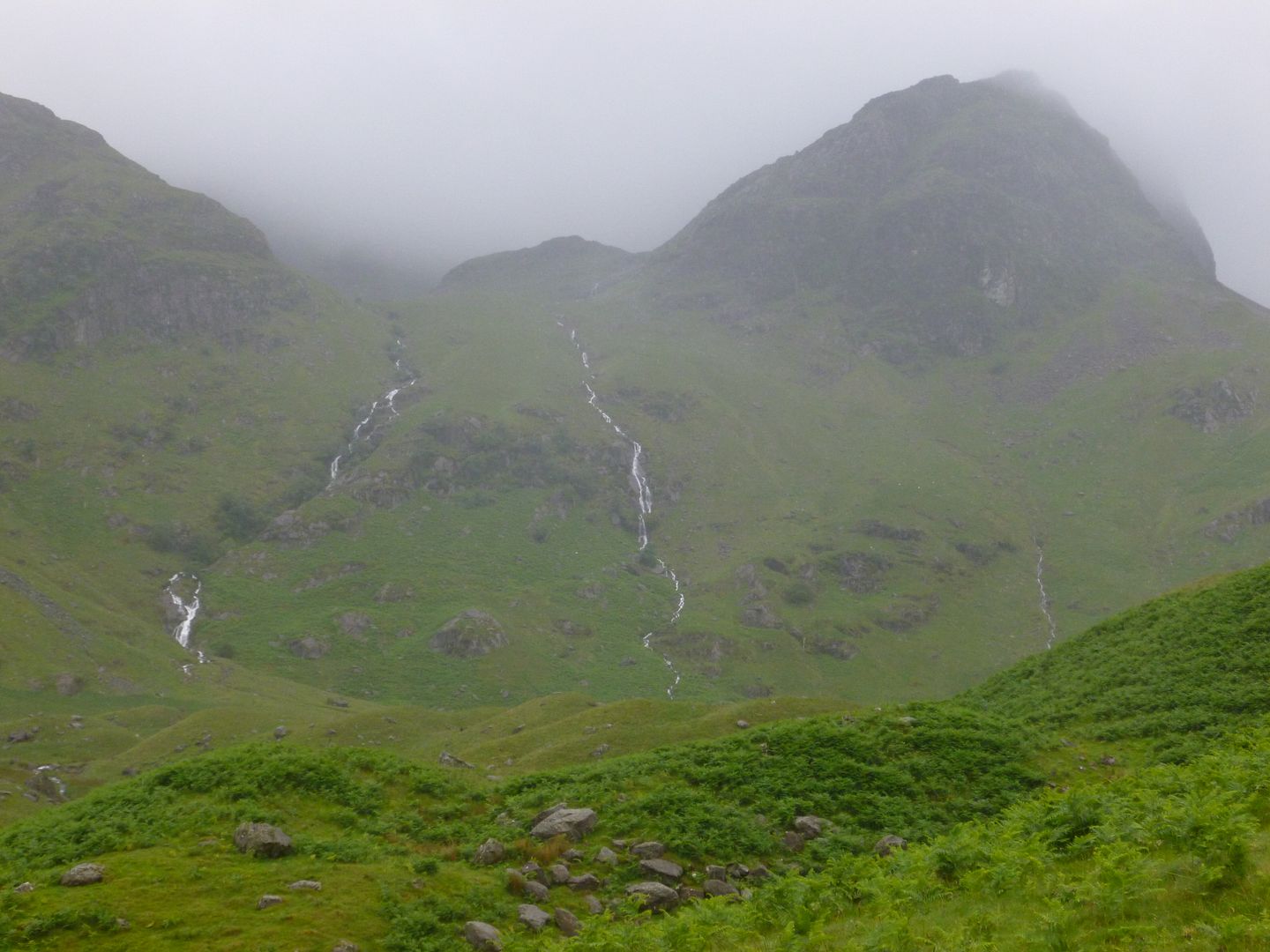 Trouble was I only had my scrambling shoes and the path wasn't one of the well formed ones - it was a proper bog fest. We caught up with a huge party of walkers and tried to pass them, but a herd of cows blocked our path
One of them was giving me an evil look, so we went round them, through the long grass, which was the death of all dryness or me. Al least it was warm.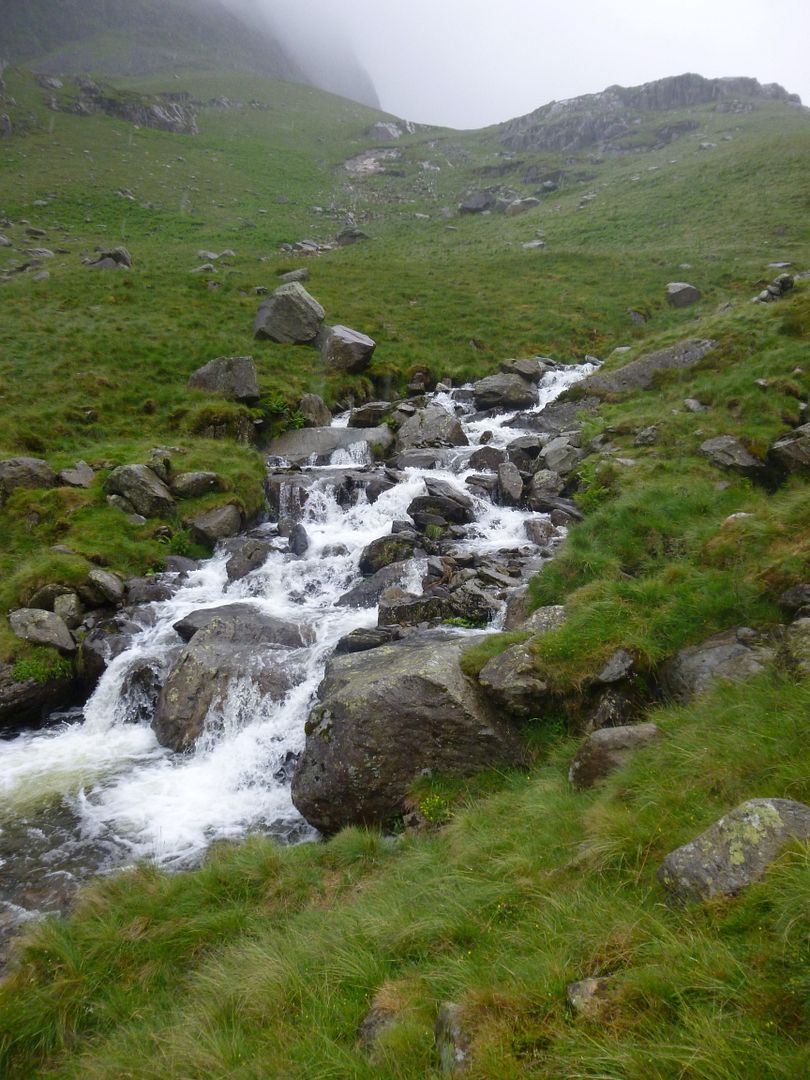 The path got steeper, and we ascended to a higher gully, where the rain finally went off
We had been confident that it couldn't rain like that all day - This wasn't Fort Bill, this was England FFS
The upper corrie was nice, made even more atmospheric, by the swirling mists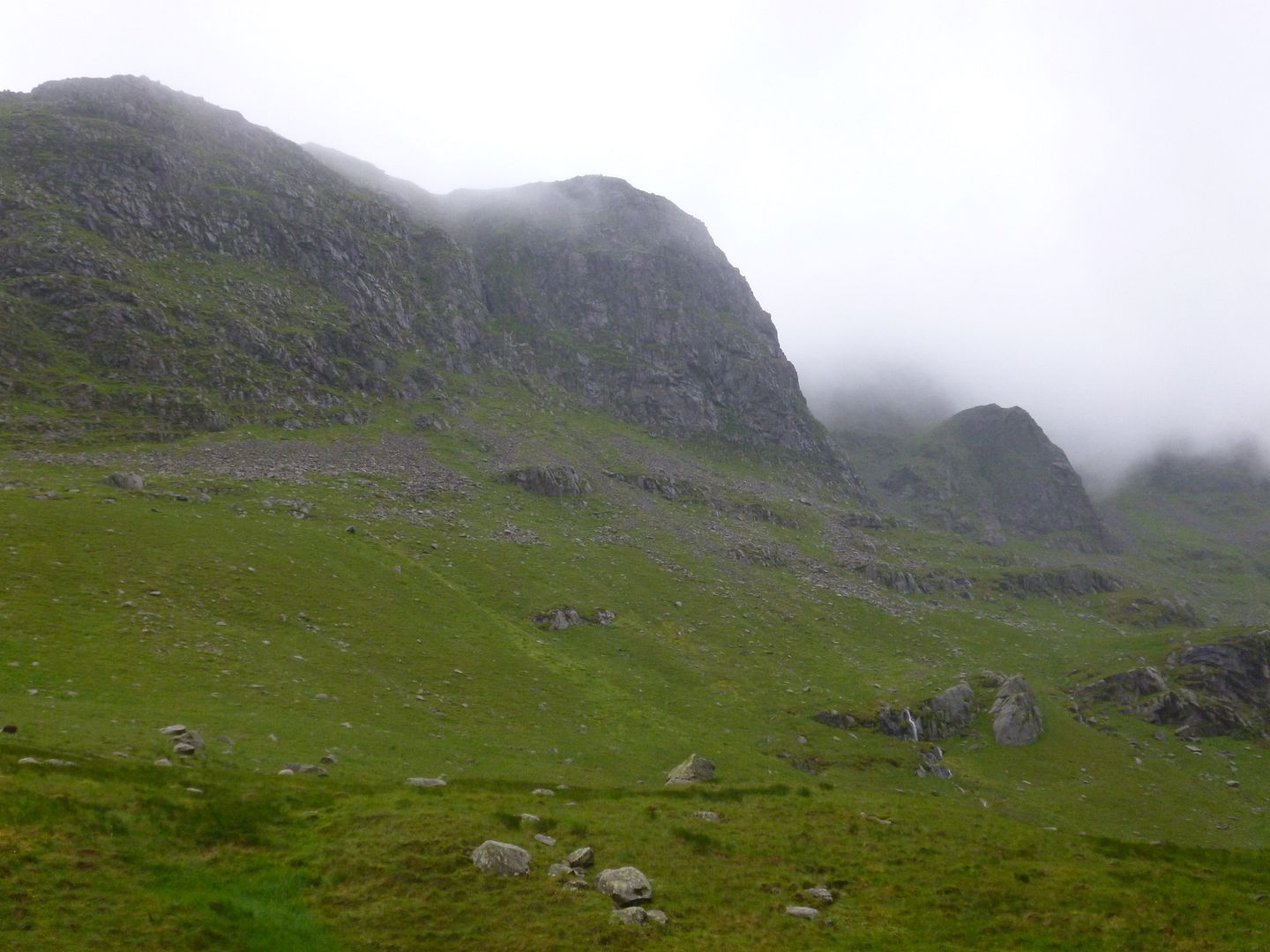 The path petered out at the end of the corrie, and it was super steep the last couple of hundred feet up to the ridge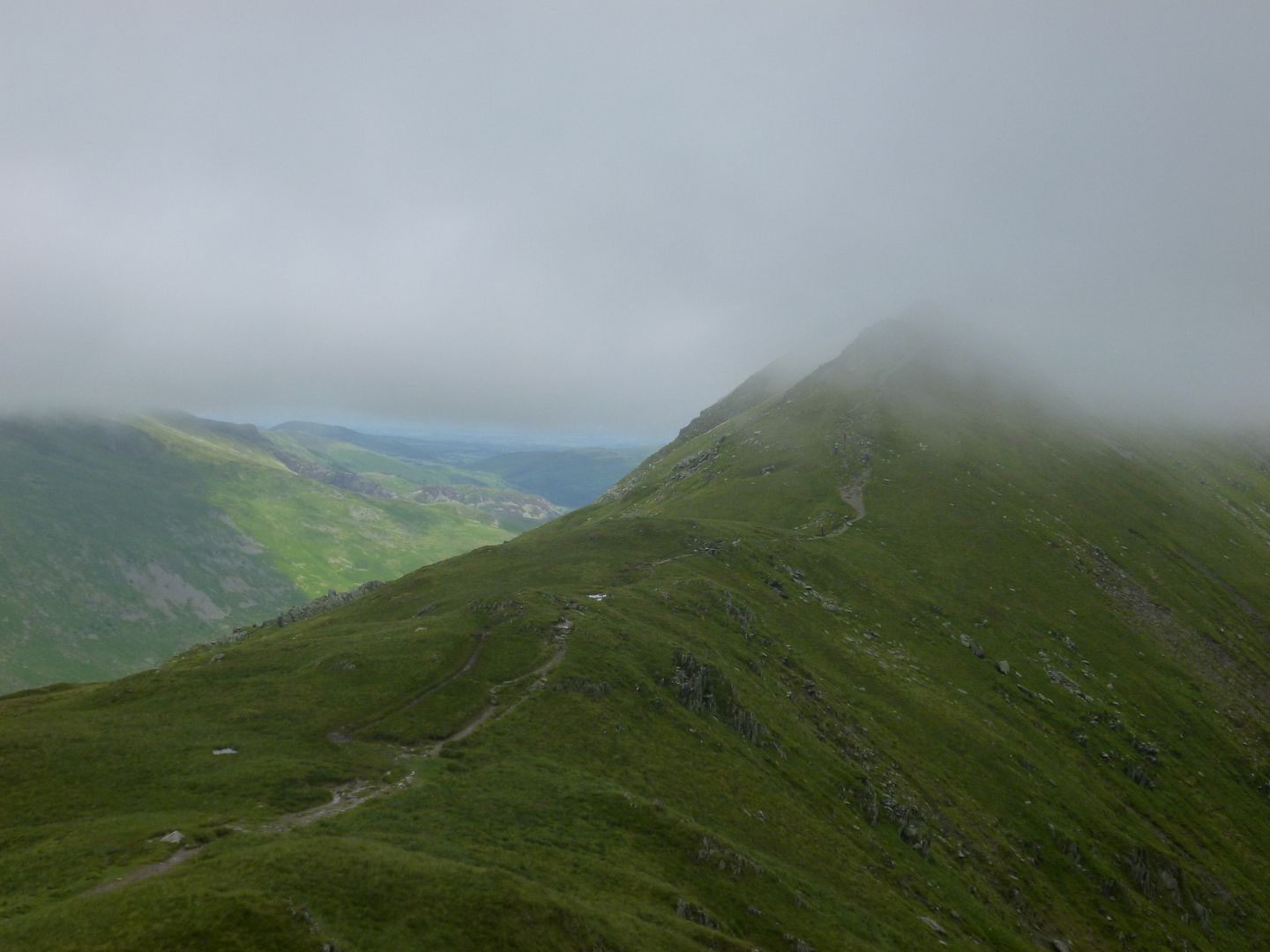 After stopping to catch our breaths, we headed in the direction of Fairfield, the way ahead looking misty, but as we climbed, the mists rose - we had timed it perfectly, the sun was coming
more delights, as we found there to be some scrambling up a vertical rock wall, onto a nice rocky arete beyond.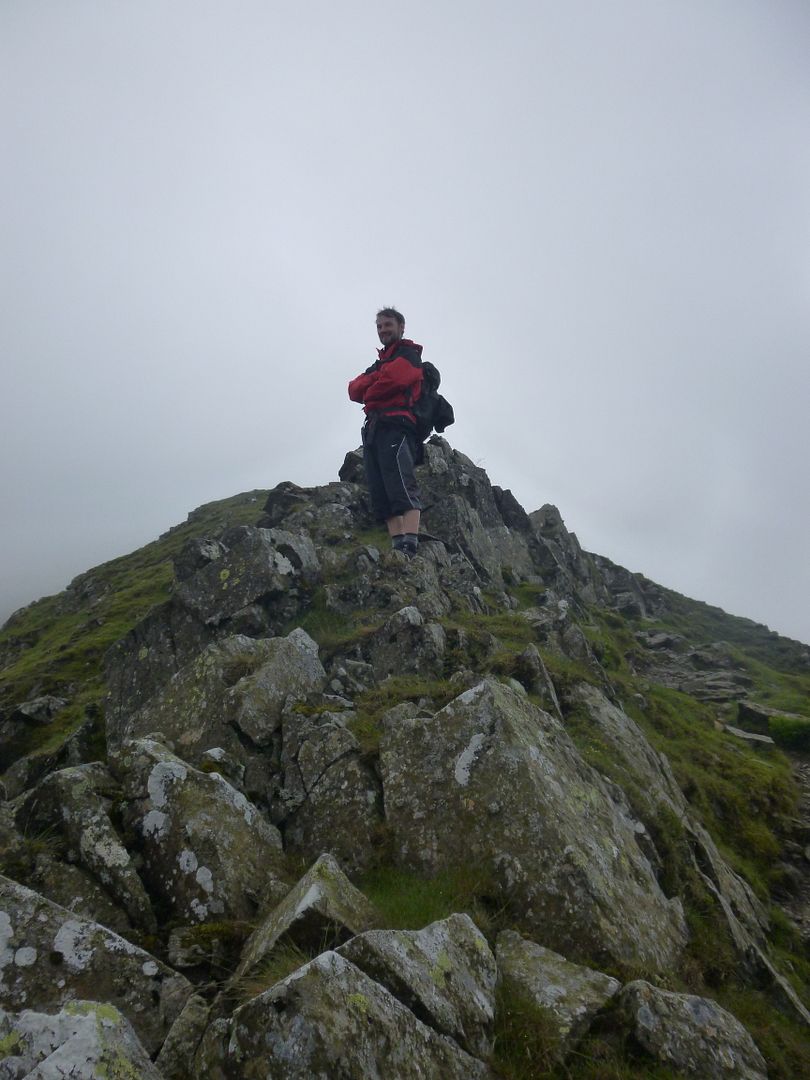 There was a small dip in the ridge, before another smaller rocky lump, then it was up to Fairfield. We avoided the path and stuck to the rock, which is a little more shattered, and less steep there.
The summit plateau was big and rounded, and surprisingly deserted, as it got really busy within 10 mins!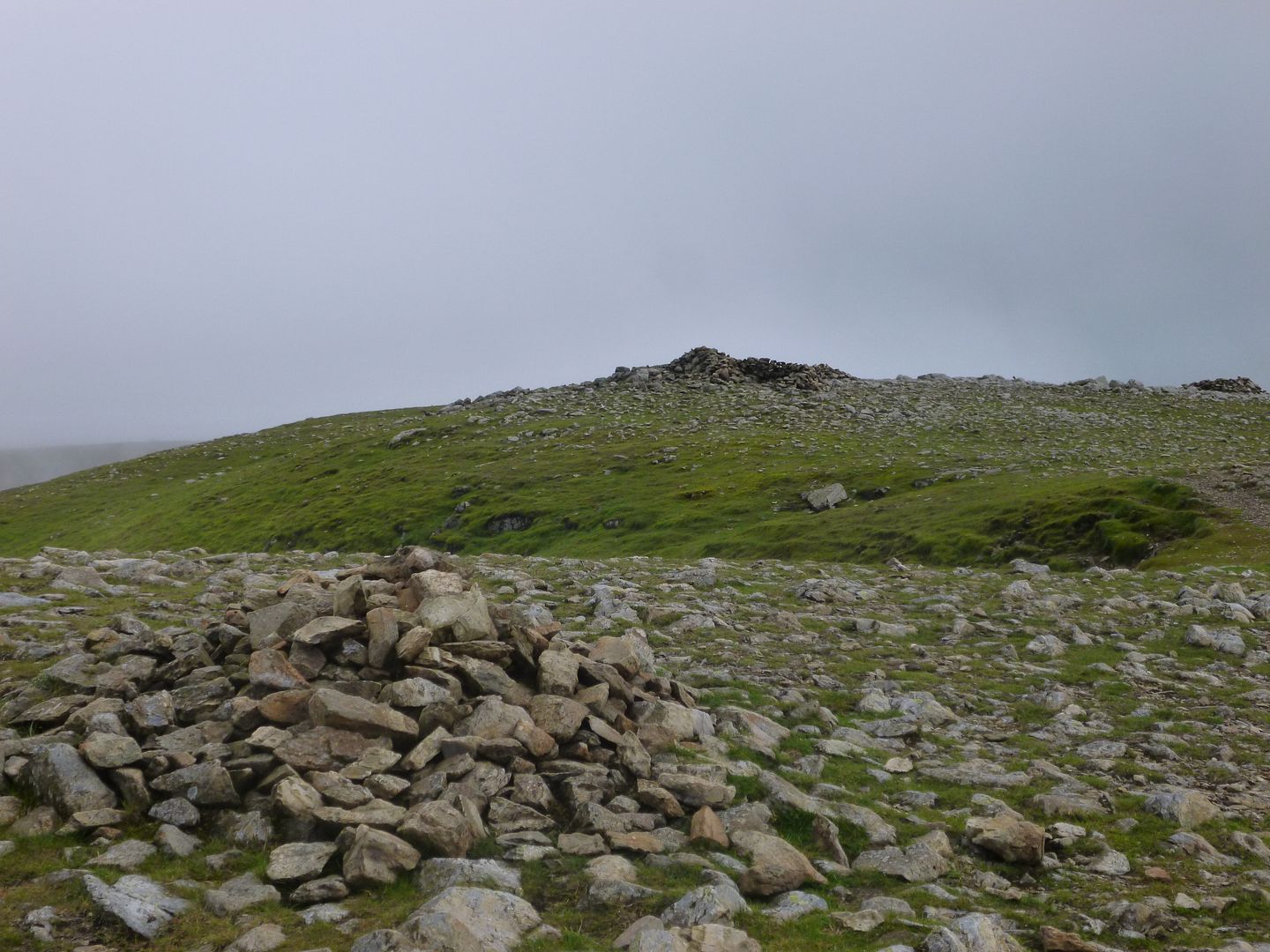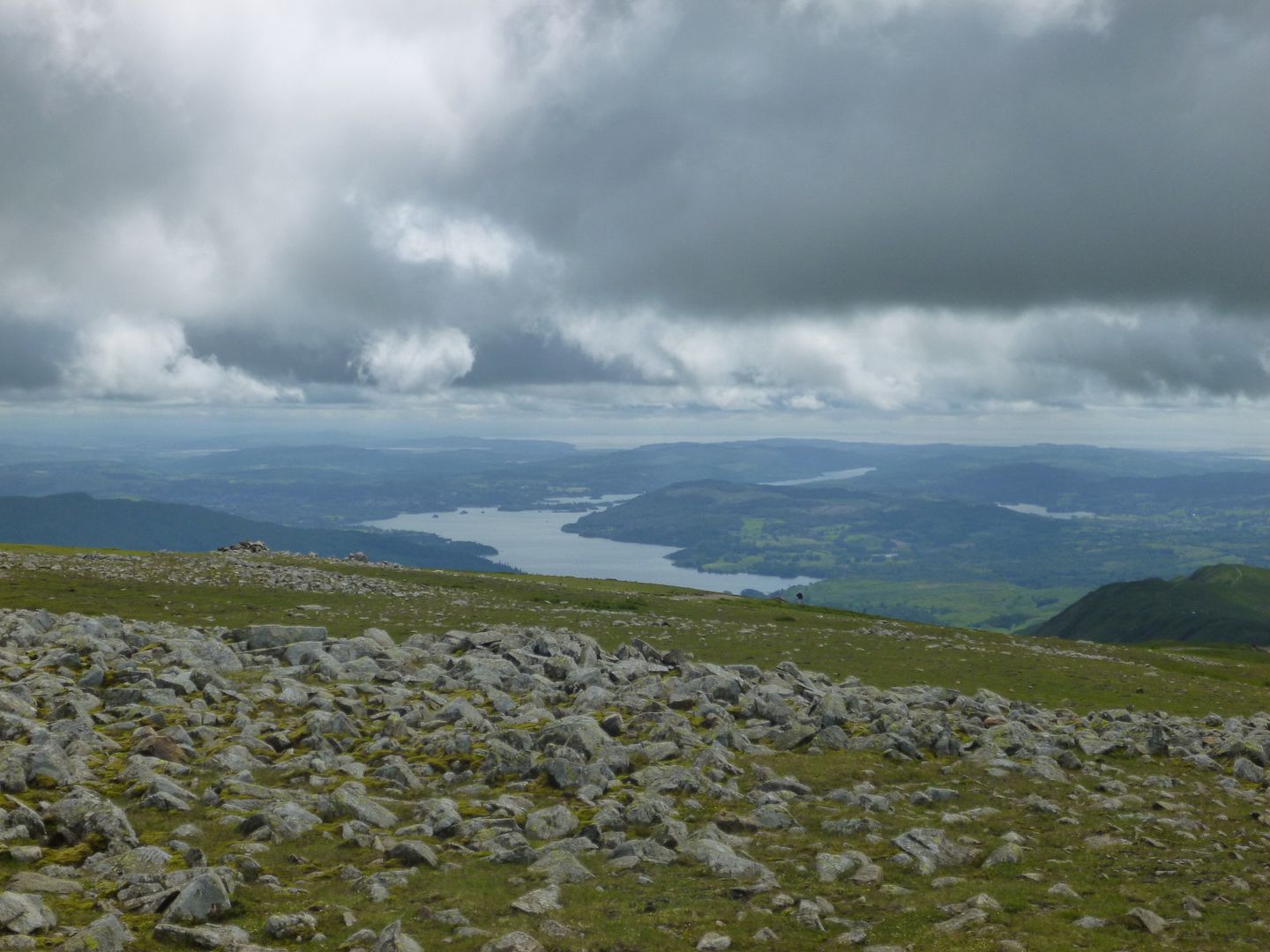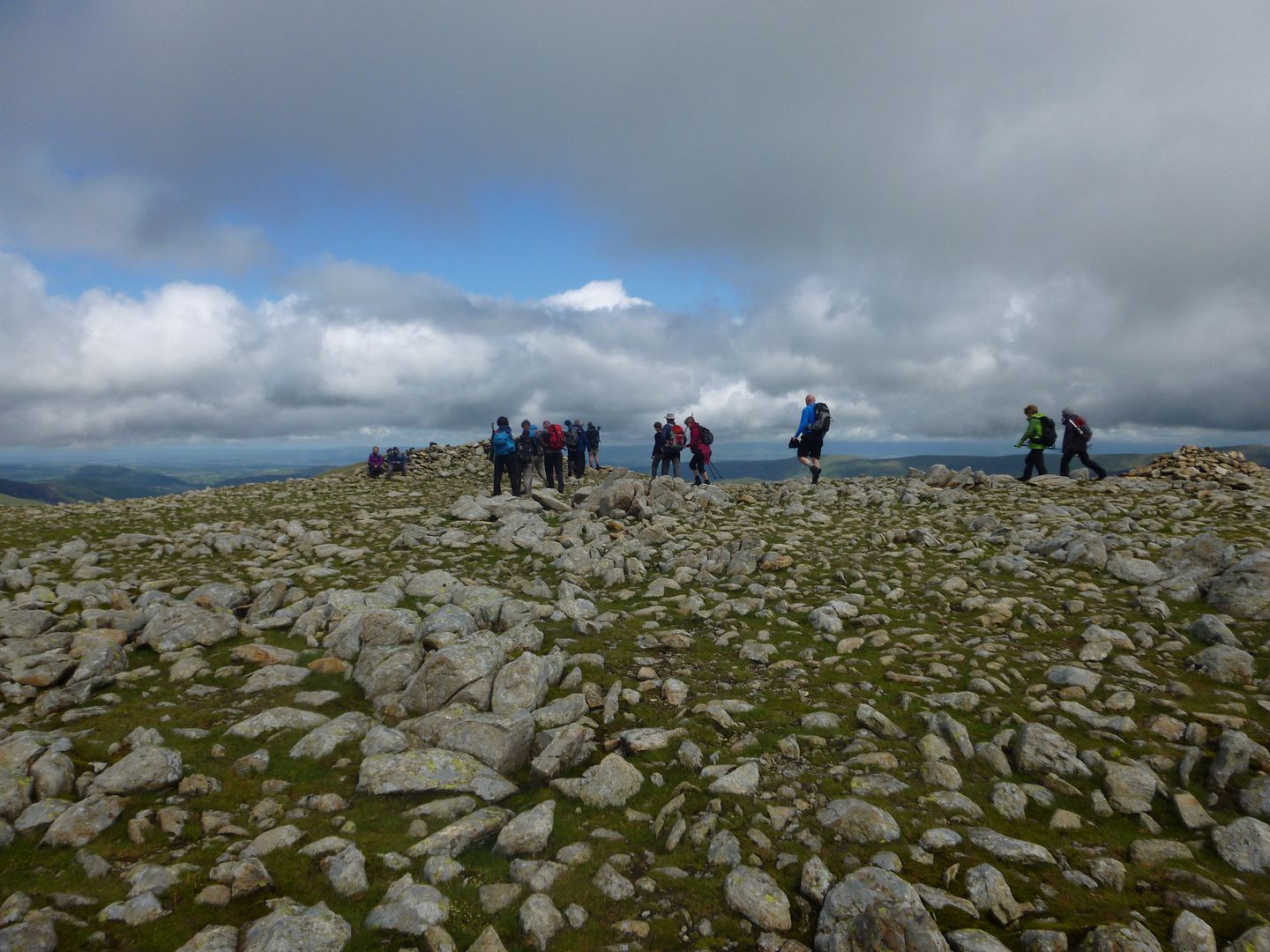 There was a big path over to hart Crag, and we followed the hoardes before turning down Hartsop above How

Rocky ground and pleasant slabs took us down to the grassy section, which undulated gradually downward.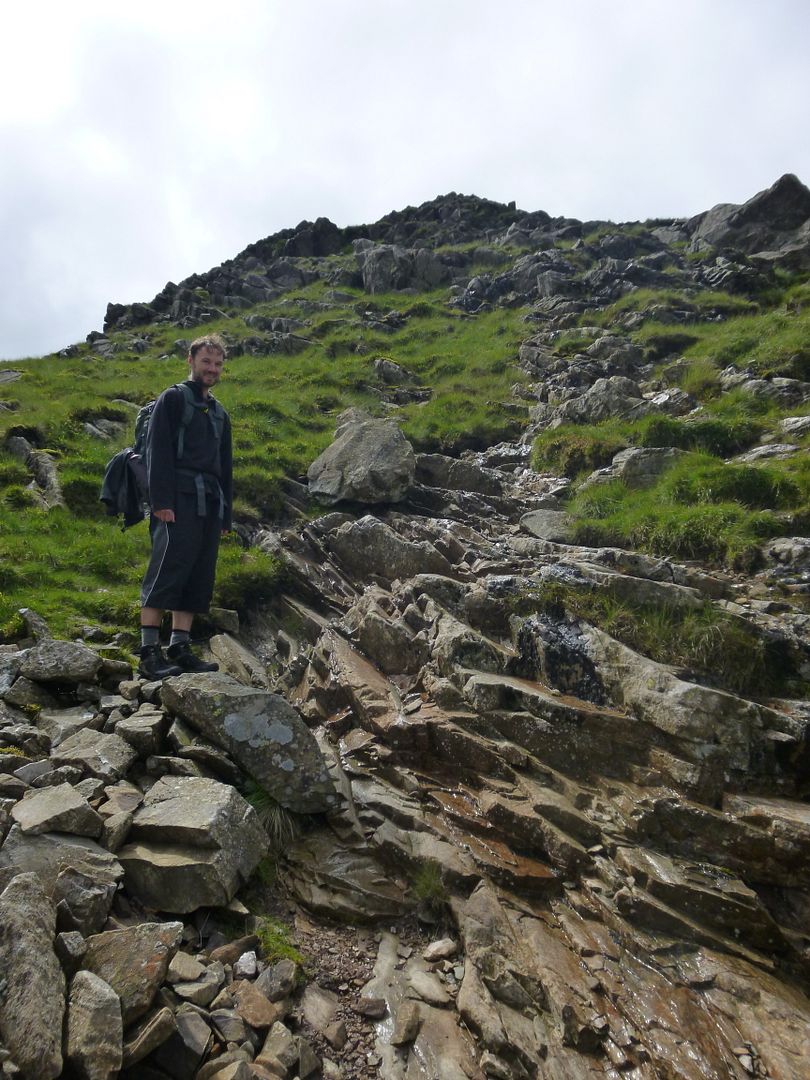 By this time the sun was blazing, so we had a lazy stop before continuing. Seemed to be a far quieter part of the hill
We reluctantly carried on, passing over more lumps, on quite a nice ridge.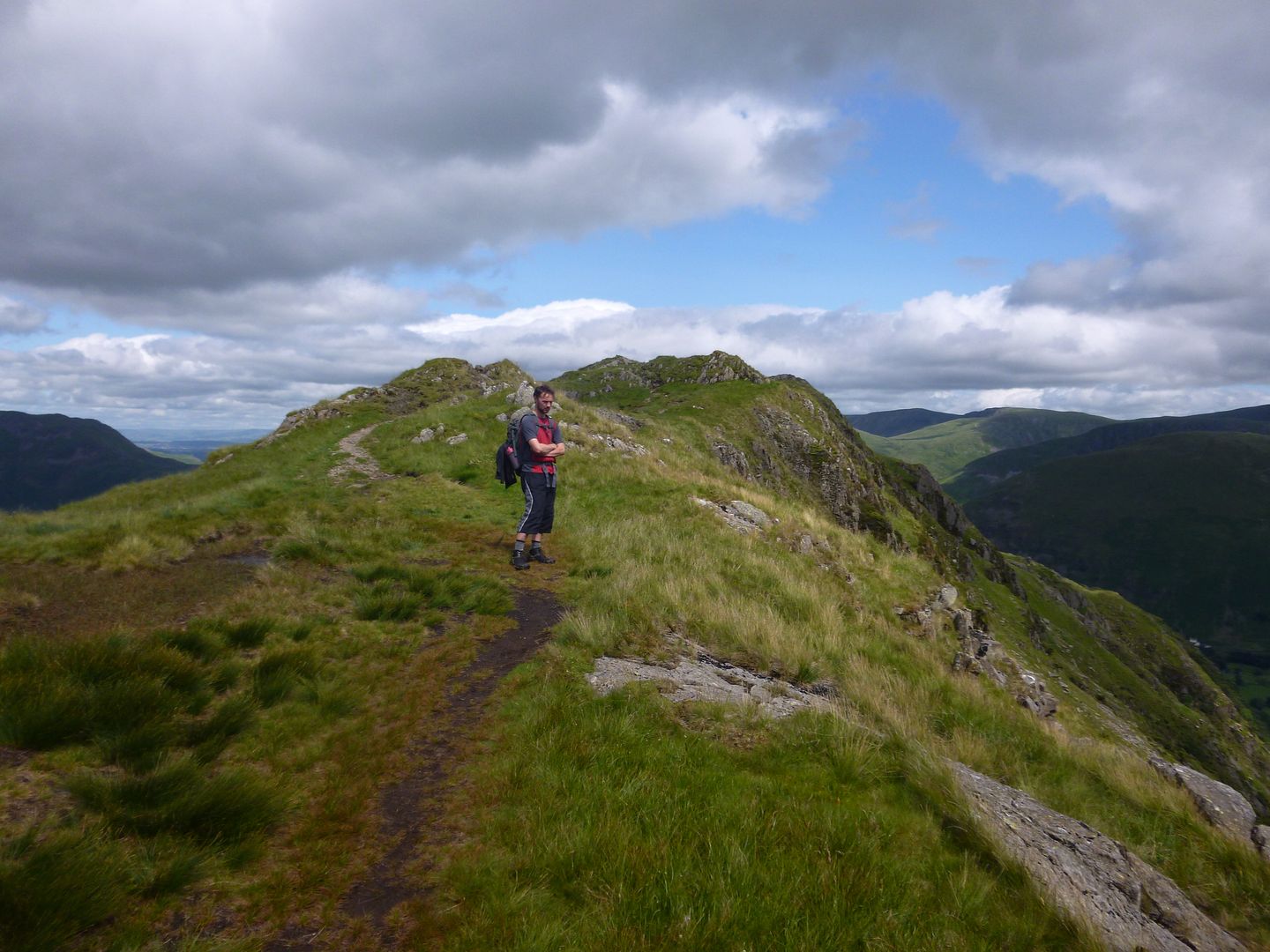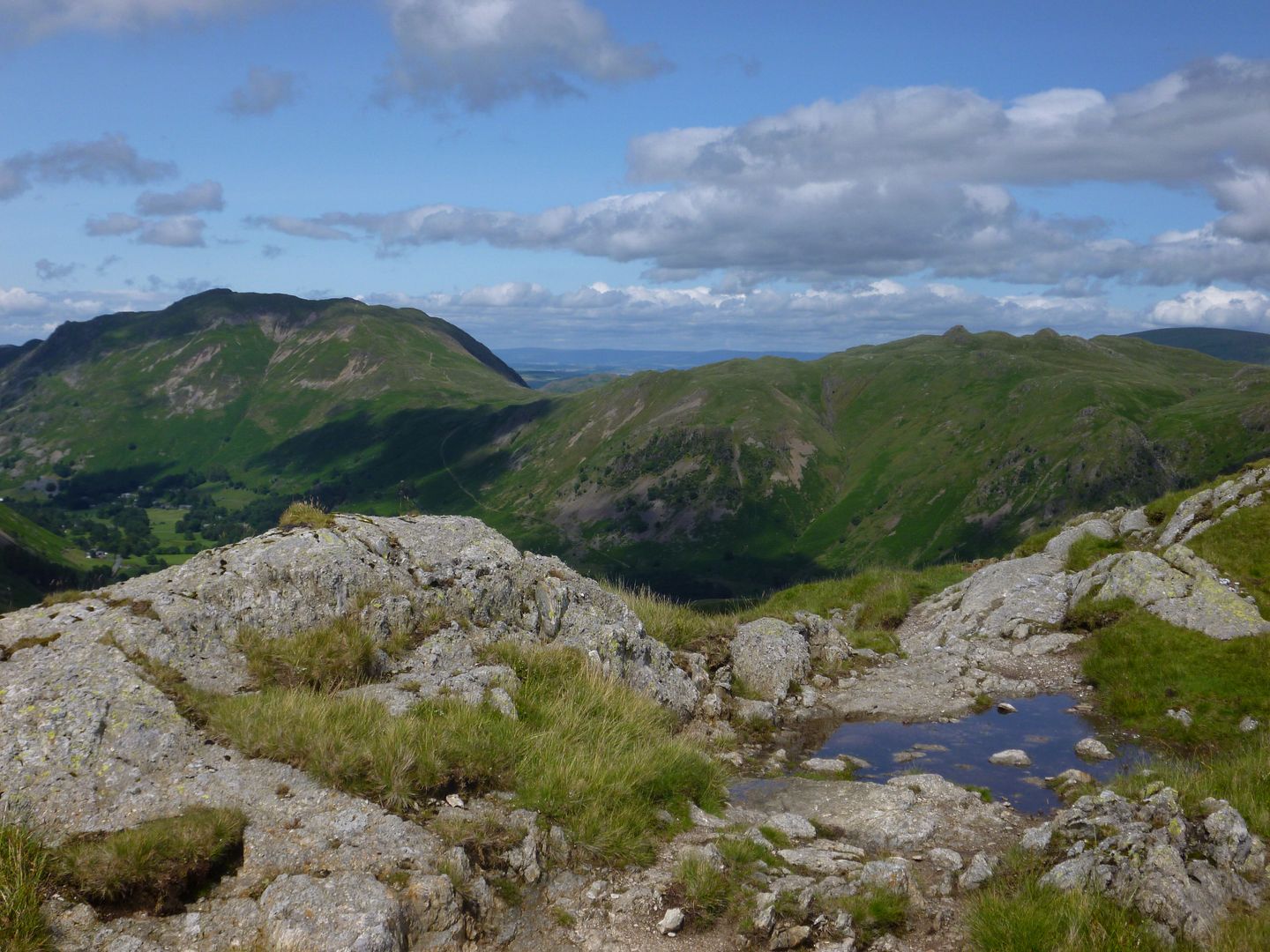 We passed through some scanty woodland, before fields closer to the road.
Unfortunately had to had home afterwards, but we will definitely be back, So many hills there, every pimple seems to be tickable, and many more crags and gills to explore