So this weekend, I went over to meet my dad in Spean Bridge on Friday evening, the Grey Corries in our sights. I had suggested we tag on the Aonachs, and surprisingly my Dad was up for it
Can't remember why I thought he wouldn't be now.. I had looked down at the descent from the Aonachs to the Grey Corries on an ill fated trip a few years ago, and hadn't fancied it in the snow, but I had vowed to go back for another look, and this was the day
We drove up to Corriechoille on the track, which I thought improved from previous visits, and set up the tent. Unfortunately dad's van had failed to start, so the tent was a last minute grab. The midges were out as we pitched up, and we spent a fine evening spinning yarns.
We were up and about early, and it didn't take us long to set off in dads car, for the Gondola. It wa a little misty, but with a lot of blue sky and it looked so promising! We got there too early, but the cafe was open so we drank tea, ate scones, and watched the mountain bikers doing their crazy things..
Just before 9.30, we were allowed onto the gondola, and enjoyed the trip up into the clouds.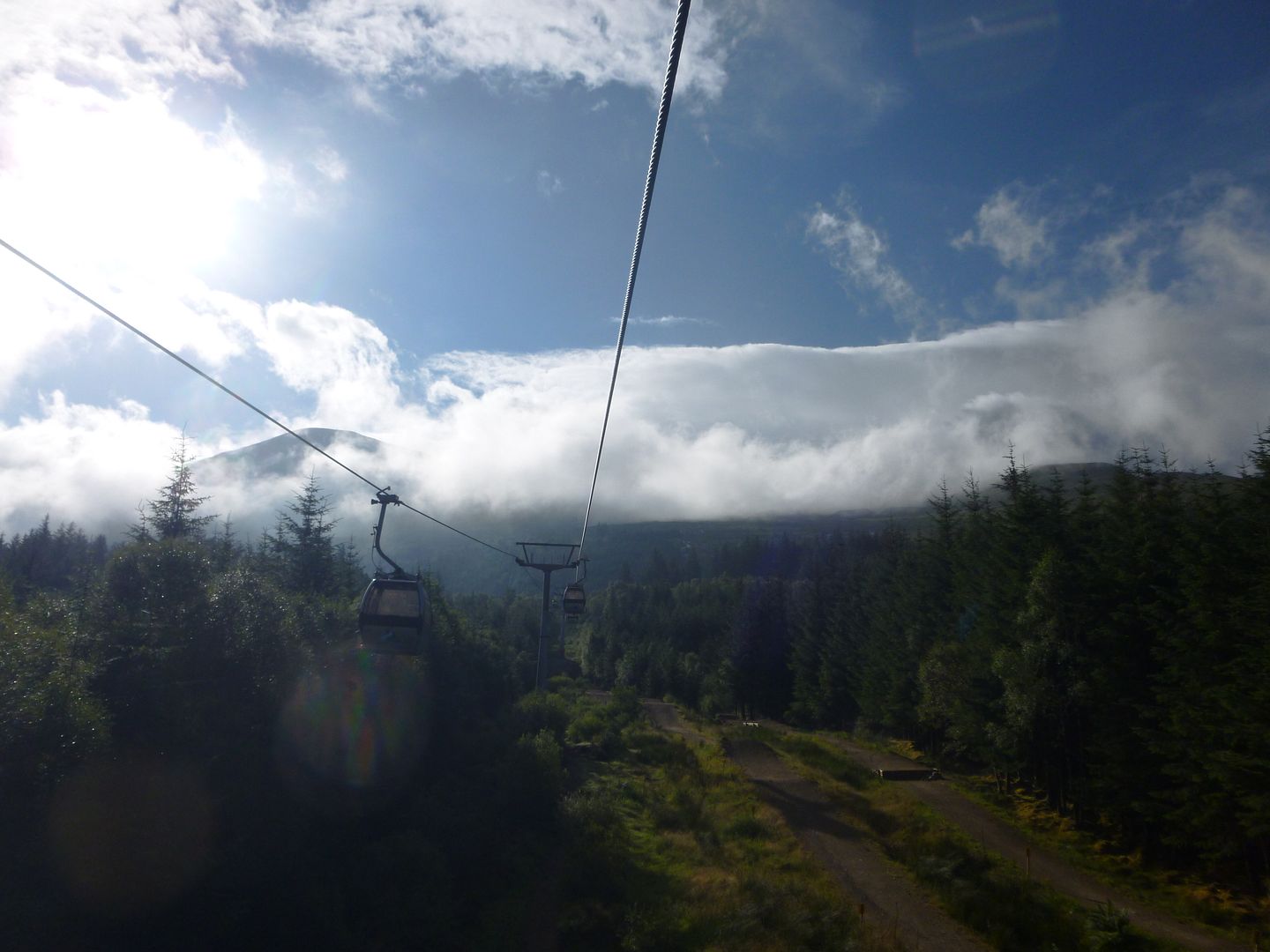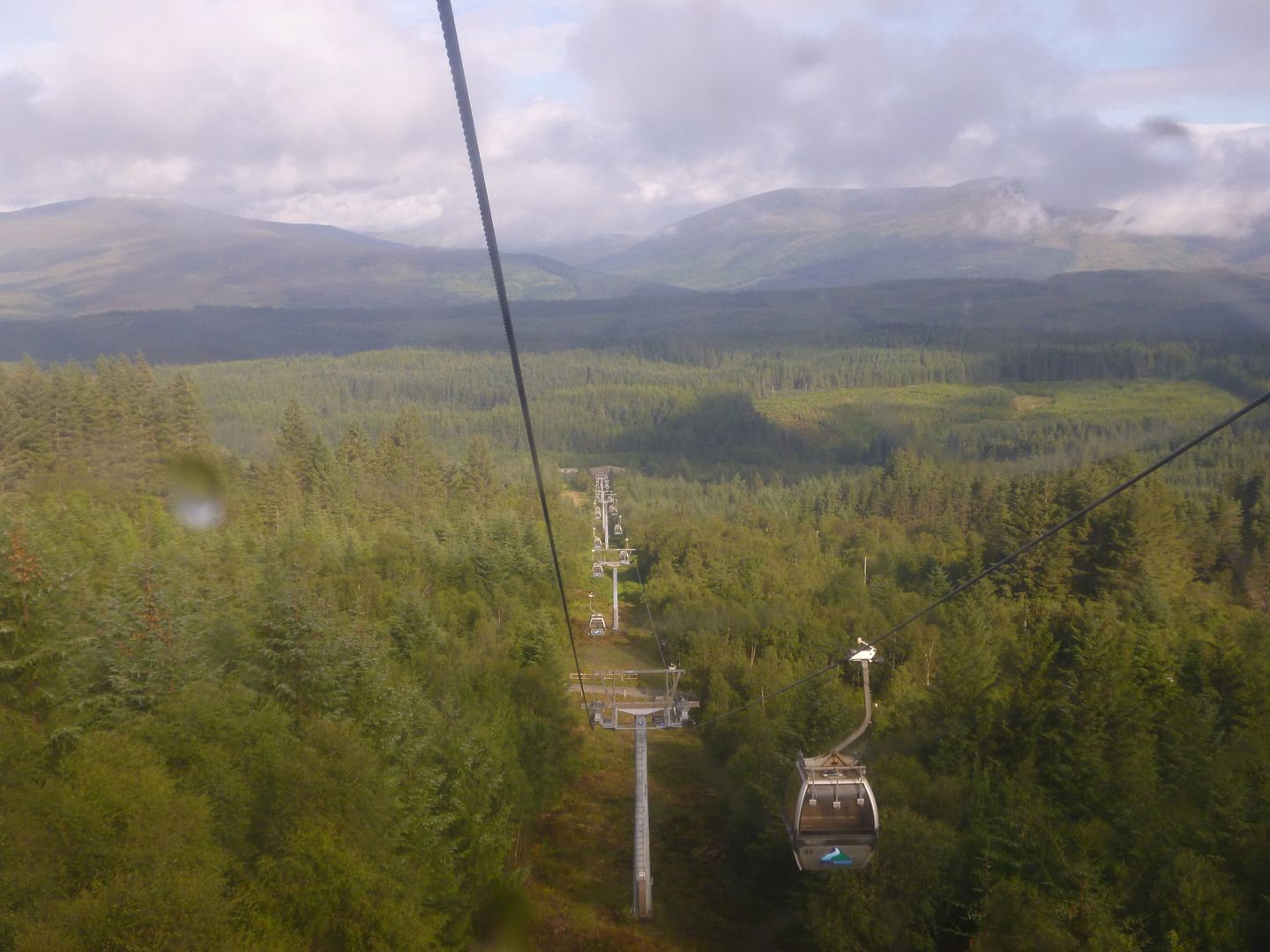 We headed along the track for a while, heading for the right hand shoulder, but somehow just following a fence through the boggy bits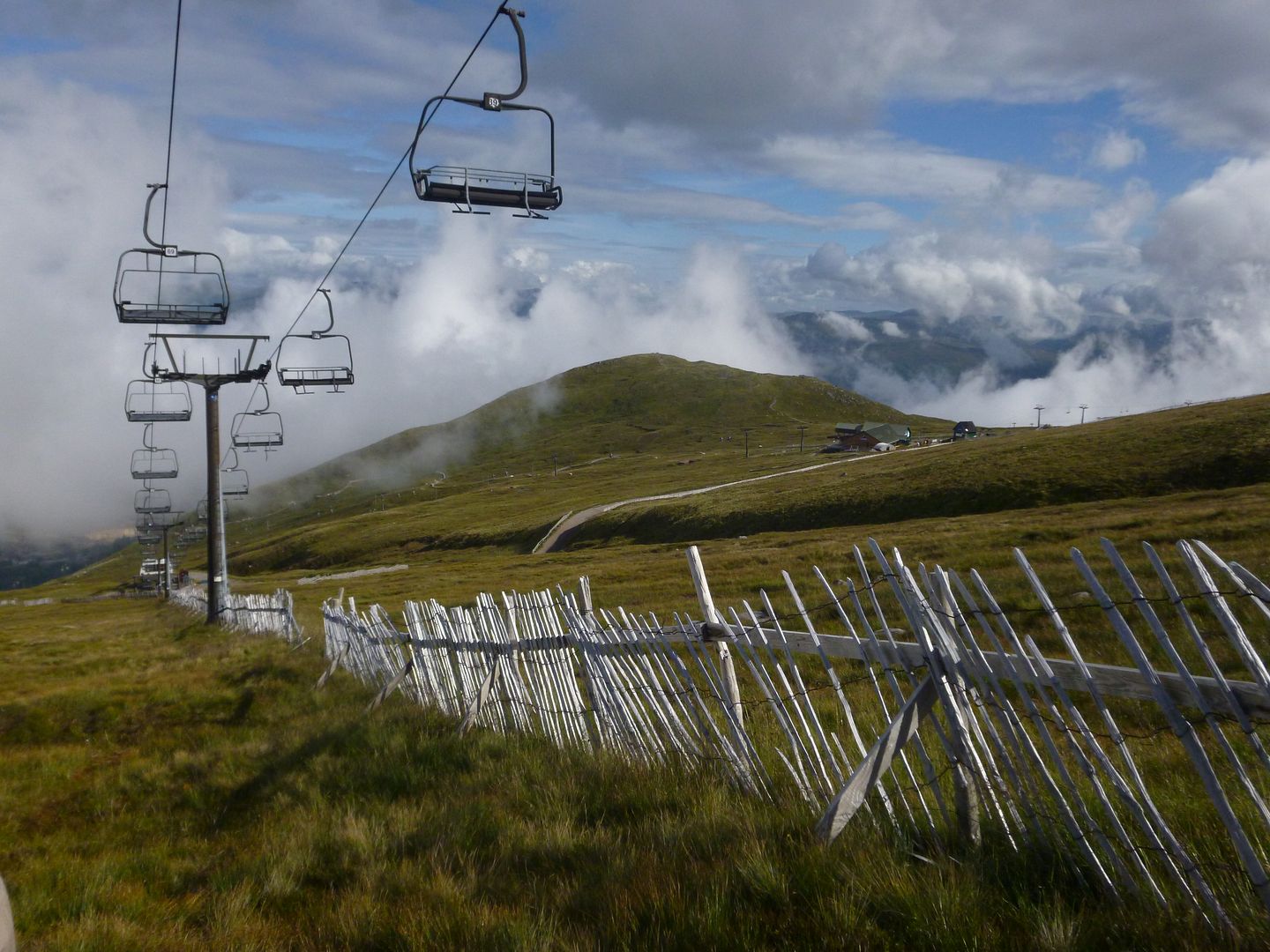 We made it onto the rockier ground though, and onto the baggers path eventually. There were some cracking views out over the great glen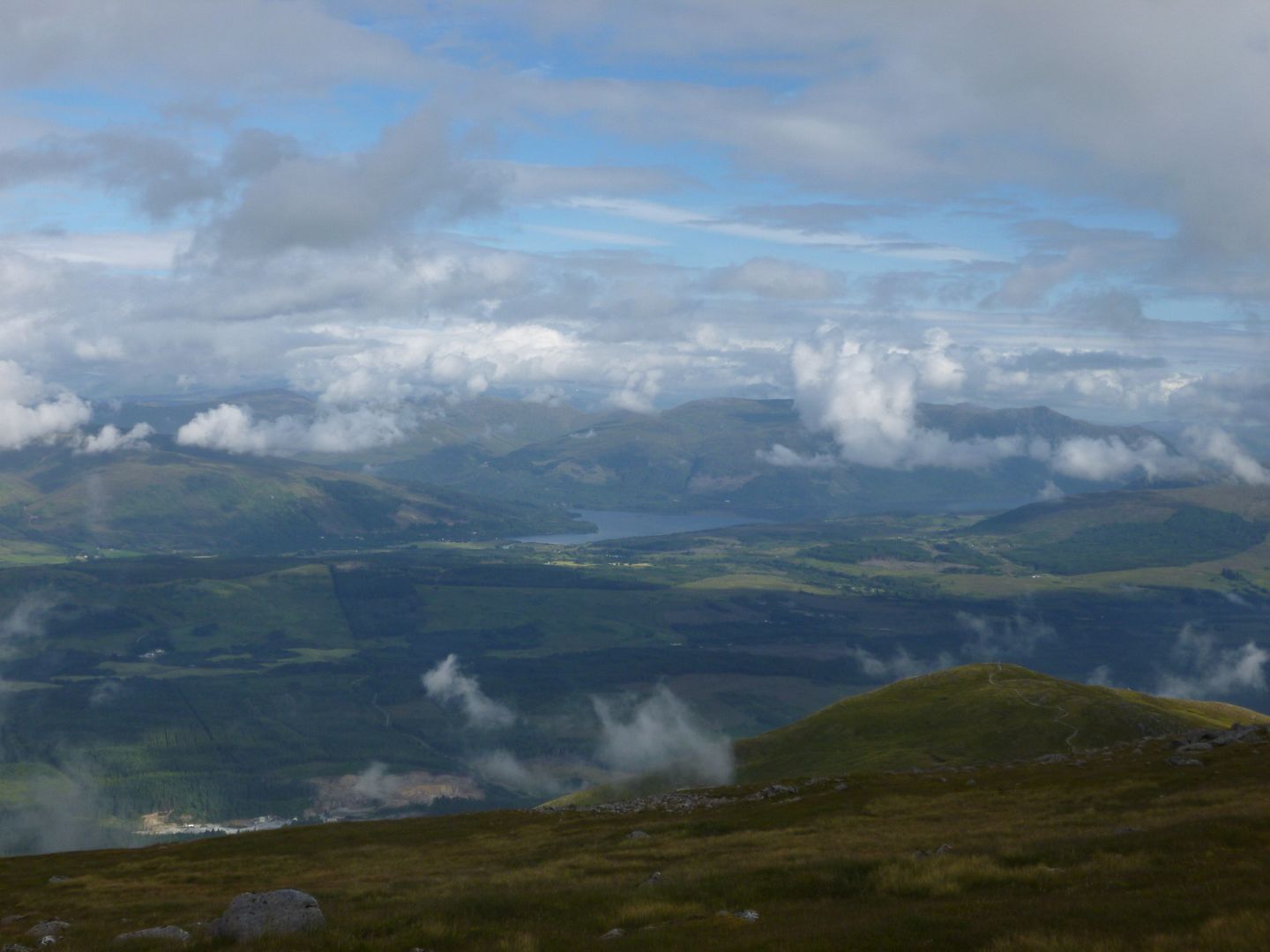 Its a steady plod upward, and the ski stuff never makes a hill look bonny. That part didn't last long, and we got up onto the plateau without any bother. Of course it helped that we started halfway up
With most of the climbing over with, it was an easy saunter to the summit, which was claggy..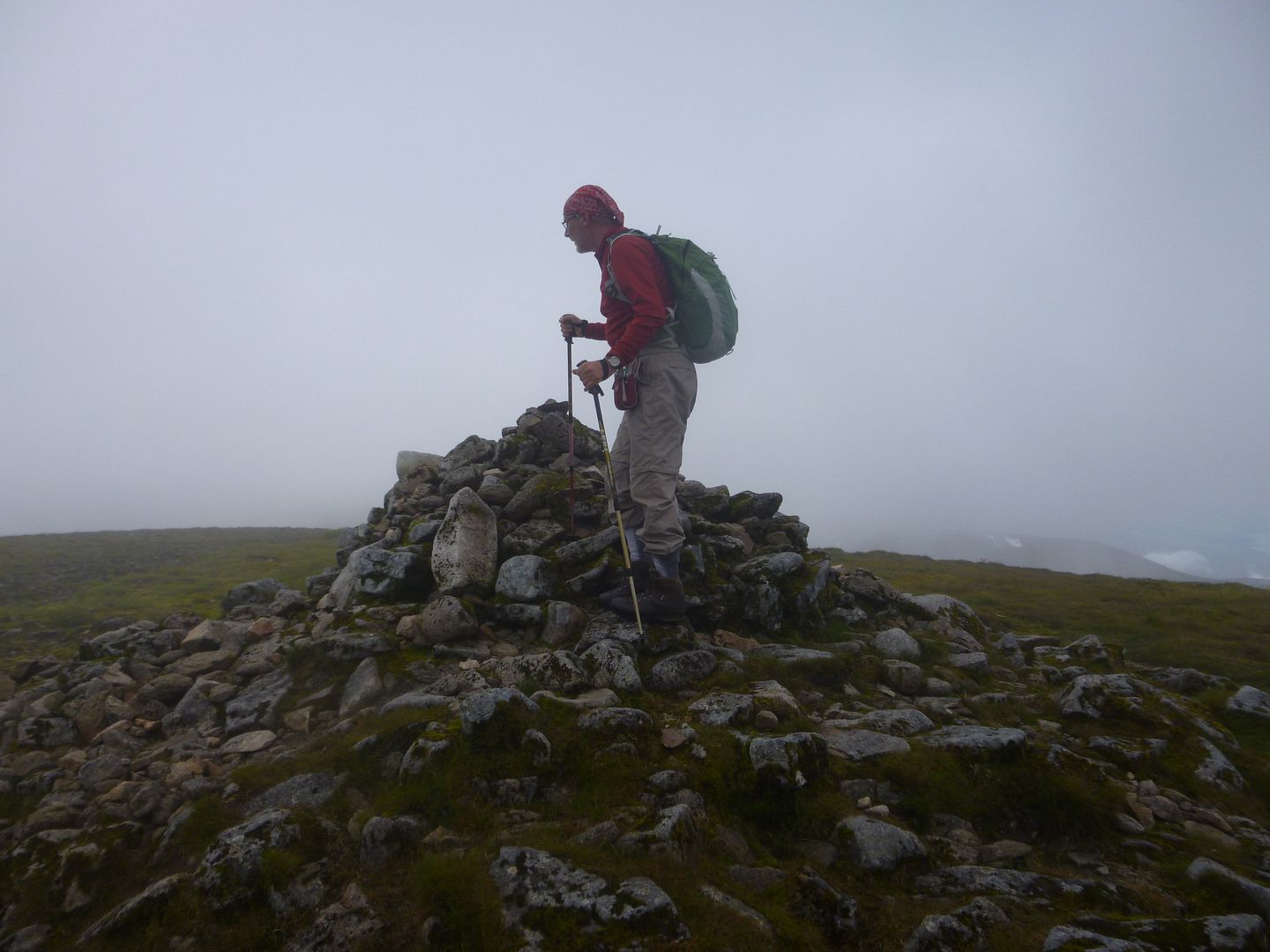 We didn't stop, as it felt too soon, so we set off down grassy slopes, on a path that was more like a baggers motorway than a path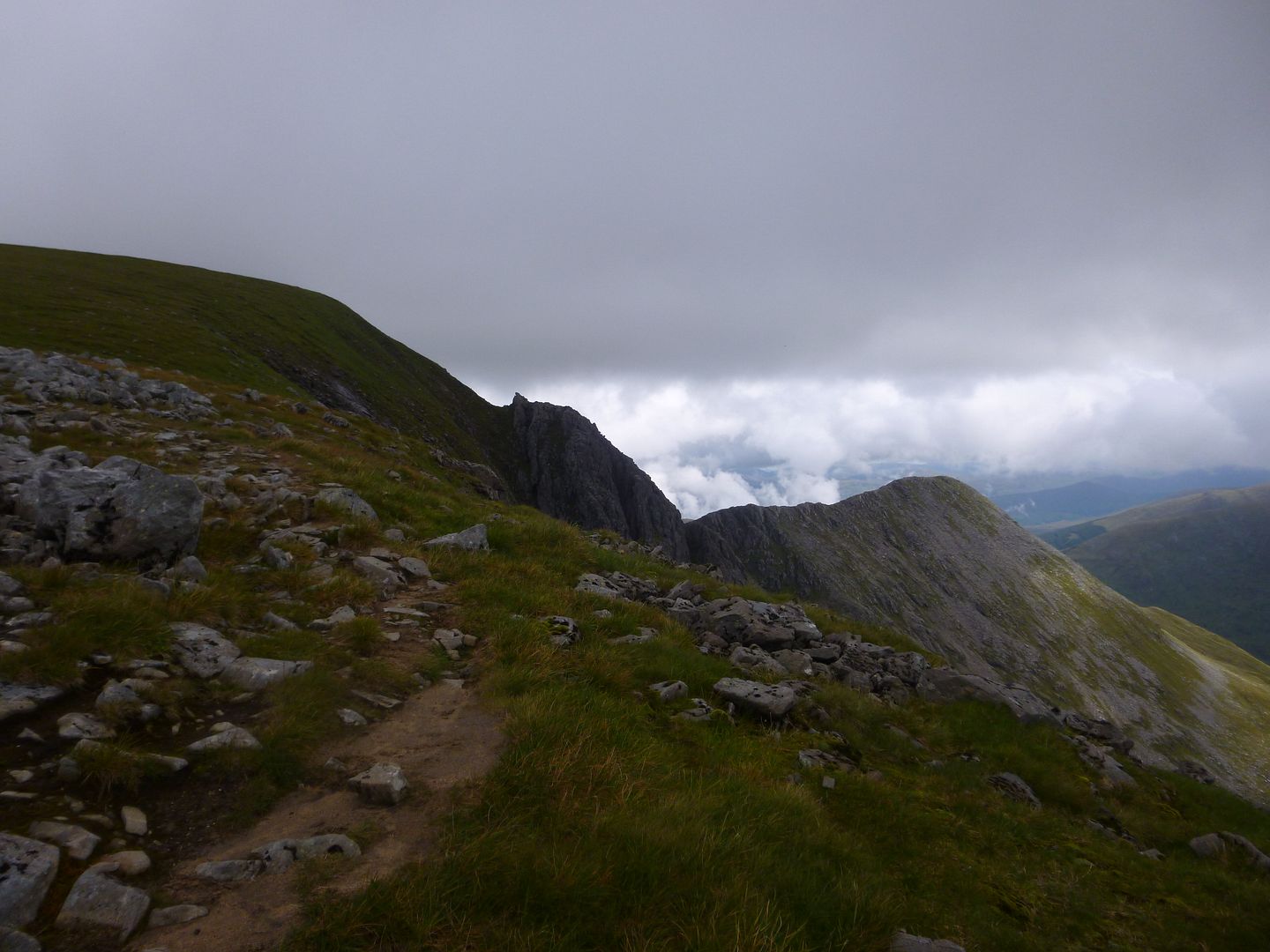 The climb up was steeper and rockier but we seemed to reach the summit with hardly any effort at all.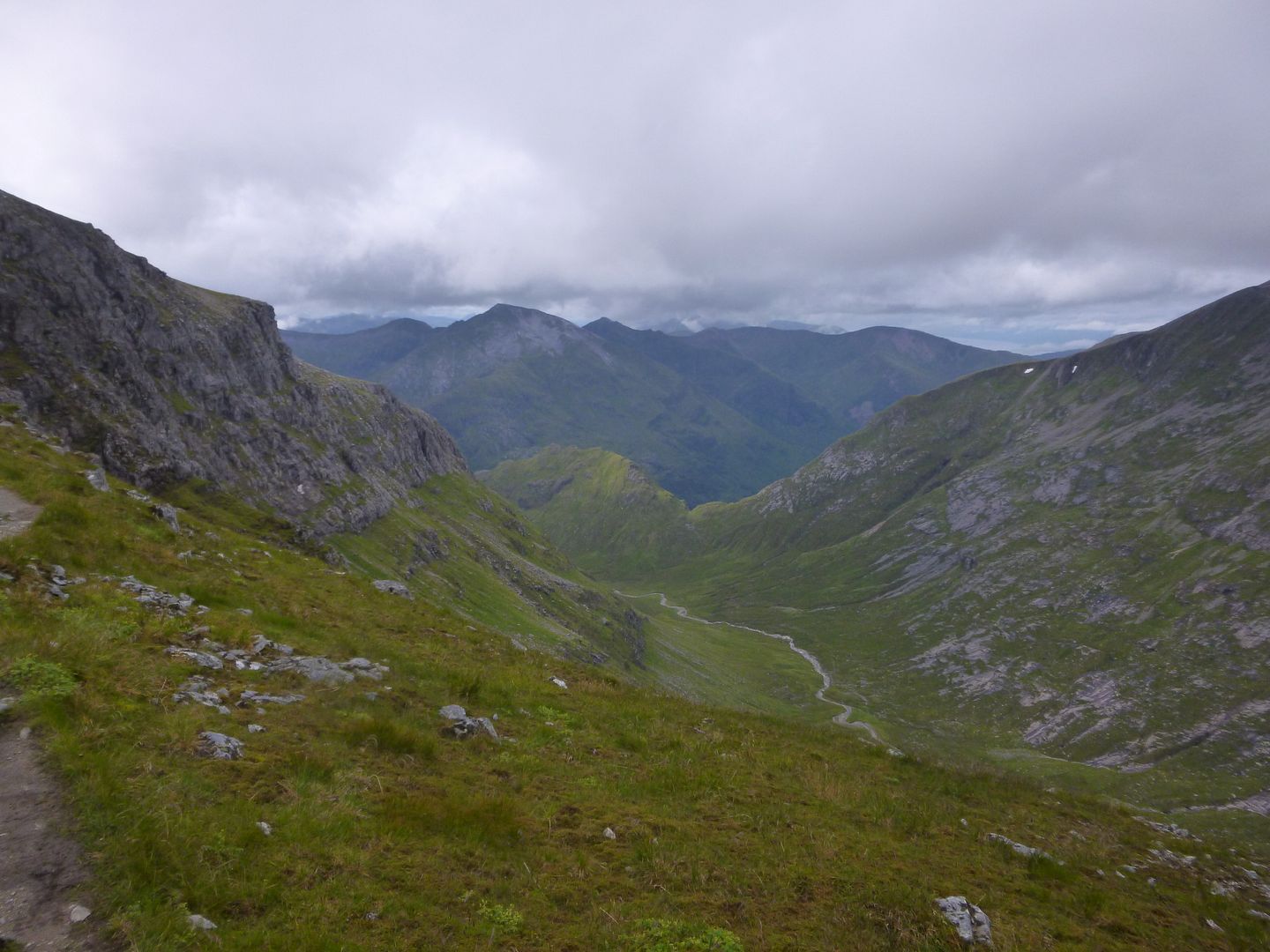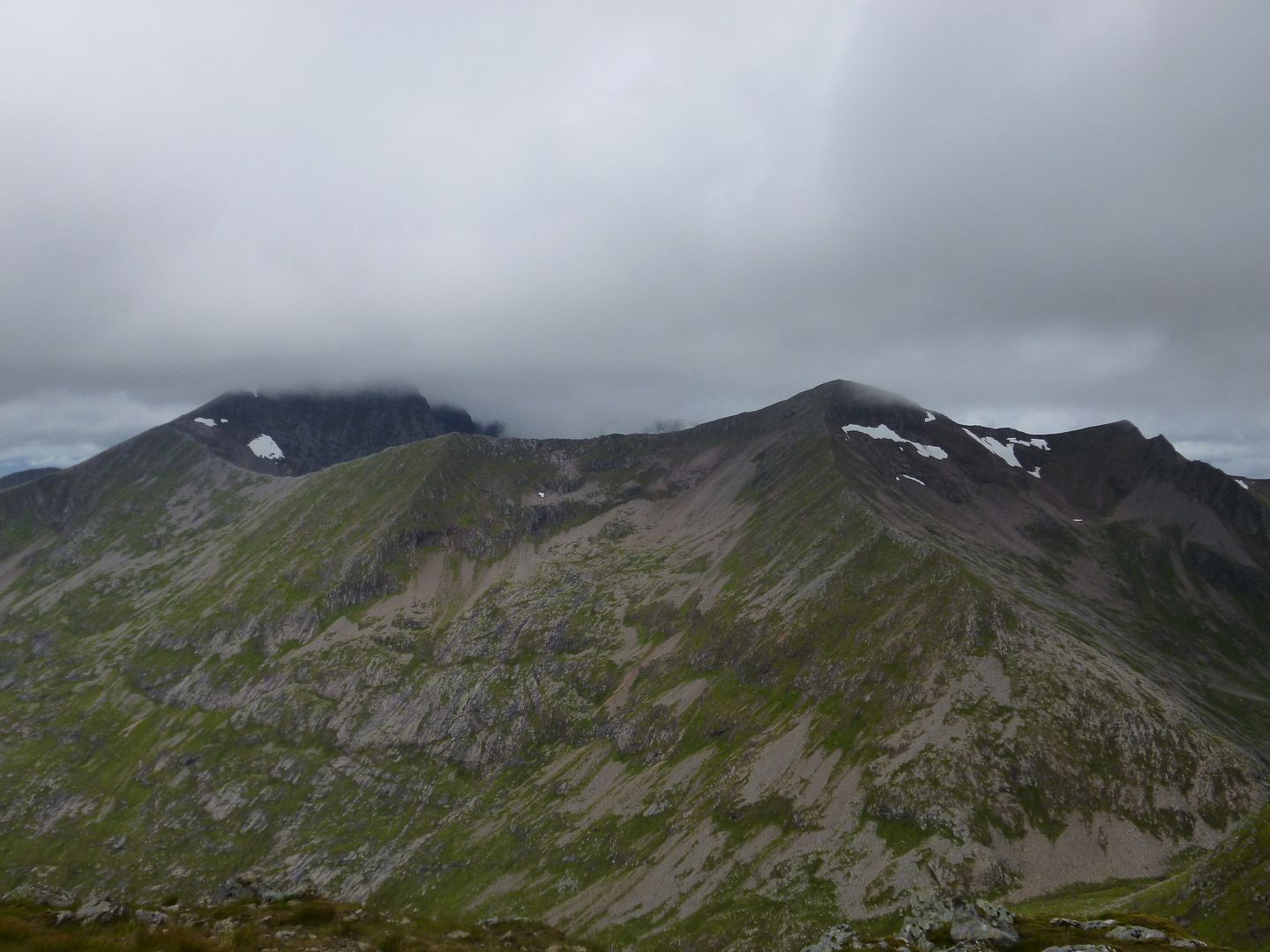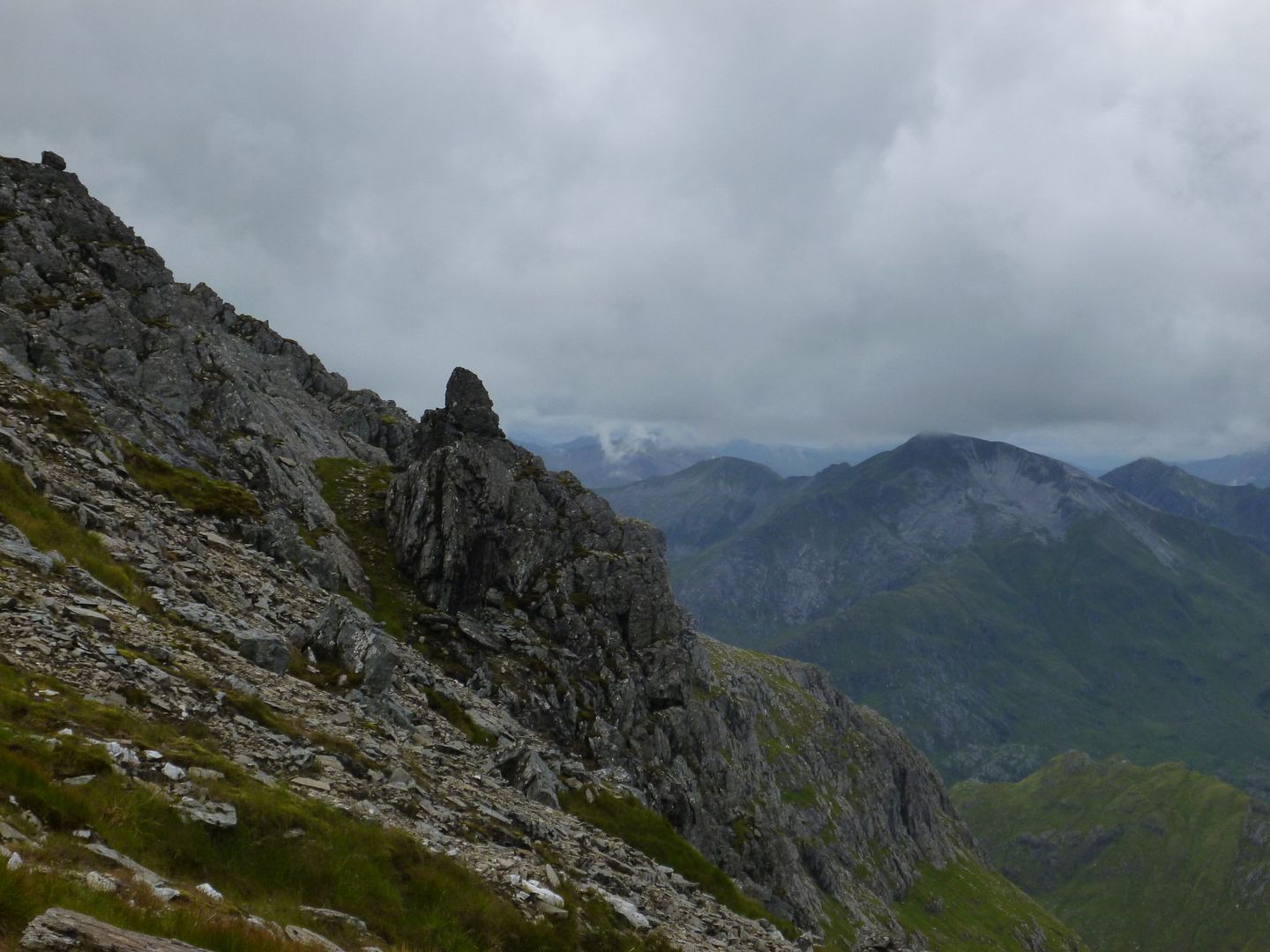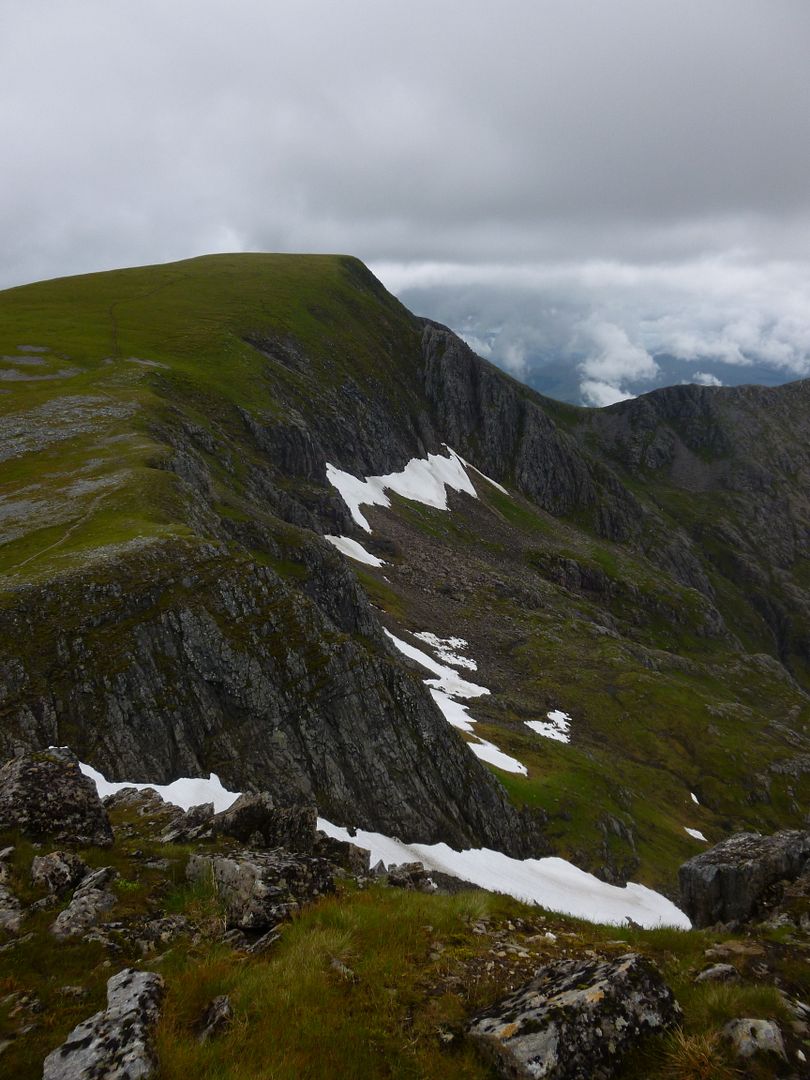 We continued along the ridge, steep, undulating, grassy slopes leading down to a path that skirted the top of the impressive cliffs. We met a couple of guys going the other way. Popular route!
The views over to the mamores were brilliant, and I bored dad with tales of my previous explorations there.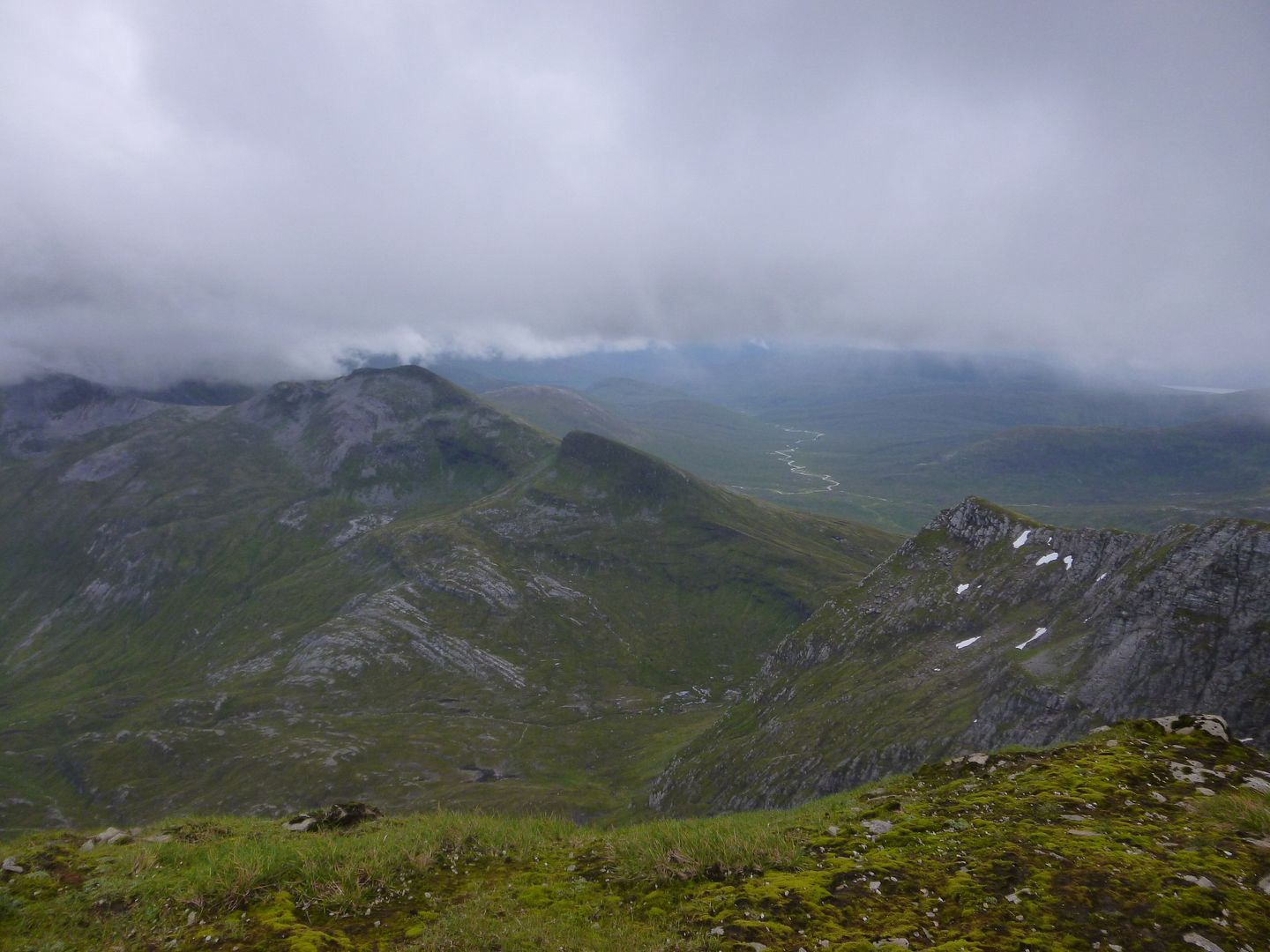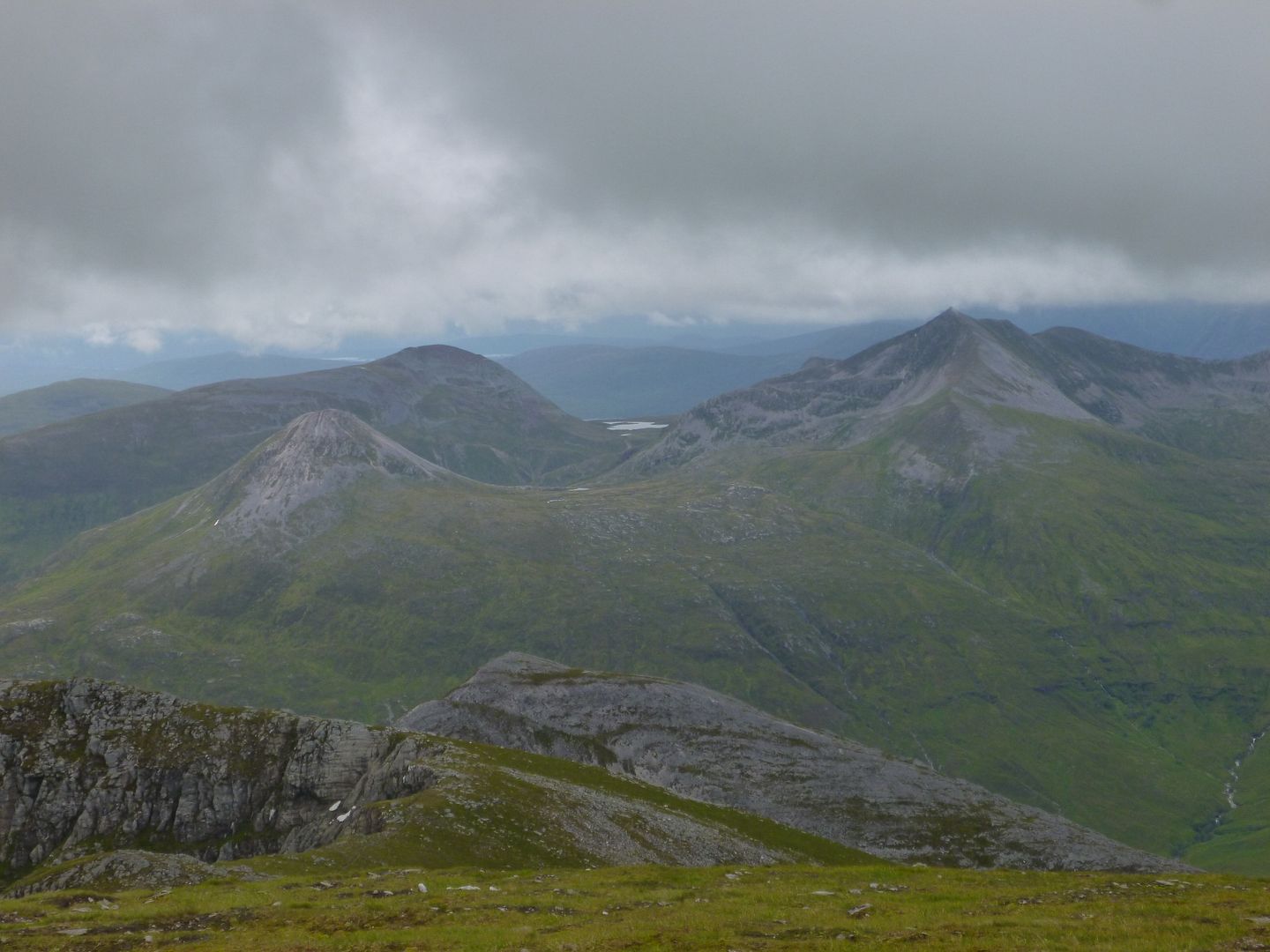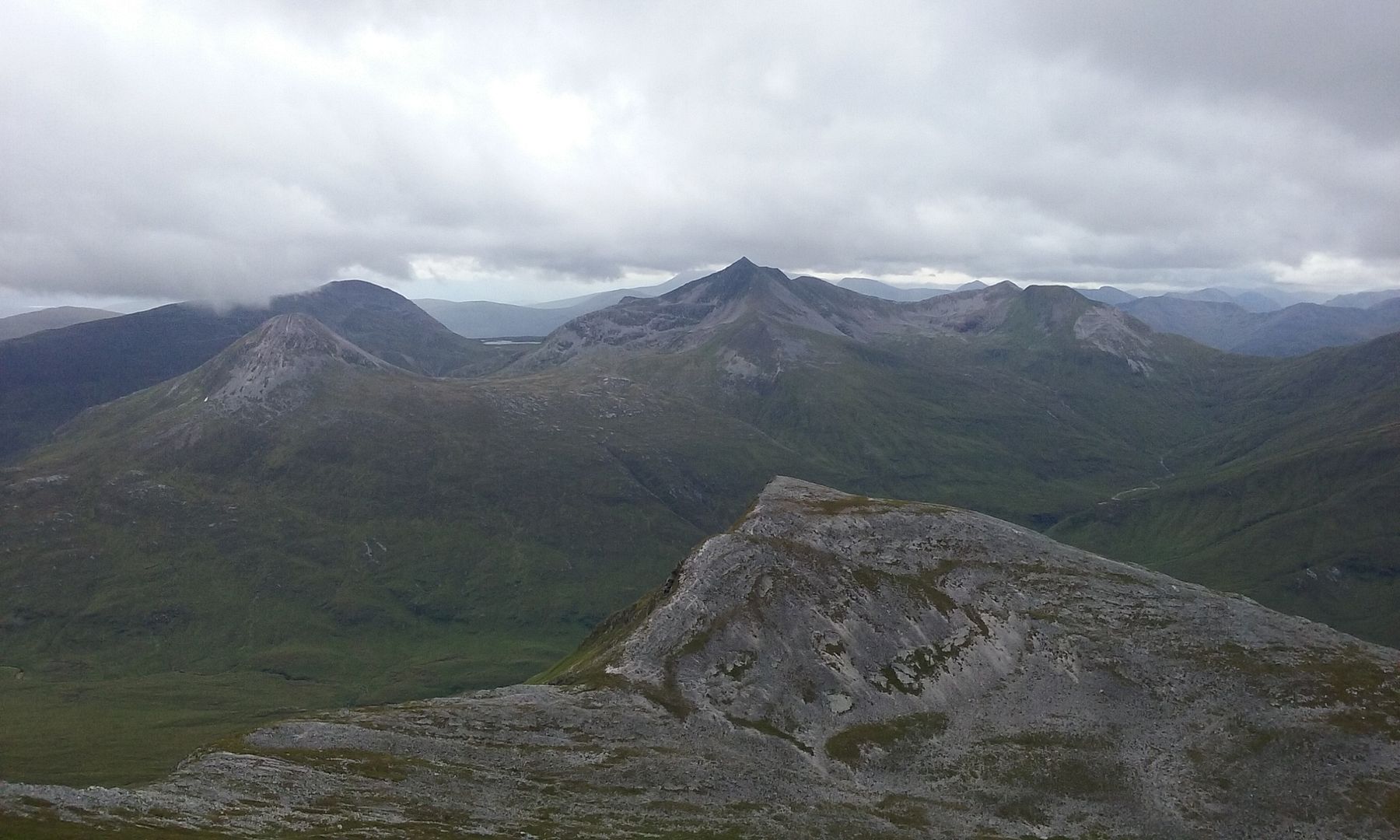 Soon we reached the small cairn that marks the top of the descent down to the Grey Corries, and it was every bit as steep as I remembered it
Dad went first, and I followed gingerly behind. Awkward, slanting, grassy ledges led near vertically downward. It was easily the steepest, most precarious descent I have encountered on the hill
After the initial section, the path went right to the top of an unappealing gully, so we went left, down grassy slopes, a once well used path now overgrown evident in places. We made it down to the boulder field below, which we crossed before tackling a series of rocky ledges which required some actual hands on down climbing before we reached the bealach below.
Looking back at it as we ascended again, it looked very impressive indeed.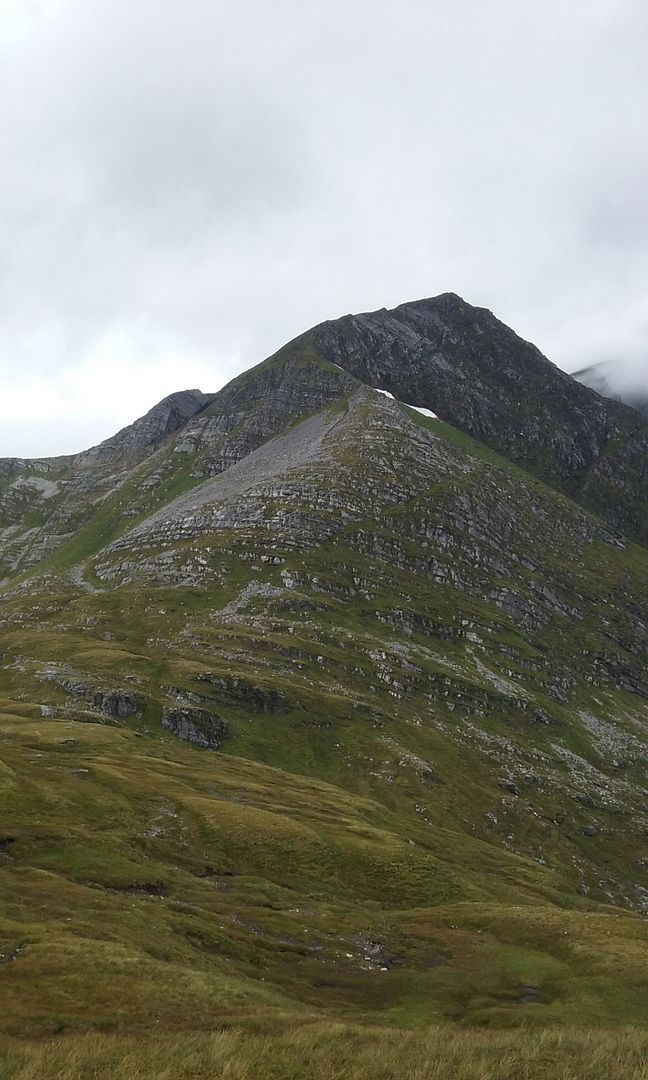 It was during our ascent of Sgurr Coinneach beag, that the weather suddenly deteriorated, and the views disappeared
Waterproofs were fumbled for as the drizzle set in..
Dad found a bypass path a fair way up, so I traversed above him, not wanting to lose hm in the mist. We were soon on the final climb up to Sgurr coineach Mhor, which was windy and wet at the top, so just the quickest of photos and we were off.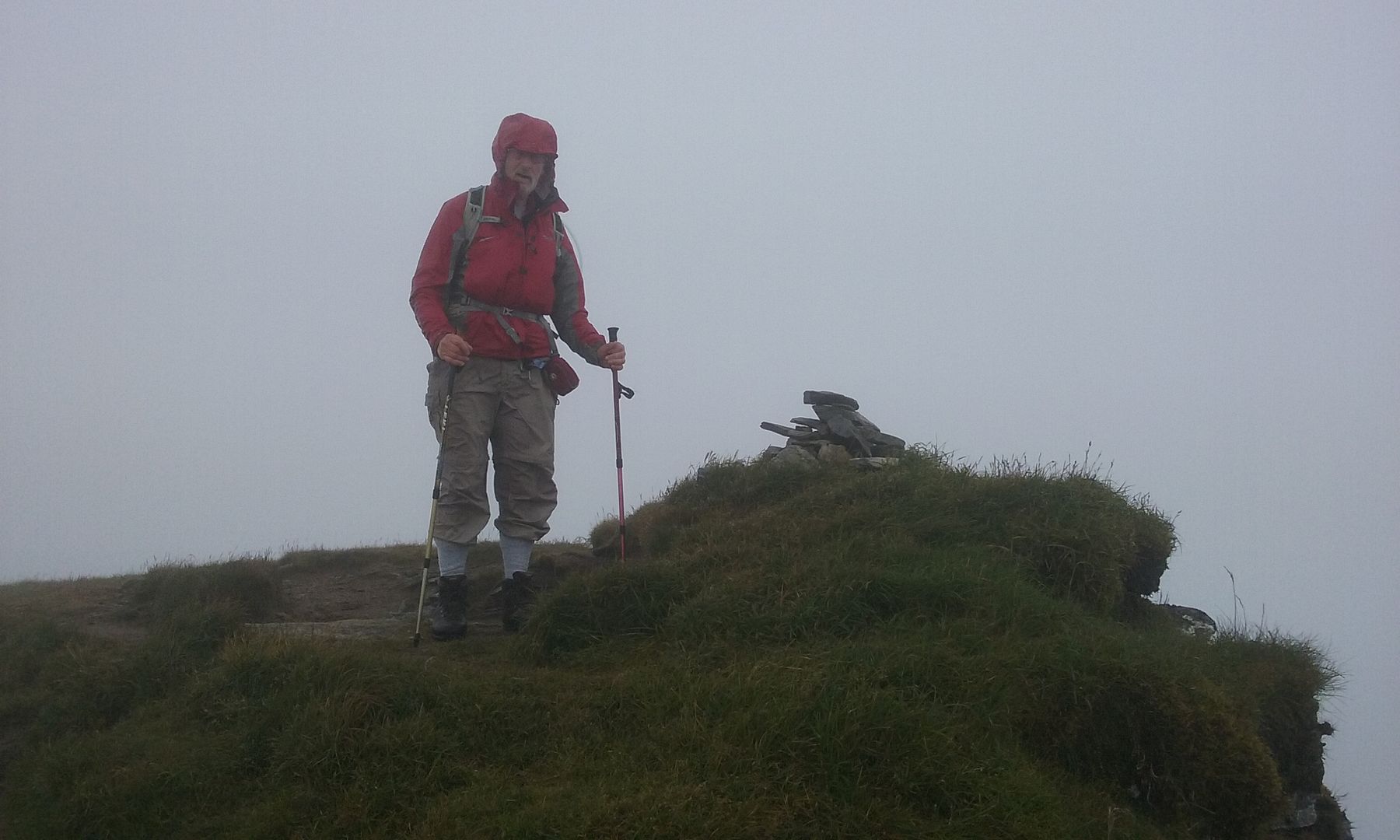 The next part of the ridge is the best bit, with slabs, and boulders to traverse, but in the damp it was very greasy indeed, which added to the fun to start with but became more annoying as the ridge wore on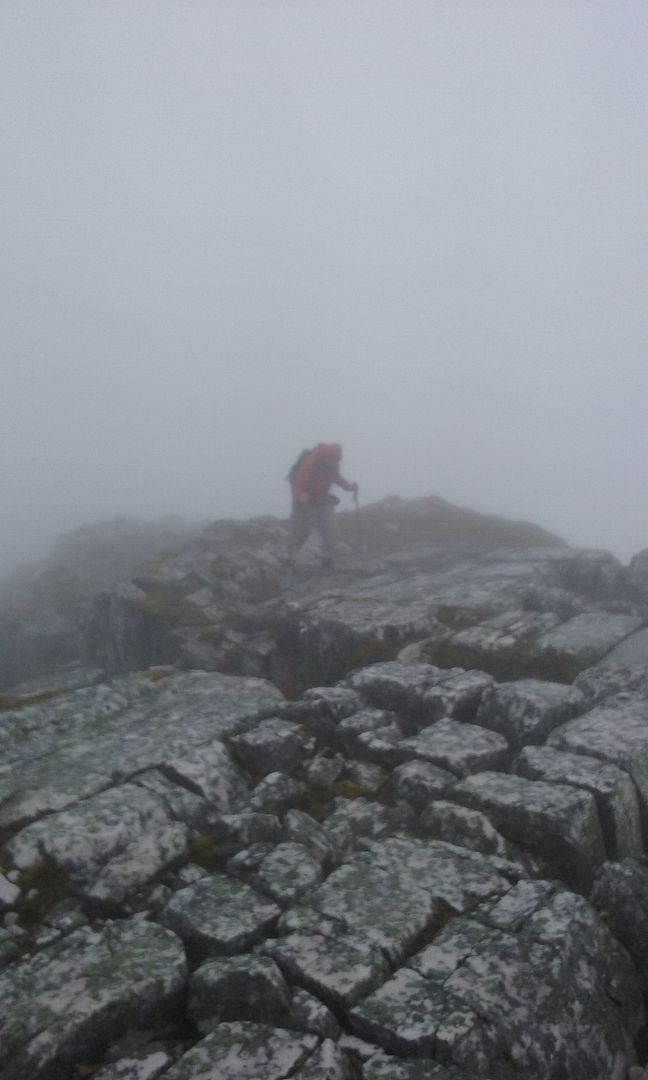 A very long, rocky coll, took us to the short ascent up to Stob Coire Easain, where we met a chap on his way down. He thought it was a munro, and I believed him until I looked at my map 5 mins later and found that he next one was it
Before we got there, the weather really deteriorated though, and we were forced to fumble r our waterproof troos. Man it was grim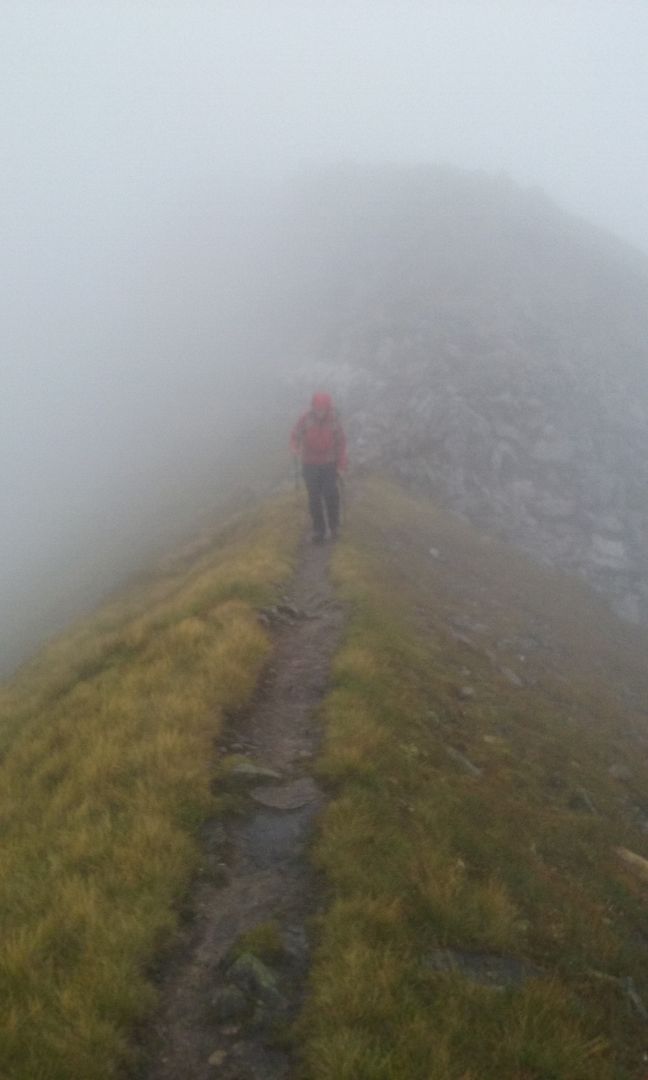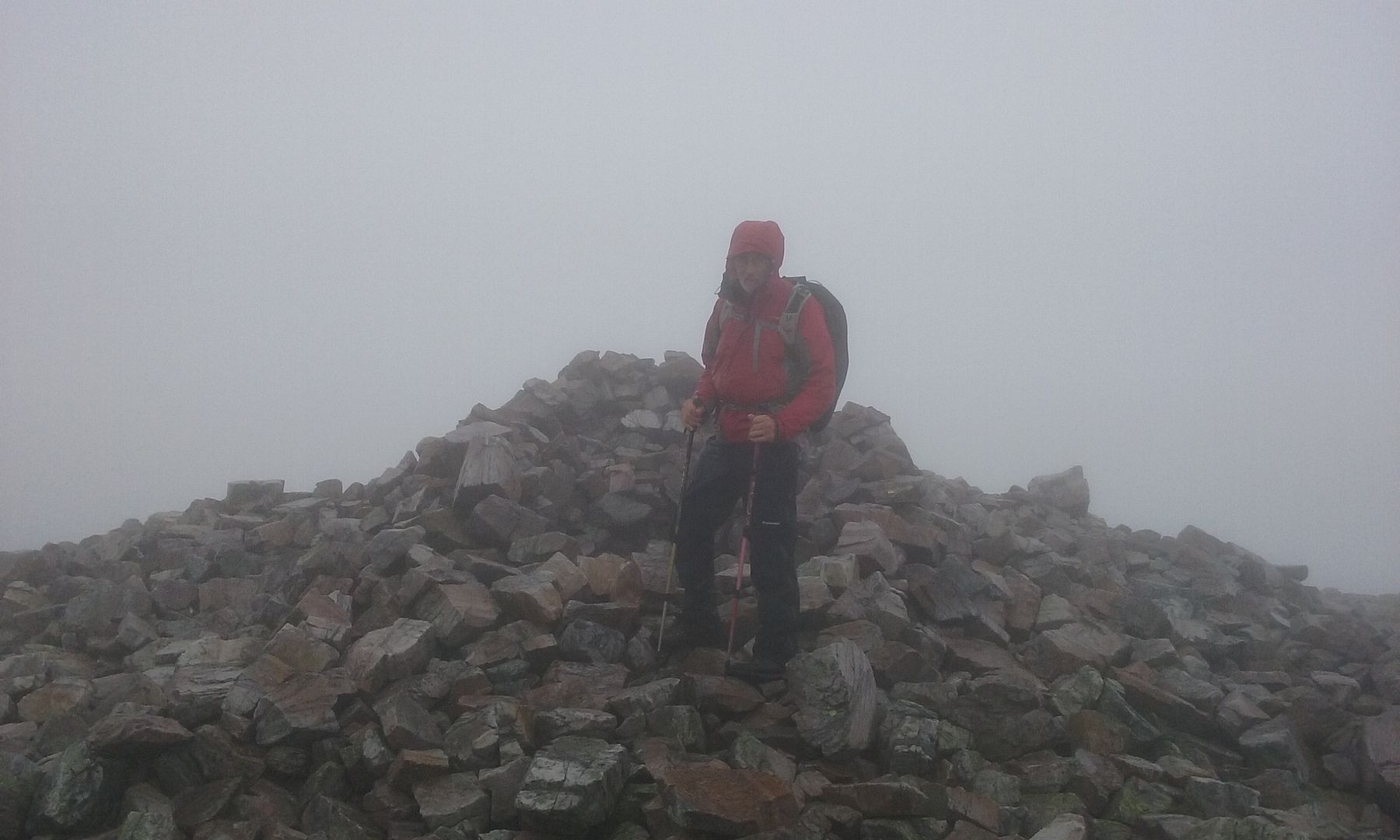 All chat subsided as we put our heads down for a wet trudge out to Stob Choire Claurigh. It did stop for a wee while, and we grabbed the opportunity to cram some food and have a wee seat. Legs were getting heavier by this point
The rain started up again, so it was back to disgruntled trudging in the mist, over Stob Choire Claurigh, and onwards down the ridge. We went over a horrible boulder field where everything was loose and slippery, which I didn't remember, so was probably uneccesary, but it was hard to tell in the clag. My back had started to ache, and I felt slightly odd, so we had another break. I was sure I remembered the ridge being grassy
We found the grass, and some clag free hillside, just a little further down.
It was straightforward marh down the ridge, I even managed to somehow avoid all the bog I remembered from the lower setion, down toward the track. My back by this time was agony, and to add to our woes, my dad fell and hurt his leg, so we were a sorry pair, hobbling down the track to the car
Despite the rubbish weather, and the fact I'm gutted that dad didn't get to see the Grey Corries properly, I still had a braw day, so well worth the soaking