So this weekend, I had booked a wee hobbit hoose for our Birthdaversary (thats Dougie's birthday, and our anniversary) out in Sleat.. As the time approached we were startled to find that the weather didnie look too shabby either
So we tackled the long drive on Friday night, arriving in the dark, so it was a pleasant surprise to wake up to views of Knoydart and the point of Sgurr na Ciche on the horizon
We decided on a route on the Bla Bheinn massif.. Dougie had tried the scramble before, but was turned back by some fierce hail.. Surprising how often that happens
So we drove round, and were on the path about 10.30. The path was boggy and we ended up having to go back for the scramble book, so we took a wider, but drier route round to the Allt Aigeain the second time, which we followed up the glen. It was all blue skies, but the wind was strong and biting, so no hanging about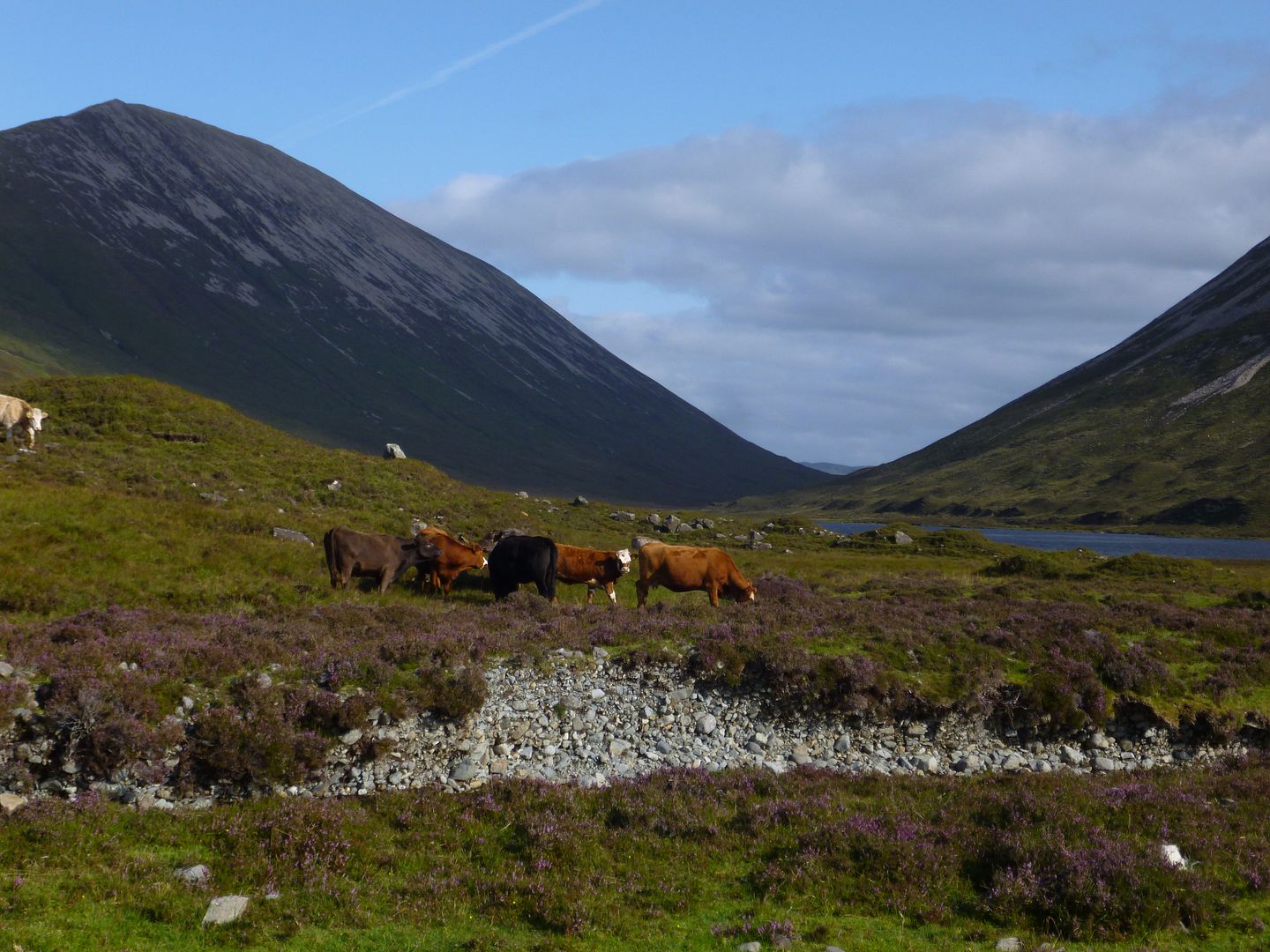 The fine grass gave way to bog, and before long we crossed the river to see what it was like at the other side. I found a delightful slabby crossing, with a brief scramble round the bank to gain the path above
The path that side deteriorated too, and it was tough boghopping up the glen
Loads of bonny waterfalls to take the mind off it though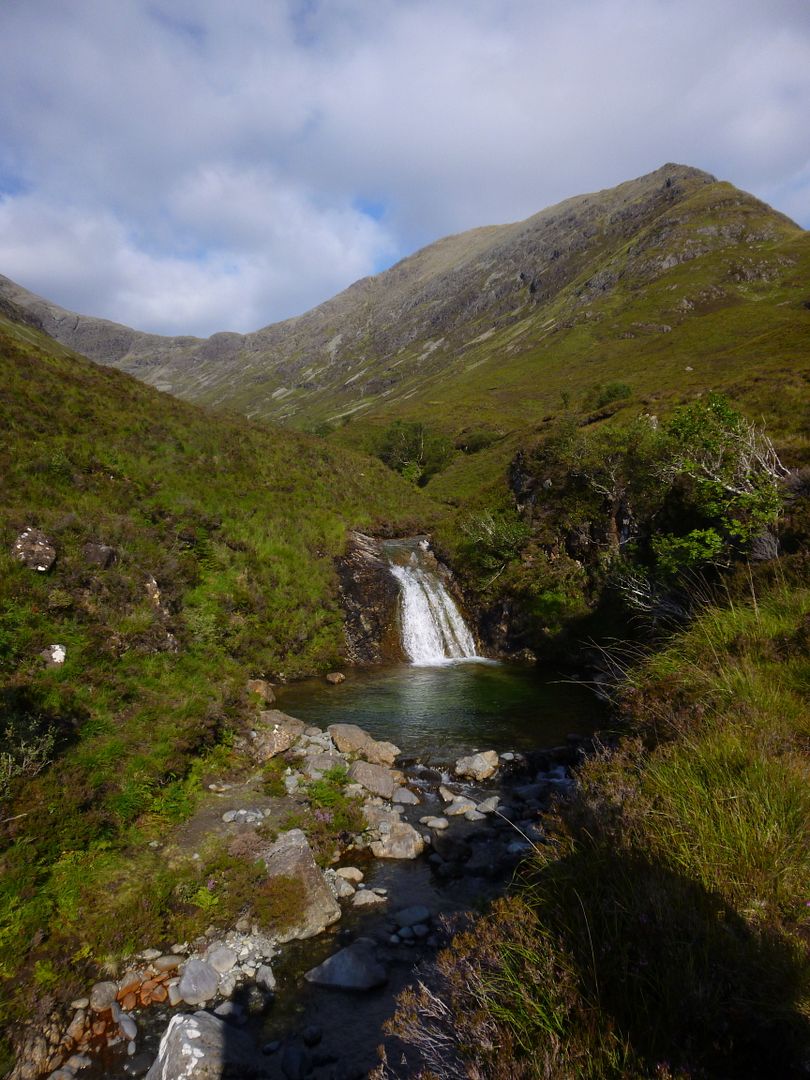 Once we were up to the right spot, it was a surprisingly short climb up to the lowermost crags. Don't have many good photos, as the sun was just over the horizon, so it was really difficult!
It was all pretty easy, and after the initial crag, there was quite a distance where we had to zigzag around to find rock, which was quite broken, but easy angled. Over to our right, we notice a big leftward slanting groove, and there was mention of this in the book, so we went over and climbed its left hand side, steep initial moves, leading up to easier slabs.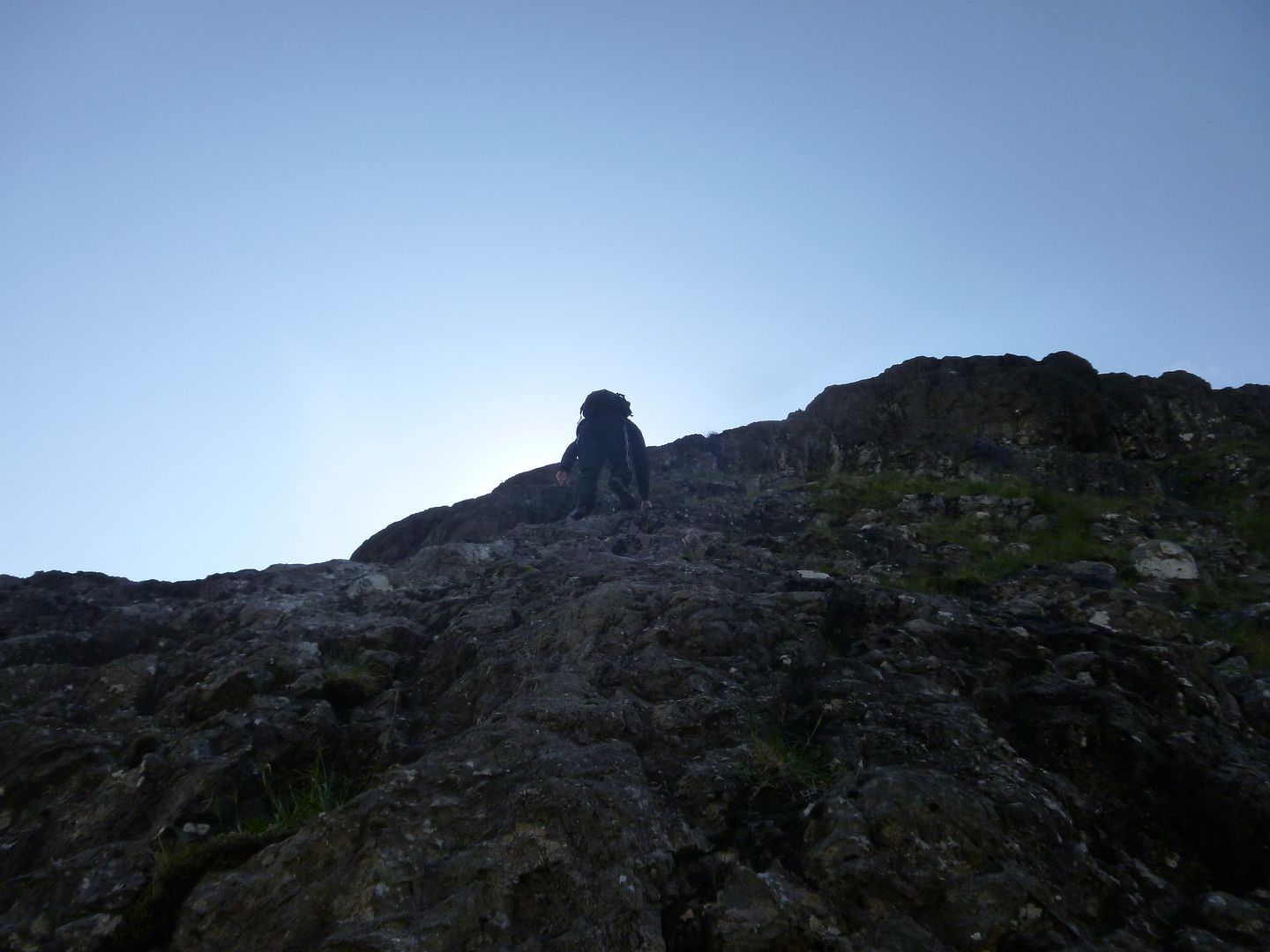 Another grassy ledge took us up and right a bit back to the crest where another groove goes up, almost all the way up the face. We had lost where we were in the route in the book, so we generally stayed to the let of this. There weren't really any tricky moves, but it was fantastic fun.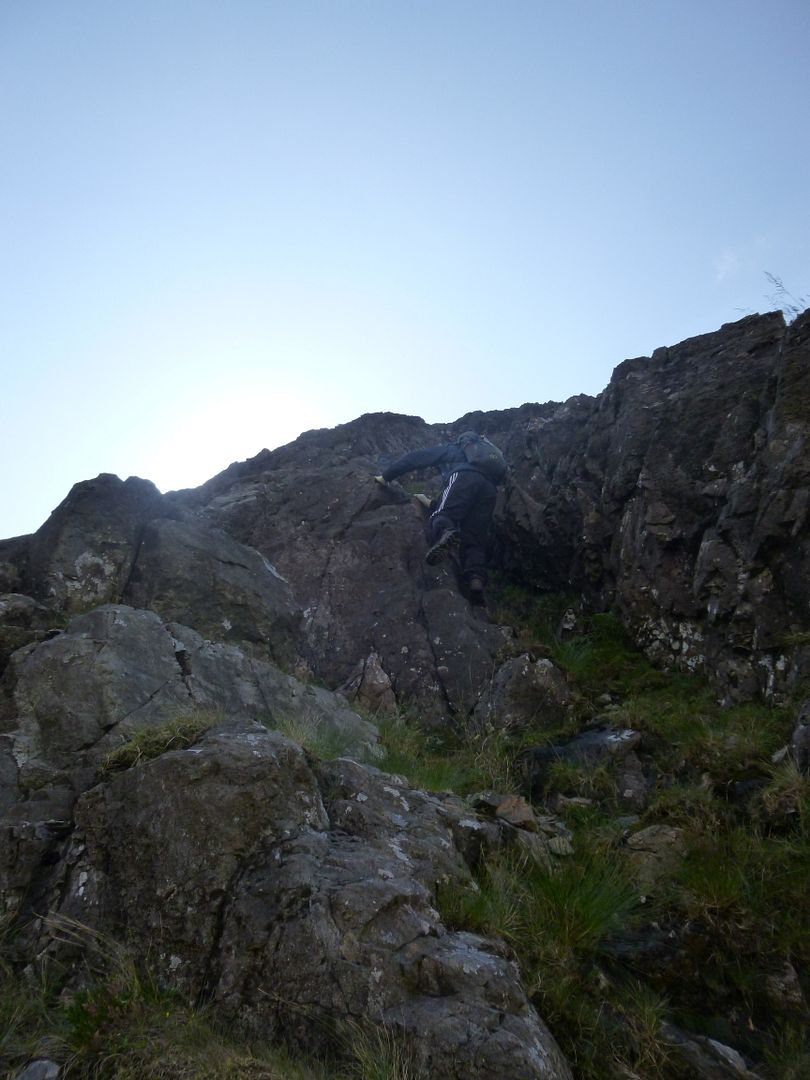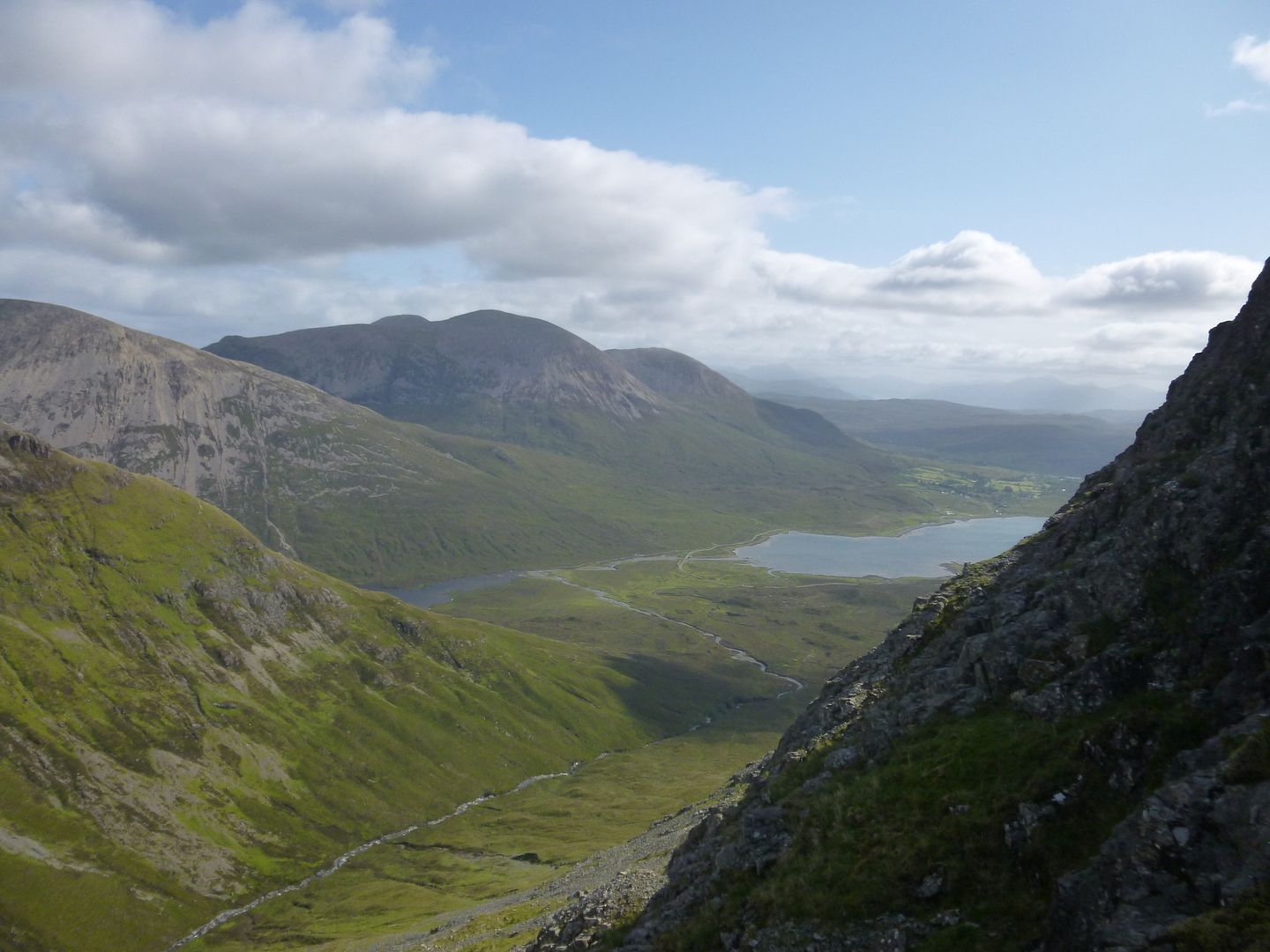 Eventually the groove petered out, an there was a bit of a pinnacle to climb or avoid. Just round to its left there are a range of ways back up to the crest.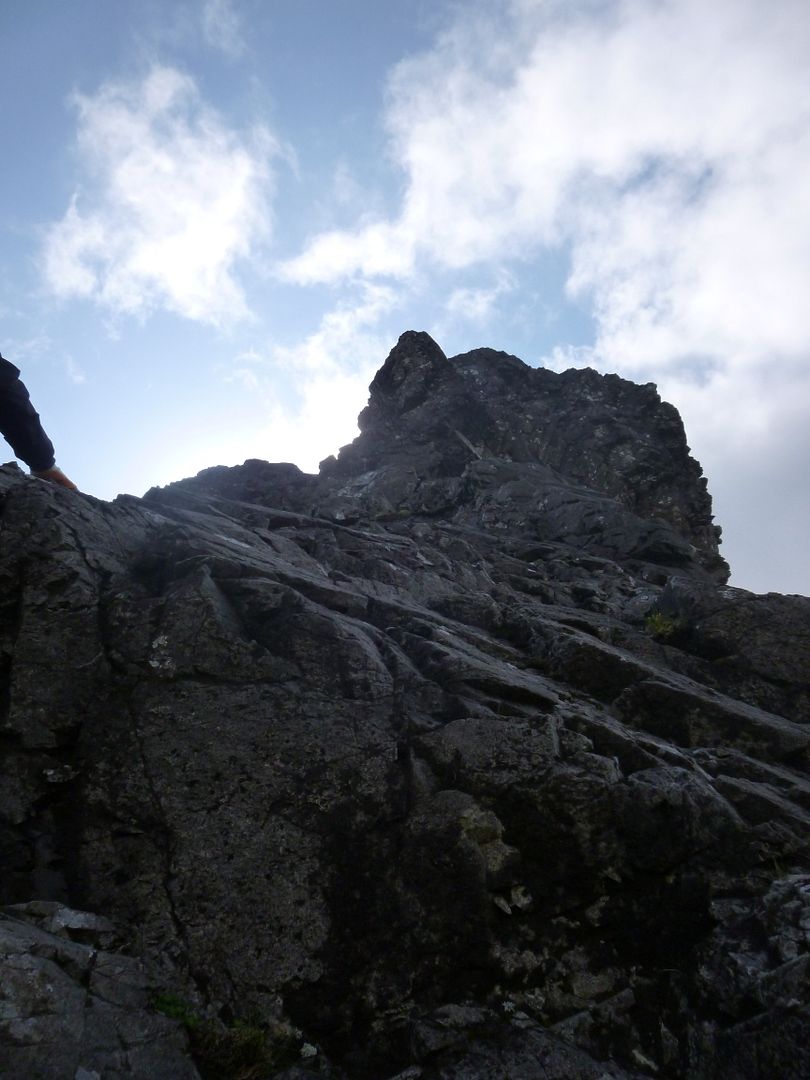 Once there, the angle eases, and the rock peters out, but not far to the cairn at the top, where we suddenly got views of Clach Glas and Blaven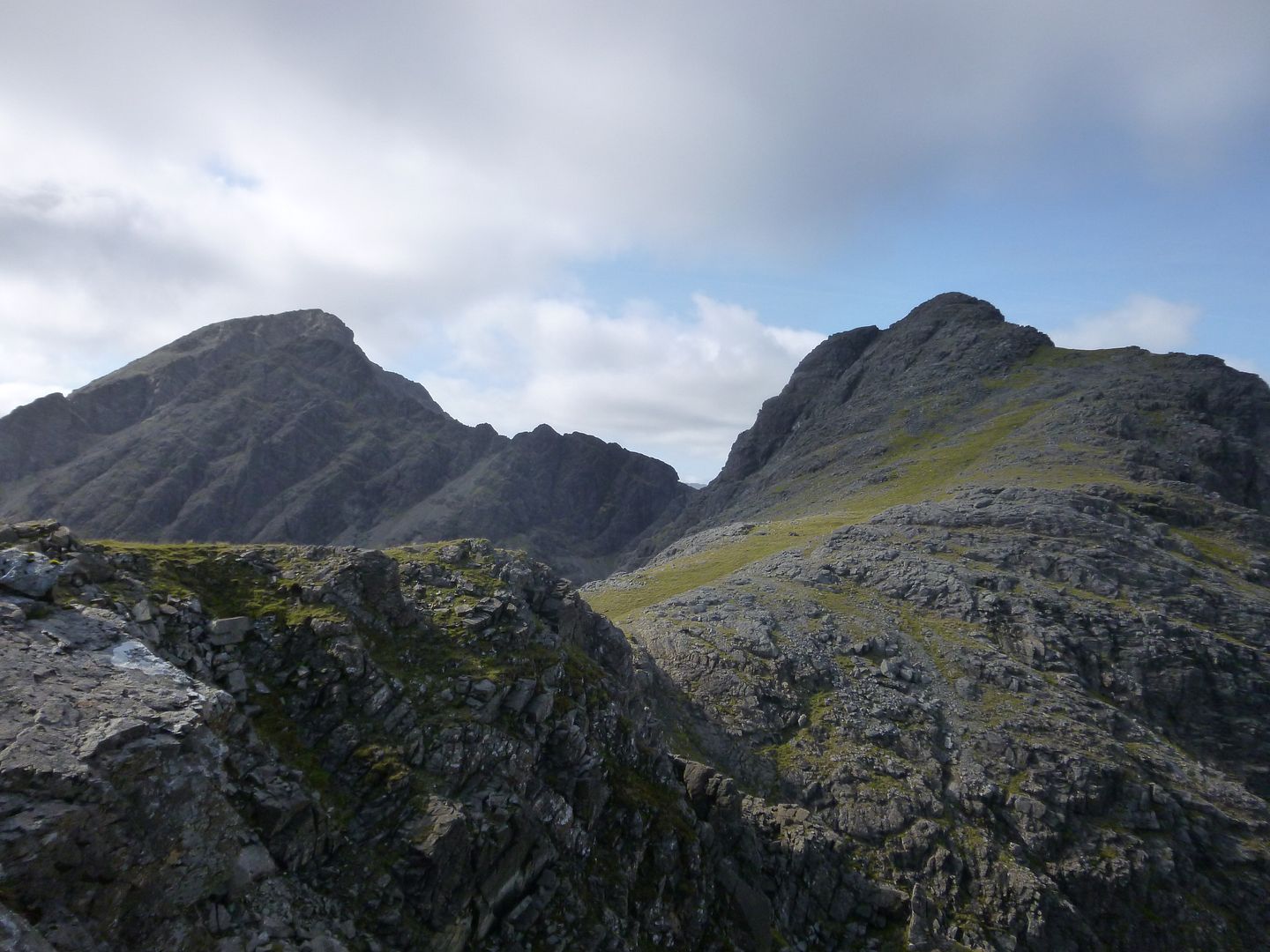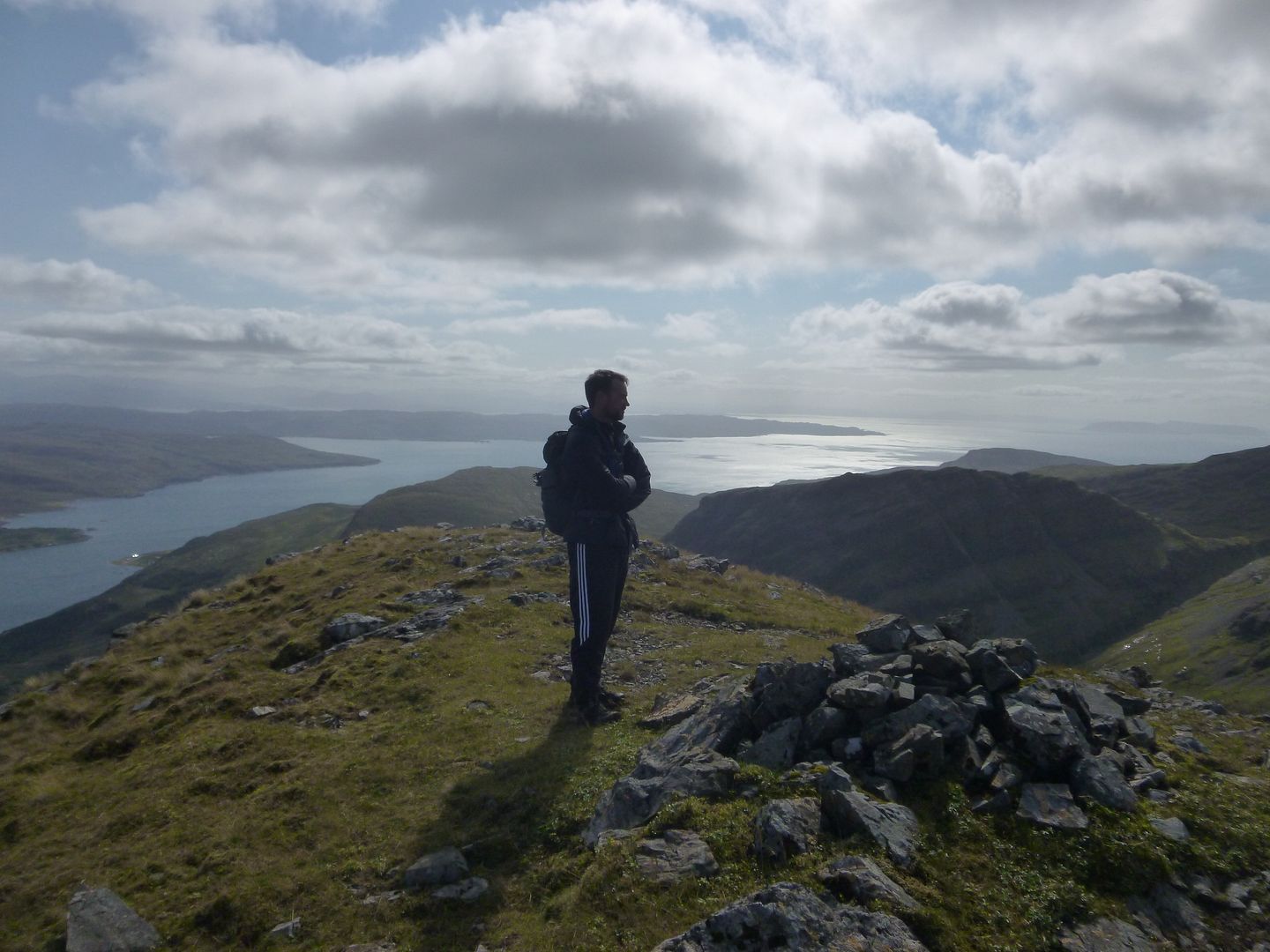 We sat at the cairn for a while, and watched a guy come up from the main path and head toward Sgurr nan Each. We followed him up, but I saw there was better slabs over to the left, so we traversed over there and enjoyed the ascent far better than we would n the broken boulderfield that looked to be the alternative.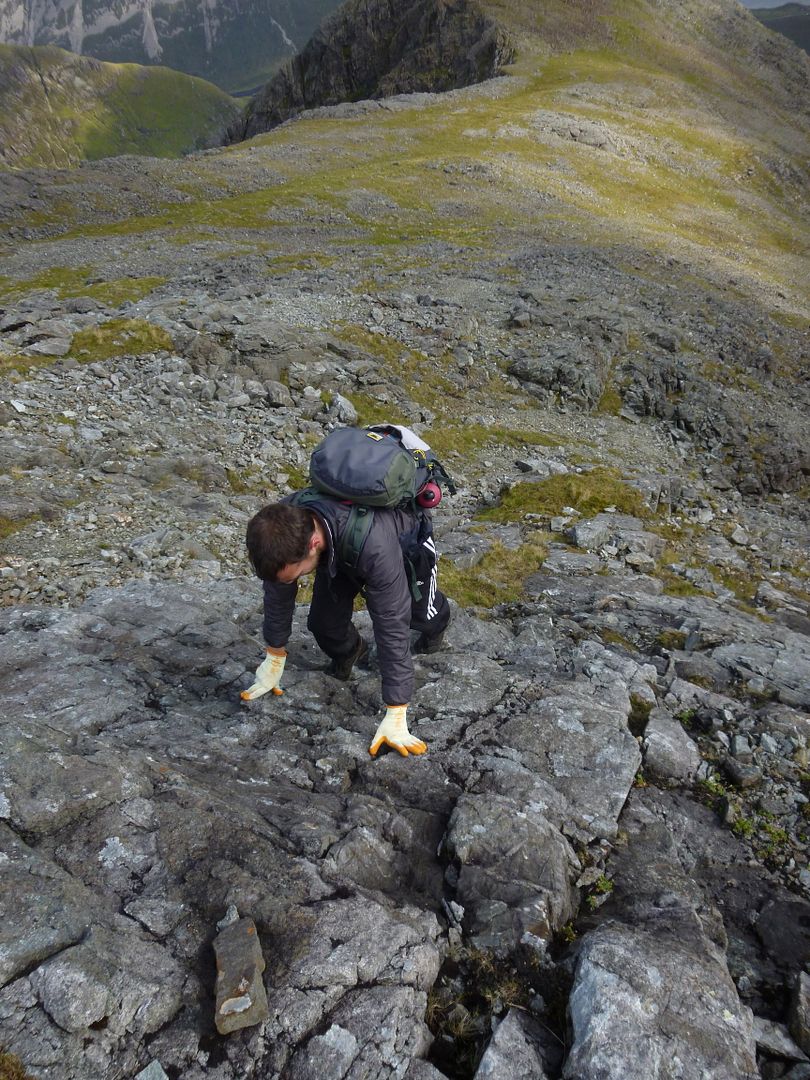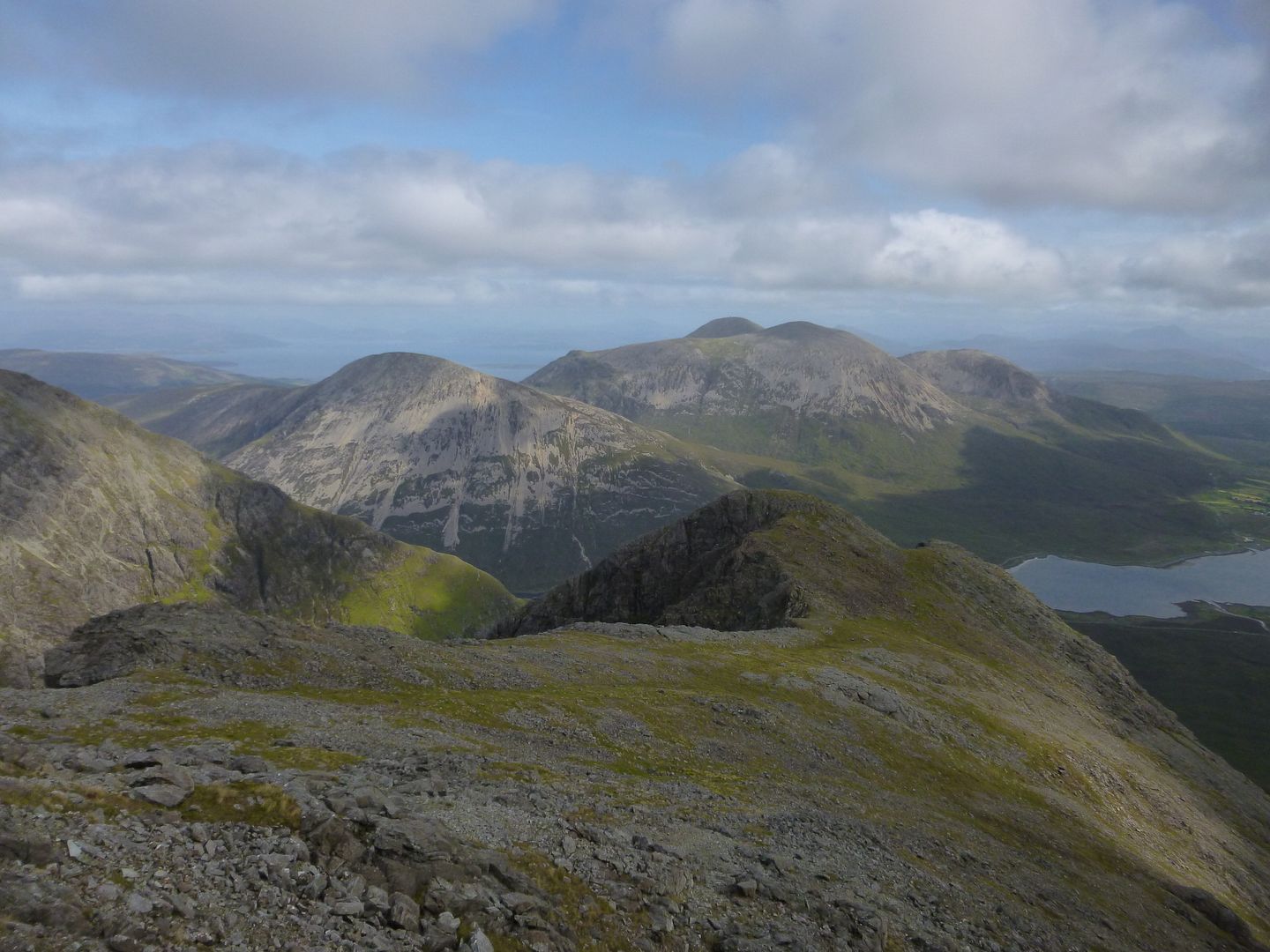 We got to the top, but didn't stop. The way ahead looking way to good to wait for.
The main ridge was framed sraight ahead. Looked to be a good day for Cuillin exploits..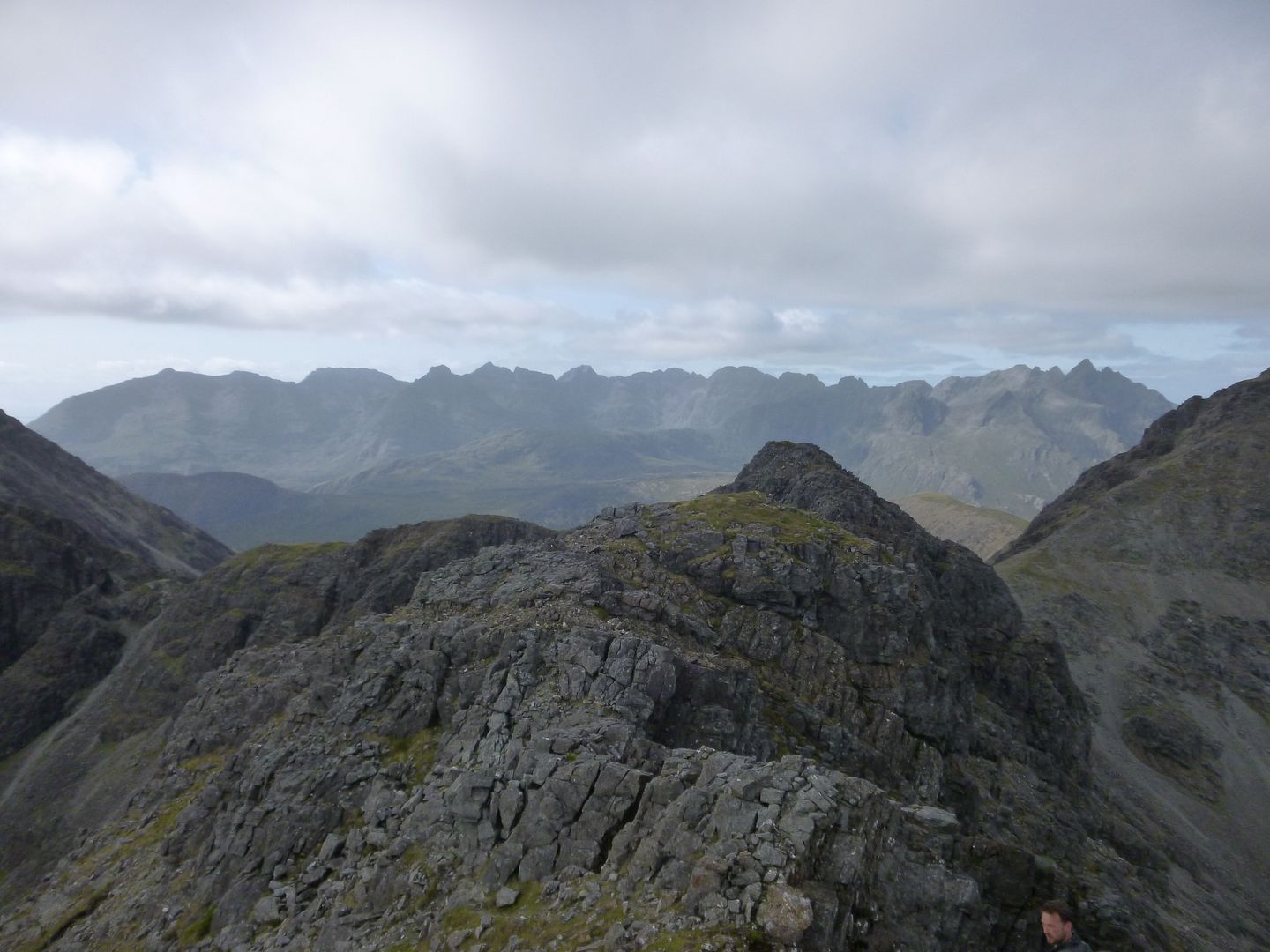 We hopped along, clambering over boulders and down slabs. There was one notch with a very disturbing slab indeed
Dougie went down that way, but I found a way round to the left - just as steep, but with a few more cracks and dimples for friction
We scrambled over another easy pinnacle, before we descended to the bealach toward Garbh Bheinn over rogh boulderfields and scree.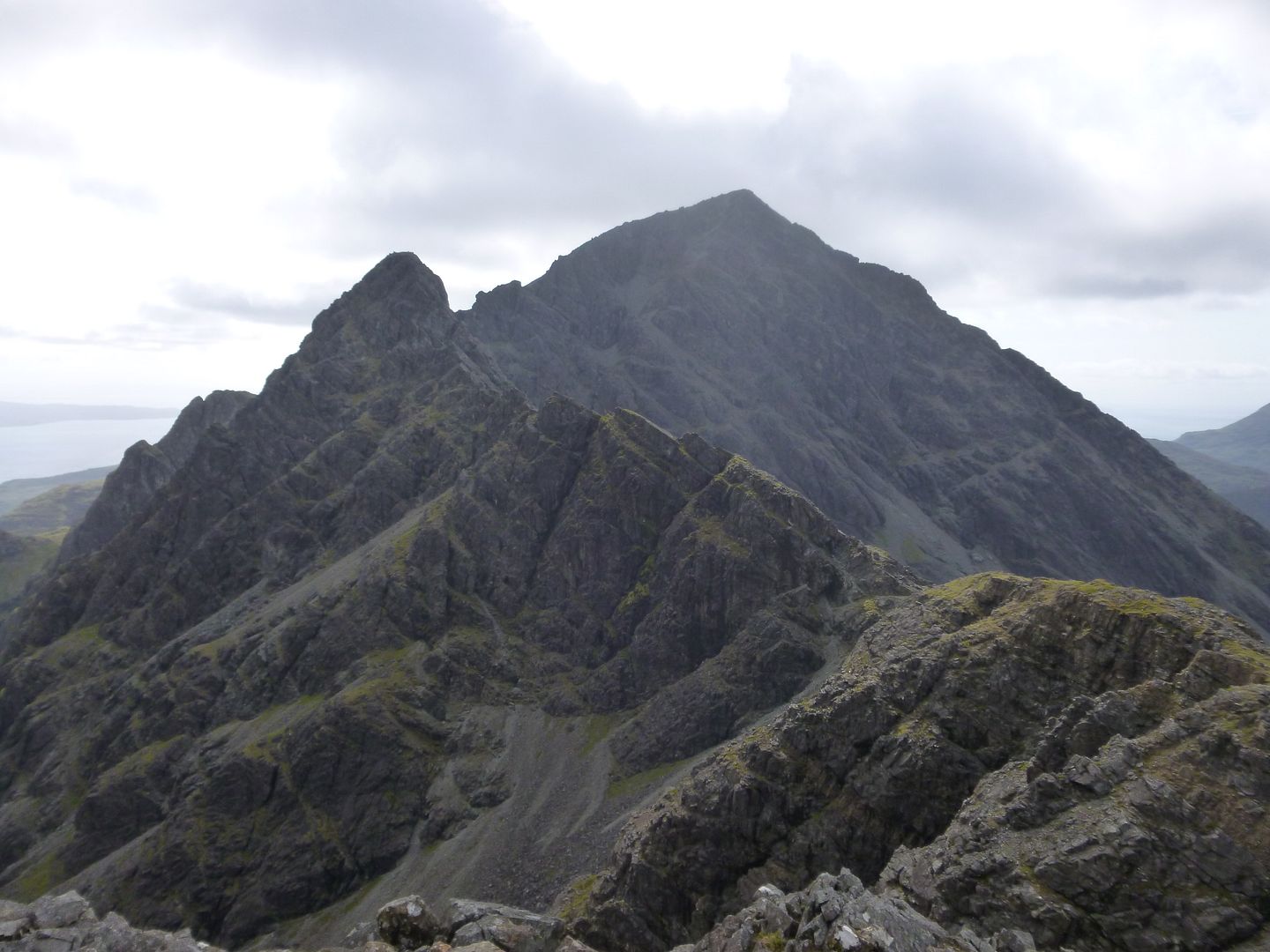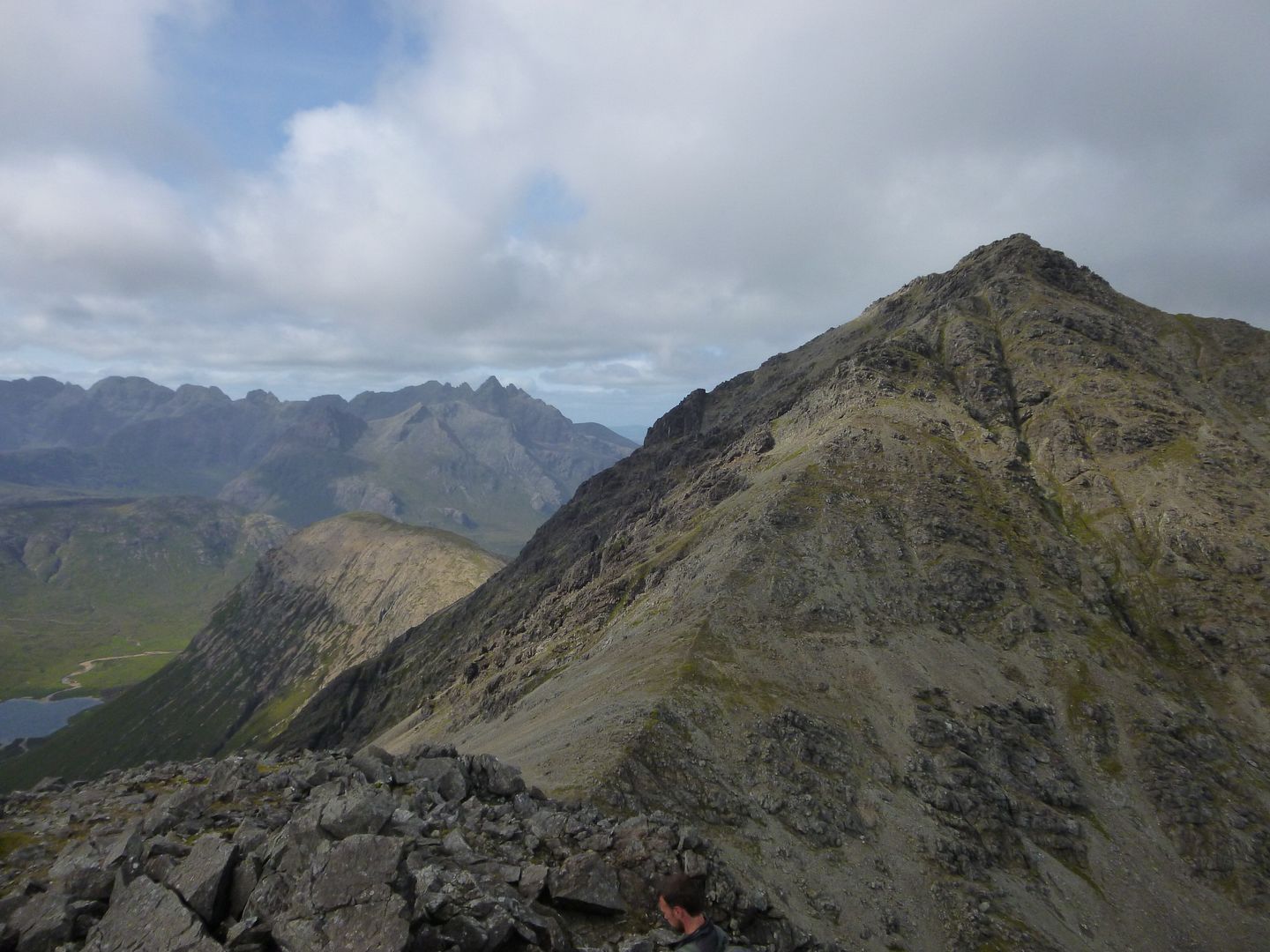 The ascent seemed to pass quickly, with increasingly good scrambling right on the crest. There were a fw wee pinnacle bits which were quite challenging, but totally avoidable if you divnie fancy it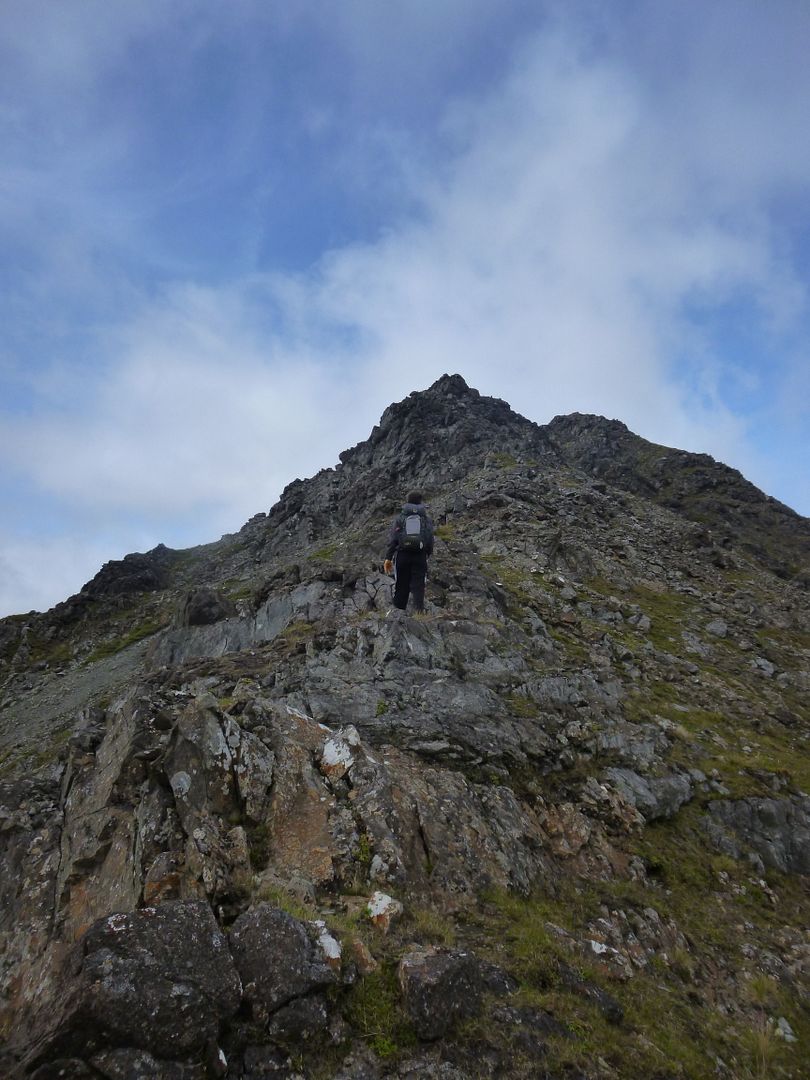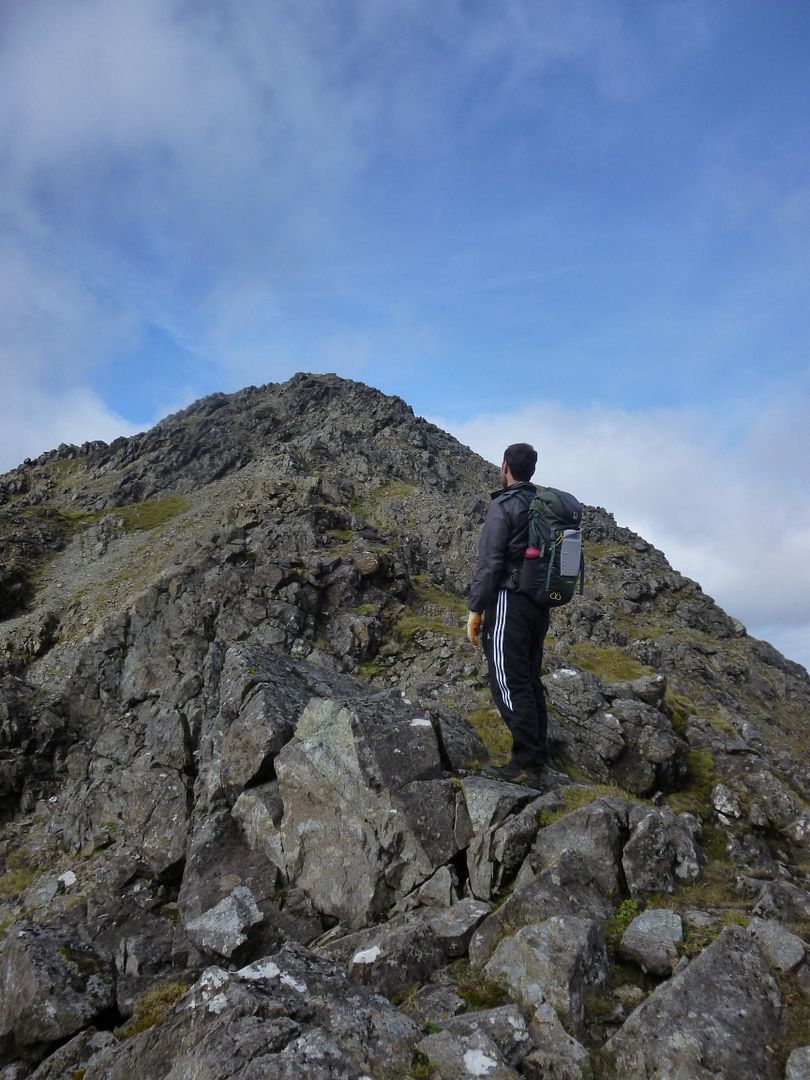 Clach Glas was now looking utterly amazing!

We kept on checking on the guy who had been in front of us did a crazy traversing route of clach glas, it was harrowing to watch.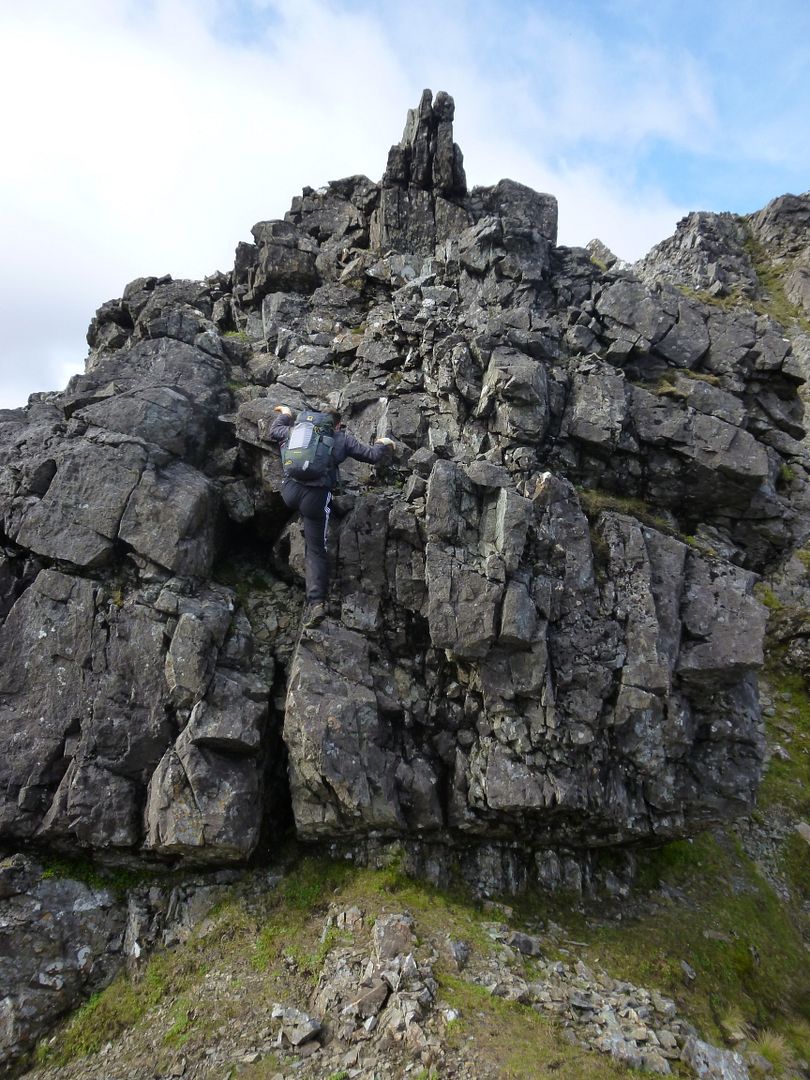 And we eventually got up to the easier last bit to the summit, with some great views round about opening up..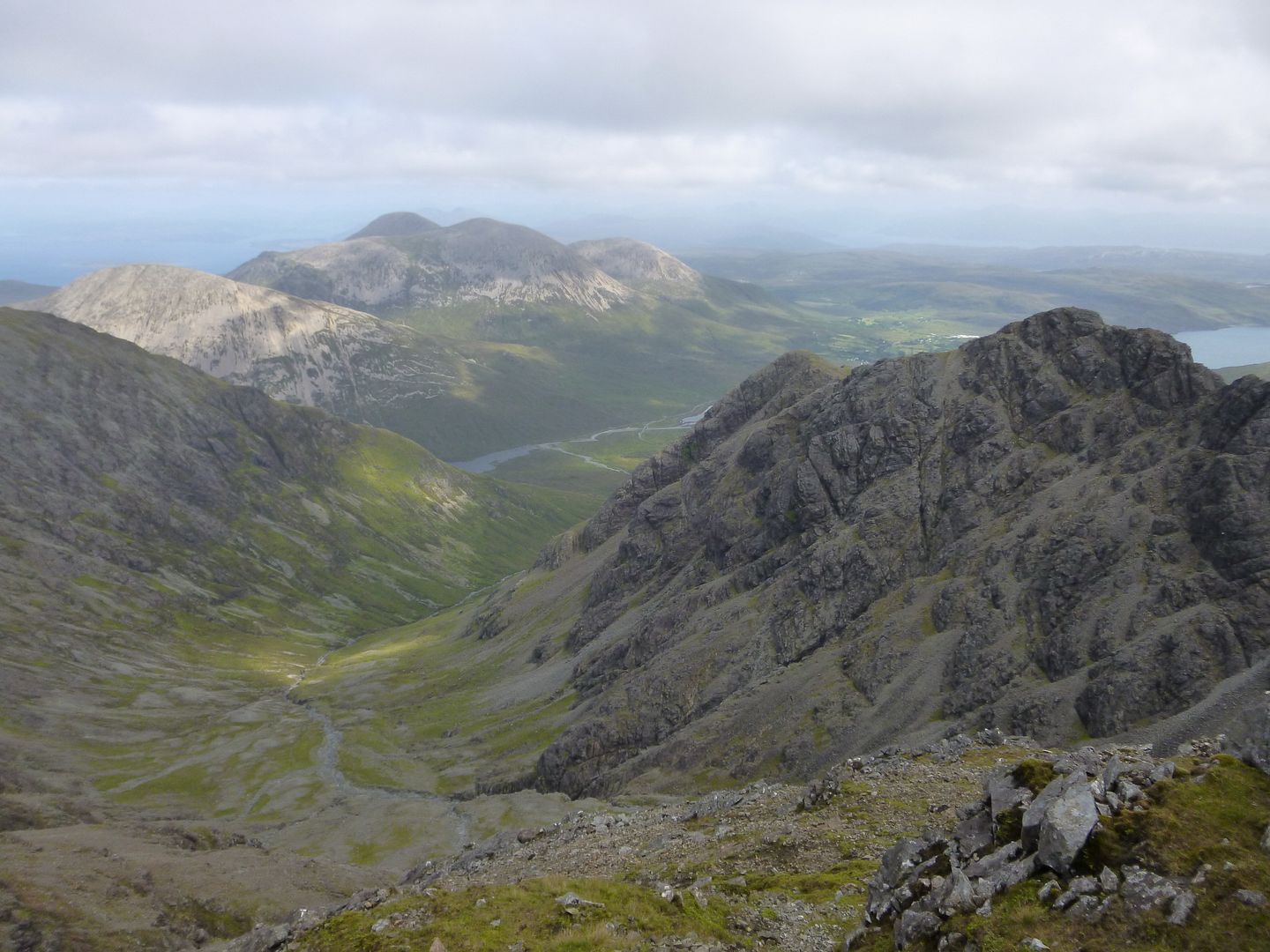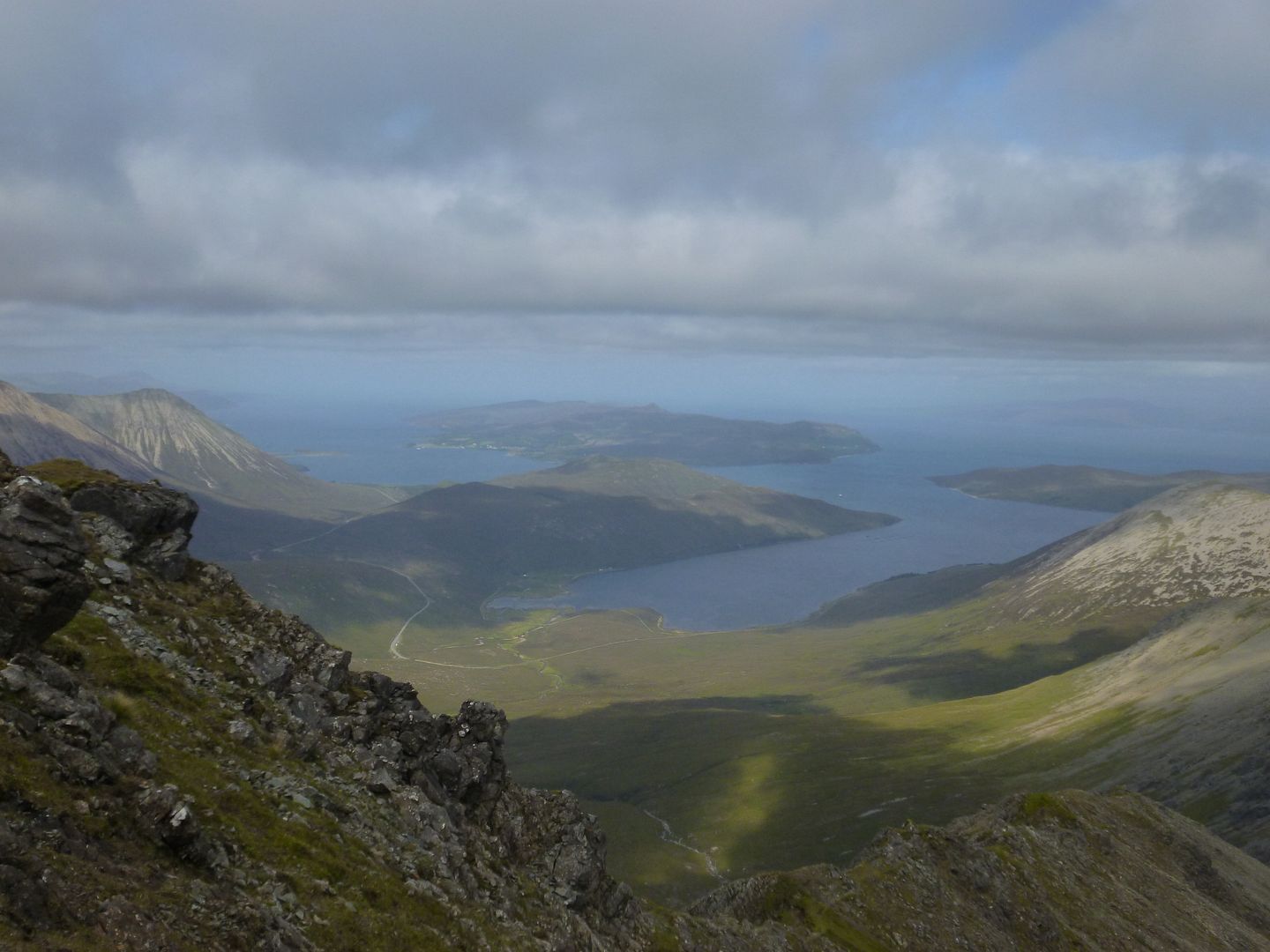 The wind had dropped significantly so we sat there for quite a while soaking it all in, but Belig was waiting, and it looked like a really low bealach between us and it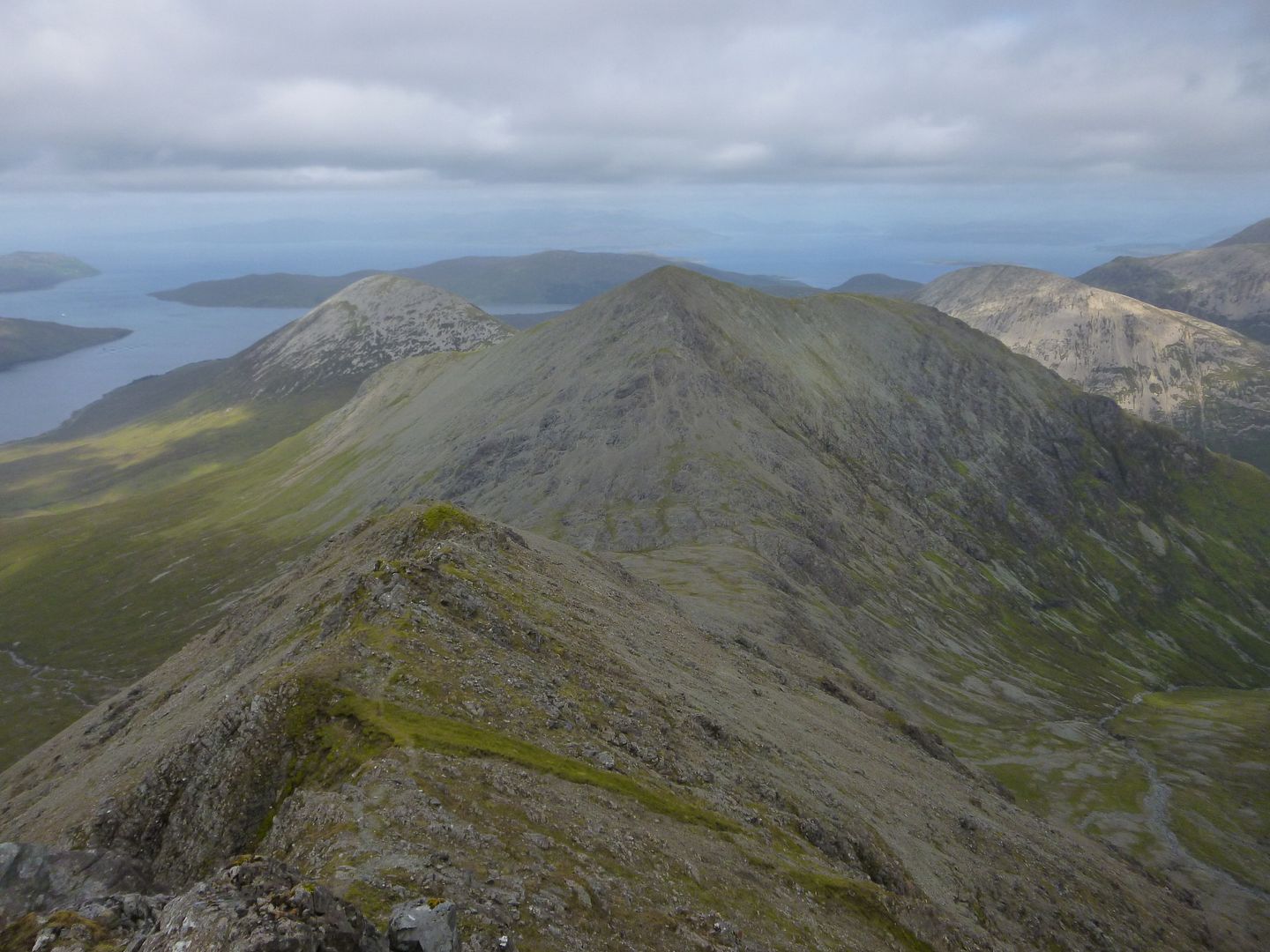 The going was initially quite fun, with some scrambly bits and interest, but this gave way to a long, steep trudge down rocks & scree.. I looked down every few minutes, and that coll didn't seem to be getting any closer at all
We were starting to get some views of the scramble we had done in the morning
We did reach the coll eventually, and we found that while Belig had a lot of broken ground, it was possible to link together an increasing amount of rocky bits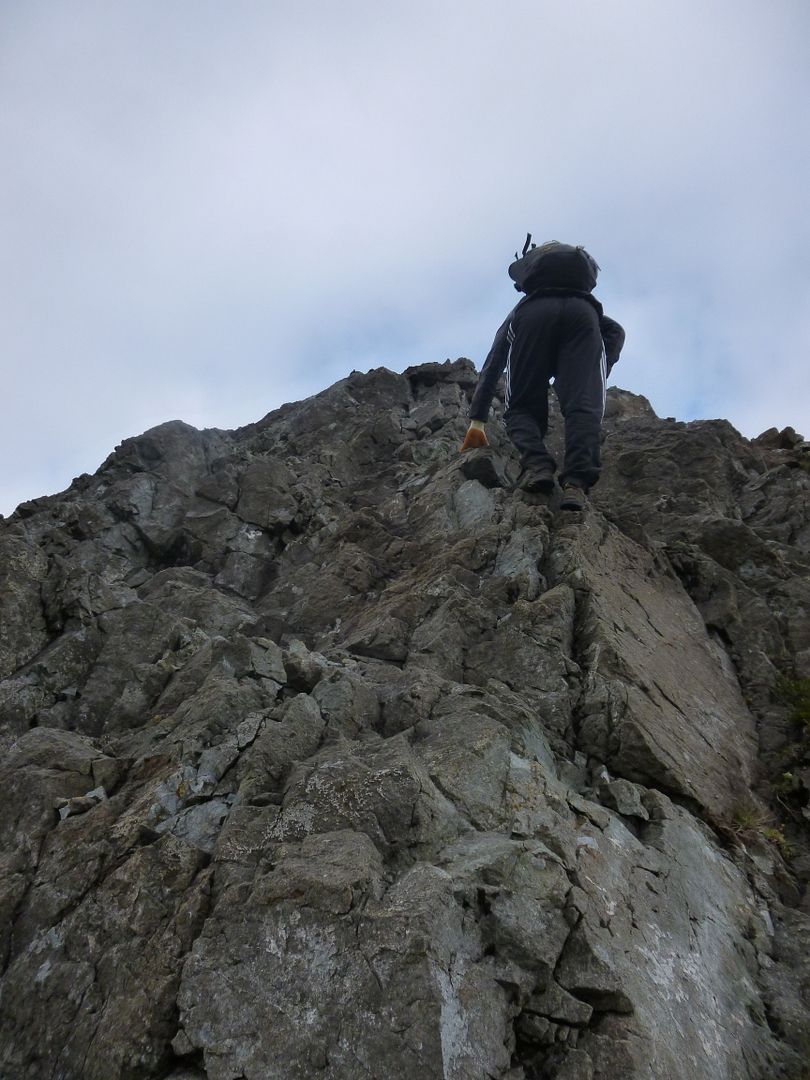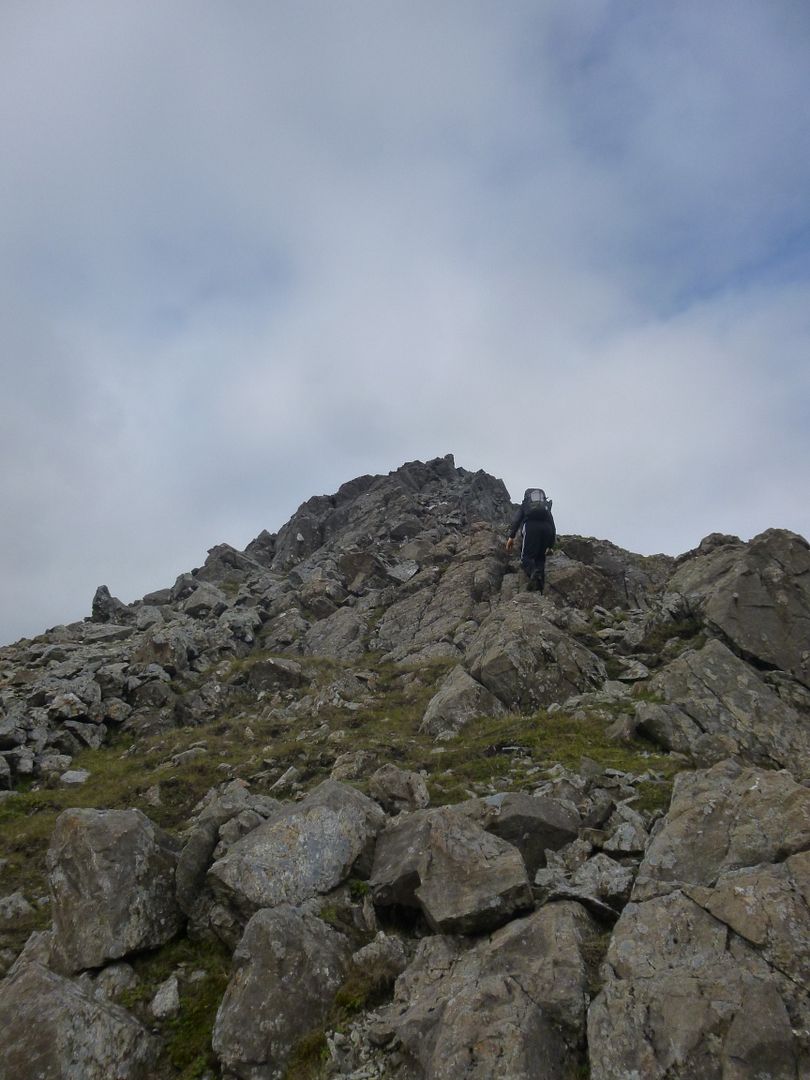 I hit a wall, and really started to struggle about half way up - probably hadn't drunk enough, as I felt better after a big drink, but it was still slow progress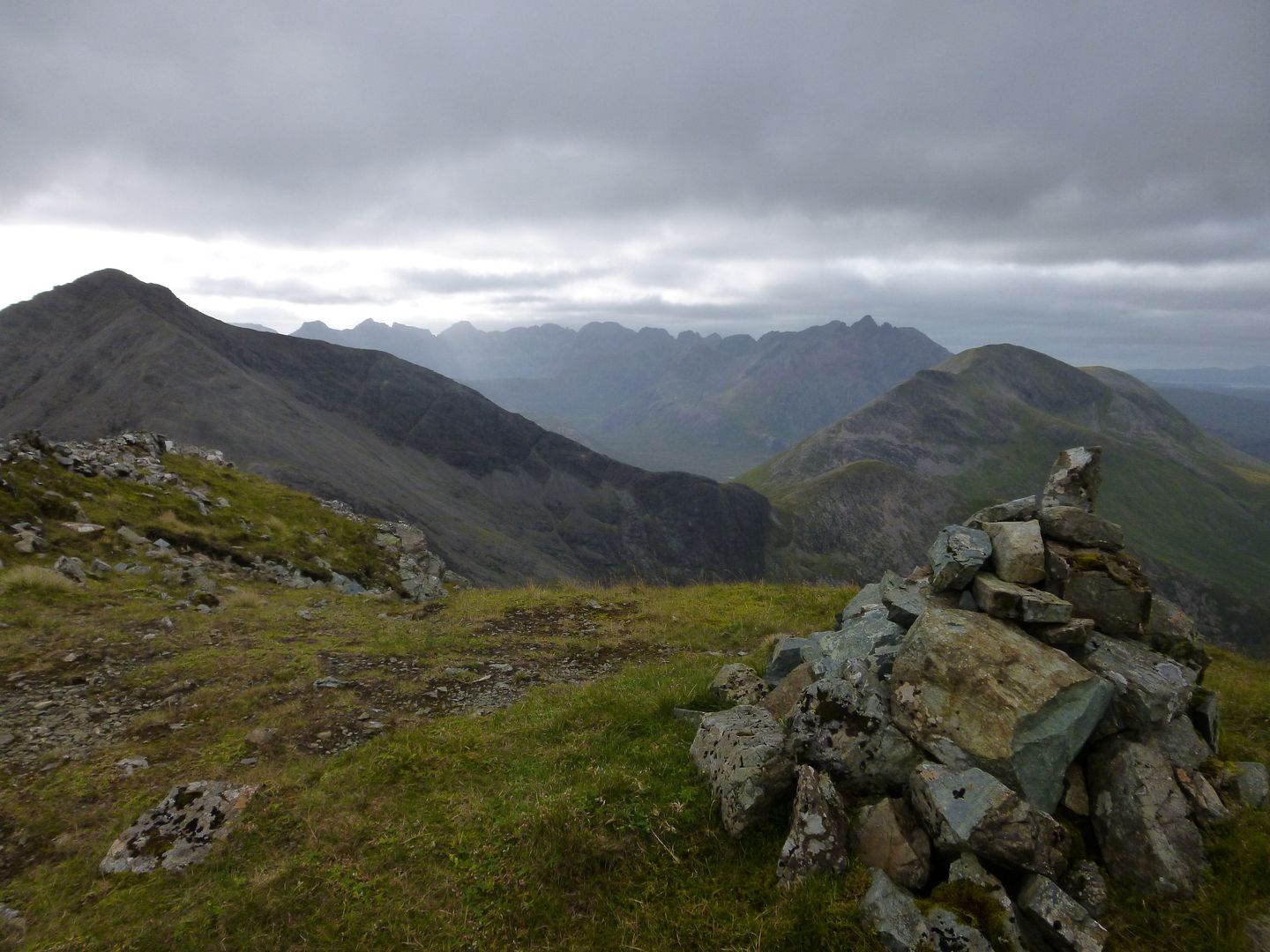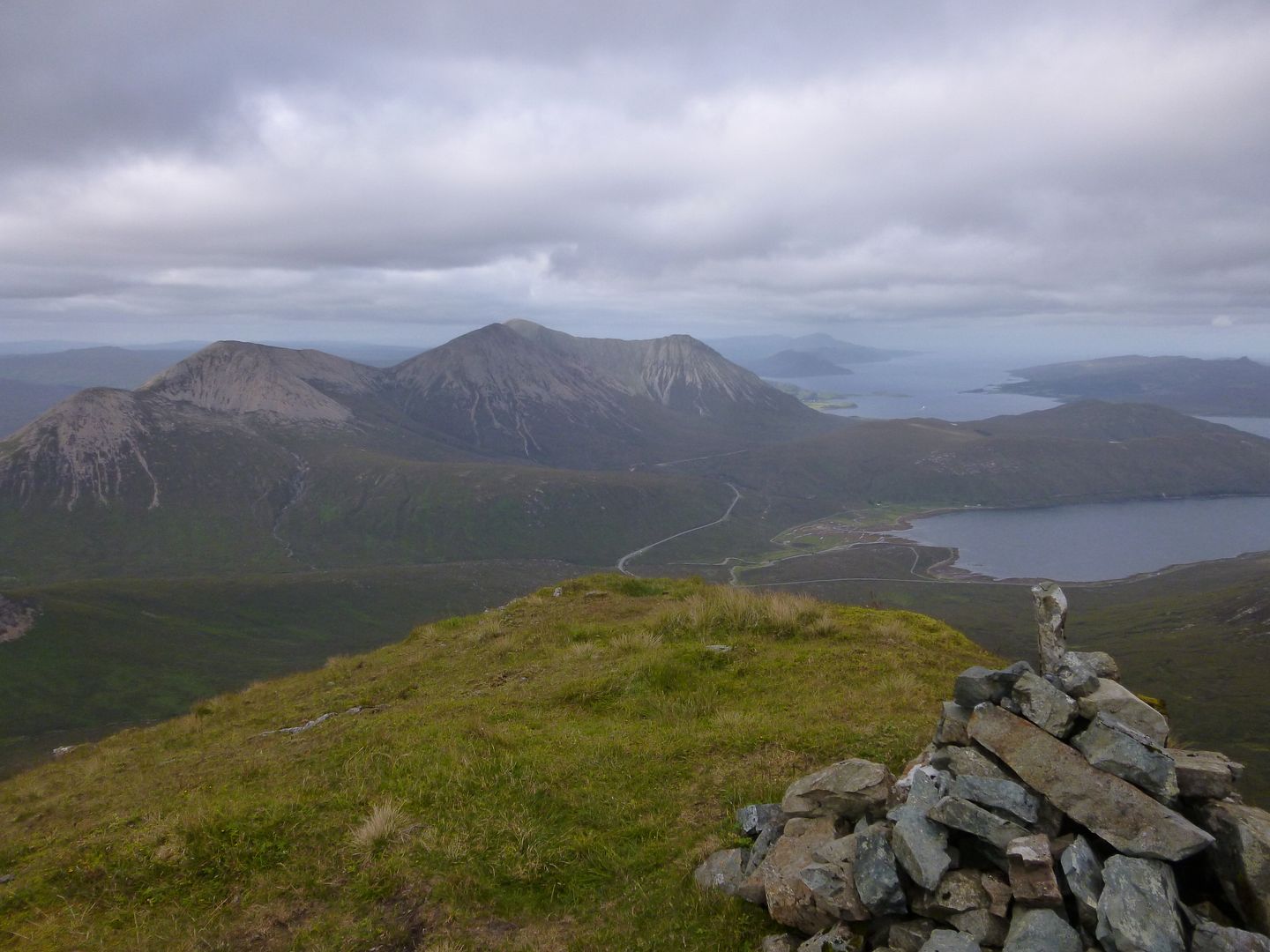 We stopped again for third (or was it 4th?) lunch, before heading along the eastern ridge, keeping well to the right to pick up a grassy arete. It was undulating and steep in places, and with a down scramble in a couple f places. Several scary looking gullys led dwn to our left. Some looked like they were used as paths.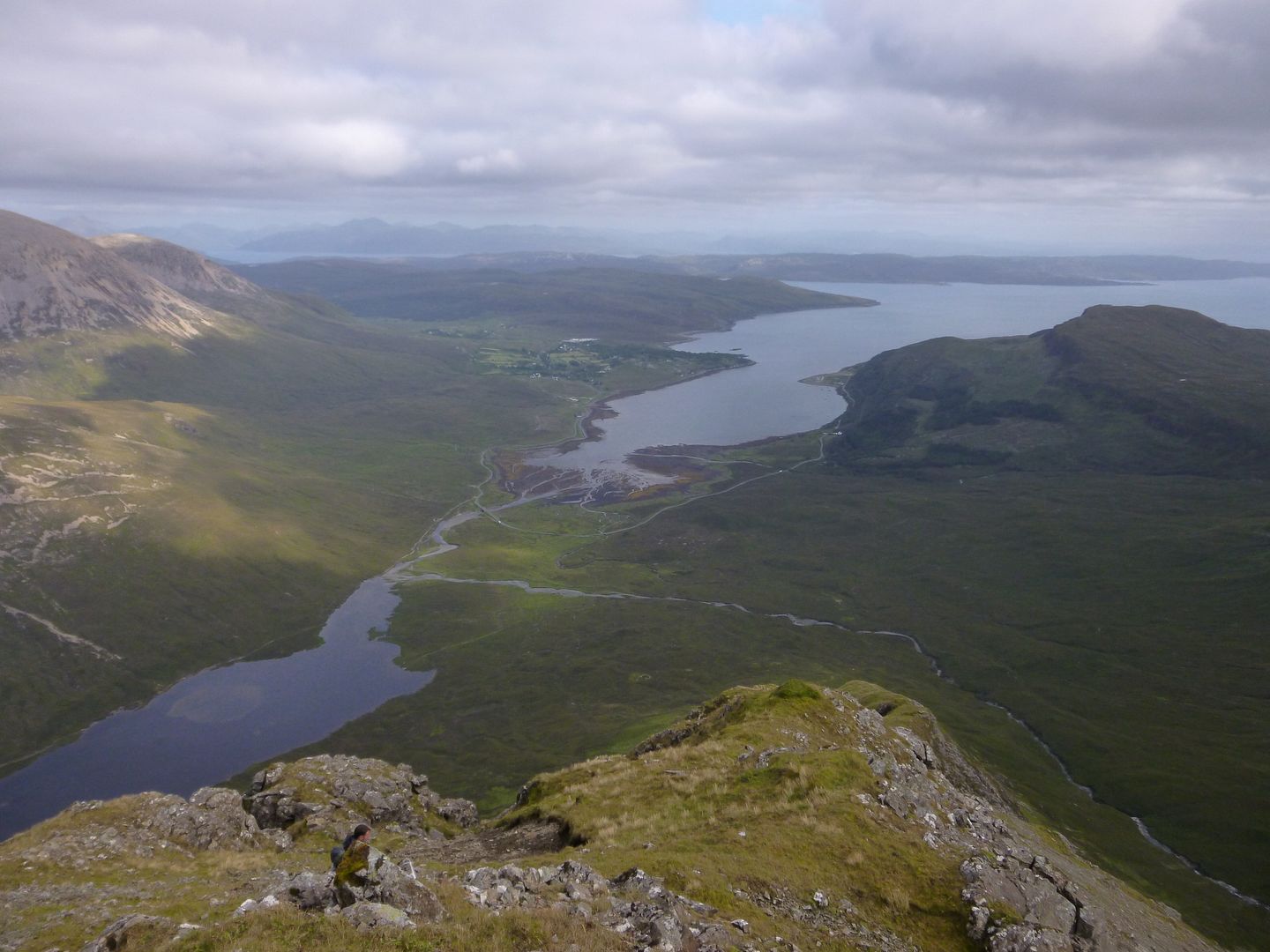 We went over a rise, and saw an Eagle take off and take to the air
Sorry about the rubbish, fuzzy photos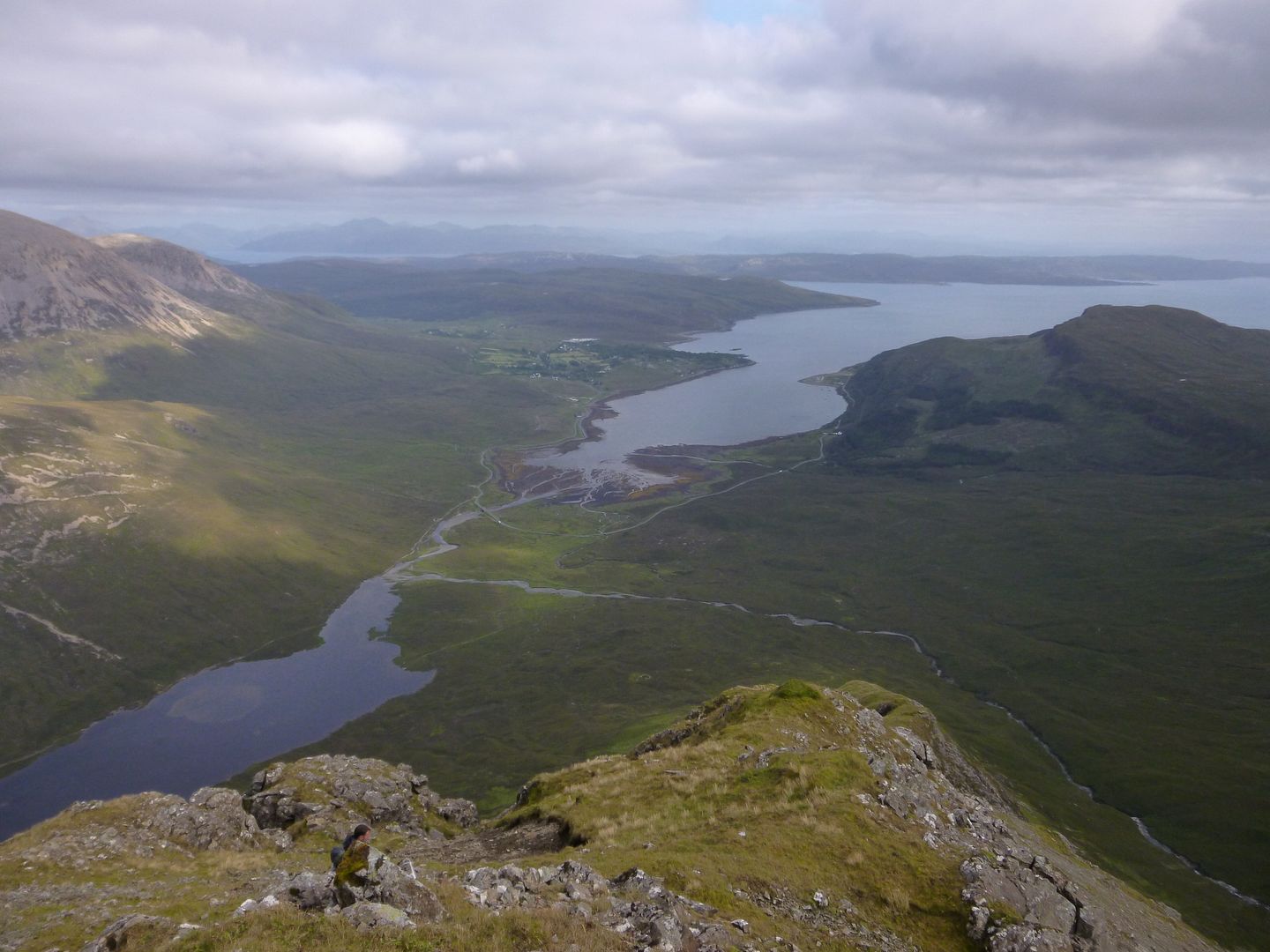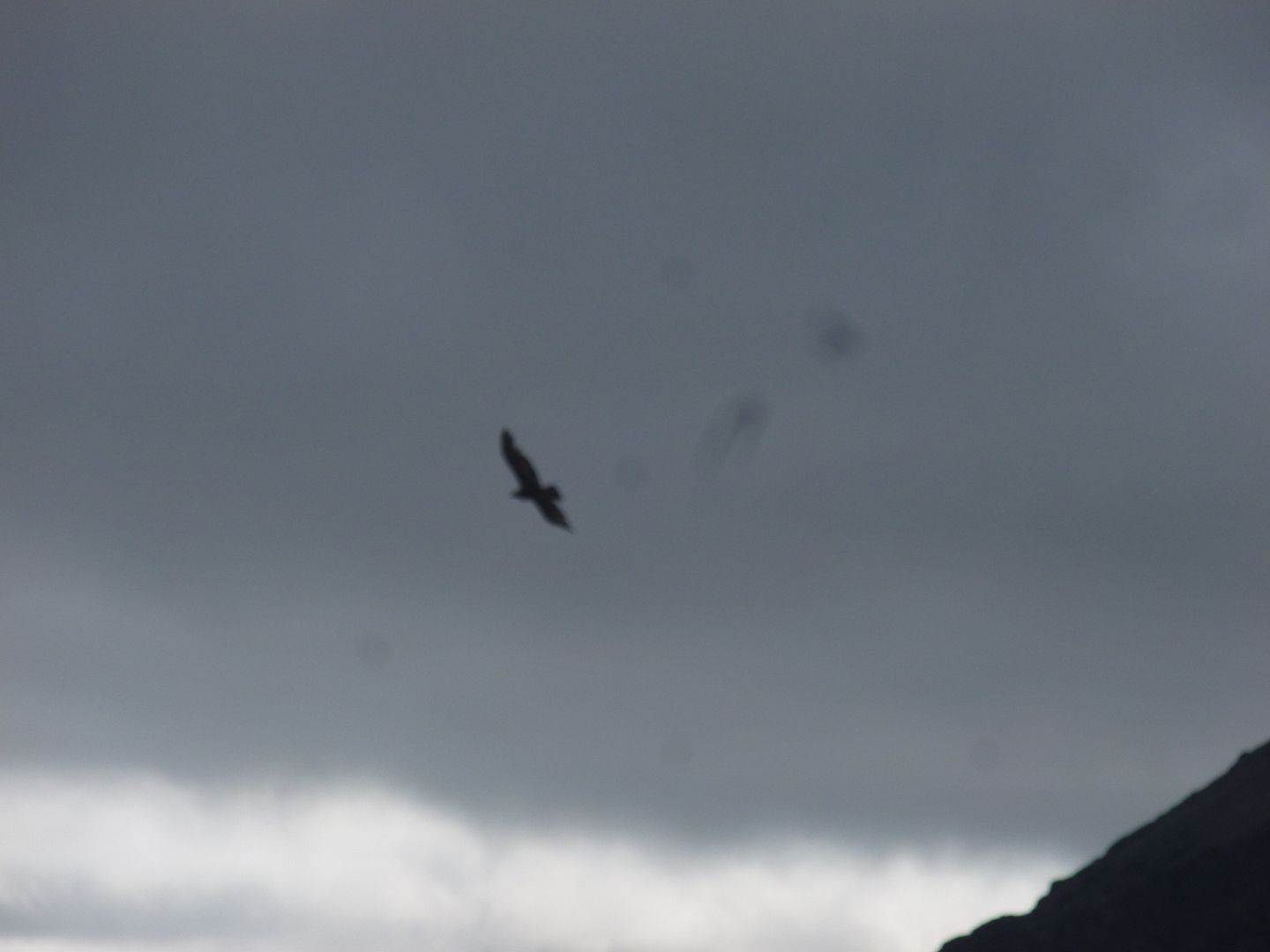 It seemed like the perfect end to a somewhat perfet day, but we werent down yet. some knee crunchingly steep ridge to go..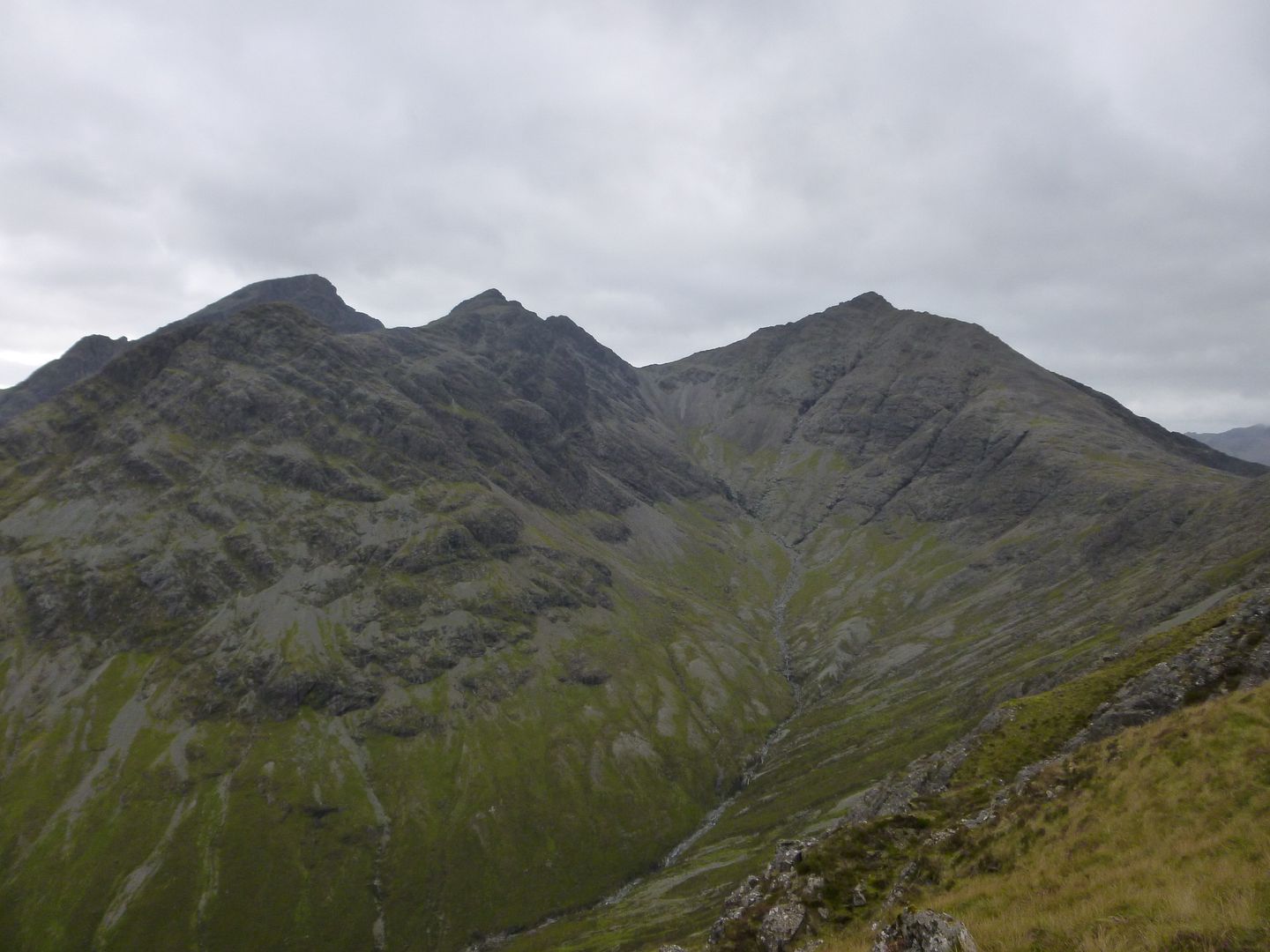 Once back in the glen, we crossed over the burn in exactly the same spot, and made short work of the bog. We had a cow eye us up when we inadvertantly strayed too near to her calf..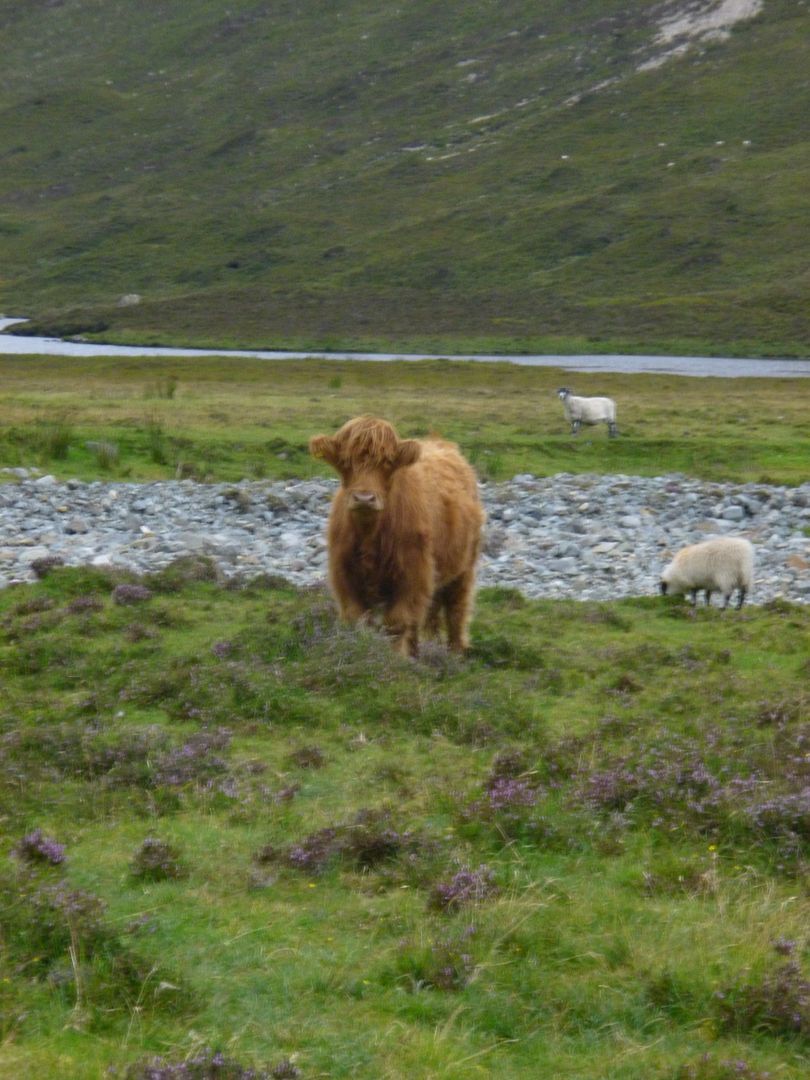 but she backed off when we moved away and made the car still feeling quite fresh in the end
We went back to the hoose, and got afire going to scare the midge away. Was a rare warm, still night, and it was nice to be out in the forest at night
On Sunday, we just fancied a short trip to give time for the way home. There was a gorge walk in the book, an it looked to fit the bill nicely. My phone was dead by then, so I have no idea, of what ime we got u, or what time we left, but it looked to be generally a slightly less sunny day, with the tops of the hills frmly clarted in the white stuff, so probably best on a wee hill anyway
The first obstacle, was how to get from the road down to the beach, so we could get into the gorge. This proved to be very tricky indeed, with waist deep brush, hiding tussocks with deep bog in between. It wasn't far and will power just about got us through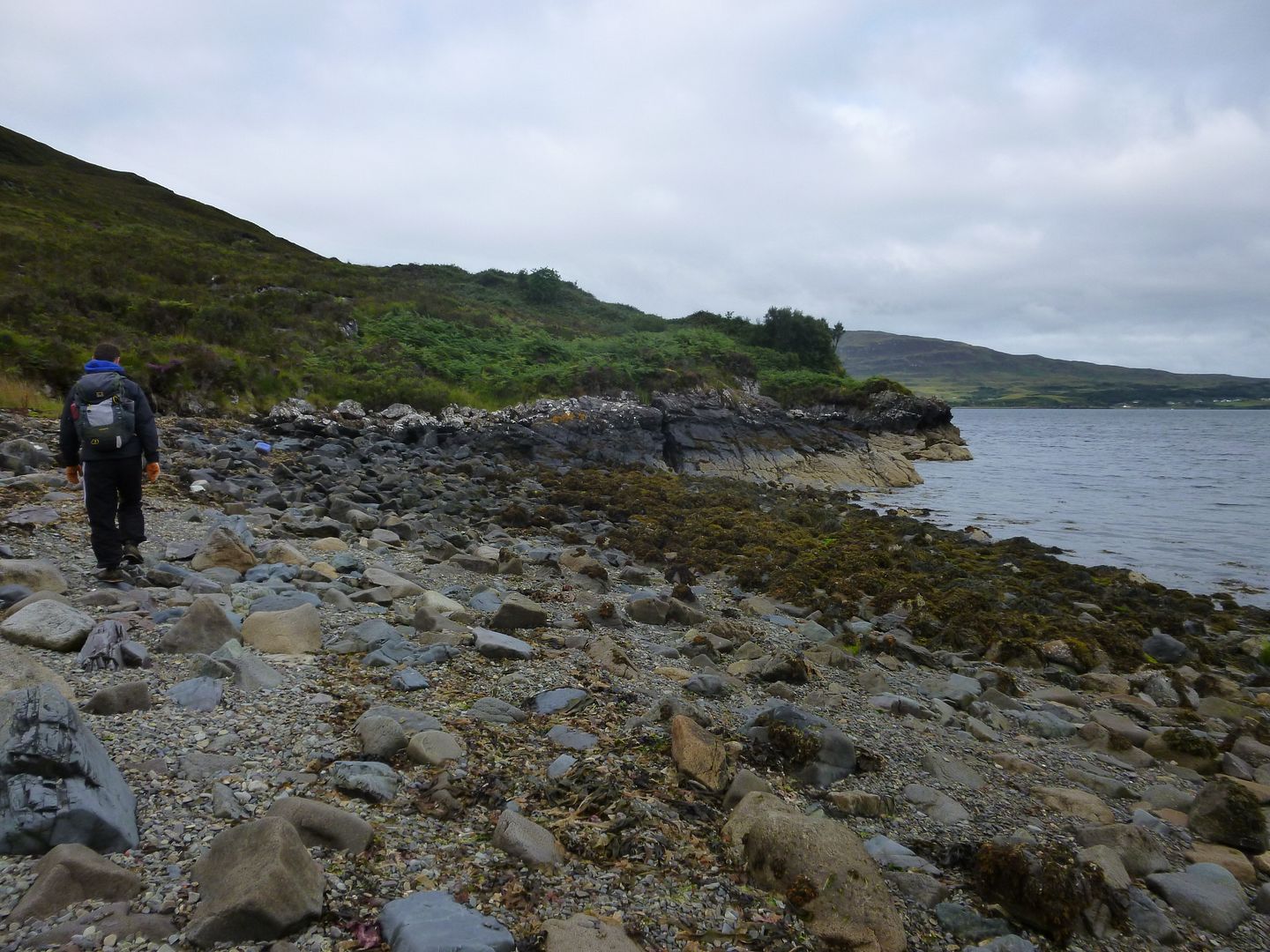 We turned up the Allt Darach, taking to the slippery rocks that lay ample in the stream bed. The ofliage either side was higher than our heads, and overhanging, so there was a fight to get through and make progress. Dougie complained and didn't like it, but I persuaded him that it would get better, once we were in the gorge itself.
Once we were in the gorge though, we found that the bridge had been used for a fair bit of fly tipping, and all manner of things were in the stream bed, from old metal bed frames, to tied up plastic sacks that stank of death and made me wonder if there wasn't a crazy axe murderer round these parts
We moved swiftly on, , the going still slippery, but easy, even up bouldery waterfalls, and over old trees which had been washed down..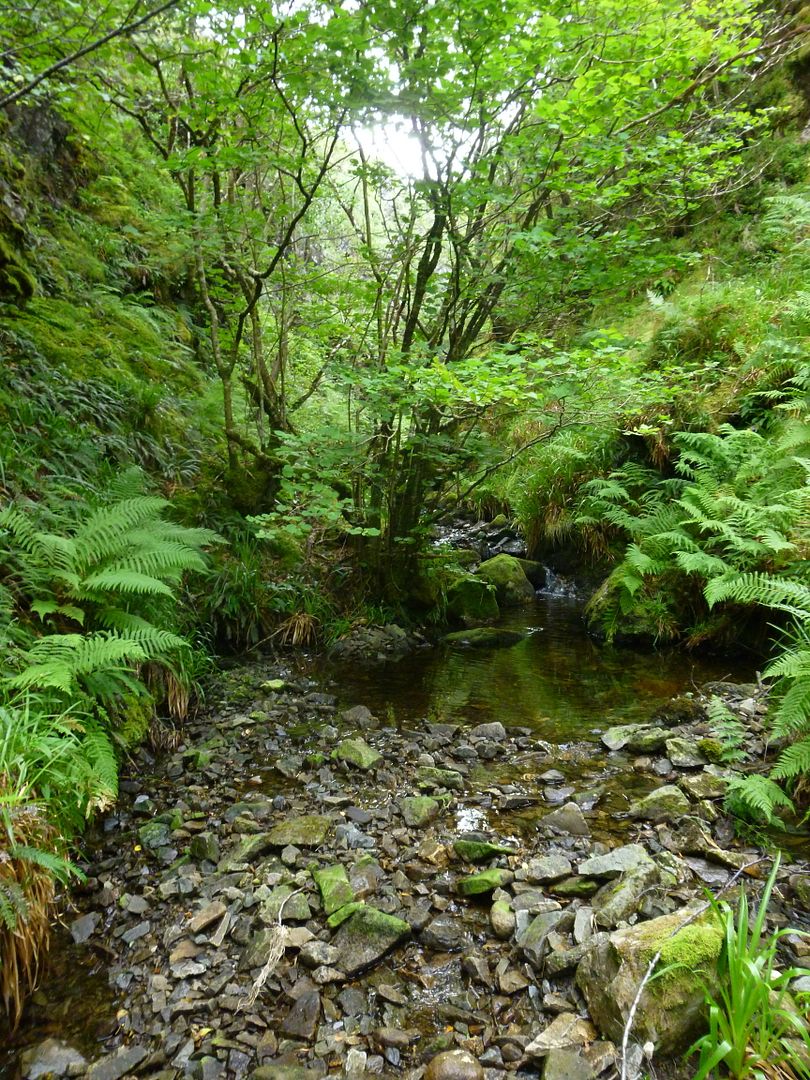 We reached a bigger waterfall, with a big pool beneath it, and had to spend time moving rocks to make stepping stones to the slime covered mass of boulders to its side. a big pull up was satisfying but wet.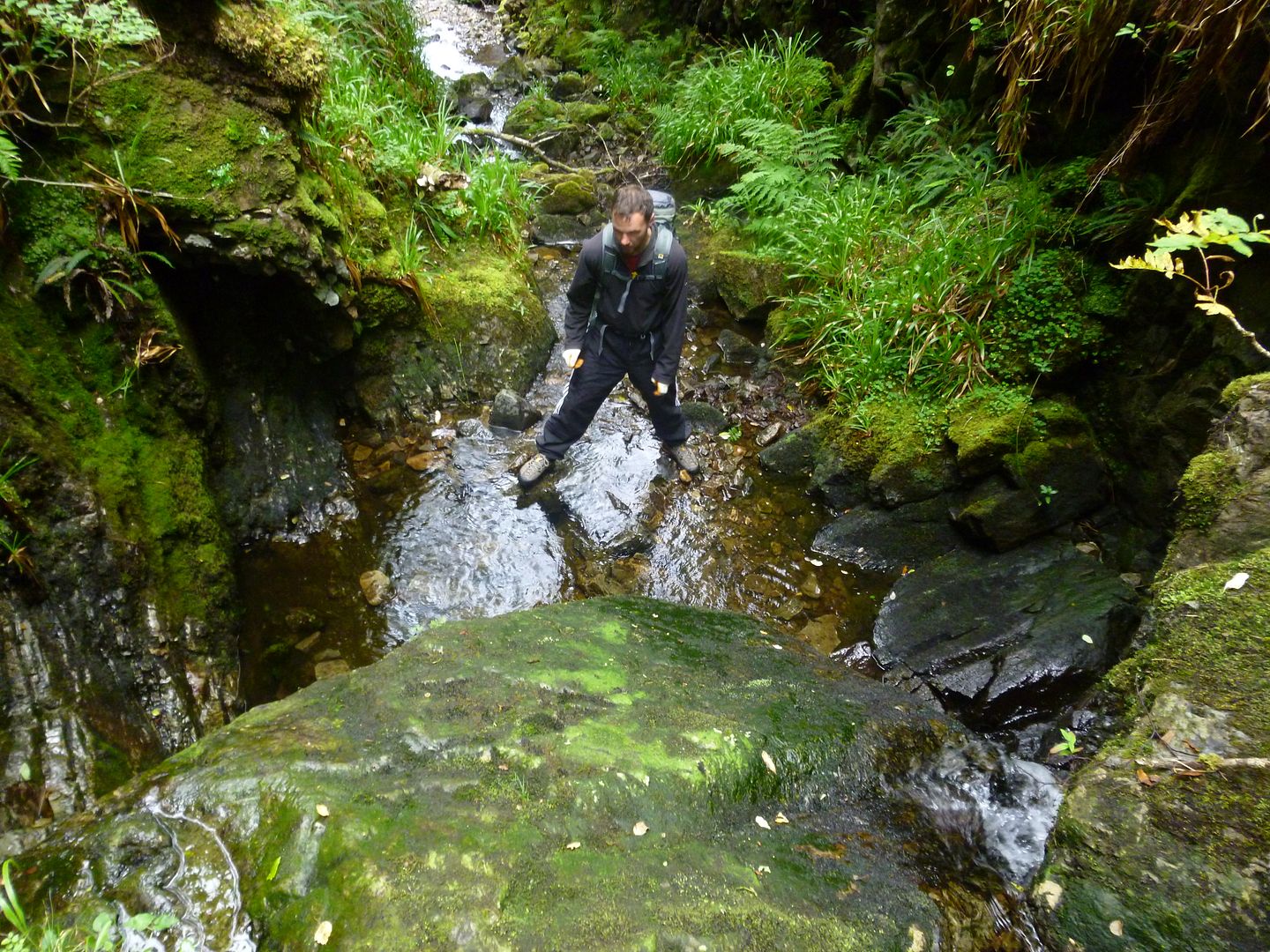 The next obstacle was upon us just round the corner in the formo f a slightly higher waterfall, with a slightly larger pool beneath it.. We employed the smae tactic of building a causeway then climbing this time up the waterfall itself on the smallest slipperiest holds I have ever used, and made it up with only a damp leg from the knee down - boy this was fun, and I could tell by the smile on Dougies face when he followed me up that he was starting to enjoy himself too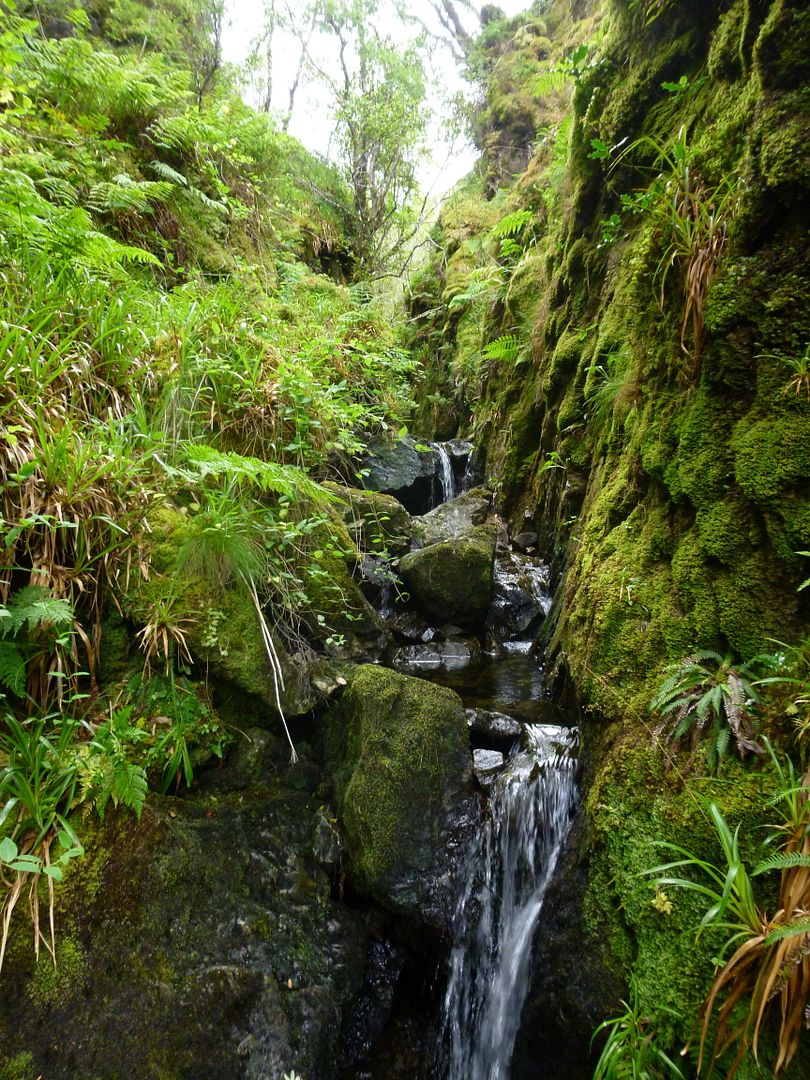 The gorge narrowed, and the foliage became more of a problem again. There was one pool which had to be crossed by wedging yourself between low ledges on the left, and the wall on your right. Quite easy until the gorge opens out a bit and you find yourself at an angle you cant get up from.. felt crazy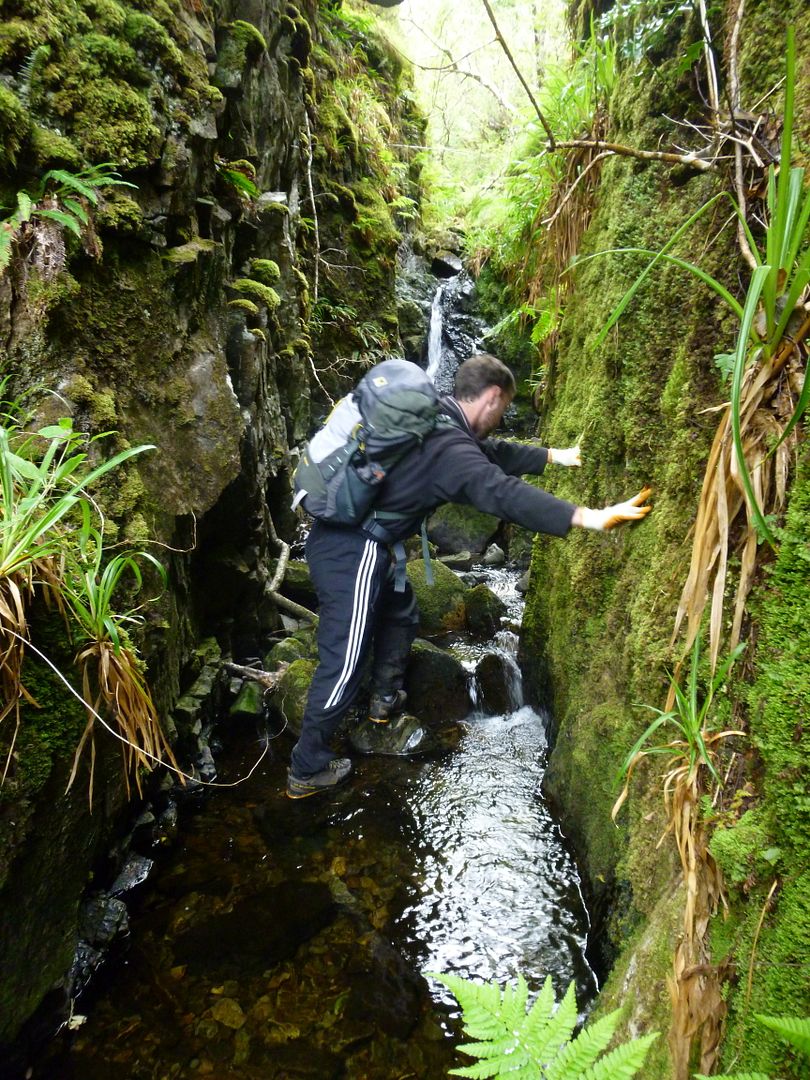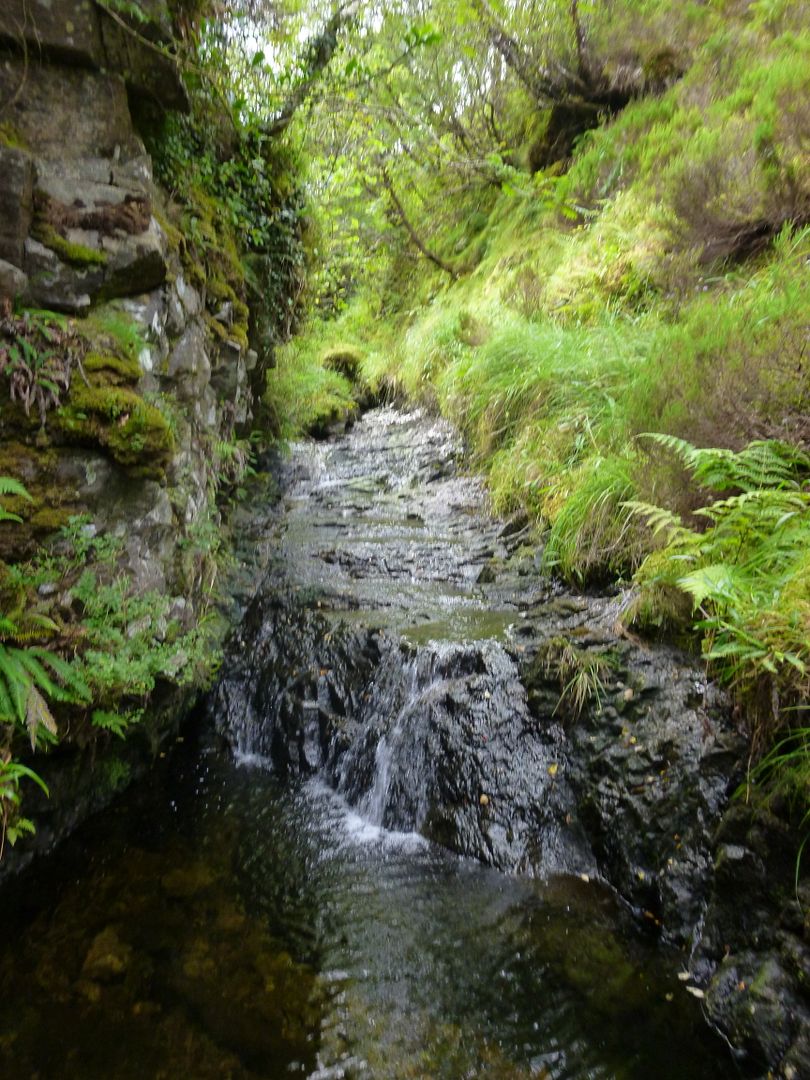 The way opened up again slightly, which gave vegetated options to pass any deeper pools, and we made faster progress but I did slip on one rock and end up faceplanting the burn, going in on all fours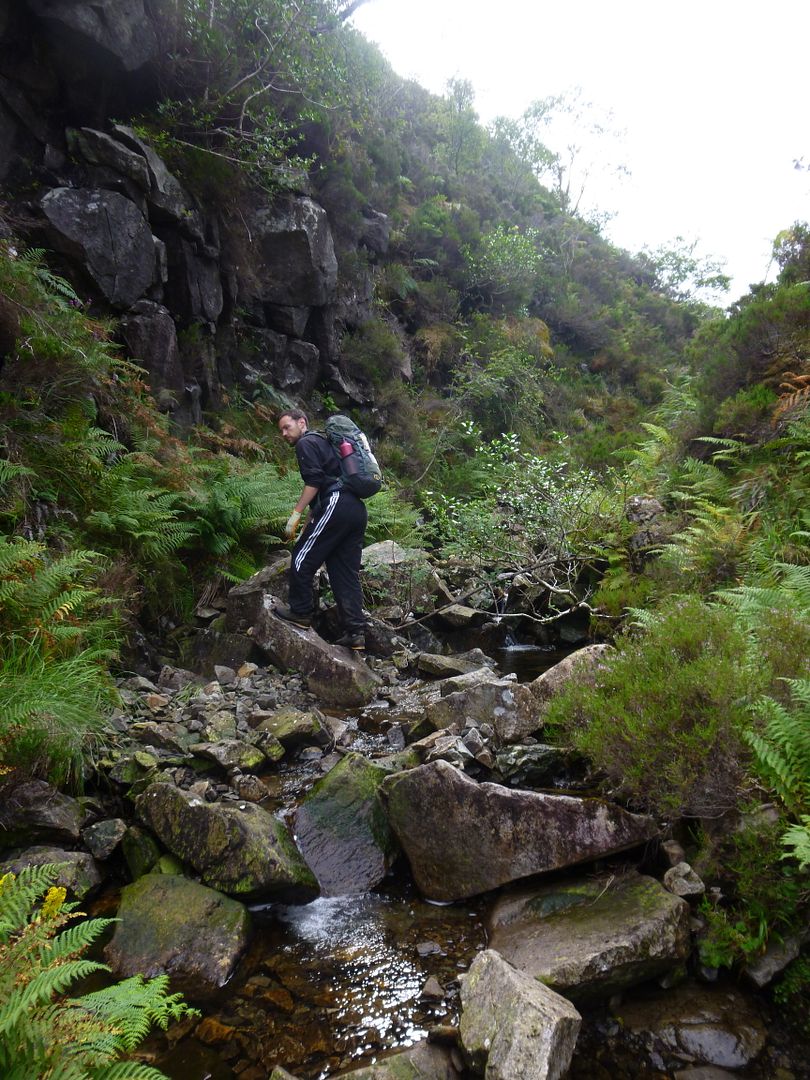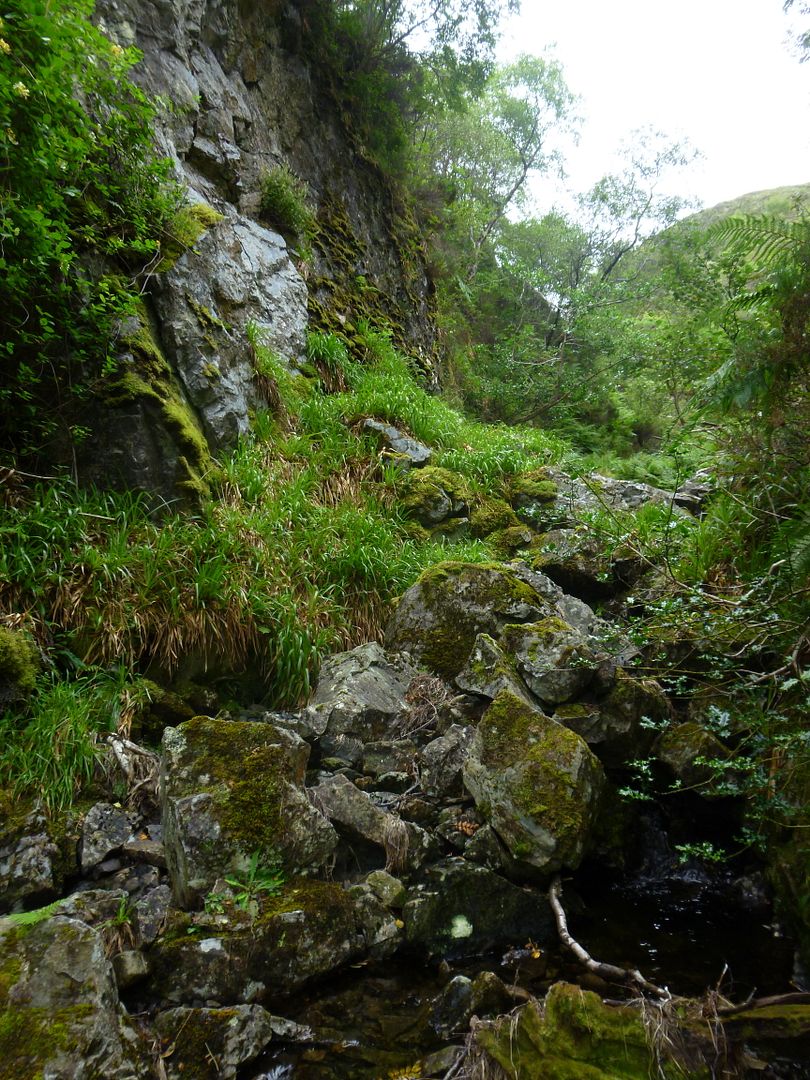 it was easy going for a good bit after that, with only a few slippery water chutes to contend with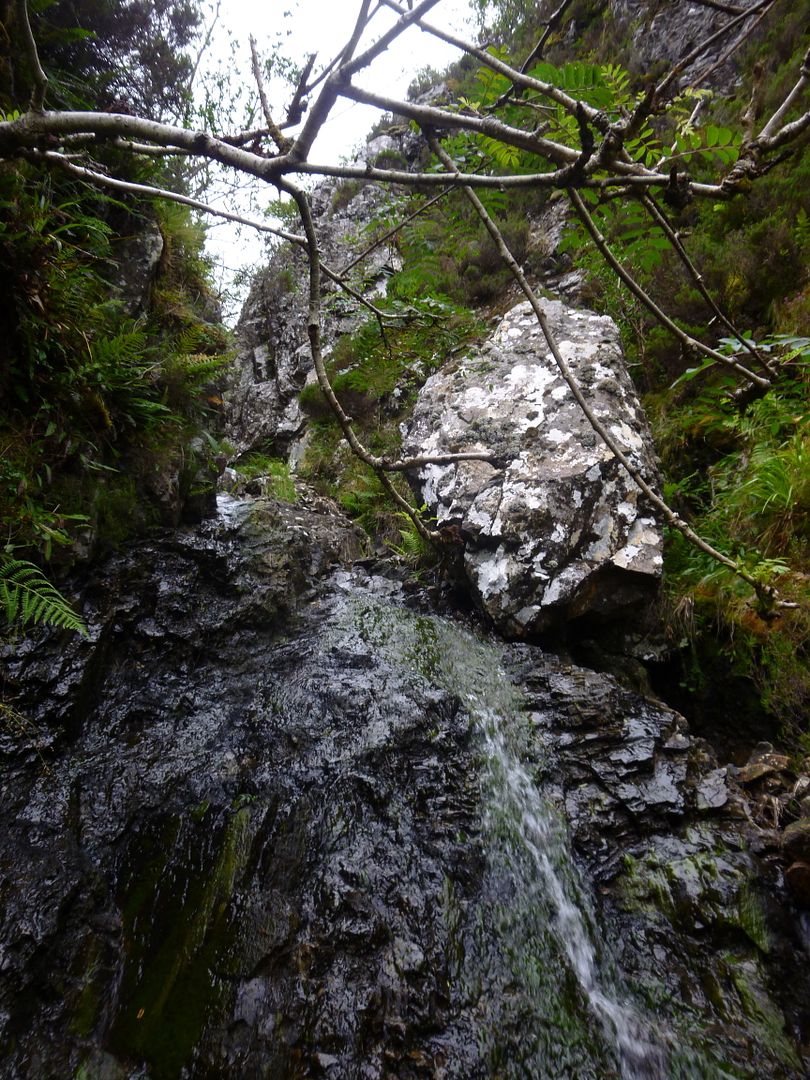 I thought the fun almost over, but the best was yet to come
An awkward step round a boulder took us to a smaller notch within the gorge. With a deep, 10 foot long pool with no stepping stones, it was hard to see a way to the watefall beyond, but Dougie found a way along and up all at the same time
He got up so now it was my turn.. I really didn't think I could do that kind of thing. I made it half up, but fell back down, so tried again, and with a lot of wriggling I managed to get up. It was quite airy with a deep pool below, and I wedged myself in and shuffled very slowly up to the top of the waterfall - Brilliant I had made it
My arms felt all jellyish - definately not used to having m swing on them - and when I looked up, I saw that there was still another waterfall to go
Dougie got up and tackled it in the same way. I followed and found it a lot more difficult as here there were trees growing out if the side if the gorge, so you had to step over them and avoid branches
using willpower alone as I didn't have any strength left, I got up to the top.. Phew, time for a break..We followed the burn for quite a bit further, but eventually, it was just too small and had too much overhanging foliage so we were forced up onto the banks.
The ground up there is absolutely horrific, like walking on a pile of sponges, with heather ripping at your legs. We made for higher ground to see f we could escape it, and got an eyeful of Raasay
Dougie wasn't feeling well, so we stopped on a random boulder before heading on. We tried to link the areas of short foliage together, but it was hopeless, and the sponge of the moss sapped all energy. It may be a small hill, but I expended more effort than I would on your average munro, thats for sure!

We trudged onward at a slow pace, and eventually found the trig. I joked that the only other person to climb this hill would be Malky, and now I'm home, I see he is indeed the author of the only WR on this hill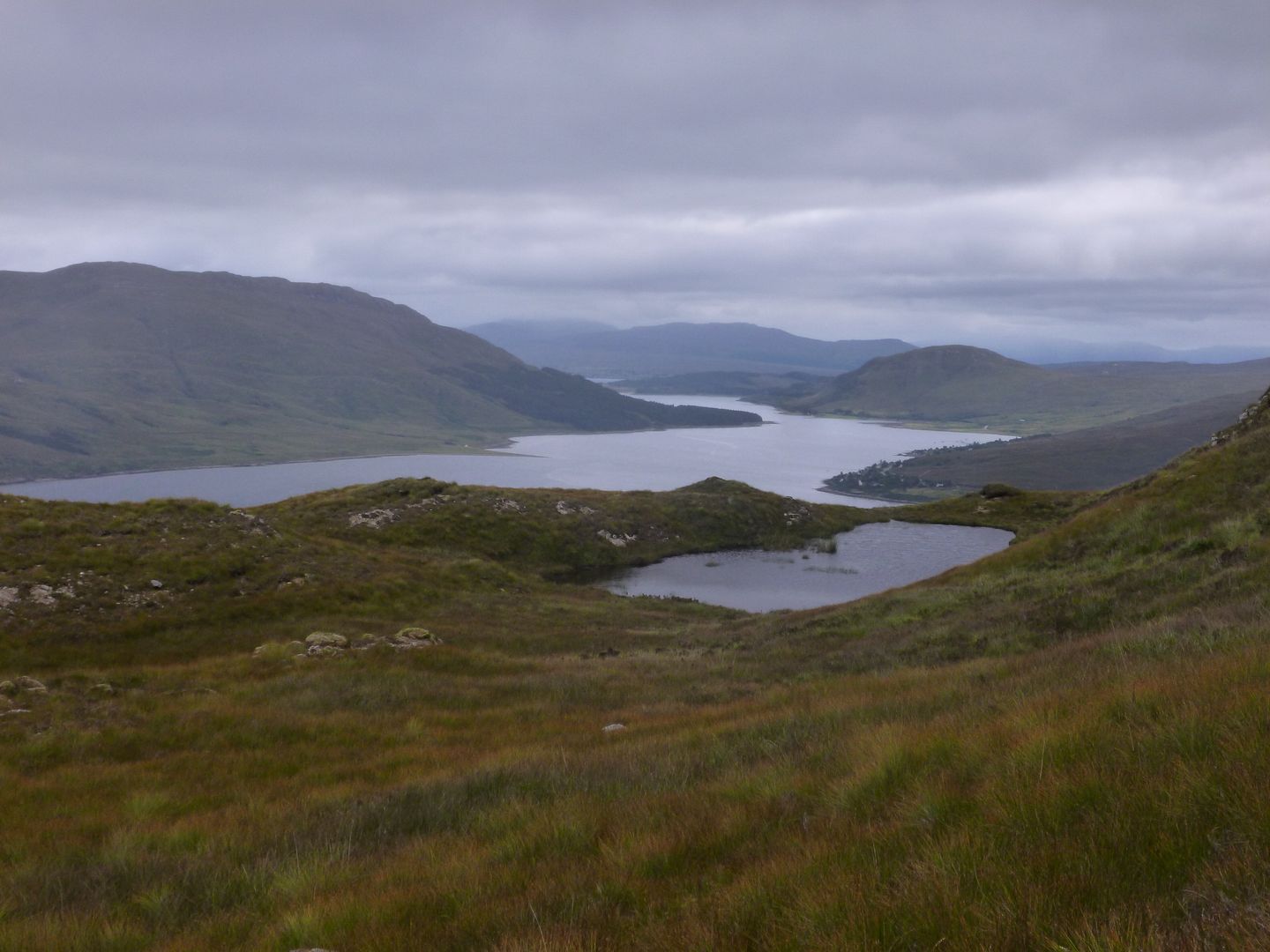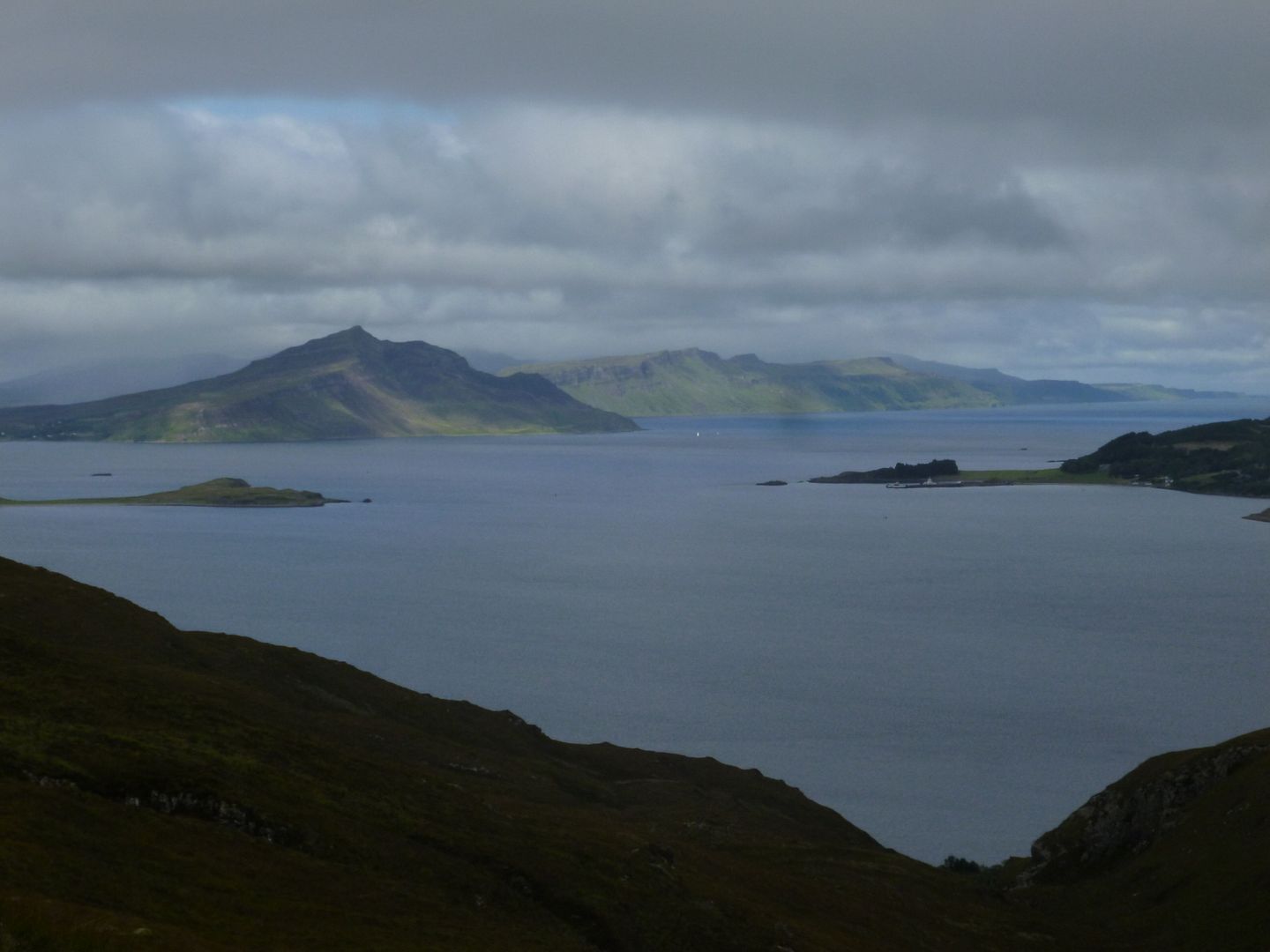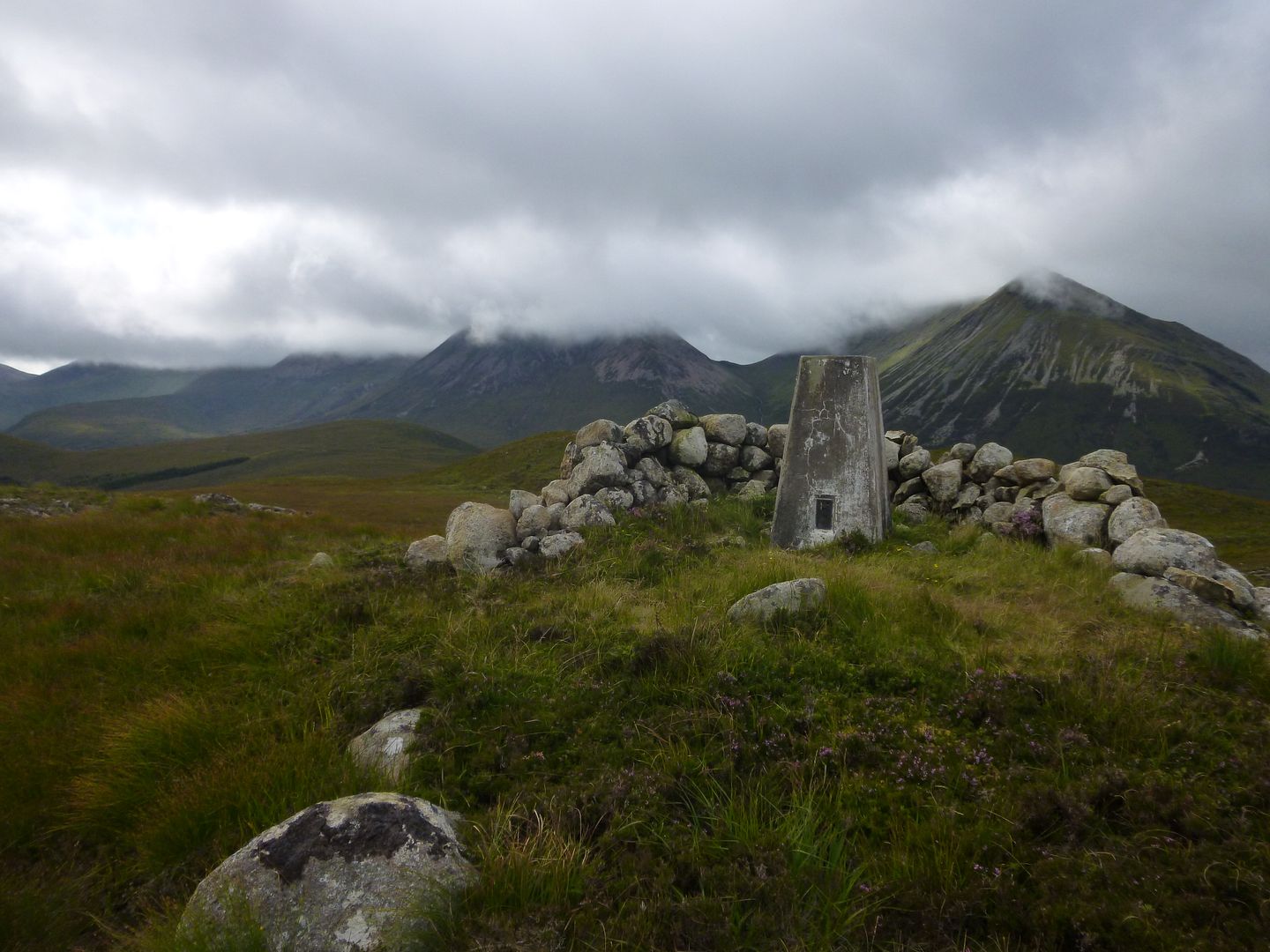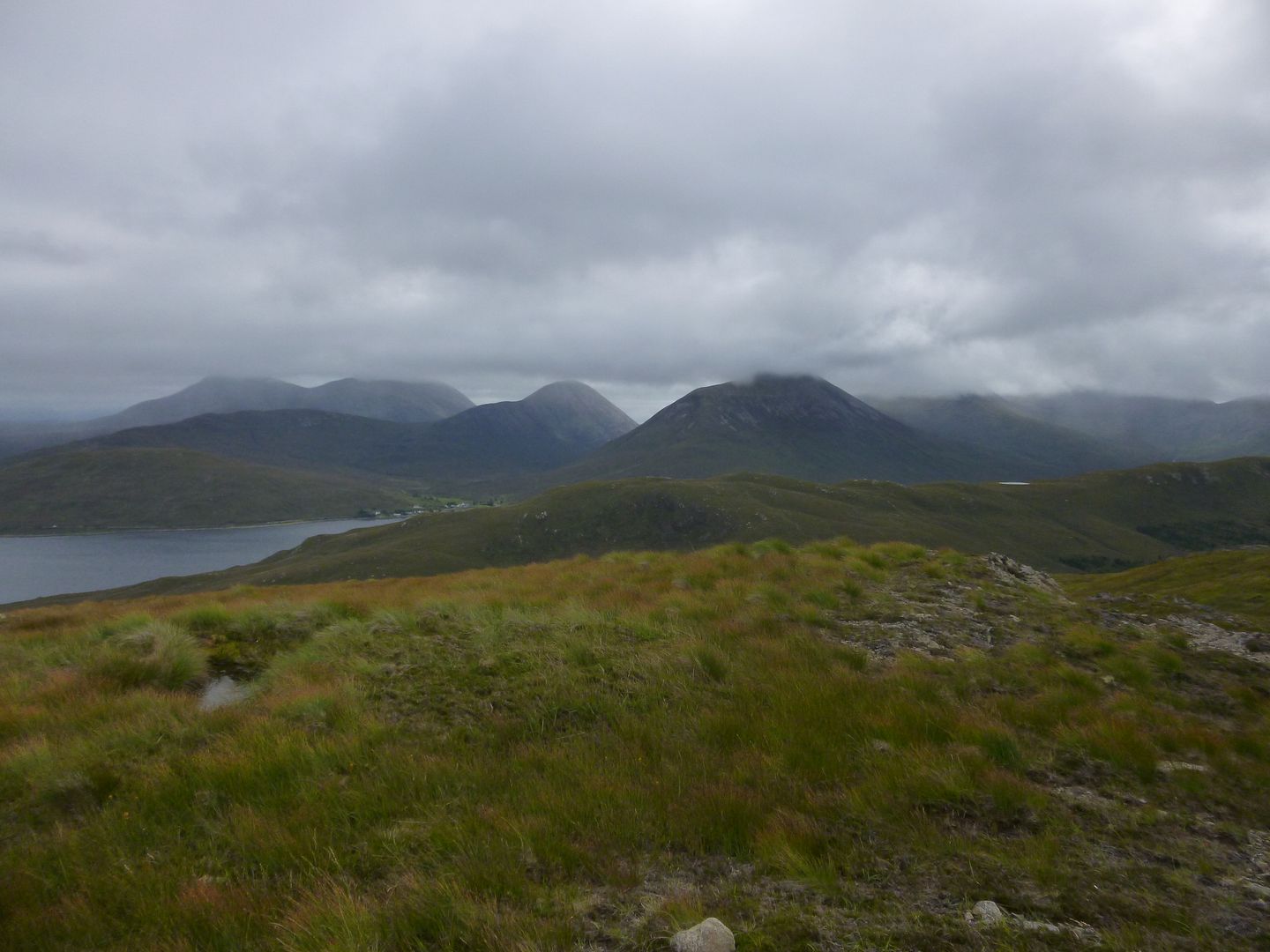 The descent was pretty bad. We followed the ridge for a short distance, but then dropped down to a strip of drier looking ground on the crest beside the gorge. This took us down a bit, but we were soon back on the horrific ground, it getting even worse the closer to the road we got.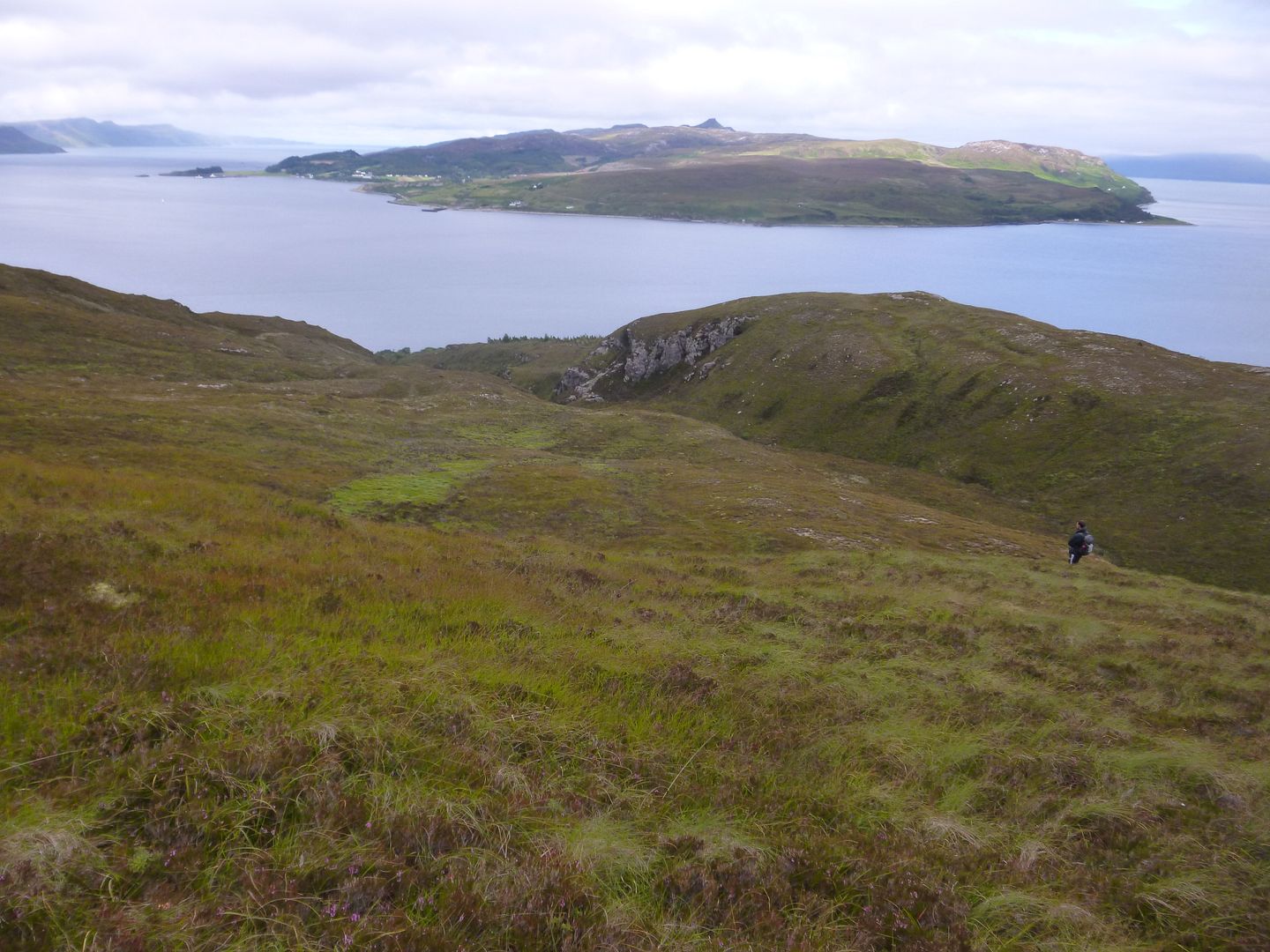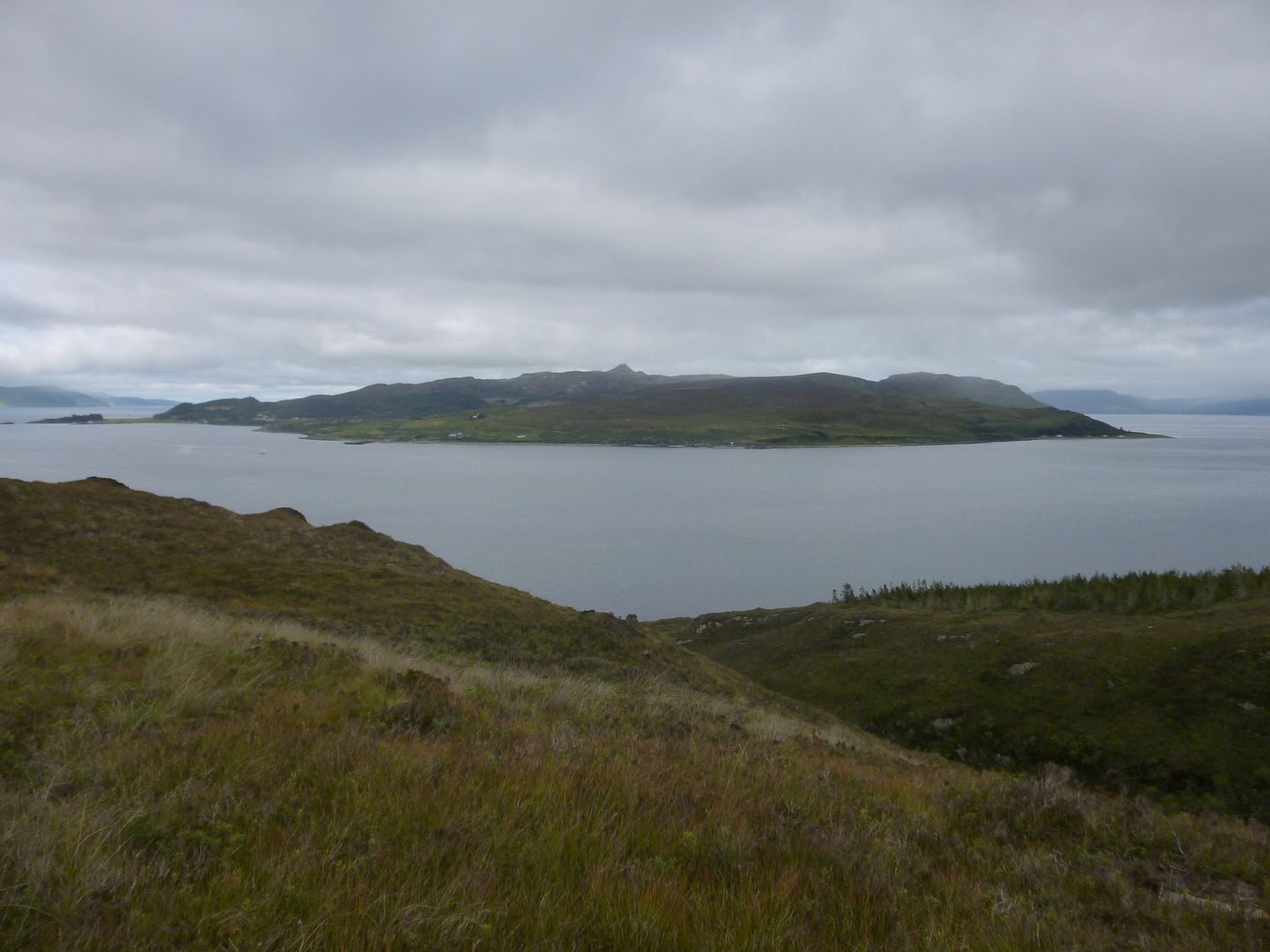 If you want to walk up this hill, I would say it is virtually impossible from this side unless you go up the gorge
Nevertheless, we had a good half day on her, so worth a look.