Following our successful ascent of Quinag 3 days earlier, there was still time and further good weather to enable us to tackle another hill. Canisp seemed a good idea as it seemed a reasonably steady walk in with the promise of excellent views of Suilven and the rest of Assynts Hills. Canisp has always seemed to me as the "runt" of Assynts hills. It has no redeeming features that make it a high priority, other than its close proximity to Suilven.
We had a late start and did not park up until 11.00. We were all feeling rather weary after the long walk to and from Sandwood Beach the previous day and a long stint sun bathing on the beach (its a tough life!). The Walk Highlands Walk report promised a boggy start and so it was to prove. I'd uploaded the GPX route so it was a pretty straight forward case of following the straight line that lead to the summit.
However, first we had to cross the burn and, stapled to the bridge, 100 yards from the road was a sign indicating that stalking may be taking place and walkers should contact the Estate. Not the best of starts. I had done some research and had established that the major routes, including Cul Mor, Suilven and Stac Pollaidh could be walked without restriction and had assumed that Canisp would be the same. With limited phone signal, we could not make the call, but decided that we would carry on and make the call as soon as we got a signal. I comforted Bec in the knowledge that a) we were not trespassing and b) we were highly visible.
The initial stages were extremely boggy and height was gained very slowly. As we looked back we saw another couple striding out and so I was able to convince Bec that all must be OK as they MUST have contacted the Estate!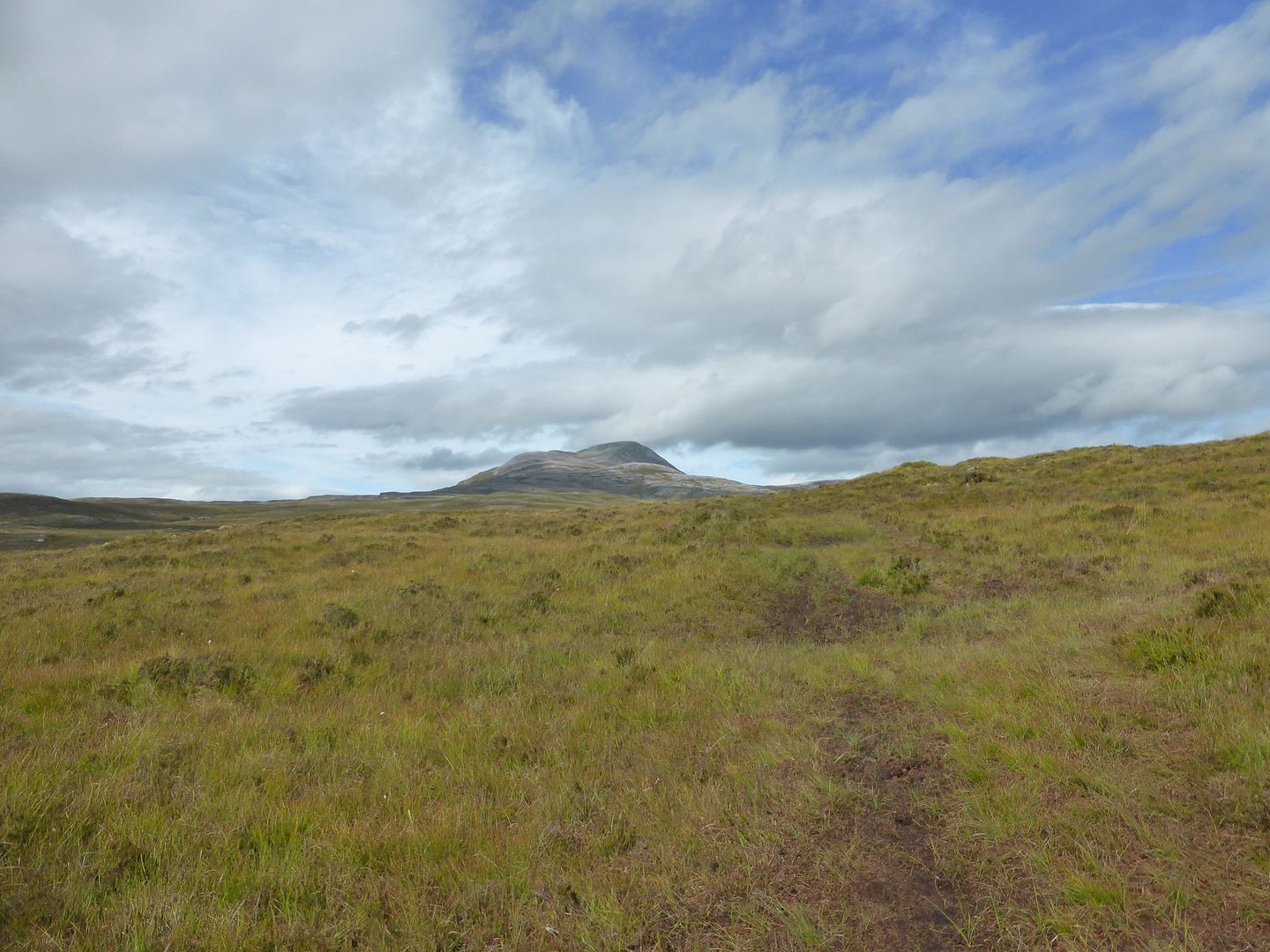 Once through the seemingly never ending bog, we finally got to rockier ground and the route became slightly more enjoyable, especially where the path followed large slabs, reminiscent of those on the way up Creagh Mhor on Quinag. However, with both the route ahead and behind hardly ever changing, I have to say, it was rather boring.
Searching for newts in the pools added a bit of interest and Carter and I tried to imagine that, if we were managing to spot them in most pools, how many thousands there must be on this hill?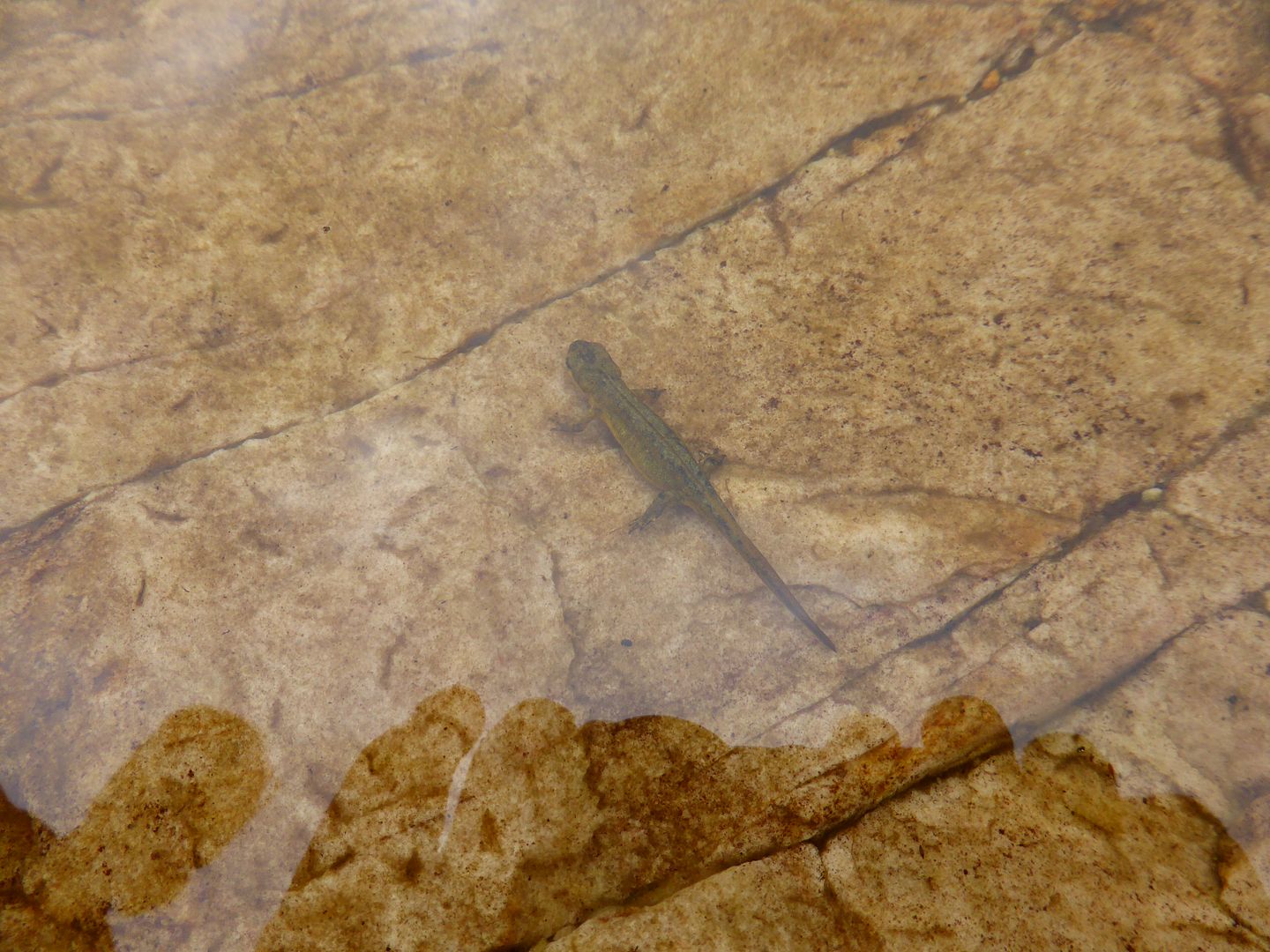 Eventually the views began to open up.
Looking back to Conival and Ben Mor Assynt
Cul Mor and Stac Pollaidh
It was at this point that we decided to stop for some lunch and I was becoming slightly concerned about Moley's ability to carry on. She was struggling and without her lead, she would just stop and with it, I felt I was having to drag her. A combination of tackling Quinag, the stoney walk to and from Sandwood and huge amounts of digging on the beach seemed to be giving her problems and examination of her feet showed her pads were red and sore.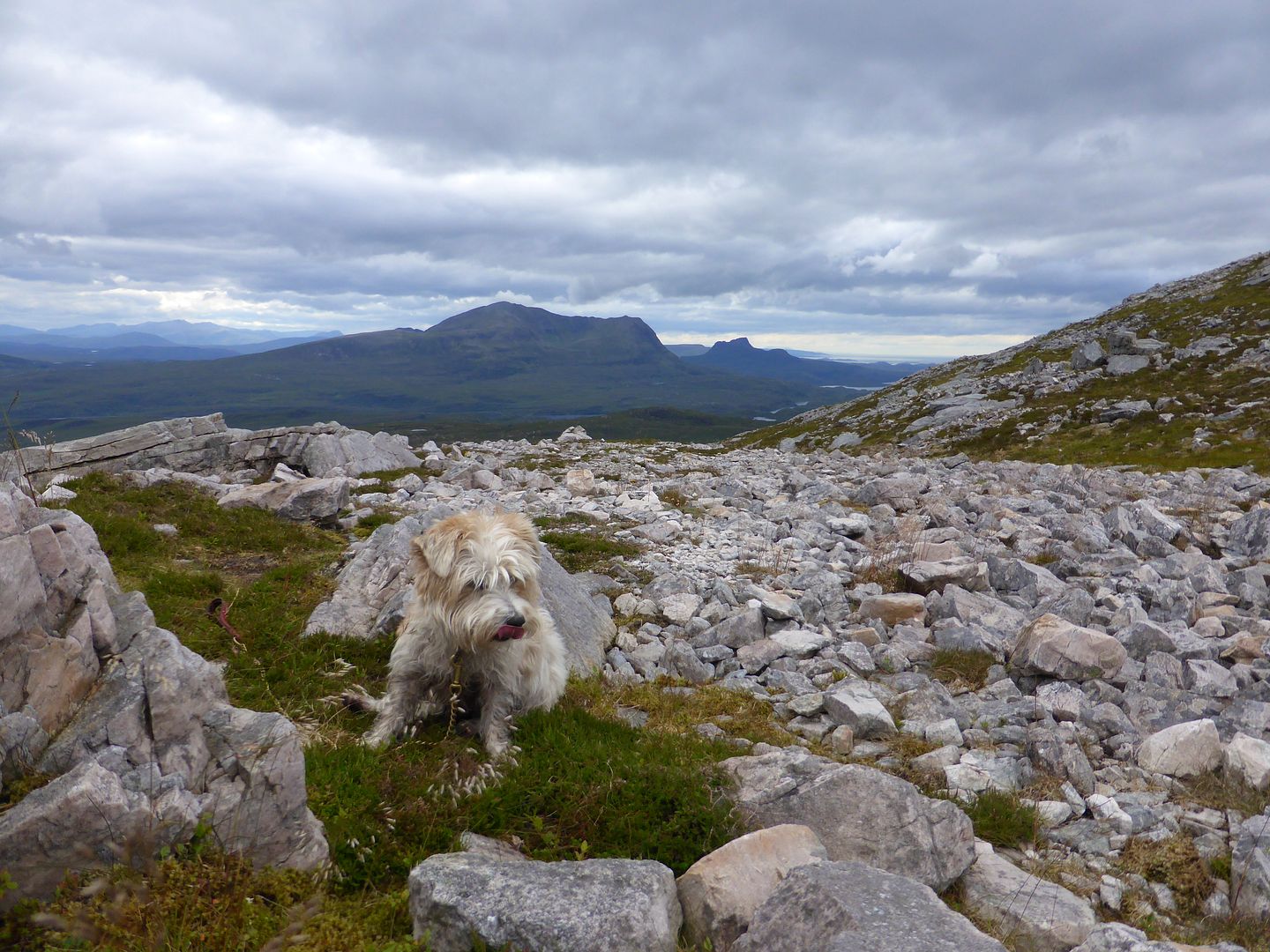 Looking ahead, there was still considerable distance to go and the ground was getting rockier.
And so, a decision had to be made. It was either turn back, or make use of the excess space in my rucksack to accommodate a 9 kilo dog. She was more than happy to take advantage of the ride and so it was, were were able to continue on with our expedition.
This speeded up progress, but the climb itself was still slightly dull
Until, at last, as we finally found our way onto the left hand shoulder, Suilven was revealed adding a new dimension to the walk.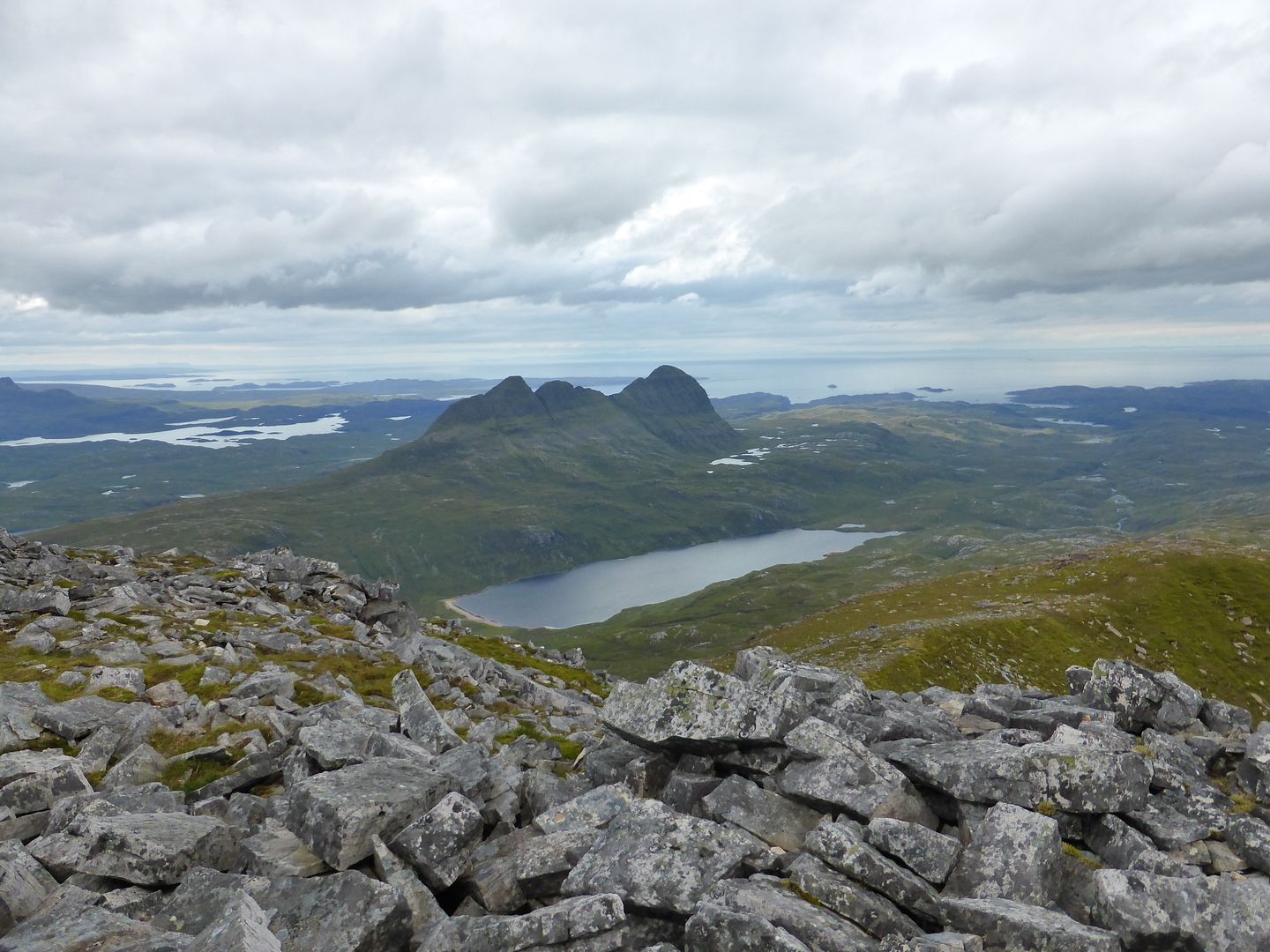 The walk now became more interesting with a much steeper climb up onto the summit. In no time atall, the summit cairn was in front of us and, after 3 1/2 hours we finally made it to the summit of Canisp. Another Corbett achieved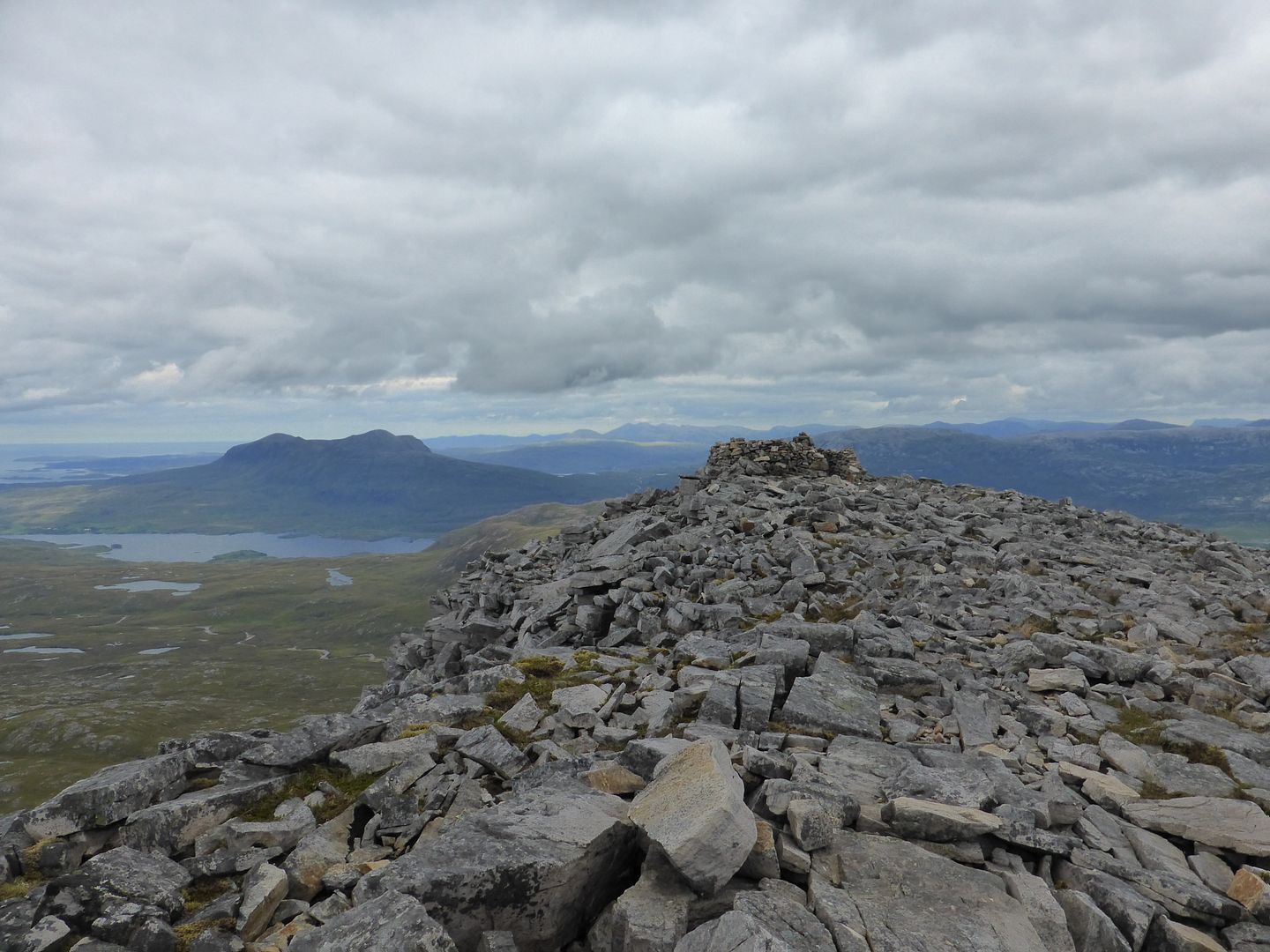 The view West
Magnificent Suilven
Suilven zoomed
Carter eyeing up his next target (I climbed Suilven last year in the clag and plan a return trip, this time with Carter)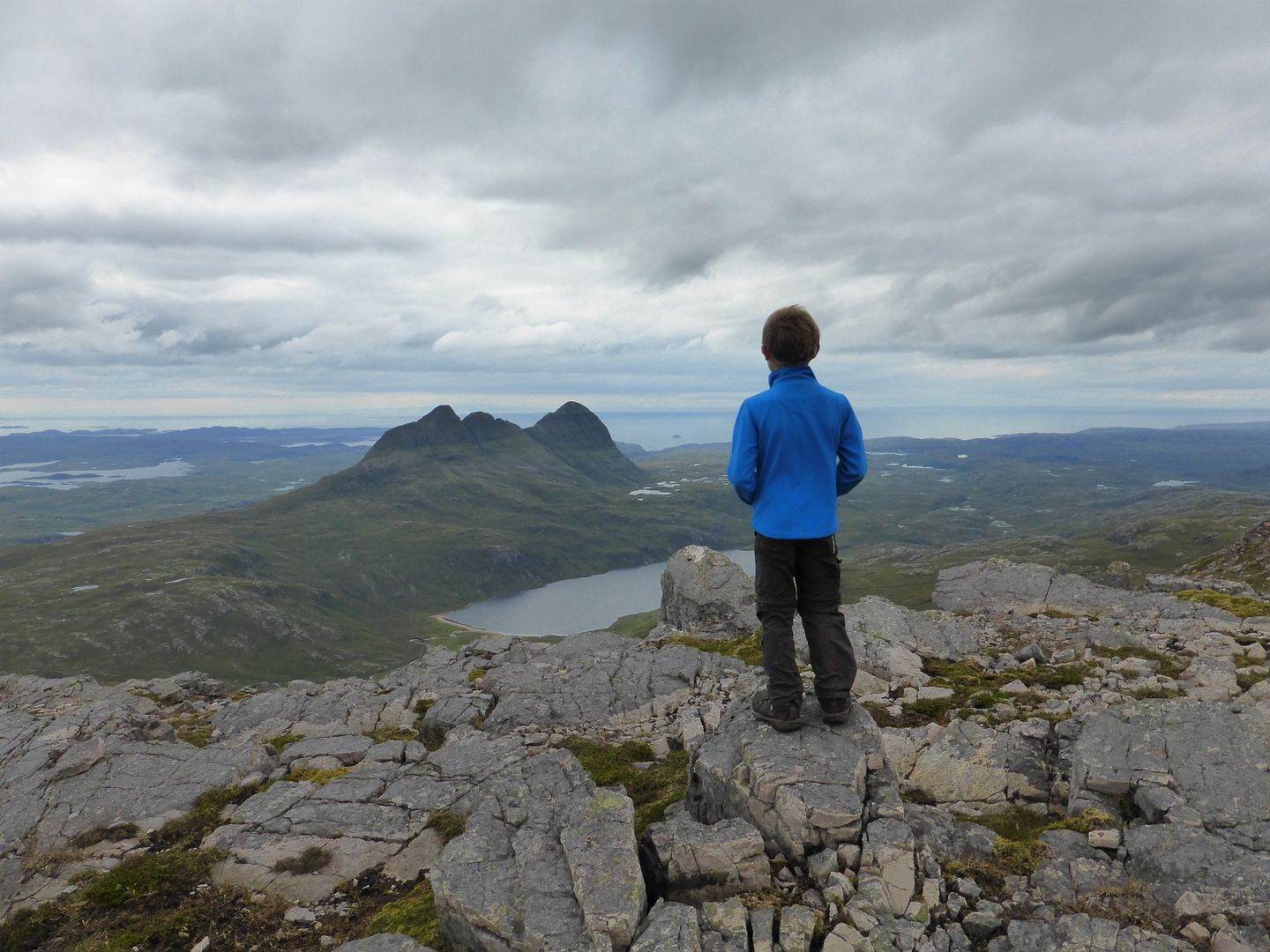 Job done, we set off for the walk back. It took ages, the path was hard to follow (although you did not need a path as the route back was obvious)
To summarize, Canisp left me feeling uninspired. I was pleased we did it and we all enjoyed making it the summit and the views of Suilven were spectacular, but is was a bit of a slog up never changing terrain, with the only enjoyable climb being the final 100 metres to the summit.
The final half mile was back through the bog fest with tired legs. At least Moley's legs remained dry!