So this weekend, Dougie suggested going up to Glen Affric.. He had 5 of the ridge left to do – suited me fine as it was a long standing ambition of mine to bag some of the Glen Affric munros from Glen Affric
We arrived late on Friday night – long Drive from Edinburgh. It was drizzly, and waning moon + cloudy = very dark indeed
We set off up the track from Chisholme Bridge, just brief glimpses of bracken and heather either side of the track. We reached what I thought was about half way to our intended camp spot, only for Dougie to inform me that we were very close and sure enough, the heather and bog gave way to the odd grassy patch and we found a spot no problem. Of course it was raining when we started to put up the tent, but stopped as soon as we got it up! We were plagued by daddy long legs – midges too, but they seemed tame compared to the long legged menace
It is always an absolute joy to find oneself in idyllic surroundings after a walk up a glen in total darkness. It was brilliant to wake up there
Of course, having such a late night, I went back to sleep again and it was 11AM before we finally got our **** together and started to pack up. The rain gods predictably dumped another shower on us just before pack up time, so tent was to be a wet, dead weight all day – oh the joys..
So it was up the hillside toward Toll Creagach. This was the worst part of the weekend, a slog through endless soft bog. The last time Dougie was out it had been in the Dolomites, and this was about as far away from the fun we had there as could be..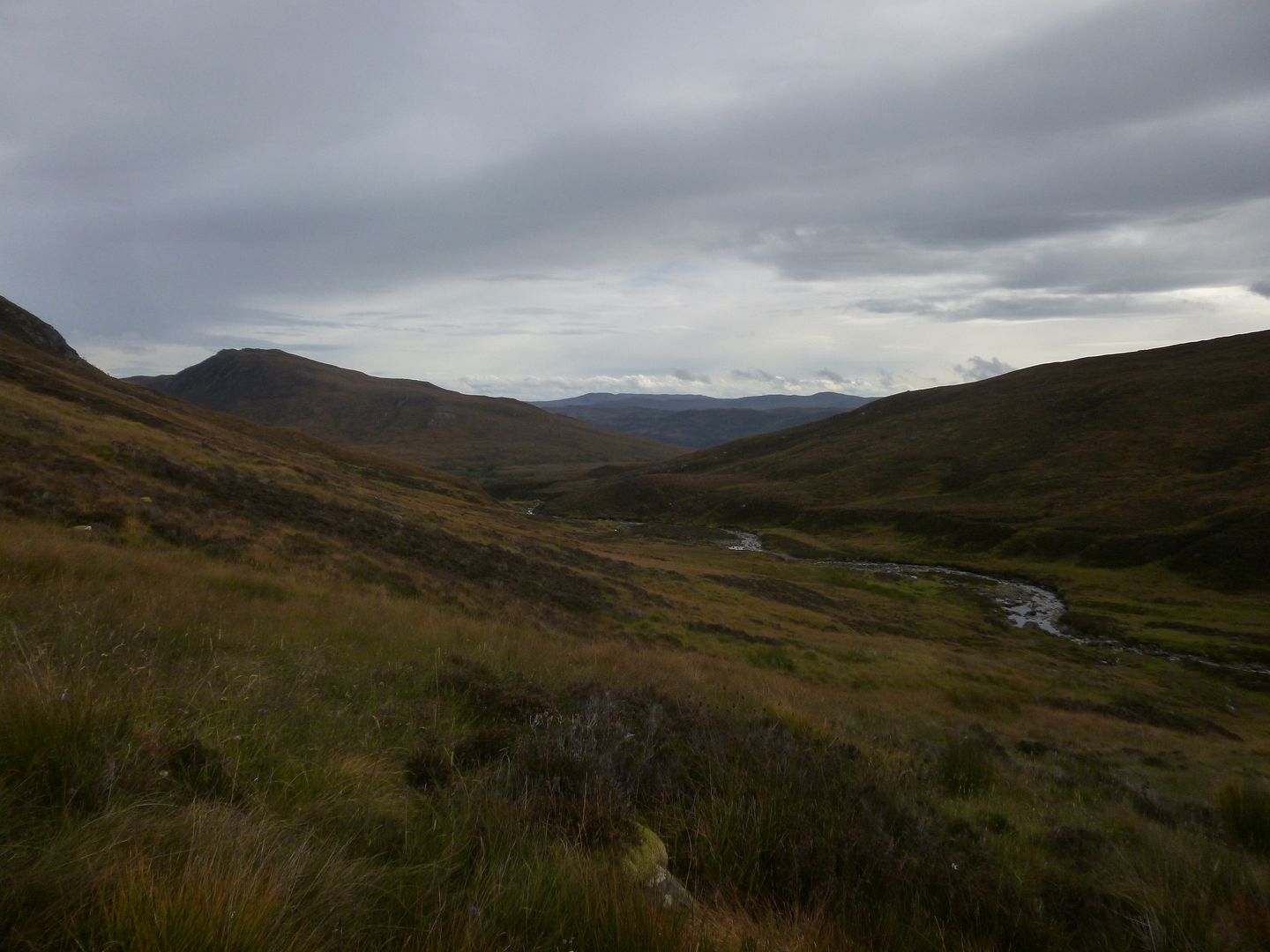 A huge bird of prey circled high above – big enough to be an eagle probably, but just too far away to tell for sure.
Eventually we made it up to the summit and the nice views over Loch Mullardoch to Strathfarrar and StrathCarron.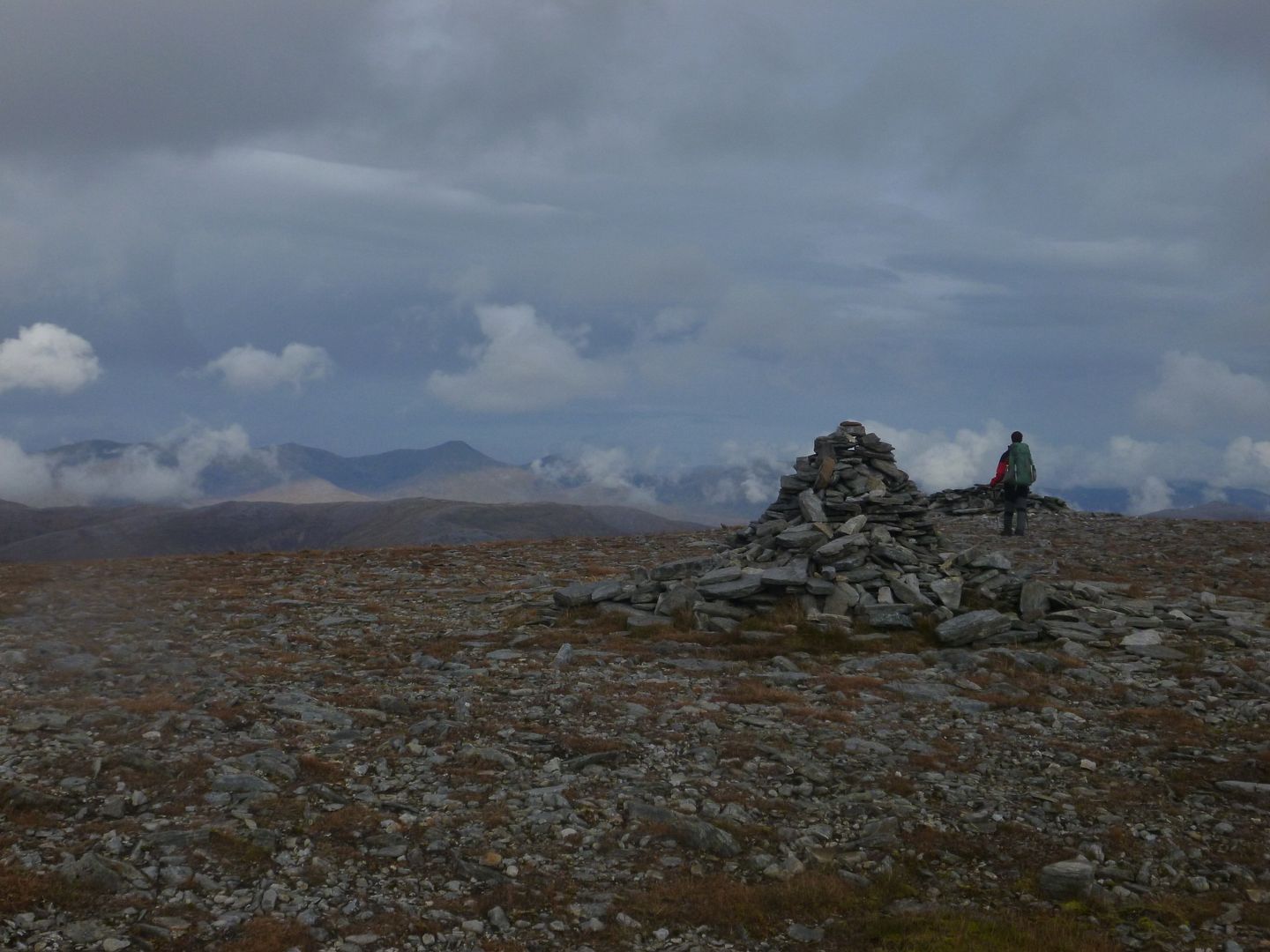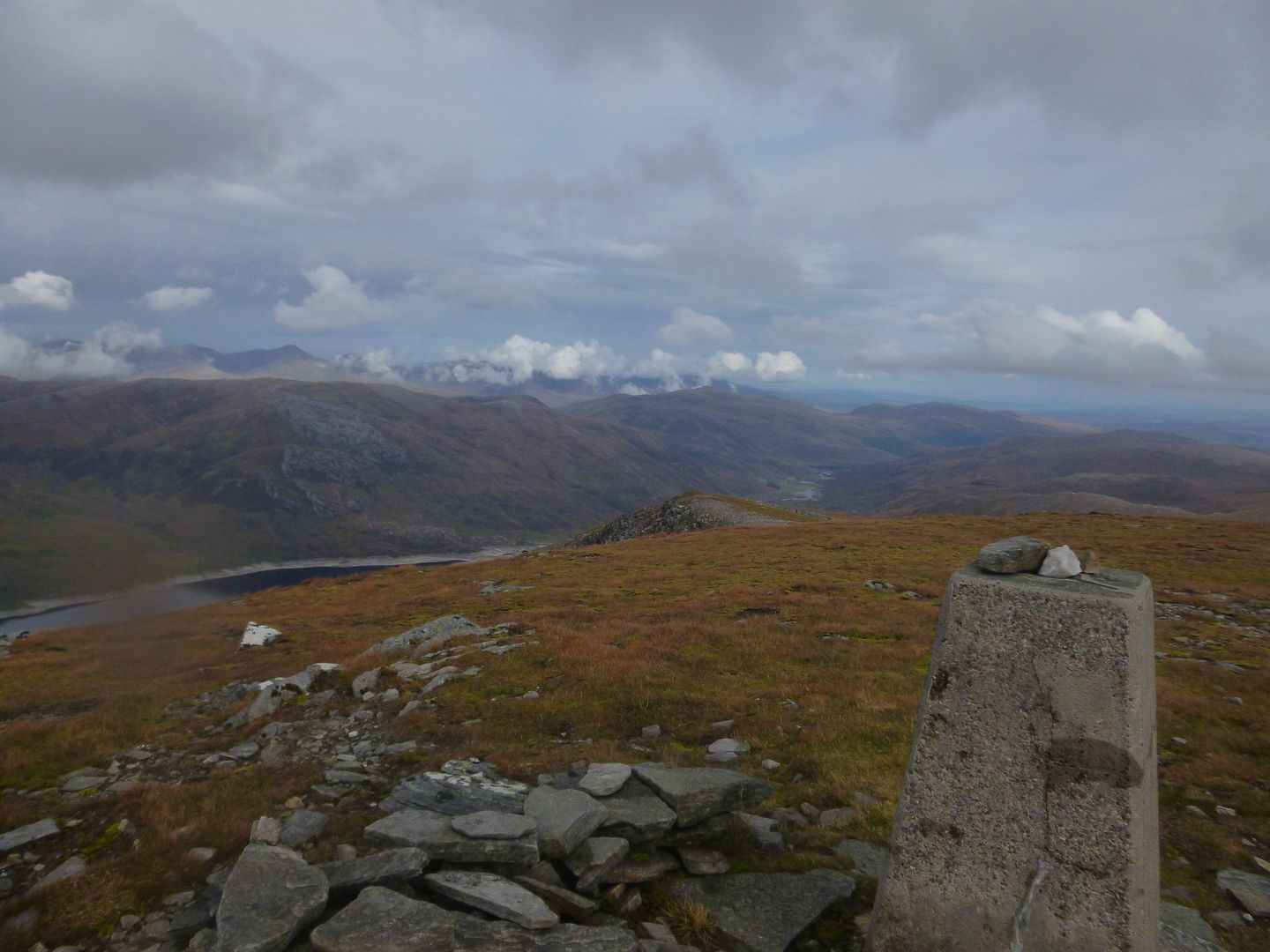 We knew all the bog was behind us as we headed down the ridge – I had of course walked the ridge in the other direction - a few years ago now and its funny the things you remember and forget about a route.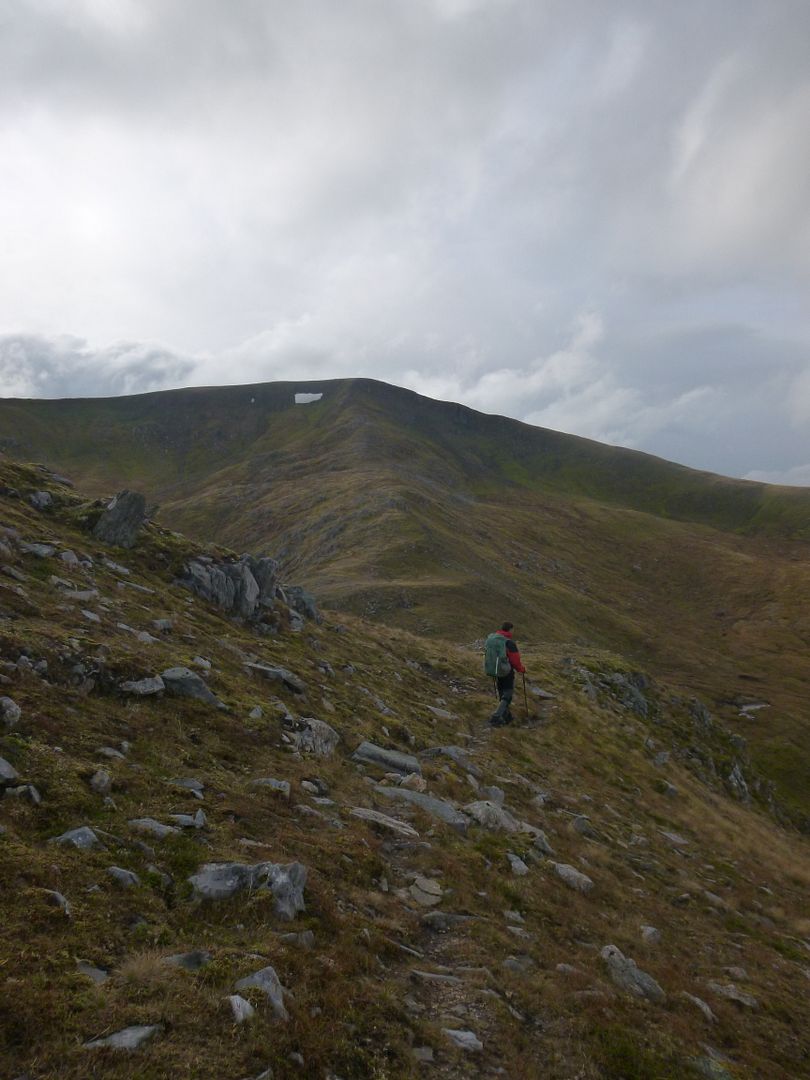 We walked easily down to Bealach Toll Easa, where we stopped for some lunch before the climb up to Tom a Choinich. I followed the route of the old path just for a lark, Dougie took the baggers path. Our paths crossed quite often, and the climb wasn't nearly as steep as it looked.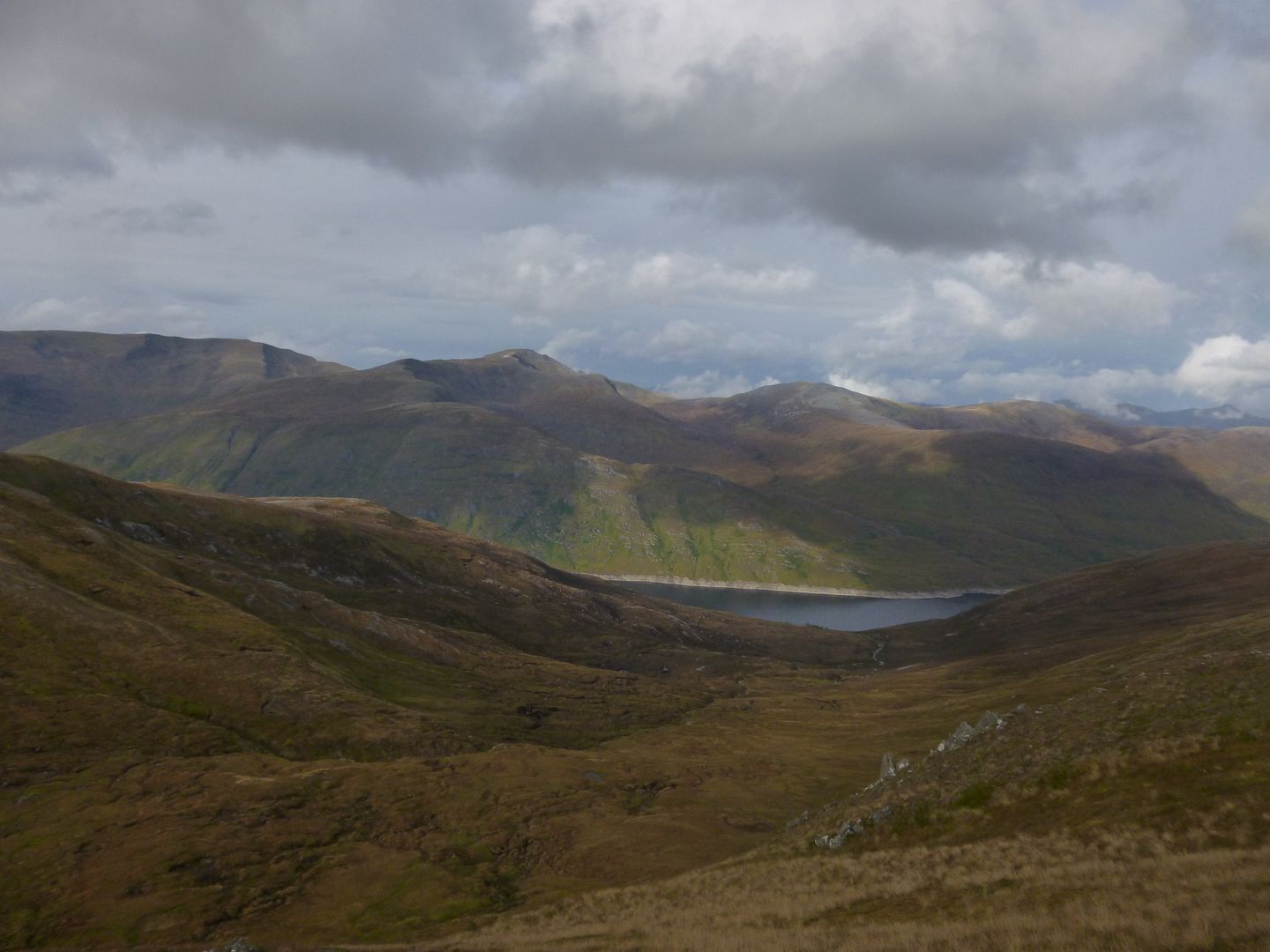 Because of our Midday start, our shadows were already lengthening, and we had a long way to go to our intended camp spot near Beinn Fhionnlaidh!
We carried on down the ridge, trying to bypass in places, but this invariably led to rocky, tricky ground. At least it led to some interesting underfoot conditions instead of baggers path all the time.
There is no avoiding the climb up Sron Garbh though, it was rocky, steep and tough for the most part, so the stone steps further up are reached with some gratitude.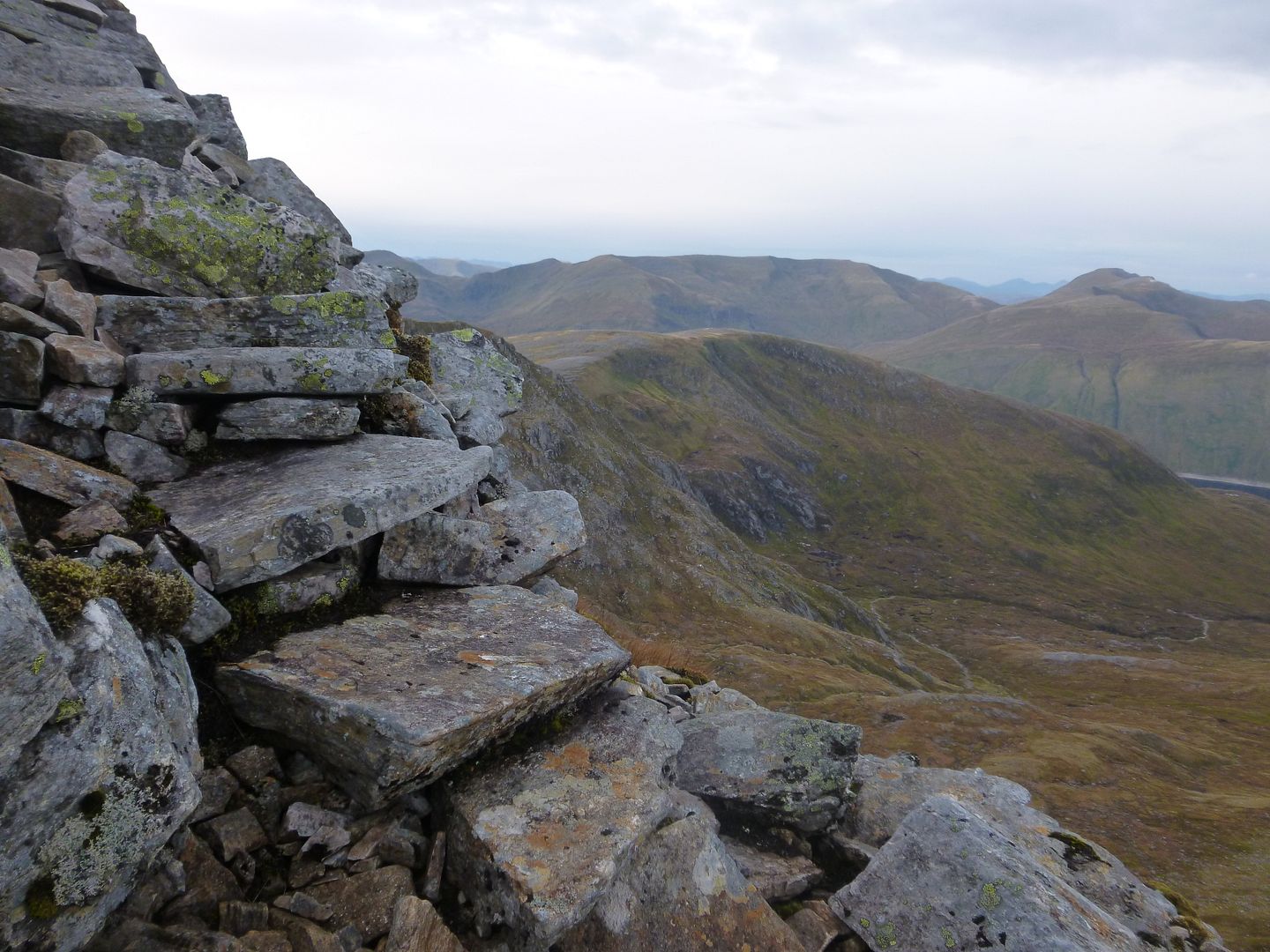 This leads up to, in my opinion, the best part of the whole Affric ridge, plenty of arêtes and pinnacles for amusement. This was the bit I wanted to do again, it being a real pea souper the last time I passed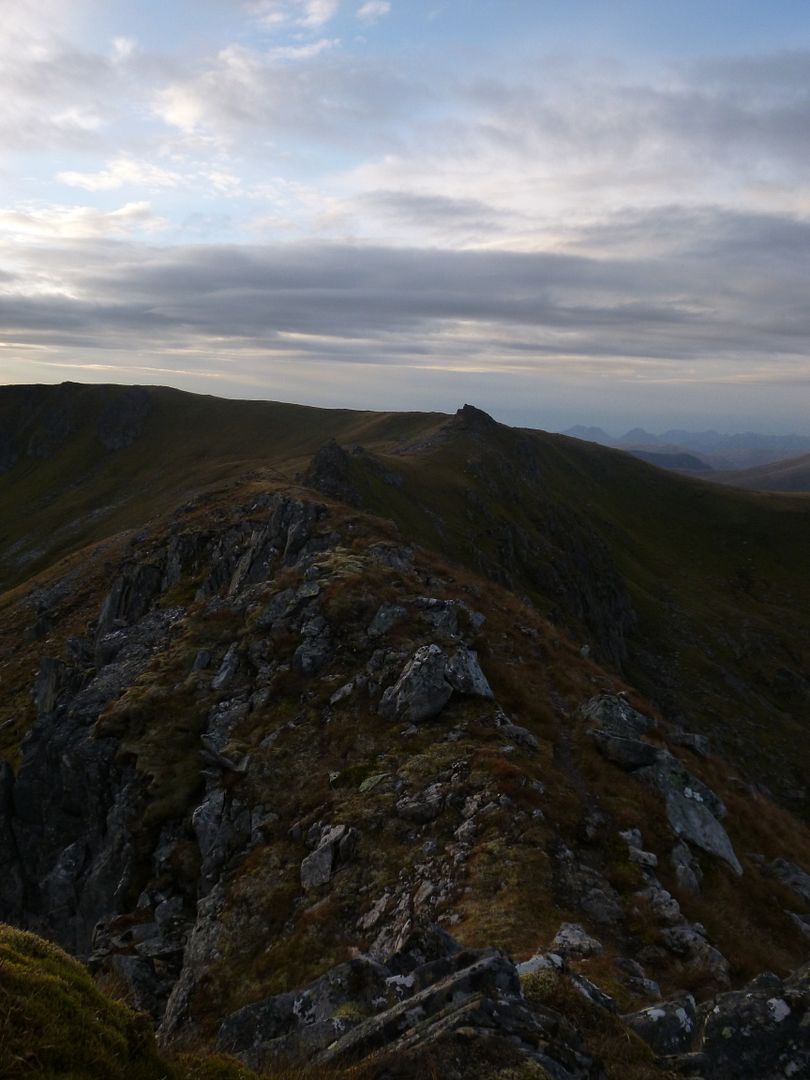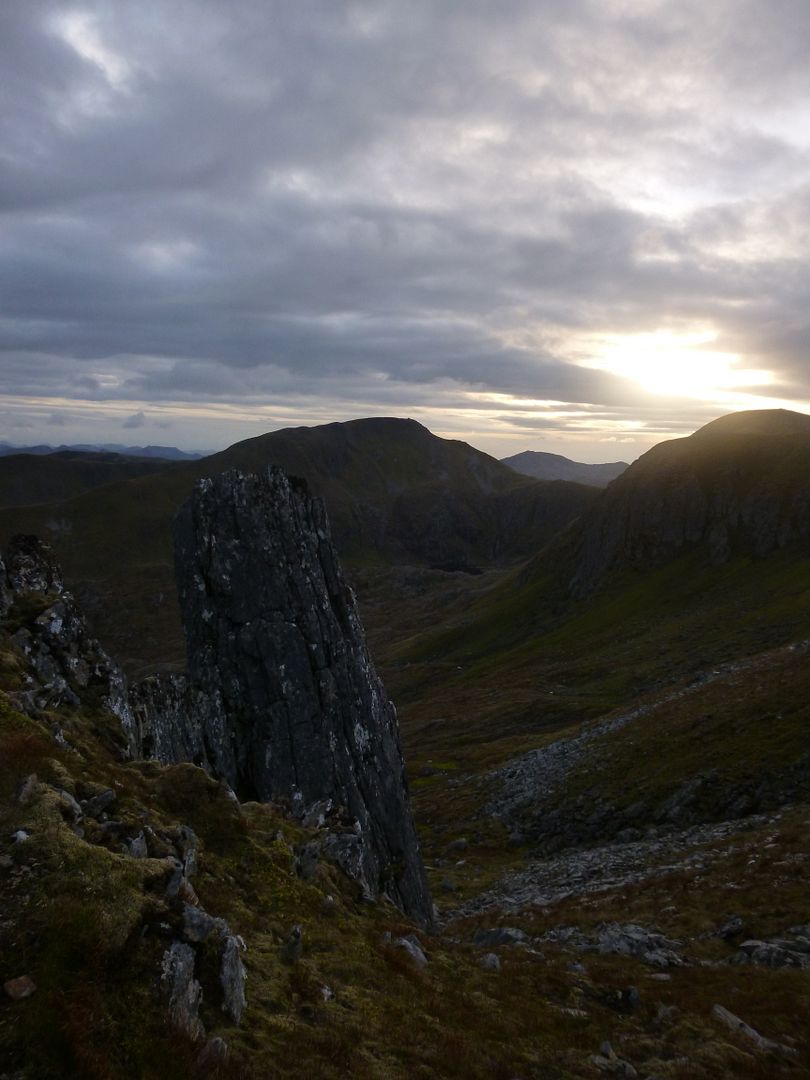 It was strange to look down on Beinn Fhionnlaidh from above, and know that there is still climbing to go up to Carn Eighe.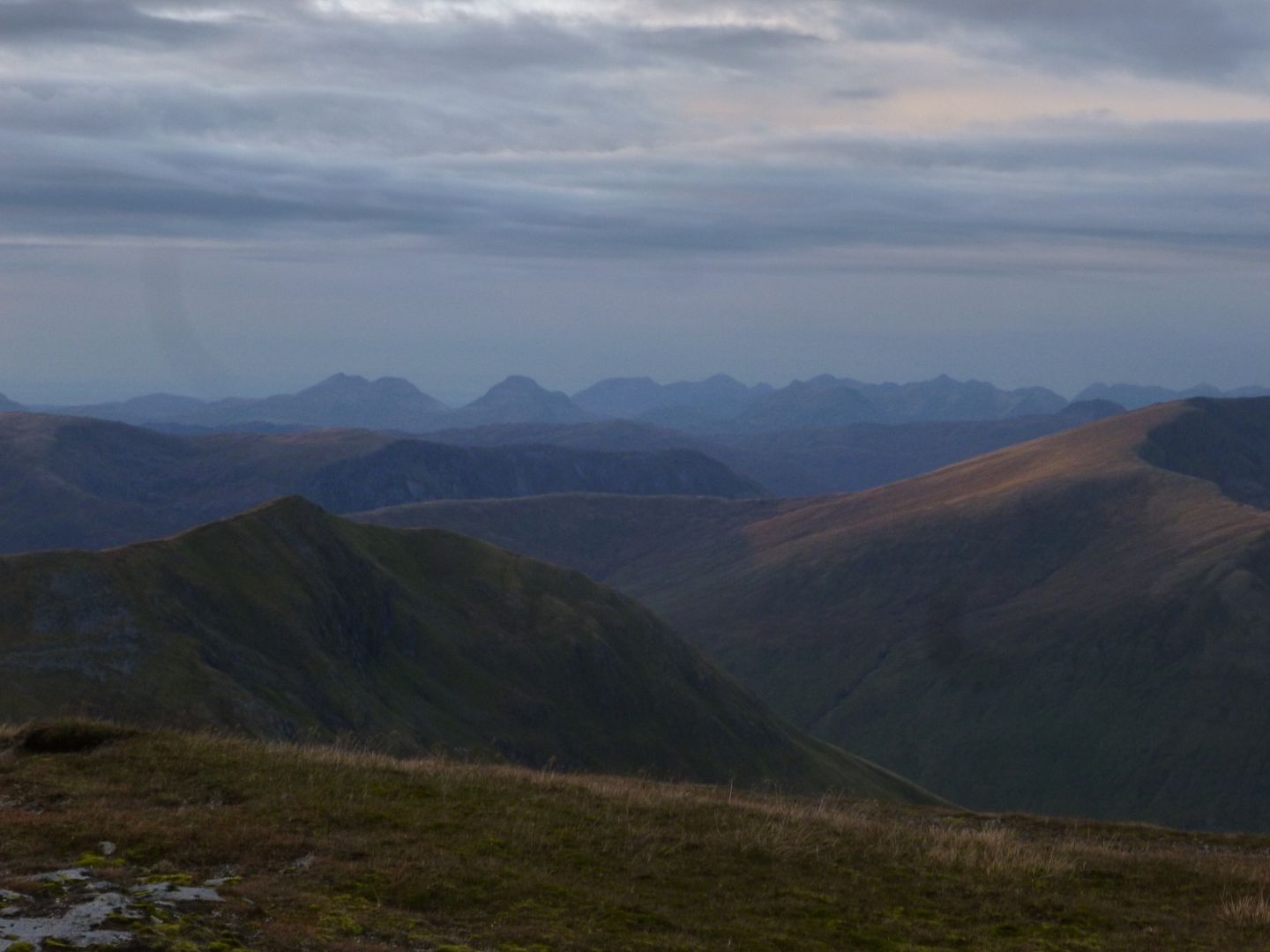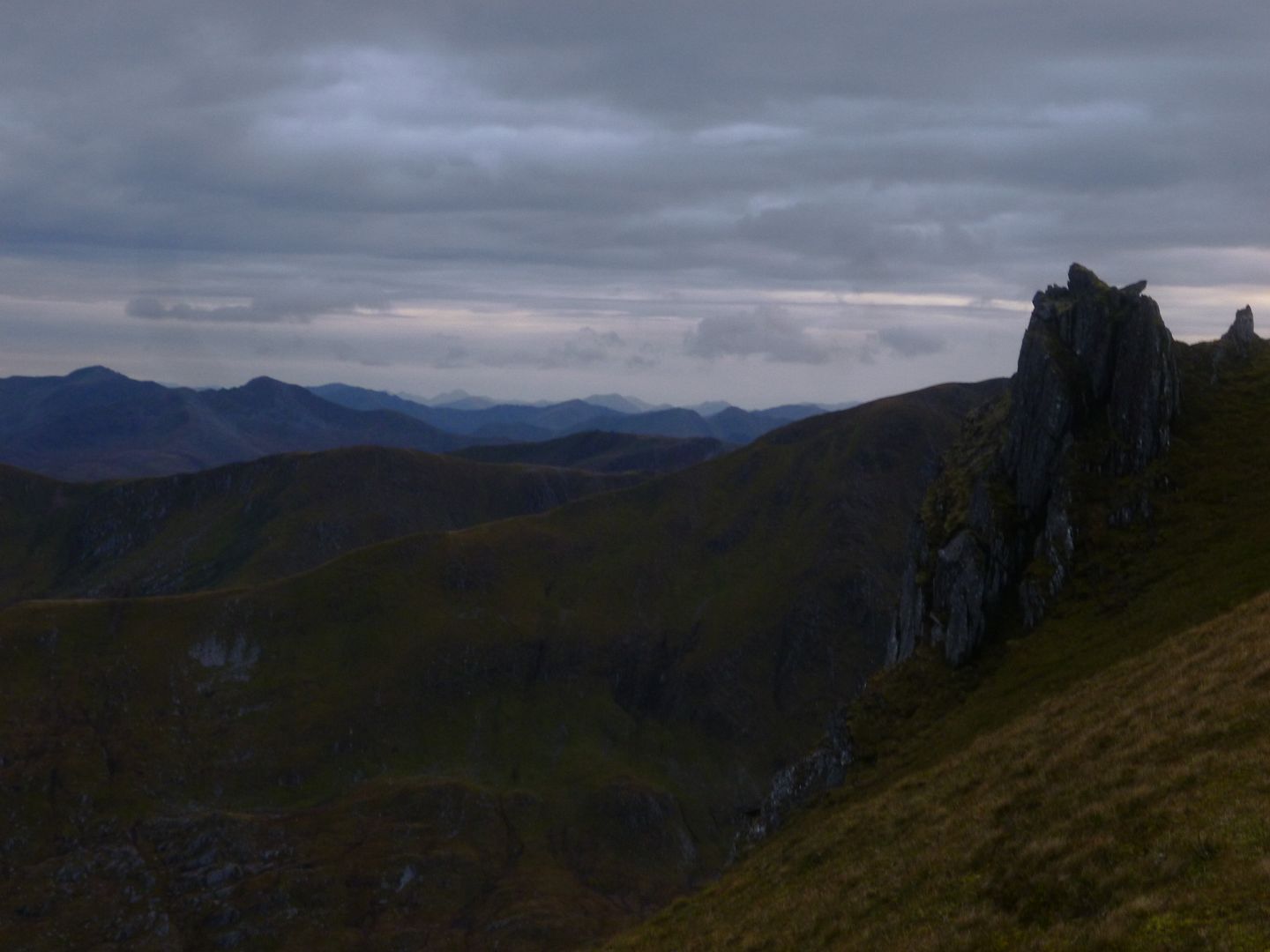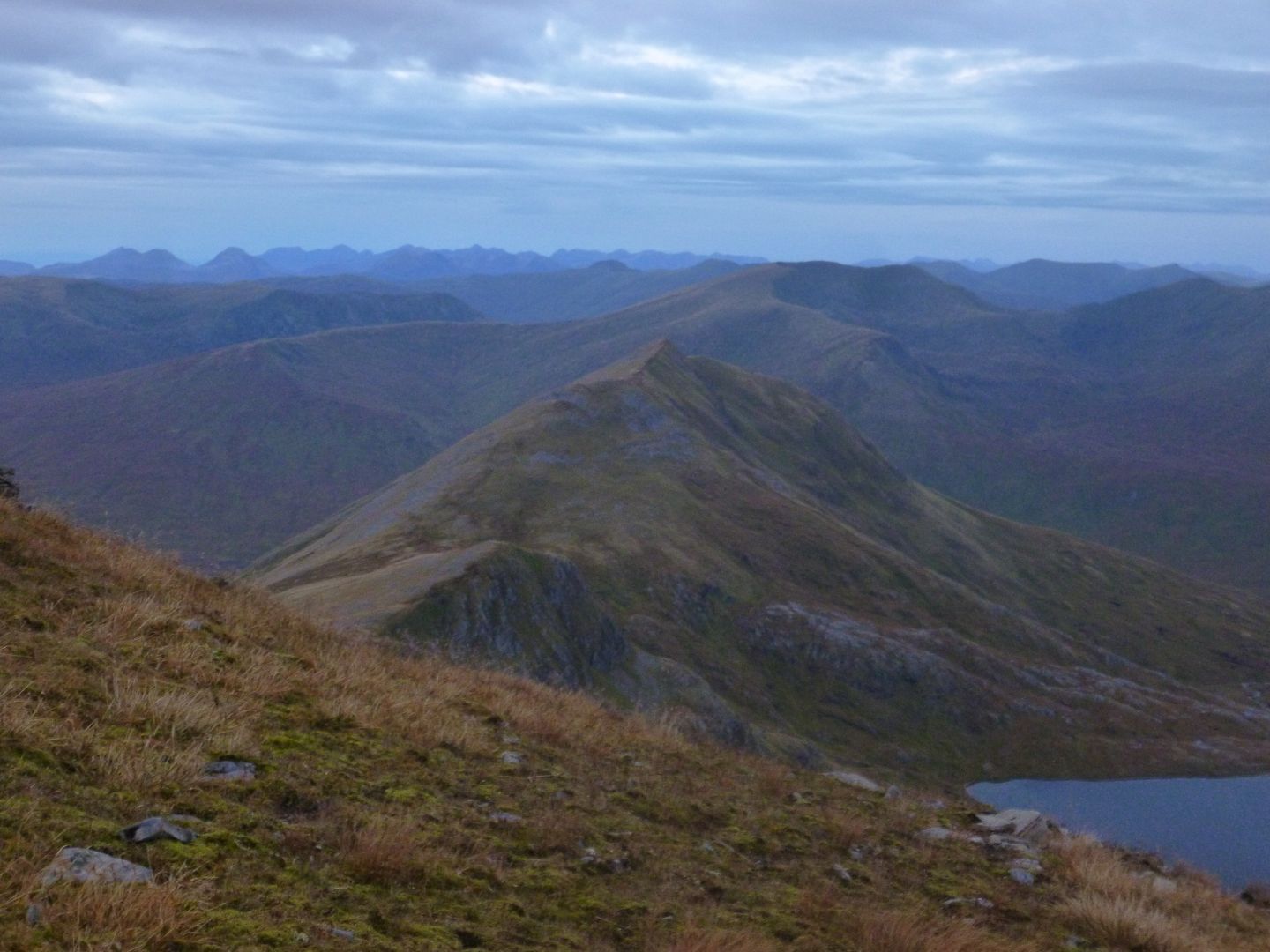 There were some pools on the ridge we thought we might camp next to, but they turned out to be deer watering holes – full of poo, so we carried on.. I wrongly remembered bealach Beag to be only 20 mins from here..
There was an easy climb up grassy slopes to the summit, arriving just after sunset..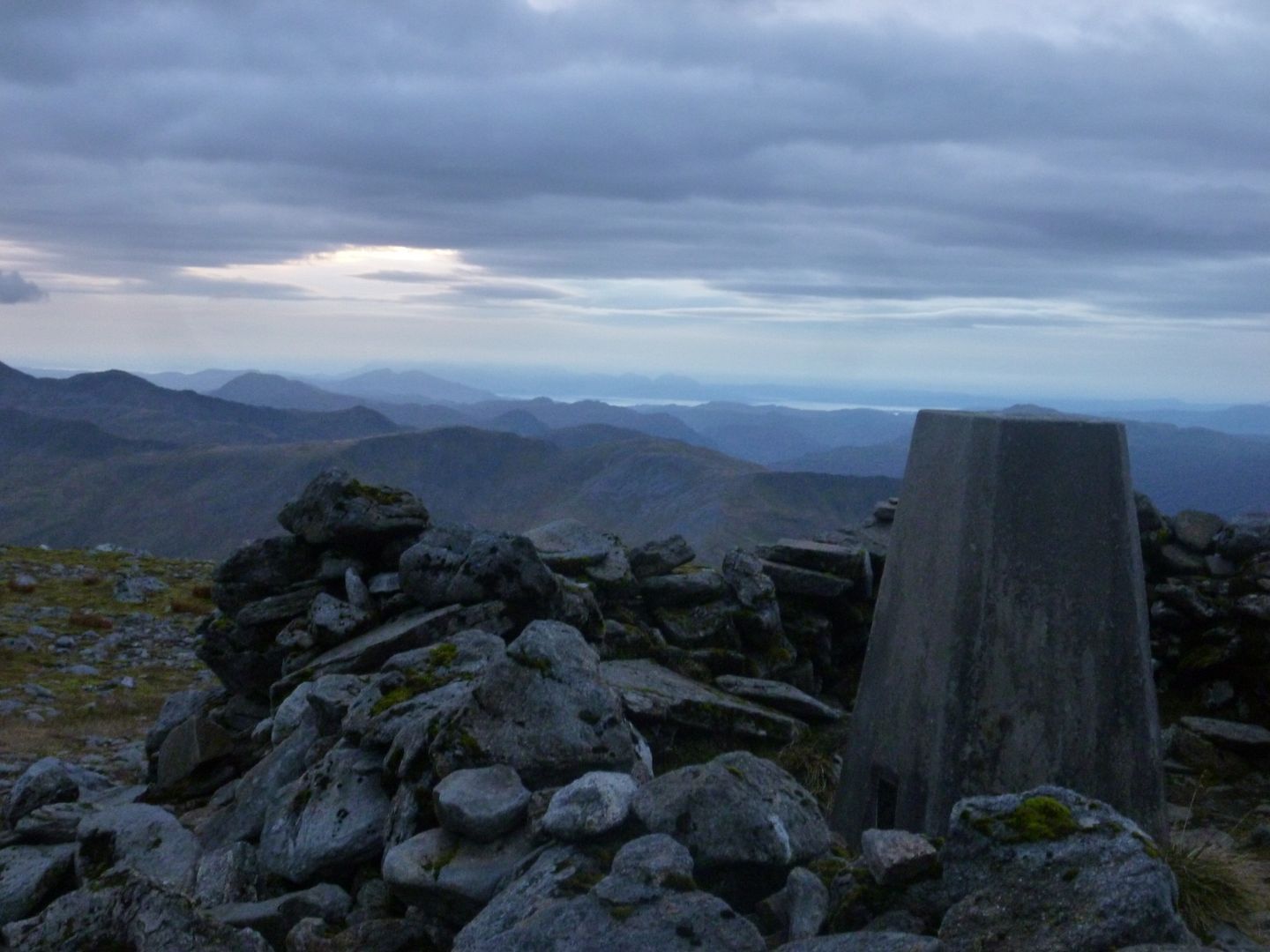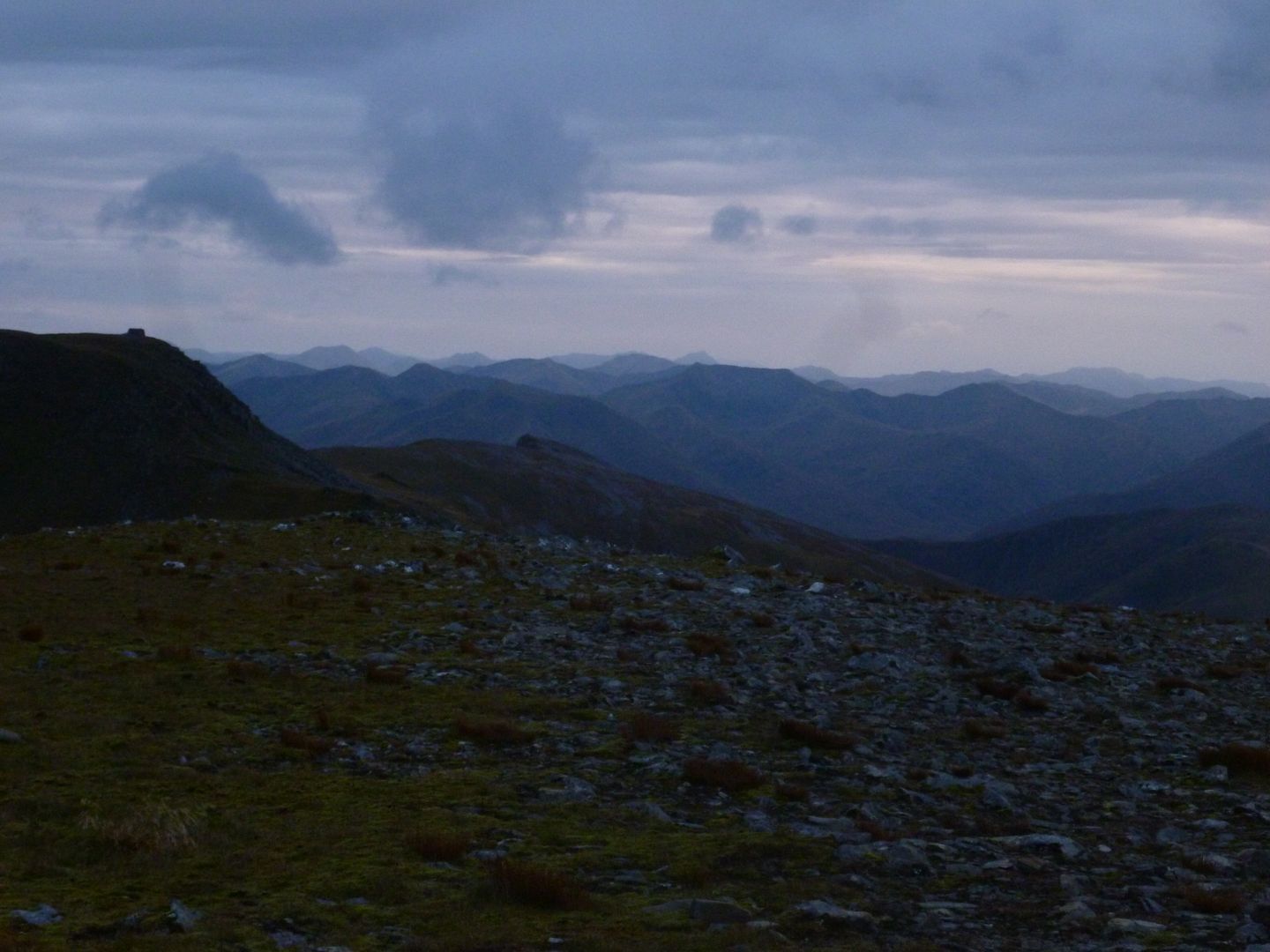 It looked a long way down and it was – seemed to take ages to descend on rocky ground, with boots pinching my feet.
It was almost dusk by the time we got to our camp spot, and I was glad to see the same springs and pools I had encountered almost exactly 3 years ago when I had camped here last.
We got the sopping wet tent up, which seemed to dry in no time in the light warm winds. The constant roar of stags was our soundtrack, no midges, and only a couple of daddy long legs here – bliss
We were up slightly earlier on Sunday, tromping up Beinn Fhionnlaidh packless, and sitting silently at the top – no words necessary in a place of such beauty.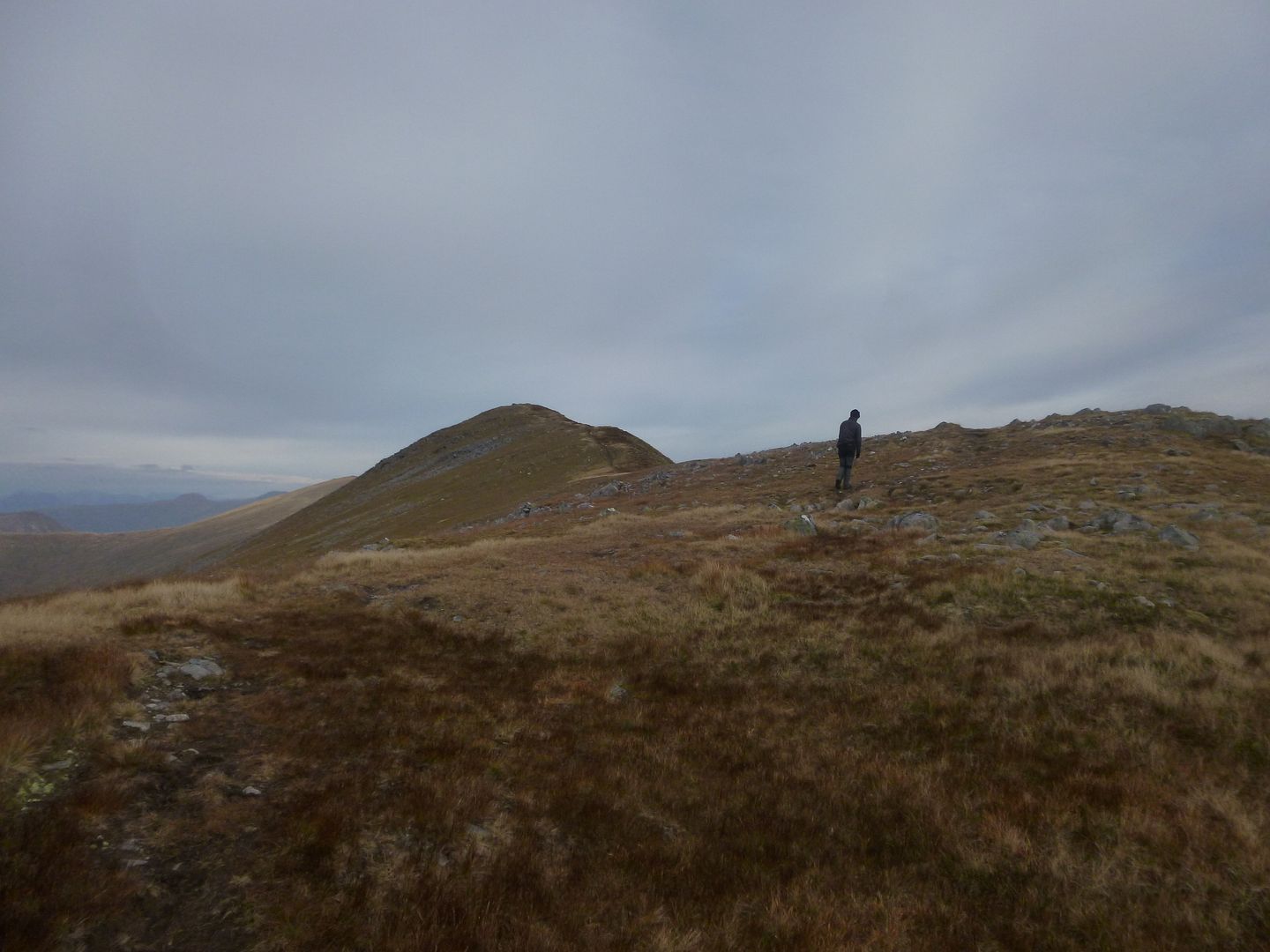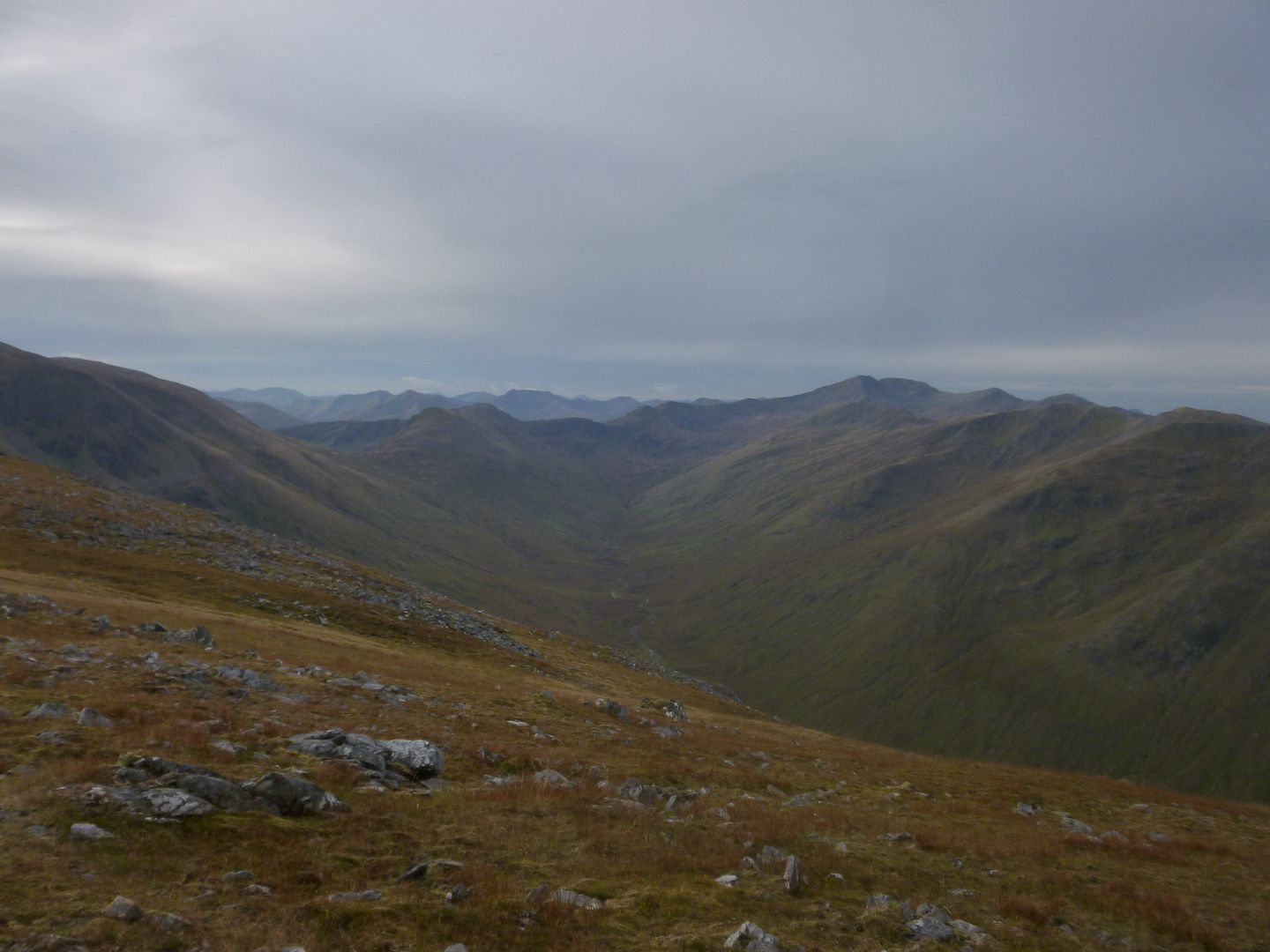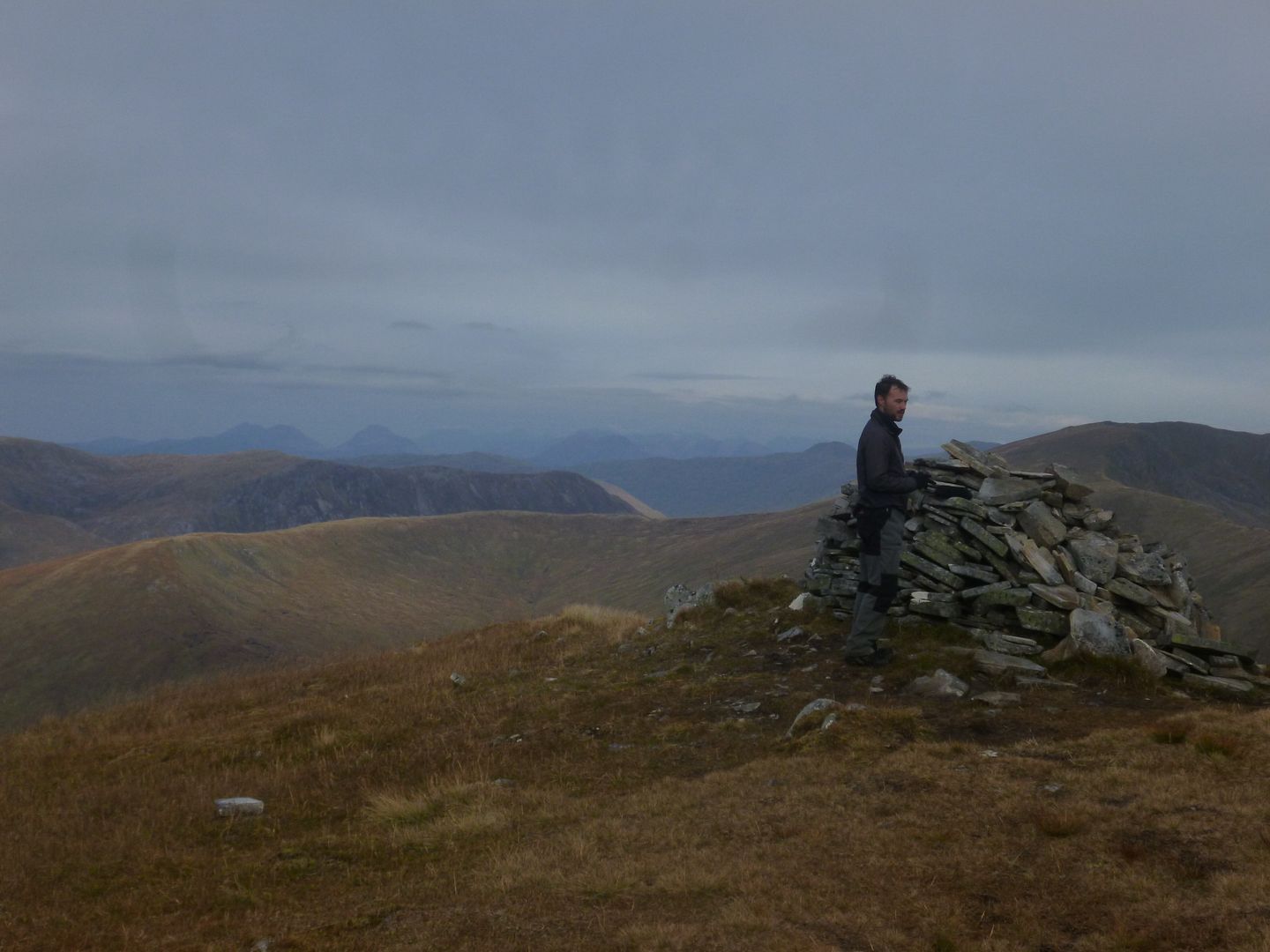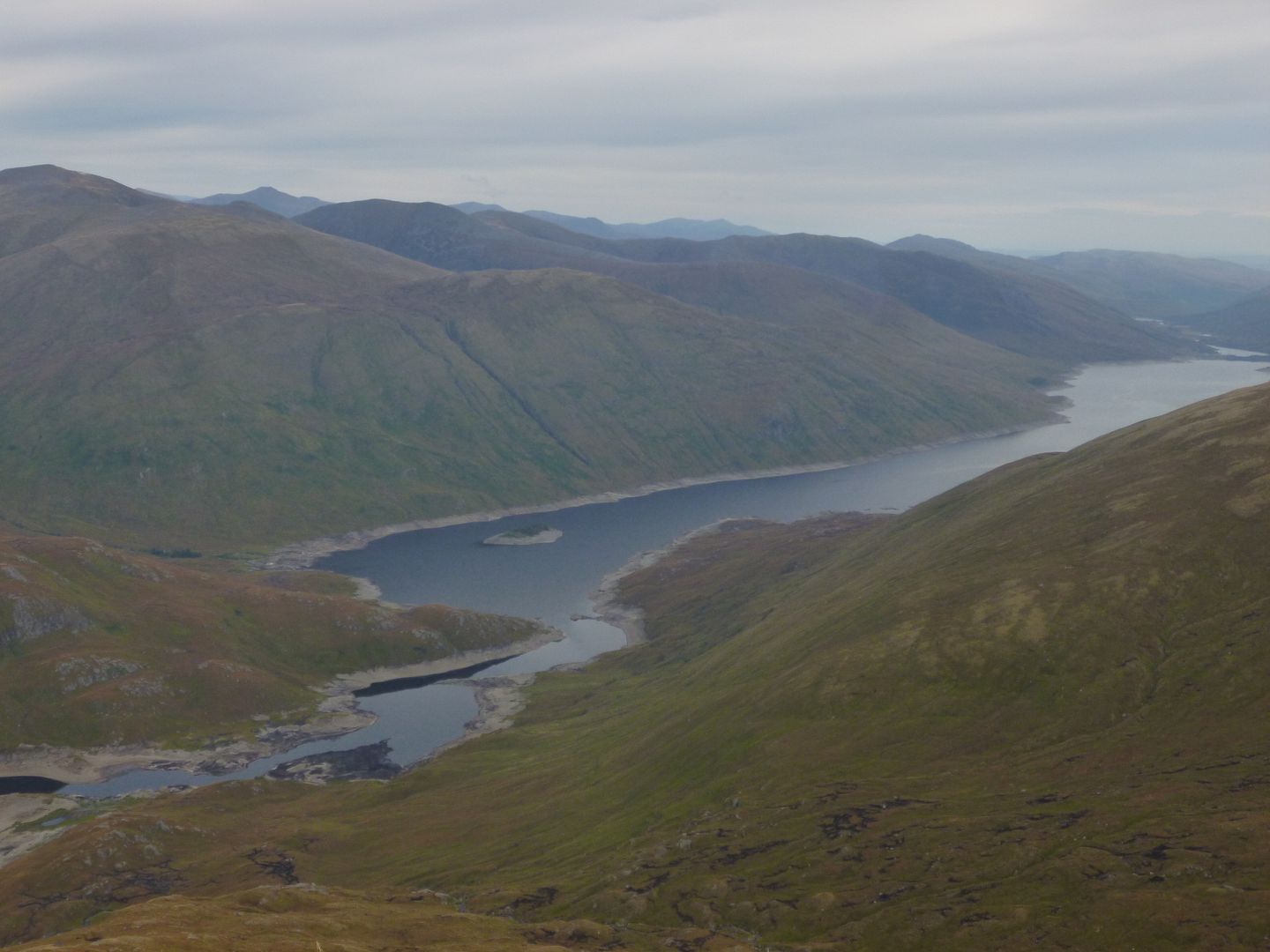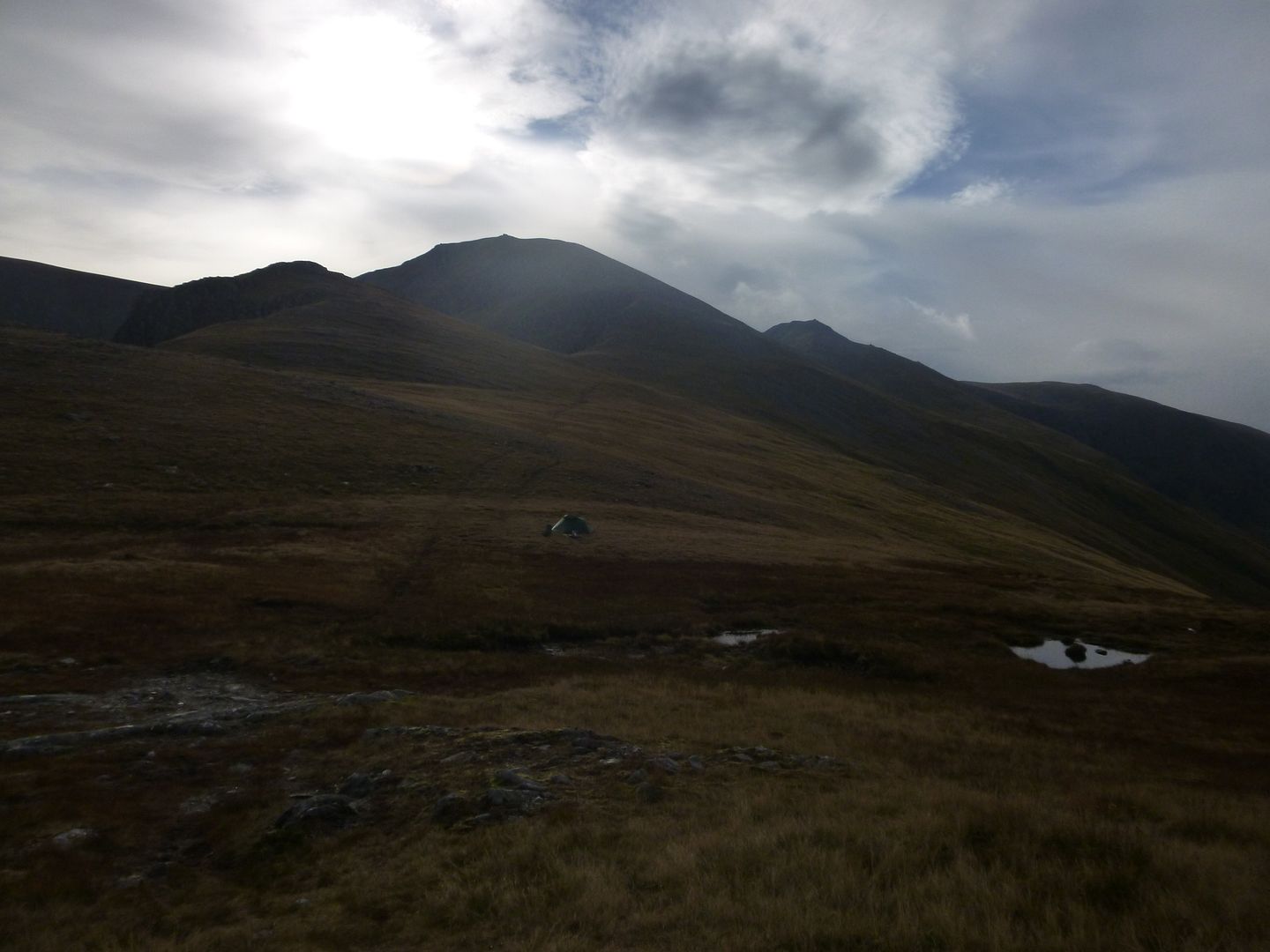 We returned to the tent and put it away – almost dry, and set free the water boatmen that we had inadvertently scooped up while collecting water. A short walk saw us headed onto the bypass path – Mam Sodhail clearly in view with its massive cairn looking like a boil on the side of an auld wifies nose.
The bypass fizzled out, and we headed gradually upward, across loose boulder fields and steep moss.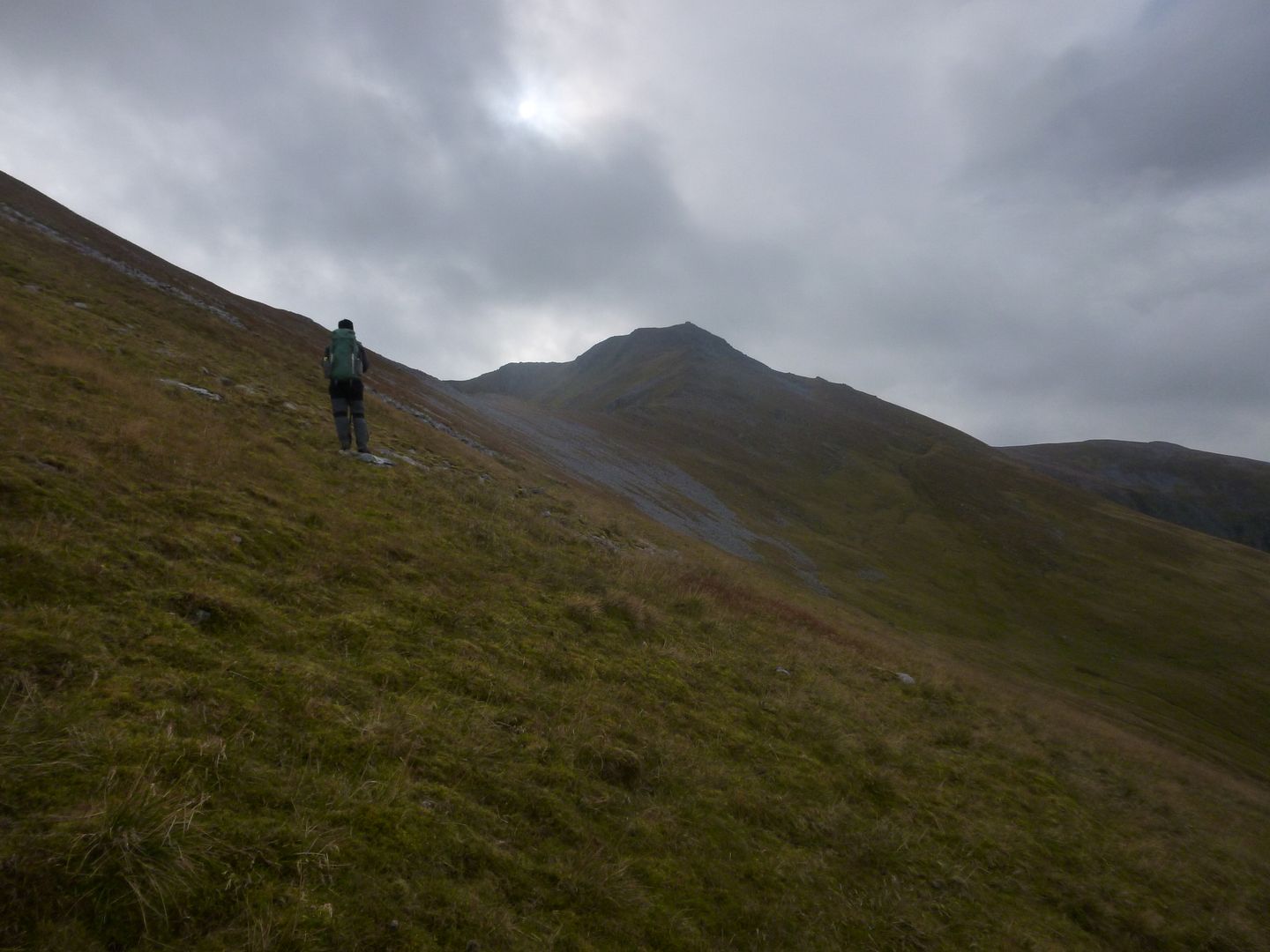 We found another path eventually, which took us to the bealach, and the summit didn't seem far from there, albeit over some rocky and steep ground.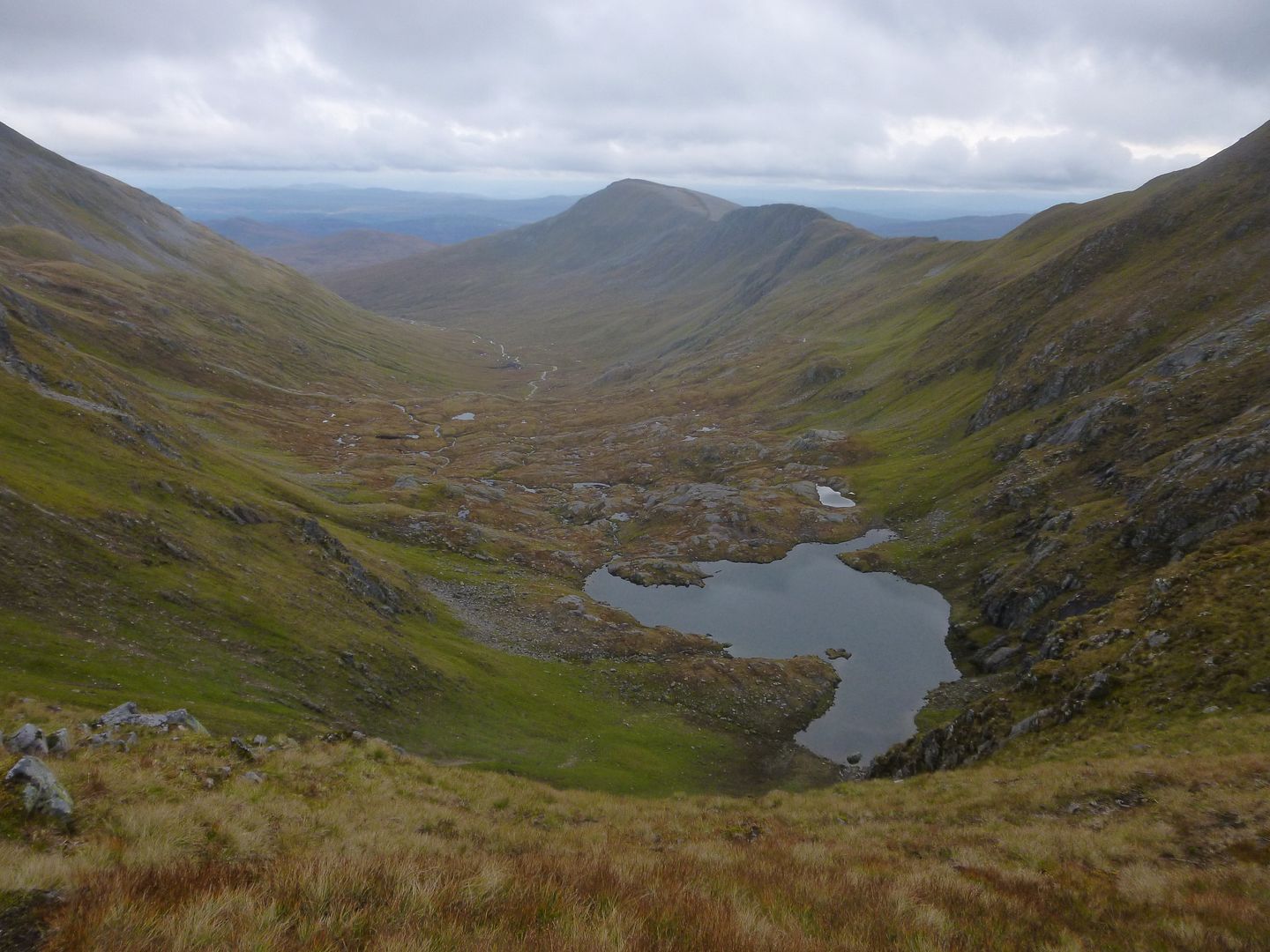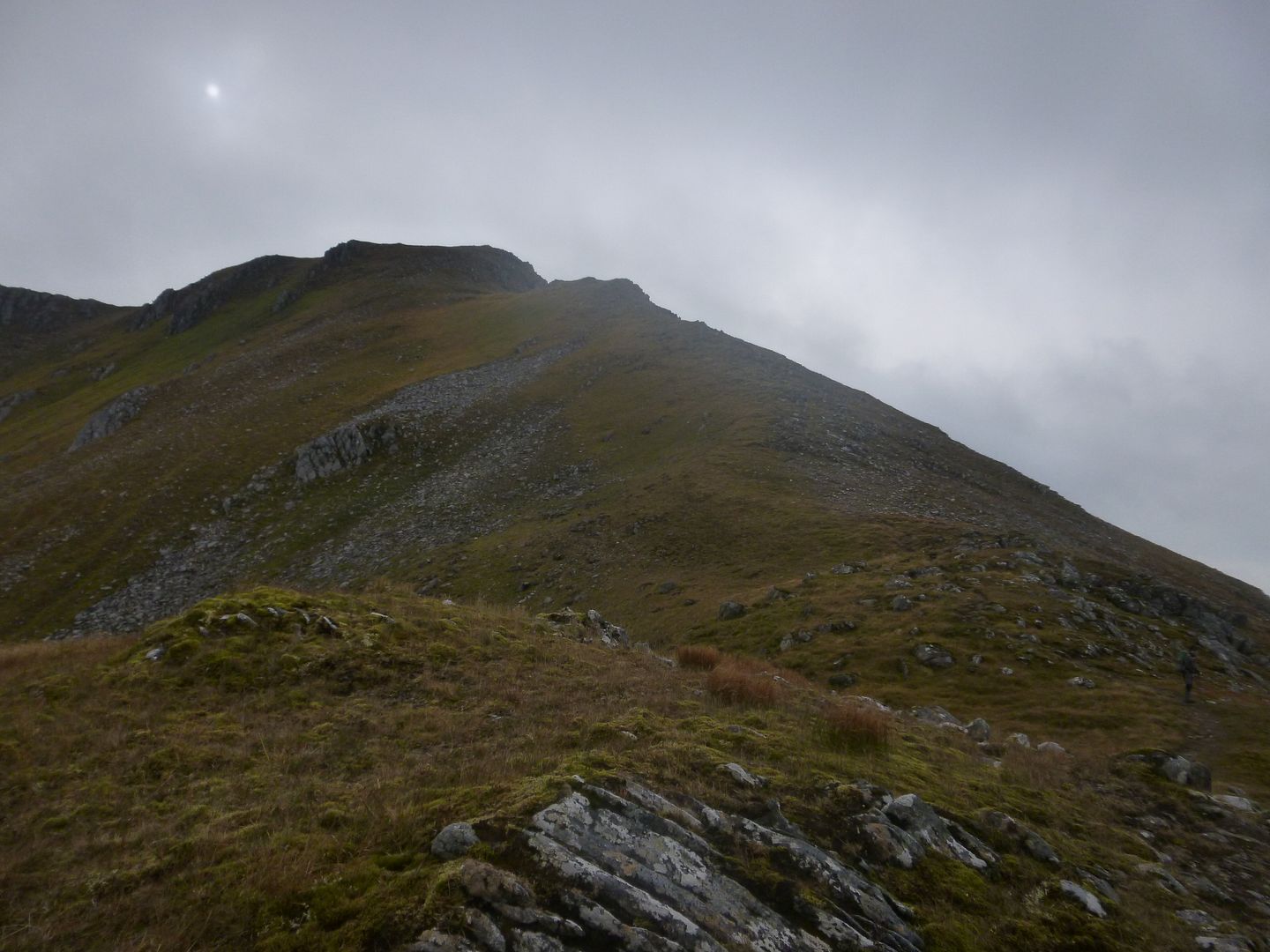 The clag caught up with us for the summit of course, but the sun was trying, and I caught sight briefly of my brocken spectre, only for that wisp of cloud to dissipate.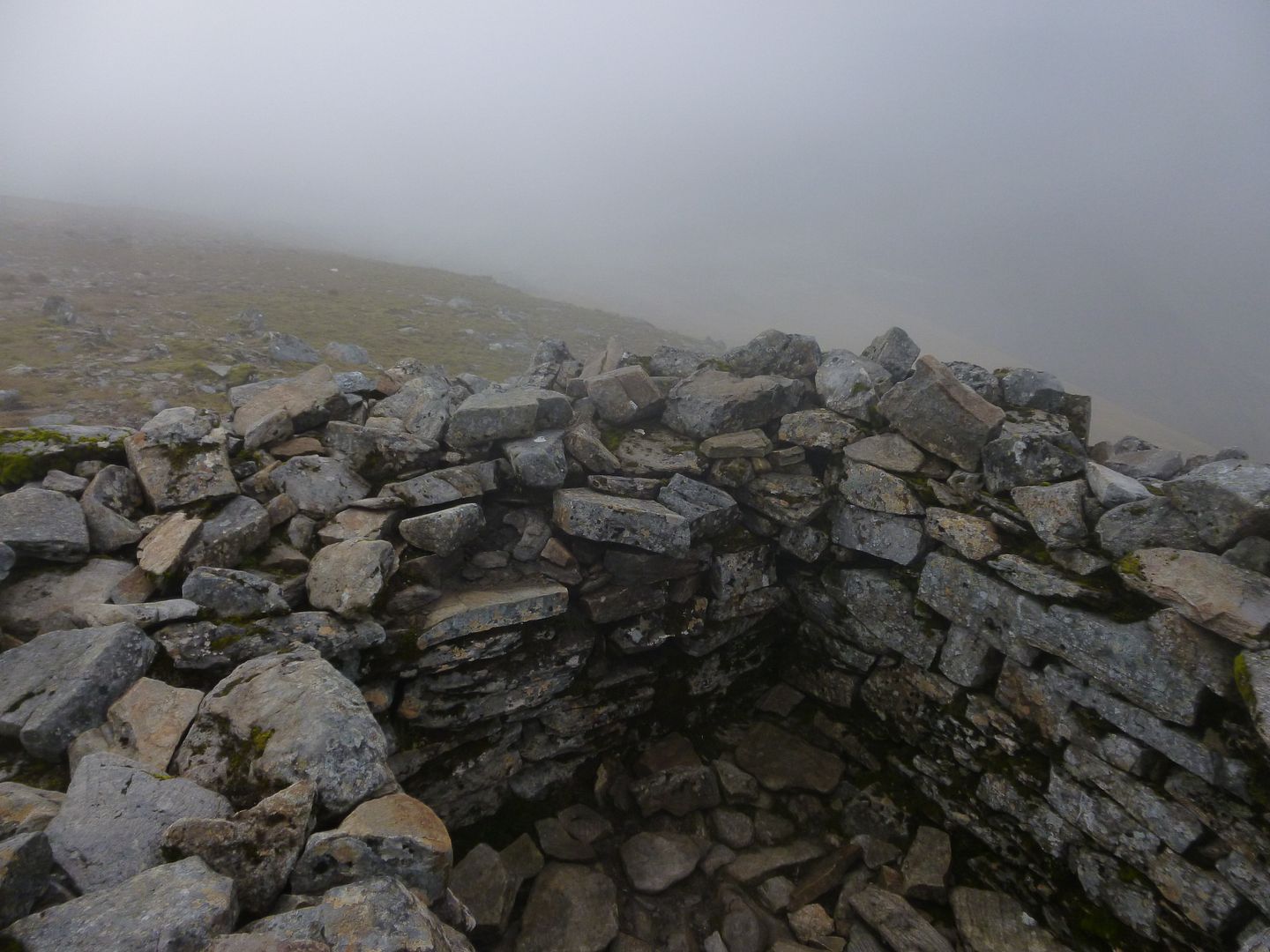 We hunkered down inside the cairn to wait for it to clear, but a cold wind had got up, so we left without views, down toward the ruin. By the time we were down to the coll of course it had cleared up again.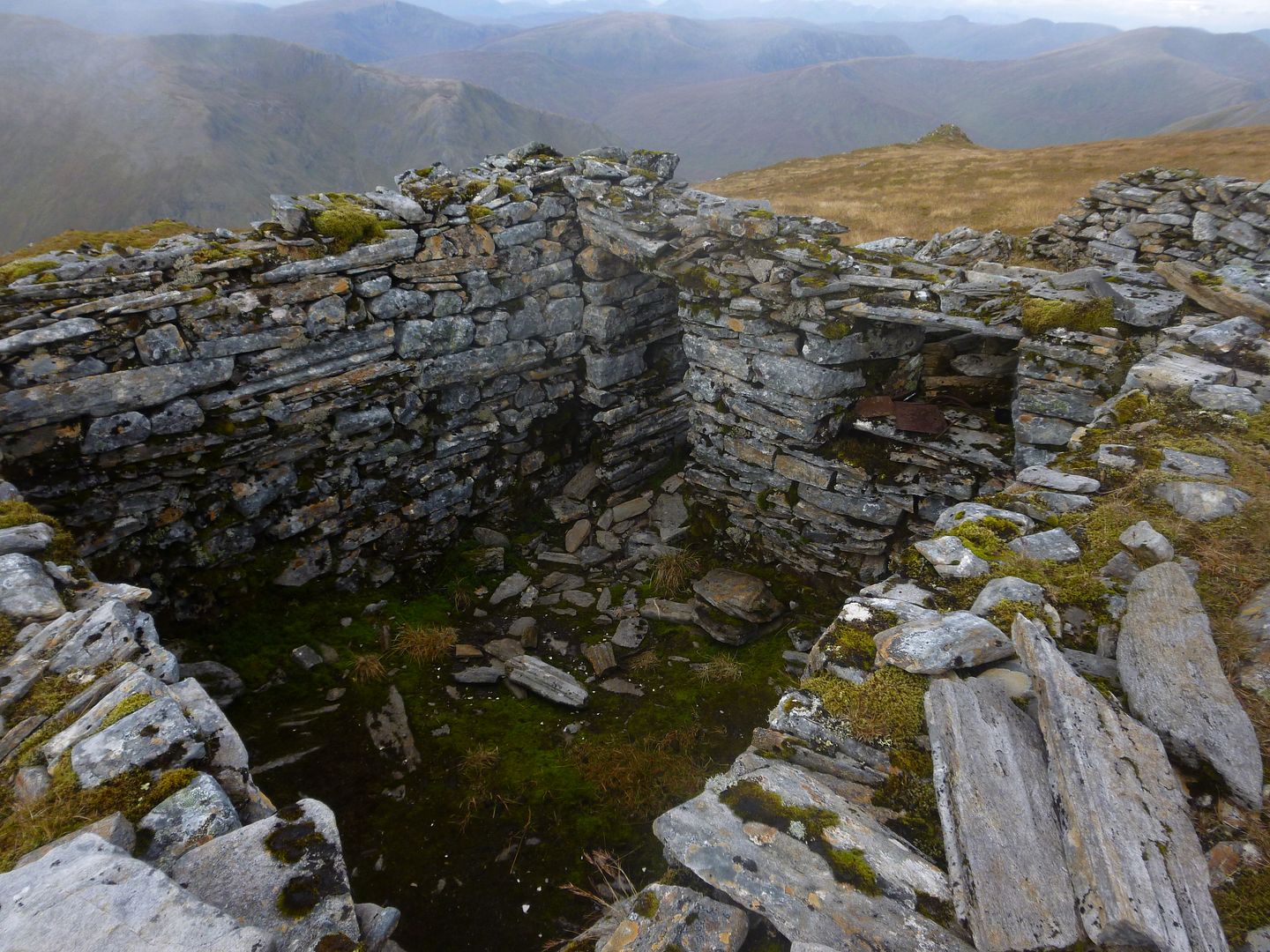 We took the path down Glen Leachavie, it was a grand path, with cobbles remaining through the bogs, and a kestrel hovering overhead. I had a blisters problem that held me back, but it was hard not to be content in such a bonny glen, in such bonny weather – won't be many days like that left this year!
We passed waterfalls and crags, eventually getting down to a small hydro scheme and a track that led us down to the Glen Affric track. No photies of it, as my camera had taken a wobbily and was coming up zoom error all the time
The walk along was sore with blisters, but seemed to pass quite quickly in the bonny surroundings.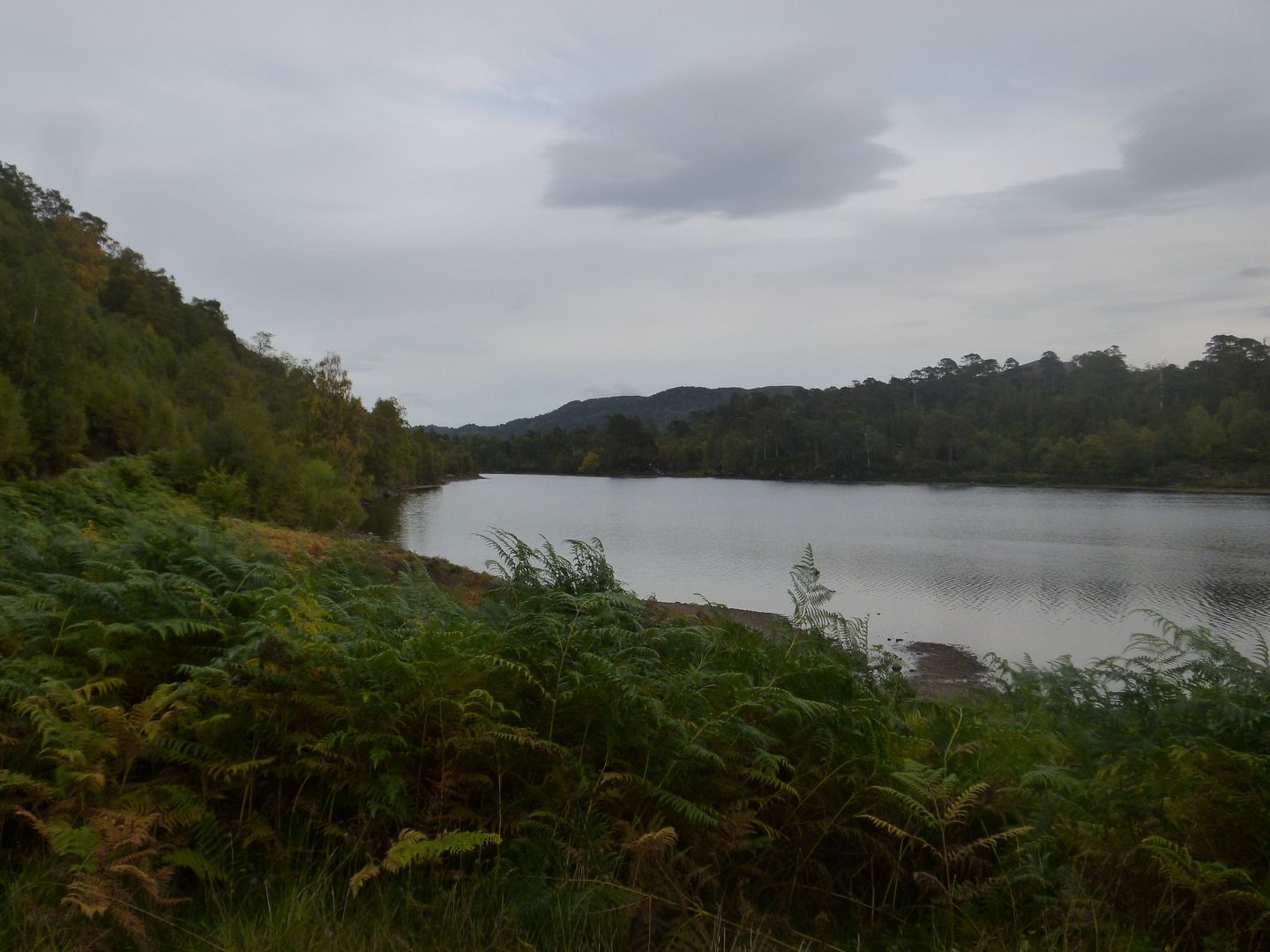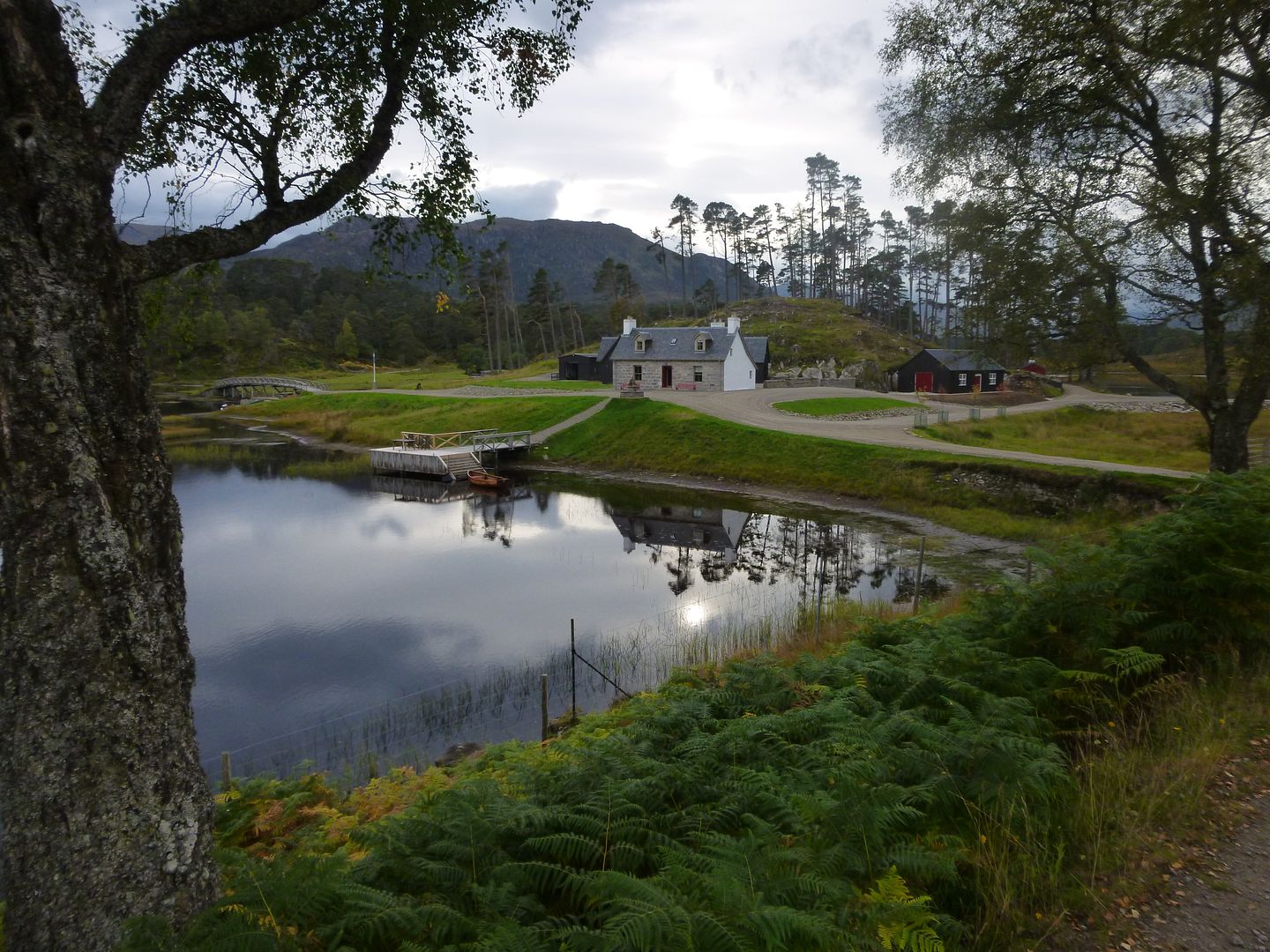 Dougie volunteered to run back to Chisholme bridge to get the car while I waited on a picnic bench at the end of the road, blisters really sore by then – what a gent
Good to get out for a proper hill walk for the first time in ages – just beautiful the whole shebang